Where to Stay in Bilbao: Best Areas and Hotels
Where to stay in Bilbao? What are the best areas to stay in Bilbao? Where can I find a good hotel near where all of the action is happening? These are the questions that come up often when people visit this beautiful city. This post will help you answer those questions and more!
Bilbao, in northern Spain, is the largest and most prominent city in the Basque Country region. Founded in the 14th century, Bilbao is a fascinating and beautiful historical city, blending historic architecture with modern hospitality.
Once a major industrial port city, Bilbao has been regenerated over recent decades with particular focus on developing the city's service industry, the result being one of the greatest selections of restaurants, cafes, and bars in all of Spain.
Whether you would like to walk around locations used in the filming of fantasy media, such as Game of Thrones, explore world class museums, or revel in the hospitality industry that earnt the city The Urbanism Award for Best European City 2018, there is something to please everyone in Bilbao.
See more: How to Say Goodbye in Spanish
Bilbao is a diverse and multifaceted city, crammed full of exciting things to see and do. With so much to choose from, it can feel overwhelming trying to decide which neighborhood is the best fit for you. However, as long as you know what you most want from your trip, finding the perfect area can be easier than you think.
If you want to appreciate the city's history and culture, you should definitely stay in the old town of Casco Viejo. This is a stunning neighborhood, filled with beautiful architecture, lush parks, and an array of restaurants, bars, and shops.
The distinctly charming atmosphere of Casco Viejo also makes it a perfect neighbourhood for couples looking for a romantic retreat.
For museums, particularly the iconic Guggenheim, stay in Abandoibarra. Alternatively, Plaza Moyua is almost as close by, but just a little more central. The Plaza is also a great centre point for anyone who wants to spend their trip hitting the shops.
If you are on a budget, consider the university district of Deusto, a little outside of the city centre. Deusto is also ideal if you're hiking around the Basque Country or want to use the city as a home base for exploring the surrounding landscape. This district to the north of the city is well connected to hiking routes out of the city.
>> FIND BEST HOTELS IN BILBAO <<
📌10 Best Areas to Stay in Bilbao, Spain
To help you with deciding which of the city's neighborhoods is best for you to spend your vacation, I have personally selected the seven districts with the most to offer visitors and provided a summary of each area's attractions and benefits, to help you match them to your perfect location.
Best areas to Stay in Bilbao Map
To see more detail of where to stay in Bilbao map, go to google map;
1. 💖 Casco Viejo (Old Town), where to stay in Bilbao for first time visitors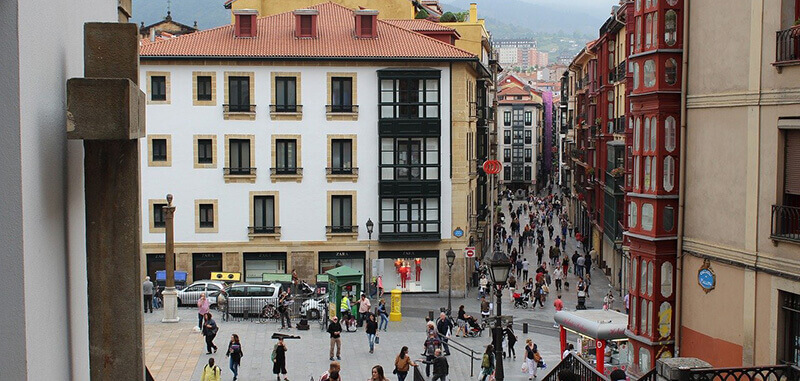 Casco Viejo is the oldest part of the city and the best place to visit if you really want to experience the history and culture of the town.
On the banks of the estuary sits the oldest theatre in Bilbao, the Teatro Arriaga. The historic building is a wonderful place to take in a show and spend an evening experiencing the artistic heritage of Bilbao. Even if you don't have the time, or inclination, to attend a performance, the architecture of the building itself is worth the visit, plus you can take a guided tour of the equally beautiful interior.
To the north of the theatre is the Areatzako Parkea, a riverside park, lush with trees and fountains. The Café Koiska el Arenal at the centre of the park is decorated in a charmingly unique style, whilst the terrace seating area is a lovely spot to take a break overlooking the river.
For more exquisite architecture, take a look straight down Areatza Kalea, to the San Nicolas Eliza baroque church to the northeast. Alternatively, walk south down Calle Bidebarrieta Kalea, past the historic Fountain of Dogs, which is worth taking a look at in its own right, to the 14th century Bilboko Donejakue Katedrala.
To the north of Casco Viejo is the sprawling Etxebarria Parkea. Once an industrial complex, the area has been completely rejuvenated into a beautiful hillside park, with views looking right across the city. The only hint of its industrial past is the preserved brick chimney, left standing as a monument in the northeast sector of the park.
In the evening, the southwest area of Casco Viejo is full of a variety of bars and restaurants. Perfectly placed on the banks of the Bilbao Estuary, it's an ideal location for sunset walks along the riverside, on your way to an evening of fine dining and cocktails.
Stay in Casco Viejo (Old Town) if you want to savour the cultural heritage of the city, you appreciate historical architecture, you enjoy relaxed walks around beautiful city streets.
Best places to stay in Casco Viejo:
Best luxury hotel: Hotel Carlton This five-star hotel is set in Plaza de Federico Moyúa square near Gran Vía, and Moyua Metro Station. It's within short walking distance from the Guggenheim Museum. It offers rooms with a classic or contemporary design, a private bathroom, air conditioning, a flat-screen TV, and free wifi. You can also find a business center, a gym, and an on-site restaurant that serves Basque specialties and international classics.
Best mid-range hotel: Hesperia Bilbao This 4-star hotel is within walking distance from tapas bars, the main shopping streets, Concordia Train Station, Bilbao's old town, and the city center. It features spacious, stylish rooms with free WiFi and 42-inch satellite TV, air-conditioned, soundproofed, a private bathroom with free toiletries, and a hairdryer.
Best budget hotel: Hotel Ilunion Bilbao is situated right in the heart of Bilbao, close to San Mamés Bus and Metro Stations, Iturriza Casilda Park, Euskalduna Conference Centre, Bilbao Fine Arts Museum, and Guggenheim Museum. It offers modern, air-conditioned rooms with a minibar, a flat-screen satellite TV, a private bathroom, and a hairdryer.
🔍FIND BEST HOTELS IN BILBAO CITY CENTER
Check out my virtual tour about the best places to stay in Bilbao in this video:
See more:
2. Abandoibarra, where to stay in Bilbao close to everything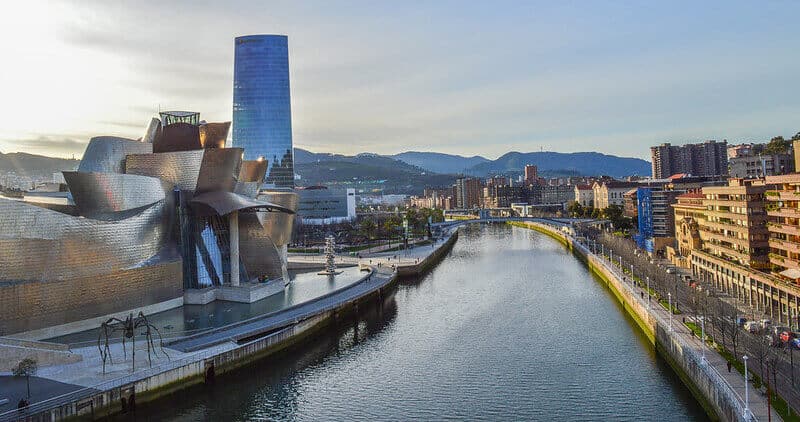 Abandoibarra is the northern sector of central Bilbao. This neighbourhood is where the most iconic building in all of Bilbao is located, the Guggenheim Museum.
The Guggenheim was built as part of the city's rejuvenation efforts in the 1990's and was designed specifically to draw the attention of the global tourist market. It definitely succeeded, almost instantly becoming one of the most significant examples of contemporary architecture.
If you don't enjoy museums or don't have time to venture inside to the exhibits, you can still enjoy the unique façade and the 40-foot-tall west-highland terrier sculpture covered in flowers standing guard at the southern entrance.
Exhibitions in the museum change frequently. Only one exhibit, 'The Matter of Time', is permanent, so even returning visitors to the city can benefit from another look around. The museum's exhibitions all display modern and contemporary art in a variety of forms.
East of the museum, following the river, is the Eingelesen Landako Park. The network of manicured lawns is home to the university library and the towering glass Torre Iberdrola, Bilbao's tallest skyscraper, and another beautiful specimen of modern architecture.
Follow the river past the modern shopping centre and you will arrive at the Casilda Iturrizar park, a landscaped, tree-lined park, full of fountains, ponds, and stone pergolas.
If the contemporary art housed at the Guggenheim doesn't appeal to you, perhaps the more classical works found in the 'Museum of Fine Arts of Bilbao', at the east end of the park, are more to your preference. Alternatively, head west out of the park, towards the river and the old shipyard, to the Museo Marítimo Ría, a museum dedicated to Bilbao's history as a port city.
The backstreets of Abandoibarra are arranged on a grid pattern, making it incredibly easy to find your way around. They're chock full of bars, cafes, and restaurants, catering to a wide variety of tastes and cultures.
Stay in Abandoibarra if you are visiting the Guggenheim is a top priority, you are a fan of modern art, you enjoy museums in general, you love contemporary architecture, you want a central location.
Best places to stay in Abandoibarra:
Best luxury hotel: Gran Hotel Domine Bilbao This 5-star hotel offers a roof terrace with panoramic views of the city, a wellness centre with a Turkish bath, a spa, and a sauna; it's situated opposite Bilbao's Guggenheim Museum, also close to the Museum of Fine Arts, Maritime Museum, Zubiarte Shopping Centre, Iberdrola Tower, Calatrava Bridge, and Deusto Bridge.
Best mid-range hotel: Hotel Mercure Jardines de Albia This 4-star contemporary hotel is located in the heart of Bilbao, within a short stroll from the Guggenheim Museum, Convention Centre, Albia Gardens, Ledesma Street, Bilborock, and Casco Viejo Metro Station.
Best budget hotel: Bilbao City Rooms This budget guest house offers spacious rooms with a wardrobe, a desk, a private bathroom, and free wifi. It's located within easy walking distance from the Guggenheim Museum, Gran Vía de Don Diego López de Haro, Doña Casilda Iturrizar park, Abando Train Station, and University of Deusto.
🔍FIND BEST HOTELS NEAR GUGGENHEIM
3. Plaza Moyua, one of the best areas to stay in Bilbao for shopping
One of the most central locations in all of Bilbao, staying in Plaza Moyua gives you easy and convenient access to most of the city's iconic attractions. If you follow the Alameda de Recalde road north, you will arrive at the world-famous Guggenheim art museum in just minutes.
The plaza itself consists of several manicured lawns and flowerbeds, surrounding a grand fountain in the centre of a paved oval. It's set in the middle of a busy roundabout but is accessible to pedestrians via the six zebra crossings at each end of the plaza.
To the northwest of the plaza is the Txabarri Jauregia, a 19th century palace, built in the style of Flemish Renaissance architecture and currently serving as offices for the local government.
The streets leading out from the plaza are full of contemporary shops and department stores, so if shopping is a priority for your trip, this is a great area to consider. A wide variety of high-end clothing and jewellery brands have stores in the area.
To the east of the district is the Abando Indalecio Prieto train station. Aside from being a major train terminal, with trains running both locally and long distance, the design of the station is artistically distinct.
The section of the station housing the platforms is home to a 15-metre by 10-metre stained glass window, formed of over 300 pieces, depicting traditional Basque culture and landmarks. Anyone entering Bilbao via train at this station will have a beautiful first impression of the city.
Stay in Plaza Moyua if You want somewhere very central and convenient, You are visiting with young children, Shopping is a priority, Visiting the Guggenheim is a must, You are traveling to or from other major Spanish cities by train.
Best places to stay in Plaza Moyua:
Santiago Apartments Bilbao This self-catering accommodation is set in the real heart of Bilbao, within a short ride from main attractions such as the Guggenheim, the old quarter, the Museum of Fine Arts, San Mamés Stadium, Catedral de Santiago, and the Palacio de Música concert.
Hotel Carlton This elegant hotel is ideally located in Plaza de Federico Moyúa square, next to Gran Vía, within a short stroll from the Guggenheim Museum, Moyua Metro Station offers easy access to the city centre with its landmarks.
🔍FIND BEST HOTELS IN BILBAO
4. Indautxu, where to stay in Bilbao for nightlife
Indautxu is the west end of the central district of Bilbao. One of the more affluent neighbourhoods, Indautxu is home to a variety of upmarket shopping districts and fashionable bistros and cafes.
The district is known for its active, contemporary nightlife scene. Peppered with trendy bars, restaurants, and clubs, the region is ideal for some evening fun. The conveniently designed grid system of roads also makes it easy to find your way home after a night out.
A number of old buildings have been converted into unique entertainment venues. In the old shipyard stands the Palacio Euskalduna, which is now a popular venue for live music concerts. In the east of the neighbourhood, the beautiful Azkuna Zentroa, an old corn exchange building, has been converted into a multifunctional entertainment venue. The centre houses a theatre, cinema screen, lecture halls, and exhibition spaces, along with public fitness facilities.
Fans of art will appreciate the easy access to the Guggenheim museum of modern art, or the more classical Museum of Fine Arts. Those who appreciate more niche exhibitions may also enjoy the Benedikto Museoa, an art museum dedicated to the works of famous Spanish painter, Benedicto Martinez.
To the east, by the river, stands the modern San Mames Football Stadium. With a capacity of over 50,000 seats, this is the largest stadium in the Basque country and frequently hosts important sporting events.
Stay in Indautxu if you value quality nightlife, you enjoy high-end shopping, you are attending an event at the San Mames Stadium.
Best places to stay in Indautxu:
Hotel Ercilla de Bilbao, Autograph Collection This mid-range hotel offers stylish rooms with a TV, a private bathroom, and free wifi. it's within walking distance from Guggenheim Museum, Azkuna Zentroa, Bilbao Fine Arts Museum, Campos Elíseos Theatre, and Vista Alegre Bullring.
Hotel Silken Indautxu This 4-star hotel features air-conditioned rooms with a fridge, a mini-bar, a private marble bathroom, and free wifi. It's located close proximity to Bilbao's famous Guggenheim Museum, Indautxu Metro Station, the Fine Arts Museum, Atletico Bilbao's San Mames Football Stadium, Abando Train Station, and Concordia Train Station.
🔍FIND BEST HOTELS IN BILBAO
5. Deusto, the best area to stay in Bilbao on budget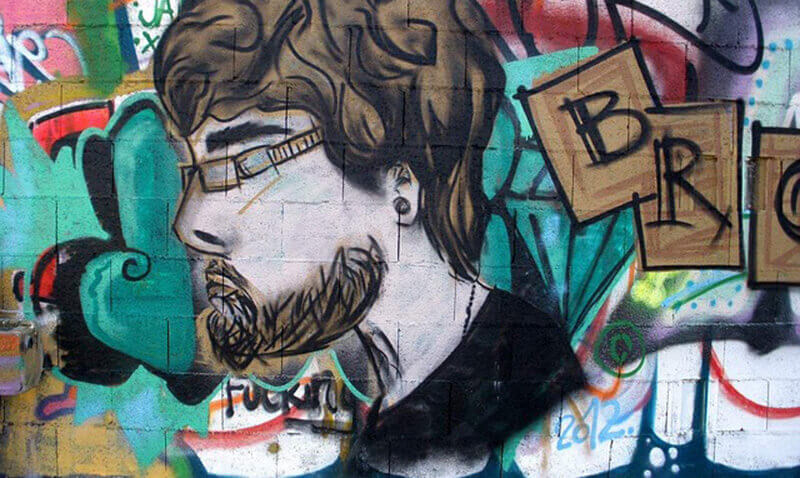 Deusto is the district north of the river, best known for being Bilbao's student neighbourhood, due to the local University of Deusto. The university itself is directly across the river from the Guggenheim museum. Be sure to take a moment to appreciate the fantastic views of the iconic building across the water.
Deusto is connected to the city centre by several bridges, which bring you directly into the parks surrounding the Guggenheim. Just minutes away from the main shopping and nightlife districts, the area is conveniently close to all Bilbao has to offer, whilst typically remaining quieter than the more crowded tourist hubs.
The neighbourhood is home to several popular arts and exhibition venues. The Deusto Expo Centre hosts a variety of exhibitions and shows throughout the year. The La FuNdicIOn theatre, on the banks of the estuary at the end of Botica Vieja park, puts on excellent contemporary, independent theatre performances.
Being slightly further from the city centre than other neighbourhoods, hotel prices in Deusto are also generally lower than more central locations, which is ideal for anyone on a budget.
Deusto also offers a convenient route in and out of the city for hikers and backpackers. Being closer to the city's perimeter, there are a number of designated hiking trails leading to the surrounding areas.
If you are travelling to Bilbao by car, Deusto is connected to a major highway into the city, allowing you to drive into the heart of the city without the rammed traffic of the city centre.
Stay in Deusto if you are on a budget, you are interested in visiting neighbouring Barakaldo, you are visiting the university or a student, you are travelling to Bilbao by car, you are hiking around the Basque Country, Urdaibai Biosphere Reserve, you are interested in hiking out from the city to explore the surrounding area.
Best places to stay in Deusto:
Hotel Artetxe This charming budget hotel is located on the hilltop in Deusto, 5km outside of Bilbao's city center. It's also close to University of Deusto, Deusto Bridge, Zubiarte Shopping Centre, Iberdrola Tower, and Maritim Museum Ría de Bilbao.
Bilbao Akelarre Hostel This hostel provides shared rooms with free wifi and safe locks. It's within walking distance from Deusto Metro Statio, Guggenheim Museum, Euskalduna Palace, Ría de Bilbao Sea Museum, University of Deusto, University of Sarriko, and San Mames Football Stadium.
NH Bilbao Deusto This 3-star hotel is situated just 500m from Euskalduna Palace, Iberdrola Tower, Deusto Metro Station, and Bilbao's Guggenheim Museum.
🔍FIND BEST HOTELS IN DEUSTO
6. Las Cortes, one of the best places in Bilbao near train station
Las Cortes, also commonly known as San Francisco, is one of the more up and coming areas of the city. One of the less affluent neighbourhoods, Las Cortes is known for housing Bilbao's red-light district. But whilst the area may have a darker reputation, it nonetheless boasts a vibrant character and distinct sense of community.
One of the most obvious perks of the neighbourhood is the relatively lower prices of both accommodation and entertainment. If you are on a budget, you can find food and lodging fairly affordably here, and the more typically tourist spots are just a short walk away.
The central region of Abando is just the other side of the Bilbao-Abando Indalecio Prieto train station. Meanwhile, the old town of Casco Viejo is right across the river.
Home to most of Bilbao's immigrant population, primarily hailing from across Africa, Las Cortes is one of the most diverse areas of the city. The area's multicultural heritage is reflected in its array of cafes, restaurants, and shops. If you grow tired of the customary Basque cuisine found across the rest of the city, head here for a little more variety.
Most of the main shopping and nightlife venues are situated along the main San Francisco Street. Art lovers may be interested in visiting the Reproductions Museum, which displays replicas of iconic art pieces and sculptures from around the world.
Las Cortes may be an ideal location for anyone travelling to or from the city via train. The Bilbao-Abando Indalecio Prieto train station is directly to the north of the neighbourhood. Convenient for anyone passing through for a quick visit, or who gets anxious about missing their train.
Stay in Las Cortes if you are on a budget, you want to experience the multicultural hub of Bilbao, you want to stay near the train station, you don't mind staying somewhere with a complicated reputation.
Best places to stay in las Cortes:
apartamento miribilla This apartment offers 2 bed-roooms, with a TV, a well-equipped kitchen, located close to Arriaga Theatre, Bilbao Fine Arts Museum, San Mamés Stadium, Catedral de Santiago, Funicular de Artxanda, and Calatrava Bridge.
Apartamentos Líbere Bilbao La Vieja Located just 500m from Catedral de Santiago, this apartment offers air-conditioned rooms with free wifi. You can easily find attractions nearby such as Arriaga Theatre, Calatrava Bridge and Bilbao Fine Arts Museum.
🔍FIND BEST HOTELS IN BILBAO
7. Bilbao La Vieja, the best area to stay for young couples and hipsters
Bilbao La Vieja is the city's most prominent and trendy party district. Located immediately south of Las Cortes, the diverse culture of the surrounding districts bleeds over into the varied and multicultural dining and nightlife scene of Bilbao La Vieja.
During the day, the neighbourhood is a vibrant hub of arts and culture, full of independent boutiques and galleries, which display the work of local artists. The art from these galleries spills out of their doors in the form of colourful street murals, which are well worth taking a street art tour to appreciate the best examples of.
The neighbourhood is structured around the central Miribilla Park, home to the Bilbao Arena. The Arena is beautifully designed with a cladding of scale-like green tiles in various hues, to blend into the surrounding landscape.
You can also visit Bilboko Berreginen Reproductions Museum or walking along Marzana riverbank boulevard.
Primarily known for hosting basketball games, the arena welcomes frequent concerts and performances in the main venue, whilst also providing sports facilities, such as swimming pools and gymnasiums, for public use.
Mirabella park itself hosts markets and open-air events. If you are looking to appreciate the industrial history of the area, the San Luis brick furnace still stands in nearby Saralegi Plaza, preserved as a monument.
Meanwhile, if you look closely at many of the buildings now used as entertainment venues around the neighbourhood, you will notice that many of them are converted from old industrial factories.
Stay in Bilbao La Vieja if A busy nightlife is important, You value independent art and design, You are attending an event at Bilbao Arena.
Best hotels in Bilbao La Vieja:
🔍FIND BEST HOTELS IN BILBAO
8. Uribarri, a quiet quiet residential district in Bilbao
Uribarri is the administrative heart of Bilbao, the district where you will find City Hall and its offices. It is in the northeast of Bilbao, a largely middle-class, residential district. It developed during the 20th Century as the city grew.
There are a limited number of hotels, but rooms are affordable, and you may be lucky in high season when Bilbao is very busy.
The Artxandako Funikularra is a great ride. The route this funicular takes goes through the stunning scenery of Bilbao. Remember before the growth of Bilbao, this was beautiful agricultural land. It then crosses the bridge to provide an aerial view of the Guggenheim Museum.
Stay in Uribarri if Your preference is to be away from the centre of the city and tourist attractions, A quiet residential district suits you fine even though there are less accommodation choices, A funicular ride over Bilbao appeals to you.
Best hotels near Uribarri:
Cosmov Bilbao Hotel Located in the heart of Bilbao's Old City, this budget hotel is close to La Ribera market, the Nervión River, the Miribilla Quarter and the Bilbao Arena Sports Centre. There is an open-air market on the first weekend of every month and you can enjoy lots of concerts and different theatre plays every week.
Vincci Consulado de Bilbao This 4-star hotel is centrally located in Bilbao Old City, it offers air-conditioned rooms with a TV, a wardrobe, a private bathroom, and free wifi. You can easily access the majority of Bilbao attractions on foot such as Bilbao Fine Arts Museum, Euskalduna Conference Centre and Concert Hall, and Calatrava Bridge.
🔍FIND BEST HOTELS IN URIBARRI
9. San Francisco, a good place for street art lovers
San Francisco is not a touristy part of Bilbao, but for some travelers, that is a distinct advantage. It is a bohemian district with plenty of accommodation, some loft conversions, boutique hotels, and some hostels. The latter may be more expensive than ones in similar cities, but the quality justified the price.
It is fun just to walk the streets to enjoy the street art. Bilbao stadium is here where you might enjoy the sport or a concert. Its regeneration in recent times has resulted in its losing its poor reputation and becoming one of Bilbao's most emerging neighborhoods.
Here you will find Basque cuisine at its best and a range of excellent bars. Bullfighting is popular here while the flea markets attract a real cosmopolitan crowd.
Stay in San Francisco if You want a cosmopolitan atmosphere, Street art attracts you, You are looking for inexpensive accommodation.
Best hotel in San Francisco:
Bilbao Metropolitan Hostel by Bossh Hotels This budget accommodation is located close to Catedral de Santiago, San Mamés Stadium, Euskalduna Conference Centre, Concert Hall, Bilbao Fine Arts Museum, Calatrava Bridge, and Arriaga Theatre.
Ibis Bilbao Centro Located in the city centre, footsteps from the famous Guggenheim Museum, Indautxu Metro Station, Arriaga Theatre, Palacio Euskalduna, and the Fine Arts Museum.
🔍FIND BEST HOTELS IN SAN FRANCISCO
10. Santutxu, a residential area of Bilbao
Santutxu is a residential part of Bilbao, but it is also the gateway to the hills that surround the city. You can hike around Parque Larreagaburu's hills to get lovely views of Bilbao starting in Santutxu. It is also a neighborhood where you will get a real feel for the Basque country.
The Museum of Sacred Art in Santutxu provides a great insight into the history of religion in Europe. Families will love the calmness of the area and better still if the kids enjoy an educational aspect to their holiday.
The 16th Century church, Iglesia de la Encarnacion, is close to the Museum and the indoor carnival, Tximipark, will certainly entertain the kids. There is not a huge amount of nightlife, but you will find bars, and restaurants.
Stay in Santutxu if You want to avoid tourist crowds, Hiking in the surrounding hills appeals to you, You are interested in history and religion.
Best places to stay in Santutxu:
Hotel Gran Bilbao This stylish design hotel is set 10 minutes' walk from Bilbao Cathedral and the popular Seven Streets district. it has direct access from the A8 Motorway, a 5-minute drive from Bilbao Ferry Port, and close to Atxuri Tram station, Miraflores Bridge, Bilbao Arena, San Anton Church, Ribera Market, Arches of the Ribera, and Catedral de Santiago.
Bilbao Apartamentos Atxuri Centrally located in a quiet area next to the River Nervión, in a short walk from the historic old town, Bilbao Cathedral, and Ribera Market, and Arriaga Theatre.
🔍FIND BEST HOTELS IN BILBAO
FAQs on the best areas to stay in Bilbao
How Long To Stay In Bilbao?
For all that Bilbao is packed full of things to see and do, the city is still relatively small and compact. Almost everything of note is contained within the city centre, or just a few minutes away by metro.
With most of the iconic attractions within walking distance of one another, the city is ideal for shorter breaks. If you plan your itinerary well, you could comfortably take in the most iconic sights over a long weekend.
For a more comprehensive visit, there are enough museums, theatres, and restaurants to keep you entertained for a week, but beyond that you may find yourself running out of things to see.
Best places to stay in Bilbao Airport?
The closest hotel to Bilbao airport is the Holiday Inn Express, just 1-mile away. The hotel has very good reviews and is reasonably priced, offering comfortable, spacious rooms, along with a free breakfast and airport shuttle.
Alternatively, if you are looking for something a bit more luxurious, the Hotel Seminario Aeropuerto Bilbao is just 5-minutes away from the airport and boasts stylish rooms, with beautiful views over the surrounding landscape. This hotel also offers a complimentary airport shuttle and breakfast.
Bes places to stay in Bilbao with Family?
Families, particularly those with young children, would most benefit from staying in a central location, like Abandoibarra or around Plaza Moyua. These areas are both within comfortable walking distance, or a quick taxi ride, of the main sights and attractions.
There's plenty to keep visitors of all ages entertained, and the selection of museums offer the opportunity for little ones to learn about the world around them. When you start to get hungry, the wide variety of dining options nearby will have something to suit even the fussiest eaters.
And when the kids need a break from all the culture and sight-seeing, there are plenty of urban parks for them to run off some of their energy.
Best Things to Do and See in Bilbao?
The most iconic site to visit in Bilbao is the world-famous Guggenheim Museum. Even if wandering around museums is not your preferred way to spend an afternoon, the building itself is an architectural marvel. Designed to capture the world's attention, the Guggenheim Museum succeeded in putting Bilbao on the tourism map. Additionally, the world class exhibitions displayed here can inspire even those who usually find museums tedious.
Regardless of where you choose to stay, you should definitely visit Casco Viejo. The old sector of town is full of beautiful, historical architecture, and it is well worth spending an afternoon wandering the colourful backstreets.
Whilst in the neighbourhood, you may as well stop by the Teatro Arriaga, Bilbao's oldest theatre. Even if you don't have time to take in a show, the architecture of this historic building is magnificent and well worth the visit.
If you have time to explore a little outside of the city itself, the Vizcaya 'hanging' Bridge is just a 20-minute metro ride away. This gondola crossing the river was designated a UNESCO world heritage site in 2006 and provides stunning views across the surrounding landscape.
See More
Bilbao is a city with a chequered past that, with consistent investment over the last few decades, has blossomed into a destination full of world-famous attractions.
Whether you want to sample the distinct Basque cuisine in the region's capital city, appreciate the mix of historical and world-class contemporary architecture, or shop at the city's modern commercial districts, Bilbao is the perfect place to spend a long weekend.