Where to Stay in Lanzarote: Areas and Hotels
If you're wondering where to stay in Lanzarote, or where is the best area to stay in Lanzarote, you're in the right place. In this article, I will give an insight into the best places to stay in Lanzarote for first-time visitors, couples, families, backpackers, all budget travelers; read on as I show you the best of Lanzarote.
The Spanish island of Lanzarote is the northernmost member of the Canary Islands. With a subtropical climate and yearly average of just 16 days of rain, Lanzarote is an ideal location for an escape to the sun, year-round.
With resorts spanning the breadth of the island and offering a range of amenities that appeal to a diverse crowd of visitors, you're sure to find somewhere on Lanzarote that is perfect for you.
Read on to narrow down where to stay on this beautiful, tropical island to get the most out of your trip.
Where To Stay In Lanzarote: Tips & Info
Lanzarote has a broad appeal to a wide range of visitors, with resorts on the island catering to these varying preferences. With this in mind, it can seem quite a task trying to determine which area is best suited to you.
With so much to see and do, it helps to narrow down exactly what you want to get out of your time here.
Do you want to spend your entire vacation relaxing by the pool or on the beach? Or are you more inclined to hike and explore the UNESCO protected Biosphere Reserve landscape and tour around the volcanic craters?
Are you planning a family vacation? Traveling with children? Or are you looking to party away your evenings at the best clubs and bars the island has to offer?
Will you be renting a car, or do you have to take public transport links into consideration?
Once you know exactly what you want and need, you'll have an easier time deciding where the best place for you to stay is.
Where To Stay In Lanzarote: 7 Best Areas To Stay In Lanzarote
To help you narrow down your search, we have highlighted the seven top tourist areas on Lanzarote. By summarising each location and breaking down what they offer and who they cater to, this article will help you decide on your perfect holiday location.
Where To Stay In Lanzarote: 7 Best Areas To Stay In Lanzarote
Where to Stay in Lanzarote Map
To see more detail where to stay in Lanzarote map, go to google map;
1. Playa Blanca, Where to Stay in Lanzarote for Family
Playa Blanca is the most southerly town on Lanzarote. The newest resort on the island, the town is well serviced with modern conveniences. Populated with a diverse mix of expats from across Europe, the region caters to a wide demographic of visitors.
Well connected to the rest of the island by public transport, as well as boasting its own dedicated town bus service, it's the perfect base from which to explore the entire island.
Of its numerous surrounding beaches, nearby Playa Dorada is the most popular. Protected by its manmade cove it is perfect for sunbathing, the calm sea is ideal for families with children and with a wide array of water sports and activities on offer, everyone can enjoy a relaxing day at this beautiful beach.
Playa Blanca sits near the base of Montana Roja, one of the island's volcanoes. Anyone interested in hiking or exploring the volcanic craters can enjoy the comfortable walk up the small mountain. An adventurous day out, enjoyable even for inexperienced hikers.
Regular ferries run to nearby Fuerteventura, making this a great place to stay if you're interested in taking a day trip over to the neighboring island.
YOU SHOULD STAY IN PLAYA BLANCA IF:
You are planning a family holiday
You want to spend time at the beach
You do not want to hire a car
You are interested in exploring the island's volcanoes
You want a little bit of everything from the island
You would enjoy a day trip to Fuerteventura
2. Puerto del Carmen, Where to Stay in Lanzarote for Shopping, Scuba Diving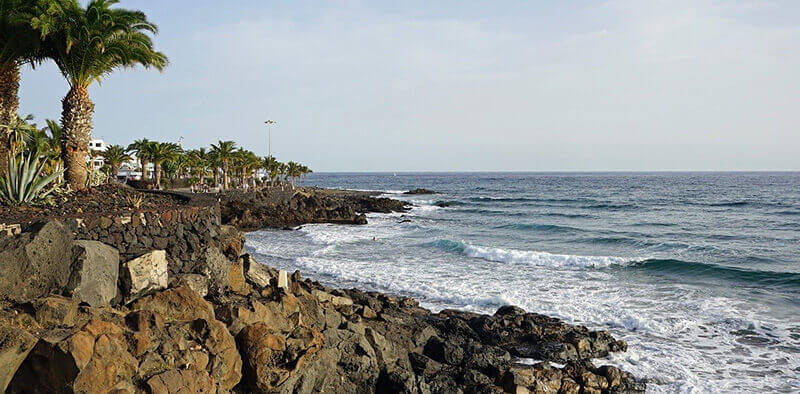 In the south-east of Lanzarote sits the town of Puerto del Carmen, an area filled with shops, bars, and restaurants, that is one of the oldest resorts on the island. The Biosfera shopping plaza is home to a selection of internationally known shops, whilst surrounding neighborhoods house stores aimed at tourists shopping for souvenirs.
Founded as a small fishing town, Puerto del Carmen still boasts a beautiful harbor populated with restaurants stocked by fresh, locally caught fish. If you want to experience a delicious dining experience and some truly unforgettable seafood, this is a place to visit.
The 6 kilometers of sheltered beaches also offer some of the calmest coasts in the Canaries. Take advantage of this by visiting one of the local diving schools and explore the vibrant world beneath the crystal-clear waters.
Planning restrictions in the area mean that the towering hotels and apartment blocks that mar the skyline in the rest of the island are absent here. Thanks to this, the town offers some of the most beautiful, unspoiled views on the island.
Between February and March, Puerto del Carmen hosts the island's Carnival celebrations. Drawing crowds of revelers from across Europe, this is an event not to be missed by anyone looking to experience the best of Lanzarote's party scene.
STAY IN PUERTO DEL CARMEN IF:
You want to sample some deliciously fresh seafood
You want to try scuba diving
You are interested in the Carnival celebrations
You want to enjoy a spot of shopping
3. Costa Teguise, Where to Stay in Lanzarote for Windsurfing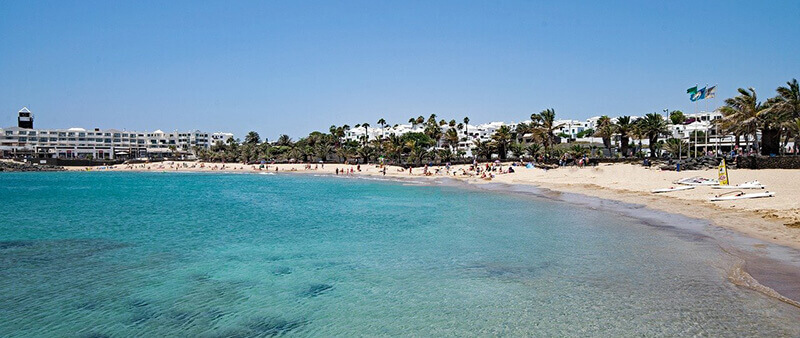 In the east of the island is the town of Costa Teguise, conveniently located just a 15-minute drive from the airport. Offering an array of recreational activities, including a nearby golf course and a waterpark, the area is a popular tourist destination for families and groups with a mix of interests.
The beaches of Costa Teguise are an immensely popular spot for anyone interested in windsurfing. Cocharas beach in particular is host to several windsurfing schools offering tuition in the sport. The qualifiers for the PWA Windsurfing championships also take place here in June.
For anyone looking for a beach with less sporting activity, the area has a number of more relaxing options, most notably Bastion and the smaller Jabillo. Sheltered from the island's famous winds, these beaches offer tranquil waters, suitable for families with young children.
For music lovers, the town hosts a variety of live music festivals, including the Costa Music Festival in June and the Brazilian Music Festival in September. If you can't make it to Lanzarote for these festivals, you can still enjoy live music, as it is available year-round in the many bars and venues around the town staging live performances and concerts.
Meanwhile, the recent investment in the town's tourism facilities has revitalized the nightlife on offer in the area. A host of bars, restaurants, and karaoke venues make the area an attractive draw for those looking for evening entertainment.
STAY IN COSTA TEGUISE IF:
You are interested in windsurfing
You enjoy live music festivals
You are traveling with family
You want varied evening entertainment options
4. Haria – Best Area to Stay in Lanzarote for Art Lovers
Located inland and away from the beaches, this area is quieter and less crowded with tourists than the island's coastal towns. Nestled amongst sprawling farms in a valley known as 'The Valley Of A Thousand Palm Trees', the area holds a distinct charm to be appreciated by anyone who can accept staying outside of walking distance of Lanzarote's beaches.
Quiet doesn't have to mean boring though, as there is plenty to do in Haria. The attractions here will appeal to anyone looking to experience the culture of the island without the tourist taint. The local town has a quaint, traditional vibe that hasn't been affected by commercialization.
Intimate tapas restaurants and tavernas, stocked with produce from local farms and the island's fishing villages, provide some of the most authentic dining experiences you could ask for.
One of the main draws to the town center is an underground art gallery beneath the Plaza de la Constitucion. It boasts a frequently changing exhibition of art by featured artists, so is worth checking out even if you have visited before.
The artisan craft market that runs in the plaza every Saturday is a great opportunity to pick up some unique souvenirs and sample the local food. You can also visit the Tienda y Taller de Artesanía Municipal building to witness local artisans crafting their wares in their workshops and potentially purchase something you watched being made.
YOU SHOULD STAY IN HARIA IF:
You want a quiet town
You love art
You want to experience the traditional Canarian atmosphere and culture
You do not care about being close to beaches
5. Caleta de Famara, Where to Stay in Lanzarote for Surfing
The little village of Caleta de Famara on the western coast of Lanzarote is considerably less packed with tourists than many of the other coastal towns on the island.
Despite boasting one of Lanzarote's longest beaches, the strong currents and high winds around this area deter swimmers and sunbathers, leaving it mostly populated by experienced surfers looking for a challenge. In fact, one local beach, San Juan, hosts a yearly professional surfing competition
It is also popular with paragliders and kite surfers, who can make the best use of the strong winds to zip across the waves.
If extreme sports are not your thing, the area may still interest you as a walking spot. The landscape boasts spectacular cliffs and a number of hiking trails.
Since the area hasn't developed much of a tourist market, it has maintained a more local, residential vibe than a lot of the island. While you won't find any high-end shops and restaurants here, it is a great place to try some fresh local cuisine and soak in the authentic culture of the Canary Islands.
STAY IN CALETA DE FAMARA IF:
You are looking for a prime location to surf
You are interested in kite surfing
You are looking for a quieter coastal location
You enjoy walking with beautiful scenic views
You are not interested in tourist facilities and souvenir shops
6. Arrecife – Best Area to Stay in Lanzarote for Shopping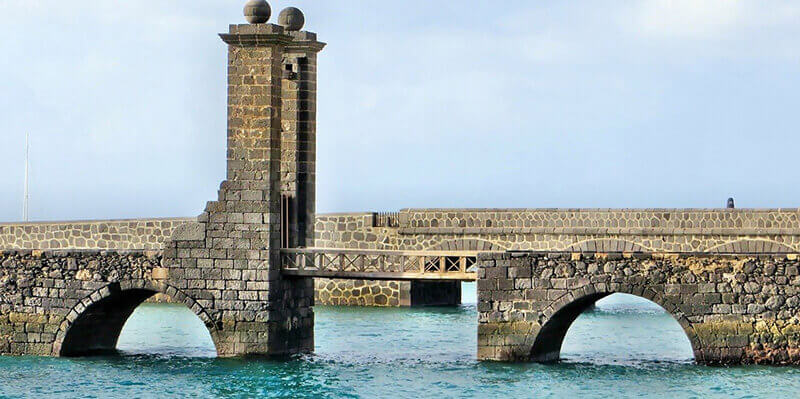 Arrecife may not be the most popular location with tourists but, as the island's largest and capital city, there is plenty to do here if you know where to look.
As one of the oldest settlements on the island, the city holds a lot of history. You can observe the historical architecture in the Old Quarter of the city, and several old fortresses and castles remain. The Castillo de San Gabriel is a coastal fortress that now houses the Arrecife History Museum, whilst the Castillo de San Jose has been converted into an art museum.
Amongst the other attractions on offer here are a shipwreck by the old port, which serves as a popular photo spot for tourists and locals alike
As the capital town of the island, Arrecife is where all the biggest, brightest festivals take place. Between the end of February and early March, the city hosts the island's biggest Carnival party, with festivities lasting for days and drawing crowds of tourists from across the world.
For anyone interested in going shopping in Lanzarote, the Centro Commercial Marina offers a range of contemporary and well-known shops to browse. If you want to shop for more artisanal souvenirs, then head over to the Arrecife Handicraft market, which is held in the Old Quarter every Saturday. Here you'll find more traditional items and local food.
YOU SHOULD STAY IN ARRECIFE IF:
You want to experience the liveliest festivals on the island.
You are visiting Lanzarote for the Carnival
You want to go shopping
You want to visit some museums
7. Orzola, Where to Stay in Lanzarote for History Buffs
Situated at the far north of Lanzarote, the small residential town of Orzola is best known as the gateway to the neighboring island, La Graciosa. La Graciosa is the smallest of the Canary Islands and doesn't offer any hotels of its own, but there is a campsite if visitors wish to stay overnight.
Ferries to the island are relatively frequently throughout the day, operating about once an hour, but they stop running quite early in the evening, so keep an eye on your watch if you don't want to wind up stranded for the night.
Despite not having much in the way of facilities for tourists, the area does boast some beautiful beaches. The three main ones are Charca de la Laja, known for its fine, white sand; Caleta del Mero, a popular camping spot with the locals; and Playa la Canteria, popular with surfers for its big waves but too volatile for swimmers.
If you're traveling with children, the Pardeles Park just a short distance from Orzola offers a petting zoo with donkey rides, and pottery classes to keep kids entertained for an afternoon.
YOU SHOULD STAY IN ORZOLA IF:
You want to visit the historic island of Graciosa
You want to camp on the beach
You want to stay away from busy tourist areas
Where To Stay In Lanzarote For Couples?
For couples looking for a quiet, romantic getaway, the inland town of Haria is worth considering.
A charming, traditional town, away from the tourist crush of the island's coastal resorts, Haria offers an escape to a more rural side of Lanzarote, surrounded by lush farmland.
With its classic, Canarian architecture, intimate bars and restaurants, and collection of art galleries, you won't be struggling to drum update ideas. The town practically exudes romance.
Alternatively, the resort of Playa Blanca is known for some of the best spots on the island to view the sunset and offers a wider array of restaurants and evening entertainment.
Where To Stay In Lanzarote In April?
By April, the temperature is beginning to climb as the island heads towards summer, but the tourist season has not yet begun. This makes it a perfect time to head to some of the more popular beach resorts before the crowds return.
Playa Blanca, Costa Teguise, and Puerto del Carmen all boast beautiful beaches that can get very crowded in the summer, so take the opportunity to enjoy them before the tourist season hits.
Where To Stay In Lanzarote In November?
November is the beginning of surfing season in Lanzarote, with the island's famous winds whipping the waves up to impressive heights. So impressive in fact, that the island is known in some circles as 'The Hawaii of Europe'.
The small town of La Santa is most popular with surfers, providing convenient access to prime surf spots such as The Slab, an exposed reef that drums up some of the best waves. El Quemao is a world-famous wave tunnel that forms in this region, with surfers from across the globe travelling to test themselves against it.
If you are not yet an experienced surfer, no worries, as there are surf schools along the coast, offering classes and courses to people looking to get started.
Where To Stay In Lanzarote In December?
The subtropical climate of Lanzarote means the island is consistently warm year-round. The temperature does waver slightly through the seasons, however, and December is one of the relatively cooler months, averaging daily highs of 21°c.
Whilst perhaps not sunbathing and water sports weather, it is a great time to take advantage of the cooler temperatures and head out onto the hiking trails.
The extraordinary, volcanic landscape of Lanzarote is popular with hikers and ramblers throughout the year, but climbing the island's mountains is more comfortable when you aren't battling the heat.
Timanfaya national park is where you'll find the most impressive examples of the island's legendary volcanic environment. There are a number of affordable hotels and bed-and-breakfasts dotted around the edges of the park, including the La Casona de Yaiza hotel to the south of the park, which offers a buffet breakfast and boasts a 'fabulous' review score on booking.com
Where To Stay In Lanzarote In January?
January's most notable event is the Día De Los Reyes, Twelfth Night Procession. In celebration of the epiphany, Three Wise Men ride through the streets on the backs of camels, distributing sweet treats to the local children.
The best place to partake in the festivities is the capital city of Arrecife, which hosts the island's largest procession through the main town, on the evening of the 6th of January. Crowds of tourists and locals alike flock to the area to witness the parade and participate in the surrounding festivities.
Where To Stay In Lanzarote In March?
In March the seas around the island are still generally too cool to comfortably swim. Instead, consider heading inland.
Haria is a popular town for those who don't want to spend their days on the beach. A beautiful farm town, nestled in a lush valley, Haria is shielded from the worst of the island's notorious winter winds.
There is plenty to keep you busy here, from craft markets and art galleries to the local restaurants, stocked with produce from surrounding farms, offering a delightfully authentic dining experience.
Where To Stay In Lanzarote For Families?
Playa Blanca is the best town to stay in if you are traveling with family and children. Well serviced with tourist facilities, beaches, and restaurants, keeping everyone entertained and organized will be a breeze.
The waters around this region are calm and protected by both natural and manmade caves, making them ideal for young swimmers.
The town also has some of the best public transport on the island, making getting around no problem, even in large groups.
Where To Stay In Lanzarote For Nightlife?
If you prioritize vibrant nightlife for your holiday, then either the capital city Arrecife or the resort town of Puerto del Carmen should be top of your list.
Hosting all the best festivals on the island and catering more towards locals than tourists, Arrecife is great if you want to experience a night out like the Canarians do it.
Puerto del Carmen, on the other hand, is geared more heavily towards international visitors and offers a wide variety of options for your evening's entertainment, with many bars staying open until the early hours of the morning.
Most of the best clubs and bars are concentrated around the central Avenida de las Playas.
Where To Stay In Lanzarote For Young Couples?
The resort town of Playa Blanca offers everything a young couple, seeking a romantic, relaxing break, could want.
During the day, head to one of the many surrounding beaches to relax or share a pedalo out on the water. You could even take a day trip to one of the quaint surrounding villages for a romantic lunch.
In the evening, return to the beach for some of the best spots on the island to view the sunset. Then, after night falls, head to one of the many bars and restaurants populating the town.
You'll never be short of date ideas here.
Where To Stay In Lanzarote For Hiking?
Boasting a landscape and biodiversity that earnt the island UNESCO Biosphere Reserve status, there are no shortages of hiking trails to keep even the most dedicated rambler entertained.
Timanfaya Natural Park is one of the best and most well-known areas for hiking on the island. Offering both guided tours and routes to hike independently, the vast volcanic landscape can occupy hikers of all levels for days.
Plenty of affordable hotels surround Timanfaya, catering to visitors looking to explore the park. One such example is the Case de Hilario hotel. Situated to the south of Timanfaya, the charming, rustic style hotel boasts a pool area with stunning views to relax after a long day's hiking and a 'fabulous' review score on booking.com
Where To Stay In Lanzarote For Cycling?
Home to the Lanzarote Ironman race, the island is a popular destination for triathletes to train due to its year-round temperate climate. As such. you'll find that there is a wealth of cycling routes available on the island.
For more challenging rides, consider staying close to the Timanfaya Natural park, whose volcanic, hilly landscape poses varied resistance.
Meanwhile, the flatter roads around the seafronts of Puerto del Carmen and Costa Teguise may appeal more to casual cyclists or those with children.
Where To Stay In Lanzarote For Surfing?
The north-western edge of the island gets the most consistent wind, making the beaches here an ideal place to ride the impressive waves.
The village of La Santa is particularly popular with surfers, offering a variety of comfortable accommodations within easy distance of some of the best surfing beaches the island has to offer.
In fact, the exposed reef off of La Santa is world-famous amongst surfers. Known as 'The Slab', surfers flock to this area in the winter months to ride the mighty waves as they break over the reef. The El Quemado wave tunnel that forms in this area is also a popular draw for experienced surfers.
Where To Stay In Lanzarote Without A Car?
Playa Blanca is one of the most convenient towns to stay in for anyone who does not intend to hire a car, as it has its own dedicated bus service that regularly circles the town.
With an average of one bus every thirty minutes and a low, flat-rate fare it is a convenient and affordable way to get around, even for larger groups.
The island-wide bus network will also allow you to explore the rest of the island. However, some of the smaller villages have less frequent bus services, so it will pay to plan ahead.
Taxis on the island operate on government mandated fares, which are lower than you may be used to in the rest of Europe. So, if you really want quick and easy travel to more remote areas, taxis may be a more affordable option than you expect, particularly for groups.
Lanzarote Where To Stay For A Quiet Trip?
The inland village of Haria is one of the quieter areas on the island. Located away from the busy coastal beach towns, it lacks the crush of tourists that flock to those areas.
As long as you are not concerned with staying close to the beaches, you will find plenty here to keep you busy. With attractions including underground art galleries, weekly craft markets and beautiful traditional buildings and churches, the town is an oasis of calm and culture.
Local tapas restaurants and tavernas provide a literal taste of the island culture. Meanwhile walking routes into the surrounding mountains and farmland will give you the opportunity to enjoy the stunning landscape that Lanzarote is famous for.
Best Things to Do and See in Lanzarote?
Unquestionably, the highlight of the island is the world-famous Timanfaya National Park. Used as the shooting location for numerous movies and tv shows, due to its out of this world appearance, it offers such a variety of activities, no matter what you're into.
You could take a hike through the volcanic landscape to work up a sweat while taking in the rugged landscape. Alternately, if you want to experience it in a more relaxing manner, there are numerous coach tours that will take you around the park.
As a third, more unusual option, why not take the opportunity to ride a camel up the side of the volcano, to take in some of the best views of the area in a way you'll never forget.
Speaking of which, if it's a unique experience you're after then how about having a meal at the top of a volcano cooked using the steam from an active geyser?
As great as all of that is though, don't be worried if Timanfaya doesn't sound like your cup of tea, as there are plenty of other things to do on the island.
From the countless, sprawling golden beaches, to trike tours and even submarine tours in the small town of Puerto Calero, Lanzarote is truly a destination that offers something for everybody.
How to get to Fuerteventura from Lanzarote?
Frequent ferries run from Playa Blanca in the south of the island to Corralejo on neighboring Fuerteventura, with a journey that averages around 25 minutes.
Whilst there is only one route, three different companies offer ferry services. Prices vary by company, time, and whether or not you intend to take a car along with you, so planning and booking ahead can help with keeping the cost of transport as low as possible.
It is possible to fly between the islands, but flights are less frequent, comparably expensive, and do not have the benefit of being able to take your car with you.
How to get Around Lanzarote?
The island has a well-connected infrastructure of roads, making it easy to get around by car. Companies across the island offer car hire services, making it as easy as picking up your car at the airport and driving off into one of the island's gorgeous sunsets.
If you are feeling a little bit more adventurous, there are multiple tour companies on the island offering trike rental to explore the island in the open air.
Public buses connect much of the island, but they can be infrequent, especially to smaller villages. If you intend to rely on public transport for your holiday you would benefit from planning ahead.
Best Place to Eat in Lanzarote?
An island famous for its fishing towns and fertile, volcanic soil, Lanzarote is a playground for anyone looking to sample the freshest authentic Spanish cuisine. From seafood to tapas and fusion, there's a restaurant to suit every taste.
Possibly one of the most popular restaurants on the Island, Restaurant El Navarro in Costa Teguise serves traditional Canarian dishes with a contemporary twist. Make sure to reserve a table well in advance, as this is a small restaurant and fills up quickly.
If you subscribe to the popular tactic of following where the locals choose to eat, then El Fondeadero in Las Caletas should pique your interest.
Casual and understated, this is a wildly popular spot for locals to grab their lunch. Serving tapas and traditional Canarian dishes, prepared with fresh local ingredients, this laid-back restaurant is a lovely place to take your lunch break or spend a relaxed evening.
For a more upscale atmosphere, without the alarming price tag, Vino+ in Puerto del Carmen is a tapas restaurant you will want to add to your itinerary. Authentic tapas, prepared with local ingredients and paired with delicious wines, the restaurant even hosts live music on Thursdays.
What more could you want?
Best Time to Visit Lanzarote?
The best time to visit Lanzarote depends largely on what you are planning to do on the island.
If you are looking for a sun-soaked vacation spent by the beach or pool, the months between May to October offer the highest average daily temperatures. This is also when the winds are lowest and the seas calmest and best for swimming.
For hiking and adventurous activities that could work up a sweat, you may want to visit in the more temperate winter and spring months. The subtropical climate means that the island rarely ever gets cold, but with average daily highs in the low 20°c's, the months from November to April may be more comfortable for long hikes and strenuous activities.
Alternatively, if you are heading to Lanzarote to surf, then the best surfing conditions occur between October to March, with the cooling temperatures driving strong winds to drum up the waves.
Conclusion
Lanzarote is a beautiful island, with a wide appeal whether you are interested in a relaxing break or an active adventurous holiday.
With year-round good weather, a wide range of attractions and activities, and quality affordable accommodation across the island, you're sure to find your perfect destination on Lanzarote.
---
---