The best areas to stay in Lanzarote for first time tourists are Costa Teguise, Playa Blanca, Puerto del Carmen, Arrecife, Playa Honda, Haria. This blog post will help to find where to stay in Lanzarote for couples, families, beaches, nightlife, surfing, and near the airport.
The Spanish island of Lanzarote is the northernmost member of the Canary Islands. With a subtropical climate and yearly average of just 16 days of rain, Lanzarote is an ideal location for an escape to the sun, year-round. 
With resorts spanning the breadth of the island and offering a range of amenities that appeal to a diverse crowd of visitors, you're sure to find somewhere on Lanzarote that is perfect for you.
📌11 Best Areas to Stay in Lanzarote
1. Costa Teguise, where to stay in Lanzarote for first time, families, couples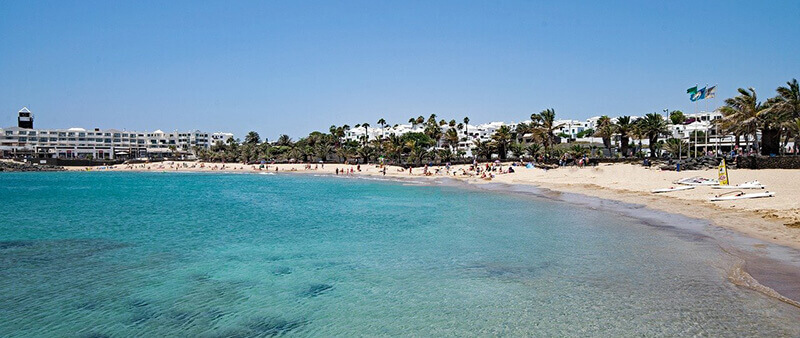 On the east coast of the island is one of the resort towns Costa Teguise, conveniently located close to the island's capital, and just a 15-minute drive from the airport. Crystal clear water, white sand beaches, many restaurants, and plenty of tourist facilities make it a good holiday base for first-time tourists.
This family-friendly resort town offers an array of recreational activities, including a nearby Costa Teguise Golf and a waterpark Lanzarote Aquarium, the area is a popular tourist destination for families and groups with a mix of interests.
The beaches of Costa Teguise are an immensely popular spot for anyone interested in windsurfing. Playa Las Cucharas in particular is host to several windsurfing schools offering tuition in the sport.
The qualifiers for the PWA Windsurfing championships also take place here in June.
For anyone looking for a beach with less sporting activity, the area has a number of more relaxing options, most notably Playa Bastian with calm and warm water; Playa de Los Charcos – a small, less crowded beach, located right next to Las Cucharas Beach; and the smaller horseshoe-shaped beach, Playa Jabillo.
Sheltered from the island's famous winds, these beaches offer tranquil waters, suitable for families with young children.
For music lovers, the town hosts a variety of live music festivals, including the Costa Music Festival in June and the Brazilian Music Festival in September.
If you can't make it to Lanzarote for these festivals, you can still enjoy live music, as it is available year-round in the many bars and venues around the town staging live performances and concerts.
Also, check out a street market every Sunday the biggest market in Lanzarote, Teguise Market in Pueblo Marinero. The Cesar Manrique Foundation and the Lanzarote Aquarium are also worth visiting.
You can also visit The Pirate Museum in Castillo Santa Barbara to learn more about the history and enjoy its beautiful views.
Meanwhile, the recent investment in the town's tourism facilities has revitalized the nightlife on offer in the area. A host of bars, restaurants, and karaoke venues make the area an attractive draw for those looking for evening entertainment.
Stay in Lanzarote Costa Teguise if you are looking for the best place in Lanzarote for couples; you are interested in windsurfing, you enjoy live music festivals, you are traveling with family, you want varied evening entertainment options.
Best Places to stay in Lanzarote Costa Teguise:
luxury hotel: Meliá Salinas – Adults Recommended This is a five-star beachfront hotel, surrounded by 2 white sandy beaches Los Charcos and Las Cucharas. Close proximity to Costa Teguise Golf Course, Lagomar Museum, and Jardí­n de Cactus Gardens. Lanzarote Airport is just 15km away. It features 2 on-site restaurants, an evening bar and lounge, a pool bar and a beach bar, 3 floodlit tennis courts, a beauty center, and a wellness area with a sauna and whirlpool.
midrange hotel: Barceló Teguise Beach – Adults Only Located just a few steps from Las Cucharas Beach, and a short drive from the city of Arrecife, this 4-star hotel offers a wellness center, a buffet restaurant, and free wifi. It's also within walking distance from Playa del Jablillo and Los Charcos beach. It features guest rooms with air-conditioned, a wardrobe, a coffee machine, a minibar, a safety deposit box, a flat-screen TV, a balcony, and a private bathroom with a shower.
budget hotel: Apartamentos Santa Rosa this apartment is located within a short stroll away from Playa Bastian and Playa El Ancla beach. You can also choose Apartamentos Galeon Playa within walking distance from Las Cucharas Beach, shops and restaurants in the center of Costa Teguise, and a 10-minute drive away from the nearest golf course.
🔍FIND BEST HOTELS IN COSTA TEGUISE
See more about Spain:
2. Arrecife, capital, best place to stay in Lanzarote for history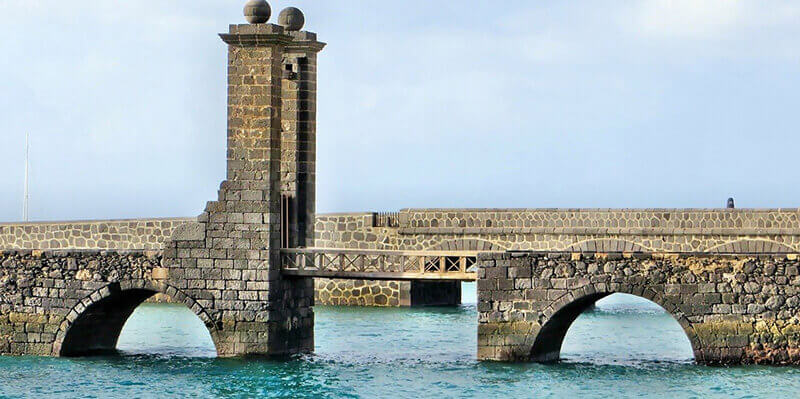 Arrecife may not be the most popular location with tourists but, as the island's largest, commercial and capital city of Lanzarote, there is plenty to do here if you know where to look.
Arrecife is central centrally located on the East Coast, between Playa Honda and Costa Teguise beach. You can easily get around with public transport if you don't have a car.
The architect and artist, César Manrique designed most of the top attractions on Lanzarote in the 1970s and 1980s.
As one of the oldest settlements on the island, the city holds a lot of history. You can observe the historical architecture in the Old Quarter of the city, and several old fortresses and castles remain.
The Castillo de San Gabriel is a coastal fortress that now houses the Arrecife History Museum, whilst the Castillo de San Jose was renovated by Manrique in the 70s and has been converted into an art museum.
Amongst the other attractions on offer here is a shipwreck by the old port of Arrecife, which serves as a popular photo spot for tourists and locals alike.
The beautiful San Gines Church with its white-washed outer and charming bell tower dominates the square and the old town.
Nearby the church, you will find a fish market, and the Arrecife Mercado in Calle Libre street, a daily market selling spices, fruits, and vegetables.
The 19th-century mansion House of Culture Agustín de la Hoz is a two-story, now a cultural center with a gallery of many paintings.
The International Museum of Modern Art is located in the old military fort Castillo de San Jose and displays collections from the 1950s through to the 1970s.
For anyone interested in going shopping in Lanzarote, the Centro Commercial Marina offers a range of contemporary and well-known shops to browse.
If you want to shop for more artisanal souvenirs, then head over to the Arrecife Handicraft market, which is held in the Old Quarter every Saturday. Here you'll find more traditional items and local food.
The main shopping street is a pedestrianized area on León y Castillo or Calle Real with a wide range of shoe shops, perfumes, tobacco specialists, bargain euro or Chinese shops, and a small department store.
Stroll along Calle Real, you will find Recova market, and Charco San Ginés with more cafés and restaurants.
As the capital of Lanzarote, Arrecife is where all the biggest, brightest festivals take place. Between the end of February and early March, the city hosts the island's biggest Carnival party, with festivities lasting for days and drawing crowds of tourists from across the world.
Apart from history and culture, you can find some beaches nearby such as calm waters and golden sand El Reducto beach, El Cable beach with fine golden sand, windy with moderate waves, and La Concha beach.
Stay in Arrecife if you are looking for where to stay in Lanzarote without a car; want to experience the liveliest festivals on the island, you are visiting Lanzarote for the Carnival, you want to go shopping, you want to visit some museums.
Best places to stay in Arrecife:
Hotel Lancelot This is a 3-star hotel, located opposite the Reducto beach, in Arrecife centre. You can enjoy a variety of water sports at the Playa Del Reducto. Close proximity to Costa Teguise Golf Course, Campesino Monument, Rancho Texas Park, Lanzarote Golf Resort, and Montañas de Fuego Mountains.
Apartamentos Islamar Arrecife This beachfront apartment is located just a few steps from Reducto Beach, overlooking Arrecife Bay and the Parque Islas Canarias Botanic Gardens. Also within walking distance from the Puente de la Bolas Bridge, the San Jose and San Gabriel Castles.
Hotel Miramar Offering large and light rooms, with sea views in most of the rooms. Arrecife offers good road connections to all parts of the island of Lanzarote. The hotel is about 6 km from the airport and 2 km from the port. From the port, you can get a ferry to Gran Canaria. The popular resort of Costa Teguise is about 5 km away.
🔍FIND BEST HOTELS IN ARRECIFE
3. Playa Blanca, where to stay in Lanzarote for families & beaches
Located close to Timanfaya National Park and the Papagayo beaches, Playa Blanca is the most southerly town on Lanzarote. The newest resort on the island, the town is well serviced with modern conveniences.
Populated with a diverse mix of expats from across Europe, the region caters to a wide demographic of visitors.
Well connected to the rest of the island by public transport, as well as boasting its own dedicated town bus service, it's the perfect base from which to explore the entire island.
Of its numerous surrounding beaches, nearby Playa Dorada is the most popular, then Playa Flamingo, Papagayo beach is a short drive away.
Protected by its manmade cove it is perfect for sunbathing, the calm sea is ideal for families with children and with a wide array of water sports and activities on offer, everyone can enjoy a relaxing day at this beautiful beach.
For families with young children, you also have Aqualava Water Park, Dino Park Water Park, and Underwater Museum to entertain.
Playa Blanca sits near the base of Montana Roja, one of the island's volcanoes. Anyone interested in hiking or exploring the volcanic craters can enjoy a comfortable walk up the small mountain. An adventurous day out, enjoyable even for inexperienced hikers.
The beautiful Timanfaya National Park is also one of the popular attractions of the island, and a great day trip from Playa Blanca for the whole family.
Regular ferries run to nearby Fuerteventura, making this a great place to stay if you're interested in taking a day trip over to the neighboring island.
You will arrive at the most popular resort in Fuerteventura, Corralejo, and can explore more of Corralejo Natural Park, some of the most popular in Fuerteventura like Oliva beach and Flag beach.
There are plenty of restaurants, shops, and bars on the Playa Blanca boardwalk, and around the old town. It also has a recreational port and a new shopping center.
Stay in Playa Blanca if you are looking for the best place to stay Lanzarote for a family holiday, you're looking for a beach holiday, you do not want to hire a car, you are interested in exploring the island's volcanoes, you want a little bit of everything from the island, you would enjoy a day trip to Fuerteventura.
Best places to stay in Playa Blanca:
Best luxury hotel: Dreams Lanzarote Playa Dorada Resort & Spa 5 star beachfront resort is located in Playa Blanca, within walking distance from Playa Dorada, and Playa Blanca beach, while Flamingo Beach is 2km away. It offers a bar, a shared lounge, a garden, a 24-hour front desk, a restaurant, a water park, a year-round outdoor pool, a buffet breakfast, and a children's playground.
Best mid-range hotel: Iberostar Selection Lanzarote Park Located within easy walking distance from the bay of Playa Flamingo with stunning views of the Atlantic Ocean. You can easily reach Timanfaya National Park and Lanzarote Airport by car in a short time. It offers rooms with a TV and the bathroom includes free toiletries. Beach towels, bathrobe and slippers, a Nespresso Coffee machine, kettle, and free wifi.
Best budget hotel: Casa salzano This beachfront home holiday is just 200m from Playa Dorada and Playa Blanca. Parque Nacional de Timanfaya, montana roja, Montañas de Fuego Mountains, and Lanzarote Golf Resort are less than 20km away. It has 2 bedrooms, 1 bathroom, bed linen, towels, a flat-screen TV with satellite channels, a dining area, a fully equipped kitchen, and a balcony with garden views.
🔍FIND BEST HOTELS IN PLAYA BLANCA
4. Puerto del Carmen, where to stay in Lanzarote for nightlife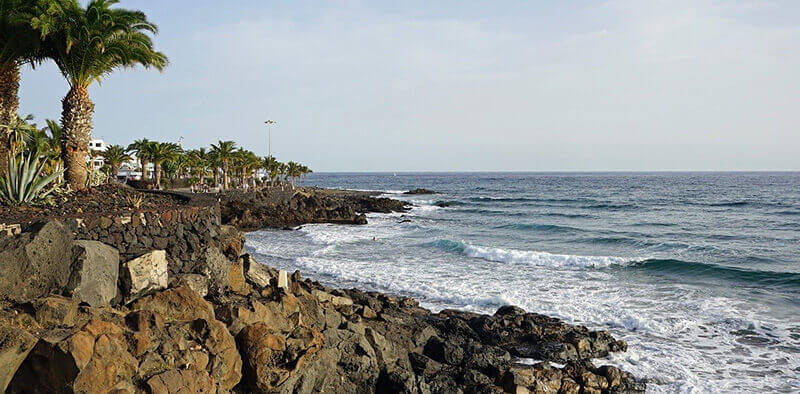 Located on the southeast coast of Lanzarote, ten minutes from the airport, the town of Puerto del Carmen is by far the liveliest resort on the island.
This one of the oldest resorts on the island is filled with shops, bars, and restaurants.
Puerto del Carmen has a lively nightlife atmosphere with many cool nightclubs and bars, especially on Avenida de las Playa, the main road with lots of tourist attractions.
The Centro Comercial Biosfera Plaza is home to a selection of internationally known shops, whilst surrounding neighborhoods house stores aimed at tourists shopping for souvenirs. And supermarkets: Supermercado Marcial and Supermercado Spar.
Founded as a small fishing town, Puerto del Carmen still boasts a beautiful harbor populated with restaurants stocked with fresh, locally caught fish. If you want to experience a delicious dining experience and some truly unforgettable seafood, this is a place to visit.
The 6 kilometers of sheltered beaches also offer some of the calmest coasts in the Canaries. Take advantage of this by visiting one of the local diving schools and exploring the vibrant world beneath the crystal-clear waters.
Grande Beach, Los Pocillos, Matagorda, Playa Chica are the main beaches in this area:
Grande Beach is the busiest beach because of its location, you can easily find a wide range of restaurants and shops line the main strip behind the beach. Plenty of beach facilities like showers, toilets, sunbeds, parasols, and a lifeguard service.
Playa Chica is a smaller beach, 60 meters of fine golden sand and calm warm waters, surrounded by natural formations of lava, good for snorkeling and scuba-diving.
Los Pocilos a quiet, wide sandy beach, a 15-minute walk along the promenade from Puerto del Carmen, good for windsurfing and kitesurfing.
Matagorda is a beautiful large beach, good amenities and plenty of bars and restaurants, and is awarded the blue flag.
Planning restrictions in the area mean that the towering hotels and apartment blocks that mar the skyline in the rest of the island are absent here. Thanks to this, the town offers some of the most beautiful, unspoiled views on the island.
For a fun day with your kid, Rancho Texas Lanzarote Park might be the favorite place for families. It is an animal park together with a water park, so it offers an entire day of fun and activity for the whole family.
Between February and March, Puerto del Carmen hosts the island's Carnival celebrations, Carnival Parade. Drawing crowds of revelers from across Europe, this is an event not to be missed by anyone looking to experience the best of Lanzarote's party scene.
Other events like the Triathlon Qualifier for the Spanish Championship in June, Ironman Competition in May, tennis championships, and Our Lady of Carmen Festival in July.
Stay in Puerto del Carmen if you want to sample some deliciously fresh seafood, you want to try scuba diving, you are interested in the Carnival celebrations, you want to enjoy a spot of shopping, nightlife.
Best places to stay in Puerto del Carmen:
Best luxury hotel: La Isla y el Mar, Hotel Boutique Overlooks the Atlantic ocean, 15-minute walk from Playa Chica Beach, within easy walking distance from supermarket, restaurants, and bars in the harbor area. Timanfaya National Park, Arrecife, and Lanzarote Airport are a short drive away. It offers suites with a private, furnished terrace and a seating area with a flat-screen TV, a minibar, and private bathrooms with a rain shower, hairdryer, bathrobes, slippers, and free toiletries.
Best mid-range hotel: Seaside Los Jameos This 4-star Canarian-style hotel is located on Los Pocillos Beach, close proximity to Matagorda and Puerto del Carmen, while Lanzarote Arrecife Airport just 5km away. It provides spacious air-conditioned rooms with a balcony and is decorated with soft colors and light wood furniture, a satellite TV, and minibars, and free wifi.
Best budget hotel: Apartamentos Fariones Located close to Puerto del Carmen Beach, Playa Chica; you can also eaily reach Lanzarote Golf Resort. The apartments are bright and open, with a balcony or terrace, and a full kitchen with a refrigerator and microwave. It also offers a bar-cafeteria, a restaurant, which serves a daily buffet breakfast, a children's play area, and, in winter, a heated outdoor swimming pool for children.
🔍FIND BEST HOTELS IN PUERTO DEL CARMEN
5. Haria, quiet traditional Canarian town for budget travelers
Located inland and away from the beaches in the north of the island, the Haria area is quieter and less crowded with tourists than the island's coastal towns.
Nestled amongst sprawling farms in a valley known as 'The Valley Of A Thousand Palm Trees, you can find other tropical species like prickly pears and cactus species.
If you go to the Mirador de los Helechos (Helechos Viewpoint), you can view Haría palm grove.
Quiet doesn't have to mean boring though, as there is plenty to do in Haria. The attractions here will appeal to anyone looking to experience the culture of the island without the tourist taint.
The local town has a quaint, traditional vibe that hasn't been affected by commercialization. This countryside area is filled with palm trees and whitewashed houses.
Haría has attracted many artists to come here and worked at a variety of craft shops and galleries. César Manrique chose to retire and was also buried here in 1992. You will find the César Manrique House Museum, which is the former final home of César Manrique.
You can visit Famara cliff, to see lovely Famara beach from its top. You can also visit Cueva de los Verdes – Green Caves, a lava tube and tourist attraction of the Haria, and Jameos del Agua – also lava caves which are set inside the volcanic tunnel formed by the eruption of La Corona Volcano, and one of the longest in the world.
For beach, visit Playa Caleton Blanco beach with crystal clear water, white sand, and volcanic rocks creating charming views.
Intimate tapas restaurants and tavernas, stocked with produce from local farms and the island's fishing villages, provide some of the most authentic dining experiences you could ask for.
One of the main draws to the town center is an underground art gallery beneath the Plaza de la Constitucion. It boasts a frequently changing exhibition of art by featured artists, so is worth checking out even if you have visited before.
The artisan craft market that runs in the Plaza Leon y Castillo every Saturday is a great opportunity to pick up some unique souvenirs and sample the local food.
You can also visit the Tienda y Taller de Artesanía Municipal building to witness local artisans crafting their wares in their workshops and potentially purchase something you watched being made.
Stay in Haria if you are looking for the best places to stay Lanzarote for a quiet town, you love art, you want to experience the traditional Canarian atmosphere and culture, you do not care about being close to beaches.
Best Places to stay in Haria:
Manoa Eco House This is a country house, located in Haria; Offering a garden, 2 bedrooms, 1 bathroom, and a kitchen; it's 30km from Arrecife, and 25km from Costa Teguise. It's also close to La Cueva de los Verdes Cave, Jameos del Agua Caves, Mirador del Rio, Jardí­n de Cactus Gardens, and Lagomar Museum.
Casa Emblemática Villa Delmás This apartment offers rooms with a private bathroom, a flat-screen TV with cable channels, free private parking. You can enjoy cycling and hiking, horse riding which are popular activities around this area.
Casa Rural Villa Lola Y Juan This country-style hotel provides apartments and rooms with a satellite TV and a safe, and a balcony or patio, and a private bathroom with a hairdryer, and free WiFi. It has an outdoor pool with sun loungers, the garden terrace has barbecue facilities.
🔍FIND BEST HOTELS IN HARIA
6. Caleta de Famara, where to stay in Lanzarote for surfing
Caleta de Famara is known as a surfers paradise. This little fishing village of Caleta de Famara on the western coast of Lanzarote in the Municipio of Teguise is considerably less packed with tourists than many of the other coastal towns on the island.
Despite boasting one of Lanzarote's longest beaches, six-kilometer long Playa de Famara, the strong currents and high winds around this area deter swimmers and sunbathers, leaving it mostly populated by experienced surfers looking for a challenge.
In fact, one local beach, Playa de San Juan, hosts a yearly professional surfing competition
It is also popular with paragliders and kite surfers, who can make the best use of the strong winds to zip across the waves.
If extreme sports are not your thing, the area may still interest you as a walking spot. The landscape boasts spectacular Famara cliffs, which have the highest point on the island, Peñas del Chache, and a number of hiking trails.
The beach has great views of islands of La Graciosa, Alegranza, Montaña Clara and Roque del Oeste.
Since the area hasn't developed much of a tourist market, it has maintained a more local, residential vibe than a lot of the island. It is a great place to try some fresh local cuisine and soak in the authentic culture of the Canary Islands.
The nightlife in Caleta de Famara is laidback, relaxed. Head to Bartola for live music on Fridays, Bar Sol for local fish, and El Risco Restaurant has an original Cesar Manrique mural on the wall.
Stay in Caleta de Famara if you are looking for a prime location to surf, you are interested in kite surfing, you are looking for a quieter coastal location, you enjoy walking with beautiful scenic views, you are not interested in tourist facilities and souvenir shops, you want to stay in a traditional fishing village.
Best places to stay in Caleta de Famara:
Red Star Surf & Yoga Camp Lanzarote is located just a few steps from the Famara and San Juan Beaches, close to Timanfaya National Park and Lanzarote Airport. Each room has access to a shared bathroom with a shower, a shared kitchen and common lounge with a TV, and free WiFi.
Dunas de Famara This beachfront hotel offers access to a patio and free WiFi, within a short stroll from Famara Beach; and close to Lagomar Museum, Jardí­n de Cactus Gardens, Campesino Monument, La Cueva de los Verdes Cave, and Costa Teguise Golf Course.
🔍FIND BEST HOTELS IN FAMARA
7. Orzola, gateway to La Graciosa on the northern tip of Lanzarote
Situated at the far north of Lanzarote, the small residential town of Orzola is best known as the gateway to the neighboring island, La Graciosa.
The largest in the Chinijo archipelago, La Graciosa is the smallest of the Canary Islands and doesn't offer any hotels of its own, but there is a campsite if visitors wish to stay overnight.
Ferries to the island are relatively frequently throughout the day, operating about once an hour, but they stop running quite early in the evening, so keep an eye on your watch if you don't want to wind up stranded for the night.
Despite not having much in the way of facilities for tourists, the area does boast some beautiful beaches.
The three main ones are Charca de la Laja, known for its fine, white sand; Caleta del Mero, a popular camping spot with the locals; and Playa la Canteria, popular with surfers for its big waves but too volatile for swimmers.
This small fishing village in Lanzarote is also famed for its fantastic fish and seafood restaurants, you can grab a meal at its pretty harbor.
If you're traveling with children, the Pardeles Park just a short distance from Orzola offers a petting zoo with donkey rides, and pottery classes to keep kids entertained for an afternoon.
You will find Los Caletones, a cluster of coves located at its entrance. It has clear, shallow water, and fine white sand. It's a great place to relax.
Stay in Orzola if you want to visit the historic island of Graciosa, you want to camp on the beach, you want to stay away from busy tourist areas.
Best places to stay in Lanzarote in Orzola:
Casa Salinas Playa This guest house offers rooms with TV, a wardrobe, a private bathroom, and free wifi. Close to Bajo de los Sables Beach, Caleton Blanco Beach, Playa de la Cantería, and Mirador del Rio.
Tabaibita Situated in Orzola, 2.1 km from Bajo de los Sables Beach, Tabaibita features accommodation with a garden, free WiFi, a 24-hour front desk, and a tour desk. With sea views, this accommodation provides a balcony.
🔍FIND BEST HOTELS IN ORZOLA
8. Puerto Calero, a luxury place in Lanzarote
Located on the outskirts of Puerto del Carmen, Puerto Calero was the first recreational port of Lanzarote. Now it's one of the most modern and exclusive ports in all of Spain.
Puerto Calero marina was first operational in 1989 after 4 years of construction. The idea of building a marina was in 1983 by José Calero. The marina now has 450 berths, many superyachts, luxurious vessels have moored here.
It lacks for nothing in terms of what visitors and yachtsmen might need. For tourists, you can expect excellent shops, top-quality bars, and restaurants. You can expect fine dining around the marina and the setting while you dine is lovely.
Not surprisingly, accommodation in Puerto Calero is expensive so budget travelers should look elsewhere. There are two luxury hotels here, the 4-star Costa Calero, and the 5-star Secrets Lanzarote. There is also a selection of apartments and villas available for rental too.
Stay in Puerto Calero if You enjoy sailing and intend to have some trips out into the Atlantic., Expensive hotels are within your means., You want good facilities and quality restaurants.
Best places to stay in Puerto Calero:
Secrets Lanzarote Resort & Spa – Adults Only This luxury hotel in Puerto Calero is 13 km from Lanzarote Airport. It offers 4 heated outdoor pools one of which is exclusive for Preferred Club Members, a free gym and free sports facilities, as well as free WiFi and free parking.
Sealine Boat is situated in Puerto Calero and offers a terrace. Puerto del Carmen is 6 km from the boat, while Playa Blanca is 25 km from the property. The nearest airport is Lanzarote Airport, 14 km from Sealine Boat.
Costa Calero Situated in a quiet resort 5 km west of Puerto del Carmen, Costa Calero has 4 outdoor swimming pools and a spa with a sauna. The hotel offers a free shuttle service to the beach. There is an scuba diving centre, Rubicon Diving at the hotel, and Lanzarote Golf Club is about 15 minutes drive away. Costa Calero is 12.5 km from the Lanzarote Airport and about 25 minutes drive from Arrecife ferry port with regular departures to the island Gran Canaria.
🔍FIND BEST HOTELS IN PUERTO CALERO
9. San Bartolomé, picturesque town in the center of the island
San Bartolome is located in the center of the island, in a fertile valley, surrounded by the Guatisea and the Mina mountains.
You can learn more about it at the House-Museum of the Farmer and the Monument to Fertility which is the work of César Manrique, located in this area.
This is the best agricultural area in Lanzarote with many crops growing there. They include pumpkins, sweet potatoes, and particularly watermelons.
The bakery and pastry shop in the town has a great reputation meaning that anyone staying there can expect to eat well.
If you like impressive traditional Canarian architecture, it is because of the use of green, black, and white on its buildings.
The 17th Century Casa Perdomo, incorporating the Museo Etnografico Tanit telling the story of Lanzarote, is the most impressive building in the town.
In the central square, you will find the 18th Century San Bartolome Church, the town hall, and the Teatro Municipal.
San Bartolome has a coastal strip with the beaches of Playa Honda, one of the biggest on the island.
Accommodation is limited and you should book in advance to be certain of a room.
Stay in San Bartolome if You want to stay inland, A small town appeals to you to get a flavor of the island, Simple daily living is all you want from your holiday.
Best places to stay in San Bartolomé:
Caserio de Mozaga Situated in Mozaga in Lanzarote, Caserio de Mozaga is well positioned for visiting the beautiful Famara Beach as well as the stunning scenery of the Timanfaya National Park.
Ecofinca La Buganvilla – Adults Only Offering views of Lanzarote's volcanoes and attractive landscape, Ecofinca La Buganvilla – Adults Only is located in San Bartolomé. Set within a vineyard, it features an outdoor swimming pool and beautiful apartments. It has an ideal setting for golfing, hiking and cycling, and Timanfaya National Park is just 25 minutes' drive away. The beaches at Arrecife are approximately 12 km from the complex.
🔍FIND BEST HOTELS IN SAN BARTOLOME
10. Arrieta, 30 kilometres to the north of Arrecife
Arrieta is a small village on the north coast of Lanzarote, around 30km from the island capital, Arrecife. It is yet to become a village that all tourists have heard about, but its charm is certain to change that.
Its beautiful fishing harbor is a great place to watch the boats go to sea and return with their catch. Adjacent to it, stands the Casa Juanita, the funny blue tiles, and red bricks house.
By day, you might like to relax on its lovely 810m long, fine golden sandy beach, Playa de la Garita. It has rightly been awarded a Blue Flag. The current can be strong so take care when swimming, but surfers love these waters. It's also popular for snorkeling and bodyboarding.
The beach has a children's playground, shower facilities, parking, and restaurants. The kisost at Chiringuito tapas bar and Casa de la Playa Restaurante nearby are great places to grab excellent Spanish food like fresh fish dishes, tapas of boquerones, churros, albondigas, and paella.
The further along the coast before the cliffs is a very popular camping spot for locals. It is a campervan, mobile home, not with tents. Camping with a tent is prohibited.
Arrieta's main street, Calle La Garita, provides a variety of shops, restaurants including the El Amanecer, Los Pescaditos, and La Nasa. If you like fresh seafood, head to El Charcon near the harbor.
You will need to book accommodation in advance because it is limited. Hiring a car makes sense as well unless you are happy to stay in one place. You could do worse.
Stay in Arrieta if You can plan in advance, Tourist hotspots do not appeal to you, Village life and fresh fish sound good to you.
Best places to stay in Arrieta:
Casa Pura Featuring sea views, Casa Pura provides accommodation with a terrace and a kettle, around 500 m from Playa de la Garita. This beachfront property offers access to a balcony and free WiFi.
Punta mujeres casitas del mar Located in Arrieta, 1.6 km from Playa de la Garita, Punta mujeres casitas del mar provides air-conditioned accommodation with a terrace and free WiFi. The property has sea views.
🔍FIND BEST HOTELS IN ARRIETA
11. Playa Honda, where to stay near the Lanzarote airport
Located close to Arrecife International Airport, Playa Honda is the industrial heart of the island with many warehouses and small factories. It's also the second largest on the island.
This growing residential suburb is popular for local families with property prices reflecting that. Job opportunities go beyond those in tourism.
Located on the coast as the name suggests, tourists will enjoy the impressive stretch of five kilometers of sand.
The wide traffic-free, long promenade connecting Arrecife and Puerto del Carmen is very popular with walkers and cyclists. Plenty of tapas bars and restaurants line this stretch.
Playa Honda also has excellent shopping, you can shop at Deiland shopping center, one of the main shopping centers on the island, along with the Biosfera Centre in nearby Puerto del Carmen.
You can find very affordable accommodation here and it is difficult to imagine a more convenient place on the island with the airport so close. Transport links around Lanzarote are also good.
Stain Playa Honda if the airport's proximity is important to you; you want a nice beach and good facilities; you are looking for value in your accommodation.
Best places to stay in Lanzarote in Playa Honda:
Luxury Beach Apartments Boasting sea views, this apartment features accommodation with a terrace and a kettle, around 3 km from Lima Beach. This beachfront property offers access to a balcony and free WiFi.
The Secret Suites Situated 2.6 km from Lima Beach, this accommodation has free WiFi and free private parking. A car rental service is available at the hotel, while cycling can be enjoyed nearby.
🔍FIND BEST HOTELS IN PLAYA HONDA
Read more: Asked Questions about Best Places to Stay in Lanzarote
Check out my virtual tour of the best places to stay in Lanzarote in this video:
Best Time to Visit Lanzarote? The best time to visit Lanzarote depends largely on what you are planning to do on the island.
If you are looking for a sun-soaked vacation spent by the beach or pool, the months between May to October offer the highest average daily temperatures. This is also when the winds are lowest and the seas calmest and best for swimming.
For hiking and adventurous activities that could work up a sweat, you may want to visit in the more temperate winter and spring months. The subtropical climate means that the island rarely ever gets cold, but with average daily highs in the low 20°c's, the months from November to April may be more comfortable for long hikes and strenuous activities.
Alternatively, if you are heading to Lanzarote to surf, then the best surfing conditions occur between October to March, with the cooling temperatures driving strong winds to drum up the waves.
See More:
Lanzarote is a beautiful island, with a wide appeal whether you are interested in a relaxing break or an active adventurous holiday.
With year-round good weather, a wide range of attractions and activities, and quality affordable accommodation across the island, you're sure to find your perfect destination on Lanzarote.