The best areas to stay in Malaga for first time tourists are the neighborhoods of Downtown Malaga, The Old Town, Soho , Calle Larios, El Palo, and El Perchel. This blog will help you to find where to stay in Malaga for nightlife, for families, and near the beach.
Founded in 770 BC by Phoenicians, This birthplace of Pablo Picasso is one of the oldest cities in the world. it's the second-largest city in the Spanish region of Andalusia, the biggest town on the Costa del Sol.
This port city has 300 days of sunshine each year. Malaga has 3,800 hectares of vineyards and is one of the world's oldest wine regions. Known for its blend of beautiful beaches, historic city sights, and beautiful rural scenery, Malaga is a city that has something for everyone.
Malaga-Costa del Sol Airport (or Malaga Airport) is the main international airport serving the Costa del Sol. it is the fourth busiest airport in Spain, after Madrid, Barcelona and Palma de Mallorca. 85 percent of its traffic is international, with most of them from the European Union and the United Kingdom including Belgium, the Netherlands, Denmark.
Let's look at the 14 best places to stay in Malaga to book your accommodations:
Where to Stay in Malaga: Best Areas and Neighborhood
1. Old Town, where to stay in Malaga for first time
We start right in the heart of the city in the El Centro Malaga (the Old Town or Downtown Malaga), the best area for first-time visitors. As with many cities, this aptly named central section is easily the most developed in Malaga and as such has plenty on offer for everyone.
From stunning historic sights in the old part of the city to the vibrant clubs, bars, and restaurants, wineries and microbreweries downtown, this will give you plenty to fill both your days and evenings with.
Old Town is home to the most famous attractions in the city such as Picasso Museum, Plaza de la Merced, and Calle Marques de Larios. The renowned Art Mile contains the Picasso Museum, the Carmen Thyssen Museum, and the Centre Pompidou.
You can easily explore on foot the narrow streets with historic Mozarabic buildings, museums, Art Deco palaces, Baroque churches, Roman and Phoenician ruins.
You will find Constitution Square (Plaza Mayor), the main square in the historic center. It hosts some events during the year and is decorated with the main city Christmas tree on Christmas eve and New year's eve.
If you love shopping, you must go to the Malaga Marques de Larios (Calle Marqués de Larios), the famous shopping street, lined with many cafes, restaurants, pubs, tapas bars, boutiques, and souvenir shops.
At the end of the street, you will find Monumento Marqués De Larios, Plaza de La Marina and the port of Malaga. Nearby, you will also find the Cathedral of Malaga, Catedral de la Encarnación, Roman theatre, Alcazaba fortress, and Gibralfaro castle.
The Merced square is also known as the birthplace of Picasso. Nearby, you will find the House-Museum of Picasso and the old scene in the capital of the Costa del Sol, the Cervantes Theatre, and the venue of the Málaga film festival.
It's also home to one of the most famous beaches in the region, Playa La Malagueta. A lengthy beach provides the opportunity to either relax in the quieter outer edges or be right in the thick of things in the middle. Being located right in the center of Malaga and being near numerous amenities such as bars and shops, this is a beautiful and convenient beach for all to enjoy.
For local market experience, head to Mercado Atarazanas which is housed in a 19th-century wrought iron and glass building where you can try some tapas and fresh pescaíto.
If you stay in Málaga Centro, don't forget to check out El Palo, just a few minutes' drives from Centro Málaga to the east. This area has beautiful beaches, a great place for the family to relax, swim or just wander around the promenade.
The accommodation also varies from great value, boutique hotels to high-end luxury hotels so there is something to fit all budgets.
Stay in Centro if you are looking for the best area to stay in Malaga for nightlife; you want to stay close to everthing.
Best Places to Stay in Málaga Centro – Old Town:
luxury: Gran Hotel Miramar GL This superb, 5-star luxury hotel is set in a luxurious, listed, 20th-century building, just 10 yards from La Malagueta beach, and in walking distance from Malaga Cathedral, and Alcazaba. It offers elegant rooms with air-conditioning, a flat-screen TV with satellite channels, a private bathroom with a bath, a mirror with temperature and clock, and Bulgari toiletries.
mid-range: Ilunion Málaga is a chic, modern, eco-efficient, 4-star hotel, located in the city's port area. It is within walking distance from the Maria Zambrano Train Station, Picasso Museum, Malaga Cathedral, Malaga Historic Centre. It features an on-site restaurant, a wellness area with an indoor pool, a fitness center, and spacious rooms with wooden floors and decorated in warm colors, air conditioning, free WiFi, a flat-screen satellite TV, a free safe, and a private bathroom with a hairdryer and free toiletries.
budget: Casa de la Merced Suites offers city views and free WiFi, it's located near Picasso Museum, Misericordia Beach, Museum of Glass and Crystal, Alcazaba, and Gibralfaro Viewpoint.
hostel: The Lights Hostel is a great choice for those who want to stay in the city center while traveling on a budget on, 300 m from famous Calle Larios Street. It's located near Malaga Cathedral and Carmen Thyssen Museum. Each room is air-conditioned, includes bed linen, and single-sex shared shower rooms and toilets on each floor.
🔍FIND BEST HOTELS IN CENTRO
2. Calle Larios, where to stay in Malaga for shopping
Malaga's Fifth Avenue, Calle Larios is one of the most modern parts of the heart of Malaga. This famous pedestrianized main shopping street is a shoppers paradise. It is also one of the most expensive streets in Spain, spanning from Plaza de la Constitución to the Parque de la Alameda.
Calle Larios is named after the Larios family. At the end of the street between the intersection between Alameda Principal and Calle Larios, you will find the Monumento Marqués De Larios, which is a monument dedicated to Manuel Domingo Larios y Larios.
A busy tourist area is filled with amenities like bars, cafes, restaurants, hotels, and shops. This provides ample choice, although does come at a slightly higher price.
The collection of bars and pubs in the area helps to create one of the most vibrant nightlife scenes in the city. This has made it popular with younger visitors, who often seek out a vibrant, party atmosphere to enjoy during their vacation.
Calle Larios also has the benefit of being located near the stunning harbor. This not only allows it to offer incredible views of the ocean and boats bobbing around in the water, but it also makes it ideal for anyone planning to take a cruise or stop off while already on one.
Stay In Calle Larios If you like shopping, you want a vibrant nightlife atmosphere, you want to be located near the city center, surrounded by amenities.
Best places to stay in Calle Larios:
🔍FIND BEST HOTELS IN CALLE LARIOS
3. María Zambrano train station, budget-friendly area
The transportation hub of Malaga, Maria Zambrano Station is located on Explanada de la Estación in the city center, close to the Old Town and the harbor. It's named after a famous Spanish philosopher.
The busiest rail terminal in Malaga is ideal for anyone coming to or leaving the city by train. It is connected with Spanish and French cities by high-speed long-distance AVE trains, and Renfe trains to the Andalucia region.
An incredibly busy area, it isn't a good choice for anyone looking for a quiet getaway. However, an abundance of shopping and dining options adds to its convenience. Vialia Shopping Centre is integrated into the station with many shops, restaurants and cafés, cinemas, and a hotel.
Despite being so popular, it also features very affordable prices, making it a good choice for those traveling on a budget.
Stay InMaria Zambrano If you are traveling by train or on a budget, you want to be surrounded by amenities, you aren't looking for a quiet break.
Best places to stay near Malaga Train Station – Maria Zambrano:
🔍FIND BEST HOTELS IN MALAGA TRAIN STATION
4. Soho, cool place to stay in Malaga
Located near the heart of the city, the cool neighborhood of Soho – Art District is one of the hippest, trendiest areas in Malaga.
The Malaga Arte Urbano Soho (MAUS) has turned the neighborhood into an area perfect for art fans. Meanwhile, boutique hotels give you a stylish place to enjoy your trip from.
Soho is located between Alameda Principal to the north, the Muelle Heredia to the south, the Guadalmedina river to the west, and Plaza de la Marina to the east. It's a very well-connected area close to the María Zambrano Station and the intercity bus station.
Vibrant street art lines every road, with different artists leading to an eclectic mix of styles and colors. Street performers and food vendors further the bohemian atmosphere, helping you to embrace the unique cuisine, culture, and talents of the area.
Soho is also known for its skateboarding spot. The dry Guadalmedina riverbed is a famous skatepark for practicing skateboarding.
Apart from the graffiti and skateboarding spot, you can visit Contemporary Art Center – CAC Málaga, Teatro Soho Caixa Bank (Soho Theatre) – former of Alameda Theater, and visit Made in Soho Market every first Saturday of each month.
The area was allowed to develop its style as it had become a little more run-down than the rest of the city. This means you will find much fewer visitors, helping you have a quieter break, as well as a number of cheap hotels and hostels, ideal for those traveling on a budget.
Stay In Soho If you want to stay in a vibrant neighborhood, you are a fan of art, you are traveling on a budget.
Best places to stay in Malaga in Soho:
🔍FIND BEST HOTELS IN SOHO
5. La Malagueta, where to stay in Malaga for best beaches
Located between the Port of Málaga and La Caleta beach, La Malagueta Beach is a quiet, residential, beachfront neighborhood. It is a great place to stay in the capital of Costa del Sol.
This beach gets its name from the La Malagueta neighborhood. In the 19th-century it was dominated by sugar factories and warehouses, then the Hospital Noble and the Plaza de Toros, and many skyscrapers were built at the beginning of the 20th century.
With everything catering largely to locals, it means you can experience some fabulous traditional cuisines and wares, for a much more reasonable price.
The beautiful Blue Flag beach offers a peaceful atmosphere, perfect for days relaxing on the sand, topping up your tan, or having fun in the water. This 1,200 meters long and 45 meters wide beach has dark sand, and a palm tree-lined seafront promenade.
There are also beach facilities like sunbeds, beach umbrellas, hammocks, parasols, sailing equipment, a children's playground. You can also find Real Club Mediterráneo de Málaga, Spain's oldest yacht club, next to the beach.
Meanwhile, there are also a few authentic Malagan sights you can see, such as a bullfighting ring, some stunning churches, and the Museum of the Heritage of Malaga which has more than 4,000 pieces of artifacts, documents, artworks, paintings, and sculptures.
This neighborhood is also a convenient location for attractions like Muelle Uno, Paseo del Parque, the neighborhoods of Pedregalejo, and El Palo.
Stay In La Malagueta If you want to stay near the beach, you want a quiet atmosphere, away from the city center, you want to experience some local cuisines and customs, you are interested in ocean views, churches, or a bullring.
Best places to stay in La Malagueta:
🔍FIND BEST HOTELS IN LA MALAGUETA
6. Pedregalejo, great for fish and seafood lovers
Located between the Baños del Carmen and El Palo Beach, 5 km from Malaga's center, Pedregalejo beach, also known as Las Acacias beach, is one of the most popular beaches of Malaga.
it has 1,200 m long and 20 m wide. The beach is very calm water for swimming, as it has 6 manmade coves.
The beach has relaxed vibes, it can be busy during the summer months but not too crowded like with urban beaches of La Malagueta.
A village centered around fishing; you will find a quiet community containing some of the best seafood restaurants in the city. You must try fresh grilling espetos (sardines) that are cooked on little boat-shaped BBQs right on the beach!
You may even have the chance to book a tour out on one of the many traditional wooden fishing boats if you are lucky.
Combined with beautiful beaches and a small collection of beach bars with a traditional atmosphere, it is the perfect spot for anyone seeking an authentic Spanish break.
As everything is geared towards locals, it even offers reasonable prices, so won't pose a problem for those on a budget.
Stay In Pedregalejo If you are a fan of fresh seafood, you want to go out on a fishing boat, you want a quiet, authentic experience, away from the city center, you are looking for something a little more affordable.
Best places to stay in Pedregalejo:
🔍FIND BEST HOTELS IN PEDREGALEJO
7. El Palo, a family-friendly area with great beach
Located between the Pedregalejo and El Chanquete beaches, El Palo is around 7 kilometers from the city center. This neighborhood's fishing tradition is 1200 m long and 25 m wide.
This Blue Flag beach is a sandy beach with shallow waters and an extensive palm grove, great for families. There is also a range of amenities.
An almost completely residential area, it is a great choice for anyone looking for an authentic experience. Beach Bars, shops, and restaurants are all geared towards the local population.
This not only means you'll see the true flavor of the local cuisine, but you'll pay a lot less for it as well. Known for its fabulous beach and fishing community, you can relax on the sand, enjoying ocean views and fresh seafood in peace.
You must try the pescaito frito (fried fish), a skewer of sardines, and El Tintero which is one of the most unique bars in Spain.
Offering great value and a slower pace makes El Palo ideal for those traveling as a family, especially if you have small children. Small, family-run hotels and guest houses let you completely relax, without being surrounded by mobs of tourists.
In July, the area hosts the Feast of Our Lady of Mount Carmel festival where you can find the traditional religious procession, concerts, and flea markets.
Stay In El Palo If you want a small, quiet village, you don't mind being detached from the city center, you are traveling as a family or with children.
Best places to stay in El Palo:
🔍FIND BEST HOTELS IN EL PALO
8. Ciudad Jardin, a great area for nature lovers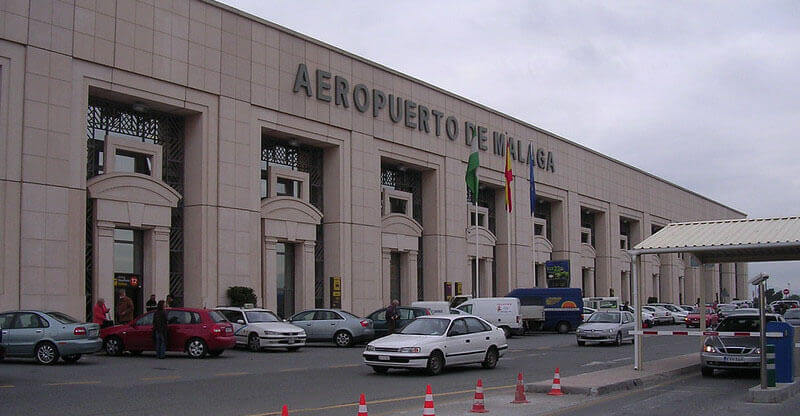 It's time for a change of pace now, as we move to Malaga's most northernly region of Ciudad Jardin. Much more detached from the heart of the city, this mountainous region is more suited for those who want to explore or experience some of the island's rural culture.
Being the home to both the Historic Botanical Garden Of La Conception and the Montes De Malaga National Park, those looking to see the natural beauty of the area and how it has evolved throughout the years will have plenty to keep them enthralled throughout their stay.
Its more remote and expansive location make a car a necessity for a trip here but that also makes it a much quieter, less touristy vacation where you can explore the scenery without worrying about crowds.
The accommodation is more expensive here, as it often is in more traditional areas and there is also less of it so make sure to book in advance if this sounds like the trip for you.
Stay in Ciudad Jardin if you like nature, you don't like crowds, you have a car, you have a little more to spend on accommodation in Malaga, you aren't bothered by traditional tourist amenities, you like to explore.
Best places to stay in Málaga – Ciudad Jardin:
Apartamento con parking gratuito This accommodation is a private, fully equipped, air-conditioned, pet-friendly apartment. It's close to Jorge Rando Museum, Museum of Glass and Crystal. It features 2 bedrooms, 1 bathroom, bed linen, towels, a flat-screen TV with cable channels, a dining area, a fully equipped kitchen, and a balcony with garden views.
Apartamento Segalerva Centro This apartment is superb, privately owned, located just over a mile from La Malagueta beach, Jorge Rando Museum, and Picasso Museum. It has 3 bedrooms, a living room and a flat-screen TV, an equipped kitchen with a dining area, and 1 bathroom with a bidet and a washing machine.
Modern Family Flat Málaga This apartment has a 2-bedroom, air-conditioned, seating area, a dining area, a kitchen, a private bathroom with a bidet. It's 1km from Pablo Ruiz Picasso Foundation and Carmen Thyssen Museum.
🔍FIND BEST HOTELS IN CIUDAD JARDIN
9. Campanillas, a traditional area in Malaga for walking
Moving now to the north-western region of Malaga, we come to Campanillas. Similar in ways to Ciudad Jardin, this is another less built-up area where the focus is on exploration and nature.
However, the big selling points here are more the man-made variety. Sights such as the historic Castillo De Cartama, a beautiful old church, and castle, sit high up in the hills while La Casa De Ingeniero, a picturesque house owned by the king of Spain, lies by a stunning lake.
Both of these sites, as well as many other smaller attractions and villages, are dotted around the region, making it a perfect place for those looking to experience some scenic hiking trails.
Again, much like Ciudad Jardin, the accommodation options are a little more expensive here than in the city and are also extremely limited so be sure to make your reservations early.
Stay in Campanillas if you like history, you want a more traditional area, you like walking, you like beautiful scenery.
Best places to stay in Málaga – Campanillas:
Posadas de España Malaga is a stylish, modern hotel, located near Malaga's Botanical Gardens and the A-7 Motorway, in Andalusia's Technology Park. It's within 15 minutes drive to the beaches of the Costa de Sol.
Hotel Plaza del Castillo is a beautiful, medieval hotel, where a castle façade, stained-glass windows, stone walls and traditional paintings are surrounded by ornate gardens, to completely immerse you in this unique property. It's 10 minutes drive from Congress Palace and the Cortijo Torres Fairground.
Hostal Doña Manuela is a great value option next to Andalusia Technology Park, which is ideal for those traveling on a budget. Carmen Thyssen Museum and Calle Larios are 1km from the hotel.
🔍FIND BEST HOTELS IN CAMPANILLAS
10. Este, the largest district in Malaga with caves, coastal views
The easternmost and most expansive area in the region, Este is somewhat a combination of many of the previous areas we've looked at.
It has populations of about 60,000 that are concentrated in the area between the coast and the hills such as El Limonar, and El Palo.
While large sections of it are rural and distanced from the inner city, it also features beautiful stretches of coastline and stunning beaches, from La Malagueta beach to Baños del Carmen beach.
Here you will find the restaurant which is converted from the old spa dating from 1918, grab the meal, and enjoy the Mediterranean ocean.
Some of its attractions include a cave system to explore, a water park to go wild at or any number of the aforementioned beaches to relax at while looking at the amazing coastal views.
The accommodation here is a little more expensive than in the city, though not too pricey. You do however tend to get a lot more for your money here with some stunning places to say so even if you're paying more, you'll still get great value for money.
Stay in Este if you like beaches, you prefer more attractive accommodation, you enjoy coastal views, you like value for money, you like caves.
Best places to stay in Malaga in Este:
Apartamentos Pedregalejo provides superb, air-conditioned apartments, each featuring a private kitchen, bathroom and terrace, and free wifi. It's close to La Malagueta Beach, Gibralfaro Viewpoint, and Alcazaba.
Elcano is a peaceful, traditional, affordable destination, located just 250 yards from the beach, and near El Candado Nautical and Golf Club.
Hotel Boutique Villa Lorena by Charming Stay This boutique hotel provides guests the chance to stay in one of 7 bedrooms at a beautiful private villa in a residential neighborhood.
🔍FIND BEST HOTELS IN ESTE
11. Palma-Palmilla, easy access area to Malaga centro
The region of Palma-Palmilla (District 5) runs up the entire western border of Ciudad Jardin and meets Centro at its north-western point.
This is a region that provides a nice combination of rural beauty with city convenience. Its attractions range from the stunning views of Monte Coronado to the beautifully designed Estadio La Rosaleda, home to the Malaga football team.
Whether you want to be on the fringes of the city or more out in the country, this is a region that will have options to suit you regardless.
Much like the region as a whole, its accommodation is just as diverse so whether you want a low budget or high end, Palma-Palmilla should have you covered.
Stay in Palma-Palmilla if you enjoy a diverse location, you want a rural trip with ease of access to the city, you like football.
🔍FIND BEST HOTELS IN MALAGA
12. Cruz De Humilladero, best area with great transport links
The region of Cruz De Humilladero (Spanish for shrine's cross) is located on the western border of Centro. This is the region perfectly designed for tourists that want to be near to the city but not stuck within its confines.
Cruz del Humilladero is the most representative monument. It has historical significance for the Crown Prince Don Fernando of Antequera's oath.
It has incredible transport links including Malaga's main train station, the Maria Zambrano, to make getting anywhere from the city to beaches or the airport a breeze.
It also features a number of international stores, such as Lidl and Primark, to make tourists feel right at home on their travels.
As we're back near the city, the prices are again very wide-ranging so if the convenient hub location sounds just right for you then you don't need to be worrying about price.
Stay in Cruz De Humilladero if you like home comforts on your travels, you like great transport links, you want to be both near the city but not caught up in it.
Best places to stay in Malaga in Cruz De Humilladero:
Hostal La Casa de Enfrente provides guests will small yet affordable, pet friendly rooms, all of which feature free wifi and a private bathroom. Carranque Metro Station is within walking distance.
Hotel Goartín is a fabulous destination, featuring comfortable, modern, air-conditioned rooms in a traditionally styled hotel. It's close to Málaga's María Zambrano Train Station and Huelin Beach.
Apartamento Tía María is a fabulous, private apartment, featuring air-conditioning and free wifi throughout. Misericordia Beach, the Atarazanas Market, Jorge Rando Museum, and Malaga Park are located less them 3km away.
Kentia Rooms is a traditional, pet-friendly guest house, featuring simple, air-conditioned rooms with a private bathroom and flat-screen TV. The property also features a communal terrace, garden, and fully equipped kitchen, so you always have somewhere to relax or prepare your meals.
🔍FIND BEST HOTELS IN HUMILLADERO
13. Carretera De Cadiz, southwest of the Malaga Centro district
Located directly southwest of Centro, Carretera De Cadiz or district 7, features a lot of similar aspects to its neighbor. Comparable in both size and population, it's the fact that it's a little less of a tourist hotspot that might be a selling point for many.
It has all the same attractions like historic sights, a beautiful beach, and ample bars and restaurants to keep you well-fed and entertained of an evening, however with fewer tourists buzzing around you can enjoy what it has to offer more at your own pace.
Its location next to Málaga Centro also makes it an easy trip in if you do want a busier day on occasion. Accommodation is also priced on a wide scale so this again is an area that anyone can afford to stay.
Stay in Carretera De Cadiz if you are interested in history, you like nice beaches, you like lots to be close by, you don't want to be in the busiest spot.
Best Places to Stay in Carretera De Cadiz:
Vincci Málaga is a designer, 4-star hotel, located on Malaga's seafront promenade, featuring beautiful, air-conditioned rooms with stunning black and white décor. Within a short drive from Málaga Pablo Ruiz Picasso, Málaga Trade Fair, and AVE high-speed train station.
Hilton Garden Inn Málaga is a beautiful, modern, 4-star luxury hotel that offers all the luxury you would expect from a Hilton property. Martín Carpena Sports and Aquatic Centre and Málaga Convention Centre are in a short drive away.
Ibis Budget Málaga Aeropuerto Avenida de Velazquez is a place that offers everything you would expect based on its name. An affordable hotel located near to the airport, it is ideal for anyone traveling on a budget, on a layover, or worried about missing their flight. Martin Carpena Sports Centre and Málaga Exhibition Centre are located nearby.
🔍FIND BEST HOTELS IN CARRETERA DE CADIZ
14. Churriana, near Malaga airport

Churriana is the most south-western district in Malaga. Located next to Guadalhorce valley, Churriana encompasses Malaga airport, the Sierra de Churriana hills, the beach, and the coastal area of Guadalmar.
You can visit the 19th century La Consula mansion with its beautiful grounds, the 17th-century Jardin del Retiro botanical.
There is also the museum and research center Casa de Gerald Brenan which is the former house of Anglo-Irish writer Gerald Brenan.
If you visit at the right time, you can have a chance to take part in local events such as Viernes Dolores (Good Friday) of Holy Week, the Fiesta of the town's patron saint, San Isidro in May, and the Virgen del Carmen in July.
This is where things start to get a little less built up. While still on the edges of the city it is by no means undeveloped, however, being a little more out into the country provides a more relaxed feeling.
Featuring the best collection of beaches in Malaga, Churriana is the place to go if you're looking for a traditional, laid-back beach vacation with the option to venture into a historic city close by if you so choose.
It's also ideal for families with children, as the more relaxed environment allows you a little more space and freedom than you'll find in the inner city.
Again, the variety of accommodation is quite vast, from budget motels at the Malaga airport to a lush golf resort, so they have you covered whatever you're looking for.
Best Places to Stay in Málaga – Churriana:
Parador de Málaga Golf is an exquisite golf resort, where rooms with traditional Andalusian style and four-poster beds surround a historic, 18-hole golf course. It's located near Plaza Mayor's shopping center.
La Macarena Airport provides fully equipped apartments, each boasting a full kitchen and sun terrace, located just a short way from the airport. You can easily reach Los Alamos Beach, Automobile and Fashion Museum, Port of Malaga, and Atarazanas Market.
Sunny Beach is a beautiful, privately owned, air-conditioned, beachfront apartment, that boasts a private kitchen and living area. Misericordia Beach is 2km away from the hotel.
🔍FIND BEST HOTELS IN CHURRIANA
Malaga In February Or March?
If you're coming to Malaga in February or March, the best place to stay has to be Carretera De Cadiz. The reason for this is because this is the time of year that the incredible Malaga Carnival is celebrated.
The exact date varies from year to year, based on when Easter occurs, but whenever it is you will be treated to stunning parades, parties and live performances that entertain you while at the same time bringing to life the culture of the city.
The carnival takes place in Centro, so you may wonder why I'm not suggesting you stay there. Well, the reason is that during the carnival the city is incredibly busy, which means not only do prices go up but sometimes things can get a little too much.
Staying just outside provides you with a little breathing room, yet still keeps you right near the heart of things, all while providing some great deals on places to stay.
Check out my virtual tour of the best places to stay in Malaga in this video:
Well, there you have it, my list of the 14 best areas to stay in Malaga. Best described as a swiss army knife of a city, it isn't the best place to go for anyone singular thing, however, it may be one of the best places to go for those who want a variety of experiences. Whether exploring, partying, or lazing your days away on a beach, Malaga is a city that has something to offer for everyone and is well worth a visit, no matter what you look for in a vacation.
If you're intereted in where to stay in Malaga, you can also check: