Where to stay in Formentera? In this post, I will help you to find the best areas to stay in Formentera for tourists (include map and video), the advantages and disadvantages of each area, and best hotels to stay in each area.
Formentera is Ibiza's little sister, and is the smallest of the Balearic Islands, located off Spain's Mediterranean Coast. It is a ferry ride south of Ibiza and on arrival, tourists will immediately feel a more relaxed atmosphere than on that party island. With no airport and a permanent population of not many more than 10,000, it is unlikely that it will ever really change.
You can take a hire car across to Formentera but booking the ferry in advance is once again essential. Otherwise, there are buses taking people around the Island. Scooters and cycles are available to hire if you wish to explore from the base that you choose.
Where to stay in Formentera first time?
The best areas to stay in Formentera for tourists are Es Pujols, Playa Migjorn, Es Calo, La Savina, La Mola, San Ferrán de ses Roques, Cala Saona, and Sant Francesc Xavier.
The best area depends on your preferences and the type of experience you seek. Whether you prefer a lively atmosphere, peaceful beaches, traditional villages, or natural beauty, Formentera has something to offer for every taste.
Overviews of best area to stay in Formentera for tourists
Here is an overview of recommended areas in Formentera for first-time visitors:
| Best areas in Formentera for tourists | Why should you stay in this area? |
| --- | --- |
| Es Pujols | a popular tourist area known for its lively atmosphere, beautiful sandy beach, and abundance of restaurants, bars, and shops. It's a great choice for those who enjoy a vibrant nightlife, beach activities, and easy access to amenities. |
| Playa Migjorn | the longest beach on the island offers a more tranquil and laid-back vibe compared to Es Pujols. It is ideal for visitors seeking a peaceful beach getaway, with a few beach bars and restaurants scattered along the coast. |
| Es Calo | a charming fishing village located on the northern coast of Formentera. It features a picturesque harbor and small sandy coves. Es Calo is perfect for travelers looking for a quiet and traditional setting. |
| La Savina | the main port of Formentera, where ferries arrive from Ibiza and the mainland. It's a convenient location for those who prefer easy access to transportation and want to explore the island's surrounding areas.There is a few restaurants, shops, and beautiful views of the marina. |
| La Mola | a scenic area located in the eastern part of the island, known for its stunning cliffs and panoramic views. It's a peaceful and picturesque region with a bohemian vibe. La Mola is best suited for nature lovers, hikers, and those seeking a serene and secluded retreat. |
| San Ferrán de ses Roques | a small village offers a traditional and authentic experience, with narrow streets, a church, and a few local shops and eateries. San Ferrán is an excellent choice for travelers who want to immerse themselves in the island's local culture. |
| Cala Saona | a picturesque cove with crystal-clear turquoise waters and sandy beaches surrounded by cliffs. It's a popular spot for sunbathing, swimming, and enjoying the natural beauty of Formentera. |
| Sant Francesc Xavier | the capital of Formentera and the administrative hub of the island. It has a charming town center with traditional architecture, small boutiques, restaurants, and cafés. |
Map of areas in Formentera:
Best areas to stay in Formentera for tourists are:
1.Es Pujols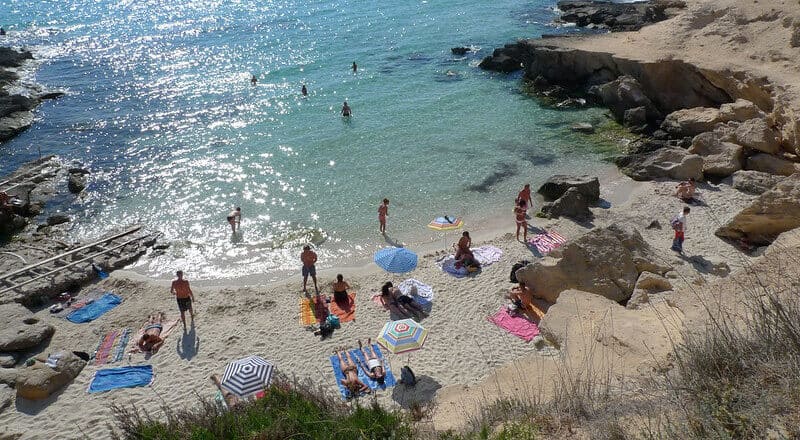 Es Pujols is the main tourist center and the only resort on the island. As a result, it is the area that is most frequently offered for package holidays.
Located between Llevant beach and Punta Prima, on the northeast coast of Formentera, the town is packed with tourist facilities such as restaurants, shops, supermarkets, bars, and rental apartments.
The ferry from Ibiza docks at La Savina but it is just a short transfer to Es Pujols. Es Pujols differs from most resorts worldwide in that it is both calm and elegant. You will even find it easy to get to know locals and the advantages that can produce.
Platja d'es Pujols Beach is a shell-shaped beach with white sandy, tree-lined avenues, shallow, turquoise, and calm waters, making it a safe beach for families and children. Popular water activities here are swimming, snorkeling, sailing, diving, windsurfing, or kayaking.
The beach pedestrian promenade is great place to take a stroll along and enjoy its ocean views. You can sit at one of the many restaurants and cafes on the seafront to have a Mediterranean meal or a drink. A wooden boardwalk can be found at the southern beach.
In addition to the town's beach, you can find nearby beaches such as the Playa de Sa Roqueta, Playa des Trucadors, Platja de Llevant, Platja de Ses Illetes, and Playa de Ses Canyes.
There are many restaurants and coquettish cafés that serve both Mediterranean and international cuisine around the town, especially on the seafront promenade.
Es Pujols is the top place for nightlife on the island with plenty of lively bars and pubs in the narrow streets behind the beach. Many places are open until the very early hours so you may make a late start each morning.
For a shopping experience, the town has many small shops selling local traditional handmade products, as well as the summer hippy market where you can buy souvenirs to bring home for your friends and families.
Es Pujols has the highest concentration of hotels on the island, here you can find 5 star luxury hotel, and all kind of lodging that suits all budget.
Stay in Es Pujols if you are visiting Formentera for the first time; you want a good choice of accommodation, both hotels, and apartments; you are want good nightlife;
Best Places to stay in Formentera in Es Pujols:
luxury ($$$): Five Flowers Hotel & Spa Formentera This 5-star hotel offers a seasonal outdoor swimming pool, a fitness centre, spa facilities, buffet breakfast, privare car parking, and free wifi. It features elegant and stylish rooms with a desk, and a private bathroom with a rain shower.
mid-range ($$): Blanco Hotel Formentera This 4-star hotel has a buffet restaurant that offers a range of cuisines as well as show cooking, a cocktail bar and a lounge pool bar. It's located within a short walk from shops, café bars and restaurants.
budget ($): Hotel Levante this hotel has staffs that speak a variety of languages, including English, Spanish, German, Italian and Portuguese, to make sure people from all over the world can feel at home. With a beautiful pool, free car parking, a sun terrace and buffet breakfas.
🔍FIND BEST HOTELS IN ES PỤJOLS
2. La Savina
La Savina is the first arrival point on the island if you arrive from Ibiza by a ferry. Located on the western end of the island, this is also where you will see the marina with impressive luxury yachts whose owners are sailing the West of the Mediterranean.
The port is packed with bars, cafes, and restaurants, as well as car and motorcycle rentals, bus stops, taxi service, and travel agents. You can hire scooters, cars or bike here at the harbor.
The seafront promenade offers the lovely views back to Ibiza or to the small isle of Es Vedra. There are numerous stalls selling everything from clothing and jewelry to artisan goods and souvenirs in summer months.
When getting down from the boat, you can see the lighthouse of La Savina, one of the island's three lighthouses along with Cap de Barbaria and La Mola light houses. It is located on rocks, close to the Estany d'es Peix salt lagoon (fish pond).
La Savina is a great base for those holidaying on Formentera because it has good connections with all parts of the Island. Es Pujols nightlife area, Sant Ferran and Sant Francesc are just short drive away by car or the L1 bus.
Additionally, two of Formentera's best beaches, Playa Illetes and Playa de Levante are close by. You can get a La Bahia ferry to Playa de Ses Illetes, or walk although it is not advisable on hot summer days.
La Savina has many choices in accommodations, including apartments, guest houses, and B&B.
Stay in La Savina if you are looking for a budget-friendly area to stay; you want accommodation close to where you arrive, and where you will finally depart from at the end of your holiday.
Best Hotels in Formentera in La Savina:
🔍FIND BEST HOTELS IN LA SAVINA
3. Playa Migjorn
Playa de Migjorn (or Platja de Migjorn in Catalan) is the wildest and longest beach on the island, located on the opposite side to La Savina. It is an area that go all the way from Cap de Barbaria to Far de la Mola.
The southern coast of Formentera has a 6 km stretch of lovely sandy beaches. Surrounded by rugged sand dunes and pine forest, each beach is separated from the next with small coves and rocky sections.
Each stretch of sand has a given name, and there are good access points to each. From west to east, they are Mal Pas, Es Ca Mari, Es Raco Fondo, Es Codol Foradat, Es Valencians, Es Arenals, and Es Copinar.
Some of the beaches are better for swimming than others because of their sandy seabeds. There three to look at first are Es Copinar, Es Arenals, and Ca Mari. The beaches have sun beds, umbrellas, and hammocks for rent.
Playa Migjorn is probably the first area that families should look to if they intend to stay in Formentera. The water is shallow for youngster children, and most beaches are sheltered most of the holiday season.
There are is home to several cozy bars on the beach, Balearic chiringuitos, kioskos, and lovely seafood restaurants. This is a part of the Island that the locals frequent in numbers.
Tourists have a choice of accommodation down in the south varying from apartments to hotels, holiday bungalows, and small family guest houses.
Stay in Playa Migjorn if you on a family holiday, you want to avoid the most crowded parts of the Island, you love intimate bars and fresh seafood.
Best places to stay in Formentera in Playa Migjorn:
🔍FIND BEST HOTELS IN PLAYA MIGJORN
4. Sant Francesc Xavier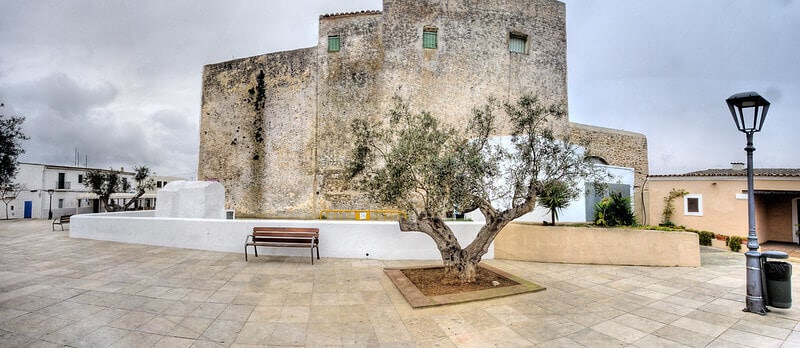 Sant Francesc Xavier (San Francisco Javier) is the island's capital and is an inland village, located just 5 minutes by car from La Savina port. It's home to Island Council (Town Hall), a small museum, a square, and a post office.
Sant Francesc Xavier was built around the 18th century Church of Sant Francesc, which was originally built as a defensive fortress, later became a church. Opposite the parish church is the Island Council. The church square is surrounded by white-painted houses and shops.
In the town, you can find the first chapel on the island, the Chapel of Sa Tanca Vella at the end of Calle Eivissa, and the Ethnographic Museum on Calle Jaume I where they will see what life might have been like centuries ago. Exhibits include tools and utensils, clothing, and furniture.
There is also The Ajuntament Vell Exhibition Centre, which holds regular exhibitions of both local and international artists.
To experience daily local life, take a look at the flea market which is open every Tuesday and Saturday in the Jardí de Ses Eres where you can buy vintage clothes and ceramic items.
It is a pleasure just to walk around or sit and watch life go by. There are plenty of good restaurants in the side streets off the square and shoppers will find plenty to attract them.
At night, Sant Francesc has a buzz with locals mixing with tourists during the summer season.
If you drive to the south, within 5 minutes, you can find the well-known Cap de Barbaria Lighthouse, offering stunning sunsets and impressive cliffs views. The Cova Foradada and Cap Barbaria tower (Torre des Garroveret) nearby are well worth checking out!
If you head to Formentera in June, you can expect outdoor concerts and the Island's annual Jazz Festival. A craft market is held each day between May and October
Stay in Sant Francesc Xavier if you are interested in local history and culture, you prefer a location away from the busy beaches, you want a good choice of restaurants.
Best Places to Stay in Formentera in Sant Francesc Xavier:
🔍FIND BEST HOTELS IN SANT FRANCESC XAVIER
5. Es Calo
Es Calo (Es Caló de Sant Agustí) is a small fishing village in the southeast of Formentera, on the way to stunning cliffs of La Mola. There is a natural harbor in the shape of a horseshoe that is home to the traditional wooden boats of the island's fishermen.
There are only a few houses but more importantly for visitors, there are several good restaurants. Seafood is an obvious favorite and it is as fresh as it comes. The paella has its own unique ingredients while grilled meat is a regular as well.
The beaches and coves are a great place to relax, sunbathe and swim. If you go snorkeling, you will be rewarded by the colorful marine life on view. Popular beaches are at Platja es Caló, Ses Platgetes, Platja de Tramuntana, and Platja des Carratge.
If you are interested in the Island's history, you will find Roman remnants nearby. Es Calo was the main port in Roman times, and hence the best-protected district on Formentera.
Can Blai is an old Roman chapel while there is a cobbled street that leads to the nearby village of El Pilar de la Mola.
Form Es Calo town, you can follow the Camí de Sa Pujada (Camino Romano), a historic road that leads up to La Mola. Along the way, you will see the viewpoint of Les Petjades del Diable, Cova de sa Mà Peluda cave, the La Mola plateau, the vineyards of the Terramoll Wineries, and ends in El Pilar de la Mola, starting point to explore La Mola.
Stay in Es Calo if you are a couple looking for somewhere relatively quiet with a local flavor, you want to sample fresh seafood, you are happy to spend some time away from the beach involving history or culture.
Best places to stay in Formentera in Es Calo:
🔍FIND BEST HOTELS IN ES CALO
6. El Pilar de la Mola
El Pilar de la Mola is a little village and is only inhabited center of the La Mola area, located at the highest point on the Island. You will find it in the east of Formentera and there are lovely views of the whole island from La Mola. La Mola is famous for its hippie market and lighthouse.
La Mola lighthouse is located on a steep cliff 400 feet above the Mediterranean. It is just a short distance out of the village and you should certainly take your camera to capture views of both the Island and the Mediterranean.
El Pilar de la Mola is the quietest town on Formentera. Life is slow here but that is not to say there is nothing to do. The village has a main street where you will have plenty of choices when it comes to bars and restaurants.
An artisan market is held here twice a week through the weeks of summer. You can purchase paintings by local artists, jewelry, leather goods, ceramics, and other craftwork.
The well-known craft markets are held on Wednesdays and Sundays between and including May and October. You can enjoy live music at the market while much of the artisan work is sold in small shops every day of the week during summer.
El Pilar de la Mola is also home to the beautiful Virgen del Pilar Church, El Mirador viewpoint, the 18th century Moli Vell de la Mola (the old windmill of la Mola).
As the highest area of the island, La Mola is a great place for hiking enthusiasts. The hiking routes are lined with beaches, pine tree forests, vineyards and charming villages. sa Talaiassa is the highest point of the island.
Stay in El Pilar de la Mola if you are looking for a slow pace of life on your holiday; you like hiking; you are keen on photography and want the best views on Formentera.
Best places to stay in Formentera in El Pilar de la Mola:
🔍FIND BEST HOTELS IN LA MOLA
7. San Ferrán de ses Roques
The village of San Ferran de ses Roques (San Fernando) is located in the center of Formentera. In the '60s, San Fernando is the meeting point of hippies and bohemians, especially around legendary Fonda Pepe.
Fonda Pepe is now a bar, restaurant, and also hostel where you can enjoy a typical chupito, and taste the local cuisine like paella.
In the middle of this lovely village, you will find the main square that contains its 18th-century Church of Sant Ferran. Its exterior is sandstone and mostly unpainted.
The main square is at the heart of the action, especially at night. Restaurants, bars, and the lively night market with its music see the village come to life.
Sant Ferran Craft Market is held 5 days a week, excluding Wednesday and Sunday from May to October inclusive. You will find a fine range of artisan goods, paintings, sculptures, etc.
Other attractions are the Punta Prima watchtower, old windmills, the picturesque resort of Cala En Baster with the Cala en Baster jetties and the sea stone cliffs, and the megalithic tomb of Cana Costa.
San Ferran found fame as a hippy destination over half a century ago and its informality has existed ever since. The countryside surrounding San Ferran contains vineyards and farmhouses. If you want a quiet time, this is a village for you with a day in nearby Es Pujols providing a contrast. Vice versa applies as well.
The village is popular with visitors looking for budget hostels or apartments. Small shops will provide all the supplies that those self-catering might need.
Stay in San Ferrán if you are not concerned about a beach location, you want to get a flavor of local life and culture, you enjoy the nightlife without noisy clubs and late nights.
Best places to stay in Formentera in San Ferrán de ses Roques:
🔍FIND BEST HOTELS IN SAN FERRÁN DE SES ROQUES
8. Cala Saona
Cala Saona is the main choice that tourists have if they want to stay on Formentera's West Coast. It has the only sandy beach amongst the coastline's cliffs. The beach itself is small and surrounded by cliffs.
If your starting point is La Savina, you will find a route southwards to get to Cala Saona through pine forests. Alternatively, take the road from Sant Francesc towards Cap de Barbaria and turn off west, halfway down the road to the west. Where the tarmac ends, you will find a car park and beach access.
The beaches are wide, sandy and turquoise water beaches, and is surrounded by the large red rocks. You can enjoy water sports down such as snorkeling, paddle surfing, rowing boats and kayaks.
Cala Saona along with the cliffs of Punta Rasa nearby is one the best places to watch sunsets on the island. You can sit in the small beach bar, chiringuito Kiosko Cala Saona, and watch the sun go down while enjoy a drink.
Take local advice because there are some underground caves well worth exploring.
Stay in Cala Saona if you are looking for a remote location, you enjoy water sports, especially exploring marine life and everything that is under the waves, you want a slower pace of life with plenty to do when you want activity.
Best Places to stay in Formentera in Cala Saona:
🔍FIND BEST HOTELS IN CALA SAONA
Check out my virtual tour of the best places to stay in Formentera in this video:
See more about Spain:
In conclusion, Es Pujols, Playa Migjorn, Es Calo, La Savina, La Mola, San Ferrán de ses Roques, Cala Saona, and Sant Francesc Xavier are the best places to stay in Formentera for tourists. They offer a variety of accommodation options for visitors to stay.
Overall, Es Pujols is the best area to stay in Formentera for first-timers due to its wide variety of tourist attractions and amenities. Booking hotel here, you will be located within easy access to other towns and villages by public transportation.