Where to Stay in Menorca: Best Areas and Hotels
Don't know where to stay in Menorca? We've got you covered! This article will give you an idea of the best areas to stay in Menorca and what each area offers and which one best suits your needs.
When you really want to treat yourself, there's nothing quite like an island getaway to give your mind and body the blissful retreat that it deserves. With the ocean on every side, miles of sandy beaches, turquoise water, and that truly secluded feel, it's a way to get your own slice of paradise for a little while.
Read also about Menorca travel: ‣10 Best Restaurants In Menorca ‣15 Best Beaches In Menorca
📌15 Best Areas To Stay In Menorca
Menorca is part of the Balearic islands, a small group of Spanish islands located off the east coast of the mainland, in the Mediterranean Sea. It is the second largest of the group, trailing only Mallorca which is considered to be its twin. Their names even translate to smaller islands and larger islands, respectively.
With an abundance of long sandy beaches, crystal clear waters, and beautiful wildlife across the Balearic Islands, Menorca will definitely tick all of your dream vacation boxes. That does provide an issue in and of itself though when it comes to narrowing down exactly where to stay in Menorca?
That's why I've broken it down into, what I believe to be, the best areas. Hopefully, once you've seen what each area has to offer, it will make things that little bit easier when it comes to deciding which of these best represents your own personal paradise.
Best Areas to Stay in Menorca Map
To see more detail of best places to stay in Menorca Map, go to Google My Map;
1. 💖 Mahón, a capital, where to stay in Menorca for nightlife & shopping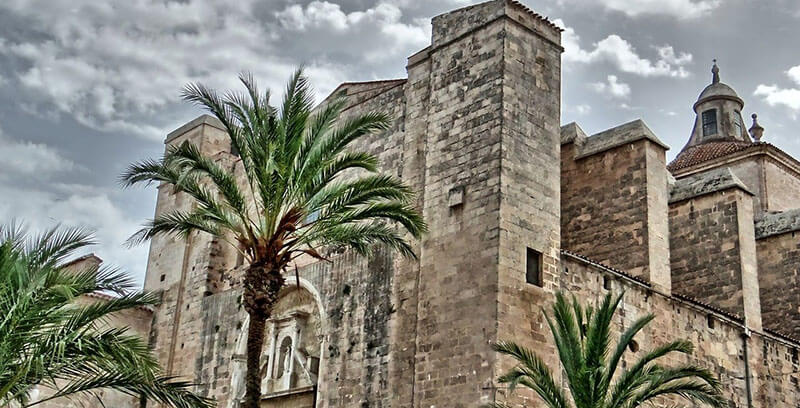 We start in the capital city of the island, Mahón. Home to one of the largest natural harbors in the world, this is as close as you're going to come to a city in Menorca and is certainly the most built up and lively destination to be found.
The fortress La Mola de Menorca is in the north of Mahón harbor with Vickers Gun and long tunnels to explore. You will have amazing views by water taxi from Mahon port to La Mola.
While it has traditional tourist features aplenty, such as bars, restaurants, and beautiful boutique hotels, it also features more unique attractions to give it its own special feeling.
The Xoriguer gin factory for example is a must-see attraction. You can wander around sampling the wide array of gins they have on offer as you find out how they are produced, before purchasing your favorites direct from the factory to take home with you.
From Mahón (Maó), you can take a boat trip to Isla del Rey, home to the old British Military Hospital.
It also has the most vibrant nightlife on the island. If you're looking to dance, party, and be entertained, this capital city is without a doubt the place to be.
With a wide range of prices and hotels and restaurants and everything within a reasonable walking distance, this is one of those traditional tourist destinations where there's something for everybody.
Stay in Mahón if you love the nightlife, you want to visit Santa Maria church, you like traditional tourist luxuries, you enjoy shopping.
Best places to stay in Mahón:
Best luxury hotel: Jardí de Ses Bruixes Boutique Hotel This stylish 5-star hotel is located in central Mahon, it provides charming, air-conditioned rooms with free WiFi, a flat-screen TV, a restaurant, and a bar. Various restaurants in the streets, and a harbor is within easy walking distance. You're also close to La Mola Fortress, Maó Lighthouse, and Es Grau.
Best mid-range hotel: ARTIEM Capri is a fabulous, 4-star hotel, just 800 yards from Menorca's main harbor – Mahon Harbour. The hotel features a hot tub, sauna, and sun terrace, both indoor and outdoor pools. It's close to Es Grau Beach, Mahón Bus Station, S'Albufera Nature Reserve, Mahon Port, La Mola Fortress, and Maó Lighthouse.
Best budget hotel: Hotel San Miguel This 3-star hotel is in the heart of Mahón on the island of Menorca, it provides spacious rooms, each uniquely decorated and fully equipped to the finest detail. Within walking distance from restaurants and entertainment venues, such as the theatre, cinema, casino, bowling alley, and nightclubs, as well as the shopping district.
Other recommended hotels in Mahon:
Sindic Hotel – Adults Only is an exceptional hotel, ideal for those looking for a peaceful holiday, who don't want to be surrounded by children. A short distance from Sant Lluis and Ciutadella. Close to Mahon Port, La Mola Fortress, Mount Toro, Golf Son Parc Menorca, and Maó Lighthouse.
Hotel Singular & Small Hevresac is a stylish, traditionally designed boutique hotel, offering comfortable, air-conditioned, allergy-free rooms, and free wifi. Located near Mar Mediterrània – Port Maó, Es Grau, Illa de l'Aire Lighthouse, and Cova d'en Xoroi.
Alcaufar Vell Hotel Rural & Restaurant: This impressive family home offers spacious accommodation, an outdoor pool, an onsite restaurant, and free wifi. You can easily find some attractions nearby including Illa de l'Aire Lighthouse, Maó Lighthouse, La Mola Fortress, and Mahon Port.
🔍 CHECK BEST HOTEL DEALS IN MAHON
Check out the best places to stay in Menorca with my virtual tour in this video:
See more:
2. Ciutadella, the best place to stay in Menorca for a weekend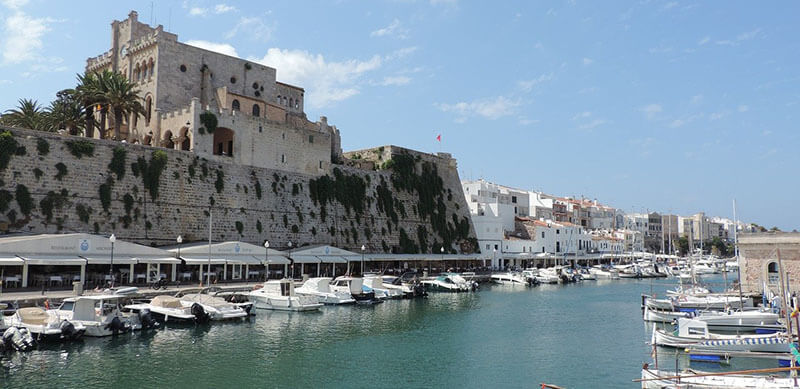 The other "city" on the island, Ciutadella was built by the Romans and was the original capital of Menorca. Even today, the city is surrounded by the Contramurada Wall, following the exact same path it did at the time of the city's construction.
Other than the wall, there are churches, plazas, winding streets, and even a cathedral of the Plaza de Pio XII, you can spend your days roaming around to learn more about what the area and indeed the island are truly about.
You can just walk around Avenida Negrete and lead you to Plaza de Los Pinos, the town hall building, and Plaza Borne Ciudadela.
Unlike Mahon, Ciutadella is a city that is much more about experiencing the culture and history of the area than it is shopping and partying.
Make no mistake, there are still plenty of bars and restaurants to enjoy your evenings in, but these tend to be more local establishments as opposed to the big tourist watering holes you'll find elsewhere.
Cala Santandria is the best quiet place to stay in Menocar not far from Ciutadella.
While maybe a little more expensive, the area is still reasonably priced and cost shouldn't be a barrier if you are looking to stay in this area. You can easily find the best beach resorts in South Ciutadella.
Stay in Ciutadella if you are interested in history and culture, and you aren't worried about tourist shops and entertainment.
Best places to stay in Ciutadella:
Hotel Nou Sant Antoni is a superb, traditional guesthouse with a warm, homely feel, free wifi, and a buffet breakfast is served each morning. It is close to the Cathedral of Minorca, Ciutadella Lighthouse, Punta Nati Lighthouse, Naveta des Tudons, and Wind Fornells Windsurfing and Sailing School. You can also easily find beaches nearby such as Gran Beach, Cala'n Blanes Beach, Cala Santandria Beach, and Cala'n Brut Beach.
Cala Bona y Mar Blava is a simple, yet comfortable hotel, located only 100 yards from a beautiful, sheltered beach. There is an abundance of facilities at the hotel, such as a pool, bar, sun terrace, bar, garden and games and TV rooms, free parking, and free wifi. Close to the old town and Ciutadella Harbour.
Hotel Menorca Patricia is a fabulous, homely destination, located right beside the town's harbor. Begin each morning with a delicious buffet breakfast, made with all local produce, before spending your days relaxing at the pool and bar, exercising in the fitness center or taking a stroll around the property and making the most of the stunning views.
Mon restaurant & fonda is a superb, modern hotel, located 650 yards from Gran Beach. A beautiful bar and restaurant are available on-site, serving a range of drinks and a choice of continental and buffet breakfasts, while a windsurfing and sailing school is just 450 yards away.
🔍 FIND BEST HOTELS IN CIUTADELLA
3. Son Bou, where to stay in Menorca for beaches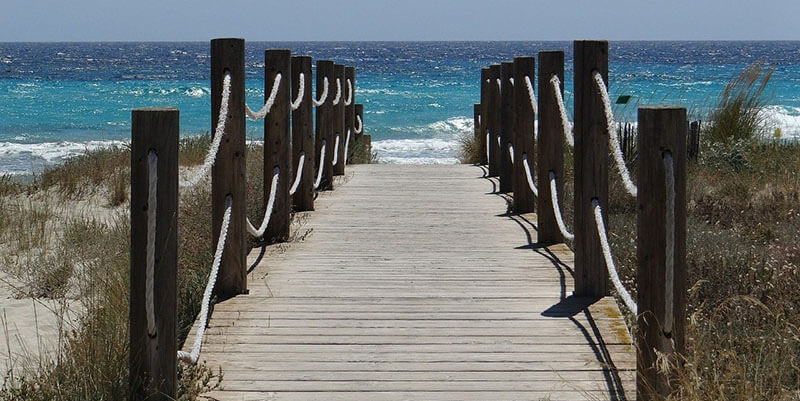 Located on the south of the island, the village of Son Bou is a popular location as it features the longest beach on the island.
Over 2 miles of golden sands and dunes sprawl out along the coast, lined by the ocean on one side and a nature reserve on the other. Inhabited by a variety of species of amphibians, birds, and insects, the sounds and sights surrounding the area bring you that feeling of a true tropical paradise.
The village features two large hotels, as well as a pair of villa and apartment complexes, providing a variety of options, whatever your preferred type of accommodation. There is also plenty of local shops for you to stock up on supplies and souvenirs, as well as numerous restaurants and bars for you to relax and try some local fare in.
The highlight of the area's tourist attractions comes in the form of the remains of a 5th-century church, the Basilica Paleocristiana De Son Bou. Whether you're a history buff or simply enjoy experiencing local culture and traditions when you go away, this is a must-see if you're in the area.
Torre d'en Gaumes is a prehistoric village, also a must see place within short distance from Son Bou.
The one restriction of the area is that there are some steep hills in the area, so if you don't have a car be prepared for a more than a little stroll.
Stay in Son Bou if you enjoy beautiful beaches in a resort town, you love nature, you are a family with children, you are interested in history, you aren't bothered by large hills.
Best Hotels in Menorca – Son Bou:
Valentin Son Bou is a fabulous hotel, set on a hill overlooking the stunning Son Bou Beach The range of rooms and apartments all offer free wifi, air-conditioning, satellite TV, a balcony, and a private bathroom. It's also a short drive from a well-known bar in a cave – La Cova d'en Xoroi, and Menorca Airport.
Royal Son Bou Family Club is a luxurious family-friendly hotel, just 200m from the Son Bou Beach and 900m from Cala de llucalari Beach, a good place for watching the sunset, water sports, swimming, and surfing. Also close to Santo Tomas Beach, Cala Pregonda Beach, Cavalleria Beach, and Fornells Port.
Villas Menorca Sur is spacious, 2- and 3-bedroom villas, featuring a private pool, terrace and garden. Located in a quiet neighborhood, within a short ride from Maó, the ferry port, and Son Bou Scuba diving centre; with bars, beaches, shops, and restaurants just a short walk away, it's the ideal spot for a peaceful vacation.
🔍 FIND BEST HOTELS IN SON BOU
4. Arenal D'en Castell, the best beach resort on Menorca for families
Similar in ways to Son Bou in being famed for its beach, Arenal D'en Castell is a little more of a traditional tourist resort.
Intentionally designed to be a resort, instead of a local village, you will find plenty of entertainment for both children and adults alike. The hotels in the area provide cabaret and live music to keep you enjoying yourself into the evenings, while kids clubs and bouncy castles are set up to occupy your little ones.
The beach is also perfect for families as, while it's not as impressive as Son Bou, it still features beautiful golden sands and shallow waters that are perfect for small children to safely enjoy the sea. You will have a quality beach holiday with beautiful cliffs views.
As you would expect from an area designed for families, it provides good value in everything from the bars and accommodation to the local supermarkets and souvenir shops in Coves Noves commercial center.
Stay in Arenal D'en Castell if your family have small children, you like organized entertainment, you are looking for good value, you don't plan on leaving your resort that much, you like the beach.
Best places to stay in Arenal D'en Castell:
White Sands Beach Club By Diamond Resorts is a luxurious resort, 200 yards from the Playa Arenal d'en Castell Beach. The studios and apartments are all simply decorated in bright colours, with a private kitchen, bathroom and seating area. It's also close to Golf Son Parc Menorca, Fornells Port, Mount Toro, and Favaritx Lighthouse.
Las Belisas – Apartamentos provide fabulous 2- and 3- bedroom apartments with garden views, just 100 yards from the beach. Each unit features a private bathroom, kitchen, dining area and either a patio or a balcony, complete with a BBQ. The property is pet friendly and offers free wifi throughout, as well as having a pool and car rental facilities.
🔍 FIND BEST HOTELS IN ARENAL D'EN CASTELL
5. Sant Lluis, the best area to stay in Menorca for quieter beaches
Sant Lluis is a municipality that lies on the south-eastern end of the island. It is famed for its coastline, as it features sandy beaches, rocky cliffs, and stunning coves, providing a little bit of everything to keep everyone happy.
Built by the French in the 1700s, the central features of the area include a large church and a traditional windmill that has been converted into a museum. There is also a winery that provides guided tours and sampling of their products.
It's not all history and culture though, as one of the beach resort areas, Punta Prima, is one of the finest on the island. Not quite as touristy as some of the others, the beach at Punta Prima allows you to enjoy the sun, sand, and sea in a more refined manner.
In the evenings there are plenty of local restaurants and bars and even a limited amount of entertainment in some of the local hotels. Perfect for keeping your nights just as full as your days.
Stay in Sant Lluis if you like culture, you want a more traditional area, you prefer a quieter beach, you like beautiful scenery.
Best places to stay in Menorca – Sant Lluis:
Refugi Biniati Vell is a fabulous budget option, offering guests a range of private rooms and shared dormitories. The sun terrace and garden are ideal for getting to know your fellow guests as you soak up some sun, while the shared bathroom and kitchen provide all the facilities you need to take care of yourself. Nearby attractions are Cala Galdana, Mahón with its attractions like Mahon Port, Maó Lighthouse, and La Mola Fortress.
Alcaufar Vell Hotel Rural & Restaurant is a stunning, 14th century building, surrounded by beautiful gardens and extensive farmland. The chic, spacious rooms have traditional wood and stone décor, as well as luxuries like a private bathroom, terrace and flat screen TV. The property features a range of amenities, like a pool, bar, hot tub, spa and Wi-Fi, to ensure you enjoy a truly pampered stay.
Hotel Rural Biniarroca – Adults Only is a superb, 17th century destination, where adults can enjoy sunning themselves in the lush gardens and pools, without the presence of children. The stunning restaurant offers fabulous international and French cuisine, while the shared lounge and library will help you relax. Activities like cycling and horse riding can also be arranged for you on site.
🔍 FIND BEST HOTELS IN SANT LLUIS
6. Binibeca, lively resort in Menorca for couples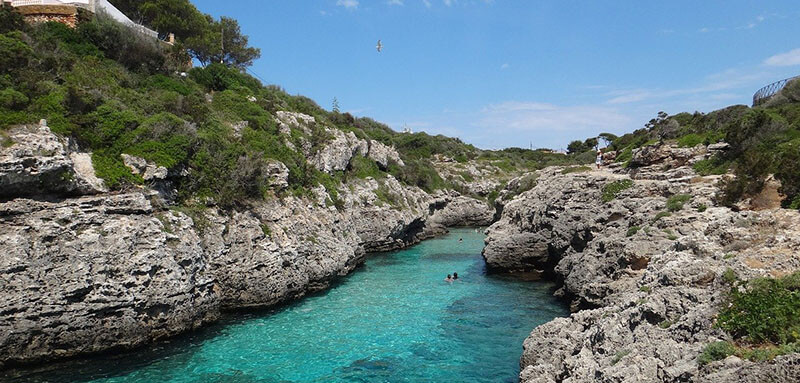 Technically, Binebeca is still in the municipality of Sant Lluis. However, what separates this area is that it is a little more upmarket.
Gone are almost any signs of the tourist world, allowing you to fully integrate yourself with the local culture, of which there is plenty in every direction.
While the town of Sant Lluis lies to the north, you have the traditional Mediterranean fishing village of Pueblo De Pescadores to the west, the Binibeca beach to the south, and Cala Torret to the east– a small area featuring beautiful cliffs and coves, as well as an assortment of bars, restaurants, and shops.
When it comes to accommodation options, gone are the usual large hotels and resorts. Instead, you will find an assortment of classy villas and apartments, which are often rented directly from the locals.
There's certainly less in the way of nightlife here but you still won't struggle to find a nice local bar to eat and drink the night away in.
Stay in Binibeca if you don't like touristy areas, you prefer more exclusive accommodation, you like to contribute to the local community, you aren't too worried about the price.
Best Hotels in Menorca – Binibeca:
Villas Binibeca is a residential estate, featuring a private pool and terrace, where guests can rent two-, three- and four-bedroom apartments. Close to Binibeca Vell Beach, and a short drive from cliffside Cova d'en Xoroi bar in Cala d'en Porter.
Menorca Binibeca by Pierre & Vacances Premium Adults Only is a stunning, adults-only resort, with stunning views of the ocean and the nearby fishing village. Within walking distance from Binibeca Nou Beach. Close to Illa de l'Aire Lighthouse, Maó Lighthouse, Mahon Port, La Mola Fortress, and Cova d'en Xoroi.
🔍 FIND BEST HOTELS IN BINIBECA
7. Fornells, a charming fishing village in Menorca

Now we're going to change things up a bit and take our first trip to the northern coast of the island, to the traditional 17th-century fishing village of Fornells.
If you're fan of seafood, Fornells is the best place for you and don't forget to try famous local food lobster stew.
Like Binibeca, Fornells is a much quieter area than most of the island resorts, more suited to those looking for the true Menorcan experience.
It's rolling hills meet the ocean at its deep fishing bay, which is the perfect spot for water activities, such as snorkeling, windsurfing, and boat trip
Then, when you're worn out from a day in the water, what better way to relax than to retire to your own, traditional whitewashed rental house in the village. These are the most common source of accommodation in Fornells and further enhance your overall experience.
While quite a walking distance from any of the main towns or cities, there are plenty of local restaurants and bars to keep you fed and entertained.
You can check a resort town Playa de Fornells if you stay in Fornells. It's an upmarket and peaceful place to see with a beautiful beach, shallow water, ideal for the kids to swim. Playa de Fornells is just few minutes drive from Fornells.
Stay in Fornells if you enjoy water activities, you want to keep away from crowds and tourist spots, you like traditional accommodation, you aren't too worried about the price.
Best Places to Stay in Fornells:
Hostal Restaurant s'Algaret is a location that provides incredible value for money. Close to En Peuada Beach and Cala Mica Beach.
Aparthotel Tramontana Park provides a wide range of different, traditionally styled apartments, all with a private kitchen, terrace and bathroom. Within walking distance from Fornells Beach, a short drive from S'Albufera Nature Reserve and Mahon.
Apartamentos El Bergantin Menorca Club offers great value, one- and two-bedroom apartments, in a quiet neighborhood overlooking the Mediterranean sea. It's 15km away from Cavalleria Lighthouse for a beautiful sunset view.
🔍 FIND BEST HOTELS IN FORNELLS
8. Cala En Porter, the best place to nightlife to stay in Menorca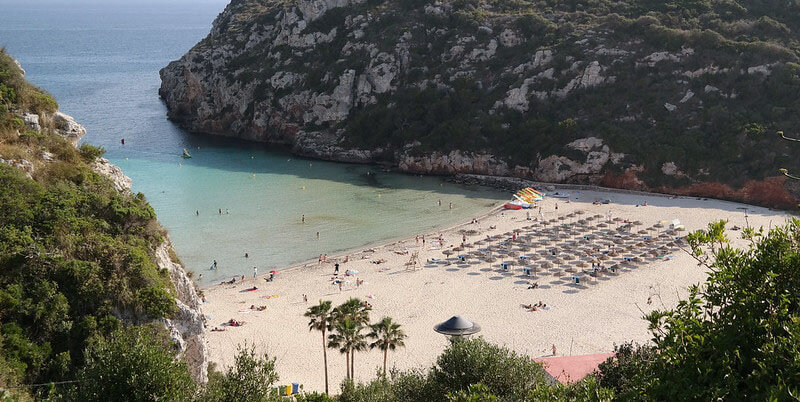 So far, we've looked at locations that were either tourist hotspots or provided natural beauty. Well, in Cala En Porter we've got one that does a bit of both.
While it's known as one of the most popular tourist destinations on the island, it has achieved its reputation due to its incredible scenery and iconic views, as opposed to the bars and nightlife that often draw the crowds.
Home to the most famous bar on the island, Cova D'en Xoroi, Cala En Porter is located up in the cliffs on the south-eastern coast of the island, about halfway between Son Bou and Binibeca.
While it has some beautiful beaches, bars, and restaurants to make any holidaymaker happy, it's the spectacular views that will sell this place to almost anyone who sees them.
Looking out into the bay, as the sun sets over the Mediterranean Sea, is a simply breath-taking experience, that draws not just holidaymakers but also photographers from all over the world.
Not as built up and touristy as some parts but more affordable than others, this may also be one of the best all round areas to stay on the island.
Stay in Cala En Porter if you love beautiful views and sunsets, you aren't worried about crowds, you want an iconic experience.
Best Places to Stay in Cala En Porter:
Nelva Resort is a fabulous, modern resort, where guests can enjoy a pool, bar, restaurant and sun terrace, just 350 yards from Cova d'en Xoroi.
Torralbenc, a Small Luxury Hotel of the World is a superb, 4-star hotel, offering high-class style in a traditional building. Close to Cova d'en Xoroi, Santo Tomas Beach, and Mahon Port.
Hotel Sa Barrera – Adults Only is elegant, over 18's hotel, surrounded by shops, bars, restaurants, beaches and nightclubs. Within a short distance from Cala en Porter Beach, Playa de Cales Coves.
🔍 FIND BEST HOTELS IN CALA EN PORTER
9. Santo Tomás, where to stay in Menorca for walking
Similar to Cala En Porter, Santo Tomas offers a little bit of both worlds, providing some of your traditional tourist mainstays, such as hotel resorts, while at the same time being located in the beautiful scenery that tends to be a little quieter than the main resorts.
In this resort town, you have the option of staying in both private villas and hotels, although do be aware the latter close down outside of the main season.
The hillside is covered by beautiful pine forests, perfect for balancing your days if you don't want to spend your whole trip lazing on the beach or in the ocean.
This certainly won't be suitable for those looking to party the nights away but if you're looking for a more active holiday, away from all the hustle and bustle, this certainly fits the bill in this resort town.
Stay in Santo Tomás if you love beautiful forests, you aren't concerned with nightlife, you'd rather avoid the crowds, you'd like a traditional style hotel.
Best Places to Stay in Santo Tomás:
Hotel 55 Santo Tomas is a superb, 4-star hotel, complete with 2 pools, a spa, sauna, restaurant, and bar. Each unit has a private bathroom and flat-screen satellite TV, free parking, and free wifi. Popular beaches nearby are Santo Tomás Beach, San Adeodato Beach, and Son Bou Beach.
Hotel Santo Tomás is a beautiful, 4-star resort, with 2 pools, a spa, fitness centre, steam bath, sauna and hot tub, just 50 yards from the Santo Tomas Beach. Also close to Cala Mitjana Beach, Cala Macarella, and Cavalleria Beach.
Sol Beach House Menorca – Adults Only is fabulous, over 18's destination, located between San Adeodato and Santo Tomás, and just 4km away from Es Migjorn Gran.
🔍 FIND BEST HOTELS IN SANTO TOMAS
10. Cala Galdana, where to stay in Menorca for families & couples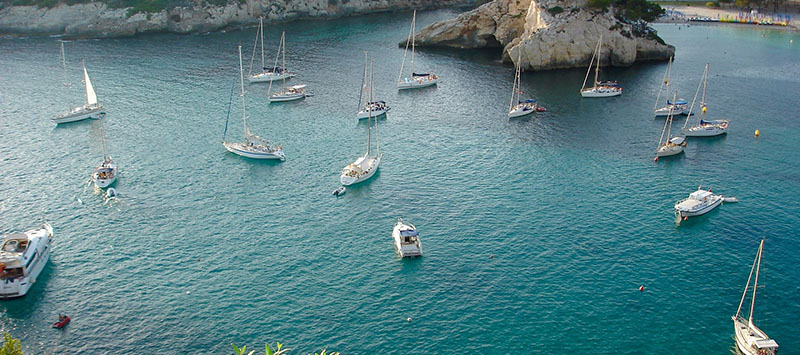 We finish in Cala Galdana which, much like Arenal D'en Castell, is an area completely designed for tourists and it is close to town centre.
The area is packed with options for entertainment, both day and night, for holiday makers of all ages. It also features a shallow, protected beach, which makes it perfect for families with small children.
It also happens to be located in one of the most stunning parts of the island, with a beautiful bay in front of you and a sprawling pine forest rolling up the hill to the rear.
That combo makes it the perfect spot for those who want to take in nature and scenery but are looking for the kind of deals you on accommodation that you only find in tourist hotspots and aren't worried about the crowds.
Stay in Cala Galdana if you like forests, you like beautiful views, you are looking for good value accommodation, you aren't put off by crowds, you travel as a family/with children.
Best Places to Stay in Cala Galdana:
Meliá Cala Galdana is an outstanding, 5-star, beachfront hotel, and surrounded by pine forests. Sant Francesc and La Serpentona coves are just 5km away. Close to Cala Mitjana Beach, Cala Macarella, and Cala Trebaluger Beach.
ARTIEM Audax – Adults Only is a superb, beachfront hotel, located within a nature reserve, and a short distance from Cala Galdana Beach, and Cala Mitjana Beach. Other top attractions nearby are Cala Mica Beach, Punta Nati Lighthouse, and Cavalleria Beach.
Aparthotel Floramar provides a range of suites, studios, and apartments, just 250 yards from Galdana Beach, and easy to reach Cala Mitjana and Macarella beaches.
🔍 FIND BEST HOTELS IN CALA GALDANA
11. Punta Prima, staying in Menorca near airport
Located just 20 minutes from the airport, Punta Prima is the first tourist beach resort you come to. Featuring all-inclusive resorts and tourist amenities, it offers all the conveniences for a laid-back trip, although it can get quite crowded.
However, as a smaller town, it also has a quieter, more traditional side too. This makes it equally suitable for those who want a more authentic trip. Local supermarkets and restaurants are plentiful, giving you lots of ways to experience a truly Menorcan environment.
The beach is beautiful and deep, but it doesn't feature as many facilities as those near some of the larger towns. The nightlife, on the other hand, doesn't miss a beat. From local bars to cabaret shows at the resorts, you'll be able to find something to keep everyone entertained until the early hours.
Stay In Punta Prima If you want to stay close to the airport, you want a tourist resort that also has a traditional side.
Best places to stay in Punta Prima:
Apartamentos Punta Prima Beach Located just a few steps from Punta Prima Beach, while Illa de l'Aire Lighthouse, Maó Lighthouse, La Mola Fortress, and Mahon Port are short ride away.
Occidental Menorca Situated in southeast Menorca near Punta Prima Beach, this mid-range hotel provides 5 outdoor pools, a water park, spa and air-conditioned rooms with a private balcony.
🔍 FIND BEST HOTELS IN PUNTA PRIMA
12. Cala Blanca/Cala Santandria, beautiful beach resorts in Menorca
The connected towns of Cala Blanca and Cala Santandria are just a just a short walk apart. They are two beautiful beach resorts, lying in coves on the western side of the island. Both feature fabulous beaches with soft sand and crystal-clear water, perfect for relaxing on land or going for a swim.
Cala Blanca is the more stereotypical tourist area of the two. A larger beach with more activities and amenities, it is perfect for beach bums and families. The selection of bars around it also creates a vibrant atmosphere, both day and night.
Meanwhile, Cala Santandria is the much more traditional side of the area. A smaller, quieter beach with less amenities, it is ideal for those who want to escape and get some peace. The bars are replaced with restaurants, letting you enjoy stunning food and experience the local culture.
Stay In Cala Blanca/Cala Santandria If you want a choice of great beaches, you want both tourist amenities and traditional facilities.
Best places to stay in Cala Blanca/Cala Santandria:
Apartamentos Sol Ponent Located within walking distance from the beach Cala Santandria Beach, Cala Blanca Beach, Clot de Sa Cera Cliffs , and less than 3km from Ciutadella Lighthouse and Cathedral of Minorca. This apartment can also help you to arrange bicycle and car rental.
Apartamentos Blancala This apartment provides 2 outdoor pools, a mini-golf course, and apartments with a private balcony in Cala Blanca. Located just 600 m from Santandria Beach.
🔍 FIND BEST HOTELS IN CASA BLANCA
13. Cala En Bosch, a great place for seafood lovers
Located in a beautiful bay on the west side of the island, Cala En Bosch is a specifically designed resort town. With numerous amenities and pleasant beaches, it is a destination all can enjoy a relaxing vacation in.
That said, the star of the show here is undoubtedly its stunning marina. Incredible boats bob up and down in the water, surrounded by bars, shops and cafes. It's perfect whether you want to go for a scenic stroll or relax with a picturesque view, while enjoying a meal or a drink.
As a popular fishing spot, many of the restaurants feature some of the freshest seafood on the island. Meanwhile, its collection of shops, facilities and attractions mean your every need and want will be catered to, no matter how long you stay.
Stay In Cala En Bosch If you want to stay near a beautiful harbour, you are a fan of seafood, you want a purpose- built resort town with plenty of amenities.
Best places to stay in Cala En Bosch:
Lago Resort Menorca – Casas del Lago Adults Only This beachfront hotel is located in south-west Menorca, in Cala'n Bosch, overlooking Menorca's marina. it offers bungalows, rooms, and apartments with free wifi. Close proximity to Son Xoriguer Beach, Cala en Bosch Beach, Artrutx Lighthouse, Cala es Talaier Beach, Ciutadella Lighthouse, Cathedral of Minorca, and Cala Macarella.
Menorcamar (Adults only) This apartment offers 1 twin bedroom with a private bathroom and free wifi. You can go on excursions by bike around the beautiful spots of the island, including the Faro de Artrutx and Cala'n Bosch beach..
Valentin Star Menorca- Adults Only This adult-only complex features a lagoon-style outdoor pool, spacious, air-conditioned rooms with a modern bathroom, and free wifi. Located face to Cala´n Bosch Harbour and the salt-water lagoon. You can easily fin shops and bars within walking distance. Menorca's former capital – Ciutadella is just 8km away.
🔍 FIND BEST HOTELS IN CALA EN BOSCH
14. Son Xoriguer, staying near a fabulous marina
Just a short way from Cala En Bosh, you'll find another resort town, Son Xoriguer. Its beach is considered one of the best on Menorca and connects to Cala En Bosch's, allowing you to stroll for hours along the seafront, taking in the views of the neighbouring island of Mallorca.
At the other end of the beach, you'll also find a fabulous marina. This is the heart and soul of the area, both day and night.
Cruises and glass bottom boats tours allow you to get out on the waves during the day. Meanwhile, its collection of bars and restaurants produces a vibrant atmosphere late into the night, with options suitable for people of all tastes and budgets
Stay In Son Xoriguer If you want to stay near a fabulous marina, you enjoy a vibrant nightlife, you want to take a boat trip or stroll along a long, beautiful beach.
Best places to stay in Son Xoriguer:
Hotel Princesa Playa This 4-star modern resort is located within easy walking distance from Son Xoriguer Beach, Cala'n Bosch marina; and just a short ride to Ciutadella and Menorca airport.
Grupotel Club Menorca This budget accommodation is located just 200m from the beach, offers a stunning outdoor pool, buffet breakfast, and free wifi.
Grupotel Playa Club Provide fully furnished and equipped apartments near the wonderful Son Xoriguer beach; This accommodation has an onsite restaurant, a bar, a fitness centre, a sauna, and free wifi.
🔍 FIND BEST HOTELS IN SON XORIGUER
15. Son Parc, a small, quiet village in Menorca
Located on Menorca's northern coast, Son Parc is a quiet village, with only a small number of shops and restaurants, primarily catering to the locals. A few resort hotels are dotted around, but accommodation mainly revolves around guest houses and self-catering apartments.
The main reason many come here, other than for the peace and quiet, is because Son Parc features one of the best beaches on the island. Stretching as far as the eye can see, its beautiful sands and turquoise waters are perfect for relaxing or taking a stroll.
They even have a selection offering water sports for more active visitors.
It does boast another attraction too, in the form of the island's only golf course. An 18-hole course with well-manicured greens, it's the perfect choice for anyone who wants to play a round or two during their stay.
Stay In Son Parc If you want a small, quiet village, you want to enjoy one of the island's best beaches, you enjoy playing golf.
Best places to stay in Son Parc:
🔍 FIND BEST HOTELS IN SON PARC
Read Also:
When it comes to island holidays, we're usually all looking for a somewhat similar experience.
Good weather, nice beaches, things to see, places to explore, and a selection of great bars and restaurants to unwind of an evening.
Menorca offers all of those qualities and then some, so you can be confident in your choice of destination.
The only thing left to do is narrow down exactly where to stay. With the tips and information, I've given you in this article about the best places to stay in Menorca, it should hopefully have helped make that an easy choice too.