Where to stay in Menorca? for first-time visitors, without a car, for families, and for couples both young and old? In this blog, I will give more detail about the best areas and resort towns to stay in Menorca for tourists (include map and video), the best hotels in Menorca for all budgets.
Menorca, also known as Minorca in Catalan, is part of the Balearic islands, a small group of Spanish islands located off the east coast of the mainland, in the Mediterranean Sea. It is the second-largest island of the four including Menorca, Ibiza, Formentera, and Mallorca.
Menorca was declared a Unesco Biosphere Reserve in 1993, it is heaven for nature lovers with a variety of flora and fauna. The S'Albufera des Grau Natural Park is a broad area of wetlands and coastline.
Menorca is where Mayonnaise was first created during an 18th-century occupation by the French. Go wine tasting, cheese tasting, and gin tasting are must-do experiences on this island.
Where to stay in Menorca first time?
The best areas to stay in Menorca for tourists are Mahón, Ciutadella de Menorca, Punta Prima, Cala Blanca, Cala en Porter, and Son Bou. These are the most popular towns on the island that provides a variety of tourist attractions and amenities.
Mahon is the best place to stay in Menorca without a car because it is a transport hub of the island, home to a central bus station, airport, and ferry terminal. Additionally, the town is also easily explored on foot, by taxi, and by water boat.
In addition to Mahon, other best places in Menorca without a car are Cala en Bosch, Cala en Blanes, or Cala Galdana. They both popular resorts with well-connected public transport, as well as many things to do the each area itself.
The best places to stay in Menorca for couples both young and old are Cala En Porter, Cala Galdana, Cala'n Bosch, Binibeca, Mahón, and Ciutadella. These towns offer plenty of beachfront hotels, private villas, and adult-only resorts that cater for romantic couples getaway.
The best places to stay in Menorca with family are Son Bou, Cala Galdana, Cala'n Bosch, Punta Prima, Arenal d'en Castell, Ciutadella, and Mahón. These towns offer plenty of family-friendly hotels and resorts with amenities and activities for children of all ages.
Map of areas and towns in Menorca: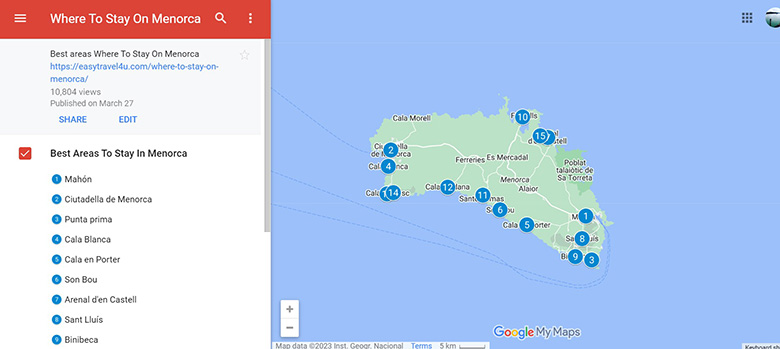 Overviews of best places to stay in Menorca for tourists
Here is an overview of recommended areas in Menorca for first-time visitors:
| Best areas Menorca for tourists | Why should you stay in this area? |
| --- | --- |
| Mahón | best overall area for first-timers, the capital of Menorca and offers a vibrant mix of history, culture, and nightlife. It is ideal for travelers who enjoy exploring historical sites, shopping, and experiencing a lively atmosphere. |
| Ciutadella de Menorca | a picturesque town on the western coast of Menorca. It is renowned for its beautiful architecture, narrow streets, and historic charm. Ciutadella is perfect for travelers seeking a laid-back atmosphere, historical landmarks, and quaint shops. |
| Punta Prima | a popular tourist resort located on the southeastern coast of Menorca. It features a gorgeous sandy beach and offers a relaxed holiday environment. Punta Prima is ideal for families and travelers looking for a tranquil beach getaway. |
| Cala Blanca | a small resort town situated on the western coast of Menorca. It is known for its stunning white sandy beaches and rocky coves and is suitable for couples and families who appreciate picturesque coastal scenery, sunbathing, and snorkeling in clear waters. |
| Cala en Porter | located on the south coast of Menorca and is known for its breathtaking cliffs and a picturesque sandy beach. Cala en Porter offers a range of restaurants, bars, and clubs. It's a good choice for families, couples, and groups of friends. |
| Son Bou | situated on the southern coast of Menorca and boasts one of the island's longest beaches. It is a family-friendly resort area with a wide range of amenities and activities. |
| Arenal D'en Castell | a well-known tourist destination on the northern coast of Menorca. It features a beautiful horseshoe-shaped bay with turquoise waters. This area is suitable for families and travelers who want a relaxed beach holiday. |
| Son Parc | located on the north coast of Menorca and is an excellent choice if you're looking for a peaceful and family-friendly atmosphere. Son Parc is also home to an 18-hole golf course, making it ideal for golf enthusiasts. |
| Cala Galdana | located on the southwestern coast of Menorca and is a popular resort area with a picturesque horseshoe bay, surrounded by cliffs and pine forests. It is suitable for couples and families seeking a combination of natural beauty and tourist amenities. |
| Binibeca | a charming fishing village located on the southeastern coast of Menorca. It is known for its traditional white-washed houses and narrow streets. it is perfect for travelers who want a peaceful and picturesque retreat. |
Best areas to stay in Menorca for tourists are:
1. Mahón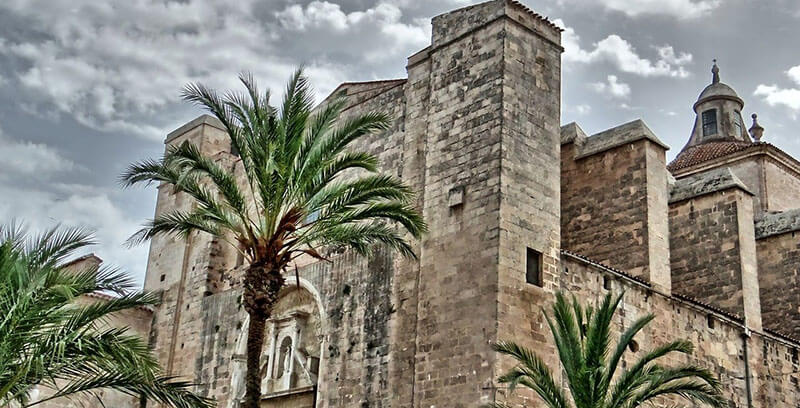 Mahón, also known as Maó by locals, is one of the best places to stay in Menorca for first-timers because it is the capital city of the island, conveniently located within easy access to Menorca Mahon Airport and the ferry terminal.
Mahón is known for its British-style Georgian houses and the Port of Mahon, which is the second-largest natural harbor in the world after the Pearl Harbour in Hawaii. Mahon's natural harbour is one of the cit's main attractions and is the departure point of glass bottom boat tours.
While it has traditional tourist features aplenty, such as bars, seafood restaurants, boutique hotels, and swish shops, it also features more unique attractions to give it its own special feeling. The city center is small and you can easily explore on foot.
In the heart of the city, you will find the 18th-century colonial style Plaza de la Constitución, home to the neoclassic 18th century Town Hall, British Clock Tower, as well as the Santa Maria de Maó Church (Iglesia de Santa Maria) with more than 3000 wooden and metal pipes where you can listen to the wonderful sound of the organ.
There are numerous of churches nearby including the French baroque-style building of Principal de Guardia, the Sant Francesc Church, the Church of Carmen, and the Church of la Concepción.
Another must-see landmark around the port is the La Mola (the Fort of Isobel II). It was built in the 19th century at the orders of Queen Elizabeth II. To see the fortress from the water, don't miss out the harbour cruise or glass-bottomed boat trip from Mahon.
If you head to the southern side of the entrance to Maó harbor, you can also find the 16th-century San Felipe Castle by Italian engineer Giovanni Battista Calvi. It was demolished on the orders of King Carlos III in 1805 to prevent it from falling into foreign. The most impressive sights are to be found underneath the site.
If you love art and history, you can visit the Museum of Menorca which is set in a 17th-century monastery; the Military museum, Ca n'Oliver Museum and art center, and Teatro Principal opera house which is one of the oldest opera houses in Spain opened in 1829.
It also has the most vibrant nightlife on the island. If you're looking to dance, party, and be entertained, this capital city is without a doubt the place to be.
Gin was a popular drink in 18th-century Britain, and during the British occupation of Menorca, locals imported juniper berries and distill gin using alcohol from local vineyards and built a gin distillery.
The Xoriguer gin factory in the harbour area is a place to sample the wide array of gins they have on offer as you find out how they are produced, before purchasing your favorites direct from the factory to take home with you.
Shoppers will want to visit the Placa de S'Esplanada with many stylish boutique shops. The fish market (Mercat del Peix) offers views right across the port and bay; while the Mercado del Claustro del Cármen is a great place to find Menorcan gifts to bring home.
With a wide range of prices and hotels and restaurants and everything within a reasonable walking distance, this is one of those traditional tourist destinations where there's something for everybody.
Stay in Mahón if this is you first visit; you are couples, family, singles, all kind of travelers; you want lively nightlife; you travel without a car;you enjoy shopping.
Best places to stay in Menorca in Mahón:
luxury ($$$): Jardí de Ses Bruixes Boutique Hotel, 5-star hotel, one of the best places to stay in Menorca for couples and adults aged 18 and older, located in central Mahón, within walking distance from the harbor. It has an on-site restaurant and bar.
mid-range ($$): ARTIEM Capri, popular 4-star family-friendly hotel, conveniently located within walking distance from Mahon's main shops and bars, as well as Mahon Harbour and Mahón Bus Station. It offers indoor and outdoor swimming pools and a spa.
budget ($): Hostal Jume – Urban Rooms, great guest house, one of the best places to stay in Menorca on a budget, located in the centre of Mahón, easy walk from the city's port, Santa María Church and Plaza de Conquesta.
🔍 CHECK BEST HOTEL DEALS IN MAHON
Read also:
2. Ciutadella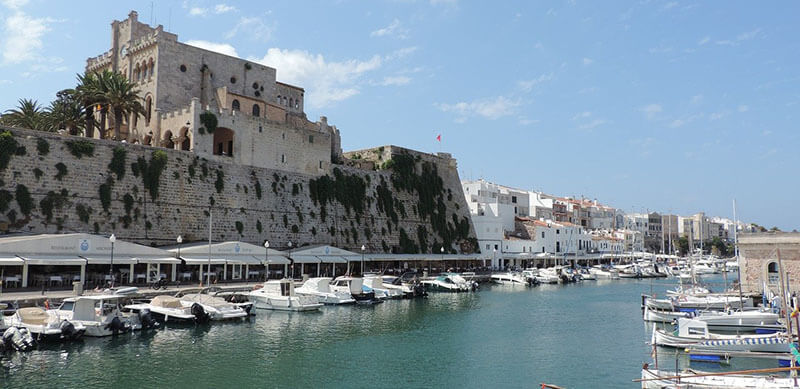 Ciutadella de Menorca along with Mahon is one of the best areas to stay in Menorca for the first time because they are both beautiul and popular for tourists. Mahon is the current capital of the island, while Ciutadella is the island's former capital city.
Located on the west coast of Menorca, Ciutadella de Menorca or simply Ciutadella, is the historic capital of Menorca, built by the Romans. Even today, the city is surrounded by the Contramurada Wall, following the exact same path it did at the time of the city's construction.
Other than the wall, you will find several good examples of Baroque and Gothic churches in the city. There are churches, plazas, squares, winding streets, and even a cathedral of the Plaza de Pio XII, you can spend your days roaming around to learn more about what the area and indeed the island are truly about.
Start explore Ciutadella with the beautiful port city's charming square, Placa d'es Born. It has an obelisk to memorialize the Turkish invasion. Around this square, you will find the 19th century Town Hall, Teatre Municipal d'es Born, the Torre Saura Palace, and the Palace of Salort.
The square is also the location of the Friday and Saturday market, which take place from 9am to 2pm. There is also evening craft market in summer at Carrer de Pere Caplloncan.
You will find some religious buildings such as the Ciutadella de Menorca Cathedral (the Cathedral of Santa María), the Catalan Gothic style, which was built in the fourteenth century with a single nave and several side chapels.
There are also some museums and galleries to visit like VidrArt Gallery, Palacio Olivar, and Museum Municipal de Ciutadella to learn more about the history of the region.
Another interesting landmark is Saint Nicholas Castle, which was built in the late 17th-century to defend the port of the Ciutadella de Menorca.
Along with the old town, you can not miss Port de Ciutadella, charming port and harbour with plenty of photo opportunities. It is home to many excellent shops and diverse gastronomic, as well as Menorcan specialties.
Unlike Mahon, Ciutadella is a city that is much more about experiencing the culture and history of the area than it is shopping and partying.
But there are still plenty of bars and restaurants to enjoy your evenings in, but these tend to be more local establishments as opposed to the big tourist watering holes you'll find elsewhere.
If you are visiting Ciutadella in July and August, you will have a chance to take part in the Summer Music Festival in the cloister in the Church of El Socorro seminary. The first festival took place in 1973. Since then, famous classical music groups and artists come to Ciutadella every summer.
While maybe a little more expensive, the area is still reasonably priced and cost shouldn't be a barrier if you are looking to stay in this area. You can easily find the best beach resorts in South Ciutadella.
Stay in Ciutadella if you are first-timers; you are interested in history and culture, and you aren't worried about tourist shops and entertainment.
Best places to stay in Menorca in Ciutadella:
🔍 FIND BEST HOTELS IN CIUTADELLA
3. Punta Prima
Punta Prima is on the southeast part of the island, located just 10km from Mahon, 6km from Sant Lluís, 20 minutes from the airport. It is a great base for families and couples alike because its beaches have crystal blue water and soft sand, as well as lot of services for kids and whole families.
Featuring all-inclusive resorts and tourist amenities, it offers all the conveniences for a laid-back trip, although it can get quite crowded. it has a good choice of hotels, apartment complexes, and privately owned properties.
The Blue Flag, Punta Prima beach, has white sands, warm, shallow crystal clear water, safe place to swim for families with small kids. Punta Prima playa is a tourist-friendly beach with lifeguard, shops and cafes, sun bed to rent.
You can also take your children to Splash Sur Menorca Waterpark which is the best water park on the island. There are plenty of activities for all ages, from ramps, slides, pools, jets to restaurant, lockers, lifeguards, the water park has it all!
Punta Prima's location on the golden triangle offers plenty of choices to explore charming villages nearby. However, as a smaller town, it also has a quieter, more traditional side too. This makes it equally suitable for those who want a more authentic trip.
Local supermarkets and restaurants are plentiful, giving you lots of ways to experience a truly Menorcan environment.The nightlife, on the other hand, doesn't miss a beat.
From local bars to cabaret shows at the resorts, you'll be able to find something to keep everyone entertained until the early hours.
Stay In Punta Prima If you want a family-friendly area; you want to stay close to the airport, you want a tourist resort that also has a traditional side.
Best places to stay in Menorca in Punta Prima:
🔍 FIND BEST HOTELS IN PUNTA PRIMA
4. Cala Blanca
Located close to the former capital of Menorca, Ciutadella, the connected towns of Cala Blanca and Cala Santandria are two beautiful beach resorts, lying in coves on the western side of the island.
Both feature fabulous Blue Flag beaches with golden sandy, soft sand and crystal-clear water, perfect for relaxing on land or going for a swim. Located on the west coast of Menorca, it makes it perfect to watch the sunsets.
Cala Blanca is the more stereotypical tourist area of the two. A larger beach with more activities and amenities, it is perfect for beach bums and families. The selection of bars around it also creates a vibrant atmosphere, both day and night.
Meanwhile, Cala Santandria is the much more traditional side of the area. A smaller, quieter beach with fewer amenities, is ideal for those who want to escape and get some peace.
The traditional Menorcan-style restaurants will let you enjoy stunning food and experience the local cuisine.
Stay In Cala Blanca If you want a choice of great beaches, you want both tourist amenities and traditional facilities.
Best places to stay in Menorca in Cala Blanca/Cala Santandria:
🔍 FIND BEST HOTELS IN CASA BLANCA
5. Cala En Porter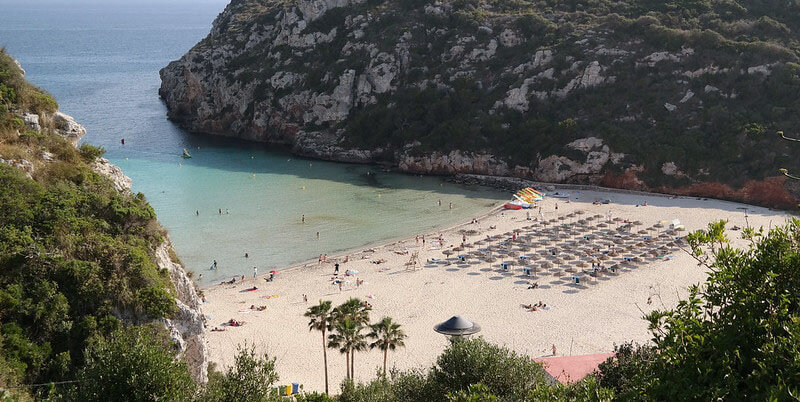 Located on the south-eastern coast, within easy distance of the capital Mahon, Cala en Porter Menorca is one of the island's earliest developed resorts, with its charming beach cove overlooking the high cliffs.
While it's known as one of the most popular tourist destinations on the island, it has achieved its reputation due to its incredible scenery and iconic views, as opposed to the bars and nightlife that often draw the crowds.
Home to the most famous bar on the island, Cova D'en Xoroi, Cala En Porter is located up in the cliffs on the south-eastern coast of the island, about halfway between Son Bou and Binibeca.
Cala En Porter sits high up on cliffs looking down onto a pretty bay in a protected nature area. The beach is crystal clear turquoise and shallow waters, a safe beach for families with young children, looked after by lifeguards.
While it has both Spanish and English bars, and restaurants to make any holidaymaker happy, it's the spectacular views that will sell this place to almost anyone who sees them.
Looking out into the bay, as the sun sets over the Mediterranean Sea, is a simply breath-taking experience, that draws not just holidaymakers but also photographers from all over the world.
Not as built up and touristy as some parts but more affordable than others, this may also be one of the best all-round areas to stay on the island.
Stay in Cala En Porter if you're looking for the best resort in Menorca for nightlife; you love beautiful views and sunsets, you aren't worried about crowds, you want an iconic experience.
Best Places to Stay in Menorca in Cala En Porter:
🔍 FIND BEST HOTELS IN CALA EN PORTER
6. Son Bou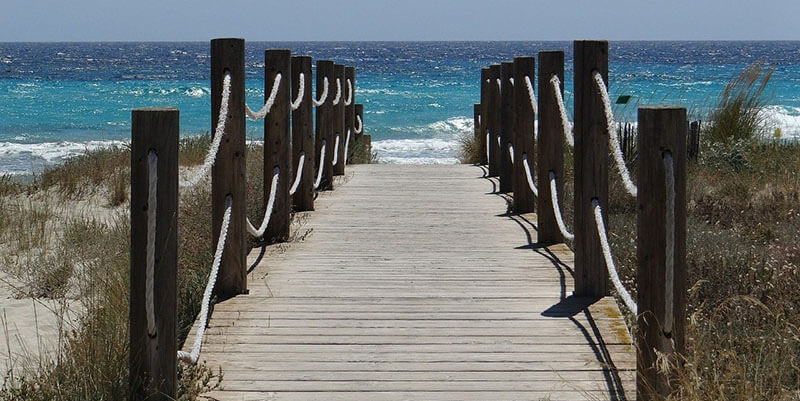 Located on the south of the island, in the municipality district of Alaior, the village of Son Bou is a popular location as it features the longest beach on the island. Son Bou encompasses areas of Central Son Bou, San Jaime and Torre Soli Nou.
The Blue Flag beach with plenty of watersports activities like scuba diving, kayaking, and boat tour makes it an ideal place for families with older children.
Over 2 miles of golden sands and dunes sprawl out along the coast, lined by the ocean on one side and a nature reserve on the other. Inhabited by a variety of species of amphibians, birds, and insects, the sounds and sights surrounding the area bring you that feeling of a true tropical paradise.
The village features two large hotels, as well as a pair of villa and apartment complexes, providing a variety of options, whatever your preferred type of accommodation.
There is also plenty of local shops for you to stock up on supplies and souvenirs, as well as numerous restaurants and bars that serve a good range of British, Indian, Chinese, and Mediterranean dishes.
The highlight of the area's tourist attractions comes in the form of the remains of a 5th-century church, the Basilica Paleocristiana De Son Bou. Whether you're a history buff or simply enjoy experiencing local culture and traditions when you go away, this is a must-see if you're in the area.
Within a short walk from central Son Bou, you will find San Jaime Jaime which is home to Club Sant Jaime Club, a large swimming pool and an indoor amusement area.
You can also visit the Cala de Llucalcari bay beach, Prat de Son Bou nature preserve, and dine at a commercial center on the eastern side of the beach. The one restriction of the area is that there are some steep hills in the area, so if you don't have a car be prepared for more than a little stroll.
Stay in Son Bou if you enjoy beautiful beaches in a resort town, you love nature, you are a family with children, you are interested in history, you aren't bothered by large hills.
Best Places to stay in Menorca in Son Bou:
🔍 FIND BEST HOTELS IN SON BOU
7. Arenal D'en Castell
Located in the north-eastern of Menorca around 30 minutes by car from the airport near Mahon, the family-friendly area of Arenal D'en Castell (Arenal) is a purpose-built resort for tourists. The town is centered around a golden Horseshoe bay.
Intentionally designed to be a resort, instead of a local village, you will find plenty of entertainment for both children and adults alike. The hotels in the area provide cabaret and live music to keep you enjoying yourself into the evenings, while kids clubs and bouncy castles are set up to occupy your little ones.
The beach is also perfect for families as, while it's not as impressive as Son Bou, it still features beautiful golden sands and shallow waters that are perfect for small children to safely enjoy the sea. You will have a quality beach holiday with beautiful cliffs views.
As you would expect from an area designed for families, it provides good value in everything from the bars and accommodation to the local supermarkets and souvenir shops in Coves Noves commercial center.
Similar with other popular Menorca resorts, Arenal d'en Castell has its own mini train to get around with the kids. It will take you to Aquamarine, the Marina Parc, Castell Playa hotels, and the Na Macaret fishing village.
You will also be close to the 18 hole Golf Course, Golf Son Parc Menorca which is famous for its Men's Menorca Open Championship.
Stay in Arenal D'en Castell if your family has small children, you like organized entertainment, you are looking for good value, you don't plan on leaving your resort that much, you like the beach.
Best places to stay in Menorca in Arenal D'en Castell:
🔍 FIND BEST HOTELS IN ARENAL D'EN CASTELL
8. Sant Lluis
The typical whitewashed Menorcan village of Sant Lluis is a municipality that lies on the south-eastern end of the island, within a short drive by car from the capital Mahon. Sant Lluis is the biggest town in the Sant Lluis municipality.
Sant Lluis is famed for its coastline, as it features sandy beaches, rocky cliffs, and stunning coves of Binissafúller, Biniancolla, and Binibeca, providing a little bit of everything to keep everyone happy.
Built by the French in the 1700s, the central features of the area include a large Saint Louis church and a traditional windmill, Dalt Windmill (Molí de Dalt) that has been converted into the island's Ethnological Museum.
There is also a winery that provides guided tours and sampling of their products.
It's not all history and culture though, as one of the beach resort areas, Punta Prima, is one of the finest on the island. Not quite as touristy as some of the others, the beach at Punta Prima allows you to enjoy the sun, sand, and sea in a more refined manner.
In the evenings there are plenty of local restaurants and bars and even a limited amount of entertainment in some of the local hotels. Perfect for keeping your nights just as full as your days.
Stay in Sant Lluis if you like culture, you want a more traditional area, the rural;
Best places to stay in Menorca in Sant Lluis:
🔍 FIND BEST HOTELS IN SANT LLUIS
9. Binibeca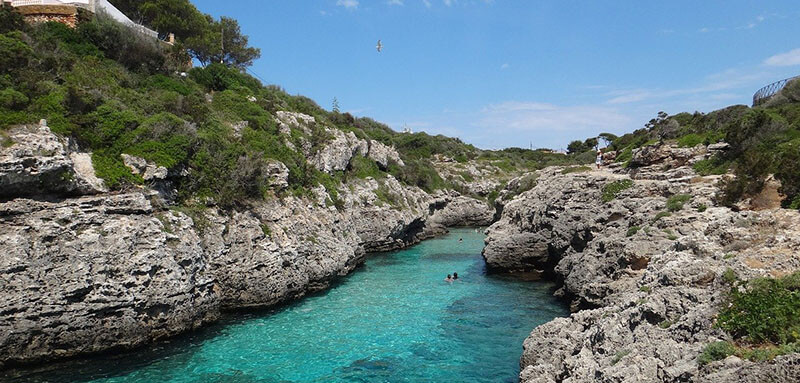 Technically, Binebeca is still in the municipality of Sant Lluis. However, what separates this area is that it is a little more upmarket. It consists the Binibeca Vell, Binibeca Nou, and Cala Torret.
Gone are almost any signs of the tourist world, allowing you to fully integrate yourself with the local culture, of which there is plenty in every direction.
While the town of Sant Lluis lies to the north, you have the traditional Mediterranean fishing village of Pueblo De Pescadores to the west, the Binibeca beach to the south, and Cala Torret to the east- a small area featuring beautiful cliffs and coves, as well as an assortment of bars, restaurants, and shops.
When it comes to accommodation options, you will find an assortment of private white-washed villas and apartments, which are often rented directly from the locals.
There's certainly less in the way of nightlife here but you still won't struggle to find a nice local bar to eat and drink the night away in. Binebeca is a quiet resort for those looking for a relaxing holiday. And it is easy to reach the bigger resorts by public transport like Punta Prima, Mahon and Es Castell.
Stay in Binibeca if you don't like touristy areas; you like to contribute to the local community;
Best place to stay in Menora in Binibeca:
🔍 FIND BEST HOTELS IN BINIBECA
10. Fornells

Located on the northern coast of the island, the traditional 17th-century fishing village of Fornells is a charming village of white houses with orange tiled roofs around set around a pretty palm tree-lined port.
Playa de Fornells, just down the coast from charming Fornells village, is famous for its seafood and regular visitor, Juan Carlos I, former King of Spain. If you're a fan of seafood, you must try famous local food lobster stew. There are plenty of local seafood restaurants and bars at the harbor side. The most famous Es Pla restaurant is known for its lobster Caldereta.
Like Binibeca, Fornells is a much quieter area than most of the island resorts, more suited to those looking for the true Menorcan experience. Its rolling hills meet the ocean at its deep fishing bay, which is the perfect spot for watersports, such as snorkeling, windsurfing, boat trip, canoeing, sailing, and scuba diving.
You can stroll along its small marina and a pedestrianized waterfront, and admire some of the luxurious boats anchored in the marina.
Then, when you're worn out from a day in the water, what better way to relax than to retire to your own, traditional whitewashed rental house in the village. These are the most common source of accommodation in Fornells and further enhance your overall experience.
Apart from strolling around its natural bay and enjoying a typical Mediterranean town of whitewashed houses, you can also visit Torre de Fornells, a 19th-century watchtower with stunning views of the Mediterranean ocean.
You also have San Antonio Castle, Iglesia de San Antonio Abad, Cabo de Cavalleria, and the beaches and sandy coves at the bay of Fornells, Cala Cabra Salada, and Cala Tiran beaches.
Stay in Fornells if you enjoy water activities, you want to keep away from crowds and tourist spots, you like traditional accommodation, you love seafood.
Best Places to Stay in Menorca in Fornells:
🔍 FIND BEST HOTELS IN FORNELLS
11. Santo Tomás
Located on the South Coast of Menorca, in the municipality of es Migjorn Gran, Santo Tomas is within a short distance to both Cala Galdana and Son Bou. It's an ideal holiday destination for young families and couples after a relaxing holiday!
Santo Tomas consists of three beaches: San Adeodato beach (Binicodrell), Sant Tomas beach, and the most popular Binigaus beach. The beach is child-friendly, good for those who have small kids.
Santo Tomas beaches have white and thin sand and clear water. it can be crowded in the high season between July and August.
In this resort town, you have the option of staying in both private villas and hotels, although do be aware the latter close down outside of the main season. Hotels are concentrated along the seafront, while villas and apartments are scattered up the hillside.
The hillside is covered by beautiful pine forests, perfect for balancing your days if you don't want to spend your whole trip lazing on the beach or in the ocean.
This certainly won't be suitable for those looking to party the nights away but if you're looking for a more active holiday, away from all the hustle and bustle, this certainly fits the bill in this resort town.
Stay in Santo Tomás if you love beautiful forests, you aren't concerned with nightlife, you'd rather avoid the crowds, you'd like a traditional-style hotel.
Best Places to Stay in Menorca in Santo Tomás:
🔍 FIND BEST HOTELS IN SANTO TOMAS
12. Cala Galdana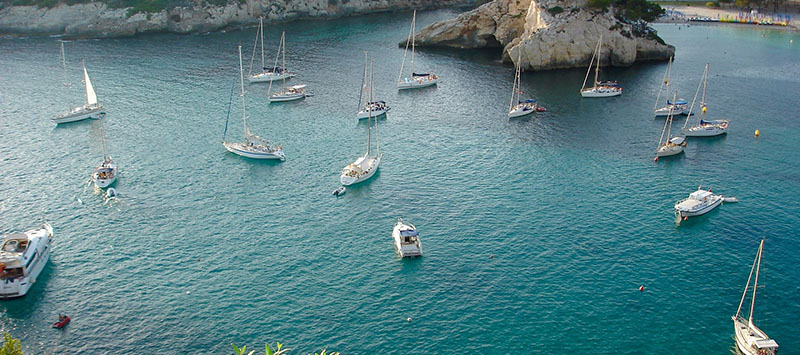 Located on Menorca's south coast, 36km from the airport in Mao, at the base of the Algendar Gorge, Cala Galdana, also known as the Queen of the Calas, is an area completely designed for tourists.
It happens to be located in one of the most stunning parts of the island, with a beautiful bay in front of you and a sprawling pine forest rolling up the hill to the rear.
You can easily take a boat trip to the coves of Cala Macarella, Cala Mitjana, and Turqueta.
The area is packed with options for entertainment, both day and night, for holidaymakers of all ages. This modern town has restaurants, bars, souvenir shops, and supermarkets.
You can find Menorca's best horse shows at the Club Escola Menorquina.
It also features a shallow, protected beach, with white golden sands and turquoise waters, which makes it perfect for families with small children. It has numerous beach activities such as kayaking and paddle boats.
You will some trails along the Algendar river and along the coast with the famous route of the Cami de Cavalls.
You can also visit Ferreries, which is well-known for its shoes and furniture. There is also a farmers' market, the Castle of Santa Agueda, a fort built in the 13th century by the Arabs.
That combo makes it the perfect spot for those who want to take in nature and scenery but are looking for the kind of deals on accommodation that you only find in tourist hotspots and aren't worried about the crowds.
Accommodations are mostly owned villas and apartments and a good range of hotels to suit all budgets.
Stay in Cala Galdana if you are looking for the best place to stay in Menorca without a car; you like forests, you like beautiful views, you are looking for good value accommodation, you aren't put off by crowds, you travel as a family/with children.
Best Places to Stay in Menorca in Cala Galdana:
luxury ($$$): Meliá Cala Galdana, 5-star beachfront resort, one of the best hotels in Menorca. It is located within easy walk from the centre of Cala Galdana, where there is a selection of shops, bars and cafés. It is a short drive from the coves at La Serpentona and Sant Francesc.
mid-range ($$): ARTIEM Audax – Adults Only, 4-star beachfront hotel, one of the best places to stay in Menorca for couples, located within a nature reserve, offering views of Cala Galdana Bay.
budget ($): Comitas Floramar, family-friendly accommodation, located in the quiet resort of Cala Galdana, 40-minute walk along the coast from the unspoilt beaches of Cala Mitjana and Macarella. .
🔍 FIND BEST HOTELS IN CALA GALDANA
13. Cala En Bosch
Located in a beautiful bay on the west side of the island, 5 miles from Ciutadella, Cala En Bosch, also known as Cala D'en Bosch, Cala n Bosch or Cala en Bosc, and Cap d'Artrutx, is a specifically designed resort town.
With numerous amenities and pleasant beaches with pure white sand and crystal clear waters, it is a destination all can enjoy a relaxing vacation in. it is ideally suited for couples and families after a peaceful holiday.
That said, the star of the show here is undoubtedly its stunning marina. Incredible boats bob up and down in the water, surrounded by bars, shops, and cafes. It's perfect whether you want to go for a scenic stroll or relax with a picturesque view while enjoying a meal or a drink.
Families with children will want to spend a fun day at the Aquarock waterpark and go-karting track, or the Goody Goody park on the Marina.
As a popular fishing spot, many of the restaurants feature some of the freshest seafood on the island. Meanwhile, its collection of shops, facilities, and attractions mean your every need and want will be catered to, no matter how long you stay.
Stay In Cala En Bosch If you want to stay near a beautiful harbor, you are a fan of seafood, you want a purpose-built resort town with plenty of amenities.
Best places to stay in Menorca in Cala En Bosch:
luxury ($$$): Lago Resort Menorca – Suites del Lago Adults Only, 5-star hotel in Cala'n Bosch, one of the best resort in Menorca for couples both young and old. Located close to Cala en Bosch Beach, Son Xoriguer Beach, and Artrutx Lighthouse. It has car hire and bike rental services.
mid-range ($$): Lago Resort Menorca – Casas del Lago Adults Only, 4-star hotel, located in Cala'n Bosch, in south-west Menorca, offering views of the town's marina. It is only a few steps from the beach, and is one of the best places to stay in Menorca for couples.
budget ($): Valentin Star Menorca- Adults Only, great adult-only complex located close to Menorca's Cala'n Bosch Beach, featuring spacious rooms for singles and couples.
🔍 FIND BEST HOTELS IN CALA EN BOSCH
14. Son Xoriguer
Located in the southwest of Menorca, 30 miles from Menorca International Airport, 10km to Ciutadella, and just a short way from Cala En Bosh, you'll find another resort town, Son Xoriguer.
This 110 meters long and 40 meters wide beach has bright and fine sand, y clear, and calm waters. Families with kids can head to the eastern part of Son Xoriguer which is largely free of rocks in the water.
Its beach is considered one of the best on Menorca and connects to Cala En Bosch's, allowing you to stroll for hours along the seafront, taking in the views of the neighboring island of Mallorca.
At the other end of the beach, you'll also find a fabulous marina. This is the heart and soul of the area, both day and night.
Cruises and glass-bottom boat tours allow you to get out on the waves during the day.
Meanwhile, its collection of bars and restaurants produces a vibrant atmosphere late into the night, with options suitable for people of all tastes and budgets
Stay In Son Xoriguer If you want to stay near a fabulous marina, enjoy the vibrant nightlife, you want to take a boat trip or stroll along a long, beautiful beach.
Best places to stay in Son Xoriguer:
🔍 FIND BEST HOTELS IN SON XORIGUER
15. Son Parc
Located on Menorca's northern coast on the borough of Es Mercadal, 20kms west of Mahon and 7kms east of Fornells, Son Parc is a small quiet village, with only a small number of shops and restaurants, primarily catering to the locals.
A few resort hotels are dotted around, but accommodation mainly revolves around guest houses and self-catering apartments.
The main reason many come here, other than for the peace and quiet, is because Son Parc features one of the best beaches on the island, Son Parc Beach, also known as Arenal Son Saura. it is a great holiday for young families and couples looking for a quieter relaxing beach.
Stretching as far as the eye can see, its beautiful sands and turquoise waters are perfect for relaxing or taking a stroll. They even have a selection offering water sports like windsurfing, water-skiing, and jet-skiing for more active visitors.
The beach has two beach bars where you can grab tapas and fruity cocktails. There are also beach facilities such as sun lounges, sunshades, showers, and toilets.
It does boast another attraction too, in the form of the island's only golf course, Golf Son Parc Menorca. An 18-hole course with well-manicured greens, it's the perfect choice for anyone who wants to play a round or two during their stay.
In the resort's town center, you will find one main street known as the strip, where most of the bars and restaurants are located. There is a couple of tapas bars, an Italian pizzeria, and a British-style pub.
Stay In Son Parc If you want a small, quiet village, you want to enjoy one of the island's best beaches, you enjoy playing golf.
Best places to stay in Menorca in Son Parc:
🔍 FIND BEST HOTELS IN SON PARC
Where to stay in Menorca without a car?
The best areas to stay in Menorca without a car are Mahon, Cala en Bosch, Cala en Blanes, and Cala Galdana. Each of these areas offers easy access to amenities, public transportation, and attractions, making them a great base for a car-free holiday in Menorca.
Menorca is a small island, you can easily get around by bus, taxi, or renting a car. You can get almost anywhere using the public bus service. There is a decent taxi service on the island. Take the taxi meters, and the price list card before go. It is easy to take the taxi from airport to your hotel.
Renting a car is the most popular ways to get around. You can hire a car from the airport, in Mahón, Ciutadella and in all the resorts. The roads on the island is generally good.
Mahon on the east and Ciutadella on the west are some of the best areas to stay in Menorca without a car because they are the two main cities in Menorca that have good bus connection. You can easily travel around without a car if you staying in these towns.
When it comes to island holidays, we're usually all looking for a somewhat similar experience. Good weather, nice beaches, things to see, places to explore, and a selection of great bars and restaurants to unwind from an evening.
You can explore the whole island by foot, horseback, or bicycle through the ancient path, Cami de Cavalls, a 186 km circular route around the island. With 216 km of coastline, an abundance of long sandy beaches, small coves or calas, crystal clear waters, and beautiful wildlife across the Balearic Islands, Menorca will definitely tick all of your dream vacation boxes.
See more:
Conclusion – Where to stay in Menorca?
In conclusion, Mahón, Ciutadella de Menorca, Punta Prima, Cala Blanca, Cala en Porter, and Son Bou are the best places to stay in Menorca for tourists. They provide safe central bases for easy access to attractions and beaches, and a wide selection of accommodations for all budgets.
Overall, in my opinion, Mahón is the best location in Menorca for first-timers. It is easily accessible by plane and ferry, and it is well-connected to the rest of the island, making it a great base to explore the island.