The best areas to stay in Alicante for first-timers are El Centro, Postiguet Beach, Cabo de las Huertas, Albufereta, San Juan Beach, El Campello, Alipark, and Elche. These are popular neighborhoods in the city that provide a wide range of attractions and amenities.
This blog post will help you to decide where to stay in Alicante for tourists, nightlife, near beach, in the old town, and some best things to do in Alicante.
Located on the Costa Blanca (White Coast), Alicante is a the perfect destination for holidayers looking for history and culture, from the quaint buildings of the historic old town to the ancient origins of Albufereta beach.
Alicante is a fairly compact city, so you aren't missing out on one area by staying in another. It is an easy city to get around and each neighborhood has its pros and cons – it won't ruin your trip if you don't pick the perfect location!
El Centro is the best place to stay in Alicante for tourists, especially for first-timers due to its prime location and the widest choice of accommodations. Booking a hotel in this neighborhood, you will be located in the heart of action, within walking distance to the tourist attractions, bars, restaurants, and shops.
Alicante is home to Alicante Airport, also known as Alicante-Elche Airport, located 9 kilometers southwest of Alicante city. It is one of the largest airports in Spain and is the gateway to the Costa Blanca resort region, serving both the Region of Murcia and Valencia Community. It has flights from some European countries like UK, Germany, Netherlands, and Norway with low-cost carriers.
Apart from airplanes, you can reach Alicante by train. There are train line from Alicante Main Train Station to Barcelona, Madrid, and the region's capital Valencia. Some of the famous places to visit nearby are Benidorm, Javea, Denia, and the Balearic Islands.
8 Best Areas to stay in Alicante, Spain for tourists
1. El Centro, where to stay in Alicante for the first time visitors
El Centro (Old Town) is the best place to stay for a first-time visitor, as it has a lot of the city's old-world charm and is home to many of the city's historic buildings, narrow streets, and cultural attractions.
This Historical Downtown city center has a wonderful range of tapas bars and restaurants for an authentic Spanish experience, and after dinner, you can wander down to the seafront for beautiful views and vibrant nightlife with numerous bars, discos, and cafes.
Santa Barbara Castle is the most prominent attraction in the city center. This is one of the largest medieval fortresses in Spain and is located on the top of Mount Benacantil, 166 meters above the sea, and offers beautiful views of the city, and the entire bay of Alicante.
The castle is home to the MUSA museum which displays historical documents and works of art of the different civilizations from the prehistory of Alicante.
The castle can be reached by a lift from El Postiguet beach, or by foot and car from Calle Vázquez de Mella. On its slope is La Ereta Park, a charming open-air space with a restaurant, cafe which offers sweeping views of the city and its Old Quarter.
The Old town is also home to the 18th-century Alicante Town Hall where you can find brass studs on the staircase which is used for measuring the sea levels around Spain. Be sure to climb the staircase to check the impressive Salon Azul (Blue Room).
The oldest church in Alicante, Iglesia de Santa Maria (St Marys Church), and the 17th-century San Nicolas de Bari Cathedral in Plaza Abad Penalva is also well worth a visit whilst in Alicante.
The Santa Cruz is the oldest quarter of Alicante on the foot of the castle with many narrow winding streets, small white houses with balconies decorated with flowers, quaint shops, and outdoor restaurants. Calle San Rafael and Calle San Antonio are the most famous street in the area.
Make sure to climb to Mirador de Santa Cruz, the highest point of the Barrio de Santa Cruz, which offers spectacular views of the city and the Mediterranean Sea, especially at sunset time.
You can also find a convent, art galleries, and museums such as the Museum of Modern Art (Museo de la Segurada), Mubag Gravina Fine Arts Museum, and Figueres Festival Museum.
It's also the site of the famous Les Figueres festival in the summer, a fantastic sight.
The center is only 15 minutes from the Alicante Airport and the most visited area of Alicante. It has a frequent bus service and fantastic tourist facilities including a tourist office and map stand near the bus terminal, making it a good destination for first-time visitors who don't know their way around.
Stay in El Centro if this is your first visit; you like being in the old town; you need to be close to the Alicante Airport; you want to go sightseeing; you want a wide choices of hotels, shopping, dining, and nightlife.
Best Places to stay in El Centro:
luxury ($$$): Hospes Amérigo Set in a converted 19th-century convent, Hospes Amerigo is just a minute's walk from Postiguet beach and right in the heart of Alicante's old town. It offers spacious guest rooms, a rooftop spa, which looks out over Alicante Cathedral and Santa Barbara castle. The spa contains a swimming pool, gym, and sauna for the ultimate relaxing experience.
mid-range ($$): Occidental Alicante by Barceló this 4 star modern, and newly decorated hotel is set in the real heart of Alicante. Good value for money. It is within walking distance of Alicante's old town, Santa Barbara Castle, and the Teatro Principal Theatre. You can easily travel to the airport by bus and tram which is just outside of the hotel.
budget ($): Bed & Breakfast La Milagrosa This Bed & Breakfast offers a roof terrace with views of Santa Barbara Castle, 24-hour reception with a tour desk, and free wifi. It has rooms with air conditioning, tiled floors, a flat-screen TV, and a private bathroom. Close to Alicante Beach, and many bars and restaurants in the streets around Alicante Harbour.
See more:
2. Postiguet Beach, where to stay in Alicante for nightlife
Postiguet Beach is located in a convenient location on the foot of Mount Benecantil, and next to the Marina, the Explanada esplanade, and Paseo de Gomiz.
Close to the train station and the Alicante Airport, Postiguet Beach is accessible and also fantastic for nightlife – the beachfront is full of a range of bars and restaurants.
The beach is well-known for its top-quality, fine white sand bordered by a beautiful full promenade of palms trees. Explanada de Espana was built by José Guardiola Picó, and is one of the most popular seafronts of Alicante.
Stroll along this public walk, and enjoy a half-kilometer-long wonderful marble floor with 6.6 million tiles.
El Postiguet beach has good facilities, beach chair rentals, public bathrooms, lockers, umbrellas, foot showers, toilets, lifeguard stations, and many possibilities for water sports.
The accommodation in this neighborhood was designed with tourism in mind and is pretty luxurious, so this isn't the area for visitors on a budget.
Despite the lively nightlife, it's also very family-friendly, so this is a great destination if your holiday group has a mixture of ages.
Stay in Postiguest Beach if your group has a range of ages and interests, you are looking for the best places to stay in Alicante for nightlife, you want a beautiful Blue Flag beach, you're looking for upmarket accommodation.
Best places to stay in Postiguest Beach Area:
mid-range ($$): Melia Alicante this modern 4-star hotel is located in the middle of Postiguet Beach and Alicante Harbor. It provides an outdoor swimming pool, and rooms with a terrace, some of the rooms with a sea view. The hotel is within walking distance from Alicante Casino, yacht club, marina, Santa Barbara Castle, and Archaeology Museum.
mid-range ($$): Eurostars Lucentum Located in central Alicante and is surrounded by bars, restaurants, cafes. It is just a few steps away from Alicante Central Market, next to La Rambla, and only about 400 m to the beach. You can easily travel to the airport with a bus and tram stop right in front of the hotel.
budget ($): Pensión Alicante San Nicolás Located in an amazing central location straight in the middle of the old town, and within walking distance to the Santa Bárbara Castle, marina, and El Postiguet Beach. This guest house offers rooms with air conditioning, heating, a flat-screen TV, a kettle for tea and coffee, and either shared or private bathroom facilities.
3. Cabo de las Huertas, best residential neighborhood of Alicante
Offering breathtaking views of the Mediterranean, excellent hiking trails, and lots of beaches and coves to explore, Cabo do Los Huertas (Cape of the Huerta) also doesn't disappoint with its range of bars and restaurants.
The most the most notable coves in El Cabo are Cala de la Palmera, Cala Cantalares, Cala de los Judíos. It has a rocky sea bed and crystal-clear water making them an ideal spot for water sports enthusiasts.
Almadraba beach is a small beach of rocks and dark sand, and calm waters.
This gorgeous area is a 15-minute drive east of the old town, and is home to stunning natural beaches which are much less developed than other areas in Alicante, making it a great place for those who enjoy a more natural environment – and there are even spits of coral reef.
This beautiful and exclusive residential neighborhood is bordered by the emblematic Playa de San Juan in the north, the Albufereta neighborhood in the west, and surrounded by the Mediterranean Sea to the east and south.
Since it doesn't cater to tourists as much as other areas, it's also less crowded and more reasonably priced than other areas, and accommodation comes in the form of small Beds and Breakfasts or apartments, ideal for couples or young families.
There is also a nautical sports club where you can enjoy the excitement of sailing, windsurfing, and other water sports.
Stay in Cabo de las Huertas if you enjoy hiking, you want to try adventure sports, you want to get away from the crowds, you're looking for mid-range accommodation, you enjoy appreciating nature.
Best Places to stay in Cabo de las Huertas Area:
budget ($): Hotel Boutique Calas de Alicante This 3-star hotel is a beautiful boutique hotel with a nice swimming pool with sun loungers and a nice restaurant. It's a short 10 min walk to a small center with shops and restaurants and a short bus ride to Alicante center. It features spacious rooms with free WiFi, air conditioning, and private terraces with sea or garden views.
budget ($): Hostal Mont Royal This guest house is located within walking distance to a lovely beach and lots of other little beach areas too. You can easily reach Alicante city center by bus. It is also 10 minutes walk away from a lovely little area with lots of bars and restaurants around. It has private rooms with air conditioning, a bathroom, a satellite TV, and a balcony in some rooms.
4. Albufereta Beach, a beautiful urban city beach
Located on the northeast of the city between the districts Serra Grossa and Tossal de Manises, Albufereta is where Alicante has its origins – believed to have been a Roman harbor, some ancient settlements have been found here like the remains of a sunken Roman ship.
This is the choice of Alicante locals for a holiday destination, making it the perfect destination to enjoy a holiday atmosphere without feeling like part of the crowds of tourists.
With its characteristic fine, golden sand, the Beach of La Albufereta is also notable for its EU Blue Flag beach certification, meaning it is recognized for its cleanliness, safety, and conservation efforts.
The Albufereta beach has good beach services and facilities such as lifeguard stations, showers, toilets, rent umbrellas, parasols, rental pedal boats, and playgrounds. It's a busy place in summer.
La Almadraba is just 10-minute walk from Playa de la Albufereta to the north. There is a nautical club and a couple of rocky coves In between those two beaches.
Stay in Albufereta if you like a mountain view, you enjoy feeling close to history, you enjoy a local atmosphere, you want to get away from the crowds.
Best Places to stay in Albufereta Area: Hotel Albahia Alicante Located close to the Plaza Mar 2 Shopping Centre, La Albufereta Beach and Alicante's Old Town.It provides a Spanish restaurant with sea views, a 9 tennis Court and a free gym. You can reach the city center, beach by bus and tram nearby.
5. San Juan Beach, where to stay in Alicante for best beaches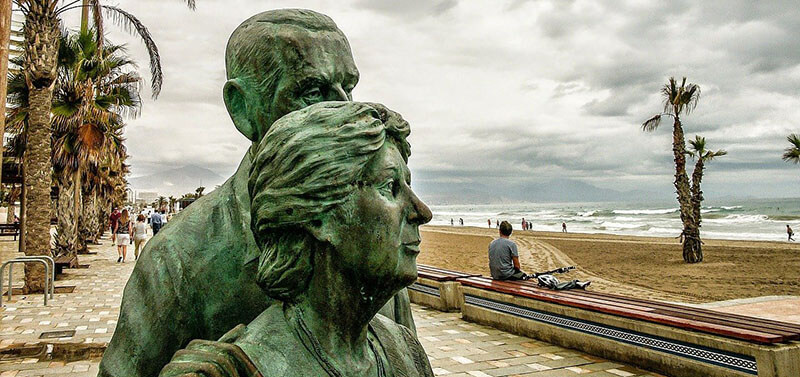 This is Alicante's most famous beach, stretching all the way from Mirador de la Rotonda de Abajo to El Campello on the Costa Blanca.
San Juan Beach is well-connected with Alicante's old town by public transport, you can easily reach the beach by tram within 20 minutes.
This 7km long, Blue Flag beach of Playa de San Juan is famous for its white sand, crystal clear, and clean water. The beach has good facilities including beach chairs and umbrellas.
There are also plenty of stylish bars along its very well-kept promenade for a relaxing drink at the end of the day.
This is the best place to stay if you like to participate in sports like volleyball, golf, and windsurfing, which are all easily accessible in this neighborhood. If you like golf, head to Alicante Golf Course nearby.
This area is filled with apartment-style accommodation for a self-sufficient family holiday, with a choice of shops and restaurants.
Stay at San Juan Beach if you prefer apartment accommodation, you like to play sports, you like to go shopping, you don't mind crowded beaches.
Best Places to stay in San Juan Beach Area:
budget ($): Hotel Almirante is the only hotel with direct access to Alicante's San Juan Beach and has a large outdoor pool. It's close to Alicante Golf course, and Gran Via Shopping Center.
budget ($): Mi Refugio offers an outdoor swimming pool, a shared lounge, and air-conditioned accommodations with a balcony and free WiFi. It near Cantalars Cove, Provincial Archaeology Museum of Alicante, and Explanada de España.
6. El Campello, where to stay in Alicante for families
Located 14km from north Alicante, the family-friendly area of El Campello has an upbeat vibe and it's a great place to stay if you want a place to retreat to after experiencing the rest of what Alicante has to offer.
It provides a bit of peace and quiet as well as stunning views and is very well connected to the rest of Alicante. This is a great place to relax away from the city center after a day of soaking up the culture and then head back to the city for a night of dancing.
With 23 kilometers of coastline, you can enjoy sandy beaches with crystal clear waters, and water sports such as sailing, scuba diving, and windsurfing.
You will find cliffs and small coves such as La Coveta Fuma, La Venta La Nuza, and the 7km long blue flag Muchavista beach with a charming marina and promenade.
There are also a few of its own historical sites, so you won't run out of things to do if you don't feel like traveling into the city.
Some interesting historical and cultural attractions for you to explore like the ancient ruins at La Illeta dels Banyets; 16th-century watchtower Torre Vigía De La Illeta which was built to protect the area from pirates, the historic buildings in the Old Town.
You can also visit the Canelobre Caves in Jijona, the Benidorm theme parks, and a boat trip to Tabarca Island.
El Campello is well connected with transport links. You can take a tram to Alicante, Benidorm, and Villajoyosa.
El Campello has a wide range of accommodations like villas, apartments, hostels, and hotels. Hotel prices are from €27 a day.
Stay in El Campello if you don't want to stay in the main city, you don't want to have to travel every day, you want easy access to the main city, you enjoy beautiful views, you want to sunbathe on the beach.
Best places to stay in El Campello Area:
7. Alipark, a convenient place to stay around Alicante Train Station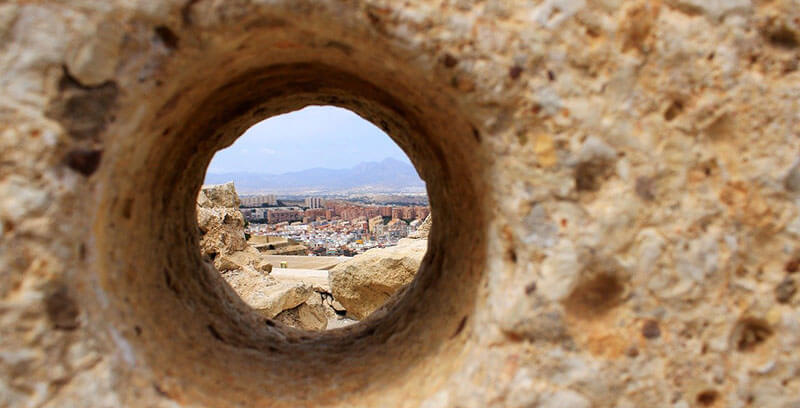 An up-and-coming neighborhood in Alicante, Alipark is a modern area that contains the Alicante Train Station and is very convenient as a base from which to explore the rest of the city.
The central railway station of Alicante, Alicante Terminal, is used by RENFE trains with services to Valencia, Cartagena, Murcia, Ciudad Real, and Madrid via the AVE high-speed railway.
This is a relatively quiet neighborhood that's less popular with tourists, so it's a great place to stay if you don't mind more modern surroundings and want to get away from the hectic atmosphere of central Alicante.
Alipark also boasts a tranquil green park which is a fantastic destination for a picnic without getting covered in sand, or simply to while away an afternoon with a book or some friends.
Stay in Alipark if you don't mind modern surroundings, you want to get away from the crowds, you want to be near the train station, you like to be near green spaces, you want to go sightseeing without staying in the center.
Best places to stay in Alipark Area: La City Estación is located opposite the train station in the center of Alicante, within walking distance from the marina and Canalejas Park, San Fernando Castle, Bulevar Plaza, and El Corte Inglés Alicante.
8. Elche, where to stay in Alicante on budget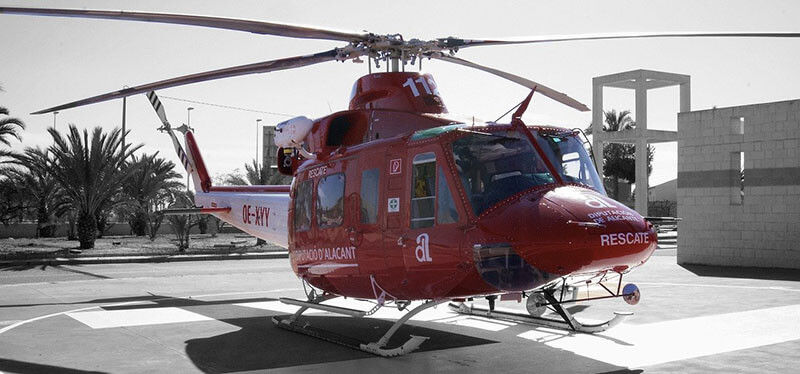 With a local atmosphere, only a short train ride from the city center, and offering affordable accommodation and food, the Valencian city of Elche is the ideal neighborhood for backpackers and for those traveling on a budget.
It's an often missed destination, so it's also a good choice if you want easy access to the historical and cultural attractions of the city center with less of the tourist hustle and bustle.
Elche is home to UNESCO world heritage site the Palmeral of Elche, where over 200,000 palm trees grow (the largest mangrove in Europe). You can explore by following the 2.5 kilometer-long Ruta del Palmeral from the Huerto de San Plácido park, near the Palm Grove Museum.
Other places to visit are the Basilica of Santa Maria, Museo Arqueológico y de Historia de Elche, Huerto del Cura (Priest's Garden), and Rio Safari Park Elche.
If you're visiting in August the Misterio de Elche (Mystery Play of Elche), a sacred musical drama of the death, is an absolute must-see.
Elche is famous for its shoemaking, you can buy top-quality shoes at the biggest shoe outlet village in Europe, the Elche Business Park. Salvador Artesano factory is also a good place to do your shopping!
If you want to learn more about the history of Spanish footwear from espadrilles to the 21st-century, head to Pikolinos shoemaking museum.
stay in Elche if you're traveling on a budge; you're interested in cultural attractions; you want to stay near Alicante-Elche Airport;
Best places to stay in Elche Area:
Where should I stay in Alicante for the first time?
El Centro is the best area to stay in Alicante for first-timers because it is the main area of the city. If you stay here, you will be located in the middle of the action, within easy access to tourist attractions and amenities.
What are the best areas the stay in Alicante?
El Centro, Postiguet Beach, Cabo de las Huertas, Albufereta, San Juan Beach, El Campello, Alipark, and Elche are some of the best areas to stay in Alicante because they are the most popular locations in the city for tourists.
How many days in Alicante is enough?
If you're planning a trip to Alicante, I'd say that spending at least 3-4 days there would be ideal to explore the city's rich history, stunning beaches, and delicious food scene.
Where to stay near Alicante Airport?
Alicante Airport (ALC) is located 9 km southwest of Alicante city. It is the gateway to the Costa Blanca region. If you want to catch an early flight at Alicante airport, you can check book a room at the Hotel Areca, or Port Elche.
Check out my virtual tour of the best places to stay in Alicante in this video:
Read More:
Alicante is a safe city for tourisy, but as in any tourist city, you will be at risk for petty crimes such as bag snatching and pickpocketing. You should also avoid walking around dark or empty streets at night as there is a risk of mugging, however, this risk is not any more significant than it would be in another big city.
If this is your first visit, I recommend to book hotel in El Centro neighborhood which is the best area to stay in Alicante. Booking hotel here you will be located in the heart of the city and wide choices of accommodation options that suits all budget travelers.