Where to stay in Marbella for first time visitors? for nightlife, and for family? In this blog, I will help you to decide the best areas to stay in Marbella for tourists (include map and video), the best hotels in Marbella for all budgets.
Marbella is the best-known resort in Southern Spain for its beaches, nightclubs, and luxury venues. It is located on the Costa Del Sol, on the Mediterranean Sea, only a short drive by car from Málaga.
Marbella offers a range of fantastic areas for first-time visitors. From the upscale Puerto Banús to the historic Old Town, there's something to suit every taste, whether it's luxury shopping, beautiful beaches, or charming streets filled with authentic Spanish flair.
Where to stay in Marbella first time?
The best areas to stay in Marbella for tourists are Marbella Old Town, Downtown, Puerto Banus, Playa Nagueles, San Pedro De Alcantara, Funny Beach, Vibora Beach, and Cabopino Beach. Each area has its own unique charm and caters to different preferences.
If you want to find the best place in Marbella for nightlife, look into the party areas of Downtown, Puerto Banus, San Pedro, and Golden Mile.
Overviews of best areas to stay in Marbella for tourists
Here is an overview of recommended areas in Marbella for first-time visitors:
| Best areas in Marbella for tourists | Why should you stay in this area? |
| --- | --- |
| Marbella Old Town | Marbella's historic center is known for its narrow streets, charming squares, and traditional Andalusian architecture. It's a great choice if you want to immerse yourself in the local culture, visit historic sites, and enjoy a vibrant nightlife. |
| Downtown | a bustling commercial and entertainment district that offers a wide range of shops, restaurants, and bars. Staying here provides convenient access to amenities and a lively atmosphere. |
| Puerto Banus | a luxurious marina area famous for its upscale shops, high-end restaurants, and glamorous nightlife. It's a great choice if you enjoy luxury, want to see luxury yachts, and experience a vibrant party scene. |
| Playa Nagueles | Located near Marbella's Golden Mile, Playa Nagüeles is a quieter area compared to Puerto Banus but still close enough to enjoy its amenities. It's suitable if you're looking for a relaxing beach getaway. |
| San Pedro De Alcantara | a charming town with a more laid-back atmosphere. It has beautiful beaches, local shops, and traditional Spanish restaurants. This area is ideal if you prefer a quieter and more local experience. |
| Funny Beach | a recreational area located east of Marbella. It offers various water activities, go-karting, and beachside bars. If you enjoy active pursuits and entertainment options, this area might be a good fit. |
| Vibora Beach | a small and secluded beach located east of Marbella. It's a peaceful and less crowded area, perfect for those seeking tranquility and natural beauty. |
| Cabopino Beach | a tranquil and family-friendly beach area that has a picturesque marina and sand dunes. It's suitable for those who prefer a more relaxed and secluded beach experience. |
Map of areas and neighborhoods in Marbella:
🎬 check out this short video Marbella's neighborhoods, or continues reading:
The Best areas to stay in Marbella for tourists are:
1. Marbella Old Town
Old Town is the best place to stay in Marbella for first-timers because it is the most convenient location to see attractions and it offers a wide choice of accommodation options for all budget travelers. If you stay here, you will be located within easy access to the major sights, as well as many restaurants, bars, and shops.
Marbella's Old Town (aka Casco Antiguo in Spanish) is one of the most popular parts of the city and is packed with Andalucian characters. It was originally settled as an ancient city in the 16th-century, the walls of which can still be seen today.
Stretching all the way from Avenida Ramon y Cajal to Calle Salvador Rueda, the Old Town is filled with historical and cultural attractions. There are narrow cobblestone streets, charming squares, and whitewashed houses with flower-filled balconies.
The Old Town has two historical quarters, Barrio Alto and Barrio Nuevo, which both still retain their original Moorish structure dating back to the Arab rule.
The heart of Old Town is the beautiful Plaza De Los Naranjos (Orange Square), that is home to the bust of King Juan Carlos the First at the center and is surrounded by some of the most historic buildings in the Costa Del Sol, include:
the Town Hall, which was constructed in the Renaissance style by Catholic monks in 1568. The wall is decorated with red flowers and blue pots.
the mayor's house, with a mix of Gothic, Mudejar, and Renaissance styles on its exterior walls and roof while being decorated with fresco murals throughout its interior.
the Chapel Of Santiago, the oldest religious building in all of Old Town, thought to have been built in the 15th century. Adjoining the chapel is a small 16th-century fountain.
Orange Square is a great place to hang out with friends and families. It has lots of restaurants and cafes with outdoor terraces in its surroundings where you can enjoy a meal and people watching.
Within a short distance away from Orange Square lies the Church Of Santa Maria De La Encarnación (St Mary's Church), the 17th century Baroque church. It was rebuilt in the Spanish Civil War. It faces part of the 10th-century city wall and overlooks a plaza with orange trees.
St Mary's Church is located on Plaza De La Iglesia, which is home to many orange trees with a fountain at the middle of the square. Plaza De La Iglesia is much quieter than the Orange Square.
In addition to the historic squares, you can explore the area's charming streets and alleyways, as well as boutique shops, souvenirs stores, restaurants, and cafes.
Calle Carmen is a picturesque street to take photos with colorful houses and blue flower pots. You can also find the Calle Ancha, which is one of the Old Town's main road and home to many hotels and a couple of squares such as Plaza Santo Cristo and Plaza Puente Ronda.
Other popular streets in the area are the Calle Caballeros, Calle Nueva, and Calle Gloria.
There are also the Renaissance buildings like the Hospital Real De La Misericordia and the Hospital Bazán, which was built in the 16th century and now houses the Museum Of Contemporary Spanish Engravings.
You will even find the remains of Arab castle walls (Arab fortress of Murallas del Castillo), giving a clear example of just how long and storied the history of Old Town truly is.
Another church in Old Town is the Ermita Del Santo Cristo De La Vera Cruz, located to the north. A 15th-century church, its stunning façade is a traditional Andalusian stone and lime stucco blend, while its bell tower is covered in beautiful, glazed ceramic.
If you head to the Arroyo de las Represas Park, you will find Museo Bonsai Marbella with a collection of beautiful miniature trees and forests.
Other interesting places in Old Town are the 16th-century chapel of San Juan de Dios, Holy Christ Square, Victory Square, and the 17th century Virgin Gornacin of Suffering on Remedios Street.
In addition to the historical landmarks, the Old Town is located within a short walk from the beach. You can take a stroll along the extremely popular Paseo Maritimo De Marbella beach promenade, which is lined with shops, cafes, bars, restaurants, and take in a gorgeous Spanish sunset.
If you need a break from the hustle and bustle of the city, you can relax at the old town's parks. Parque de la Alameda is a small park but beautiful, while Parque de la Represa is a bigger park with a large outdoor space, artificial ponds, and a children's playground.
There are many stylish tapas bars, cafes, Spanish restaurants serving both local traditional and international cuisine. Many travelers recommend The Farm Restaurant as one of the best restaurants in the Old Town that has local organic cuisine.
The Old Town is well-connected to the rest of the city with public buses and taxis. You can easily explore the Old Town on foot as many tourist attractions and amenities are located within walking distance from one to another.
Old Town offers plenty of hotels, hostels, and apartments that suit all budget travelers. If you are looking to stay in a boutique hotel, you will find some of the best options on the Costa Del Sol in Old Town.
Stay In Old Town If you are couples, first-time travelers; you are interested in the history and architecture of Marbella; you travel on a budget;
Best places to stay in Marbella in Old Town:
luxury ($$$): Vincci Selección Estrella del Mar This 5-star hotel is 15 minutes drive from the Old Town, it offers spacious and bright rooms with contemporary architecture with Arab-Mediterranean décor. Within easy walking distance from Elviria Beach, close to the Greenlife Marbella Golf Club, Cabopino Golf, Cabopino Marina, Marina La Bajadilla, and La Canada Shopping Centre.
mid-range ($$): Hotel Fuerte Marbella This 4-star beachfront hotel is located in the heart of Marbella. You can also easily reach beaches nearby such as golden sand La Bajadilla Beach, El Faro Beach, La Fontanilla Beach, Venus Beach, and Cable Beach.
budget ($): B&B Boutique Tribeca This bed and breakfast is next to the castle walls of the Old Town Marbella, offers a twin bedroom or double bedroom with a private bathroom. It's just 100m from a selection of shops, bars, and restaurants.
>> BEST HOTEL DEALS IN OLD TOWN <<
You might be interested in:
2. Downtown Marbella
Downtown Marbella (the financial district) consists of all of central Marbella that is close to the waterfront and the Old Town, and around Avenida Ricardo Soriano. As you may expect from a city center, this is the part of Marbella that is brimming with attractions and amenities.
You have a plethora of shops ranging from big name brands to small independent stores that will keep the shopaholics busy throughout their stay. Meanwhile, a fabulous selection of restaurants and cafes serves all manner of cuisine, giving you plenty of places to relax when you are done.
Speaking of which, Downtown also offers the full range of Marbella hotels, ranging from cheap hotels and mid-range hotels, all the way up to five-star hotels. This ensures people of all tastes and budgets will be sure to find somewhere to suit them when they stay in Marbella.
Downtown also offers a taste of what the Costa Del Sol is famous for, that being a fun-filled, vibrant beach area. The nearest beaches are Playa Fontanilla and Playa De La Bajadilla, while Playa Del Cable is just a short distance further away.
Both features a long stretch of sand filled with sunbeds and calm waters, perfect for swimming and playing in.
They are separated by a wonderful marina, where you can rent a boat, take a cruise, or simply sit back and enjoy a drink or some fresh seafood on Puerto Deportivo de Marbella, while watching the boats bob up and down.
A little further away still, you also have Venus Beach (Playa de Venus). This beach features water sports and is backed by a promenade featuring several restaurants and shops, making it more suited to those who are a little more energetic.
Downtown has many green spaces and parks. The Alameda Park, for example, is a beautiful green space in the heart of the city, it features a historic fountain, a botanical garden, and stone benches and paths, allowing you to stroll around for hours enjoying the weather and the scenery.
There are also Parque de la Constitución, located right next to the beach, where you can find an amphitheatre with outdoor concerts in the summer, children playground, and an onsite cafe.
You can also have a picnic with your friends and families at the Parque Vigil de Quiñones, a 7.5 acres of forest park that is well equipped with tables and a barbeque station.
A collection of cocktail bars, nightclubs, and beach bars helps to create a lively nightlife atmosphere, ensuring there are things to keep you occupied night or day in Downtown.
If drinking isn't your thing, perhaps you could catch a show at the Teatro Ciudad De Marbella. A beautiful theatre house, it is the perfect place to catch musical and dramatic performances to really get a feel for the local artistic style.
You can take a stroll along, Avenida del Mar, a beautiful pedestrian avenue with palm trees that go all the way from Alameda Park to the Paseo Marítimo (seafront promenade). Plenty of shops, restaurants, and home to the bronze sculptures which is created by Salvador Dalí.
Stay In Downtown If you want to stay in Marbella City Center with vibrant nightlife; you want beaches and the attractions of Old Town both within walking distance; you want modern area;
Best places to stay in Marbella in Downtown:
luxury ($$$): Amàre Beach Hotel Marbella – Adults Only Located on the beachfront, in the centre of Marbella's old town, this hotel has spacious rooms, Mare Nostrum Restaurant, Belvue Rooftop Bar, Restaurant Messina, awarded with a Michelin star. Enjoy its attractions Amàre Club with Amàre Beach, Amàre Pool, and Amàre Lounge.
mid-range($$): Marbella Inn This hotel has east access to the AP-7 Motorway, and golf courses. Each studio and apartment has air-conditioning, free Wi-Fi, a TV, rental safe and a private balcony or terrace.
budget ($): Hostal Tak Located close to both old town of Marbella, and Mediterranean Sea, this hotel has guest rooms with an en suite bathroom, air conditioning and heating, a TV and an iron.
>> BEST HOTEL DEALS IN CITY CENTRE <<
3. Puerto Banus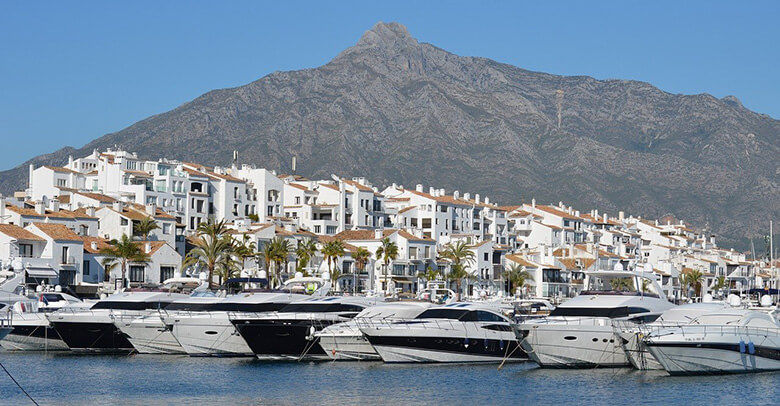 Puerto Banus (Puerto Jose Banus) is a pier and a well-known harbour for luxury boats and yachts. Established in 1970 by local property developer José Banús, specifically with luxury travelers in mind, it was envisioned to be the Beverly Hills of the Costa Del Sol.
Located 4 miles west of Marbella, it's about an hour nice walk along the promendade but easier to get taxis and buses.
Puerto Banus area offers great nightlife scene with plenty of bars and nigh clubs. If you come to Marbella for party, Puerto Banus is a great area to book your accommodations.
It is centered around a stunning Puerto Banús Marina, where yachts and vessels worth millions of dollars are regularly docked just offshore. This draws international celebrities and the rich and famous to relax and party to their heart's content.
Around the marina, a fabulous collection of bars, nightclubs, and restaurants serves gourmet cuisine, with world-class chefs preparing dishes that cater to the most refined and picky pallets.
There are Designer stores selling products ranging from clothes and jewelry to cars and electronics, so your only limitation is your budget.
A stretch of Puerto Banus known as the Golden Mile contains perhaps the most elite collection of shops, bars, and restaurants in the Costa Del Sol.
There is Spain's largest El Corte Inglés department store in the heart of Antonio Banderas Square, as well as Buerto Banus's most expensive boutiques, restaurants and bars can be found on the Calle Ribera street.
To the east of the marina, you have the main beach of Puerto Banus, Paradise Beach. One of the most luxurious beaches in the Costa Del Sol, it features numerous beach bars, clubs, and restaurants.
Slightly further inland, you also have the best golf courses in Marbella. This makes Puerto Banus the clear choice for anyone wanting to stay at a golf resort, where they can play a few rounds on the links before sipping drinks in the clubhouse.
Art fans will also be thrilled to discover a number of statues by famous artists in the area. The "Rhinoceros Dressed In Lace" by Salvador Dali and "La Victoria" by Zurab Tsereteli both have a rich history, and their mere presence demonstrates the caliber of the area.
Puerto Banus provides high-end, luxury accommodation, where those who will only stay in the best luxury hotel money can buy will find something to meet even their lofty standards.
Stay In Puerto Banus If you are glam holiday-goers who want to stay in all-inclusive resort, upscale dining and shopping; you want vibrant nightlife; you enjoy luxury beaches and marinas;
Best places to stay in Marbella in Puerto Banus:
>> BEST HOTEL DEALS IN PUERTO BANUS <<
Read more about Spain:
4. Playa Nagueles
Playa Nagueles is located between the upscale Puerto Banus, and the Downtown Marbella. It is still along Marbella's Golden Mile, and close to Paseo Maritimo.
It is considered by many to be the best beachfront location in Marbella, due to its fabulous collection of services, facilities, and amenities, as well as incredibly high levels of cleanliness.
Playa de Nagüeles Beach, Playa de Casablanca, and Playa Trocadero, have beautiful, soft, fine, golden sand, crystal clear turquoise, shallow and calm waters, and life guards in summer, making it an ideal choice for families with small children or anyone who isn't a strong swimmer.
The beach is well-equipped with facilities such as showers, toilets, Chiringuitos, sun loungers, parasols for rent. You can find kiosks on the Paseo maritimo nearby offer a cheaper choices of snacks and drinks.
Some of the best hotels, restaurants, bars, and shops in Marbella provide a range of options for shopping and dining. Trocadero Playa restaurant is a chic beach bar and Mediterranean restaurant located right on Nagueles beach.
You can admire stunning views of the beach and the La Concha mountain from a jetty for small boats that is owned by the Marbella Club hotel.
Playa Nagueles is not only famous for its beach, but also known as one of the main nightlife hubs of Marbella. People coming from all around will arrive in Playa Nagueles to party in the bars, nightclubs, and beach clubs to the early hours of the morning.
The distance from Puerto Banus does make Playa Nagueles significantly more affordable. A number of hotels, apartments, and villas, as well as cheaper shops and restaurants, open the area up to a much wider audience.
Stay In Playa Nagueles If you are looking for mid-range hotels; you want access to the luxury side of the city without paying a fortune; you want quiet days and wild nights.
Best places to stay in Marbella in Playa Nagueles:
>> BEST HOTEL DEALS IN PUERTO BANUS <<
5. San Pedro De Alcantara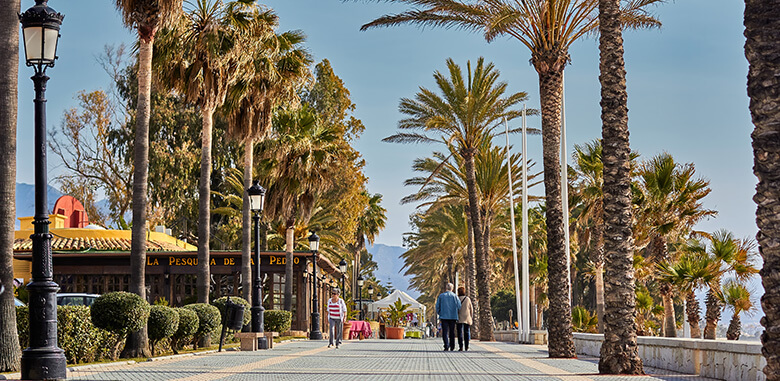 San Pedro De Alcantara (San Pedro) is located 3 km to the west of Puerto Banus, between Marbella and the traditional fishing village of Estepona. Much like Playa Nagueles on its other side, many of the attractions that draw people to Puerto Banus have made their way here as well.
San Pedro De Alcantara is bordered with the Sierra Blanca to the east, Sierra del Real and Sierra de las Nievas to the north, and Monte Mayor and Sierra Bermeja to the west.
Highly regarded golf courses, hotels, restaurants, and shopping areas make this yet another place where you can enjoy a luxurious vacation. All the while, being even further from the main bulk of the area, you can enjoy these attractions for less than you would otherwise expect.
Playa de San Pedro de Alcántara is a long golden, sandy beach, with a range of water sports like surfing and windsurfing. It is great place for both thrill-seekers and families with children. Other beaches nearby are the Playa Linda Vista and Playa Nueva Andulacia / El Duque.
San Pedro is splited into two sections by the A340 road, with the older town in the north of the road and the newer town (Nueva Alcantara) in the south of the road. The Old Town has old shops, cafes, and tapas bars, while new town has a promenade with palm trees, chiringuitos, beach bars, and restaurants.
The area is home to Boulevard Park, a recreational area with an amphitheatre, play parks, and the Mar de Sensaciones bridge.
San Pedro has a rich history and beautiful scenery. The ruins of the basilica of early Christians, the Las Bóvedas ancient Roman bath, a parish church at the Plaza de la Iglesia, and the beacon tower of the Vaults are well worth checking out, while the town's location allows you to appreciate the beauty of the Sierra de Ronda mountains.
San Pedro De Alcantara is also an area that is primarily residential throughout the majority of it. With businesses aimed at locals more than tourists, you will find a number of locations that offer a significantly more authentic experience of the area.
Beautiful parks offer wide open green spaces, duck ponds, and playgrounds for kids to play and adults to relax in. Meanwhile, open-air seafood restaurants offer some of the finest local cuisines in the area.
San Pedro De Alcantara has many choices in accommodation with hotels, apartments, holiday villas, and B&Bs for all kind of budget.
Stay In San Pedro De Alcantara If you love watersports; you are interested in the Roman history of the area; you want a more authentic experience; you want relaxing parks and beaches.
Best places in San Pedro De Alcantara:
>> BEST HOTEL DEALS IN SAN PEDRO DE ALCANTARA <<
6. Funny Beach
Funny Beach is a beach located just to the east of Downtown Marbella, close to Playa el Pinillo. It takes its name from a family fun park that used to be located in the area.
While the fun park has since been replaced by a number of beach clubs, Funny Beach is still a destination designed for families to let loose and have fun.
The go-karting track is one of the main attractions at Funny Beach. You can race against your friends or family members and enjoy the thrill of high-speed karting.
There are also Water sports like bumper boats, inflatables, jet skis, parasailing, paddle boats, and tubing, providing plenty of ways to get out on the waves and make the most of the water.
While designed with families in mind, Funny Beach is perfect for people looking to have fun, no matter their age, so is ideal for big kids too.
Funny Beach also offers a selection of restaurants, beach clubs, bars, and chiringuito for Spanish dishes and seafood where you can grab a bite to eat or have a refreshing drink. It's a great place to relax and enjoy the beach atmosphere.
Stay In Funny Beach If you are traveling as a family or with children; you are a fan of water sports or other high-octane activities; you want to relax at a beach club.
>> CHECK BEST HOTELS NEAR FUNNY BEACH <<
7. Vibora Beach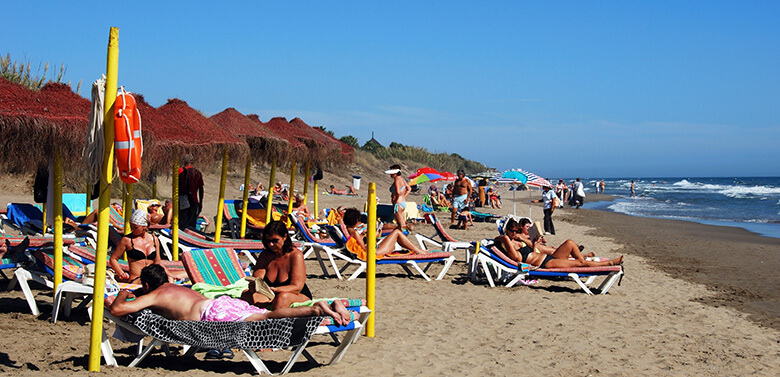 Playa De La Vibora is an area known for its collection of beautiful beaches and is located around 10 kilometers to the east of Downtown Marbella. This makes it the ideal choice for anyone who plans to spend the majority of their vacation relaxing on the sand.
Vibora Beach itself receives far fewer visitors, allowing you to make the most of the peace and quiet. That said, it does boast some water sports companies, so there's no need to let yourself be bored if you are looking to spice up your trip.
A short way to the east you will also come to Nikki Beach. Nikki Beach centers around a beach club and is one of the biggest party areas outside of Puerto Banus. Lively bars, cafes, and restaurants provide places to eat, drink, and party, all while enjoying the views.
However, away from the waterfront, the majority of Playa De La Vibora is actually quite quiet and residential. Shops and restaurants cater to locals and allow you to get a more authentic experience of life in Marbella.
A selection of quaint cafes and bars offers the perfect opportunity to relax and soak up the culture of the area, without worrying about being disturbed by mobs of tourists.
This makes it a destination where everyone can enjoy a little luxury, without being concerned about the crowds or prices that usually accompany it.
Stay In Vibora Beach (Playa De La Vibora) If you want a good choice of bars, restaurants, and beaches; you are a fan of luxury beach clubs or water sports; you want to get a feel for the authentic culture of the area; you want to stay in a quieter, more residential area.
Best places to stay in Marbella in Vibora Beach:
luxury ($$$): Marriott's Marbella Beach Resort this 5-star hotel is set 3km from Santa Maria and Santa Clara Golf Courses. Each apartment has a kitchen, and separate living and dining areas. Enjoy meal and drinks at its El Med Terrace restaurant, Beachside Grill, and supermarket.
mid-range ($$): Jardines Las Golondrinas This family-run complex is located within 15 munite drive by car from Central Marbella and Puerto Banús. It offers a sun terrace, free private car parking, gardens.
budget ($): The Residence by the Beach House Marbella this Bed and breakfast has a restaurant, a bar and a garden. It's close to the Real de Zaragoza Beach, Nikki Beach and Playa Las Chapas. It offers paid shuttle service to Malaga airport.
8. Cabopino Beach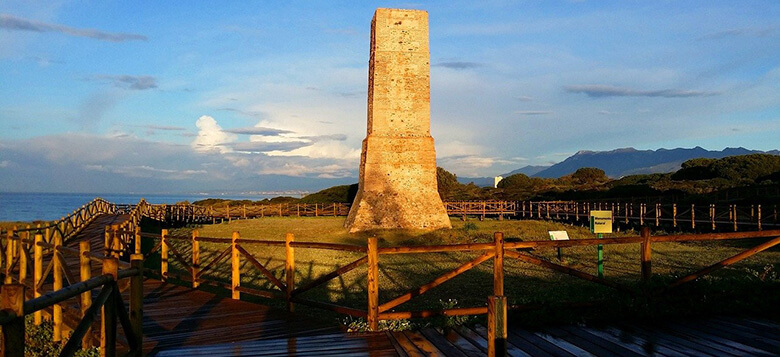 Cabopino Beach is located to the far east of Marbella, around 4 kilometers east of Vibora Beach, and is considered to be one of the most diverse areas in the region in terms of beaches and natural attractions.
Cabopino Beach itself is one of the quieter beaches in Marbella. Located far from the city center and protected by beautiful natural sand dunes, visitors and locals alike come here to spend days relaxing on the sand and in the water. This makes it particularly well suited to families or those with children.
There is a beautiful marina for anyone who wants to hire a boat or take a tour out onto the water. Meanwhile, a collection of restaurants and shops provides plenty of options for relaxation and dining.
There is even the fabulous Cabopino Golf Course just a short way away. This gives you the opportunity to play a round or two during your trip, adding to the appeal and diversity of the area.
Slightly to the west of Cabopino Beach, you will even find Playa De Artola. As the primary nudist beach in Marbella, it is popular for those looking to avoid tan lines during their trip, although admittedly won't suit everyone.
Stay In Cabopino Beach If you want to visit a nudist beach; you want to play some golf; you are traveling with children; you want to rent a boat or take a tour on the water.
>> BEST HOTELS NEAR CABOPINO BEACH <<
See more:
Visiting Marbella, Spain lets you enjoy a vacation filled with lovely weather, beautiful beaches, and some of the best hotels and accommodation options on the Costa Del Sol. There's even plenty of attractions like golf courses, tennis courts, and shopping malls to keep more active visitors happy.
In conclusion, Marbella Old Town, Downtown, Puerto Banus, Playa Nagueles, San Pedro De Alcantara, Vibora Beach, and Cabopino Beach are the best places to stay in Marbella for tourists and first-time travelers.
Overall, Old Town is the best area to stay in Marbella due to its prime location. If you stay here, you will be located in the middle of action, within walking distance to the tourist attractions, as well as many shopping, dining, and nightlife venues.