Where to Stay in Cordoba? In this blog post, I will help you to find the best areas to stay in Cordoba for tourists (include map and video), the advantages and disadvantages of each area, and the best hotels in Cordoba for all budget travelers.
Along with Sevilla, Malaga, Granada, Cordoba is a facinating city in the Spanish region of Andalusia. There are several countries in the world that have their city, province's name Cordoba such as Argentina, Mexico, and Colombia.
Córdoba has more than two thousand years of history, founded by the Romans 169 B. C. It is home to the largest old town in Spain. Córdoba is the only city in the world that hosts four world cultural heritage sites including Mezquita Mosque and Cathedral, Historic City Center, The Cordoba Patios, and Palace Town of Medina Azahara.
Where to stay in Cordoba Spain?
The best areas to stay in Cordoba for tourists are The Jewish Quarter, Centro, Vial Norte, and Cordoba Train Station. These are the most popular neighborhoods in the city, offering a wide selection of hotels for all budgets.
The Jewish Quarter is the best area to stay in Cordoba for first-timers. It is one of the most iconic and picturesque areas in Cordoba. Staying here will put you right in the heart of Cordoba's history, close to major sights such as the Mosque-Cathedral and the Alcazar of the Christian Monarchs.
I recommend spending a long weekend, or at least 4 days to explore the city. Four days should give you ample time to both take in everything you want to see, as well as have enough time to relax, unwind and take in the beautiful surroundings.
Overviews of best areas to stay in Cordoba for tourists
Here is an overview of recommended areas in Cordoba for first-time visitors:
| Best areas in Codorba for tourists | Why should you stay in this area? |
| --- | --- |
| Judería de Córdoba | is a charming neighborhood known for its narrow, winding streets, whitewashed houses, and vibrant flower-filled patios. Staying here allows you to be close to major attractions. |
| Centro | a bustling area filled with shops, restaurants, and lively plazas. The Centro is ideal for travelers who enjoy city life, shopping, dining, and being in the midst of the action. |
| Vial Norte | more modern and residential area of Cordoba, situated slightly away from the city center. This neighborhood is well-connected with public transportation. It is suitable for travelers seeking a more relaxed and peaceful stay. |
| Cordoba Train Station | offers excellent transport links and easy access to the city center. It is suitable for those who prioritize convenience and prefer to have transportation options close by. |
Map of areas and neighborhoods in Cordoba:
7 Best areas to stay in Cordoba for tourists are:
1. The Jewish quarter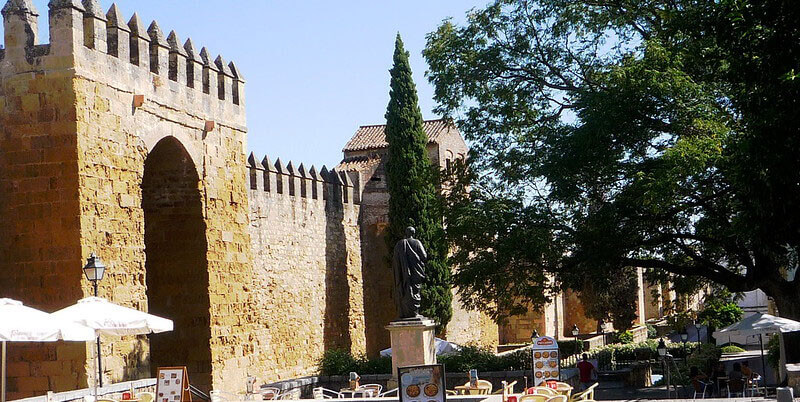 The Jewish quarter, also known as Juderia De Cordoba, is one of the best areas to stay in Cordoba for first-timers due to its close proximity to the city's most popular tourist attractions. It is located just to the southeast of Centro on the bank of the Guadalquivir River.
Juderia De Cordoba is where the Jews lived between the 10th and 15th centuries when Christianity, Judaism, and Islam live together peacefully.
Stretching from the Puerta de Almodóvar to the Cathedral and the episcopal palace, Jewish quarter encompasses the streets of Romero, Almanzor, Jewish, Tomas Conde, Deanes, Manriquez, as well as the squares of Maimónides, Tiberíades, Judá Leví and Cardenal Salazar.
The Jewish quarter of Cordoba part of the historical centre of Córdoba. Known as UNESCO World Heritage Site since 1994, it is characterized by whitewashed houses and magnificent balconies and courtyards, and narrow streets lined with jewelers, silversmiths shops, tapas bars, and restaurants.
A little quieter when it comes to the bars and tourist hotspots, this district is incredibly popular for its culture and beautiful attractions.
The most famous sight of Cordoba is the Mezquita Mosque-Cathedral. This masterpiece of Islamic architecture is a UNESCO World Heritage Site and a good example of Moorish architecture in the region of Andalusia. Within the Cathedral complex, you will find one of the oldest gardens in Europe, the Patio de los Naranjos.
Located within easy walking distance from the cathedral is the Moorish castle, Alcázar de los Reyes Cristianos (Palace of the Christian Kings). It has beautiful 4th-century Roman frescoes inside the castle. There are lovely gardens with fountains, fishponds, and orange trees.
As you might expect in the Jewish quarter, there is also a lavish Sinagoga de Córdoba (Córdoba Synagogue) you can visit to further enrich yourself in the blend of cultures that have existed there over the years.
Beyond these, there is also the Museo Taurino (Bull-fighting Museum) and a statue of the Jewish philosopher Maimónides which are housed in Plaza Maimónides.
History buffs can also check out the Archaeological Museum (Museo Arqueológico de Córdoba) to see a collection from prehistoric periods to the Middle Ages. It is located in the Renaissance Palace of the Paéz family.
Adjacent to the Mosque and the Synagogue stands Spain's first craft market, El Zoco or Municipal Souk (Mercado de la Artesanía), where you can buy leather, jewelries, ceramic, and silver goods from local artisans to bring home for your family and friends.
Another interesting spot is the Calleja de las Flores (little street of flowers), a beautiful alley laden with hanging baskets overflowing with colorful flowers, backdropped by a picturesque view of the mosque.
Art enthusiasts can visit Inquisition Gallery (Galería de la inquisición) to view the Exhibition of Torture and learn more abou the Middle Ages in Cordoba.
There are numerous traditional houses to visit in Cordoba's Jewish Quarter, including:
Casa de las Cabezas (House of Heads), to see how an aristocratic family lived in the 10th century AD. It is now converted into a spacious holiday home with a terrace.
Casa de Sefarad (House of Sefarad), located on Judíos Street, to learn more about Sephardic tradition, culture, and history.
La Casa Andalusí, located next to The Synagogue, To see how Andalusian houses looked in the 12th century. It is home to the Paper Museum, to see how paper was made during the Cordoba Caliphate.
If you take a stroll along the neighborhood's narrow cobblestone streets, you will find many charming historic squares, which are popular meeting places for both locals and tourists.
Plaza de las Tendillas, for example, is surrounded by a number of restaurants and cafés, where you can sit down, enjoy a meal or a drink and watch the world go by. It has benches, shaded trees, and a big fountain at the middle of the square. From the square, you can go shopping along Cruz Conde and Jesús María streets, or take a look at a ancient Roman Temple nearby.
If you head to the Guadalquivir River toward the Puerta del Puente (gate of the bridge), you can also find the 16-arch Puente Romano (Roman bridge), which was built in the first century BC and straddles the 657km River.
Nearby stands the Calahorra Tower, the oldest defense building in town. The tower housed a museum that display artifacts and documents of the rich Cordoban history over centuries.
If you are tired of sightseeing, you can take a break at one of the many green spaces and parks in the area, including The Jardines del Duque de Rivas (Roman Mausoleum), Jardines de la Agricultura, and Jardines de Vallellano. There are benches, sculptures, palm trees, flowers, and fountains to relax and explore.
Another way to unwind and relax is to take a bath at the Hammam Al-Ándalus (Arab Baths of Cordoba). It is a form of steam bath to clean body and relaxing.
As you might expect from an area like this, the hotels are a little pricier and more upmarket but it well worth to book the hotel here, so you can easily explore everything within easy walking distance.
Stay in Juderia De Cordoba if you are interested in history and culture; you are first-timers;
Best Places to Stay in Cordoba in Juderia De Cordoba:
luxury ($$$): Eurostars Palace This 5-star hotel is located on Paseo de la Victoria, in the centre of Córdoba, within easy walk from the famous Mezquita, Jewish quarter of La Judería, as well as AVE train station and bus station.
mid-range ($$): NH Collection Amistad Córdoba This 4-star hotels is set on Plaza de Maimonides, next to the old city walls, in the Jewish quarter of Córdoba. It offers spacious rooms, a fitness centre, a sun terrace, an outdoor pool, and private car parking!
budget ($): Eurostars Maimonides This 3-star hotel is located in front of Grand Mosque. It has a traditional Andalusian patio, a private car parking, and an on-site Azahara Restaurant that serves typical Andalusian cusine.
🔍FIND BEST HOTELS IN JUDERIA DE CORDOBA
2. Cordoba Centro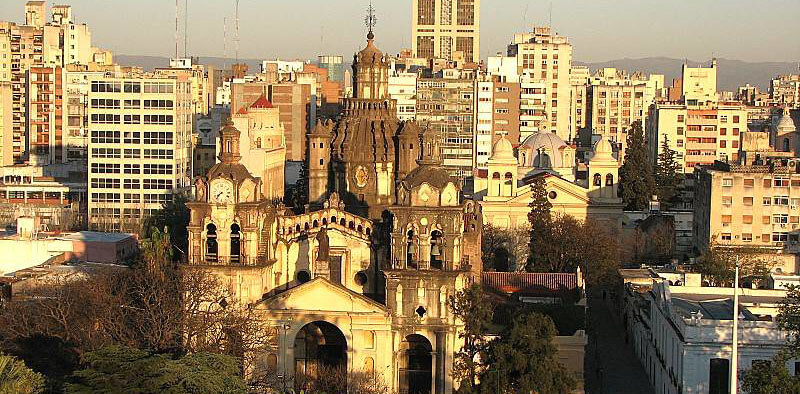 Cordoba Centro or downtown area is one of the best areas to stay in Cordoba because it features all the normal amenities you would expect from a city center. Bars, shops, and restaurants aplenty, with options to suit people of all tastes.
It also has the greatest variety when it comes to hotels too, featuring a good range throughout all price brackets, making it an accessible part of the city to stay in.
Located right next to the Jewish Quarter, Cordoba Centro has ease of access to most other districts in the city and features attractions, include:
The Plaza de la Corredera, the grand 17th-century square, and the largest public square in Andalucia. It hosts concerts and events during the year.
the Palacio de Viana (Museum of the Courtyards), a historic house and garden that dates back to the 15th century.
the Roman Temple, adjacent to the Town Hall, a reflection of the passage of the Romans through Cordoba.
the Palacio de la Merced, a historical building, located next to Jardines de la Merced garden.
the Plaza de Capuchinos (Capuchinos Square), a popular square.
the Cuesta del Bailio, venue of one of Cordoba's most popular festivals, Las Cruces de Mayo.
If you choose to stay in Centro you can be almost certain that whatever you are looking for, will have you covered.
Stay in Cordoba Center if you want nightlife, and many shopping opportunities; you're first time visiting Cordoba; you want the ease of access to other locations.
Best places to stay in Cordoba Centro:
luxury ($$$): Hospes Palacio del Bailio This 5-star hotel is in the heart of the ancient city of Córdoba. It has an outdoor pool set in pretty gardens, an on-site restaurant that serves a mix of Spanish and Asian cuisine. it offers elegant rooms with wall paintings, a flat-screen TV, free wifi, and private bathrooms.
mid-range ($$): Maciá Alfaros This 4-star hotel is housed in a traditional Andalusian-style building. It's within walking distance to Mosque and its Jewish Quarter, Viana Palace, Archaeological Museum of Córdoba and Museum of Fine Arts.
budget ($): Hotel Córdoba Centro This 3-star hotel is located within a short walk from Mezquita de Cordoba, Plaza de las Tendillas, as well as Cordoba's train and bus stations. Its location offers easy access to the main shopping and entertainment area of the city.
🔍FIND BEST HOTELS IN CENTRO
3. Cordoba train station
Cordoba train station is the busiest train terminal in the city, AVE RENFE train station. With trains arriving every hour from across the continent, it makes a fabulous choice for anyone arriving or leaving by train.
Seville's Santa Justa train station is just 45 minutes away by train. There is train to Málaga, Granada, Madrid, Barcelona, Huelva, and Algeciras.
Inside the station complex, you will find a large comercial gallery, car hire agents, tourist offices, photo booth, and newsagents.
Surrounded by a somewhat industrial area, it is among the cheapest areas in the entire city with many budget-friendly hostels, hotels, and bed & breakfast. Everything from accommodation to facilities like shops, bars, and restaurants are on the cheaper end. This makes it ideal for those traveling on a budget.
While there aren't plenty of attractions in the area, there are a few options not too far away. The Malmuerta Tower, Merced Palace & Gardens, and a Roman mausoleum are a few of the choices for those days when you don't feel like doing too much traveling.
Stay In Cordoba Train Station If you are traveling on a budget, you are traveling by train, you don't need a huge number of attractions in the immediate area.
Best Places to stay near Cordoba Train Station:
mid-range ($$): AC Hotel Córdoba by Marriott This 5-star hotel is only 100 m from the AVE railway and bus stations, as well as 20 minutes by car from the Córdoba Airport. The hotel offers spacious rooms, private car parking, free wifi.
mid-range ($$): Soho Boutique Córdoba This 4-star hotel is located within walking distance from the train station. It offers a restaurant, private parking, a fitness centre, a bar, a 24-hour front desk.
budget ($): Hotel Cordoba Medina Azahara Affiliated by Meliá This 3-star hotel is located very close to the Old town, AVE High-Speed Train Station and Córdoba's bus station.
🔍FIND BEST HOTELS IN CORDOBA TRAIN STATION
4. San Basilio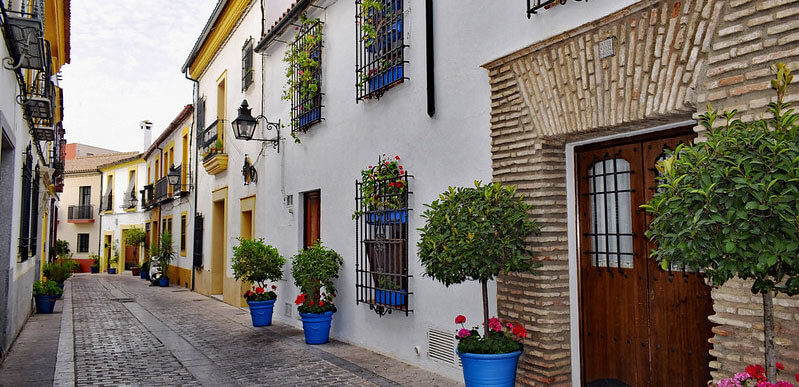 San Basilio (also known as Barrio de San Basilio or Alcazar Viejo) is a cool neighborhood, located just to the south-east of the popular Jewish quarter.
The main attractions in the area include The Royal Stables Of Cordoba (Caballerizas Reales), where regular equine shows are still held to this day.
The Alcazar De Los Reyes Cristianos, the Jardines del Alcázar de los Reyes Cristianos, and the 17th-century Church Of San Basilio are all located within easy walk from San Basilio.
The Puerta de Sevilla area also worth visiting! Also known as The Seville Gate, it is the entrance gate of San Basilio.
This area is also home to the Feria de los Patios, one of the most charming events in Andalusia in May where you'll find some of the most beautiful Andalusian patios. Many whitewashed houses with Cordoba's flower-filled patios and courtyards are opened to the public at this time.
You can also visit the Patio Monument, known as Estatua Dedicada a los Patios in Spanish, located on Martín de Roa street. Another must-see patios are at San Basilio Patio 44 (formerly 50).
Within a short distance from the Patio Monument is the Belen Tower, or the Torre de Belen, part of Cordoba's UNESCO world heritage site.
Being right on the outskirts gives you a much more secluded feeling that lets you delve into the culture of the region without all the hustle and bustle. Hotels in the area are mostly apartments, guest houses, and B&B.
Stay in San Basilio if you love multicultural architecture, you aren't too concerned about the price, you love history and culture, and you like to be a little way out of the city.
Best places to stay in Cordoba in San Basilio:
FIND BEST HOTELS IN CORDOBA
5. Vial Norte
Vial Norte is a primarily residential area, located a short way north of the city center. It is the area around Paseo de Córdoba and Avenida de la Libertad, close to the AVE station and Almogávares roundabout.
The primary draw for most visitors to Vial Norte is the combination of value and quality on offer. Hotels and amenities in the area are all very modern, giving you a fresh, clean feel. All the while, you get markedly more than you expect in the price range, like hotels including breakfast as standard.
Another popular attraction of Vial Norte is close to many parks. The wide-open, green spaces allow you to take a stroll amongst nature or let the kids run off some energy, making it a perfect choice for families or those who enjoy a slower pace to their trips.
Stay In Vial Norte If you want close to the train station; you like modern areas that provide great value.
Best places to stay in Cordoba in Vial Norte:
mid-range ($$): Hotel Cordoba Center This mid-range hotel is located in Avenida de la Libertad, within a short stroll from the University of Cordoba, Merced Palace, Cordoba Grand Theatre, San Nicolás de la Villa Church, and Malmuerta Tower. It offers spacious rooms with free wifi, an onsite restaurant, and an AC Lounge.
mid-range ($$): AC Hotel Cordoba is a 4-star hotel, located in one of the city's principal business areas, opposite the AVE train station.
🔍FIND BEST HOTELS IN VIAL NORTE
6. Ciudad Jardin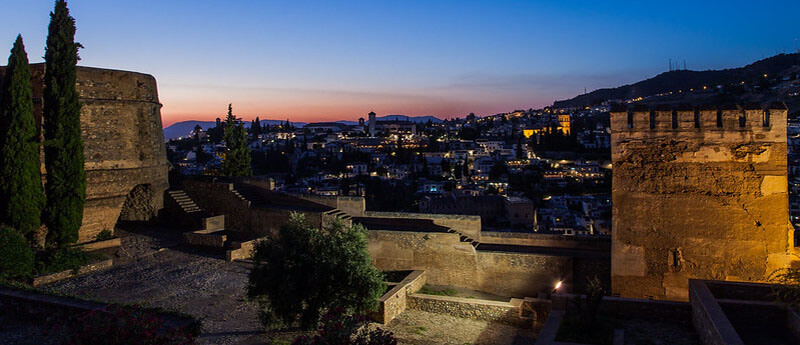 Ciudad Jardin is neither a bustling city center nor filled with historical and cultural locations. Located in the western part of the city, it is a largely residential area.
Its name translates to the garden city in English, so it's probably unsurprising that it's an area filled with parks and greenery, which could be somewhat surprising given the area climate.
The accommodation is also much more affordable than some of the other areas, as there are both hotels, B&B, and private apartments looking to tempt you out of the city center.
This is the ideal location if you're looking for a relaxing vacation in a warm climate, with the option to travel in and experience the culture and nightlife if you so choose.
It's also a perfect location for families with small children, as there are more space and freedom to keep them entertained in but you're close enough to the cities amenities if they are required.
Stay in Ciudad Jardin if you are looking for good value, you like parks and greenery, you want to be just far enough away from the city that you can access it if required.
Best places to stay in Cordoba in Ciudad Jardin:
🔍FIND BEST HOTELS IN CORDOBA
7. Sur
Sur is the southernmost district in Cordoba, separated from the rest of the city by the Guadalquivir river, which lies on the south bank of the river. Sur is popular for its stunning views of the city, as you have perfect lines of sight to the Jewish quarter, San Basilio, and the Old Town across the water.
It's also home to the Torre De Calahorra, a fortress designed with Muslim architecture that has been converted into a museum dedicated to the city's religious heritage.
Its main thoroughfare is the Avenida de Cádiz runs alongside the river, close to Fray Albino, and borders with the A-4 motorway.
Sur connects to the city center area via numerous bridges including San Rafael Bridge, Roman Bridge of Córdoba, and the Puente de Miraflores. You can take a stroll along these beautiful bridges and enjoy the stunning views of the city.
Being detached from the main city also gives the area a much more isolated feel than the other areas, providing for a more quaint and romantic setting. Despite this, there's still great value to be had when it comes to accommodation, making it an area accessible to all.
Stay in Sur if you like beautiful views, you want good value accommodation, you prefer a quieter area, you like museums and history, you are interested in the city's religious heritage.
Best places to stay in Cordoba in Sur:
🔍FIND BEST HOTELS IN CORDOBA
Check out my virtual tour on the best places to stay in Cordoba in this video:
Read more:
Summary – Where to stay in Codorba?
In conclusio, Judería de Córdoba, Centro, Vial Norte, and Cordoba Train Station are the best places to stay in Codorba for tourists. They offers central location, with easy access to major attractions, and a wide range of amenities for all budgets.
Overall, I recommend the Jewish Quarter of Córdoba as the best area to stay in Cordoba for first visit. From its museums and bridges to its parks and rivers, Cordoba has something to offer for everyone looking to soak up a little bit of culture under the beautiful rays of the Spanish sun.