The best areas to stay in Fuerteventura for first-timer are the towns of Corralejo, Caleta del Fuste, Costa Calma, Morro Jable, and El Cotillo. This blog will help you to find where to stay in Fuerteventura for families, couples, nightlife, and best things to do in this Spanish Island.
Fuerteventura's popularity with tourists, especially Europeans, is a result of its southerly latitude which guarantees a good climate. It is the second-largest of the Canary Islands off the coast of Africa.
Blessed with lovely white sand beaches, often within sheltered coves, Fuerteventura is popular with water sport enthusiasts, sufers, as well as those simply wanting to relax and take in the sun.
Visitors landing at the Fuerteventura International Airport find themselves in the midpoint of Fuerteventura. Some head north to the resorts up in the northeast corner. Others choose to head south where there are other alternatives. The West Coast facing the Atlantic is underdeveloped and not as yet a coastline where tourists will stay.
The waters of the Atlantic offer great sailing conditions. Scuba divers can meet whales and dolphins, turtles and marlin which is the catch that game fishermen seek. On land, Fuerteventura offers plenty of opportunities to hikers. Those wanting to see this part of the island in a more leisurely way can take a tour.
Fuerteventura's population is just under 120,000 and these days tourism is the main source of income for the Island. Its capital Puerto del Rosario accounts for over a third of that population. It is on the Island's East Coast and has a regular ferry link with Tenerife.
Corralejo is the best area to stay in Fuerteventura for the first time because it offers a wide range of accommodation, restaurants bars, and shops. You will find some of the best hotel, best nightlife, and shopping in this town.
Apart from Corralejo, you can consider to book hotel in Costa Calma, Caleta de Fuste, and Morro Jable. They are both popular resort towns with plenty of things to do and see in its own neighborhood.
12 Best Areas to Stay in Fuerteventura for tourista
1. Corralejo, where to stay in Fuerteventura for first time tourists
Corralejo is a famous resort town on the northern coast of Fuerteventura, opposite the small island of Los Lobos. It looks to the Atlantic at the north and east and the large sand dunes and deserts are on the other two sides. The dune area has become a nature reserve that appeals to many of the visitors staying in Corralejo.
Corralejo is around 30 drive north of Fuerteventura Airport in Puerto Rosario, it is a betters idea to have a rental car or taxi because there's no direct bus between the resort and the airport. You can take a ferry from the Corralejo harbor and spend the day on the volcanic island of Isla de Lobos, or even go to Lanzarote which is just 30mins away!
Tourism has changed Corralejo from a small fishing village to the most important tourist town on the Island. It is a mix of Spaniard and ex-pat, German, Scandinavian, Irish and British. They and visiting tourists enjoy the sheltered beaches but strong currents affect the clear offshore waters.
The first part of Fuerteventura that attracted tourism was in the south but eyes soon turned to the north as well. The population of the 70s, just 2,500, has multiplied by ten. Obviously, the considerable building has taken place with apartments, villas, and hotels springing up over the years.
Corralejo has beautiful sandy beaches, and many good spots for watersports like surfing, windsurfing, and sailing. Some of the best beaches in town are Corralejo Viejo, Playa Puerto Remedios, and Playa Corralejo. These beaches are ideal for families with younger children, with their shallow, crystal clear waters.
The Sahara-like desert, Corralejo Natural Park (Parque Natural de Corralejo), is a must-see on the island. It has 10km dunes along the east coast from Corralejo with a collection of beaches known as Corralejo Grandes Playas, which provides amazing views of Lobos Island.
Corralejo also offers vibrant nightlife around the main street which also leads to the Music Square and the port. Tourist demand for a good infrastructure has been more than satisfied by the shops, bars, and restaurants that seek their custom.
For a shopping experience, you will have the Spanish-style, El Campanario shopping center, and Centro Comercial Las Palmeras. Families with young kids will love to spend a day at Baku Aquapark (Acua Water Park) and enjoy the water slides.
Corralejo is a year-round resort, but if you visit in February or March, you can encounter the carnival, and some more local events like Fiestas del Carmen, Invictorock, and Baile Canario.
Corralejo is an ideal base in Fuerteventura for first-time tourists, singles, couples all ages, families with kids, surfers who enjoy beaches, natural beauty, shopping, sightseeing, and nightlife.
Stay in Corralejo if you are first time visiting Fuerteventura; you prefer a good choice of holiday accommodation; you're traveling as a family with children, and prefer a nightlife place.
Best Places to Stay in Corralejo:
Luxury ($$$): Secrets Bahía Real This 5-star beachfront resort is located in Corralejo, offers 2 outdoor pools, 6 restaurants, spacious air-conditioned rooms with free wifi. You can easily find the Corralejo Sand Dunes nearby this property. It has rooms with air conditioning in summer and a central heater in winter, a flat-screen TV, and a minibar.
Mid-range ($$): Hotel THe Corralejo Beach This beachfront hotel is just a few steps from the beach, close to Corralejo Sand Dunes, and Corralejo Harbour where you can take ferries to Lanzarote. Each room has a private bathroom, living room, telephone, satellite TV, WiFi, and adjustable air conditioning.
Budget ($): Bristol Sunset Beach – Holiday Apartments This apartment is located within a short distance from the city center, Charco de Bristol Beach, Corralejo Viejo Beach, and Las Clavellinas Beach. You can enjoy lots of activities nearby such as surfing, sailing, windsurfing, kite-surfing, jetski, or snorkeling.
🔍FIND BEST MORE IN CORRALEJO
See more:
2. Costa Calma, where to stay in Fuerteventura for surfers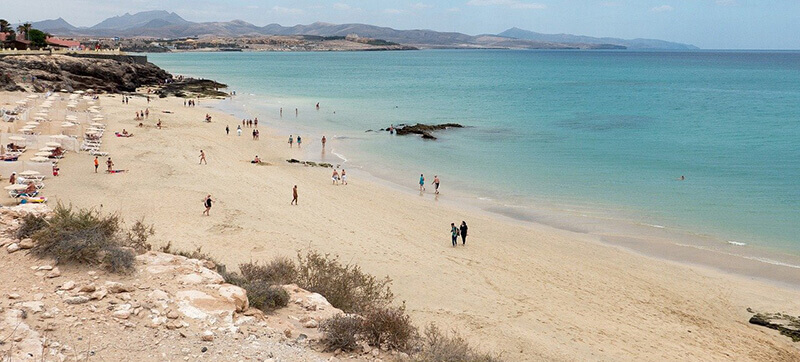 Located 60km south of Fuerteventura's Airport, Costa Calma is a purpose-built resort town in Jardin Peninsula on the south of the island that has a significant ex-pat population. There is plenty of accommodation here, all built-in relatively recent times. Strangely, its name does not tell you that winds blow, especially in Fuerteventura's summer months of July and August.
There are plenty of water sports to enjoy such as windsurfing, kitesurfing, snorkeling, jet-skiing, and kayaking. Each July, the PWA World Windsurfing Championships are held at Sotavento Beach a little further south. You do not have to be a professional to enjoy activities in Costa Calma.
Some beaches around are Sotavento lagoon, Playa de la Barca, Playa del Viejo Rey, and Pájara Beach.
Costa Calma has a quiet nightlife. It does not offer much in terms of evening entertainment but you may be happy with a quiet bar and restaurant serving local cuisine, including seafood of course. Don't expect the menus to have ''English'' favorites, everything with chips. It is in fact a favorite with German tourists.
Costa Calma does not have a square as the focal point. The restaurants and bars tend to be grouped around the shopping and commercial centers. A by-pass opened a few years ago so passing traffic no longer comes through Costa Calma which has made it even quieter.
One idea for a day out is to head to Oasis Park where you will find a Zoo and Botanical Gardens. And if you're in town on Wednesdays and Sundays, visit the Afrikanischer Markt (Costa Calma African Market) where you can bargain and buy souvenirs!
Stay in Costa Calma if you want surfing and watersport spots; you are happy in quiet towns as long as there are at least some bars and restaurants; you want to stay in a large all-inclusive resort town; you travel with family with children;
Best Places to Stay in Costa Calma:
🔍FIND MORE HOTELS IN COSTA CALMA
3. Caleta de Fuste, where to stay in Fuerteventura for families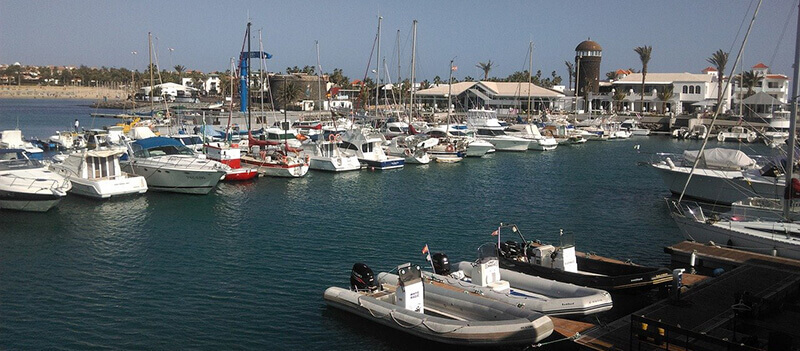 Caleta de Fuste resort (also known as El Castillo) is located within Antigua municipality on the east coast, a short drive from the international airport and the capital, Puerto del Rosario. It is the perfect place to stay for families with young children who enjoy quiet and relaxing vacations.
The resort has only developed in recent years but there has been a settlement here for centuries. Claudio de Lisne built a castle in the harbor in the middle of the 18th Century. It was the defense against pirate attacks.
Today, the town has a well-developed tourist infrastructure with plenty of good accommodation. There are 12,000 rooms for rent, including private apartments and villas. The choice ranges from self-catering apartments to 5-star hotels.
There are plenty of bars, cafes, restaurants, and boutiques that cater to the tourists who come to enjoy the beautiful beaches.
Those enjoying water sports have plenty of alternatives. They include windsurfing, scuba diving, and sailing. Divers are likely to meet up with turtles while dolphins are regularly seen in the waves.
This is also the place where golfers would choose to stay Fuerteventura Golf Club and Salinas Golf. Both of Fuerteventura's golf courses are here and one of them hosted the Spanish Open in 2007.
If you want to shop, there is the Atlantico Commercial Center in town with supermarkets shops and a bowling area.
Three man-made lagoons are located just south of the resort which has proved very popular among families.
Stay in Caleta de Fuste if you are holidaying with the family; you enjoy water sports; you are a keen golfer and want a game or two while on holiday; you like a good choice of accommodation and plenty of good restaurants and bars;
Best Places to Stay in Caleta de Fuste:
🔍FIND MORE HOTELS IN CALETA DE FUSTE
4. Morro Jable, where to stay for in Fuerteventura beautiful beaches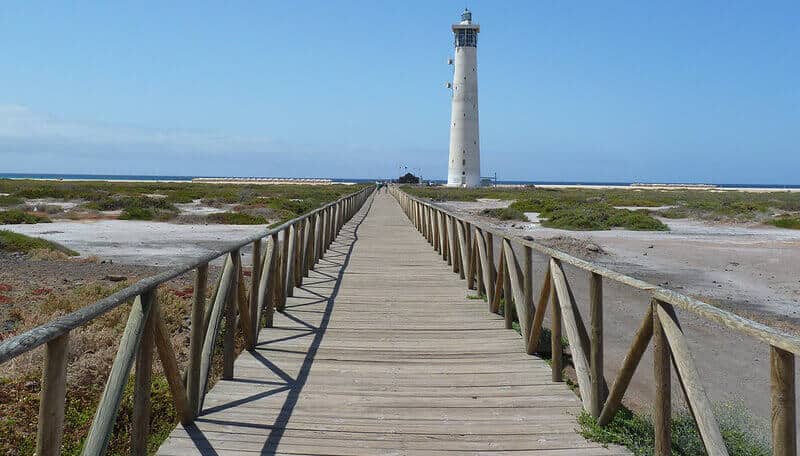 Morro Jable on Jandia Peninsula is famous for its lighthouse and to its north, the Jandia National Park attracts plenty of tourists during their holidays. This is a protected area where several species of marine birds nest each year. The salt marsh within the Park is a fascinating ecosystem that nature lovers are certain to enjoy.
There is a loggerhead turtle nursery close to the resort which is open to the public. The loggerhead is endangered and the nursery tends to turtles who need care before their release into the wild. Another attraction is the skeleton of a sperm whale found close to the lighthouse.
Located next to the Turtle Nursery is the Morro Jable Harbour, where the ferries go to Gran Canaria, and home to several large manta rays around the pier in front of La Cofradia.
The Playa del Matorral is a huge beach where you can certainly avoid any crowds. You can book a tour out to see in search of dolphins and whales. Another tour takes you around the whole of Peninsula if you have decided against hiring a car. A slower option is to go trekking with guides, and their goats.
The waters of Morro Jable are warm for most of the year, and always clear. It means that snorkeling offers the chance of seeing marine life under the waves at close hand.
If you hire a car or take a public bus, you can reach Playa de Cofete, one of the most famous beaches on the peninsula, surrounded by high cliffs. It might difficult the reach this spectacular wild beach, but it's breathtaking and well worth a visit.
Playa del Matorral is a popular beach in Morro Jable, with golden sand and calm waters. You can also take a ferry from the port of Morro Jable to Las Palmas de Gran Canaria and Santa Cruz de Tenerife.
Stay in Morro Jable if you want easy access to amazing beaches on the Jandia Peninsula; you travel as a couple; you want in a quiet place.
Best Places to Stay in Morro Jable:
🔍FIND MORE HOTELS IN MORRO JABLE
5. El Cotillo, best place to stay in Fuerteventura for a quiet holiday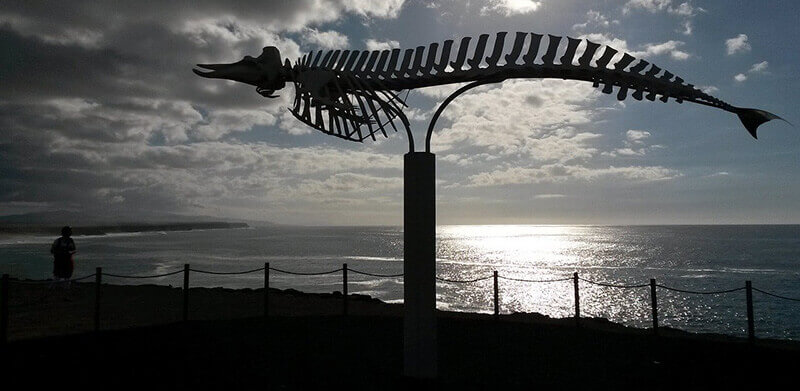 El Cotillo is a coastal town in La Oliva municipality in the north that was once a small fishing village. Even now, its permanent population is not much more than 1,000. It was originally a village that was settled because it was a convenient harbor for trading with Madeira. Fishing was the other means of support in a place that was known as Puerto del Roque.
Its commercial importance declined so that fishing was the only source of income until tourism appeared on the horizon.
El Cotillo has some of the best stretches of beach found anywhere and the bays with clear waters are especially appealing. Playa La Concha is one of the best beaches in Fuerteventura. Other beaches are El Caletón, Los Lagos, Los Charcos, Piedra Playa. This is also a popular place for surfers, windsurfers.
Torre del Toston helped to defend the locals from pirates and dates back to 1700. It remains the most important landmark in El Cotillo.
Stay in El Cotillo if you want to stay in a laid back and quiet place; you like long stretches of beach and clear warm water; you prefer to avoid busy resorts as long as you have a choice of bars and restaurants; you enjoy fresh fish on your plate each evening.
Best places to stay in Fuerteventura in El Cotillo:
6. Puerto del Rosario, best place to in stay Fuerteventura without a car

Along with Corralejo and Caleta de Fuste, Puerto del Rosario is one of the best places to stay in Fuerteventura without a car. It is home to Fuerteventura airport, a convenien location for island-hopping around Canary Island, and well-connected to other resorts on the island by bus.
The Capital of Fuerteventura only took that status in 1860 from Antigua. It was known as Puerto de Cabras (Port of Goats) when the capital was Betancuria. Fishing was the main activity and there was the added benefit of a sheltered harbor.
The harbor and its location on the Island were two reasons why it became capital. Today, over a third of the Island's permanent population lives here.
Puerto del Rosario is known for its open-air artwork which includes an impressive range of snail sculptures on the promenade. You will be struck by the many whitewashed houses. There are some pedestrianized streets with plenty of shopping whether you are just browsing or want to buy.
You have a beautiful beach Playa Chica, and Playa Blanca can easily reach from here, and a big shopping mall in the island C.C. Las Rotonda.
Stay in Puerto del Rosario if you're looking for where to stay in Fuerteventura without a car; you are happy in a relatively large place because of the infrastructure it provides; you love art, especially if you can just walk around outside and see it.; you enjoy shopping with pedestrianized streets an added bonus.
Best places to stay in Fuerteventura – Puerto del Rosario
🔍FIND MORE HOTELS IN PUERTO DEL ROSARIO
7. Gran Tarajal, where to stay on Fuerteventura off-the-beaten-track
This second largest population in Fuerteventura has just 8,000 inhabitants and is important to the Island's economy. It takes its name from the local Tamarisk tree.
The fishing harbor is an important feature with the promenade popular with locals and visitors alike. The annual Deep Sea Fishing Championship each September attracts hundreds of boats and the catches always include fine swordfish and tuna.
You will see several murals on the promenade's buildings under the title of Gran Tarajal & the Sea, locally "Gran Tarajal y el Mar." Most of the town's good bars, cafes, and restaurants are on the promenade. Local cuisine includes cheese produced locally and of course fresh fish is always on the menu.
The beach's sand is black but everyone gets used to the color; what's in a color? The sand is clean and the water crystal clear. If you are on the Island in August that beach is the location for the Fuerteventura Sound Music Festival. It was also the site of a battle between the British and the Spanish in the middle of the 18th Century.
Nuestra Señora de la Candelaria was built over a century ago and is a church worthy of a visit. As is the skeleton of a large marine mammal that appeared in Roque Negro a few years ago.
Stay in Gran Tarajal if you want to stay off a beaten tourist track; You want more than a beach and sea holiday; History is a special interest of yours; You are interested in deep-sea game fishing.
Best places to stay in Fuerteventura – Gran Tarajal:
🔍FIND MORE HOTELS IN GRAN TARAJAL
8. Betancuria, most historic village on Fuerteventura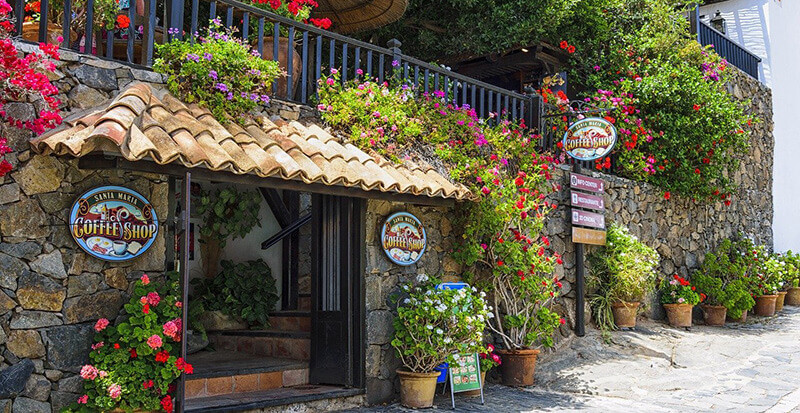 This is the ancient capital of Fuerteventura. It is located on the west of the Island and today has a population of less than 1,000. This is a mountainous part of Fuerteventura and the town takes its name from Jean de Bethencourt who founded it in the early 15th Century. Soon afterward Pope Martin V founded a bishopric centered on Betancuria that included all of the Canary Islands other than Lanzarote.
Pirates partially destroyed Betancuria at the end of the 16th Century but it remained the Island's capital until 1834.
History is the town's main attraction. It is small and easy to walk around its cobbled streets in a day. The heart of the town is the small square and the Church of Santa Maria is worth exploring nearby. Interesting museums and the old convent are other places of note.
It is ideal for tourists that want something different and are not concerned about the beach. The road from Puerto del Rosario is scenic and the journey takes less than an hour. If you choose to take the bus, it stops in all the small villages but what is the rush?
Hikers will certainly find some lovely walks if they choose Betancuria as their base. While it is not filled with bars and restaurants, there are sufficient for holidaymakers to have a choice each day.
Stay in Betancuria if You are interested in hiking and want a natural location; Sand and sea are not a priority on your holiday; You want to meet the locals and enjoy the cuisine they have to offer.
Best places to Stay in Fuerteventura in Betancuria:
🔍FIND MORE HOTELS IN BETANCURIA
9. Costa de Antigua, where to stay in Fuerteventura for history buffs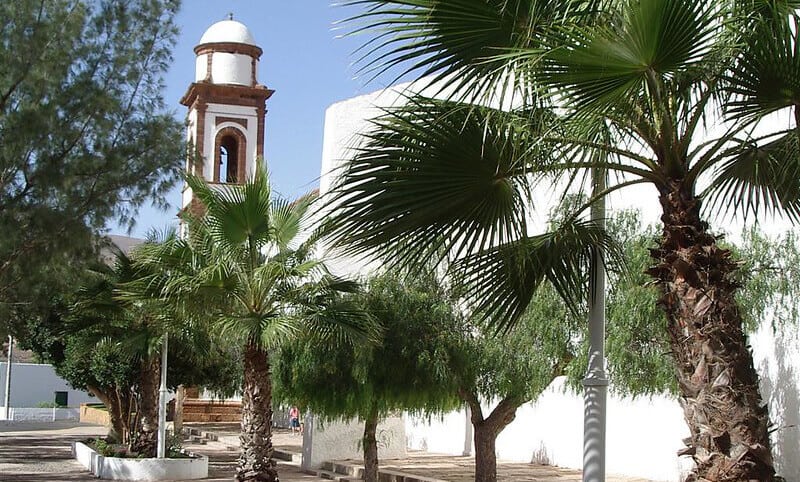 Costa de Antigua (also known as Nuevo Horizonte) was briefly the Capital of Fuerteventura. It took over from Betancuria in 1834 but in 1860 it lost that status to Puerto del Rosario. Antigua is located inland, 17 kilometers southwest of the capital. One of the reasons for that change was that Antigua is located inland.
Antigua is the second largest place on the Island with a population approaching 12,000. It appeals to tourists not overly concerned by sand and sea. There are a few things worth seeing including the Cultural Centre, Centro Turístico Cultural Molino de Antigua where you can see the best of the Island's art. Nuestra Senora de Antigua is a lovely whitewashed church.
Salinas de El Carmen was a salt mine dating back to 1800 while Atalyita is a native town. There is a working windmill where you will find a cactus garden and craft shop. Museo del Queso not only explains the local art of cheese making, but there are also exhibits of its flora and fauna. Betancuria Rural Park is a relaxing place where you will see a wide range of bird species.
Stay in Costa de Antigua if you have an interest in history; you are not too concerned about being on the coast; you enjoy mixing with the locals and learning more about the culture of Fuerteventura.; you intend to visit local restaurants where the food is typical of the Island.
Best Places to Stay in Costa de Antigua:
🔍FIND MORE HOTELS IN ANTIGUA
10. La Oliva, for authentic experience and local life
This is the northern part of Fuerteventura and includes the town of Corralejo in the northeast corner facing Isla de Lobos. The sand dunes here are an attraction. It is an unspoiled region with plenty of goats and windmills that is worth exploring.
La Oliva's center is north of Puerto Rosario, and it is regarded as the most cosmopolitan in Spain's islands. Several foreigners reside here as well as Spanish locals. There is no beach here so you will need to arrange transport to Corralejo to enjoy the sands.
This is an inexpensive place both for accommodation and general spending. There is the added benefit of finding local cuisine, and cheese is often used in preparations. You will get a real feeling of Spain and local culture here with the colonial architecture adding to the great setting.
Attractions nearby are The Museum of Traditions, Casa Mané Canarian Art Centre, the church of Our Lady of Candelaria, Casa de Los Coroneles.
Stay in La Oliva if You want an authentic feel of local life; Local cuisine is important during your holiday; You want access to the sea without staying on the beach.
Best places to stay in Fuertecenture in La Oliva:
🔍FIND MORE HOTELS IN LA OVILA
11. Lajares, a budget-friendly area to stay in Fuerteventura
Lajares is just a simple village, a short distance from the beaches of Majanicho, and Corralejo. There are surfing schools at both places but many who come to surf pick Lajares itself for accommodation. That is because it is inexpensive but clean and comfortable.
It is a relaxed village with a slow pace to life which appeals to the budget travelers, and backpackers who look to make it their base on Lanzarote. The cuisine is fresh, and distinctive, made from local produce.
Tourists interested in nature, birdlife, and the environment, in general, are drawn to Lajares where there are hostels and country lodges. Many hiking trails start in the village and head out to the surrounding volcanoes, all of which are dormant.
Lajares Artisan Market is on Saturdays, where you can buy handcrafted stuff from artisans like silk, jewelry, hats, leather, paintings, soap, souvenirs, and gifts.
Visit small San Antonio de Padua Church, and take photos at many Lajares windmills (molinos).
Stay in Lajares if You want a simple base with a natural environment; Beach resorts are of no interest to you; Local cuisine appeals to you.
Best places to stay in Fuerteventura in Lajares:
🔍FIND BEST MORE IN LAJARES
Check out my virtual tour on the best places to stay in Fuerteventura in this video:
See More:
Fuerteventura does not get as much attention as Tenerife and Gran Canaria, the other two Canary Island options for tourists. For many people that is an advantage. The Island's best beaches and clear warm waters are the first thing to mention. The lack of crowds means that you will always be able to find privacy.
The Airport at El Matorral resulted in Fuerteventura becoming accessible to significant numbers of holidaymakers. Some now come to surf because the warm summer trades and the Atlantic's winter swells create ideal conditions all year round. The exposed north and west coasts are especially popular.
If this is your first time visiting the island of Fuerteventura, I recommend to stay in Corralejo because it's one of the liveliest resort in Fuerteventura. Booking hotel in this area, you will be located within walking distance to the tourist amenities, hotels, restaurants, bars, and shops. It's the transport hub of the island, so you can also easily travel to other towns by bus.
There is plenty of accommodation to suit every budget, ideal for families, couples and singles. The climate is good enough to holiday any month of the year. I hope I help you choose the best place to stay Fuerteventura before heading to the second largest island of the Canary Islands!