Best Place to Stay in Mallorca Spain
If you're wondering where to stay in Mallorca Spain, or where is the best area to stay in Mallorca, you're in the right place. I will give an insight into 6 best places to stay in Mallorca for first time visitors, couples, families, backpackers, all budget travelers; read on as I show you the best of Mallorca.
Mallorca is the largest of Spain's Balearic Islands, located in the Western Mediterranean just off the Spanish Mainland. Its appeal involves the lovely beaches and warm seas once winter has receded.
The Island does have a rich history which includes the Romans, the Moors and Christianity. Those travelers interested in history and culture will find plenty to interest them with the Capital, Palma, worth a visit even if only for a day trip.
Mallorca's popularity can be best illustrated by the air traffic landing at Palma's international airport. More than 25 million pass through the airport annually though that does not purely represent tourism! Mallorca is also accessible by ferry as well as being a popular cruise ship island for those wanting just a brief visit.
Where to Stay in Mallorca Spain – 10 Best Area & Neighborhoods
It was the growth of air travel that saw Mallorca open up to modern-day tourists. Its proximity to huge population areas in Northern Europe was the real catalyst to growth. Package holidays meant Mallorca soon grew in popularity in those looking for guaranteed Mediterranean sun and warm seas.
The areas suggested below vary from large coastal resorts, some purpose-built for mass tourism to places that were once just small fishing villages. There are many more than 10 resorts on Mallorca with the west coast being especially popular. This selection will certainly give you a flavor of Mallorca and what you can expect to find if you choose it for your next holiday.
You can rent a car if you wish to explore, use the local bus service or take an organised tour from most of the major resorts.
Where to Stay in Mallorca Spain – 10 Best Areas & Neighborhoods to Stay in Mallorca
Where to Stay in Mallorca Spain Map
To see more detail on where to stay in Mallorca Map, go to google map.
1. Palma – Best Area to Stay in Mallorca for History & Culture Lovers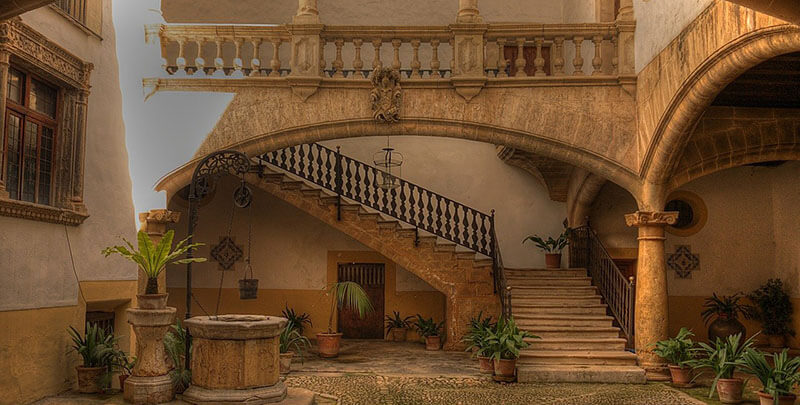 This Capital City in the West of Mallorca and its rich history make it an essential place to experience while on the Island. While modern development has taken place, it is its backstreets, the Moorish and medieval Christian architecture, and the sandstone Gothic cathedral, La Seu, that attracts many travelers.
Tourism has seen an increasing number of hotels, top quality restaurants and lively bars become more common. Modern shopping facilities mix with fashionable boutiques but also traditional artisan products.
Palma sits in the heart of an extensive bay with a promenade stretching for miles and C' An Pere Antoni for those wanting a sandy beach. Smaller beach resorts are within walking distance.
Accommodation fits every budget and that includes 5-star hotels. There are apartments and backpacker accommodation as well, so no one needs to worry about making Palma their base.
YOU SHOULD STAY IN PALMA IF:
You are interested in Mallorca's history and culture
You often want to do some shopping while on holiday
You enjoy city life yet with access to the beach
2. Magaluf – Best Area to Stay in Mallorca for Nightlife

Magaluf is both the Island's biggest and most famous beach resort. If you are looking for a party, big or small, you will find it in Magaluf whether in the clubs, on the beach or on a boat. Not surprisingly, Magaluf is the favorite place for singles.
Cafes and clubs line the beach while theme and waterparks mean that families are attracted here as well. Water sports are readily available and fierce competition ensures that you will always get good value for money in Magaluf.
Accommodation is plenty with some hotels having their own beach clubs.
YOU SHOULD STAY IN MAGALUF IF:
You are a ''party animal'' when on holiday
You are interested in plenty of activity day and night
You are a single traveler
You want the experience provided by beach clubs
See Also: The 20 Best Things To Do In Mallorca
3. Santa Ponsa – Best Area to Stay in Mallorca for Families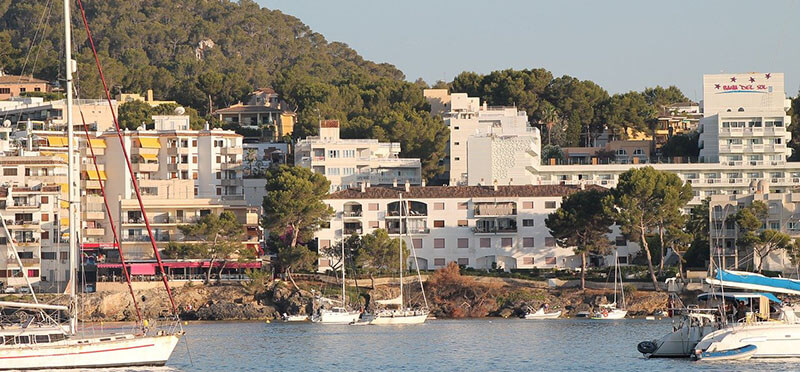 Santa Ponsa to the south west of Palma deserves its reputation as a family-friendly resort. There is accommodation specifically designed for families but also adult-only establishments. While it is not as built up as places like Magaluf, that is an advantage because there is more space on the sandy Blue Flag beach.
Kids will enjoy the adventure playground while the nightlife is also impressive.
There is a large ex-pat community, especially Brits, and the international cuisine available in Santa Ponsa is partly a consequence of that.
YOU SHOULD STAY IN SANTA PONSA IF:
You are looking for an ideal resort for families
You are comfortable in an environment which is familiar to home, providing international cuisine
You do not want to worry that the kids will get bored
Your preference is alternatively adult-only accommodation
4. Cala Major – Best Area to Stay in Mallorca Near Airport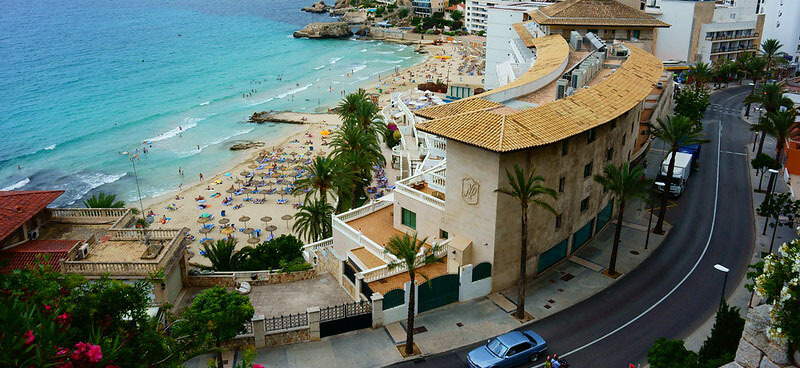 Cala Major is located on the hugely developed coastal stretch between Palma and Magaluf. It is the closest of the main resorts to Palma, once regarded as a suburb of the Capital. You will find a lovely beach with plenty of shade from the palm trees, a place that is certainly child friendly. You will also find plenty of accommodation.
Its proximity to Palma and the Island's airport are just two reasons for its popularity. The beach is not huge so you must expect crowds during high season, especially at weekends when the locals join them.
YOU SHOULD STAY HERE IF:
You are not too concerned about crowds
You wish to be close to the airport
You are interested in a visit to Palma
5. Palma Nova – Best Area to Stay in Mallorca for Water Sports

Palma Nova is among the earliest of Mallorca's resorts catering for incoming tourists. It is a popular package holiday destination and is now home to many ex-pats, often British. It lacks sophistication but its wide beach makes it attractive to both families and water sport enthusiasts.
By day, there is plenty to entertain the kids from the beach itself including theme and water parks to crazy golf. After sunset, there is a good nightlife infrastructure as well just down the road in Magaluf.
Accommodation includes adult-only places aimed as couples and typical resort hotels used by the major holiday companies.
YOU SHOULD STAY IN PALMA NOVA IF:
You are keen on water sports
You are looking for somewhere ideal of families with plenty of entertainment for the kids
You want plenty of alternatives for the night-time
You are seeking adult-only accommodation
6. Camp de Mar – Best Area to Stay in Mallorca for Families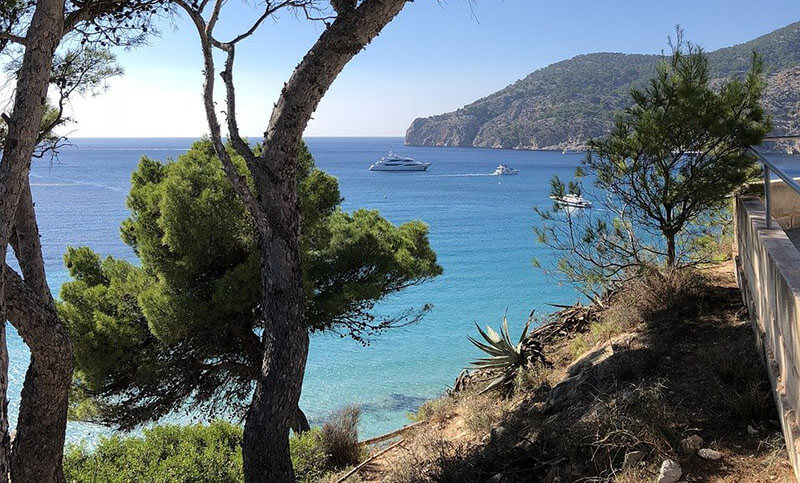 Camp de Mar is one of Mallorca's upmarket resorts, attracting many celebrities. It is an excellent base for those wanting a golfing break, but it is also a pretty family-friendly resort.
There is limited entertainment but that is something that appeals to those choosing this resort; it is quiet yet has a lovely sandy beach. Cyclists and walkers are attracted to Camp de Mar as well as people just wanting to relax.
The large hotels in Camp de Mar line the beach while there are also places that specialise in family bookings, a golf resort and apartments for rent.
YOU SHOULD STAY IN CAMP DE MAR IF:
You are a keen golfer
You want somewhere suitable for families
You prefer somewhere where walking and cycling is an option
Good nightlife is not a priority
7. Sant Elm – Best Area to Stay in Mallorca for Local Flavors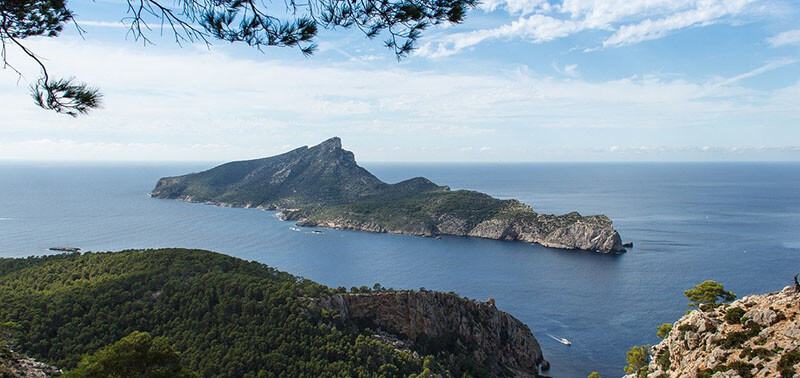 Sant Elm, in the north-west corner of Mallorca, is perhaps less well-known than some other tourist resorts. It is an ideal place for those wanting to avoid crowds with just a small number of hotels and restaurants. The natural landscape is beautiful and there are few better places on the Island to see a sunset.
It is still a fishing village so you will get the freshest of quality seafood in the restaurants. One of the popular activities for those staying in Sant Elm is to take the boat that runs over to Sa Dragonera Natural Park directly opposite the village.
YOU SHOULD STAY IN SANT ELM IF:
You like to be somewhere that retains a local flavor
You intend to spend time away from the beach
You are looking to avoid crowds
You do not need a huge range of accommodation
8. Port Soller – Best Area to Stay in Mallorca for Budget Travelers
If you want more than a beach resort, why not pick Soller which is a traditional Mallorcan town perched in the hills above the resort of the same name. Soller is in the foothills of the Serra Tramuntana mountains and its lush landscape contrasts with coastal areas.
A tram links the hill town with Port Soller although you can walk down in 45 minutes if you wish; few bother to walk back up. It is linked to Palma by an old train with the station also an art gallery that is worth a visit.
There is plenty of life on the coastal strip, but it is a relaxing place where old villas are evidence of the wealth created here in former times. If you want some action, enjoy local culture and cuisine, this may be the place for you. You can find 5-star accommodation with several hotels also located around the Bay.
Backpackers will also find budget accommodation in Soller
YOU SHOULD STAY IN PORT SOLLER IF:
You are on a budget but don't want a package deal in a purpose-built beach resort
You want to enjoy the flavor of Spain
You are keen to explore the district
9. Cala D'Or – Best Area to Stay in Mallorca for Families

The resort of Cala D'Or has been developed as an upmarket resort from what was previously a fishing village. Located in the west, it is not over-developed and retains an element of ''Spanish feel.'' High rise buildings do not feature, with lovely white-washed properties found among the pine trees.
This is a favorite spot for snorkelers as well as boat trips. The beaches are small so even without plenty of tourists, there will be limited space.
Couples and families with older children will enjoy Cala D'Or, especially those wanting more than just a beach holiday. Renting a villa with a pool is popular with tourists though there are other accommodation alternatives. Mondrago Nature Reserve and Santueri Castle are two places worth a visit.
YOU SHOULD STAY IN CALA D'OR IF:
You want to avoid package holiday crowds
You are looking for a range of accommodation alternatives
Your family includes older children
You are interested in sea-based activities
10. Cala Millor/Cala Bona – Best Area to Stay in Mallorca for Water Sports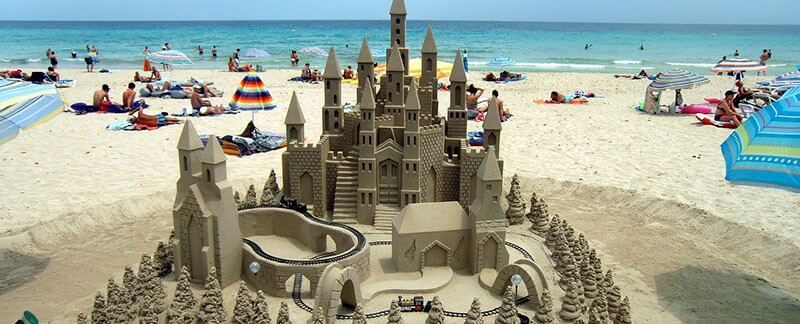 Cala Millor is in the east of Mallorca, a busy place that attracts more tourists than any other resort in the east. Ex-pats enjoy its well-developed infrastructure which appeals to families especially.
Few places on Mallorca have more impressive sands, a 4 mile stretch of white contrasting with the beautiful clear blue waters. Water sports are plentiful, and accommodation abounds. If you want a quieter district and less nightlife, just head for the adjoining Cala Bona with its fishing harbor, promenade and fine restaurants.
Self-catering apartments are popular while if you want 5-star quality or adult-only accommodation, you will find that as well.
YOU SHOULD STAY IN CALA MILLOR/CALA MONA IF:
You want the independence of a self-catering apartment
Nightlife is not a priority
You want a choice of water sports
Tips for choosing Best Places to Stay in Mallorca
Hot summers and mild winters describe Mallorca well with rain most common in the north at altitude in the Tramuntana Range where snow is even possible in winter. UNESCO has recognized the value of its cultural past by designating it as a World Heritage Site. Temperatures inevitably fall at altitude but during the hot summer, that can be a relief.
The tourist infrastructure is well-developed in the popular resorts. Many have a busy night-time scene with plenty of bars and restaurants catering to visitors. Water sports and lovely beaches keep travelers busy by day.
The flavor of Spain may not come across much in these resorts but there are villages in the interior where that can be seen and experienced. It is more likely that tourists pay such villages a visit for the day rather than make any their base. The wooden tourist train from Palma to Soller is popular while a comprehensive island bus service does provide the chance to explore wherever you decide to stay.
Where to Stay in Mallorca for the Best Beaches?
There are plenty of stretches of beautiful white sand in Mallorca even though there is a rugged coastline in the north. On the eastern side of the Island, Cala Millor which blends into the smaller Cala Bona has 4-mile beach with plenty of room for everyone.
Camp de Mar deserves consideration as an upmarket resort is another to look at as is Campa Nova.
Best Places to Stay in Mallorca with Family?
There is excellent provision for family holidays on Mallorca. Some resorts have play areas, theme and water parks which are ideal for families with young children. Where children have reached teenage years, other places stand out.
Magaluf has everything as long as you accept it will be busy throughout the summer. Cala D'Or is perhaps the best place for families with older children while water and theme parks are found in several resorts including the aforementioned Magaluf
How Long to Stay in Mallorca?
Annual holiday breaks during the summer months are generally for two weeks with families with children attending school limited to the middle of the summer. Two weeks in the sun guarantees a good suntan but Mallorca is so close to main population areas in Europe that even a break of just a week will be very enjoyable.
A long weekend in Mallorca still makes a great break with golf, walking and cycling, or just relaxing a chance to get away from things at home.
Where Should I Stay in Mallorca?
Mallorca is known for its beach resorts with lovely beaches and warm seas. The west coast is the most popular region with package holidays offered in all the top resorts, some all-inclusive. If your idea of a good holiday is to have everything at your fingertips, then the western beach resorts are perhaps the place for you.
Cala Millor on the east and Magaluf on the west are good choices while Soller makes a great base for anyone wanting to balance their time with exploring together with sea and sand.
Where are the Best Locations in Mallorca for Couples?
Some couples enjoy a vibrant nightlife in which case Magaluf may be the first place to look. Others just want time to themselves, avoiding major tourist crowds.
Cala D'Or is a popular choice for couples and there are a series of places that are adult-only that ensure couples are not disturbed by noisy children. Palma Nova and Santa Posa both offer those options.
Where Do Team Sky Stay in Mallorca?
Mallorca has become a popular place for cycling training camps in the off-season. Team Sky which has produced many successful cyclists in the major European competitions in recent years is one of them.
Early in the calendar year, the roads are quiet and largely dry as riders begin their preparations. The Tramuntana Mountain Range provides a good test with a high point reaching towards 5,000 feet, the highest point on the Island.
The Vanity Hotel in the Port d' Acudia is geared towards professional sportsmen and their needs. It is found in the north east of the Island.
Staying in Mallorca for a Honeymoon?
Cala D'Or and Palma are probably the first places to look at if you are contemplating a honeymoon on the Island of Mallorca. Adult-only accommodation is found in many resorts while if you wish to avoid crowds, then forget Magaluf.
Best Areas to Stay in Mallorca for Cycling?
Mallorca has become an important cycling destination, one of the most popular in Europe. There is a segregated lane in places and the interior poses a challenge to those wanting to get away from the coastal resorts.
Camp de Mar is an upmarket resort with a fine beach and makes a good base while if you want the challenge of cycling where Team Sky do pre-season training then you need to be near to the northern mountains.
Which Is Nicer, Menorca or Mallorca?
The most obvious difference between Menorca and Mallorca is one of size. Menorca is much smaller and as a consequence it attracts fewer visitors each year.
There are neither many signs of opulence on Menorca, nor will you find the busy bars and clubs that are common in the resorts of the larger neighbor. It does mean that Menorca provides a good alternative for families.
In entertainment terms, you would always select Mallorca and it is worth remembering that there are still many quiet places to enjoy as well as history and culture.
Those looking for a well-developed tourist infrastructure are more likely to find that on Mallorca and the number of flights coming into Palma mean there is minimal inconvenience in getting to your holiday destination.
Where Should I Stay in Mallorca for Nightlife?
Magaluf is the nighttime capital of Mallorca. There is a busy stretch of coastal beach resorts in the west running between Palma and Magaluf but it is the latter where you will find the most action.
What Is the Best Time to Go to Mallorca?
Some people are restricted as to when they can take their holidays. Those wanting to enjoy good weather but nothing too hot may decide that late spring and autumn are the two times to look at first.
Families with school children usually head away during school holidays in July and August.
Golfers usually prefer to avoid the hottest weather so spring and autumn is certainly a better choice than in the height of summer.
20 Best Things to Do Mallorca
When looking at the 20 best things to do in Mallorca it can be quite a tough decision, which will somewhat come down to each individual in question. The reason being that there are very few places like Mallorca, which has two vastly different sides to it.
On one hand, you have the party island reputation, where those looking to let loose and have a wild vacation come to let their hair down.
However, at the same time, it is an island full of history and culture, that draws those looking to learn and witness history first-hand in their free time.
Despite all that though, I'm confident that there's plenty here to keep everyone happy for the duration of their trip.
1. Visit Cathedral Of Santa Maria Of Palma
Located on the site of an ancient mosque, work on the cathedral began in the early 13th century but it wasn't completed for almost 400 years. With its highest point being some 144 feet, it is one of the tallest gothic style cathedrals in the world.
Located in the old district of the city of Palma, its stunning architecture is perhaps rivaled only by the views of the Mediterranean Sea that are visible from its location. Surely an attraction that is a must for anyone traveling to Mallorca.
2. Go See Cuevas Del Drach
A large cave system that runs for just under 3 miles and features four individual caves. Over 80 feet below sea level at its lowest point it also features the incredible Lake Martel, believed to be one of the largest underground lakes in the world.
Located near the town of Porto Cristo on the eastern coast of the island, these caves are another of the most popular attractions on the island, due to the incredibly unique landscapes hidden within their depths.
Make sure to book early as, with any attraction like this, places are extremely limited.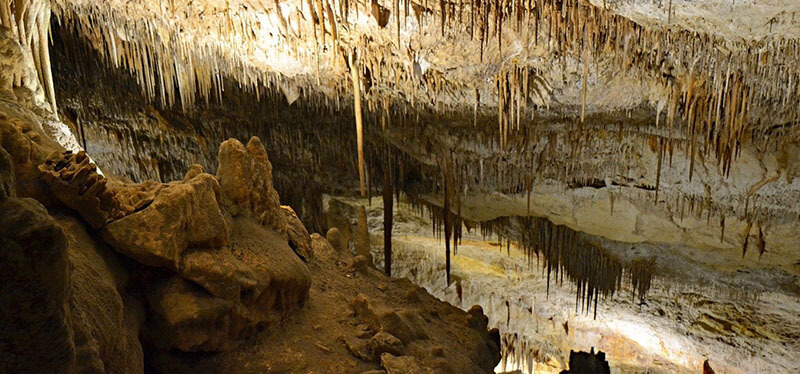 3. Explore Alcudia Old Town
Located in one of the most popular tourist towns on the island, Alcudia, the old town is a village built within the confines of a 14th century medieval wall.
The site of the town lies next to an old Roman settlement and there are plenty of sites brimming with history leftover from that era, including a theatre, the Church Of St. Jaume, and the remnants of the town itself.
A perfect location to experience some unique history that differs from most of what you'll find on the island.
4. Visit Palma Aquarium
While many people avoid larger aquariums these days, due to the stigma around captive animals, Palma Aquarium is highly regarded for its environmentally conscious approach and the conservation projects it is a part of.
Home to over 700 species of sea-life from around the world, it is broken up into 6 regional sections, to let you get a real feel for what the oceans are like in different places around the world.
It also features the deepest shark tank in Europe and offers activities such as swimming with the sharks and stingrays. Surely a can't miss some once in a lifetime opportunities like these.
5. Expore Castell De Bellver
A stunning 14th century castle located in the capital city of Palma. Having previously served as both a royal residence and a military prison throughout its existence, it is one of the most popular tourist attractions on the entire island.
Now featuring the main history museum on the island, this is the perfect place to come and learn about Mallorca, while taking in some incredible sights of architecture from a long-forgotten era.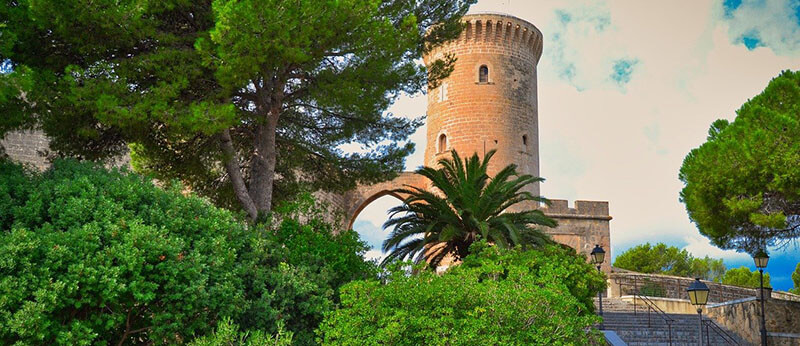 6. Swimming at Platja Des Trenc
If you're looking for your traditional style beach on the island of Mallorca, where you can walk, swim and lay in the sand, without being surrounded by buildings and tourist attractions, then this is the place for you.
Located on the south of the island, near the town of Compos, the Platja Des Trenc beach lies in an underdeveloped part of the area. A beautiful, long white sand beach stretches out into the distance, met at the shore by crystal clear turquoise waters. There's even a car park to make sure you can stay relaxed from start to finish.
7. Experience Nature in Cap De Formentor
Located at the northernmost point of the island, its rugged yet beautiful scenery makes it a popular location for those looking to experience the more natural side of Mallorca.
Featuring stunning views out across the ocean, ancient roads carved into the hillside and the Formentor Lighthouse, which is among the most popular attractions on the island.
Watching the sunset over this magical spot is surely a sight that you'll never forget, but make sure you get there early to get a good spot as it does get quite busy.

8. Party in Playa De Magaluf
If you are looking for a bustling tourist beach on Mallorca then there's no better place than Playa De Magaluf, the infamous destination for those looking for an island party vacation.
Surrounded by resorts, bars, restaurants, and all manner of activities to keep you occupied day and night, this is the perfect spot to come to let loose for a while and just have fun underneath the blazing sunshine.
9. Visit Parc Natural De Mondrago
A more remote part of the island located on the southern coast, this is a perfect spot for those looking to get out and experience the natural beauty Mallorca has to offer.
Featuring dramatic cliff faces, pure white beaches and clear turquoise waters, whether you're looking for a hike amongst the nature or a simple lay in the sand, you won't be disappointed.
It's also home to a number of species of bird so if you're lucky you may see something rare and exotic that you weren't expecting on your trip too.
10. Explore Serra De Tramuntana
A stunning mountain range that runs along the spine of the island, it features the two highest points in not only Mallorca but the Balearic Islands as a whole.
The entire 76,000-acre range operates as a nature reserve and is listed as a world heritage site. Home to numerous species of animals, birds, and plants, this incredible location is the perfect place to go for a drive and experience the scenic views of the island and its coastline.
For the more active among us, there are also plenty of hiking and climbing opportunities to get your blood pumping while you enjoy the beauty around you.
11. Sa Dragonera National Park
This destination isn't technically on Mallorca, as it is a small, uninhabited island located just off the west coast. While that means a boat trip to get there is required, that only adds to the experience.
There is some debate as to whether it takes its name from its shape, as it is said to look like a dragon, or due to the number of species of lizard that reside there.
Outside of reptiles, the island is also home to a variety of different types of bats, seabirds, and aquatic life. Its lack of human inhabitants makes it a perfect place to watch nature in an interfered with the setting.
12. Visit Inca Market
One of the largest markets on the island and one that is held weekly, so you can be assured of getting the opportunity to visit it, no matter when you choose to travel.
The stalls feature a variety of wares, both traditional and tourist centred, including clothes, flowers, food, soap, and a variety of items made from the areas famous leather.
Whether you're looking for gifts to take home, something for yourself or simply just to browse what's on offer, this is a great place to experience the spirit of Mallorca.
13. Go See Valldemossa
A beautiful village on the north-western coast of the island. One of the few places to demonstrate purely traditional Spanish culture, uninterrupted by other outside influences throughout the years, it holds many incredible festivals throughout the summer months that are an experience like no other.
Its most famous attraction in the village is an early 15th century charterhouse. This stunning building, located over 1300 feet above sea level, was once home to Spanish royalty and its fabulous architecture is an incredible sight, backdropped by the towering mountain range beyond.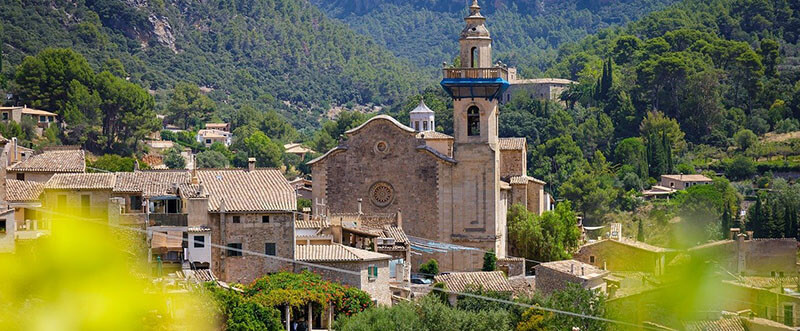 14. Marineland Majorca
If you want to see marine life up close and personal, then you may never get a better chance than this. Marineland is home to all manner of animals, including penguins, seals, dolphins, sealions, parrots, stingrays, and flamingos.
Visit them in artificial recreations of their natural habitats or with the sea lions, parrots and dolphins go and watch them in their shows and witness the incredible feats they are capable of.
When you're done with the animals there's also a children's pool and a restaurant to unwind and let you discuss the incredible things you've seen.
15. Passeig Des Born
If you want to treat yourself to a more sophisticated and elegant night out while in Mallorca, I would highly suggest an evening in Passeig Des Born.
Located in the capital of Palma, this gorgeous avenue is lined with trees covered in beautiful lights that line surrounds the incredible bars, restaurants, and street performers that call this part of Mallorca home.
Whether you want to set up in one location and watch the evening unfold around you or stroll around from place to place, this is certain to be a pleasant experience.
16. A trip to Marina De Cala D'or
When you think of an island, boats are just something you expect as part of the package, as the imagery of the two go hand in hand. That's why a trip to Marina De Cala D'or is such a worthwhile experience.
Take a stroll around one of the top Marinas on the island before sitting at one of the many bars and restaurants where you can enjoy a meal or a drink as you watch the stunning vessels bob up and down in the water beside you. It truly is one of the most relaxing experiences out there.
17. Take a Boat And Train Tours
No matter how hard you try there are some areas of the island that simply aren't accessible by car. That's what makes a trip like this perfect.
Firstly, you get to sail around the coast on a tour boat, viewing the beautiful island in its entirety. Then, when you arrive back on shore, you have the opportunity to ride an old-fashioned wood panel train through the Soller Valley.
As much as some people prefer to avoid organized trips, this is one where you simply can't see some of its sights by yourself.
18. Nekropole Von Son Real
While a necropolis is an attraction usually more associated with Greece than Spain, that makes this stop all the more worthwhile, as it adds a little variety to your sightseeing.
Located on the north-west coast, near the town of Alcudia, this is a perfect day trip to get out into a less built-up area and explore some historic ruins.
Watch the horizon over the ocean behind them and try to imagine what they looked like when they were inhabited centuries ago, in all their glory.
19. Sanctuary Of Sant Salvador
This stunning old monastery sits atop a hill over 500 feet above sea level, outside the town of Felantix in the south-east of the island.
Featuring chapels, carvings, a large stone cross, and a statue of Christ himself, this was for many years the most important religious location on the island.
Beyond the beauty of the monastery itself is the equally stunning views from it. Its position so high up makes it the perfect location to look out over the rest of the island and take in what a truly fabulous place it is.
20. Take a Catamaran Cruise
Sometimes the best way to view an island is to get off it for a while. A perfect way to do just that is to take one of the many Catamaran cruises available around the island.
Step on board one of the twin-hulled boats and cruise gently out into the ocean to view the island from a distance in all its glory.
Take the opportunity for a little you time and work on your tan as you enjoy the sea breeze and the onboard lunch provided.
Conclusion
It takes little more than 2 hours to fly to Mallorca from any part of the UK and Germany, hence its popularity with tourists from those countries. Mallorca cannot guarantee fine weather in the winter, but it should usually be mild. Certainly, you will escape cold weather in the winter months, but they are very much the low season.
Air temperatures and sea temperature begin to grow in the spring and even in late autumn, the sea temperatures still make swimming a great daytime option. Mallorca has accommodation to suit all, ranging from cheap rooms and apartments to impressive villas and 5-star hotels.
Some resorts lack the true feel of Spain, catering almost exclusively for overseas visitors. However, Mallorca's history and culture does shine through sufficiently in Palma and the interior so that your holiday can be more than just sea and sand.
---
---