The best areas to stay in Mallorca for the first time are resort towns of Palma, Magaluf, Palma Nova, Portals Nous, Ca'n Pastilla, S'Arenal, Can Picafort, Port d'Alcúdia, Port de Pollenca, and Port de Sóller. In this blog post, I will help to decide where to stay in Mallorca without a car, for best beaches, for couples, families.
Mallorca, also known as Majorca, is the largest of Spain's Balearic Islands, located in the Western Mediterranean just off the Spanish Mainland. Its appeal involves the lovely sandy beaches and warm seas once winter has receded.
Majorca does have a rich history which includes the Romans, the Moors, and Christianity. Those travelers interested in history and culture will find plenty to interest them with the Capital, Palma, worth a stay, especially for first-timers.
The tourist infrastructure is well-developed in the popular resorts. Many have a busy night-time scene with plenty of bars and restaurants catering to visitors. Water sports and lovely beaches keep travelers busy by day.
The capital, Palma de Mallorca, is the best place to stay in Mallorca without a car because it's the public transportation hub of the island. The wooden tourist train from Palma to Soller is popular while a comprehensive island bus service does provide the chance to explore wherever you decide to stay. You can rent a car if you wish to explore, use the local bus service or take an organized tour from most of the major resorts.
To help you have better ideas of Mallorca's resorts, I divided the island into 4 regions: North Coast, South Coast, East Coast, and West Coast. Before go into the detail of the best resort areas and towns to stay in Mallorca, I recommend some of the best places to stay in Palma de Mallorca:
18 Best Areas to stay in Mallorca for tourists
The South Coast of Mallorca:
We will start the list with the most-visited region on the island, the South Coast of Mallorca. It is home to the most famous beach on the island including Palma de Mallorca, Playa de Palma, Arenal, Magaluf, Palma Nova, Colonia Sant Jordi, Santa Ponsa, and Puerto Portals.
The southwest region is home to the capital. It has developed into one of the most exclusive areas of Mallorca with luxurious marinas, gourmet restaurants, designer boutiques, and the best golf courses. Meanwhile the southeast region may be the least well-known part of Mallorca but has some of the very best beaches on the Island like Sa Colonia de Sant Jordi and Es Trenc.
1. Palma de Mallorca, capital, where to stay in Mallorca for first time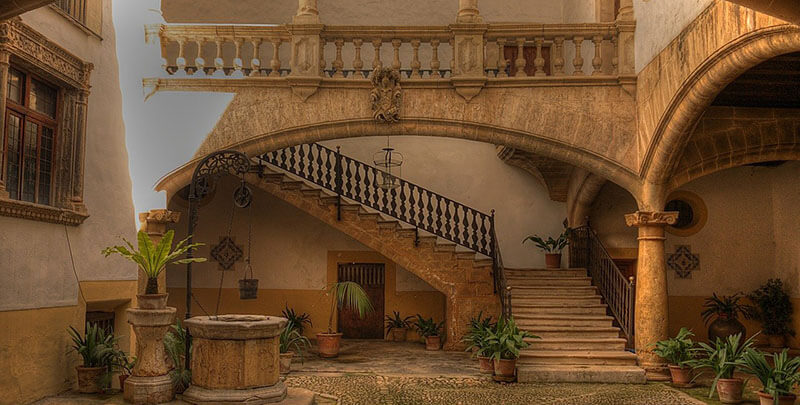 This Capital City, Palma de Mallorca, or just Palma, is located in the southwest of Mallorca and its rich history make it an essential place to experience while on the Island. The Paseo Marítimo, the Old City, Casco Histórico, and Santa Catalina are some of the best areas to stay in Palma.
Palma's Old Town is surrounded by narrow cobbled streets, charming archways, medieval churches, grand historic Palacios, and lovely squares. Stroll around the old city, learn more about the history, and stop at Mimbreria Vidal to try some traditional Mallorcan baskets.
While modern development has taken place, it is its backstreets, the Moorish and medieval Christian architecture, and the sandstone Gothic cathedral, La Seu, that attracts many travelers. Visit the 14th-century Royal Palace of La Almudaina, just opposite Palma's impressive Cathedral La Seu.
Another place to see is the 14th-century fortress, Castell de Bellver, or Bellver Castle. It's a Gothic-style castle on a pine forested hill west of Palma. There is also the 10th-century ancient Arab Baths, known as Medina Mayurqa by locals, located in a beautiful secluded garden.
In the Old Town, you can also find the lively Plaza Mayor with many cafes, and restaurants around, as well as the Weyler Square which is home to Gran Hotel. There are also the Basilica of Saint Francis of Assisi, Museum of the Juan March Foundation, Es Baluard Contemporary Art Museum, and the Lonja de Mallorca.
To the west of Old Town is the Santa Catalina neighbourhood. This area has a vibrant nightlife scene with numerous wine bars, cocktail bar, and tapas. It's also famous for its historic food market place, Mercat de Santa Catalina, where you can try cerveza (beer), tapas, and Balearic specialities.
If you head to the waterfront, you will reach the promenade, Paseo Marítimo which is popular with both tourists and locals. It is lined with palm trees, and separate pedestrianized walkway, and a cycle lane. It is an ideal place for walking, cycling, eating, and enjoy nightlife.
You can walk or cycle through the seafront to the little port Portixol, in an old fishermen's neighbourhood. You will find the trendy Portixol Hotel, a pretty harbor, some great eateries, and a lovely little beach for sunbathing and swimming.
Palma sits in the heart of an extensive bay with a promenade stretching for miles and C' An Pere Antoni (Palma City Beach) for those wanting a sandy beach. It's a well-organised beach with sun loungers, umbrellas, toilets, showers and a lifeguard tower.
If you want to see an iconic and beautiful viewpoint of Mallorca, head to Cap de Formentor viewpoint. Meanwhile, Mercat de l'Olivar market is a lively market with fresh local produce, you can enjoy a gourmet dish at one of the onsite restaurants and bars.
Tourism has seen an increasing number of hotels, top-quality restaurants, and lively bars become more common. Modern shopping facilities mix with fashionable boutiques but also traditional artisan products. Along its main avenues, Paseo del Borne and Avenida de Jaime II, you can find some luxury design branches.
Being located near Son Sant Joan Airport, international airport, also makes it incredibly convenient, especially for those who are looking for the best place to stay in Mallorca without a car. It is only a short ride by bus and taxi to the city and port. There are also good bus connections to other resort towns.
Accommodation fits every budget and that includes 5-star hotels. There are apartments and backpacker accommodation as well, so no one needs to worry about making Palma their base.
Stay in Palma if you're first time travelers; you are interested in Mallorca's history and culture; you want shopping and city life; you are looking for where to stay in Mallorca without a car.
Best Places to Stay in Palma de Mallorca:
Luxury ($$$): Sant Francesc Hotel Singular This 5-star hotel is located in the heart of old town of Palma de Mallorca, in a 19th-century manor house, easy walk from Palma Cathedral and Palma Port. You can enjoy food and drink at Restaurant Quadrat, a lobby bar and patio, as well as the Singular Rooftop Terrace and admire the views of Plaza Sant Francesc.
Mid-range ($$): Protur Naisa Palma Hotel This 4-star hotel has 24-hour front desk, a private car parking, and air-conditioned rooms. Located close to Playa Ca'n Pere Antoni, Palma Yacht Club and Pacha Mallorca Nightclub, it also offers a paid airport shuttle service to Palma de Mallorca airport.
Budget ($): Hostal Bonany This guest house is located within easy walk from Ocean Boulevard and Palma Marina, a short drive by car from central Palma and Palma Airport. It provides comfortable guest rooms with a TV, work desk, fan, free WiFi and private bathroom.
🔍FIND BEST HOTELS IN PALMA
See Also: The 20 Best Things To Do In Mallorca
2. Playa de Palma, Ca'n Pastilla and S'Arenal
Located in the Bay of Palma, to the east of Palma city center, Playa de Palma, along with S'Arenal and Ca'n Pastilla are beautiful long beach resort. These areas are very well connected with Palma and Son Sant Joan Airport by bus.
Further to S'Arenal resort, you can check out Aqualand El Arenal water park which is the largest water park in Europe.
You can easily find bars, cafes, souvenir shops, clubs along the coast. For shopping, you can shop at FAN Mallorca Shopping, and plenty of shops in El Molinar, Coll D'en Rabassa, Can Pastilla, and Las Meravelles.
In summer, El Arenal and parts of Playa de Palma are very popular with German and Dutch holidaymakers. It is an ideal place for the younger crowd with lots of loud music, clubs, and bars.
Best places to stay in Playa de Palma:
luxury ($$$): Iberostar Selection Playa de Palma This 5-star hotel is located in the beach front of Playa de Palma, 5 minutes' drive from Palma Airport. There is swimming pool, sun loungers, Sensations Spa, Bar Mar Blau, and well-equipped rooms. It has both buffet and á la carte breakfast.
mid-range ($$): Hotel Caballero This 4-star hotel is set a short walk from the long, sandy beach in Playa de Palma. It has family rooms, spa and wellness center, a private car parking. You can enjoy Mediterranean cuisine with family at its on-site Cabelleros restaurant.
budget ($): Helios Mallorca Hotel & Apartments Located in Can Pastilla, next to Palma Aquarium, this hotel has outdoor pool, sun terrace, private car parking, free wifi, and air-conditioned rooms. The bus stop nearby with take you directly to to Palma City Centre and Palma de Mallorca Airport.
3. Magaluf, where to stay in Mallorca for nighlife

Magaluf is both the Island's biggest and most famous beach resort on the southwest of Mallorca. If you are looking for a party, big or small, you will find it in Magaluf whether in the clubs, on the beach or on a boat. Not surprisingly, Magaluf is the favorite place for singles.
Platja de Magaluf is a 900m long beach with clear water, fine-grained sand with beach facilities like lifeguards, sun lounges, sunshades, and a shower. It becomes a popular place for young people in summer.
Cafes and clubs line the beach while theme and waterparks mean that families are attracted here as well. Aqualand and Western Water Park is the biggest water park in Mallorca for families and children. Water sports are readily available and fierce competition ensures that you will always get good value for money in Magaluf.
Magaluf is party capital of the island with many bars, clubs, and discos, the famous BCM Planet Dance is the biggest nightclub in this area. the Pirates Show with acrobatics and dancing is the biggest show in Mallorca.
Attractions nearby are Karting Magaluf, Katmandu Park, Cala Palmanova Beach; you can also take a day trip to Portals Nous, Santa Ponsa, and Palma Nova.
Accommodation is plenty with some hotels having their own beach clubs. Besides Nikki Beach, you can check out other beach clubs are Zhero Boathouse Beach Club and exclusive Folies Beach Club attractive many 18-21-year-olds so for beach and sangria.
Stay in Magaluf if you are a party animal, looking for the best area for nightlife; you are interested in plenty of activity day and night; you are a single traveler; you want the experience provided by the beach club.
Best Places to Stay in Magaluf:
🔍FIND BEST HOTELS IN MAGALUF
4. Santa Ponsa, nice beach resort for family and couple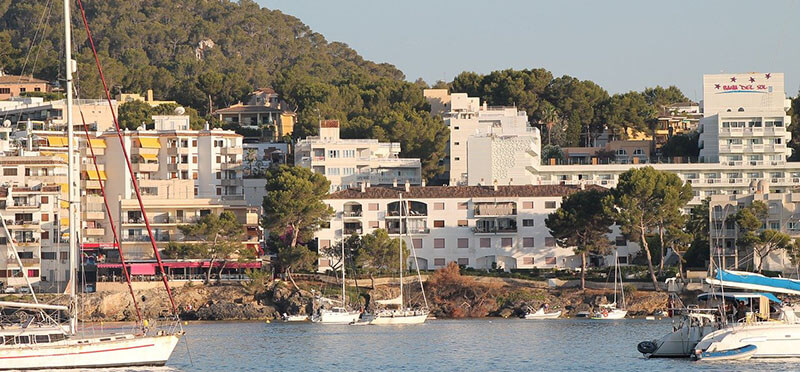 Located on the south-west coast of Mallorca, 20 km from the capital and its airport, Santa Ponsa deserves its reputation as a family-friendly resort. There is accommodation specifically designed for families but also adult-only establishments. While it is not as built up as places like Magaluf, that is an advantage because there is more space on the sandy Blue Flag beach.
Santa Ponsa Beach is more than 500 meters long, relatively deep, with beach facilities like sunbeds, parasols, public toilets, and plenty of watersports. There's a good choice of bars, cafes, and souvenir shops on the sea promenade. You can also visit the small beach within the Caló d'en Pallisser cove.
You also have attractions like Golf Santa Ponsa on the outskirts of town, Santa Ponsa Tennis Club, Jungle Parc theme park. Kids will enjoy the adventure playground while the nightlife is also impressive.
There is a large ex-pat community, especially the British, and the international cuisine available in Santa Ponsa is partly a consequence of that.
Stay in Santa Ponsa if you travel as families; you're couple; your preference is alternatively adult-only accommodation.
Best Places to Stay in Santa Ponsa:
🔍FIND BEST HOTELS IN SANTA PONSA
See more:
5. Cala Major, convenient location to Palma de Mallorca and airport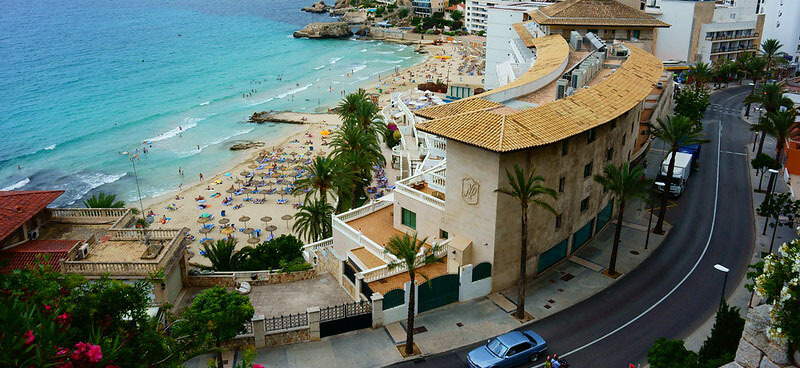 Located only a 10-minute drive from the Son Sant Joan International airport, Cala Major (Cala Mayor) is on the hugely developed coastal stretch between Palma and Magaluf. It is the closest of the main resorts to Palma, once regarded as a residential suburb of the Capital.
To get from the airport to the Cala Major by public transport, you can take the Number 1 bus to Plaza Espana in Palma, from Palma, take L106 and L107 ( yellow and red) buses that run regularly into the resort.
You will find a lovely beach with plenty of shade from the palm trees, a place that is certainly a child-friendly area. You will also find plenty of accommodation.
For a shopping experience, visit Porto Pi, which is within walking distance from Cala Mayor. It's also home to the Marivent Palace where the Spanish Royal family spend their holiday. The Joan Miró Museum is the largest tourist attraction, which shows works of the well-known Spanish painter who lived in Cala Mayor for the last 20 years of his life, Joan Miró.
Its proximity to Palma and the Island's airport are just two reasons for its popularity. The beach is not huge so you must expect crowds during the high season, especially at weekends when the locals join them.
Stay in Cala Major if you are not too concerned about crowds; you wish to be close to the airport; you are interested in a visit to Palma.
Best Places to Stay in Cala Major:
🔍FIND BEST HOTELS IN CALA MAJOR
6. Palma Nova, family friendly resort, popular with British

Located 15km from Palma de Mallorca, in the municipality of Calvià, Palma Nova (not to be confused with the capital city of Palma) is among the earliest of Mallorca's resorts catering to incoming tourists. It is a popular package holiday destination and is now home to many ex-pats, often British.
It lacks sophistication but its safe, shallow, sandy, life-guarded, beach makes it attractive to both families and water sport enthusiasts. Son Maties, Na Nadala and Es Carregador are the good sandy beaches in area.
By day, there is plenty to entertain the kids from the beach itself including theme and water parks to crazy golf courses from the neighboring Cala Vinyes and Santa Ponsa. The Tramuntana mountain range is a great place to hike. After sunset, there is a good nightlife infrastructure as well just down the road in Magaluf.
Accommodation are for family, couples, all kind of budget travelers, and typical resort hotels used by the major holiday companies.
Best Places to Stay in Mallorca in Palma Nova:
🔍FIND BEST HOTELS IN PALMA NOVA
7. Camp de Mar, seafront town in Mallorca's southwest coast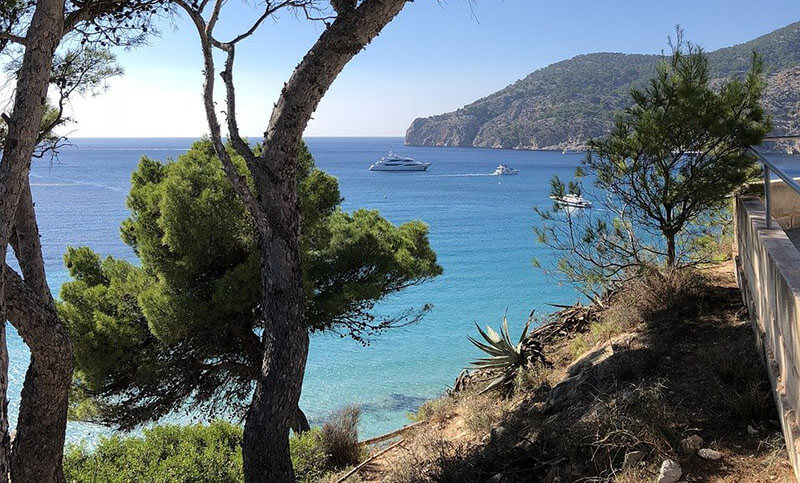 Located in the southwest of Mallorca, Camp de Mar is a seafront town, just a few minutes drive by car from Andratx. It is one of Mallorca's upmarket resorts, attracting many celebrities. It is an excellent base for those wanting a golfing break, but it is also a pretty family-friendly resort.
Thelocal beach at Camp de Mar is 180 metres long, clean and calm. It's a organised beach with hammocks, parasols, lifeguard, and water activities.
There is limited entertainment but that is something that appeals to those choosing this resort; it is quiet yet has a lovely sandy beach. Cyclists and walkers are attracted to Camp de Mar as well as people just wanting to relax.
Attractions nearby are the Serra de Tramuntana Mountain range, a 16th-century watchtower, Sant Elm, Sa Dragonera Natural Park, and Golf de Andratx. You also have many souvenir shops, a Wednesday traditional market, the summer market, and the extensive shopping Port d'Andratx.
The large hotels in Camp de Mar line the beach while there are also places that specialize in family bookings, a golf resort, and apartments for rent.
Stay in Camp de Mar if you are a keen golfer, you want somewhere suitable for families, you prefer somewhere where walking and cycling is an option, good nightlife is not a priority.
Best Places to Stay in Malorca in Camp de Mar:
🔍FIND BEST HOTELS IN CAMP DE MAR
8. Sant Elm, charming coastal village on south-west coast of Majorca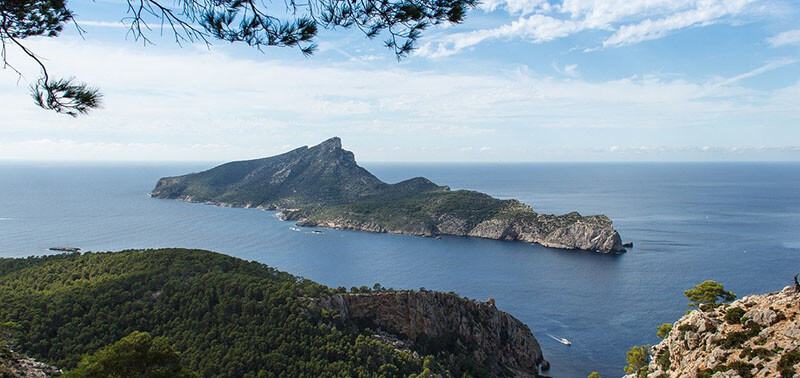 Located in the northwest corner of Mallorca, the charming coastal village Sant Elm (San Telmo in Spanish), is perhaps less well-known than some other tourist resorts. It is an ideal place for those wanting to avoid crowds with just a small number of hotels and restaurants.
The natural landscape is beautiful and there are few better places on the Island to see a sunset. It's home to Serra de Tramuntana, a good place for hiking and cycling.
It is still a fishing village so you will get the freshest of quality seafood in the restaurants. One of the popular activities for those staying in Sant Elm is to take the boat that runs over to Sa Dragonera Natural Park directly opposite the village.
Along the coastline, you will find two ancient watchtowers the 1279 Sant Elm tower and the 1585 Cala Basset tower to protect the town from pirate attacks.
Another tourist sight in Sant Elm is the pebbled beaches like Cala es Conills and Cala en Basset and the fine-sanded beaches, Sa Petita beach, Sa gran beach which is ideal to sunbathe and to swim.
You can also visit a small and charming town nearby s'Arracó, and enjoy beautiful traditional Mallorcan houses on its main street, Calle França or France Street.
Stay in Sant Elm if you like to be somewhere that retains a local flavor, you intend to spend time away from the beach, you are looking to avoid crowds, you do not need a huge range of accommodation.
Best Places to stay in Mallorca in Sant Elm:
🔍FIND BEST HOTELS IN SANT ELM
9. Puerto De Portals, upscale town in south coast Mallorca
Located on the southeast coast of the island, 10 minutes drive by car from the capital, Puerto De Portals is one of the most high-end, upper-class areas in not just Mallorca but the entire Mediterranean. The town is centered around a stunning marina.
The port has exclusive hotels, luxury shops, Michelin-starred restaurants, two beaches, a cove, and a series of docks with up to 670 mooring points. Playa Punta Portals beach with turquoise-colored water is a small pleasant beach near the marina. The sandy beach Oratori Beach, known as Platja de l'Oratori in Mallorcan is located in a bay framed by rocky cliffs.
This is a famous spot for celebrities, famous movie stars, and billionaire businessmen like Leonardo di Caprio, Antonio Banderas, Michael Douglas, Claudia Schiffer.
The rich and famous regularly flock here to enjoy the luxuries available. Gourmet restaurants offer some of the finest cuisines, which you can enjoy while watching luxury yachts bob up and down in the water. Meanwhile, designer stores sell everything you need to fit right in.
You may even get lucky enough to attend a yacht party or catch a ride on one of the beautiful vessels out into the ocean.
Stay In Puerto De Portals If you are traveling to the area by yacht, you want to stay in one of the most upper-class parts of the island; you want to sample some of the island's finest cuisine and wares.
Best places to stay in Puerto De Portals:
🔍FIND BEST HOTELS IN PUERTO DE PORTALS
10. Colonia Sant Jordi, traditional fishing village in south east Mallorca
Located on the southeastern coast of Mallorca, Colonia Sant Jordi is centered around a traditional fishing village. It's one of the best places in Mallorca to sample some traditional, Mediterranean seafood. For those who want to take things even further, there's also a local market, where you can purchase some of the fish to cook yourself.
In the surrounding areas, the natural beauty of the area perfectly compliments the town. Stunning beaches, historical sites, a national park, and a marine reserve give you options whether you want to kick back and relax or find out more about the history and nature of Mallorca.
One of the must see in this area is the salt lakes of Ses Salines d'es Trenc and Balneario de Sant Joan Font Santa which is only natural hot springs on Mallorca. You can also take a boat tours to the National Maritime Park of Cabrera, or the archipelago of Cabrera.
Despite being a small town, it still attracts a good number of tourists, helping create a vibrant, lively atmosphere. You can buy the famous Flor de Sal to bring home as a gift.
Stay In Colonia Sant Jordi If you want to stay in a traditional village, you are a fan of fresh seafood, you like beautiful beaches, as well as historical and natural locations.
Best places to stay in Colonia Sant Jordi:
🔍FIND BEST HOTELS IN COLONIA SANT JORDI
The East Coast of Mallorca:
On the east coast, you will find most of the island's family-friendly resorts. The popular holiday resorts of Cala Millor/Cala Bona, Cala Ratjada, and Cala d'Or have a lot of action with all-inclusive hotels, lots of shops, a wide selection of restaurants, large beaches, and an active nightlife for young people.
The beaches are beautiful with turquoise waters and are surrounded by pine trees. The area primarily attracts English holidaymakers but there have been a few more Swedish and German visitors choosing the area in recent years.
11. Cala D'Or, Golden Bay in the east coast of Majorca

The resort of Cala D'Or, or Golden Bay, has been developed as an upmarket resort from what was previously a fishing village. Located in the west, it is not over-developed and retains an element of Spanish feel. High-rise buildings do not feature, with lovely Ibizan style, white-washed buildings found among the pine trees.
This is a favorite spot for snorkelers as well as boat trips. The beaches are small so even without plenty of tourists, there will be limited space. The central Cala Gran beach and the northern Cala Ferrera beach are the two biggest beaches, Cala Esmeralda beach is medium-sized, Cala Serena beach and Cala d'Or beach are small.
Other attractions including the Parc Natural de Mondragó nature reserve, the Es Fortí fortress, the Serra de Levante, San Salvador monastery, and the 13th century ancient fortification Castell de Santueri.
Cala d'Or also provides a good selection of bars, restaurants, nightlife, and good shopping options, and a variety of trendy boutiques. Couples and families with older children will enjoy Cala D'Or, especially those wanting more than just a beach holiday. Renting a villa with an outdoor swimming pool is popular with tourists though there are other accommodation alternatives.
Stay in Cala D'Or if you want to avoid package holiday crowds, you are looking for a range of accommodation alternatives, your family includes older children, you are interested in sea-based activities.
Best places to stay in Majorca in Cala D'Or:
🔍FIND BEST HOTELS IN CALA D'OR
12. Cala Millor/Cala Bona, popular beach resort on the east Mallorca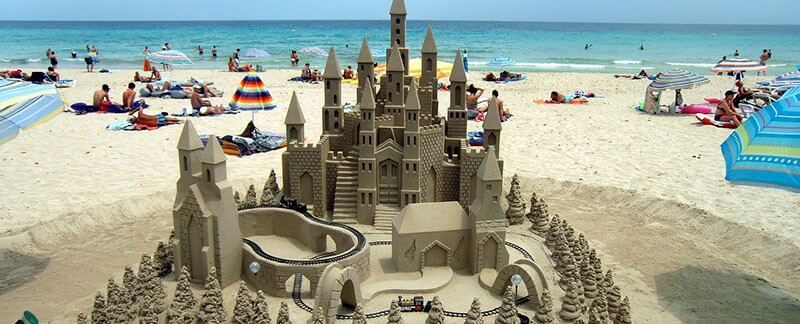 Cala Millor is in the east of Mallorca, a busy place that attracts more tourists than any other resort in the east. Ex-pats enjoy its well-developed infrastructure which appeals to families especially.
Few places on Mallorca have more impressive sands, a 4 mile stretch of white contrasting with the beautiful clear blue waters. Water sports are plentiful, and accommodation abounds.
If you want a quieter district and less nightlife, just head for the adjoining Cala Bona with its fishing harbor, promenade, and fine restaurants.
In this area, you can explore Safari Zoo, Cala Mesquida, Cala Morlanda, Cala Millor Park, Castel d'Amer, a nature reserve Punta de n'Amer, the hidden cave and cove at Cuevas Drach (Dragon Caves), and 'Coves des Hams' near Porto Cristo.
You can also take wine tours to sample the local produce and enjoy the landscape nearby at the town of Felanitx or Son Servera.
Self-catering apartments are popular while if you want 5-star quality or adult-only accommodation, you will find that as well.
Best Hotels in Mallorca in Cala Millor/Cala Bona:
🔍FIND BEST HOTELS IN CALA MILLOR
13. Cala Ratjada, with quiet beaches in East Mallorca
Located on the northern side of the island, Cala Ratjada is one of the most important fishing ports in Mallorca. Fisherman regularly bring in boat loads of their most recent catch, allowing the nearby restaurants to serve out of this world seafood.
There's even a ferry from the port to the neighbouring island of Menorca, allowing you to explore that too. Elsewhere along the coast, beautiful, remote beaches allow you to relax on soft sands, away from the mobs of people usually found on tourist beaches.
Meanwhile, the town itself boasts a quiet, traditional vibe. Charming buildings contain guest houses, restaurants, and a small promenade of local and tourist shops, giving you everything you need to lose yourself in the tranquillity of the area.
Stay In Cala Ratjada If you are singles, and older couples; you want quiet beaches and fine seafood.
Best places to stay in Cala Ratjada:
🔍FIND BEST HOTELS IN CALA RATJADA
The North Coast of Mallorca:
The north of Mallorca is from the approach to Cape Formentor to Alcudia bay, famous for its long stretches of sandy beaches, a rich and varied landscape. It's popular with couples and families who want shallow waters and quiet beaches and peaceful getaways.
Puerto Pollensa, Playa del Muro, Can Picafort, Port d'Alcudia are some of the highlights in the north region.
14. Puerto Pollensa, beautiful sandy beaches and a laid-back vibe
Puerto Pollensa is a laid-back town, centred around two beautiful beaches. One features calm, shallow waters, ideal for families with small children or weaker swimmers. The other is abundant with activities and water sports, perfect for those who prefer a faster pace to their trip.
Further down the coast, there is a beautiful marina, filled with small boats and surrounded by bars and restaurants. This makes for a great place to relax with a drink or meal, watching the boats bob around.
Puerto Pollensa is home to Pollensa Beach and Albercutx Beach. They both family friendly beach with golden sand, watersports activities, and sunloungers. Nearby the beaches is Pine Walk, where you can find seafood restaurants with romantic sunset views.
In this area, you can check out attractions like Platja d'Albercutx beach, Mirador des Colomer, the Serra del Cavall Bernat, Boquer Valley, and L'Arenalet.
Meanwhile, the picturesque town is filled with traditional buildings. It is where you can find Plaza Miguel Capllonch, the town's main square. Quaint shops, bars, restaurants, and hotels cater to all your needs, and offer a much slower pace than the larger towns, allowing you to immerse yourself in the feel of the locals.
Stay In Puerto Pollensa If you prefer a small, quiet, traditional town, you want a choice of styles of beach, you like small, picturesque marinas.
Best places to stay in Puerto Pollensa:
🔍FIND BEST HOTELS IN POLLENSA
15. Puerto De Alcudia, best place to stay in Mallorca for family
Located on the north coast of Mallorca, Puerto De Alcudia, or Port d'Alcudia, is perhaps the most popular and family friendly beach resort on the entire island. Numerous beaches are filled with amenities and attractions, as well as surrounded by facilities like bars. It's full of people from mid-April to the end of September..
There are plenty of beaches in surrounding area including Muro Beach (Playa de Muro), Aucanada Beach, Alcudia Beach, Ca'n Picafort Beach, and Cala Ponset. This is ideal whether you want a relaxing day, lazing in the sand, or enjoy water sport activities such as kite surf, diving, kayaking, sailing, and paddle surfing. There are plenty of playgrounds for kids around the beaches.
Another must-see tourist attractions neaby is the Hidropark. It's a large water park that has a mini golf, trampolines, and restaurants. You can also consider take boat trips to see dolphin or sunset excursions. There are also ferries that leaves for Menorca in here too.
If you love golf, have a look at the 18-hole golf course, Alcanada Golf Course that is designed by Robert Trent Jones. Or visit S'Albufera Natural Park, natual beauty of the island.
Attractions for you to explore including the Medieval Wall of Alcúdia, Alcudia at Ruines Romanes de Pollentia, Museum Sa Bassa Blanca, Talaia de la Victòria, Cala Pi de la Posada, and Mirador Penya del Migdia. Don't worry if you want to add a little culture to your trip too though, as attractions like Roman ruins and a medieval town are just a short way away.
There are also countless resorts in the area, ranging from budget friendly options to 5-star accommodation, providing choices, no matter what you can afford. Meanwhile, the range of bars provides some of the most vibrant nightlife on offer anywhere in Mallorca.
Stay In Puerto De Alcudia If you travel as family; you want to stay at one of the island's busiest beach resorts, you want a great choice of accommodation, you want a range of beaches, as well as some more cultured attractions.
Best places to stay in Puerto De Alcudia:
🔍FIND BEST HOTELS IN ALCUDIA
16. Can Picafort, where to stay in Mallorca on budget
Located on the east coast of Majorca, on the Bay of Alcudia, Can Picafort is another incredible beach resort, although this one features a slightly slower pace to some of the island's similar areas.
One of the largest beaches in Mallorca stretches out for kilometres, ensuring you can always find a quiet spot, even when it's busy. Sun loungers and umbrellas are abundant for those who don't like to lay on the sand, although its more than soft enough to satisfy those who do.
Around the beach, you will find plenty of bars and restaurants, serving traditional Spanish cuisine and drinks. This provides plenty of options to enjoy yourself, whatever time of day or night. There are also ample shops to purchase everything you need in the way of both souvenirs and supplies.
You have attractions nearby such as Platja de Muro, Necròpolis de Son Real, and Parc Natural de s'Albufera de Mallorca.
Stay In Can Picafort If you travel on budget; you want a large beach with a relaxing atmosphere; you want bars and restaurants with sea views, serving traditional Spanish cuisine.
Best places to stay in Can Picafort:
🔍FIND BEST HOTELS IN CAN PICAFORT
17. Playa De Muro, one of the best beaches in the north coast
Playa De Muro is the largest beach on the entire island, located on its northern coast. Split into four sections, it features sand dunes, water sports, amenities and facilities. This means you will be able to find a spot to match your needs, no matter what it is you are looking for.
It is particularly popular with families travelling with small children. The spaciousness means you will have plenty of room to let them run around and burn off some energy, while the plentiful amenities mean you won't be left wanting for anything.
At the same time, the shallow waters are ideal for helping them learn how to swim.
Stay In Playa De Muro If you want to visit the largest beach on Mallorca, with multiple different sections, you are traveling as a family with small children, or you are a weak swimmer.
Best places to stay in Playa De Muro:
🔍FIND BEST HOTELS IN PLAYA DE MURO
The West Coast of Mallorca:
The West Coast is dominated by the UNESCO World Heritage, Serra de Tramuntana mountain range. The inland area of the west is a popular spot for outdoor activities like cycling and hiking.
Valldemossa, Deià, Sóller, Port de Sóller, Banyalbufar, and Fornalutx are the most recognized towns in the area.
18. Port de Soller, picturesque village in west coast of Mallorca
If you want more than a beach resort, why not pick Port de Soller which is a traditional Mallorcan town, in the foothills of the Serra Tramuntana mountains and its lush landscape contrasts with coastal areas.
A tram links the hill town with Port de Soller although you can walk down in 45 minutes if you wish; few bother to walk back up. It is linked to Palma by an old train with the station also an art gallery that is worth a visit.
There is plenty of life on the coastal strip, but it is a relaxing place where old villas are evidence of the wealth created here in former times.
If you want some action, enjoy local culture and cuisine, this may be the place for you. You can find 5-star accommodation with several hotels also located around the Bay.
Attractions nearby are the Soller Marine Museum, the churches of Sant Ramon de Penyafort and Santa Caterina, the viewpoint – the 17th century Torre Picada, and an art nouveau mansion – Ca'n Prunera Museum in the nearby neighborhood.
Backpackers will also find budget accommodation in Port de Sóller
Stay in Port de Sóller if you are on a budget but don't want a package deal in a purpose-built beach resort, you want to enjoy the flavor of Spain, you are keen to explore the district.
Best places to stay in Mallorca in Port de Sóller:
luxury ($$$): Jumeirah Port Soller Hotel & Spa: This is a five star hotel with an impressive infinity pool, a fitness centre and a spa. It has a private balcony, free WiFi, a flat-screen satellite TV, and a coffee maker and a minibar. The 3 on-site restaurants offers fantastic sea views.
mi-range ($$): Bikini Island & Mountain Port de Soller: This 4-star hotel has a heated outdoor pool, free car parking, a spa, and guest rooms with private bathrooms with free toiletries and a hairdryer. Plenty of outdoor activities to enjoy including sailing, diving and snorkelling, as well as yoga classes.
budget ($): Hotel Marina Located just a stone's throw from Platja den Repic Beach and the promenade in Port de Sóller., this 3-star hotel features an outdoor pool, free spa and rooms with private balconies, as well as a free private car parking.
🔍FIND BEST HOTELS IN PORT SOLLER
Check out my virtual tour of the best places to stay in Mallorca in this video:
Where should I stay in Mallorca for the first time?
Palma de Mallorca is the best area to stay in Mallorca because it is the capital city and the transport hub of the island. It's a great base for exploring the rest of Mallorca.
What are the best areas to stay in Mallorca?
Palma, Magaluf, Palma Nova, Portals Nous, Ca'n Pastilla, S'Arenal, Can Picafort, Port d'Alcúdia, Port de Pollenca, and Port de Sóller are some of the best areas to stay in Mallorca because it is the most popular locations on the island.
Where to stay in Mallorca without car?
Palma de Mallorca, is the best area to stay in Mallorca without a car because it's the public transportation hub of the island. You can easily explore towns and beaches from here.
Which side of Mallorca has the best beaches?
It's subjective, but the east side of Mallorca is known for its stunning beaches such as Cala Varques and Cala Torta, while the west side offers more rugged coves and scenery.
Where not to stay in Majorca?
Avoid staying in the party hotspots of Magaluf and Palma Nova if you're seeking a peaceful retreat in Majorca. These areas are known for their rowdy nightlife and large crowds.
How many days in Mallorca is enough?
It depends on the type of vacation you're looking for. If you want to explore the island, a week is recommended. For a quick beach getaway, 3-4 days is enough.
See More:
Mallorca's popularity can be best illustrated by the air traffic landing at Palma's international airport. More than 25 million pass through the airport annually though that does not purely represent tourism! Mallorca is also accessible by ferry as well as being a popular cruise ship island for those wanting just a brief visit.
Hot summers and mild winters describe Mallorca well with rain most common in the north at altitude in the Tramuntana Range where snow is even possible in winter. UNESCO has recognized the value of its cultural past by designating it as a World Heritage Site. Temperatures inevitably fall at altitude but during the hot summer, that can be a relief.
It takes little more than 2 hours to fly to Mallorca from any part of the UK and Germany, hence its popularity with tourists from those countries. If this is your first visit, Palma de Mallorca, the island's capital is best area to stay in Mallorca.
However, Mallorca's history and culture does shine through sufficiently in Palma and the interior so that your holiday can be more than just sea and sand. Now as you know the where should you stay in Mallorca, all you need to do is to book accommodations and ready to go!