Where to Stay in Seville: Best Areas & Hotels
If you're wondering where to stay in Seville, or where is the best area to stay in Seville, you're in the right place. In this article, I will give an insight into the best places to stay in Seville for first time visitors, couples, families, backpackers, all budget travelers; read on as I show you the best of Seville.
The capital and largest city in the Andalusia region of Spain, Seville features a rich and diverse history that draws tourists from around the world each year. With so much on offer, many people struggle to decide which of the amazing locations on offer best suit their needs.
That's why I've written this article on the best places to stay in Seville and who may like each one. So, if you're ready to book your trip but aren't sure exactly where, I highly recommend reading on.
Where to Stay in Seville: Tips & Info
Before we begin, there are a few Things you should consider, to make narrowing down your destination even easier.
For example, if your priority is history and culture, then places like Santa Cruz and El Arenal will be ideal. Conversely, if you are visiting for a football match, one of Nervion or Bellavista-La Palmera would be preferrable, depending on who you are seeing.
Or are you more interested in experiencing the unique culture and residential areas on the Isla De Cartuja, where Triana or Los Remedios would be ideal.
You may even be concerned about transport and want to stay near the airport in Este-Alcosa-Torreblanca or the train station in Nervion.
Whatever it is you're looking for, identifying it before you begin reading will make your job a whole lot quicker and easier.
Where to Stay in Seville – The 10 Best Areas to Stay in Seville
Now that you know what to look for, let's begin looking at my top 10 places to stay in Seville.
Where to Stay in Seville – The 10 Best Areas to Stay in Seville
Where to Stay in Seville Spain Map
To see more detail of where to stay in Seville map, go to google map;
1. Santa Cruz – Where to Stay in Seville for Nightlife & History Buffs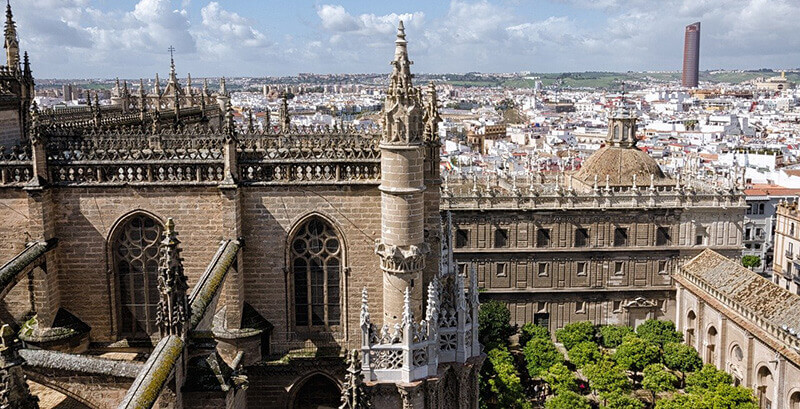 We begin in Santa Cruz, in the Casco Antiguo district. This district is the old quarter of Seville and its name literally translates to "Ancient Shell". Santa Cruz in particular is notorious for its abundance of historic sites, which is part of the reason it has developed into one of the most popular tourist destinations in the city.
As the former Jewish quarter of the city during Medieval times, the streets display distinctive characteristics from that time period. A labyrinth of narrow streets and alleyways intertwine, to protect the inhabitants from the midday sun.
These streets wind through numerous beautiful plaza's and squares, past some of the oldest buildings in the city, such as synagogues, palaces and the minaret of the ancient Giralda mosque, from the city's Moorish origins, which has since been converted into the Cathedral Of Seville.
Speaking of the cathedral, there are also a number of the oldest churches and convents in the city here too, giving a clear indication of the diversity and ever-changing nature of the city's population throughout the centuries.
Despite seeming like a location dedicated to history and culture, what makes it so incredibly popular among tourists is that it also features plenty of the more modern luxuries you look for when on vacation as well.
While the squares feature a collection of smaller, more traditional bars and cafes, the larger streets are filled with bustling shops and restaurants, offering traditional food and products, as well as international fare and modern souvenirs.
The area even has a number of bars and some clubs, open until the early hours of the morning, providing one of the best nightlife experiences on offer in the city. This makes it a truly well-rounded destination, that is more than suitable for visitors of a wide variety of tastes and interests.
STAY IN SANTA CRUZ IF:
You are interested in the history of the city
You want to see the oldest churches, mosques and synagogues
You want to walk the labyrinth of winding streets
You enjoy beautiful squares
You are looking for a vibrant nightlife
You enjoy modern tourist luxuries
2. El Arenal – Best Area to Stay to See Popular Attractions
Our second destination is another in the Casco Antiguo district, the neighbourhood of El Arenal, located directly to the west of Santa Cruz. Located on the bank of the Guadalquivir River, it takes its name from the sandy shores which were once found here, as "Arenal" refers to dust clouds that would have formed when gusts of wind blew up the river.
While not quite as abundant with history as its neighbour, it still has a rich history, as the primary port of the city from its founding up until the 17th century, when river silting forced it to be moved to the south of the city.
As this caused much of the industry to move away from the area, it has developed into an area full of local residents, filling up the areas surrounding the attractions with other businesses, such as shops and restaurants.
This makes it a perfect choice for anyone who wants to stay in slightly more modern surroundings during their visit, but still wants to be close to the historic heart of the city.
The main attractions in the area, while less abundant than those in Santa Cruz, are also some of the most popular spots in the city and are perhaps even more famous.
The Reales Atarazanas, which is the now abandoned medieval shipyard; the 13th century Torre Del Oro Moorish watchtower; the Teatro De La Maestranza opera house; and the second most important bullring in all of Spain, the La Real Maestranza, can all be found in the area.
When you add this historic list of attractions to the fabulous range of bars, restaurants and shops in the area, it makes for a fantastic place to visit. Combine that with the fact that accommodation tends to be slightly cheaper and more abundant here, and you could have found yourself a winner.
STAY IN EL ARENAL IF:
You are interested in the history and culture of the city
You want to see some of Seville's most famous sights
You want to be situated on the river
You want a good range of hotels to choose from
3. Distrito Sur – Best Areas to Stay for Museums Fans
We move now to the district located to the south east of Casco Antiguo, Distrito Sur. While history is still one of the main draws to the area, it is a much more recent history than the ancient offerings we have previously looked at.
From 1929 to 1930, this was the location of the Ibero-American Exposition Of 1929, a world's fair that involved Spain, Portugal and countries from North and South America, held in Maria Luisa Park.
In the 19 years leading up to the exposition, the city constructed numerous buildings in anticipation of the event, many of the grandest among them designed by legendary Spanish architect Anibal Gonzalez and located around the Plaza De Espana, to house the Spanish exhibits at the event. This gives the area a very different and distinctive style to what you will find elsewhere in the city.
While many of the buildings were to be converted into consulates and embassies for the countries that used them during the fair, some, including many of the ones that housed the Spanish exhibits, have been converted into tourist attractions, such as the Archaeological Museum Of Seville, located within the Pabellon Del Renacimiento, and the Museum Of Arts And Popular Customs Of Seville, found within the Pabellon Mudejar.
These attractions, and others like them, provide visitors with a unique opportunity, to learn about the history, culture and art of the city throughout the ages, while witnessing examples of those very same things first-hand, from a different era, by studying the buildings in which they are standing.
STAY IN DISTRITO SUR IF:
You are a fan of museums
You like stunning parks
You want to learn more about the city's modern history
You are interested in the Ibero-American Exposition Of 1929
4. Triana – Where to Stay in Seville for Unique Culture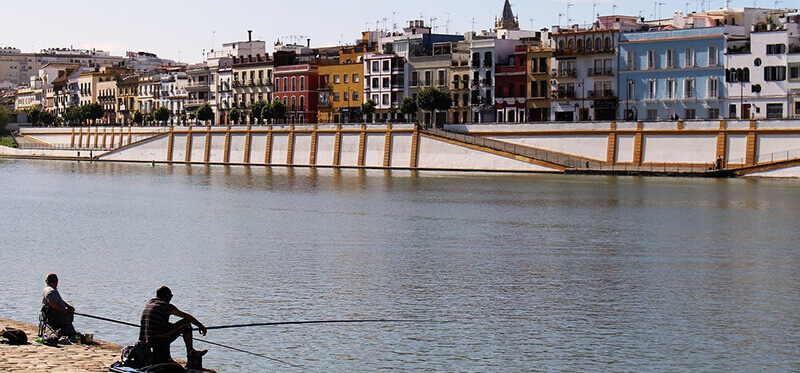 Our next stop takes us to a district on a peninsula in the Guadalquivir River, just across from Casco Antiguo, to a place called Triana. Founded as a Roman colony by the emperor Trajan, who was born nearby, there's some dispute over the origin of the name, with some claiming it to be derived from his own name, while others have translated it to mean "three rivers" or "those beyond the river".
Like many areas that were separated from the main part of the city, it was known as an arrabal and its residents have been referred to as Trianeros. These residents have long believed that the district has a strong culture of its own and often associate more with it than they do with Seville as a whole.
The area is widely known for its style of pottery and ceramics, as well as its exuberant flamenco. Perhaps its most famous attraction is the Isabell II Bridge, which connects it to the rest of the city. Featuring a small neo-mudejar chapel on its right-hand side, the pair combine to form the most widely recognised symbol of the neighbourhood.
Other attractions in the area include the Castillo De San Jorge, the San Jacinto Church and the Altozano Square, located at the entrance to the bridge and filled with beautiful sculptures. Many other beautiful buildings are located throughout the area, as well as a collection of museums, which all combine to offer visitors the perfect way to learn and experience the unique culture on offer.
Triana isn't all about history and culture though, as it is also notorious for having one of the most exhilarating atmospheres in the city. Bars, restaurants and clubs are abundant in the district, offering food, drink, live music and entertainment, with many open well into the early hours of the morning.
There're also festivals held here throughout the summer and a flea market that's held at the bottom of the Isabell II Bridge, which perfectly represent the gypsy district moniker the region has earned.
All of this means Triana is a perfect place to come for people prioritising nightlife or learning about a unique culture, all while still being surrounded by the sort of historical attractions you can find elsewhere in the city.
STAY IN TRIANA IF:
You are interested in the regions unique culture
You are a fan of flamenco
You want to experience the gypsy district
You want to attend any of the area's festivals or its flea market
Nightlife is a priority on your trip
You want to purchase any pottery or ceramics
5. Macarena – Best Area to Stay to See the Walls of Ancient City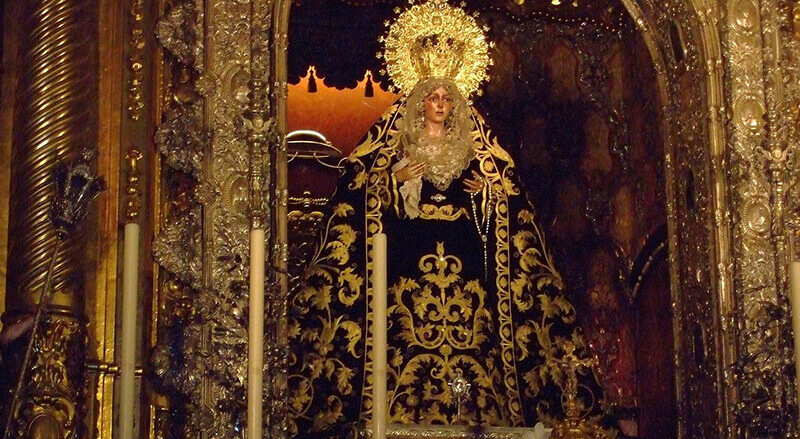 We move now to the district located directly north of Casco Antiguo, to a place with a name many people will be familiar with, Macarena. Located right on the boundary of the ancient city limits of Almohad, a larger portion of those ancient walls than can be found anywhere else in the city still run through the district to this day.
A fairly affluent area, some of the grandest buildings and attractions in Seville can be found in this part of the city.
There's the Basilica Of Nuestra Senora De La Esperanza Macarena, a Neo-Baroque, 20th century basilica, built to house the 17th century wooden statue of Our Lady Of Hope Macarena. Beside it is the Museum And Treasure Of La Macarena, a location dedicated to teaching visitors about the famous Holy Week processions in the city.
Elsewhere in the area, you will also find the Andalusian parliament building, located within the 16th century Hospital De Las Cinco Llagas, an ancient hospital, built in the Andalusian Mannerism style; the Torre De Los Perdigones and Los Perdigones, gardens on the banks of the river, containing the last remnant of the 19th century foundry; the Puerta De Cordoba, a stunning gate in the aforementioned Almohad city walls; and the San Hermenegildo Church.
For those who want to combine a little history with more modern vacation activities, Macarena also features El Rinconcillo, the oldest Tapas bar in the city and possibly the world, as well as Mercado De La Feria, the oldest marketplace in Seville, constructed in the 17th and 18th centuries respectively.
These give you the opportunity to shop, dine and relax, while surrounded by history and culture, offering you the chance to do your sightseeing around the city at your own pace.
STAY IN MACARENA IF:
You want to see the walls of the ancient city
You want to visit the oldest tapas bar or marketplace in the city
You are interested in learning more about how they celebrate holy week in Seville
You want to stay in a more affluent area
6. Nervion – Where to Stay in Seville Near Train Station
Our next destination of Nervion borders Casco Antiguo to the east and is primarily seen as a business district. While you may not initially see that as the ideal sort of place to stay on a vacation, there are a number of specific attractions in the area that may actually make it ideal, depending on your requirements and why you are visiting the city in the first place.
To begin with, it is the location of Santa Justa, the largest train station in Seville. This makes it a perfect option if you like to stay near the station, to avoid missing your train or having to carry your luggage all over the city on your way in and out of town.
Next, there is the Estadio Ramon Sanchez Pizjuan, the home of La Liga side Sevilla F.C. Anyone visiting the city to attend a match will likely prefer to stay here, as it avoids the hassle of trying to get to and from the game in the type of heavy traffic that always occurs on match day.
Next, there is the Nervion Plaza, a huge shopping centre containing a range of stores and a 20-screen cinema, ideal for anyone wanting to catch a film or indulge in some retail therapy during their stay.
Outside of these, there are attractions like the University Of Seville's School Of Business, the El Prado, which is a gardened zone featuring the city's major bus hub, as well as Estacion De Cadiz, the smaller of the city's two major train stations, which also features a fresh produce market.
If you want or need to be near any of these attractions, then Nervion is probably the ideal place to stay. However, if none of these are on your itinerary, you're admittedly better off looking elsewhere.
STAY IN NERVION IF:
You want to remain near the train station
You are coming to see a Sevilla F.C football match
You are attending an event at the Estadio Ramon Sanchez Pizjuan
You want to do some shopping while you're in town
You are in Seville on business
You plan to catch a bus while in the city
7. Los Remedios – Best Area to Stay for Local Atmostphere
Our next destination, Los Remedios, is located on the southern end of the Isla De La Cartuja, the island that also contains Triana. It takes its name from a Carmelite convent of the same name, which was one of the few buildings remaining in the district when development began in the 20th century.
It has become a fairly busy area in recent years, now featuring the city's largest port, which opened when the one in El Arenal closed down. That said, it is a location more aimed at locals than tourists, so you will find much of the accommodation here to be in residential areas.
Perhaps the main draw to the area is that it is the site of the Seville Fair, a week-long festival that begins 2 weeks after the end of holy week. Massive tents are erected along the bank of the river, where people can drink, dance, enjoy live entertainment, ride in horse drawn carriages and even visit an amusement park which is erected for the event.
Outside of the fair, there are a few more attractions, such as Cuba Square and its sculptures, the Museum Of carriages, Los Remedios Tower, the San Telmo Bridge and the Principe's Park.
Despite the above list, this is still a place that relies on the fair and its residential accommodation to sell it, so, chances are, while it's perfect for those two things, it may not be right for everyone else.
STAY IN LOS REMEDIOS IF:
You are attending the Seville fair
You want to stay in a residential area
You need to visit the port during your stay
You like river views and staying on an island
8. Bellavista-La Palmera – Best Area for Good Value Accomodation
Our next destination lies directly opposite our previous one, on the other side of the Guadalquivir River, and is the most southern district in the entire city.
Much like our previous stop, we have reached a point in our journey where the locations I am showing you have specific reasons for visiting in mind when suggesting them, so will only be right for those seeking something particular.
In the case of Bellavista-La Palmera, its selling point is that it is the location of the Estadio Benito Villamarin, the home of Real Betis football club. That makes it an ideal destination for anyone coming to see them play or attend another event at the stadium.
An added bonus the area offers, that might tempt a few other visitors down south, is the fact that it offers some very affordable accommodation, making it suitable for people travelling on a budget.
So, if you're planning to watch some football, attend an event at the stadium, or get some great value accommodation, you may want to explore Bellavista-La Palmera further. If not, there's probably not much for you here.
STAY IN BELLAVISTA-LA PALMERA IF:
You are visiting to see a Real Betis football match
You are attending an event at the Estadio Benito Villamarin
You are looking for good value accommodation
9. Distrito Norte – Where to Stay Seville for Hiking, Hunting, & Camping
For our penultimate destination, we move from the very south of the city to its most northern point, and the area of Distrito Norte.
Unlike the rest of our destinations, this is a place that relies on its rural location, to offer experiences not commonly found elsewhere in the city.
It offers visitors the chance to get out in nature, go hiking, camping or even hunting in the hills. You can immerse yourself in the natural environment of the area and discover more about the plants and wildlife that exist in Andalusia.
While this is certainly not what many people booking a city break will be looking for, some people still like the ability to balance history and culture with a little bit of nature.
The district is also the location of the stunning Puente Del Alamillo bridge, which leads across the Guadalquivir River to Isla De Cartuja. So, anyone who fancies taking a scenic drive across the river will be in for a real treat here as well
STAY IN DISTRITO NORTE IF:
You want to stay in a more rural location
You want to experience the plants and wildlife on offer in the region
You want to go hiking, hunting or camping
10. Este-Alcosa-Torreblanca – Where to Stay Seville Near Aiport
Our final destination is the most eastern district in the city, Este-Alcosa-Torreblanca. While much of the district is similar in ways to our previous one, being a much more rural location, it is another that comes with one main selling point.
On this occasion, the selling point is the fact that the area is home to Seville's international airport, San Pablo. Many people like to stay close to the airport while travelling, especially if they are only there for a single night or a layover. This is because it saves them having to drag their baggage all over the city, limits the time wasted getting to and from the airport and reduces the chance of them missing their flight. That makes Este-Alcosa-Torreblanca a perfect choice for people who are looking to do just that.
As an added bonus, anyone renting a car may be interested to know that there are also some farms outside this part of the city that grow the famous Seville Oranges. That means it's also a wise choice of destination if you fancy taking a trip and sampling one of the region's most famous exports straight from the source.
STAY IN ESTE-ALCOSA-TORREBLANCA IF:
You want to remain near the airport
You are interested in visiting a Seville Orange farm
You prefer a more rural location
That's our 10 destinations taken care of, so by now I would imagine many of you have a much clearer idea of where you want to stay. However, for those that don't, I will answer a few of the most frequently asked questions people have about Seville, to try and help you make that decision.
Where To Stay In Seville On Your First Visit?
Anyone visiting the city for the first time is going to want to stay in a location that gives them the chance to see the most while they're there. In the case of Seville, that unquestionably means staying in the Casco Antiguo district.
The very centre of the city, also known as the old town, this is an area where culture and history is visible in every direction you look. Then when you throw in the affordable accommodation in the area and the abundance of shops, bars and restaurants, it becomes clear that this is somewhere you could enjoy a diverse holiday in, without ever having to travel around.
That makes it ideal for those on a first trip to the city, as they will be able to see plenty, without worrying about wasting time moving from place to place.
Where To Stay In Seville Centre/Old Town?
So, if you've decided that the city centre/old town is the place for you, but aren't sure exactly where in it you should stay, allow me to recommend the Hotel Legado Alcazar. A beautiful, 4-star hotel, with a "superb" 9.3/10 rating on booking.com and a price that is hardly believable considering what you get for your money, this offers everything you could want from a hotel.
It's a luxurious hotel, situated right in the midst of the most famous and historic attractions the city has to offer, that offers incredible value. When a hotel ticks that many boxes, it should become clear that it is the ideal place to take an already great vacation up another level.
Where To Stay In Seville For Nightlife?
For anyone who has nightlife at the top of their list of priorities when visiting Seville, I would highly recommend staying in Triana.
Featuring a unique and vibrant atmosphere, with a wide range of bars, clubs and restaurants, many of which stay open into the early hours of the morning, there simply isn't a better place to stay for those looking to eat, drink and dance their nights away.
While there, I would recommend staying in the Eurostars Torre Sevilla. A stunning, 5-star hotel, with a "superb" 9.1/10 rating on booking.com, this will allow you to recover in luxurious surroundings from whatever antics you get up to on your wild nights out.
Where To Stay In Seville With A Car?
When you're travelling with a car to Seville, there are very few places that aren't a good choice, with the exception of perhaps Santa Cruz, as you have the freedom to go where you like, when you like.
However, if I had to suggest the absolute best place to stay, it would be El Arenal. This is because outside of its neighbour, Santa Cruz, it has the best attractions in the city.
That means even though you have a car, you can easily spend days walking around the area and exploring when you choose not to use it.
As for exactly where to stay, the Hotel Kivir is a perfect choice. A 4-star hotel with an "exceptional" 9.5/10 rating on booking.com, it combines convenience and luxury into one affordable package.
Where To Stay In Seville Without A Car?
For those visiting Seville without a car, I would recommend staying in the district of Santa Cruz. With its small, winding maze of streets, it is a picturesque place to visit, but can become a hassle if you plan to travel around by car.
Visiting without one means you can take full advantage of this and really immerse yourself in the traditional atmosphere. The fact that a large portion of the city's most famous attractions are located here also means you won't have to worry about transport while you're in town, which is ideal for those who don't, or are choosing not to drive.
With Santa Cruz being located in the city centre/old town, I am again going to recommend the Hotel Legado Alcazar, for all the same reasons as I did before, as it's a hotel you just can't go wrong with.
Where To Stay In Seville Near The Train Station?
For anyone who prioritises staying near the train station on a trip to Seville, there is really only one option, which is Nervion. Featuring not just one but the two largest train stations in the city, you are sure to be in a prime location to catch your train, wherever you are going to or coming from.
As for where in Nervion to stay, the Ayre Hotel Sevilla is a perfect choice. A 4-star hotel, with a "fabulous" 8.6/10 rating on booking.com, located right next to Santa Justa station, you can be assured of not missing your train or having to drag your luggage around, while enjoying the type of luxury most long for on a vacation.
Where To Stay In Seville With Family?
If you are travelling to Seville with family, particularly with small children, you are going to want an area that doesn't require a lot of travelling, offers plenty of open spaces and generally has a relaxed vibe to it. For that reason, I would suggest one of two places.
First is El Arenal, as it's a more laid-back section of the inner city, which eliminates much of the travelling, making sightseeing easy. As before, if you choose to stay in this neighbourhood, I would recommend the Hotel Kivir as your accommodation.
The other option is to stay across the river in Triana. While slightly further from many of the attractions, it offers a real family friendly, traditional vibe, that feels incredibly welcoming to all visitors. As I stated earlier, the Eurostars Torre Sevilla is a fantastic choice of accommodation I the area that you really can't go wrong with.
Where To Stay In Seville For Sightseeing?
Much like when asked about where to stay with a car, I am again going to suggest El Arenal and the Hotel Kivir, for the same reasons as before.
It is a location surrounded by many of the best attractions in Seville, yet one that makes it easy to bring or rent a car, opening up all of the attractions in the rest of the city to you. What more could a person visiting the city for the purpose of sightseeing ask for.
Best Time To Visit Seville?
While Seville is a city that's beautiful at any time of year, if I had to pinpoint the absolute best time to visit, I would have to go with April, specifically around easter time, for a number of reasons.
Firstly, this is a time when the weather is starting to warm up as we approach summer. That means you will find a pleasant climate with plenty of sun, which hasn't got too hot yet, like it often does in the height of summer. This makes for absolutely perfect conditions to explore the city.
The other reason, the one why I have been so specific with my timing, is the celebrations that take place in Seville around this time.
First, you have holy week, with some of the most incredible processions in the country held throughout the city. Then, a week later, you have the Seville Fair, where people can drink, party and enjoy activities like an amusement park.
Visiting at this time of year simply adds so much value to your trip, with the culture you'll witness and experiences you'll get to have while you're there.
So, if you don't have a specific time in mind for your trip, I would highly recommend looking up the exact date of the festivities in the year you plan to visit and timing your vacation to match.
How To Get Around Seville?
When it comes to travelling around Seville you are spoilt for choice. You can walk around many of the attractions in the centre of the city or you could hire a car and drive from place to place. However, if I were to suggest the best way to do it, I would recommend using public transport.
Seville has a fabulous transport network, covering every region of the city, meaning you can simply hop on a bus and enjoy looking at the sights as you travel around, without having to worry about parking when you get there.
How Long To Stay In Seville?
Seville is a city with a rich history and an abundance of things to do and see. That said, a large quantity of the attractions are located within a relatively small area, making it possible to tick many of them off in a single day.
That's why I would estimate that 7 to 10 days is an ideal length of time to visit the city for. It should give you time to tick off everything you want to see, no matter where in the city it's located, while being able to do it at your own, leisurely pace.
Best Things To Do And See In Seville?
Narrowing down the best attractions to just a short list in a city like this is a real tough task, as there is just so much on offer. That said, there are a few things that stand out above the rest.
Firstly, there is the old town. With the entire district brimming with character and history, you simply have to wander its labyrinth of streets and discover the wonders for yourself.
Speaking of which, the unique culture to be found on the Isla De La Cartuja is just as enjoyable and fascinating, meaning you can get two for the price of one if you ensure you explore both places.
Then there are the remnants of the city's ancient walls, most prominent in Macarena. If you want to get a true sense of where this city started centuries ago, this is a spot you truly have to visit.
Finally, the Maria Luisa Park in Distrito Sur, with its array of buildings and museums from the Ibero-American Exposition Of 1929, is a fantastic place to learn about the history of the city.
Oh, and while the farms aren't technically in the city, I do feel you'll be a little disappointed if you don't rent a car and get to try the legendary Seville Orange's at their freshest, straight off the tree.
Conclusion
Seville is a fabulous destination, where rich history and culture awaits you at every turn. While the diverse range on offer can make picking the best spot for your own needs a challenge, hopefully this article will have made things much clearer.
Now, all that's left is for you to go and start getting things booked, so you can experience it for yourself.
---
---