If you're heading to Madrid Spain, you're probably thinking of where to stay in Madrid for first-time tourists. I will give you an insight into the best areas to stay in Madrid in this article. By the end, you will have a much better idea of the best places for families, nightlife, shopping, food, budget, one night, three days, Christmas, and near the train station and the airport.
If you are looking for a city break that offers both the convenience and luxury of a modern metropolis, as well as the culture and architectural beauty of a city founded in the 9th-century, the Spanish capital, Madrid, should definitely be a contender.
The second-largest city in the European Union, home to the Royal Palace, the Royal Theatre, world-famous football club Real Madrid, and the headquarters of the UN World Tourism Organisation, Madrid truly has something for everyone and in this article, we will break down where to stay in order to get the most out of your trip.
📌12 Best Areas to Stay in Madrid, Spain
In this section, we'll help you to explore the best areas to stay in Madrid are: Sol-Gran Vía, Malasana, Los Austrias, La Latina, Chueca, Lavapies, Salamanca, Huertas, Retiro, Argüelles and Moncloa. Each of the districts we have spotlighted in this article has its own unique character and appeal, so we've summarised what makes each area attractive for the different needs and preferences people may have.
1. Puerta del Sol and Gran Vía, where to stay in Madrid for first time tourists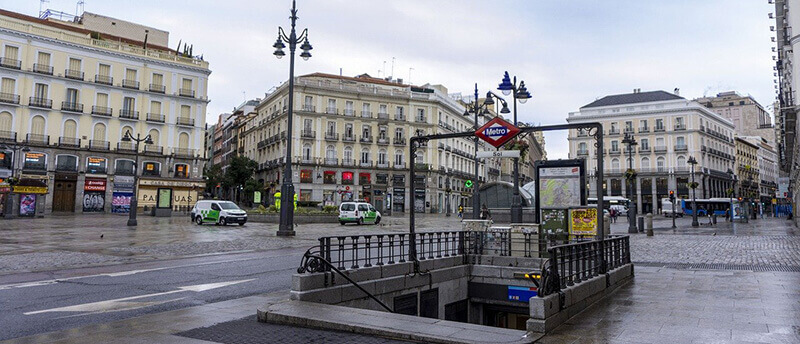 Like many travelers, we have started our exploration of Madrid in Sol-Gran Via, arguably the hot tourism hub of the city. The central location of the main square of Sol and Madrid's main shopping street – Gran Vía is an ideal place to stay for first-time tourists.
The square of Puerta del Sol houses the Kilometre Zero plaque, just outside the Real Casa de Correo building, marking the geographical center of Spain and, with its open space and multiple statues of notable historical figures, serves as a convenient meeting place for locals and tourists.
Barrio Sol is also an important transport hub and close to Madrid's nightlife in the barrios of Malasaña and Chueca.
Some of the famous attractions around are the Royal House of the Post Office (Casa de Correos), and a symbol of Madrid – Oso y el Madroño (Statue of the Bear and Strawberry Tree).
If you're in Madrid on New Year's Eve, you will see Spaniards gather in the square to watch the countdown of the clock tower of Casa de Correos building.
Sol is within walking distance to many main tourist attractions in Madrid. You can follow the pedestrian street of Calle Arenal to visit the Royal Palace and Opera House. Follow the Calle Mayor to visit from Madrid's main square – Plaza Mayor with its medieval streets and the Almudena Cathedral.
The area is also home to the oldest cake shop in Spain, Antigua Pastelería del Pozo, established in 1830 and still retaining some of its original furniture, and the Sobrino de Botín, the oldest restaurant in the world. There are also a number of traditional restaurants and cafes, shops, and bars, making it a prime location for anyone looking to sample the truly authentic local cuisine.
If that isn't enough Spanish culture for you, the local nightlife boasts not only a slew of the city's top clubs and music venues but also several Flamenco houses.
The winding streets connecting Puerta del Sol to the avenue of Gran Via provide a charming shopping experience with both department stores and smaller shops offering wares to suit all tastes, from clothes, jewelry, and art, to toys, music, and football paraphernalia.
Gran Via itself is one of the major roads of central Madrid, but recent development has made the area more pedestrian-friendly. Home to some of the city's first skyscrapers, it is an excellent exhibition of Madrid's architectural development, but if that doesn't interest you, it also boasts a selection of museums, theatres, and the Casino de Madrid.
Stay in Sol and Gran Vía if you are looking for the best place to stay in Madrid for first-time tourists and need a central location, you want a convenient mix of culture and shopping, you want to try traditional local food, you value nightlife, you prefer to travel on foot, you're looking for the best places to stay in Madrid on a budget, you stay in Madrid for short time 1 night to 3 days.
Best places to stay in Madrid city center:
🔍FIND BEST HOTELS IN PUERTA DEL SOL
See more:
2. Los Austrias, where to stay in Madrid for sightseeing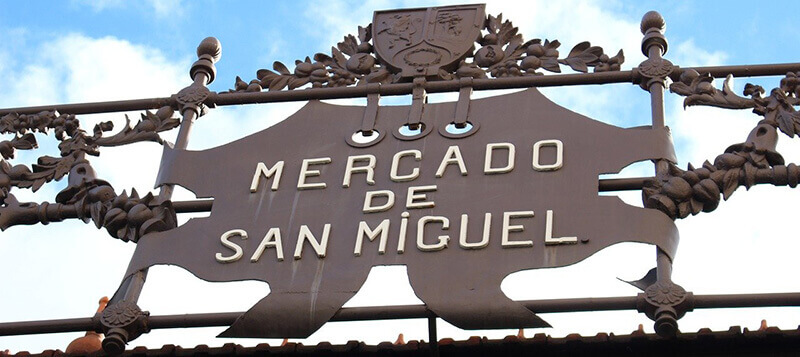 Los Austrias is the place to stay for those looking to truly experience the history of Madrid. One of the oldest areas of the city, with buildings dating back as far as the 15th century. Barrio Los Austrias is close to one of the best sights of the city like the Royal Palace, Almudena Cathedral, Plaza Mayor, and the Sabatini Gardens.
It is here you will find the sprawling Royal Palace, an estate so large that the public walking tours can't cover all of its rooms in a single tour, and the Descalzas Reales Monastery, a nunnery that houses a collection of 17th-century art open for public viewing.
On Sundays the Painters' Market comes to the Plaza del Conde de Barajas, exhibiting the works of 40 local independent artists.
The nightlife here is similarly cultured, built around the local opera houses, theatres, and flamenco houses. Bars offer live music for fans of jazz and blues, as well as cocktails and dining for those looking to chat about the performances they have just witnessed.
The area around Plaza Mayo is the perfect place to browse some of the oldest shops in the city and pick up traditional souvenirs, such as old coins, traditional shoes, and local delicacies.
Once you are tired of shopping and sightseeing, head to the San Miguel Market, a food hall of over 30 stalls, featuring flavors from every part of Spain, combined with live entertainment, this is the perfect spot to unwind and recharge.
Stay in Los Austrias if you love history, you love art and culture, you are looking for more relaxed nightlife, you want a neighborhood with a romantic ambiance, and a place to stay with a lot of sightseeing, you want to stay in central but less touristy places.
Best Places to Stay in Los Austrias:
🔍FIND BEST HOTELS IN LOS AUSTRIAS
3. La Latina, where to stay in Madrid for foodies
The historical district of La Latina originated as the merchant hub of medieval Madrid and those roots shine through to this day, with the city's largest flea market, El Rostro, acting as the area's main tourist draw and street markets taking over the winding roads every Sunday morning. Mercado de la Cebada is also a good place to shop.
Aside from its sprawling markets, the La Latina area is famous as the primary tapas hotspot in Madrid, especially on the Calle de la Cava Baja and Cava Alta streets. It draws crowds of tourists and locals alike to sample the breadth of Spanish cuisine on offer here, including a number of interesting items you probably won't have seen on the menu at your local tapas bar.
If you need a break from shopping and eating, there are a number of museums and historical churches in the area, including the San Isidro Museum and the Basilica of San Francisco el Grande, a beautiful, domed building, which showcases a collection of artworks from the 18th century. Or how about a scenic walk in some of the manicured gardens, set higher up the hills and offering gorgeous views over Madrid.
The nightlife of the area keeps up with the lively standard of the city, offering a host of clubs, bars, and taverns to keep you entertained late into the night.
Accommodation in La Latina consists mostly of budget options and numerous mid-range hotels. It's also within walking distance to the attractions in Centro and Retro, making it an ideal place for budget travelers.
Stay in La Latina if you enjoy shopping at markets, you love good food and lots of it, you are interested in antiques and vintage items.
Best Places to Stay in Madrid in La Latina:
🔍FIND BEST HOTELS IN LA LATINA
4. Huertas, central location with bohemian atmosphere
Huertas is located next to Lavapies, close to Plaza del Sol and Retiro. Also known as Barrio de las Letras, which translates as 'the literary quarter', Huertas is a hub of history, art, and culture.
Once home to the legendary Spanish writers, Cervantes, Lope de Vega, and Quevedo, the area is a celebration of literature and theatrical arts, with the Plaza de Santa Ana displaying statues of some of Spain's most celebrated playwrights and poets, while the Calle Huertas pavement is engraved with quotes from famous Spanish literary works.
It's here you'll also find the Teatro Español, one of the principal theatres of Madrid and a key stop for anyone wanting to experience the highest quality Spanish theatre.
In addition to being the district in which Cervantes lived, his final resting place can be found in the nearby Convent of the Barefoot Trinitarians, along with several other notable, if less famous, names.
Las Letras is also within walking distance to the Madrid Golden Triangle of Art, which comprises the Prado Museum, the Reina Sofía Museum, and the Thyssen-Bornemisza Museum.
Bookshops, interior design stores, and antique emporiums make up the shopping district of this area, and if you can't make it to the interior decoration festival, which sees the local shops set out sprawling street markets, don't fear, as the first Saturday of every month hosts the Ranas Street market, which boasts live street performances and special offers from the participating vendors.
You may think that an area dedicated to literature wouldn't have much of a lively nightlife, in which case you will be pleasantly surprised by the varied entertainment on offer after sundown. True to its roots as a centre of the arts, a variety of live performances can be observed, from music to dancing, and the clubs and bars cater for both those who seek a lively night of dancing, as well as those who prefer a calmer evening of cocktails and conversation.
The lodgings here range from budget to 5-star hotels, and long-term apartments for literary history lovers.
Stay in Huertas if you love culture and history, and want to stay in a bohemian and convenient area; you love literature, you enjoy live performances.
Best Places to Stay in Huertas (Barrio de las Letras):
🔍FIND BEST HOTELS IN HUERTAS
5. Malasana, a hip, bohemian and trendy-cool neighborhood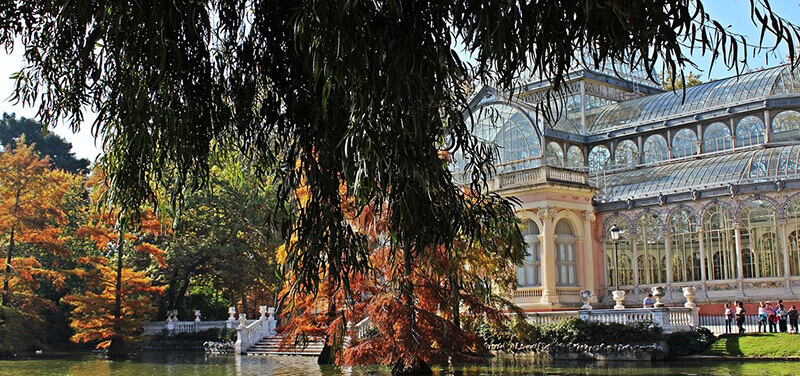 To experience a more alternative Madrid, you may want to consider the trendy district of Malasana, home to the Movida arts movement of the '80s and still retaining much of its rebellious character.
Malasana neighborhood is packed with craft coffee shops, vintage stores, tattoo parlors, rustic bars around the historic main Plaza de Dos de Mayo and the pedestrianized-street Calle Fuencarral.
The nightlife here is distinct and varied, with an ever-changing calendar of public events set amongst the permanent array of niche clubs and bars with a penchant for the risqué. Here you'll find adult-only shops, rock bars, and venues for just about every musical preference, with parties commonly spilling out onto the streets.
If you are less inclined to party, it may still be worth visiting in the daytime, to wander the nearby Museum of Contemporary Art Conde Duque, ABC Museum of Drawing and Illustration, or appreciate the 17th-century churches that sit nestled amongst the bars.
Local shops offer almost everything you could be looking for but are of particular interest to anyone looking for vintage goods and clothing, or fans of comics, with several comic book stores within walking distance of one another.
Malasaña is within walking distance from lively Chueca and Centro's Gran Vía. You can find affordable hotels and hostels in this neighborhood.Stay in Malasaña if you're looking for the best place to stay in Madrid for nightlife, you are not bothered by rowdy revelers, you want to experience Madrid's alternative culture, you want to stay in the hip and bohemian neighborhood.
Best Places to Stay in Madrid in Malasaña:
🔍FIND BEST HOTELS IN MALASANA
6. Chueca, where to stay in Madrid for nightlife
Sandwiched between Malasaña and Salamanca, and immediately north of Gran Via is the district of Chueca, popularly known as Madrid's premier gay neighborhood, where you will find all of the best Pride parties when the festivities roll around in midsummer.
As you would expect from an area famous for its LGBTQ community, the nightlife is a major draw for this area. The streets are lined with clubs and cocktail bars, transforming into a vibrant hub of entertainment after sundown. Don't worry if that's not your thing though, there is still plenty to see here in the daytime as well.
Plaza de Chueca is the heart of the Chueca, a regular meeting spot with its own metro stop. Calle de Hortaleza is packed with shopping, dining, and nightlife.
The San Anton Food Market is located along Calle Agusto Figueroa, with a wide array of vendors offering samples to those browsing the stalls and if you take the ingredients you buy here to the La Cocina de San Antón restaurant two floors above the market their chefs will cook it for you, so you can enjoy it as fresh as possible, whilst taking in the views from their rooftop terrace.
If your trip to Madrid needs some romantic flair, the Museum of Romanticism is housed in the former palace of the Marquis of Matallana, or for a more alternative date idea, the bones of Saint Valentine rest in the San Anton church and are available for viewing by the public.
Stay in Chueca if you want to stay in one of the hippest neighborhoods in Madrid, if you are there for the Pride festivities, you seek LGBTQ-friendly accommodation and entertainment, you want a truly personalized dining experience, you seek a vibrant nightlife.
Best Places to Stay in Madrid in Chueca:
🔍FIND BEST HOTELS IN CHUECA
7. Salamanca, where to stay in Madrid for luxury
Designed in the late 19th-century as a playground for the wealthy aristocracy, Barrio de Salamanca remains one of the most luxurious residential areas of Madrid.
Calle de Serrano, Calle de Velázquez, and Calle de Goya provide the best high-end boutiques, fine dining eateries, upscale bars, and luxury hotels.
Packed with high-end fashion houses and boutiques around Calle de Serrano, this district is perfect for anyone who lists shopping high on their itinerary. In fact, even those who don't will be able to appreciate the beautifully designed shopfronts and architecture of the area.
The area also boasts a number of museums, art galleries, and exhibition halls, including the National Archaeological Museum, Columbus Plaza, the Puerta de Alcalá, the newer Robot Museum, and Madrid's iconic bullring Las Ventas.
If all that shopping and wandering museums make you hungry, there are also six Michelin-starred restaurants in the area to choose from, along with a plethora of other fine dining establishments and cafes, offering an array of cuisines, from authentic local delicacies to Japanese fusion.
The nightlife of the area maintains the exclusivity and sophistication it was designed for, with the city's top mixologists serving cocktails from some of the most prestigious clubs and bars, catering to the wealthy socialites and company executives from the nearby business districts.
Salamanca is a bit off-center but you can easily reach its attractions by metro. Velázquez, Serrano, and Ventas are the nearest metro stops to Salamanca barrios.
Accommodations in Salamanca are mostly 4- and 5-star hotels but you can also find some budget hotels.
Stay in Salamanca if you want to stay in an upscale residential area; you enjoy high-end shopping, fine dining, vibrant and upscale nightlife.
Best Places to stay in Salamanca:
🔍FIND BEST HOTELS IN SALAMANCA
8. Lavapiés, where to stay in Madrid on budget
Located between La Latina and Huertas, within walking distance to Retiro and Centro, Lavapies barios is a good option for those who like international cuisines with a wide range of good value accommodation.
You will find the central meeting places for young Madrileños in Plaza Lavapiés, and many numerous Indian restaurants along Calle Lavapiés (also known as Curry Row by locals).
Lavapies has stayed true to its multicultural origins throughout the centuries and the melting pot of cultures that formed this working district have left their mark on the art and atmosphere of the area.
A hub of visual and dramatic art, the selection of exhibition centers and theatres include the Teatro Valle-Inclán, one of the base theatres of the National Drama Centre, and the La Casa Encendida cultural center, which offers a wide variety of exhibitions, performances, art installations, and workshops.
The Spanish Film Archive is also located here, a must-visit for anyone interested in the development of Spanish cinema.
Thanks to its multicultural population, the dining options available in Lavapies are varied enough that even the pickiest eaters will find something they love, with restaurants offering food from across the world.
The Tapapiés festival takes full advantage of this smorgasbord of cultural cuisines, exhibiting live performances, catered by vendors blending their country's traditional foods with the Spanish tradition of tapas.
It's not just the food of these cultures that is celebrated in Lavapies however, as the thriving immigrant community brings the vibrant festivals of their home countries with them.
Most notably, the Indian celebration of Holi takes over the streets at the beginning of spring, filling them with colour and ushering in the season. It is an event not to be missed if you have the opportunity to participate in the festivities.
Stay in Lavapiés if you are looking for where to stay in Madrid near the Train Station near Atocha train station; you're traveling on budget; you are passionate about art, you want to try food from a variety of cultures, you want to take part in cultural performances and festivals.
Best Places to Stay in Madrid in Lavapiés:
🔍FIND BEST HOTELS IN LAVAPIES
9. Retiro, where to stay in Madrid for family

Retiro is located close to Paseo del Prado and Av de Menéndez Pelayo. This family-friendly district is famous for its El Retiro Park and home to the Golden Triangle.
The primary feature of the Retiro district is El Retiro Park, a sprawling 125-hectare estate, boasting two palaces that have been converted into exhibition centres, a large artificial lake with the option to hire a rowboat and spend an afternoon on the water, and a number of statues, art installations and fountains, dotted around the area.
For families with young children, the Teatro de Títeres is a puppet theatre that performs shows every weekend, to keep little ones entertained in between trips to the various playgrounds.
Such a large open space makes an ideal venue for festivals, which includes the annual book fair, held early each summer, that sees publishing houses from across Spain gather to display their titles.
Don't despair if you can't make it for the fair though, as the Cuesta de Moyano book market is situated nearby, with over 30 permanent stalls forming an open-air bookshop, selling books both new and secondhand.
Retiro is the perfect area to relax and unwind, with the many cafes surrounding the park offering the opportunity to sip a drink on the terrace and bask in the Spanish weather.
You will also find the Cibeles Plaza, Atocha Train Station, and Naval Museum nearby Retiro barrios.
Stay in Retiro if you're looking for the best places to stay in Madrid near the train station; you like being out in the open air, you are looking for romantic date ideas, you're family with young children, you prioritize relaxing over sightseeing and shopping.
Best Places to Stay in Madrid in Retiro:
🔍FIND BEST HOTELS IN RETIRO
10. Argüelles, Moncloa, and Chamberi, a residential areas in Madrid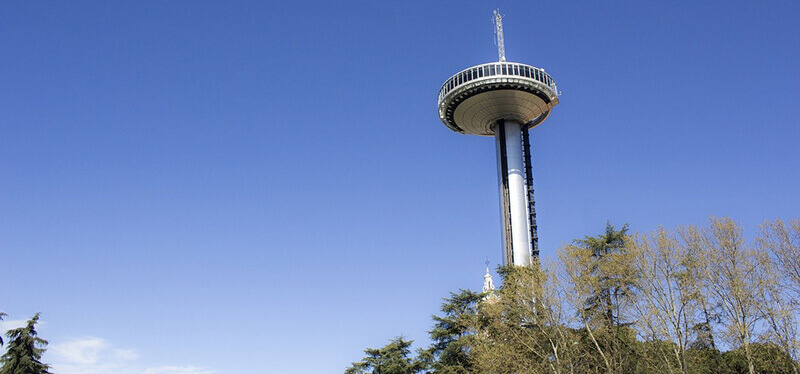 One of the more residential areas of central Madrid, Arguelles, and Moncloa offers some unexpected tourist attractions, most notably the Templo de Debod, an ancient Egyptian temple gifted to Spain and transported to Madrid in 1968. It stands as the centerpiece of a reflection pool in the Parque del Oeste and offers a stunning place to observe the sunset.
The district is nearby a number of prominent universities, so is popular with students. Unsurprisingly, the area heavily caters to that demographic, with an array of cafes and bars, bookshops and bakeries, and, of course, a selection of clubs, pubs, and bars to keep you entertained into the evening.
Being somewhat less of a tourist hotspot, yet still in the center of the city and within easy commute of some of the most popular attractions, Arguelles and Moncloa may be the ideal area to look for accommodation if you are on a budget but still want to stay in the heart of the city.
Stay in Moncloa if you prefer a quieter break, you want a taste of everyday life in Madrid, you want to stay in the city center on a budget.
Best Places to Stay in Madrid in Moncloa:
🔍FIND BEST HOTELS IN MONCLOA
11. Museo Del Prado and Plaza De Las Cortes, where to stay in Madrid for museums
Located to the east of Madrid Centro, the Museo Del Prado/Paseo Del Arte/Plaza De Las Cortes area is one of the most picturesque in all of the city. Stylish, historic buildings provide a sophisticated, upper-class vibe to the area.
Despite this, it doesn't have a stuffy feel, like many such neighborhoods exhibit. A friendly, welcoming atmosphere is present throughout, with locals ready to help you embrace their culture.
Stylish boutique hotels are abundant in the neighborhood, allowing you to immerse yourself in the experience of the area throughout your stay.
The name Paseo del Arte comes from the incredible collection of major art museums located in the district. The Prado Museum, Reina Sofia Museum, and Thyssen-Bornemisza National Museum provide countless exhibits and works of art.
These institutions alone can keep art fans entertained for days at a time. Then you have other locations, like the Plaza De Las Cortes, displaying incredible monuments and fabulous architecture, guaranteed to wow anyone interested in those sorts of things.
For those not interested in art, you have other options too. For starters, there is El Retiro Park. With wide-open green spaces, gardens, lakes, monuments, and more, it is ideal for relaxing and getting away from the city environment for a break, while still surrounded by what the area is famous for.
Facilities and amenities in the area like restaurants and shops are all quite pricey, which probably won't come as a surprise. However, they help to complete an experience that is all about style, class, and luxury. You will find big brand international franchise hotels, and few B&B, and mostly no hostels here.
Stay In Museo Del Prado/Plaza De Las Cortes/Paseo Del Arte If you are looking where to stay in Madrid for museums, you are a fan of art, you prefer high-end, classy environments, you like beautiful parks.
Best places to stay near Prado Museum:
🔍FIND BEST HOTELS IN PRADO
13. Around Madrid Barajas International Airport (MAD)
The main airport in Madrid is MAD-Madrid Barajas International Airport, 16km away from the city centre. If you have a late arrival and early departure, you can choose to stay near the airport. Below are my recommendation of the best hotels near Madrid airport:
Best luxury hotel: täCH Madrid Airport This 4-star hotel is only 2km from Madrid Barajas Airport, it provides rooms with wooden flooring, flat-screen TVs, and private bathrooms with toiletries and a hairdryer. It also has a paddle tennis court, a games room, and a restaurant. The hotel offers a free airport shuttle bus. You can easily reach Madrid's city centre from Barajas Metro Station which is 400m away from this property.
Best mid-range hotel: Clement Barajas This hotel offers stylish, air-conditioned rooms with satellite TV, free Wi-Fi, wooden floors, safes, work desks, and modern bathrooms. It also has à la carte restaurant that offers traditional dishes made from high-quality ingredients.
Best budget hotel: Hostal Viky This family-run guest house is just 5 minutes drive from Madrid International Airport and 15.5 km from the city center. It has modern rooms with air conditioning and flat-screen satellite TV, and a free 24-hour airport shuttle.
Check out my virtual tour of the best places to stay in Madrid in this video:
See Also:
Madrid is the epitome of a modern city, with something to offer every demographic and preference. With the majority of the major attractions within convenient walking distance of one another, you should be able to see all you want to, regardless of where exactly you set up base camp.
That said, finding the perfect spot to call home for the duration of your trip can really make your stay perfect. Hopefully this article has helped you to do just that and narrowed down where to stay in Madrid, to get the most out of your trip to the Spanish capital.