Where to Stay in Tenerife Spain: Best Areas and Hotels
Wondering where to stay in Tenerife for the first time, couples, families, nightlife, cycling, hiking, walking, surfing? Find out the best areas to stay in Tenerife in this guide.
In some ways, Tenerife has two distinct parts, north, and south. It is the largest of the Canary Islands off the North West Coast of Africa and its southerly latitude and resulting climate has helped create a thriving tourist economy.
Tenerife has a population of just under a million but many more arrive throughout the year to enjoy a sunshine holiday. The most popular destinations are on the coastline of this 800 square mile island. While Spanish is the local language, the development of tourism has resulted in English and German being widely understood.
Mainland Europe suffers from low temperatures in the winter, yet Tenerife can boast temperatures at 20C and more by day. Even by night, they rarely fall below double figures other than at altitude. There is competition for the tourist dollar throughout the Island and here are some places to consider when choosing a Tenerife holiday.
Tips for choosing Where to Stay in Tenerife
If all you are looking for is sea and sand by day, and an established night-time infrastructure as well, you should book somewhere on the southern coast. The South has its own international airport and your choice of resort probably depends on whether you are happy in busy tourist crowds or not.
If you have broad interests in more than a beach holiday, there are choices that will introduce you to the interior, the history and culture of Tenerife as well as local life and cuisine.
These are the choices you have when looking at Tenerife for a holiday. The south is hotter and drier as a rule, but the differences are not enormous. If you are at altitude, temperatures will be lower and that will be most evident in the winter. Everything is relative and you would be extremely unlucky to have any weather remotely as poor as mainland Europe during mid-winter unless you are at real altitude.
Where to Stay in Tenerife Spain – 14 Best Area to Stay in Tenerife
There is a well-developed modern road structure around the Island other than for a small stretch between Adeje to Icod de los Vinos. There you will encounter a winding mountain road which requires some patience.
If you select your resort, that will dictate which airport you should select for your flight. However, if you do not find a suitable flight close to your chosen resort, it is possible to land in the south and head to the north if you wish. There is certainly more air traffic heading into the south than the north.
There is a tourist train between Costa Adeje to Los Cristianos with stops that include the most popular resort, Playa de las Americas. Buses link most of the major towns and resorts. Car rental is easy to arrange while taxis are plentiful.
Mindful of these general observations, here are some ideas of the best places you can stay on your Tenerife holiday.
Where to Stay in Tenerife Spain – 14 Best Places to Stay in Tenerife
Where to Stay in Tenerife Spain Map
To see more detail of the where to stay in tenerife map, go to Google My Map;
1. Playa de las Americas – Best Area for Nightlife
This resort was developed in the 1960s and has established itself as the largest on Tenerife. It is very much a package holiday resort offering plenty of places to eat, drink and enjoy yourself. Playa de las Americas is located in the south of Tenerife, the hotter and drier part of the Island.
There are five beaches to choose from with the sand largely imported from the Sahara Desert. While the hotels may lack sophistication, they do provide everything that tourists in search of sun, sand and a vibrant nightlife might want. Those staying here but seeking a place to relax should head for the Central Park of Arona with its lovely gardens.
YOU SHOULD STAY IN PLAYA DE LAS AMERICAS IF:
You want plenty of nightlife after a day in the sun
You are not concerned about being in a crowded resort
You are looking for value without expecting luxury
2. Costa de Adeje – Best Area for Couples, Families, Nightlife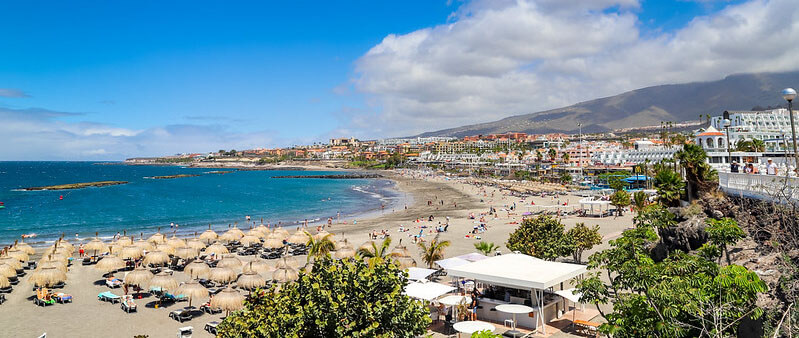 Costa de Adeje in southern Tenerife was one of the early resorts that developed as air flight became more readily available. One of the reasons for this was the lovely beaches, Playa del Duque, and Playa Fanabe. It was soon an ideal resort for families boosted by the two waterparks, Siam Park and Aqualand.
There are plenty of bars and restaurants with a British ''feel'' to the place. Shops are plentiful and nightlife is well developed.
Costa de Adeje has the most 5-star hotels on Tenerife.
YOU SHOULD STAY COSTA DE ADEJE IF:
You are looking for a resort that provides for the whole family.
You want an established nightlife supporting bars and restaurants
You are seeking a holiday as a couple
You are looking for top quality service
3. Los Cristianos – Best Area for Families, Couples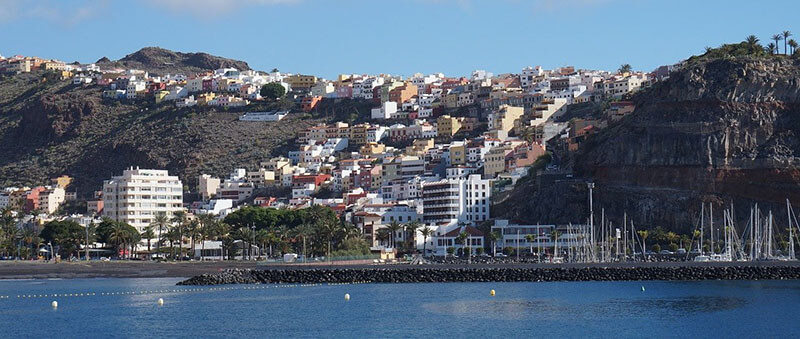 Los Cristianos, with its two beaches, Playa de las Vistas and Playa de los Cristianos, the latter using Sahara sand, is the second largest resort in the south of Tenerife. With plenty of places to eat and drink, this resort caters for travelers who prefer somewhere a little quieter than Playa de las Americas.
The Sunday street market is a major attraction. Likewise, the ferry connecting Los Cristianos with Santa Cruz and other Canary Islands is another good reason to pick Los Cristianos as a base.
YOU SHOULD STAY LOS CRISTIANOS IF:
You want a good tourist infrastructure but not huge crowd
You may decide to visit other islands in the Archipelago
You are looking for a resort ideal for families
You are traveling as a couple
4. Costa Del Silencio- Best Area for Quiet Holiday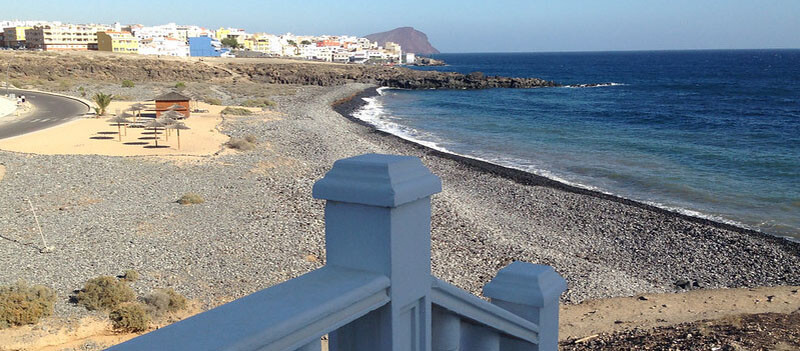 If you are looking for a resort a little away from the crowds, the answer may be Costa Del Silencio, ''the silent coast.'' It is found in South Tenerife and only 10 miles distant by road from Playa de las Americas but with an altogether different ''feel.''
It is a residential area with plenty of holiday apartments and a few hotels. The airport is just 2 miles away and as it is on the flight path, there is some noise, but flights are largely concentrated into Tuesdays and Fridays.
Las Galletas, a small fishing village just a short walk away, has a promenade where fish is the best choice in the many restaurants.
YOU SHOULD STAY COSTA DEL SILENCIO IF:
You want to avoid the crowds
Your preference is the independence an apartment provides.
5. El Medano – Best Area for Local Atmosphere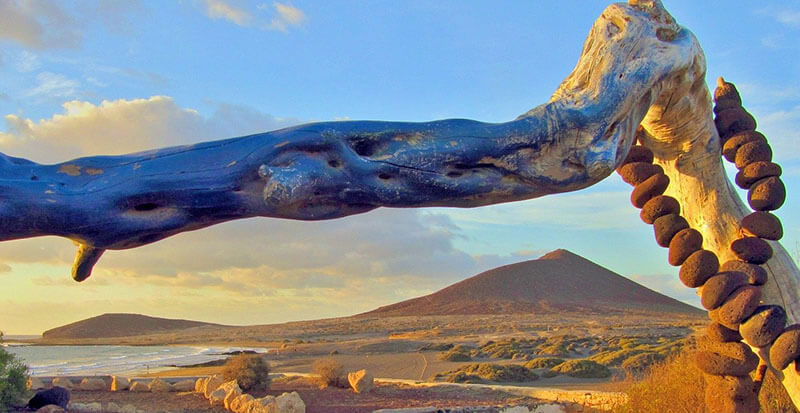 El Medano built up a reputation as a great place for windsurfers because of its winds. In recent years, high rise developments seem to have reduced the effect of those winds. There are several good places still with the Bay, Harbor Wall and Cazebo Beach each worth a try.
The town in Granadilla de Abona is close to the airport in the south and Tenerife's biggest natural beaches, the two main ones separated by a volcanic cone, La Montana Roja.
El Medano offers a relaxing holiday without the crowds of the modern resorts. Plenty of bars and restaurants are still available with tapas and fresh seafood particular favorites. There is a significant permanent ex-pat population enjoying Tenerife's lovely climate.
YOU SHOULD STAY EL MEDANO IF:
You are looking for more than just a beach holiday
You enjoy a local ''feel'' rather than a place that is just a tourist resort
You want to find things of interest in the immediate vicinity
6. Callao Salvaje – Best Area for Couples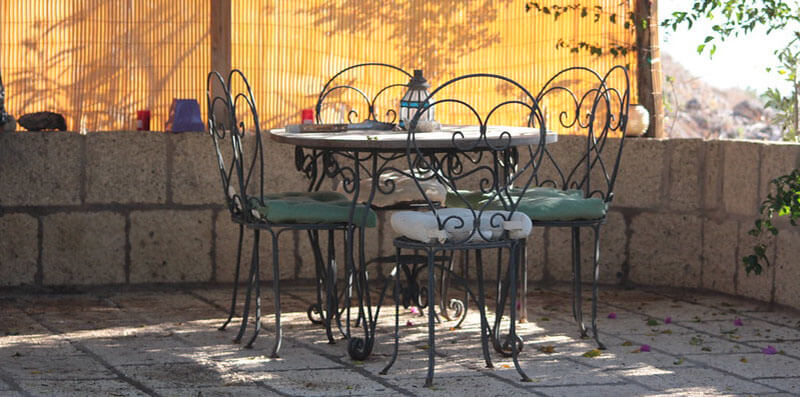 This small hilly resort is not too distant from Playa de las Americas but far enough away to provide time to simply relax. There is still plenty of choice of bars and restaurants with supermarkets for those self-catering. Apartment accommodation is plentiful in Callao Salvaje.
Small beaches and coves offer alternatives to the crowded beaches of Playa de las Americas. Playa de Ajabo is a good sandy beach with a nearby restaurant for refreshments. A short walk away there are even quieter alternatives.
YOU SHOULD STAY CALLAO SALVAJE IF:
You prefer a relaxing, laid-back resort
You want the option of a day/night in a busier resort
You are traveling as a couple
7. Puerto de Santiago – Best Area for Families, Couples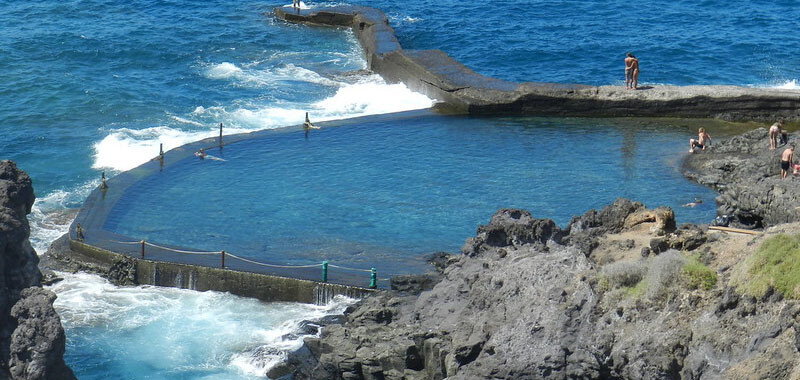 Puerto de Santiago is on the west coast of Tenerife. It is a small resort that will suit couples and families who want to avoid tourist crowds. Accommodation includes villas as well as apartments and hotels.
Located close to Los Gigantes, the 20-minute walk along the cliffs to this larger resort is popular with those wanting an active holiday.
The very small beach, Playa de Santiago, has black sand and some basic facilities. The larger Playa la Arena nearby is also black sand and is widely recognized for its water quality and the cleanliness of the beach.
YOU SHOULD STAY PUERTO DE SANTIAGO IF:
You enjoy walking around your locality
You are happier away from crowds
You are a couple or traveling as a family
8. Los Gigantes – Best Area for Sea-Activities
On the western tip of Tenerife, Los Gigantes gets its name from the large cliffs, over 2,500 feet high, north of the resort. Those cliffs look down on black volcanic sand and a series of quiet little coves.
Los Gigantes has plenty of holiday apartments as well as hotels. It is very popular with the British with bars and restaurants catering for their needs. The nightlife in the resort is otherwise limited.
Water sports are popular with local establishments at the harbor offering scuba diving and boating in addition to standard water sports.
YOU SHOULD STAY LOS GIGANTES IF:
You are keen on activities relating to the sea and sand
You are not interested in late nightlife facilities
You want to be able to relax at times away from tourist crowds.
You are interested in stunning settings
9. Icod de los Vinos – Best Area for Local Cusine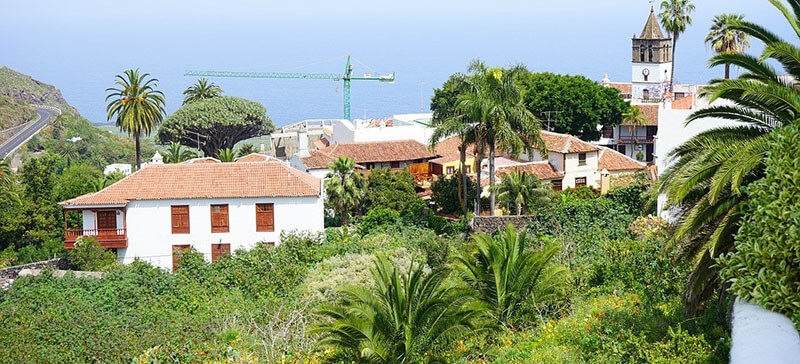 Icod de los Vinos is found in the north west of Tenerife within the Province of Santa Cruz, 30 miles west of the Capital. It is located on smooth slopes in a fertile valley at almost 800 feet above sea level. Teide, a volcanic mountain, and extensive pine forests provide a great backdrop.
With vineyards, orchards and banana plantations, there is more to Icod de los Vinos than tourism. Therein lies one of the major appeals of the town. Several historical landmarks, manmade and natural are found here. El Drago Milenario, the ancient dragon tree, is said to be over 1,000 years old and is found close to the Church of San Marcos.
Some of the cuisine in the town is found nowhere else in Tenerife, seemingly a result of it being a trading port for many years and hence having first access to foreign spices.
YOU SHOULD STAY ICOD DE LOS VINOS IF:
You want a varied holiday not dependent upon sandy beaches
You enjoy local cuisine
Your preference is to avoid tourist crowds
10. Puerto de la Cruz – Best Area for Couples, Families
Puerto de la Cruz developed from being merely a fishing village into a major tourist resort, the largest on the Island for a time. The town sits in Orotava Valley with its sub-tropical climate and fruit plantations. Tourist numbers in the north do not match those of the south and Puerto de las Cruz remains the north's largest resort.
In the summer, many from the Spanish mainland join British and German enjoying Puerto de la Cruz. One of its appeals is the old town while a leisure park, pools and the zoo are attractions for all.
YOU SHOULD STAY PUERTO DE LA CRUZ IF:
You are looking for more than just a beach holiday
You are traveling as a family needing plenty to keep kids occupied and amused.
You want a resort that caters well for couples
11. La Orotava – Best Area for Couples
The Teide volcano's summit, the highest point in Tenerife at over 12,000 feet, is found within La Orotava municipality on the Island's north coast. The town itself is located at over 1300 feet with a population of over 40,000. You can immediately see it is not a typical resort for those seeking sun and sand.
La Orotava has a rich history and its heart is included as one of the European Cultural Heritage Protection and Monumental sites. The National Park taking the name of the volcano is an attraction to those wanting to enjoy the interior environment of Tenerife.
You will find plenty of accommodation in the town although it has not been designed specifically for overseas tourists.
YOU SHOULD STAY LA OROTAVA IF:
You are traveling as a couple and want to explore
You are not interested in typical beach resorts
You want to experience the daily life on the Island in a typical Spanish/Tenerife town
12. San Cristobal de la Laguna – Best Area for Local Cusine
The historic center of La Laguna was added to the list of UNESCO World Heritage sites in 1999. It was the ancient capital of the Canary Islands and those wanting to experience the history and culture of Tenerife must visit La Laguna even if they do not make it their base for their holiday.
It is Santa Cruz's immediate neighbor and effectively the two have become a single urban area with trams connecting all parts.
The economy is dependent upon agriculture and industry, not tourism. However, the many historic landmarks attract significant visitors each year. As a north facing city, it does receive more rainfall from Tenerife's prevailing winds than many other parts of the Island.
YOU SHOULD STAY IN SAN CRISTOBAL DE LA LAGUNA IF:
You are looking for history and culture rather than sandy beaches
You enjoy local cuisine that is not changed to meet tourist tastes
You are a single traveler or traveling as a couple
13. Santa Cruz de Tenerife – Best Area for History & Culture Lovers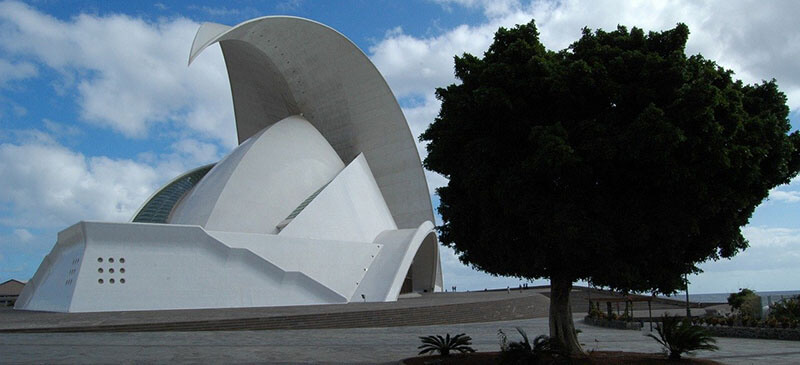 Santa Cruz in the north east of Tenerife is the Island's capital and by definition, effectively capital of the Canary Islands. As a result, it contains the infrastructure required by all capitals, and that includes accommodation for both businessmen and tourists. It has historic districts, good shopping facilities and cultural entertainment.
Bars and restaurants are taken as read. Pools, water parks and gardens are found within Santa Cruz which is home to the February Carnival which is second only to Rio de Janeiro.
Playa de Las Teresitas is its unspoiled beach surrounded by palm trees. Its natural harbor remains busy and helped create wealth for the City.
YOU SHOULD STAY IN SANTA CRUZ DE TENERIFE IF:
You want some historical and cultural content to your holiday
You are conscious of needing plenty to interest the family
You want a wide choice of accommodation
14. Candelaria – Best Area for Quiet Holiday
Villa Mariana de Candelaria, is a city in the east of Tenerife within the Province of Santa Cruz. Its population is 25,000 and Santa Cruz City is little more than 10 miles away to the north east. It is an important location for Catholics with its most famous landmark the Basilica of Candelaria. A sculpture of the Virgin Mary and its mural paintings are outstanding features.
The Festival de la Canción de Candelaria is one of the top festivals in Tenerife and Candelaria hosts a few festivals annually.
You will find a beach to the east if you want some relaxation time, and a swim in Tenerife's warm waters.
YOU SHOULD STAY IN CANDELARIA IF:
You want a holiday with variety
You enjoy history and culture, especially that related to religion and Catholicism
You are not interested in typical tourists resorts and crowds
Where to Stay in Tenerife at Christmas?
One thing is certain; you will not get a ''White Christmas'' in Tenerife unless you head for places several thousand feet above sea level and even then, snow is not guaranteed. That is the point.
In Northern Europe mid-winter offers poor weather and increasingly families consider heading to the sun for a new kind of Christmas. That is available in Tenerife where the sea's temperature should still be around 20C.
Rain is possible but blue skies are there every day, especially in the resorts in the south of the island. Given you are likely to be traveling as a family at Christmas, or at least as a couple, take a look at Puerto de Santiago, Los Cristianos or Costa de Adeje.
Best Place to Stay in Tenerife in January?
Temperatures in January reach 20C by day and rarely below 15C at night at sea level although those figures can be slightly less in the north. With sea temperatures holding at around 20C as well, travelers can expect to swim in the sea quite comfortably.
The chances of rain increase in the north but the average of 6 hours of sunshine each day is impressive. The south will get the best climate, but tourists interested in more than winter sunshine will find January perfectly comfortable. Staying in the towns with a distinct local feel in the north, even those well above sea level, is no problem.
Best Areas to Stay in Tenerife in February?
There is little change in the equation between January and February. Perhaps temperatures are slightly higher in February. Perhaps there is a little more sunshine but the main attraction in February is Carnival.
The Carnival in Santa Cruz is the second biggest in the world behind Rio de Janeiro so if you want the experience of this colorful event, head to Santa Cruz in the north rather than the southern resorts.
Best Locations to Stay in Tenerife in March?
The slight increase in average temperatures and hours of sunshine is almost imperceptible. Springtime on the European Mainland is approaching but the weather still cannot compare with that on Tenerife.
If you just want a sunshine break, head to the resorts in the south headed by Playa de las Americas where nothing ever seems to close, Los Cristianos for somewhere quieter or Los Gigantes. If your interest is away from the Coast to experience the Island's history and culture, why not look at La Orotava or Candelaria?
Staying in Tenerife in December?
The reason why early December is not too popular is that Christmas is approaching. However, those wanting a sunshine break before returning home for a traditional European Christmas will find Tenerife fits the bill.
The southern resorts such as Los Cristianos or Playa de las Americas are ideal for those wanting plenty to do, day and night.
Neighborhoods to Stay in Tenerife in November?
While the peak temperatures of mid-summer have gone, November is a month where the sea temperature can be as high as 23C. The top daytime temperatures are around 23C while it is only at altitude that they may fall below 17C at night.
As a result, Tenerife satisfies tourists wanting a coastal holiday with warm seas and plenty of sunshine. It is also a month where the interior is very comfortable for walking, climbing or simply exploring. La Orotava will satisfy the latter, Los Cristianos the former.
Where to Stay in Tenerife in April?
April is a popular month for families because it usually corresponds with the Easter school holidays. Families will find Los Cristianos a great resort without too many crowds. Likewise, Puerto de Santiago or Costa de Adeje are popular choices for families.
Playa de las Americas is for the younger generation keen to get a suntan by day, as well as enjoying water sports then finding a good nightlife infrastructure from sunset until late, very late.
Best Areas in Tenerife for Cycling/Hiking/Walking/Surfing?
Cycling
There are hotels that offer cycle rental and an idea of good trails to follow. You will find them in Los Cristianos, La Orotava, El Medano and Puerto de las Cruz, among others.
Hiking
You should look at La Laguna as a base for exploring Anaga Rural Park.
Los Gigantes is the place from which you can access Teno Rural Park
La Orotava is the gateway to Teide National Park
Walking
Puerto de Santiago provides walks that are not too exacting; the cliff walk to Los Gigantes is wonderful.
If you enjoy walking to see town landmarks, then the centers of Puerto de las Cruz and La Laguna are very interesting.
Surfing
The development of tourist resorts in the south of Tenerife include the provision of water sports for tourists. Playa de las Americas is probably the top resort for surfers. However, the winds in the north create some great swells so it is worth looking in that area as well, even if there is less tourist infrastructure overall.
Staying in Tenerife for Families/with a Baby?
Families, especially those with a baby, want plenty to do but also the chance to avoid crowds and particularly noisy nightlife. That means avoiding Playa de las Americas yet as the south is so popular, perhaps the best place to stay are Costa de Adeje or Los Cristianos?
Where to Stay in Tenerife for Nightlife?
Playa de las Americas has few rivals when it comes to nightlife. There is an argument to look at Santa Cruz as a city with an entertainment infrastructure found in most capital cities.
Best Neighborhoods in Tenerife away from the Crowds?
Tenerife's tourist numbers grew quickly when air travel became so accessible. Some of the resorts in the south are very busy for long hours each day but there are places that still provide a chance to relax. Take a look at Costa Del Silencio if you want to be in the south.
Alternatively, Icod de los Vinos in the north west deserves consideration if being beside a beach is not a priority.
Where to Stay in Tenerife for Couples
Some couples enjoy a busy nightlife and if that is you, go to Playa de las Americas. However, if your preference is to experience more than the beach by day, there are towns that offer history and culture, more often in the north, and others in the interior where you can walk and enjoy the natural environment. Look at La Orotava
If you want 5-star luxury, the biggest choice of quality hotels is in Costa de Adeje in the south.
Where Should I Stay in Tenerife North or South?
The southern part of Tenerife is slightly warmer and drier than the north. It has modern resorts which have developed tourist infrastructures designed specifically for tourism.
When it comes to history and culture, there are better alternatives in the north; Santa Cruz and nearby La Laguna are prime examples. Icod de los Vinos also merits inspection.
The bottom line is what interests you the most and go from there. There are more flights direct into the south but that alone should not dictate your choice of destination
Where to Stay in Tenerife Canary Islands?
Your choice of resorts in Tenerife depends upon what you are looking for in your Tenerife holiday. Those with the energy to enjoy the beach by day and then a well-developed nightlife are more likely to find that are southern resorts such as Playa de las Americas.
Traditional Tenerife towns whose history predates tourism by many centuries are found at the other end of the Island.
Where Does Gemma Collins Stay in Tenerife?
Tenerife attracts celebrities. Take for example Gemma Collins, the TOWIE star who wants to find a place to relax and enjoy some sunshine. However, wanting nice restaurants and a busy nightlife, not surprisingly her choice is Tenerife's number one resort, Playa de las Americas.
The 20 Best Things To Do In Tenerife
When deciding on the 20 best things to do in Tenerife it can be quite a challenge. As the largest of the Canary Islands, it features a rich history, vibrant culture, and diverse landscapes. Narrowing that down is quite the ask, as there are substantially more than 20 great experiences to be had on the island.
However, if you want to fit in the absolute best of the best while you're there, this list features the attractions that are just that little bit more unmissable than the rest.
1. Visit The Auditorio De Tenerife
Opened in the early 21st century, this auditorium has quickly established itself as one of the most iconic buildings in not just the Canary Islands, but in Spain as a whole.
Located in the island's capital of Santa Cruz, the magnificent structure plays host to numerous film and music events, as well as a number of different festivals.
Whether you're coming to see a performance here or just want to admire the incredible architecture, it's quite a sight to behold and its beautiful lighting makes it just as impressive at night as it is during the day.
2. Drive Through Mount Teide National Park
A perfect opportunity to get out and explore nature on the island, the 47,000-acre park is centered around one of the island's most famous attractions, Mount Teide, an active volcano that is the highest point in Spain and the third tallest volcano on earth.
Home to numerous species of plants, animals, and birds, as well as stunning formations formed by flowing lava, Teide is the most popular national park in Europe and the eighth-most visited in the world.
Driving through this stunning location is an absolute must when you visit Tenerife.
3. Enjoy A Day At Loro Parque
Loro Parque is an incredible animal park and one of the most popular attractions in the Canary Islands.
Featuring dozens of species of birds, including the parrots that it derives its name from, as well as a collection of larger animals like tigers, alligators, and gorillas, this is a perfect place to come and learn about some of these incredible species by seeing them first hand.
There are even dolphin, orca, and sea lion shows to entertain the crowds with their incredible performances.
Even if animals aren't your thing, there's a large display of rare orchids to entice those interested in plants.

4. View El Drago Milenario
Located in Santa Cruz, in the north-western part of the island, the El Drago Milenario is an incredibly old example of the rare Dracaena Draco or dragon tree.
Believed to be over one thousand years old, it is the oldest known example of this type of tree and one of the symbols of the island of Tenerife.
A national monument for over 100 years, this incredible attraction fills the skyline and is an absolute must see for anyone who is interested in nature, history or just beautiful sights in general.
5. Explore Anaga Rural Park
Located between the towns of La Laguna and Santa Cruz, Anaga Rural Park features thick leafy forests covering mountains and hamlets across the spine of the island.
It's here you will find some of the most incredible natural beauty spots on the island and, as you wander deeper in, can allow yourself to get lost in the nature.
If you want to get away from the beaches and civilisation for a while and discover what the island is like at its core, there's no better way than a day spent hiking in Anaga Rural Park.
6. Experience The Carnival de Santa Cruz Tenerife
Held annually in late February in the capital city of Tenerife, the Carnival De Santa Cruz is considered to be the second most popular carnival in the world, behind only the legendary Rio De Janeiro Carnival in Brazil.
The earliest written evidence of the carnival dates back to the late 18th century but there is some evidence to suggest that it was taking place as long ago as the early 1600's.
Featuring dancing, parades, masks, food, and more, if you're in Tenerife during the two weeks of the festival, you simply have to experience it for yourself.
7. Visit The Cathedral San Cristobal De La Laguna
Located in the island's north-eastern city of San Cristobal De La Laguna, it is considered to be the official cathedral of Tenerife.
Built in the early 1900's it is one of the most important religious structures in the Canary Islands and was listed as a world heritage site in 1999.
Its beautiful neoclassic architecture and lavish interior design are both stunning sights to behold but it is perhaps something else that makes this such a famous site. The cathedral holds the remains of the city's founder, Alonso Fernandez De Lugo, making it a memorial to one of the most important people in the history of the Island.
8. See The Church Of The Immaculate Conception
Built in the year 1500 in what is now the capital city of the island, Santa Cruz. It is a unique location as not only was it built using a combination of both Baroque and Tuscan architecture, it is also the only church in the Canary islands to feature 5 naves.
Filled throughout with beautiful gold sculptures, artwork and altars, it is quite a sight to behold and is one of those locations that pictures simply don't do justice to, so make sure you take the opportunity to see it first hand while you're there.
9. View The Basilica De Candelaria
Located on the island's eastern coast in the city of Candelaria, this beautiful basilica was built in the 1950's to honour of the Virgin Of Candelaria, the patroness of the Canary islands.
Built on the ruins of a previous church that had burned down years prior, the basilica features gorgeous neoclassical architecture, with ornate murals, sculptures and altars throughout.
An absolutely stunning building that can hold its own with any in the world, this is not to be missed, whether you're interested in religion or not.
10. Visit The Beautiful Village Of San Andres
Located on the southern coast of the island, San Andres is one of the oldest villages in the entire Canary islands.
Full of beautiful sights and history, the crown jewels of this village are a 16th century castle, Castle Of San Andres, which was built atop a hill on the coast to ward off pirate attacks and a church, the Church Of St Andrew The Apostle, which was also built at the start of the 16th century, making it one of the oldest churches in the Canaries as well.
11. Explore The Cave Of The Guanches
Located in the north of the island, these caves are believed to be the oldest dwellings discovered on the island, with historians dating the earliest signs of human inhabitants in them to the 6th century BC.
Artifacts such as pottery, tools, human remains and even evidence of primitive agriculture have all been discovered within the caves.
What could be a more exciting excursion than seeing first-hand some of the earliest history on the entire island.
12. Witness The Pyramids Of Guimar
You might think you would have to travel to Egypt to see the pyramids but, in the little-known area of Guimar, Tenerife has its own you can visit while you're there.
Ok, so they may not be in the same league as what you would find in Cairo, but these have a unique feature all of their own, as they are constructed using purely volcanic rock, without any mortar to hold them together.
Originally a collection of 9, there are currently only 6 still standing, but the big mystery is that no one knows exactly who built them or why. Best guesses are that they served an agricultural purpose but nothing concrete, excuse the pun, has been confirmed.
13. Enjoy A Day At Los Gigantes
The small town of Los Gigantes is the epitome of what you would expect from an island destination.
Beautiful beaches, fabulous restaurants and a combination of traditional and tourist shops, all centred around a marina make this a perfect place to get lost in your own slice of paradise.
After you've worn yourself out with a day of walking, swimming and exploring, grab a seat and a drink in one of the local bars and watch the incredible sunset over the cliffs and the boats below.
14. Have A Wild Day At Playa De Las Vistas
Everyone has their own type of beach they prefer and if you're in the market for a big tourist beach, with all the normal highlights, then look no further than Playa De Las Vistas.
Located just outside the resort of Los Cristianos, this beach features soft sands stretching off into the distance, bars, and restaurants to keep you well fuelled throughout the day, rentable sun loungers and umbrellas so you don't have to worry about transporting your own and plenty of water adventures to keep you occupied for your entire stay.
They even have cleaners and lifeguards to ensure your day partying on the beach is as safe and comfortable as possible.
15. Have An Evening Out In Las Americas
The party center of the island, this is where you want to be if you're looking to let your hair down and treat yourself to a wild night.
Featuring countless bars, clubs, and restaurants, in Las Americas, you can eat, drink and dance the night away, however you see fit. With crowds of other revelers all looking for a good time as well, it won't take long to get your party started and be well on the road to making an evening you'll never forget.
16. Relax At Playa De Las Teristas
One thing that many people will be surprised upon arriving in Tenerife is discovering that the sand is actually black, as opposed to the traditional golden color. While it's certainly a unique sight, sometimes it can leave you longing for the ideal beach you have in your mind.
Well, if you just can't complete your holiday without it, take a trip to Playa De Las Teristas. An artificially made tourist beach, this is the best location on the island to walk along the golden sands with the waves brushing your ankles like you've seen in holidays brochures your entire life.
With plenty of bars and amenities on site, take the opportunity to really treat yourself to the picturesque day you deserve.
17. Visit The Church Of the Conception La Laguna
Located on the island's north-eastern coast, in the city of San Cristobal de La Laguna, this is one of the oldest parishes in Tenerife and is considered to be the twin of its namesake in Santa Cruz.
This is an incredibly popular attraction as, while it doesn't feature quite the same level of ornate architecture as some of the other churches on the island, visitors are allowed to go to the top of the tower and witness the stunning views out over the town.
It is also home to the legendary Miraculous Oil Of St John The Evangelist, a sacred island that allegedly sweat during the height of the black death in 1648, after which the disease suddenly disappeared from the island.
18. Have Fun With A Day Trip To Siam park
When you travel to an island you might think that the most fun you'll have in the water will be taking a swim or a snorkel in the ocean. However, for the thrill-seekers among you, that might not be the case in Tenerife.
Located in Costa Adeje, on the south-eastern coast, Siam Park is a water park that features a number of slides and attractions to let you have a fun-filled, carefree day in the park's pools and let your inner child reign free for a little while.
19. Enjoy A Unique Experience At Monkey Park
While it's always nice to be able to see new species of animals in person at zoos and aquariums, sometimes you're still left feeling a little unfulfilled. Well, that won't be the case after a visit to Tenerife's Monkey Park.
Located in the south-east of the island, in the town of Los Cristianos, Monkey Park lets you get up close and personal with the animals. Walk through the enclosures and have monkeys come and climb on you and take food from your hands while you pet them.
In a park that also features other animals, such as lemurs, this unique opportunity is easily one of the most memorable experiences to be had on the island.
20. Hike through Barranco Del Inferno
We finish with an excursion that isn't for the faint of heart. Barranco Del Inferno is a hiking trail through a gorge outside Costa Adeje. Considered to be one of the toughest treks on the island, this route averages around 3 and ½ hours through some of the most ruggedly beautiful natural landscapes you'll find.
Limited to a maximum of 300 visitors per day, you'll experience nature as it was supposed to be, untouched by man.
While this will certainly be a taxing experience, once you complete it you'll find it was just as rewarding as it was challenging and an experience that will stay with you for life.
TOP 10 Best Beaches in Tenerife?
The sun shines all year round on the most visited island in the archipelago of the Canary Islands. Most of the beaches are located around large tourist complexes and have easy access, showers, umbrellas, and sunbeds.
Usually, the beaches in the northern half of Tenerife are with black volcanic sand, while in the southern part with golden. The island will offer you over 68 km of beaches, and the purity of the beach and ocean waters is beyond doubt.
The beaches of Tenerife are something you cannot miss. So are you ready to take a look at them?
The 10 Best Beaches in Tenerife Map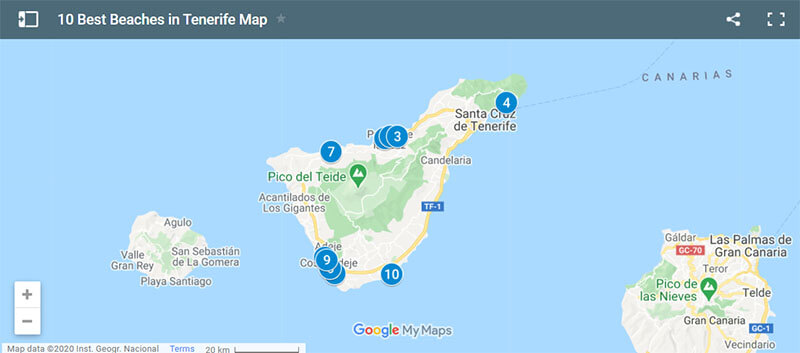 To see more detail of best beaches in tenerife map, go to Google Map.
1. Playa Jardin
Playa Jardin is a city beach, offering all the necessary amenities for your dream vacation in Tenerife. The sand is volcanic, with an exotic black color.
The beach was designed in the 90s and quickly gained popularity among holidaymakers. Playa Jardin is located in the northern part of the island in Puerto de la Cruz.
The beach is dotted with vast vegetation and beautiful flowers and looks like a real paradise garden. You can enjoy the amazing view of Mount Teide.
Playa Jardin is divided into 3 bays – Castillo Beach, Charcon Beach and Punta Brava Beach. You can reach Jardin Beach by car rental or public transport from Puerto de la Cruz.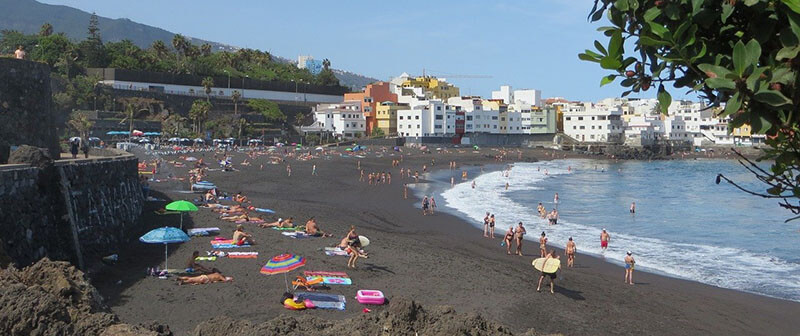 2. Playa Martianez
Playa Martianez is the other "jewel" of Puerto de la Cruz and the second most popular beach in the resort after Playa Jardin. The sandy strip is black, covered with soft volcanic sand, surrounded by a beach promenade with palm trees.
When the waves are bigger, the place is also suitable for surfing. The beach is also popular with artificial water pools. Where salt water from the ocean is filtered into a large water park with lakes and cascading waterfalls.
Beautiful green gardens, sunbathing areas are just a small part of the exotics of Playa Martianez. Near the beach there is a complex with restaurants, bars, and cafes and a great place for families with kids, offering entertainment for all ages. Playa Martianez can be reached by car rental.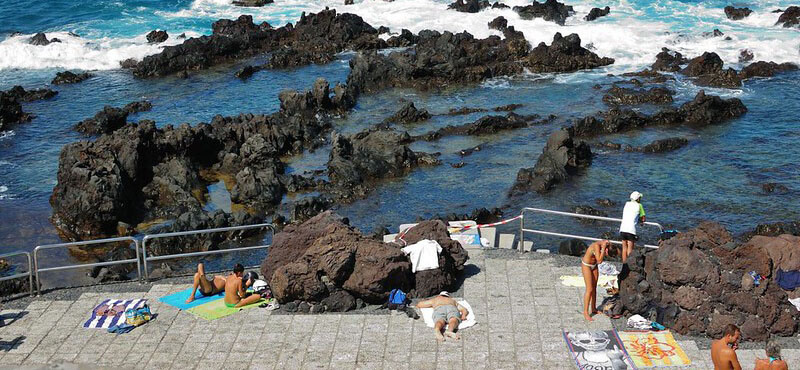 3. Playa de el Bollullo
El Bullullo is an amazing black crescent-shaped beach in the northern parts of Tenerife. The perfect place to escape from the city if you want a remote and peaceful beach.
The incredible view of the dramatic rocks that create sublime nature will captivate your heart. Despite all this beauty, you have to be careful while swimming.
The beach is not protected by artificial reefs, and the waves can be quite strong. To get to El Bullullo, you have to pass banana plantations and go down steep stairs, but it is definitely worth the adventure.
4. Playa de las Teresitas
Playa de Teresitas is the most famous and legendary beach in the northern part of the island of Tenerife. It is located 15 km from the capital Santa Cruz, just a 15-minute drive away.
The beach is artificially created with golden sands from the Sahara Desert and stretches for 1.5 km. It is protected from large ocean waves by piles of volcanic rocks. Near the beach, there are bars, restaurants as well as stalls offering traditional Canarian cuisine.
Every Sunday the beach is very popular among the locals wherein the afternoon they indulge in salsa dancing. Playa de Teresitase can be reached by public transport from Santa Cruz or rental car.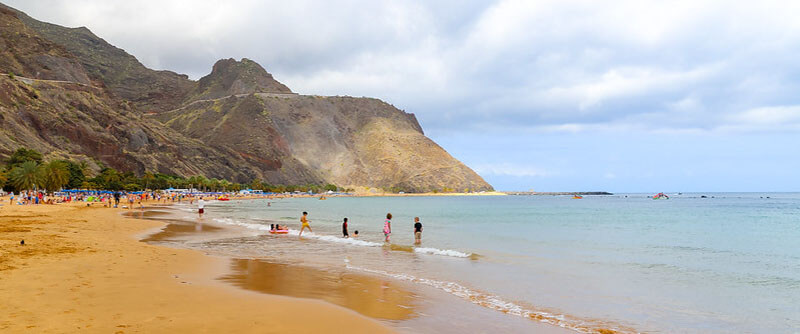 5. Los Cristianos
Los Cristianos is located in the southwestern part of Tenerife and is a part of the "Canary Riviera" – a favorite destination of all tourists. The artificial beaches of the resort are excellent, and in the vicinity, you will find natural bays with black sand.
The water is very calm, and there is a shallow area along the coast, which makes it attractive for families. The long beach promenade is filled with shops, restaurants, cafes, and bars with unique views of the beach.
Los Cristianos also has a marina where you can take a boat trip to watch dolphins and whales. You can reach Los Cristianos by car rental or by ferry from La Gomera, La Palma, and El Hierro.

6. Playa de las Americas
Playa de las Americas is the most popular party destination in Tenerife, where the nightlife never stops. Apart from night bars and restaurants, the resort also offers excellent conditions for relaxing.
The beach offers to tourists a large set of attractions such as diving, water and beach sports, surfing, and catamaran excursions. Several long golden beaches welcome adventurers all year round.
Despite the dry climate, various types of tropical plants are planted everywhere. The locals have turned dry and devoid of vegetation part of the island into a real paradise garden.
On the shores of the Costa Adeje, you will find a beautiful and modern marina. Playa de las Americas can be reached by car, ferry, boat, or cruise ship.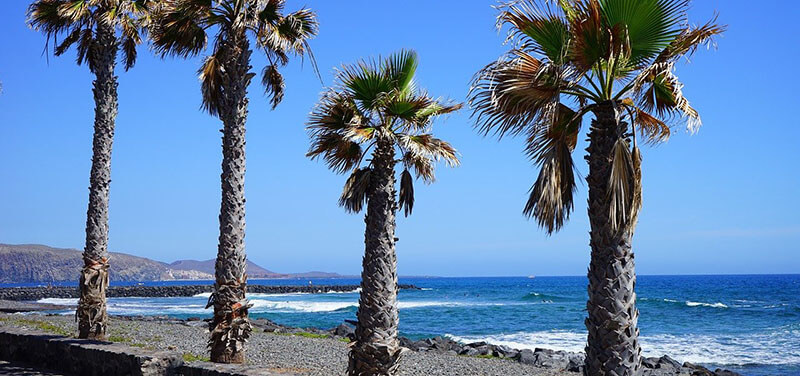 7. Playa San Marcos
Playa San Marcos is located in the northwestern part of Tenerife. The beach is hidden behind breathtaking views of the overhanging cliffs above Icod de Los Vinos.
Playa San Marcos offers a relaxed atmosphere and cozy restaurants where you can enjoy Canarian cuisine. The views here are wonderful, especially during sunset.
The beach is covered with black sand and suitable for beach sports there are showers, sunbeds, and awnings for your convenience. San Marcos can be reached by car rental and public transport.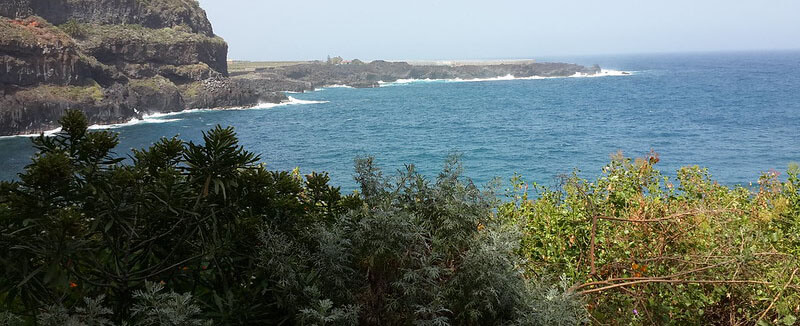 8. Playa del Duque
Playa del Duque is a premium beach near Costa Adeje. It is covered with soft golden sand, crystal clear turquoise waters, and ocean breeze. This beach has a Blue Flag certificate guaranteeing the purity of the sand, seawater, and adjacent facilities.
Throughout the alley, you will find many different bars, restaurants, and boutiques. Playa del Duque is one of the most luxurious and elegant resorts in Tenerife, offering accommodation in unique 5-star hotels.
The beach is suitable for romantic vacations and tourists who want to complete relaxation. You can reach Playa de Duqué by taxi, bus, car rental, public transport. Next to the beach, there are ice cream parlors, parking, and taxis.

9. Playa Fanabe
Playa Fanabe is located in the southern part of the island of Costa Adeje. This beach is one of the most famous and beautiful beaches in the island country.
It is also awarded the Blue Flag for cleanliness and a high standard of beach amenities such as sun loungers and showers.
Playa Fanabe has pale yellow sand and is not as scorching as volcanic beaches. On the promenade, you can find great restaurants with local cuisine and a large number of shops.
Playa Fanabe can be reached by public transport from any city in Tenerife or on foot if you are in the Costa Adeje.
10. El Medano
El Medano beach is located in the southeastern part of Tenerife in the resort of El Medano. If you love water sports, this is your place!
The beach reaches 2 km and is the longest beach in Tenerife. Every year, El Medano is a gathering place for surfers from around the world and hosts world kite surfing competitions.
The beach brings the real bohemian atmosphere of the Canary Islands. El Medano is the perfect place to have a great time with your family.
At its top in the rocks, you can also see the Blue Flag for purity and high standard. The water in El Medano has a unique dark blue shade that distinguishes the beach from others on the island. El Medano can be reached by car rental.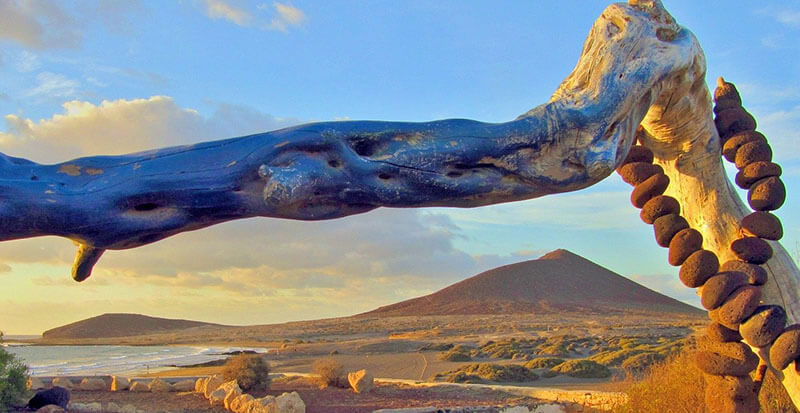 Conclusion
Tenerife is well-established as a tourist destination. One of its advantages is that travelers from the main population areas of mainland Europe face a relatively short flight, even if they are traveling from Northern Europe.
Its southerly latitude means that it is warm when mainland Europe can be suffering from poor winter weather. It faces more competition once the Mediterranean temperatures rise, but it still welcomes significant numbers in the summer weeks.
The modern resorts in the south of the Island are the most popular with tourists yet it would be wrong to ignore that Tenerife has more than sea and sand to offer. The natural terrain is interesting, parts of Tenerife, notably in the north west, are lush and green. In addition, the volcanic landscape is new to many visitors.
There is plenty of history and culture on the Island with religious sites very important to Catholics, locals as well as international travelers.
---
---