Where to stay in Granada for first time visitors? for families, couples, and on a budget? In this blog, I will help you to find the best areas and neighborhoods to stay in Granada for tourists (include map and video) and the best hotels in Granada for all budgets.
Located at the foot of the Sierra Nevada mountains, this southern Spain city is the fourth most populated in Andalusia with 924,550 residents. Along with Seville, Malaga, Granada, and Cordoba, Granada is a must see in the Andalusia region.
Granada is famous for its grand Islamic architecture, free tapas, counterculture street art, and a beer spa. It is also home to Alhambra, one of the most visited monuments in Europe with nearly 3 million visitors a year.
Whether you're looking for the hustle and bustle or simply to take in the culture, Granada's rich history, combined with its vibrant tourist hotspots, makes it the perfect destination to accommodate both.
Where to stay in Granada first time?
The best areas to stay in Granada for tourists and first-timers are Granada Centro, El Albaicin, The Alhambra, Sacromonte, and El Realejo. These are fantastic areas to stay in that offer unique experiences and convenient access to major attractions.
In general, Granada Centro is the best area in Granada for first-time visitors due to its central location, easy access to major sights, and wide range of accommodation options. Staying here allows you to be located within short distance from main attractions, restaurants, and shops.
Overviews of best areas to stay in Granada for first-time tourists
Here is an overview of recommended areas in Granada for first-time visitors:
| Best areas in Granada for tourists | Why should you stay in this area? |
| --- | --- |
| Granada Centro | As the city's central district, home to the main shopping streets, vibrant squares, and a wide array of restaurants, bars, and shops. Staying here allows you to be within walking distance of popular sights. |
| El Albaicin | Located on a hill opposite the Alhambra, El Albaicín is Granada's most historic neighborhood and a UNESCO World Heritage Site. Its narrow winding streets, Moorish architecture, and stunning views make it a captivating place to stay. It's an ideal choice for travelers seeking a more bohemian and cultural experience. |
| The Alhambra | By staying here, you can enjoy early access to the Alhambra, avoiding the crowds and experiencing its enchanting ambiance in the quieter hours of the day. The accommodations here are limited, there are some hotels and guesthouses available within close proximity. |
| Sacromonte | Known for its cave dwellings and flamenco heritage, Sacromonte is a distinctive neighborhood situated on a hillside overlooking Granada. Staying in one of the cave houses can be a memorable experience, and the area is renowned for its vibrant flamenco shows. |
| El Realejo | a charming and vibrant neighborhood that is known for its narrow streets, colorful buildings, and a mix of traditional and trendy shops, cafes, and bars. It is convenient location for exploring major attractions while experiencing the local ambiance. |
Map of areas and neighborhoods in Granada: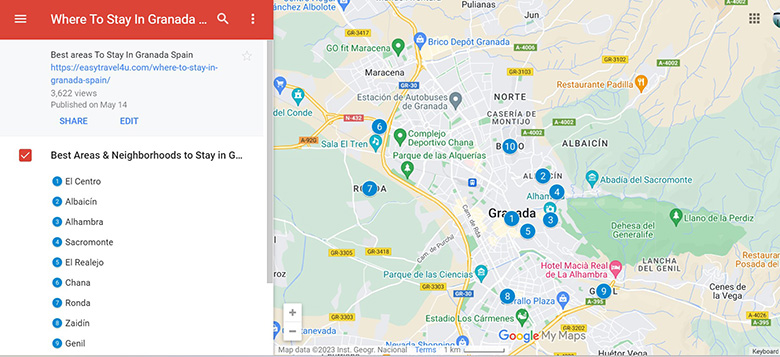 Best Areas to stay in Granada Spain for tourists are:
1. Granada Centro
Granada Centro (the historic center) is the best overall place to stay in Granada for first-timers due to its central location, easy access to public transportation, tourist attractions, and nightlife.
The Centro neighborhood is the city's new commercial area and is centered around Plaza Nueva, Calle Reyes Catolicos, and Catedral de Granada.
While not as big as some of the major Spanish cities by any means, an abundance of tapas bars, cafes, and restaurants, all within walking distance, will make El Centro feel right in the thick of it. There is also plenty of souvenir shops and an amazing food market that you can spend browsing your days away in.
As the old town of Granada, The Centro is packed with historical and cultural attractions. You can take stroll along narrow cobbled streets, explore old buildings and squares. Popular attractions in Granda's historic center are:
the Granada Cathedral, the 16th-century traditional Spanish Renaissance style, the world's fourth largest cathedral. It was built by Queen Isabella and took over 180 years to complete.
the Royal Chapel (Capilla Real), a burial place of the Catholic Kings. It has the bodies of members of the royal family including Ferdinand and Isabella, and a Treasury with Flemish and Italian art.
the baroque Basilica of San Juan de Diós, famous for its Islamic architecture.
the Monastery of San Jerónimo, a beautiful renaissance building.
the Corral del Carbon, Granada's oldest Andalusi monument, located in Calle Mariana Pineda.
the La Madraza, founded by Yusuf I in 1349 as a Islamic university, later become the City Council.
Granada Centro is home to many lively squares, which are popular meeting places for both locals and tourists. The squares are normally filled with restaurants, cafes, bars, and ice cream parlors.
The Plaza Nueva is the oldest square in the city. Conveniently located within easy access to the Albaicin area via the beautiful Carrera del Darro and Paseo de los Tristes, and easy acccess to the famous Alhambra via the Cuesta Gomérez.
In addition to restaurants and bars, Plaza Nueva is also home to the Royal Chancellery (Real Chancillería), home to the Supreme Court; and the 16th century Iglesia de Santa Ana church.
Another lively square from the Nasrid period is Plaza Bib Rambla, which is filled with lovely cafes, street performers, lime trees, surrounded by 19th-century townhouses, Renaissance and Baroque churches.
On the square stands the 19th-century cast-iron lampposts and the 17th-century Fountain with a statue of Neptune. it is a great place to enjoy one of the terraces like taste churros with chocolate.
A few blocks from Plaza Bib Rambla is the Plaza del Carmen, which is the location of the Town Hall. Calle Navas nearby is home to many restaurants, tapas, and cafes with outdoor terraces, making it a great street to find Spanish most delicious traditional dishes.
There are so many other squares to check out, including the Plaza de la Trinidad located right next to popular Mesones and Puentezuelas shopping streets; Plaza de la Romanilla offers stunning views of the Granada cathedral;
There are also Plaza de las Pasiegas, located at the entrance of the Cathedral; and the Plaza Isabel la Católica, which was named after Queen Isabella, and is located at the corner of the city's two grand boulevards, the Gran Via de Colon and Calle Reyes Catolicos.
Apart from charming historic squares, the Centro area is also has many streets to explore. The Calle Elvira, for example, is a busy picturesque narrow and cobbled street with lots of Moorish shops, tea houses, bars, and restaurants.
You can experience daily local life and do some shopping at the local markets. The Mercado San Agustin is Granada's main central market and the best food market, while Alcaiceria market (Arab Market) is a Big Bazaar and original Moorish silk market, can be found on the Calle Alcaicería.
Many consider this to be the best and most diverse area in Granada and the pricing of its accommodation perfectly represents that. Whether you're looking to stay in style or prioritizing great value, there's an option for everyone, which is why it's right near the top of my list of the best places to stay in Granada.
Stay in El Centro if you are first-timers; you want a convenient location with easy access to the other areas; the nightlife is important to you; you travel without a car;
Best places to stay in Granada El Centro for first-timers:
luxury ($$$): Hospes Palacio de los Patos This 5-star hotel is set in a 19th-century palace, in the heart of Granaa centre, 650 m from Granada Cathedral. It has a spa with a sauna, Turkish bath, and a relaxing whirlpool, a garden with Arabian-style fountains, 24-hour reception.
mid-range ($$$): Eurostars Catedral This 4-star hotel, featuring beautiful, air-conditioned rooms, located in a building designed with palatial architecture, close the Royal Chapel and Plaza Nueva. There is a private car parking, 24h front desk, and free wifi.
budget ($$): Granada Five Senses Rooms & Suites This 3-star hotel offers an outdoor pool with views of the historic city center and the Cathedral. It has air-conditioned rooms and suites with free WiFi, a safe, and a work area with a desk.
hostels ($): Granada Old Town Hostel This hostel is located 15 minutes walk from Granada Train Station. It offers shared dormitories and private rooms, a shared kitchen, bathroom, terrace, and lounge, as well as air-conditioning and free wifi.
🔍 FIND BEST HOTELS IN EL CENTRO
See Also: What are the Best Things to Do in Granada?
2. El Albaicin
Albaicin is the most charming neighborhood in Granada, and is a UNESCO World Heritage site and one of the oldest areas of Granada. It is located on the hill on the other side of the Darro River from the Alhambra, offering stunning views over the city.
In the 13th century, this Moorish district was a wealthy area with palaces and grand houses, also known as cármenes. After the reconquest of Granada in 1492 by the Catholic Kings, the original mosques were replaced with churches.
You can start exploring the neighborhood from the small square called Plaza de St Ana, located right next to the Darro River. If you follow the river, you will walk through the Carrera del Darro, one of the oldest streets in Albaicín, and lead to the Paseo de Los Tristes.
Carrera del Darro is one of the most scenic walks in Granada, filled with performances, vendors, cafés, restaurants with the charm of Moorish architecture. Along the road, you can find the 11th-century Arab bathhouse called El Bañuelo, and the Archaeological Museum of Granada.
Paseo de los Tristes (the Promenade of the Sad) is another beautiful street running paralel the Darro river. It has with terraces, and a beautiful view of the Alhambra. The Puente de las Chirimias nearby is where you can accross the river.
From Paseo de los Tristes, you can walk up to the higher part of the neighbohood to the Palacio de los Cordova, then the Carmen de la Victoria and the Mirador de San Nicolás.
It is a beautiful viewpoint and is the best spot to view the Alhambra and the Sierra Nevada which is a National Park designated Biosphere Reserve by UNESCO in 1986. Located right next to the viewpoint is the 16th-century Iglesia de San Nicolas.
Located on the hill, you will see many other viewpoints such as the Mirador de San Cristobal, Mirador Ojo de Granada, and Mirador Placeta de Carvajales.
You will find the 16th-century Church Of San Salvador, built on the site Great Mosque of Granada. it has Arab-style ceilings and beautiful horseshoe arches.
Its maze of medieval Moorish narrow streets weaves through whitewashed buildings displaying the culture of its Muslim Berber settlers. Even today, the area has an almost Moroccan feel to it with small shops and tearooms selling North African goods.
Whether you want to spend days wandering the streets and dining in tea rooms and the evenings relaxing with a glass of wine as you take in the views of the Alhambra fortress and the Sierra Nevada mountains.
Albaicín is the Plaza de San Miguel Bajo, home to the Church of San Miguel Bajo, the 15th century Dar Al-Horra Palace, and the Convent of Santa Isabel la Real.
Albaicin has all kind of budget accommodation options. There are numerous B&Bs or small hotels, have been converted from carmens (traditional garden-centered homes).
If you don't mind traveling up and down hill, choose a lodging on the hill and enjoy stunning views over the city; or book a place close to the river for easy access o the rest of the city,
Stay in Albaicin if you love culture and Muslim architecture, you aren't worried about price, you don't have to bring a car, you aren't worried about tourist attractions, you want stunning views.
Best places to stay in Granada in Albaicin:
luxury ($$$): Eurostars Gran Via This 5-star hotel is located within 10 minute walk from famous Albaicin. It features a spa area with a Turkish bath, massage rooms, an on-site restaurant with buffet breakfast, and free wifi. it provides spacious rooms with modern décor and comes with a large private bathroom, and air conditioning.
mid-range ($$): Smart Suites Albaicin This apartment is located within walking distance from San Nicolas viewpoint, Gran Via, Plaza Nueva, Granada Cathedral, and Alhambra Palace. It offers free wifi, private car parking, and spacious rooms.
budget ($): Hotel Casa 1800 Granada This traditionally styled hotel is set close to Granada Cathedral and Paseo de los Tristes Boulevard. It has beautiful views of Generalife and the Alhambra. This 3-star hotel offers guest rooms with a safety deposit box, a wardrobe, a 24-hour front desk.
🔍 FIND BEST HOTELS IN ALBAICIN
3. The Alhambra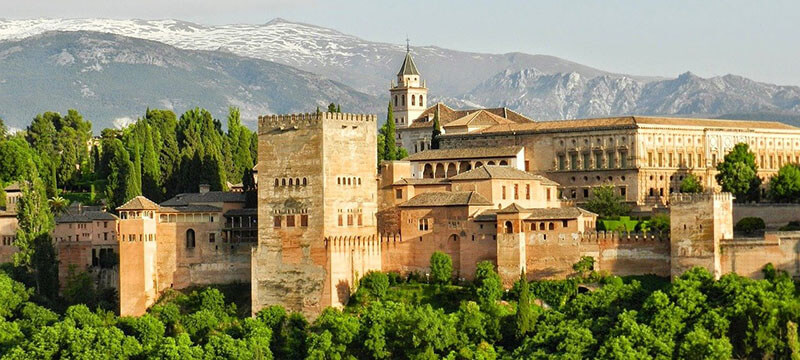 As far as unique options go, this is certainly up there. As I touched on briefly earlier, the Alhambra is one of the central attractions in Granada. It is a palace and fortress of the Moorish monarchs of Granada.
The Alhambra is a fortress, first built in 889 AD, that sits atop the hills overlooking the Darro river. It has also spent part of its existence as a royal palace and is filled with Muslim art and architecture akin to that found in the surrounding areas of the city.
The popular attractions to visit in Alhambra complex are the:
The Generalife (The Palacio de Generalife), located on the slopes of the Cerro del Sol (Hill of the Sun), outside the walls of Alhambra. It was the summer palace of the Sultans, surrounded by orchards and gardens.
The Alcazaba, a fortress and is the Alhambra's oldest part. It has an Torre de las Armas (Arms Tower), Puerta de las Armas, Plaza de las Armas (Arms Square), Plaza de Los Aljibes, Torre del Homenaje, Torre de la Vela, and Garden of the Ramparts.
The Charles V Palace, beautiful Spanish Renaissance palace.
The Nasrid Palace, home to the El Mexuar, Palace of Comares, Golden Room Courtyard, Lion's Palace, and Mirador de Daraxa.
While in most instances a location such as this would be a day trip from where you're staying, in Granada you have the option to actually stay within the walls of the Alhambra. There is one luxury hotel, the Parador de Granada, within the spectacular Alhambra complex.
Now, obviously, places are extremely limited and are priced accordingly for such a premium location. That being said, if you're looking to have a once-in-a-lifetime experience, shelling out such a sum will almost certainly be worth it.
This isn't just one of the best places to stay in Granada, it's one of the most amazing places to stay in Spain as a whole.
Stay around The Alhambra if you want a once-in-a-lifetime experience, you have plenty of money to spend, you don't need to bring a car, you love history.
Best places to stay in Granada in Alhambra:
luxury ($$$): Eurostars Washington Irving This 5-star hotel is located within easy walk from Alhambra. It has a library containing first editions of many of Washington Irving's books, an outdoor pool, a sun terrace, as well as luxurious, air-conditioned rooms.
mid-range ($$): Parador de Granada This 4-star destination, housed in a 15th-century convent that is actually located within the walls of the Alhambra. There is also a terrace, patio, and bar overlooking the stunning gardens, as well as a restaurant serving traditional Andalusian cuisine.
budget ($): Apartamentos Campo Del Príncipe This modern apartment is located just a 10-minute walk from the Alhambra. The units are simply but stylishly decorated and each features free wifi, a private bathroom, kitchen. There is also a communal roof terrace available, boasting outdoor furniture and incredible panoramic views.
🔍 FIND BEST HOTELS IN ALHAMBRA
4. Sacromonte
Located above the Albaicín district, on the banks of the river Darro, Sacromonte takes the idea of culture as its selling point and runs with it. Sacromonte is also known as the neighborhood of caves or the gypsy neighborhood, located on the Valparaiso hill.
Here you will find a unique history, where homes were built into the hillside in whitewashed caves by the Romani people who settled it, thus earning it the nickname of the gypsy neighborhood.
Many of the caves have been converted to bars or a place to hosts flamenco shows. You can learn more about its history at the Sacromonte Caves Museum (Cuevas del Sacromonte).
Don't let this rustic feel fool you though, there is plenty of life to the area. Considered to be the best place in the city to experience the true Flamenco, you can find guitarists playing, people dancing and even an academy with people studying the art.
No trip to Sacromonte, or Granada in general, would be complete without a visit to the Abadia Del Sacromonte. The 17th-century Sacromonte Abbey that gave the area its name sits atop the Valparaiso hill and is truly a sight to behold.
While the prices are still a little steep, there are a few more reasonable deals to be had than in Albaicin. You also have the chance to stay in one of the hillside caves with panoramic views of the city, but these are few and far between so make sure you book well in advance.
One thing that's guaranteed though, is that Sacromonte will provide a unique experience like no other.
Stay in Sacromonte if you love flamenco, you aren't too worried about the price, you're interested in Romani culture, you don't have to bring a car, you like natural beauty, such as caves, you want stunning views.
Best places to stay in Granada Sacromonte:
budget ($): Apartamentos Montesclaros provides beautiful, spacious apartments, all of which boast free and air-conditioning as well as a private bathroom, kitchen, and dining room, while some even have their own balcony. Close to San Nicholas Viewpoint, San Nicolas Viewpoint, Alhambra, and Generalife.
budget ($): Solar MontesClaros provides rooms decorated in a traditional Andalusian style, all fully air-conditioned and feature either a balcony or a terrace with an amazing view of the Alhambra Palace. Within walking distance from Elvira Street, solar MontesClaros, Generalife Palace.
budget ($): Apartamentos Alhambra Dream This accommodation offers traditional, rustically themed, air-conditioned apartments, set in a quiet residential area, just 600m away from the Archaeological Museum of Granada. It features a typical Andalusian design, tiled floors, flower pots on the windows, and white walls.
🔍 FIND BEST HOTELS IN SACROMONTE
5. El Realejo
If you liked the sound of Albaicin, but the Arabic culture didn't pique your interest, allow me to bring your attention to Realejo, a cool neighborhood that is famous for its amazing street art, narrow cobbled streets, great tapas bars, and vibrant nightlife.
Located on the opposite side of the Alhambra to Albaicin, Realejo features many of the same sights and sounds, including the winding streets and spectacular views. This time, however, the history and culture is slightly different.
This was the old Jewish quarter of the city and has a fantastic array of architecture to behold, including whitewashed houses and a convent.
While mostly similar to Albaicin, it does have a little more to offer in the way of cool tapas bars and restaurants, especially the Campo del Principe area has a high concentration of taverns, bars, and tapas spots.
Campo del Principe, also known as Field of the Prince in English, is allocated on top of the old Muslim cemetery. Next to it is the Church of San Cecilio which was the site of an ancient mosque.
You can also see the Palace of los Condes de Gabia, the sixteenth century Palace of La Casa de los Tiros on Pavaneras Street, and the Church of Santo Domingo (Iglesia Santo Domingo), established in 1492 by the Catholic Monarchs.
If you head to San Matias Street, you can admire fascinating structures including the Convent of the Mercedarias, The House of Gran Capitan, Antigua Capitania, the Imperial Church of St. Matthias, and the Plaza Mariana.
For art lovers, Barrio Realejo has some of the nicest graffiti in the city. Make sure to check the art scene at the famous El Niño de las Pinturas.
Its pricing is also a little more affordable than Albaicin, though there are still locations with a better value to be found if that is your priority.
Stay in Realejo if you love Jewish culture and architecture, you want to be around street art vibe, you aren't worried about the price, you don't have to bring a car, you aren't worried about tourist attractions, you want stunning views.
Best Places to Stay in Granada around Realejo:
🔍 FIND BEST HOTELS IN GRANADA
6. La Chana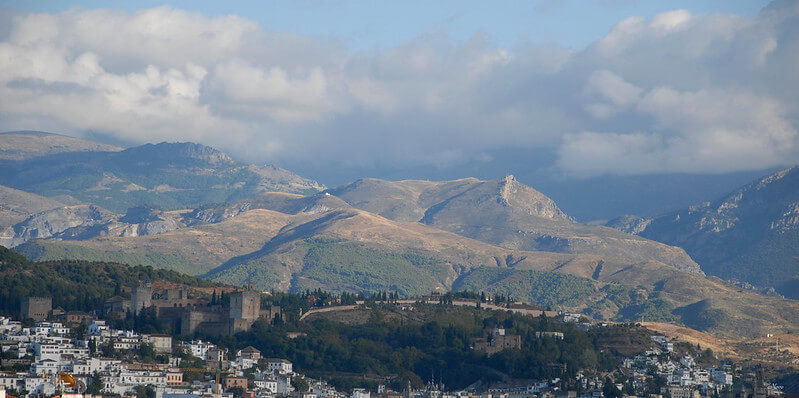 La Chana is a residential neighborhood northwest of the center of Granada. It is one of the busiest student barrios of Granada as its location is near to the city's University. You can easily find cheap tapas bars, restaurants, and accommodations that cater to students.
An emerging neighborhood, La Chana still features incredibly affordable accommodation but with the benefit that it is starting to feature more and more facilities you would expect from a tourist hotspot.
Famous for its wonderful tapas bars and beer and red wine, an abundance of bars, terraces, highly rated restaurants and live music performances are quickly making this one of the go-to spots in Granada.
You can head to the busiest streets of Delfín, Trucha Salmón and Raya and places near the Carretera de Málaga.
It also has a great transportation service, thanks in large part to the famous university that's located nearby. This means that you can enjoy the great value the area has to offer, without worrying about missing out on the more famous sights Granada is famed for.
Stay in La Chana if you are tapas lovers, you need to bring a car, you have young children, you prioritize great value, you love great restaurants.
Best places to stay in Granada's La Chana:
🔍 FIND BEST HOTELS IN LA CHANA
7. Ronda District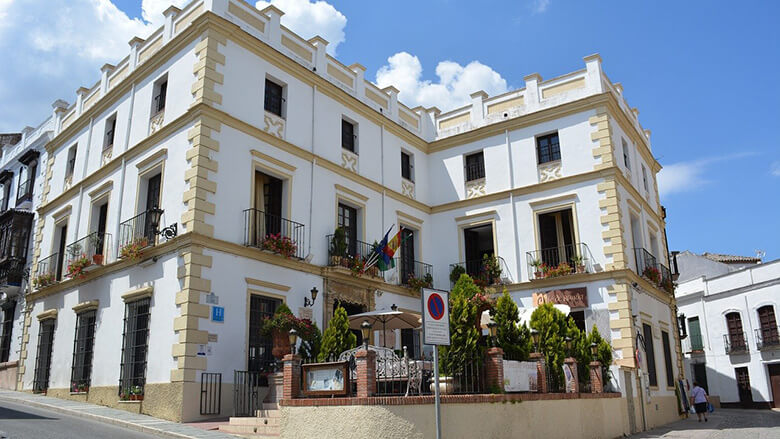 Another quiet, affordable neighborhood, the Ronda District is incredibly popular with students, due to its cost and proximity to the main University of Granada. This helps it to achieve a vibrant, youthful atmosphere throughout many of its bars and restaurants.
Speaking of which, the district features some of the best tapas and seafood bars in the city. This makes it the perfect place to enjoy some traditional Granadan cuisine, without breaking the bank.
Located to the west of Granada, Ronda is the most populated area of the city, formed by several neighborhoods including Camino de Ronda, Rosaleda, and Fígares-Río Tenerías neighborhoods.
Camino de Ronda is the main street that spans from La Chana into this area of the city below el Centro. Another popular street among the university crowd is the Pedro Antonio where you will find plenty of tapas restaurants and bars.
Ronda is home to a number of small castles, the Federico Garcia Lorca Museum, and a couple of interesting parks like Federico García Lorca Park and Science Park.
Ronda offers affordable hotels and guesthouses, giving you plenty of options when it comes to where you stay during your trip.
Stay In Ronda District If you are traveling on a budget, you are, or are visiting, a student at the university, you like tapas and seafood.
Best places to stay in Granada's Ronda District:
🔍 FIND BEST HOTELS IN RONDA DISTRICT
8. Zaidin
Located on the banks of the Monachil and Genil rivers, Zaidin is one of the most modern districts in the city. Everything from hotels to bars and restaurants is either new or has been renovated and modernized. This makes it ideal for anyone seeking a fresh, clean feel throughout their stay.
The area is filled with beautiful parks for you to stroll around in, relaxing in the beautiful weather. While there aren't a huge number of options for nightlife, these should more than suffice for those happier with a slower pace.
The one thing it does have to offer though is the Los Carmenes stadium. Home to Granada Football Club, as well as the host of many of the city's biggest events, it is the ideal location for anyone hoping to catch a game or a show.
It is also the most scientific in Granada with the most sophisticated science centers including the Science Park, the Congress Centre, the Experimental Station, and the Astrophysics Institute of Andalusia.
The Zaidín Rock Festival is a famous festival hosted in Zadin, marking the end of summer.
Stay In Zaidin If you are coming to see a football match or another event at Los Carmenes stadium, you aren't worried about nightlife, you enjoy beautiful parks, you want new, modern accommodation and amenities.
Best places to stay in Granada's Zaidin:
🔍 FIND BEST HOTELS IN ZAIDIN
9. Genil and Bola De Oro
The main drawback of this quiet region of Genil is that it lies a little further from the center of Granada than the others do. However, that's the very reason for one of its most attractive qualities. it is located near the Genil River and wraps all the way around the Alhambra.
Bola De Oro is a quiet, residential neighborhood. Shops, bars, and restaurants all cater primarily to the locals, allowing you to get an authentic experience.
Beautiful views of the surrounding landscape and The Alhambra give you a picturesque backdrop to relax and enjoy a drink or meal with. The Alhambra itself is within walking distance, while the city center is just a bus ride away.
This makes it the perfect area for families who need a little more room or those on a budget. You get all the benefits of a small town, without having to miss out on any of the attractions.
In order to encourage tourists away from the heart of the city, the hotels in Genil offer incredibly reasonable rates. This is even more impressive when you see the quality of the hotels in question, as most feature swimming pools, Turkish baths, and beautiful grounds.
Another factor that makes this an appealing destination is that it lies on the edge of a nature preserve. That means those who are looking to enjoy what the city has to offer but like the option to get away from everything for a while can get the best of both worlds.
When you combine all of that, it shouldn't be hard to see why Genil is such an appealing destination for many. If you do want to stay here though, make sure to book in advance as the number of hotels in the area is limited.
Stay in Genil if you aren't worried about having to travel long distances to get around, you prioritize great value, you love nature, you have to bring a car, you aren't worried about nightlife or traditional tourist activities.
Best places to stay in Granada's Genil:
🔍 FIND BEST HOTELS IN GENIL
10. Beiro
Beiro is a vibrant district, best described as a melting pot of different cultures and nationalities. The location of the city's main bus and train terminals, travelers arrive here from all over the continent on a daily basis.
Especially popular with younger visitors, there are plenty of budget hotels and hostels without all the frills. This is a favorite among backpackers, who simply need a place to sleep for a night.
Perhaps unsurprisingly, given the clientele, it also features one of the most popular nightlife scenes in the city. Bars and clubs feature a lively vibe, making them ideal for meeting new traveling partners or simply having a great night out on the town.
Beiro is home to Plaza de Toros (Bull Ring), one of the 10 biggest bullrings in Spain. You can visit the bull ring and see the pens, the infirmary, and the chapel. There are also plenty of bars and restaurants outside of the bullring where you can have a meal and tapas.
Beiro is a little bit far from the city center, it's less touristy. Stay in Beiro if you want a local vibe, authentic experience with great tapas bars and paella.
Stay In Beiro If you are traveling to the city by bus or train, you are a backpacker or need budget accommodation, you're looking for the best area to stay in Granada Spain for nightlife.
Best places to stay in Granada in Beiro:
🔍 FIND BEST HOTELS IN BEIRO
Check out my virtual tour of the best places to stay in Granada in this video:
See Also:
In conclusion, Granda Centro, El Albaicin, The Alhambra, Sacromonte, and El Realejo are the best places to stay in Granada for tourists. They provide convenient locations with a wide selection of accommodations for all budgets to explore the city.
Overall, Granada Centro as the best area in Granada for first-time visitors because It has the widest range of tourist amenities, and its central location makes it a great base to explore the city by public transportations.