If you're looking for where to stay in Granada, be sure to check out this post. It's got all the info on the best areas to stay in Granda for tourists. We also have some recommendations of places we think are worth checking out!
Whether you're looking for the hustle and bustle or simply to take in the culture, Granada's rich history, combined with its vibrant tourist hotspots, makes it the perfect destination to accommodate both.
See Also: What are the Best Things to Do in Granada?
When it comes to looking at travel destinations in Spain you're spoilt for choice and Granada likely won't be the first city on many people's lips. After you find out what's waiting for you in this incredible city though, that's all going to change.
📌 Where To Stay In Granada Spain: 11 Best Areas to stay in Granada
So, you've decided Granada is the place for you, or at least you're thinking about it. No matter what you look for in a travel destination though, there are certain things, such as accommodation, that all of us take into consideration.
That's why each of our 11 best areas to stay in Granada will take these into account, to give you the clearest picture possible while making your decision.
where to Stay in Granada Spain Map:
To see more detail of the best places to stay in Granada Map, go to Google Map;
1. 💖 Albaicin, where to stay in Granada for first time visitors
A UNESCO World Heritage site and one of the oldest areas of Granada, if it's stunning views and history in every direction that you're looking for, then this may well be the place for you.
Its maze of winding streets weaves through buildings displaying the culture of its Muslim Berber settlers. Even today, the area has an almost Moroccan feel to it, which helps to bring the spirit of the area to life.
Whether you want to spend days wandering the streets and dining in tea rooms and the evenings relaxing with a glass of wine as you take in the views of the Sierra Nevada mountains and the Alhambra fortress. San Nicolas's viewpoint is the best spot to check in.
As you may expect from an area that offers so much, it is indeed one of the pricier regions in the city. While it may not be right for those working with a tighter budget or looking for a little more nightlife if neither of those issues concern you this is surely the place to go.
Stay in Albaicin if you love culture and Muslim architecture, you aren't worried about price, you don't have to bring a car, you aren't worried about tourist attractions, you want stunning views.
Best places to stay in Granada near Albaicin:
Best luxury hotel: Eurostars Gran Via This 5-star hotel is located in the heart of Granada, It features a spa area with a Turkish bath, massage rooms, and a variety of treatments, an on-site restaurant with buffet breakfast, and free wifi. it provides spacious rooms with modern décor and come with a large private bathroom, and air conditioning.
Best mid-range hotel: Smart Suites Albaicin are superb, spacious, modern suites, featuring air-conditioning and a fully equipped kitchen, within walking distance from San Nicolas viewpoint, Gran Via, Plaza Nueva, Granada Cathedral, and Alhambra Palace.
Best budget hotel: Hotel Casa 1800 Granada is an exquisite, traditionally styled hotel, set just 450 yards from Granada Cathedral, 100m from Paseo de los Tristes Boulevard, with beautiful views of Generalife and the Alhambra. This 3-star hotel has air-conditioned rooms with free WiFi, a private bathroom, a flat-screen TV, a safety deposit box, a wardrobe, a 24-hour front desk, room service.
Other best hotels near Albaicin:
Bibo Suites Oro del Darro are luxurious, modern suites, located in a renovated, historic 18th-century building. The units feature Wi-Fi, air-conditioning, fully equipped kitchens, and stunning views of the Alhambra, making this a destination where you can enjoy a truly memorable stay.
Shine Albayzín is a superb hotel, set within the walls of a 16th-century palace and featuring a traditional Granadan patio, within an easy walking distance from Plaza Nueva and Granada Cathedral.
Oripando Hostel is a beautiful mid-range hotel, a traditional building, that is a perfect option for those traveling on a budget but who still want to get the classic feel. It's close to San Juan de Dios Museum, Albaicin, Hammam Arab Baths, Monasterio Cartuja, and Basilica de San Juan de Dios.
🔍 FIND BEST HOTELS IN ALBAICIN
Check out my virtual tour of the best places to stay in Granada in this video:
See Also:
2. El Centro, where to stay in Granada for nightlife
It's time to change pace a little with this one, as El Centro resembles more what you'd expect from a tourist location.
While not as big as some of the major Spanish cities by any means, an abundance of tapas bars, cafes and restaurants, all within walking distance, will make El Centro feel right in the thick of it. There is also plenty of souvenir shops and an amazing food market that you can spend browsing your days away in.
If you still want a little culture though don't worry, that's something you're never far away from wherever you are in Granada. A 16th-century Granada Cathedral and royal chapel play highlight to a host of nearby sights, including a plethora of squares and fountains.
Many consider this to be the best and most diverse area in Granada and the pricing of its accommodation perfectly represents that. Whether you're looking to stay in style or prioritising great value, there's an option for everyone, which is why it's right near the top of my list of the 7 best places to stay in Granada
Stay in El Centro if you want to be in the thick of things, you want easy access to the other areas, you want more traditional tourist attractions, nightlife is important to you, you need to bring a car, you have children to keep occupied.
Best places to stay in Granada El Centro:
Best luxury hotel: Hospes Palacio de los Patos This 5-star hotel is set in a 19th-century palace, 650 m from Granada Cathedral. It has a spa with a sauna, Turkish bath, and a relaxing whirlpool, a garden with Arabian-style fountains, 24-hour reception, and an on-site restaurant. It offers elegant rooms with contemporary design,  air-conditioned, a flat-screen satellite TV, wooden floors, a safe and minibar, and the private bathroom comes with a hairdryer, bathrobe, and slippers.
Best mid-range hotel: Eurostars Catedral is a fabulous, 4-star hotel, featuring beautiful, air-conditioned rooms, located in a building designed with palatial architecture, just 100 yards from Granada Cathedral. It's located near Royal Chapel and Plaza Nueva. Other best 4-star hotels are Eurostars Puerta Real and Hesperia Granada.
Best budget hotel: Granada Five Senses Rooms & Suites This 3-star hotel offers an outdoor pool with views of the historic city center and the Cathedral. It has air-conditioned rooms and suites with free WiFi, a safe, and a work area with a desk, a private bathroom with free toiletries, and a hairdryer, a free minibar, and coffee capsules, and some come with a hot tub.
Best hostels: Granada Old Town Hostel is a wonderfully affordable option, featuring clean, colorful shared dormitories and private rooms. Boasting a shared kitchen, bathroom, terrace, and lounge, as well as air-conditioning and free wifi. it's 15 minutes walk from Granada Train Station.
🔍 FIND BEST HOTELS IN EL CENTRO
3. The Alhambra, where to stay in Granada near central attractions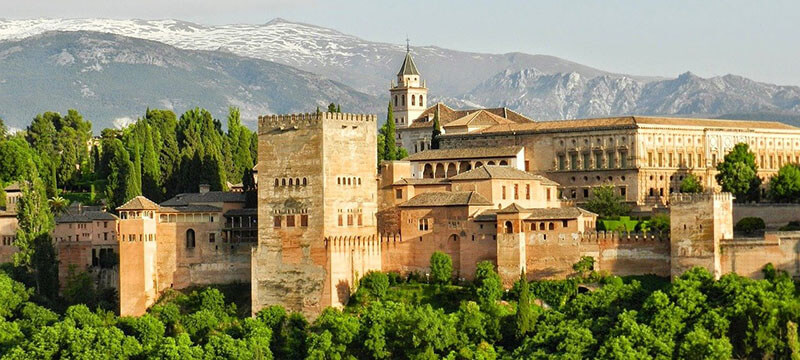 As far as unique options go, this is certainly up there. As I touched on briefly earlier, the Alhambra is one of the central attractions in Granada.
The Alhambra is a fortress, first built in 889 AD, that sits atop the hills overlooking the Darro river. It has also spent part of its existence as a royal palace and is filled with Muslim art and architecture akin to that found in the surrounding areas of the city.
While in most instances a location such as this would be a day trip from where you're staying, in Granada you have the option to actually stay within the walls of the Alhambra.
Now, obviously, places are extremely limited and are priced accordingly for such a premium location. That being said, if you're looking to have a once in a lifetime experience, shelling out such a sum will almost certainly be worth it.
This isn't just one of the 7 best places to stay in Granada, it's one of the most amazing places to stay in Spain as a whole.
Stay around The Alhambra if you want a once in a lifetime experience, you have plenty of money to spend, you don't need to bring a car, you love history.
Best places to stay in Granada in Alhambra:
Best luxury hotel: Eurostars Washington Irving is a unique, 5-star hotel, decorated in a style inspired by the author Washington Irving. Featuring a library containing first editions of many of his books, as well as an outdoor pool and sun terrace, this hotel and its luxurious, air-conditioned rooms are a great place to stay for his fans, as well as those visiting the legendary Alhambra, which is just 450 yards away.
Best mid-range hotel: Parador de Granada is an incredible, 4-star destination, housed in a 15th-century convent that is actually located within the walls of the Alhambra. Still boasting most of the building's traditional architecture, with modern updates like air-conditioning, this gives you the amazing opportunity to stay in the city's most iconic location. In addition, there is also a terrace, patio and bar overlooking the stunning gardens, as well as a restaurant serving traditional Andalusian cuisine.
Best budget apartment: Apartamentos Campo Del Príncipe offers guests a choice of modern apartments, located just a 10-minute walk from the Alhambra. The units are simply but stylishly decorated and each features free wifi, a private bathroom, kitchen, laundry facilities, air-conditioning and a flat-screen smart TV. There is also a communal roof terrace available, boasting outdoor furniture and incredible panoramic views.
Best budget hotel: Anacapri is a fabulous, boutique hotel, located within a restored, traditionally styled 18th-century house in the old town, just 50 yards from Granada Cathedral. An interior patio, reading room and cafeteria all boast the original artisan woodwork and traditional paintings to bring the spirit of the area to life, while a bar is also available for guests to relax and enjoy a drink in.
🔍 FIND BEST HOTELS IN ALHAMBRA
4. Sacromonte, the best area to stay in Granada for famous cave dwellings
Lying on the outskirts of Albaicin, Sacromonte takes the idea of culture as its selling point and runs with it. Here you will find a unique history, where homes were built into the hillside in whitewashed caves by the Romani people who settled it, thus earning it the nickname of the gypsy neighborhood.
Don't let this rustic feel fool you though, there is plenty of life to the area. Considered to be the best place in the city for Flamenco, you can find guitarists playing, people dancing and even an academy with people studying the art.
No trip to Sacromonte, or Granada in general, would be complete without a visit to the Abadia Del Sacromonte. The 17th century abbey that gave the area its name sits atop the Valparaiso hill and is truly a sight to behold. The proximity to this alone makes Sacromonte one of the 7 best places to stay in Granada.
While the prices are still a little steep, there are a few more reasonable deals to be had than in Albaicin. You also have the chance to stay in one of the hillside caves, but these are few and far between so make sure you book well in advance. One thing that's guaranteed though, is that Sacromonte will provide a unique experience like no other.
Stay in Sacromonte if you love flamenco, you aren't too worried about the price, you're interested in Romani culture, you don't have to bring a car, you like natural beauty, such as caves, you want stunning views.
Best Hotels in Granada Sacromonte:
Apartamentos Montesclaros provides beautiful, spacious apartments, all of which boast free and air-conditioning as well as a private bathroom, kitchen, and dining room, while some even have their own balcony. Close to San Nicholas Viewpoint, San Nicolas Viewpoint, Alhambra, and Generalife.
Solar MontesClaros provides rooms decorated in a traditional Andalusian style, all fully air-conditioned and feature either a balcony or a terrace with an amazing view of the Alhambra Palace. Within walking distance from Elvira Street, solar MontesClaros, Generalife Palace.
Apartamentos Alhambra Dream offers traditional, rustically themed, air-conditioned apartments, set in a quiet residential area, just 600m away from the Archaeological Museum of Granada.
🔍 FIND BEST HOTELS IN SACROMONTE
5. Realejo, the coolest area to stay in Granada
If you liked the sound of Albaicin, but the Arabic culture didn't pique your interest, allow me to bring your attention to Realejo.
Located on the opposite side of the Alhambra to Albaicin, Realejo features many of the same sights and sounds, including the winding streets and spectacular views. This time however, the history and culture is slightly different.
This was the old Jewish quarter of the city and has a fantastic array of architecture to behold, including whitewashed houses and a convent.
While mostly similar to Albaicin, it does have a little more to offer in the way of tapas bars and restaurants, making it more desirable to those who want some of the more common holiday elements while still getting to soak up the culture.
Its pricing is also a little more affordable than Albaicin, though there are still locations with better value to be found if that is your priority.
Stay in Realejo if you love Jewish culture and architecture, you want to be around street art vibe, you aren't worried about the price, you don't have to bring a car, you aren't worried about tourist attractions, you want stunning views.
Best Places to Stay near Realejo:
Alhambra Palace. Alhambra Palace is just outside the Alhambra's ancient walls, with amazing views of Granada. Within a short distance from Alhambra, the medieval Moorish quarter, and Albayzín.
Palacio De Los Navas This bed and breakfast are located in the central location of Granada, just 400 m from Calle Elvira. It features beautiful, air-conditioned rooms with free wifi and a flat-screen TV.
🔍 FIND BEST HOTELS IN GRANADA
6. La Chana, where to stay in Granada on a budget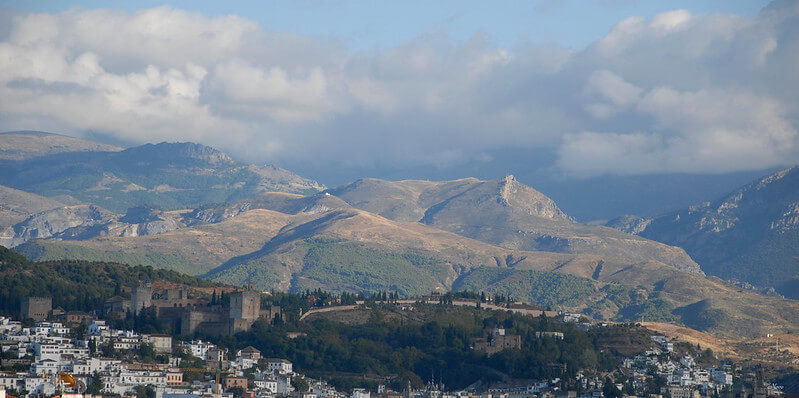 So far, the options we've looked at have all required a reasonable budget to stay in. While El Centro certainly had more lower priced options available, there will still be those who want to dedicate as little of their funds to their accommodation when travelling, in order to maximise the amount they have available to enjoy themselves while they're there.
Well, it wouldn't truly be a list of the 7 best places to stay in Granada if I didn't include something for everybody so, with that being said, enter La Chana.
An emerging neighbourhood, La Chana still features incredibly affordable accommodation but with the benefit that it is starting to feature more and more facilities you would expect from a tourist hotspot.
An abundance of bars, highly rated restaurants and live music performances are quickly making this one of the go-to spots in Granada.
It also has a great transportation service, thanks in large part to the famous university that's located nearby. This means that you can enjoy the great value the area has to offer, without worrying about missing out on the more famous sights Granada is famed for.
Stay in La Chana if you aren't worried about being a little out of the centre, you need to bring a car, you have young children, you prioritise great value, you love great restaurants.
Best places to stay in La Chana:
Be Free Granada offers a range of spacious, affordable, simply styled one-, two- and three- bedroom apartments. All of the units are pet friendly, and feature a private kitchen, bathroom, seating area and flat screen TV, while free wifi and parking are available for all guests around the site. Also close to San Juan de Dios Museum.
🔍 FIND BEST HOTELS IN LA CHANA
7. Genil, best place to stay in Granada for nature lovers
Our tour of the 7 best places to stay in Granada ends here, in the quiet region of Genil.
The main drawback of this location is that it lies a little further from the centre of Granada than the others do. However, that's the very reason for one of its most attractive qualities.
In order to encourage tourists away from the heart of the city, the hotels in Genil offer incredibly reasonable rates. This is even more impressive when you see the quality of the hotels in question, as most feature swimming pools, Turkish baths, and beautiful grounds.
Another factor that makes this an appealing destination is that it lies on the edge of a nature preserve. That means those who are looking to enjoy what the city has to offer but like the option to get away from everything for a while can get the best of both worlds.
When you combine all of that, it shouldn't be hard to see why Genil is such an appealing destination for many. If you do want to stay here though, make sure to book in advance as the number of hotels in the area is limited.
Stay in Genil if you aren't worried about having to travel longer distances to get around, you prioritise great value, you love nature, you have to bring a car, you aren't worried about nightlife or traditional tourist activities.
Best places to stay in Genil:
Hotel Albero is an affordable, family-run hotel, located just a 5-minute drive from the Alhambra. Single, double and triple rooms are available, all of which feature a simple, homely style, as well as more luxury touches like marble floors. Free wifi is available throughout the site, while breakfast is served each morning.
Hotel Macià Real De La Alhambra is a stylish, modern, 4-star hotel, located just a 10-minute drive from the city centre. The contemporary rooms are spacious and designed in a minimalist style, and all offer air-conditioning, a flat screen TV and a safety deposit box, while some even feature a balcony with sun loungers.
Abades Nevada Palace is a beautiful, 4-star hotel and spa, where the air-conditioned rooms are all decorated in a hypermodern style and feature a private bathroom, satellite TV and mini bar. The hotel features a number of amenities to keep you entertained and help you relax, such as 2 pools, a gym, sauna, hammam, Turkish bath and massage services.
🔍 FIND BEST HOTELS IN GENIL
8. Beiro, staying in Granada near train station
Beiro is a vibrant district, best described as a melting pot of different cultures and nationalities. The location of the city's main bus and train terminals, travellers arrive here from all over the continent on a daily basis.
Especially popular with younger visitors, there are plenty of budget hotels and hostels without all the frills. This is a favourite among backpackers, who simply need a place to sleep of a night.
Perhaps unsurprisingly, given the clientele, it also features one of the most popular nightlife scenes in the city. Bars and clubs feature a lively vibe, making them ideal for meeting new travelling partners or simply having a great night out on the town.
Stay In Beiro If you are travelling to the city by bus or train, you are a backpacker or need budget accommodation, nightlife is a priority for you.
Best places to stay in Granada in Beiro:
Allegro Granada By Barceló 4 star hotel, located within walking distance from Granada's Bullring, the Train Station, Plaza de Toros, Monasterio Cartuja and also close to Granada city centre. This hotel offers modern air-conditioned rooms, with free wifi, an outdoor swimming pool, and an on-site restaurant.
Leonardo Hotel Granada This mid-range hotel offers rooms with the Alhambra Palace views and city views, located just 400m from Granada Train Station, Granada University, within 10 minutes walk from the Granada Cathedral and Elvira Street.
Apartamento Familiar Cisne This budget apartment is located close to Basilica de San Juan de Dios, San Juan de Dios Museum, Plaza Nueva, San Nicolas Viewpoint, and Hammam Arab Baths.
🔍 FIND BEST HOTELS IN BEIRO
9. Ronda District, a great place for budget travelers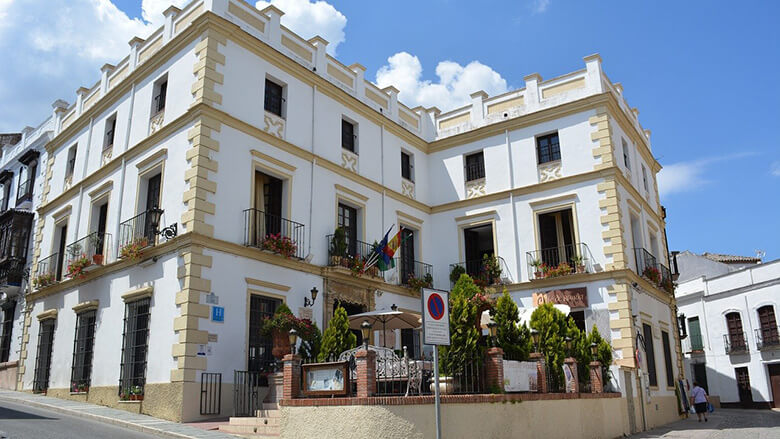 Another quiet, affordable neighborhood, the Ronda District is incredibly popular with students, due to its cost and proximity to the university. This helps it to achieve a vibrant, youthful atmosphere throughout many of its bars and restaurants.
Speaking of which, the district features some of the best tapas and seafood bars in the city. This makes it the perfect place to enjoy some traditional Granadan cuisine, without breaking the bank.
Attractions aren't abundant in the area, although there are a number of castles and a museum for history fans to enjoy. What there is plenty of though, is affordable hotels and guesthouses, giving you plenty of options when it comes to where you stay during your trip.
Stay In Ronda District If you are travelling on a budget, you are, or are visiting, a student at the university, you enjoy castles and museums, you like tapas and seafood.
Best places to stay in Ronda District:
Sercotel Gran Hotel Luna de Granada This 4-star hotel provides spacious, air-conditioned rooms, with free wifi, indoor heated swimming pool, an outdoor swimming pool, and a spa. It's also located within 10-minute walk from Granada historic town, and close to Alhambra Palace, Granada Train Station, Albaicin, and Granada Science Park.
Hotel Porcel Sabica Located in Granada city centre, within walking distance from Granada Cathedral, Palacio de Congresos Convention Centre, and a short ride from the Alhambra by taxi.
Senator Granada Spa Hotel Offers stylish accommodation next to Granada's Congress Centre, also near Granada Science Park, Calle Navas, and Bib-Rambla Square.
🔍 FIND BEST HOTELS IN RONDA DISTRICT
10. Zaidin, the most modern district in Granada
Zaidin is one of the most modern districts in the city. Everything from hotels to bars and restaurants are either new or have been renovated and modernised. This makes it ideal for anyone seeking a fresh, clean feel throughout their stay.
The area is filled with beautiful parks for you to stroll around in, relaxing in the beautiful weather. While there aren't a huge number of options for nightlife, these should more than suffice for those happier with a slower pace.
The one thing it does have to offer though, is the Los Carmenes stadium. Home to Granada Football Club, as well as the host of many of the city's biggest events, it is the ideal location for anyone hoping to catch a game or a show.
Stay In Zaidin If you are coming to see a football match or another event at Los Carmenes stadium, you aren't worried about nightlife, you enjoy beautiful parks, you want new, modern accommodation and amenities.
Best places to stay in Zaidin:
Hotel Andalucía Center Located within a short stroll from Granada's Science Park, Federico García Lorca Park, Granada Congress and Exhibition Centre, and Granada city centre. This 4-star hotel offers comfortable rooms with air-conditioning, free wifi, and an on-site restaurant serve Mediterranean food.
Hotel Saray This elegant Andalusian design hotel offers modern, air-conditioned rooms with flat-screen satellite TV and free wifi. It's situated next to Granada's Congress Centre, within 10-minute walk from Granada's historic centre, and a few steps from the airport bus stop. The Albaycin district and Alhambra Palace are less than 2km away.
🔍 FIND BEST HOTELS IN ZAIDIN
11. Bola De Oro, a quiet residential area in Granada
Bola De Oro is a quiet, residential neighbourhood. Shops, bars and restaurants all cater primarily to the locals, allowing you to get an authentic experience. It also means you will find more affordable pricing, as you won't see the hikes that are common in tourist areas.
Beautiful views of the surrounding landscape and The Alhambra give you a picturesque backdrop to relax and enjoy a drink or meal with. The Alhambra itself is within walking distance, while the city centre is just a bus ride away.
This makes it the perfect area for families who need a little more room or those on a budget. You get all the benefits of a small town, without having to miss out on any of the attractions.
Stay In Bola De Oro If you are travelling on a budget or with family, you want stunning views, you want a quiet, authentic area that still has access to the major attractions.
Best places to stay near Bola De Oro:
Hotel Macià Real De La Alhambra This hotel offers Arabic Baths, contemporary rooms with free wifi, flat-screen TV, and a private balcony in some rooms. You can easily find the bus stop outside of the hotel, which will take you to the city centre with its famous attractions such as the old Moorish Quarter of Albaycín and Granada Cathedral. You can also visit the Sierra Nevada Mountains within 1-hour driving.
Maciá Monasterio de los Basilios Located within easy walking distance from Granada Convention Centre, next to the Genil River, this early 17th-century monastery offers air-conditioned rooms with free wifi, an en suite bathroom with amenities, and an on-site restaurant that serves Mediterranean food.
Hotel Albero This family-run hotel is set just off the road towards the Sierra Nevada, within a short ride from Granada's magnificent Alhambra Palace. You can also climb to the hill of one of the most inspiring monuments in Europe – Alhambra.
🔍 FIND BEST HOTELS NEAR BOLA DE ORO
Is It Better To Stay In Granada Or Seville?
Located just over two hours apart, many people looking at this area of the world will find themselves choosing between Granada or Seville.
Seville is a bigger, more famous location and you may find that draws you in, as there will be plenty of deals on flights and hotels.
That's exactly the reason that I would recommend Granada if you are looking to experience the culture and history of the region. Being less touristy and a little quieter, you'll get a truer feel of what life was and is in this part of the world.
How Many Nights To Spend In Granada?
An important thing to consider when looking at a destination like Granada is how long to spend there. Spend too little time and you may miss some of the things it has to offer but too long and its charm may begin to wear thin.
I'd personally suggest Granada is a perfect spot for a long weekend. 3-4 days gives you plenty of time to take in everything it has to offer and leave you wanting more, as opposed to waiting for the flight home before your trip has even finished.
Is Granada Safe For Tourists?
One thing most of us worry about when travelling to new places is the crime rate. No one wants to go to a place where they have to constantly be looking out for themselves and their possessions.
Thankfully, Granada is a very safe city that you should feel comfortable travelling to. While there is an average chance of petty crimes, such as pickpocketing, that you would encounter in any city, the rate of more severe crime is extremely low and not something you are likely to encounter.
Is Granada Worth Visiting?
By this point in the article, I would imagine you've already made your own mind up on this one. In case you haven't though, allow me to clarify.
If you love history, culture or architecture and want it as a central component of your trip, Granada is absolutely worth visiting. That said, if you're looking for a laid-back beach or pool holiday, there are probably more suitable, better value options available.
Is Granada Expensive?
You'll likely have gotten a feel for the pricing of the accommodation throughout the article but what about the city as a whole?
Well, much like the hotels, everything else has a range of prices across the city. That said, the average price is generally higher here than you would find in other places
That certainly doesn't mean you won't get value as there are incredible experiences to be had, but if cost is your number one concern then there are certainly cheaper cities around.
Read Also:
Conclusion
Granada truly is a fantastic city, rich with culture, beautiful scenery and unique experiences. While it's certainly not the cheapest place in the world, if you're like me and don't want to put a price limit on life experiences then it's an absolutely must-see place.
Next time you're looking for a short break and need to get away, think about swapping your normal tourist hotspots for a visit to Granada and take in what it has to offer. You may find it gives you a whole new perspective on how you travel. Hope you answer the question about where to stay in Granada, happy travel!