Best Place To Stay In Granada Spain
Wondering where to stay in Granada for the first time, with families, with a car, for sightseeing? Find out the 7 best areas, and neighborhoods to stay in Granada in this guide.
Whether you're looking for the hustle and bustle or simply to take in the culture, Granada's rich history, combined with its vibrant tourist hotspots, make it the perfect destination to accommodate both.
When it comes to looking at travel destinations in Spain you're spoilt for choice and Granada likely won't be the first city on many people's lips. After you find out what's waiting for you in this incredible city though, that's all going to change.
Where To Stay In Granada Spain – 7 Best Area & Neighborhoods
So, you've decided Granada is the place for you, or at least you're thinking about it. No matter what you look for in a travel destination though, there are certain things, such as accommodation, that all of us take into consideration. That's why each of our 7 best areas to stay in Granada will take these into account, to give you the clearest picture possible while making your decision.
Where To Stay In Granada Spain – 7 Best Areas & Neighborhoods to Stay in Granada Spain
Where To Stay In Granada Spain Map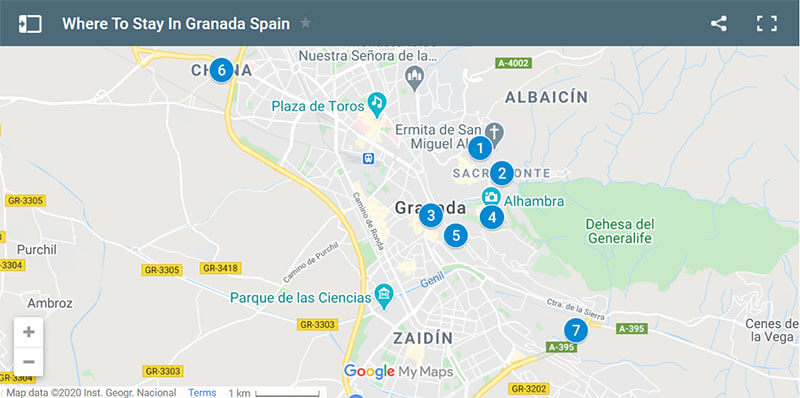 To see more detail of the where to stay in Granada Map, go to Google Map;
See Aslo: Where to Stay in Barcelona, Spain: Best Area & Hotel Travel Guide
1. Albaicin – Best Area to Stay in Granada for Sightseeing
One of the oldest areas of Granada, if it's stunning views and history in every direction that you're looking for, then this may well be the place for you.
Its maze of winding streets weaves through buildings displaying the culture of its Muslim Berber settlers. Even today, the area has an almost Moroccan feel to it, which helps to bring the spirit of the area to life.
Whether you want to spend the days wandering the streets and dining in tea rooms and the evenings relaxing with a glass of wine as you take in the views of the Sierra Nevada mountains and the Alhambra fortress, Albaicin is the place that can give you it all and is, without question, one of the 7 best areas to stay in Granada.
As you may expect from an area that offers so much, it is indeed one of the pricier regions in the city. While it may not be right for those working with a tighter budget or looking for a little more nightlife, if neither of those issues concern you this is surely the place to go.
YOU SHOUD STAY IN ALBAICIN IF:
You love culture and Muslim architecture
You aren't worried about price
You don't have to bring a car
You aren't worried about tourist attractions
You want stunning views
2. Sacromonte – Best Area to Stay in Granada to Explore Nature
Lying on the outskirts of Albaicin, Sacromonte takes the idea of culture as its selling point and runs with it. Here you will find a unique history, where homes were built into the hillside in whitewashed caves by the Romani people who settled it, thus earning it the nickname of the gypsy neighborhood.
Don't let this rustic feel fool you though, there is plenty of life to the area. Considered to be the best place in the city for Flamenco, you can find guitarists playing, people dancing and even an academy with people studying the art.
No trip to Sacromonte, or Granada in general, would be complete without a visit to the Abadia Del Sacromonte. The 17th century abbey that gave the area its name sits atop the Valparaiso hill and is truly a sight to behold. The proximity to this alone makes Sacromonte one of the 7 best places to stay in Granada.
While the prices are still a little steep, there are a few more reasonable deals to be had than in Albaicin. You also have the chance to stay in one of the hillside caves, but these are few and far between so make sure you book well in advance. One thing that's guaranteed though, is that Sacromonte will provide a unique experience like no other.
YOU SHOUD STAY IN SACROMONTE IF:
You love flamenco
You aren't too worried about price
You're interested in Romani culture
You don't have to bring a car
You like natural beauty, such as caves
You want stunning views
3. El Centro – Best Area to Stay in Granada for Nightlife
It's time to change pace a little with this one, as El Centro resembles more what you'd expect from a tourist location.
While not as big as some of the major Spanish cities by any means, an abundance of bars, cafes and restaurants, all within walking distance, will make El Centro feel right in the thick of it. There is also plenty of souvenir shops and an amazing food market that you can spend browsing your days away in.
If you still want a little culture though don't worry, that's something you're never far away from wherever you are in Granada. A 16th century cathedral and royal chapel play highlight to a host of nearby sights, including a plethora of squares and fountains.
Many consider this to be the best and most diverse area in Granada and the pricing of its accommodation perfectly represents that. Whether you're looking to stay in style or prioritising great value, there's an option for everyone, which is why it's right near the top of my list of the 7 best places to stay in Granada
YOU SHOUD STAY IN EL CENTRO IF:
You want to be in the thick of things
You want easy access to the other areas
You want more traditional tourist attractions
Nightlife is important to you
You need to bring a car
You have children to keep occupied
4. The Alhambra – Best Area to Stay in Granada for History Lovers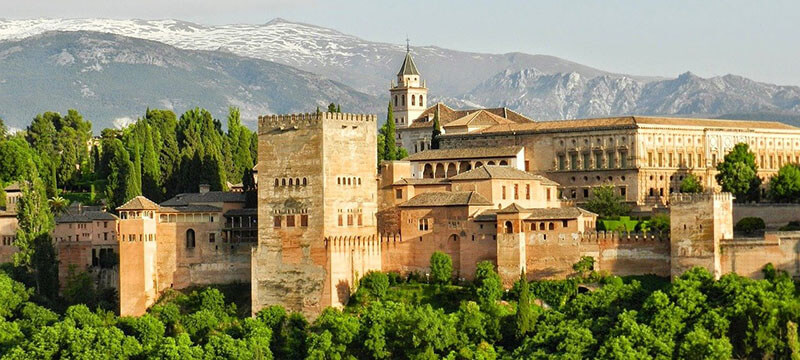 As far as unique options go, this is certainly up there. As I touched on briefly earlier, the Alhambra is one of the central attractions in Granada.
The Alhambra is a fortress, first built in 889 AD, that sits atop the hills overlooking the Darro river. It has also spent part of its existence as a royal palace and is filled with Muslim art and architecture akin to that found in the surrounding areas of the city.
While in most instances a location such as this would be a day trip from where you're staying, in Granada you have the option to actually stay within the walls of the Alhambra.
Now, obviously, places are extremely limited and are priced accordingly for such a premium location. That being said, if you're looking to have a once in a lifetime experience, shelling out such a sum will almost certainly be worth it.
This isn't just one of the 7 best places to stay in Granada, it's one of the most amazing places to stay in Spain as a whole.
YOU SHOUD STAY IN ALHAMBRA IF:
You want a once in a lifetime experience
You have plenty of money to spend
You don't need to bring a car
You love history
5. Realejo – Best Area to Stay in Granada for Jewish Culture
If you liked the sound of Albaicin, but the Arabic culture didn't pique your interest, allow me to bring your attention to Realejo.
Located on the opposite side of the Alhambra to Albaicin, Realejo features many of the same sights and sounds, including the winding streets and spectacular views. This time however, the history and culture is slightly different.
This was the old Jewish quarter of the city and has a fantastic array of architecture to behold, including whitewashed houses and a convent.
While mostly similar to Albaicin, it does have a little more to offer in the way of bars and restaurants, making it more desirable to those who want some of the more common holiday elements while still getting to soak up the culture.
Its pricing is also a little more affordable than Albaicin, though there are still locations with better value to be found if that is your priority.
YOU SHOUD STAY IN REALEJO IF:
You love Jewish culture and architecture
You aren't worried about price
You don't have to bring a car
You aren't worried about tourist attractions
You want stunning views
6. La Chana – Best Area to Stay in Granada for Family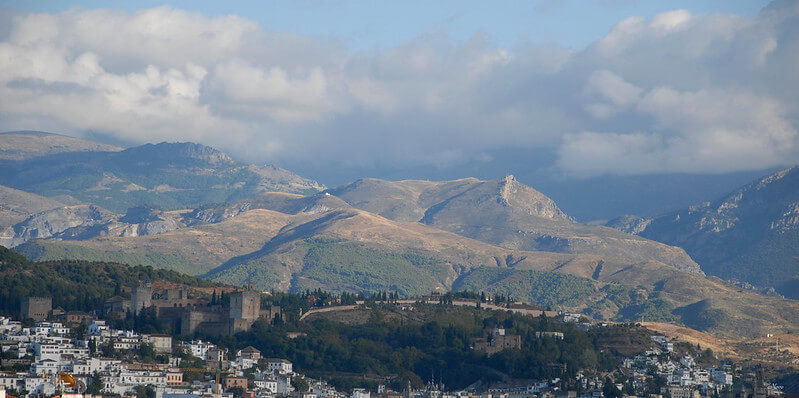 So far, the options we've looked at have all required a reasonable budget to stay in. While El Centro certainly had more lower priced options available, there will still be those who want to dedicate as little of their funds to their accommodation when travelling, in order to maximise the amount they have available to enjoy themselves while they're there.
Well, it wouldn't truly be a list of the 7 best places to stay in Granada if I didn't include something for everybody so, with that being said, enter La Chana.
An emerging neighbourhood, La Chana still features incredibly affordable accommodation but with the benefit that it is starting to feature more and more facilities you would expect from a tourist hotspot.
An abundance of bars, highly rated restaurants and live music performances are quickly making this one of the go-to spots in Granada.
It also has a great transportation service, thanks in large part to the famous university that's located nearby. This means that you can enjoy the great value the area has to offer, without worrying about missing out on the more famous sights Granada is famed for.
YOU SHOUD STAY IN LA CHANA IF:
You aren't worried about being a little out of the centre
You need to bring a car
You have young children
You prioritise great value
You love great restaurants
7. Genil – Best Area to Stay in Granada With a Car
Our tour of the 7 best places to stay in Granada ends here, in the quiet region of Genil.
The main drawback of this location is that it lies a little further from the centre than the others do. However, that's the very reason for one of its most attractive qualities.
In order to encourage tourists away from the heart of the city, the hotels in Genil offer incredibly reasonable rates. This is even more impressive when you see the quality of the hotels in question, as most feature swimming pools, Turkish baths, and beautiful grounds.
Another factor that makes this an appealing destination is that it lies on the edge of a nature preserve. That means those who are looking to enjoy what the city has to offer but like the option to get away from everything for a while can get the best of both worlds.
When you combine all of that, it shouldn't be hard to see why Genil is such an appealing destination for many. If you do want to stay here though, make sure to book in advance as the number of hotels in the area is limited.
YOU SHOUD STAY IN GENIL IF:
You aren't worried about having to travel longer distances to get around
You prioritise great value
You love nature
You have to bring a car
You aren't worried about nightlife or traditional tourist activities
Tips For Choosing Where To Stay In Granada
With everything I've already shown you, you could be forgiven for thinking I've made your decision harder as opposed to easier, as there is simply so much to see.
That's why I want to highlight a few things to consider when making your decision on where to stay.
If you work out exactly where you stand on each of these points, it should make life much easier when working out which of the 7 places on our list match it closest.
Will you be renting a car?
Do you prefer Muslim or Jewish architecture?
What is your budget?
How close to the centre of things do you want to be?
How interested in the Alhambra are you?
What sort of nightlife are you looking for?
Do you want to spend your entire trip in the city?
Where Is The Best Area To Stay In Granada Spain?
Ok, so we've given you the 7 best places to stay in Granada, Spain and each of them will appeal to different groups of people. However, if you were asking me to state the best place to stay if I have to pick one, then it would have to be El Centro.
El Centro simply has a little bit of everything. It has the nightlife, the shopping, the culture- whatever you're after from Granada, you will find it here. Then there's the fact that, as the name suggests, it's in the centre of things. With the well-run transport systems available and the relative proximity of most of the sights, nothing is too far to travel to from here.
If you're looking for something specific then one of the other 6 locations may suit you better but if you're at all undecided, El Centro is probably the way to go.
Where To Stay In Granada With A Car?
Many people, myself included, like to rent a car when we are on holiday. It makes getting to and from the airport with all your luggage so much easier and generally makes everything on your trip much more accessible.
There are some places though that simply don't suit cars and old European towns and cities such as this are right at the top of that list. It's therefore important to know before you start booking things if you're going to cause yourself a problem by having one.
When it comes to Granada, 4 of the locations on this list have limited or no access for vehicles. While this can help with the appeal for those who don't drive it will pose a definite barrier for people who see a car as a must. If you have to have a car in Granada, I would recommend staying in either El Centro, La Chana or Genil.
Is It Better To Stay In Granada Or Seville?
Located just over two hours apart, many people looking at this area of the world will find themselves choosing between Granada or Seville.
Seville is a bigger, more famous location and you may find that draws you in, as there will be plenty of deals on flights and hotels.
That's exactly the reason that I would recommend Granada if you are looking to experience the culture and history of the region. Being less touristy and a little quieter, you'll get a truer feel of what life was and is in this part of the world.
How Many Nights To Spend In Granada?
An important thing to consider when looking at a destination like Granada is how long to spend there. Spend too little time and you may miss some of the things it has to offer but too long and its charm may begin to wear thin.
I'd personally suggest Granada is a perfect spot for a long weekend. 3-4 days gives you plenty of time to take in everything it has to offer and leave you wanting more, as opposed to waiting for the flight home before your trip has even finished.
Best Place To Stay For Sightseeing In Granada?
When it comes to sightseeing, there are plenty of prime locations to stay. Albaicin, Realejo and The Alhambra all have incredible sights to offer and are must visit locations when in Granada.
However, their steep prices may leave you wanting to spend more time in the hotels you've shelled out for. That's why I would have to say Sacromonte is the best location for sightseeing.
It's close enough that you can easily travel to the other three locations I just mentioned, as well as exploring its own sights, but won't worry if you spend all night flamenco dancing thanks to the greater value you'll have gotten on your accommodation.
Best Place To Stay For Families With A Toddler?
Those travelling with a toddler will have extra needs to those of us without when it comes to travelling. Keeping them occupied, carrying additional supplies and what to do if they get sick are all very real concerns they will have to address.
That's why La Chana would be my recommended location for those travelling with a toddler. It's easily accessible by car to transport the additional luggage, is in a quieter area if you need some down time but is close enough to everything that you don't have to worry about taking them on long drives. Perfect on all counts.
Is Granada Safe For Tourists?
One thing most of us worry about when travelling to new places is the crime rate. No one wants to go to a place where they have to constantly be looking out for themselves and their possessions.
Thankfully, Granada is a very safe city that you should feel comfortable travelling to. While there is an average chance of petty crimes, such as pickpocketing, that you would encounter in any city, the rate of more severe crime is extremely low and not something you are likely to encounter.
Is Granada Worth Visiting?
By this point in the article, I would imagine you've already made your own mind up on this one. In case you haven't though, allow me to clarify.
If you love history, culture or architecture and want it as a central component of your trip, Granada is absolutely worth visiting. That said, if you're looking for a laid-back beach or pool holiday, there are probably more suitable, better value options available.
Is Granada Expensive?
You'll likely have gotten a feel for the pricing of the accommodation throughout the article but what about the city as a whole?
Well, much like the hotels, everything else has a range of prices across the city. That said, the average price is generally higher here than you would find in other places
That certainly doesn't mean you won't get value as there are incredible experiences to be had, but if cost is your number one concern then there are certainly cheaper cities around.
The 20 Best Things To Do In Granada
When it comes to choosing the 20 best things to do in Granada it can be quite a tough decision, as the city is simply brimming with places to go, things to do, and sights to see.
Whether you want history and culture, natural beauty and scenery, or a night out on the town, Granada is a city that has something to offer for everybody.
That said, while there are more things to do in Granada than we could possibly fit into one list, there are some that are simply more unmissable than others.
So sit back and relax, as I take you through the 20 best things to do in Granada, to make sure it's a trip you'll never forget.
1. A Visit To Alhambra Fortress
Without question, the most famous attraction in Granada, the walled fortress of Alhambra dominates the city's skyline.
Located on a small hill on the south-eastern border of the city, it was built in the 11th century as a military stronghold. Two centuries later it was developed into a palace and royal residence by Muhammad I of Granada and was considered home to a number of sultans, senior officials, and servants.
After being partially destroyed over the years, it has since been restored to its former glory and now stands as a museum dedicated to teaching its past to current generations.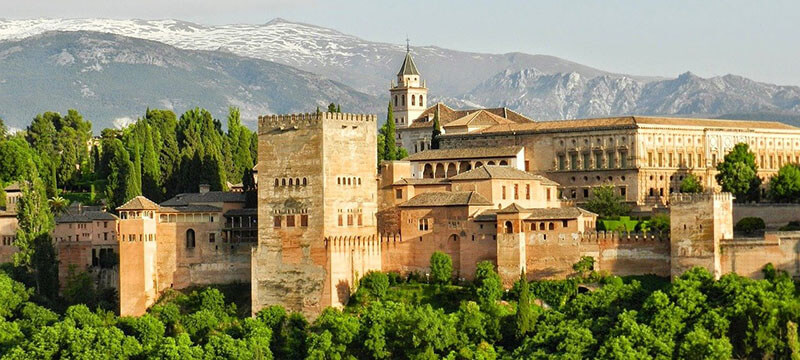 2. Learn Flamenco In Sacromonte
Flamenco is one of the most famous art forms in Spain. A rich and vibrant culture that can transform a location in a heartbeat. Heavily influenced by the Romani Gypsies, it only makes sense that Sacromonte, an area known as the gypsy neighborhood, is the best place in the city for it.
While listening to the local guitarists play in the streets and people dance in bars and restaurants, it is the academy that teaches flamenco that really stands out.
What better way to dive into the history of the culture than by learning it from a place so close to its heart.
3. A Visit To Abadia Del Sacromonte
A beautiful, 17th century structure, built by archbishop Don Pedro De Castro. Lying in the hills just outside Sacromonte, the views from the abbey are almost as impressive as the building itself, making the journey worthwhile to see those on their own.
Inside the abbey is a library containing some of the most important artifacts and documents in the history of the region and beneath it lies a maze of catacombs which are home to numerous chapels.
On the first Sunday of every February, the pilgrimage of San Cecilio takes place in Granada, a popular festival where people end their journey at the fabled abbey.
4. Stay In A Whitewashed Cave In Sacromonte
The traditional homes in the area of Sacromonte are whitewashed caves, carved into the hillside, often known as troglodyte houses.
Typically built and lived in by the Romani people after they took over the area, there are now some available to rent to tourists.
What better way to experience the culture of the area by living in the incredibly unique dwellings that the locals have called home for centuries.
5. Visit Granada Cathedral
Constructed in the early 16th century in the Spanish renaissance style, this stunning cathedral was constructed on the former site of the city's Mosque, a popular occurrence throughout the region of Andalusia as Christian communities began to take over the lands previously ruled by Muslim sultans.
Located in the district of El Centro, the cathedral is equally popular for both its historical significance as well as its beautiful architecture.
No trip to Granada would be completely stopping by to see it for yourself.
6. Visit The Royal Chapel Of Granada
Located next to the Granada Cathedral, the Royal Chapel was designed in the Isabelline style, the most prominent type of architecture during the reign of Queen Isabella II and King Ferdinand II.
This location plays incredible historical significance in the region, as it is the final resting place of both the aforementioned monarchs, whose marriage initiated the unification of Spain.
In a city full of history, this may still be the most important location in Granada on that front, so is an absolute must-see.
7. Stay In The Alhambra Fortress
While the previously mentioned Alhambra Fortress largely operates as a museum and historical monument these days, they do still allow incredibly lucky guests to stay within its walls.
What better way to not only give yourself a treat but to also get into the minds of the historical figures that once inhabited Granada than to sleep in the same location their royalty once slept.
Places are incredibly limited, so if this is something that you're interested in then make sure you book well in advance.
8. Visit The Realejo Convent
Founded in the 16th century by Mother Maria De San Sebastian, this beautiful convent lies in the heart of the area of Realejo.
While not necessarily one of the more famous attractions that Granada has to offer, its incredible collection of sculptures and works of art make it a hidden gem of the city. This has the added benefit of making it a much more serene and less populated attraction, allowing you to enjoy it at your own pace.
9. Go For A Meal In La Chana
La Chana is an area that is currently beginning to emerge as a tourist destination. Located a little way out from the center of town, near the university, it's traditionally viewed as more of a residential area.
However, in recent years it has seen a boom due to its thriving restaurant industry. Considered to be home to a number of the best restaurants in Granada, this gives you the perfect opportunity to get out of the city for a little while and see what life in the area is really like, while sampling some of the finest food you'll encounter on your entire trip.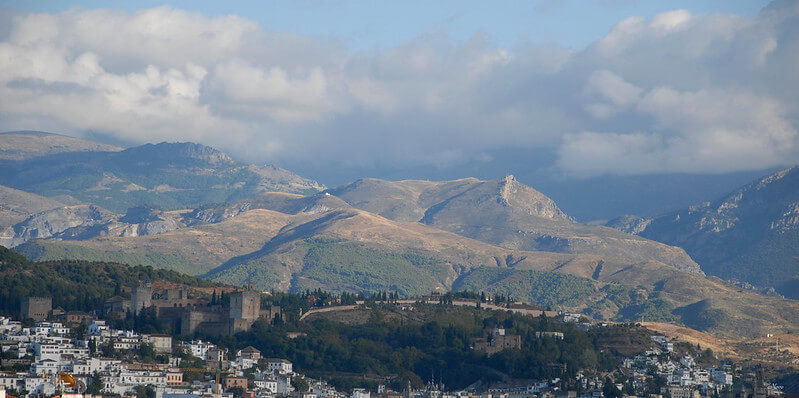 10. Indulge In A Traditional Turkish Bath In Genil
When still in operation as the royal residence of the sultans, the Alhambra featured some of the grandest Arab baths in the world. While they are, unfortunately, no longer in operation, there is still a way for you to experience them.
The Macia Real De La Alhambra Hotel in Genil has created The Royal Arab Baths Of The Alhambra- a precise replica of the baths that once stood in the palace.
Now you have the opportunity to relax in a traditional Turkish style bath and be pampered like the royalty of a bygone era once did, all while visiting a part of the city you may otherwise have missed.
11. Visit The Granada Charterhouse
A monastery for cloistered monks, a term given to those who completely segregate themselves from the outside world, that was built on what was once a farm, surrounded by bodies of water and trees.
Featuring a plethora of works of art, courtyards, and beautiful 16th century architecture, it is a stunning complex that is as easy on the eye as it is historically significant.
Located on the outskirts of the Realejo district, in an area full of landmarks and historic sites, it's well worth the trip to learn about a way of life many have little idea about.
12. Visit Las Sierras Subbeticas Natural Park
After so much time in the city, it might be nice to break it up with a little bit of nature and this natural park is a perfect place to do so.
The sprawling mountains cover the landscape, topped by pine trees and all variety of Mediterranean plant life. It's also home to numerous species of birds, reptiles, and other animals, some of which are exceedingly rare or endemic to the region.
While it's quite a way out from the center of the city and will need a car to enjoy, if you need a break from the hustle and bustle of the city, this is the perfect place to get it.
13.Visit The Mosque Of Granada
Considering the Muslim history of the region, it only seems right to explore the holy site of its modern-day practitioners.
While by no means as grand in scale or design as its historic counterpart, the current Mosque Of Granada is still a beautiful piece of architecture. Built in 2003, near the site of the original Grand Mosque, this is the perfect place to come after you have visited the more historic locations to see how both the area and culture has evolved.
14. Visit The Palace Of The Marques Del Salar
Located in the heart of Granada, near the edges of the Centro, Sacromonte, and Realejo districts, this 16th century place truly demonstrates the spirit of Granada.
Featuring just over a square mile of beautiful renaissance era architecture, flowered gardens, and patios, this stunning monument is the perfect place to appreciate the artistic history of the city or to unwind with a relaxing stroll through the grounds.
It has also now been converted into a museum of perfumes, so there is the opportunity to expand your knowledge as you take in the beautiful aromas.
15. Visit The Museo De Bellas Artes De Granada
A building which in English translates to The Granada Museum Of Fine Arts, it can be located inside the Palace Of Charles V.
A beautiful 16th century palace, located within the walls of the Alhambra, it features a blend of renaissance and mannerism architecture and was constructed by Pedro Machuca, an associate of the legendary architect Michelangelo.
The museum focuses mainly on religious art and houses a number of culturally significant paintings.
16. Visit The House Of Castril Archaeological Museum In Sacromonte
A 16th century renaissance style palace, located in the heart of the Sacromonte district, on the banks of the River Darro.
One of the finest examples of this type of architecture in Granada, it is a fantastic place to come and admire the building and grounds while you learn a little history.
Considering the abundance of fabulous architecture throughout Granada, what better stop to make than a museum that teaches you about the differing styles of all the cultures that have called Granada home throughout the centuries.
17. A Night On The Town In Centro District
While there's plenty of culture and history to be enjoyed in Granada, sometimes on a vacation you just need a chance to let loose for a while.
Well in this city the Centro district is the perfect place to do just that.
With a wide array of bars and restaurants that stay open late into the night, featuring a great choice of food and drink, dancing and live music, there's something for everybody to enjoy on a night out in Centro.
Its location and transport links also make it perfectly situated so you don't have to worry about cars or parking and can focus purely on having a night to remember.
18. Explore The Famed Streets Of Albaicin
One of the most famous regions in the city, Albaicin is famed for its maze of winding, medieval streets and paths.
Weaving in and out of beautiful, historic buildings you are treated to some truly wonderful sights. There are traditional style Arabic tea rooms, beautiful local bars and even the old silk market building to explore as you roam at your own pace.
It is also considered to have some of the best views of the Alhambra in the entire city and watching the sun set over it is an experience you can't miss on a trip to Granada.
19. Experience The Culture Of The Jewish Quarter In Realejo
While the majority of the city features largely Muslim culture and architecture, Realejo was known as the Jewish quarter of the city and has a separate vibe all of its own.
What better way to break up your trip and make it a little more diverse than by exploring this fabulous area and experiencing the unique history, culture and architecture it has to offer.
Take the opportunity to view Granada through different eyes than the majority of the city provides and allow yourself to get the full picture of what life in this city was once like.
20. Visit Monasterio De San Jeronimo
The Royal Monastery Of St. Gerome is a Roman Catholic monastery built in the early 16th century. Accepted to be the first church in the world to declare the immaculate conception of Mary, a somewhat controversial topic throughout the ages, it is still operated today by the same order as at its construction.
Famed for its renaissance architecture, it features two separate cloisters, each with their own gardens and distinctive artwork.
There are beautiful chapels, gates and statues, both original and newer, that make this a truly remarkable sight to behold.
Conclusion
Granada truly is a fantastic city, rich with culture, beautiful scenery and unique experiences. While it's certainly not the cheapest place in the world, if you're like me and don't want to put a price limit on life experiences then it's an absolutely must-see place.
Next time you're looking for a short break and need to get away, think about swapping your normal tourist hotspots for a visit to Granada and take in what it has to offer. You may find it gives you a whole new perspective on how you travel.
---
---