Where to stay in Ibiza? for first-time tourists, to party, for families, couples, singles? In this blog, I will give details about the best areas to stay in Ibiza (include map and video), the advantages and disadvantages of each area, and the best hotels in Ibiza for all budget travelers.
Located in the western part of the Mediterranean Sea in the group of Balearic Islands, Ibiza is, perhaps, the most iconic party island in the world.
The Balearic Islands are set off the eastern coast of Spain, between the Iberian Peninsula and Italy, and have 5 smaller archipelagos: Mallorca, Menorca, Ibiza, Cabrera, and Formentera.
Famous for the clubs that launched the careers of legendary DJs and dance music stars, Ibiza has been the top destination of barflies and ravers for decades. With its balmy climate, beautiful landscape, and historic villages and towns, Ibiza makes for a perfect family holiday or romantic getaway too.
Where to stay in Ibiza?
The best areas to stay in Ibiza for tourists and first-timers are Ibiza Town, Playa d'en Bossa, Cala Talamanca, San Antonio, Cala Tarida, Santa Eulària des Riu, Cala Llonga, Es Caná, Portinatx, and Ses Salines.
Whether you're seeking lively nightlife, family-friendly beaches, tranquil retreats, or natural beauty, there is a suitable location in Ibiza to make your stay memorable.
Also, be mindful of the time of year you plan to visit, as Ibiza's atmosphere can vary greatly depending on the season. It's very busy during the peak summer months, especially in areas known for nightlife.
In general, Ibiza Town, Playa d'en Bossa, and San Antonio are the best overall areas for nightlife and parties.
Playa d'en Bossa is the best area if you seek a vibrant party scene, a lively beach atmosphere, and proximity to Ibiza Town. It is more of an upscale area compared to San Antonio.
Ibiza Town is the best area if you want a more diverse atmosphere with a mix of history, culture, and lively nightlife.
San Antonio has a similar nightlife and beach scene compared to Playa d'en Bossa but it has more beautiful sunset, budget-friendly accommodation and dining options.
The best area for you will depend on your personal preferences. Ibiza has something for all age. 20s and 30s may want to stay in the heart of the party scene with beach clubs and bars at Ibiza Town or Playa D'en Bossa.
If you are at 40s and 50s visiting Ibiza for the first time, I recommend Ibiza Town as the best area because it is a well-rounded location with all tourist amenities that you need for your holiday.
Overviews of best areas to stay in Ibiza for tourists
Here is an overview of recommended areas in Ibiza for first-time visitors:
| Best areas in Ibiza for tourists | Why should you stay in this area? |
| --- | --- |
| Ibiza Town | Located on the southeastern coast, Ibiza Town offers a vibrant atmosphere with a mix of historical sites and lively nightlife. It's perfect for first-time visitors seeking a central location and easy access to iconic landmarks like Dalt Vila. |
| Playa d'en Bossa | Situated just south of Ibiza Town, Playa d'en Bossa is renowned for its long stretch of sandy beach and famous beach clubs. This area is ideal for partygoers, as it offers a buzzing nightlife scene and proximity to popular clubs like Ushuaïa and Hi Ibiza. |
| Cala Talamanca | a quieter option that appeals to those seeking relaxation and a family-friendly atmosphere. The beach is beautiful, and the area offers a selection of charming waterfront restaurants and bars. |
| San Antonio | Situated on the western coast, San Antonio is known for its stunning sunsets and vibrant nightlife. It caters to a young and budget travelers, offering an array of bars, clubs, and beachfront establishments like Café del Mar and Mambo. |
| Cala Tarida | famous for its crystal-clear waters and picturesque sandy beach. It's an ideal spot for families and couples looking for a peaceful retreat, with a good selection of restaurants and beach clubs offering a relaxed atmosphere. |
| Santa Eulària des Riu | offers a more laid-back and family-friendly environment. It boasts a beautiful marina, promenade, and a variety of restaurants, making it an excellent choice for a relaxing holiday. |
| Cala Llonga | a tranquil area surrounded by lush green hills. It offers a long sandy beach, calm waters, and a selection of restaurants and bars, making it an excellent option for families and those seeking a peaceful getaway. |
| Es Caná | a small resort town known for its relaxed vibe and hippie market. It's a great option for those seeking a quieter atmosphere, with a range of cozy bars and restaurants to enjoy. |
| Portinatx | known for its stunning coves, clear waters, and natural beauty. It's a fantastic choice for nature lovers and families, offering a peaceful environment and a few excellent dining options. |
| Ses Salines | famous for its beautiful beach and proximity to the natural park of the same name. It appeals to a trendy and upscale crowd, with stylish beach clubs and excellent seafood restaurants to enjoy. |
Map of areas and towns in Ibiza: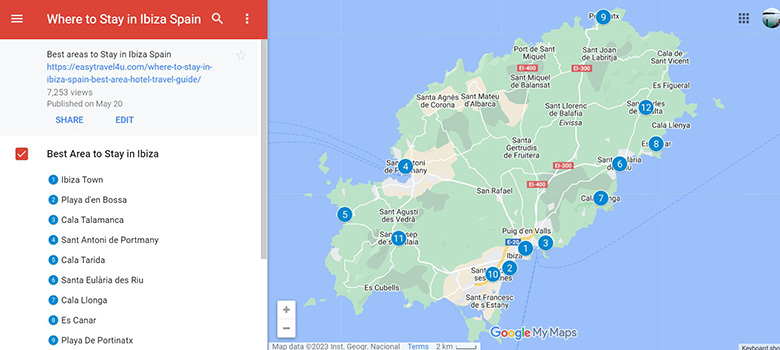 You can also check out: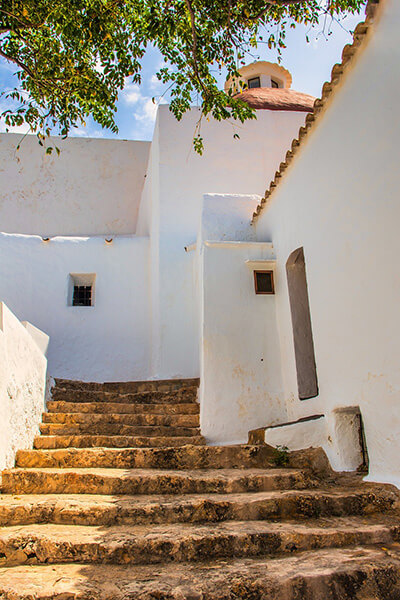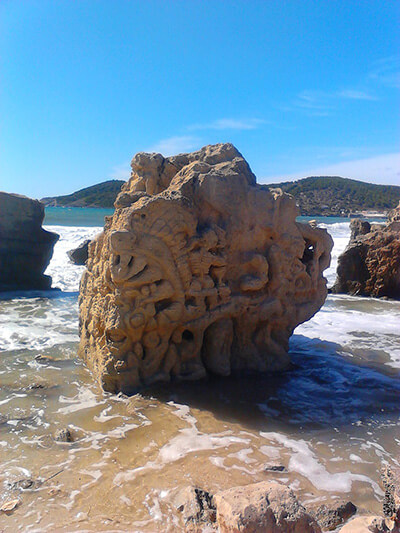 The Best areas to stay in Ibiza for tourists are:
1. Ibiza Town
Ibiza Town is the best overall area to stay in Ibiza for first-time travelers because it is the island's popular tourist centers and the prime location for nightlife and clubbing, sightseeing, and shopping. If you stay here, you will be located in the middle of everything, within easy access to many sights, and facilities such as restaurants, bars, and shops.
Ibiza Town (Eivissa in Catalan) is the capital city and the largest city of Ibiza. It has all amenities that you need for your holiday. It's an ideal area for family, singles, couples of all ages not only young 20-something year old but also tourist at their 30s, 40s, and 50s.
Ibiza Town is the all year round tourist town, so whether you are visiting in peak summer party season from May to late October, or quiet season from November to April, Ibiza Town is the best area on the island to book the hotel.
Ibiza Town can be divided into 3 areas, the Old Town, the New Town, and La Marina. The Old Town is the upper part of the town; the New Town is the area around Vara del Ray; La Marina is the ancient fishermen's neighborhood and the harbor area;
The marinas are great places for a day shopping and night party. There are plenty of charming luxurious yachts, high-end restaurants, cafes, bars, and clubs along the harbor and beachfront of Marina Botafoch and the Marina Ibiza Nueva.
Some of Ibiza's top clubs can be found in town, including Pacha Ibiza, one of the most famous clubs in the world. These mega clubs are primarily located along the main road connecting Ibiza Town and San Antoni.
Discobus operates a night bus service stopping at all the big clubs in Ibiza Town, San Rafael, San Antonio, Playa d'en Bossa, from June until September. It is the safe way to reach the Privilege superclub in San Rafael, as well as Es Paradis and Eden nightclubs in San Antonio by bus.
If you are looking for a cultural vacation, or just want to keep occupied during daylight hours when the clubs are closed, Ibiza's fortified old town (Dalt Vila), is one of the biggest and best attractions on the island.
The cobbled streets, dotted with small shops, wind through the medieval citadel, leading past historic churches, castles, city walls, squares, and whitewashed buildings, including:
the Portal de Ses Taules, the beautiful main entrance to the old town. It is situated between the Bastion of Santa Lucia and Sant Joan.
the Plaza de Vila, the main square, packed with restaurants with outdoor terraces, bars, shops, and art galleries.
the Catedral de Santa Maria de la Neu de Vila d'Eivissa, which was built in the 13th-century, home to the Diocesan Museum.
the Castell d'Eivissa, sitting at the very top of the fortified hill and offering sweeping views across Ibiza and the surrounding seas. It can get quite windy up there, so hold onto your hat and maybe opt for shorts over skirts when you visit.
The Archaeological Museum, with a collection of Phoenician artefacts.
the Museu d'Art Contemporani d'Eivissa, great for art lovers.
the Church of Santo Domingo
Another must-see historical attractions in Ibiza Town can be dound outside the fortress walls. It is the Necropolis Puig des Molins, an ancient cemetery and the world's largest necropoli.
In the New Town, you can find numerous beautiful squares. Plaza del Parque is home to many restaurants, terraces, bars, while Passeig de Vara de Rey is home to a selection of shops, as well as the statue of General Joaquin Vara de Rey y Rubio, and the HardRock Café.
For shopping, you can check out many shops in La Marina area, around Vara de Ray boulevard, as well as hippy markets for art and craft items around Carrer d'Enmig.
Not only the nightlife, sightseeing, and shopping, but Ibiza Town offers easy access to some of the island's best beaches like Playa Talamanca, Playa de Ses Figueretes, and Playa d'en Bossa.
While it's best to rent the car, but with no car, you can easy travel with public transport, water boat, scooter, and taxi. Many hotels offer the shuttle service from the airport. Buses run every 15-30 minutes.
Ibiza Town offers a wide selection of accommodations ranging from budget to luxury options with apartment, resorts, hostels, boutique styles. They offer family rooms, 24-hour front desk, heated infinity pool, a roof terrace with ocean view, as well as private car parking.
While Ibiza Town does have its own beach, Talamanca, it may not offer the same picturesque beauty as some of the other beaches on the island. If you prioritize spending time by the sea, you might prefer to stay in areas like Playa d'en Bossa or San Antonio, which have better beach options.
Stay in Ibiza town if you're first-timers; you want clubbing; nightlife is the main goal of your trip; you're a family, couple, foodie; you're interested in history and culture of the island.
Best places to stay in Ibiza old town for first-timers:
🔍MORE HOTELS IN IBIZA TOWN
2. Playa d'en Bossa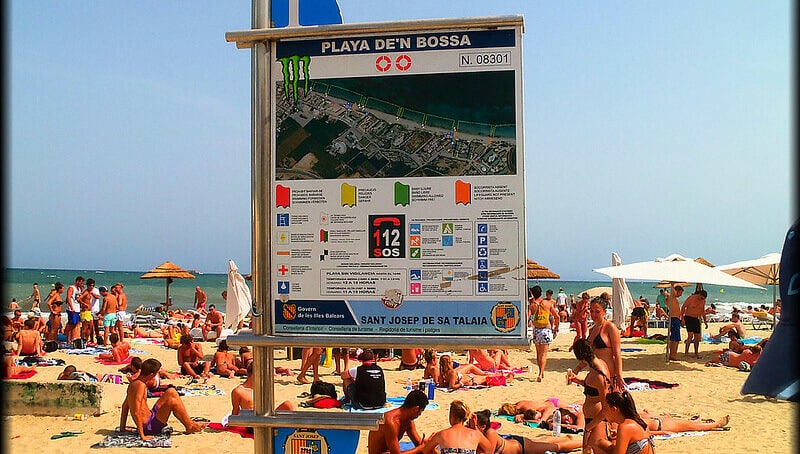 If you are looking for a place in Ibiza to party, look in to Playa d'en Bossa. Playa d'en Bossa is the most popular resort on the island with both partiers and beach lovers.
The area is also ideal for families, with plenty to keep everyone entertained and quick and easy access to all the sights and conveniences of the island's capital.
Located directly south of Ibiza Town, you will have access to all the bars and clubs of the capital city, without having to pay the premium prices for accommodation. Of course, that's not to say that Playa d'en Bossa doesn't have a thriving party vibe of its own.
You can find to super-clubs including Hi Ibiza, Ushuaia, Octan Ibiza, Swag Ibiza Club and, if your budget is big enough, you can get in on the parties hosted at the luxury Hard Rock Hotel.
During the daytime, the primary draw of the area is the sprawling white sandy beach Playa d'en Bossa beach, the longest on the island at a full 3-kilometers long. The beach is a popular place for swimming, sunbathing, and watersport activities.
The Beach has loungers, parasols for rent, as well as lifeguards and toilets. There are beach bars such as Bora Bora Beach Club, cafes, and small souvenir shops line the length of the beach to keep visitors refreshed and entertained.
You can climb up to the Torre des Carregador at the southern end of Playa d' en Bossa, which offers stunning views over the ocean and the city.
Behind the beach, the Club Fiestaland Sports Center is great for keeping families entertained with football pitches, mini-golf courses, and table tennis tables. There is also a playground for younger children.
Alternatively, try the Aguamar Water Park, full of slides and aquatic rides, to keep the whole family busy for an afternoon.
Playa d'en Bossa is one of the best areas to stay in Ibiza without a car as there are plenty of bus routes run through the town connecting it to the rest of the island. Ibiza Airport is just a few minutes away by bus or taxi, making it easy and affordable to get to and from your hotel.
You can take a ferry which depart in front of Bar Albatros to the smaller Formentera island. It is only a 45 minute ride away. Many boat trips and boat parties are departed from here.
As a popular party destination on the island, Playa d'en Bossa has many choices in accommodations. You can easy find all range of budget hotels here.
Overall, Playa d'en Bossa is an excellent choice for a lively nightlife scene, easy access to the beach, and proximity to Ibiza's Old Town. However, if you prefer a combination of historical charm, cultural experiences, and nightlife you may want to stay in Ibiza Town; or the more budget-friendly area of San Antonio.
Stay in Playa d'en Bossa if you are first-timers; you are 20s, 30s, all age who want nightlife and clubbing; you travel with group; you travel on a budget;
Best places to stay in Ibiza in Playa d'en Bossa:
🔍MORE HOTELS IN PLAYA D'EN BOSSA
3. Cala Talamanca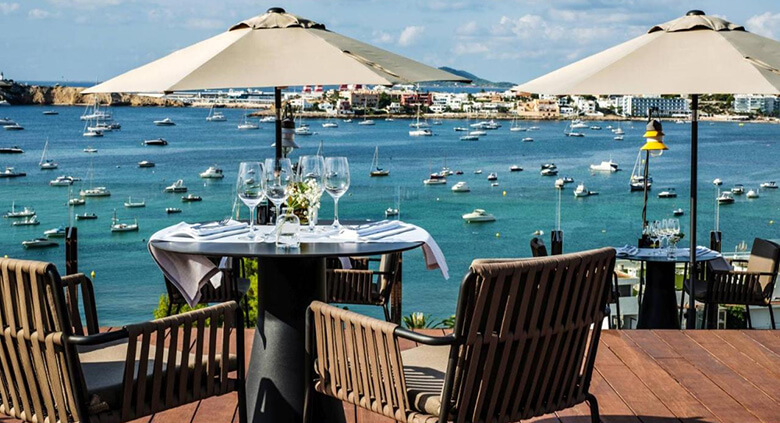 Playa de Talamanca is a popular beach located just 15 minutes walk from Ibiza Town. If you want a quiet place to stay but be close to the busy nightlife that Ibiza town offers, Cala Talamanca Beach of Ibiza Town might just be for you.
Talamanca Beach is a lovely beach with crystal clear blue and shallow water, making it a safe beach for families with children. It has all the main amenities such as sunbeds, parasols, parking, showers, toilettes, lifeguards, water sports such as windsurfing, boat riding, and skysurfing.
There are nice wooden boardwalk along the waterfront, as well as a beach promenade that is filled with bars and restaurants. Some stay open all year round because this district does attract winter visitors.
The hotels, beach houses, apartments, and self-catering villas are close to the sea, and offer stunning views of Ibiza town; This little beach is popular all year round from the winter as well as the summer months.
Stay in Cala Talamanca if You want access to busy nightspots without being on their doorstep, Good bars and restaurants are important, You enjoy the sand and sea.
Best places to stay in Ibiza in Cala Talamanca for first-time visitors:
🔍MORE HOTELS IN CALA TALAMANCA
4. San Antonio
San Antonio (Sant Antoni de Portmany) is the second-largest town on the island, located on the west coast of Ibiza. Formerly a fishing village, it is now famous for its lively bars and clubs, vibrant energy, and magnificent sunsets.
Considered by some to be the clubbing capital of the world, two of Ibiza's best-known nightclubs, Eden and Es Paradis nightclubs, are located here; while Benimussa Park open-air party club, Ibiza Rocks Nightclubs, and O Beach Ibiza beach clubs on the promenade of San Antonio, are great for festive poolside parties, stag or hen party.
There are clubs and bars throughout the town, particularly along the waterfront, but the main party districts are the West End and the Sunset Strip.
The West End is the area centered around Carrer Santa Agnès, in the heart of the old town. It is lined with bars, pubs, clubs, and discos. The bars are mostly opened during summer from May to September.
The Sunset Strip is the section of town along the western seafront which, as the name suggests, has particularly stunning views of the setting sun. Popular bars and open-air clubs line the strip, allowing you to kick off your evening with cocktails and beautiful ocean views.
On the Sunset Strip lies the Cafe del Mar which is a famous sunset café for young tourists and the Café Mambo with a more lively vibe, popular for party-goers and clubbers.
Whilst there are plenty of amazing clubs in San Antonio itself, if you are wanting to visit some of the bigger clubs across the island, you should hop on the Discobus. This is a specialized bus service with multiple routes, looping through all the biggest party towns.
You can swim, sunbathe, and enjoy watersports at the town's main beach called Playa de S'Arenal (Playa de San Antonio). Neaby, you can find Cala Gració, which is a great spot for families with children, and Cala Gracioneta, which is a great beach for nudists.
The town offer a great shopping experience. It is full of contemporary boutiques and souvenir stores, as well as markets like Mercat des Clot Mares on Calle del Progrés Street, and shopping centers suc as The North Star Mall.
Slingshot Ibiza Amusement Park is a small amusement park at the southern border of the town, offering exciting rides for kids or anyone who didn't drink too much the night before.
Tour companies line the harbor offering cruise tours and snorkeling excursions.
For a unique way to experience the surrounding area, head to the San Antonio bus station and hop on the Land Train. The colorful, open-air train travels along a scenic route through the valleys and groves, with entertaining commentary from the driver along the way. Midway through you will stop at a charming taverna in a local village for complimentary sangria or lemonade.
Accommodations, food, and drinks come with a budget-friendly price and are less expensive than other parts of the south. It's ideal for budget travelers and backpackers.
San Antonio offers vibrant nightlife like Playa d'en Bossa, but is more budget-friendly with cheaper accommodation and dining options, and stunning sunset views. However, it is a bit farther away from other popular attractions like Ibiza Town.
When compared to Ibiza Town, San Antonio has easier access to the beach, and more affordable accommodation options, but it has limited cultural activities. If you're interested in experiencing historic sites, museums, and local traditions, you might want to stay in Ibiza Town.
Overall, if you're primarily seeking a vibrant nightlife, breathtaking sunsets, more choices in budget-friendly accommodations, and a range of dining options, San Antonio can be an excellent choice.
Stay in San Antonio if you are first-time visitors; you want to stay in a budget-friendly area; you are in Ibiza for the nightlife scene; you travel as family or group of friends;
Best places to stay in Ibiza in San Antonio:
🔍MORE HOTELS IN SAN ANTONIO
5. Cala Tarida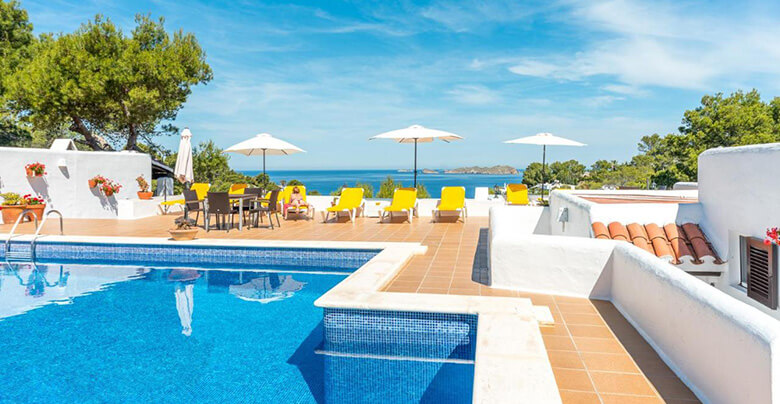 Cala Tarida is a little resort on the island's west coast, located between San Antonio, and the Sant Jose village. It is located within a short drive by car and ferries from these two towns.
Cala Tarida is a sheltered bay with white sand, clear and shallow, turquioise, emerald green colour waters, and lifeguard services, making it a safe beach for families and children. There are hammocks, umbrellas, sunbeds, and parasols for rent, as well as sailing and diving schools along the beach.
There are also numerous blue flag beaches nearby such as Cala Bassa, Cala Comte, and Racó d'en Xic. It's great to snorkeling and kayaking to explore the coves and islets of the Cala Tarida bay.
The hills behind the beach have a family-friendly hotel club. There are shops selling all you might need, including water sports equipment and simple inflatables.
The bars and restaurants run along the beachfront. The cuisine on offer is varied and sufficient to satisfy everyone, old, and young. Cotton Beach Club, Aisea, and Ses Eufabies are the most popular restaurants in the area.
Being located west coast, Cala Tarida is a great place to enjoy some of the most beautiful sunset views on the island. Accommodation in Cala Tarida includes the large hotel club but also apartments, and holiday villas for rent.
Stay in Cala Tarida if you want great sunset; you want quiet and peacful beach; You want a good location for a family holiday; you want budget-friendly town;
Best places to stay in Ibiza in Cala Tarida:
🔍MORE HOTELS IN CALA TARIDA
6. Santa Eulària des Riu
Santa Eularia des Riu is the third-largest resort town in Ibiza and is the beloved destination for families, couples, foodies, and those looking for quiet luxury Ibiza holidays. It is conveniently located on Ibiza's eastern coast, only 21 km from the island's airport.
Santa Eularia des Riu is considered the island's gastronomic and cultural center. It is full of shops and cafes, ad home to some of the island's best restaurants.
The tree-lined Calle San Jaime and Calle San Vicente, also known as Restaurant Street are two main streets that attract lots of people.
The town was built around a 16th century Santa Eulalia Church on the the top of a hill called Puig de Missa. There are numerous cultural and historical attractions to explore.
History buffs can explore the Ethnographic Museum, which is a fascinating place to spend an afternoon learning about the cultural history and human development of Ibiza.
Across the rest of the town are a number of small art galleries and craft shops, where you can pick up unique souvenirs. You can view artworks of local artists at the Barrau Gallery.
There are several beautiful beaches, including Playa de Santa Eularia des Riu next to the marina in the west, and the smaller Babylon Beach to the east. The seafront promenade is filled with palm trees, a great place to take a stroll.
Santa Eularia des Riu is located right next to the Rio de Santa Eularia, which is the only river flowing through the Balearic Islands, offering plenty of outdoor activities such as walking and cycling. The Old Bridge (Pont Vell) bridge crosses the river, and is used as a pedestrian bridge.
As for nightlife, there are no clubs in this area, so the evenings are generally quieter than in other towns. There are a number of laid-back bars, particularly around the beachfront and harbor, ideal for a relaxing evening sipping sangria by the sea.
Santa Eulària des Riu has many choices in accommodations that suits families, couples, singles, and all budget travelers.
Stay in Santa Eulària des Riu if you want away from the clubs; for relaxing in quiet vacation in a more relaxed resort tow; you are a couple, family;
Best places to stay in Ibiza's Santa Eulària des Riu:
🔍MORE HOTELS IN SANTA EULALIA
7. Cala Llonga
Cala Llonga along the its neighbor Santa Eulària des Riu, is one of the best areas to stay in Ibiza for families with children. It is conveniently locatd between Ibiza Town and Santa Eulalia.
Cala Llonga Beach is obviously the focal point of most Ibiza holidays. It is a large beach with a 200m long and some 100m wide beach. The beach has soft fine sand, crystal clear, clean, and shallow waters, ideal for families and small children.
In addition to swimming and sunbathing, there are plenty of watersport on the beach such as Beach volleyball, diving, parasailing, snorkeling, diving, kayaking, and pedalos. A small amusement park and playground and the beach itself will keep everyone happy.
There are beach's facilities such as loungers and parasols for rent, as well as showers, toilets, and lifeguards. The seafront promenade is linded with snack bars, cafes, and restaurants, where you can grab a meal or drink after beach.
There is a small market on the promenade each Thursday evening during summer. It has many stalls that sell jewelry, jewelry, fashion, accessories, and other beautiful souvenirs.
Much of the accommodation is aimed at families with apartments, B&B, guest houses, villas, and smaller hotels close to the beach.
Stay in Cala Llonga if You are planning a family holiday with young children; You are not looking for a hectic nightlife; you want quiet vibe;
Best places to stay in Ibiza in Llonga:
🔍MORE HOTELS IN CALA LLONGA
8. Es Caná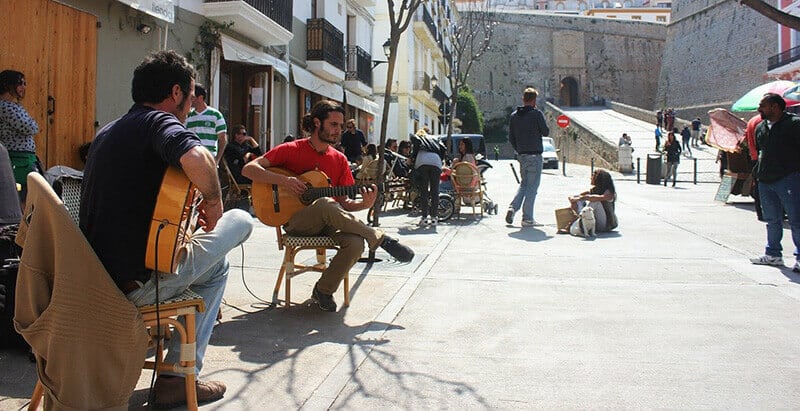 Es Canar is a small coastal town in the northeast of Ibiza, a few minutes from Santa Eulalia. Well away from the big party towns further south, Es Canar is ideal for anyone looking for a quiet, small-town vacation, and also popular with families with younger children.
The village is centered around a small bay, home to the beautiful golden sand Playa Es Canar beach with crystal clear shallow waters, lined with stunning green pines. You can easily find watersport activities such as para-sailing, banana boats, waterskis, and pedalos.
If you like surfing, head to Cala Nova Beach, a ten-minute walk to the north. Other beaches nearby are Atzaro Beach, Cala Martina beach, Aigües Blanques, and Playa Niu Blau.
The main road leading away from the beach is lined with shops, bars, and restaurants, as well as tourist facilities, such as car hire companies. Popeye's Bar is one of the most popular nightspots on this resort, famous for its live entertainment.
Ibiza is well known for its Hippy Markets, with possibly the most well-known being the Punta Arabi Hippy Market in Es Canar. The market is held, every Wednesday from April through October, in the courtyard of Club Cala Martina. It's a perfect place to pick up some really interesting craft items and unique souvenirs.
If you happen to be visiting in July, you will want to make sure you are around Es Canar for the annual celebrations of Saint Christopher, which involves carnivals and parades winding through the streets and culminating in a spectacular firework display.
Accommodation here is varied from budget hostels, apartments, to 3-star hotels centered around the beach and harbor.
Stay in Es Cana if you want to visit the Punta Arabi Hippy Market; you travel with family; you want quiet and relax holiday;
Best places to stay in Ibiza in Es Caná:
🔍MORE HOTELS IN ES CANA
9. Playa de Portinatx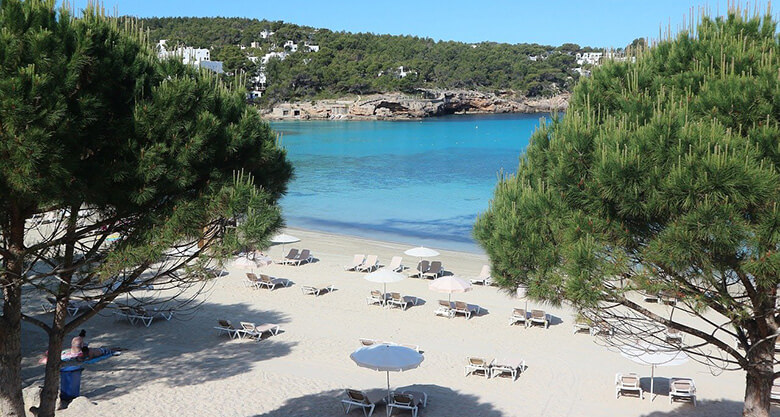 Located 40 minutes from the island airport, Portinatx is a self-contained resort in the north of Ibiza. The lovely water is just one aspect of the beautiful setting you will enjoy if you choose to stay at Playa de Portinatx.
There are three great beaches here, the relatively secluded S'Arenal Petit, S'Arenal Gros, and Playa Porto Beach, which are popular with families, couples, and holidaymakers from mainland Spain, Germany, the UK, and Holland.
All beaches have soft sand and calm, shallow, crystal-clear waters. There are restaurants, bars, lifeguards, parasols, and sun loungers. In addition, none are distant from local accommodation.
This district is popular with scuba divers and snorkellers while if you want to stay above the waves, try a boat trip. You can enjoy several nature walks and visiting the Punta Moscarter lighthouse through the forest is worth the effort.
You can rent a car to take a day trip to the nearby Sant Joan de Labritja with its whitewashed terraced houses, the18th century church, and Sunday flea market.
If you're looking for the best place to stay in Ibiza in July and August, Portinatx is the best option while other Ibiza beaches are overcrowded and busy.
There are good accommodation options in Portinatx including self-catering apartments ideal for families, beach houses, villas, adults-only accommodations.
Stay in Portinatx if You are planning a family holiday or couple holiday, Scuba diving and snorkeling are hobbies, You want to be certain there are all the facilities you need.
Best places to stay in Ibiza in Portinatx:
🔍MORE HOTELS IN PORTINATX
10. Sant Jordi de ses Salines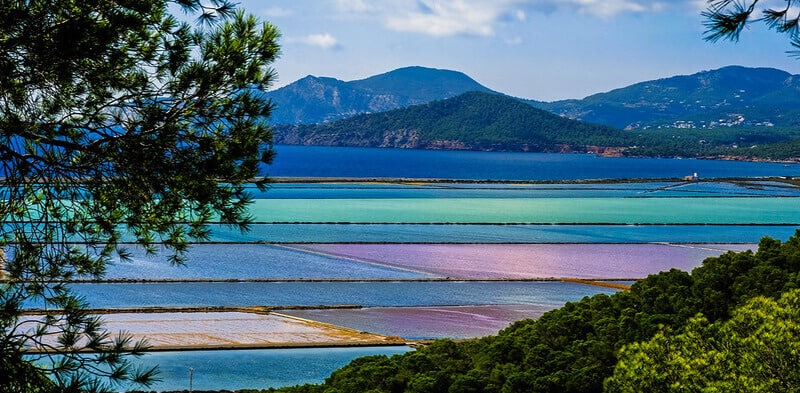 At the southernmost tip of Ibiza is the region of Se Salines. The area is famous for, and named after, its sprawling salt plains, designated a Natural Park of Ses Salines in 2001. Se Salines beach stretches from Sa Punta de Ses Portes and its sandbanks reach Sa Canal.
These salt plains, beyond being naturally stunning in their own right, are also popular nesting grounds for a number of exotic bird species. In late summer to early autumn, hundreds of flamingos flock to the area to rest for the winter. Between August and October, this area is ideal for bird watching.
If you want to see some relics from Ibiza's history, the 16th-century defense tower, Ses Portes watchtower sits at the very southernmost tip of the island, where it once defended the region against pirates. The remains of similar towers and fortifications are scattered across the region.
Sant Francesc de S´Estany is a small village nearby, with its 1785 small church, which was built for the salt industry purposes.
Cap des Falco is the beginning of Es Codolar beach, a perfect place to watch the fabulous sunset and the salt ponds.
There are some beautiful beaches along the southern shore with views across to neighboring Formentera. Popular beaches in the area are the Playa Den Bossa, Platja de la Torreta, and Platja Es Cavallet.
The main Ses Salines beach can get very busy in peak season, but if you are looking for something quieter try Cala Pluma. The secluded cove beyond the southern end of Ses Salines Beach is beautiful, perfect for snorkeling, and a bit trickier to get to, which deters a lot of the tourists.
There are the Mercadillo Sant Jordi, which is the Saturday flea market at a horse racing venue, where you can browse for some local handmade products to bring home to your friends and families.
Stay in Ses Salines if you want to visit one of the coolest beaches on the island; you want to stay close to the airport; you want quiet and seduce beaches;
Best places to stay near Sant Jordi de ses Salines:
🔍MORE HOTELS IN SES SALINES
11. Sant Josep
If you want a quieter vacation with fewer rowdy clubbers, but retaining the convenience of the larger tourist spots, follow the San Antoni bay around to the coastal resorts of San José, or Sant Josep de sa Talaia in Catalan.
Sant Josep is located just 15 kilometers from the capital, Eivissa, at the foothills of Sa Talaia, the highest mountain on the island with 475 meters above sea level.
There are plenty of hotels and apartments right up against the waterfront, in a region well known for its lovely beaches and coves. Famous coves are Cala Comte, Cala Bassa, and Cala Vedella, surrounded by pine groves.
There are casual bars and relaxed but quality restaurants lining the main streets. Further inland there is a range of tavernas and tapas bars, where you can sample local food and drink.
Stop by some of the souvenir shops and minimarts to pick up unique gifts and trinkets or pack some refreshments to take with you to the beaches. Alternatively, the rocky outcrops in between the beaches are full of natural pools, where you can watch fish and crabs go about their business in the crystal-clear water.
One of the best beaches in the area is Cala Bassa. More remote than other popular beaches on the island, Cala Bassa is not immediately surrounded by hotels or resorts and thus stays less crowded.
It is still serviced by beach bars, restaurants, and water-sports companies, so you won't be sacrificing comfort for location. The beach is reachable by car, water taxi, or a pleasant walk through the surrounding forests.
A comfortable walk along the seafront will have you in San Antoni in well under an hour, or just minutes by car, taxi, or bus.The eponymous village is located a few kilometers inland and provides a perfect snapshot of traditional Ibizan life.
Stay in Sant Josep if you want a quieter vacation with access to a larger town, you want quieter but fully equipped beaches, you want to see more of traditional Ibizan life.
Best places to stay in Ibiza in Sant Josep:
🔍MORE HOTELS IN SANT JOSEP
12. Sant Carles de Peralta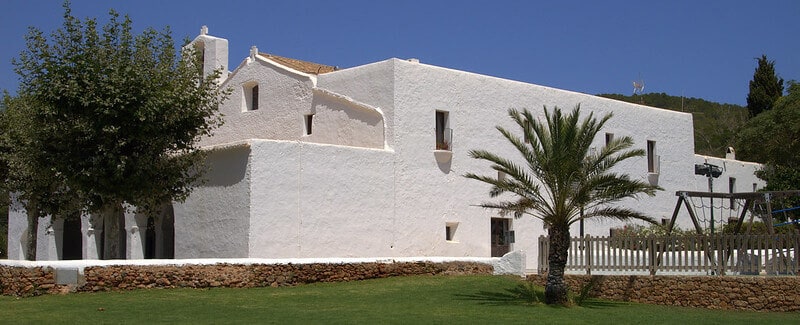 Sant Carles de Peralta (San Carlos in Spanish), is a small inland village in the north of the island, 5km from Santa Eulària des Riu. You will find the famous hippie markets at Punta Arabí in Es Canar, and Las Dalias, just beyond the village.
It's a picturesque town surrounded by groves and farmland, full of traditional white-walled buildings. If you are looking for a perfect place to experience authentic Ibizan local life, this is a great option.
Far from the tourist resorts of the south or the coast, life here is slow and relaxed. Spend your days getting to know the locals in the cozy tavernas or sampling regional cuisine in small family-run restaurants.
Bar Anita is the most well-known hippie bar in San Carlos, a place for a simple snack or a caña (draught lager). This is the only place in the area from where you could make telephone calls in the past. The walls are filled with antique wooden mailboxes that are still functioning.
The main draw to the area is the Las Dahlias Hippy Market, just south of the main town. The area was a popular hotspot for the hippy community in the 1960s and their legacy lives on in this vibrant craft market.
Throughout the year you can pick up quirky gifts and souvenirs from the market, which is held every Saturday. Through summer, the Las Dahlias night market provides an atmospheric shopping experience on Monday and Tuesday evenings from 7 pm.
Las Dahlias also holds the Christmas market and mulled wine. The nearby market of Cala Llenya on a Sunday is also worth visiting.
Founded in the late 18th century, Sant Carles de Peralta is centered around the Church of Sant Carles. The church hosts the Patron Saint Festivity of Sant Carles de Peralta on 4th November.
There are also interesting sights such as the 17th century stone fountain Font de Peralta; the Trull de Ca n'Andreu Museum, the 18th-century defense tower, Torre d'en Valls near the cove of Pou des Lleó and overlooking Tagomago Island.
Some events in this area include Gastronomic Days, squid Fair on the last Saturday in October, and International Piano Festival and Contest end of August and early September.
Stay in Sant Carles de Peralta if You want to visit Las Dalias de Ibiza hippy market, Beaches are not a priority, You want to a quiet holiday, taking in the culture of small-town Ibizan life and culture.
Best places to stay in Ibiza in Sant Carles de Peralta:
🔍MORE HOTELS IN SANT CARLES DE PERALTA
The best time to visit Ibiza is from May to October, while from mid of June to mid of September is the peak party season of Ibiza. Ibiza Town is the all year tourist town, so whether you come in April, September or October, it is the best place to stay in Ibiza.
By October, the party season is winding down. The majority of the crowds have dispersed by this point and the clubs are steadily hosting their closing parties. This is the month that resorts and tourism companies are trying to squeeze the last profits out of the summer season and that means incredibly cheap prices on accommodation to encourage people to stick around.
The best place in October to take advantage of this is Ibiza Town. Usually, one of the pricier regions to stay in, the capital is much more affordable outside of the peak season. The crowds that usually pack the cafes and narrow streets of the Old Town are also noticeably reduced.
Where to stay in Ibiza for couples?
Ibiza Town, Playa D'en Bossa, Sant Antoni, Santa Eulalia, and Portinatx are some of the best areas for couples due to their beautiful beaches and a wide variety of accommodations, nice restaurants, and cool bars.
Where to stay in Ibiza for families?
Ibiza Town, Talamanca, Santa Eulària des Riu, Es Canar, Cala Llonga, Portinatx, and Cala Tarida are some of the best areas for families due to its family-friendly atmosphere and wide variety of activities and attractions for the whole family.
Is it better to stay in San Antonio or Ibiza Town?
They both offer great nightlife scenes. San Antonio is a better area for budget-friendly accommodations and stunning sunset views, while Ibiza Town offers a more diverse experience with historical sites and cultural attractions. It ultimately depends on personal interests.
Which is better San Antonio or Playa d en Bossa?
They are both the island's nightlife and party hub. San Antonio is a more budget-friendly area with stunning sunset views, while Playa d'en Bossa is more of an upscale area and closer to the historical Old Town. It ultimately depends on personal preference.
How many days in Ibiza is enough?
It depends on your preferences, but typically 5-7 days is a good amount of time to fully experience the island's beaches, nightlife, and culture.
Read also: Frequently Asked Questions about Best Places to Stay in Ibiza
Check out my virtual tour of the best places to stay in Ibiza in this video:
Read also about the Balearic Islands:
In conclusion, Ibiza Town, Playa d'en Bossa, Cala Talamanca, San Antonio, Cala Tarida, Santa Eulària des Riu, Cala Llonga, Es Caná, Portinatx, and Ses Salines are the best places to stay in Ibiza for tourists. They offer a wide range of accommodations for all budget travelers.
Overall, Ibiza Town is the overall best area to stay in Ibiza for first-timers due to its central location. It is the capital city and the largest city of Ibiza that offers widest range of accommodation options, as well as many choices in restaurants, bars, clubs, and shops.