Where to Stay in Ibiza: Best Areas and Hotels
If you're looking for where to stay in Ibiza, this blog post is for you! I'll be going over the best areas to stay in Ibiza and what each area has to offer (nightlife, foodie spots, beaches). Hopefully, this will help you decide on an area that's perfect for your needs. Let's get started!
Ibiza is, perhaps, the most iconic party island in the world. Famous for the clubs that launched the careers of legendary DJs and dance music stars, Ibiza has been the top destination of barflies and ravers for decades.
But there is far more to this island than parties and clubs. With its balmy climate, beautiful landscape and historic villages and towns, Ibiza makes for a perfect family holiday or romantic getaway too.
Whether you want a vacation full of wild nights, or a relaxing break in the Balearic sun, don't let Ibiza's notorious reputation deter you from exploring this iconic island for yourself.
Read also: Frequently Asked Questions about Best Places to Stay in Ibiza
Ibiza is a relatively small island, but it packs a lot into its limited area. From clubs to historic forts and even 'hippy' craft markets, the attractions on offer are as varied as the tourists that flock here each year.
With so much to choose from, you may be finding it difficult to decide on exactly where to stay to get the most out of your trip. I've provided a few brief suggestions on where you might want to start looking, based on some common priorities.
For a thriving nightlife scene with plenty of clubs and bars to choose from, the best areas are San Antoni, Eivissa Town, and Playa D'en Bossa.
If shopping is what you're after, the Hippy Markets in Es Cana and San Carlos are two of the best-known attractions on the island. More contemporary shops can be found in larger towns, such as San Antoni and Eivissa.
Families will enjoy the convenience and lively locations of San Antoni and Eivissa, with all the comforts of modern cities. Alternatively, if you want to keep your kids away from the rowdy nightlife, consider nearby San Josep, with its beautiful beaches and scenic walking routes.
If you are looking for a romantic getaway, Eivissa is the perfect city. The Old Town in particular offers picturesque scenery and stunning views over the harbor.
>> FIND BEST HOTELS IN IBIZA <<
📌13 Best Areas to Stay in Ibiza, Spain
To help you whittle down where you would most benefit from calling home for the duration of your Ibizan adventure, I have selected eight of the most popular and interesting neighborhoods on the island.
Check out the summaries I have provided to determine which is the best fit for you.
Best places to Stay in Ibiza Spain Map
To see more detail of where to stay in Ibiza map, go to google map;
1. 💖 Ibiza Town, where to stay in Ibiza for first time visitors & sightseeing
I'll start off with Eivissa, the capital city and the largest city of Ibiza sometimes referred to as Ibiza Town rather than its Catalan name. It's home to trendy Marina Botafoch, the world-famous Pacha nightclub, and the charming ancient citadel of Dalt Vila.
The town is one of the top tourist centers on the island and a prime location for nightlife and clubbing, as well as sightseeing and shopping. It's a good place for gay-friendly, foodies, culture, nightlife, families, luxury.
As the main city on an iconic party island, Eivissa is home to some amazing hospitality and nightlife venues. The plazas and urban parks throughout the town are ringed with charming restaurants and cafes, while the bars along the harbor and beachfront are perfect for sipping cocktails by the ocean.
It's also the closest town to some of Ibiza's top clubs, including Amnesia, one of the most famous clubs in the world. These mega clubs are primarily located along the main road connecting Eivissa and San Antoni. The quickest and easiest way to get there is by taxi, but for a cheaper alternative, you can take the nightly 'discobus' service that runs between all the party towns and the main clubs.
If you are looking for a more cultural vacation, or just want to keep occupied during daylight hours when the clubs are closed, Eivissa Old Town and the Dalt Vila is one of the biggest and best attractions on the island.
The cobbled streets, dotted with small shops, wind through the medieval citadel, leading past historic churches, the 13th-century Cathedral de Santa Maria, and grand stone arches.
The star of Eivissa's old town is the Castell d'Eivissa sitting at the very top of the fortified hill and offering sweeping views across Ibiza and the surrounding seas. It can get quite windy up there, so hold onto your hat and maybe opt for shorts over skirts when you visit.
Stay in Ibiza town if You love history and historical structures, It's your first time visiting Ibiza and you want a bit of everything the island has to offer, Nightlife is the main goal of your trip, You want to visit some of Ibiza's most famous clubs, such as Amnesia.
Where to stay in Ibiza Town:
Best luxury hotel: One Ibiza Suites This 5-star beachfront hotel is located just a few steps from sandy Figueretes Beach, and close to Dalt Vila, Marina Botafoch, Hard Rock Cafe Ibiza, and Ibiza Cathedral. It offers an adult-only rooftop, air-conditioned rooms with a TV, a terrace, free wifi, and a private equipped bathroom.
Best mid-range hotel: Apartamentos Llobet Ibiza Located next to Ibiza's Figueretas Beach, with a wide range of popular nightclubs, including Hï Ibiza and Pacha nearby. You are also close to Ibiza Port, where you can take a ferry to the islands of Formentera and Mallorca.
Best budget hotel: Hostal Residencia Europa Punico This budget guest house is located within easy walking distance from main sights such as Ibiza Port, Figueretes Beach, Hard Rock Cafe Ibiza, Ibiza Cathedral, Marina Botafoch, Pacha. It's also close to Punta Grossa Lighthouse, Talamanca Beach, Santos Coast Club, and Bora Bora Ibiza.
Other best places to stay in Ibiza Town are ‣5-star hotels ‣Hotel Mirador de Dalt Vila ‣Sir Joan Hotel ‣4-star hotels ‣Gran Hotel Montesol Ibiza ‣Hotel Náutico Ebeso 3-star hotel ‣Hostal Residencia Molins Park
🔍FIND BEST HOTELS IN IBIZA TOWN
Check out my virtual tour of the best places to stay in Ibiza in this video or continue reading:
Read also about the neighbor of Ibiza: Where to Stay in Formentera Spain
2. Playa d'en Bossa, where to stay in Ibiza for nightlife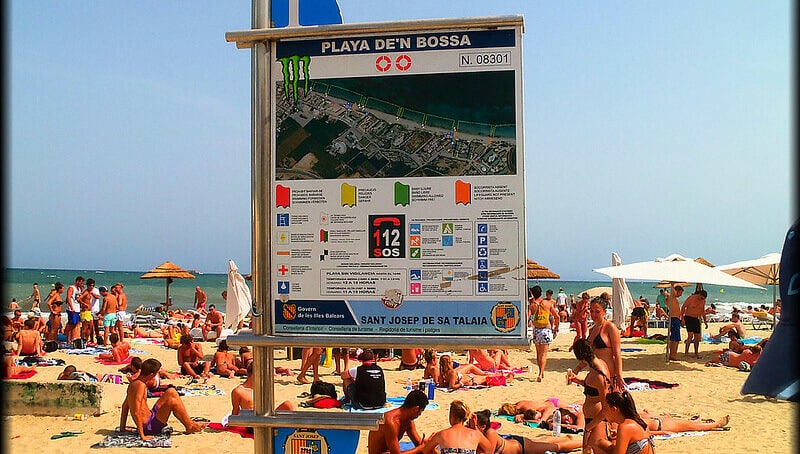 Playa d'en Bossa is the most popular resort on the island with both partiers and beach lovers. The area is also ideal for families, with plenty to keep everyone entertained and quick and easy access to all the sights and conveniences of the island's capital.
Located directly south of Ibiza Ciudad you will have access to all the bars and clubs of the capital city, without having to pay the premium prices for accommodation. Of course, that's not to say that Playa d'en Bossa doesn't have a thriving party vibe of its own. The neighbourhood is home to big clubs including Hi Ibiza and Ushuaia and, if your budget is big enough, you can get in on the parties hosted at the luxury Hard Rock Hotel.
During the daytime, the primary draw of the area is the sprawling Playa d'en Bossa beach, the longest on the island at a full 3-kilometres long. Beach bars, cafes, and small souvenir shops line the length of the beach to keep visitors refreshed and entertained.
Behind the beach, the Club Fiestaland Sport Center is great for keeping families entertained with football pitches, mini-golf course, and table tennis tables. There is also a playground for younger children.
Alternatively, try the Aguamar Water Park, full of slides and aquatic rides, to keep the whole family busy for an afternoon.
The area is ideal for anyone who doesn't intend to hire a car for their vacation. The airport is just a few minutes away by bus or taxi, making it easy and affordable to get to and from your hotel. Plenty of bus routes run through the town connecting it to the rest of the island but for even more options you can take a short walk into Eivissa.
Stay in Playa d'en Bossa if You want to stay in the biggest party resort on the island, Sprawling beaches are a must, Sant Jordi de ses Salines, You want to stay close to the airport, You are not hiring a car.
Best places to stay in Playa d'en Bossa:
Best luxury hotel: Hard Rock Hotel Ibiza This is a luxury, 5-star beachfront hotel, located right in front of Playa d'en Bossa Beach. It provides stylish, air-conditioned rooms with free wifi, 2 outdoor swimming pools, 6 on-site restaurants, and various bars. It also close to Ushuaia Ibiza, Hï Ibiza, Aguamar Water Park, Bora Bora Ibiza, Santos Coast Club, Ibiza Cathedral, and Marina Botafoch.
Best mid-range hotel: Hotel Torre del Mar – Ibiza This 4-star beachfront hotel offers bright rooms with modern décor, an outdoor pool, a spa, and free wifi. Nearby attractions including Figueretas Beach, Santos Coast Club, Pacha, Amnesia Ibiza, Privilege Ibiza, Eden Ibiza, and Es Paradis Ibiza. It offers air-conditioned, bright rooms with modern décor, a private balcony, flat-screen satellite TV, and a free safe, a free minibar, and a private bathroom with a hairdryer.
Best budget hotel: Ushuaia Ibiza Beach Hotel – Adults Only This adults-only beachfront hotel is set directly opposite Hi Ibiza, close to Ibiza Old Town and Ibiza Airport. Ushuaia Ibiza is within easy walking distance from Aguamar Water Park, Bora Bora Ibiza, and Santos Coast Club. It offers the Minami Japanese fusion restaurant with a Zen garden, as well as a Beach Club restaurant with Mediterranean cuisine.
Other recommended hotels in Playa d'en Bossa ‣luxury Grand Palladium White Island Resort & Spa – All Inclusive 24h ‣mid-range The Ibiza Twiins ‣budget Club Can Bossa
🔍FIND BEST HOTELS IN PLAYA D'EN BOSSA
See more:
3. San Antonio, where to stay in Ibiza for singles and party
San Antonio is one of the biggest towns and tourist resorts along the west coast of Ibiza and the second largest town on the entire island.
Considered by some to be the "clubbing capital of the world", two of Ibiza's best-known nightclubs, Eden and Es Paradis, are located here; Ibiza Rocks Nightclubs is a must check place to party-animal. There are clubs and bars throughout the town, particularly along the waterfront, but the main party districts are the 'West End' and the 'Sunset Strip'.
The Sunset Strip is the section of town along the western seafront which, as the name suggests, has particularly stunning views of the setting sun. Popular bars and open-air clubs line the strip, allowing you to kick off your evening with cocktails and beautiful ocean views.
Whilst there are plenty of amazing clubs in San Antonio itself, if you are wanting to visit some of the bigger clubs across the island, you should hop on the 'Discobus'. This is a specialized bus service with multiple routes, looping through all the biggest party towns and carrying revelers to the hottest clubs.
San Antonio is not lacking for daytime entertainment either. The town is full of contemporary boutiques and souvenir stores, and the bars start opening by mid-morning for brunch.
Slingshot is a small amusement park at the southern border of the town, offering exciting rides for kids or anyone who didn't drink too much the night before. Tour companies line the harbor offering cruise tours and snorkeling excursions.
For a unique way to experience the surrounding area, head to the San Antonio bus station and hop on the Land Train. The colourful, open air train travels along a scenic route through the valleys and groves, with entertaining commentary from the driver along the way. Midway through you will stop at a charming taverna in a local village for complimentary sangria or lemonade.
Other places to check are Slingshot Ibiza Amusement Park, Cafe del Mar for a beautiful sunset and live music, Amnesia Nightclub.
Stay in San Antonio if you are in Ibiza for the nightlife scene, you are looking for a vibrant town to keep you entertained both day and night, you want the convenience of a large town and the atmosphere of a seaside resort.
Best places to stay in San Antonio:
Hostal Tarba This is a family-run hotel, located next to the harbour, in San Antonio town, close to San Antonio's shopping and nightlife. It provides a cafeteria, swimming pool and gardens.
Can Beia Hostal Boutique This guesthouse is located within a short distance from the beach of San Antonio, offers a wide range of activities such as windsurfing and sailing to parasailing and pedaloes. You can also easily reach Cala Conta and Cala Bassa by ferries.
Hostal Cervantes This guesthouse is located within a short stroll from the Sunset Strip, San Antonio Harbour, Arenal, Calo des Moro beaches, Ocean Beach Club, West End, San Antonio Bus Station, Golden Buddha Ibiza, San Antonio Tourist Office, and Café del Mar.
🔍FIND BEST HOTELS IN SAN ANTONIO
4. Sant Josep, where to stay in Ibiza for quiet holiday
If you want a quieter vacation with fewer rowdy clubbers, but retaining the convenience of the larger tourist spots, follow the San Antoni bay around to the coastal resorts of Sant Josep.
Here you will find plenty of hotels and apartments right up against the waterfront, in a region well known for its lovely beaches and coves. There are casual bars and relaxed but quality restaurants lining the main streets. Further inland there are a range of tavernas and tapas bars, where you can sample local food and drink.
Stop by some of the souvenir shops and minimarts to pick up unique gifts and trinkets or pack some refreshments to take with you to the beaches. Alternatively, the rocky outcrops in between the beaches are full of natural pools, where you can watch fish and crabs go about their business in the crystal-clear water.
One of the best beaches in the area is Cala Bassa. More remote than other popular beaches on the island, Cala Bassa is not immediately surrounded by hotels or resorts and thus stays less crowded. It is still serviced by beach bars, restaurants, and water-sports companies, so you won't be sacrificing comfort for location. The beach is reachable by car, water taxi, or a pleasant walk through the surrounding forests.
A comfortable walk along the seafront will have you in San Antoni in well under an hour, or just minutes by car, taxi, or bus.
The eponymous village is located a few kilometers inland and provides a perfect snapshot of traditional Ibizan life.
Stay in Sant Josep if you want a quieter vacation with access to a larger town, you want quieter but fully equipped beaches, you want to see more of traditional Ibizan life.
Best places to stay in Sant Josep:
Villa Paradise This villa is located in a quiet area of Sant Josep with views of the sea and Es Vedrà, 17km from Ibiza Town, offers an air-conditioned unit with free wifi, free private parking, also a short drive from San Antonio, Playa d'en Bossa.
Villa Cana Lucia This villa is set in Sant Josep, very close to the beaches of Porroig, Es Torrent and Cala Jondal. it provides 4 bedrooms, a TV with satellite channels, an equipped kitchen with a dishwasher and a microwave, a washing machine, and 4 bathrooms with a shower. Towels and bed linen are featured.
🔍FIND BEST HOTELS IN SANT JOSEP
5. Santa Eulària des Riu, with lovely beach & nice indoor food market
Santa Eularia des Riu may be the third-largest resort town in Ibiza but if you are looking for a quieter, more relaxed vacation, this could actually be your perfect location.
The town is full of shops and cafes, whilst the selection of restaurants here has earned the town a reputation for being one of the best places to eat on the island. There are tourist facilities catering to every need and desire, so you can relax and take full advantage of the local hospitality.
There are several beautiful beaches, including Playa de Santa Eularia des Riu next to the marina in the west, and the smaller Babylon Beach to the east.
The Ethnographic Museum is a fascinating place to spend an afternoon learning about the cultural history and human development of Ibiza. Across the rest of the town are a number of small art galleries and craft shops, where you can pick up unique souvenirs.
As for nightlife, there are no clubs in this area, so the evenings are generally quieter than in other towns. There are a number of laid-back bars, particularly around the beachfront and harbor, ideal for a relaxing evening sipping sangria by the sea.
Stay in Santa Eulària des Riu if you want a quiet vacation in a more relaxed resort town, you want everything you could need, right on your doorstep, you are interested in learning about the historical development of Ibiza.
Best places to stay in Santa Eulària des Riu:
Sol Beach House Ibiza – Adults Only This seafront 4-star hotel is located in a quiet area of San Eulalia, close to San Eulalia Port, Santa Eulalia Bus Stop, Nikki Beach Ibiza, Santa Eularia Beach, and Niu Blau Beach.
Hotel Tres Torres Located opposite the Santa Eulalia del Río Sporting Marina, offers an outdoor swimming pool, spacious air-conditioned rooms with free wifi, and private bathrooms.
Iberostar Selection Santa Eulalia Ibiza Located just a few steps from S'Argamassa Beach, this 4-star hotel offers modern rooms with free wifi. It's also close proximity to Es Canar, Ibiza Old Town, Cala Pada Beach, Cala Martina Beach, Nikki Beach Ibiza, Chirincana Beach Bar, and Hippy Market Punta Arabi.
🔍FIND BEST HOTELS IN SANTA EULALIA
6. Es Caná, a small coastal town in the northeast of Ibiza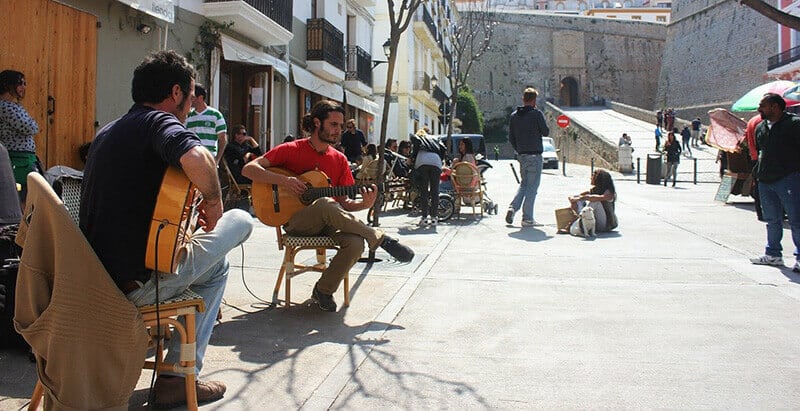 Es Canar is a small coastal town in the northeast of Ibiza, a few minutes from Santa Eulalia. Well away from the big party towns further south, Es Canar is ideal for anyone looking for a quiet, small-town vacation, and also popular with families with younger children.
The village is centred around a small bay, home to the beautiful golden sand Playa Es Canar beach with crystal clear shallow waters. You can easily find watersport activities such as para-sailing, banana boats, waterskis, and pedalos. If you like surfing, head to Cala Nova, a ten-minute walk to the north. Other beaches are Atzaro Beach, Cala Martina beach, and the Beach Bar.
The main road leading away from the beach is lined with shops, bars, and restaurants, as well as tourist facilities, such as car hire companies.
Ibiza is well known for its Hippy Markets, with possibly the most well-known being the Punta Arabi Hippy Market in Es Canar. The market is held, every Wednesday from April through October, in the courtyard of Club Cala Martina. It's a perfect place to pick up some really interesting craft items and unique souvenirs.
If you happen to be visiting in July, you will want to make sure you are around Es Canar for the annual celebrations of Saint Christopher, which involves carnivals and parades winding through the streets and culminating in a spectacular firework display.
Accommodation here is varied from budget hostels, apartments, to 3-star hotels centered around the beach and harbor.
Stay in Es Cana if you want to visit the Punta Arabi Hippy Market, you want a smaller coastal town away from the bigger party resorts, you are visiting in July and want to experience the local celebrations of Saint Christopher.
Best places to stay in Es Caná:
Hostal Mar y Huerta This small, family-friendly hotel is located on Ibiza's east coast, just off the golden sands of Es Canar's beach. You're also footsteps from Cala Nova Beach and Cala Martina Beach. Hippy Market Punta Arabi, Chirincana Beach Bar, and Nikki Beach Ibiza are less than 2km away.
Hotel Anfora Ibiza This mid-range hotel offers terraces, swimming pools, an outdoor spa, a fitness area, and an on-site restaurant. Set within walking distance from Es Canar Beach, Punta Arabi Hippy Market, and Chirincana Bar.
Zodiac Apartments This family-run hotel is overlooking a small bay in Es Cana, a well-known Hippy Market, Cala Nova Beach and Cala Martina Beach are in a short ride away.
🔍FIND BEST HOTELS IN ES CANA
7. Sant Carles de Peralta, to visit Las Dalias de Ibiza hippy market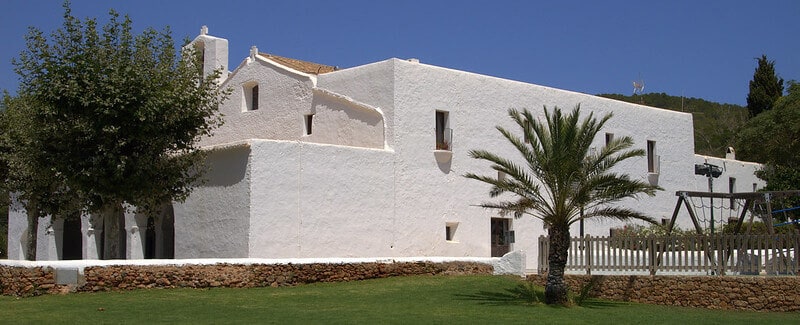 Sant Carles de Peralta is a small inland village in the north of the island, 5km from Santa Eulària des Riu. It is home to the two most famous hippie markets in Ibiza Punta Arabí and Las Dalias.
It's a picturesque town surrounded by groves and farmland, full of traditional white-walled buildings. If you are looking for a perfect place to experience authentic Ibizan local life, this is a great option.
Far from the tourist resorts of the south or the coast, life here is slow and relaxed. Spend your days getting to know the locals in the cozy tavernas or sampling regional cuisine in small family-run restaurants.
The main draw to the area is the Las Dahlias Hippy Market, just south of the main town. The area was a popular hotspot for the hippy community in the 60s and their legacy lives on in this vibrant craft market.
Throughout the year you can pick up quirky gifts and souvenirs from the market, which is held every Saturday. Through summer, the Las Dahlias night market provides an atmospheric shopping experience on Monday and Tuesday evenings from 7 pm.
Other attractions are the Church of Sant Carles with Patron Saint Festivity of Sant Carles de Peralta on 4th November; the 17th century stone fountain Font de Peralta; the Trull de Ca n'Andreu Museum, the 18th-century defense tower, Torre d'en Valls overlooking Tagomago Island, and close to the cove of Pou des Lleó.
Some events in this area including Gastronomic Days, squid Fair on the last Saturday in October and International Piano Festival and Contest end of August and early September.
Stay in Sant Carles de Peralta if You want to visit Las Dalias de Ibiza hippy market, Beaches are not a priority, You want to a quiet holiday, taking in the culture of small-town Ibizan life and culture.
Best places to stay in Sant Carles de Peralta:
Hostal Restaurante Pou des Lleó This hotel is located in Sant Carles de Peralta, features a garden, a terrace and a bar and a restaurant serving local traditional cuisine. The beaches nearby are Platja Pou d'es Lleo, Cala Boix Beach, and Cala Mastella Beach.
Can Skye This 18th-century villa is located on large grounds with fruit trees, close to Cala Nova Beach, Cala Llena Beach, Las Dalias Hippy Market, Sant Carles Church, and Santa Eulària des Riu.
🔍FIND BEST HOTELS IN SANT CARLES DE PERALTA
8. Sant Jordi de ses Salines, where to stay in Ibiza for beaches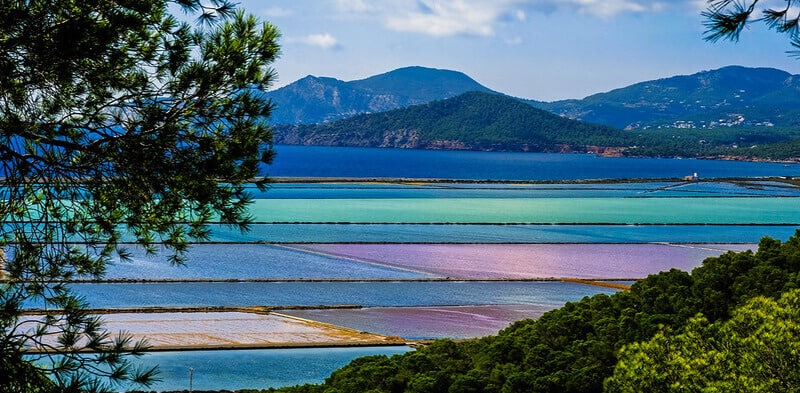 At the southernmost tip of Ibiza is the region of Se Salines. The area is famous for, and named after, its sprawling salt plains, designated a Natural Park of Ses Salines in 2001. Se Salines beach stretches from Sa Punta de Ses Portes and its sandbanks reach Sa Canal.
These salt plains, beyond being naturally stunning in their own right, are also popular nesting grounds for a number of exotic bird species. In late summer to early autumn, hundreds of flamingos flock to the area to rest for the winter. Between August and October, this area is ideal for bird watching.
If you want to see some relics from Ibiza's history, the 16th-century defense tower, Ses Portes watchtower sits at the very southernmost tip of the island, where it once defended the region against pirates. The remains of similar towers and fortifications are scattered across the region.
Sant Francesc de S´Estany is a small village nearby, with its 1785 small church, which was built for the salt industry purposes.
Cap des Falco is the beginning of Es Codolar beach, a perfect place to watch the fabulous sunset and the salt ponds.
There are some beautiful beaches along the southern shore with views across to neighboring Formentera. The main Ses Salines beach can get very busy in peak season, but if you are looking for something quieter try Cala Pluma. The secluded cove beyond the southern end of Ses Salines Beach is beautiful, perfect for snorkeling, and a bit trickier to get to, which deters a lot of the tourists.
Stay in Ses Salines if you want to visit one of the coolest beaches on the island, you can't miss the opportunity to see flamingos in the wild, the draw of such a uniquely stunning landscape is irresistible.
Best places to stay near Sant Jordi de ses Salines:
Casa Munich Residence This apartment is located in Ses Salines, offers 3 outdoor pools, a fitness centre, and a bar. Staying at this accommodation, you will be close to Platja d'en Bossa Beach, Platja des Cavallet, and Platja de Ses Salines.
Hard Rock Hotel Ibiza This is a luxury, 5-star beachfront hotel, located right in front of Playa d'en Bossa Beach. It provides stylish, air-conditioned rooms with free wifi, 2 outdoor swimming pools, 6 on-site restaurants, and various bars. It also close to Ushuaia Ibiza, Hï Ibiza, Aguamar Water Park, Bora Bora Ibiza, Santos Coast Club, Ibiza Cathedral, and Marina Botafoch.
🔍FIND BEST HOTELS IN SES SALINES
9. Cala Talamanca, the closest beach to Ibiza town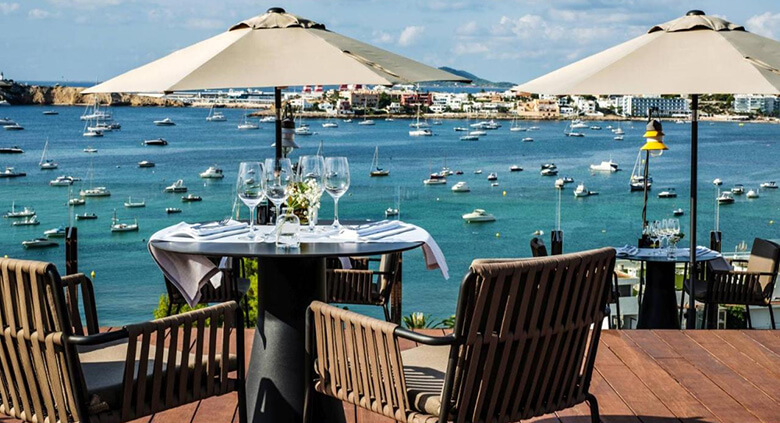 If you want a quiet place to stay but be close to the busy nightlife that Ibiza town offers, Cala Talamanca might just be for you. You are just 5 minutes from the center of Ibiza Town as well as a couple of super clubs that attract a real international crowd, mostly the younger generation. it's also within walking distance from Marina Botafoch and super club Pacha.
The lovely beach and clear blue water attract families with children while the boardwalk and promenade along the beach are filled with bars and restaurants. Some stay open all year round because this district does attract winter visitors.
The hotels and self-catering villas are close to the sea, and offer stunning views of Ibiza town; This little beach is popular all year round from the winter as well as the summer months.
Stay in Cala Talamanca if You want access to busy nightspots without being on their doorstep, Good bars and restaurants are important, You enjoy the sand and sea.
Best places to stay in Ibiza in Cala Talamanca:
Luxury: Ocean Drive Talamanca offers stunning ocean views, within few steps from Talamanca Beach, and a short ride from nightclubs including Pacha and Space. it's 2 km away from Ibiza Port where you cant catch ferries to the other Balearic Islands and mainland Spain.
Mid-range: Hotel Argos Ibiza Located on Ibiza's east coast, in family-friendly Talamanca Beach, 2km from Eivissa – Ibiza's capital, also close to the seafront promenade, Punta Grossa Lighthouse, and Ibiza Casino.
Budget: Lux Isla This 3-star hotel offers spacious rooms with air-conditioning, free wifi, and a private bathroom. It is close to Pacha, Marina Botafoch, Punta Grossa Lighthouse, Ibiza Port, and Ibiza Cathedral.
🔍FIND BEST HOTELS IN CALA TALAMANCA
10. Cala Tarida, a beautiful white sand beach on west coast Ibiza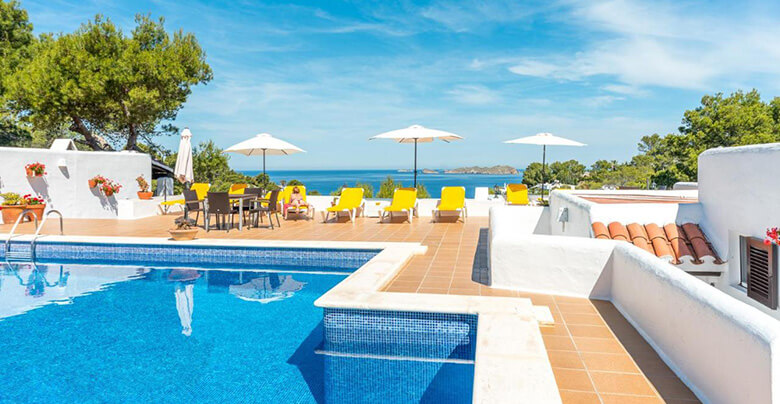 Cala Tarida is a little resort on the island's west coast, located between San Antonio and the beautiful village of Sant Jose.
It is a good place for families to start looking for accommodation if they are planning a family holiday. It sits in a sheltered bay with plenty of lovely white sand. The waters are clear and shallow, famous for its turquoise, azure blue, and emerald green water, ideal for safe swimming. To the north, you can even avoid crowds if you wish.
The hills behind the beach have a family-friendly hotel club. There are shops selling all you might need, including water sports equipment and simple inflatables.
The bars and restaurants run along the beachfront. The cuisine on offer is varied and sufficient to satisfy everyone, old, and young. Cotton Beach Club, Aisea, and Ses Eufabies are the most popular restaurants in the area.
Accommodation in Cala Tarida includes the large hotel club but also apartments, and holiday villas for rent.
Stay in Cala Tarida if You want a good location for a family holiday, Safe swimming and a nice beach are important, You are looking for a choice of good restaurants.
Best places to stay in Cala Tarida:
Hostal Cala Moli This budget guest house is located close to Cala Molí Beach, features an outdoor swimming pool, sun terrace, , hammocks, on-site restaurant and bar, and free wifi. Cala Conta Beach, Sa Talaiassa, Cala Bassa Beach are less than 4km away.
Ibiza Royal Villas Featuring a garden, an outdoor pool and pool views, Ibiza Royal Villas is set in Cala Tarida. The air-conditioned accommodation is less than 1 km from Cala Moli Beach, and guests benefit from complimentary WiFi and private parking available on site.
Can Mares At Cala Tarida there are some beachfront bars, while a range of dining options can be found in Sant Josep de Sa Talaia, 10 minutes' drive away. San Antonio is 15 minutes' drive from Can Mares and has a lively nightlife and many restaurants, bars and shops.
🔍FIND BEST HOTELS IN CALA TARIDA
11. Cala Llonga, where to stay in Ibiza for families with young children
Families will find Cala Llonga another ideal holiday base with plenty for everyone to do. The gorgeous beach of Cala Llonga is obviously the focal point of most Ibiza holidays and the large beach here is ideal. It is both long, and wide. Kids have all the space they might need.
Cala Llonga is close to shopping and fine dining in Ibiza Town, and elegant yacht harbor in Santa Eulalia.
Beach volleyball is popular here while there is a diving school that might appeal to older children. A small amusement park and playground and the beach itself will keep everyone happy. Snack bars and cafes have everything youngsters like while for dinner, Cala Llonga restaurants have extensive menus.
If you're visiting Cala Llonga in the summertime, you will encounter a small market taking place on the promenade each Thursday evening. It has many stalls that sell jewelry, jewelry, fashion, accessories, and other beautiful souvenirs.
Much of the accommodation is aimed at families with apartments and smaller hotels close to the beach.
Stay in Cala Llonga if You are planning a family holiday with young children; Beach and sea activities attract you, You are not looking for a hectic nightlife.
Best places to stay in Llonga:
Apartamentos Oasis Sa Tanca Located in Cala Llonga, and just 50m from the Cala Llonga Beach and bus stop. It offers a swimming pool, a sun terrace, air-conditioned apartments with balconies, and free wifi. Also close to Sol d'en Serra Beach, Cala Olivera Beach, and Rio de Santa Eularia beach.
Apartamentos Cana Sofía Located in the quiet Ibizan resort of Cala Llonga, just 300 m from a sandy beach; You can easily reach from the popular market town of Santa Eulalia which is 6km away, and 10km away from the historic capital, Ibiza Town.
🔍FIND BEST HOTELS IN CALA LLONGA
12. Playa de Portinatx, a small resort in the charming north of Ibiza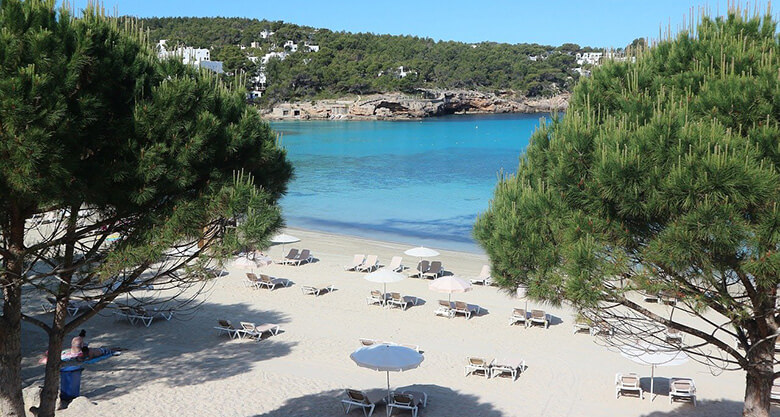 Portinatx is a self-contained resort in the north of Ibiza. The lovely water is just one aspect of the beautiful setting you will enjoy if you choose to stay at Playa de Portinatx. There are three great beaches here, the relatively secluded S'Arenal Petit, S'Arenal Gros, and Playa Porto Beach, which are popular with families, couples, and holidaymakers from mainland Spain, Germany, UK, and Holland.
All have restaurants, bars, and sun loungers. In addition, none are distant from local accommodation. This district is popular with scuba divers and snorkellers while if you want to stay above the waves, try a boat trip. You can enjoy several nature walks and visiting the lighthouse is worth the effort.
If you're looking for the best place to stay in Ibiza in August, Portinatx is the best option while other Ibiza beaches are overcrowded and busy.
There are good accommodation options in Portinatx including self-catering places ideal for families, adults-only accommodations, and budget apartments.
Stay in Portinatx if You are planning a family holiday, Scuba diving and snorkeling are hobbies, You want to be certain there are all the facilities you need.
Best places to stay in Portinatx:
Grupotel Ibiza Beach Resort – Adults Only This 4-star seafront hotel is located just off the beach, in a quiet area, in Portinatx; It offers bright spacious rooms, with air-conditioned rooms, hardwood floors, and a flat-screen satellite TV. Close to Benirras Beach, Can Marça Caves, Sant Carles Church, Las Dalias Hippy Market, S'Arenal Petit Beach, Portinatx Beach, and Cala Xuclar Beach.
Barceló Portinatx – Adults Only the modern hotel is situated in a tranquil area of Ibiza, just 100 m from the Cala Portinatx beach; You will easily find a selection of restaurants and bars; and enjoy a wide range of activities nearby such as hiking or cycling or watersport.
🔍FIND BEST HOTELS IN PORTINATX
13. San Carlos, a hippie village in Ibiza
Most tourists to Ibiza want the sand and sea but not all. If you are in the minority, the inland village of San Carlos (Sant Carles in Catalan) is a sharp contrast from the party life on the coast. Hippies ''found'' it in the 60s and 70s. They have long since gone, but their presence gave the village the publicity it needed to attract others later.
San Carlos is just a short drive away from Santa Eulalia, Cala San Vicente, San Juan. The beaches nearby are Cala Boix, Cala Mastella, and Pou des Lleo.
Artists help to provide a bohemian feel to the village and the local market sells artisan crafts in leather, paintings, jewelry, and more. You are unlikely to be able to find somewhere to stay unless you have planned in advance. This is a small village still, but prices are higher than you might expect simply because of the scarcity of rooms.
Las Dalias is where the new hippy generation gathers today and is home to the most original hippy markets. it also holds the Christmas market and mulled wine. The nearby market of Cala Llenya on a Sunday is also worth a visit.
Bar Anita is the most well-known hippie bar in San Carlos, a place for a simple snack or a caña (draught lager). This is the only place in the area from where you could make telephone calls in the past. The walls are filled with antique wooden mailboxes that are still functioning.
The Fiesta of San Carlos is on the 4th of November to celebrate in the weeks around Patron's Saint Day.
The local cuisine is good but do not expect a busy nightlife. You will not because avoiding that is one of the main reasons for selecting San Carlos.
Stay in San Carlos if You do not want a coastal location, A busy nightlife does not interest you, You would like to get a feel for Ibiza village life.
Best places to stay in San Carlos:
Agroturismo rural Can Prats This farm stay is set near Sant Carles Church, offers accommodation with free WiFi, free private parking, private bathroom with shower in all units, along with a hairdryer and free toiletries. Playa de Aguas Blancas Beach is few minute's drive away, you can also easy to reach the famous hippy market Las Dalias.
Hotel Rural & Spa Can Curreu this luxurious 5-star hotel and spa resort is set in the village of San Carlos; It is located 200 m from Dalias Market and there are 10 different beaches within a 10-minute drive.
🔍FIND BEST HOTELS IN SAN CARLOS
Where to Stay in Ibiza by month:
April In April, the weather is cooler than most would find comfortable for sunbathing on the beach. Instead, this is a great time to visit for more adventurous activities, without worrying about working up a sweat. Head to San Josep de sa Talaia to take advantage of scenic hiking routes through lush orchards and groves or explore up over the Sa Talaiaissa mountain.
May May signals the start of the party season on Ibiza, with clubs starting to open up across the island. Opening parties are a huge deal and all the major venues will be competing to have the biggest and best events to kick off the year. Make sure to check ahead to what events you most want to attend and when they'll be hosted. Temperatures will be warming up by then but are still far from the peak heat of summer. You may want to spend less time at the beach and should consider heading to the party cities of San Antoni or Eivissa town instead.
September By mid to late September many of the island's clubs will have started hosting their closing parties and shutting down for the winter. The weather is still delightfully warm, so head to a resort-like Playa d'en Bossa to take advantage of the island's largest beach and some of the party scene's best-known clubs. Make sure to plan ahead for what events you want to attend and purchase tickets in advance for your top choices.
October By October, the party season is winding down. The majority of the crowds have dispersed by this point and the clubs are steadily hosting their closing parties. This is the month that resorts and tourism companies are trying to squeeze the last profits out of the summer season and that means incredibly cheap prices on accommodation to encourage people to stick around.
The best place to take advantage of this is Eivissa. Usually one of the pricier regions to stay, the capital is much more affordable outside of the peak season. The crowds that usually pack the cafes and narrow streets of the Old Town are also noticeably reduced.
Don't worry, the weather is still typically warm enough to spend your days on the beaches, but you won't have to endure the usual crush of hungover tourists.
See More:
Ibiza is notorious for being one of the liveliest party islands in the world. Whilst it definitely lives up to its reputation, there is so much more to the island than just clubs.
Whether you just want to party party party, or prefer a relaxed break taking in the local culture, Ibiza has the potential to be your new favourite destination.