Where to stay in Yellowstone first time? In this guide, we will be looking at the best areas to stay in Yellowstone for tourist (include map) and best hotels in Yellowstone for all budget travelers.
Staying inside the Yellowstone National Park is the most covenient location to be in the middle of the action, but there are also so many great place outside the park to consider to book the hotel. It is general cheaper and many choices of accommodations, dining, and shopping outside the park. Many towns outside is just a short drive from the park.
Where to stay in Yellowstone first time?
The best areas to stay in Yellowstone for first-timers are the Yellowstone National Park, West Yellowstone, Cody, Jackson Hole, Gardiner, Cooke City, Island Park, Big Sky, Bozeman, Livingston. These are the most popular places for visitors that offer a wide range of tourist amenities.
If you want to completely immerse yourself in Yellowstone National Park, you will want to stay inside the park itself. With plenty of in-park lodging options, you can sleep surrounded by beautiful scenery and waste no time travelling. The accommodations inside the park are very popular, you need to book well in advance.
West Yellowstone is the best area to stay near Yellowstone National Park because it's located only half a mile from one of the park entrances and it has a wide range of hotel, restaurants, shops, and bars. If you want to stay as close to the park as possible but not actually in it, West Yellowstone is a place for you.
Those who want a big town experience to enjoy when not in the park should consider Cody. One of the most popular choices for visitors, it provides everything you could need to let loose at night after a long day exploring.
Jackson Hole is similarly popular but is better suited to those wanting to spend more time exploring Grand Teton National Park than Yellowstone. With Grand Teton NP located just a short way away, you can conveniently get in and out, while still having easy access to Yellowstone as well.
Yellowstone National Park contains nearly 3,500 square miles of beautiful landscapes and wildlife. With everything from rustic cabins to lodges and RV parks, both in the national park and nearby towns, there's a perfect option for everyone to stay in Yellowstone.
Map of the best areas to stay in Yellowstone:
Best areas to stay in Yellowstone for first-time visitors are:
1. Stay inside Yellowstone National Park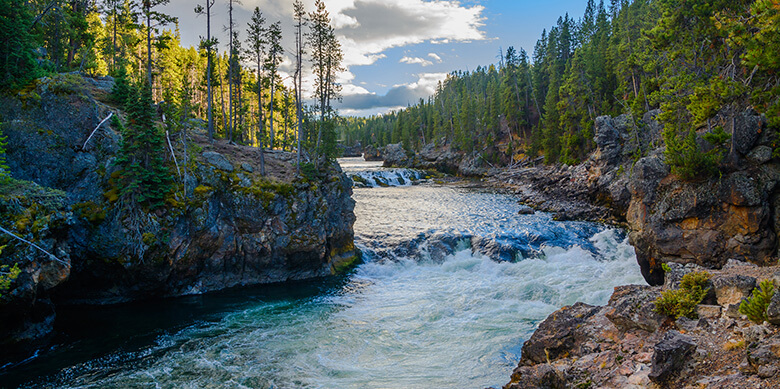 We begin our search inside the park itself. With Yellowstone National Park being so vast and offering so much to see, staying inside the park allows visitors to spend every second of their trip exploring Yellowstone, without wasting any time traveling in and out each day.
Among its most famous features are the Yellowstone Caldera, a dormant super-volcano thought to be the largest on the continent, and the Old Faithful Geothermal Geyser. While many geyser basins exist in the park, this is thought to be the largest, was the first-named, and erupts every 1 – 2 hours.
Meanwhile, the hottest geyser basin is the Norris Geyser Basin, which features at least 5 geysers. While it may not be as guaranteed that you see an eruption, the chances are high and there is a lot more variety to what you may see.
Yellowstone is also known for its collection of hot springs, most specifically the Grand Prismatic Spring. A beautiful, iconic, natural location, it is the largest of all the hot springs in the park, with only two hot springs in the world that can beat it in terms of size.
Outside of these specific attractions, the park itself is filled with some of the most stunning, naturally beautiful locations you will find anywhere on Earth.
Travelers wanting to start their exploration where the first settlers to the area arrived will want to visit Hayden Valley. Located between Yellowstone Falls and Yellowstone Lake, it features only a few of the features the park is known for, however boasts one of the best collections of its famed wildlife.
Animals like bears, bighorn sheep, bison, buffalo, coyotes, elk, moose, wolves, and around 300 species of different birds roam the valley freely. This makes Hayden Valley the perfect spot for nature lovers to explore and see rare and unique animals with their own eyes for the first time.
For those interested in a more watery experience in Yellowstone, I would also suggest you visit Lamar Valley. Lamar Valley is where a tributary of the Yellowstone River, known as the Lamar River, begins.
With many other tributaries like Soda Butte Creek and Slough Creek running off of the Lamar River, Lamar Valley has been recognized as one of the best spots in the park for fly fishing. While not quite boasting the collection of wildlife that Hayden Valley has, Lamar Valley is still known as perhaps the best place to find grizzly bears and wolves.
If you follow the Lamar River south from Lamar Valley, you will also find the Grand Canyon Of Yellowstone. The first large canyon on the Yellowstone River after Yellowstone Falls, the Grand Canyon Of The Yellowstone runs for 24 miles, with depths ranging between 800 and 1200 feet.
While not as large or famous as the Grand Canyon in Arizona, the Grand Canyon Of The Yellowstone is another incredible natural location. A place that has to be seen to be truly appreciated, it will take your breath away the second you lay eyes on it.
Despite the park's rugged natural beauty, there are still plenty of Yellowstone lodging options available too, ranging from simple campgrounds to Yellowstone lodges in more built-up communities. The most popular of these options would probably be Canyon Village.
Located just to the north of the Grand Canyon Of The Yellowstone, Canyon Village has a range of accommodation options, as well as a store and a cafeteria-style food court. Combined with its scenic views, this ensures Canyon Village has everything you need to recover after a long day of exploring.
Just to the south of Canyon Village, you have the settlements known as Lake and Grant Village, on the shores of Yellowstone Lake. Much smaller than Canyon Village, these areas offer more rustic options to stay in, such as the Lake Yellowstone Hotel.
Its location allows you to wake up to stunning views of Yellowstone Lake each morning. Despite being quite rural, there is a ranger station in town, so a park ranger will never be too far away if you find yourself in trouble.
You may even prefer to stay in one of the Yellowstone National Park lodges that is a little more remote. The Old Faithful Inn complex is a National Historic Landmark, considered to be not just the largest log structure in the park but also the largest log hotel in the entire world.
The Old Faithful Inn consists of the main lodge, the Old Faithful Lodge Cabins, the Old Faithful Snow Lodge, and a general store. This makes the Old Faithful Inn perfect for enjoying some quality rest, while still being surrounded by the elements.
See more:
2. West Yellowstone
West Yellowstone is the best place to stay when visiting Yellowstone. The town of West Yellowstone in Montana is located just half a mile from the west entrance to Yellowstone National Park. This makes West Yellowstone ideal for anyone who doesn't want to stay inside the park but wants to remain as close to it as possible.
West Yellowstone was originally settled as a railroad town on the route of the Oregon Short Line Railroad. However, as rail traffic in the US slowly decreased and tourism to Yellowstone National Park began to boom, West Yellowstone gradually transitioned into a town focused on tourism.
As a result, countless bars, restaurants, hotels, and souvenir shops have sprung up in West Yellowstone. These give visitors plenty of places to unwind and rest after long days exploring Yellowstone National Park.
West Yellowstone also features a number of attractions to keep guests busy outside of the park as well. For starters, the Museum Of The Yellowstone Historic Center is set inside one of the old, disused rail depots and teaches you about the local history and transportation of the area.
The Grizzly And Wolf Discovery Centre give you a chance to get up close and personal with the wolves and bears that inhabit the park in a safe and controlled environment. The Yellowstone Nature Connection serves a similar purpose, although puts more emphasis on the impact of wildfires.
In a similar vein, the Yellowstone Aerial Adventures Zipline Adventure Park provides a safe place for less experienced climbers to get their blood pumping during their stay.
West Yellowstone also features a number of companies where you can book guided tours of Yellowstone National Park and excursions like ski trips. That way you can ensure you don't miss anything that's on your Yellowstone itinerary during your stay.
For those that would rather do it all themselves though, the West Yellowstone Visitor Centre will have all the information you need. From maps and pictures to books on the history of West Yellowstone and the park itself, everything you need to help you explore can be found here.
There are even a number of friendly staff working at the West Yellowstone Visitor Centre on hand to help you. Not only will they be able to make suggestions, but they will also happily check availability, make reservations, and do anything else they can to make your stay as enjoyable as possible.
Stay In West Yellowstone If you want to stay near Yellowstone National Park but are not actually in it, you want to learn about the railroad history of West Yellowstone, you want to see wolves and bears up close, you want a great collection of tourist amenities.
🔍FIND BEST HOTELS IN WEST YELLOWSTONE
3. Cody, Yellowstone East Entrance
The town of Cody is named after legendary wild west Colonel William Frederick "Buffalo Bill" Cody. It is one of the most popular places for people to stay when visiting Yellowstone National Park if they don't want to stay inside the park itself.
For starters, it is the location of Yellowstone Regional Airport, the busiest airport in the area. This is perfect for travelers who prefer to fly to the park, as opposed to driving, as they will waste no time traveling between the airport and their accommodation.
However, for those who do choose to drive, it is the first major sign of civilization most people traveling from the more built-up east will encounter. This makes it ideal to rest up after a long day on the road, to make sure you are truly ready for your upcoming adventure.
It is also one of the largest towns near Yellowstone National Park, located roughly a 1-hour drive from the east entrance to the park. This makes it a perfect option for people who would rather have some more big town comforts after a long day of exploring the wilds of the park.
Numerous bars, restaurants, hotels, and souvenir stores cater to the influx of tourists, which makes up the town's primary source of income. As a result, people of all different tastes and budgets will have options available to cater to their needs.
There are also a number of tourist attractions for you to enjoy during your stay in Cody as well.
For example, you have the Buffalo Bill Center Of The West, consisting of a collection of 5 museums which include the Buffalo Bill Museum, Draper Natural History Museum, Plains Indians Museum, Cody Firearms Museum, and the Whitney Western Art Museum.
Considered the most comprehensive museum collection of the west, it is recognized as one of the most remarkable museums in the country. Exhibits and interactive displays teach visitors about every facet of the old west, from the wildlife and scenery to its way of life and most notable people.
The museums are also surrounded by beautiful statues and monuments, making it a good place to visit even for those who aren't usually a fan of museums.
Just outside the town, you also have Old Trail Town. A faithful recreation of a frontier town, it features 1800's style log cabins and a saloon, ideal for transporting you back in time and letting you experience the area as it would have looked when it was first settled.
Those visiting between June 1st and August 31st will also get the chance to see why Cody calls itself the Rodeo Capital Of The World. The Cody Stampede Rodeo is one of the largest in the country and takes place every year from the 1st to the 4th of July and has done since 1919.
Throughout these summer months you also have an amateur rodeo known as the Cody Night Rodeo taking place each evening. What better way to get a true western experience than by exploring Yellowstone by day, before enjoying one of its staple forms of entertainment of an evening?
Stay In Cody If you are flying in or out of Yellowstone Regional Airport, you are planning to travel in and out of the park by the east entrance;
🔍FIND BEST HOTELS IN CODY
4. Jackson Hole, Yellowstone South Entrance
Jackson Hole is another of the most popular places to stay near Yellowstone, located in the Jackson Hole Valley around an hour south of the southern park entrance. Throughout the years, the town has been used in numerous westerns, giving it a truly magical feel.
Its historic town square, known as George Washington Memorial Park, contains sights and sounds synonymous with this part of the world, including its famous elk antler arches.
Bars and restaurants are plentiful, as are souvenir stores, catering to the waves of tourists that come through to make the most of this idyllic setting and its legendary surroundings.
In addition to its proximity to the south entrance to Yellowstone National Park, there are numerous other attractions that draw people in. For starters, you have the National Elk Refuge, designed to shelter the largest herd of elk in the United States, which is located just outside town.
For the art lovers out there, the National Museum Of Wildlife Art contains numerous paintings and sculptures relating to the area's wildlife, including works by legends like Andy Warhol and Georgia O'Keeffe.
There is also the Center For The Arts, which is designed to support the artist culture that is prominent in the town.
Surrounding the town, you also have three famous ski resorts, the Jackson Hole Mountain Resort, Snow King Mountain Resort, and Grand Targhee Resort. Between them, they feature some of the fastest, steepest ski slopes in the US, so are ideal for experienced skiers.
Perhaps the most popular reason people stay in Jackson Hole though, is to explore Grand Teton National Park, with the southern park entrance Located less than 30 minutes north.
While much less famous than Yellowstone, Grand Teton is still one of the most visited National Parks in America, annually receiving the 8th most visitors (Yellowstone ranks 6th). Grand Teton covers almost 500 square miles of breathtaking landscapes and terrain.
Containing numerous mountains and peaks, hikers and campers come from far and wide to test themselves against the elements. During the winter months, skiing, snowshoe hiking, ice fishing, and even limited snowmobiling are just some of the options available to get your blood pumping.
Grand Teton is also known for its abundance of wildlife, perhaps even more so than Yellowstone. In addition to the bison the area is known for, you will find bears, deer, elk, pronghorn, and more than 300 species of birds, making it a nature lovers dream.
When you consider the borders of Grand Teton and Yellowstone are just 10 miles apart, it makes Jackson Hole a perfect place to stay for anyone hoping to visit more than one National Park on their trip.
Stay In Jackson Hole If you want to visit Grand Teton National Park, you are a fan of skiing or other winter activities, you love wildlife, art, or a combination of the two, you want to explore an iconic western town.
🔍FIND BEST HOTELS IN JACKSON
5. Gardiner, Yellowstone North Entrance
Gardiner, Montana is located just a short walk from the north entrance to the park, on the banks of the Yellowstone River.
Founded in 1880, it is recognised as the main entrance to the park and features attractions like the Yellowstone National Park Heritage And Research Center.
This establishment features National Park Service archives, Yellowstone museum collections, and reference libraries. This makes it a great stop for anyone who wants to learn a little more about the park before they see it for themselves.
A small, quiet town, it features a number of bars, hotels and restaurants to keep visitors comfortable throughout their stay. However, its greatest selling point is the convenience it provides for anyone looking to explore the sights and sounds of northern Yellowstone.
Most notably, you have the Mammoth Hot Springs and Mammoth Hot Springs Historic District. The Mammoth Hot Springs Themselves are one of the largest complexes of hot springs in the park, containing dozens of individual springs and caps.
Meanwhile, Mammoth Hot Springs Historic District is the location of Fort Yellowstone. Established in 1891, it was built when the running of the park was handed over to the army. Many of the policies and practices that originated here helped form what we now know as the National Park Service.
Designated as a National Historic Landmark, it is an incredible place not just to see some of the most historic structures in the region, but also to learn about the founding of one of the most important preservation services in the United States.
You will also find the Mammoth Hot Springs Hotel located here. The Mammoth Hotel lies right on the edge of the springs, giving you the chance to maybe even spend a night and witness the stunning views from your very own room.
Stay In Gardiner If you want to explore north Yellowstone, you want to enter via the park's "main" north entrance, you want to see the Mammoth Hot Springs, Mammoth Hot Springs Historic District, and Mammoth Hot Springs Hotel.
🔍FIND BEST HOTELS IN GARDINER
6. Cooke City, Yellowstone Northeast Entrance
Cooke City is located 5 miles from the northeast entrance to the park, in the state of Montana. Set on the banks of the Soda Butte Creek, it and the neighboring town of Silver Gate both rely almost exclusively on tourism to support their economy.
In the town itself, you will find a small number of hotels and motels, surrounded by some shops, bars, and restaurants. Its only designated attraction is the Cooke City Montana Museum, a wonderful little place that teaches you the history of the region and its wildlife.
The biggest selling point to Cooke City is clearly its location though, as it is near Yellowstone and a number of other popular destinations.
It is one of the best places to stay for anyone who prioritizes exploring North Yellowstone. This part of the park is particularly mountainous, so is ideal for anyone looking to do some climbing or explore some more challenging landscapes.
It also gives you the opportunity to experience an excursion at the nearby Roosevelt Lodge Cabins known as the Old West Dinner Cookout.
Here you have the opportunity to spend the evening around a fire, drinking coffee and dining on traditional foods like baked beans and barbequed meats, allowing you to truly get into the spirit of the wild west.
As I mentioned, Yellowstone National Park isn't the only attraction near Cooke City, as it also lies in the foothills of the Beartooth Mountains.
Part of a wilderness within the Custer, Gallatin, and Shoshone National Forests, the Beartooth Mountains are famous for their numerous towering peaks, including the highest point in the state of Montana, Granite Peak.
This makes it a fabulous destination for experienced rock climbers looking for a new challenge. During the winter months, you will also find skiing and snowmobiling paths, allowing you to test your metal at any time of year.
The mountains are also home to some of the largest animals anywhere in North America. Cougars, lynx, wolverines, and wolves can be found freely roaming the mountains, while they are also home to one of the only populations of grizzly bears anywhere in the contiguous United States.
Some of the largest bison and elk herds anywhere in America can also be found here, completing what is a truly special destination for fans of nature and wildlife.
Stay In Cooke City If you want to experience the Old West Dinner Cookout at the Roosevelt Lodge Cabins, you plan to enter or leave the park by the northeast entrance;
🔍FIND BEST HOTELS IN COOKE CITY
7. Island Park, between West Entrance and Salt Lake City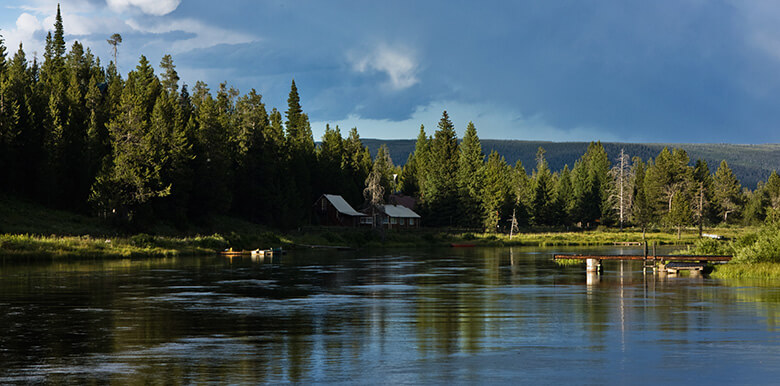 Island Park is a town in Idaho, located 14.5 miles from the west entrance of Yellowstone National Park. With less than 300 permanent residents, it is one of the smallest towns in the entire state.
Originally founded in 1947, it was incorporated by the owners of the local lodges and resorts along US Route 20 to get around Idaho's law preventing the sale of alcohol outside of city limits.
With the whole town being 500ft wide and 33 miles long, it claims to be the longest main street in the world.
Throughout the town, you will find numerous forms of accommodation, from motels and western cabins to RV parks. A similar range is also available when it comes to bars and restaurants, with many serving traditional western food and beverages.
Perhaps the best attraction in the town is the Yellowstone Playhouse. Not only can you enjoy some of the fine local cuisines, but you can do so while taking in a musical comedy show, set to a stereotypical western backdrop.
High Mountain Adventures is another popular stop in town for the real adventurers out there. Renting and selling everything from climbing and boating gear to motor vehicles, it gives you all the options you need to explore Yellowstone National Park however you choose.
Despite its popularity, Yellowstone National Park is still quite challenging to visit for many, as the closest major airport is located over 300 miles away in Salt Lake City, Utah.
With Island Park being located just outside the park on the road from Salt Lake City, but not being as touristy as West Yellowstone, it is a perfect place to rest and set up a base after a long drive, so you feel truly refreshed when you start exploring the park itself.
Stay In Island Park If you are traveling from Salt Lake City, you want to see the longest main street in the world, you plan to hire equipment to help you explore the park.
🔍FIND BEST HOTELS IN ISLAND PARK
8. Big Sky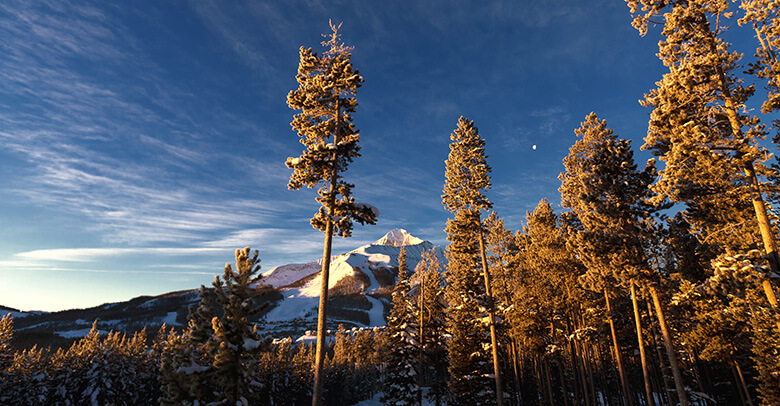 Of all the destinations we have looked at near Yellowstone, Big Sky, Montana is one of the most detached from the park. Located just over 50 miles from the west entrance, it is a similar distance to that found between Cody and the east entrance.
The major difference between the two is that Big Sky, despite being reliant on tourism for its economy, doesn't revolve around its proximity to Yellowstone. That means you can travel in to explore the park one day and do something entirely unrelated the next.
One of the biggest draws to the area is the Big Sky Resort. Featuring downhill mountain bike trails in the summer and ski slopes in the winter, thrill-seekers will have an option to get their blood pumping throughout the year.
In town, the Lone Peak Cinema and Warren Miller Performing Arts Center provide some recreational options that don't revolve around nature or wildlife. You also have the Crail Ranch Homestead Museum, where you can learn more about the history and development of the area.
Surrounding the town, you will find the stunning wilderness of the Gallatin National Forest and the Spanish Peaks. Both are full of hiking trails and campgrounds, allowing you to go out and explore an area filled with significantly fewer tourists than Yellowstone.
You needn't worry about missing out on the wildlife either, as species like black bears, deer, elk, grizzly bears, upland birds, waterfowl, and wolves all call the area home.
Depending on the time of year you visit, hunting and snowmobiling are also popular pastimes in the area. This all allows Big Sky to offer a truly well-rounded trip, no matter when you choose to visit.
Stay In Big Sky If you are a fan of the arts or cinema, you want to visit the Crail Ranch Homestead Museum, you love wildlife, you want to go skiing, downhill mountain biking, snowmobiling, or hunting, you want to visit Yellowstone but want to be a little detached, in a less popular area.
🔍FIND BEST HOTELS IN BIG SKY
9. Bozeman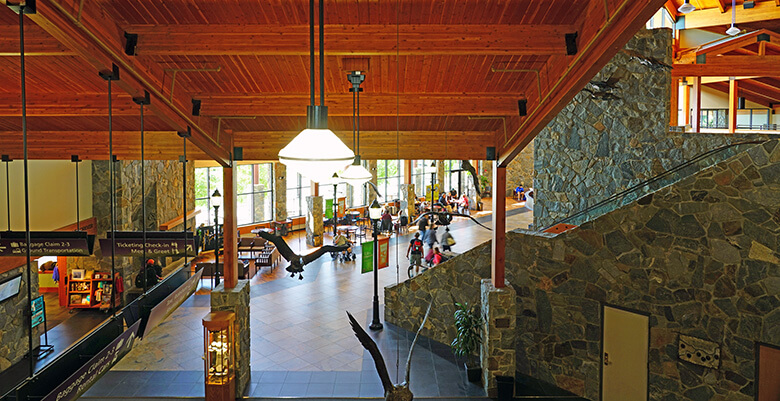 Located almost 90 miles from the closest entrance to Yellowstone National Park, Bozeman is, by far, the destination furthest removed from the park out of those we've looked at. This means it is best suited to those who want to visit Yellowstone, but who don't want their entire trip to revolve around it.
Founded by and named after John M. Bozeman, who established the Bozeman Trail, the city was settled in 1864. One of the fastest-growing cities in Montana, its population has almost doubled in the last 20 years, and it's on course to be the 3rd largest city in the state before too long.
With a range of attractions like gardens, museums, libraries, and ski resorts, yet very few tourists, it provides a unique opportunity to enjoy the sort of destination that would normally be teeming with people in a much quieter setting.
Perhaps the most common reason for people to stay in Bozeman is that it is the location of Bozeman Yellowstone International Airport. While much smaller than you would usually expect of an international airport, it is still the busiest airport in Montana. This makes it a good option for anyone making the trip on a plane.
Bozeman is also home to Montana State University, the largest university in the state. This makes it a great place to stay for anyone who enjoys an area with that stereotypical student atmosphere.
The University features the Museum Of The Rockies, which documents the area's history and displays exhibits showing its past and development. Its most notable exhibits are the Siebel Dinosaur Complex and its famous collection of tyrannosaurus rex specimens, as well as a planetarium.
Surrounding the town are numerous peaks and ridges of the Spanish Peaks and the Bridger Range. With biking, hiking, and skiing trails, it provides plenty of options for those who love the great outdoors but prefer to avoid more touristy locations.
Stay In Bozeman If you are flying in or out of Bozeman Yellowstone International Airport; you are interested in dinosaurs or the history of the Rocky Mountains;
🔍FIND BEST HOTELS IN BOZEMAN
10. Livingston
The town of Livingston, Montana is located near Yellowstone National Park's north entrance, which is roughly 65 miles away. Set on the banks of the Yellowstone River, it was originally founded as a ranching and railroad town during the expansion of the Northern Pacific Railway.
One of the town's most popular tourist attractions, The Livingston Depot, shines a light on this past. A restored rail station built in 1902, it houses a rail museum containing exhibits and artifacts that demonstrate its history.
There are a number of other museums in Livingston as well. You have the Yellowstone Gateway Museum, which details the history of the park and the wild west. Then there is the International Fly-Fishing Federation Museum, which introduces people to the sport and hosts meetings.
The latter of these museums represents a popular pastime in the town, as the Fly-Fishing Discovery Centre, Dan Bailey's Fly Shop, and a fly-tying business are all thriving institutions in the town.
All in all, there are 17 locations in or around Livingston that are listed on the National Register Of Historic Places. This makes it a great destination for anyone interested in history.
While Livingston isn't the sort of place that will suit everyone, it is perfect for those looking for a quiet break. It gives them the opportunity to spend some time in the park, some time in a historic town, and some time in the countryside, without being surrounded by tourists the entire time.
Stay In Livingston If you are interested in history, the railroad, or fly-fishing, you want to stay in a small town, without many tourists, you don't mind being quite away from the park.
🔍FIND BEST HOTELS IN LIVINGTON
Check out my virtual tour about the best places in Yellowstone in this video:
Read More:
Overall, if you want to located in a middle of action, it's best to stay inside Yellowstone National Park. But if the accommodation inside the park is full you can consider to stay outside the park, in West Yellowstone, which is the best place to stay outside Yellowstone National Park. Cheaper accommodation, lots of dining, shopping, and nightlife options.