Where to stay in Las Vegas first time? for family, couples, young aldults? In this guide, we will be looking at the best areas to stay in Las Vegas (include map and video) the best hotels in Las Vegas for all budgets, as well as the safest place to stay in Las Vegas.
Located in southern Nevada, Las Vegas is the largest city in the state. Known as "Sin City", its collection of bars, restaurants, casinos, slot machines, entertainment venues, swimming pools, and some of the best hotels in the US have helped it become the entertainment capital of the world.
Las Vegas is considered a generally safe city for tourist, but as in any big city, you should be aware of surrounding and use common sense. If you want to stay in the safest place in Las Vegas, look into The Strip and Fremont Street in Downtown because it's very well lit area with security cameras everywhere and patrolled by police. Henderson and Summerlin are also some of the safe neighborhoods of Las Vegas.
Where to stay in Las Vegas first time?
The best areas to stay in Las Vegas for first-timers are Las Vegas Strip, Downtown, Henderson, Summerlin, North Las Vegas, Boulder City/Lake Mead, Arts District, Chinatown/ West of the Strip. These are popular neighborhoods that offer a wide range of tourist amenities.
Las Vegas Strip is the best overall area for first time visitors because it has Las Vegas's most famous attractions and hotels. The Strip is a pretty safe area, even at night with a strong police presence and very well lit.
The Central strip is the best place to stay on Las Vegas Strip because it is the heart of the Strip with highest concentration of resorts and activities where you can find famous Bellagio, Caesars, and Mirage.
Downtown Las Vegas and Fremont Street offer a similar experience to The Strip, although it is usually cheaper, so is better suited to those on a budget. Additionally, as the oldest part of the city, it is the ideal choice for anyone interested in the history of Las Vegas.
Map of the best areas and neighborhoods to stay in Las Vegas for tourists:
Is Las Vegas safe to visit?
Las Vegas, like any other major city, has areas that are safer than others. The safety of your visit to Las Vegas depends on various factors, including where you stay and what activities you engage in.
Here are some tips to consider when planning your visit:
Stay in Safe Areas:
The Las Vegas Strip and downtown areas are generally safe for tourists. These areas have a significant police presence and are well-lit, making them safer for walking around at night. Many of the major hotels and resorts are located on the Strip.
Avoid High-Crime Areas:
There are some neighbourhoods in Las Vegas that have higher crime rates. It's a good idea to research and stay away from these areas, especially at night. Local law enforcement agencies often provide crime statistics and safety information.
Use Common Sense:
Like in any other city, it's essential to use common sense. Be aware of your surroundings, keep an eye on your belongings, and don't display valuable items openly.
Transportation:
If you're using public transportation or taxis, make sure to use reputable services. Many hotels and resorts offer shuttle services to and from the airport, which can be a convenient and safe option.
Stay Hydrated:
Las Vegas can get extremely hot, especially during the summer months. Be sure to stay hydrated, wear sunscreen, and protect yourself from the sun.
Be Cautious in Casinos:
While Las Vegas casinos are generally safe, they can attract a diverse crowd. Keep an eye on your belongings, and be cautious if someone tries to engage you in suspicious activities.
Emergency Numbers:
Familiarise yourself with emergency contact numbers, such as 911 for emergencies and the non-emergency police line, in case you need assistance.
If you have specific safety concerns or questions, you can contact the Las Vegas Metropolitan Police Department or your country's embassy or consulate for guidance.
The Best areas to stay in Las Vegas for first-timers are:
1. Las Vegas Strip
The Las Vegas Strip is the best overall area to stay in Las Vegas for first-timers because it is the heart and soul of Las Vegas. It is a safe place to stay in Las Vegas for tourist. While technically located in neighboring Paradise as opposed to Las Vegas itself, set on South Las Vegas Boulevard, The Strip is where many of the most famous attractions in Sin City are located.
Las Vegas Strip is 4.2 miles street from Sahara Avenue at the north to Russell Road at the south. There are 3 areas on the strip, South, Central and North. The Central strip and South strip are the best place to stay on the Strip because it has more concentration of resorts and more activities than the North strip. If you stay in Central strip, you will be in the heart of action.
Meanwhile, The South Strip is best area to stay on the Strip for families, where you can find low-priced hotel rooms, Mandalay Bay, Excalibur, and close to MGM Grand. North Strip is where you can find the Resorts World Las Vegas.
There are plenty of themed hotels that Las Vegas is famed for. These unique attractions usually feature at least one on-site casino and on-site restaurant, as well as numerous bars, swimming pools, and attractions, while being some of the most luxury hotels in the world. Some even include facilities like a full-service spa or private hot tub. They will then have a theme or style designed to immerse visitors in their own little world throughout their stay in Las Vegas.
For example, you have choices that are designed for specific parts of the world. There is Caesars Palace, which is designed in the style of a Roman forum. New York New York, which is laid out like Downtown New York City. Paris, which features a scale model of the Eiffel Tower on its roof.
Other similar options include hotels themed after Venice and Luxor. There was previously one themed on Monte Carlo as well, although this has recently been replaced by Park MGM, one of the freshest, most modern hotel-casinos in Las Vegas.
Some of the hotels are themed on things other than locations too. You have The Excalibur, based on a medieval castle, Circus Circus, based on a big-top tent, Treasure Island, themed around a pirate ship, and The Mirage Hotel & Casino, based on both a desert mirage and songs by The Beatles.
Some are even based solely on high-quality and a single main selling point. For example, Mandalay Bay has its Shark Reef Aquarium, the MGM Grand has its sportsbook and arena, and the Hard Rock Hotel has its history with the music industry.
With all these attractions located within walking distance from one another, many visitors will spend a large portion of their trip without leaving The Strip. Many even offer a free shuttle service to their sister locations. However, there are other attractions on The Strip besides the hotels themselves.
Shopaholics will love what's on offer at the Fashion Show Mall. Located towards the north end of the strip, its collection of stores and eateries gives you plenty of places to shop and dine, without having to venture into the wild and wonderful world of the casinos.
History fans will enjoy a trip to either the National Atomic Testing Museum or the Pinball Hall Of Fame. The former chronicles the history and impact of nuclear weapons, while the latter showcases a collection of rare or popular arcade and amusement games from the 50s' to the present day.
There's the iconic "Welcome To Fabulous Las Vegas, Nevada Sign", which getting a photo with is a right of passage for anyone who comes to stay in Las Vegas.
Likewise, no stay in Las Vegas would be complete without a trip to the Grand Canyon either. One of the most famous natural wonders in the world, the Grand Canyon is located around 3 and a half hours drive from Las Vegas. Tour companies on The Strip offer bus, plane, and helicopter excursions to the Grand Canyon. This means everyone has the opportunity to take in its beauty, no matter the amount of time or money you have available.
The Strip is even incredibly convenient, due to its proximity to McCarran International Airport. Located just on the other side of South Las Vegas Boulevard, it is the perfect place to stay in Las Vegas for anyone worried about missing their flight or dragging their baggage all over town.
To the East of The Strip is the home of the University of Nevada Las Vegas, Bellagio Casino and Fountains, large golf courses, shopping malls, and offers easy access to the Las Vegas Convention Centre.
To the west end of The Strip, you will find Chinatown Plaza, many large hotels and Masquerade Village, a giant shopping mall.
Stay On The Las Vegas Strip If you're looking for the best area to stay in las vegas for tourists; you want an incredible collection of bars, restaurants, and casinos within walking distance; you want to stay in a safe area;
Best places to stay in Las Vegas strip:
luxury ($$$): Trump International Hotel Las Vegas Located in Las Vegas Strip, this 5-star hotel offers suites with an iPod docking station, kitchenette facilities, seating area, and free wifi. It has luxury spa services, an outdoor pool, a state-of-the-art gym, and an on-site restaurant with American cuisine. It is close to the Fashion Show Mall, Las Vegas Boulevard, and provides free shuttle services that run to the shopping center and casinos.
mid-range ($$): Hilton Grand Vacations Suites on the Las Vegas Strip This 4-star hotel is set on the north end of the Las Vegas Strip, within walking distance from area casinos, and The City of Rock concert venue, home of the Rock in Rio concert. It has spacious rooms with a microwave, refrigerator, free wifi, and coffee facilities.
budget ($): Bally's Las Vegas Hotel & Casino Located on the Las Vegas Strip, this 3-star hotel offers an extensive fitness center, and 8 restaurants, an outdoor pool, and an extensive casino. It provides rooms with a safety deposit box, ironing facilities, and a work desk.
🔍MORE HOTEL IN LAS VEGAS STRIP
See more:
2. Downtown Las Vegas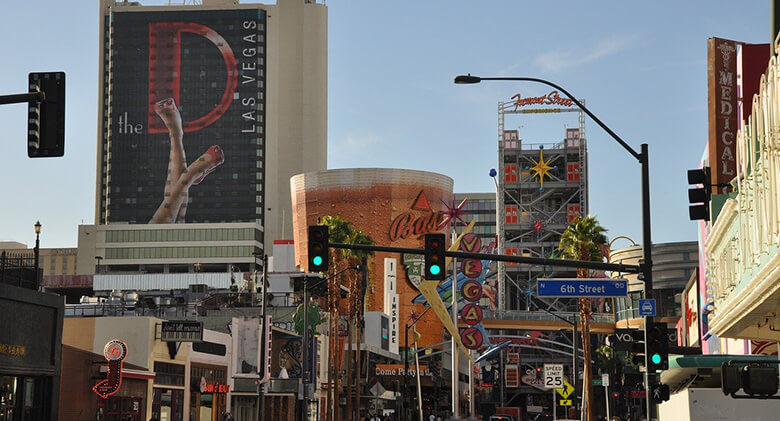 Downtown along with the Strip is the best area to stay in Las Vegas. Downtown has cheaper accommodations and easy to reach from Harry Reid International Airport by CX (Centennial Express). Downtown has better gambling with lower table minimums than the Strip.
Downtown Las Vegas is the central business district of the city, located roughly 2 miles to the north of The Strip. This part of the city has two distinctly different sides, both of which combine to make it the second most popular place to stay in Las Vegas.
On one hand, you have the section around the west end of Fremont East, known as the Fremont Street Experience. At first glance, this part of Downtown Las Vegas looks like an extension of The Strip itself.
Casino hotels, bars, restaurants, and attractions are grouped together under a giant LED-lit canopy, providing action and excitement 24 hours a day. Thrill-seekers even have the opportunity to zip line the length of the canopy, to get a whole new perspective on their surroundings.
However, where the two areas differ is that establishments here feature generally more affordable prices on everything from services to hotels. This means you can enjoy everything that's on offer without breaking the bank. You will also find a lot more locals frequent this part of Las Vegas as well.
There are also a greater number of cultural attractions like museums as well. You have the Neon Museum, which displays historic signs made of neon lights dating back to the founding of Las Vegas in the 30s'. The Mob Museum also details the darker side of the city's founding and early days.
For those who are happy to venture a little further out, you also have options like the Nevada State Museum, displaying exhibits on the history of Nevada, as well as the Discovery Children's Museum, which is full of interactive exhibits to help younger visitors learn about science, art, food, and more.
This historical feel continues throughout Downtown Las Vegas, as this was the original part of the city. Many of the oldest hotels in Las Vegas are grouped here, giving you the chance to experience Las Vegas how it would originally have been, or as close to it as is currently possible.
The rest of the district away from Fremont Street is also where you will find the greatest collection of businesses and establishments in the city.
From major corporations to local shops and eateries, it contains everything you need throughout your visit. This makes it an ideal place for those who are traveling to stay in Las Vegas for work.
Stay In Downtown Las Vegas / Fremont Street If you like the excitement of the strip but need more affordable hotels; you are traveling to Las Vegas on business; you are interested in the history of Las Vegas.
Best places to stay in Downtown Las Vegas:
mid-range ($$): Golden Nugget Hotel & Casino Las Vegas This hotel offers an outdoor pool, poolside bar, lounge area, an on-site casino, 9 restaurants, and two Starbucks. It has rooms with a private bathroom, white linens, and rich wood and leather furnishings.
budget ($): Downtown Grand Hotel & Casino Located in the heart of Downtown Las Vegas, provides the Citrus Grand Pool Deck, the largest pool deck in all of Downtown Las Vegas. This hotel and casino is 400 m from Fremont Street Experience and 200 m from the Mob Museum.
🔍MORE HOTEL IN DOWNTOWN LAS VEGAS
3. Henderson
Henderson along with The Strip and Fremont Street, is one of the safest places to stay in Las Vegas. Located 16 miles to the southeast of Las Vegas, Henderson is the second-largest city in both the Las Vegas metropolitan area and the state of Nevada as a whole. Whereas Las Vegas is all about tourism and partying, Henderson is much more residential in nature.
As a result, the atmosphere is calmer and quieter, allowing visitors to escape the crush of Las Vegas. Attractions like shopping malls, movie complexes, concert venues, casinos, bars, and restaurants provide plenty to keep you occupied, without worrying about the hustle and bustle.
Unlike Las Vegas, Henderson is also known for being a place to enjoy nature and the great outdoors. Perhaps nothing demonstrates this better than it being the home of Lake Las Vegas. A 320-acre reservoir, surrounded by luxury resorts, it is the perfect representation of Las Vegas in a natural setting.
Another equally important natural feature is the Clark County Wetlands Park. The largest park in Clark County, it was created to limit the negative impact wastewater and stormwater runoff was having on the local environment.
Since its inception, the park has helped to stabilize some of the native plant life and even helped improve the habitats and aid the recovery of some threatened or endangered species of animals. It features a nature center where visitors can learn more about these changes and the local wildlife.
Speaking of wildlife, the Henderson Bird Viewing Preserve is located on a major migratory flyway. With birds coming to feed and drink on their journey, it is a great opportunity for bird watchers and nature lovers alike to catch a glimpse of some rare and unusual species.
There are even more extreme adventures to be had for those who want to take their love of the outdoors to the next level.
The River Mountain Loop Trail takes hikers up into the River Mountains. With scenic surroundings and some of the most stunning views in the area, it is the ideal place to have a break in nature for a while and truly be alone with your thoughts.
Those who like to enjoy the outdoors can even do so without venturing out into the wilds when in Henderson. The Ethel M Botanical Cactus Garden and Acadia Demonstration Gardens both contain plants and examples of native wildlife in a desert climate.
There are even places like the Anthem Country Club and Wildhorse Golf Club, where those who enjoy the finer, more refined things in life can enjoy some time in the sun.
While accommodation in Henderson is nowhere near as abundant as in Las Vegas, there are still plenty of options, including luxury casino resorts. With generally lower price tags than on the strip, you can enjoy what Las Vegas is best known for, without worrying about crowds or breaking the bank.
Henderson is the best area to stay in vegas if you like Las Vegas but prefer a slightly quieter destination; you are a fan of nature and beautiful scenery; you want to play some golf; you prefer a slightly more residential area.
Best places to stay in Henderson:
🔍MORE HOTEL IN HENDERSON
Check out my virtual tour about the best places to stay in Las Vegas:
4. Summerlin
Summerlin is one of the safest neighborhoods in Las Vegas, it is a community that lies in the Las Vegas Valley, 10 miles west of Downtown Las Vegas, on the edge of the Spring Mountains and Red Rock Canyon. Named after the grandmother of a billionaire land developer, it is an upper-class neighborhood, consistently ranked as one of the best places to live in America.
Downtown Summerlin is the heart of the district, featuring a fabulous collection of shopping, dining, and entertainment establishments. Visitors can easily stroll from place to place, shopping, eating, and enjoying a truly relaxing break in a slightly smaller city.
Perhaps its most notable attraction is the Las Vegas Ballpark, home to the Las Vegas Aviators baseball team. This is a great option for those who want to catch a game while they are in town.
Wet 'n' Wild Las Vegas is another popular option. A fabulous water park, it features attractions like slides and inflatables, making it a location where the whole family can enjoy a fun day out.
Summerlin is particularly well-known for its collection of parks and walking trails. With 25 parks and 150 miles of trails, it is a perfect destination for those who love nothing more than to take a stroll outdoors, enjoying the fresh air, nature and landscapes on offer.
For those who like to explore even further, Red Rock Canyon is an incredibly popular destination for fans of the outdoors. Hiking trails range from easy to strenuous, while bouldering, camping, and rock-climbing sites are spread throughout the canyon.
Accommodation is a little less extravagant than the casino resorts on the strip yet is still upmarket. This makes it perfect for those who want to travel to the area with children, as they can avoid having them near the casinos but can still treat themselves during their stay.
Stay In Summerlin If you are traveling with family or small children; you want to go hiking, climbing, or camping in Red Rock Canyon; you want a slightly calmer city experience than you will get in Downtown Las Vegas.
Best places to stay in Summerlin:
🔍MORE HOTEL IN SUMMERLIN
6. North Las Vegas
Located 3 miles north of Downtown, North Las Vegas is technically a separate city that on its own ranks as the 4th largest and most populous in Nevada.
Primarily residential in nature, it is filled with businesses that serve the local community. As a result, you can avoid being stung by some of the price hikes common in areas aimed at tourists. Combined with its convenient location, this makes it ideal for anyone traveling on a budget.
North Las Vegas also features a great collection of parks to enjoy during your stay. City parks like Craig Ranch Regional Park and Tropical Breeze Park are great places to chill out and relax, while Aliante Nature Discovery Park offers you a little more of the local landscape to explore.
There are also a few great golf courses in the area, including Aliante Golf Club and Shadow Creek Golf Course. This means those who want to play a few rounds during their stay will have plenty of options available.
While we're on the topic of sport, the Las Vegas Motor Speedway is located in the northeast corner of the district. Hosting numerous motor events, including important occasions on the NASCAR calendar, anyone coming to attend a race will find North Las Vegas incredibly convenient.
The convenience doesn't stop there either, as you will also find North Las Vegas Airport here too. This means anyone flying in or out of the airport won't have to worry about missing their flight or dragging their bags all over town.
Stay In North Las Vegas If you want to stay near North Las Vegas Airport; you want to play golf or explore some parks; you are traveling on a budget; you are attending an event at the Las Vegas Motor Speedway.
Best places to stay in North Las Vegas:
🔍MORE HOTEL IN NORTH LAS VEGAS
6. Boulder City and Lake Mead
Boulder City lies roughly 30 miles to the southeast of Las Vegas. Named after Boulder Canyon, it is one of only two places in Nevada to ban gambling, the other being Panaca. This means it offers a very different experience to everywhere else in the Las Vegas metropolitan area.
For most visitors, the main draw to staying in Boulder City is its proximity to the Hoover Dam, which is located just 7 miles away. Opened in 1936, the Hoover Dam was originally known as the Boulder Dam and cost almost $700 million when adjusted for inflation.
Standing over 700ft high and stretching 1244ft wide, the dam is a massive hydroelectric plant, which is responsible for supplying a huge portion of the energy to Nevada, Arizona, and southern California, up to almost 30% in some cases.
An incredible sight to behold, people come from all over the world to take pictures of this marvel of engineering. It was listed on the National Register Of Historic Places in 1981, recognized as a National Civil Engineering Landmark in 1984, and designated a National Historic Landmark in 1985.
Even those who don't want to visit the Hoover Dam can see it in the distance and learn about it while they are in town. The Hoover Dam Museum is located in Boulder City, with pictures and exhibits teaching the history of the dam and commemorating the lives lost during its construction.
The city even has a number of events that use the dam to help the market to a wider audience. The Dam Short Film Festival, Get Off My Dam Lawn Gardening Festival, and That Dam Guy Stole My Dam Car Race all rely on their use of dam puns to drum up interest in their events.
Those who have no interest in the Hoover Dam at all will likely choose to stay here for the other famous attraction in the area, Lake Mead. Formed by the creation of the dam, at almost 250 square miles, it is the largest reservoir in the United States.
While incredibly important to the agriculture and farming industries in the area, it is also incredibly popular for recreation as well. With 4 separate marinas and countless sandy beaches, people come here to fish, swim, sunbathe, jet ski, water ski, sail and enjoy a host of other water-based activities.
The Alan Bible Visitor Centre even features the Alan Bible Botanical Garden. A desert botanical garden, it features a collection of cacti, shrubs, and trees, helping visitors learn more about the local plant life.
While the dam and the lake are undoubtedly the big attractions, there are a small collection of other things to enjoy in Boulder City.
These include the Nevada Southern Railroad Museum, where you can see carriages from the early days of the railroad, and the Bootleg Canyon Mountain Bike Park, an internationally known location featuring downhill and cross-country bike trails for thrill-seekers to enjoy.
As a primarily residential destination, the accommodation is much less grand and varied than that found elsewhere in the Las Vegas metropolitan area. However, it also means you are likely to find a much more affordable option and enjoy a significantly quieter, more peaceful stay.
Stay In Boulder City & Lake Mead If you are interested in mountain biking or the history of the railroad; you prefer a quieter, more residential area.
🔍MORE HOTEL IN BOULDER STRIP
7. Arts District
The Las Vegas Arts District is a small area of the city, located between The Strip and Downtown Las Vegas. It's a vibrant area that is home to a large portion of the city's arts and performance institutions, many of which are housed in converted warehouses, offering a feel unique to the rest of Las Vegas.
One of its most popular hubs is the Arts Factory, which features art galleries, shops, and a bistro. Another is Art Square, where the Cockroach Theatre hosts plays featuring up-and-coming talent, while bars with a bohemian atmosphere serve cocktails till late into the night.
You also have more esteemed venues like The Smith Center For The Performing Arts as well. A stunning, Art Deco concert hall, dance studio, and jazz club, it is one of the best venues in the entire city as far as musical performances as concerned.
Meanwhile, attractions surrounding the district contain a similar vibe to those in it. You have the Las Vegas Academy Of The Arts Performing Arts Center, where young performers can get their first taste of life on stage.
You have the Southern Nevada Museum Of Fine Art and the Metropolitan Gallery / Art Museum Las Vegas. These combine to host one of the best collections of art by both local and international artists anywhere in the city.
The former is also located on the second floor of a shopping and dining complex, so you can pick up essentials or go for a drink or bite to eat after you are done looking at the exhibits.
You even have the Burlesque Hall Of Fame. This museum displays photos, costumes, and personal items of some of the city's most famous performers. This allows you to get a true appreciation for the place of burlesque in the history of Las Vegas.
Much like the rest of the Arts District, the accommodation here is also a little different to the majority of the hotels in Las Vegas.
This is the perfect place to stay in Las Vegas for anyone looking for a chic, stylish, boutique hotel, which extends the atmosphere present in the bars and galleries back to your hotel room.
Stay In The Arts District If you are a fan of the arts; you want to stay in a boutique hotel; you want bars and restaurants with a vibrant, bohemian atmosphere.
🔍MORE HOTEL IN LAS VEGAS STRIP
8. Chinatown and West of the Strip
The Chinatown Plaza is located a mile to the west of The Strip, where the borders of Las Vegas and neighboring Spring Valley meet. While this Chinatown is much smaller and less famous than its counterparts in New York or San Francisco, it is nevertheless a unique and interesting place to stay.
Founded in 1999, it is one of the fastest-growing parts of the city. While known as Chinatown, due to the draw the name has for tourists, it actually features residents and establishments from a variety of East Asian countries.
Its original strip mall features stores selling Asian products and foods, while bars, bakeries, cafes, and restaurants serve traditional drinks and cuisine from throughout the region. There are also a number of businesses like law firms, where locals can find services with people who speak their language.
Its location on the outskirts of Las Vegas also means prices are lower here than on The Strip or in the city center. With easy access back into both, it makes it a great place to stay in Las Vegas for anyone who is traveling on a budget.
In the West of the Street, you will also find the Springs Preserve, a nature lover's paradise, which is home to Origen Museum, Nevada State Museum, and an 8-acre botanical garden.
If you love golf, you will want to visit the Angel Park Golf Course, an icon in Vegas golf for more than 3 decades.
Stay In Chinatown If you are interested in East Asian culture or cuisine; you are traveling on a budget.
🔍MORE HOTEL IN LAS VEGAS STRIP
Best places to stay in West of the Strip:
East and West of The Strip is family-friendly and cheaper option for you. East of The Strip is the home of the University of Nevada Las Vegas, large golf courses, shopping malls, and offers easy access to Las Vegas Convention Centre. The west end of The Strip provides many large hotels and Masquerade Village, a giant shopping mall.
See more about the USA:
Overall, Las Vegas Strip is the best area to stay in Las Vegas for tourist because it is the heart and soul of Las Vegas with the widest range of accommodations options and plenty of things to do and see within walking distance apart. If you stay here, especially on the Central Strip where you find Bellagio and Caesars, you will be located in the middle of action.
Las Vegas is truly a destination like no other on earth. Whether you are looking for the classic Las Vegas experience or something a little more refined, this article will hopefully have helped you settle on the best location to stay in Vegas and where to stay in Las Vegas to meet all of your needs.