The best areas to stay in Washington DC for both first time and returning visitors are the neighborhoods of Downtown DC, Georgetown, Capitol Hill, Chinatown, Penn Quarter, Foggy Bottom, Dupont Circle, Logan Circle, Adams Morgan, and Woodley Park. This blog will help you to decide where to stay in Washington D.C. and the safest neighborhoods for tourists, nightlife, families, budget, and without a car.
Washington, the capital and political center of the USA is one of the most rewarding tourist centers in the whole of the USA, with literally hundreds of fascinating things to see and do. By American standards, Washington is a relatively compact city of just under a million people.
This is good news for visitors because it means that whatever part of town you choose to stay in, you are not too far away from the major sights and attractions. Having said that, the majority of the galleries, museums and historic buildings of the city are located in an area of downtown called National Mall.
Washington D.C. is relatively a safe city for visitors. Dupont Circle, Georgetown, Foggy Bottom, and Penn Quarter are some of the safest area to stay in Washington DC to book accommodations. Use common sense and practice some basic precaution as you travel to any city, you will be fine.
If you're looking for the best area to stay in Washington DC without a car, then look into Dupont Circle or Downtown. They both have comprehensive public transport system, you can easily travel to other parts of the city.
If you're only in Washington for a short time, then it's a good idea to stay somewhere Downtown or in nearby suburbs like Capitol Hill or pretty waterfront Georgetown.
If you're traveling on a budget, then there are affordable and exciting districts not far from the center like Logan Circle, Palm circle, or Adams Morgan, which is the heart of the city's night scene.
Wherever you stay in Washington, you will find that there is an extensive range of accommodation. In addition to top hotels, there are many apartments and townhouses for rent that provide an interesting alternative, particularly if you plan to stay for a while.
If you choose to stay in a suburban area like Woodley Park, then it's a good idea to try and book a hotel that is located close to the city's excellent metro stations. This regular service is a great way to tour the city without the risk of getting caught up in gridlock.
>> 🔍BEST HOTELS IN WASHINGTON D.C. <<
📌10 Best Areas to stay in Washington DC
1. Downtown DC, best area to stay in Washington DC for first time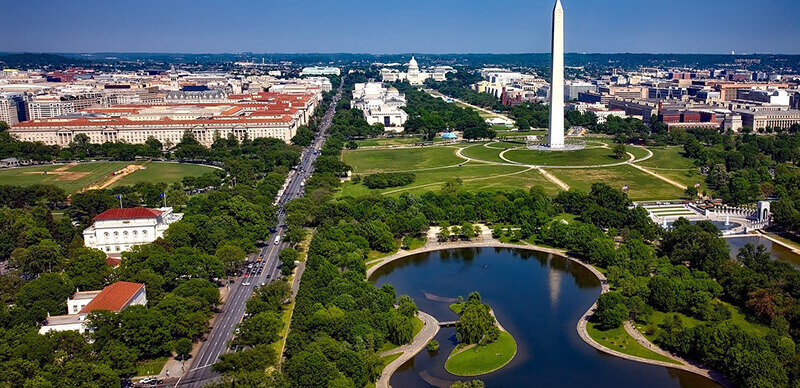 Downtown DC is, well, downtown. No part of the city is more convenient for all of the significant landmarks and attractions. it's also packed with high-end shopping, restaurants with great dining and nightlife.
Highlights of this central part of town include many museums like the famous Smithsonian, the city's theater district, and The National Mall, a vast two-mile-long park that runs from the Potomac on the west side to the Capitol Building on the east.
Downtown DC is the most popular tourist spot in the city and is packed with free-of-charge monuments and museums. The Lincoln Memorial is here, as is the Jefferson Memorial. There are also memorials commemorating World War II, the Vietnam War, the Korean War, and a monument commemorating Martin Luther King.
Other major attractions and landmarks in this treasure trove of tourist delights include The White House, the Capitol Building, the Washington Monument, and The Pentagon. Before visiting, make sure to stop at the White House Visitor Center with an insider's view of 1600 Pennsylvania Avenue by a virtual tour.
Nearby, the historic street Pennsylvania Avenue is the location of many important parades, marches, protests.
Amongst the museums and galleries, you will find the National Gallery of Art, the Smithsonian Museum, the Smithsonian National Air and Space Museum, the Freer Gallery of Art, the Smithsonian Arts and Industries Building, the Hirshhorn Museum, and The National Museum of African American History and Culture.
If you like shopping, head to CityCenterDC, which is located within easy walking distance to the popular Penn Quarter. it's home to many high-end shops such as Paul Stuart, Gucci, Hermès, Jo Malone London, and Kate Spade.
If you're a foodie, you will want to check some famous restaurants like Estuary, Plume, and Central Michel Richard;
Downtown DC is also well-connected transport, it's served by Metro Center station, the central hub station of the Washington Metro. It is within a short stroll from Ford's Theater, Warner Theater, and Freedom Plaza.
Because of this central location's convenience, most of the hotels here are in the mid to high price bracket. But even if you are on a budget, you can find a few hostels and more affordable accommodations if you scout around.
A good option for families and people traveling as a group is to look for furnished apartment rentals since this area has some lovely examples.
Stay in Downtown DC if you are a first-time tourist; you want to be right in the heart of the city; you want to be within walking distance of all the major sights and attractions; you want to stroll through the grandeur and greenery of The National Mall.
Best Places to stay In Washington in Downtown:
luxury hotel: St. Regis Washington, D.C. This five-star hotel was opened in 1926, is a favorite of United States presidents. It features guestrooms and suites with 32-inch LCD TVs with cable channels, Reméde bath products, and a fully stocked minibar.
mid-range hotels: Washington Plaza Hotel This mid-range hotel offers an onsite restaurant, a gym, an outdoor swimming pool, and free wifi. It's also located close to Washington Convention Center, Metro Center station, Gallery Place–Chinatown, the FBI Headquarters, and Washington Plaza.
Hamilton Hotel – Washington DC Located in the real heart of Washington DC, this 4-star is very close to from the McPherson Square Metro Station, and some of the attractions such as the White House, the Smithsonian National Museum of American History, the Washington Monument, and easy access United States Capitol Building by metro. It has rooms with flat-screen TVs, floor-mounted safes, WiFi, a leather chair, a work desk, and a coffee maker.
Hotel Lombardy Located on world-famous Pennsylvania Avenue, within walking distance from Foggy Bottom–GWU Metro station, JFK Center for Performing Arts, and Lincoln Memorial. It has rooms with original artwork, free WiFi, a fully stocked minibar, a cable TV or work at the spacious desk.
budget hotel: Hyatt Place Washington DC/White House This budget hotel offers a rooftop bar with city views, a fitness center, and free wifi. Its close proximity to Georgetown, Capitol Hill, Dupont Circle, and National Mall.
🔍FIND BEST HOTELS IN DOWNTOWN
See more about the USA: Where to Stay in Denver
2. Georgetown, where to stay in Washington DC with family
Georgetown can justifiably claim to be the very heart of Washington DC, since his upmarket and attractive residential neighborhood, on the west side of the city, dates back to the mid-18th century. It is a prestigious part of town that enjoys a beautiful waterfront setting next to the Potomac River. Georgetown is one of the safest areas in DC.
There are few places in the USA that feel as European as this district, with its cobblestone streets and beautiful 18th and 19th-century historic red brick buildings.
Georgetown is very convenient for all the major tourist attractions of the center of Washington. Because of this great location, it is the accommodation choice for many of the US's political world's movers and shakers.
Because of this, Georgetown has become one of the wealthiest parts of Washington. The area is full of top-class haute cuisine dining, and if you are the kind of shopper who doesn't worry too much about price tags, you will discover some high-end shopping in this area around Wisconsin Avenue and M Street.
Georgetown is home to Georgetown University, and this institution injects a youthful exuberance into the social fabric of the area. So if you're looking for some buzzing nightlife, you will find plenty of bars and clubs that cater to a student crowd.
Notable venues include Blues Alley, a jazz club of international renown, or you could try Martin's Tavern, which belies its unprepossessing look by being the watering hole of many top politicos, including John F. Kennedy.
While you are in Georgetown, you should make the most of its attractive waterfront setting by taking a stroll through Georgetown Harbour Waterfront and Georgetown Park, a delightful oasis of greenery on the banks of the Potomac.
Georgetown Waterfront Park offers stunning views of Theodore Roosevelt Island, Francis Scott Key Bridge, and John F. Kennedy Center for the Performing Arts. This 10-acre park also has many outdoor activities such as kayaking, jogging, and cycling.
Another great park is Dumbarton Oaks Park, where you can The Gardens and Dumbarton Oaks Museum with its big collection of Byzantine and Pre-Columbian art.
You can also have attractions like Exorcist Steps, Old Stone House, Tudor Place Historic House & Garden, and Chesapeake and Ohio Canal to explore in this area.
Georgetown offers all type of accommodations including family-friendly hotels, budget-friendly hotels, boutique hotels, whatever you're looking for, you'll find it.
Stay in Georgetown If you want a family-friendly area; you want to shop in top designer stores; you want to be within walking distance of the top tourist sights; you have the budget for that top of the range hotel or a luxury apartment; you want to party with the university crowd.
Best places to stay in Washington DC in Georgetown:
Georgetown Inn This 4-star mid-range hotel is located within walking distance from Georgetown Waterfront Park, also close proximity to John F. Kennedy Center for the Performing Arts, Georgetown University, Lincoln Memorial, Union Station, and Ronald Reagan Washington National Airport. It has rooms with carpeting, wallpaper, and bathrooms with stand-up glass shower, a 40-inch TV with cable channels, robes, and an umbrella.
The Georgetown House Boutique Inn Situated along the C&O canal, within easy walking distance from Georgetown's restaurants and boutiques and Georgetown Waterfront. Some of the popular restaurants nearby are the Italian Il Canale, Sea-Catch Seafood, Sushi to Go, and Martin's Tavern. The inn is also close to the White House, the Washington Monument, the John F. Kennedy Center for Performing Arts, and the Smithsonian Museums.
The Graham Georgetown This is a mid-range hotel located close to Georgetown Waterfront Park, Georgetown University, the Shops at Georgetown Park, the White House, and the National Mall.
More best hotels luxury • Four Seasons Washington DC mid-range • Georgetown Inn
🔍FIND BEST HOTELS IN GEORGETOWN
Check out my virtual tour about the best places to stay in Washington Dc in this video or continue reading:
See more:
3. Capitol Hill, where to stay in Washington DC for sightseeing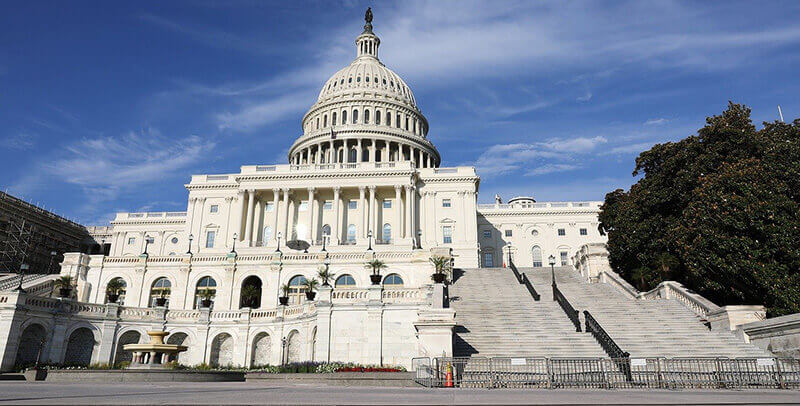 The upscale residential area of Capitol Hill is a conveniently central district of Washington that spreads out around the capitol building, over on the east side of downtown.
This area has a number of federal buildings, including The Supreme Court of The United States and the Library of Congress.
It is a green and leafy area with Lower Senate Park running into the extensively cultivated parklands around the capitol building itself. Seward Square, Folger Park, the United States Botanic Garden, and Garfield Park are other green areas in the vicinity.
Capitol Hill neighborhood is a residential area that is very popular with lobbyists, politicians, and civil servants, and the local cafes, restaurants, bars, pubs, and oyster houses are favorite places for political machinations and brokering of deals.
The commercial strip Barracks Row on 8th Street SE in the Navy Yard neighborhood between Pennsylvania Avenue and M Street. It has many row houses and a good spot for foodie lovers. Eastern Market and Massachusetts Avenue NE are also great places to shop;
In addition to all the area's political buildings, visitors can check out The Congressional Cemetery, the Folger Shakespeare Library, the National Guard Museum, and the National Postal Museum.
There is some striking architecture around the Capitol Hill neighborhood, not least the highly impressive frontage of the grand and imposing Union Station.
Stay in Capitol Hill if you want to explore the heartland of American politics; you want the best area in Washington DC to stay close to downtown; you want to do sightseeing;
Best places to stay in Capitol Hill:
🔍FIND BEST HOTELS IN CAPITOL HILL
4. Chinatown and Penn Quarter, where to stay in Washington DC for culture vulture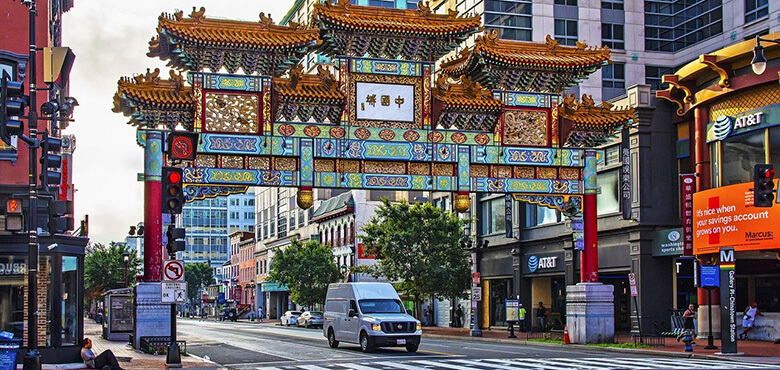 Many big cities in the USA, and beyond, have a district known as Chinatown. Washington is no exception, and it is a great place to visit, or to make as a base during the time in the city. Chinese gate ( Friendship Arch) marks its entrance, and you will see it above H Street where it crosses 7th Street.
There is a metro station that links Chinatown with other parts of Washington on the Yellow Line by the Gallery Place Washington Metro station.
Penn Quarter and Chinatown are great places for cultural vultures, foodies, shoppers, and sports lovers with plenty of museums, theaters, restaurants, and a sports center.
History buffs will love to visit American Art Museum, Smithsonian Institution's National Portrait Gallery, United States Navy Memorial, Shakespeare Theatre Company, and Ford's Theatre.
You should consider Chinatown for accommodation. There are several hotels that are reasonably priced so staying within this residential area is an interesting idea.
Residential it may be, but there are around 20 restaurants, mostly Chinese but also serving another Asian cuisine, to enjoy as well.
Other than the restaurants, you will find Capital One Arena in Chinatown. It is the city's premier sport and entertainment indoor center and there is likely to be something happening there during your stay. Home to the NHL's Washington Capitals, the NBA's Washington Wizards, and the Georgetown Hoyas men's basketball team
Best places to stay in Chinatown:
🔍FIND BEST HOTELS IN CHINATOWN
5. Foggy Bottom, one of the most popular places to stay in Washington DC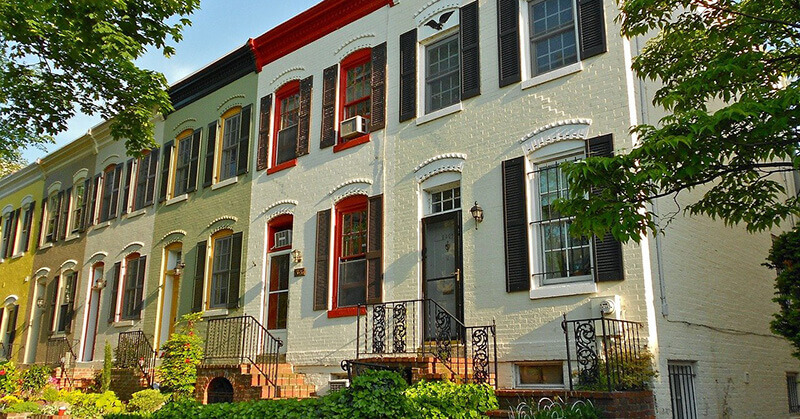 The evocatively named Foggy Bottom is an extremely photogenic part of Washington DC. The area is in a waterfront location to the northwest of downtown. There are splendid views across the Potomac River to Theodore Roosevelt Island and Little Island, two islands covered with attractive tree-filled parks. Foggy Bottom is a safe neighborhoods with low crime rate.
Foggy Bottom is home to the John F. Kennedy Center For The Performing Arts and also houses the National Symphony Orchestra. The area is also very well provided for when it comes to hotel accommodations.
You are also close to the Rock Creek Park, DAR Constitution Hall, the Washington National Opera, Lincoln Memorial, Textile Museum, and the State Department's Diplomatic Reception Rooms.
There are many places to stay here, with the majority of hotels coming in the mid-range price bracket. It is a convenient part of town for tourists who want to avoid public transport because all of downtown's highlights are just a few hundred meters away to the Southeast.
It's also very convenient to travel with public transport on the Silver Line, the Orange Line, and the Blue Line by the GWU Washington Metro station.
The US State Department is located in Foggy Bottom, and the students of George Washington University add a youthful vibe to the area. No visit to this part of Washington is complete without a stroll down the waterfront, soaking up the atmosphere of this historic part of the city.
Stay in Foggy Bottom if you want a good mid-range hotel; wonderful waterfront views; you want to stay a short walk away from downtown; you want to visit the theater.
Best places to stay in Foggy Bottom
🔍FIND BEST HOTELS IN FOGGY BOTTOM
6. Dupont Circle, where to stay in Washington DC for nightlife
Dupont Circle is a conveniently central and safe area just north of Washington's city center. The area spreads out around a central roundabout where ten roads meet, and this junction is symbolic of the eclectic mix of cultures and activities that you will find here. This is the intersection of Massachusetts Avenue, New Hampshire Avenue, and Connecticut Avenue.
All of the tourist sights of central DC are just a few minutes strolled to the south, but there are some interesting places to visit in the Dupont circle itself. The Phillips Collection is a well-curated art gallery dating from 1921 that is well worth a visit. The gallery houses a vast collection of international modern art. Dupont Circle is also home to the National Geographic Museum.
On the west side of Dupont Circle are Oaks Park and Montrose Park. These open spaces join together to form a large area of greenery that is a delight to stroll through, giving a pleasantly suburban feel to this area, despite its central city location.
Dupont circle is also a central hub of dining and nightlife, so if you are a night owl, then this is an excellent choice of place to stay. The multicultural mix of Washington DC is reflected in the impressive variety of international cuisines you can find in this area. Eighteenth Street Lounge is a favorite dance club for locals.
Other places to visit are the Brookings Institution, the Institute for Policy Studies, the National Museum of American Jewish Military History, the Stimson Center and the Peterson Institute, the Spanish Steps, the Phillips Collection, and the Mansion on O & O Street Museum.
Dupont Circle is a popular place to live for twenty-something professional couples, and the nightlife here reflects this young and energetic age group, with lots of bars and clubs, funky and trendy restaurants.
This part of Washington doesn't have a huge number of places to stay, but there are still quite a few decent hotels, mainly in the mid-range price group. There are also quite a few apartments for rent that are an excellent choice for groups and families. For transport, you have the Red Line and the Dupont Circle station.
Stay in Dupont Circle if you are looking for the best area to stay in DC for nightlife; you are looking for a vibrant, happening inner-city neighborhood; you want great dining for old budgets; you want to explore Washington DC on foot; you like art galleries.
Best Places to Stay in Washington DC in Dupont Circle:
The Dupont Circle Hotel This 5-star luxury hotel is located very close to the historical landmarks of Washington such as Washington Convention Center, National Mall, and JFK Center for Performing Arts; also within walking distance from Dupont Circle Metro station.
The Darcy Hotel, Washington DC Located close to many city attractions like the White House and National Mall, and a short ride from Washington National Airport. It offers 24-hour room service, a fitness center, business services, valet, daily gin tasting, and bike rental.
The St. Gregory Hotel Located within a few minutes' walk from the Dupont Circle and Foggy Bottom metro stations. This hotel provides an onsite restaurant, a business center, free wifi, and rooms with a flat-screen TV, refrigerator, and coffee maker.
🔍FIND BEST HOTELS IN DUPONT CIRCLE
7. Logan Circle, trendy area in Washington DC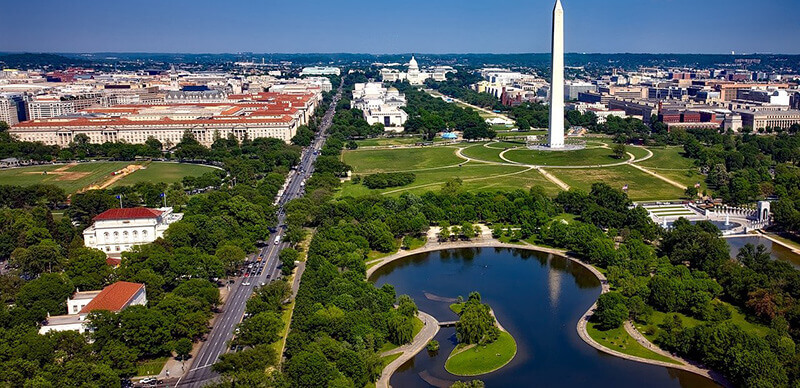 Logan Circle is a district of Washington DC that spreads out around a large roundabout and park. This is one of the oldest parts of the city, and you will find some delightful old historic buildings here. But it is a very modern area and is one of the trendiest and most happening parts of town.
Logan Circle is a convenient place for tourists since it is just a few hundred meters to the northeast of the downtown area with the White House and all the other tourist attractions. Chinatown's buzz and excitement is just to the South, and the happening Dupont Circle isn't far away to the west.
Attractions are the Fourteenth Street Historic District, the Logan Circle Park, Logan Circle Heritage Trail, and Mt. Olivet Lutheran Church.
In fact, Logan Circle enjoys similar youthful energy, coupled with a sophisticated charm, to its Western neighbor. This is a mostly residential neighborhood, and the area is crammed with cafes, restaurants, and bars.
Logan Circle is well catered to with mid-range and five-star boutique hotels, with some of the city's best places to stay. And, as is the case with much of Washington DC, a great alternative to a hotel stay is to book one of the scores of fully furnished apartments, which represent excellent value for money, and almost make you feel like a resident of the city.
Logan Circle is a revitalized and gentrified urban area redeveloped in the 1980s and 90s as suburban city dwellers moved back into the city's central areas, breathing new life into previously run-down districts.
These days Logan circle is a very well-heeled and respectable neighborhood with steep property prices and some excellent shopping and infrastructure.
Stay in Logan Circle if you want a Buzzing, hip locale; you want to be just 10 minutes from downtown; you want excellent med and higher range hotels; you want to enjoy lots of Victorian architecture.
Best Hotels In Logan Circle:
Best luxury hotel: Viceroy Washington DC offers pet-friendly accommodation in Washington, 4 minutes walk from Logan Circle. Guests can enjoy the on-site restaurant. Private parking is available on site.
Best mid-range hotel: Washington Plaza Hotel This 4-star hotel provides a restaurant and lounge, a seasonal outdoor pool and a gym. It has rooms with flat-screen TVs, a leather chair, a work desk, and a coffee maker.
Best budget hotel: Comfort Inn Downtown DC/Convention Center This hotel is located at the corner of 13th Street and M Street, a short stroll from Washington Convention Center and the Verizon Center. It features guest rooms with a flat-screen TV, a refrigerator, and coffee-making facilities.
Best hostel: Duo Housing This hostel is located 1.8 km from The White House in Washington, Duo Housing offers free WiFi access. The property has a 24-hour front desk and luggage storage.
🔍FIND BEST HOTELS IN LOGAN CIRCLE
8. Adams Morgan, where to stay in Washington DC on budget
The historic neighborhood of Adams Morgan is Washington DC's most hip and happening area. It is centered at the intersection of Columbia Road and 18th Street NW.
The diverse neighborhood of Adams Morgan is packed full of affordable accommodation, fabulous international eateries, and scores and scores of bars and clubs. If you are a city lover and revel in areas that run 24/7, then this is the place for you.
Some of the places to check out nearby are Meridian Hill Park, Lanier Heights, Madam's Organ blues bar, and Kalorama Recreation Center.
Adams Morgan is located a little to the North of Downtown, and it is well connected to the center of town by the red line of Washington's Metro service. There are also regular buses that offer a quick and convenient way to get to all of the city center sights.
All you need to do for a great night out is head to 18th Street in the southwest corner of the Adams Morgan since this has an incredible number of bars and clubs packed into a very compact area.
As is the case with so much of central Washington, this is a beautiful area, full of historic Victorian architecture.
Adams Morgan is Washington's street art center, and the juxtaposition of giant murals and classical architecture has to be seen to be appreciated. Few parts of Washington DC have the spirit and exuberance of this splendid part of the city.
There is also DC Arts Center, where you can 800 square foot gallery and 42 seat black box theater.
If you visit the area on the second Sunday in September, you will have a chance to take part in the annual Adams Morgan Day, with live music, international food, and dances.
Stay in Adams Morgan if you are traveling on a budget; you want to stay in the heart of Washington's nightlife scene; you want an exciting multicultural area; you want to be surrounded by murals and street art;
Best Places to stay In Adams Morgan:
🔍FIND BEST HOTELS IN ADAMS MOGAN
9. Woodley Park, family-friendly neighborhood in Washington DC
Woodley Park is an excellent place to stay if you want to explore the city from a leafy suburb. The area is located 3 km Northwest of downtown Washington.
Despite being a little way out of the city, it is very simple to get into the center of town by jumping on the subway at the nearby Woodley Park Zoo/ Adams Morgan Station.
The Washington National Cathedral is an imposing edifice on the western side of Woodley Park. Another notable local site is the Smithsonian National Zoological Park, with about 1,800 animals including giant pandas, that is a great place to take the kids.
Heading north from the National Zoological Park is Washington's largest area of parkland called Rock Creek Park. This is a delightful and extensive area with 2,100 acre of parkland that surrounds a tributary of the Potomac River.
You can find running and biking tracks, picnic spots and the access to the 19th-century grist mill Pierce Mill.
There are plenty of restaurants and sidewalk cafes along Connecticut Avenue that serves Lebanese, Japanese and Cajun cuisine. The Calvert Street is also great spot to grab your drink and dinner.
Since Woodley Park is a little way out of the city center, it is a good choice for people looking for great value accommodation. The area is exceptionally well provided for in terms of boutique hotels, family-friendly hotels, budget-friendly hotels, guest houses, and apartments.
Stay in Woodley Park if you want to visit the Smithsonian national zoological Park; you want a suburban location with good transport links to the center of town; you want a good choice of budget and mid-range accommodation.
🔍FIND BEST HOTELS IN WOOLEY PARK
10. Northeast – Union Station, transport hub of Washington DC
You will find this neighborhood north of East Capitol Street and east of North Capitol Street. The North East neighborhood has the area called Little Rome or Little Vatican because of its strong links to Catholicism.
Gallaudet University, The Catholic University of America, and Trinity Washington University are all found here.
The United States Conference of Catholic Bishops HQ, the Franciscan Monastery of the Holy Land in America, the National Shrine of the Immaculate Conception, and the Saint John Paul II National Shrine are also local.
Add Union Street Station, the United States National Arboretum, and Kenilworth Aquatic Gardens and you can see its attractions.
Union Station is a transportation hub, a major train station, and one of the largest railway stations in the world. It has rail options in the form of underground MetroRail system, Amtrak, MARC trains, and the Virginia Railway Express.
You can also book a sightseeing tour from Union Station, as Old Town Trolley Tours, DC Ducks, Big Bus Tours, and City Sights DC, all have outlets there.
With good transport links, Northeast makes a great base in the city. There is no problem finding a good restaurant for dinner or planning a night out elsewhere in the city. It is an inexpensive district, and you should be able to find a room to suit any budget.
Best places to stay in Washington DC in the Northeast:
🔍FIND BEST HOTELS IN NORTHEAST
See More:
So, there you have it, now you too are an expert on where to stay in Washington dc. Now that you know everything about this fascinating and vibrant city, all that you have to do is make a reservation and start planning your trip. I know that you're going to have some wonderful experiences in Washington, enjoy!