The best areas to stay in New York City for first-timers are the neighborhoods of Midtown (Manhattan), Lower East Side & SoHo, East Village, Greenwich Village & Chelsea, Upper East Side, and Brooklyn. In this post, we will be looking at where to stay in New York for tourists, for families, nightlife, budget, as well as the safest place to stay in NYC.
New York is overall safe for tourist, but as you travel to any city, you should practice common sense and be aware of surrouding. Lincoln Center, Upper East Side, Upper West Side are some of the safest neighborhoods in New York.
The most popular things to see and do in New York are located in the central city on Manhattan Island. The various and varied districts here are the typical choices for visitors to New York, but there's no reason you shouldn't branch out and stay a little further afield in neighborhoods like Brooklyn. But Manhattan has so much variety that most people don't look any further than here.
Midtown is the best area to stay in New York City for first-timers due to its prime location. It is the central shopping and entertainment hub of New York City, home to many of the cities most iconic sights. If you stay here, you will be located in the middle of action, within walking distance to many tourist sights, as well as restaurants, bars, and shops.
Culture-loving visitors and families often favor the Upper West Side and the Upper East Side divided by Central Park. 
Then there are the nightlife areas of Greenwich Village, the multicultural Eastern Village, and the wealthy districts of SoHo and TriBeCa. Chinatown remains a cultural melting pot and is just north of the business travelers' destination of the Financial District.
With an excellent Subway system, and taxis and app-based car hire services aplenty, New York is very easy to travel around, so all you need to do is pick the area that suits you most, and you're never too far away from all of the major sights.
Best Areas to Stay in New York for tourist
1. Midtown and Times Square, where to stay in New York for first time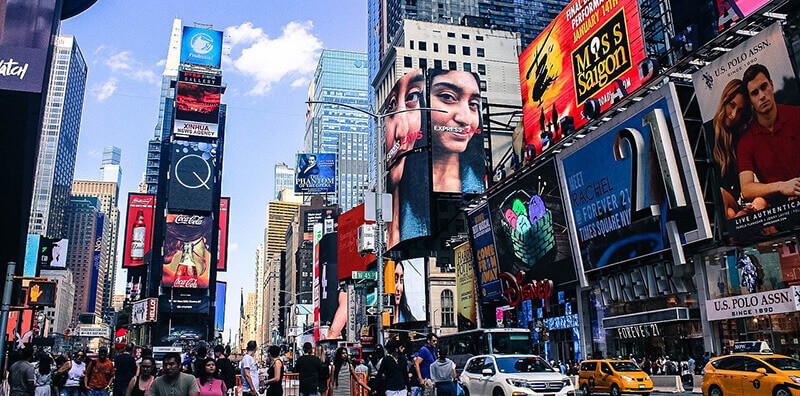 Midtown Manhattan along with Times Square is the best area to stay in New York for first-timers because it is the most convenient location and it has a wide range of accommodation options that suit all budget travelers.
Midtown Manhattan is the name for the center of the city, and if you've never been to New York before, then this is the perfect place to stay since many of the cities most iconic sights are located here. 
Meanwhile, Times Square is located on the western side of Midtown, and taking a walk around this area is one of the most rewarding experiences you'll have in New York. Don't look for an actual square though, since Times Square is the name for the area where 7th avenue and Broadway connect with midtown Manhattan. 
Midtown is home to the largest shopping area in New York, and here you'll find the city's famous designer stores like Tiffany's and Saks, as well as every other kind of shop that you can think of.
Times Square is the best place in New York to get an instant flavor of the city, there's amazing shopping here and astonishing people watching. There always seems to be something going on on the streets here by day or by night.
Midtown is full of famous and striking architecture. Perhaps the most famous building of all is the Empire State Building, once the world's tallest building, still a fascinating place to visit. It's a top-rated tourist stop, so visit early in the morning or late in the afternoon when the queues are shorter. Significant buildings in midtown are the UN Headquarters, the Rockefeller Center, the Grand Central Station, and the Chrysler Building.
Midtown New York has some excellent galleries and museums. One of the best is The Museum of Modern Art, which has one world's best collections of 20th-century art. You also have the Morgan Library, Madame Tussaud's, and the USS Intrepid.
And if all that excitement isn't enough, theater lovers just have to head a little way west to New York's Theater District, where there are many theaters where you can see popular shows.
Like many of New York's central areas, Midtown doesn't have a great deal in the way of cheap accommodation. There are many, many hotels here, but prices run from mid-range to extremely high budget 5-star luxury accommodations.
This is also the case with the amazing restaurants and bars in midtown Manhattan. If you want budget dining and drinking, then you should stay in another part of the city and just travel here to see the sights.
Stay in Midtown Manhattan If you want fantastic shopping; your first visit to New York; you want to see Times Square, and the Empire State Building; you want top-class dining and 5-star hotels; you're a theatre lover; you're into sightseeing and want within walking distance to most tourist attraction; you're looking for places to stay in New York for Christmas, New Year's Eve.
Best places to stay in Midtown Manhattan:
🔍MORE HOTELS IN MANHATTAN
See more:
2. Downtown & Financial District, Wall Street, best areas for business travelers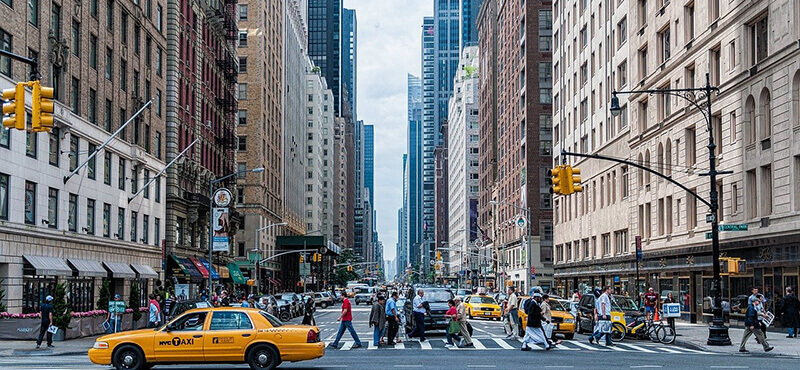 Downtown Manhattan is the area occupying the southernmost part of Manhattan Island and New York's Financial District, better known as Wall Street. Here you'll find the World Trade Center site and City Hall. The financial district is home to the New York Stock Exchange and the NASDAQ, both of which are interesting to visit.
Clearly, if you are a business traveler to New York, your work is likely to take you to this part of the city. The hotels here are well-equipped for business travelers, and you can expect desks and all the facilities you need to go about your business.
One of the most sobering things to see in the financial district is the 9/11 memorial at the site of the World Trade Center.
You don't have to travel far out of the financial district to reach some of the liveliest and most exciting areas of New York. Just north from here are the neighborhoods of Tribeca, Chinatown, and SoHo.
The Financial District area has several fascinating museums, including the Skyscraper Museum, the New York City Police Museum, the Museum of American Finance, the Museum of Jewish Heritage, and the National Museum of the American Indian.
Battery Park is a public park that occupies the extreme southern tip of Manhattan Island. It's an attractive leafy space with fantastic views across to Brooklyn and New Jersey. You can catch a ferry across the bay from here to visit the Statue of Liberty, or the famous old prison island, Ellis Island.
Stay in Financial District If You are visiting New York on business; To visit the 9/11 memorial; To see Wall Street and the New York Stock Exchange.
Best places to stay in Financial District:
🔍MORE HOTELS IN FINANCIAL DISTRICT
3. Upper West Side, where to stay in New York for families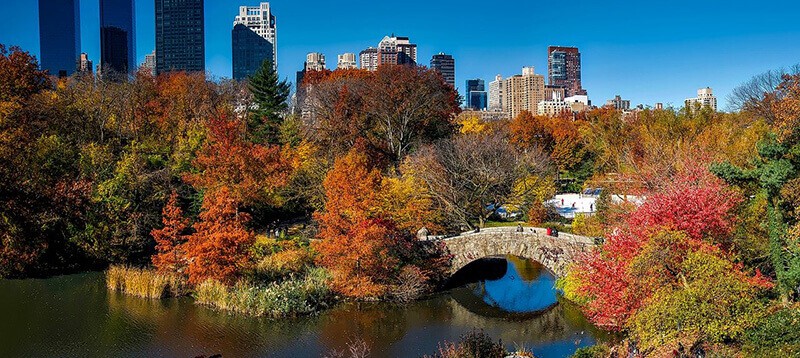 The Upper West Side of Manhattan is a vast district bordered on the west by the Hudson River and on the east by Central Park. This is an affluent, mostly residential neighborhood full of old buildings, many of them converted into exclusive apartments.
This is one of the most attractive areas of New York, and it's a very inviting place to stay. The upper West Side is full of parks including the long Riverside Park running alongside the Hudson River, and of course, the famous Central Park.
The Upper West Side is one of the safest parts of New York City, and this is one of the best neighborhoods for families to stay.
The American Museum Of Natural History is a vast museum that is well worth a visit. You can easily spend a day wandering through the impressive displays of this world-class museum, which has amongst many other things, an enormous collection of dinosaur fossils.
The Lincoln Center For The Performing Arts is conveniently located on the upper west side. This enormous complex of theaters, cinemas, and galleries has an ever-changing schedule of artistic performances.
You also have the American Folk Museum, the Grand Bazaar, The Hayden Planetarium, the Children's Museum of Manhattan to explore.
Despite this part of New York being one of the most expensive residential neighborhoods, it's a good place for travelers of all budgets to stay because in addition to some fabulous five-star hotels, you can find some good hostels. Sure, most of the great restaurants here are pretty expensive, but like much of New York, there's some excellent street food, perfect if you're traveling on a budget.
Stay in Upper West Side If you're traveling with family; you want to stay in one of New York's most attractive districts; you love opera, theater, and the performing arts.
Best places to stay in NYC in Upper West Side:
🔍MORE HOTELS IN UPPER WEST SIDE
4. Upper East Side, one of the safest area to stay in New York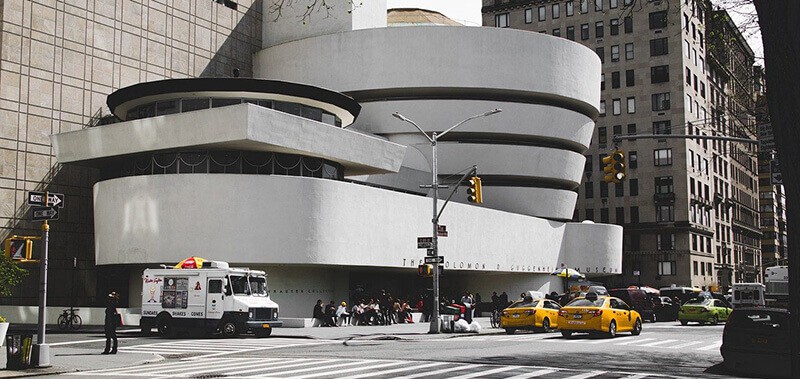 Upper East Side along with Lincoln Center and Upper West Side is one of the safest places to stay in New York. This is a luxury residential part of Manhattan and possibly the most upmarket and exclusive place to live on the island. It's an excellent place for visitors, a pretty, leafy, and safe part of New York.
Manhattan's Upper East Side covers the area between Central Park and the East River. There's a lot to see and do here also and in particular, there's a great number of museums along the Museum Mile stretch of Fifth Avenue beside Central Park.
The Museum District houses an embarrassment of riches including The world famous Metropolitan Museum Of Art. The Met is America's most extensive art gallery and has one of the world's most significant art collections, with over 2 million works. Not all of these are on display, of course, but you can still see a dazzling array of old and modern masterpieces.
Other museums on the museum mile are The Guggenheim Museum which houses are a stunning collection of modern art. There's also The Frick Collection, a gallery containing the impressive classical art collection of Henry Clay Frick. Then, there's The Whitney Museum Of American Art, a gallery that displays the very best in contemporary American art.
The Upper East Side is not a place to stay if you are on a budget. There aren't really any cheap hotels here, and the wealthy residents of this part of the city dine in classy and expensive restaurants and drink in the same kinds of bars. Of course, this means that if you are treating yourself to a no-expense-spared trip to the city you can stay in some superb hotels here and make the most of the views out over Central Park or the Central River.
Stay in Upper East Side If you are an art lover; you're looking for a top-class five-star hotel; you want classy restaurants and sophisticated bars; you want within walking distance to most major museums.
Best places to stay in Upper East Side:
🔍MORE IN UPPER EAST SIDE
5. Williamsburg – Brooklyn, where to stay in New York on budget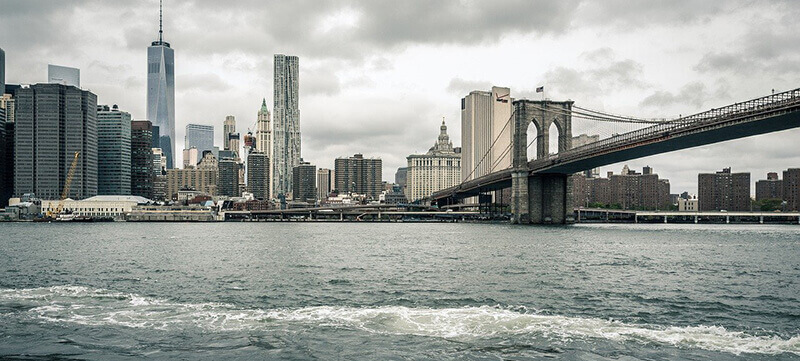 Almost all visitors to New York stay on Manhattan Island. And you can see why, because the overwhelming majority of the tourist sights and activities are located on New York's central island. But New York comprises five boroughs, and there's a lot more to the city than just Manhattan.
If you're the kind of traveler who thinks outside the box and wants to get away from the crowd and explore a different and no less fascinating part of the city, then you will be well rewarded by staying in Brooklyn.
Brooklyn is just across the East River from Manhattan island, and New York's excellent subway station system means that it's the work of minutes to connect to Manhattan.
Williamsburg is one of Brooklyn's most central districts, and it's a fascinating place to stay. Here you can mingle with all of New York's coolest customers and enjoy one of the city's most vibrant nightlife scenes, with excellent bars and clubs catering to all manner of musical tastes.
There is some excellent shopping in Williamsburg, with markets selling antiques, curios, craft goods, and all kinds of interesting homemade stuff.
The restaurants here are good and very affordable, and super street food stalls that sell great burgers, hot dogs, and traditional New York fare.
Brooklyn is a very affordable district in which to stay, you'll find some decent hostels and hotels, and there are plenty of apartment rentals too that are very affordable, especially if you're traveling as a group.
Stay in Williamsburg – Brooklyn If ; you're traveling on a budget; you want a different and authentic New York experience; you want to stay in one of the city's most up and coming neighborhoods; you want to avoid the tourist crowds;
Best places to stay in Brooklyn:
The William Vale a 5-star luxury hotel in Williamsburg, with a 19 m rooftop swimming pool and an award-winning chef overseeing the dining options on offer. It's close proximity to the Barclays Center, Brooklyn Museum, John F. Kennedy International Airport, East River Ferry stop, and the Bedford Avenue Subway Station (L Train).
Hotel Indigo has a restaurant, seasonal outdoor swimming pool, private parking, free wifi, a fitness center and bar in Brooklyn. CLose to Barclays Center, Coney Island, and LaGuardia Airport.
🔍MORE HOTELS IN BROOKLYN
6. Chelsea and The Meatpacking District, best area to stay in New York for nightlife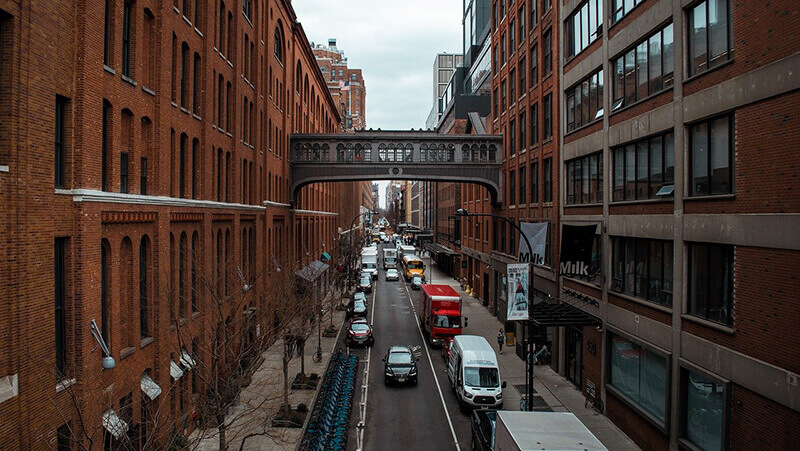 Chelsea is an attractive part of Manhattan Island on the Southwest side of Midtown.
It's a very pedestrian-friendly and attractive part of the city, and this is the part of New York where the subway station system comes above ground on The High Line, a sight you'll have seen in many movies and TV shows.
Chelsea's a great place if you're an art lover since there are a collection of art galleries around the junctions of 25th Street and 10th and 11th avenue. This is where you'll see the up and coming new artists, and if you have the budget, you might be able to buy yourself a masterpiece of the future. Attractions in Chelsea are High Line park and Madison Square Garden.
This Meatpacking district is a small part of Chelsea that has become one of the most exciting night scenes in the whole of New York. There is a maze of bars and clubs here, all with a hedonistic vibe. This district of converted warehouses is one of the most vibrant parts of New York.
The rest of Chelsea is a pretty, pedestrian-friendly area in an excellent central location for getting around the rest of Manhattan. It's a relaxed and low-key part of the city, so it's a decent mid-range option for families.
Stay in Chelsea and The Meatpacking District If you want to stay in one of New York's nightlife centers.; you're looking for great modern Art galleries.; you want a pretty and pedestrian-friendly part of manhattan.; you want to stay near Madison Square Garden.
Best places to stay in Chelsea:
🔍MORE HOTELS IN CHELSEA
Check out my virtual tour about the best places to stay in New York in this video:
7. Greenwich Village – West Village, one of the best places to stay in New York for nightlife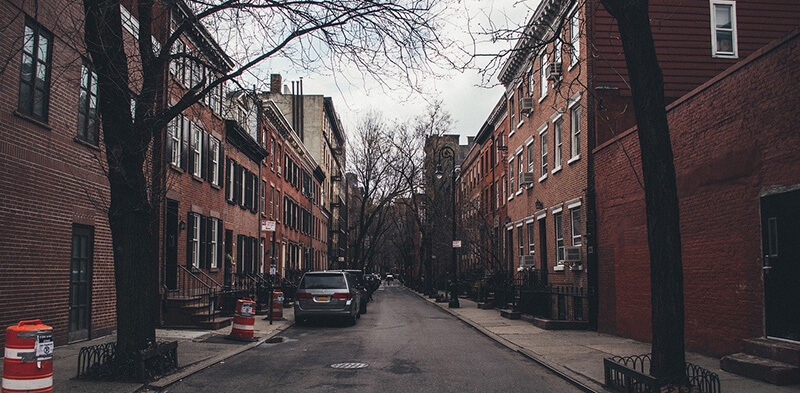 Greenwich Village – West Village is a charming district on the Lower West Side of Manhattan. Around here, the rigid grid line blocks that you find elsewhere in New York fade away and you are left with an appealingly European-style maze of leafy streets.
This area has long been one of the Bohemian centers of New York and is packed with eclectic cafes, bars, boutiques and places that are frequented by the students of New York University.
These days, as with many urban centers, Greenwich village – West Village has gone upmarket, and it's a trendy and quite pricey residential neighborhood. But the old atmosphere remains, and it's a charming part of the city.
Washington Square Park is an attractive green space in the heart of the district. It's a lovely place to stroll around and make sure that you check out the huge monumental arch that is the crowning glory of this park.
You can also explore the Whitney Museum of American Art, New York University campus, and the Stonewall Inn.
Greenwich Village is home to the internationally renowned Blue Note jazz club. The area isn't just jazz-friendly; this is one of New York's best neighborhoods for watching live music of all descriptions. The bars and clubs of Greenwich Village have regular live bands and keep an eye out for frequent music festivals too.
There are some good mid-range hotels in Greenwich Village – West Village and also some excellent apartment rentals. It isn't as budget-friendly as it once was, and if you are trying to save your dollars, you can find better places to stay these days.
Stay in Greenwich Village – West Village If you want the feel of a European city; you're a jazz lover; you want a youthful, bohemian atmosphere.
Best places to stay in Greenwich Village:
Walker Hotel Greenwich Village This four-star boutique hotel is located in the Greenwich Village area, within walking distance from New York University, Washington Square Park, Union Square, and the Union Square subway station.
Gansevoort Meatpacking Located in Greenwich Village, within an easy stroll from Whitney Museum of American Art, High Line Park, Chelsea Market, Gansevoort Meatpacking, and underground station.
🔍MORE HOTELS IN GREENWICH VILLAGE
8. SoHo and Tribeca, where to stay in New York for foodies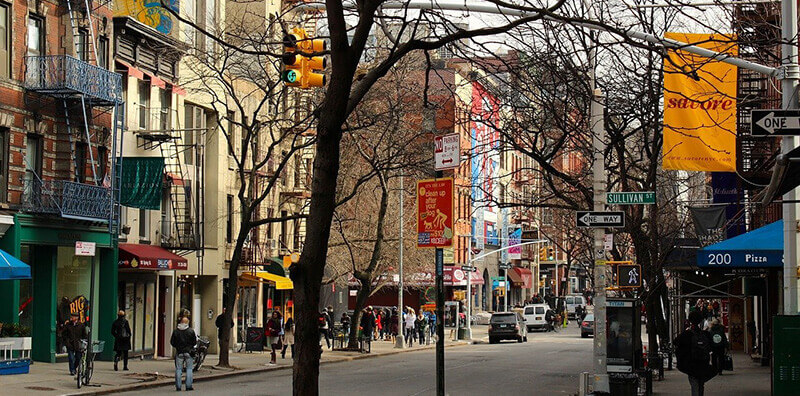 Unlike nearby Greenwich village, Soho isn't named for the London suburb of the same name. Instead, it stands for South of Houston Street. While some of Manhattan's city districts, like the East Village, are still undergoing gentrification, with Soho, that ship has sailed. What used to be a low rent and down market area was transformed some 50 or 60 years ago into an extremely prestigious and upscale address that is home to many of the city's rich and famous.
Now that Soho is such an upmarket area, the streets are filled with some excellent restaurants, boutiques, and designer shops. It's a lovely place to walk around, and the fact that many of the streets are still cobbled gives it an old-world charm echoed by the attractive architecture.
Tribeca is another area named for its geographical location since it stands for triangle below canal. This district is an affluent, arty place to be. To get an idea of the atmosphere here, consider that it is the home to local resident Robert De Niro's annual film festival. Tribeca is populated by wealthy, often young professionals interested in classy modern art and culture. This means that it's an excellent area for art galleries and craft shops.
Tribeca is also an excellent destination for epicures since there are some fabulous and quite affordable restaurants here. If you're lucky enough to be here in May, then make an effort to visit the Taste of Tribeca food festival, a celebration of eclectic local cuisine.
Tribeca has some lovely green spaces, and Washington Market Park is a great place to get away from the urban sprawl for a little while. Head a little further west beyond the west street highway, and you're on the banks of the Hudson River at Rockefeller Park and Teardrop Park. There's a long waterfront walkway here and the parks are full of footpaths and walkways popular with joggers, walkers, and people taking a break from the city's rush.
Stay in SoHo and Tribeca If you want charming cobbled streets; you want fabulous upscale dining and shopping; you want a chance of spotting a star; you're looking for an upscale boutique hotel.
Best places to stay in SoHo:
🔍MORE HOTELS IN SOHO
9. Chinatown and Lower East Side, best area in New York for Asian cusines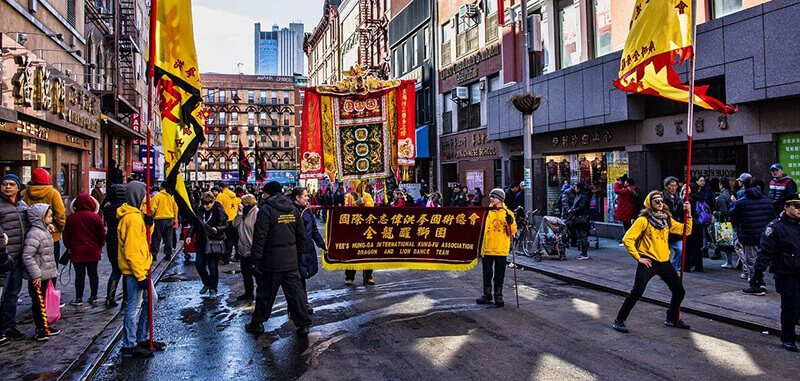 Chinatown and the Lower East Side of Manhattan are two neighboring districts just to the north of The Financial Center at the bottom tip of the island. They're very different in atmosphere though, with a vibrant clash of cultures and an alluring and exciting melting pot feel.
Chinatown itself, as you imagine, has a wealth of Chinese restaurants, supermarkets, and culture. However, the area is far from one-dimensional and contains what's left of the old Little Italy District as well. You'll find the influence of all of the different cultures that have melded together to create the vibrant and multicultural delight that is New York.
This part of New York has some fantastic international dining. Besides traditional Chinese restaurants, you can find some superb Southeast Asian foods, Italian cuisine, and food from pretty much any country that you care to mention.
There are many international supermarkets, which are excellent for supplies if you're renting an apartment, or just fascinating places to stroll around looking at all of the exotic produce. The street food here is excellent, and that's another reason why you can stay cheaply in this part of the city.
Heading over to the Lower East Side of Manhattan, you'll find that this traditionally downmarket area has seen a cultural renaissance, and it's now full of trendy bars, hip cafes, and is now one of New York's coolest places.
The Lower East Side is one of New York's most affordable districts and you'll find good traveler's hostels and lots of hotels at low-to-mid-range rates. Remember also that apartment rentals in Lower East Side can be a very inexpensive way to stay in New York, allowing you to self-cater. These are a great option, especially if you're traveling as a family or as a group.
Stay in Chinatown and Lower East Side If you're traveling on the budget; you love international cuisine, hip downtown living, and a cultural mix; you want an up and coming part of town.
Best places to stay in Chinatown:
🔍MORE HOTELS IN CHINATOWN
10. East Village, one of the trendiest neighborhoods in New York
The East Village is a suburb located on the eastern side of central Manhattan. If what you're looking for from New York is the ultimate cultural blend and melting pot of cultures as diverse as Eastern Europe, Asia, and Central and South America, then this place is for you.
Even though this part of town, like pretty much all of Manhattan, is on the way to becoming gentrified, it is still one of the most authentic urban neighborhoods in the city.
The East Village isn't just a mix of different cultures; the people that live here include students, young professionals, and immigrant families. This means that there's great street food here, exciting markets and shops, and some entertaining and affordable restaurants, bars, and clubs.
The East Village is almost schizophrenic in its nature, with its mixture of new high society, old-world immigrant communities, and everything in between. If any part of the city can be said to be quintessentially New York, epitomizing the bright mixture of society and cultures that make this city so fascinating, then this is it.
Stay in East Village If you want a budget hotel; you want a fascinating mix of cultures; you want to stay outside the main tourist centers.
Best places to stay in East Village:
🔍MORE HOTELS IN EAST VILLAGE
See More:
Overall, Midtown is the best place to stay in New York for first-timers because it has a super central location and it is well-connected to public transport. If you stay here, you will be located in the heart of action, within walking distance to the most famous attractions, as well as many shopping, dining, and nightlife venues of the city.
So there you have it, now you know when to go to New York, what to see and do while you're there, and where to stay that suits your needs best. So what are you waiting for? Start spreading the news, and get leaving today. Be a part of it, New York, New York!