Where to Stay in Austin by Best Areas and Hotels
If you're wondering where to stay in Austin, or where is the best area to stay in Austin, you're in the right place. In this article, I will give an insight into the best places to stay in Austin for first time visitors, couples, families, backpackers, all budget travelers; read on as I show you the best of Austin.
Settled on the 27th of December 1839, Austin is the state capital of Texas and the 11th largest city in the entire United States. However, despite that fact, Austin is an incredibly unique destination, and one that is vastly different to what you would normally expect from a big city.
A sun-soaked metropolis, filled with a blend of American and Hispanic cultures, where the built-up heart and more natural outskirts are just as important as one another, there's no better place to get a true feel of what Texas is all about than right here in Austin.
So, if you are, understandably, interested in experiencing this amazing city for yourself, but aren't quite sure where would be best for you to stay, I would highly recommend reading on.
Where to Stay in Austin: Tips & Info
Before you begin reading through the article, allow me to give you a few pointers, as there may be certain criteria that's essential to your perfect location, which could make one choice the easy answer.
For example, are you all about a thriving nightlife? In which case the Red River Cultural District and the legendary 6th Street would probably be your best bet.
Are you travelling as a family with small children, where Zilker, with its wide-open spaces and easy access to the city centre, would be convenient?
Plenty of people will come to Austin to explore its history and see its most famous locations, meaning that I would highly recommend staying Downtown if that sounds like you.
Or maybe you are making a short stop in Austin, perhaps for a game of golf or to catch a motorsport event, so you want to stay near the airport? In that case, I'd recommend staying in Southeast Austin.
These are just a few of the considerations that go into selecting the perfect destination when you go away. While they may not seem that important to some, getting them right is crucial to ensuring your trip is as successful as it could possibly be.
Where to Stay in Austin – The 8 Best Areas to Stay in Austin
While Austin in general is a fabulous city, full of unique character and great places to stay, there are 8 neighbourhoods that jump out as being able to provide that little bit extra. In the following section, I will outline where they are and exactly what it is that makes them so great.
Where to Stay in Austin – The 8 Best Areas to Stay in Austin
Where to Stay in Austin Map
To see more detail of where to stay in Austin Map, go to google map;
1. Downtown – Where to Stay in Austin for Shopping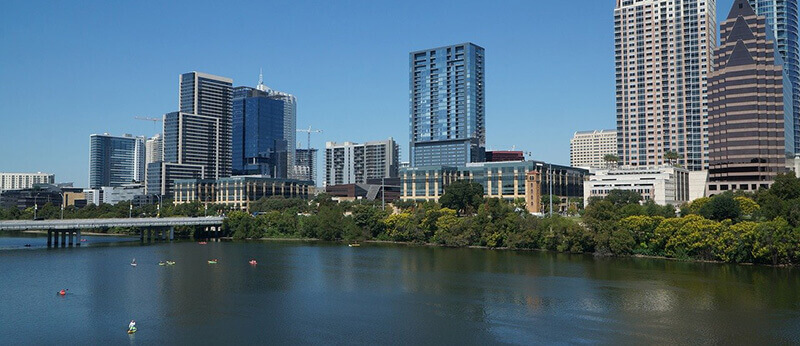 We, perhaps unsurprisingly, begin in Downtown Austin. The heart of the city, this offers everything you would expect from a modern-day city centre, and then some.
Historic attractions are abundant in this part of the city, such as the historic State Capitol Building and its stunning grounds, the Texas State Library and Archives, the Texas Governor's Mansion, and the Texas African American History Memorial, all of which are located in close proximity to each other.
High-end hotels, bars, restaurants and shops line the streets, making it a perfect location for anyone wanting to split their trip equally between seeing the sights and kicking back and relaxing. The Old Bakery And Emporium is a perfect example of this, featuring a gift shop located within a historic bakery building.
Being at the heart of the city not only means you can freely stroll around to witness all of this, but you won't have to worry about paying for parking either. It also means that you are surrounded by many of the other top neighbourhoods on offer, giving you the chance to easily move between them to explore what they have to offer as well.
STAY IN DOWNTOWN IF:
You are interested in the history of the city
You want to see some of its most famous attractions
You like fancy hotels, bars and restaurants
You enjoy shopping
You want to be at the heart of the city, near numerous other neighbourhoods
You don't want to have to worry about paying for parking
2. Red River Cultural District – Where to Stay in Austin for Nightlife
Located adjacent to downtown, just to its east, the Red River Cultural District is still situated in the heart of the city. That said, the experience you will get here is noticeably different, as this is the location of the world-famous 6th Street.
Lined with bars, clubs, restaurants and attractions, this is undoubtedly the destination to visit for those looking to let loose and experience the edgier side of Austin.
Street performers roam the sidewalks, performing tricks and acts you may associate more with places like the Las Vegas Strip or Bourbon Street in New Orleans. Bars are filled with live performances on any given night of the week, from well known performers to amateur jam sessions, all displaying the type of blues that Austin is famous for.
Even the dining options are a little more unusual, with chain restaurants like Bikini's and the local Voodoo Donut's offering food more akin to bars and dinners than you would find in a high-end destination.
If all of that doesn't sound wild enough, perhaps a trip to see the bizarre exhibits in the Museum Of The Weird, a challenging afternoon trying to break out of the escape rooms at The Escape Game Austin, or a night watching the stars of Anarchy Championship Wrestling battle it out at The Mohawk would be more to your liking.
Whatever you're looking for, if it's the wild side of Austin you want to experience, then this is the place to do it, as no where better represents the city's motto of "Keep Austin Weird" than right here.
STAY IN RED RIVER CULTURAL DISTRICT IF:
You enjoy live entertainment
You like street performers
Wild and diverse nightlife is important to you
You want more unique and unusual attractions
You want to be in the heart of the city
You love Austin's legendary blues scene
3. South Congress – Best Area for Authentic Texan Feel
We're going to take a step back from the city centre now, as we look to the other side of the Colorado River, and the neighbourhood of South Congress.
A more residential neighbourhood than our previous options, this is where I personally stay when I'm in the city, as it beautifully combines a more laid back, local, authentic Texan feel, with the convenience of being able to quickly get back into the thick of things.
With plenty of awesome bars, restaurants and shops in the area, including the Fiesta supermarket and bakery, which will give you a perfect opportunity to experience the Hispanic culture of the area, this is a location where you can comfortably enjoy your lazy days, without having to worry about all of the hustle and bustle.
Then when you do want to explore the inner parts of the city, you are just a 10-minute car ride down the I-35 from the State Capitol, making it a quick and easy job to get back into the thick of things.
For anyone wanting to get a true feel of what it's actually like to live in Austin, or those who want a perfect balance of both slow and fast paced days on their vacation, I would highly recommend staying in South Congress.
STAY IN SOUTH CONGRESS IF:
You want to get a true feel of what it's like to live in the city
You want a more relaxed place to stay
You want to experience the city's Hispanic culture
You want easy access to the city centre
4. Barton Hills – Where to Stay in Austin for Local WildLife
We move now to the western part of the city, to a location in Barton Hills, that has two major, yet vastly different, selling points.
The first is that this is the location of Barton Creek Square, the best shopping mall in the city. Anyone wanting to enjoy a little retail therapy, spend a day browsing the stores or grab some food or drink at the food court or in one of the many café's, stalls or restaurants on offer, will find a range unlike anywhere else in Austin. Whether you want to grab souvenirs or fill up your entire baggage allowance, the variety on offer here should be enough to satisfy even the pickiest of customers.
The other draw to the area is a stark contrast to the first, in that it is an area known for its nature and outdoor locations.
With Barton Creek, Barton Creek Greenbelt, Barton Creek Wilderness Park and, slightly further away, Barton Creek Habitat Preserve all in the surrounding area, this is a location that gives you an amazing opportunity to explore the natural landscapes and wildlife in the area.
You combine these two draws with the fact that Barton Hills is less than a 15-minute drive from the city centre and you might not find a more diverse location in the entire city.
STAY IN BARTON HILLS IF:
You want to go shopping
You are interested in the local wildlife
You enjoy long walks in the country
You want easy access back to the city centre
5. Zilker – Best Area in Austin for Festivals & Events
We move back a little closer to the city centre for our next few neighbourhoods, starting with Zilker.
Located on the southern edge of the Colorado River, Zilker is about as close to the heart of the city centre as you can get without actually being in it. Not only is this convenient, but it also provides you with some of the most incredible views of the city skyline that you are going to find.
Its most famous attraction is Zilker Park, a beautiful location that runs along the river, popular with walkers, runners and pretty much anyone who wants to enjoy the great outdoors without even having to leave the confines of the city.
Its beauty and convenience also mean events such as the Austin City Limits music festival and the 4th of July celebrations are held here, giving you a perfect opportunity to be right in the heart of the festivities if you choose to stay here.
At only a 45-minute walk to the city centre, you can leave the car at the hotel and take a pleasant stroll through the stunning landscapes and past some iconic Austin locations and institutions, such as the Stevie Ray Vaughn Memorial and Sandy's Hamburgers, for a slightly slower paced experience.
STAY IN ZILKER IF:
You want a more laid-back location
You want to witness stunning views of the city
You like river views
You enjoy walks along the river
You want to be able to get into the city quickly, without a car
You like festivals and events
6. Central Austin – Best Area For Livelier Atmosphere
Central Austin is actually located just north of what is generally considered to be the centre of the city, with its name referring more to its geographical location. That said, with a car, you can be back in the true centre in as little as 5 minutes from here.
This is a location where it's incredibly easy to pinpoint the main attraction, as this is the home of the University Of Texas.
As you would therefore probably imagine, this makes it a neighbourhood that has a distinctively student feel to it. This means not only are shops, bars, cafes, restaurants etc slightly cheaper and more affordable, they also tend to feature a younger clientele, making for a livelier, more upbeat feeling than some other parts of the city.
Another benefit of staying in this part of town is that if you are coming to enjoy one of the events hosted by the university, such as the South By Southwest Film Festival or one of the many athletic competitions its team are involved in, then beating the inevitable crowds to the venue on show day becomes much less of a concern.
STAY IN CENTRAL AUSTIN IF:
You are here for an event hosted by the University Of Texas
You are visiting a student
You want lower priced bars, restaurants and cafes
You want a livelier atmosphere
7. Southeast Austin – Where to Stay in Austin Near Airport
Southeast Austin is located on the outskirts of town and, while it has its perks, it is definitely a location that is suited to visitors with more specific needs.
For starters, it is located incredibly close to the airport. This makes it very convenient for people who prefer to stay close by, whether that be to save them carting their luggage around, because they are only in the city on a flight layover or for any other reason they may have.
Then, there is the specific set of attractions located in the surrounding areas.
You have the Roy Kizer Golf Course, one of the finest in the city, as well as the Circuit Of The Americas, home to many motorsport events, including the Formula 1 American Grand Prix. Anyone either attending or participating in an event at either of these two locations would be well suited to staying in this area.
Then there is McKinney Falls State Park, possibly the most beautiful outdoor location in Austin, featuring cascading waterfalls, the flowing waters of Onion Creek, numerous hiking trails, including Camino Real de los Tejas National Historic Trail, and sites on the National Register Of Historic Places, like the Smith Rock Shelter and the Ruins Of McKinney's Stone House.
Anyone wanting to explore the more natural side of Austin will be able to spend days here, wandering the trails, seeing the sights and examining the animals and plant life of the area.
STAY IN SOUTHEAST AUSTIN IF:
You need to stay near the airport
You want to play a few rounds of golf
You are attending an event at the Roy Kizer Golf Course or the Circuit Of The Americas
You want to explore McKinney Falls State Park
8. East Austin – Best Area for Budget Travelers
Our final destination brings us to East Austin, a little over 2 miles to the east of the city centre. For returning visitors to the city, this one may come as a surprise, as it has previously been seen largely as a somewhat run down, residential neighbourhood.
Things have changed here recently though, as investments into the area have quickly brought it in line with the rest of the inner sections of the city. Now it has a reputation as a vibrant, up and coming neighbourhood.
With less notoriety comes lower prices on both accommodation and pricing in the surrounding areas. As such, it has developed a vibrant, lively atmosphere, with many younger travellers and those on a budget flocking to the area and enjoying their days relaxing in bars, cafes and restaurants, for a fraction of the price they would elsewhere.
Known primarily for its artistic entertainment, with a number of galleries and a massive quantity of street art, it also gives you the chance to enjoy attractions in your surrounding area, while the more famous attractions in the city centre are just a short trip away.
STAY IN EAST AUSTIN IF:
You are travelling on a budget
You want a livelier, more upbeat neighbourhood
You are interested in artistic attractions
You want to be near to the city centre
With our 8 destinations behind us, I'll move now to answering a few of the most frequently asked questions that people have when it comes to booking a trip to Austin.
If you haven't already worked out where the perfect place for you to stay is, the following section should help you to achieve that goal.
Where To Stay In Austin For A Weekend?
While I would definitely recommend coming to Austin for longer than just a weekend, anyone who plans to do just that is going to want to position themselves right in the centre of things, to make sure they can fit in as much, and tick off as many of the biggest and best attractions, as possible.
Based on that, I would recommend staying in either Downtown or the Red River Cultural District. Both are located in the heart of the city, filled with the most famous locations and activities, and surrounded by many of the other attractions in neighbouring areas.
If you have limited time here, these are definitely the spots that will let you maximise what you're able to do.
Where To Stay In Austin With A Family?
When you travel as a family, specifically with small children, there are a few criteria that people tend to look for. A destination with plenty of space, close enough to the city to get to quickly but far enough away for some quiet time when you need it is usually the way to go. With more people in your party, it also helps if it doesn't break the bank too.
That makes Zilker the perfect destination, with its easy access across the river to the city and beautiful park, complete with natural swimming locations, to keep the kids entertained.
The Embassy Suites Austin Downtown has an "excellent" rating on booking.com, is located by both the park and the bridge across the river, as well as featuring suite style rooms, which offer more room for a family, and doesn't cost a fortune. Perfect on all counts.
Where To Stay In Austin Without A Car?
Anyone going to Austin without a car is going to want to limit their travelling as much as possible, so they don't end up wasting all of their money getting taxis from place to place. That means you will want to stay where most of the attractions are located, which in this case is around the city centre.
There are a few options here, as while Downtown and the Red River Cultural District are definitely the closest, Zilker and East Austin are both a comfortable walking distance away, making them just as suitable for your stay.
Where To Stay In Austin For A Bachelor Or Bachelorette Party?
People coming to Austin for a Bachelor or Bachelorette party are going to be looking to have a wild time, with days spent doing unique activities and nights spent drinking, dancing and partying into the early hours. When it comes to Austin, that can only mean one thing, which is staying on or around 6th street.
This is the weird, wild and wonderful part of the city, with bars, restaurants and live entertainment. What better way to spend your party than enjoying activities such as escape rooms and pro wrestling, before spending the night drinking the bars dry.
Where To Stay In Austin Near 6th Street?
A point that can largely be included with our previous one, is where exactly to stay on the aforementioned 6th street.
Located in the Red River Cultural District, anywhere there or Downtown will have you close to the action at all times.
However, for those of you who would prefer to actually stay on 6th Street, I would recommend staying at The Driskill. A beautiful, historic, 5-star hotel, with an "excellent" rating on booking.com and located right on 6th street, this is perfectly located for all your wild adventures and featuring a level of quality to let you unwind like royalty after each crazy experience.
How Long To Stay In Austin?
Austin is a city with so much culture and history, as well as incredible attractions, that I really can't put a limit on how much time you should stay there. That's even more true if you plan to rent a car and expand your trip to the surrounding areas as well.
I personally spent 6 straight weeks there one summer and was still sad to leave, if that gives you any indication. So, while I won't put an upper limit on your trip, I will instead recommend that you don't go for any less than a week.
With so much to do, see and experience, making a trip of any less than that is certain to leave you feeling like you've missed out on seeing a number of things you would have liked to.
Where To Stay In Austin On A Budget?
For anyone travelling to Austin on a budget, I would recommend staying in East Austin. An up-and-coming neighbourhood, it features a collection of great hotels, bars, shops and restaurants, all costing a fraction of what you would normally expect to pay.
The East Austin Hotel is one such location, boasting an "excellent" rating on booking.com, providing quality, low cost accommodation, right on the edge of the district closest to the city centre.
Where To Stay In Austin Downtown?
Downtown is located right at the heart of the city. It's where the most famous attractions in Austin can be found and is simply jam packed with high end bars, restaurants, shops and hotels. Anyone looking for that kind of experience from their trip will be hard pressed to find a hotel that doesn't measure up in this part of town.
However, if I were to recommend the absolute best place for you to stay, it would be the Canopy By Hilton. A beautiful, 4-star hotel, with an astounding 9.4/10 rating on booking.com, located just minutes' walk from the State Capitol building, this is the perfect combination of luxury and location.
Where To Stay In Austin For Nightlife?
Recommending where to stay in Austin for nightlife depends a little on what type of nightlife you're looking for.
If you're looking for crazy nights out, with a variety of bars and live entertainment, then 6th Street, in the Red River Cultural District, is where you'll want to be. However, if you're looking for a more refined, upper class experience, then your evenings will probably be better off spent Downtown.
Then, of course, there will be those on a budget, looking to have a good time without breaking the bank. If that sounds like you, then the up-and-coming neighbourhood of East Austin, with its collection of bars, restaurants, cafes and galleries, should suit you to perfection.
How To Get Around Austin?
You have three options when it comes to how to get around Austin and I would personally recommend combining all of them.
Being a large city, hiring a car is a great idea in Austin, as it allows you to not only travel to all parts of the city with great ease, but it also enables you to explore the surrounding areas as well.
Then there's the old-fashioned way of simply walking around. Despite its size, Austin is a relatively safe and friendly city, so simply strolling through the streets will allow you the opportunity to discover some of the local gems in the area.
The city also features a third, more unique option too, in the form of a steam train. This classic, fully restored engine will take you on a sightseeing tour in and around the city that is well worth the price of admission and I would highly recommend it to everyone.
Best Things To Do And See In Austin?
Austin is such a fantastic city, brimming with things to do, that narrowing it down to just the best few is a real challenge.
Attractions such as the historic State Capitol building and legendary 6th street fill the downtown area with enough to keep your days filled with culture and your nights bursting with wild entertainment.
Slightly further out you have Zilker park, with its wide-open spaces and fantastic river walks, and the Congress Avenue Bridge, allowing you to stroll across the river, with the opportunity to witness swarms of bats taking flight from beneath it as the sun sets.
Further out still you have Barton Creek, a unique combination that is home to not just the best shopping mall in the city but also a habitat preserve, full of the local wildlife. Speaking of which, McKinley Falls State Park is another fantastic location to take in a bit of the nature in the area, offering incredible walks, especially during Austin's cooler, wetter months.
All of these great attractions and many more are constants in the city, which will provide plenty to keep you occupied whenever you go. However, don't forget about the more time specific events in the city either.
From the 4th of July festivities in Zilker Park to world famous festivals, such as the South By South West Film Festival and the Austin City Limits Music Festival, there is almost always something going on in Austin, to add a more exclusive attraction to your visit.
Combine all that with the incredible range of shops, bars, restaurants and live entertainment venues and you will begin to see why Austin is a city much better suited to a longer, more in-depth vacation.
Best Place To Eat Austin?
When it comes to the best place to eat in and around Austin, I'm going to give you a couple of suggestions.
Starting with the absolute best place around, The Salt Lick BBQ is located just outside the city limits, in Driftwood. Despite the fact you'll either need a car or a short taxi ride, the trip is well worth it, as this is the location where you'll find the best BBQ going, in a beautiful, traditional setting. There simply isn't a better place to enjoy a meal, while taking in the true culture of Austin.
For those who fancy a quick bite to eat, without leaving the confines of the city, Sandy's Hamburgers on Barton Springs Road is the place to go. Offering traditional style burgers, hot dogs, sandwiches, malts, shakes and ice creams, Sandy's has been open here since the 40's and is where the locals go, offering you the chance to sample a piece of the city's history with your meal.
As an honourable mention, those up for a short drive to the nearby town of Kingsland are in for a treat. The Grand Central Café is located in a picturesque area, surrounded by lakes and greenery. Serving a variety of southern style delicacies, their chicken fried steak is known as "the best in the great lakes area".
As an added bonus for any horror or movie buffs out there, the restaurant is in the house from the original 1974 Texas Chainsaw Massacre, with staff and management happy to give fans a guided tour around the place.
Best Time To Visit Austin?
While there truly isn't a bad time to visit Austin, as the city is beautiful, with a pleasant climate year-round, I would recommend summer as the best time to go. In fact, I'll be even more specific on this one and recommend the first week in July as the absolute perfect time to make your visit.
First off, a summer visit is the best for Austin as the glorious sunshine will provide stunning days and warm nights with which to enjoy your vacation. Despite being the height of Vacation season, Austin isn't one of the most common tourist destinations, so, while it will be busier than normal, you won't have to deal with the sort of crowds you would in other cities.
The reason for my very specific time suggestion of the first week in July, is that this is when the 4th of July celebrations take place, celebrating America's independence. Take the opportunity to join in the festivities at Zilker Park, hear the Austin Symphony Orchestra, eat traditional foods from the variety of vendors and watch a fireworks display to match any you'll find in the entire country.
Conclusion
While I may be a little bias, you can probably see from this article that Austin is a truly fabulous city. Whether you want history, culture, nature, or a more modern trip of shopping, eating and drinking, this is a destination that has something to offer for everyone.
Hopefully my guide will have helped you narrow down your search for the perfect place to stay while you're in town, so all that should be left is for you to get booking and experience it all for yourself as soon as you can.
---
---