The best areas to stay in Austin for first-timers are the neighborhoods of Downtown Austin, Red River Cultural District – 6th Street, Zilker, East Austin, and South Congress (SOCO). In this post, we will discuss about where to stay in Austin without a car, for couples, families, nightlife, near the airport, as well as the safest place to stay in Austin.
Settled on the 27th of December 1839, named after Stephen F. Austin, the Father of Texas. Austin is the state capital of Texas, the Live Music Capital of the World, and the 11th largest city in the entire United States.
A sun-soaked metropolis, filled with a blend of American and Hispanic cultures, where the built-up heart and more natural outskirts are just as important as one another, there's no better place to get a true feel of what Texas is all about than right here in Austin.
Downtown district is the best place to stay in Austin for first-timer because it is the most convenient location and it has a widest range of accommodations. If you book a hotel here you will be located in the middle of actions, within walking distance to many attractions, as well as restaurants, bars, and shops right at your doorsteps.
If you are looking for where to stay in Austin without a car, look into Downtown and SOCO because they are very walkable neighborhoods, and well-connected public transportations to help you navigate around. There are many accommodation options that suits all budget.
If you're looking for a thriving nightlife, look into the Red River Cultural District and the legendary 6th Street. If you are traveling as a family with small children, look into Zilker, with its wide-open spaces and easy access to the city center.
Austin is a moderately safe place for visitors, you should avoid walking at night in the neighborhoods a bit north of E. 6th. You should be aware of surrounding and take some basic precautions as you would to travel to any other cities. Downtown, Old Enfield, Hyde Park, Rollingwood are some of the safest neighborhoods in Austin.
Where to Stay in Austin: 9 Best Areas to Stay in Austin
1. Downtown, where to stay in Austin for first-timers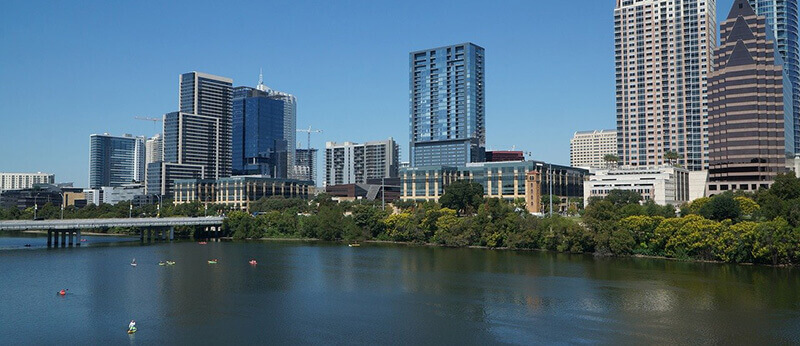 Downtown Austin is the best place to stay in Austin for first-time tourists, families, and couples because it is the heart of the city and it offers everything you would expect from a modern-day city center.
Located on the north bank of the Colorado River., Downtown is centered around Congress Avenue, stretches from Lamar Boulevard on the west to Interstate 35 on the east, and from Martin Luther King Jr. Boulevard to Lady Bird Lake.
Downtown Austin has several sub-area including the nightlife district of 6th Street, Rainey Street Historic District, and the shopping hub of 2nd Street District. Double Decker Austin hop-on-hop-off bus is a good way to explore the downtown.
Historic landmarks are abundant in this part of the city, such as the historic late-19th-century State Capitol Building and its stunning grounds, the Texas State Library and Archives, the Texas Governor's Mansion, and the Texas African American History Memorial, all of which are located in close proximity to each other.
The Bob Bullock Museum of Texas History is a great place to learn history with 500 artifacts dating back as far as 13,000 years, and stop by the Story of Texas Cafe.
History buffs will love to visit the Austin Children's Museum, Museum of the Weird which is a dime museum with many strange and interesting artifacts.
Austin is also known for its art museums. Art lovers have the Blanton Museum of Art at the University of Texas at Austin, with nearly 18,000 pieces collection of art.
There are also The Contemporary Austin and the Mexic-Arte Museum which displays Mexican and Latina art.
Other places of interest are the Willie Nelson statue, Harry Ransom Center, Austin City Hall, Paramount Theatre, and the Frost Bank Tower which the 33 stories at a height of 515 feet building in a prime location on Congress Avenue.
Downtown is also within walking distance to the Lady Bird Lake and Zilker Park Boat Rentals which are great places for outdoor enthusiasts, boating, and kayaking. The Congress Avenue bridge attracts many visitors from March to October to do bats watching.
On every Saturday morning, you will find the SFC Farmers' Market Downtown by the Sustainable Food Center, with lots of fresh produce, local vendors, and live music.
Austin hosts several music festivals during the year, including Austin's Free Week in January, Austin City Limits in October, Rodeo Austin in March for Texas's cowboy roots, and a couple of festivals in April about blues, bluegrass, reggae, and rock.
Austin is home to many music venues like the Nutty Brown Amphitheater, ACL Live at the Moody Theater. If you like the bar-music vibe, you can visit Broken Spoke and the Little Longhorn Saloon.
Austin has unique restaurants and food trucks scenes. You can enjoy southern comfort food, Mexican food, biscuits, deep-fried chicken, and BBQ. There are also plenty of bars, clubs, cafes, and shops lining the streets.
Being at the heart of the city not only means you can freely stroll around to witness all of this, but you won't have to worry about paying for parking either.
Downtown has a wide range of accommodation options from budget hotels to boutique hotels and business-style hotels. It is also home to the most luxurious hotels in the city such as the oldest hotel and also a historic landmark in Austin, Driskill Hotel.
Stay in Downtown Austin if you're visiting Austin for the first time; you are a business traveler; you enjoy shopping; you want to stay in the nightlife district with live music; you are looking for where to stay in Austin without a car.
Best Places to Stay In Austin Downtown:
luxury ($$$): The Driskill, in The Unbound Collection by Hyatt This 5-star hotel is a historical Austin landmark, built in 1886. The hotel features an award-winning on-site restaurant, a fitness center, and state-of-the-art amenities. Its 1886 Café & Bakery hosts Monthly Beer Dinners with beers from a local brewery.
mid-range ($$): Fairmont Austin This 4-star hotel is located within easy walking distance from Austin Convention Center, Capitol Building, Frank Erwin Center. It provides air conditioning rooms with a flat-screen TV with cable channels, a private bathroom with free toiletries, and a bath or shower.
budget ($): Aloft Austin Downtown This 3-star hotel is located in the heart of the city center. It has an on-site restaurant that features American cuisine for breakfast, lunch, and dinner. There is a coffee bar, a cocktail bar, and a mini-market.
See more: Where to Stay in Denver
2. Red River Cultural District – 6th Street, where to stay in Austin for nightlife
Located adjacent to downtown Austin, just to its east, the Red River Cultural District is between the 4th and 15th streets. That said, the experience you will get here is noticeably different, as this is the location of the most visited neighborhood Austin, world-famous Sixth Street.
If you're looking for good nightlife and a live music scene, the 6th Street Historic District is your best choice.
Lined with bars, clubs, restaurants, music venues, and tourist attractions, this is undoubtedly the destination to visit for those looking to let loose and experience the edgier side of Austin.
Mohawk Austin, Cheer Up Charlies, Pelons Tex Mex, Stubbs, Barbarella nightclub, Swan Dive, and Beerland are some of the famous bars and clubs in this area.
Street performers roam the sidewalks, performing tricks and acts you may associate more with places like the Las Vegas Strip or Bourbon Street in New Orleans. Bars are filled with live performances on any given night of the week, from well-known performers to amateur jam sessions, all displaying the type of blues that Austin is famous for.
Even the dining options are a little more unusual, with chain restaurants like Bikini's and the local Voodoo Donuts offering food more akin to bars and dinners than you would find in a high-end destination.
If all of that doesn't sound wild enough, perhaps a trip to see the bizarre exhibits in the Museum Of The Weird, a challenging afternoon trying to break out of the escape rooms at The Escape Game Austin, or a night watching the stars of Anarchy Championship Wrestling battle it out at The Mohawk would be more to your liking.
Whatever you're looking for, if it's the wild side of Austin you want to experience, then this is the place to do it, as nowhere better represents the city's motto of Keep Austin Weird than right here.
Accommodations in this neighborhood are varied from from moderate to expensive, there are airbnb, and budget guest houses.
Stay in Red River Cultural District if you enjoy live entertainment; you like street performers; Wild and diverse nightlife is important to you; you want more unique and unusual attractions; you want to be in the heart of the city; you love Austin's legendary blues scene; you're looking for the best places for a bachelor Or bachelorette party.
Best places to stay In Austin Near 6th Street:
🔍FIND BEST HOTELS IN AUSTIN
3. South Congress (SOCO), trendy area in Austin
Located on the south of the Colorado River, the commercial and cultural district of South Congress Avenue (also known as SOCO by locals) is a trendy neighborhood in Austin lined with restaurants, antique shops, quirky book stores, bars, and events.
A more residential neighborhood than our previous options, this is where I personally stay when I'm in the city, as it beautifully combines a more laid back, local, authentic Texan feel, with the convenience of being able to quickly get back into the thick of things.
With plenty of awesome bars, restaurants, and shops in the area, including the Fiesta supermarket and bakery, which will give you a perfect opportunity to experience the Hispanic culture of the area, this is a location where you can comfortably enjoy your lazy days, without having to worry about all of the hustle and bustle.
Then when you do want to explore the inner parts of the city, you are just a 10-minute car ride down the I-35 from the State Capitol, making it a quick and easy job to get back into the thick of things. There are no light-rail system, but you can find bus lines at South 1st Street, South Congress, South Lamar to the city center.
To see the music, visit Continental Club for live performances; Ego's, the best karaoke bar in town; Continental Club Gallery; C-Boys Heart & Soul; and Guero's Oak Garden.
Austin is famous for its art and music, South Congress offers amateur musicians, dancers, living statues, to perform on the streets.
You can also have many opportunities to pose photos with graffiti artwork. Some of the famous murals are "I love you so much" on the side of Jo's Coffee; "smile! even if you don't want to"; The Yard Dog Art Gallery displays a wide range of pieces from artists in North America.
For anyone wanting to get a true feel of what it's actually like to live in Austin, or those who want a perfect balance of both slow and fast-paced days on their vacation, I would highly recommend staying in South Congress.
South Congress has apartment rentals, vacation homes, motels, family hotels, and upscale boutique hotels that suits all kind of travelers.
Stay in South Congress if you want to get a true feel of what it's like to live in the city; you want a more relaxed place to stay; you want to experience the city's Hispanic culture; you want easy access to the city center.
Best places to stay near South Congress:
🔍FIND BEST HOTELS IN SOUTH CONGRESS
4. Zilker, where to stay in Austin for families
If you're looking for a family-friendly area with a lot of outdoor activities, look into Zilker. Located on the southern edge of the Colorado River, Zilker is about as close to the heart of the city center as you can get without actually being in it.
Not only is this convenient, but it also provides you with some of the most incredible views of the city skyline that you are going to find.
Its most famous attraction is Zilker Park, a beautiful 361-acre park, right off Lady Bird Lake, popular with walkers, runners, and pretty much anyone who wants to enjoy the great outdoors without even having to leave the confines of the city.
Zilker Park is also home to the Zilker Zephyr train and Barton Springs Pool, which is a great place for swimming on warm days.
Its beauty and convenience also mean events such as the Austin Kite Festival, the Austin City Limits Music Festival, and the 4th of July celebrations are held here, giving you a perfect opportunity to be right in the heart of the festivities if you choose to stay here.
Next to the park lies the Barking Springs, a dog-friendly park; Other places of interest are the Zilker Botanical Garden, Austin Nature and Science Centre, Umlauf Sculpture Garden.
At only a 45-minute walk to the city center, you can leave the car at the hotel and take a pleasant stroll through the stunning landscapes and past some iconic Austin locations and institutions, such as the Stevie Ray Vaughn Memorial and Sandy's Hamburgers, for a slightly slower-paced experience.
Accommodations are guest houses, apartments, and traditional hotels like Hyatt Regency Austin, Fairmont Austin, and The Carpenter Hotel within walking distance to Zilker.
Stay in Zilker if you want a more laid-back location; you want to witness stunning views of the city; you like river views; you enjoy walks along the river; you want to be able to get into the city quickly, without a car; you like festivals and events; you like a lot of biking trails and hiking.
🔍FIND BEST HOTELS IN ZILKER PARK
5. East Austin, cool neighborhood in Austin
East Austin is one of the coolest neighborhoods in Austin, located next to downtown. It's home to some of Austin's best food trucks, barbecue restaurants, taco shops, speak-easy style bars, and live music venues.
Things have changed here recently though, as investments into the area have quickly brought it in line with the rest of the inner sections of the city. Now East Austin has a reputation as a vibrant, up-and-coming neighborhood.
This hipster neighborhood offers a wide range of live music venues, vintage shops, vinyl record stores, restaurants, and clubs.
Attractions nearby are the Texas Museum of Music, The George Washington Carver Library, George Washington Carver Museum, Alamo Street, Tejano Walking Trails, Cultural and Genealogy Center, and the Plaza Saltillo MetroRail station.
With less notoriety comes lower prices on both accommodation and pricing in the surrounding areas. As such, East Austin has developed a vibrant, lively atmosphere, with many younger travelers and those on a budget flocking to the area and enjoying their days relaxing in bars, cafes, and restaurants, for a fraction of the price they would elsewhere.
Known primarily for its artistic entertainment, with a number of galleries and a massive quantity of street art, East Austin also gives you the chance to enjoy attractions in your surrounding area, while the more famous attractions in the city center are just a short trip away.
Stay in East Austin if you are traveling on a budget; you want a livelier, more upbeat neighborhood; you are interested in artistic attractions; you want to be near to the city center.
Best places to stay in Austin in East Austin:
🔍FIND BEST HOTELS IN EAST AUSTIN
6. Rainey Street Historic District, hip nightlife neighborhood in Austin
Rainey Street was once a residential district filled with bungalows. Today, it is an area filled with bars, clubs, and other entertainment venues, often using the original historic buildings. This is a neighborhood that attracts young professionals.
You can find some famous bars like the Container Bar, Craft Pride, Half Step, Geraldine's, Emmer & Rye, and Lustre Pearl and you can also try many cuisines from all over the world such as Dimsim in Emmer & Rye restaurant, G'raj Mahal for Indian, Anthem, and Via 313 food truck.
There are newer parts of Rainey Street as well, modern high rises that have slightly changed its historic character. The proximity of downtown is certainly an advantage when looking for a place to stay in Austin. You have access to its main attractions.
There are murals on many of its walls and for that alone, Rainey Street is marked out from the concrete and steel used elsewhere to modernize the city. Some walking trails start in Rainey Street and head out to other places of interest.
To learn more about the Latin culture, visit the Emma S. Barrientos Mexican American Cultural Center (MACC), Trail of Tejano Legends statues; the Tejano Walking Trail will across the historically Hispanic East Cesar Chavez and Holly neighborhoods.
Accommodation incidentally ranges from B&B to high-rise apartments for rent, and a handful of hotels in the neighborhood.
Best places to stay in Rainey Street Historic District:
🔍FIND BEST HOTELS IN RAINY STREET HISTORIC DISTRICT
7. University of Texas Campus Area, where to stay in Austin on budget
Budget travelers should also look to this campus area because of the presence of off-campus students regularly living on a budget. Not surprisingly, it is a neighborhood dominated by the younger generation. There are plenty of cheap places in the campus area to eat and drink, day and night.
There are both cheap hotels here, but also apartments for rent if you want a longer stay. Given that students are on vacation during the summer, many student apartments are empty during those months with landlords looking for tenants.
The Darrell K Royal-Texas Memorial Stadium is a 5-minute walk from the heart of the campus. The Blanton Museum of Art is a great place for those who appreciate modern art, and the work of several Latin American artists.
Other attractions here are The UT clock tower, and the Skyspace exhibit, and its spectacular natural lighting.
Best places to stay in Austin near the University of Texas Campus Area:
🔍FIND BEST HOTELS IN UNIVERSITY OF TEXAS AUSTIN
8. North Loop, popular local meeting place among students
Located just northeast of the University of Texas, North Loop is a popular local meeting place among students and campus people. The name comes from the loop of a highway providing access to both. It is a busy area offering a wide variety of restaurants and shops. You will also find cheap movie theatres for entertainment.
It is a district with plenty of clothes, vintage shops, and bookstores. If you are looking for presents, or souvenirs, here may be the place to start. The most famous shops are Blue Velvet, BookWoman, Room Service Vintage, and a record shop of Breakaway Records.
Coffee shops and food trucks are also found in these streets. There are no hotel chains here, but you will find choices in 2 and 3-star accommodations and motels near Capital Plaza shopping center.
There seems no likelihood of more hotels moving in despite the appeal of the North Loop. If you are happy with a clean room, go for it and enjoy what the neighborhood has to offer.
Best places to stay in Austin in North Loop:
🔍FIND BEST HOTELS IN NORTH LOOP
9. Southeast Austin, where to stay in Austin near airport
Southeast Austin is located on the outskirts of town and, while it has its perks, it is definitely a location that is suited to visitors with more specific needs.
For starters, Southeast Austin is located incredibly close to the Austin-Bergstrom International Airport. This makes it very convenient for people who prefer to stay close by, whether that be to save them carting their luggage around because they are only in the city on a flight layover or for any other reason they may have.
Then, there is the specific set of attractions located in the surrounding areas.
You have the Roy Kizer Golf Course, one of the finest in the city, as well as the Circuit Of The Americas, home to many motorsport events, including the Formula 1 American Grand Prix.
Anyone either attending or participating in an event at either of these two locations would be well suited to staying in this area.
Then there is McKinney Falls State Park, possibly the most beautiful outdoor location in Austin, featuring cascading waterfalls, the flowing waters of Onion Creek, numerous hiking trails, including Camino Real de los Tejas National Historic Trail, and sites on the National Register Of Historic Places, like the Smith Rock Shelter and the Ruins Of McKinney's Stone House.
Anyone wanting to explore the more natural side of Austin will be able to spend days here, wandering the trails, seeing the sights, and examining the animals and plant life of the area.
Stay in Southeast Austin if you need to stay near the airport; you want to play a few rounds of golf; you are attending an event at the Roy Kizer Golf Course or the Circuit Of The Americas; you want to explore McKinney Falls State Park.
Best places to stay near McKinney Falls State Park:
🔍FIND BEST HOTELS NEAR MCKINNEY FALLS
Check out my virtual tour about the best places to stay in Austin in this video:
What is the best area to stay in Austin?
Downtown Austin is the best area for tourist, especially for first-timer. Booking hotel in this area, you will be in the central location, within walking distance to many tourist attractions, restaurants, and bar. There is also a wide range of accommodations that suit all budget.
Where to stay in Austin without a car?
Downtown is the best place to stay without a car. Downtown is walkable, plenty of things to do and see are within walking distance from your hotel. You can aslo easily travel around with its decent public transportation, and rideshare such as Uber and Lyft.
See Also:
Overall, Downtown is the best area to stay in Austin for tourist because it has a super central location and it has a wide range of accommodation for all budget travelers. If you stay here, you will be located in the heart of the city, within walking distance to the famous tourist attractions, as well as many shopping, dining, and nightlife venues in the city.
Hopefully, my guide will have helped you narrow down your search for where to stay in Austin while you're in town, so all that should be left is for you to get booking and experience it all for yourself as soon as you can.