In today's article, we will be looking at where to stay in Chicago to get the most out of your visit. We will be looking at some of the top attractions the city has to offer and the best Chicago neighborhoods to stay in to take advantage of them.
As the third most populated city in the United States, Chicago is one of the most popular tourist destinations in the country. The Windy City has plenty to see and do to keep any visitor entertained for days.
Known for its deep-dish pizza, vibrant arts scene, and stunning views of Lake Michigan, Chicago is a city with endless attractions.
Best Areas To Stay in Chicago: Tips & Info
As a diverse and constantly developing city, there are tons of areas to choose from when it comes to where to stay in Chicago. To help you start narrowing down which Chicago neighborhood is the best fit for you, I have a few quick tips and suggestions.
If you are planning to stay in Chicago for the first time, the central Loop is ideal for you. You'll have easy access to the entire city and be surrounded by plenty of attractions and amenities within walking distance.
Likewise, if you are only in Chicago for a short time, the convenience of the Loop will allow you to maximise your time spent exploring the city.
If shopping is the highlight of your stay in Chicago, then the Magnificent Mile is the first place you should consider. Lined with huge brand names and high-end stores, you'll be able to shop as much as your wallet will allow.
Alternatively, if nightlife is your top priority, the Wicker Park district of West Loop is one of the best options. Wicker Park is home to a wide variety of restaurants, bars, and music venues offering food, culture, and entertainment from around the world.
For those visiting with children, Lincoln Park is your best bet. The area is home to a large zoo, plenty of park space for kids to explore and tons of amenities catered to families. As one of the more affluent neighborhoods, it's also one of the most low-crime areas in the city.
FIND BEST HOTELS IN CHICAGO
Where To Stay in Chicago: 10 Best Areas
If you are still undecided on where the best area is for you to stay in Chicago, keep reading to find out more about what some of the best Chicago neighborhoods have to offer you.
Best areas to stay in Chicago map
1. Chicago Loop, where to stay in Chicago for first time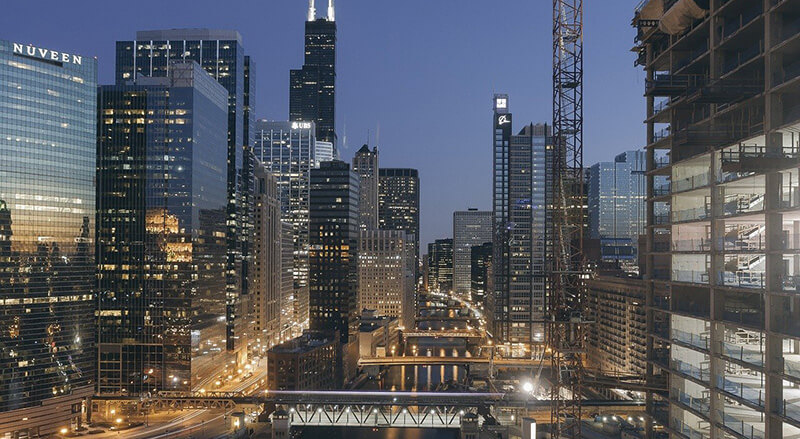 The Chicago Loop is the most central area of Chicago downtown. It is home to some of the city's top sights and attractions. What's more, as the city center you will be perfectly placed to explore the entire city.
The Loop is perfect for those planning to visit Chicago for the first time. With its diverse and plentiful array of restaurants, shops, and tourist sites, there is something for everyone to enjoy. You will be able to experience all aspects of this vibrant city within just a short walk of your hotel.
Some of Chicago's most iconic buildings and skyscrapers are located here, including Willis Tower and the Marquette Building. The Willis Tower in the west of the neighborhood offers panoramic views across the city from its 103rd story viewing platform.
Willis Tower is surrounded by other notable buildings within easy walking distance. The Rookery Building and the Federal Reserve Bank of Chicago are both just around the corner.
One of the best areas to stay in the Loop is around Michigan Avenue. The avenue stretches right through the city center and is lined with top attractions, plentiful shopping streets, and excellent dining venues.
Michigan Avenue sits right between the bustling Theatre District and the beautiful Grant Park. Staying here will have you perfectly placed to explore the best the city has to offer, entirely at your convenience.
If you love art, you will love this location. Michigan Avenue is surrounded not only by some of Chicago's top art galleries and art institutes, but also some of the best areas to spot street art.
The world-renowned Art Institute of Chicago, the Museum of Contemporary Photography, and Museum of Illusions are all located along this road. Meanwhile the Wabash Arts Corridor is just around the corner and boasts some of the best street murals in the city.
And of course, you can't discuss the art scene in Chicago without mentioning the iconic Cloud Gate. Located in Millennium Park, and affectionately known as The Bean, this huge metallic sculpture is one of the most well-known attractions in Chicago.
Millennium Park is also home to the Jay Pritzker Pavilion. This hypermodern bandstand often hosts events and concerts so it's well worth checking if anything is planned during your visit.
If you are more interested in architectural and engineering marvels, then the north of the region has plenty to offer you. The Chicago Architecture Foundation offers tours and exhibitions to help you appreciate the city's development.
The east side of the Chicago Loop is dominated by the sprawling Grant Park. Grant Park stretches along the banks of Lake Michigan, offering beautiful views over Monroe Harbour. It is also full of popular attractions including the beautiful Buckingham Fountain at its centre.
Chicago Loop is the best area to stay if:
It is your first time visiting Chicago
You love art, both in galleries and in the street
You are travelling with children
You want to stay right in the heart of the city center
Best Hotels in Chicago Loop:
Best luxury hotel: JW Marriott Chicago This 5-star hotel is just 1.6 km away from Millennium Park and the Art Institute Museum, this historic Chicago Loop hotel features renowned architectural designs, a luxury spa and an indoor swimming pool in the heart of the city's financial district. The Monroe Public Transit stop is 3 blocks away and offers easy access to several of Chicago's most popular attractions.
Best mid-range hotel: LondonHouse Chicago, Curio Collection by Hilton Sitting on Michigan Avenue and the Chicago River in a historic landmark building, LondonHouse features Chicago's only tri-level rooftop bar. The hotel offers free wifi, 24 hour fitness center, some rooms include Chicago skyline and historic landmark views.
Best budget hotel: HI Chicago Hostel featuring comfortable and contemporary accommodations with complimentary continental breakfast in the heart of the city. To make your stay in the city unforgettable, Chicago Hostel – HI hosts a number of activities for guests, including free walking tours and excursions throughout the city. A number of discounts for area attractions are also available through the hostel.
FIND BEST HOTELS IN CHICAGO LOOP
2. Lincoln Park, a picturesque area is a nature lovers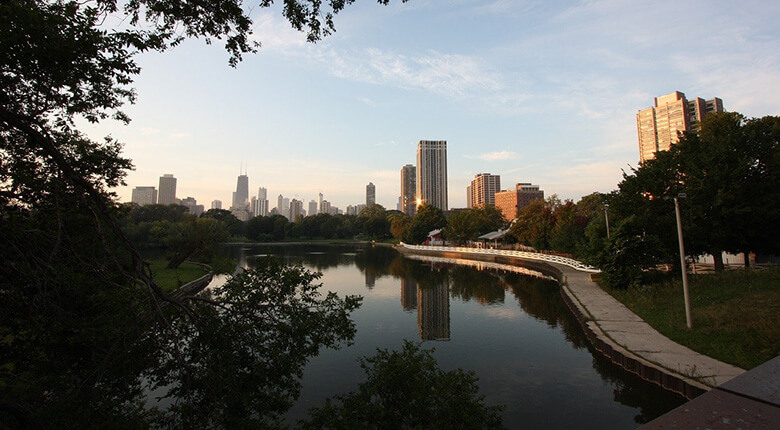 The Lincoln Park neighborhood is one of the most affluent areas of Chicago. This upscale neighborhood is located a short ways north of downtown Chicago, so it's ideal if you want to stay close to the downtown area but out of the crowded city center.
One of the best attractions in Lincoln Park is the eponymous Lincoln Park Zoo. Set in beautiful gardens, the zoo is free of charge. Excellent for a family day out, even if you are sticking to a budget.
Lincoln Park Zoo hosts an interactive farm in addition to its many exhibits of exotic animal species. Combined with its education pavilion and various historic monuments and art installations, Lincoln Park Zoo makes for a perfect, educational day trip for the whole family.
Just north of Lincoln Park Zoo is the Lincoln Park Conservatory. This huge glass greenhouse is home to Chicago's botanical gardens. Visitors can enjoy wandering through displays of thousands of exotic plants, often with seasonal exhibitions and events.
A short ways west of Lincoln Park you can find the much smaller Oz Park. Both the park and attached playground are themed around The Wizard Of Oz, making for a fun little side trip for those visiting with children.
Between Lincoln Park and Lake Michigan sits North Avenue Beach. This popular family beach is perfect for relaxing on the sand. Alternatively, you can hire a boat or jet ski and head out onto the calm waters of Lake Michigan
As one of Chicago's fancier neighborhoods, the area is home to some very high-quality restaurants. There are even a few restaurants within Lincoln Park itself, including right up against the waterfront. If you want to dine with beautiful views of both the park and Lake Michigan, you're in luck.
Lincoln Park is the best area to stay if:
You love nature and wildlife
You don't mind being a little outside of the city center
You want to stay in a more upscale neighborhood
You are travelling with children
FIND BEST HOTELS IN LINCOLN PARK
3. West Loop/West Town, an up and coming Chicago neighborhood
West Town is one of the most vibrant multi-cultural neighborhoods in Chicago. It is known for being full of high-quality restaurants serving cuisines from around the world. As one of the trendiest Chicago neighborhoods, it is also one of the top spots for nightlife. 
The Wicker Park area in particular is renowned for being a hub of exciting hospitality and nightlife. If you are looking for live music venues to spend your evenings taking in the local music scene, Wicker Park is perfect.
Outside of Wicker Park, the area's multicultural offerings continue through the Ukrainian Institute of Modern Art and the National Museum of Puerto Rican Arts and Culture
Humboldt Park in the west is a great place to escape from the press of the city for a while. With various sports fields, playgrounds, and gardens set around several ponds, it's a lovely green space for locals and visitors to relax.
Just south of West Town is Chicago's West Loop. This area, separated from the Chicago downtown by the Chicago River, is a perfect place for those who want to stay close to the city center, but don't have the budget for city center prices.
The West Loop's multicultural heritage continues into Greek Town. Once the hub of Chicago's Greek community it still boasts their cultural mark. Come here to find traditional Greek bakeries, restaurants, and tavernas, as well as the National Hellenic Museum.
Being a little outside of the city centre, and further back from the lake and accompanying views, the West Loop is a good area to look for cheap hotels if you are on a budget.
West Loop/West Town is the best area to stay if:
You are on a budget
You love taking in lots of different cultures
Nightlife is an important aspect of your trip
FIND BEST HOTELS IN WEST TOWN
4. South Loop, a hub of nightclubs, hotels & restaurants
South Loop is the area immediately south of the Chicago Loop. It is a popular hospitality and entertainment district, with tons of long-established bars and restaurants.
South Loop is best known for the Lakefront Museum Campus park that runs along the east of the neighborhood. The museum campus is home to the Shedd Aquarium, the Soldier Field Stadium, and the Field Museum.
The Field Museum is a fantastic museum of natural history and science. Just a short walk away is the Adler Planetarium and Doane Observatory. Along with the aquarium, this area is a great place for an educational family day out.
The park overlooks a beautiful marina. Various street-food stalls around the park make this a lovely place for a picnic lunch with a view.
If you are planning to stay in Chicago for an event at The McCormick place convention centre, South Loop is where you should look at staying. The convention centre is located in the south end of the district, close to the waterfront.
This end of the South Loop is also where you will find Chicago's ChinaTown. Aside from being home to some of Chicago's best Chinese restaurants, this is where you can find the Chinese American Museum of Chicago and the beautiful Nine-Dragon Wall.
South Loop is the best area to stay if:
You want to stay close to the city centre but outside of crowded downtown
You are attending an event at the McCormick Place Convention Centre
You are attending an event at the Soldier Field Stadium
FIND BEST HOTELS IN SOUTH LOOP
5. River North, a go-to district for art lovers
River North is the neighborhood immediately north of the Chicago Loop. Framed along two borders by the Chicago River, River North offers waterside views despite being more inland than some of the other neighborhoods on this list.
Sandwiched between the Chicago River and the Magnificent Mile, River North has developed from an industrial district into a hub of high-end shopping, dining, and luxury accommodation.
One of the top attractions of River North is the Merchandise Mart. The historic market is a hub of interior design showrooms and exhibition halls. Surrounded by a community of independent art studios, this is a must visit for those who appreciate innovations in art and design.
Staying along the Magnificent Mile end of River North will grant you easy access to tons of nearby sights and attractions in the surrounding areas.
Nearby Navy Pier is a popular destination for families, particularly those with children. Navy Pier is home to the Chicago Children's museum, a 200ft Ferris wheel with stunning views of Chicago and Michigan Lake, and several lovely parks surrounding Ohio Street Beach. Perfect for a family day out.
The Navy pier also hosts the Chicago Shakespeare Theatre where you can enjoy productions of various Shakespeare plays by local dramatists.
River North is the best place to stay if:
You are planning a more luxury stay in Chicago
You want to stay close to the city centre
Accommodation with views over the Chicago River would be ideal
FIND BEST HOTELS IN RIVER NORTH
6. Magnificent Mile, a famous shopping area Chicago
The Magnificent Mile is the stretch leading from downtown Chicago to the Gold Coast. It is Chicago's premier luxury shopping district, lined with upscale boutiques, big name brands, and trendy cafes.
In fact, there are so many stores vying for space here that they spill over into the surrounding streets. Neighbouring Rush Street is particularly abundant, hosting huge designer brands like Prada.
If shopping is one of the main things you want to spend your stay in Chicago doing, then this is the perfect place for you. The Magnificent Mile is surrounded by some of the city's best luxury hotels, so you can indulge as far as your budget will allow you.
Shopping is far from the only attraction putting the Magnificent Mile on the list of best places to stay in Chicago. The street is home to a big selection of popular tourist sights and historic locations.
The Chicago Water Tower may sound like an odd place for tourists to visit. However, the beautiful 19th century building is a unique and stunning example of Chicago's extravagant architecture.
The Chicago Water Tower and surrounding Jane M. Byrne Plaza are host to one of Chicago's most unique art galleries. The interior hosts exhibitions featuring the development and history of the city.
Meanwhile the plaza boasts a range of modern sculptures and installations. Visitors looking to indulge in the historical vibe can also enjoy a horse drawn carriage ride around it.
If you love beautiful architecture and want to see even more, you should head to the south end of Magnificent Mile, where you will find The Wrigley Building, Tribune Tower, and the Du Sable Bridge.
The Wrigley Building was built in 1924 and has been a centrepiece of Chicago's architectural heritage ever since. The ornate building straddles an arched promenade lined with chic cafes and restaurants spilling onto the street. Its most striking feature is its 425ft clocktower.
Just across the street is the mighty Tribune Tower. Built in an opulent gothic style, it is a unique addition to Chicago's catalogue of skyscrapers. It's worth taking a close look at Tribune Tower to really appreciate all the intricate details of its design.
Both the Wrigley Building and Tribune Tower overlook the iconic Du Sable Bridge. This beautiful iron drawbridge connects the Magnificent Mile across to the Chicago Loop, and the Chicago Architecture Centre sits just on the other side.
For a more contemporary attraction, visit the famous John Hancock Centre at the northern end of the Magnificent Mile. 360 Chicago viewing platform on the 94th story offers stunning panoramic views, and a unique tilted glass lookout for more daring visitors to try.
The Magnificent Mile leads into the Gold Coast neighborhood and Oak Street Beach. Oak Street Beach is a cosy little pocket of sand where you can enjoy relaxing and swimming in Michigan Lake. If you are visiting in summer, this is a particularly lovely area to take advantage of.
Magnificent Mile is the best place to stay if:
High end shopping is a highlight of your vacation
You love beautiful architecture
You have a higher budget to work with
FIND BEST HOTELS IN MAGNIFICENT MILE
7. Old Town, historic neighborhood north side of Chicago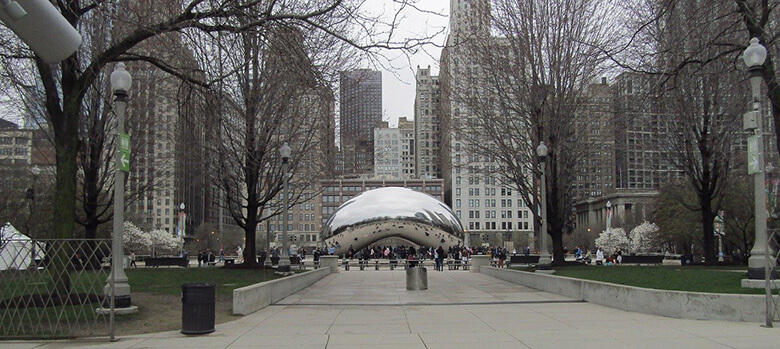 The Old Town is the area that stretches between Lincoln Park and River North. If you are wondering where to stay in Chicago to best appreciate the history of the city, this is your best bet.
The Old Town is a treasure trove of Victorian Architecture. Just walking through the charming backstreets will give you a sense of what life was like back in Chicago's early years.
Old Town celebrates its heritage by maintaining a uniquely old school feel to its local businesses. Here you will find lots of small boutiques, independent cafes, and family run restaurants and bars.
Many of the oldest buildings in the area were destroyed by the Great Chicago Fire of 1871, but a few still remain. St Michael's Church is one of those that survived, so it is worth visiting to see some architecture from the founding of Chicago.
For a more in depth look into Chicago's development, you can visit the Chicago History Museum. Located at the south-eastern corner of Lincoln Park, the museum hosts various exhibits, displays, and events focused around local history and architecture.
The Old Town is the best place to stay if:
You want to appreciate the history of Chicago
You love historical architecture
You don't mind being a little ways outside of the modern city centre
FIND BEST HOTELS IN OLD TOWN
8. Theatre District, with iconic storefront theatre scene
If you are planning to stay in Chicago to take advantage of the city's world class theatre and performing arts scene, then you will most likely want to stay in the Theatre District.
The Theatre District is located in the heart of the downtown area, at the north end of the Chicago Loop. Aside from being perfectly placed to enjoy shows at the various theatres in the area, you will also be right in the centre of the city and surrounded by various popular attractions.
The Chicago Theatre is of course the most iconic theatre in the area. Notable for its distinct 1920's style, as much as for its top-quality performances, The Chicago Theatre is a must visit for any theatre lovers visiting the city.
Of course, a show is only the main course of a night out at the theatre. A thriving theatre district must also be full of bars and restaurants to keep you entertained both before and after your show.
Chicago's theatre district is no exception. You will find plenty of venues to wine and dine throughout the evening. Ranging from laid back cafes and hole-in-the-wall bars, to upscale rooftop restaurants, you will find something to suit all budgets.
The Theatre district is the best place to stay if:
You love theatre and performance art
You want to stay at the heart of the city centre
FIND BEST HOTELS IN THEATRE DISTRICT
9. Lakeview, a residential suburb in Chicago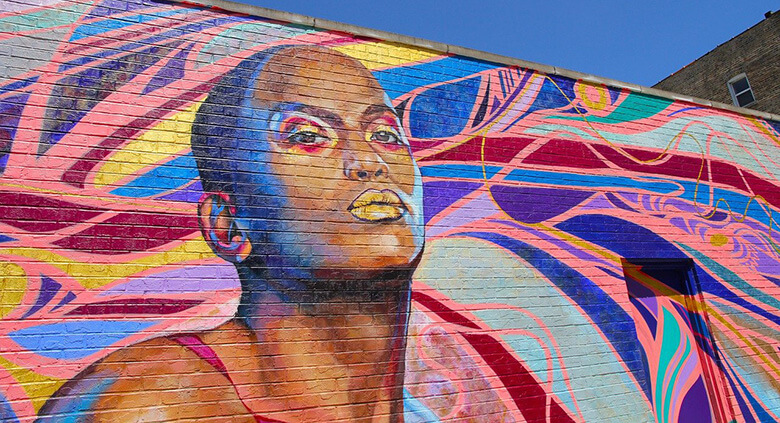 Lakeview is a residential suburb immediately north of Lincoln Park. Quite removed from the hustle and bustle of the city centre, this neighborhood is ideal for anyone looking for somewhere quieter to escape the crowds.
As it is quite far removed from the city centre and many of Chicago's main attractions, I would not suggest this area if it is your first time visiting the Windy City. Likewise, if you are planning to stay in Chicago for a shorter visit, Lakeview is not the most convenient location to maximise your time.
Lakeview is perfect if you are looking to experience a more local, everyday side of Chicago. As a residential neighborhood, the cafes and restaurants are largely family run and cater to the locals rather than tourists.
One of the loveliest areas of Lakeview is around Belmont Harbour. The sheltered bay is home to a small marina surrounded by a leafy park. Wandering along the walking trails whilst watching the boats drift around the harbour makes for a very relaxing afternoon stroll.
Lakeview is the best place to stay if:
You' re looking for a quiet neighborhood to experience everyday life in suburban Chicago
Being quite far removed from the city centre is not an issue
It is not your first time visiting Chicago
FIND BEST HOTELS IN LAKE VIEW
10. Airport area
The main airport for Chicago is the O'Hare International Airport. Located several miles northwest of the city centre, this is not the best place to stay if you plan to spend much time exploring Chicago.
If you are only looking to stay in Chicago for a stopover between flights, then you are in luck, with dozens of hotels to choose from in the immediate area. With prices ranging from high-end to budget you will be sure to find something to suit your price range and comfort preference.
Whilst I wouldn't recommend staying here if you want to go into the city centre, there are still some ways to keep entertained on longer stopovers. There are plenty of restaurants in the area if you prefer to just relax with a drink and a meal. Many of the hotels have onsite bars and restaurants.
The Schiller Woods Nature Reserve, immediately east of O'Hare Airport, makes for a lovely place to take a walk. Various trails lead through the trees and around the lakes, letting you stretch your legs as you wait for your flight.
You should stay in the Airport Area if:
You are only in Chicago on a stopover and don't plan on doing a lot of sightseeing
It is not your first time visiting Chicago and staying far from the city centre is not an issue
FIND BEST HOTELS NEAR CHICOGO AIRPORT
Read More:
Conclusion
Chicago is a vibrant modern city with a diverse array of attractions to appeal to a wide variety of visitors. Ideally you should now have a better idea of what exactly the city has to offer you and which is the best Chicago neighborhood for you to stay in.
Now that you know where to stay and what to do during your trip, all that's left is deciding on your perfect accommodation. We've got you covered with plenty of suggestions for Chicago Hotels too.