The best areas to stay in Portland, Oregon for both first time and returning tourists are the neighborhoods of Downtown Portland, Pearl District, Old Town Chinatown, Nob Hill, Central Eastside. In this guide we will be looking at where to stay in Portland for families, nightlife, budget, and near the airport.
Founded in 1845, Portland is the largest city in Oregon, with almost 50% of the state's population living within its metropolitan area. Portland is famous for its Saturday market, food truck scene, Voodoo Doughnut, coffee houses, thriving art scene, local breweries, and scenic bike trails. Nearby, you'll find Mount Hood, the Columbia River Gorge, the Oregon Coast, and wine country.
If you want a location right at the heart of the city, surrounded by attractions, then Downtown Portland or The Pearl District would be good places to consider. On the other hand, maybe you want to be a little more detached from the center of the city. In that case, the Northwest District or South Tabor would be good choices.
If you want a hip area with a vibrant atmosphere, then The Hawthorne District, Alberta Arts District, or North Mississippi Avenue in Boise would all be good choices. Meanwhile, those who prefer a more authentic, residential neighborhood should consider the Central Eastside in Kerns.
You may even have something extremely specific you need from your location. Many people will be coming to the city to watch its pro sports teams play, so staying near the arenas in the Lloyd District would make sense. Then you have others who simply want to be near the airport for convenience, in which case you should look at its surrounding areas, such as Cully.
📌10 Best Areas to Stay in Portland, Oregon
1. Downtown Portland, where to stay in Portland for first time visitors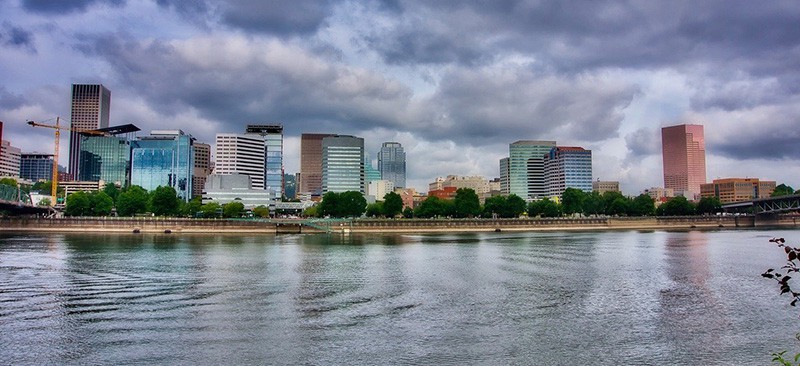 We begin our search in the main business district of the city, Downtown Portland. Located on the west bank of the Willamette River, it may not be the geographic center of the city, but it is unquestionably the heart of Portland.
As with many Downtown areas, this is the part of the city where you will find the most going on. Full of bars, shops, restaurants, café's, hotels, and attractions, it is ideal for visitors who have no specific plan and just want to see what the city has to offer.
Beyond the obvious though, there are plenty of options for people who have more specific tastes as well. For starters, Portland is also known as Bridgetown, due to the collection of bridges in and around the downtown area.
Broadway Bridge, Burnside Bridge, Fremont Bridge, Hawthorne Bridge, Marquam Bridge, Morrison Bridge, Ross Island Bridge, Steel Bridge, and Tilikum Crossing are all located in the district, while Sauvie Island Bridge, Sellwood Bridge, and St. John's Bridge are found just outside.
This makes it a fabulous destination for anyone who loves long walks or drives across bridges, crossing a fabulous river as they go.
Nearby the Burnside Bridge, you can also find the famous White Stag Sign, Portland Saturday Market, the Voodoo doughnuts, Powell's City of Books, and the Old Town/Chinatown.
Old Town/Chinatown is a great area with lively nightlife with many live music venues, bars, and clubs, Tom McCall Waterfront Park, and Lan Su Chinese Garden.
Bridges aren't the only architectural feature to enjoy here either, as there are also a number of stunning buildings in the area, such as the KOIN Center, Park Avenue West Tower, PacWest Center, U.S. Bancorp Tower, and the Wells Fargo Center.
There is even the Pioneer Courthouse Square, where you can enjoy some historical features and architecture, surrounded by the towering modern skyscrapers. On top of locations that are simply beautiful to see, there are also a number of specifically designed attractions as well.
The Portland Art Museum and Oregon Historical Society are great for learning about history and culture. The Arlene Schnitzer Concert hall is great for catching a show in a historical location.
Other attractions include the World Forestry Cente, South Park Blocks, Keller Auditorium, Hoyt Arboretum, Pittock Mansion, Portland Farmers Market at PSU, and Pioneer Place Mall.
Families with kids will have plenty of green spaces to relax such as Washington Park, Natural Garden, the Strolling Pond Garden, Portland Japanese Garden, the Tea Garden, Oregon Zoo.
In addition to all this, I couldn't end our trip around downtown without mentioning that it is also the location of Portland State University. This means not only is there a youthful atmosphere, ideal for students, but you can also often find lower prices on everything from food and goods to hotels.
If you're a foodie, you will find an abundance of food trucks. The Alder pod at SW 10th & Alder is one of the city's largest while Nong's Khao Man Gai is a local favorite with a chicken and rice dish.
Downtown Portland has a wide range of accommodation options from independent boutiques to big-name brands. Downtown is walkable, well-connected with Portland International Airport by light rail, and easy to navigate around with Portland Streetcar buses.
Stay in Downtown if you want to be in a central location; you are a fan of museums and art galleries; you like beautiful buildings and bridges; you want a great range of shops, bars, restaurants, and hotels; you are attending a show at the concert hall;
Best places to stay in Portland Downtown:
Best Luxury Hotel: The Duniway Portland, A Hilton Hotel this boutique hotel is located in the heart of downtown Portland, this hotel is within walking distance of premier shopping, nightlife, major offices, and the MAX Light Rail. There is a 24-hour fitness center at the hotel, along with a heated indoor wave-less lap pool, an on-site restaurant.
Best mid-range Hotel: Hampton Inn And Suites By Hilton Portland-Pearl District is located in Portland in the Pearl District and within 5 minutes walk of Powell's City of Books, the hotel features a fitness center and indoor saline pool. You will find a 24-hour front desk, business center, and meeting space at the property. Guests can enjoy the rooftop patio.
Best Budget Hotel: The Mark Spencer Hotel is located 1 minutes' walk from Portland's Pearl District, this boutique hotel is mere steps from all that Downtown Portland has to offer. It offers free WiFi, an iron and ironing board and many have full kitchenettes with cooktops, microwaves, coffee makers, toasters, and full sets of dishware, and a cable TV.
🔍FIND BEST HOTELS IN DOWNTOWN PORTLAND
Check out my virtual tour about the best places to stay in Portland in this video or continue reading:
See more:
2. Pearl District, where to stay in Portland for shopping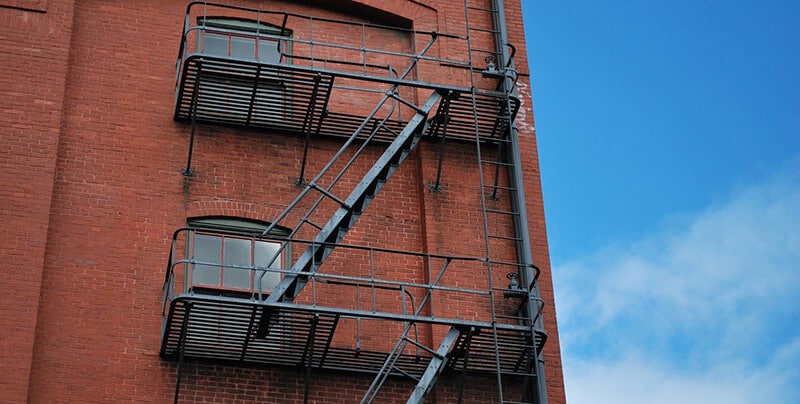 Our next destination, one of Portland's top shopping destinations, The Pearl District, is located immediately to the north of Downtown. It is bounded by the Goose Hollow, Northwest District neighborhoods, Old Town / China Town, Downtown, and the Willamette River.
Formerly a warehouse district it has been slowly being developed since the '80s, into the diverse neighborhood that you will find there today. Many of the old industrial buildings still remain, simply having been repurposed to house everything from shops and restaurants to residences and hotels.
Some of the shops are even considered to be as iconic as the area itself, such as Powell's City Of Books, which has been in operation since 1971.
Perhaps the most notable example of this repurposing though is the Brewery Blocks. Found at what was once the Weinhard Brewery, which operated from 1864 to 1999, it is now a 5 block shopping district. People can spend days browsing stores or enjoying food and drink in bars or restaurants, all while being surrounded by history.
Other than retail and hospitality, there is one other industry that is thriving in this part of town, and that is art galleries. Institutions like the Elizabeth Leach Gallery and the Blue Sky Gallery give visitors the chance to take in some of the greatest local works of art, while surrounded by the city's iconic architecture.
Despite the built-up nature of the area, both now and in its past, that isn't the only thing The Pearl District has going for it. For those who would rather get a little more nature during their trip, you also have a collection of parks at your disposal.
In an area known as the North Park Blocks, you have a trio of parks that includes Jamison Square, Tanner Springs Park, and The Fields Park. With fountains, tidal pools, waterfalls, creeks, wetlands, walking trails, and even a dog park, it is a fabulous place to kick back and relax in nature for a while.
Other places of interest are Portland Center Stage, BridgePort Brewpub, and Froelick Gallery.
Stay in Pearl district if you are a fan of art galleries; you love parks; you want to be surrounded by historic architecture; you want a great range of retail and hospitality options.
Best Places to Stay in Portland in the Pearl District:
🔍FIND BEST HOTELS IN PERL DISTRICT
3. Northwest District & Nob Hill, where to stay in Portland for families
Located immediately to the northwest of The Pearl District, the Northwest District/Nob Hill area is a largely residential neighborhood, which also has a number of retail opportunities. Many of the buildings display Craftsman and Old Portland styles, giving it a traditional and historical feel
The area is largely broken into three separate sections, known as Uptown or NW 23rd Ave, NW 21st Ave, and The Alphabet District. Of the three, NW 21st Ave is the main commercial district in the area, featuring bars, restaurants, clubs, pubs, and a theatre, covering visitors of all tastes and budgets.
The Uptown part of the neighborhood features many similar features to those I mentioned in the previous section. However, while the actual amenities may be similar, it is their price and standing that sets them apart.
What you will find here is generally more upmarket than the establishments you will find on NW 21st Avenue. Upscale stores, swanky clothing boutiques and gourmet cafes, bistros, and restaurants will appeal to those with slightly more expensive taste.
For the music lovers out there, this is also where you will find Tender Loving Empire. A local record label and store that makes goods with locally sourced materials, it is a great place to get to grips with the music and culture of the city.
The third section of the neighborhood, The Alphabet District, is a primarily residential area, where its main notoriety is for the naming of its streets, which are each named with a different letter, in alphabetical order.
It is also the childhood home of The Simpsons creator Matt Groening, so you may notice many of the streets share names with characters from the show.
That said, The Alphabet District does contain a historical area, which was listed on the National Register Of Historic Places in the year 2000. Covering 50 blocks, it contains 478 buildings that helped to contribute to its classification.
In addition, a further 50 buildings have their own individual place on the register too. These include the George F. Heusner House, Trinity Place Apartments, Couch School, and Temple Beth Israel.
There are even 8 Portland Historic Landmarks in the area to enjoy as well. These are the Lesser Cohen House, Richard Koehler House, C. H. Korell Houses #3 & 4, Abbott Mills House, St. Francis Apartments, St. Mark's Episcopal Church, and the Pope Investment Property.
Other attractions nearby are the Portland International Rose Test Garden, Forest Park, and Oregon Zoo which are great places to spend a fun day out for families with kids.
When you combine all of this, it makes Northwest District/Nob Hill a fabulous place to stay. Whether you want to shop, party, dine out, or visit some historic locations, it is guaranteed to have plenty of choices to keep you covered.
Stay in Nob Hill if you are traveling with families; Nightlife is a priority during your trip; You are interested in historic buildings and landmarks; You want restaurants and stores that accommodate a wide range of styles and budgets.
🔍FIND BEST HOTELS IN NORTHWEST DISTRICT
4. Hawthorne & Southeast Portland, where to stay in Portland on budget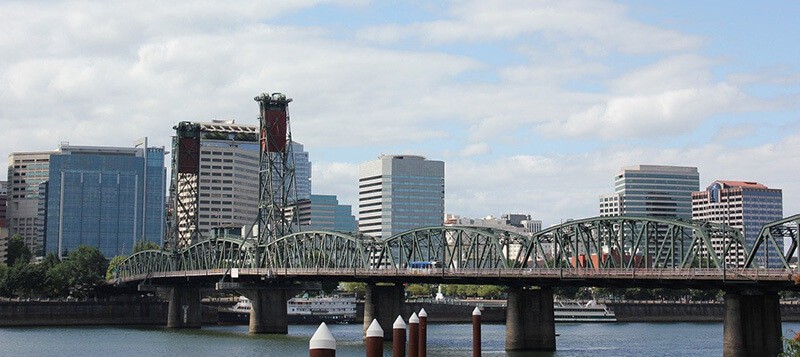 We now move to the central part of the city and an area known as The Hawthorne District. Named after the doctor that founded the first mental hospital in the city, Dr. J.C. Hawthorne, it has become an area filled with amenities like bars, restaurants, and shops.
It generally has quite a youthful and hip vibe, with the area's own website stating that it is popular with "hippies, hipsters and those considered to be Generation X". This makes it an ideal place to stay for any younger visitors to the city.
In addition to the normal types of shops and bars you would find around the city, there are also a number of options specially tailored to this market. For starters, many of the shops have a bohemian feel, selling clothes and other products with a unique style, most of which are sustainably made.
There are also a number of brewpubs, craft breweries, and microbreweries in the area. Producing their own craft beers on-site, they are a great place to visit for those who want to sample some of the local styles, find out how they are made, or simply drink in a place with a hip and welcoming vibe.
In fact, if you really want to go all out, you should make a trip to the Bagdad Theatre & Pub. Listed on the National Register Of Historic Places since 1989, you can catch a movie or enjoy a drink in a historic building owned by one of the local breweries.
Over the years many stars have visited, as a number of premieres were held here. The most notable of these would be the multiple academy award-winning "One Flew Over The Cuckoo's Nest", which was filmed in nearby Salem and revolves around a mental hospital, the industry that gave birth to The Hawthorne District.
Other places to check in are Mt Tabor Park, Por Que No Taqueria, The Sapphire Hotel, and the Bagdad Theatre and Pub.
Stay in Hawthorne district if you are a younger traveler; you are looking for a location with a hip atmosphere; you are a fan of microbreweries, brewpubs, or craft beers; you want to shop in stores with a distinctly bohemian style; you want to see a movie in a legendary theatre.
🔍FIND BEST HOTELS IN SOUTHEAST PORTLAND
5. Alberta Arts District, where to stay in Portland in Portland for art lovers
Centered around Alberta Street, the Alberta Arts District was once riddled with crime and a part of the city to be avoided. However, in the last 30 years, it has undergone a dramatic transformation, becoming one of the trendiest districts in the entire city, which is particularly popular among young adults.
The Northwestern Electric Company – Alberta Substation is one of the most iconic locations in the area and has been listed on the National Register Of Historic Places since 1931. However, it gets its reputation as an arts district not from the architecture but from the numerous studios and countless artists and performers that practice their crafts here.
The studios provide ample spaces for painters to work on their next piece, often located above coffee shops that are filled with a bohemian atmosphere. Meanwhile, street performers, vendors, and musicians show off their skills outside, entertaining and amazing customers.
There are also a number of galleries located around the area too. These give you the chance to view paintings and pieces by both established and up-and-coming artists in the area, to get a true sense of the style of the city.
On the last Thursday of every month, a festival known as the Last Thursday Art Walk has been taking place since 1997. Held outdoors during the summer and in the local establishments in the colder months, local artists, traveling merchants, street performers, and food carts set up shop, while the galleries open their doors.
This is an incredible experience for anyone visiting the city. The unique arts, wares, styles, and foods of the area are on full display for everyone to enjoy and experience.
Even when the festival isn't occurring, numerous bars, cafes, shops, and restaurants in the area are decorated in their own unique style and filled with a vibe that captures the true spirit of the neighborhood.
Stay in Alberta Arts District if you are a fan of art or want to attend the Last Thursday Art Walk; you like destinations with a bohemian atmosphere; you are a younger traveler; you want a selection of vibrant bars, cafes, restaurants and shops.
🔍FIND BEST HOTELS IN ALBERTA ARTS
6. South Tabor/Division, where to stay in Portland for local vibe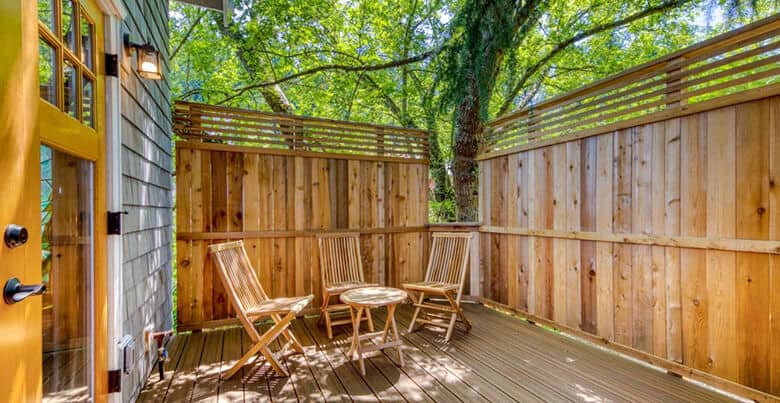 The South Tabor district is a primarily residential neighborhood, located right at the center of the city. Its name comes from its location at the foot of Mount Tabor, on its southern side.
An extinct volcano that stands 636 feet tall, it is one of only 6 within the limits of a major city anywhere in the united states. A great destination for hikers, it also has a basketball court and an amphitheater near its peak, making it an incredibly unique destination.
Surrounding the mountain is a fabulous park, filled with trees, reservoirs, and wide-open spaces. Combine this with the fabulous statues you will also find here, and it makes a great way for you to experience some of the more natural history and culture of the city.
Beyond the mountain, the other main draws to the area are two shopping and entertainment districts. Closely located to one another, they each offer their own unique and distinctive styles.
First, you have the Division and Clinton area, which has been rapidly growing in recent years. Once a quiet, residential area, it is now one of the hippest and stylish parts of the city. Block after block of shops, bars, restaurants, cafes, and hotels create a vibrant atmosphere unlike any other.
Whether you want to spend your day shopping, sipping drinks, or dining on a stunning range of cuisine, you will be spoilt for choice. That's before you even get to the more adventurous attractions, which include popular tattoo studios and bicycle rental stores.
Then, you have the Jade District, an area dominated by the Asian American community. With shops selling their wares, restaurants giving you the chance to sample their cuisine, and cultural centers dedicated to their history, it is a fabulous place to learn and enjoy a thriving Asian culture.
Stay in South Tabor/Division if you want to hike up Mount Tabor or stroll through a stunning park; you are interested in Asian culture; you want to shop, stay or dine in one of the hippest and stylish parts of the city.
🔍FIND BEST HOTELS IN SOUTH TABOR
7. Boise/Mississippi Avenue, one of the best areas for nightlife
Our next destination of Boise is located in the north of the city, on the bank of the Willamette River. It is named after Reuben P. Boise, who was a Portland School Board member during the 1950s. The area is largely residential, with very little in the way of attractions throughout the majority of it.
There is, however, one part of the district that may be worth visiting for tourists, and that is the area known as Mississippi. Located at the southern end of North Mississippi Avenue, it is the place to go for food, shopping, and entertainment, for locals and visitors alike.
The gastronomy of the area is perhaps its main selling point, with all manner of options when it comes to how you dine. From mobile vendors with food carts, a popular staple of the city, to pubs and even high-end restaurants, you'll be sure to find what you want to eat, when you want to eat it.
The same could be said of where to get a drink as well. The aforementioned pubs are mixed with bars, giving you choices any time of day or night. There are even a number of coffee houses, so you needn't worry if you're not a fan of alcohol.
In terms of shopping, you have about as many options here as you will find anywhere in the city. Records, flowers, wine, clothes, sweets, books, comics, sports gear, children's accessories, and all manner of other things ensure there's little chance of you not being able to find what you're looking for.
There are even plenty of attractions to keep you occupied during the day as well. Whether you want to catch a show at one of the live music venues, take a stroll through the fabulous Pistils Nursery, learn about insects, or any number of other things, you'll have a hard time being bored with everything on offer.
You also have a prominent LGBT community here as well. For anyone from that community that happens to be traveling here, there is a visitor center to ensure you know all the best options available for you.
All in all, Mississippi may not be the biggest part of the city, but it is certainly one of the most diverse.
Stay in Boise/Mississippi Avenue if Nightlife is a priority for you; You are a fan of live music; You are part of the LGBT community; You want to experience some of the city's traditional dining options; You want a huge range of places to eat, drink and shop.
🔍FIND BEST HOTELS IN PORTLAND
8. Lloyd District/Convention Centre, where to stay in Portland for business travelers
Located just a short way south of Boise, Lloyd District is a largely commercial area, located on the east bank of the Willamette River. As with any commercial area, it is filled with locations and amenities that will allow you to have a relaxing getaway.
The Lloyd Center Mall features 178 stores and outlets, spread out over 3 floors, offering all manner of shopping and dining opportunities that are sure to keep everyone happy. You even have plenty more in the surrounding area, giving you all the choices you could possibly ask for.
While shops, bars, restaurants, and hotels make up the bulk of the attractions in the area, there are a couple of other prominent locations to point out as well. Most notably, you have 3 sites that host events of a variety of natures, which are responsible for a large percentage of the visitors to the city.
For starters, you have the Moda Centre. A 19,000 seater arena, its primary tenants are the Portland Trailblazers of the NBA, by far the biggest and most popular sports team in the city.
In addition to basketball, it also hosts numerous other large events, such as concerts. This makes the area an ideal place to stay for anyone coming to the city to watch a game or a show.
You also have another arena in the area, in the form of the 13,000 seater Veterans Memorial Coliseum. The original home of the Trailblazers, it is now used primarily for the home games of the Portland Winterhawks Ice Hockey team, as well as a number of slightly smaller events.
In addition to the events it holds, the Veterans Memorial Coliseum is also on the National Register Of Historic Places. Built in 1959, it is noted as having architectural significance, which makes it a great place to visit for anyone who appreciates architecture.
The final place of note in Lloyd District is the one which I mentioned in the title of this section, the Oregon Convention Center. Not only does it host some of the largest events and conventions in the city, but it also features some of its most impressive architecture.
Some places to check out are Blossoming Lotus, Milo's City Café, Cadillac Café and Pine State Biscuits, and Northeast Broadway.
Its twin spire towers provide light inside the building, as well as housing the largest Foucault Pendulum in the world. It also contains the largest ballroom in the city and becomes a memorial every September 11th, by lighting up its spires in memory of the lives lost on that day in 2001.
Stay in Lloyd District/Convention Centre if you're a business traveler; you want to do a lot of shopping; you want to see the 9/11 memorial; you are attending a basketball or ice hockey game, or another event at either of the arenas; you are visiting the convention center; you are a fan of iconic architecture.
🔍FIND BEST HOTELS IN LLOYD DISTRICT
9. Central Eastside/Kerns, where to stay in Portland for nightlife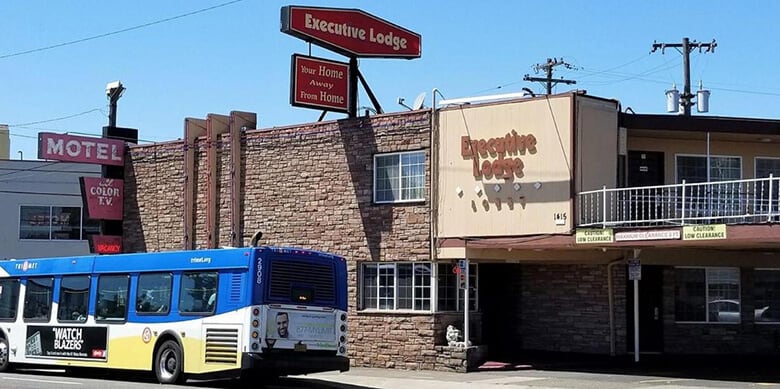 Our next destination of the Central Eastside district is located in the Kerns neighborhood, immediately to the south of Lloyd District. Its name derives from its location in the center of the city, on the east side of the Willamette River.
It is one of the oldest parts of the city, first settled by homesteader William Kerns in 1850, just 5 years after the city was settled. Through the years, Central Eastside has been primarily an industrial area, with a large number of factories.
However, over the last decade or so, the neighborhood has seen a large transformation, becoming much more inviting for tourists and locals alike. Many of the factories have been converted into entertainment venues, restaurants, bars, and a range of shops.
This has drawn large numbers of visitors to the area, who come to enjoy the vibrant atmosphere of the neighborhood, as well as take advantage of the prices that go with an emerging neighborhood.
There are also lots of new housing developments springing up in the area, helping to create a more residential feel. The Central Eastside Lofts may be the best example of this. They provide a premier experience for a more affordable fee, further helping the neighborhood to blossom and grow.
There are also a number of attractions located in the greater Kerns area surrounding Central Eastside as well. For starters, you have the Willamette River itself. This is great for anyone who likes to take long walks with stunning views.
The other most prominent attractions are a pair of theatres, the Art Deco Laurelhurst Theater and the Oregon Children's Theatre. These are great choices for anyone who wants to catch a movie, watch a live performance, or simply appreciate the fabulous architecture.
Other attractions are the Oregon Museum of Science and Industry, Distillery Row, Yale Union, Revolution Hall, and Helium Comedy Club.
Stay in Central Eastside/Kerns if you want to stay in an emerging neighborhood; you want to stay by the river; you want a location with a vibrant atmosphere.
🔍FIND BEST HOTELS IN PORTLAND
10. Airport Area/Cully, stay in Portland near the airport
Our final option lies in the very north of the city, the area that surrounds the city's international airport. First opened in 1936, Portland International Airport is the busiest airport in Oregon, accounting for between 90 and 95% of the state's air traffic, and 31st busiest in the United States.
Over the last decade, the airport has frequently ranked at or near the top of numerous lists of the best airports in America. While its frequent flights and great timekeeping certainly play a role in that, its success can also be attributed to the number of attractions and amenities they have at the site.
First off, you have House Spirits Distillery, the top distiller in the city, who have recently expanded their premises. They not only provide the opportunity for you to purchase their products, but you can also partake in classes on their drinks, as well as tasting sessions, as they are the first distillery in the world to feature a tasting room at an airport.
There is also a microcinema on-site as well. Featuring 17 seats, as well as a standing section, they allow you to view short films by local filmmakers, free of charge.
Finally, there is also a bicycle workstation. With tools and equipment for repairing and assembling bicycles, it is incredibly convenient for anyone who wants to get out on two wheels while they're in the city.
The area isn't all about the airport itself though, as there are plenty of amenities in the surrounding area. For starters, you have the Rose City Cemetery, which houses the graves of numerous famous people, as well as the Japanese Cemetery, where you can learn some different traditions and styles.
The area is also filled with parks. With the Khunamokwst Park, Rigler Community Garden, Sacajawea Park, Whittaker Ponds Nature Park, and the Thomas Culley Park Garden Community, it is a great way to get out of the hustle and bustle of the city and enjoy a little nature for a while.
Don't get me wrong, this area won't be for everyone and there are certainly other parts of the city with more to do. That said, if you want to remain near to the airport, whether to avoid missing a flight or to save dragging your luggage all over town, there is certainly plenty here to keep you entertained.
You should stay Airport Area if you want to remain close to the airport; you are interested in visiting a distillery; you want to go to a cinema that shows short movies by local filmmakers; you are a fan of outdoor activities like cycling or walking in parks; you want to visit a cemetery with famous burials that displays diverse cultural traditions.
🔍FIND BEST HOTELS NEAR AIRPORT
See More:
Portland doesn't get the attention of many of the other major cities on the west coast, however, it is a great destination for the right person. Hopefully, you will now have worked out where is the best place to stay in Portland, to ensure your own trip to the city is a success. All that's left now is to go and start getting things booked, so you can look forward to experiencing it all for yourself.