The best areas to stay in Savannah for first-timers are the neighborhoods of Historic District, River Street, City Market, Midtown, East Bay Street, Tybee Island, and Pooler. This blog will help you decide where to stay in Savannah without a car, for family, couples, as well as the safest area to stay in Savannah.
Savannah is a coastal city with an amazing history, located in Georgia and separated from South Carolina by the Savannah River. Its population of around 150,000 is proud of its beautiful city that dates back to the first half of the 18th Century.
There are many huge modern cities in the USA. Savannah is rather different from such conurbations yet can offer tourists a great experience. It is Georgia's oldest city with many historic squares, cobbled streets along the waterfront, grand old mansions, and green parks. Savannah's historic district is fascinating.
Savannah is a overall safe city for tourists. The historic Savannah district is one of the safest neighborhood in Savannah for tourist to explore both day and night because it is very well-patrolled by the Savannah Police Department. But as you travel to any other cities, you should use common sense, stick into tourist areas, and avoid walking at night in a unfamilar places
The Historic District is the best place to stay in Savannah for first-timers because it has a super central location and it has a wide range of accommodation options for all budget travelers. If you book a hotel here, you will be located right in the middle of everything, within walking distance to tourist attractions such as River Street and City Market, as well as many shopping, dining, and nightlife venues.
With less than 2.5 square miles and walkable, Historic District is also the best place to stay in Savannah without a car. There is aslo good local public transport so getting around the city poses little problem. You can even take advantage of a free shuttle route as well as a free ferry service over to Hutchinson Island. The most leisurely way to get around the Savannah historic district is by horse-drawn carriage.
Hotels in Savannah include some of the famous international brands like Holiday Inn and Hyatt Regency. You can expect to find budget accommodation as well with air-conditioning, private bathrooms, comfortable beds, swimming pools, and often rooftop bars providing great city views.
7 Best Areas to stay in Savannah, GA for tourist
1. Historic District, where to stay in Savannah for first time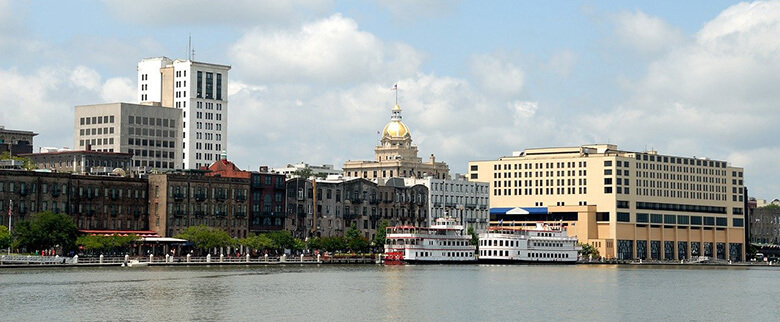 If this is your first visit, there is no better place to stay than in the historic district. It is the National Historic Landmark District. It stretches from Savannah River to Forsyth park, and from E. Broad Street to Martin Luther King, Jr. Boulevard
Savannah Historic District has much to appeal to visitors including its cobbled streets, lovely green areas of manicured gardens, oak parks, and leafy squares and architecture.
The neighborhood is eminently walkable. As you go, you will be treated by many beautiful squares, art galleries, mansions, museums, churches, and famous forts of the Revolutionary & Civil War eras. Savannah was a prominent city back in the War of Independence and the Civil War and you will see reminders of those periods as well.
Savannah Historic District has 22 historic squares but the most prominent squares are Calhoun Square on Forsyth Park, Chatham Square on the corner of Barnard & Wayne streets, Colombia Square, Johnson Square, Orleans Square, Troup Square, and Wright Square.
There are many building that has Georgian, Greek Revival, and Gothic styles such as Owens-Thomas House on Oglethorpe Square, the Edmund Molyneux Mansion on Bull Street, the Spencer Woodbridge House on Habersham Street, and the Greene House on Madison Square
If you want to learn more about the history of the region, there are plenty of museums to explore include the Davenport House Museum, Telfair Museums, SCAD Museum of Art, Georgia State Railroad Museum, and Mercer-Williams House Museum.
The Forsythe Park is one of the attractions in the old city where you can find the 1858 Forsyth Park's fountain, Saturday Farmer's Market, Confederate Memorial, and the Memorial to the Spanish-American War. The park has a lovely scent of oak trees and azalea bushes.
To explore the historic district, you can walk, ride on an e-bike or regular bicycle, take a Segway Tour, Indigo Journey Walking Tour of Antebellum Period, or Old Town Trolley Tours, a hop-on hop-off tour that stops at many attractions.
If you prefer, you can take a leisurely tour in a horse-drawn carriage. However, when you are on foot you can suit yourself about stopping to enjoy particular locations. The hop-on, hop-off trolley bus is a favorite way to spend time at different locations before moving on.
While walking around the town, you might also want to stop at the bench where Tom Hanks (Forest Gump) sat in Chippewa Square, First African Baptist Church, Cathedral of St. John the Baptist, Congregation Mickve Israel, and the birthplace of Juliette Gordon Low.
Other places to explore are River Street, the Telfair Academy of Arts and Sciences, Factors Row, and Old Harbor Light.
Historic District has a wide range of accommodation options, you can find budget hotels but mostly mid-range and luxury hotels.
Stay in Historic District if you are first-time visitors; You are looking for a central location; you travel without a car; you want to stay in a safe neighborhood; You just intend to walk around and enjoy your surroundings.
Best places to stay in Savannah in Historic District:
luxury ($$$): Perry Lane Hotel, a Luxury Collection Hotel, Savannah This 5-star luxury hotel offers an on-site restaurant, a fitness center, an outdoor swimming pool, and rooms with free wifi. It's located in the heart of the city, and close to main sights such as Colonial Park Cemetery, Oglethorpe Square, Cathedral of St John the Baptist, The Historic Savannah Theater, City Market, and Owens-Thomas Museum
Mid-range ($$): Eliza Thompson House, Historic Inns of Savannah Collection This 4-star bed and breakfast is located on historic Jones Street, within walking distance from The Paris Market and Brocante, The Savannah History Museum, the 1920-era Lucas Theater For the Arts, and Forsyth Park. It offers elegantly styled guest rooms with a flat-screen cable TV, high ceilings, antique furniture, an en suite private bathroom with 2 bathrobes.
Budget ($(: DoubleTree by Hilton Historic Savannah This 3-star hotel is located just a few steps from City Market, and River Street with its shops and restaurants. Also close proximity to First African Baptist Church, Franklin Square, Ships of the Sea Museum, Liberty Square, and River Street Train Museum.
MORE HOTELS IN HISTORIC DISTRICT
You might want to read:
2. River Street, where to stay in Savannah for nightlife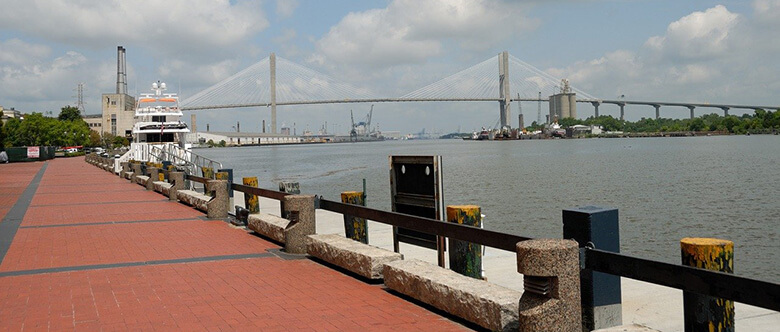 River Street follows the Savannah River that is such an important part of the city. Its development into a popular tourist neighborhood has made use of historic buildings that were formerly cotton warehouses.
The conversion of old buildings gives today's visitors boutiques and antique shops, bars, restaurants, galleries, and more.
This is southern hospitality at its best. It is fun just to sit back, or even take a cruise to take in the whole setting. Remember as well as being a beautiful city, Savannah is one of the USA's busiest ports.
The choice of restaurants is excellent but that is just one aspect of River Street. Clubs and bars, live music are found along the bank of the Savannah River. Visit the Rocks on the Roof with its rooftop bar and restaurant that offers excellent views of the Savannah River.
The African – American Monument is just one of the memorials you will see as you walk the neighborhood. Old buildings have made excellent restaurants and thoroughly modern hotels.
Nearby you will find the World War II Monument (also known as The Cracked Earth), which honors Chatham County's veterans of the Second World War.
Other historical and cultural landmarks along the waterfront are the Graveface Museum which is a museum dedicated to the world of oddities and criminal history; Waving Girl Statue, and the 1996 Olympic Yachting Cauldron.
Other things to do in River Street are wandering around the Riverfront Plaza, Warren Square, Emmet Park, Talmadge Bridge. If you are looking to buy souvenirs and presents, River Street is certainly a place to browse during your visit.
Stay in River Street if The river location with vibrant nightlife appeals to you; You want to be close to the center of Savannah; You enjoy a location with plenty of history.
Best place to stay in Riverfront/River Street:
FIND BEST HOTELS IN RIVER STREET
3. City Market, where to stay in Savannah for shopping
City Market is downtown, not a large area but one in which there is always something going on. It was the central marketplace in Savanah for people to trade, shop for groceries in the 1700s.
Here is the best choice of restaurants, fine dining, or simple cafes. The shopping is good, and galleries and museums can occupy your day before you enjoy its nightlife.
This neighborhood to the northwest of the Historic District developed in the 1980s and the result is an area popular with locals and visitors alike. Plenty of thought went into the development that runs between two of Savannah's famous squares, Ellis Square and Franklin Square, just 4 blocks.
The Art Centre gave artists a spacious home while others soon grabbed tenancies to open shops, restaurants, and entertainment venues. Apartment and office space are here as well while visitors can find accommodation for their visit to Savannah.
If you're a foodie, you will find delicious seafood and steak around the City Market in Belford's Savannah, or just simply chill at Cafe at City Market, Wet Willie's bar.
Nearby you will find the couples of museums include the American Prohibition Museum, Telfair Academy, and Ships Of The Sea Maritime Museum.
City Market is Art and Soul of Savannah with great nightlife. Plenty of bars, pubs, live music venues, and the to-go cup culture that makes it legal to take your adult beverage wherever you go.
Some popular spots for nightlife are Pour Larry's, the Bar Bar, AlleyCat Lounge, Savannah Smiles Dueling Pianos, Tree House, and Savannah's Candy Kitchen.
Stay in City Market if You like shopping and eating; You have an interest in art.
Best places to stay in Savannah in City Market:
FIND BEST HOTELS IN CITY MARKET
4. East Bay Street, close to Savannah's main landmarks and River Street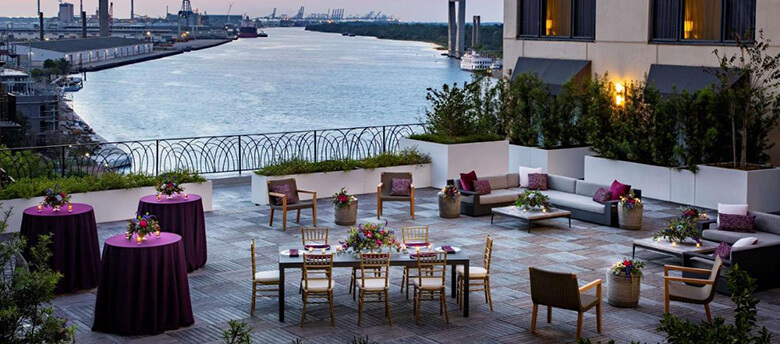 You will find East Bay Street between the Historic District and the Savannah River. It is just a small area in which the East Bay Inn has stood since the middle of the 19th Century.
Similar to River Street, you are still within walking distance of most of Savannah's highlights if you make East Bay Street your base for a visit to Savannah.
Look out for Factor's Walk where cotton used to be bought and sold in the heyday of Savannah's cotton industry in the 19th Century.
The red brick buildings still stand impressively and today they house interesting shops, bars, and restaurants. Savannah City Hall is somewhat newer, early 20th Century. It is built on the site of the City Exchange that was demolished to provide the land. It is the City's seat of government.
Stay in East Bay Street if You want to be close to Savannah's main landmarks without being right in the center; Somewhere a little quieter than the Historic District appeals to you; The location close to the river is appealing.
Best places to stay in East Bay Street:
FIND BEST HOTELS IN EAST BAY STREET
5. Midtown, where to stay in Savannah on budget
If you're looking for a budget-friendly area to stay in Savannah, Midtown is a good choice. It consists of several residential areas such as Kensington Park, Ardsley Park, and HabershamWoods.
Midtown has many of the 19th Century homes that today serve as restaurants and shops, especially in Habersham Village, the 12 Oaks shopping center, and Abercorn Walk.
Midtown is home to several parks and cemeteries. Bonaventure Cemetery is the last resting place of notable locals. A second green area, Daffin Park, has plenty of space for sports games, including a stadium where its minor league baseball side plays. Kids can enjoy the playground and swimming pool.
You can also watch a Savannah Bananas game at Grayson Stadium, admire 19th and 20th-century architecture in Habersham Village, and many attractions in Historic District which is only a 10-minute drive away.
Stay in Midtown if you're budget-travelers; You enjoy parks as a recreational area; History is a hobby of yours and old cemeteries interest you; You are on a family holiday and want activities for everyone.
Best hotels in Savannah in Midtown:
FIND BEST HOTELS IN MIDTOWN
6. Tybee Island, where to stay in Savannah for beaches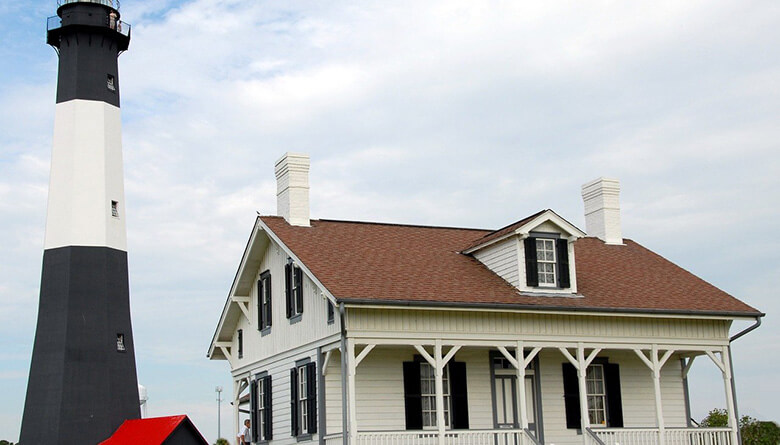 There is a beach just 20 minutes east of downtown Savannah on its outskirts. You will find it as Tybee Island, the barrier island and although a beach may not be your main reason for visiting Savannah, it is a welcome attraction for families although it is a rather expensive district.
There is no reason why you should not stay here and just drive into the city to enjoy its delights. After all, the miles of beach are conducive to fun and relaxation. In addition to sunbathing, you can walk in the dunes, see dolphins in the Atlantic, kayak, go fishing or cycling.
You will find 19th Century gun batteries in the north of the Island, the 19th-century military fortress Fort Screven, and there is a Tybee Island Light Station & Museum and a lighthouse that is still operational. The light station on Tybee Island is the oldest and tallest lighthouse in Georgia.
There is also Fort Pulaski National Monument which preserves Fort Pulaski, where the Union Army forced the Confederate garrison inside Fort Pulaski to surrender during the American Civil War.
If you like bird watching, visit the North Beach Birding Trail where you can see a variety of birds and ducks; and Little Tybee Island is a great place for camping.
For some ice cream head to The Sugar Shack, and for some fresh seafood, check out the popular Crab Shack and Sting Ray's Seafood.
Stay in Tybee Island if You want to stay in a seaside hotel in Tybee; Local history is important to you; You are with the family and want something for everyone.
Best places to stay in Tybee Island:
FIND BEST HOTELS IN TYBEE ISLAND
7. Pooler, where to stay near Savannah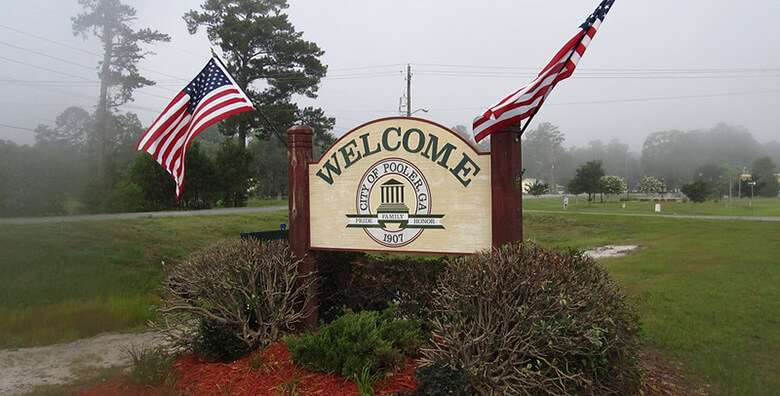 Head northwest from the city center and you will find Pooler within the metropolitan area. It takes its name from a railroad employee, Robert William Pooler who lived at the time of the Civil War. The Union took the Confederate surrender of Savannah in Pooler.
Pooler is a business center with companies like JCB, and Gulfstream Aerospace among its patrons. You will find shopping malls in Pooler, a growing community with a minimal crime. Its population has been growing in recent years and that trend seems certain to continue.
The National Museum of the Mighty Eighth Air Force attracts significant visitors each year. Exhibits include a B-17 Bomber, a P-51 Mustang Fighter, and an F-4 Phantom II. If you have kids with you in Savannah, they will love it.
You also have the Tom Triplett Community Park, Tanger Outlets Savannah, and the Surf Lagoon Waterpark.
Pooler has other museums as well as good recreation facilities. They include the chance to play golf or tennis.
Stay in Pooler if This is a family holiday, and you need plenty to entertain the kids; Recreational options are important to you all; You don't want to be right in the heart of the city.
FIND BEST HOTELS IN POOLER
Check out my virtual tour about the best places to stay in Savannah in this video:
Read More:
The Hostess City of South is one of the most popular places to visit in Georgia where you can find Juliette Gordon Low Birthplace, Congregation Mickve Israel, and the famous Forrest Gump scene.
Overall, Historic District is the best area to stay in Savannah for tourist because it is the most convenient location and it has the widest range of accommodation options. If you stay here, you will be located in the heart of city, within walking distance to tourist attractions, as well as many choices of restaurants, bars, and shops.
Now as you know the best neighborhoods to stay in Savannah, all you need to do is to decide how long to stay in savannah to book your accommodations. Well, if this is your first visit, I recommend to stay at least 3 -5 days in Savannah which is enough to see tourist attractions, enjoy food and drink, and get the sense of local culture and history. You can always come back next time and discorver more!