If you are planning a trip to Maui Hawaii but are still wondering where to stay in Maui, this article has you covered. Today we will be looking at the best areas in Maui for tourists to consider staying in, and the pros and cons that they each offer.
Maui is one of the Hawaiian Islands, the 50th State of the USA. Located in the Pacific Ocean, Maui has an area of almost 730 square miles (nearly 1900 square kilometres) with a population just short of 150,000. Its largest town, Kahului accounts for about 20% of that although Wailuku is the seat of government.
That population is double what it was in the 1980s, partly because of retirees choosing it as home. However, it is mostly because of the growth in tourism, and the job opportunities that tourism provides. Kahului International Airport handles most arrivals although there are two other regional airports and regular cruise ships.
Best Areas To Stay in Maui: Tips & Info
Direct flights, especially from the western side of North America, make Maui easy to reach. Where to stay on Maui may depend upon the main things you want to do on your holiday. Some parts of the Island have more tourist development than others. Indeed some parts are more accessible than others.
Car rental is inexpensive and is advisable if you choose one of the more remote parts of the Island where bus services are infrequent. There are good shuttle services around Maui but they do not permit luggage so you can forget them for arrival and departure.
Maui has six regions: West Maui, South Maui, Central Maui, Upcountry, Maui North Shore, East Maui.
The first two places that many visitors look to are in West Maui and South Maui. The former was the first part of Maui to develop for tourism, back in the 1960s.
Popular destinations to stay in West Maui including: Kapalua, Kaanapali, Lahaina, Kahana/Napili. It is home to many of the top international hotel brands and the most beautiful beaches in the world. Some of the best places to stay are: Andaz Maui at Wailea Resort, a Concept by Hyatt, the Westin Maui Resort & Spa, Sheraton Maui Resort & Spa, Royal Lahaina Resort, Hyatt Regency Maui Resort & Spa. Kahului Airport to the town of Lahaina takes up to 40 minutes for the 25-mile drive.
The South Maui including Kehei and Wailea followed on with Kahului Airport just 10 miles away. South Maui is the best place to stay for those who look for cheaper accommodation options compared with West Maui. Best hotels to stay are Four Seasons Resort Maui at Wailea, Hotel Wailea, Relais & Châteaux – Adults Only
If you are looking for a local vibe location but not too remote, Central Maui is the place for you. Makawao is the hub of ''Upcountry'', the region of Maui which is largely agricultural and certainly rural.
Move on to the Upcountry Maui region, you have Kahului and Kula. If you prefer an urban location with spectacular views of mountains rather than one on the beach, this area is for you.
East Maui with Paia and Hana, home to the famous Road to Hana(Hana Highway), the most remote area on the island. If you want the challenge of some of the best surfing in Maui, indeed Hawaii and beyond, Paia is for you. While Hana is fairly isolated on East Maui, there is a highway running there if this is a place you want to make your Maui base.
The last region on the list is Maui North Shore, it is off the beaten path vacation and a less developed area. If you want to escape from hustle and bustle, enjoy hiking, adventures, waterfalls, and plan to do a lot of surfing, windsurfing, kiteboarding, this is for you to base.
Travel is not as quick on Maui as you would expect at home, however. It would be wrong to dismiss other parts of Maui and if you read on, you should get some ideas why that is the case.
FIND BEST HOTELS IN MAUI
Read Also:
Where To Stay in Maui: 12 Best Areas
There are climatic variations for you to consider when deciding where to stay on Maui. It will be sunny and warm but there are some parts that receive more rainfall than others. The northeast is lush because of its rain, falling mostly between November and March inclusive. Nowhere should rain dominate a day, however.
Best Areas to Stay in Maui map
1. Kapalua, West Maui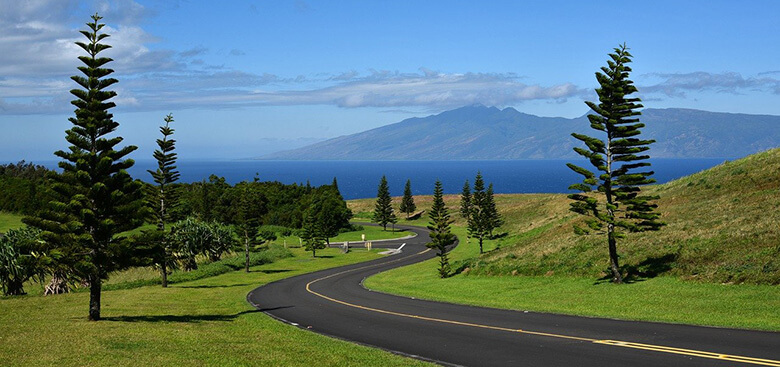 This development on former plantation land is purely to attract tourism. Kapalua is on the northwest coast of Maui along the Honoapi'ilani Highway extending from Kapalua and Honolua Bays. It is fairly small, covering just under 5 square miles with an additional small section of water.
The Resort has plenty of accommodation, good restaurants, shopping, and golf courses. Golf became a popular tourist attraction in Hawaii some years ago.
The beaches are also something that ensures tourists will always consider Hawaii for a relaxing holiday and Kapalua has plenty. Kapalua Bay received the honour, ''Best Beach in the World'' from one travel magazine, and ''Best Beach in America'' on our listings.
The Plantation Course in Kapalua hosts the PGA Tour's Tournament of Champions each January while the Bay Course is equally impressive. It is not always possible to find a suitable tee time so booking in advance is important. There are other public courses on Maui so it is a thriving golf holiday destination.
You have plenty of choices when it comes to accommodation. If you do not want serviced accommodation, you may decide to book a villa or condo to give you more independence. Whatever your choice, you can be certain of quality and a lovely setting.
Kapalua, West Maui is the best place to stay if:
A group of you are looking for an ideal place for a golf holiday where the weather is guaranteed.
You want to enjoy beautiful beaches just to relax
You can afford to pay for quality and are happy to do so.
FIND BEST HOTELS IN KAPALUA
2. Kaanapali, West Maui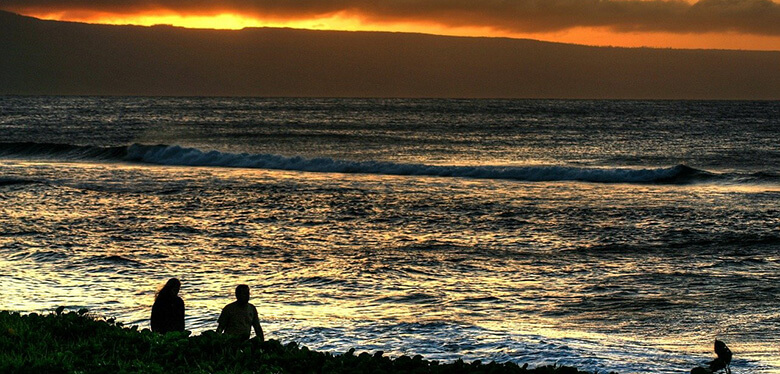 This small town developed as a resort in the 1960s with the mile-long beach of the same name as its major attraction. It is on the west coast of Maui just north of Lahaina and less than 15 minutes by road south of Kapalua. It is more crowded than Kapalua but has more in the way of activities, useful if you have kids with you.
You will find hotels and condos along the stretch of beach and beyond in both directions. Major hotel brands selected this part of Maui for their hotels, including Hyatt, Marriott, Sheraton, and Westin. Their present hotels date back to the 1980s though original hotels sprang up two decades earlier.
There are a number of microclimates on Maui. You can get bright sunshine in one place and clouds just a short distance away. That certainly applies on this stretch of coastline.
Shops and other tourist facilities grew as hotel developments sprang up. Whalers Village is a shopping mall close to the beach where you will find several boutiques, quality restaurants, a whaling museum, and even hula lessons.
The popularity of Kaanapali with tourists ensures that there are good employment opportunities and hence little in the way of social issues and poverty.
There are tours that will take you out into the Pacific and that is very attractive as the sun is setting. Make sure you have your camera with you. Kaanapali is also a good spot if you want to do some snorkelling.
Kaanapali, West Maui is the best area to stay if:
You want a range of facilities and activities and are unconcerned by crowds.
Your priority is a beautiful beaches with accommodation looking out to sea
You are interested in snorkelling and sailing.
FIND BEST HOTELS IN KAANAPALI
3. Lahaina, West Maui
Lahaina is the largest town in West Maui with boundaries stretching along the coast to include Kapalua and Kaanapali Resorts. The resident population is just over 11,500 but it regularly numbers approaching four times that during the high season.
The real estate prices in Lahaina reflect its popularity. Some of the best places will cost over $5m so you may only be able to dream. Lahaina was formerly the island capital with Front Street the centre of activity two centuries ago as it is today with shops and restaurants. It is also the place for nightlife.
One interesting attraction is the huge banyan tree planted by William Owen Smith in 1873. It was to commemorate the arrival of Christian missionaries 50 years earlier and almost 150 years later, it is the largest banyan tree in the USA. You will find the tree in Banyan Court Park.
The Town has a few different microclimates with some neighbourhoods averaging four times the average rainfall of others. However, what is a little rain in a warm and welcoming environment?
There are a few landmarks to see in Lahaina including the prison, the courthouse, and Bailey Museum if you have a spare hour or two. The ruins of an old fort and its cannons are interesting while in the small harbour, look out for the Pioneer Inn and Baldwin House Museum.
The West Maui Mountains are visible from the historic part of Lahaina and each evening a rainbow appears in front of the valleys. Out at sea, you can expect to see whales, especially between January and March. Another reason to have your camera ready.
Lahaina, West Maui is the best place to stay if:
You are interested in local history
Holidays with plenty of variety are important to you
You want a good choice of restaurants and plenty to do in the evening.
FIND BEST HOTELS IN LAHAINA
4. Kahana/Napili, West Maui
This stretch of coastline on the northwest coast of Maui is known for a number of things. One of the most interesting is the chance to see humpback whales offshore but the best chance is during the winter. Kahana is a lovely setting close to Napili Bay that is almost at the northern tip of this part of Maui.
Lanai and Molokai Islands are in the distance as you look out to sea. The coral reef is worth exploring if you enjoy snorkelling. The further out you swim, the clearer the water. You should keep your eyes open for marine species like Wrasse, Moorish Idol, and even turtles.
Some visitors are happy to lie back on the white sand and take in the sun. This is a popular place for families because of the calm waters in the sheltered bay so ideal for novice snorkellers. However, in the winter, the winds get stronger so snorkelling is out; try boarding instead.
It has a large shopping centre, with several dining options and its own brewing company, taking the name of the Island. Lahaina is close to the south if you want even more choice of entertainment.
Accommodation is plentiful on this stretch of coastline. There are beachfront villas with 2 or 3 bedrooms as an alternative to booking into one of the hotels.
Stay in Kahana/Napili, West Maui if:
You want a beach with a safe swimming area for young children
Exploring marine life is of interest to you.
You prefer to avoid crowds but want good tourist facilities.
FIND BEST HOTELS IN KAHANA
5. Kihei, South Maui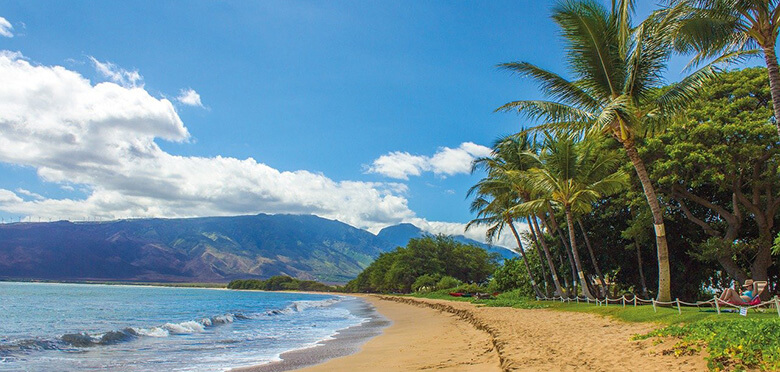 Kihei is on the leeward side of Haleakala. This is still the western side of Maui but further south than places like Lahaina. Lahaina is in fact not much more than 20 miles to the north but the coast road is slow.
It receives little rainfall, only about 10 inches annually, so its climate is regarded as arid. There is no public bus service to this southern part of Maui. However, Ma 'alaea Harbor Village is not far away and public transport is available there.
Kihei has almost 6 miles of beaches. It is little wonder that it was very popular with Hawaiian royalty in days gone by. The sands are an obvious attraction but if you make Kihei your base, you will also have a choice of other activities. They include surfing, kayaking, and snorkelling.
Kalama Beach Park is 36 acres fronting the beach with pleasant lawns and shade from palm trees. It has recreation facilities, notably courts for basketball, volleyball, and tennis, baseball fields, and a roller skating rink. It is a great place for a family picnic with a playground for youngsters.
Kihei is popular with hikers and bikers who regularly meet there before setting out for the day. The National Wildlife Conservation District provides a chance to see Hawaiian stilts. The Aquatic Center is also popular, hosting a number of swimming events.
Stay in Kihei, South Maui if:
Kihei's natural environment appeals to you, whether a walker or simply a nature lover.
You are interested in water sports
You are on a family holiday looking for sunshine and plenty for everyone to do.
FIND BEST HOTELS IN KIHEI
6. Wailea, South Maui
Wailea's development in the 1970s was to take advantage of the opportunity that tourism was increasingly providing. Before that, Wailea was just a small fishing village, lying just over 6 miles south of Kihei. The Resort covers 1,500 acres with this location selected because the leeward side of the South Coast is the sunniest part of Maui.
The Community has received awards for its design and the facilities it provides. Golfers can enjoy the courses while restaurants, shopping, and beaches are all features that attract visitors and more than satisfy local property owners. Wailea is certainly an area that satisfies the most discerning of residents and visitors.
You can find organised snorkelling tours where guides know the best places to go. If you are lucky, you may catch sight of a turtle. There is no doubt that swimming with dolphins is a unique experience while kayaking is fun if you prefer to stay above the waves.
The Resort hotels and the golf courses are major employers in Wailea which has a professional management structure to handle all its affairs. The beaches are all public but you can get valet service from a hotel to get you to the beach and provide everything you need for the time you are there.
Stay in Wailea, South Maui if:
You want plenty of activities to choose from on your holiday.
An organised resort is just what you are looking for and you don't mind crowds
You enjoy golf but only as part of your holiday.
FIND BEST HOTELS IN WAILEA
7. Wailuku, Central Maui
At one time, Wailuku was the main resort on Maui but in recent times, newer resorts have taken over. It remains the county seat of Maui with a population of around 15,000. Few have any involvement in tourism anymore but there are several employers in administrative and service industries.
Wailuku is at the mouth of the Iao Valley just to the west of Kahului and below the West Maui volcano. It faces northeast despite still being in the western half of Maui. Wailuku is 22 miles by road due east of Lahaina but half of that distance as the crows fly.
Lovers of local history may enjoy the Civic Center Historic District where there is a history museum in Bailey House. It is the base for the Island's Historical Society. Kaʻahumanu Church dates back to 1876, while there are also two old temples, the Halekiʻi Heiau and the Pihanakalani Heiau, both of which are much older.
This was the area in Maui where sugar plantations once dominated until the 1960s. It was of no value to the locals with foreign ownership but sugar flourished thanks to irrigation to capture the rainfall from the mountains. Workers came from many parts of the world to create the ethnic and cultural diversity you still see today.
Stay in Wailuku, Central Maui if:
You are not interested in beachfront accommodation as your base.
Local history is important to you wherever you go on holiday
You like the idea of cultural diversity
FIND BEST HOTELS IN WAILUKU
8. Makawao, Central Maui
Makawao is the hub of ''Upcountry'', the region of Maui which is largely agricultural and certainly rural. Its population is around 7,000 with far fewer as a proportion involved in tourism as elsewhere. The town is over 1,500 feet above sea level and hence altitude moderates the climate.
There is limited accommodation in Makawao if you want to make this your base. You are not totally remote with the airport just 12 miles away. You can reach the beach on the west coast by bus in an hour or perhaps enjoy a day in Kahului as an alternative?
However, Makawao certainly has its own entertainment. If you are lucky, you can watch Hawaiian cowboys (paniolo) parade their skills in true rodeo-style; barrel racing, calf roping, and bareback bronco riding. There will always be a parade with the event having Hawaiian twists to what you may have seen before.
Makai Glass is just one of the interesting art galleries here while you may like to visit the local distillery. The Sacred Garden of Maliko should also be on your list of places to visit while in Makawao.
Makawao Forest Reserve is just northeast of the settlement. There are several trails that you can take within the Reserve and good maps as your guide. It provides quite a contrast from the beach an hour away. You can enjoy the shade in the hot sun but still take plenty of water with you.
Stay in Makawao, Central Maui if:
You want to be away from tourist crowds
The beach is of limited interest to you.
You are an enthusiastic hiker and want to explore the interior of Maui.
FIND BEST HOTELS IN MAKAWAO
9. Kahului, Upcountry Maui
Kahului with its international airport, deep harbour, shopping, and industrial districts is the main conurbation on Maui. The climate is semi-arid and hot, with Kahului sheltered from the prevailing trade winds. Kahului faces north across the bay of the same name.
Today's town has a limited history. The plague wiped out the population in 1900 so what you see now is a development funded by the sugar company. The Alexander & Baldwin Sugar Museum tells the story of the sugar plantations on Maui and the influence they had on the life of the locals.
Remember sugar also attracted workers from several parts of the world, hence the current diversity of Maui's population. It is not really among the main tourist destinations on Maui but there are still reasons why you might choose it as a base for your holiday.
The best shopping in Maui is certainly in Maui with the largest of the malls named after Queen Elizabeth Ka'ahumanu. It has some attractions including Kanaha Beach County Park, and the Maui Arts and Cultural Center, and Kanaha Pond State Wildlife Sanctuary.
If you want recreational facilities, head to the County Park. It has a lovely beach and the swimming is good. There are picnic areas, the chance to windsurf or fly your kite or play volleyball.
The Wildlife Sanctuary between the Town and the airport to the east used to just be a royal fish pond. Today, there are several species of wildfowl including three that are endangered; stilt, coot, and Hawaiian Duck.
Stay in Kahului, Upcountry Maui if:
You prefer an urban location rather than one on the beach
History is one of your real interests
You want a range of different things to do each day.
FIND BEST HOTELS IN KAHULUI
10. Kula, Upcountry Maui
Kula is a district on the western-facing slopes of Haleakalā, with most of the buildings at 1,500 feet and above. It is due south of Paia, the 12-mile trip easily done in under half an hour. The altitude ensures that residents avoid the hotter weather found at sea level and the tourist crowds who prefer the beach.
The drier parts make agriculture difficult; indeed, some of it is almost desert. Where there is more rainfall or irrigation is possible, fruit and vegetables sustain the economy with as many as four crops annually.
Among the places you will enjoy here are the Haleakala National Park and the Kula Botanical Garden. Haleakalā, a dormant volcano, in Kula dominates the local skyline, indeed the skyline of the whole island of Maui.
You should go to the summit of Haleakala. It is 10,000 feet above sea level but you do not have to climb it. The road is winding and you will make slow progress but quicker progress than if you were walking.
There are a few wilderness cabins available for rent but you must book well in advance to be certain of availability. The alternative is to pitch your own tent on one of the two campsites. Perhaps you could book something in Kula as a base but then spend a couple of nights out camping?
Stay in Kula, Upcountry Maui if:
You would like to look down into the crater of this extinct volcano.
Ordinary accommodation, even camping, is perfectly fine with you.
You want to avoid the hotter weather down at sea level.
FIND BEST HOTELS IN KULA
11. Paia, Hana Highway, East Maui
Paia is one of the places on Hana Highway, East Maui just after you leave Kahului. The Highway runs along Maui's beautiful northern coastline. There are less than 3,000 inhabitants in Paia but you will find a decent tourist infrastructure including surf shops, art galleries, and restaurants.
The restaurants of Paia are well-known throughout Maui while there is a natural food store that has few equals. The shops are interesting so all in all, Paia has much to recommend it. Many of the buildings come in pastel colours; in some ways, it is like going back in time to a 60s small resort town.
Paia is a well-known windsurfing venue, sometimes being called "The World Capital of Windsurfing". It is also a place where you will see at first hand the ethnic and cultural diversity of Maui. You can meet hippies, professional surfers, preachers, or even the legend that is Willie Nelson who owns a bar in Paia.
Because the restaurants have locals as their customers, the prices are not at the level you would expect in a typical resort area close to the beach. Paia has a fish market that is casual and inexpensive if you choose self-catering accommodation.
There is also a flavour of elsewhere in Paia; there is a Buddhist stupa (temple ) consecrated by the Dalai Lama. Paia is gradually making an impact on the tourist trade. It was once a place that people simply passed through along the highway. The word is now out about its attractions.
Stay in Paia – Hana Highway, East Maui if:
You want the challenge of some of the best surfing in Maui, indeed Hawaii and beyond.
A beach holiday is not really your priority as long as you have access to beaches.
You want value for money, especially when dining, and seeing local patronage is a good guide to quality.
FIND BEST HOTELS IN PAIA
12. Hana, Road to Hana, East Maui
While Hana is fairly isolated on East Maui, there is a highway running there if this is a place you want to make your Maui base. It is a winding road just over 50 miles long, hence Hana's remoteness, starting at Kahului and hugging the northern coastline to the extreme east of Maui.
The highway was gravel initially and its opening in the 1920s helped the sugar plantations. However, the last one closed two decades later. An alternative way to reach Hana is by boat or even light aircraft. The beautiful setting of Maui and its natural environment helps visitors forget a relatively long journey.
Those who make the effort to get to Hana can enjoy the natural environment including Haleakala National Park where there are several swimming holes. Haleakala is a dormant volcano with one of the largest craters in the world. If you go up to its rim, you will be more than 10,000 feet above sea level.
You can drive through the clouds in the National Park. The hot and wet climate is most conducive to the tropical rainforest that covers the region. There is a photo opportunity at every turn. Sunrise and sunset are two occasions each day when you will want to take a photo for your album with fewer crowds at sunset.
There are several places of interest in and around Hana. One that stands out that is manmade is the Pi'ilani Temple, the largest temple in the whole of Hawaii. It sits in tropical gardens and seemingly it took three centuries to complete. Work began in the 13th Century and finished in the 15th.
There are parks, gardens, and beaches to enjoy including Kaia Ranch Tropical Botanical Gardens, Hamoa Beach, and Waiʻanapanapa State Park.
Stay in Hana, Road to Hana, East Maui if:
You are not looking for a typical Maui beach holiday
Maui's natural environment appeals to you and you want to explore.
You are not interested in 5-star luxury hotels
FIND BEST HOTELS IN HANA
What's the Best Area to Stay in Maui?
The most popular part of Maui for tourists is in the south. Kihei and Wailea appeal especially to families and couples. Several resorts in Wailea have excellent beaches. The next choice is probably West Maui which is the most scenic part of the Island, staying in places like Lahaina, Kaanapali, and Kapalua.
Start your search by looking at places like Andaz Maui at Wailea Resort, a Concept by Hyatt where you can get all the amenities you could want.
Is It Better to Stay in Lahaina or Kihei?
Both Lahaina*** and Kihei*** have things to recommend them. Lahaina's history makes it attractive to many tourists who can also enjoy its nice restaurants and overall evening atmosphere.
Kihei is well-developed and certainly has lovely beaches that appeal to plenty of tourists. Local accommodation here includes self-catering units with balconies and lovely sea views, Koa Lagoon***
What Part of Maui Has the Best Beaches?
You will find good beaches throughout Maui. If a beach is your main priority, Wailea is a place to look at closely. It is a well-developed area and can attract crowds as a result. You can easily find quieter beaches if that is your preference and there is even black sand in places on the highway to Hana if that appeals to you.
Where Should I Stay in Maui Wailea or Kaanapali?
If you are on holiday primarily to relax, Wailea*** is a good choice. Wailea is effectively a purpose-built place with a good infrastructure. You will want for nothing in this well-run place.
Kaanapali's*** development began a little earlier with the lovely beach identified as a good start. Visitors will also find plenty of facilities and branded accommodation here. Why not check out Aston at the Whaler*** at Kaanapali Beach?
Read more:
Conclusion
Hawaii is an exotic location. Maui is the second largest of its islands and tourism is the major source of income. As a state of the USA, it is no surprise that Americans make up the majority of tourist visitors to Maui. There are plenty of direct flights, especially from the western side of North America.
The season is long because of the latitude of Hawaii, and generally good weather. Some visitors come for the beaches while others combine them with a good choice in water sports. Golf holidays are popular as well. Even though Maui is relatively small, it still appeals to tourists wanting to enjoy the natural environment inland. With luxury hotels for those who want them, Maui is a great place for a holiday.