Where to stay in Salt Lake City? The best areas to stay in Salt Lake City are Downtown Salt Lake, Central City, Avenues – Capitol Hill, Sugar House, University – Foothill, and Sandy. Downtown is a safe area, and just 20 minutes from the airport.
In this guide, we will be looking at where to Stay in Salt Lake City, Utah, as well as the safest places to stay in Salt Lake city and the best hotels in Salt Lake City for all budget travelers.
There is something for every budget in Salt Lake City, ranging from budget guest houses to well-known hotel chains such as Hyatt, Marriott, Sheraton, and Hilton.
Where is the best area to stay in Salt Lake City?
Downtown is the best area to stay in Salt Lake city for tourists, especially for first-timers due to its central location and its high concentration of accommodations. If you stay here, you will be located in the middle of action, within walking distance to many restaurants, bars, and shops.
Salt Lake City International Airport is a major base for Delta Airlines. The airport has direct connections with Canada and Mexico as well as a few with European cities. In addition, the domestic timetable makes the City very accessible to travelers.
Amtrak and Greyhound also serve the City. Utah borders Nevada to the west that itself borders California. The distances involved in driving in the USA make flying the best and quickest way to get around.
Salt Lake is laid out on a grid and once you understand that, you will find it easy to get around if you are driving. Bus and commuter rail systems add to the convenience of the City.
Winters can be cold in Utah so the bulk of tourists wait for spring and summer to visit Salt Lake City. That said, the region appeals to skiers who can use the City for their base because of its excellent facilities. As the weather improves, so do the outdoor opportunities that Salt Lake City can offer, including hiking, biking, camping, and sailing on the Great Salt Lake.
Utah has quirky liquor laws but you will find alcohol readily available and plenty of different alternatives for eating. The local newspaper has regular restaurant reviews if you are new to the City.
Map of 6 Best neighborhoods to stay in Salt Lake City:
6 Best areas to stay in Salt Lake City for tourists are:
1. Downtown Salt Lake City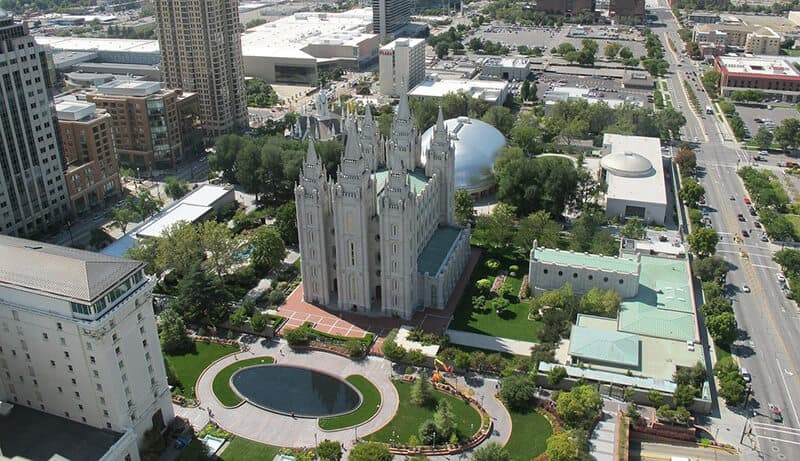 Downtown is the best place to stay in Salt Lake city because it is the heart and soul of Salt Lake City. It's oldest district, and laid out in a grid with Temple Square at its center. The administrative and business districts here as well define Downtown as the heart of Utah itself.
It predates the City's foundation with the plan intending to create a town of 20,000 people. Brigham Young's arrival was in 1847, over a decade later. The discovery of silver changed things dramatically. Downtown earned the nickname ''Whisky Street'' for obvious reasons.
Locals began to move out to suburbs from the 1970s and that changed the character of Downtown. Some of the old buildings were demolished as a revitalization program modernized Downtown towards the end of the 20th Century.
Salt Lake Temple and the Mormon Tabernacle dominate Temple Square. The Tabernacle Choir is an institution while Capitol Theatre hosts everything from ballet and opera to Broadway shows.
Other attractions are the Museum of Contemporary Art, Salt Lake City Public Library in Washington Square Park, Salt Palace Convention Center, Church History Museum, and The Church of Jesus Christ of Latter-Day Saints Conference Center.
If you are looking for a place for shopping, head to the award-winning, state-of-the-art shopping mall City Creek Center which is the most impressive mall in the whole of Utah; Downtown Rising, Gateway Center; Trolley Square, southeast of Downtown;
The revitalization program included the beginnings of mostly singles and couples moving back into Downtown to fill apartments and condos. That reinforced the size of the market for bars and restaurants.
Music venues are plentiful and the famous NBA side Utah Jazz play Downtown. For live music, you can check out The Depot, Metro Music Hall, Urban Lounge, The State Room, and Soundwell.
For performance, head to the brand-new Eccles Theatre, Utah Symphony, Utah Opera, and Ballet West.
Downtown also hosts a Saturday farmer's market in Pioneer Park, the concerts in Gallivan Square, the Salt Lake Arts Festival, a Pride Festival and Parade, and Utah Beer Fest.
You can easily travel around the downtown area with buses, TRAX trains, and Green Bike. The Downtown area is ideal place to stay in Salt Lake City for first-time tourists.
There are plenty of places to stay in Downtown. They range from 5-star luxury to bed and breakfast places. As a result of satisfying every budget, Downtown is a real mix of people on a daily basis. The winter season is quieter but remember the popularity of winter sports.
Even if you have traveled for some time and want to sleep after flying into the airport, there is a shuttle service and a rail system from there. You can be in a Downtown hotel half an hour after reaching the Arrivals Hall.
Best places to stay in Salt Lake City in Downtown:
luxury ($$$): Grand America Hotel This five-star hotel is a short drive from the University of Utah, Salt Lake International Airport, and the Joseph Smith Memorial Building. It features rooms with bathrobes, slippers, a marble bathroom, 24-hour room service, and a balcony.
mid-range ($$): Little America Hotel Salt Lake City This 4-star hotel is a 5-minute drive from Temple Square. It offers an indoor pool, an outdoor pool, on-site boutique shops. It is close to Salt Lake City Hall, Utah State Capitol, and Museum of Church History and Art.
budget ($): Hyatt Place Salt Lake City Downtown / The Gateway this 3-star hotel features an outdoor pool, a spa, free wifi, a fitness center, and a business center. It's located in Downtown Salt Lake City, close to main sights.
MORE HOTELS IN SALT LAKE CITY DOWNTOWN
See more:
2. Central City
Central City is the link between Downtown and the neighborhood known as Sugar House, more of that area later. It is another area of infinite variety with plenty of shopping, good cuisine, and open spaces.
Talking of cuisine, one place, The Park Cafe, you will find a waiting list for breakfast if you arrive after 9 am. Other places are just as impressive later in the day with plenty of different kinds of cuisine from Japanese to Middle Eastern to local favorites.
Liberty Park offers the chance to exercise whether you want to walk, jog, or bike. Trees around the lake provide welcoming shade in the heat of the day in the summer months. The McClelland Trail is well-used, heading down into Sugar House.
Trolley Square in the north of this neighborhood gets its name from the time Salt Lake had a trolley system. Go into the large ''barn'' if you want to see its use today; small shops and restaurants.
Tracy Aviary is something for all the family. Its highlight is Andy, a huge Andean condor, while flamingos and hornbills are additional attractions. Gilgal Gardens has sculptures to see and if you are in the center of Salt Lake City and want the best sunset, go to Faultline Gardens.
You can enjoy live music in places like Urban Lounge and the Tower Theatre, which has plenty of movies and hosts the Sundance Film Festival. If it's raining and you want to be indoors, pick a movie.
All in all, there is plenty to do if you make Central City your base. You can get budget accommodation in Central City with plenty of 2 and 3-star hotels.
Best Places to Stay in Central City:
Kimpton Hotel Monaco Salt Lake City, an IHG Hotel This 4-star hotel is just a 10-minute walk from Temple Square, this modern design hotel in Salt Lake City offers in-room spa services and an on-site restaurant. Each guest room is equipped with a flat-screen TV, a docking station, and plush bathrobes.
Kaison's Condo This apartment is located in Salt Lake City, close to The Tabernacle, Trolley Square, Kaison's Condo offers free WiFi and air conditioning. Featuring free private parking, the apartment is in an area where guests can engage in activities such as hiking, skiing, and fishing.
MORE HOTELS IN SALT LAKE CITY
3. Avenues – Capitol Hill
This area above Downtown and Central City has an atmosphere all of its own. Visitors and locals can enjoy artisan coffee and craft beers, great local cuisine, and historic bed and breakfast accommodation. Utah has a conservative reputation but this district in Salt Lake City is famously liberal.
The Avenues was the first neighborhood in Salt Lake City that stretches from A Street to U Street and from South Temple to the Bonneville Shoreline Trail.
In this neighborhood, you will find everything from The Kura Door, a Japanese spa to a theatre company, Salt Lake Acting Company.
Avenues – Capitol Hill neighborhoods are also great for nature lovers. With City Creek Canyon, Memory Grove Park, and e Bonneville Shoreline Trail.
And if you love architecture, there is plenty to enjoy. It includes the State Capitol Building, the Masonic Temple, and the Cathedral of the Madeleine.
Despite the City's association with the Mormons, there is a significant Catholic population as well. The Cathedral of the Madeleine is under the patronage of St. Mary Magdalene with the building starting in 1900 and taking a decade to complete. It gets a listing on both the Utah Register of Historic Sites and the National Register of Historic Places.
The Capitol Building, also on the National Register, is on 5 floors, was begun in 1912 and finished four years later. Its initial cost was $2.7m and the renovation early this century, $260m. Its dome is almost 300 feet high and its elevated position makes it a notable city landmark.
The Salt Lake Masonic Temple is the third landmark here. The Egyptian Revivalist style makes it quite special and it has been in constant use since its opening in 1927. The oldest mansions in Salt Lake City are here, and its oldest grave, that of Mary B. Wallace, a young girl buried in the Salt Lake City Cemetery in September 1847.
You will find plenty of options for accommodation in Avenues/Capitol Hill ranging from budget-priced to top-quality hotels.
Best places to stay in Salt Lake City near Capitol Hill:
Ellerbeck Bed & Breakfast This Bed & Breakfast features a restaurant, a bar, a shared lounge, a garden, WiFi, and private parking. Located close to sights such as The Tabernacle, Temple Square, Family History Library, and Salt Palace. It has units with air conditioning, a flat-screen TV, and a private bathroom with shower and bathrobes.
The Anniversary Inn – South Temple This bed and breakfast is a Victorian-style mansion, it delivers a signature breakfast to each room daily. It offers guestrooms with a satellite TV, a DVD player, a refrigerator, guest bathrobes, a 2-person spa bath, a private bathroom offers a shower, free toiletries, and a hairdryer.
MORE HOTELS IN SALT LAKE CITY
4. Sugar House
Sugar House got its name from the sugar beet planted by the early settlers in this part of Utah. That was a century and a half ago. These days, Sugar House is a lively, hip, and vibrant neighborhood within a large city. It lies towards the southern boundary of SLC.
You will find a host of bars and restaurants in Sugar House, and shopping to satisfy any visitor. There is a move to encourage everyone to buy locally and the variety of things on offer makes that very practical.
However, the highlight in many people's eyes is the Sugar House Park that offers plenty of opportunities to walk and jog. Check out Hidden Hollow Nature Walk that offers shade even on the hottest of days.
The views of the Wasatch Mountains from the Park are certainly worth your having a camera with you. The large pond attracts birdlife and some residents. You can actually stay there yourself because there are pavilions for rent.
It is a pleasure just to walk around Sugar House with its small bungalows in streets that are lined with trees. Westminster College is on 1300 East in Sugar House. Its reputation for fine athletes, primarily winter sportsmen, matches any college in the Country.
Sugar House is an excellent base for visitors wanting a ski holiday so it attracts visitors to the City all year around. There are places to stay right next to the Park if you wish with different recreational options through the months of winter when the pond freezes over.
Best places to stay in Salt Lake City in Sugar House:
Home2 Suites by Hilton Salt Lake City-East is located in Salt Lake City in the Utah region, close proximity to The Tabernacle, Utah s Hogle Zoo, Red Butte Garden, and Utah Museum of Natural History.
SpringHill Suites by Marriott Salt Lake City Sugar House is in a prime location in the Sugar House district of Salt Lake City, SpringHill Suites by Marriott Salt Lake City Sugar House is located 6.2 mi from The Tabernacle, 3.7 mi from Utah Museum of Natural History and 3.7 mi from Trolley Square. Featuring a fitness center, the 3-star hotel has air-conditioned rooms with free WiFi, each with a private bathroom.
MORE HOTELS IN SUGAR HOUSE
Check out my virtual tour about the best places to stay in Salt Lake City:
5. University – Foothill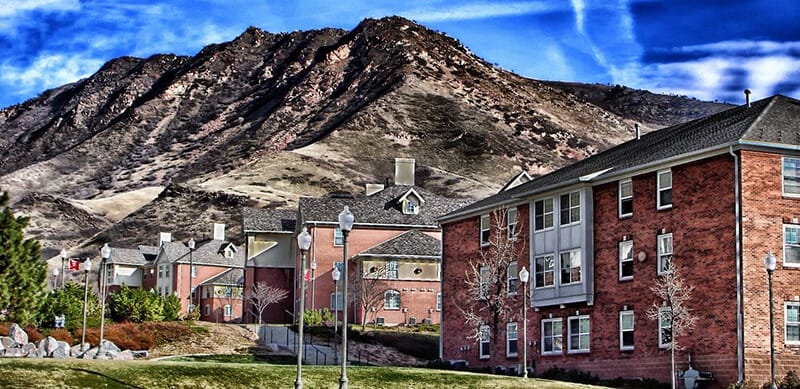 The neighborhood around any university tends to be full of life and this applies within Salt Lake City as well. It is north of Sugar House and has equally fine views of the Wasatch Mountains. Sunset is a great time to be there with a camera.
Those enjoying the outdoor life are certain to enjoy the recreation options this neighborhood provides. The trail above the university campus is very popular with locals and visitors. It stretches from the beginning of the district until it reaches City Creek Canyon.
Other trails are available and all are suitable for hiking, jogging, and biking. One of them starts at the Natural History Museum which is worth a visit. The emphasis is naturally on Utah.
The Rio Tinto Center housing the exhibits belong to the University. There are in excess of 1.6m exhibits available for research covering geology, biology, anthropology, and culture.
Another place worth spending some time is Red Butte Park that also acts as a concert venue during the summer. Kingsbury Hall on the University Campus does likewise and is open to the public.
You will never go hungry in University/Foothill. From breakfast time onwards, you have plenty of diners happy to welcome you. Ruth's Diner dates back to just after World War II, the second oldest in the State, with its Mile High biscuits and jam a ''must.''
Budget accommodation is available and University/Foothill also has some hotels belonging to national chains such as Hampton and Marriott.
Best places to stay in University/Foothill:
Salt Lake City Marriott University Park The Salt Lake City Marriott provides spacious guest rooms with tea and coffee service. The in-room media include 27-inch cable TVs with premium movie channels. Close proximity to the University of Utah, Rice Eccles Stadium, and Kingsbury Hall.
University Guest House & Conference Center is located on the University Of Utah campus, this hotel offers a fitness center onsite. Salt Palace Convention Center is 15 minutes drive away and within walking distance from The Fort Douglas Light Rail Station. Grab and go breakfast options are provided daily.
MORE HOTELS IN SALT LAKE CITY
6. Sandy
Some visitors prefer to stay away from the center of a city and in the case of Salt Lake City, that can be a place like Sandy. Sandy is within Salt Lake County but it is actually a separately incorporated city. It is close enough to Salt Lake City to simply blend in. The local Salt Lake soccer sides actually play in the Rio Tinto Stadium in Sandy.
Sandy is a developing area with the emphasis being placed on the environment. The Wasatch Mountains look down on Sandy which was formerly home to Indian tribes spending their time between Bear and Utah Lakes. Settlers arrived in the 1860s and stayed because of the availability of land.
This city has developed plans that will see it seem like a few small villages under one umbrella and linked with a good public transport system. It is easy to get to the middle of Salt Lake City on public transport if you have not rented a car. Likewise, you will find bars and restaurants locally if you wish,
Mountain America Expo Center in Sandy has five exhibit halls, several meeting rooms, and plenty of car parking spaces. It is an ideal place for all types of events. It cost $46m when it opened in 2000.
The Bell Canyon Hiking Trail is above Sandy and rarely busy. You will pass a reservoir, an impressive waterfall and in general get great views of Salt Lake Valley. Sandy is a great base if you are looking to hike and explore the many trails local to Salt Lake City.
A significant number of winter visitors to Salt Lake City choose Sandy as their base. As a result, it is a place that locals share with visitors twelve months a year. There is quite a choice of accommodation including national chains such as Hilton, Hampton, Best Western, and Hyatt.
Best places to stay in Salt lake city in Sandy:
Best Western Plus Cotton Tree Inn is just off I-15 and a 20-minute drive from downtown Salt Lake City. It features a daily buffet breakfast with waffles, eggs, potatoes and more. There is also a fitness center overlooking an indoor pool.
Hyatt House Salt Lake City/Sandy Offering an outdoor pool, Hyatt House Salt Lake City/Sandy is in Sandy. Free WiFi access is available. All rooms featured mountain views and a full kitchen.
MORE HOTELS IN SANDY
What Is the Best Area to Stay in Salt Lake City?
Downtown tops the list of areas to stay in Salt Lake City. You will be in the heart of things in Downtown while still being able to get anywhere in the region quite easily. If you are looking for luxury, Grand America Hotel*** is a good place to consider. If 3-stars are sufficient for you, look at Homewood Suites by Hilton***.
What Is the Nicest Part of Salt Lake City?
Sugar House receives plenty of recommendations as both a place to live and a place to stay when visiting Salt Lake City. It is a trendy area with good nightlife, a lovely park, formerly prison grounds and nature walks as well. Springhill Suites by Marriott*** is 3-star accommodation that will put you in the heart of this attractive neighbourhood.
Is it Safe to Walk around Salt Lake City at Night?
Physical crime is rare in Salt Lake City although it makes sense to take precautions as you would in any city. There are some areas to avoid such as Rio Grand or Pioneer Park that is west of Downtown. Salt Lake is a well-lit city so there is no reason to put yourself in any personal danger.
Is Salt Lake City Walkable?
You will enjoy walking around in Salt Lake City and have few problems doing so. Some neighborhoods are more walkable than others. Public transport's availability means you can plan your day and only walk when it is suitable.
Read More:
Salt Lake City, the capital of Utah in the USA's West, has a population of 200,000 with the greater metropolitan area an additional million. Brigham Young and fellow Mormons founded the City in the mid-19th Century, to escape persecution. To this day, it remains the religious center of the Church of Jesus Christ of Latter-day Saints, the Mormons.
Its development over the years came about initially because of mining and the railroad. More recently tourism developed because of the recreational possibilities in the region as a whole.
Salt Lake City is known worldwide as the home of the Mormons but it is also a significant tourist destination unrelated to religious beliefs. Its location in the west of the USA is largely away from large population areas. As a result, the majority of visitors come for outdoor recreation. From spring onwards, hikers, joggers and bikers have plenty of trails to follow and a great natural environment to enjoy. Winter sports attract others so Salt Lake City is never without visitors.
Summary – Where to stay in Salt Lake City?
In conclusion, Downtown, Central City, Avenues – Capitol Hill, Sugar House, University – Foothill, and Sandy are some of the best places to stay in Salt Lake City. They provide a wide range of accommodations for all budgets.
Overal, downtown is the best area to stay in Salt lake City because it has a super central location and it has a widest range of accommodations. If you book a hotel here, you will be located in the heart of city, within walking distance to many shopping, dining, and nightlife venues.
If this is your first time, I recommend to spend at least three days to explore the city, which is enough to see main sights, enjoy foods and drink, as well as get the sense of the local culture and history. You can alway come back next time and discover more!