The best areas to stay in San Diego for first-timers are Downtown, Little Italy, Gaslamp Quarter, Old Town – Mission Valley – Hotel Circle, Mission Beach, Mission Bay Park, Ocean Beach, Pacific Beach, La Jolla, and Point Loma. These are popular neighborhoods for visitors that provides a range of attractions and amenities.
In this post, we will help you to decide where to stay in San Diego without a car, for couple, families, nightlife, as wel as safest areas to stay in San Diego.
Settled in 1769, San Diego is the second-largest city in California and the 8th largest in the entire US. Despite that, a lot less is known about it than its neighbor, Los Angeles, which can make it challenging for first-time visitors to know where to stay.
San Diego is safe for tourist, but as in any big city, you should use common sense and be aware of surrounding, and avoid the areas close to the Mexican border. La Jolla, Poway, Del Mar, Encinitas, and Carlsbad are some of the safest neighborhoods in San Diego.
Downtown is the best place to stay in San Diego for first-timers due to its proximity to the city's attractions and many choices in accommodations for all budget travelers. If you stay in this area, you will be located in the middle of action, within walking distance to many bars, restaurants, and shops.
Downtown along with Gaslamp Quarter is the best place to stay in San Diego without a car because it has a super central location with good public transport system. It's also only 10-minute cab ride from the airport. These neigborhood also offers plenty of tourist amenities and tourist attractions.
9 Best areas to stay in San Diego for tourists
1. Downtown, where to stay in San Diego for first-timers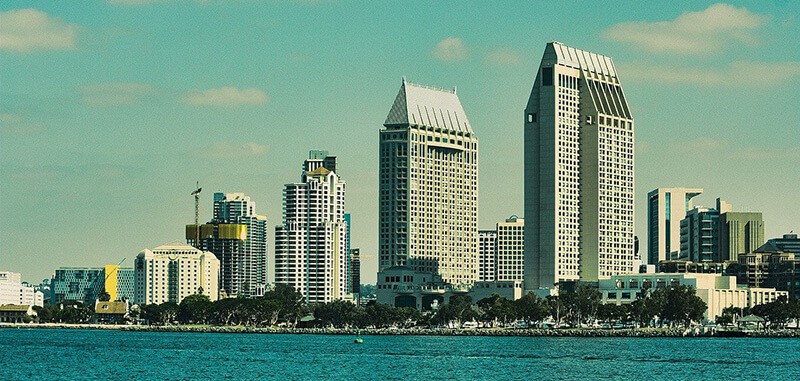 Downtown is the best area to stay in San Diego for first-time travelers due to its prime location. If you book a hotel here, you will be located in the middle of everything, within walking distance to top tourist attractions, as well as many restaurants, bars, and shops.
Bars, shops, restaurants, hotels, and nightclubs line streets throughout this central business district, offering all manner of styles and cuisines, available at a great range of prices. For those who need a grander form of entertainment, you have the San Diego Opera, San Diego Symphony, and the San Diego Padres baseball team all hosting events on a regular basis.
Numerous historic districts and landmarks are scattered throughout downtown, adding some culture and understanding to your trip, while sites such as the Balboa Theatre are great options for those who love the arts.
Chinatown and Little Italy districts are some of the best in America, so it is also an ideal place to visit for anyone who is seeking some true diversity from their destination. The same could also be said of some of its most prominent attractions, with everything from its historic waterfront, filled with museums, boats and amenities for the cruise ship industry, to a convention center and shopping plazas, making sure there isn't anyone who feels left out.
As a final point, it's also worth noting the annual festivals that take place here. San Diego Comic Con is the largest, most famous comic convention in the world, drawing thousands of visitors from around the world each year, while offerings like the Martin Luther King Jr Day Parade and the Parade Of Lights give you plenty of ways to be entertained throughout the year.
Other attractions include the Maritime Museum of San Diego, the New Children's Museum, Mission Brewery, Seaport Village, and Waterfront Park.
Stay in San Diego Downtown if you're visiting San Diego for the first time; you're coming to San Diego without a car; you like a great range of bars, shops, restaurants, and hotels;
Best Places to stay in San Diego Downtown:
Luxury ($$$): Andaz San Diego – a Concept by Hyatt This five star hotel has a rooftop pool and a chic rooftop restaurant, Rooftop by STK. You can enjoy meat and market fresh fish entrees at STK Steakhouse on the lobby level. There are free wifi, private car parking, and spacious guest rooms.
Mid Range ($$): Hotel Indigo San Diego – Gaslamp Quarter, an IHG Hotel This is a four star hotel, located in the real heart of San Diego. All guest rooms has hardwood floors and plush bedding. The on-site restaurant, Phi Bar & Bistro offer stunning views of the city. You can find an on-site business centre and private parking if you drive a car.
Budget ($): Best Western Plus Bayside Inn This three star hotel has a heated outdoor pool or hot tub, private car parking, and free wifi. The rooms include a cable TV, safety deposit boxes, microwaves, refrigerators and a coffee machine.
See more:
2. Little Italy, a lively district in Downtown San Diego
Our next destination is actually a district located within downtown, situated in its north-western corner. It earned its name as it was originally a predominantly Italian and Portuguese fishing village when it was settled. The tuna industry was particularly thriving in this part of the city, with the "Tunaman's Memorial" statue on Shelter Island and a sculpture dedicated to the cannery workers located in Barrio Logan paying homage to the neighbourhood's roots.
While the population has become much more diverse in the years that have followed, there are still countless Italian restaurants located throughout the district, making the continued use of the name a logical decision. The Italian Cultural Center Of San Diego and the Convivio Center & Little Italy Heritage Museum are also prominent features of the district, giving visitors a way to learn about the art, culture and history of the people who founded the area.
Generally considered to be one of the safest parts of Downtown, there is a strong sense of community here. Filled with plazas, street art, galleries, antique stores, and the Mercato street market, as well as numerous bars and restaurants with outdoor areas, it creates a feel more like a traditional European city, making it perhaps the most authentic "Little Italy" anywhere in America.
Outside of the culture of the area, it also features a greater number of festivals throughout the year than almost anywhere else in the city. This means it could hold even more value if you happen to be visiting at the right time.
At numerous points throughout the year there are Italian food festivals, some of which are among the biggest in the United States, where you can sample various foods from the many restaurants in the area. You also have the Little Italy Carnevale on the Saturday before Mardi Gras, where people wear Venetian masks and enjoy entertainment and open houses in the bars and shops.
In April, you have the largest art event on the west coast, ArtWalk, where more than 120,000 people come to purchase art, jewellery, paintings, photographs, furniture and all manner of other items. Then, just a few days later, you have Gran Fondo Colnago San Diego, where more than 3000 cyclists from around the world take part in rides of numerous lengths around the city.
There's even a Christmas village and tree lighting ceremony every December, where they combine the European traditions with American twists, such as having Santa come riding in on a fire engine. Chances are, whenever you visit this part of the city, you are highly likely to get the chance to experience a fabulously unique occasion.
Stay in Little Italy if you want to stay in one of the safest parts of downtown; you are interested in Italian culture or cuisine; you are attending one of the many festivals that take place here.
Best Places to Stay in San Diego Little Italy:
Luxury ($$$): Hotel Republic Located in San Diego Downtown, this 4-star hotel features a vibrant lounge, a 24-hour fitness centre, a car parking, and on-site restaurant and contemporary art gallery. It offers guest rooms with a flat-screen HDTV, an oversized desk.
Mid-range ($$): Homewood Suites by Hilton San Diego Downtown/Bayside This hotel offers on-site restaurant, on-site fitness center, and private car parking. All suites with a HD televisions, a separate living area, a fully equipped kitchen, a microwave, a stovetop, and a dishwasher. Close to Balboa Park, San Diego Convention centre, and San Diego International Airport.
Budget ($): Hampton Inn San Diego Downtown This 3-star hotel is near the San Diego Convention Center, the shopping at Horton Plaza, the historic Gaslamp Quarter and the unique Little Italy district. There is private car parking, a roof-top pool, and a fitness center.
3. Gaslamp Quarter, where to stay in San Diego without a car
Gaslamp Quarter along with Downtown is the best area to stay in San Diego without a car due to its prime location. If you stay here, you will be located in the heart of action, within walking distance to many tourist attractions, as well as some of the best nightlife, shopping, and dining in the city.
Technically located within downtown, the Gaslamp Quarter, or Gaslamp District as it is often referred to locally, covers 16 and a half blocks and is a historic district, listed on the National Register Of Historic Places.
Originally called New Town, in relation to a part of the city we will look at shortly, its distinctive gas lamps were considered the symbol of the area and were incorporated into its name when it was redeveloped in the 1980's. 4 new gas lamps were even installed at the intersection of Market Street and the 5th Avenue, at the heart of the district, to signify the change.
While there aren't many famous historic attractions in the neighborhood, it earns its place as a historic district due to the fact that there are 94 historic buildings still in use in the district today, most of which feature distinctive Victorian architecture.
However, despite the history at the core of the district, the neighborhood itself is actually much more relaxed than you might expect. The historic buildings now house shops, bars, restaurants, hotels and even nightclubs, meaning you can enjoy all of the amenities while enjoying the cultural stylings of your surroundings.
Many of the nightlife venues in the area are incredibly popular choices, even among those from outside the district. That means you will also find an area boasting a more vibrant nightlife than you will find almost anywhere else in the city. With everything from the clubs and bars to live music venues, you will be sure to find something to keep you entertained on an evening.
This could be even more so if you happen to visit the city at the right time, as the Gaslamp Quarter is also the home of a number of festivals throughout the year. Mardi Gras, Street Scene Music Festival, and a St. Patrick's Day event known as Taste Of Gaslamp and ShamROCK are just a few of the options that could make your trip a totally unique experience if you time it right.
As an added note, while not technically in the Gaslamp Quarter, Petco Park, home to Major League Baseball's San Diego Padres, the most popular sports team in the city, is located just a block outside its boundaries. This makes it an ideal place to stay for anyone planning to catch a game or attend any other event taking place in the stadium.
Other attractions to check out are Davis-Horton House and San Diego Chinese Historical Museum.
Stay in Gaslamp Quarter if Nightlife is a priority during your trip; you want to watch a baseball match or attend another event at Petco Park; you are visiting for one of the Gaslamp District's annual festivals; you want to be surrounded by historic architecture.
Best Places to Stay in Gaslamp Quarter:
Check out my virtual tour about the best places to stay in San Diego in this video:
4. Old Town/ Hotel Circle, where to stay in San Diego on a budget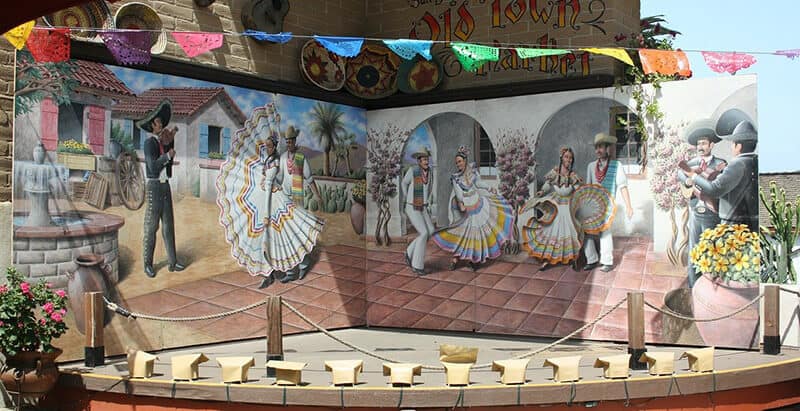 Our next area is actually two neighbouring districts, which combine to form the historic portion of San Diego. Old Town and Mission Valley are located in the very centre of San Diego, in a wide river valley where the San Diego River runs from east to west, into the Pacific Ocean.
The Mission Valley portion gets its name as it was the first Spanish settlement in California, with a history dating back as early as 1769, where Christian missions were built. The original mission of the city, San Diego De Alcala, still stands in its original location at the east end of mission valley, in Presidio Park, a destination that straddles both San Diego neighborhoods and is listed on the National Register Of Historic Places.
Presidio Park was also the site of the historic Royal Presidio Of San Diego Fort, which housed the first permanent European settlement in the western coast of the United States. Despite none of the original structures remaining, it was declared a National Historic Landmark in 1960. The Junipero Serra Museum was built in the park in the Spanish Revival style to house and display the collections of the San Diego Historical Society. This makes it a fabulous destination for fans of history to learn about the origins of the area and see some incredible historic locations first-hand.
In a similar vein, on the Old Town side of the district, you have the Old Town San Diego State Historic Park, which is also listed on the Register Of Historic Places. The park is filled with historic structures, dating back to the 1800's, which give you a clear view of what the city would once have looked like.
You'll find houses, shops, schools, stables, barns, a blacksmith's, courthouse, newspaper office and a hotel, all still decorated as they would've been when they were built. Many now house exhibits and even the Wells Fargo History Museum, while souvenir shops and restaurants are present around the park, making it an absolutely wonderful place to spend a full day taking in the history of the area.
While these are the two most famous historic attractions in the area, they aren't the only ones. The Heritage County Park features buildings from different eras moved here from all over the city, to give a clear example of the city's growth. The San Diego Sheriff's Museum & Educational Centre contains exhibits relating to the history of local law enforcement.
You even have smaller attractions like the Whaley House Museum, Mormon Battalion Monument, McCoy House Museum, Robinson-Crusoe House, and Old Town Theater. Combine all of this with a collection of 27 other historic sites in the area and it ensures that history buffs will never run out of places to explore during their stay.
Beyond the historic side of the district, there is plenty to keep visitors who aren't overly interested in history entertained as well. For starters, there is an incredible range of shopping opportunities. From sprawling complexes like Fashion Valley Mall, Hazard Center Mall, and Westfield Mission Valley to smaller shopping plazas, auto malls and the more than 100 speciality shops located throughout Old Town, you'll always have plenty of options if you want to indulge in a little retail therapy.
You will also be spoilt for choice when it comes to accommodation as well, as this is where the famous Hotel Circle is located. Here you will find a seemingly endless selection of hotels and motels, covering all budgets and tastes, ensuring guests from all backgrounds will be able to find something to suit them here. Combined with the incredible collection of restaurants in the area, particularly in the Old Town neighborhood, it makes a fabulous option, no matter what you are looking for.
As if all that isn't enough, there are also 12 art galleries and even a number of festivals held here throughout the year, such as the Old Town Art Festival, Fiesta Navidad, Día De Los Muertos and Cinco De Mayo. These give the area even more value and make it an amazing choice if you happen to be in town when any of them are taking place.
Old Town the ideal place to stay for those who visiting San Diego in december for a truly unique and festive destination.
Stay in Old Town – Mission Valley – Hotel Circle if you are interested in the history of the city; you want an incredible range of hotels and restaurants to choose from; you are planning to attend one of the festivals that take place here; you want to do a lot of shopping while you're in town; you are a fan of art; you're traveling on a budget.
Best Places to Stay in Old town • Courtyard San Diego Old Town • Best Western Plus Hacienda Hotel Old Town
5. Mission Beach, Mission Bay Park, where to stay in San Diego with families
Our next stop is another pair of San Diego neighborhoods, located directly to the west of Old Town. Featuring a beach that stretches for 2 miles, it's an incredibly popular destination for all manner of activities, including cycling, skateboarding, surfing, and sunbathing, as well as sports and games like frisbee, horseshoes, basketball and volleyball. It is even the original location of the over the line softball on the beach tournament.
For those who want to be even more active during their stay, you also have the Wave House Athletic Club, where you can enjoy a fitness centre that has weights, cardio machines, fitness and aqua classes, and even beach bootcamps. While not as famed as Muscle Beach up the coast in LA, it's still ideal for anyone who wants to keep in shape while making the most of their beachfront location.
On an evening, you will also find a number of the most popular bars and nightlife options in San Diego located here. Options such as Draft, Guava Beach, The Beachcomber, The Coaster Saloon, The Pennant In South Mission, The Sandbar Sports Grill, Wave Bar, and countless others ensure you'll never be short of places to eat, drink, dance and party your nights away.
You also have a number of more prominent attractions as well, which often draw in the tourists on their own. For starters, you have Belmont Park, an amusement park located right on the oceanfront.
Containing numerous exhilarating rides, like the Beach Buster, Crazy Submarine, FlowRider, Krazy Kars, Liberty Carousel, Tilt-A-Whirl, Vertical Plunge and The Chaos, its star attraction is the Giant Dipper Roller Coaster. A wooden structure standing 70 feet tall and built in 1925, it perfectly combines history, amusement and stunning views in a single, exciting experience.
However, the most famous attraction in the area has to be SeaWorld San Diego, one of the most famous aquariums in the world. With a range of aquatic wildlife that includes fish, rays, sharks, alligators, turtles, octopus, otters, seals, walruses and polar bears, you will get to see many different species that you have never even heard of before. They even have an Explorers Reef exhibit, where you actually have the opportunity to interact with some of the animals.
As many people will know though, the most famous attraction in the park is the live shows, featuring dolphins, killer whales, and sea lions, performing incredible tricks and routines with their handlers. You combine this with the collection of rides that are also on offer and it makes SeaWorld San Diego an absolutely mind-blowing destination, that you are guaranteed to never forget.
Stay in Mission Beach if You love long, sprawling beaches, with plenty of activities, both on the sand and in the water; Nightlife is important to you; You want to go to an attraction like an amusement park or SeaWorld San Diego; You want to work out while you're on vacation; You're traveling with family; You're coming to San Diego for a bachelor or bachelorette party.
Best Places to stay in Mission Beach Blue Sea Beach Hotel
6. Ocean Beach, for a local vibe
Located immediately to the south of Mission Beach, you'll find the neighbourhood of Ocean Beach. Compared to the previous destination, what's on offer here is a much quieter, more residential destination, ideal for beach lovers seeking a quieter stretch of beach, where they can spend their days lazing on the sand and soaking up the rays.
The one activity you may find a lot of taking place on the beach here is surfing, as it's been a popular spot for it for years. This has also helped to develop a very hippie feel to parts of the areas, with diners and vegan outlets offering opportunities for people interested in that way of living.
Accommodation in the area is largely made up of bungalows and apartments, with beautiful views over the water. The shopping also largely consists of small, independent, family run businesses, with large chain companies having been constantly opposed and only a few having made it into the area.
A selection of establishments that includes bars, restaurants, coffee houses, head shops, tattoo and piercing parlours, bike and surf shops, and even an international youth hostel ensure that there will always be plenty for you to do in the area, even without any of the huge companies you would normally expect to find.
The community here is highly active in trying to not only keep their neighbourhood the way it is but also to improve it in ways that go with the spirit and traditions of the area. As such, you will find things like a dog beach, the Ocean Beach Canine Festival, the Ocean Beach Kite Festival, the Ocean Beach Street Fair & Chilli Cook Off, a jazz festival, and a Christmas parade.
Every Wednesday afternoon they even close off two blocks to host a massive farmers market, while the largest concrete pier in the world stretches out into the ocean just a few feet away.
Beyond the relaxed nature of the neighbourhood though, it is also one that's popular with history enthusiasts as well. Numerous San Diego Historic Landmarks are located in Ocean Beach, while the Ocean Beach Cottage Emerging District is filled with buildings dating back as far as the late 1800's.
Stay in Ocean beach if you want a more relaxed, residential destination; you like local, family run businesses; you are interested in history; you are vegan or vegetarian; you are a fan of surfing.
Best Places to Stay in Ocean beach • Ocean Beach Hotel • Blue Heron Cottages • Samesun Ocean Beach
7. Pacific Beach, where to stay in San Diego near beach

For our next destination, we now move immediately to the north of Mission Bay, where you will find the neighbourhood of Pacific Beach. Once a vibrant surfing town, full of youngsters and students, it has gradually developed a reputation as a more affluent area, with generally older residents.
Its beach stretches for over 3 miles, boasting beautiful golden sands and enough space that it never seems to get too busy, even at the more popular times of year. A boardwalk known as Ocean Boulevard stretches alongside it, filled with shops, bars, restaurants and hotels. It is filled daily by people walking, cycling, skating, rollerblading and shopping, creating a vibrant and inviting atmosphere for all to enjoy.
Further away from the main boardwalk, Garnet Avenue and Mission Boulevard form a slightly more exclusive part of the town, with designer clothing stores, gourmet restaurants and high-end bars offering more expensive alternatives to those you would find on Ocean Boulevard. You can also check in Crystal Pier, Tourmaline Beach, and North Pacific Beach.
This is also the area you would come to if you prioritise nightlife during your trip, as it features one of the main nightlife centres in all of San Diego. Bars, restaurants and clubs that stay open till the early hours and cater primarily to a younger clientele are plentiful, giving you great options for when you want to drink and party the night away. There is also a pleasant pier here too, so it's a great place for a romantic evening, as you can catch an early meal and take a stroll to watch a stunning sunset.
While it's understandable that in a place like this you'd think most people who want to spend their time outdoors are going to want to do so around the beach, there are also a number of parks in the area to enjoy as well.
The Kate Sessions Park & the Pacific Beach Recreation Centre boast lawns with ocean views, a children's playground, and many more rugged areas used for mountain biking and hiking. Fanuel Street Park has plenty of facilities for smaller children and toddlers, while there are plenty of large, open wetlands on the banks of Rose Creek as well.
Stay in Pacific Beach if you prioritize nightlife during your stay; you enjoy walking in parks; you want to stay in a more affluent neighborhood; you are traveling as a couple or with children; you like long, spacious beaches with a vibrant atmosphere.
Best Places to Stay in Pacific Beach • The Beach Cottages • Pacific Terrace Hotel • Tower 23 Hotel
8. La Jolla, one of the safest areas to stay in San Diego
Located just to the north of Pacific Beach, La Jolla is one of the safest neighborhoods to stay in San Diego. it is the most affluent seaside community in San Diego with high-end hotels, boutique shopping, and fine restaurants.
La Jolla home of the University Of California San Diego. As you can imagine, It has helped it to develop a distinct student atmosphere, with bars, shops and restaurants all featuring a lively environment.
La Jolla is also home to Mount Soledad, an 822 ft high hill. Not just a great location for hikes to take in the stunning views, it also features a pair of stunning monuments; the Mount Soledad Cross and Mount Soledad Memorial, so you can enjoy a little art and culture while you're up there as well.
As a former art colony, the Museum Of Contemporary Art San Diego and La Jolla Playhouse further the arts and cultural aspects on offer in the area, whether you want to catch a show or just look at the exhibits. There's even the La Jolla Historical Society, for those who really want to get to grips with the history of the area.
Perhaps you are more interested in life away from land, in which case the Birch Aquarium At Scripps or Scripps Institution Of Oceanography will have everything you need to keep you entertained.
The area has also earned a reputation as a regional shopping district, with everything from high-end department stores to boutiques and even major shopping malls. This makes it ideal for anyone who loves to spend plenty of time browsing through the shops while they are away.
Despite all this though, there will still be plenty of people who are simply after a trip spent enjoying nature and the great outdoors. In that case, the beautiful beaches, secluded coves, and even the Torrey Pines State Nature Reserve ensure this is a great destination, no matter what you're looking for.
La Jolla is the perfect place to stay for anyone coming in January for the event or who just fancies seeing a world-famous sporting occasion: PGA Tour's Farmers Insurance Open, which takes place at the Torrey Pines Golf Course.
La Jolla is the best place to stay if you are traveling on a budget;you want to stay in a safe neighborhood.
Best Places to stay in la Jolla:
9. Point Loma, for a honeymoon
Our final destination of Point Loma is a seaside town located on a peninsula in the very south of the city. Often described as "where California began", it features everything from national monuments and cemeteries to a university and major military bases.
Perhaps the most famous attraction in the neighborhood is the Old Point Loma Lighthouse. Located at the very southern tip of the peninsula, it was completed in 1854 and is often used as the icon to represent all of San Diego. Listed on the National Register Of Historic Places, it is a great place to mix culture, art, history and stunning views in a single trip.
Also, while we're on the subject of the National Register Of Historic Places, the lighthouse isn't the only attraction in the area to make the cut. The Cabrillo National Monument, Marine Corps Recruit Depot Historic District, Naval Training Center San Diego, and Rosecroft estate and gardens provide ample options for those who want to learn more about the area during their stay.
It is also recognized as the National Landmark Of Soaring by the National Soaring Museum, due to the many records that have been compiled around the area. Plaques denoting the accomplishments can be found near the aforementioned Cabrillo monument.
Due in part to its slightly more isolated location, it is a much quieter area, where you will often find a slightly more exclusive feel. This has led to it drawing a clientele that is looking for a much more sophisticated experience.
For starters, numerous yacht clubs and marinas are located around the bay, which makes it ideal for anyone travelling to the area by boat. Then, you have the beautiful Sunset Cliffs, who earned their name due to the fabulous sunsets that can be witnessed from atop them.
Hotels and restaurants are plentiful in the area, so you won't have to worry about finding a place to stay or eat. With various styles and cuisines available, you can enjoy a romantic trip, spending your evenings enjoying the sunset, dining in fine restaurants and staying in luxurious accommodation.
Stay here if you want a more exclusive or isolated destination; you want to view incredible sunsets; you are traveling by yacht; you're looking for a romantic vacation or on a honeymoon.
Getting Around San Diego With / Without a Car
The best way to get around San Diego is by car. You can rent a car in the city center or at the San Diego International Airport. The airport is located just 10 minute drive by car from northwest of downtown San Diego. You can use taxi, ride-shares such as Lyft and Uber to get to the downtown area. Both services are affordable, reliable, and safe to get around.
If you don't plan to hire a car, don't worry, there are many ways to travel around including Buses, Trolleys, Trains, and FRED. The bus is the cheap and easy to get around, It is San Diego Metropolitan Transit System or MTS.
You can also have the red trolleys offer 3 different lines (blue, green, and orange) that serve Downtown San Diego, Old Town, Mission Valley, South Bay, East County, and the U.S. Border.
You can always travel by foot and by bike. San Diego is a very cyclist-friendly city. Many roads have bike lanes, and you can easily rent a bike at one of many rental companies throughout the city.
If you are searching for the best place to stay in San Diego without a car, look no futher than Downtown and Gaslamp Quarter. With its well-connected public transportation system, you can easily travel around without a car.
Where to stay in San Diego for the first time?
Downtown is the best place to stay in San Diego, especially for the first time tourists. Booking hotel in this area, you will be in a central location, with plenty of things to do and see nearby. There are also a wide range of acommodation options that suit all budget.
Where to Stay in San Diego Without a car?
Downtown along with Gaslamp Quarter is the best area to stay if you don't plan to hire a car. In this central location, you will be within walking distance to many famous attractions. There are also many public transport option to help you traveling around.
See More:
Overall, Downtown is the best area to to stay in San Diego because it is the most convenient location and it has a wide range of accommodations. If you stay here, you will be located in the middle of action, within walking distance to tourist attractions, as well as many shops, restaurants, and bars.
So, by now you should have worked out exactly where you want to stay on your trip to this fabulous city. All that's left to do is go and start getting everything booked, so you can experience it all for yourself.