Where to Stay in Seattle: 14 Best Areas
In this blog post, I am going to be examining where to stay in Seattle. I will outline the best areas to stay in Seattle, tell you why each has made the cut, and explain exactly who will get the most from staying there. This should give you everything you need to ensure your stay in Seattle is absolutely perfect.
Known as the Emerald City, Seattle is the largest city in not just the state of Washington but the entire Pacific Northwest. Located on the shores of the Puget Sound, it is filled with tourist attractions, luxury hotels and iconic locations, such as the Space Needle.
With so much choice on offer, it can make finding the ideal place to stay in Seattle quite challenging, particularly for first time visitors.
See more about the USA: Best Areas to Stay in San Francisco
Before we get to the bulk of the article, I want to give you some tips and info. These will be things you should consider, to make sure you choose the best place to stay in Seattle based on your personal needs.
For example, if you are coming to Seattle primarily to visit its most iconic location, the Space Needle, then I would recommend staying in Uptown. Not only does it contain the Space Needle, but it has a number of other attractions around it in the Seattle Center, to help you expand your itinerary during your stay.
Those who like everything within walking distance should consider Downtown. Containing subdistricts like Pioneer Square, Belltown and Pike Place Market, as well as numerous amenities and attractions of its own, it has a little of everything to keep everyone happy.
If you are a big fan of the student environment and lifestyle, then the University District is a great choice. On the other hand, Queen Anne is ideal for those seeking something a little more exclusive.
Capitol Hill also has some wealthy parts, although they aren't as abundant as in Queen Anne. It is, however, the best place to stay for fans of Oriental culture. Woodinville is another possibility that provides a classier experience. While not as expensive, the price comes from its location outside the city limits.
If you keep these and other similar issues in mind while reading, it will make deciding where to stay in Seattle as quick and easy as possible.
FIND BEST HOTELS IN SEATTLE
Where To Stay In Seattle, Washington: Best Areas to Stay in Seattle
So, now you know exactly what you're looking for, I am going to show you the 14 best areas to stay in Seattle. This should give you all you need, to ensure every second of your trip is planned to perfection.
Best areas to stay in Seattle map
1. Downtown Seattle, where to stay in Seattle for first time visitors

We begin our search in Seattle's most popular area, Downtown Seattle. Located at the heart of the city, Downtown Seattle sits on the shores of Elliot Bay. Made up of numerous districts that include Pioneer Square, Belltown and Pike Place Market, it is a diverse destination that makes a great choice for all manner of visitors to stay in Seattle.
As is usually the case in a major city centre, the Downtown area is filled with major attractions, some of the best luxury hotels, and a plethora of amenities like bars, shops and restaurants, all walking distance apart.
Among the most prominent attractions in Downtown Seattle is the Seattle Art Museum. Established in 1933, the Seattle Art Museum is home to more than 25,000 pieces, covering all different styles and era's, making a perfect stop for any fans of art or history.
In a similar vein, you also have the central branch of the Seattle Public Library. One of the most incredible buildings in the city and filled with more knowledge than you could learn in a lifetime, it is a fabulous destination for anyone interested in architecture or education.
Switching to attractions of a more traditional tourist nature, you have the Seattle Aquarium. Located on the Elliot Bay Trail, right on the Seattle waterfront, the aquarium opened in 1977 and receives almost 1 million visitors each year.
Containing a collection of marine life that includes seals, otters, octopus, seahorses, puffins and all manner of fish, it is a fabulous way to learn about these creatures, at a non-profit organisation designed to help and protect them.
You even have the Washington State Convention Center, located in the east section of Downtown Seattle. Opened in 1988, it hosts some of the biggest events in the city and even has its own light rail station to provide convenient access.
Among the most popular events hosted here are Emerald City Comic Con, PAX West, Sakura-Con, and the Northwest Flower & Garden Show. All of this is without even mentioning the convenience offered by the central location of the Downtown area.
Surrounded by many of the other top districts in the city, as well as offering views of the Space Needle, Olympic Mountains, and Seattle skyline, it makes Downtown Seattle a perfect place to stay in Seattle for visitors who want to do a little bit of everything during their visit.
Stay in Downtown if:
You want to visit the Seattle Art Museum or the Seattle Public Library
You're visiting Seattle for the first time
You want to spend a day at the Seattle Aquarium
You are attending an event at the Washington State Convention center
You want a great range of shops, bars, restaurants, hotels and attractions
You want to be situated in the city center
FIND BEST HOTELS IN DOWNTOWN
See more:
2. Pioneer Square, the best area to stay in Seattle near attractions
The first of three subdistricts of Downtown that we are going to look at, Pioneer Square is located immediately south of the very centre of the district. Containing a denser collection of attractions than perhaps anywhere else in the city, Pioneer Square is a great place for those travelling without a car, who want plenty of things to do within walking distance.
For starters, you have the Ups Waterfall Garden Park. The Waterfall Garden Park is located on the grounds of the original UPS building and was created in 1978.
The park is 60 feet by 80 feet and its central feature is a 22-foot waterfall that pumps 5,000 gallons of water per minute. The running of the waterfall makes it "one of the most expensive parks per square foot ever built in the United States".
Another of Pioneer Square's popular attractions is its Underground Tour. Pioneer Square is built on a network of tunnels that were constructed in the mid-19th century. Between the late 1800's and early 1900's a combination of the Great Seattle Fire and Bubonic Plague caused them to be abandoned.
While most have been left to dilapidate, some sections have been made safe for the public to venture into. Since the late 60's, tours have been taken around these sections, making Pioneer Square a great place to stay in Seattle for those who want to explore its darker past.
For those who simply want to relax when they visit Seattle, Pioneer Square is also the location of Seattle's oldest bar. Now, while three bars all claim to be the oldest; Merchant's Café & Saloon, Central Saloon, and The J&M Café & Cardroom, all of them are located in Pioneer Square.
This makes Pioneer Square a great opportunity to take in some history and culture while having a drink. As there's no conclusive proof as to which is truly the oldest, I guess you will just have to try them all out, to be certain you visited the right one.
As much as I mentioned the convenience of the attractions within Pioneer Square, it is also a great choice to stay in to visit other locations as well.
For starters, just to the east of Pioneer Square, you'll find the International District. Containing the city's Chinatown, Japantown, and Little Saigon neighbourhoods, it is a fabulous destination for those interested in Oriental culture or cuisine.
Meanwhile, Pioneer Square is also one of the best places to stay in Seattle for those wanting to visit Olympic National Park. Home to the Olympic Mountains, it is considered to be one of the most beautiful areas in the entire Pacific Northwest.
Stay in Pionner Sqaure if:
You want to visit the UPS Waterfall Garden Park
You want to go on the Underground Tour
You want to drink at Seattle's oldest bar
You want to take a trip to the International District or the Olympic Mountains
FIND BEST HOTELS IN PIONEER SQUARE
3. Pike Place Market, one of the best areas to stay in Seattle for sightseeing
The Pike Place Market district is another subdistrict of Downtown and is centred around the famous Pike Place Market itself.
The Pike Place Market opened in 1907 and is one of the oldest farmers markets in the country to have remained in continuous operation. Located right on the waterfront, Pike Place Market is one of Seattle's most popular tourist destinations and the 33rd most visited in the world, with more than 10 million visitors making the trip to Pike Place Market each year.
Pike Place Market has people of various trades working within it, including farmers, fishermen, craftsmen and merchants. Set over multiple levels, a variety of unique shops, including comic book stores, antique dealers, fishmongers, head shops and fresh produce stalls, make Pike Place Market a great place to browse, no matter what you are looking for.
Pike Place Market isn't solely a place to go to shop either. For starters, there are also a number of restaurants located within Pike Place Market. Run primarily by local families, it makes Pike Place Market the ideal place to sample the best authentic Seattle cuisine, made from locally sourced produce.
Then you have the entertainment and attractions on offer in Pike Place Market as well. With everything from buskers to fish throwing, you will find the inhabitants of Pike Place Market always have a way to bring a smile to your face.
Pike Place Market isn't just for tourists either, as many people actually live within the market. With almost 500 residents living in 8 separate buildings, it makes Pike Place Market a truly central part of the community.
You combine all of this with the ease of access it provides to the other areas of Downtown and it becomes clear why Pike Place Market is a popular place to stay in Seattle for all manner of different visitors.
Stay in Pike Place Market if:
You want to visit the Pike Place Market
You are a fan of shopping
You want to try authentic, local cuisine
You want to be within walking distance of all the other areas and amenities of Downtown
FIND BEST HOTELS IN PIKE PLACE MARKET
See more: Where to Stay in Washington D.C., Where to Stay in New York, Where to Stay in Miami, Where to Stay in Austin
4. Belltown, where to stay in Seattle on a budget
The last of the Downtown subdistricts we will be looking at, Belltown is located immediately north of Pike Place Market, in the north-west corner of the region. It is an incredibly popular destination to stay in Seattle as, despite its central location, it has a large number of cheap hotels.
This means that even those on a budget will be able to find affordable accommodation within walking distance of some of the most popular attractions and amenities in the city. Beyond that, it even has a number of popular attractions in its own right for you to enjoy as well.
Take for example the Olympic Sculpture Park. Opened in 2007, the park acts as a 9-acre, outdoor museum. Offering free admission to all, it features numerous modern and contemporary sculptures, as well as rotating exhibits donated by the Seattle Art Museum which runs it.
It even has its own beach on the Puget sound, where you can relax and take in some of the stunning scenery.
With attractions like these, the beautiful waterfront views, and convenient access to the rest of the city centre, it makes Belltown an ideal choice for anyone who wants to explore Seattle, without spending a fortune.
Stay in Belltown if:
You are travelling on a budget
You want a central location
You plan to visit the Olympic Sculpture Park
You want beautiful views of the Seattle waterfront
FIND BEST HOTELS IN BELLTOWN
5. Uptown/Seattle Center, great area for a fan of science fiction and fantasy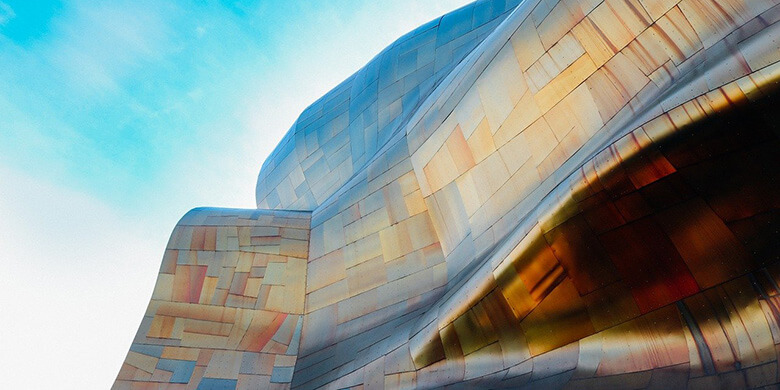 Located immediately to the north of Downtown, Uptown is the more common name for the neighbourhood of Lower Queen Anne. After Downtown, it is the most popular place for tourists to stay in Seattle.
Not only is it near all of the other districts we have looked at so far, but it also has a number of its own attractions, including the most popular destination in the city, the Space Needle.
The Space Needle was built in 1961 for the 1962 World's Fair. Standing over 600ft tall, it is one of the tallest structures in not just the city but the entire Pacific Northwest region. As one of, if not the, most iconic landmarks in Seattle, it has been visited by more than 50 million people since it opened.
The Space Needle also features a popular observation deck, some 520ft above ground. This gives visitors the chance to take in breath-taking views of not just the Seattle Skyline, but also the Puget Sound, Elliot Bay, Mount Baker, Mount Rainer and the Olympic and Cascade mountain ranges.
Surrounding the Space Needle, you also have a number of other attractions, including the Seattle Center, Museum Of Pop Culture, Pacific Science Center, and the Seattle Children's Museum.
The Museum Of Pop Culture opened in 2000 and hosts exhibits and performances relating to pop culture, including things like music, acting, science fiction and much more. Many of these pop culture exhibits have garnered acclaim and awards, with 17 ending up touring internationally, as well as across the US.
In addition to just pop culture, the Museum Of Pop Culture also contains the Science Fiction & Fantasy Hall Of Fame. Established in 2004, it features exhibits and is run by some of the most legendary names in the field.
The Seattle Children's Museum is a unique establishment, displaying exhibits specifically aimed at young children, as well as featuring ample space to let them play.
Meanwhile, the Pacific Science center is much more adult oriented. Its mission is to help ignite curiosity and fuel a passion for discovery, experimentation and critical thinking, with events and performances held on its 7.1-acre grounds.
The Seattle Center is actually the name given to the entire area surrounding the Space Needle. Built at the same time, it contains all of the attractions I mentioned above, in addition to the Chihuly Garden & Glass, as well as monuments, landmarks, a fountain, a playground, and an Ampitheatre.
On top of its attractions, its abundance of green spaces makes the Seattle Center a fabulous place to enjoy some time relaxing outdoors. There is even a Seattle Center light rail station on the monorail, making it incredibly easy to access from other parts of the city.
Stay in Uptown if:
You want to visit the Space Needle, Seattle Center, Pacific Science Center, the Museum Of Pop Culture, or the Seattle Children's Museum
You are a fan of science fiction and fantasy
You want to be close to Downtown Seattle
FIND BEST HOTELS IN SEATTLE CENTER
6. Queen Anne, stay near the most popular attractions
Queen Anne is a large district spread across the Queen Anne Hill, made up from the individual neighbourhoods of North Queen Anne, East Queen Anne, West Queen Anne and Lower Queen Anne, which is also known as Uptown.
Queen Anne Hill quickly became a popular spot for the rich and wealthy after the settling of the city, due to the fabulous views available from atop it. It gets its name from the Queen Anne architectural style that many of the mansions and homes were built in.
Even today, Queen Anne remains one of the most exclusive parts of the city. Anyone wanting to stay in a historic hotel or trawl through boutique shops and fancy restaurants will be in their element here.
Queen Anne features a collection of 29 Seattle landmarks, including 12 historic houses, making it a fabulous stop for history buffs. However, beyond the buildings, Queen Anne also has a much more natural side as well.
At present, Queen Anne features 24 parks, including Kerry Park, Kinnear Park, Rachel's Park, Queen Anne Bowl, West Queen Anne Playfield, as well as 2 cemeteries, Hills Of Eternity Cemetery and Mount Pleasant Cemetery.
Perhaps the most popular among these is Kerry Park. While it is by no means the largest, at only 1.26 acres, it features some of the best views in the city. With the Puget Sound, Space Needle, Mount Rainer and the entire Seattle Skyline visible, it makes the perfect choice to relax and take in the incredible landscape surrounding you.
You combine all of this with the fact that the attractions of Uptown are part of Queen Anne, as well it being located immediately next to Downtown, and it makes Queen Anne the ideal place to stay in Seattle for anyone looking for a little more class, without missing out on all of the best attractions.
Stay in Queen Anne if:
You are a fan of parks and breath-taking views
You prefer a more exclusive area and aren't worried about money
You want to be near the most famous attractions but don't need them on your doorstep
FIND BEST HOTELS IN QUEEN ANNE
7. Capitol Hill, a cool place to stay in Seattle
Capitol Hill is located to the northwest of Downtown Seattle and offers a diverse landscape, suitable for various different travellers to the city. Despite what the name suggests, Capitol Hill is not actually the location of the Washington State Capitol, which lies over 60 miles away, in the city of Olympia.
Capitol Hill in Seattle is instead known for a number of other reasons. Firstly, much like Queen Anne, Capitol Hill is home to one of the wealthiest neighbourhoods in Seattle. "Millionaire's Row" features some of the most expensive housing in the city, surrounded by amenities to match its price tag.
Known as a hub of counterculture throughout the 20th century, Capitol Hill has also become the most prominent LGBT area in the city. In addition to being home to many in the community, Capitol Hill features a number of gay bars and is the epicentre of the city's "Pride" festivities each year.
There is also a number of historic and cultural institutions located within Capitol Hill as well. The Harvard-Belmont Landmark District is listed on the National Register Of Historic Places for its abundance of early 20th century architecture.
If buildings aren't your thing, Capitol Hill also has a great collection of parks to be enjoyed. Interlaken Park, Cal Andersen Park, Louisa Boren Park, Roanoke Park, and Thomas Street Park are all great places to enjoy some time unwinding outdoors, away from the hustle and bustle of the city.
Of all the Capitol Hill parks though, Volunteer Park is undoubtedly the crown jewel. For starters, at almost 50 acres it is the second largest park in Capitol Hill, making it a fabulous place to spend hours roaming outdoors. However, it is the attraction located within that makes it really stand out.
Boasting a conservatory, amphitheatre, water tower, statues, memorials and a reservoir, there is plenty for visitors to discover. On top of that, you also have the Seattle Asian Art Museum.
Housed in a beautiful Art Deco building, it features works and teaches about the history of art from all of the Southeast Asian countries. It is perhaps fitting then, that just north of the museum, in Lake View Cemetery, you can view the graves of Bruce and Brandon Lee, two of the biggest movie stars from the region.
For those that want to expand their adventure to the Orient even further, you can travel just a short way east, outside of Capitol Hill, to the Seattle Japanese Garden. Covering 3.5 acres, it is considered one of the oldest and most authentic Japanese gardens in the entire United States.
Stay in capitol Hill if:
You are part of the LGBT community
You are a fan of Oriental culture
You want a selection of beautiful parks
You like historic architecture
You want to visit one of the wealthiest parts of the city
FIND BEST HOTELS IN CAPITOL HILL
8. South Lake Union, the safest area to stay in Seattle
The South Lake Union Neighbourhood is sandwiched between Capitol Hill to the east, Downtown to the south, Queen Anne to the west and Lake Union to the north. This already makes South Lake Union a fabulous place to stay in Seattle for anyone planning to explore all of those areas.
However, it is the latter of those area's that makes the South Lake Union district so attractive. On the south end of Lake Union, you will find Lake Union Park.
Lake Union Park covers 12 acres and is specifically designed to provide a place for people to enjoy the great outdoors, boasting beautiful green spaces, as well as Lake Union itself.
Features such as fountains, bridges, a model boat pond, a history trail, boat launching facilities and even a restored shoreline have been implemented to make Lake Union more enjoyable. Whether you're on an organised event or sailing out by yourself, Lake Union offers plenty of opportunities.
Meanwhile, the park itself has trees, lawns, footpaths, benches, and facilities for events, allowing even those who aren't fond of the water to have an enjoyable day out.
South Lake Union isn't all about the lake or its surrounding neighbourhoods though. For starters, South Lake Union is also a great place to take in some history.
The Cascade neighbourhood of South Lake Union boasts numerous historic buildings, many of which feature stunning architecture, such as the Saint Spiridon Orthodox Cathedral and the Immanuel Lutheran Church. While many of the historic buildings in South Lake Union no longer retain their original purposes, they are still a sight to behold.
It isn't just the buildings of South Lake Union that offer a historical experience though. For starters, there are numerous historical ships docked around South Lake Union. This gives you the perfect opportunity to delve into the city's maritime history as well.
South Lake Union is even the location of the oldest park in Seattle, Denny Park, meaning no matter what section of the city's past you are interested in, you are sure to find something to please you.
If you are looking for where to stay in Seattle to best combine history, convenience and outdoor activities, you simply have to take South Lake Union into consideration, given all it has to offer.
Stay in South lake Union if:
You want to visit Lake Union or Lake Union Park
You want convenient access to the surrounding neighbourhoods
You are interested in historical boats, buildings or parks
FIND BEST HOTELS IN SOUHT LAKE UNION
9. University District, a great place for young people in Seattle
The University District, also known as the U District, is located just to the north of Capitol Hill, on the other side of Portage Bay. Named after the main campus of the University Of Washington, which is located here, the U District is unsurprisingly incredibly popular with students.
If you are looking for where to stay in Seattle to best experience the bohemian culture that often goes hand in hand with student dominated areas, the University District is it.
Take for example the University Village Shopping Center. An open-air shopping mall, located at the heart of the University District, University Village features a combination of large chains and small boutiques, selling everything from home furnishings to gifts and fashionwear.
It even features a number of its own restaurants, giving you the opportunity to take a break from shopping or recover after a long day trawling through the stores.
Beyond this, you have bars, nightclubs, brewpubs, and even a street fair. With many offering prices that are generally student friendly, it makes the University District a great choice for anyone seeking to relax or go wild, as and when they choose, without breaking the bank.
Stay in University District if:
You want to visit the University Village Shopping Centre
You are, or are visiting, a student at the University Of Washington
You enjoy the stereotypical student atmosphere
You are attending the street fair
FIND BEST HOTELS IN UNIVERITY DISTRICT
10. Fremont, a great area for unique artworks
Fremont is located on the other side of the Aurora Bridge from Queen Anne. It used to be referred to as the "Republic Of Fremont" and was well known for its counterculture. Many artists moved to the area to embrace the atmosphere and develop their latest works in the friendly surroundings.
In recent years, the area has seen a lot of gentrification and this culture has become a lot less prominent, although it does still exist. However, many of the pieces of art the neighbourhood was known for remain to this day.
You have the 18ft tall concrete sculpture of the Fremont Troll, the 16ft Fremont Rocket built at the height of the Cold War, the Waiting For The Interurban, which displays 6 people and a dog waiting for public transportation.
You even have a statue of Vladimir Lenin, salvaged from Slovakia after the fall of the Communist government. Beyond the art, you also have unique events, such as Troll-A-Ween and the Summer Solstice Parade & Pageant, which gained notoriety for its nude cyclists.
Attractions like these and many others make Fremont a great place to stay in Seattle for those seeking a wild, weird and totally unique stay in the city.
Stay in Fremenont if:
You want to see some of the unique artwork located here
You want to attend one of the festivals
You prefer an area with a "weird and wonderful" vibe
FIND BEST HOTELS IN FREMONT
11. Phinney Ridge, best area for outdoor activities
Phinney Ridge is located immediately to the north or Fremont, with its eastern boundary running around the western shore of Green Lake. I mention this, as it is Green Lake and the neighbouring Woodland Park that draw the vast majority of visitors to Phinney Ridge.
With a near 3-mile path running around its shore, Green Lake is a popular destination for hikers, cyclists, roller skaters etc. Numerous species of birds and fish, as well as mammals like rabbits, make it a great way to spend time outdoors and do some wildlife spotting.
The wildlife then continues into the 91-acre Woodland Park, where turtles, rats, coyotes, squirrels, beavers and a number of reptiles and amphibians are added to the mix. If that isn't enough, it even features the Woodland Park Zoo, to give you the opportunity to see something a little more exotic.
Don't fret if wildlife isn't your thing though, as there are plenty of other facilities available for you to enjoy at both the park and the lake.
With mini golf, monuments, sports clubs, picnic spots, pools, piers, boating activities and swimming areas, east Phinney Ridge is a fabulous place to enjoy the great outdoors during your stay in Seattle.
Stay in Phinney Ridge if:
You love the great outdoors
You are a fan of nature
You want to go swimming or boating
FIND BEST HOTELS IN PHINNEY RIDGE
12. Greenwood, a quiet neighborhood in Seattle
On the north edge of Phinney Ridge, you will find the neighbourhood of Greenwood. Fairly detached from the centre of the city, it offers a much more relaxed experience than you'll find elsewhere.
Numerous bars, restaurants, coffee shops, theatres and stores are present throughout Greenwood, offering an incredible range of things to do and see. No matter your budget, you will have plenty of entertainment, without having to be surrounded by mobs of tourists the whole time.
The only time Greenwood gets really busy is in the middle of summer, between late June and the end of July. This is due to a pair of festivals that are held in the neighbourhood during this time.
The Greenwood Classic Car Show is held on the last Saturday in June, while the Greenwood Seafair Parade takes place on the 4th Wednesday in July. Both bring tens of thousands of visitors to the neighbourhood, meaning that, while it's great for business and a unique experience, it isn't the best time for those looking for a peaceful break.
Stay in Greenwood if:
You are attending the Greenwood Classic Car Show or Greenwood Seafair Parade
You prefer a quieter, more relaxed neighbourhood
You like a great range of places to eat, drink, shop and be entertained
You don't mind being a fair way from the city centre
FIND BEST HOTELS IN SEATTLE
13. Ballard, best area to stay in Seattle for local vibe
Our penultimate destination of Ballard is located in north-west Seattle, looking out over the Puget Sound. It is located on the western border of all three of our previous destinations and is a fabulous choice for anyone who prefers to stay a little further from the city centre.
It also offers a few charms and attractions that are unique exclusively to this part of Seattle. For instance, it has traditionally been home to a large Scandinavian, seafaring community. This creates a great opportunity to experience an entirely different culture and sample their foods and wares.
For those who really want to delve into it, you can learn more at the Nordic Museum. Having been founded in 1980, it has moved from place to place around the neighbourhood, teaching about the past and the culture of the people who inhabit the area.
If you're lucky enough to be travelling here around May 17th, you'll also find the Ballard SeafoodFest and Norwegian Constitution Day celebrations in full swing. This will bring the culture of the area to life in a way most will only dream of seeing.
Even if you aren't interested in the Scandinavian side of Seattle, attractions like the Ballard Locks, Shilshole Bay Marina, and Golden Gardens Park still make Ballard an enjoyable and relaxing place to stay in Seattle.
Stay in Ballard if:
You want to stay out of the city centre in north-west Seattle
You want to be on the Seattle waterfront
You are interested in Scandinavian culture
FIND BEST HOTELS IN BALLARD
14. Woodinville, to visit brewery or winery
Our final destination of Woodinville is actually a separate city, located on the other side of Lake Washington. While this may sound a strange inclusion in an article focusing on where to stay in Seattle, it has plenty to offer for the right visitor.
This is the sort of place best suited to those who want to explore Seattle but would prefer to stay in a slightly more remote and refined destination.
With numerous waterfront parks and densely wooded areas, it is a fabulous choice for those who love the great outdoors. Whether you want to go on an adventure or simply enjoy the natural beauty, you are sure to find areas to suit your taste here.
If you are more about simple relaxation, there is also a winery and brewery with expansive grounds for you to enjoy. I mean, what better way to try out the local beer and wine than by sampling it on the very grounds it was made.
Woodinville certainly won't be the ideal place for everyone to stay in Seattle, due to how far from the city centre it is located. However, if you're looking for a different way to experience the city and its larger region, it is a fabulous yet unheralded option.
Stay in Woodinville if:
You want to visit a brewery or winery
You want to spend time outdoors enjoying nature
You aren't worried about being close to the city centre
FIND BEST HOTELS IN WOODINVILLE
That concludes our list of the 14 best areas to stay in Seattle. Most of you will have now decided where to stay in Seattle based on your own wants and needs.
FAQs on the best areas to stay in Seattle
However, for those who still have a few remaining doubts, I will now answer some of the most frequently asked questions people have about Seattle, in order to help you make a decision as well.
What Is The Best Location To Stay In Seattle?
While this will vary from person to person, my personal recommendation would be Downtown. Containing subdistricts like Pioneer Square, Belltown and Pike Place Market, plus attractions like the Space Needle, all within walking distance, it has enough to keep you entertained, no matter how long you stay in Seattle.
Is It Safe To Stay In Downtown Seattle?
Downtown Seattle is often considered one of the rougher parts of the city. However, that's largely because Seattle as a whole is one of the safest major cities in America. While you want to keep your wits about you at night, it is definitely safe to stay in Downtown Seattle.
Where Should You Not Stay In Seattle?
While above I praised the safety of Seattle in general, that excludes large parts of southeast Seattle. With neighbourhoods like South Park and Rainier Beach having crime rates well above the national average, I would recommend you avoid this area entirely when deciding where to stay in Seattle.
Is 3 Days Enough In Seattle?
No matter where you stay in Seattle, 3 days likely won't be enough. With everything there is to see in the city, as well as attractions like Olympic National Park and even the Canadian border just a short drive away, 3 days will leave you feeling like you've missed out.
See More:
Conclusion
Seattle is a fabulous city, that is often overlooked due to its location. Whether you want to see iconic sights like the Space Needle, or simply enjoy the views of the Seattle skyline while dining in local restaurants, you should now have everything you need to make your Seattle trip a successful one.
So, now you know where to stay in Seattle, all that's left is to go and start getting things booked, so you can look forward to uncovering its wonders for yourself as soon as possible.