The best areas to stay in Minneapolis are the neighborhoods of Downtown Minneapolis, Mill District, Warehouse District, Dinkytown, Mall Of America Area, Downtown St. Paul, Lowry Hill, and St Louis Park. Today I will be looking at where to stay in Minneapolis-St. Paul for family, couple, as well as the safest places to stay in Minneapolis.
Located on both banks of the Mississippi River, north of the Minnesota River, Minneapolis adjoins Saint Paul, the capital of the state. Known as the Twin Cities, Minneapolis and St. Paul make up one of the largest metropolitan areas in the United States, home to more than 3.6 million people.
Minneapolis is a overall safe city for tourist, even for solo female travelers, with similar crime rates to other American cities, but as you travel to any big city, so you should practice common sense and be aware of surrounding. You should avoid Hawthorne, East Phillips, and Ventura Village. Meanwhile, Southwest, St. Louis Park, and Bloomington are some of the safest neighborhoods in Minneapolis.
Downtown Minneapolis is the best area to stay in Minneapolis for tourist due to its prime location. Downtown is a general safe area with widest range of accommodation, attractions, restaurants, bars, and shops. If you stay here, you will be located in the middle of action within walking distance to tourist landmarks, as well as many shopping, dining, and nightlife venues in the city.
Perhaps you want to have access to everything I mentioned above but would like to stay in a neighbourhood that is a little quieter. If that's the case, then options like Downtown St. Paul or the Warehouse District will likely suit you better.
Those seeking a trip centred around history and culture will definitely want to consider the Mill District. However, if it's shopping, amusement parks and tourist attractions you're after, then the Mall Of America Area will be much more you. You might even be looking for a unique, quirky destination with a distinct student feel to it, which means nowhere would be better suited to you than Dinkytown.
Best Areas to stay in Minneapolis, Minnesota
1. Downtown, where to stay in Minneapolis for first-timers
Downtown is the best area to stay in Minneapolis for first-timers, families, couples, and solo travelers due to its prime location. Downtown Minneapolis features an incredible range of bars, shops, restaurants, and hotels throughout, catering to visitors of a wide range of budgets and interests.
Split into 2 halves, Downtown East and Downtown West, they make up the heart of the entire metropolitan area.
A popular destination for those seeking nightlife, you will always be able to find a bar or club to suit your liking and let you drink and party the night away until the early hours. 
This is particularly true of West Downtown. Located next to the neighboring district of Loring Park, a part of the city that features a thriving gay community, many gay bars can also be found in this district as well, including popular choices such as The Saloon.
Loring Park hosts several festivals such as Loring Park Art Fair, Holidazzle, the Twin Cities Gay Pride Festival, and Rock the Garden in June. Sculpture Garden at the Walker Art Center and the Basilica of St. Mary are interesting landmarks nearby.
Hennepin Avenue's historic theater district offers plenty of live entertainment with The Orpheum, State, Pantages theaters, and legendary Brave New Workshop. There are many events on First Avenue, one of the top live music venues in the country.
In the Central Business District, you can find the historic music venue of Dakota Jazz Club, Nicollet Mall, Orchestra Hall which houses Grammy Award-winning Minnesota Orchestra.
Outside of that part of its reputation, West Downtown is often considered to be one of the most iconic parts of the city, featuring some of its most notable buildings, such as the IDS Center and Foshay Tower which is home to W Hotel. You can check out its 31st-floor observation deck for sweeping views of the city.
Minneapolis Skyway System offers easy access to an incredible number of food and shopping options. Connecting 80 city blocks, you can stop by some famous spots like Sushi Takatsu, Green + the Grain, Brothers Deli, City Center building, Target's flagship store, and Target Center.
Meanwhile, on the other side of the neighborhood in East Downtown, you are likely to find more attractions to keep you occupied during the day. Whether you want to stroll along the banks of the river and enjoy the stunning views of it and its stone arch bridge or explore the historic Mill District, you have plenty of options available.
It is also a great choice for anyone attending a sporting event. The former home of the legendary Hubert H. Humphrey Metrodome, it was replaced in 2016 with the U.S Bank Stadium, which sits on the same site.
Home to the NFL's Minnesota Vikings, it is one of the most modern, state-of-the-art arenas in the entire United States, so gives you a fabulous opportunity whether you want to watch some football, attend a concert, or simply admire the stunning architecture.
Only a few blocks away, the Minneapolis Armory is also attracting crowds. It's an 8,400-person capacity music and events venue.
The City Hall building on South 5th Street is a wonderful example of the romanesque style applied to municipal buildings. It's a great place to take a photo with its multi-turreted roof of copper and a three-hundred feet tall clock tower over.
Another landmark is a contemporary art museum on 2nd Avenue, Louvre It Or Leave It, in the Northstar East Building. it displays works of up-and-coming artists and famous artists dealers.
When you combine the east and west sides of Downtown Minnesota together, you get one of the most exciting, well-rounded destinations in either of the Twin Cities, which is suitable for all manner of visitors.
Much as you might expect in any major city, the area where you are most likely to spot celebrities is Downtown. With some of the most expensive parts of the city and numerous major events taking place on a regular basis, it gives you easily your best shot at seeing a famous face.
Stay in Downtown West if you're first-timers, you want good nightlife, you want central and safe area for tourist.
Best Places to Stay in Downtown Minneapolis:
See more:
2. Mill District, in Downtown East with great history and culture
I touched on it briefly in the section above, but Mill District is a historic part of the city, located within the larger neighborhood of Downtown East, known as the historic and cultural center of Minneapolis.
While it is gradually being developed to feature more housing, it still boasts many of the buildings from when it was a purely industrial zone that was recognized as the flour milling capital of the world, hence the name of the neighborhood.
Many of the old flour mills have been converted into condominium complexes which, while it means you won't be able to explore their inner workings, still leaves the fabulous, historic architecture for you to enjoy.
In addition, there are plenty of other landmarks and attractions to give you your fix of historic information such as the MacPhail music center, the Guthrie Theater, Gold Medal Park, St Anthony Falls, and the Stone Arch Bridge with the views of the Mississippi River.
For starters, there is the Mill City Museum, a National Historic Landmark that has been built on the fortified ruins of the Washburn "A" Mill, which was once the largest mill in the world. Features exhibits that demonstrate the history of both the city and its flour milling legacy, paintings by local artists, an observation deck to take in the stunning architecture of the surrounding buildings, and a boutique café to sit back in and think about everything you've just seen, this is a cultural institution that you simply can't pass up.
There are outdoor destinations, like the Mill Ruins Park and Gold Medal Park, to provide plenty of opportunities for visitors to get some fresh air while uncovering the history and wildlife of the area.
Then you have establishments like the Guthrie Theater and the Milwaukee Road Depot, where you can take in a show or go ice skating to make your evenings just as exciting. Even the Mill City Museum hosts concerts on occasion, to truly combine the history and excitement of the district.
With complimentary attractions, such as the glorious Mill City Farmers Market, to keep you occupied even on the days when you just want to relax and take a stroll, the Mill District is perfect for anyone looking for a slower pace out of their trip, where they can fill their stay with relaxation, history, and culture.
Stay in Mill District if you want to see the historic and cultural center of Minneapolis; you want to learn about the legendary flour milling history of the city; you want a destination with a slower pace; you are a fan of ice skating; you want to go to the theatre.
Best Places to Stay in Mill District:
3. Warehouse District, where to stay in Minneapolis on budget
Located primarily in a district known as North Loop, the hip up-and-coming Warehouse District also extends into West Downtown as well. Similar to the Mill District, it is an area with a predominantly industrial past. Made up of 62 structures, most of which are 6 to 8 stories high, spread out across 7 blocks, it is listed on the National Register Of Historic Places.
Boasting a wide array of architectural styles from throughout the years, Warehouse District was at one point the epicenter of the city's art scene, featuring more than 20 galleries. In more recent times, however, Warehouse District has become a largely residential area, with the majority of the buildings having been converted into apartment and condominium complexes.
Its proximity to Downtown Minneapolis makes it a popular place to live for those who work in the city, as they can secure housing at a much more affordable rate and can easily commute using methods such as bus, bicycle, or even simply walking.
In a similar vein, this also makes it a good location for visitors to stay, as they can benefit from those same lower costs, while not being too far from the action. The lower prices don't just relate to accommodation either, with many hip stores, coffee shops, bars, restaurants, and art galleries priced primarily to deal with the local clientele.
On the days when you don't want to travel even the short distance to Downtown Minneapolis, there are a number of options to keep you entertained within the district as well.
Options such as the Tony-award winning Theatre De La Jeune Lune, the Traffic Zone Centre For Visual Art, Target Center stadium, and Target Field, home to Major League Baseball's Minnesota Twins and the site of numerous events such as concerts, will give you plenty of choices to keep you entertained on a daily basis.
If you walk down towards the light rail station, you will find the Bob Dylan Mural created by artist Eduardo Kobra. It's a great spot to take a couple of selfies!
Other interesting smaller entertainment venues are the Gay 90s, Lab Theater, Acme Comedy Company, the Fine Line Music Cafe, Nicollet Island, and the Fiorentino Cuckoo Clock Museum.
Stay in Warehouse District if you are traveling on a budget; you want to be close to downtown but in a slightly quieter neighborhood; you want to see a baseball game; you are attending an event at Target Field; you are a fan of architecture or the arts.
Best Places to Stay in Warehouse District:
4. Dinkytown, a youthful area in Minneapolis with great nightlife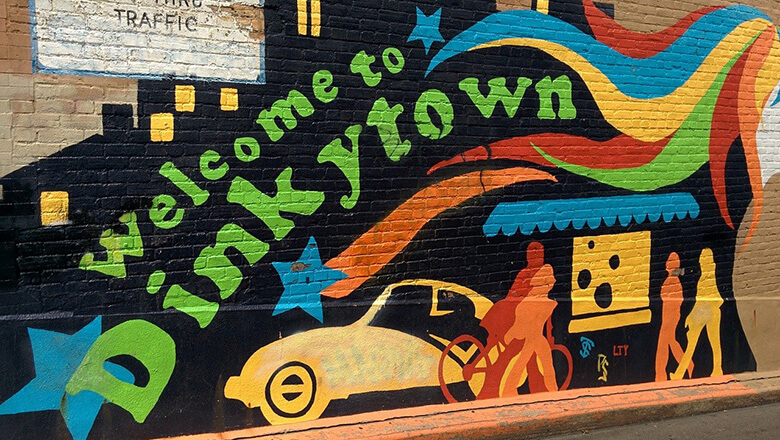 While the origins of the name "Dinkytown" are unclear, what is certain is that it is a neighborhood in central Minneapolis that has been known by that moniker since at least 1948.
A part of the city with its own unique feel, Dinkytown is known most prominently as a largely student focused district, due to its proximity to the University Of Minnesota. Filled with student accommodation, it offers a distinctly bohemian feel that often accompanies this sort of neighbourhood.
Restaurants, bars, shops, and numerous small businesses fill the streets, generally featuring lower prices than elsewhere in the city. This makes it an ideal place to stay for anyone traveling on a budget.
Price and the student atmosphere here aren't the only reasons to stay in Dinkytown though, as there are plenty of attractions to see while in the area as well.
First off, you have the Dinkydome, a former theological seminary that has been converted into a food court and loft. There are historic restaurants, such as Vescio's Italian, which was opened in the '50s, the Loring Pasta Bar, where Bob Dylan used to live, and Al's Breakfast, which is known as the smallest restaurant in the city.
Other historic buildings in the area include Annie's Parlour, The Book House, and numerous apartment buildings displaying a variety of architectural styles.
Dinkytown is also home to Northrop Auditorium, the Frederick R. Weisman Art Museum, the Varsity Theater, and Huntington Bank Stadium. In this area, you can catch Gophers basketball games at Williams Arena and Maturi Pavilion.
While certainly a niche destination, Dinkytown is a place that has plenty to offer for the right type of visitor.
Stay in Dinkytown if you are traveling on a budget; you are, or are visiting, a student at the university of Minnesota; you enjoy a distinct student atmosphere; you like a neighbourhood with a sense of history; you want a range of highly regarded restaurants.
Best places to stay in Dinkytown: Graduate Minneapolis
Check out my virtual tour about the best places to stay in Minneapolis in this video:
5. Mall Of America Area, where to stay in Minneapolis for shopping
Located close to Minneapolis−Saint Paul International Airport, The Mall Of America is situated in the suburb of Bloomington, which is located just outside the Twin Cities. You can catch The Hiawatha Light Rail Line from Target Field station in downtown Minneapolis and terminates at the Mall of America Station.
First opened in 1992, it is the 7th largest mall in the world, the largest outside of Asia, and is visited by 40 million people each year.
Containing 520 different establishments, it is a fabulous place to indulge in retail therapy, no matter what your interests are. Everything from clothing and electronics shops to department stores and popular tourist locations like M&M World mean you will never be short of things to browse or buy.
It isn't just shopping that's on offer here either. For starters, an array of bars and restaurants will cater to all of your culinary needs. Cuisines from around the world are served at establishments aimed at visitors from a wide range of budgets.
Bars of all types, from quiet pubs to sports and Mardi Gras themed bars offer you a place to drink, whether you want a quiet beer or a wild day or night out.
You even have a number of more involved tourist attractions as well. For starters, it is the home of the Sea Life Minnesota Aquarium. Featuring a 300ft long glass tunnel, visitors can travel under 14 feet of water and walk past more than 4,500 species of sea creatures, including fish, sharks, stingrays, turtles, and more.
You could even attend one of the many special events they host, such as scuba diving, snorkeling, sleepovers, and birthday parties.
Speaking of birthday parties, where better to host one than at Nickelodeon Universe, an indoor theme park located at the heart of the mall. Rides such as The Fairly Odd Coaster, the SpongeBob Square Pants Rock Bottom Plunge, the Back At The Barnyard Hayride, the Avatar Airbender, and the BrainSurge are surrounded by foliage and an 18-hole miniature golf course, to keep thrill seekers of all ages and activity levels entertained.
There's even a small number of historic and cultural sites to see, such as plaques and seats commemorating the Metropolitan Stadium, which used to be located on the site, as well as a memorial to those who died aboard United Airlines Flight 93 during the September 11th attacks and a bust of Tom Burnett.
All of this being located in a single area makes the surrounding neighborhood a fabulous place to stay. Even those who want to do as little traveling as possible during their stay will always have plenty of options to keep them entertained.
Stay in Mall Of America Area if you like shopping; you want an incredible range of shops, bars, and restaurants at your disposal; you like the sound of a thrill-packed day out at Nickelodeon Universe; you want to see some of the memorial plaques, statues, and busts contained within.
Best Places to stay near Mall Of America:
6. Downtown St. Paul, one of the best areas to stay in Minnesota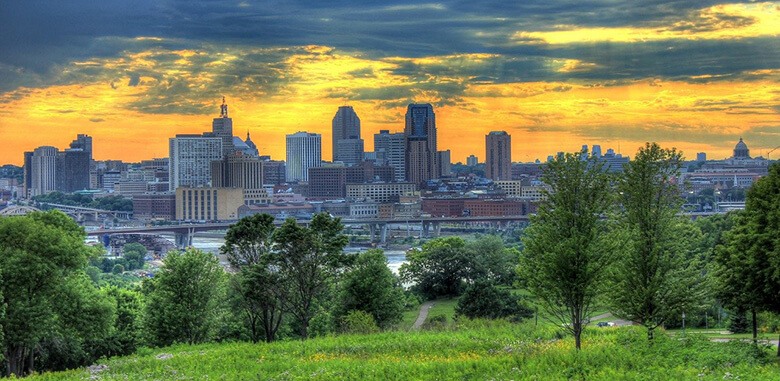 Our final destination of Downtown St. Paul is the only one on this list located in the other of the Twin Cities. While it still features many of the stereotypical attractions that you'll find at the heart of any major city, St. Paul is a little different from Minneapolis in that it has less in the way of nightlife and tourism, yet more to offer in the way of culture.
For starters, as the Capital of Minnesota, this is where you will find the state Capitol building, which is always a wonderful place to uncover the history and enjoy the architecture of an American city.
Speaking of which, the city is also home to a number of museums for you to enjoy, including the Minnesota Museum Of American Art, the Minnesota Children's Museum, the Minnesota History Centre, and the Science Museum Of Minnesota.
Outside of history, there are plenty of other options on offer as well. There are three fabulous parks, offering you the chance to get outdoors and experience the natural side of the city, which also hosts large events at numerous points throughout the year.
You have places where you can enjoy the theatre and performing arts endeavors, such as the Saint Paul Chamber Orchestra, Palace Theatre, Ordway Center For The Performing Arts, Roy Wilkins Auditorium and the Fitzgerald Theater.
You even have the Minnesota History Center Library, which is on the National Register Of Historic Places, and the Landmark Center, which is a stunning building constructed at the start of the 1900's.
You combine all of this and it makes St. Paul a fabulous destination for anyone who wants to enjoy a combination of history, culture and convenience during their stay.
Stay in Downtown St. Paul if you're looking for business travelers, families; you want a location with city center conveniences but a slower pace; you want a selection of parks; you are a fan of museums; you enjoy the theatre and performing arts; you want to see the state Capitol.
Best places to stay in Downtown St. Paul:
7. Lowry Hill, quiet neighborhood close to downtown
Located west of downtown Minneapolis, Lowry Hill is named after Thomas Lowry, one of the first residents and developers of the neighborhood.
It's bordered within 22nd Street on the south, Interstate 394 on the north, Interstate 94/Hennepin Avenue on the east, and Lake of the Isles Parkway, Morgan Avenue, Logan Avenue on the west.
One of the best places to visit in Lowry Hill is the Walker Art Center with more than 700,000 visitors annually. It has a permanent collection of over 13,000 pieces, contemporary visual arts and design exhibitions; dance, theater, and music performances; and film screenings.
You can find large sculptures in the Minneapolis Sculpture Garden with over 40 iconic sculptures, including Spoonbridge & Cherry and Hahn/Cock.
Art lovers will also find the Minneapolis Institute of Art nearby, which is home to over 90,000 works of art representing 5,000 years of world history.
Thomas Lowry Park is a popular recreational spot in the area that has benches and a walking trail.
Lowry Hill is also where you can find the Dunwoody College of Technology, the Parade Stadium, and the Parade Ice Garden.
You can also go fishing, canoeing, or kayaking at Cedar Lake and the 120-acre Lake of the Isles nearby.
If you want to stay in a quiet area but still close to downtown, Lowry Hill Neighborhood is the best choice. You can choose to stay at the Bed & Breakfast 300 Clifton.
8. St Louis Park, one of the safest places to stay in Minneapolis
St. Louis Park is one of the safest neighborhood in Minneapolis with relatively low crime rates. Located just five miles from downtown, St Louis Park is a small-town charm with ample outdoor spaces and diverse restaurants and attractions. St. Louis Park is home to more than 50,000 people with diverse social and religious backgrounds and ethnic heritage. 
With 51 parks, biking, and walking trails, St. Louis Park provides year-round outdoor recreational opportunities. Sports fans will find numerous sports courts and fields for baseball, basketball, tennis, golf courses, ice rinks, and an aquatic park.
The 160-acre natural area of Westwood Hills Nature Center is popular are with residents and visitors.
Art lovers will find public art such as murals, sculptures throughout the neighborhood, and many cultural events by the St. Louis Park Friends of the Arts organization.
Nearby, you also have Golden Valley, also known as Minnesota's Sweet Spot, where you find 1,035 acres of green space, including many parks and nature areas with an extensive trail system.
St Louis Park has a wide variety of retail stores, family-owned businesses, hotels, restaurants, as well as close proximity to the Chain of Lakes, the downtown theater district, shopping, and universities.
Best places to stay in Minneapolis in St Louis Park:
Is It Better To Stay In Minneapolis Or St. Paul?
While choosing between Minneapolis or St. Paul is a decision that will depend on the personal tastes and preferences of the individual, for the average traveller I would have to recommend Minneapolis as the better place to stay. While there is nothing wrong with St. Paul, there is just simply more to see and do in Minneapolis.
Whether it be enjoying the nightlife in Downtown Minneapolis, taking in the history and culture of the Mill District or spending a day out at the Mall Of America, nothing is ever too far away. This variety simply means Minneapolis just has more to offer overall and staying here and making a day trip to see what you want in St. Paul is probably the more logical option.
See More:
Overall, Downtown Minneapolis is the best area to stay in Minneapolis for tourist because it is the most covenient location and it has widest range of accommodation for all budget travelers. If you book a hotel here, you will be located within walking distance to many tourist attractions, restaurants, bars, and shops.
As you can see, the Twin Cities of Minneapolis and St. Paul have plenty to offer between them. Hopefully this article will have helped you narrow down exactly where to stay to get the most from your trip. Now, all that's left to do is go and get it booked so you can experience it all for yourself.