Where to stay in Hawaii for the first time? without a car, for families, couples, honeymoon, singles, and beaches? In this post, I'll tell you all about the best areas to stay in Hawaii for first time visitors (include map and video), and the best hotels in Hawaii for all budget travelers.
Hawaii is a collection of islands in the mid-pacific that comprise the USA's only non-continental state. They are a fascinating collection of diverse islands, each of which has something unique to offer to visitors.
Where to stay in Hawaii first time?
The best areas to stay in Hawaii for first-time visitors are Oahu, Hilo – Big Island, Kailua-Kona, Maui, Molokai & Lanai, and Kauai. These islands are the most popular places for tourist that offers a wide variety of tourist attractions and amenities.
Oahu, Maui, and Kauai are the most popular and best islands to stay in Hawaii for first time visitors. Oahu is Hawaii's most populous island, home to the capital Honolulu as well as the famous Pearl Harbor and Waikiki Beach.
Maui is Hawaii's second-largest island and is mainly a tourist destination for beach-loving tourists. A visit here can be as active or passive as you like. You can just chill on the beach at some great hotels or enjoy fabulous diving, surfing and all kinds of other energetic activities.
Kauai is a stunning and relatively undeveloped Island that is the first choice for nature lovers. The island is covered with jungle-clad mountain peaks and is the perfect place for intrepid explorers. If you're looking for a relaxing tourist holiday, then Kauai offers that too. Kauai is the best place to explore one of the most beautiful and unspoiled Islands on earth.
Big Island is (unsurprisingly) Hawaii's largest island, and here you'll find the active volcanoes of Kilauea and Mauna Loa in the fascinating Volcanoes National Park.
Oahu's North shore is the destination of choice for surfers, with some of the world's largest breakers to challenge even the best board riders.
Molokai and Lanai are two smaller islands close to Maui that are relatively undeveloped. These are nice places to go to get away from the crowds and enjoy a chilled-out local-style atmosphere, with of course some great beaches.
It is better to stay in Oahu than in Maui if you want a wider range of accommodations, nightlife, shopping, and dining; you're intersted in history and culture. It is better to stay in Maui than in Oahu if you want a relaxing, laid-back holiday with more outdoor activities.
Most visitors to Hawaii don't rent a car, so no matter which island you choose to stay on, you will find that tour operators and travel companies abound. So, while a car gives you freedom, it's easy to arrange to see all the sights by booking trips and tours.
The best area to stay without a car is Honolulu or Waikiki Beach. This is Hawaii's biggest community, and you will find everything on hand. Waikiki is the most popular tourist spot in Hawaii and is a lovely beach with excellent hotels and plenty of visitor attractions.
Map of best islands and places to Stay in Hawaii First Time: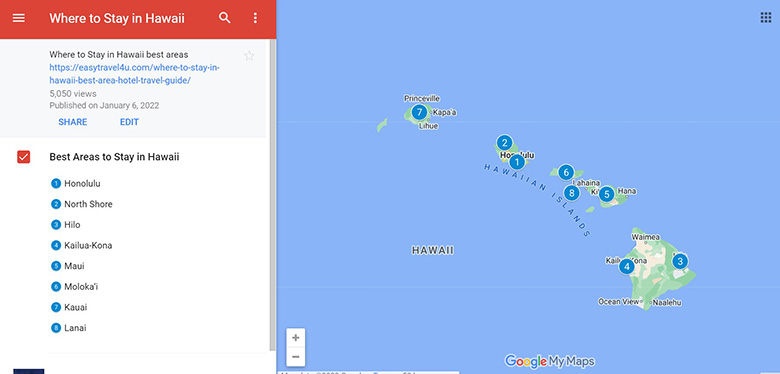 7 Best areas to stay in Hawaii for first-time Tourists are:
1. Waikiki/Honolulu (Oahu)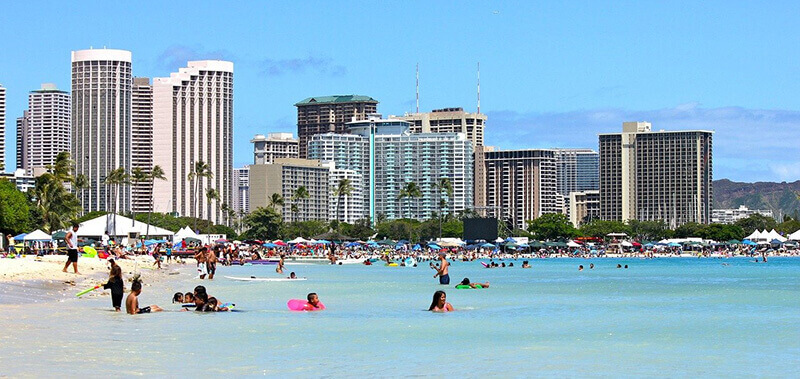 Honolulu – Oahu is the best place to stay in Hawaii for first-timers because it is Hawaii's capital, and it's a cosmopolitan and lively city with the world-famous Waikiki Beach on its doorstep. It's home to Hawaii's most extensive collection of classy restaurants, beach bars, nightclubs, and resorts.
Located on the south shore of Oahu, Waikiki (also known as spouting waters by Hawaiian) is an area of Honolulu that is exclusively devoted to tourism. It comprises a long strip of hotels and development alongside the beautiful Waikiki Beach. If you like a thriving, lively tourist scene, then this is an excellent place to stay.
Waikiki beach is divided into smaller sections including Kahanamoku Beach/Hilton Hawaiian Village, Fort DeRussy Beach, Royal Hawaiian Beach, Kūhiō Beach, Queen's Beach, Sans Souci Beach, Kaimana Beach.
The beaches are popular among surfers. You will find a statue of surf legend Duke Paoa Kahanamoku stands tall on the beach, paying homage to the area's surfing history.
But Honolulu isn't just about the beach; it's a modern American city, full of shopping malls and lots to see and do. There is a great range of high-end, designer stores, luxury resorts along the main strip of Kalakaua Avenue and Kuhio Avenue.
Honolulu has museums commemorating the Pearl Harbor bombings that brought the USA into world war II. You can visit The Battleship Missouri Memorial, The USS Arizona Memorial, the USS Bowfin Submarine Museum and Park, and the Pearl Harbor Aviation Museum.
Diamond Head is an exciting place to visit; just a few minutes drive East of Waikiki. It is a perfectly preserved dormant volcano complete with a steep-sided cone and central crater. There are great views of Honolulu and Waikiki from the top.
Families with kids will love to spend a fun day out at Honolulu Zoo and the Waikiki Aquarium. Other places of interest are Iolani Palace, the Nuuanu Pali Lookout, Hanauma Bay Nature Preserve, Ala Moana Center, Chinatown.
Honolulu is probably the best place to stay if you want to get out and explore other parts of Oahu like in Kahala, Makaha & Ko Olina on the Leeward Waianae, and the areas from Haleiwa to Turtle Bay on North Shore.
There are lots of local tour companies that will be happy to take you to explore other points of interest on the Oahu, like the surfer's paradise of the north shore and the hiking trails and wildlife attractions of the island's interior. O'ahu is the most diverse of the islands, with a wide range of activities to enjoy.
Oahu island, esppecially Honolulu is the best place to stay in Hawaii for nightlife. it has the highest concentration of accommodation option. You can find budget hostels and backpackers inns, to luxury beach front resorts and modern boutique hotels like Hilton, Sheraton, Marriott, Hyatt.
Staying in Waikiki if You want a busy city; You want the best tourist facilities; For pretty Waikiki Beach; for shopping, dining, and nightlife; you're a first-time visitor.
Best places to stay in the Honolulu area:
See more:
2. Maui (Kaanapali, Lahaina, Kihei, and Wailea)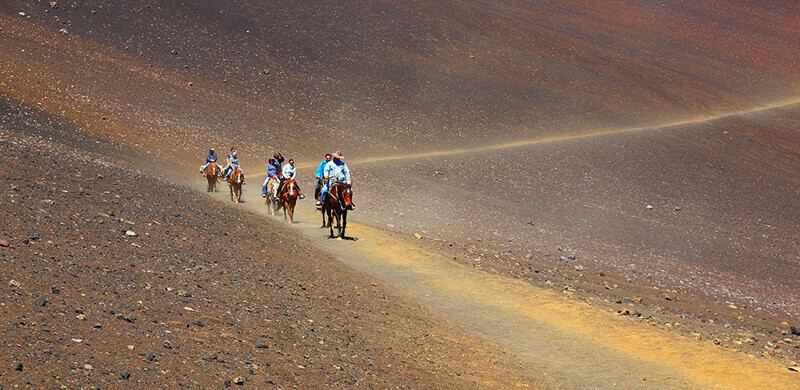 Maui along with Oahu and Kauai is the best area to stay in Hawaii for first-timers because it is one of the most popular islands on Hawaii. Maui – Valley Isle is the second largest Hawaiian island, bigger even than the much more populous Oahu. Maui is a top-rated beach holiday destination and known as the Beverly Hills of Hawaii.
Along with Oahu, Maui is also one of the best places to stay in Hawaii for first-timers. Maui doesn't have any major cities like Honolulu, and it's a wonderfully laid-back and relaxed Island. It has excellent tourist infrastructure and some great hotels and resorts.
Maui is a popular destination for Beach marriages, and many resorts here specialize in arranging tropical nuptials. So it's a great place for honeymooners, and resorts have excellent honeymoon suites and facilities for newlyweds.
The Road to Hana (the Hana Highway) on East Maui, one of the best scenic drives in Hawaii with beautiful waterfalls, steep cliffsides, black, red, and white sand beaches, and rainforest along the way. It's a winding road just over 50 miles long, hence Hana's remoteness, starting at Kahului and hugging the northern coastline to the extreme east of Maui.
The best stops on Hana Highway are the Twin Falls, The Maui Garden Of Eden, Wailua Valley State Wayside, Wai'anapanapa State Park, Hamoa Beach, Nahiku Marketplace, Hanawi Falls, Hana Town, and Ke'anae Peninsula. For Garden Of Eden, it has an entrance fee, but I think it's worth it.
Maui is a mountainous Island like most of the Hawaii chain. No trip to the island is complete without a trip without a visit to Haleakala, a dormant volcano and national park. Rising to over 3,000 m, this huge mountain offers spectacular views of the island.
Maui's largest is Lahaina, on the west coast. This is the most developed side of Hawaii and the area with the best tourist facilities. Maui's South coast is also very popular with tourists, and if you stay here, you can expect expensive resorts with great facilities and lots of restaurants, bars, and shopping malls.
Kahului with its Kahului international airport, deep harbor, shopping, and industrial districts is the main conurbation on Maui. The climate is semi-arid and hot, with Kahului sheltered from the prevailing trade winds. Kahului faces north across the bay of the same name.
While the south attracts fewer visitors than the west, there are still plenty of things that appeal to visitors, including the towns of Kihei and Wailea. If anything, the climate is better than the west because there is less rain. The beaches are quieter than in the west.
Another part of Maui where you can get away from the tourist crowds wanting to enjoy the beaches and warm waters is Upcountry, close to Haleakala National Park. You will find Pukalani, Makawao, Kula, and Haiku are the biggest town in this area.
If you're looking for a less touristy and more authentic Hawaiian experience, then stay away from the coast in the center of Maui or over on the Eastern side of Hawaii.
Maui accommodation caters to all budget travelers, there is accommodation for budget-friendy hostels, inns, B&Bs, vacation rentals, 5-star hotels, secluded beach bungalows. Most of the hotels are centered around South Maui and West Maui.
Staying in Maui if you're traveling with family; you're first time visiting Hawai; you're on your honeymoon; you want great beaches; you want to stay in the tourist hub area south shore of the island: Kihei; you want to see the major attraction Road to Hana – the most beautiful highway in the world; you want to visit Seven Sacred Pools.
Best places to stay in Maui:
See More: Where to Stay in Maui, When is Best Time to Visit Hawaii?
3. Hilo – Big Island, near Hawaii Volcanoes National Park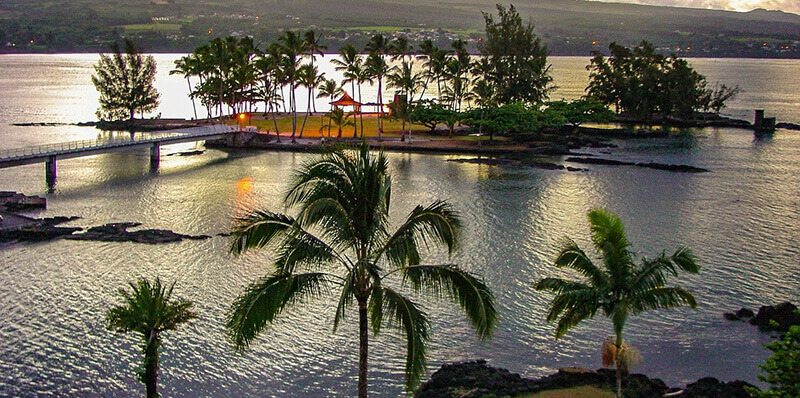 Hilo is a city on the eastern coast of Hawaii's Big Island that is an attractive beachside community with a dark history. Tsunamis have struck Hilo on several occasions, the most recent of which was back in 1960. Those disasters are well in the past, and Hilo is now the big island's largest town.
Hilo is home to Hilo International Airport so it's easy to get to. Hilo is the closest city to the Hawaii volcanoes national park.
The Volcanoes National Park is the big island's most fascinating tourist sight. Here you can explore the enormous active volcanoes of Kilauea and Mauna Loa. the places that you can visit and the things that you can do are subject to the level of volcanic activity, particularly of Kilauea.
But you can see hollowed-out lava tubes, go up to the active volcanic crater, or a personal favorite is walking at sunset across a blackened lava flow to watch the pyrotechnics as hot lava drops into the ocean forming clouds of steam.
The scenery around Hilo on Big Island's east coast is lush and green, in contrast to the more arid west side. Here there are tropical forests and lush mountain vegetation. It's a nice place for walking and trekking.
The highest point on Big Island is Mauna Kea. This peak rises over 3,000 m above sea level. The top of the mountain is home to several astronomical observatories that are situated here because of the clear skies. If you climb Mauna Kea, you can say you've been up the tallest mountain on earth.
Of course, Mount Everest is higher above sea level but measured from the ocean floor the vast mountain that makes up big island and is topped by Mauna Loa is the tallest on earth.
If you are interested in history and culture, there are also several galleries and museums in downtown Hilo include Lyman Museum & Mission House, Imiloa Astronomy Center, the East Hawaii Cultural Center, Pacific Tsunami Museum, and Hilo Farmers Market for local crafts.
Hilo also has plenty of other natural beauty such as Wailuku River State Park which is home to Waianuenue (Rainbow Falls) and Peepee Falls; The Liliuokalani Gardens which is a Hilo Japanese Garden; and Panaewa Rainforest Zoo, the nation's only rainforest zoo;
You'll find excellent accommodation at all price ranges in Hilo. The Volcanoes National Park brings travelers of all budgets and is very popular with independent travelers and backpackers. This means that there's a good selection of hostels, as well as higher-end hotels, long-term vacation rentals, and B&B's.
Hilo has some good restaurants but doesn't have the liveliest nightlife scene, although you will find a few bars scattered around town.
Staying in Hilo – Big Island if you want to explore the volcanoes national park; you want wilderness adventures; you want to climb the world's highest mountain; you are traveling on a budget; you want an attractive, low-key coastal city; you want to stay close to the golf course; you want to watch sea turtles from the ocean.
Best places to stay Hawaii in Hilo & Big Island:
4. Kailua-Kona, on Big Island
Located close to Kona International Airport (KOA), Kailua-Kona is more frequently known just as Kona. It is a sunny town over on the west coast of Hawaii's Big Island (also known as Hawaii Island) and is the administrative center of this region.
Covering almost two-thirds of the entire West coast from Anaehoomalu Bay to Manuka Park, it has plenty of attractions like beautiful beaches, pristine bays, coffee farms, lava fields, and historic Hawaiian landmarks.
This side of Hawaii island has calmer waters and if you are a keen snorkeler, you can enjoy some great snorkeling off the beaches. The last time I visited I was lucky enough to snorkel with two turtles just a few meters off Kona's central beach.
Unfortunately, the explorer Captain Cook's last trip to Kona didn't go very well. He was attacked and killed at Kealakekua Bay, just south of Kona while attempting to kidnap the leader of Hawaii.
Kealakekua Bay is a national park these days and is an excellent place for snorkeling, diving, and sea kayaking. South of Kealakekua Bay is Puuhonua o Honaunau National Historical Park, an ancient Place of Refuge.
To the North of Kailua-Kona, you will find Kaloko-Honokohau National Historical Park, Kona Coast State Park (Kekaha Kai), and beautiful white sandy beaches: Makalawena Beach, Manini'owali Beach (Kua Bay), and Mahai'ula Beach.
Kona is a very tourist-friendly city and there are lots of hotels designed for package tourists. The town also has several malls, markets, and shopping plazas, so it's great for shopping.
Kona is one of the most American feeling towns on the big island, and if you're looking for the convenience of fast food joints and the like, this is a good place to stay. These good hotels, infrastructure, and facilities mean that Kona is a great place for families to stay.
Kona is a super place to stay if you're into action sports. You can take surfing lessons here and there are many dive schools where you can learn to dive or go for fun dives, experiencing Hawaii's wonderful marine ecology.
Helicopter tours aren't cheap but they are the best way to see the geological marvels of the big island. From a helicopter, you can take in the true scale and grandeur of this living volcano Island, and it's a once-in-a-lifetime experience.
Apart from the beaches, shops, restaurants, and nightlife, Downtown Kailua-Kona has several historical sites like the Hulihe'e Palace, the Mokuaikaua Church, and the Ahuena Heiau.
You'll plenty of accommodations options including multimillion-dollar resorts, condominium rentals, excellent hostels, and motels, from the Gold Kohala Coast to the south of Kailua-Kona town.
Staying in Kailua-Kona if you are looking for a family-friendly area to stay; you want to see the sunset at Hanalei Ba; you want good swimming and snorkeling from the shore; you're looking for a tourist resort town with excellent facilities; you want to explore Hawaii by helicopter.
Best places to stay in Hawaii in Kailua-Kona • Kona Coast Resort • Kona Seaside Hotel
5. Oahu North Shore – for surfing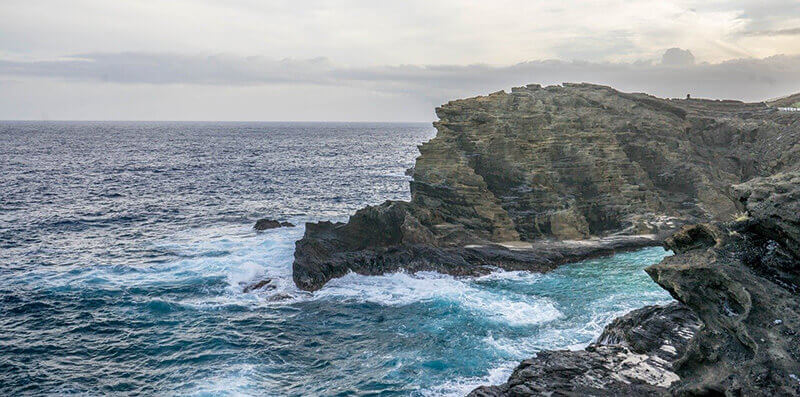 The North Shore of Oahu is the coastal area that stretches from Ka'ena Point in the west to Kahuku Point in the east.
The beaches of Oahu's North shore are beautiful, but you probably won't be wanting to swim there. Huge waves batter the north coast of the island and that's why it's one of the world's most famous surfing destinations.
If you're visiting the north shore of O'ahu for surfing, you'll find the largest waves during the winter months (November through March). At this time of year, the North shore has frequent international surfing competitions particularly at famous surf spots like Banzai Pipeline (Ehukai Beach), Waimea Bay, and Sunset Beach. But you can visit these beaches any time and you're sure to see intrepid surfers risking life and limb to catch the perfect curl.
During the summer months (April through October), the surf is not as heavy, and there are even some sheltered bays where you can snorkel.
The largest town on the North shore is the laid-back surfer town of Haleiwa, but there are more tourist-friendly resorts at Turtle Bay and Kahuku. These places have some decent hotels for most budgets and also apartment rentals.
Other places of interest are Malaekahana Beach, Laie Falls, Waimea Valley, Waimea Bay Beach Park, Sharks Cove, Dole Plantation, and Pineapple Garden Maze.
There are some excellent restaurants around here, and also some notable shrimp shacks and sheds. Shrimp Shacks are a Hawaiian takeaway food institution that you really must try on your visit to the islands. These are cheap and very cheerful purveyors of delicious fresh shrimps, surrounded by folding tables and chairs.
Don't be deceived by the rustic setup though, for the food is of the highest quality. The most popular trucks include Giovanni's and Romy's, but you'll find plenty of others, each with their own take on the classic spicey and garlicky shrimp plate.
North Shore offers a variety of accommodation options from condo rentals to the exclusive beachside Turtle Bay Resort.
Staying in Oahu North Shore if you're a surfer; you're not a surfer, but you want to watch surfers; you are looking the best location to stay in Hawaii for a relaxed beachfront community; you want to try Hawaii's famous shrimp shacks; you want to go to Hanauma Bay for snorkeling; you want to visit Hilton Hawaiian Village to see fireworks.
Best places to stay in North Shore Oahu:
6. Molokai & Lanai – to sample local Hawaiian island life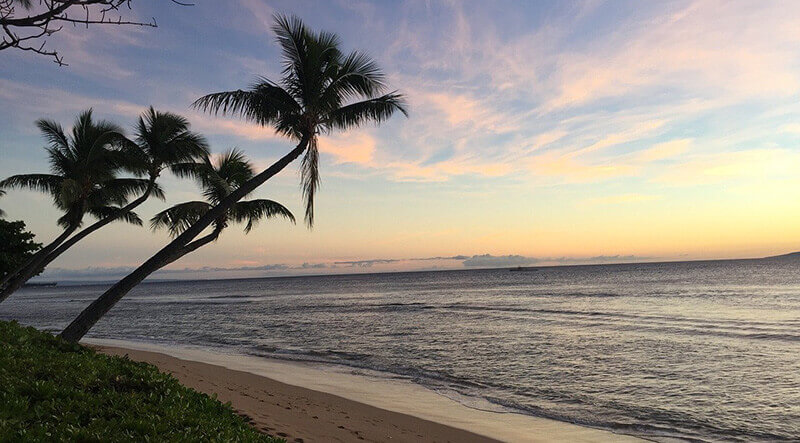 Molokai is one of the least visited of the Hawaiian Islands, and it is the place to go if you want an authentic Hawaiian experience away from the tourist crowds. The largest community in Moloka'i is Kaunakakai.
There aren't many places in the world you can visit where a leper colony is one of the main tourist highlights, but amazingly that's the case on Molokai. For many years Molokai was used exclusively as a colony for lepers after a significant outbreak in the late 19th century.
The colony still exists, and you can visit by arranging with local tour agents. The colony is in an attractive but remote location on the island's northern shore.
Renting an apartment or a holiday home is an economical way to stay in Molokai. This island doesn't have many resorts anyway, and a private rental allows you to cater for yourself. This is a particularly good option if you're traveling as a family or a group.
Despite the lack of visitors, Molokai has some lovely beaches and beautiful scenery; it's the perfect place to relax into traditional Hawaiian island life. On the west coast, you have Papohaku Beach and Kapukahehu Beach; east coast with Kumimi Beach and Halawa Beach; in the south coast lies the One Alii Beach which was once a haven for Hawaiian royalty.
Moloka'i is home to the world's highest sea cliffs and the longest continuous fringing reef. Other natural beauties are the Kalaupapa National Historical Park and the beautiful Halawa Valley.
There are numerous of Molokai state parks including Palaau State Park which is a popular spot to camp, hike, and picnic; Malama Park which is former summer home of King Kamehameha; Kapuaiwa Coconut Grove which was planted by King Kamehameha V in the 1860s; and Kamakou Preserve where you can find the island's highest peak.
Lanai (The Pineapple Isle) is 8 miles off the coast of Maui. It's the smallest, secluded, quiet, and luxury island in Hawaii. It's famous for its snorkeling and diving destination. The best things to do in Lanai are Hulopoe Beach, Sweetheart Rock Overlook, Hulopoe Bay tide pools, Koloiki Ridge Trail, and exploring Lanai City.
Accommodation in Molokai are varied, you can find condominiums, bed and breakfast, beach front bungalow, and the island's only hotel, Hotel Molokai near Kaunakakai, the main town.
Stay in Moloka'i if you want to sample local Hawaiian island life; you want a sleepy and laid-back charm; you're a confident, independent traveler.
Where to stay in Hawaii near Molokai and Lanai • Four Seasons Resort Lana'i
7. Kauai – for active outdoor holiday
If Oahu has the people and the popular destinations, and Big Island has volcanoes, then Kauai takes the crown as the most natural beauty of the Hawaiian islands. That's why Kaua'i is called The Garden Isle.
Kauai is less visited than most of the other islands and is the westernmost island in the Hawaiian chain. It's a beautiful green and mountainous place that is often compared to Jurassic Park.
The east coast of the Kauai is where the airport is and this is the most developed side of the island and the most convenient place to stay. Kapa'a is the largest town on the island and here, you'll find the widest selection of hotels and best infrastructure.
There are good places to stay for most budgets, and plenty of restaurants, shops, and malls here, making it easier to get by on a budget.
One of the most impressive Kauai sights is the Na Pali Coast, a section of coastline on the island's north shore with stunning cliffs that drop precipitously into the ocean. It's best seen from the sea or by air, so a boat trip (or a helicopter if you have the money) is the best way to explore this natural beauty.
Hanalei Bay is a crescent-shaped bay, located at the mouth of the Hanalei River, on the north shore of Kauai. For centuries, Hanalei Bay has attracted a high class of visitors, due to its natural beauty.
Haena Beach Park offers a beautiful, relaxing place to unwind, away from prying eyes. Lined with trees and featuring beautiful, soft, white-sand beaches, including Tunnels Beach, Cannon's Beach, and Haena Beach itself, it is the perfect place to spend days topping up your tan.
Waimea Canyon or the "Grand Canyon Of The Pacific", Waimea Canyon runs for around 10 miles, with parts up to 3000 meters deep. Formed over millions of years by the current of the Waimea River, which stems from one of the wettest places on earth, there are stunning views and wildlife at every turn.
Visitors to Kauai looking for a beach holiday usually head to the south side of the island. The main town here is Poipu, a beautiful beach resort. The beaches here are great for snorkeling, diving, and enjoying the pristine ocean life of the mid-pacific.
The south coast is where you'll find Kauai's best high-end resorts. If budget isn't an issue and you're looking for a top-quality beach holiday with excellent facilities, then head to the South coast.
Kauai's South coast also has spectacular botanical gardens in the Allerton and McBride National Tropical Botanic Gardens of the Pacific. Here you can see a fantastic collection of the stunning tropical flora and fauna of Hawaii.
See more: 12 Best Areas to Stay in Kauai
Kaua'i is a great island to stay if you want spectacular scenery; you're a fan of Jurassic Park; you want an active outdoor holiday; you want beautiful unspoiled beaches: Poipu Beach in Koloa and Tunnels Beac; you want to hike on Waimea Canyon( Grand Canyon).
Best places to stay in Kauai • Grand Hyatt Kauai Resort & Spa • Koa Kea Hotel & Resort
Check out my virtual tour of the best places to stay in Hawaii in this video:
If you plan to stay in Hawaii for a month, then things can quickly get expensive. It's a good idea to rent an apartment in Honolulu. Hawaii's capital and largest town has plenty to see and do and is a great place to find budget accommodation for a more extended stay. Honolulu is also Hawaii's communications center, and it's easy to travel from here to other destinations and make the most of your month in Hawaii.
If you want to stay in Hawaii for a month and make your funds last as far as possible, then there are a few things that you can do. The first is to choose a budget backpacker hostel or, especially if you're traveling as a group, rent an apartment. Staying somewhere like Honolulu is a good idea or Kona on Hawaii's big island. Larger towns have lots of shopping malls, supermarkets, and budget fast food places that allow you to stretch out your funds.
The Hawaii Tourist Board also has a program called Malama Hawaii that provides free, yes, free accommodation in return for voluntary work. The program usually gives one or two nights free at your existing accommodation but it's worth inquiring to see if you can't stay for longer by offering more of your time and labor for free. Hawaii also has voluntary organizations such as animal care and environmental charities that provide free accommodation in return for helping them with their work. It's a win-win really since you are making Hawaii a better place while extending your stay on these beautiful islands.
Where To Stay In Hawaii by month:
January: While the weather is still warm in January, it's not uncommon for the Hawaiian Islands to experience frequent rain. If you want to avoid the rain, then a great idea is to stay on the leeward side of the island that you choose. The prevailing winds in Hawaii come from the northeast so if you stay on the southern or western side of the island, you will find that it is drier. If you want a good beach holiday while avoiding the rain as far as possible then stay on the west coast of Maui.
February: February in Hawaii is warm but can be wet. The rainier winter months are just beginning to draw to an end but the islands are at their greenest and most lush at this time of year. For this reason, why not visit the stunning Garden Island of Kauai? The jungle-clad peaks are spectacularly beautiful especially after a few months of nourishing rainfall. It's the perfect time of year to explore the stunning coasts, beautiful beaches, and lush tropical gardens of the south coast of Kauai.
March: March is the end of Hawaii's winter season. The tropical location of the islands means that even in winter, you can expect daytime temperatures in the mid to upper 20's Centigrade and by march, most of the winter rains have passed. It's a great time of year to visit Hawaii and a perfect time to enjoy a beach break on the west coast of Maui or at the famous Waikiki Beach on Oahu.
October:
October is the end of the Hawaiian summer, and the weather is typically hot and dry. It's not the most popular time of year for visitors so it's a great time to enjoy bargain accommodation. Most hotels aren't full and so you have a better chance of booking the best hotels than in the peak winter season.
Since the weather is dry, it's an excellent time to explore the marvels of The Volcanoes National Park on Hawaii's Big Island. The best place from which to start your explorations is the town of Hilo on the green and lush eastern coast.
November:
November is the beginning of Hawaii's busier winter season so you can expect the islands to have quite a few visitors but not be full. The weather in November is pleasantly warm with temperatures in the high 20s centigrade, but you can expect some rainfall, particularly on the Northern and Eastern shores of the islands.
So if you want to avoid the rains, then just pick an area to stay on the east or southern coast of whichever island you choose.
A good choice is Kona on the west coast of Hawaii's big island. This is a popular resort with excellent beaches and lots of hotels and tourist infrastructure. This coast of Big Island is much drier than the island's east coast since much of the rain pours out of clouds as they rise over the vast mountains of the interior.
December: December is Hawaii's peak season, as visitors descend on the islands from colder and less temperate parts of the world to escape winter. So, if you visit in December, especially around Christmas and New Year, you'll find that the islands are very busy and hotels can be fully booked. Maui has a considerable number of hotels and you're sure to find a room here even at this busiest time of year. It's a great time to visit and you'll discover the island at its most lively and entertaining.
Where should I stay in Hawaii for the first time?
Oahu is the best place to stay in Hawaii for first-time travelers because it is Hawaii's capital and it is home to Hawaii's most extensive collection of classy restaurants, beach bars, nightclubs, and resorts.
What are the best areas to stay in Hawaii?
Oahu, Big Island, Maui, Kauai, Molokai & Lanai, Kailua-Kona are the best areas to stay in Hawaii because they are the most popular islands on Hawaii.
Is it better to stay in Maui or Honolulu?
Deciding between Maui and Honolulu depends on what kind of vacation you want. Maui offers a more laid-back vibe with stunning beaches and outdoor activities, while Honolulu has a bustling city atmosphere with historical sites and nightlife.
Which is better Waikiki or Maui?
Well, that really depends on what you're looking for. If you want a lively beach atmosphere with lots of restaurants and nightlife, Waikiki is the place to be. But if you're after a more laid-back vibe with stunning natural scenery, Maui might be more your speed.
See Also:
Summary – where to stay in Hawaii for first-timers?
In conclusion, Oahu, Hilo – Big Island, Kailua-Kona, Maui, Molokai & Lanai, and Kauai are the best places to stay in Hawaii for tourists and first-time travelers.
Overall, Oahu is the best area to stay in Hawaii for first-timers because it is Hawaii's most populous island, home to the capital Honolulu and the famous Waikiki Beach. It is home to many famous attractions, beaches, and plenty of amenities such as restaurants, bars, and shops.
So I bet you can't wait to visit Hawaii now that you know all about its marvels and delights. It's a spectacular part of the world, and you now have all the info that you need to pick one or more Islands and plan your itinerary. I hope that you have a wonderful trip to this spectacular cluster of islands in the middle of the mighty Pacific ocean. Aloha!