If you're wondering where to stay in Reno, you're in the right place. In this article, I will give you an insight into the best areas to stay in Reno.
Reno sits below the Sierra Nevada close to the border with California. It is regularly referred to as the ''Biggest Little City in the World.'' Tourism is important to the economy of this city of 220,000 people with only the emergence of Las Vegas preventing it from being the gambling capital of Western USA.
Its original development in the mid-19th Century was as a result of the discovery of gold then silver and both, especially gold, are still mined in Nevada. The reasons for visiting Reno these days bear no relationship to the City's origins.
Instead, you must think about the weather, skiing in winter and walking in summer, the outdoor life in general as well as a good tourist infrastructure.
See more: Where to Stay in Las Vegas
Nevada is the driest state in the USA. Las Vegas is now its largest and busiest city, arguably the gambling and entertainment city in the world, certainly the Americas. Reno which is also a centre for gambling is a much quieter place.
Las Vegas is Nevada's main airport with a huge number of international and domestic flights. Reno-Tahoe International Airport is largely for domestic travel but some connections into Mexico, Amtrak, and road travel, links Nevada to California to the west and the rest of the USA to primarily to the north and east.
Nevada boasts an all-year-round tourist trade. Reno's proximity to the Sierra Nevada and Lake Tahoe mean those numbers in the winter enjoy the outdoor life, especially skiing. As the snow recedes and spring arrives, the region opens up for hikers, bikers, and campers.
Summers are hot in Nevada with temperatures rising to 90F (32C). The majority of Nevada is desert with the region in the west, including Reno, quite a contrast.
Nevada has more hotel rooms per head of population than any other state in the Country. As a result, there is no problem finding somewhere to stay for those deciding to visit Reno.
🔍FIND BEST HOTELS IN RENO
📌4 Best Areas to Stay in Reno
Those heading to Reno primarily because they enjoy gambling will find plenty of choice of accommodation with a casino on site. Transport within the City is excellent so it is not essential to be in the heart of the action. It is arguably the first place to look, however.
Best Areas to stay in Reno map
1. 💖 Downtown Reno, best area to stay in Reno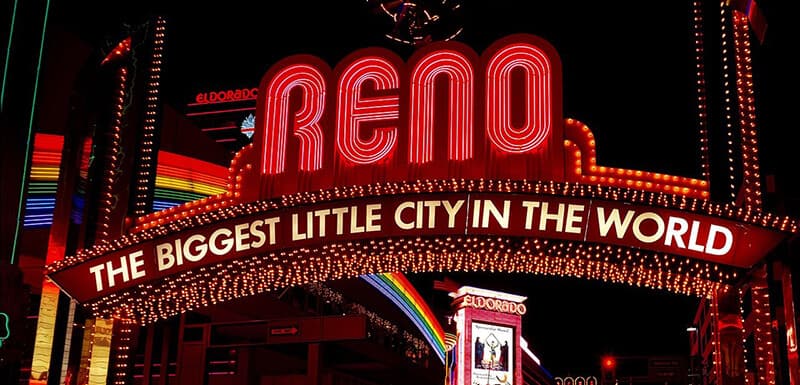 Downtown Reno is a real mix. There are residential parts, plenty of hotels and of course, casinos, restaurants and bars. The city's transport system is good so it is easy to get to and from Downtown without much effort.
Reno-Tahoe International Airport is just minutes away so you can be in your Downtown accommodation well under an hour after landing, often under half an hour if you do not need to wait for luggage.
Downtown is the heart of the action. In the case of Reno, that means clubs and casinos among other things. You will find everything from casual pubs to flashy cocktail bars, diners which will cost you just a few dollars to eat to expensive restaurants.
The Riverwalk costs you nothing although you may be tempted by the shops as well as the other commercial establishments there. For exercise try kayaking, enjoy the green spaces and the music, live and recorded.
There is accommodation for every budget in Downtown. It may not be the district to stay if you want a quiet time but Reno, in general, is not perhaps the city for that even though it is not as busy as Las Vegas.
Harrah's Reno began the City's gambling life but today, this historic casino hotel is in the process of being redeveloped into apartments. Take a look while you are there and visit the Pioneer Center for the Performing Arts and the National Automobile Museum. The historic part of Reno is now largely residential. You can get an organised walking tour of that part of Downtown if you like.
Highlight attractions including the National Automobile Museum, Harrah's Reno Casino Hotel, the Great Basin Brewing, the Pioneer Center for the Performing Arts, and the Sparks Heritage Museum.
Best Hotels in Reno in Downtown:
Whitney Peak Hotel Nestled at the base of the Sierra Nevada Mountains, this non-smoking, non-gaming hotel offers 310 guest rooms and 19 suites. It is located next to the Arch in Central Reno. The Reno Amtrak Station is within walking distance. Pioneer Center for the Performing Arts and the National Automobile Museum is a quarter-mile away.
Silver Legacy Reno Resort Casino at THE ROW Located in the heart of downtown Reno, Silver Legacy Resort Casino features 5 unique, award-winning restaurants and a 24-hour casino with a poker room and a sportsbook. A free airport shuttle is also available. Offering free WiFi, guest rooms at Silver Legacy Reno Resort Casino provide views of the city, valley or Sierra Nevada Mountains. Silver Legacy is within 1walking distance from attractions such as the National Automobile Museum, the Nevada Museum of Art, the Truckee River Walk District and Pioneer Center of Performing Arts, which features shopping, bars, restaurants and a kayak park.
Plaza Resort Club Reno Overlooking the Truckee River in Reno, Plaza Resort Club Reno is within walking distance from several casinos including the Silver Legacy, El Dorado and Harrah's. This completely nonsmoking property offers a large indoor pool and a sundeck.
FIND BEST HOTELS IN DOWNTOWN
Check out my virtual tour about the best places to stay in Reno in this video or continue reading:
See more:
2. Reno/Tahoe Airport
The City's airport, Reno-Tahoe International Airport is just to the south of the city centre. It is a convenient base for any visitor, whether a tourist or in Reno for business. South Reno is an excellent shopping area with plenty of other things to do locally if you make it your base.
If you don't have your own transport it is still easy to head into the centre for the night if you decide to stay close to the airport. Taxis are readily available and the buses are regular.
Huffaker Park is a place to go if you make this district your base. It is not huge but there is a trail a couple of miles in a loop that will make you forget you are anywhere near a city. It is open to all, has a little elevation, and dogs are permitted on a leash. As you walk, you will meet joggers and cyclists but there is room for everyone. In season, the wildflowers add a splash of colour.
Rancho Damonte is a little bit of history. It dates back to just before World War II when an Italian immigrant settled on land to grow crops and rear livestock. While there has been considerable development around it, today it is an important wetland that attracts migratory birds, often ducks and geese as well as raptors including the white-tailed kite.
If you want a hotel very close to the airport, perhaps because you have a very early departure, there is a choice. Hyatt Place and Aloft are two places only half a mile away. If you want something a little cheaper but just as close, look at SureStay Plus by Best Western.
Best Hotels in Reno/Tahoe Airport:
Best luxury hotel: Atlantis Casino Resort Spa this luxury hotel is 5 minutes' drive to Reno-Tahoe International Airport. A lavish casino, a free airport shuttle and Spa Atlantis, a full-service spa is featured. It features an indoor and outdoor pool. Guests can also play poker and other games in the casino.
Comfort Inn & Suites Airport Reno Featuring a fitness center, this Reno hotel provides a free airport shuttle to Reno-Tahoe International Airport, just a 5-minute drive away. Skiing at Diamond Peak Ski Resort is 48.3 km away.
🔍FIND BEST HOTELS IN RENO
3. Sparks
Sparks is officially a separate city to the east just over the Truckee River but in practical terms, it may as well be a suburb of Reno. It has some great open spaces you can enjoy when you are away from the gambling tables. They include two golf courses, Red Hawk and Wildcreek.
Marina Park has a naturally occurring watercourse in a region where water is indeed precious. You can enjoy a range of water sports on the lake including sailing, fishing, and even scuba diving. The land within the Park has plenty of recreational areas, picnic grounds, and trails.
Shadow Mountain Sports Complex covers 50 acres and has plenty of amenities including fields for baseball and football. You will find tables where you can enjoy a picnic and restroom facilities are there as well.
Sparks has its own resorts and casino hotels so if you make it your base, you have no need to go into Downtown Reno each evening for entertainment. The shopping is good as well with plenty of department stores and small shopping centres.
Sparks Heritage Museum and Cultural Center covers over 4,000 square feet and covers the history of Sparks since its early beginnings. The outdoor train exhibit over the road and next to an old schoolhouse is also interesting. Tours of each of these places are easy to arrange.
Nugget Event Center is an amphitheatre capable of holding over 8,500 people for concerts and other events. Just on the eastern edge of Sparks, there is an infamous place, the Mustang Ranch which is Nevada's most well-known brothel that has been there since the 1960s.
If you want 4-star accommodation in Sparks, take a look at Best Western Plus that will have everything you want during your stay. It has a seasonal outdoor swimming pool, fitness center, a shared lounge and garden in Reno. The property is set 0.9 mi from Great Basin Brewing, 3.7 mi from Bizarre Guitar and 3.7 mi from Reno-Sparks Livestock Events Center. The accommodations offers a 24-hour front desk, airport transfers, a concierge service and free WiFi.
🔍FIND BEST HOTELS IN SPARKS
4. University Reno
The National Register of Historic Places placed the University of Nevada Reno Historic District on its list in 1987. The District covers 40 acres and the buildings date back to 1886 through to 1945. The University itself opened in 1874 and today's campus is almost 300 acres. This district is north of Downtown.
It is a very safe residential area .
Anyone interested in history or architecture will love wandering around the Historic District where the most interesting buildings worth seeing.
Morrill Hall, built in 1886 in classic Italianate Victorian style, taking the name of Justin Smith Morrill, a Vermont Senator, whose work resulted in an Act allowing universities such as Reno to begin.
Lincoln Hall built a decade later was the original dormitory of the University and takes its name from President Abraham Lincoln.
Manzanita Hall is the third 19th Century building, another dormitory.
Mackay School of Mines predates the First World War and takes its name from benefactors of the University.
In all, 13 buildings form part of the National Register listing with the last one being the Gymnasium, built in 1945.
There are over 20,000 students attending Reno University so there is a different ''feel'' to this district. It is certainly casual with an infrastructure developed to cater for visitors as well as permanent Reno inhabitants.
There is limited accommodation in this district for short-term visitors but it is a pleasant part of Reno and certainly worth thinking about as a base. Bus routes link it to other parts of the City, including the airport.
Best places to stay near University Reno:
Circus Circus Reno Hotel Casino at THE ROW This Nevada resort is centrally located in downtown Reno. It offers a free airport shuttle service to Reno-Tahoe International Airport, 5 mi away. Circus Circus Reno features a casino, a variety of restaurants, daily shows and entertainment. Free WiFi is provided in each guest room.
🔍FIND BEST HOTELS IN UNIVERSITY RENO
Where Is the Best Place to Stay in Reno?
It is easy getting around Reno whatever you want to do by day or night. Reno is cheaper than Las Vegas and you don't need to spend a fortune to enjoy a good break away. If you want a suggestion about somewhere to stay, what about this place?
Grand Sierra Resort & Casino is a 4-star establishment with excellent facilities, including a bowling center, driving range, pool, bars, restaurants, and that large casino.
Best Hotels to Stay in Reno Nevada?
Nowhere is too far away from your base when you are in Reno. The Worldmark Reno is somewhere to look at. It has one and two-bedroom suites, and its central location makes sense if you are not familiar with the City.
Where to Stay in Reno for Nightlife?
Reno is not a huge place but it certainly has plenty of nightlife action, especially in Downtown. You will find bars, and restaurants, casinos, and clubs as well as plenty of music. If you want some ideas about where to stay, how about:
Plaza Resort Club Reno is 3-star with well-equipped rooms, pool, lounge, fitness centre, and within walking distance of several casinos.
Where Is the Best Place to Stay in Reno for a Couple?
Reno is a great place for couples. If they want an outdoor break at any time of the year, Reno is a good choice. Reno is cheaper than Las Vegas but can satisfy all gamblers just as well. A great place for a couple's break perhaps at:
Atlantis Casino Resort Spa is a luxury 5-star hotel 5 minutes from the airport with an airport shuttle service. There are pools, indoor and out, a casino and 8 restaurants.
See More:
Reno is a four hour drive over the Sierra Nevada from San Francisco via Sacramento and less than an hour from Lake Tahoe. Its location and the attractions it offers make it a popular place for a break, weekends or longer at any time of the year.
There are plentiful domestic flights each day, all year round, so access is easy from throughout the USA.. Hotel accommodation is equally plentiful and it suits every budget, including one for families who don't want to spend too much to those with plenty of money to spend at the tables.