Where to Stay in Paros for first-time tourists, having decided on visiting this lovely Greek Island, is a matter for research. The Internet is a great help and the best areas to stay in Paros should be a decision based upon your personal tastes. By the end of this article, you will feel more familiar with the best places for families, the best beaches, budgets, and couples.
Paros is one of the Cyclades in the Aegean, and very much a transport hub for all the other islands.
Paros has a domestic airport while the slow boat from Athens takes 4 hours. You have the option of international flights direct to either Santorini or Mykonos during several months of the year. The fast boat from Mykonos is only a 40-minute journey to Paros.
Read Also: Where to Stay in Mykonos, Greece
Tourism is now central to the economy of the Greek Islands and Paros is one of the most popular islands in the Aegean. There are still fishing villages but tourists looking for beautiful beaches and clear warm seas want good hotels and restaurants to get the most from their holiday.
Paros, Greece has all any tourist wanting a relaxing holiday in a great climate might expect. The permanent population of Paros is just 6,000, living on an island just 10 miles across and 13 miles long.
Its golden beaches are the main attraction, but Paros' history and culture are something that all visitors should absorb. It includes involvement in the Greco-Persian Wars, the Crusaders, and the Ottomans.
Parikia is the capital and the regular port of entry for tourists. It is in the northwest of Paros. The island's dimensions mean that none of the beach resorts are too far away from the ferries. The bus service covers the whole of Paros while cars and motorbikes are readily available for rent.
You have a good choice of accommodation and that includes private villas that will give you a greater level of independence. Studio apartments are available as well as a hostel, pensions, and top-quality hotels.
>> FIND BEST HOTELS IN PAROS <<
📌9 Best Areas to stay in Paros
Your decision on where to stay in Paros should be based upon what you want from your holiday. Families with kids obviously want the best beaches. Paros is good for surfing and the best surfing places are popular. There is nightlife, history, and culture to factor in as well. Read on to find out more.
1. Parikia, where to stay in Paros for first-time tourists
Parikia is the capital and main port of Paros on the northwest coast. It is the first stop of many travelers who come to Paros by ferries from Athens, Mykonos, Santorini, Naxos, and Milos. It's a great place to stay for sightseeing, nightlife, and enjoy Cycladic architecture.
The city center is the commercial hub of Paros with many of the island's service industries like banks and travel agents here. The Old Town has architecture typical of the Cyclades whitewashed houses with bougainvillea trees and colorful windows lining narrow alleys once you are away from the waterfront. The tiny alleys are lined with plenty of souvenir shops, travel agencies, cafes, bars, and restaurants.
The old castle near the windmills looks down on the town but the most famous landmark in Parikia is Panagia Ekatontapiliani (Our Lady of a Hundred Doors), a Byzantine church, supposedly built by Constantine the Great's mother, Saint Helen, who was on a pilgrimage to the Holy Land.
It dates to the 4th Century making it one of the oldest of its kind in the whole of Greece. There is the main chapel, two smaller ones, and a baptistry with a font.
As the main town on Paros, Parikia is the best place for budget accommodation, hostels, and some apartments. However, if you want a classy villa, you will find that as well as boutique-style hotels. With so many of the island's permanent population living in Parikia, it is a town that does not close in the winter.
If you want to go island hopping, Parikia is the base for you. Some people never get past Parikia but most of those have a destination elsewhere, such as Santorini which is the next stop for the ferry from Athens.
Good beaches are within walking distance if you find accommodation in Parikia. Livadia Beach is the main beach of Parikia.  Bikes are often freely provided by hotels if you want to explore further, and the district is relatively flat. Nearby, you also have Krios and Marcelo beaches on the north and Parasporos beaches on the south.
Stay in Parikia if you're first time visiting Paros; you are looking for budget accommodation, your preference is a busy town with service amenities, you want access to ferries for day trips to other popular islands close by.
Best places to stay in Parikia:
🔍FIND BEST HOTELS IN PARIKIA
2. Naoussa, where to stay in Paros for nightlife
The charming fishing village of Naoussa is in the north of Paros, around 15 minutes from the island's capital, Parikia, and half an hour from the airport. It is a fishing village, turned tourist resort with a town center filled with lively bars and tavernas. The village square near the port is its heart and you will find designer boutiques, other good shops, and a winery.
It is more expensive than Parikia but more upmarket as well. There is an increasing number of restaurants serving international cuisine. You will also find cocktail bars to satisfy tourist demand.
After sunset, it livens up even more with some places staying open until dawn although the back streets are quieter.
Naoussa is no longer a secret so you will find cosmopolitan tourists here. Despite being busy, Naoussa is also rated as a real Greek small village in atmosphere and architecture. It is certainly picturesque with the narrow cobbled streets, whitewashed houses with bougainvillea, and fishing boats contrasting with the lovely blue sea.
The fishing fleet lands its catches morning and evening so you can be certain that the fish on your plate is fresh. Watch them land the fish before heading to Kastelli, the Venetian castle ruins on the Old Port where you must have your camera.
Paros Park, a coastal nature reserve with walking trails, is also the place for a camera. Kolymbithres Beach, Monastiri beach, Agioi Anargyroi can be reached easily from the Old Harbor by boat.
Other attractions include the Church of the Assumption of the Virgin, Byzantine Museum, and Saint Nicholas or Church of Agios Nikolaos.
Naoussa town center offers plenty of choices when it comes to accommodation, both in terms of price and style. You can get a private villa, stay at a good hotel as well as find something if you are on a budget. The port area is generally limited to budget accommodation.
Stay in Naoussa if you want lively nightlife; Experiencing Greek life is important to you; You are looking for plenty of accommodation alternatives.
Best places to stay in Naoussa:
luxury: Parilio, a Member of Design Hotels This 5-star hotel provides a restaurant, free private parking, a seasonal outdoor swimming pool, a fitness center, airport transfers, a bar, a garden, and free wifi. In close proximity to Venetian Harbor and Castle, Wine Museum of Naousa, and Paros Park.
mid-range: Saint Andrea Resort Hotel This 4-star hotel offers a large, lagoon-style swimming pool with sun loungers, a pool bar, a buffet breakfast, and free private parking. It has air-conditioned rooms with a cable TV, a coffee machine, and private porches. Close to Saint Andrea which has many dining and shopping options for guests to enjoy.
budget: Matsas Windmill Located in the seaside resort of Naoussa, only a 2-minute walk from its bustling center and the Medieval Venetian harbor. It offers air-conditioned rooms with a private balcony, TV, and kitchenette with a mini-fridge, and free WiFi.
🔍FIND BEST HOTELS IN NAOUSSA
See More:
2. Lefkes, where to stay in Paros for hiking
The medieval village of Lefkes is one of Paros' most beautiful villages. You will find it by heading south from Naoussa about 20 minutes into the center of the island. Once you get there, look at the sea views that are wonderful. You see you are at a height of 1,000 feet when you are in Lefkas.
Lefkes has a permanent population of around 5,000. It was once the capital of Paros, back in the Middle Ages. Today it is typical of many Aegean villages with narrow cobbled streets and traditional whitewashed buildings as well as excellent examples of Venetian architecture. 
The Venetians did much of their building in the 15th Century.  They included churches in their development, and you can see plenty of local history in two Lefkas museums. The Folk Art Museum has exhibits of things like clothing and tools while the Museum of Folk Art Culture is equally interesting.
The hillsides are covered with pine and olive trees. Hiking trails around Lefkas allow for exploring but take plenty of water with you on a hot day. One route is the old Byzantine Road through the Prodromos Village down to the sea.
The Byzantine Church of Agia Triada (Holy Trinity) is probably the most important landmark in the village. Its style is Byzantine, but the Byzantines did not build it. It is almost two centuries old and stands on the site of three smaller churches, Anna, Analipsi, and Georgios.
Holy Trinity's white marble shimmers in the sun while the interior is equally spectacular. The frescoes, icons, and ceramics are part of the reason the Greek Ministry of Culture places such importance on it.
Stay in Lefkes if you're interested in hiking; You have an interest in architecture; A coastal location is unimportant to you; You prefer to avoid crowds and want to experience village life.
Best places to stay in Paros in Lefkes:
Sweet Path Villa This villa has a seasonal outdoor swimming pool, a shared lounge, and a garden, free WiFi, and sea views. It features air-conditioned accommodation with a patio, 2 bedrooms, a living room and a flat-screen TV, an equipped kitchen with a dining area, and 2 bathrooms with a shower and a washing machine.
Villa Byzantino This boutique hotel overlooks the Byzantine church of Agia Triada and the scenic surroundings. It offers whitewashed accommodation with elegant interiors and free WiFi. it provides rooms, suites, and villas that combine modern and traditional features, while most open out to private, furnished verandas, with air conditioning, flat-screen TV, bathrobes, and slippers, and an outdoor hot tub with sun loungers in some rooms.
🔍FIND BEST HOTELS IN LEFKES
You might also interested in:
4. Piso Livadi, where to stay in Paros for local vibe
This small fishing port is on the east coast of Paros, 11 miles south of Parikia, the capital, and facing the Island of Naxos. Tourism has become increasingly important, and you will be able to get a day trip to other Cyclades Islands including Naxos from Piso Livadi.
The fresh seafood is on every authentic tavernas' menu. Piso Livadi is famous for its Greek cuisine, and you will eat well if you make it your base. There are apartments and relatively cheap hotels in Piso Livadi so this fishing village should not stretch anyone's budget. If you are looking for a quiet place where you can relax, Piso Livadi may be for you.  
There are three main beaches, Piso Livadi Beach is a small calm beach, sheltered by a pier. A larger one, Logaras Beach is just a short walk away and has sunbeds and some shade. Punda Beach is a little way south and it is where things liven up. There are beach clubs and music starting at noon until late.
The biggest festival of the year in Piso Livadi is Ascension Day. If you are lucky enough to be in the village then, you will enjoy seafood and wine as part of the celebrations.
The Church of Agios Georgios Thalassitis is one of the village's highlights with its frescoes being particularly impressive.
Stay in Piso Livadi if you want to experience the daily local life; You want a choice of beaches; Local Greek cuisine is important to you; You prefer a small resort.
Best places to stay in Piso Livadi:
🔍FIND BEST HOTELS IN PISO LIVADI
5. Parasporos Beach, where to stay in Paros for young people
The campsite close to Parasporos Beach is just one of the reasons for its popularity. Parasporos tends to attract a younger crowd, but it also has luxury hotels. It is so accessible and is located south of the capital, Parikia, on Paros' west coast. You will find a couple of beach bars: Magaya and Parasporos Beach club and plenty of activity, day, and night.  
You can get to Parasporos Beach by bus along an asphalt road and if you have hired a car, there is plenty of parking. If you intend to tour Paros, you can collect a car at the airport that is just 5 miles away while the ferries dock even closer.
The beach is not particularly large, 200 yards long, yet there are 2 beach clubs with music playing all day. There are some pebbles on the beach, largely at the water's edge and continuing into the sea. The beautiful colors of the water more than compensate and this is a great place for swimming.
Santa Maria is a quieter option if you want to stay in the northern part of Paros. Arguably, Santa Maria has the best beach on the whole of Paros. However, with Parikia close to Parasporos, you are not far away from activities if you want them.
Stay in Parasporos Beach if you want to party with others of your age, your budget means you need a choice of cheap accommodation, even a tent, you do not want to be in one of the larger resorts.
Best places to stay in Parasporos Beach:
🔍FIND BEST HOTELS IN PARASPOROS
6. Aliki, a lovely place in Paros for families with kids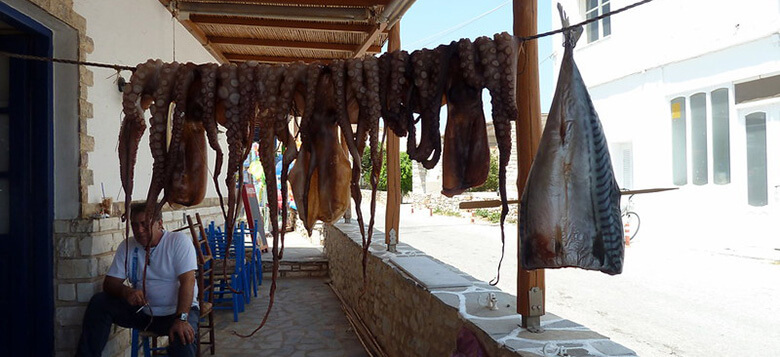 If you are a family with small children, Aliki on the south coast of Paros is a place to look at closely. There is plenty of choices when it comes to accommodation. It ranges from tavernas renting rooms to pensions. Aliki gets its name from the Greek word for saltmarsh as there is a marsh close to the village.
There are 3 sandy beaches, and the village is quieter than places like Parikia and Naoussa. Windsurfers have begun to head to Aliki as one of the best places to enjoy their sport. It has become increasingly popular in recent years as tourists have spread throughout the island. It is quieter than the larger villages and has retained a real flavor of Greece. 
Aliki Beach is small but right in the heart of the village with a play area in the trees. Agios Nikolaos has beautiful shallow water ideal for children, and it also has a playground. The third is Piso Aliki behind the pier. It is a mix of sand and pebbles with shallow water here as well. 
Aliki is a friendly place with the locals welcoming the revenue brought by tourists. Traditional tavernas use only the best local produce to produce their dishes and the freshest of it all are the day's catch. However, one of the local favorites is gouna which is mackerel that has been laid out in the sun to dry and octopus is treated the same way.
If you are interested in Cyclades folklore, there is a Museum of Cycladic Folklore in the suburbs of Aliki. The exhibits include miniatures of monuments, ships, and plenty of handmade items that will interest you. 
Stay in Aliki if This is a family holiday; You do not want to stay in a busy place; You want to get close to typical Greek village life.
Best places to stay in Aliki:
🔍FIND BEST HOTELS IN ALIKI
7. Antiparos, where to stay in Paros for beautiful beaches
This small island little more than a mile southwest of Paros is another alternative if you are really looking for a quiet holiday with beautiful beaches. There are 1,000 locals living permanently on Antiparos and nearby Saiagos. Tourism is important to their economies with fishing and farming local activities. Highlight attractions are the Antiparos cave, Despotiko island, and Antiparos town.
Facilities are basic but places like Monastiria Beach are gems. You can enjoy the colours, flowers like bougainvillea adding to the whitewashed houses and blue sea. The remote sandy beaches appeal to those looking for solitude.
The small uninhabited islands around Antiparos are of huge archaeological importance so if you are prepared to roam, there are treasures to be seen. Excavations over the years have discovered ancient cemeteries, pottery, foundations, marble statues, and arrowheads from Neolithic times.
The Venetians were here for over three centuries until 1537 when the Ottomans arrived with Greek independence much later. The Venetian Castle, Kastro of Antiparos is dated to the 15th Century when defensive structures were essential. The Venetian castle ruins within which homes were built at the same time are one of the other things attracting visitors.
The Cave of Antiparos provides revenue from visitors to help this small island's economy. It was used for shelter as early as Neolithic times. A beautiful deep cave with impressive stalagmites and stalactites, the signs of human activity over the centuries within the cave are clear to see. If you do nothing else, make sure you go to this cave.
The Church of Agios Ioannis Spiliotis and the Folklore Museum of Antiparos are impressive features of this small island. All in all, Antiparos is a lovely place, and you will find accommodation if you want to stay.
Stay in Antiparos if you want somewhere quiet with pristine beaches; you have a passion for archaeology and Aegean history, your top priority is you do not mind traveling to get to your base.
Best places to stay in Antiparos:
🔍FIND BEST HOTELS IN ANTIPAROS
8. Chrissi Akti (Golden Beach), where to stay in Paros for windsurfers
Often referred to as Golden Beach, Chriss Akti is in the southeast of Paros. It has an organised beach with water sports schools, beach clubs, hotels, rooms to let, and restaurants. Chrissi Akti is another good place for families because the water is shallow and safe for youngsters. 
The European Union's award of a blue flag to this soft sand beach is evidence enough of its quality. It has the appearance of glass in the brightness of the sun. There are few better settings in the whole of the Aegean. 
This sandy beach is also a popular place for windsurfers but on windy days, not so ideal for lying on the beach.  The Professional Windsurfing World Cup has been held in New Golden Beach several times. The winds on Paros' east coast are stronger than elsewhere on the island.  If you want to book a stay here in August, you need to plan well in advance.
Nearby Drios provides the most choice of accommodation. It is just a small fishing village in a very fertile part of Paros. The growth of tourism because of the lovely beaches has resulted in lots of choices including apartments, studios, and hotels locally.
Stay in Chrissi Akti if Windsurfing is your hobby, and you want a challenge; You are looking for an ideal family holiday location; Local cuisine is always important when you go on holiday.
Best places to stay in Chrissi Akti (Golden Beach):
🔍FIND BEST HOTELS IN CHRISSI AKTI
9. Santa Maria, where to stay in Paros off-the-beaten-path
The remote area of Santa Maria in Plastira Bay is in the north of Paros, with its two lovely sandy beaches facing the neighbouring island of Naxos. The water between the two is beautifully clear, and ideal for snorkeling. Indeed, there is a diving school and a windsurfing and diving centre where you can hire equipment. 
It is a busy place with a campsite close to the beaches adding to the numbers it can cater for. You will find Santa Maria very accessible, with the taxi time just 6 minutes from Naoussa and a regular bus service.
Relax on either of the beaches where you will find sun loungers, umbrellas and even paddle boats. You can camp but there are other accommodation choices, beach huts, apartments, and villas.
Stay in Santa Maria if you're looking for off-the-beaten-path destinations in Paros; You want a sandy beach location; Watersports, especially snorkeling and diving, appeal to you; You are happy with the choice of accommodation.
Best places to stay in Santa Maria:
🔍FIND BEST HOTELS IN SANTA MARIA
Check out my virtual tour about the best places to stay in Paros in this video:
What is the best part of Paros to stay in?
Parikia and Naoussa are the top two destinations on Paros. Each is within walking distance to the beach, with lively bars and fine restaurants as well as good shopping. Look at Stelia Mare Boutique Hotel in Naoussa or Sunset View Hotel in Parikia as ideas in both.
Where should I stay in Paros Parikia or Naoussa?
Parikia and Naoussa are the two largest places in Paros. Parikia has more than half of the island's population and unsurprisingly has good accommodation choices like Paros Palace. Naoussa is equally popular so look at Hotel Senia. Neither will disappoint and it is perhaps unfair to rate one higher than the other?
Where is the party at Paros?
Naoussa is the main party place in Paros. You may decide to have an early drink elsewhere, perhaps on Parikia waterfront but for the liveliest night, you need to head to Naoussa which is 6 miles away, a 10-minute taxi ride, or twice as long on the bus.
Where should I stay in Paros or Naxos?
Both these Greek Islands are very popular. Naxos is larger with more beaches, but both are equally as accessible. Naxos is arguably more family-friendly but when it comes to cuisine, and water sports there is little to choose between the two. Paros' transport is slightly better, as is its nightlife.
See More About Greece:
Paros has become one of the most popular islands in the Aegean, despite the time it takes to reach your holiday destination. The journey is worth it, and your time on the Aegean is wonderful, whether you are beginning your holiday or heading for home. This Cyclades Island still retains an authentic feel.
Everywhere, you will see whitewashed homes, typical of the Aegean and by day you can enjoy the many beaches and the clear blue waters. Greek cuisine is excellent with fresh seafood a particular favourite. You can dine in traditional tavernas or quality restaurants, the choice is yours.
There is accommodation for every budget from camping and hostels to boutique-style hotels to luxury resorts. Paros is awaiting you.