In this blog, I will help you to find Where to stay in Paros (without a car, for nightlife, families, the best beaches, and couples). I'll give you the list of best areas in Paros for first-time visitors, and the best hotels for all budgets (including the hotel where I stayed).
Paros is a beautiful island located in the Aegean Sea in Greece. It is part of the Cyclades island group and is known for its stunning beaches, charming villages, and historical sites. It is very much a transport hub for all the other islands.
Paros is well-connected to Athens and other islands by ferry and has a domestic airport. During the summer season, there are frequent ferry connections from Athens' ports, like Piraeus and Rafina, as well as other islands in the Cyclades.
There are international flights direct to Santorini or Mykonos during several months of the year. The fast boat from Mykonos is only a 40-minute journey to Paros.
Once you're on the island, you can get around by buses (an affordable and convenient way to travel around the island), taxis (in the main towns and the airport), car, and by walking.
Where to stay in Paros first time?
The best areas to stay in Paros for tourists are Parikia, Naoussa, Lefkas, Piso Livadi, Parasporos Beach, Aliki, Antiparos, Golden Beach, and Santa Maria. Each area has its own charm and attractions, so consider your preferences to choose the right base.
Parikia and Naoussa are the best overall areas for first-timers. Parikia is best base for easy access to transportation, historic charm, and tourist amenities. Naoussa is best location for those seeking to stay in a charming fishing village vibe, stunning beaches, and vibrant nightlife.
Parikia and Naoussa are the best areas to stay in Paros without a car due to their walkability and wide range of tourist facilities such as restaurants, bars, and shops. They are also well-connected to bus, making them great locations to get around without renting cars or motorbikes.
Where did I stay in Paros?
When I first visited Paros, I stayed for 5 nights at the Argonauta Hotel. It has a great location next to the port, within walking distance to many local restaurants and shops. I had fantastic breakfasts, and the waitress was very friendly.
Overviews of best areas to stay in Paros for tourists
Here is an overview of recommended areas in Paros for first-time visitors:
| Best areas in Paros for tourists | Why should you stay in this area? |
| --- | --- |
| Parikia | As the capital and main port of Paros, Parikia has a a lovely waterfront promenade and a picturesque old town with narrow streets, white-washed houses, and numerous shops, restaurants, and bars. |
| Naoussa | Located on the northern coast of Paros, Naoussa is a postcard-worthy fishing village with a vibrant atmosphere. Its narrow streets are lined with boutique shops, art galleries, and waterfront tavernas. The harbor is filled with colorful fishing boats, and the town is known for its lively nightlife scene. |
| Lefkas | Situated in the heart of Paros, Lefkes is a mountain village that offers a peaceful and traditional experience. Its whitewashed houses, winding alleys, and quaint squares create a picturesque setting. Lefkes is surrounded by lush greenery and provides stunning views of the island. |
| Piso Livadi | a small fishing village on the eastern coast of Paros offers a relaxed and laid-back ambiance. Piso Livadi has a charming harbor, sandy beaches, and a good selection of waterfront restaurants serving fresh seafood. It is also a great base for exploring nearby beaches and the neighboring island of Naxos. |
| Parasporos Beach | Located just a short distance from Parikia, Parasporos is one of the most popular beaches on the island. It is a great choice if you want to stay close to the main town while enjoying a beautiful beach. |
| Aliki | Situated on the southern coast of Paros, Aliki is a charming coastal village with a relaxed atmosphere. It is known for its traditional architecture, picturesque windmill, and peaceful surroundings. |
| Antiparos | Although not technically on Paros, Antiparos is a nearby island that is easily accessible by a short ferry ride. It offers a tranquil and authentic experience. Antiparos has beautiful beaches, including the famous Cave Beach, and a laid-back town with narrow streets, tavernas, and shops. |
| Golden Beach | Located on the southeastern coast of Paros, Golden Beach (also known as Chrissi Akti) is a popular destination for water sports enthusiasts, swimming and windsurfing. |
| Santa Maria | Situated on the northeastern coast of Paros, Santa Maria offers a tranquil atmosphere, great base for a relaxing beach vacation with easy access to water sports activities. |
Map of areas and towns in paros for tourists:
🎬 You can watch this short video about the best areas in Paros, and continue reading:
How to get around Paros without a car?
Getting around Paros without a car is generally quite feasible, as the island offers various transportation options to explore its attractions and get from one place to another.
Here are some of the transportation options you can consider:
Local Buses:
Paros has a well-developed bus network that connects the main towns and popular beaches. Buses are a cost-effective way to get around the island.
They typically run frequently during the tourist season, but schedules may be less frequent in the offseason. The central bus stations are situated in Parikia and Naoussa.
Taxis:
Taxis are readily available on the island and can be a convenient way to travel, especially if you're in a group or need to get to a specific location quickly. However, they can be more expensive than other options. Taxis can be found at the airport, and big towns like Parikia and Naoussa.
Bicycles:
Paros is a relatively small island with a pleasant climate, making it suitable for cycling. Many places on the island offer bicycle rentals, and it's a great way to explore at your own pace.
Scooters and ATVs:
Renting a scooter or an ATV is a popular choice among tourists. They provide more flexibility in terms of where you can go, but make sure you have the necessary licence and experience to operate them safely.
Walking:
In some areas, especially the towns and smaller villages, walking is a fantastic way to explore. The island's compact size means that you can often reach your destination on foot if you're staying in a central location.
Boat Tours:
For exploring nearby islands or remote beaches, consider taking boat tours, which are widely available in Paros. These tours can be a great way to see more of the surrounding islands.
If you intend to explore more remote or less accessible areas, it's a good idea to plan your transportation options in advance. Overall, Paros is a tourist-friendly destination, and you should be able to navigate the island without too much difficulty even without a car.
The Best Areas to stay in Paros for tourists are:
1. Naoussa
Naoussa along with Parikia is the best overall area to stay in Paros for first-timers. Located 15 minutes from the island's capital, Parikia, and half an hour from the airport, Naoussa is a charming fishing village in the north of Paros.
Naoussa is now a tourist resort with a town center filled with lively bars and tavernas. The village square near the port is its heart and you will find designer boutiques, other good shops, and a winery.
Naoussa is more expensive than Parikia. There is an increasing number of restaurants serving international cuisine. You will also find cocktail bars to satisfy tourist demand. After sunset, it livens up even more with some places staying open until dawn although the back streets are quieter.
Naoussa is no longer a secret so you will find cosmopolitan tourists here. Despite being busy, Naoussa is also rated as a real Greek small village in atmosphere and architecture. I
t is certainly picturesque with the narrow cobbled streets, whitewashed houses with bougainvillea, and fishing boats contrasting with the lovely blue sea.
The fishing fleet lands its catches morning and evening so you can be certain that the fish on your plate is fresh. Watch them land the fish before heading to Kastelli, the 15th-century Venetian castle ruins on the Old Port where you must have your camera.
The Old Port is the heart of the nightlife with many seafood restaurants, cocktail bars, and shops. You will amazing tavernas like Mario, Sigi Ikthios and Tsachpines.
There are also three beaches nearby such as Piperaki, Piperi, and Agii Anargyrii, good for swimming!
If you take water taxi from Naoussa port, you can visit the 800-acre of Paros Park, a coastal nature reserve with three hiking trails, a lighthouse, an open-air cinema, ancient amphitheater, and a monastery.
Kolymbithres Beach, Monastiri beach, Piperi Beach, Agioi Anargyroi are the beaches nearby.
You will also find the Church of Agios Antonios, Naoussa Byzantine Museum with bright blue domes, Church of St Nicholas, and the Paros Moraitis Wine Museum.
Another interesting place to visit is the Moraitis Winery is the leading winemaker in Paros, with more than 100 acres of vineyards.
Naoussa offers various accommodation options and has a good bus service connecting it to other parts of the island. You can get a private villa, good hotel on a budget in the town center. The port area is limited to budget accommodation.
Stay in Naoussa if this is your first visit; you want lively nightlife; Experiencing Greek life is important to you; You are looking for plenty of accommodation alternatives.
Best places to stay in Naoussa:
luxury ($$$): Parilio, a Member of Design Hotels This 5-star hotel provides a restaurant, free private parking, a seasonal outdoor swimming pool, a fitness center, airport transfers, a bar, a garden, and free wifi. In close proximity to Venetian Harbor and Castle, Wine Museum of Naousa, and Paros Park.
mid-range ($$): Saint Andrea Resort Hotel This 4-star hotel offers a large, lagoon-style swimming pool with sun loungers, a pool bar, a buffet breakfast, and free private car parking. It has air-conditioned rooms with a cable TV, a coffee machine, and private porches. Close to Saint Andrea which has many dining and shopping options for guests to enjoy.
budget ($): Matsas Windmill Located in the seaside resort of Naoussa, only a 2-minute walk from its bustling center and the Medieval Venetian harbor. It offers air-conditioned rooms with a private balcony, TV, and kitchenette with a mini-fridge, and free WiFi.
🔍MORE HOTELS DEALS IN NAOUSSA
2. Parikia
Parikia is the capital and main port of Paros, making it a convenient choice for travelers without a car. The town offers a wide range of accommodations, from budget guesthouses to boutique hotels. You'll find restaurants, shops, and public transportation options easily accessible.
Parikia along with Naoussa is the main town on the island with lots of tourist amenities and well-connected by public transport. Parikia is located on the northwest coast, only 15 minutes by car to airport and 30 minutes by bus to Naoussa.
Parikia is the first stop of many travelers who come to Paros by ferries from Athens, Mykonos, Santorini, Naxos, and Milos. It's a great place to stay for sightseeing, nightlife, and enjoy Cycladic architecture.
The city center is the commercial hub of Paros with many of the island's service industries like banks and travel agents here.
The Old Town has architecture typical of the Cyclades whitewashed houses with bougainvillea trees and colorful windows lining narrow alleys once you are away from the waterfront. The tiny alleys are lined with plenty of souvenir shops, travel agencies, cafes, bars, and restaurants.
The Windmill is one of the first things you'll see on your arrival from the port and a great spot for viewing the sunset. The waterfront and harbor area are packed with lively bars and seafood tavernas.
One of the most famous landmarks in Parikia is Panagia Ekatontapiliani (Our Lady of a Hundred Doors), which is the 4th-century Byzantine church, supposedly built by Constantine the Great's mother, Saint Helen, who was on a pilgrimage to the Holy Land.
The complex of Ekatontapiliani contains the Church of the Assumption of the Virgin, the chapels of Agios Nikolaos, Agia Theodosia, Agios Dimitrios, and the Byzantine museum.
If you love history, there is the Paros Archaeological Museum, where you can find archaeology from the Neolithic to the early Christian periods to learn more about ancient history.
The 13th-century Frankish Castle was once the residence of the Venetian Governor. You can also find the ancient Cemetery dating back to the 8th Century BC along the Parikia's waterfront and the Archaic Temple of Athena.
The Church of Saint Constantine is set at the highest point of the Kastro. great place to watch the sunset over the sea.
As the main town on Paros, Parikia is the best place for budget accommodation, hostels, and some apartments. However, if you want a classy villa, you will find that as well as boutique-style hotels.
With so many of the island's permanent population living in Parikia, it is a town that does not close in the winter. The best time to visit Paros is from May to October with busy months being July and August
If you want to go island hopping, Parikia is the base for you. Some people never get past Parikia but most of those have a destination elsewhere, such as Santorini which is the next stop for the ferry from Athens.
Good beaches are within walking distance if you find accommodation in Parikia. Livadia Beach is the main beach of Parikia with calm, clear water. Bikes are often freely provided by hotels if you want to explore further, and the district is relatively flat.
Nearby, you also have Krios and Marcelo beaches on the north and Parasporos beaches on the south. Other interesting places nearby are the Butterflies Natural Reserve which is seven kilometers to the southwest of Parikia and the Benetos Museum of Cycladic Folklore.
Stay in Parikia if you're first time visiting Paros; you are looking for budget accommodation, your preference is a busy town with service amenities, you want access to ferries for day trips to other popular islands close by; you travel without a car;
Best places to stay in Parikia:
luxury ($$$): Paros Agnanti Hotel Located only 100 m from the beach, with beautiful ocean, this luxury hotel offers guest rooms with a traditional style. There are beds with orthopaedic mattresses, and balcony. There is outdoor pool tennis court, and free car parking.
mid-range ($$): Paros Palace Located close to shopping area and nightlife, this 4-star romantic hotel has a traditional style with white-washed walls, and cozy atmostphere. Guest can enjoy views of Parikia Bay, free car parking, free wifi, and many type of breakfast continental, American, buffet.
budget ($): Argonauta Hotel Located only 5 minutes' walk from the port of Paros, this hotel has on-site restaurant that serve Greek cuisine. it is within walking distance from the port and harbour area. Close to shoping and nighlife of Parikia but still feel peace and relax.
🔍MORE HOTELS DEALS IN PARIKIA
See more:
3. Lefkes
Located under a pinewood on the hill, the medieval village of Lefkes is one of Paros' most beautiful villages. You will find it by heading south from Naoussa about 20 minutes into the center of the island.
Once you get there, look at the sea views that are wonderful. You see you are at a height of 1,000 feet when you are in Lefkas.
Lefkes has a permanent population of around 500 residents. It was once the capital of Paros, back in the Middle Ages.
Today it is typical of many Aegean villages with narrow cobbled streets and traditional whitewashed buildings as well as excellent examples of Venetian architecture.
In the village, you will find the main street of Ramnos, tourist shops, neoclassic buildings, the House of Literature, the Museum of Cycladic Folklore, and the square where locals meet and enjoy coffee.
On the hills around the village, there are windmills, many of which have been restored and at the edge of the village, on a hill, there is the church of Agia Triada with the famous belfries.
The Byzantine Church of Agia Triada (Holy Trinity) is constructed of Parian marble in 1835. Its style is Byzantine, but the Byzantines did not build it. It is almost two centuries old and stands on the site of three smaller churches, Anna, Analipsi, and Georgios.
Holy Trinity's white marble shimmers in the sun while the interior is equally spectacular. The frescoes, icons, and ceramics are part of the reason the Greek Ministry of Culture places such importance on it.
The Venetians did much of their building in the 15th Century. They included churches in their development, and you can see plenty of local history in two Lefkas museums.
The Folk Art Museum has exhibits of things like clothing and tools while the Museum of Folk Art Culture is equally interesting.
The hillsides are covered with pine and olive trees. Hiking trails around Lefkas allow for exploring but take plenty of water with you on a hot day.
One route is the old Byzantine Road through the Prodromos Village down to the sea. It is a unique 3.5 km marble-paved path over 1,000 years old.
If you visit Lefkes in August, you will have a chance to take part in the feast of Karavolas, one of the largest festivals in the Aegean with a great deal of food, karavoles (large snails), wine, and dancing.
Accommodations are limited with a few guesthouses and small hotels.
Stay in Lefkes if you're interested in hiking; You have an interest in architecture; A coastal location is unimportant to you; You prefer to avoid crowds and want to experience village life.
Best places to stay in Paros in Lefkes:
Sweet Path Villa This villa has a seasonal outdoor swimming pool, a shared lounge, and a garden, free WiFi, and sea views. It features air-conditioned accommodation with a patio, 2 bedrooms, a living room and a flat-screen TV, an equipped kitchen with a dining area, and 2 bathrooms with a shower and a washing machine.
Villa Byzantino This boutique hotel overlooks the Byzantine church of Agia Triada and the scenic surroundings. It offers whitewashed accommodation with elegant interiors and free WiFi. it provides rooms, suites, and villas that combine modern and traditional features, while most open out to private, furnished verandas, with air conditioning, flat-screen TV, bathrobes, and slippers, and an outdoor hot tub with sun loungers in some rooms.
🔍MORE HOTELS DEALS IN LEFKES
You might also be interested in:
4. Piso Livadi
This small fishing port is on the east coast of Paros, 11 miles south of Parikia, the capital, and facing the Island of Naxos.
Tourism has become increasingly important, and you will be able to get a day trip to other Cyclades Islands including Naxos from Piso Livadi. You can also have the boats that depart from here to Ios, Santorini, Amorgos, Mykonos, Delos, Antiparos, and Koufonissia in the summer months.
The fresh seafood is on every authentic tavernas' menu. Piso Livadi is famous for its Greek cuisine, and you will eat well if you make it your base. There are taverns, ouzo, and lively bars around its small charming port.
There are apartments and relatively cheap hotels in Piso Livadi so this fishing village should not stretch anyone's budget. If you are looking for a quiet place where you can relax, Piso Livadi may be for you.
There are three main beaches, Piso Livadi Beach is a small calm beach, sheltered by a pier. A larger one, the Logaras Beach is just a short walk away and has sunbeds and some shade.
Punda Beach is a little way south and it is where things liven up. There are beach clubs and music starting at noon until late.
If you take a bus to the north, you will find Kalogeros Beach, or the Mud Beach. It has crystal blue water and beautiful cliffs on its eastern edge. Bring your own snacks as there is no restaurants or sunbed facilities on the beach.
The biggest festival of the year in Piso Livadi is Ascension Day. If you are lucky enough to be in the village then, you will enjoy seafood and wine as part of the celebrations.
The Church of Agios Georgios Thalassitis is one of the village's highlights with its frescoes being particularly impressive.
Nearby, you will find the villages of Marpissa, Marmara, Prodromos, and the famous Chrisi Akti beach is just 4km away!
Stay in Piso Livadi if you want to experience the daily local life; You want a choice of beaches; Local Greek cuisine is important to you; You prefer a small resort.
Best places to stay in Piso Livadi:
🔍MORE HOTELS DEALS IN PISO LIVADI
5. Parasporos Beach
Located on the west coast of Paros, three kilometers from the capital of the island, Parasporos is good base for hip travelers who want calm and quite neighborhood.
The campsite close to Parasporos Beach is just one of the reasons for its popularity. Parasporos tends to attract a younger crowd, but it also has luxury hotels.
To the north of Parasporos, stands the a small sandy cove, called Delfini Bay. People often confuse with Parasporos but its defferent, follow the signs to the right place.
It is so accessible and is located south of the capital, Parikia, on Paros' west coast. You will find a couple of beach bars: Magaya and Parasporos Beach club and plenty of activity, day, and night.
You can get to Parasporos Beach by bus along an asphalt road and if you have hired a car, there is plenty of parking. If you intend to tour Paros, you can collect a car at the airport that is just 5 miles away while the ferries dock even closer.
The beach is not particularly large, 200 yards long, yet there are 2 beach clubs with music playing all day. There are some pebbles on the beach, largely at the water's edge and continuing into the sea. The beautiful colors of the water more than compensate and this is a great place for swimming.
The beach has frequent winds, high waves attracts windsurfers. There are also beach facilities such as deck chairs, sun tents, washing houses and water closet.
Santa Maria is a quieter option if you want to stay in the northern part of Paros. Arguably, Santa Maria has the best beach on the whole of Paros. However, with Parikia close to Parasporos, you are not far away from activities if you want them.
Stay in Parasporos Beach if you want to party with others of your age, your budget means you need a choice of cheap accommodation, even a tent, you do not want to be in one of the larger resorts.
Best places to stay in Parasporos Beach:
🔍MORE HOTELS DEALS IN PARASPOROS
6. Aliki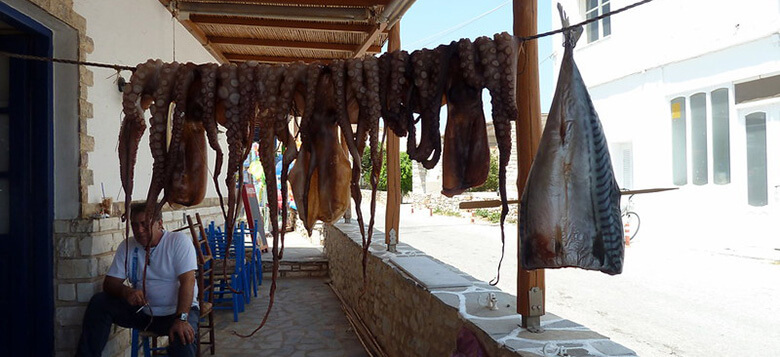 If you are a family with small children, Aliki on the southwest coast of Paros is a place to look at closely. There is plenty of choices when it comes to accommodation.
It ranges from tavernas renting rooms to pensions. Aliki gets its name from the Greek word for saltmarsh as there is a marsh close to the village.
There are 3 sandy beaches, and the village is quieter than places like Parikia and Naoussa. Windsurfers have begun to head to Aliki as one of the best places to enjoy their sport.
It has become increasingly popular in recent years as tourists have spread throughout the island. It is quieter than the larger villages and has retained a real flavor of Greece.
The most popular beach is Alyki Beach. Aliki Beach is small but right in the heart of the village with a play area in the trees if you need a shade. The beach has shallow waters, sandy with small rocks. There is no chairs and umbrellas.
Agios Nikolaos has beautiful shallow water ideal for children, and it also has a playground. The third is Piso Aliki behind the pier. It is a mix of sand and pebbles with shallow water here as well.
You can also find Faragas beach which is white sand and deep blue water, well protected from the wind. You can enjoy a swim, grab a drink under the umbrellas and the sea trees.
Aliki is a friendly place with the locals welcoming the revenue brought by tourists. You can have a meal at the place with the views of rocky islets Tigani and Panteronisi.
Traditional tavernas use only the best local produce to produce their dishes and the freshest of it all are the day's catch. However, one of the local favorites is gouna which is mackerel that has been laid out in the sun to dry and octopus is treated the same way.
If you are interested in Cyclades folklore, there is a Museum of Cycladic Folklore in the suburbs of Aliki. The exhibits include miniatures of monuments, ships, and plenty of handmade items that will interest you.
Aliki hosts numerous of cultural events during the year including the feast of St. John of Klidonas in June, the feast of the Holy Cross in September, and the feast of Christ the Savior in August.
If you walk around 3 km toward inland, you will find a semi-mountainous picturesque settlement, called Agairia.
Stay in Aliki if This is a family holiday; You do not want to stay in a busy place; You want to get close to typical Greek village life.
Best places to stay in Aliki:
🔍MORE HOTELS DEALS IN ALIKI
7. Antiparos
This small island little more than a mile southwest of Paros is another alternative if you are really looking for a quiet holiday with beautiful beaches. There are 1,000 locals living permanently on Antiparos and nearby Saiagos.
Antiparos is only 8 minutes by car ferry from Pounta and 30 minutes by ferry from Parikia.
Antiparos has some lovely sandy beaches, which such as Glyfa, Apantima, Agios Spyridonas, Psaraliki, Soros, Kampos, Monastiria, and Vathis Volos beach with magical sunsets
Tourism is important to their economies with fishing and farming local activities. Highlight attractions are the Antiparos cave, Despotiko island, and Antiparos town.
Facilities are basic but places like Monastiria Beach are gems. You can enjoy the colours, flowers like bougainvillea adding to the whitewashed houses and blue sea. The remote sandy beaches appeal to those looking for solitude.
The small uninhabited islands around Antiparos are of huge archaeological importance so if you are prepared to roam, there are treasures to be seen. Excavations over the years have discovered ancient cemeteries, pottery, foundations, marble statues, and arrowheads from Neolithic times.
The Venetians were here for over three centuries until 1537 when the Ottomans arrived with Greek independence much later. The Venetian Castle, Kastro of Antiparos is dated to the 15th Century when defensive structures were essential.
The Cave of Antiparos provides revenue from visitors to help this small island's economy. It was used for shelter as early as Neolithic times. A beautiful deep cave with impressive stalagmites and stalactites, the signs of human activity over the centuries within the cave are clear to see. If you do nothing else, make sure you go to this cave.
The Church of Agios Ioannis Spiliotis and the Folklore Museum of Antiparos are impressive features of this small island. All in all, Antiparos is a lovely place, and you will find accommodation if you want to stay.
Stay in Antiparos if you want somewhere quiet with pristine beaches; you have a passion for archaeology and Aegean history, your top priority is you do not mind traveling to get to your base.
Best places to stay in Antiparos:
🔍MORE HOTELS DEALS IN ANTIPAROS
8. Chrissi Akti (Golden Beach)
Often referred to as Golden Beach, Chriss Akti is in the southeast of Paros, overlooking the island of Drionissi. It has an organized beach with water sports schools, beach clubs, hotels, rooms to let, and restaurants.
Chrissi Akti is another good place for families because the water is shallow and safe for youngsters.
The European Union's award of a blue flag to this soft sand beach is evidence enough of its quality. It has the appearance of glass in the brightness of the sun. There are few better settings in the whole of the Aegean.
This sandy beach is also a popular place for windsurfers but on windy days, not so ideal for lying on the beach. The Professional Windsurfing World Cup has been held in New Golden Beach several times.
The winds on Paros' east coast are stronger than elsewhere on the island. If you want to book a stay here in August, you need to plan well in advance.
Nearby Drios provides the most choice of accommodation. It is just a small fishing village in a very fertile part of Paros. The growth of tourism because of the lovely beaches has resulted in lots of choices including apartments, studios, and hotels locally.
Stay in Chrissi Akti if Windsurfing is your hobby, and you want a challenge; You are looking for an ideal family holiday location; Local cuisine is always important when you go on holiday.
Best places to stay in Chrissi Akti (Golden Beach):
🔍MORE HOTELS DEALS IN CHRISSI AKTI
9. Santa Maria
The remote area of Santa Maria is set in Plastira Bay, the north of Paros, with its two lovely sandy beaches facing the neighboring island of Naxos including the main beach – Santa Maria Surfing Beach (or Santa Maria Camping), and Mikri Santa Maria Beach (Little Santa).
The water between the two is beautifully clear, and ideal for snorkeling. Indeed, there is a diving school and a windsurfing and diving center where you can hire equipment.
It is a busy place with a Santa Maria Camping close to the beaches adding to the numbers it can cater for. You will find Santa Maria very accessible, with the taxi time just 6 minutes from Naoussa and regular bus service.
Relax on either of the beaches where you will find sun loungers, umbrellas, and even paddle boats. You can camp but there are other accommodation choices, beach huts, apartments, and villas.
Stay in Santa Maria if you're looking for off-the-beaten-path destinations in Paros; You want a sandy beach location; Watersports, especially snorkeling and diving, appeal to you; You are happy with the choice of accommodation.
Best places to stay in Santa Maria:
🔍MORE HOTELS DEALS IN SANTA MARIA
Check out my virtual tour about the best places to stay in Paros in this video:
Where is the best area to stay in Paros, Greece?
Parikia or Naoussa are the best area to stay in Paros because they are the main towns of the island with plenty of tourist amenities. If you stay here, you will be located within walking distance to attractions, bars, restaurants, and shops.
Is it better to stay in Parikia or Naoussa?
It's best to stay in Parikia if you want good range of budget friendly accommodations, shops, and restaurants or you travel without a car and rely on public transport. Naoussa is a better choice if you want more of a picturesque, upmarket, more lively in summer months July and August.
What is the main town of Paros?
Parikia is the main town of Paros, known for its charming streets and traditional architecture. It's a popular spot for tourists and locals alike.
How many days should I stay in Paros?
It really depends on what you want to do and see in Paros. I'd recommend staying at least 3-4 days to explore the island's beautiful beaches, charming villages, and cultural landmarks.
Where to stay in Paros without a car?
Parikia and Naoussa are the best places to stay in Paros without a car because they are the island's transport hub. Their locations offer easy walk to restaurants, shops, and beaches. They are also well-connected to bus, so you can easily make day trips to nearby beaches and towns.
See More About Greece:
In conclusion, Parikia, Naoussa, Lefkas, Piso Livadi, Parasporos Beach, Aliki, Antiparos, Golden Beach, and Santa Maria are the best places to stay in Paros for tourists and first-time travelers.
In general, Parikia and Naoussa are the best areas for first-timers and car-free travelers. Parikia is the capital that offers traditional Greek experience with narrow streets and whitewashed buildings. Naoussa is a charming fishing village with lively nightlife, beautiful beaches, and Venetian architecture.
Both locations have plenty of restaurants, bars, and shops to explore, so it's worth considering what you want out of your vacation before making a decision.