Where to stay in Sifnos? for families and couples? In this blog post, we will explore the best areas to stay in Sifnos (include video and map), discussing the pros and cons of each area, and the best hotels in Sifnos for all budget travelers.
Sifnos is one of the islands in the Cyclades Group where legends are common. In the case of Sifnos, those legends are about Apollo. This Group is southeast of the Greek Mainland with ferries, catamarans, and hydrofoils linking it to the Mainland.
If you choose a Greek Island holiday, it is likely because you enjoy the sand and sea. Some are easily accessible, others less so. Sifnos has no airport so it takes time to get there. Don't dismiss Sifnos because of that and the need to sail for a few hours to get there. Think of it as the first day of your holiday, cruising the Aegean.
Sifnos is a small island so no one place is too far away from another. Its capital is no real size and is effectively a collection of small villages. As a result, you will find little difference between any of the ''resorts'' you will find on Sifnos. A sandy beach and the Aegean Sea are constants.
The total area of Sifnos is only 35 square miles. The local hub for routes out to the coast is the capital, Apollonia. You may find you have to head there then back out to another coastal resort as a way to get around. However, the distances are small as you will see from the size of the Island. If you are in a hurry, call a taxi.
There's no need to hurry when you have a holiday on a Greek island. Enjoy the golden sand, the sea views, the walking trails, and by night the wonderful cuisine.
Where to stay in Sifnos first time?
The best areas to stay in Sifnos for tourists are Apollonia, Platis Gialos, Kamares, Kastro, Faros, and Vathy. These are popular and safe places for tourists, offering plenty of things to do and see.
Apollonia is the best overall area to stay in Sifnos for first-timers because it is the capital city and transport hub of the island, making it a great base to explore other beautiful beaches and towns. It also offers the highest concentration of hotels, restaurants, bars, and shops.
The quickest craft from Athens to Sifnos will take close to 4 hours and often more. You have the choice of traditional ferries, hydrofoil, and catamaran. 3 companies currently run boats to Sifnos from Athens and it is worth looking closely at the alternatives that best suit your flight into Athens.
The last leg of your journey from the UK to Sifnos is likely to be across the Aegean from Piraeus, the port suburb of Athens. That journey is anything from 4 to 8 hours depending on the craft you book.
There are plentiful flights into Athens from South East England, peaking during the main holiday months of summer. They are approximately 4 hours then you need to factor in the time between leaving the airport and boarding your ferry to get your total travelling time.
Maps of areas and towns in Sifnos:
Overviews of best areas to stay in Sifnos for tourists
Here is an overview of recommended areas in Sifnos for first-time visitors: 
| Best areas in Sifnos for tourists | Why should you stay in this area? |
| --- | --- |
| Apollonia | Apollonia is the capital and main hub of Sifnos. It's a charming village filled with narrow streets, white-washed buildings, shops, restaurants, and cafes. Staying in Apollonia provides easy access to the island's bus network, making it a convenient base for exploring Sifnos. It's also a great choice if you enjoy a lively atmosphere and the opportunity to dine at a variety of restaurants. |
| Platis Gialos | Platis Gialos is one of the most popular beach destinations on the island. The beach here is known for its golden sands and crystal-clear waters. There are several hotels, beachfront tavernas, and water sports facilities in the area. If you want a beach-focused vacation and enjoy a vibrant atmosphere, Platis Gialos is a good choice. |
| Kamares | Kamares is the main port of Sifnos, making it the first place most visitors see when they arrive. While it's not as picturesque as some other villages, it does have a selection of hotels, restaurants, and shops. If you prefer to be close to the ferry terminal for convenience, Kamares is a suitable option. |
| Kastro | Kastro is one of the oldest and most charming villages on Sifnos. It's perched on a hilltop and offers stunning views of the Aegean Sea. Staying in Kastro is like stepping back in time with its medieval architecture and narrow alleyways. If you're looking for a unique and romantic experience, Kastro is a great choice. |
| Faros | Faros is a quiet fishing village with a relaxed and laid-back atmosphere. It's known for its picturesque harbor and beautiful beaches. If you prefer a peaceful and tranquil setting, Faros might be the ideal place for your stay. |
| Vathy | Vathy is another peaceful village on the island, known for its sheltered bay and lush green surroundings. It's a great choice if you want to escape the crowds and immerse yourself in nature. Vathy also has some lovely tavernas by the sea. |
🎬 To get an overall idea of where to stay in Sifnos first time, check out this video:
The Best areas to stay in Sifnos for tourists are:
1. Apollonia
Apollonia is the best area to stay in Sifnos for first-time travelers because it is the capital city of the island and it offers the widest range of accommodation options for all budgets. If you stay here, you will be located in the middle of action, within walking distance to many restaurants, bars, and shops.
Apollonia, aslo known as Stavri, was probably named after the main crossroads in the neighborhood or named after the church of the Holy Cross, in the center of the village.
Legend has it that Sifnos was the location of the Temple of Apollo where today you will see the church of Panayia Yeraniofora. Apollo's sister Artemis gives her name to the second largest settlement on Sifnos, Artemonas. Her temple is where you now see Panayia Kokhi.
Two sister towns, Apollonia and the nearby village of Artemona are the most popular places on Sifnos. The best nightlife is in the capital of Sifnos, Apollonia while wealthy islanders often live in lovely mansions in Artemonas.
Apollonia's main street (To Steno) where you will find plenty of bars and restaurants, boutique shops is too narrow for vehicles. You'll come across a motorbike or two perhaps as you walk? The bus service and taxis can take you wherever you want to go on the Island.
There is a museum in the main town worth a visit. The Folklore Museum of Sifnos in Heroon Square which is Apollonia's main square. The best hotels generally are here and at weekends the center will be full.
The local churches are interesting and if you are lucky, there may be a festival associated with one of them while you are there. Other places of interest are the Monastery of Profiti Ilias and the Prokos Institution.
Sifnos is famous for its pottery and you will find plenty of back streets for that and other artisan products. A post office, a few shops selling food and a couple of supermarkets and a phone center cover almost everything else in this big village capital.
One thing to remember if you choose Apollonia or Artemonas is that it's located on a hill, away from the beach. This is the heart of Sifnos with nice cool breezes because of the slight altitude. The closest beach is Kastro on the east coast.
The ferry from Athen will arrive at the port of Kamares in Sifnos, then take the bus to Apollonia which stops at the main square. The central square, Plateia Iroon, is the main bus stop, there is bus to Kamares, Artemonas, Kastro, Vathi, and Faros. The square is also the primary taxi stand of the island.
Stay in Apollonia if you're first time visiting Sifnos; A choice of bars and restaurants is important to you; You have an interest in cultural and religious landmarks.
Best places to stay in Sifnos Apollonia:
Boutique ($$): Nival Boutique Hotel This 3-star hotel is set in Apollonia, close to Chrisopigi Monastery. It offers a restaurant, free private parking, a seasonal outdoor swimming pool and a bar.
mid-range ($$): Anthousa Hotel Centrally located in Apollonia Town, the whitewashed Anthousa Hotel features a sun-soaked courtyard with seating areas, as well as a snack bar. It offers air-conditioned rooms, free car parking, and free WiFi throughout.
budget ($): Kampos Home Set in the settlement of Ano Petali, within 350 m from the scenic centre of Apollonia, Kampos Home offers charming accommodation with furnished balconies. It serves English breakfast in the morning and has an outdoor hot tub.
🔍FIND BEST HOTELS IN APPOLLONIA
2. Platis Gialos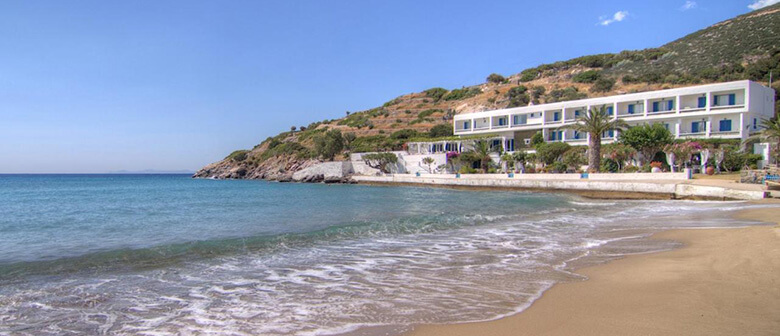 If you are looking to make your base close to Sifnos' golden sands, you must look at the beach rated the best beach on Sifnos, Platys Gialos. It is certainly the most popular beach on the Island. It's located 8km from Apollonia, with its Cycladic architecture and whitewashed houses and 11km from the traditional village of Kastro with the medieval Castle.
You will find crowds but everything is relative. Platys Gialos is large with sun loungers and umbrellas laid out for visitors each day. Beach bars line the coastline here with plenty of shade provided by the trees and welcoming blue waters ahead.
It is the top choice for families on Sifnos because of the size of the beach, long and narrow sandy Blue Flag beach, and the availability of water sports. Cold drinks and snacks are close at hand and indeed, restaurants serve more substantial menus if you wish to enjoy dinner.
If you want panoramic views over the Aegean Sea, there is a church on top of the hill, the monastery of Panagia tou Vounou (Virgin Mary of the Mountain) that offers some to satisfy anyone. In addition, to the south is Aspros Pirgo, translated White Tower, which is worth a visit.
Apart from the beaches and several cultural attractions, you also have many options on traditional taverns, restaurants, coffee bars, hotels, car rental agencies, and potter's workshops.
Stay in Platis Yialos Sifnos if This is a family holiday where you want to keep kids of all ages happy; You want a coastal location;; You do not want to pack drinks and food with you so you need local facilities;
Best places to stay in Platis Yialos Sifnos:
mid-range ($$): Niriedes Hotel Built above the bay of Platis Gialos, in Sifnos, Hotel Niriedes is just 100 m from the cosmopolitan beach. An outdoor pool with a hydromassage area and a small art gallery are available.
budget ($): Platys Gialos Hotel Sifnos Situated right on the beach of Platys Gialos, the Cycladic-style Platys Gialos Hotel offers rooms and suites with unobstructed views over the Aegean Sea. It features a sun terrace among a lush garden and a private beach area.
budget ($): Sifnos Hotel Benaki Located on the beachfront of Platis Gialos in Sifno, this hotel offers free car parking, and guest rooms with a balcony overlooking the Aegean Sea.
🔍FIND BEST HOTELS IN PLATIS GIALOS
See more:
3. Kamares
Kamares is the main port of Sifnos where you will disembark from your ferry from Athens, Milos, Piraeus, and Serifos, as well as from Cyclades island including Santorini, Mykonos, Paros. It is more than a port however and you will find a large beach. Ferries dock and depart quickly so Kamares avoids being too commercial. Kamares is on Sifnos' west coast due west of Apollonia.
You are more likely to feel you are in a fishing village than anything else. The sea remains crystal clear here despite the movement of ferries. As a result, snorkeling is a popular activity and there are some caves to explore as well.
Kamares beach is a blue flag sandy beach with crystal clear and shallow water, good for families with children. It is the longest beach in Sifnos
In the center of the village, you will find traditional taverns, restaurants, bars, shops, groceries, patisserie workshops, potter's workshops, and some attractions like the Fanari, the temples of Agios Georgios and of Agia Varvara.
The village remains fairly quiet except when a ferry comes in. It is fun to just sit in the harbor, drink in hand and watch the activity. By night, you can sit and enjoy a great meal and do the same thing.
Calamari is a local favorite and very fresh of course. However, two other specialties on Sifnos are stews. The most famous is actually chickpeas but slow-cooked lamb is another you will find everywhere.
The famous Greek chef, Nikos Tselementes, came from Sifnos. He combined French styles with Greek cuisine and over a century and a half later his book remains extremely important to restaurants far beyond the Island.
There are a few hiking routes, start from Kamares. There are trail that lead to the Nymfon church at Korakies, the Black Cave, as well as the NATURA site. You can also find path to the chapel of Agia Anna and Agios Simeon.
the capital, Apollonia is only 5km away and be easy reach by bus and taxi. Accommodations here are mostly family run guest houses, B&B, some 2-star and 3-star hotels. But they have all basic amenities that you could need for your holiday.
Stay in Kamares if You are looking for a good range of cheap accommodations; Golden beaches are important but so is a chance to enjoy the activity of a small harbor, ferries, and fishing boats; You enjoy seeing what lives under the waves as well
Best places to stay in Sifnos in Karames:
Afroditi Hotel Located just 50 m from the beach of Kamares in Sifnos, this hotel has free car parking, and all guest rooms come with balconies or patio with view to the sea or the garden. Each is equipped with a fridge, air conditioning, ceiling fan and TV.
Kamares Villas The modern and tastefully decorated Kamares Villas are located in Kamáres. Built with respect to traditional architecture, the property features a bar with scenic views of the surrounding lush area. The nearest beach is at 800 m.
Akti Kamares Akti Kamares Apartments are located on the beachfront in Kamares and have complimentary beach service, providing guests with deck chairs and umbrellas. All accommodations are air-conditioned with free internet.
🔍FIND BEST HOTELS IN KAMARES
4. Kastro
This picturesque village was formerly Sifnos' capital. Humans lived here 3,000 years ago and today it remains one of the most fascinating places on the Island. There are no vehicles in the village so if you were to drive there on a day trip, you would park outside.
If you were to walk there, take plenty of water but it is worth the effort. The wildflowers and plants alone make the walk memorable and it is downhill from Artemonas. Kastro stands on a rock towering over the sea. It does not take much imagination to envisage the spectacular views.
In days gone by, defense from pirates was important so Kastro was protected by huge and limited entrances. These days the narrow streets are home to bars, shops, and restaurants. Kastro, a short distance due east of Apollonia, looks east across the Aegean, ultimately to the Turkish Mainland and beyond.
The ruins of a Venetian fortress are worth exploring as is the Church of the Seven Martyrs that you will find between the village and the sea. The archaeological museum holds many gems but others you will see by simply walking around, including a few sarcophagi.
There is so much to Kastro that you might even forget the beach and beautiful waters? Well, perhaps not! This is a great place for swimming and snorkeling. Indeed, if you are looking for variety in your holiday, it could be argued that Kastro has few equals.
Stay in Kastro if You are interested in history and archaeology; Crowds of tourists are not of interest to you; You enjoy snorkeling.
Best places to stay in Sifnos in Kastro:
🔍FIND BEST HOTELS IN SIFNOS
5. Faros
Faros is on the southeast coast of Sifnos. It gets its name from the lighthouse that stands at the side of the port. The monastery of Stavros is nearby and worth a visit if only because of the lovely views you will get from there.
These days, It is not as much a port as a place fishing boats move in and out of. It is sheltered and regarded as the Island's safest port as a result. Indeed, it was the Island's official port until the late 19th Century.
The daily catch is well worth sampling on your plate each evening. This village is typically Greek, with narrow paved streets and white houses. There are several restaurants to choose from, shops, bars, and accommodation alternatives. Recently, a small theatre has been built to host summer events.
Locals and visitors alike enjoy the beautiful beaches found here. This is a wonderful place if you just want to relax and enjoy the villages, their facilities, the sand, and the sea. Similarly, if you enjoy walking, this is the place for you. There is a choice of routes to Chrissopigi, Kastro, or Exambella.
The monastery, Panagia of Chrissopigi, on a rock detached from Sifnos itself is especially impressive. It has stood there since the middle of the 17th Century.
Stay in Faros if You are looking for the best best place to stay in Sifnos for local village life during your holiday; Walking interests you, especially if they're as local landmarks to see; You are not interested in crowds but want a decent choice of amenities.
Best places to stay in Sifnos in Faros:
luxury ($$$): NOS Hotel & Villas This 5-star hotel is 300 m from Faros Beach and Fassolou Beach, it has an on-site restaurant, free private car parking, a seasonal outdoor swimming pool and a fitness centre.
budget ($): Fassolou is quietly located in a garden with BBQ facilities and a bar. It features traditional accommodation with a shaded patio or private balcony. Free WiFi is available in public areas.
budget ($): Margarita and Chara Located in Faros, a few steps from Vlycho Beach, Margarita and Chara provides accommodation with a garden, free private parking and a terrace. The guest house features family rooms.
🔍FIND BEST HOTELS IN FAROS
6. Vathy
Visitors enjoy the intimacy of Vathy. Here you have cheap rooms to rent around a nice little harbor with a choice of cheap restaurants close by. You will find Faros down in the southwest corner of Sifnos, roughly the same latitude as Platys Gialos. A new road from Apollonia links it to the capital, a journey of 15 minutes.
You will soon get to know people because the place is so small. As a result, you don't need loud nightclubs in order to enjoy your evenings. Many people's experience of Vathy comes from anchoring their sailboats and coming ashore. The water is quite deep here so that it is easy for boats to enter the harbor.
You will enjoy the long beach that is never too crowded while the shallow waters make it ideal for young children. The golden sand helps to create a lovely setting, contrasting well with the deep blue waters. Always have your camera or smartphone ready for a photo.
Recent development includes a hotel with a large pool and apartments. It has not led to any negatives about Vathy which was a fear among locals. Traditional tavernas and bakeries, cafes, and pottery stores all add to the appeal of Vathy.
Visitors will find Vathy one of the best places to see the pottery being made and to buy the end product. It is something for which Sifnos is famous.
Stay in Vathy if You want a peaceful and relaxing location; Sifnos famous pottery is of interest to you; A good beach is important but not too many crowds.
Best places to stay in Sifnos in Vathy:
🔍FIND BEST HOTELS IN SIFNOS
What is the best area to stay in Sifnos?
Apollonia is the main town and capital of Sifnos, so it is the best place to stay in Sifnos. It is located within walking distance to major attractions, restaurants, bars, and shops. It also offers the widest range of accommodation options and home to some of island's best hotel.
How long should I stay in Sifnos?
I recommend to spend at least three days in Sifnos to explore the island. Three days will allow you to enjoy your holiday in a relaxing pcae, if you have more days, you can take day trips to more traditional villages and beaches.
See more:
Summary – Where to stay in Sifnos?
In conclusion, Apollonia, Platis Gialos, Kamares, Kastro, Faros, and Vathy are the best places to stay in Sifnos for tourists, both families and couples of all ages. They offer plenty of accommodation options for all budget travelers to stay and explore the island.
Overall, Apollonia is the best area to stay in Sifnos for first-timer because it is the main town and capital village of Sifnos. It offers all amenities that you need for your holiday. It is also home to some of the best hotels on the island, as well as best nightlife shopping, and dining.
A holiday on a Greek island is always memorable. That certainly applies to Sifnos even though it is not easily accessible. You will know that before you plan so the ferries between Athens and Sifnos will come as no surprise.