Wondering where to stay in Kefalonia for the first time, without a car, for couples, families, nightlife, best beaches? In this blog, I will help you to decide the best areas to stay in Kefalonia (include map and video), and the best hotels on the island for tourists.
Located off the western coast of mainland Greece, the beautiful Ionian island of Kefalonia is famed for its soft white sand and dazzlingly blue seas, there is far more to see on this Mediterranean paradise than just its beaches. You could explore the traditional villages that line the coast, keeping an eye out for the seals and sea turtles that call the Kefalonian shoreline home.
Take a walk through the forests of Abies cephalonica fir trees, a unique variety of fir that is only found on Kefalonia, and discover the mediaeval castles and monasteries remaining from the island's historic past. Then you can wind down in the evening with a drink in a local taverna overlooking the tranquil seas.
Where to stay in Kefalonia?
The best areas to stay in Kefalonia for tourists are Skala, Lassi, Argostoli, Fiskardo, Sami, and Assos. These are popular and beautiful areas on the island for tourists that offer a variety of attractions and amenities.
Lassi, Argostoli, and Skala are the most popular areas for first time tourists. Lassi is close to both capital city Argostoli and island's international airport. Skala is the main resort in South Kefalonia.
Argostoli, the capital city, is the best overall place to stay in Kefalonia for first time due to its central locatio, easy access to tourist attractions and amenities such as restaurants, bars, and shops. The town also offers a wide range of accommodations for all budget travelers.
The vast majority of Kefalonia is accessible by public transport, so not having a car isn't a major issue when visiting the island. If you want to minimize the amount of time spent on buses, however, I suggest staying in or near the capital city of Argostoli.
Argostoli, Lassi, Agia Efimia, and Skala are the best places to stay in Kefalonia without a car. They are walkable towns, well-connected to buses, making them great locations for car-free travelers on the island.
Lassi is only 20 minutes walk from the hustle and bustle Argostoli with more local feel. The Kefalonia International Airport is only 15 minutes drive away. There are also ferry boats that take you to Lixouri area.
Map of areas and towns in Kefalonia: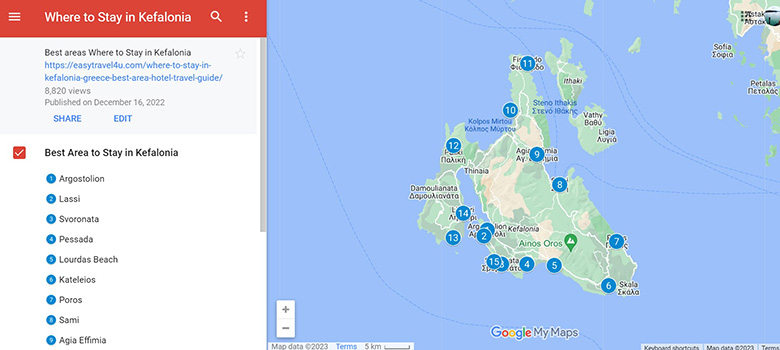 How to get around Kefalonia without a car ?
Getting around Kefalonia without a car can be challenging, as the island's public transportation options are limited compared to more urban areas. However, it is possible to explore the island using alternative modes of transportation.
Here are some options:
Local Buses:
Kefalonia has a bus network that connects some of the main towns and popular tourist areas. The buses are operated by KTEL, and you can find schedules and routes at the bus stations or online.
While this can be an affordable way to travel, the bus routes may not cover all the places you want to visit.
Taxis:
Taxis are readily available in larger towns and tourist areas. They can be convenient for short trips or travelling between towns. However, taxi fares can add up quickly for longer journeys.
Bicycles:
Renting a bicycle can be a great way to explore smaller areas or coastal regions at your own pace. Keep in mind that Kefalonia's terrain can be hilly, so be prepared for some challenging rides.
Scooters and ATVs:
Some tourists opt to rent scooters or ATVs for more flexibility in getting around the island. These vehicles are smaller and more manoeuvrable than cars, making them suitable for navigating some of the narrow roads.
Walking:
If you're staying in a central location and plan to explore nearby attractions, walking can be a pleasant way to get around. However, given the island's size, this is most practical for short distances.
Boat Tours:
Kefalonia offers boat tours to visit nearby islands, beaches, and caves. These can be a fun way to explore the coastal beauty of the region.
Keep in mind that Kefalonia is a relatively large island with diverse landscapes, so some of the more remote or less touristy areas may be challenging to access without a car.
If you want to explore the island extensively and visit less accessible places, renting a car is often the most convenient option.
Additionally, during the peak tourist season, it's a good idea to book transportation in advance, as demand for taxis and other services can be high.
The Bets areas to stay in Kefalonia for tourists are:
1. Argostoli – where to stay in Kefalonia first time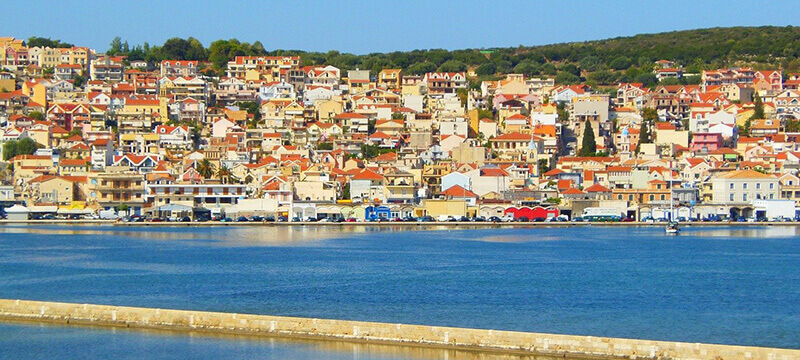 Argostoli is the best area to stay in Kefalonia fo first-time travelers due to its close proximity to Kefalonia International Airport, and the port. Argostoli is the capital city and a large port town of Kefalonia, with pleny of shops, cafeterias, bars, and restaurants.
There are several pedestrianized streets and squares around the town, bustling with cafes and shops, perfect for spending the afternoon browsing for souvenirs. The main pedestrian street is Lithostroto, a beautiful, tiled road, boasting 800metres of contemporary shops and bars.
Meanwhile, the central square, Platia Valianou, is filled with bars, coffee shops, and gyros cafés (Greek Kebab). It is the venue for many events, seasonal markets, and carnivals.
You can also check out the Campana square with its bell tower. Head to the top of the tower and admire the amazing view of Argostoli.
This is also a great place to spot some of the island's caretta-caretta sea turtles. The turtles flock to the busy harbor when the fishing boats come in, to feast on the unwanted stock the fishermen toss back into the sea.
Alternatively, head to their nearby feeding grounds of Koutavos Lagoon, a protected nature reserve that also serves as nesting grounds for a number of bird species. Facing the Koutavos lagoon is the palm-lined waterfront with many cafes and restaurants.
Other points of interest are the Katavothres, WW2 Acqui Division Memorial, Lighthouse of Saint Theodoroi, and Drapano Bridge, which is the world's longest stone bridge of Drapanos bridge. It was in 1813 by Colonel Charles Philip de Bosset during the British occupation.
The city was completely destroyed by an earthquake in 1953 and, whilst now completely rebuilt, the modern buildings have not been styled in the image of the historical architecture. But there are still culture and history of the island such as the Korgialenio Historic & Cultural Museum, the Archaeological Museum, and the Focas Cosmetatos Museum.
Argostoli is also close to the beaches along the Lassi coastline, including Kalamia Beach, Gradakia Beach, Makris Gialos and Platis Gialos. Its crystal clear water, great for swimming.
If you want something romantic at night, you can take a stroll along the seafront promenade. It is lined with palm trees, small taverns, and seafood restaurants where you can grab ouzo and meze.
Being the transport hub of the island, Argostoli is the best area to stay in Kefalonia without a car. The Port and Airport are easy to reach, you can also travel around by public transport.
Argostoli offers a wide range of accommodation options from family guest houses, B&B, apartments, to 4-star luxury hotel, as well as campsites .
Stay in Argostoli if this is your first time; you travel without a car; you want the convenience of a modern city with plenty of shops and restaurants;
Best places to stay in Kefalonia in Argostoli:
mid-range ($$): Kefalonia Grand This 4-star hotel is situated on Argostoli beachfront, near the central Vallianou Square, Argostoli Port, and Fanari Beach. it features elegantly decorated room, an on-site restaurant, 24-hour front desk, and free WiFi. Rooms feature. The hotel also offers bike hire and car hire.
mid-range ($$): Aenos Hotel This 4-star hotel is situated on the main square of Argostoli and provides a buffet breakfast, an on-site cafe, and a terrace. All modern guest rooms have a TV, and Korres toiletries in the bathroom.
budget ($): Mouikis Hotel Kefalonia This 3-star hotel is set in a peaceful area of Argostoli, the capital of Kefalonia, within easy walking distance from Korgialenio Historic and Folklore Museum. The hotel offers private car parking, free wifi, and air-conditioned rooms with a satellite TV, a fridge and a private bathroom with bathtub or shower.
See more:
2. Lassi – where to stay in Kefalonia without a car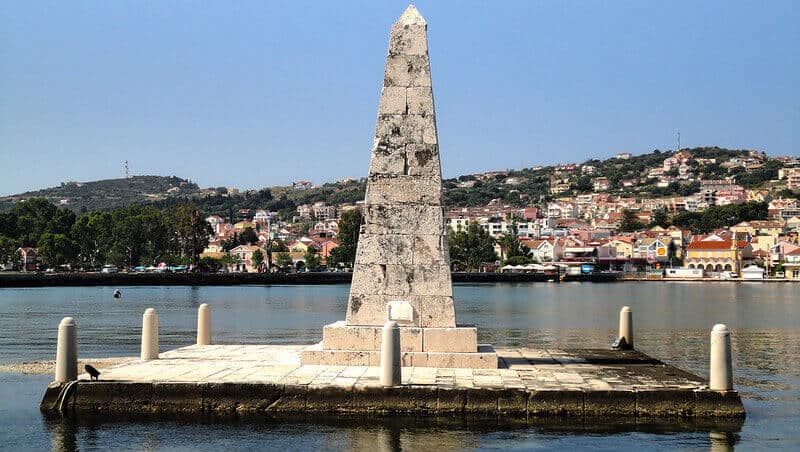 Centrally located on the west coast, very close to the capital and the island airport, Lassi along with Argostoli is the best place to stay in Kefalonia without a car. Famous for its glorious sandy beaches, with numerous of excellent bars and tavernas, it its really a place for beach lovers, families and couples of all ages looking for a traditional beach holiday.
It's a destination where you can enjoy all the conveniences of a larger town, with the peace of a quieter tourist village. The direct bus between the towns can have you there in just a few minutes.
With its focus as a tourist town, you won't experience much of the authentic Kefalonian atmosphere that more traditional villages can offer. For those who want to take in some Greek culture, however, local venues often put on Greek nights for visitors, providing an evening of Greek food, music, and dancing.
There are cultural attractions such as the church of St. Gerasimos, and the cave of St. Gerasimos, Kefalonia's patron saint.
Lassi is particularly attractive for anyone wanting to spend their time relaxing on the island's beaches. Most popular are the Blue Flag Platis Gialos and Makris Gialos beaches, both easily accessible from the town.
Stocked with plenty of sunbeds and umbrellas to rent for the day, and serviced by several beachfront bars, you will have everything you need for a relaxing day by the sea.
Plenty of hotels populate the immediate area around these beaches, particularly convenient for families with young children with pools and child-friendly playground areas. If you want to stay somewhere a little further from the busy shore, a frequent public bus service stops right between both beaches.
If you are looking for something quieter, Gradakia Beach, Kalamia Beach, and Tourkopodaro Beach on the northern coast of the town, all with their own offerings of beach bars and seafront restaurants.
Stay in Lassi if You would like a quieter and laid-back town within easy reach of the capital; you are first-timers; you travel without a car; you want to stay by the beach; you travel as a family;
Best places to stay in Kefalonia in Lassi:
3. Lixouri – 20 minutes boat ride from capital city, Argostoli

Located on the western Paliki Peninsula, Lixouriis the second largest town in Kefalonia, after only the capital Argostoli. Full of the variety of cafes, shops, bars, traditional taverns, and restaurants that you would expect from a larger town, Lixouri is particularly well known for its art and culture scene.
Lixouri can be reached easily from the capital by boat within 20 minutes. It is one of the most picturesque towns of the island with the nearby beautiful beaches of Lepeda, Mega Lakos, and Xi Beach. Xi Beach is a natural spa with the sand rich in clay, good for the skin
Xi Beach is one of the most iconic locations on Kefalonia. Surrounded by bright white cliffs and rocks, which provide a stunning contrast against the vibrant orange sand, the area leans into its natural aesthetic appeal. Straw parasols line the length of the beach, available to rent along with sunbeds.
The main square of Lixouri, Plateia Petritsi is at the centre of action which is surrounded by many shops, tavernas, ad bars. From here, you can grab some Greek food, shop some local gifts, and try some Greek wine.
Music, in particular, is an important part of the Lixouri experience. Home to one of the oldest philharmonic academies in all of Greece, the bars and venues in the surrounding town play into the city's heritage, by providing a wide variety of live music entertainment.
Like much of the rest of the island, the old Lixouri town was destroyed by the 1953 earthquake, so you won't find much in the way of traditional architecture here, although a few older churches do remain. What is here is a selection of modern entertainment venues and museums.
Those interested in Kefalonia's history in new Lixouri should visit Lakovatios Library and Museum, housed in one of the few neoclassical buildings that survived the earthquake. Alternatively, head to the port and hop on a ferry across the bay to Argostoli, where you'll find a large variety of museums.
If the bustle of the city starts to get tiring, you can head to the 17th-century Monastery of Kipoureon, to get some peace and quiet at the top of a beautiful, forested mountain.
Stay in Lixouri if You have a love for music; you want the convenience of a larger town, but without the crowds of the capital; you want to be surrounded by beautiful sandy beaches;
Best places to stay in Lixouri:
🔍MORE HOTEL DEALS LIXOURI
4. Skala – where to stay in Kefalonia for families and couples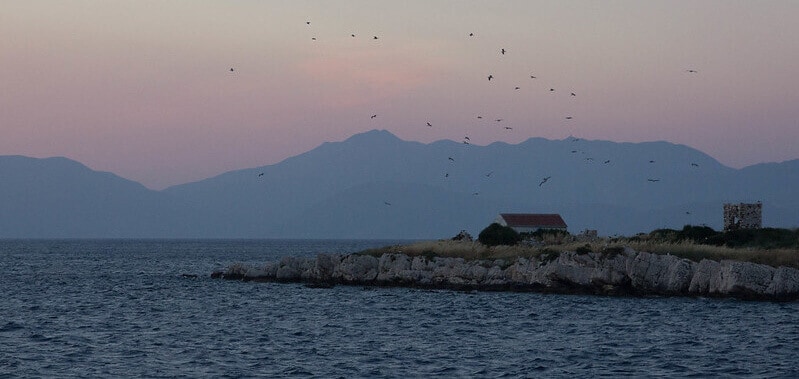 Located around 40 kilometers away from the airport, Skala is one of the most popular towns in Kefalonia on the southeastern tip of Kefalonia. It has a very long pebbly and sandy beach with pine trees forest. It's a popular destination for couples, families with children, hikers who want excellent tourist infrastructure, good nightlife, and beautiful beaches.
This busy package holiday resort has an array of cafes, bars, bakeries, and restaurants along the seafront and the main street, While water sports companies offer entertainment and boat rental along the northern end of the beach.
Apart from the beach, you can also find the remains of an old Roman villa in the town, complete with well-preserved mosaics. Some of the natural and historic sites like the Cave of Sakkos, the chapel of Agios Georgios are also worth visiting.
The 3km long of Skala beach is set with sunbeds and umbrellas for rent. The beaches nearby of Katelios, Kaminia has soft sand, and relative seclusion makes them a popular nesting area for the endangered Carretta-Carretta turtles.
Kaminia is one of the longest beaches on the whole island. Despite being so uniquely large and picturesque, the beach isn't close to any villages, set between the small towns of Kaminia and Skala, so it stays relatively quiet. There are plenty of hotels and guest houses in the area, and several bars and restaurants along the beach.
Katelios, located to the west, is a small fishing village, which provides a quiet slice of local Mediterranean life. You can relax on the lovely beach, there are plenty of bars and tavernas along the seafront to keep you occupied, mostly concentrated near the harbor.
The landscape around Katelios is particularly lush and beautiful, and you can hire a bike in town and go for a relaxing cycle through the forests. Accommodation here ranging from budget apartments and villas to 3-star hotels and luxurious 4-star.
Stay in Katelios if you are couples and families looking for a beach vacation; you are first-timers; you travel without a car;
Best places to stay in Kefalonia in Skala:
5. Sami – good base to explore nearby Mediterranean islands
Sami is a particularly beautiful village, settled in a bay on the eastern coast of Kefalonia. Full of attractive Venetian buildings and beaches, with views across the cerulean waters to neighboring Ithaki, the town has a distinct aesthetic charm. Karavomilos Beach and Antisamos Beach are the beaches nearby.
The second-largest working port on Kefalonia after the capital, Argostoli, Sami is a great stepping-off point for anyone looking to explore surrounding Mediterranean islands and countries. You can easily take a ferry to e nearby island of Ithaca, mainland Greece in Patras.
The neighboring marina is popular with visitors traveling around the island by boat. If you are interested in sailing on the tranquil seas but don't have your own boat to hand, this is where you can hire one out. The area around the port and marina is full of cocktail bars and restaurants, great for a relaxing evening dining by the sea.
For the explorers among you, Sami is home to one of the most iconic attractions in Greece, the Melissani Cave. This natural formation consists of a cave, accessible only by boat, with a large hole in the roof, allowing sunlight to stream in.
This sunlight not only allows a whole ecosystem of plants and trees to grow within the cave, but when the sun hits a certain angle, and the light reflects off of the crystal-clear water, the whole cave is lit with an ethereal blue glow.
Sami is also a great place to visit if you are interested in history, with a number of notable sites around the area. Within the town itself you can visit the remains of the ancient Sami bathhouse, or if you travel a short way outside of the village, you'll find the ruins of the ancient Acropolis of Sami.
The Acropolis was once a major, independent stronghold on the island, and parts of the walls, theatre, and tombs still remain. For more ruins, visit the Monastery of St Fanentes in the hills above Sami, beside which you can find the remains of the old Saint Nicholas Chapel.
Stay in Sami if you are looking for the best location for couples; you want to base in quiet and laid back area; you are touring around several Mediterranean islands or countries, you are interested in historical ruins.
Best places to stay in Sami:
6. Fiskardo – where to stay in Kefalonia in a luxury town
Fiskardo is renowned as the best-preserved of the old Kefalonian towns following the powerful earthquake of 1953, which flattened most of the other parts of the island. If you want to get a real taste of traditional Kefalonian architecture, then there is no better town than Fiskado.
Located right at the northern tip of Kefalonia, settled in a tranquil bay, protected by its own peninsula, the waters of Fiskado are particularly calm and clear, ideal for sailing and swimming. Head to Fokis Beach and Emplisi Beach for lovely swimming.
Indeed, the waterfront houses a number of private luxury yachts and local fishing boats, as well as rental companies for anyone who would like to hire a boat themselves.
Popular with tourists, the town is full of seafood restaurants, cafes, unique gift shops, and plenty of other sights to see. Within the town itself, the remains of a Roman cemetery were unearthed near the shore and are open to being viewed.
Near the end of the peninsula, at the entrance to the bay, is the old Venetian lighthouse that once warned ships away from the rocky outcrop. A pleasant 15-minute walk from the town, the site offers beautiful views across the sea to neighboring Ithaki.
Stay in Fiskado if you love historical architecture, you want to immerse yourself in the traditional culture of Kefalonia, you want a relaxed town with plenty of sights and hospitality options.
Best Places to Stay in Fiskardo:
🔍MORE HOTEL DEALS IN FISKARDO
7. Assos -where to stay in Kefalonia for couples both young and old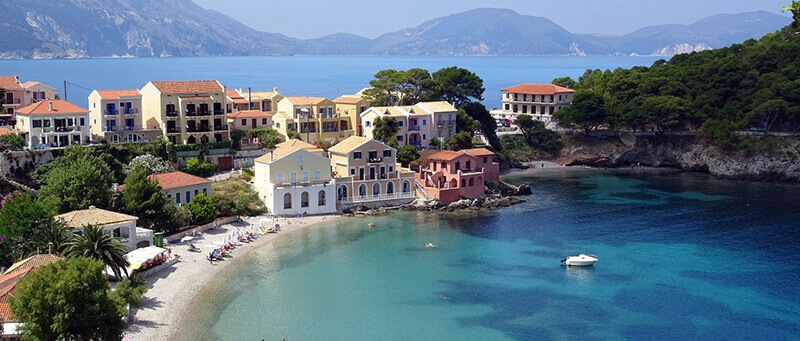 One of the most photographed villages in Kefalonia, Assos (Asos), is a particularly pretty town, with a ton of character, settled horseshoe-shaped peninsula at the north of Kefalonia. If you travel as a couple, Assos is for you.
The main town consists of narrow, winding streets, filled with charming, colorful Venetian-style houses. The land around the village and out over the peninsula is lush with olive trees that make for some beautiful walks, particularly along the coastline.
Assos beach is a short stretch of soft, white sand, serviced by a beachfront café and small souvenir shop. It's a comfortable spot to relax away from the crowds of larger beaches in bigger resort towns. You must check out the nearby picturesque Myrtos beach, which is the most iconic beach in Kefalonia.
The main attraction to the village is the Castle of Assos, a 16th-century Venetian fortress, which once encapsulated the whole village as a defense against pirates. if you read the book Captain Corelli's Mandolin, you know that much of the structure has been lost to time and earthquakes, but the remains of the foundations can still be found across the peninsula, and several walls and gate-arches have managed to remain standing.
The peninsula that held the fortress is now solely populated by two pretty chapels, worth stopping by as you explore the castle ruins. Accommodation here in the forms of apartments, guest houses, villa, and studios. Many come with fully equipped kitchenette with a fridge, oven, cooking hob, and kettle.
Stay in Assos if you're couples who want a romantic holiday; You are looking for a quiet town with unique charm; quiet beaches are preferred, Scenic walks sound delightful.
Best Places to Stay in Assos:
🔍MORE HOTEL DEALS IN ASSOS
8. Svoronata – best place to stay in Kefalonia for quiet holiday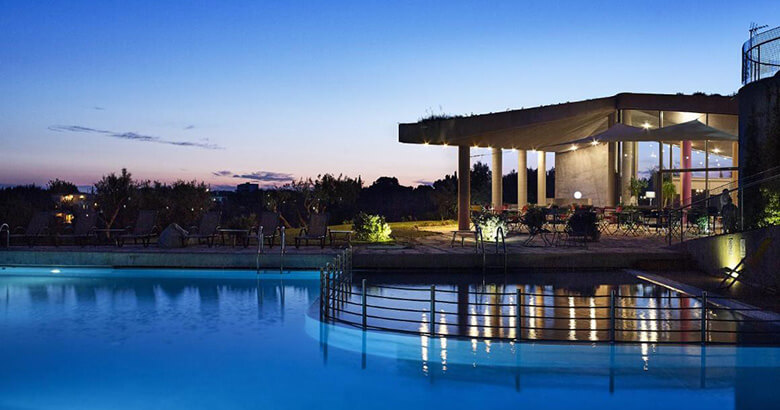 Located on Kefalonia's south coast, the small town of Svoronata, is a serene village, perfect for anyone wanting a taste of the island's authentic, small-town life. Dotted with pretty churches and exotic village gardens, and lacking the crowds of tourists found in larger towns, Svoronata is the perfect place to unwind.
This is the closest village to Kefalonia's airport, so if you want to stay close to the airport and experience traditional country living, this is the place for you.
The surrounding countryside is particularly beautiful, and ideal for those who want to spend their vacation wandering around vineyards and olive groves. There are several wineries scattered just outside of the town, worth visiting to sample some of Kefalonia's popular wine varieties.
Anyone with mobility issues or trouble walking will appreciate how flat Svoronata is, particularly compared to alternative towns on the hilly island. That said, there isn't much to do in the town itself, so it's best suited to those who want to spend their vacation hopping between tavernas and getting to know the locals.
While there are several attractive beaches surrounding Svoronata like Ammes, Ai-Helis, and Avithos; the village itself is located a few kilometres inland, so be prepared for a little bit of a walk if you don't have a car. Alternatively, there are a number of hotels placed closer to the shore if you are happy staying just outside of the main town.
Shopping and the nightlife are very limited in Svoronata with several mini-markets for basic needs and traditional taverns, you can head to Argostoli which is twenty minutes away by bus. Accommodation options are plenty, with many new resorts, villas, self-catering apartments, and studios.
Stay in Svoronata if you want somewhere quiet; you want to experience a really authentic local town, you want to stay in Kefalonia near to the airport; you are hiring a car.
Best Places to Stay in Kefalonia in Svoronata:
9. Pessada – where to stay in Kefalonia for local feel
Pessada is a small fishing village in the south of the island. It's a very local village that doesn't particularly cater to tourists, with few shops aside from a simple grocery store. Pessada is ideal for anyone who really wants to experience small-town Kefalonian culture.
Pessada is most well known for its pretty beach of the same name. Small and quiet, it overlooks a beautiful bay, full of fishing boats from the local harbor.
Whilst the area has a number of accommodation options, there isn't a large tourism culture here, which is great if you really want to get away from other visitors. It does also mean that there aren't any beach bars or shops near the beach itself, so remember to pack your own refreshments before heading down.
On the opposite side of the bay, near to Pessada harbor, is a small local restaurant right on the rocks, overlooking the ocean. It is a lovely spot to treat yourself to a lunch or dinner of fresh seafood, as you watch the fishing boats to and fro.
The beaches of Pessada area Ammo Beach and Vrisi Beach. It has crystal clear blue water and is surrounded by an ever-green environment.
In the centre of town, you can find Devino Wines and Vinegar, a small family winery, offering tastings of their local wines, vinegar, and olive oils. Take an afternoon to sample their products and learn about them from the people who grew them from vine to wine. Then, head over to their well-stocked shop, to buy some tasty souvenirs.
To the north of the village is the Kefalonia Game Farm, which welcomes hunters from around the world to partake in legal, sanctioned bird shooting, on their large estate.
Stay in Pessada if you want somewhere far from crowds of tourists; you want local vibe; you enjoy game bird hunting.
Best places to stay in Kefalonia in Pessada:
10. Lourdas Beach – one of the longest beaches on the south coast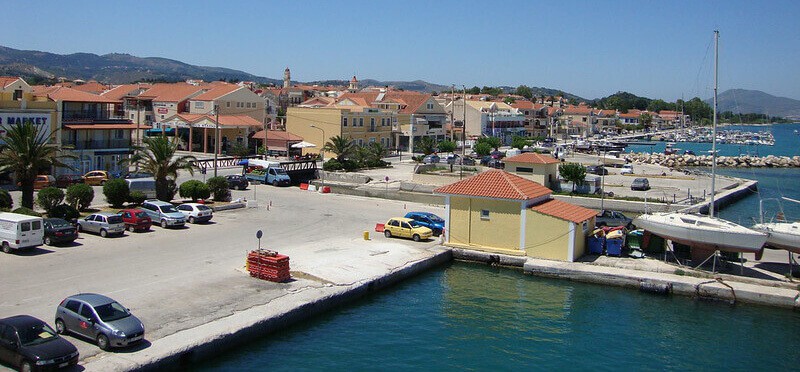 Located around a 30-minute drive from the capital and the airport, Lourdas is a particularly popular beach, in the small southern town of Lourdata. A long stretch of uninterrupted white sand, stocked with rows of sunbeds, looking out over Kefalonia's iconic blue waters, Lourdas is a beautiful place to spend a day relaxing in the sun.
Being so popular, the beach does get quite busy, particularly during peak season. The advantage to this is that there are plenty of beachfront bars and tavernas to choose from. If you would rather have a picnic on the beach, there is also a minimart just a short walk into the village, where you can purchase refreshments.
Lourdas is best reached by car, and a road with ample parking runs all the way along the rear of the beach. If you don't have a car, you will simply need to hop on the local bus, which stops right up against the sand.
If the crowds are too much for you, try neighboring Kanali directly west of Lourdas. With less parking and fewer bars, Kanali is typically quieter but no less beautiful.
Aside from a number of restaurants and tavernas, there isn't much to see in the main town itself. If you are willing to travel just a little way beyond the village, however, there are a few hidden gems to discover.
To the north, you will find the picturesque stone Church of Saint Paraskevi, with its well-preserved frescoes, while further south you can explore the ruins of the Old Sissia Monastery,
Stay in Lourdas if you are content with a quiet town, as long as there are plenty of places to eat, you want a beach away from big towns. but still with plenty of amenities, you are happy to travel a little way outside of the town for sightseeing.
Best places to stay in Kefalonia in Lourdas:
11. Poros – ideal place to stay for islands hoping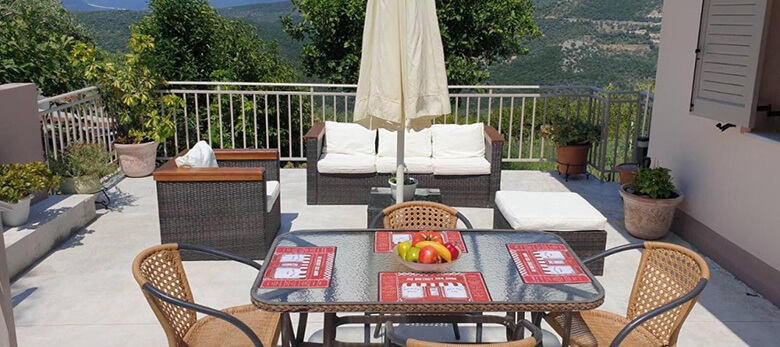 The pretty fishing village of Poros was once one of the primary tourist locations of Kefalonia, however, over recent decades it has slowed its growth, in order to remain a peaceful, local town. There are still plenty of amenities for visitors, particularly around the waterfront, where you will find a plethora of shops and restaurants, but fewer tourists crowding the beaches and streets.
Aside from bars and beaches, there are several interesting sights in the area worth checking out. A short way inland, in the small village of Tzannata, is a Mycenaean tomb, believed by some to be the burial place of the legendary Odysseus.
Between Tzannata and Poros is the Poros Gorge, within which you can find the Drakaina Cave, an important archaeological site, with artifacts dating back to the late Neolithic period. More recently, it has been used as a shrine to various old gods, and as a shelter for sheep.
Located on the triangular hill, Mount Atros, 5 kilometers from the town, you can find the oldest monastery on Kefalonia, the Monastery of Panagia Atros. Built in the 8th-century, the monastery has been damaged by numerous earthquakes but has been dutifully repaired by the monks each time. It now remains as one of the few surviving historical sites on the island.
Mount Atros also has many hiking trails for walking and hiking lovers. In the north of the town, the MetaxArt studio hosts painting workshops, which take advantage of the beautiful surroundings.
One of the most prominent features of the coastline is the working port, which provides ferries to nearby islands, such as Ithaca and Zakynthos. This makes Poros an ideal place to stay for islands hoping.
Stay in Poros if you want a quiet, local village, with the amenities of a tourist town, you are interested in historically significant sights, you are hopping between islands.
Best places to stay in Kefalonia in Poros:
12. Agia Efimia – charming fising town in Kefalonia
Agia Efimia is a small fishing town, positioned over a picturesque bay. The village is popular with British holidaymakers and has a number of convenient facilities to accommodate guests, however, it has still managed to retain its traditional charm.
Along the seafront, you will find a selection of bars, cafes, tavernas, and traditional bakeries, along with some interesting craft and souvenir shops and small boutiques.
Several companies around the bay rent out boats to those wishing to sail out onto the water. Alternatively, there are cruise tours based here, which will take you out for a relaxing day on the sea, complete with an onboard refreshment stand.
In the town lies the remains of an old roman villa which, while less impressive than other specimens, is still worth taking a look at if you are in the area.
For a more significant, ancient building, head up into the mountains above Agia Effimia, to the Monastery of Themata. Built in the 11th century, celebrations are still held here at least twice a year, in August and at easter.
If you are looking for an interesting walk, there are comfortable trekking trails leading to the monastery, through the lush forests, and the view from the monastery is worth the hike on its own.
Stay in Agia Efimia if You are looking for a charming, traditional town; you travel without a car;
Best Places to Stay in Agia Efimia:
13. Atheras – beautiful, secluded beach in north Kefalonia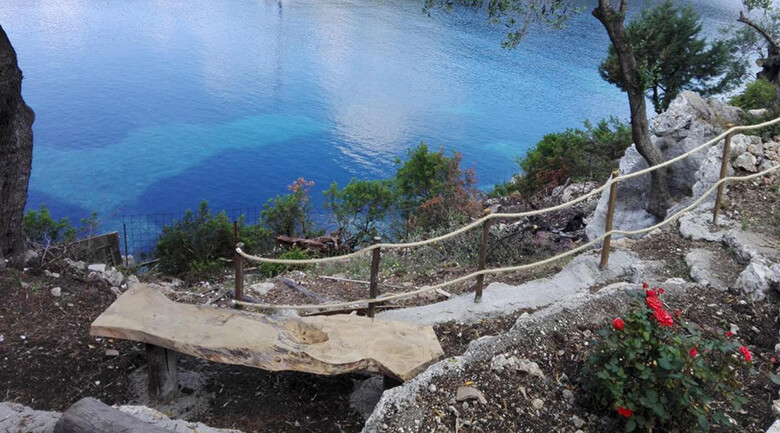 The village of Atheras is a very small, local town. With just a few private villas to rent, and a single taverna in the town, the main draw of the area is the beautiful, secluded beach, tucked into a little bay to the north.
The beach is a little way out of the village itself, a few kilometers through the forests, but there is a well-kept road and plenty of parking by the beach. Alternatively, there are several footpaths leading down from the village.
The lush forests provide comfortable shade, and the fields and groves between the village and the beach offer some beautiful scenery. If you enjoy walking, this is definitely a lovely place for a trek, and what better reward at the end, than an afternoon relaxing on a cosy beach.
The natural bay surrounding the beach protects the waters and keeps them beautifully still, which, when combined with how shallow it is, makes it perfect for young children and less confident swimmers.
The beach is serviced by a waterfront taverna serving traditional Greek food. The pretty Agios Spyridon Church overlooks the bay from the west and is accessible via a trail through the trees along the waters edge.
Stay in Atheras if You want a really quiet beach and don't mind walking for it, Calm, shallow waters are ideal, You are happy staying in a self-catered villa, rather than a hotel.
Best Places to Stay in Atheras:
🔍MORE HOTEL DEALS IN ATHERAS
What is the best part of Kefalonia to stay?
Argostoli, Lassi, Skala, Fiskardo, Sami, and Agia Efimia are the best areas to stay in Kefalonia for first time visitors due to its popularity and plenty of things to do and see.
Where to stay in Kefalonia without a car?
Argostoli, Lassi, Agia Efimia, and Skala are the best areas to stay in Kefalonia without a car because these towns have convenient locations and lots of tourist amenities.
Which part of Kefalonia has the best beaches?
The best beaches in Kefalonia are Myrtos, Antisamos, Xi, Lourdas, Makris Gialos, and Skala. These are beautiful white sandy, crystal clear water beaches.
Is North or South Kefalonia better?
Southern Kefalonia has more sandy beaches than Northern Kefalonia. The North is home to Myrtos, Assos and Fiskardo, while the South is home to Argostoli, Lassi, Skala, and Sami.
What is the best place to stay in Kefalonia for couples?
Kefalonia is a romantic destination. Assos, Fiskardo, and Skala are some of the best places to stay in Kefalonia for couples.
See More:
Overall, I recommend Argostoli as the best area to stay in Kefalonia for first-timers because it has central location and the widest range of accommodation options. Booking hotel here, you will be located close to tourist attractions, shopping, dining, and nightlife. With its good public transport, you can easily travel to other towns and beaches by bus.