The best areas to stay in Rhodes for first-timers are Rhodes Town, Kallithea Beach, Faliraki, Kolymbia, Stegna, Pefkos, Lindos, and Ialyssos. These are popular and safe areas for tourists that offer a wide variety of attractions and amenities.
This blog will help you to decide where to stay in Rhodes for first time, for families, couples, nightlife, hiking, beaches, budget, without a car, as well the best things to do in Rhodes.
Rhodes, aslo known as Greece's Island of Roses in the Aegean Sea has 1,400 sq km wide and has a population of 115,490. It is the largest of the Dodecanese Islands, the fourth biggest island in Greece, and is located off the South West Coast of Turkey.
It was mentioned in the days of Ancient Greece and was home to one of the 7 Ancient Wonders of the World, the Colossus. This huge statue was destroyed by an earthquake back in those days but there is still a great deal of history and culture to enjoy on the Island.
Rodos' lovely climate (temperatures will only fall below 20C between December and March) has made it a very popular holiday destination. Some tourists to Rhodes are attracted primarily for the lovely weather, the beautiful beaches, and the warm Aegean sea.
There are direct flights to the island from throughout Europe from spring until the approach of winter. Domestically, Rhodes is linked by flights to Athens and Thessaloniki, while ferry services go to other Greek Islands and to Marmaris on the Turkish Mainland.
Rhodes Town is the best place to stay in Rhodes for first-timers due to its prime location. If you stay here, you will be located in the middle of everything, within walking distance to Rhodes' top tourist attractions, as well as many restaurants, bars, and shops.
Rhodes town is also the best place to stay in Rhodes without a car because it's the public transport hub for bus and boat, you can easy take day trip to other towns. Plus, Rhodes town offers a wide range of tourist amenities including hotels, restaurants, bars, and shops.
Alternative, if you dont plan to hire a car, take a look at Faliraki and Lindos. Other than Rhodes Old Town, and perhaps the busy resorts of Faliraki and Lindos, families have plenty of choices.
Faliraki and Lindos for example are well-known resorts on Rhodes, catering for overseas visitors looking for good bars and restaurants, and a lively nightlife. Other smaller places cater for holidaymakers wanting a quiet time.
The attractions of sand and sea together with watersports, above and below the waves are readily available right around Rhodes' extensive coast. Rhodes is around 50 miles long and 24 miles wide but has a coastline of almost 160 miles.
Where to stay in Rhodes? 14 Best Areas to Stay in Rhodes
There are numerous beaches on Rhodes that cater to the invasion' of tourists during the months between Easter and the start of winter. Some holidaymakers simply want to relax on the Coast. Others want to explore the Island while the history and culture within Rhodes Town are fascinating.
The East Coast is regarded as a far better option than the West which is far more exposed to winds. All but one of the areas discussed in this article are on the east. They are in order from Rhodes Town heading south.
1. Rhodes Town, where to stay in Rhodes for first-timers
Rhodes Town is the best area to stay in Rhodes for first-time travelers because it is the capital city of the island and it offers a widest range of accommodation options for all budget travelers.
If you stay here, you will be located in the middle of everything, within walking distance to the top sights, as well as many restaurants, bars, and shops. Rhodes Town is located on the northern point of the Island, only 20 minutes drive by car from the island airport.
Its history dates back through Ancient Greece, the Romans and Byzantines, the Crusaders, Ottomans and Italians before reaching its current status as Greek. It is a fascinating place, a UNESCO World Heritage Site since the late 80s.
Its permanent population is around 50,000 but that doubles through the tourist season. That 50,000 is almost half of the Island's permanent population. You can see that many bedrooms are available for visitors to book.
Rhodes town has two distinct areas: the Old City and the New City. Old Town Rhodes is a well-preserved medieval walled town with many historic sites such as the Palace of The Grand Master of the Knights, the Municipal Art Gallery of Rhode, and the Mosque of Suleiman. It's a great place for couples and singles who like culture and history.
Meanwhile, Rhodes New Town is a great choice for those who want to stay on the beach with modern shops, modern cafes, restaurants, and waterfront bars. The New Town is home to Mandraki Harbor, the famous windmills, and St Nicholas fortress.
New Town offers great nightlife scene, where you can find Orfanidou which is a Bar Street and well-known with partying Scandinavians. There are many large hotels on the Eli beach seafront.
Some of its main attractions predate the arrival of the Ottomans, although not all:
The Byzantine Harbor where excavations have revealed ancient shipwrecks
Acropolis of Rhodes from Classical Greece
The medieval walls rebuilt after the Ottoman siege in 1480
St. Francis of Assisi Cathedral, fairly modern and completed in 1940
Palace of The Grand Master of the Knights which was the Knights Hospitaller fortress before their defeat by the Ottomans
Kahal Shalom Synagogue which was completed in the late 16th Century
The Ottoman Mosque of Suleiman the Magnificent whose second siege of Rhodes in 1522 was ultimately successful
Street of Knights
The Archaeological Museum
The Marina often hosts luxury yachts. It is the old harbor with a ferry terminal which is extremely busy all year round though largely with commercial goods in the winter. There are plenty of lively bars, restaurants serving the best of Greek cuisine, and more.
Rhodes city is a family-friendly destination. If you travel with kids, you can take them to the Aquarium Of Rhodes which is located in the Hydrobiological Station. This will give them a chance to see marine life of the Eastern Mediterranean.
You can explore Rhodes Town on foot but you need a good walking shoes beacause the streets are paved with cobbles. There is also the hop-on hop-off buses and public transports. There are two bus companies in Rhodes: RODA buses and KTEL buses. The central bus station are on Averoff Street.
Everything from budget accommodations to 5-star luxury hotels, self-catering apartments is found in the Town, and booking in advance is important in high season.
If you looking for a budget-friendly area, head to the residential area of New Town with many apartments and rooms for rent.
Stay in Rhodes Town if you are first-timers; you travel without a car; your main reason for visiting the Island is its history and culture; you want stay close to the port and airport;
Best places to Stay in Rhodes Old Town:
luxury ($$$): Mitsis Grand Hotel Beach Hotel This beachfront 5-star resort is located within walking distance from Rhodes' Old Town with top tourist attractions. It offers luxurious rooms with sea or garden views, elegant wooden furniture, spacious bathrooms, a satellite TV, free wifi, as well as free private car parking onsite.
mid-range ($$): Best Western Plus Hotel Plaza 4-star hotel is centrally located in Rhodes Town, offers the room overlooking the Medieval Town or sea. It's within walking distance from all popular attractions.
budget ($): Evdokia Hotel This hotel is conveniently set in a renovated 19-century building in the old town of Rhodes, close to the Archaeological Museum of Rhodes, Medieval Castle, and Mandraki Port. You can easily find a varied range of beaches nearby such as Elli Beach, Akti Kanari Beach, Zefyros Beach, and Ixia Beach.
🔍MORE HOTEL DEALS IN RHODES TOWN
2. Kallithea Beach, quiet area, famous for its thermal springs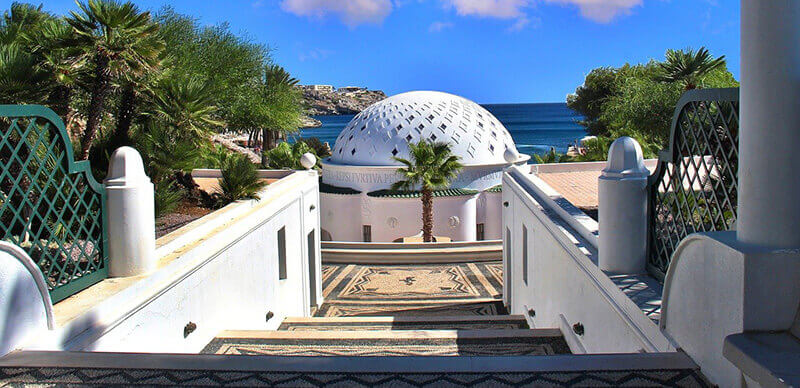 Heading down the East Coast of the Island from Rhodes Town, you reach a big beach resort, Kallithea (Kalithea) Beach, famous for its spa baths – Kallithea Springs and beaches. Kallithea has plenty of entertainment available but is still quiet relative to its near neighbor, Faliraki just a couple of miles further on.
It has more to offer than just being a dedicated resort. If you want to have a lively night, but not every night, you are just a short walking distance from Faliraki. Likewise, if you intend to explore the UNESCO World Heritage Site that is the Old Town of Rhodes.
Kallithea's beaches are popular with its locals, with the small coves, bays, and caves offering a lovely environment. Kallithea is an excellent choice for families as a result. You can expect well-organized beaches with good facilities, cafes, and restaurants. In common with many places down this eastern coast, you can expect the day's catch to be on most menus and well as Greek favorites like moussaka.
If you just want to relax, you are welcome to do so. The Kallithea Spa was built by the Italians in the 1920s. It is said that even the father of medicine, Hippocrates drank from local waters and hailed its health-giving powers in 460BC. It's no longer offers thermal attributes, but it's still a great place to explore. It's a popular place for weddings and surrounded by two five-star hotels.
The thermal springs complex is set directly on a small bay with a tiny sandy, crystal clear, and turquoise blue water, great for snorkeling and diving. The Kallithea Spa also attracts you with its stunning Kallithea Springs Rotunda. It's a great place to troll through the white-washed walls, and take a few photos!
Kallithea has plenty of accommodation options. You can find things at a budget price but also luxury boutique hotels and apartments. There is an air of sophistication in this place but you do not have to pay ''top dollar'' to enjoy it.
Stay in Kallithea if you are holidaying as a family; your aim is mostly to relax; you want to be close enough to Rhodes Town for a visit or two.
Best places to stay in Rhodes in Kallithea:
luxury ($$$): Eden Roc Resort – All-Inclusive This 5-star waterfront resort is located in Kallithea Beach, between Kallithea and Rhodes Town. It offers a basketball court, beach volleyball, mini-football, and mini-golf. Close proximity to Kalithea Springs, Rodini Park, Diagoras Stadium, and Rhodes Waterpark.
mid-range ($$): Hotel Kalithea This 3 -star hotel is located in Kallithea, within easy walking distance from a range of restaurants and shops. It offers air-conditioned rooms with a flat-screen satellite TV, free car parking, swimming pool, a game room, and free wifi.
budget ($): Stavros Melathron Studios Close Reni Beach in Koskinou, within 50m from Reni center where you can find shops, cafes, and taverns. Faliraki Water Park, Rhodes Town with the Palace of the Grand Master of the Knights, and Kallithea Spa are just a short drive away. Also near Agia Marina Beach, Kalithea Beach, Kokkina Beach, Oasis Beach, and Faliraki Beach.
🔍MORE HOTEL DEALS IN KALLITHEA
See more: 19 Best things to do in Rhodes, Greece
3. Faliraki, where to Stay in Rhodes for nightlife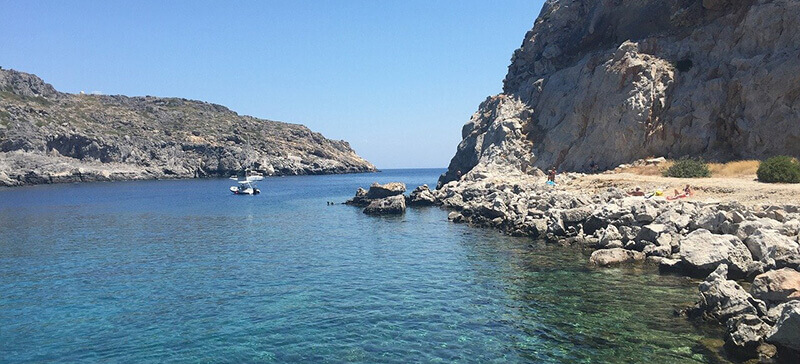 Located14 km from the capital of the island, Faliraki is generally regarded as the most popular beach in Rhodes, and the most organized. It is Rhodes' liveliest of resorts. With popularity comes crowds and anyone deciding to stay in Faliraki during the season should expect them. Faliraki is just a short walking distance further down the East Coast from Kallithea.
With an aquarium, bowling alley, water park, mini-golf, Faliraki is not only popular with the 18-30 crowd but also for families with kids. The main Faliraki beach is 3 miles wide so there is no shortage of space. The Blue Flag beach with crystal clear shallow waters, golden sands offers so much entertainment for youngers, and watersports for older crowds.
By day and night, Faliraki is like one big party. It is extremely cosmopolitan with visitors from all parts of Europe and sometimes beyond. From the air, you would see hundreds of red striped umbrellas, shade from the strong rays of the sun.
By night, the narrow streets of Faliraki are filled with tourists enjoying the many bars, cafes, restaurants. And clubs, late-night karaoke. Club Street and Bar Street (Ermou Street) is famous place for parties.
Some small parts of the beach are private, exclusive to guests at specific hotels. There are good beach bars and plenty of organized water sports.
There is also the largest waterpark in Europe, Faliraki Water Park as a further attraction in Faliraki. Part of it is specifically designed and purely for children with a large staff ensuring complete safety for all.
If you can drag yourself away from the action for a change of experience. There is an interesting archaeological site at Sarantapichos, the old monastery of the Prophet Amos, Prophet Elias, as well as the church of Agios Nektarios.
There are so many beautiful beaches in the surrounding neighborhoods including the world-famous Anthony Quinn Bay, a mall pebbles cover with no sand Traganou Beach, the charming beach Kathara Beach, the Ladiko Beach famous for its olive oil, and the hidden beach Mandomata Nudist Beach.
Faliraki has just a small permanent population but its accommodation capacity is 40,000 including a few 5-star hotels. There is something for every budget.
Stay in Faliraki if you have come to the Island of Rhodes to party and nightlife; you enjoy a cosmopolitan crowd; you want plenty of choice of cuisine, local and international.
Best Places to Stay Rhodes in Faliraki:
🔍MORE HOTEL DEALS IN FALIRAKI
4. Kolymbia, where to stay in Rhodes for couples
Kolymbia is conveniently located half way betwen Lindos and Rhodes Town and easy access by bus. It was just a small village until the word got out 30 years ago about its lovely child-friendly beach. It has plenty of hotels now but it still has a pleasant quiet feel so it is good for young families and couples wanting to relax.
The village was built when the Italians brought 30,000 colonists to the Island just after the First World War to create more settlements. The ruins of an early Christian basilica show that people lived here many centuries before that. The Church that stands today dates back to the 1920s when Kolymbia was being built. The bell tower is the most impressive feature of that church.
There are two bays, either side of a rocky cape. Bathing is especially popular in the southern bay while the harbor is in the northern bay. Pleasant hotels line both of the beaches and reviews regularly talk of Kolympia as one of the prettiest places on the Island.
Following the path of eucalyptus trees on the main street – Eucalyptus Avenue, you will be led to one of the longest beaches in Rhodes, Afandou Beach. Afandou village lies around the natural bay. You will also find the Rhodes golf course on the coast road.
If you like clearly sandy beaches, you can head to the beautiful sandy beach of Tsampika. There is the Tsambika Monastery sits on the cliff above the beach. To the north of Kolymbia beach is the Paramithia Monastery.
Away from the beaches, you should visit the Artistic Village Contemporary Art, Rodos Folklore Museum. There you will see lovely sculptures, ceramics, and traditional rugs. You can also book a tour out to sea from the harbor or a range of water sports equipment.
Other places of interstest to look at are the Seven Springs Nature Park, Fish Spa, Tsambikos Watersports, Magellanos, Kolymbia Express, and Oasis Bar. All-inclusive resorts are mainly accommodations in Kolymbia but you can also find self-catering apartments and villas.
Stay in Kolymbia if you're couples and families; you want a nice beach but without too many crowds; you are not too concerned about busy nightlife as long as there are good restaurants, your main aim on holiday is to relax;
Best places to stay in Rhodes in Kolymbia:
🔍MORE HOTEL DEALS IN KOLYMBIA
5. Stegna, best area to stay in Rhodes for quiet time
Located 30km from the capital city on the East Coast is the peaceful beach resort of Stegna. It is another place that is relaxing, offering a lovely village feeling. With its crystal clear and calm water, it is popular for families with young children.
Stegna Beach is a long, sandy and pebbly beach with sunbeds and umbrellas for rent. You can find shops and tavernas along the sea front promenade. There is also beautiful Tsambika beach nearby!
The downside is that you will need to book well in advance because there is only one hotel. There are some apartments and rooms to rent privately elsewhere but one section of the beach is only for guests of the hotel. Most of the bars, tavernas and restaurants, and indeed the apartments are right on the seafront.
There are less than 100 inhabitants in Stegna although there is the town of Archangelos less than half an hour walk away, a 2 minutes in the car. The local economy relies quite strongly on tourism but there is also fishing so enjoy eating the day's catch at dinner. There is some agriculture, primarily olives and oranges.
If you want some time away from the beach things of interest locally are the ruins of St. George Castle and the Church of St. Michael Archangel in Archangelos. On the road between Archangelos and Stegna up on the hills is the Koumellos Cave with its stunning stalactites.
Stay in Stegna if you want to be able to relax on holiday, you enjoy the feel of a village rather than a large resort, you are traveling as a family and want a place where the kids will be fully occupied and happy.
Best places to stay in Stegna:
🔍MORE HOTEL DEALS IN STEGNA
6. Kalathos & Haraki, small resort town on the eastern coast
Kalathos is located on the eastern coast of Rhodes, 50 km from Rhodes Town and 7 km from the Lindos. This village has become a resort in recent times but still has the feel of a traditional Rhodes village. Its beach is amongst the longest on the whole Island yet it remains relatively quiet.
Kalathos beach is about 2.5 miles long, comprising small pebbles but the real bonus is the beautiful crystal clear, shallow waters making it ideal for children. There is no commercial development on much of the beach. The few tavernas on the beachside display typical Greek hospitality. Konstantin Taverna and Ostria Taverna are popular ones.
The original village is up in the hills from where the views out to sea are spectacular. It is not a good region for agriculture so tourism has become the major employer. There are the church of Aghios Ioannis and the ancient oil-press nearby.
A little away from Kalathos you will find the former fishing village of Charaki which is livelier than Kalathos. It overlooks a pleasant bay and has bars, tavernas, and pizzerias which cater for tourist demand. Tourists have the choice of guesthouses and rooms to rent but there are no hotels.
The ruins of Feraklos Castle up on the hilltop are worth a visit. There are suggestions that tunnels from the Castle led to the sea at one time. It was taken by the Knights of St. John early in the 14th Century and it was modernized in the second half of the 15th Century by the occupying Italians.
This part of Rhodes is definitely family-friendly, especially for those with young children.
Stay in Kalathos & Haraki if you have a family with young children, you want a feel of modern village life on Rhodes, you want space, and the chance to relax.
Best places to stay in Kalathos:
🔍MORE HOTEL DEALS IN KATHALOS
7. Vlycha, where to stay in Rhodes all-inclusive resort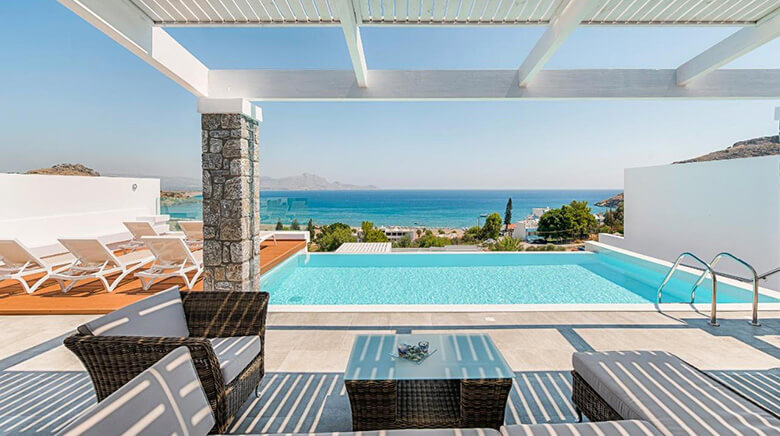 Vlycha is the long pebble beach, located on the eastcoast of Rhodes, near Lindos, 50km from Rhodes Town. Vlycha is home to many inclusive resorts hotels and most romantic adults-only hotels.
Vlycha Beach has plenty of sun loungers and umbrellas for everyone. The shore slopes more here so the sea is somewhat deeper than the area to the north. There is a glass-bottom boat that will allow you to see any marine life close to the shore.
It is rare that large crowds are found here. There is not a huge beach but there is room for all. It does attract tourists and locals coming to the short walking distance up from Lindos looking for a quieter day. Children always enjoy playing on this beach while many locals, especially the elderly like relaxing on the seafront with a drink in hand.
If you want to guarantee that there will not be many people around, head to the right-hand side of the beach. If everyone heeds this advice, it may not be quite much longer.
The hotels in Vlycha are either on the seafront or on the hills above the beach. You will easily find a range of restaurants and the village's amenities include equipment for hire to enjoy water sports. Banana Beach Bar is an amazing beachside café with good food and drink.
Stay in Vlycha if you want to avoid crowds but still have plenty of amenities, you are interested in history and archaeology but don't want to travel too far to experience it, you enjoy water sports and want to be able to hire equipment locally.
Best places to stay in Rhodes in Vlycha:
🔍MORE HOTEL DEALS IN VLYCHA
8. Lindos, the most popular resort in south of Rhodes island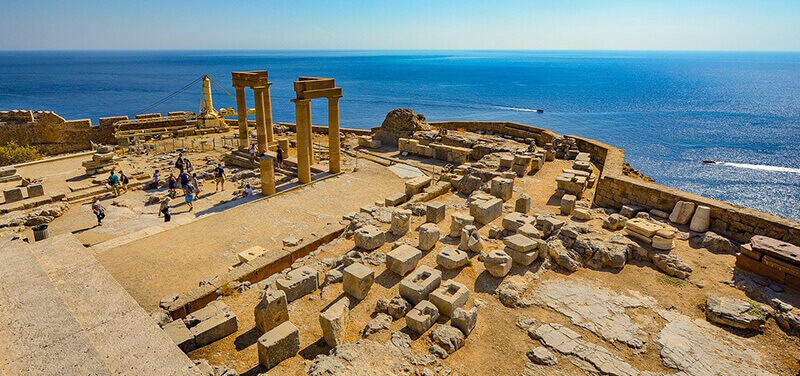 Lindos is located an hour drive by car from Rhodes Old Town and Rhodes Diagoras airport. Lindos is a famous for its Acropolis, archaeological site and formerly just a fishing village.
Today, its population is just a few hundred but it has become one of the most popular tourist resorts on Rhodes. Its summer population multiplies many times over. It is in the south of a large bay that looks north to Charaki.
It was founded by the Dorians in the 10th Century BC, hence its archaeological and historical importance. It was an important trading settlement before Rhodes Town was ever built. It declined but today, the main historical remnant is the Acropolis of Lindos.
In those original days, it was the huge Temple of Athena. Later there was the fortress built by the Knights of St. John in their efforts to repel the Ottomans.
It is regarded by many as the most beautiful settlement on Rhodes. The contrast between the blue sea and the whitewashed houses is very attractive. Tourists want more than history and most come to enjoy the Lindos beach, also known as Main Beach or Megali Paralia. The cobbled streets are pedestrian-only and unauthorized buildings are not permitted.
Apart from the Lindo beach, you can also find Pallas Beach and St Paul's Bay Beach.They are both beautiful sandy beaches, great place to swim and snorkel in Lindos Rhodes. There are 2 charming beach bars within walking distance from Lindos.
Beside the medieval town Acropolis, and St. Paul's Beach Strand, you can find a beautiful but modest church built in the most beautiful spot, is surrounded by rocky hills –Agios Pavlos.
Most holidaymakers staying in Lindos go self-catering; there are plenty of apartments for rent. Lindos also attracts tourists on organized coach tours around the Island so by daytime it can be very busy indeed. Lindos is the largest of the resorts in the south and that remains a good choice away from Rhodes Town in September, October.
Stay in Lindos Rhodes if you are interested in the history and culture of the Island; you are unconcerned about the crowds of day-trippers because you know things will quieten down later in the day.
Best places to stay in Rhodes in Lindos:
luxury ($$$): Lindos Village Resort and Spa – Adults-Only 5-star adults-only hotel with Greek village-style, in a short distance from Vlicha Beach and Kalathos Beach. The hotel offers free private car parking, and 2 beautiful pools with parasols and sun beds.
mid-range ($$): Lindos View Hotel This 4-star hotel has air-conditioned rooms with self-catering facilities, 2 outdoor pools, and views of Lindos Town. It is just 1km from Lindos Acropolis, you also have a wide range of beaches nearby such as Lindos Megali Paralia Beach, Agios Pavlos Beach, Lindos Beach Palace, Vlicha Beach, and Kalathos Beach.
budget ($): Ville Di Lindos Close to Pefkos Beach and Lindos offers rooms with balconies and the views of Aegean Sea. It has an on-site restaurant that serves Italian and Greek dishes. The hotel staff can organize the car rental and provide information on nearby beaches.
🔍MORE HOTEL DEALS IN LINDOS
9. Pefkos (Pefki), best place to stay in Rhodes for families
Pefkos, means pine tree in Greek, is located on the south-east coast, just a couple of miles away the famous Lindos village. It is much quieter than Lindos with some beautiful hotels, apartments, and villas, for families, couples, singers, senniors, travelers of all age.
The pine trees inland from the coves make for a great photo of Pefkos from the shoreline. You will find chairs available in its small coves. There is a gentle slope down the blue flag beach into the lovely clear water. If you want a quiet holiday, this is a place to consider, especially as there are all the amenities you might want.
Certainly, Pefkos is a favorite of locals, including people from Rhodes Town in the far north. It is a pleasant drive down this eastern coast as you will have found out yourself on your journey to Pefkos. Everyone who stays at Pefkos will experience its lovely relaxing atmosphere. The locals are very welcoming to all whether families, couples, or singles of any age.
This is another resort ideal for families, completely safe in all aspects for young children. The trip in the glass boat is fun and who knows what you will see?
Stay in Pefkos (Pefki) if you have a family with young children, you want a relaxing holiday but still have every tourist amenity to allow you to enjoy your holiday, you do not mind a large resort nearby which gives you the chance of a lively night out.
Best places to stay in Rhodes in Pefkos:
🔍MORE HOTEL DEALS IN PEFKOS
10. Lardos, beautiful village, short distance from Lindos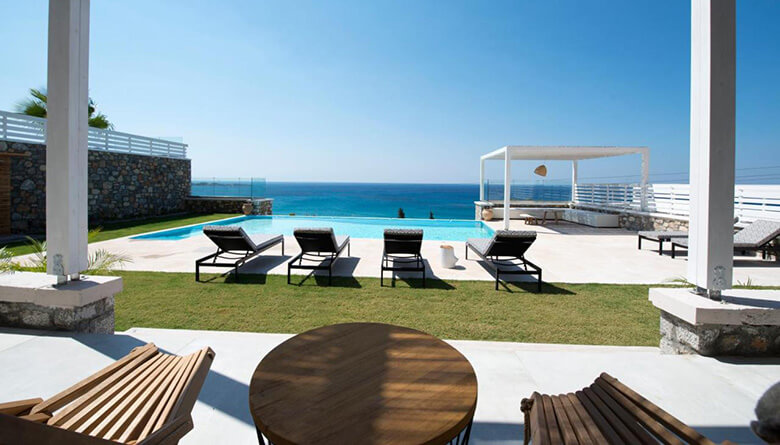 Nestle among vineyards, Lardos is beautiful village on the south east side of the island, short distance from Lindos. Just village size again, you can expect a few more amenities than in Pefkos including mini-golf and go-karting.
You will get a flavor of local life in the village square. Locals regularly come to the central square to draw natural spring water even though the piped water is drinkable. Join them in the cafes to drink coffee or even ouzo and watch the games of backgammon. Live music is often played in the Square with bars and hotels often playing modern music.
There are numerous small shops selling ceramics and other potential souvenirs. The tavernas specialize in seafood and it is as fresh as it comes. Some of the bars open until late, selling a good range of cocktails.
The beach front is adround 30 minute walk from the village center. Here you will find several hotels to book your stay. There are organized trips around the Island and you can even sail to the much smaller Greek island of Simi or Marmaris in Turkey.
The local Folklore Museum is an interesting diversion from the sandy/pebble beach. You can see exhibits of embroidery, historic photographs, and silver icons. Lardos Castle built on the hilltop dates back to the 12th Century but today all you can see are the ruins. You can hire a motorbike or cycle to explore further if you wish.
Stay in Lardos if you want the full range of tourist facilities without staying in a large resort, you enjoy seeing local life and activities, you are looking for tour options away from your base, and by day, you are looking for water sport alternatives.
Best places to stay in Lardos:
mid-range ($): Lindos Princess Beach Hotel 4-star hotel, located on the blue-flag, sandy beach of Lardos, its has 2 sweet-water children's pools, a spa, a mini club for children, and free private car parking.
budget ($): Lardos Bay 3-star hotel in Lardos, within a short stroll from Lardos Beach, and Lothiarika Beach.
🔍MORE HOTEL DEALS IN LARDOS
11. Kiotari, beautiful beach with numerous of watersport activities
You are still just 10 miles or so by road from Lindos and only 35 miles from Rhodes Town, Kiotari is a beautiful resort in the southeastern coast of the island. Kiotari is known for its all-inclusive hotels, usually with spas and always with pools.
There is a good choice for eating, ranging from pizzerias to seafood specialists and fine dining. If you pick Kiotari, you can be sure of fine Greek cuisine using the freshest of produce, and of course that wonderful seafood.
There are two small headlands and the beach is pebbled. Hire equipment to enjoy water sports is easy whether you want to jet ski or sail. Day cruises head up and down the coastline.
Kiotari was a sleepy fishing village, but now become popular destination for tourist with beaches and a number of luxury hotels and villas. Some places of interest are Monastery of the Transfiguration of the Savior, Stefano Fish Restaurant, and Hilioravdi.
Lindos is close enough for a night out if you want something a little livelier but it is not a late night clubbing resort.
Stay in Kiotari if you are looking for a good all-inclusive option, by day, you want water sport alternatives, you intend to learn a little about Rhodes' ancient history
Best places to stay in Rhodes in Kiotari:
🔍MORE HOTEL DEALS IN KIOTARI
12. Gennadi & Plimmari, a peaceful and quiet place in Rhodes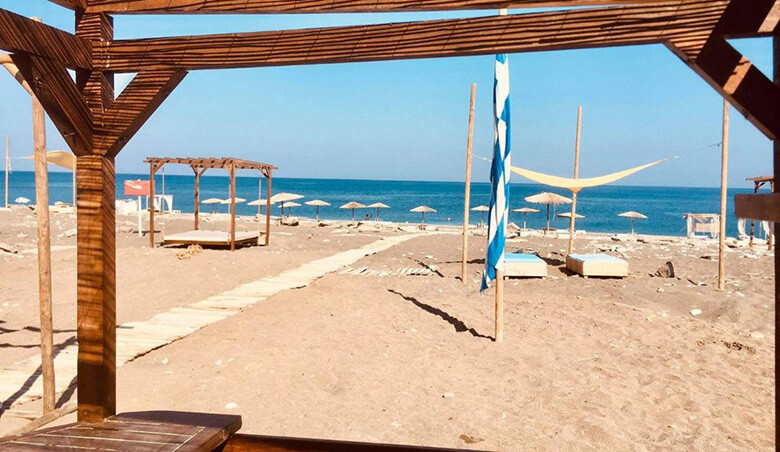 Gennadi's development is fairly recent. It remains a quiet village intrinsically yet that development has included trendy villas in bright colors. The development has been due to the lovely sandy beach and the waves that make it ideal for surfing.
The coast road makes it easy to find and people passing through will see modern hotels and villas for those who decide to stop. The number of quiet, almost untouched beaches in the vicinity ensures that its popularity will continue to grow.
Despite its relative quietness, Gennadi has become known for its Sunday beach parties with music playing in the seafront bars. The streets become crowded with traditional greek tavernas serving Greek favorites and plenty of fresh seafood.
Mid-price range hotels and villas comprise the majority of accommodation in Gennadi.
Nearby Plimmari is definitely family-friendly with jet ski and banana boats ensuring that older children will have plenty to occupy their days. There is a quality hotel available here and villas line the seafront. Tavernas, bars and restaurants with fresh fish on the menu also offer views out to sea for their customers.
Stay in Gennadi & Plimmari if you have older children keen on activities, you enjoy busy bars and tavernas but also the chance to get away to quiet beaches, you are interested in villa rental, you want to let your ''hair down'' one day a week, Sunday!
Best places to stay in Rhodes in Gennadi:
🔍MORE HOTEL DEALS IN GENNADI
13. Ixia and Ialyssos, twin purpose-built resorts in Rhodes
If you head a short way west from Rhodes Town, you will soon come to the hotel beach resort of Ixia and Ialyssos. It is a cosmopolitan resort with quality accommodation, a good choice for those wanting to be close to the Old Town, but not too close. The beach is part pebble, part sand and it is arguably the favorite resort for windsurfers this side of the island.
Parts of the beach are under private ownership, owned by the respective hotels. The water sports centers cater not just for windsurfing but also offer jet skis and surfing boards.
It is not just a place for exclusive hotels; there is something for every budget. Shoppers will certainly enjoy Ixia while several restaurants offer tasters of local cuisine as part of their service.
Ixia is sandwiched between Rhodes Town and Rhodes' second city, Ialysos. Ialysos is close to the Ancient Greek City of the Dorians where the boxer Diagoras of Rhodes lived. In recent decades its population has gone from 2,500 to over 10,000 as it has become popular with locals working in Rhodes Old Town .
When tourism began to grow on Rhodes over half a century ago, Ialyssos was one of the earliest resorts. At just 2 miles distant from Rhodes Town, there were obvious advantages, and still today, it is a favorite with families. There is a huge number of hotel rooms on a stretch of road between Ixia and Ialyssos.
Its location is on the summit of Mount Filerimos on the west coast. It is a relaxed place with both local and international cuisine readily available. You will enjoy a night in Rhodes Town, you are close enough, but you may prefer somewhere quieter, the reason for choosing Ialyssos in the first place.
Watersports are readily available and there are plenty of things to explore within the town including the Museum of Mineralogy and Palaeontology and the Church of Our Lady of Filerimos.
Stay in Ixia if you want a holiday that balances the beach with history and culture., you are keen on water sports but want a base close to Rhodes Old Town, you want a good choice of high-quality hotels
Best places to stay in Rhodes in Ixia and Ialysos :
🔍MORE HOTEL DEALS IN IXIA
14. Monolithos & Embonas, typical Greek village life and good wine
Monolithos is a small village located on the hills of Akramiti Mountain. This typical blue and white Greek village is well down the west coast, in Attavyros. Its 15th Century Monolithos Castle, built by the Knights of St. John, sits on a rock over 300 feet up with the aim being to defend the region. It largely ruins today but, in its time, it was never captured.
Take care when climbing the slippery steps but once there, enjoy the views and go into the chapel, Saint Pantaleon, which still operates today.
Back in the village, you will find lovely tavernas and shops selling two important local products, olive oil and honey. There are two small beaches, a mix of sand and pebbles, just a short distance away if you want a day by the sea.
Embonas is another Attavyros village located at around 2,000 feet, halfway to a summit where you will find the Temple of Zeus. It must have been a spectacular sight in its time, and still worth a visit.
This is the heart of Rhodes' wine industry and that in itself brings plenty of day-trippers. Why not stay there as an alternative? You can enjoy the locally produced wine and liqueurs in local tavernas or book a tour with tasting. Olive oil and honey are produced locally, and the museum has exhibits of rugs formerly made here.
There is a pleasant atmosphere here with local cuisine regularly recommended. The village square is the hub of Embonas so head there in the evening and you will have a great night.
Stay in Monolithos if You want a natural setting for your holiday, Hiking interests you, You intend to experience typical village life.
Best places to stay in Monolithos:
🔍MORE HOTEL DEALS IN MONOLITHOS
Where should I stay in Rhodes for the first time?
Rhodes Town is the best area to stay in Rhodes for first-time travelers due to prime location. If you stay here, you will be located in the heart of action, within walking distance to major sights, as well as many restaurants, bars, and shops.
What are the best areas to stay in Rhodes?
Rhodes Town, Kallithea Beach, Faliraki, Kolymbia, Stegna, Pefkos, Lindos, and Ialyssos are the best areas to stay in Rhodes for tourists because they are the most popular and safe neighborhoods that offer a wide range of attractions and amenities.
Which is better, Lindos or Rhodes Town?
Rhodes Town and Lindos are both popular and busy destinations in summer. Rhodes Town is the main town and the transport hub of the island. Lindos is a small beautiful beach resort. You can stay in Rhodes and take a day trip to Lindos Acropolis.
How many days in Rhodes is enough?
I recommend you should spend at least 5 days in Rhodes, which is a good amount of time to see Rhodes Old Town, take a day trip to Lindo, eat tasty food, and relax on beautiful beaches.
Where not to stay in Rhodes?
Rhodes is one of the safest places in Greece, with low crime rates. There isn't any area to not to stay in Rhodes, but as you travel to any major city, you should always practice common sense and be aware of your surroundings.
What is the best place to stay in Rhodes without a car?
Rhodes town is also the best area to stay in Rhodes without a car because it is the transport hub of the island with both port and airport nearby. There are also plenty of things to do and see in the town itself.
Where should I stay in Rhodes as a couple?
With its picturesque beaches, attractive natural landscapes and historic sites, most towns in Rhodes are ideal for couples, especially Kolymbia and Lindo.
Where to stay in Rhodes as a family?
With kid-friendly activities and beautiful beaches, Rhodes is a family-friendly Greek island. Rhodes Town, Kolymbia, Pefkos are popular areas to stay in Rhodes for families and kids.
Read Also: Frequently Asked Questions about Best Places to Stay in Rhodes
See More:
While weekend visitors may pick Rhodes Town as their base, those staying on the Island for a week or even two are more likely to want somewhere elsewhere on the Island.
Overall, Rhodes Town which is the best area to stay in Rhodes due to its prime location. If you stay here, you will be located in the heart of actions, within walking distance to the famous tourist attractions, as well as a wide range of accommodations, restaurants, bars, and shops.
Rhodes Town has well bus connections to other towns, so you can easy travel around without a car if you base yourseld in Rhodes Town. Plus it's walkable in the Old Town, you can easily explore landmarks by foot.
You can opt for busy nightlife, especially in places like Faliraki but you can also find smaller resorts with limited crowds. As the season reaches its last few weeks in October, the daytime temperatures are still good, prices fall a little and crowds disappear. A lovely way to enjoy yourself before winter arrives. Hope you find where to stay in Rhodes useful and happy travel!