Where to stay in Crete first time? without a car, for couples, families, beaches, nightlife? In this blog post, I'll discuss the best areas to stay in Crete for tourists (include map and video), the advantages and disadvantages of each area, and the best hotels in Crete for all budgets.
Crete is a the biggest island of Greece and the fifth biggest in the Mediterranean. Steeped in history, the island is home to some of the most notorious nightlife in the world.
This beautiful island has four regions (Nomos, Heraklion, Lasithi, Chania, and Rethymnon. Each has its own main city and character. The best area for you to stay in Crete will depend on your preferences and what you're looking to experience during your visit.
Where to stay in Crete?
The best areas to stay in Crete for tourists and first-timers are Chania, Rethymno, Heraklion, Agios Nikolaos, Elounda, Hersonissos, and Malia because they some of the island's most popular and beautiful towns for tourist that offers a wide variety of attractions and amenities.
Chania, Rethymnon, and Heraklion are the overall best areas for first-time visitors because they are the main towns on the island with great tourist facilities and well-connected to public transportation, making them a great bases to explore Crete.
Chania's Old Town is full of attractions with its picturesque streets and charming cafes that are a great base for families and couples. Rethymnon has a similar atmosphere with a charming Venetian old town and harbor but less touristy.
Chania, Heraklion, and Agios Nikolaos are some of the best places to stay in Crete without a car Chania has lots of bus tours and boat trips, as well as many tourist attractions, restaurants and shops located within walking distance apart.
If you are looking for nightlife, look into Malia. The Malia Strip is 1.5km of non-stop clubs and bars, Malia is very much an unmissable stop on the global nightlife stage. Just take into account the rest of this guide and make your decision based on what you want to fill up your trip with!
If you are couples check this article: Best areas to Stay in Crete for Couples
Map of areas and towns in Crete for tourists: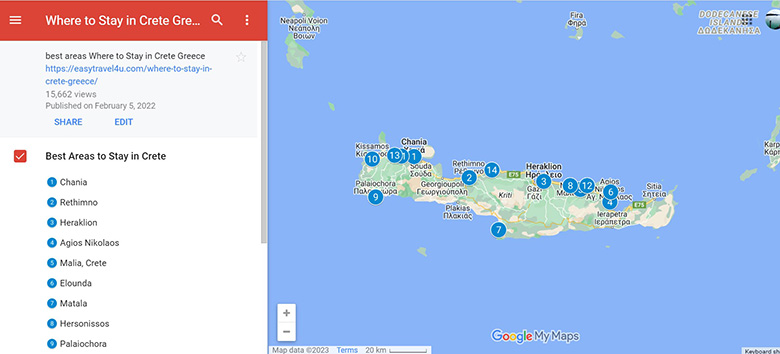 Overviews of best areas to stay in Crete for tourists
Here is an overview of recommended areas in Crete for first-time visitors: 
The Best areas to stay in Crete for tourists are:
1. Chania
Chania, also known as Hania, is the best overall area to stay in Crete for first-timers, couples, families, all kind of travelers. Located on the western end of the north coast, it is the second biggest town on is island and is well-connected by public transport.
Chania is very easily accessible. It is home to an international airport, and a ferry port with links from mainland Greece. Additionally, it also has a great bus service, making it a great base to explore the north and western parts of the island.
You can easily have a day trip to to the beautiful Samaria Gorge in the White Mountains, and the Aradena Gorge, as well as the beautiful beaches of Elafonisi, Falassarna, and Marmara.
Chania itself is a popular tourist destination that is known for its charming Old Town and Venetian Harbor. Chania's Old Town is a picturesque area with narrow, winding streets, Venetian architecture, and a bustling harbor. It's perfect for exploring on foot.
The Venetian Harbor is a focal point of Chania, lined with colorful buildings, waterfront tavernas, kafeneias, and cafes. It's a great place to relax, enjoy the views, and watch the sunset.
If you stroll around the harbourfront, you will find the small mosque built by Ottoman Turks in 1645, an authentic 16-century Old Venetian lighthouse, the 17th-century Firkas Fortress, and the Maritime Museum.
Chania has a rich history that dates back thousands of years, with influences from various civilizations, including the Minoans, Venetians, and Ottomans. History lovers can visit the Archaeological Museum of Chania, Maritime Museum, and Mosque of the Janissaries.
Another must-see attraction is located 10 kilometers east of Chania, The Monasteries of Akrotiri Peninsula, home to three monasteries including Agia Triada, Gouverneto, and Katholiko.
After spending the day sightseeing, you can visit the Al Hammam Turkish bath for a relaxing day of self-care.
In the summer season, from July to September, you can join Cultural Summer performances in theatres at the Conservatory of Venizelos, the Park of Peace and Friendship, the Public Garden, and Eastern Trench.
The island of Crete is famous for its wine. You can visit wineries, meet the winemakers, and learn more about the amazing Cretan wine. The Mavredakis Winery has 25 acres of vineyards on the hills of the White Mountains, you can sample wines and traditional Cretan food.
Chania is a popular tourist destination, particularly during the summer months. Consequently, the streets and attractions can become crowded, especially in the Old Town and near the harbor. It might be less tranquil compared to more remote areas of Crete.
Best Places to Stay on Crete in Chania:
luxury: Casa Delfino Hotel & Spa This 5-star authentic 17th-century Venetian mansion is set right in the heart of Chania. it has a courtyard, a rooftop terrace overlooking the town and the Venetian harbor, and free private car parking.
mid-range: Samaria Hotel is an exquisite 4-star hotel offering chic luxury at the heart of Chania Town, within walking distance from famous attractions. There are a on-site private parking with free if you bring your car.
budget: Royal Sun This is a superbly modern hotel, located on a hillside, boasting rooms with stunning views across the local city. There are free private car parking, a fitness centre, a table tennis. You can enjoy buffet breakfast with Greek and Mediterranean dishes.
2. Rethymnon
Rethymnon is the 3rd largest city on the island, located right in the middle of the North coast, between the famous Chania and Heraklion. There is no airport in Rethymnon, you'll have to take to taxi or bus if you flight into Heraklion an Chania airports, which is more than one-hour drive.
Rethymnon has a similar vibe compared to Chania, but it is less touristy. It is a beautiful medieval city with fantastic old Venetian mansions and an old harbor. This is a paradise for couples, nature lovers and anyone who wants to get a feel for traditional island life.
Like Chania, the Rethymno Old Town is one of the best-preserved Renaissance towns. It is filled with many traditional tavernas, cafes, and shops among the narrow cobblestones streets, Venetian mansions, Catholic and Orthodox churches, arches, mosques.
The romantic Venetian harbor is an ideal place for couples to grab a fresh fish meal in a seaside taverna. Here, you will see the 17th-century lighthouse and 13th-century breakwater.
Rethymnon is packed with a multicultural influence, founded by the Minoans, ruled by the Venetians, and conquered by the Turks. You can explore the Venetian Fortezza, Loggia, Rimondi Fountain, Historical & Folk Museum of Rethymnon, and Neratzes Mosque.
There also also numerous museums for history buffs include the Archaeological Museum of Rethymnon which is housed inside the Venetian-built St Francis Church, Historical & Folk Art Museum of Rethymnon, and Paleontology Museum.
Other interesting places to visit are the Arkadi Monastery at the foothills of Psiloritis, (Mount Ida), Preveli Monastery, Imbros Gorge Argyroupoli, and Biotopoi Natural Park.
If you want to take a break from sightseeing, head to Preveli Beach which is about 40 km south of Rethymno. This is one of Crete's most beautiful beaches where the Kourtaliotis River meets the Mediterranean Sea.
In the Rethymnon region, you will also have fantastic beaches such as Agios Pavlos Ammolofoi Beach, Triopetra Beach, Maliou Riaki Beach, Damnoni Beach, Panormos Beach, Bali Beach, Agia Galini, Plakias, and Adelianos Kampos Beach.
If you visit Crete in summer, you can attend the Wine Festival and the Renaissance Festival which runs from July to September, the historic Erofili Theatre in the Fortezza. In winter, February, check out Rethymnon Carnival to experience local culture.
Rethymnon has a great selection of affordable accommodation, ideal for couples, solo traveler or backpacker. There are many places to stay ranging from luxury hotels, bed and breakfast apartment buildings.
Stay in Rethymnon if you're couple, looking for a romantic getaway, or on honeymoon; you're traveling on a budget; you enjoy dramatic scenery, you want less touristy;
Best places to stay in Rethymnon Town:
luxury ($$$): Nautilux Rethymno by Mage Hotels this 5-star hotel is located in Rethymno Town, a few steps from Rethymno Beach. It offers a restaurant, free private car parking, a seasonal outdoor swimming pool and a fitness centre. This is a great location and facilities for couples.
mid-range ($$): Palazzo Vecchio Exclusive Residence This 4-star authentic Venetian mansion is beautiful place for couples, located in the heart of Rethymno Town, below the Venetian Fortress. It has a free private car parking, cobbled courtyard, and the small pool.
budget ($): The City Hotel & Suites This 3-star hotel is set in Rethymno Town, it has tour desk and luggage storage, family rooms, and free car parking. Popular points of interest nearby are the Archaeological Museum of Rethymno, Municipal Garden and Venetian Harbour.
3. Heraklion
Heraklion, also known as Iraklion or Iraklio, is the biggest city and the capital city of Crete, home to the main port and Heraklion International Airport, which is the primary gateway for visitors to Crete. It's a bustling urban center, full of tourists, students, shopping, and nightlife.
The airport is centrally located within easy reached from the city center by KTEL local bus or taxi. It has connections from Athens, Thessaloniki, and many European countries.
Heraklion is also well-connected by ferry and bus, making it a convenient base to explore other towns and attractions on the island. There are ferry links from Piraeus port in Athens, as well as other Greek island such as Santorini, Mykonos, Rhodes, Karpathos, and Kassos.
The city has a rich history dating back to ancient times. It was known as Knossos in the Minoan period and served as the capital of the Minoan civilization, one of the most advanced ancient cultures in Europe.
The ruins of the ancient city of Knossos, including the Palace of Knossos, are located just outside Heraklion and attract a large number of tourists. It's within 30 minutes by bus from Heraklion.
Heraklion also has a beautiful old town along the seafront which has a certain old-world charm. Around the old Venetian Harbour, you will find the 16th-century Venetian Fort of Koules (Rocca a Mare Fortress) and the Venetian Arsenals.
Head to the city center, you will see Lion Square, the Morosini Fountain, the Venetian Saint Mark's Basilica, the Church of Agios Titos, and the Town Hall on 25th of August street, which is the best-preserved Venetian building in Crete.
One of the most notable landmarks is the Grand Venetian Walls of the city, Venetian fortification walls of the city during the 16th and 17th centuries. If you reach the top of Martinengo Bastion, the highest point of the Heraklion's Wall, you will see Kazantzakis' Tomb, the resting of the famous Cretan author, Nikos Kazantzakis.
If you love antiquity, you must see the Archaeological Museum with a broad collection of Minoan art, the small statue of the Snake Goddess, and the Phaistos Disc.
History and art lovers will also want to see the Natural History Museum, the Historical Museum of Crete, the Municipal Art Museum, the Museum of Ancient Greek Technology, and many art galleries.
If you want to shop, you can find many souvenir shops among the maze narrow alley of the Old Town, especially on the pedestrian-only 1866 Street (Central Market) which stretches from the central square to Kornarou Square.
Families and kids can spend a day at Cretaquarium Thalassocosmos, 15 km east of Heraklion. it's home to more than 2000 sea animals and 200 different Mediterranean species.
As well as that, there are also many vineyards inland. You can book a wine tasting and tour at Lyrarakis winery, which was founded in 1966 by Manolis and Sotiris Lyrarakis. On the tour, you can taste wine, cheeses, and visit the 14th-century Karoula wine press.
You can find a selection of beaches along the coast, such as the Blue Flag golden sandy beach of Ammoudara, Potamos Beach, the hippy beach of Matala, and the less crowded Agiofarago beach.
Stay in Heraklion if you want an urban holiday; you enjoy historical and cultural attractions; you travel without car; you want central location to take many day trips;
Best Places to stay in Crete in Heraklion Town:
luxury ($$$): GDM Megaron, Historical Monument Hotel Located in the heart of Heraklion, this 5-star hotel has fine dining, free car parking, a health club and a rooftop plunge pool. All rooms and suites has safe, soundproof windows.
mid-range ($$): Ibis Styles Heraklion Central This 4-star hotel is in the heart of Heraklion Town. You can choose to stay in a room with sea or city views.
budget ($$): Infinity City Boutique Hotel Located in Heraklio Town, within easy walk from Heraklion Archaeological Museum and Heraklion Port.
Also, read this guide about how many days in Crete to see how long should you spend in Crete and the best things to do and see.
4. Agios Nikolaos
Agios Nikolaos along with Chania and Heraklion is one of the best area to stay in Crete without a car. Agios Nikolaos is easily reachable from Heraklion airport or port by car or taxi, as well as regular bus service from Heraklion, Sitia, and Ierapetra.
On the eastern coast of Crete, Agios Nikolaos (often shortened to Ag Nik) is the capital of the region of Lasithi. it is set on the largest natural bay in Crete, Merabello Bay.
Lassithi region is known for its spectacular beaches, unsullied landscape, and pretty rural villages, where you can experience island life without being caught up in the bustling crowds of tourists.
It is home to the island's best beach resorts while simultaneously being the most untouched by tourism. It's a favorite with British holidaymakers. This seaside town has many stunning beaches in surrounding such as Ammos Beach, Kitroplatia beach, Ammoudi and Havania beaches.
Kitroplatia beach is surrounded by many taverns, restaurants, holiday rental apartments, and hotels. It's a great place for families with children.
The town has three faces to the ocean: the Marina, Lake Voulismeni and the port, and Kitroplatia beach. The jewel of the town, Lake Voulismeni is a beautiful inland lagoon, which is connected to the sea through a narrow canal.
According to one of Greek Mythology, the goddesses Athena and Artemis are bathing in this sweetwater lake. There are several open-air cafés and seafood restaurants around the lake.
For adventure seekers, you have a lot of outdoor activities in Agios Nikolaos such as hiking, cycling in the path of Kolokytha Peninsula, and Gorge of Andrianos; horse riding at the charming village of Fourni; scuba diving at Mirabello Bay.
For foodies, check out Karnagio, an authentic Greek restaurant, in the heart of Agios Nikolaos, and admire the views of Voulismeni Lake; and Piato Restaurant with views of the waterfront.
If you are interested in history, check out the Archaeological Museum of Agios Nikolaos, Folk Art Museum of Agios Nikolaos, while art lovers can enjoy paintings and sculptures at the Spirit of the Stairs.
Agios Nikolaos is a great base to explore the eastern part of Crete and is for a relaxing holiday with stunning views of the Merabello Bay. From here, you can easily take a day trip to the Lasithi plateau to see windmills, visit Elounda, and historic Spinalonga island.
Stay in Agios Nikolaos if you enjoy exploring nature; you travel without a car; you want a relaxing and peaceful holiday; you want relaxing holiday; you are couples young and older;
Best Places to Stay in Agios Nikolaos:
luxury ($$$): Minos Beach Art Hotel Located beside the water's edge, close to centre of Agios Nikolaos, there is a regular bus service nearby takes you to Elounda Village and Agios Nikolaos. You can choose to stay in suites or exclusive villas.
mid-range ($$): Ariadne Beach this 4-star hotel is in Agios Nikolaos, 2 km from Ariadne Beach. It has an on-site restaurant with sea view, as well as a free private car parking.
budget ($): Palazzo Arhontiko Apartments Located in Kitroplateia Beach, this property offers spacious, air-conditioned apartments with a kitchenette.
5. Malia
Located 40 km east of Heraklion on the northern coast of Crete, Malia is best known for its vibrant party scene, most people have heard of this town as a favorite destination for mates' weekends away or bachelorette and bachelor parties, and for good reason;
Malia is certainly the best town to visit for booming nightlife and popular for young European tourists with numerous English and Irish bars along Beach Road.However, it does have something else to offer, with a bustling town center and even a small old quarter with traditional buildings and bars.
When it comes to evenings, nights come alive not only in the beach bars set directly on Malia's coast but along the main road in town in Dimokratias Avenue.
You will find fish and chips, Scottish pints, and whisky at Malia's only Scottish Pub, The Saltire Lounge; Corkers Nightclub which is the most popular discos in town; Zig Zag Club and Lounge, Warehouse Club are also popular nightclubs in Malia.
Apart from the nightlife, there are plenty of things to do during the day. Families with kids will want to visit Amazonas Park, which is 25km from Malia. Kids can interact with animals in this zoo. One of the not-to-miss landmarks is the Minoan Palace of Malia, the third biggest Minoan Palace after Knossos Palace and Phaistos.
To learn more about the Minoans and this archaeological site, you can visit the Archaeological Museum of Heraklion. Other interesting places to see in Malia are the Palace of Malia, Kirche church, canyoning at the Roza Gorge, Dia Island, Bay of Malia, and Potamos Beach.
Although certainly not the most culturally rich area of Crete, there is the palace of Malia close by which is more than worth a visit, and there is a range of accommodation available from budget to luxury.
Stay in Malia if you want lively nightlife; you like to go shopping in the day; you are coming with a group of friends.
Best Places to Stay in Malia:
luxury ($$$): Alexander Beach Hotel & Village Resort This 5-star hotel is located at the sandy Malia Beach, a few minute drive by car from the lively villages of Malia and Stalis.
mid-range ($$): Drossia Palms Hotel and Nisos Beach Suites This beautiful complex is located next to Malia's entertainment district and central beach strip. It has snack bar, pool table, free car parking, and large swimming pool.
budget ($): Dedalos Hotel this 3-star hotel is set close to Central Malia Beach, Ikaros and Kernos Beach, Alexander Beach and Malia Strip. You can use a paid airport shuttle service to Heraklion International Airport.
6. Elounda
Located on the North-Eastern coast of Crete, Elounda is a picturesque seaside fishing village on the Gulf of Mirabello, north of Agios Nikolaos, and south of Plaka. It's developed from a pretty little traditional fishing village to a bustling small town.
Full of character and one of the islands smaller coastal towns, Elounda has the highest concentration of luxury lodging and five-star restaurants; although it does have cheap eateries to offer and make it worth a visit for the budget traveler as well, and there are a few mid-range accommodations to be had.
This luxurious town is a favorite destination of famous movie stars, American actresses and actors, Greek celebrities and politicians, and Russian tycoons.
The town is centered around the main square, where you can find the buses to Agios Nikolaos and Plaka. If you head to the beautiful lagoon, Elounda's harbour, known as the Gulf of Korfos, you will pass many popular tavernas and exclusive seafood restaurants overlooking the bay.
Elounda boasts a couple of important archeological sites of Cretan history, The Sunken City of Olous, and the Venetian fortress on Spinalonga island (The Island or Leper Island). Olous was an ancient Greek city from the Minoan age.
Kolokytha Beach, Windmills Poros Elounda, Monastery of Aretiou are other things to look at if you have more time in Elounda. It isn't far from the city of Agia Nikolaus, and it's a great base for hiking as it's surrounded by a network of donkey paths.
Stay in Elounda if you're looking for a luxury break, fine dining, and authentic feel; you like to go for walks;
Best places to stay in Elounda:
luxury ($$$): Blue Palace Elounda, a Luxury Collection Resort & Spa, Crete Located on Elounda coast, within easy walk from fishing village of Plaka, while the village of Elounda is 5km away.
mid-range ($$): Elounda Garden Suites Heated Pool this 4-star accommodation has free car parking, located within walking distance from Elounda centre and its sandy beaches.
budget ($): Elounda Krini Hotel Located 200 m from Elounda Beach, this 3-star hotel is 9km from Agios Nikolaos. Enjoy the views of the Cretan Sea and Spinalonga Island from its room's balcony.
7. Matala
Located 70km from Heraklion, where the plane of Messara meets the Asteroussia Mountains, Matala beach is the most bohemian beach on Crete, a destination for young travelers finding themselves or looking for a really relaxed trip.
Home of the famous hippie carved caves in the rock and an amazingly dramatic natural landscape, Matala is busy with tourists during the day but, since most people just come on a day trip it quietens down a lot in the evening.
In the 1960s, Matala became famous because hippies (flower children) came here from all over Europe to enjoy the natural environment and live free, making their homes in the caves. Today, Matala has become more developed with many accommodations and facilities.
It has not only the hippies' caves, the beaches of Matala, Kommos Beach, and Red Beach are parts of the Natura 2000 network, a European Union network of nature protection areas. These Blue Flag beaches overlook the Libyan Sea, giving you a taste of the African ocean.
Malta is also very close to the second biggest Minoan Palace in Crete, the Palace of Phaistos on Messara Plain. You can also easily visit a Minoan Villa, Agia Triada, the ancient Gortys, and the villages of Sivas and Kamilari nearby!
Best Places to stay in Matala:
mid-range ($$): Boutique Hotel Die Zwei Brüder This Bed and breakfast is 100 m from Matala beach and 700 m from Red Sand Beach. The hotel can help with car rental, you can enjoy hiking, cycling and fishing nearby.
budget ($): Nikos Hotel The family-run Nikos Hotel is located in Matala, within a short drive by car from Kokkini Ammos beach, well-known for its red sand and the seaside village of Agia Galini. You can choose the rooms with the views of the Libyan Sea and the famous caves of Matala.
8. Hersonissos
Hersonissos is the biggest seaside resort in Crete, 15 miles east of Crete's capital, Heraklion. In recent times, it has changed dramatically with the growth of tourism. What was once a sleepy part of Crete is now the first place tourists look to for a Cretan holiday.
Hersonissos is a great place to stay in Crete for families with kids as it has many family-friendly resorts and many activities for children. Families can spend their fun day out with kids in water parks.
Hersonissos is home to the biggest waterpark in Crete, Acqua Plus Waterpark. There are also the Star Beach Waterpark, Labyrinth Theme Park, CretAquarium or Thalassokosmos, Aquaworld Aquarium & Reptile Rescue Centre which is Crete's first aquarium.
Only 3,000 people live here permanently but that number increases many times over with both tourists that come but also the people who work in the tourism industry but live in other parts of Crete for the remainder of the year.
The beaches are great, and a fun place to be during the season. Gefyri beach is a lovely beach with beautiful turquoise, Starbeach, Hersonissos Beach, Saint Paraskevi Church are popular beaches around.
The town has plenty of shopping, bars and cafes, restaurants, and nightclubs, especially around the harbor. A range of hotels, large and small provides plenty of accommodation alternatives.
There's also a golf course for golf enthusiasts, and for history buffs and culture vultures can visit the Cave of Zeus, Lychnostatis Open Air Museum, Museum of Rural Life, and the Church of Saint Paraskevi.
You can get to Hersonissos from Heraklion Airport by car, taxi or by bus. Heraklion Airport is around a 15-minute drive on new National Road. There are countless accommodation options ranging from simple rooms to let, family studios, 3-star hotels, to 5-star resorts with swimming pools, spas, and amazing views of the sea.
Stay in Hersonissos if you are looking for an ideal family location, it is important to you to have amenities close at hand;
Best places to stay in Hersonissos:
luxury ($$$): Creta Maris Beach Resort this 5-star all-inclusive hotel has the views of the Blue Flag Hersonissos Beach. Beautiful hotel for familes and couples that have 6 outdoor and 1 heated indoor swimming pools, 6 children's swimming pools, a waterpark, and a children's playground.
mid-range ($): Stella Village Hotel & Bungalows this 4-star hotel has a private beach in Analipsi, 2 restaurants. This is a family friendly hotel that offers family rooms, 3 children's pool, and a kids' club.
budget ($): Thalia deco City & Beach Hotel Located on the east side of Hersonissos, within easy distance from the villages of Koutouloufari, Piscopiano and old Hersonissos.
9. Palaichora
Located on a peninsula on Crete's southwest coast, Palaiochora (also known as Paleochora or Paleohora) was a hippy town long before mass tourism attracted huge numbers to Crete. Times have changed somewhat with the pace of life quickening up a little as more hotels have appeared to cater to tourists.
Bars and restaurants now crowd the main street which is fully pedestrianized at night. If you want to relax on a large beach by day, Palaichora could just be the place for you. There are restaurants close by where you will find plenty to tempt you, mostly made from fresh local produce, and fresh from the sea.
The coastline stretches from Anydri village to Kountoura village with plenty of sandy and pebbly beaches. You will find Gialiskari or Dialiskari, Karavopetra Coves, Pahia Ammo, Grammeno beaches, and Keratides beach.
The spectacular Castel Selino is a famous Cretan Fortress built by the Venetians. If you want a day trip elsewhere, the ferry heads along the south coast which is otherwise remote because of lack of roads.
Palaiochora is just 70 km away from Chania, and a 90-minute drive by car from Chania International Airport (CHQ), provides easy access to some of the best gorges in Crete such as Samaria Gorge, and Agia Irini Gorge.
Palaiochora offers plenty of choices of rooms, studios, and self-catering apartments.
Best places to stay in Palaiochora:
mid-range ($$): Libyan Princess this 4-star hotel is set in Paleochora, also known as the Nymph of the Libyan Sea. It's close to h the long sandy beach Pachia Ammos or the pebbled beach Chalikia. There is superior guest rooms, an outdoor pool, a gym and on-site car parking.
budget ($): Blue HorizonBlue Horizon Located in in Palaiochóra of Chania, 33km from the long sandy beach of Sougia. It has free car parking and spacious guest rooms with ocean views.
10. Kissamos
Located 40 km from the capital Chania, the modern seaside town of Kissamos (also known as Kastelli) is located in northwestern Crete. its bay is formed by Gramvousa Peninsula and Rodopou Peninsula.
It has a direct ferry to Peloponnese, Kithira, and Piraeus (Athens). It's also a great base to explore the island of Gramvousa, the beach of Falasarna, and the Balos lagoon.
Kastelli is a small town of about 2,000 residences, with a small harbor, shops, tavernas mostly along the waterfront. Heroon Polytechniou Street is the main street along with Tzanakaki Square is lovely to stroll around.
On the main square, you will find the Archaeological Museum of Kissamos with Minoan displays dating back 9th century. There is also Venetian Fountain that is located off Skalidi Street. The quaint harbour and colourful fishing boats at the Old Port of Kastelli Kissamos are also worth visiting!
Agriculture remains an important part of the economy. The wine and olive oil produced here have gained a good reputation far and wide.
Tourism is growing but it does not dominate the town in any way. Kissamos is the Greek Islands at their best. That is its appeal for many visitors. Traditions have not changed here, and several cultural events take place all year round which tourists can enjoy alongside the locals.
There are several beaches in the area including Mavros Molos (Black Jetty) with soft sand and shallow water, ideal for family with kids. If you go further, you can see Livadia Beach, Korfalonas Beach, and Viglia Beach.
It is nature lovers and those enjoying the natural environment to whom Kissamos appeals most. Walkers and bird watchers often pick it ahead of other parts of Crete. All the amenities visitors need are on hand, bars, restaurants, shops, banks, and the post office.
Stay in Kissamos if you enjoy walking; you want a real feel of Greece and its islands.
Best places to stay in Kissamos:
mid-range ($$): Sapphire Blue Suites this 4-star hotel set in Kissamos, close to Telonio Beach, Kissamos / Kasteli Port, and Mavros Molos Beach. It has family rooms, continental breakfast and free car parking.
budget ($): Balos Beach this self-catering accommodation is located in acorner of Western Crete, with the views of Kissamos Bay, around an hour's drive by car from town of Chania.
11. Platanias
Located 10 miles from Chania and its airport, Platanias is the largest resort in the west of Crete. It is a purpose-built development behind a lovely long sandy beach. There are plenty of restaurants, bars and cafés, food stalls, shops for tourist needs.
Platanias is a place that has become very popular with package tour visitors, largely from Northern Europe and especially the Scandinavian countries.
The town has two parts, the old village Ano Platanias (Upper Platanias) on the hill, and the new seaside resort, the Kato Platanias (Lower Platanias) because of its tourist demand. The old village with its narrow, winding streets, traditional tavernas, and small old houses will give a feel of the charming traditional village of Crete.
In the the old village of Platanias, you will find The War Museum which is in tunnels under the church Agios Dimitris. The church offers stunning views of the village and Chiania area.
It is very busy in the high season with accommodation to suit both budget travelers and those wanting luxury. Regular bus services link to Chania as required.
The nightlife is good with a few clubs adding to the many bars for music and dance.
Stay in Platanias if you want a resort with plenty of amenities; you want to stay fairly close to the airport; you plant to hire a car to see other island attractions.
Best places to stay in Platanias:
luxury ($$$): Minoa Palace Resort & Spa Located only 12km from the picturesque town of Chania, this hotel has family rooms, beach front, and 4 restaurants of the Minoa Palace serving Italian, Greek and Cretan cuisine.
mid-range ($$): Porto Platanias Village Resort this 4-star accommodation is very close to Platanias beach, taverns, bars and nightclubs.
budget ($): Indigo Mare this 3-star hotel is located on the golden sandy beach of Platanias, a short drive by car from main square of the lively Platanias village, Chania town, and Chania airport.
12. Sissi
This small town, Sissi by the Sea, is 35km east of Heraklion and your probable airport of entry to Crete. Its appeal is such that many tourists visit time and again. Couples wanting a romantic break could do worse than choosing this lovely inlet surrounded by palms.
It is a small port where weapons were unloaded during the Cretan Revolution in.
Sissi is very much different than neighbouring Malia or nearby Hersonissos with a little nightlife as well in bars and restaurants. There are several local tavernas in the historic harbor of Sissi where you can eat some of the best seafood on the island. The fresh fish is delightful with buyers coming from Heraklion as well as locally from their restaurants.
There are several beaches that you can find nearby. The organised beach such as Boufos Beach and Avlaki (Little Garden) Beach are some of the best place for swimming before you head to the pier area for dinner.
Other points of interest are the Monastery of Aghios Georgios (St. George) in Selinari, the Malia archaeological site, the village of Milatos, as well as Milatos Cave.
Accommodation ranges from budget options to boutique hotels. There is plenty to choose from, depending upon your budget. To get to Sissi, you can rent a car, or take Heraklion – Sissi -Milatos bus route.
Stay in Sissi if you are couples; you prefer quiet holiday bases, crowds don't appeal to you, you love good food; perhaps a romantic dinner or two?
Best places to stay in Sissi:
luxury ($$$): Castello Boutique Resort & Spa Located in the beautiful seaside village of Sissi, this 5-star hotel offers limousine rental, indoor garage with private car parking and express check-in/check-out. Enjoy food at its Elea Restaurant and admire moutain views.
mid-range ($): Porto Sisi Hotel Apartments Located in Papatheodorou Street, in Sisi, this 4-star hotel has sea-water swimming pool, and sun terrace. You will be within easy reach from many seaside taverns serving traditional Cretan specialties.
budget ($): Sisi Breeze Hotel Located near Boufos Beach, this hotel is also close to Avlaki Beach and Kalimera Kriti Beach. It has karaoke and a 24-hour front desk.
Check out my virtual tour of the best places to stay in Crete in this video:
13. Maleme
Located just short drive by car from Chania and its airport, Maleme is a quiet beach destination. It is surrouned by olive trees, vineyards, cypresses, plane trees, fig trees, and Cretan oak. The town has everething that you need for your holiday such as hotels and apartments, car rental, tavernas, bars, restaurants, super market, and souvenir shop.
Maleme has a mixture of shingle and sand beaches. The sandy beach has sun loungers and water sports. If you want a day exploring, the Samaras Gorge is an hour to the south. Park up and walk around. You will need a modicum of fitness to take in the lovely scenery there.
German paratroopers landed here during the War and the military airport allowed them to create supply links. The German cemetery is the final resting place for many Germans and British RAF personnel.
Other attractions nearby are the Vaulted Tomb of Maleme, the village of Platanias, the city of Chania, and the Gonia Monastery.
Stay in Maleme if you prefer a quiet base and relaxing on a nice beach while still close to big city like Chania.
Best places to stay in Maleme:
luxury ($$$): Solimar Aquamarine Resort Located near Pirgos Psilonerou and Maleme Beach, this 5-star all-inclusive hotel is also a short drive by car from Chania and Souda Airport.
mid-range ($$): Silver Beach Hotel & Apartments Located right on Gerani Beach, close to Maleme Beach, this hotel has spacious rooms with seating areas, sports facilities and delicious Cretan cuisine.
budget ($): Oliva Beach This seaside hotel is located in Maleme, a short car drive from Platanias, and Chania. All air-conditioned studios and apartments has a kitchenette with a small refrigerator.
14. Panormos
Located 20km east of Rethymnon city, on the north coast of Crete, Panormos is a traditional Cretan fishing village that is surrounded by beaches and with a seemingly infinite range of independent seafood restaurants to eat at. You can enjoy a relaxed and cozy feeling holiday while not being so far away from the city.
Panormos is packed with narrow cobbled streets, a delightful harbor, shops, and tavernas. there are lovely sandy beaches with calm waters for swimming and sunbathing.
Its quiet nature and sheltered beaches make this village a lovely stay for a family holiday, and you can find accommodation for a range of budgets, mostly in the mid-range of prices.
The village is located on the Greek National Road 90 that is easily reach both by car and bus from Rethymno and Chania.
Stay in Panormos if you're looking for the best part of Crete for families; you like to feel like a local, you like trying different restaurants; you want to be near beaches.
Best places to stay in Crete in Panormos:
luxury ($$$): The Royal Blue a Luxury Beach Resort This 5-star exclusive resort is located on the northern coast of Crete. It has private bay, 38 pools, 4 restaurants and 4 bars. Its location offres easy access to both Chania and Heraklion airports.
mid-range ($$): Iberostar Creta Panorama & Mare This 4-star hotel is right on the shore of the Aegean Sea, 4 km from the fishing village of Panormo. There are family rooms, children's area and the Miniclub for kids.
budget ($): Captain's House Hotel Suites & Apartments Located in Main Street in the fishing village of Panormos, you can choose to stay in maisonettes, apartments and spacious suite, all with ocean view terrace or balcony.
Where should I stay in Crete for the first time?
Chania is the best overall area to stay in Crete for first-timers due to its popularity, well-connected to public transportation, and its wide range of tourist attractions and amenities.
What are the best areas to stay in Crete?
Chania, Rethymno, Heraklion, Agios Nikolaos, Elounda, Hersonissos, and Malia are some of the best areas to stay in Crete because they are the most popular and beautiful towns on the island the provides a wide variety of amenities for tourists.
Is it better to stay in Heraklion or Chania?
In my opinion, Chania is a better place to stay if you want to see many famous sights and beautiful beaches even though it is more touristy and expensive than in Heraklion. The best option is to stay in each area for a few days to experience both sides.
Where should I stay in Crete without a car?
Chania, Heraklion, and Agios Nikolaos are the best areas to stay in Crete without a car because they are all big towns with well-connected public transportation, and many things to do within the town itself.
Which part of Crete is best for couples?
With its beautiful beaches, romantic landscapes, and world's famous archaeological sites, Crete is one of the best Greek islands for couples. Chania, Rethymnon, Elounda are some of the best areas to stay in Crete for couples.
Which part of Crete is best for families?
Crete is a very family-friendly Greek island. Popular areas to stay in Crete for families with children are Chania, Rethymnon, Heraklion, Hersonissos, Elounda, and Agios Nikolaos because they have plenty of activities for children.
See Also: Frequently Asked Questions Best Places to Stay in Crete
How to get around Crete with and without a Car?
Crete is the largest Greek island, it has a long distances between cities, villages and beaches but easy to explore by bus. You can also rent a car, motobike, or take a taxi.
The buses are cheap, reliable, comfortable, and air-conditioned on most routes. The Northen Crete has an extensive bus system, you can easily travel between main towns of Chania, Rethymno, Iraklion and Agios Nikolaos. There's an hourly service along the north coastal highway connecting Iraklion to Rethymno and Chania.
There is a direct bus from Heraklion to the airport within 20 minutes. The bus station is just outside the arrivals terminal on the main road. Arriving to Crete by airplane from Heraklion and Chania. Also daily ferries leaves Piraeus port near Athens and take 8-12 hours to come to Crete.
So, if you are looking for where to stay in Crete without a car, you should book hotel in big town like Chania. They will offers you good bus connections to travel to other parts of island.
See Also:
In conclusion, Chania, Rethymno, Heraklion, Agios Nikolaos, Elounda, Hersonissos, and Malia are the best places to stay in Crete for tourists and first-time travelers. They offers plenty of things to do and see and a wide range of accommodations for all budget travelers.
If this is your first time in Crete, I recommend staying in big towns such as Chania and Heraklion. They have all tourist amenities that you need for your holiday, plus its well-connected public transportation, you can easy travel to other parts of the island.