Wondering where to stay in Lefkada for the first time tourists, without a car, for nightlife, families, best beaches, and on a budget? In this blog, I will help you to decide the best areas to stay in Lefkada for tourists (include map and video) and the best hotels in Lefkada for all budgets.
One of the lesser-known Greek islands, Lefkada is teeming with all the hallmarks of an idyllic Mediterranean paradise, still largely unspoiled by the tourist crowds. The largest city on the island is the eponymous Lefkada town, with a population of around 8000 people; it's a fabulous place to experience authentic, local Greek life.
With ties to ancient goddesses and legendary poets, believed by some to be the inspiration for Ithaca in Homer's Odyssey, Lefkada is a cultural jewel. Traditional villages, as yet unmarred by the tourism industry, line the coast, flanked by stunning beaches.
The easiest way to get around Lefkada is, of course, by car. But if you don't plan to hire a car, don't worry, the island is well serviced with public buses, so you can access the majority of the island with little trouble.
For more remote areas with poorer public transport service, a number of local taxi services operate across the island. If you intend to visit any of the nearby smaller islands, particularly Meganisi, regular ferries run throughout summer from the larger tourist resorts. Most allow you to take your car with you, but you should book ahead in this case, to ensure you get a spot.
Where to stay in Lefkada?
The best areas to stay in Lefkada for tourists are Lefkada Town, Nikiana, Nidri, Vlycho, Mikros Gialos, Sivota, Vassiliki, Athani, Agios Nikitas, and Ligia. These are popular and beautiful areas for tourists that offer a wide variety of attractions and amenities.
Lefkada Town is the best overall place to stay in Lefkada for first-timers due to its central location, well-connected to public transportation, and a wide range of tourist amenities. Staying here to access to some of the island's best nightlife, shopping, and dining venues.
Lefkada Town is also the best area to stay in Lefkada without a car because it's the transport hub of the island. The town is walkable, making it easily to explore on foot. Additionally, it has widest range of bars, restaurants, and shops, and is home to some of the best hotel on the island,
Map of areas and towns in Lefkada:
The Best areas to stay in Lefkada for tourists are:
1. Lefkada Town – where to stay for first time visitors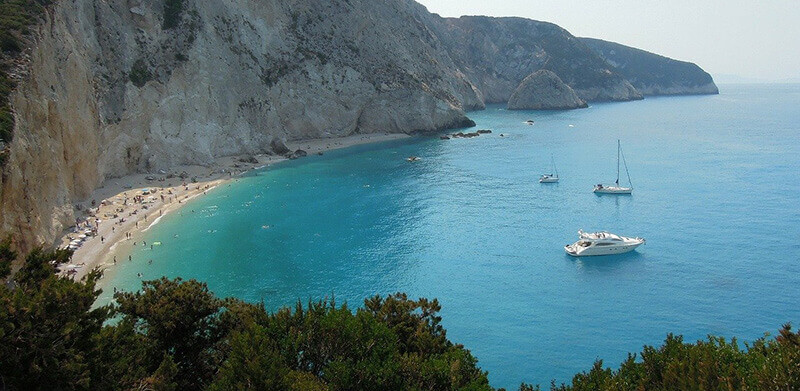 Lefkada Town (also known as Lefkas) is the administrative and commercial capital city of Lefkada. Located in the northeast tip of the island, right by the causeway connecting Lefkada to the mainland, making this an ideal place to stay if you want to explore more of the island.
Opened in 2002, the Lefkada Marina where many luxurious yachts docked, has become a focal point of the island's growing tourist trade. Here you can find a variety of contemporary shops, tavernas, cafes, bars, and restaurants, catering to the growing tourist interest in the area.
On the north of Lefkas, the wooden bridge is a great spot for taking photos, especially during sunset. Nearby is the main pedestrian area with many colorful Venetian houses, cafes, grill taverns, and restaurants.
If you want to go clubbing on your vacation, this is one of the few areas on Lefkada where you are in luck. Whilst far from the wild strips you can find on more party-oriented islands, there are a few clubs dotted around town, mostly concentrated near the bridge across to mainland Greece.
Whilst the city may be the capital of modern tourism on the island, there is still no shortage of cultural delights to be found here. Despite violent earthquakes devastating the island in the 1940s and 50s, a number of churches still remain from the old town.
The Old Town is located right behind the seaside promenade. You can sit and dine at one of the many bars and restaurants around the Main Square of the town was named after the 18th-century church of Agios Spyridon.
Some of the cultural and historical landmarks in and around Lefkada Town are:
The remains of the 14th-century medieval Venetian Castle of Santa Maura, which once defended the island from pirates.
The monastery of Faneromeni, was built in the green pine-clad hill, on the west side of the town, offering panoramic views of Aghios Ioannis, Gyra lagoon, and Castle.
The Archaeological Museum of Lefkada, located near the center of town, to see more of what it once looked like before the earthquakes took their toll.
The Phonograph Museum and Folklore, located close to the main pedestrian street.
The Angelos Sikelianos Museum to view art works of Lefkada's renowned poet, Angelos Sikelianos.
Each summer the city hosts a number of festivals celebrating local art, literature, and culture. The biggest of these is the International Folklore Festival of Lefkada, usually held in late August. The celebrations last for around a week and include several parades and a packed itinerary of performances by dance troupes from across the world.
The nearest beaches to Lefkada town are Amoglossa Beach, Kastro Beach, Gira Beach, and Agios Ioannis Beach, all sandy beaches, good for swimming. Agios Ioannis is a popular spot for windsurfing and kitesurfing; The lagoon offers the stunning landscape of the windmills and romantic sunsets.
It's worth noting that there is no airport in Lefkada. The closest airport is Atkio Preveza International airport, 25 km away from Lefdaka town, around a 20-minute drive by car, via the floating bridge of Agia Mavra. Lefkada Town is the first destination on the island if you come to island by a car or bus.
As the capital city of the island, Lefkada Town has plenty of accommodation options for all budget travelers ranging from budget guest houses to luxury hotels.
Stay in Lefkada Town if you're first time visiting Lefkada; you want to nip over to mainland Greece, you want a bit more of an active nightlife scene, you want to stay closer to the airport.
Best places to stay in Lefkada Town for first-time visitors:
luxury ($$$): The Secret Boutique Hotel This 4-star hotel is located in the traditional alleys of Lefkada Town, within easy walk from the central square, Phonograph Museum, and Agia Kiriaki Church. The hotel offers free use of bicycles and provides free private car parking.
mid-range ($$): Hotel Boschetto This 4-star hotel is located in central of Lefkada Town, within a short walk from restaurants and bars. it has free wifi, free car parking, as well as comfortable rooms and the private bathroom.
budget ($): Allure Central Boutique Hotel is a beautiful, modern, boutique hotel is located at the heart of Lefkada Town. It offers stylish rooms, fitted with air-conditioning, flat-screen TVs, and free wifi. Close to Archaeological Museum Lefkas, Agiou Georgiou Square, and Church of Agia Kiriaki.
🔍MORE HOTEL DEALS IN LEFKADA TOWN
See more: 20 Best things to do in Lefkada, Greece
2. Ligia, convenience location, where to stay in Lefkada for relaxation
Ligia (also known as Lygia or Liyia) is the small fishing village, located on the island's east coast, 6 km south of Lefkada Town. With most of the facilities here centered around just one main street, Ligia is popular with visitors who appreciate the convenience of being near to the capital but want to stay somewhere quieter.
Likewise, being near the causeway connecting Lefkada to mainland Greece will appeal to anyone who doesn't want to travel too far from the airport.
Settled right on the coast, and with a pre-tourism economy that centered around fishing, you can find plenty of intimate, family-run tavernas and restaurants here, which serve the freshest seafood you're likely to find.
The active harbor also makes for a perfect spot to spend an evening watching the colorful fishing boats come in as you sample the local cuisine.
There is a range of beaches to choose from in Ligia, some sandy, some pebbled, with Ligia beach being the main offering, featuring soft sand and a number of sunbeds.
Further to the south of the village is the Panos Water Sports and Fun Park, which boasts an inflatable assault course, boat hire, and water sports lessons for those interested in wakeboarding and water-skiing. Ideal for keeping kids and adults alike entertained for an afternoon.
Aside from beaches, seafood, and a waterpark, the surrounding landscape with pine covered hills and olive groves is also beautiful and ideal for hiking or cycling, particularly in spring and autumn when the temperature is more comfortable.
The Kilada tou Erota, the Valley of Love is one of the hiking trails in Lygia that is worth checking!
Within a short drive by car from Lygia, you can find Katouna area with a beautiful square, traditional houses, the church of Panagia, and cobbled streets.
Ligia is ideal for those looking for a short break to enjoy some peace and quiet. For longer vacations, however, you may want to consider somewhere a bit more lively.
The village is popular with tourist during summer moths, it offers apartments and studios for rent, as well as many shops can be found along the main road.
Stay in Lygia if you are looking for a quiet small-town retreat, you enjoy fishing, you love fresh seafood, you are traveling with a young family, you are only staying for a few days.
Best Places to Stay in Lefkada in Lygia for first-timers:
mid-range ($$): Thealos Village Overlooking the ocean and just 600 yards from Lygia Beach, and seaside promenade. Every apartment boasts a fully equipped kitchen, flat-screen tv, and whirlpool bath.
mid-range ($$): Marmara Studios is a superb mid-range option, surrounded by stunning landscapes. Every room offers views of the ocean or mountains.
mid-range ($$): Flisvos Seaside Apartments are as close to the water as you could hope to get. Just 10-yards from the seafront, you can take your pick between the private beach or the pool area and hot tub.
🔍MORE HOTEL DEALS IN LYGIA
3. Nikiana, fishing town Lefkada's east coast
Nikiana is a quiet fishing town on the east coast of Lefkada. Mostly populated with small shops and seafront tavernas, stocked with fish brought into the local harbor. The majority of the activity in Nikiana is focused around the seafront and the singular main road.
If sightseeing is your main goal, you may be interested in visiting the oldest Christian monument on the island, the Hermitage of Agii Pateres. The stone chapel can be found concealed in a cave about 5-kilometres west of Nikiana. Accessible via a winding road up into the mountains, it makes for a pleasant hike through the woods.
Conveniently located between the two primary tourist hubs on the island, Lefkada Town and Nydri, Nikiana is ideal if you want to be able to take advantage of the convenience and liveliness of larger tourist locations while staying in a quieter, local village.
The main road that runs through the center of Nikiana connects the two larger towns directly, as well as circling most of Lefkada. Regular bus routes travel along this road, servicing the whole island and making this a great little town to stay in if you intend to rely on public transport.
The beaches around Nikiana are mostly pebbly, crystalline waters and not ideal for lazing on. If you simply want a swim, Nikiana's beaches are fine, but more comfortable options are several kilometres away and best accessed by car or bus ride.
There are lots of water sports activities, like canoeing, kayaking, and diving, as well as kite surfing in summer. You can also taje excursion boats to Skorpios and Meganisi islands.
Stay in Nikiana if you love fresh seafood, soft, sandy beaches are not a priority, you want easy access to larger towns, with the peace of staying in a smaller village, you will be relying on public transport to get around
Best Places to Stay in Lefkada in Nikiana:
luxury ($$$): Porto Galini Seaside Resort & Spa is a stunning 5-star location directly overlooking the beach. Boasting 3 tennis courts, volleyball courts, gym facilities, and a dedicated yoga pavilion, this is the ideal place for health and wellness enthusiasts.
mid-range ($$): Crystal Waters is a charming oceanside hotel, where the rooms all boast sea views and stylish interiors. Located 12km Lefkada Town, and 35km from Preveza, 5km from Dimosari Waterfalls.
budget ($): Florena Hotel this superb, affordable option is situated right by the sea, with the dining area overlooking the water, allowing you to enjoy a buffet breakfast with a beautiful view. What's more, it's just 400-yards from Nikiana Beach.
🔍MORE HOTEL DEALS IN NIKIANA
4. Nidri, where to stay in Lefkada for families
On the east coast of Lefkada is the village of Nidri (also known as Nydri). Though the village itself may be small and traditional, the area is the most prolific tourist resort on the island for all ages ad tastes, featuring its biggest selection of hotels and tour companies.
You can find many gift shops and tourist facilities on the main pedestrian street. The town's coastal promenade is beautiful places with lots of palm trees and statues including the statues of Wilhelm Dörpfeld and Aristotle Onassis.
Nydri is the best bet for anyone looking for active nightlife on Lefkada. Here is where you'll find the biggest selection of clubs and most bars stay open until the early hours of the morning. For the evenings when you want a calmer vibe, the surrounding area is well populated with intimate tavernas and an array of restaurants to suit every palette.
In fact, with the widest variety of dining options on the island, Nydri is perfect for anyone traveling with fussy eaters. Combined with the plentiful choice of accommodation in the area, and generally calm waters ideal for swimming, this is a particularly convenient location for families with children too.
Just off the coast of Nydri are several smaller islands, only accessible by boat, with tour companies in the area that will take you around the archipelago. In summer, regular ferries run from Nydri and can have you on nearby Meganisi in around 20 minutes, which makes for an excellent day trip. Nidri port also has ferries and cruises to Ithaca and Kefalonia.
Alternatively, if you would rather explore the islands by yourself, it is possible to hire a motorboat and sail out at your own pace. Protected by the natural bay, the waters here are calm enough that even inexperienced sailors should be comfortable.
Nature lovers can take a day trip to Dimosari waterfalls, Rahi Waterfall, where you can enjoy a cool swim in the small natural pools.
To the north side of the town lies the Nidri beach, that has parasols and sunbeds for rent, as well as bars, restaurants, and watersport centers. You can also explore the nearby Passa beach and Desimi beach.
Nidri is coveniently located in the middle of the Lefkada island, offering easy access to both North and South sections of the island, as well as the international airport.
Stay in Nidri if you are families with children; An active nightlife is important to you, you want to visit some of the smaller islands off the coast of Lefkada, you would like to take a boat out yourself,
Best Places to Stay in Lefkada in Nidri:
mid-range ($$): Aggelos Apartments are a superb option for those who don't want to compromise quality for affordability. Just 450-yards from the beach, guests also have the option of staying by the on-site pool and appreciating the views of the surrounding mountains
mid-range ($$): Gogo – Γωγώ Rooms is the perfect guesthouse for those seeking a more local vibe. The rooms and gardens are decorated in a more traditionally Mediterranean style than the standard chain hotels, but still boast the comforts of air-conditioning and flat screen TVs.
mid-range ($$): Athina Studios is a quirky self-catering option, just 350-yards from Kavos Beach. With colorful interiors, and beautifully landscaped gardens and patios, this is perfect for those who value a vibrant aesthetic.
🔍MORE HOTEL DEALS IN NYDRI
5. Mikros Gialos, small bay, quiet spot for peaceful holiday
Known as one of the most beautiful beaches on Lefkada, Mikros Gialos (Rouda Bay or Poros beach) is a must visit for anyone looking to see the best that Lefkada's famously dramatic coastal scenery has to offer.
Previously the fishing harbor for the nearby village of Poros, the area around the beach is now solely populated with hotels and facilities catering to visitors. The waterfront is lined with beach bars, tavernas, and restaurants, offering delicious food and views out over the bay, providing a taste of idyllic Mediterranean luxury.
If you are looking to experience the authentic, local atmosphere of Lefkada however, this is probably not the best place. The nearest local village, Poros, is 3.5kilometres away, but there is no direct road, so it's further to actually travel.
Whilst beautiful, the Blue Flag beach is entirely pebbled, so not the most comfortable for spreading out your beach towel. Fear not though, as sunbeds and parasols are available to rent, so you can spend your days lounging in peace if you so choose.
The sea here is protected by the high cliffs surrounding the bay, keeping the waters calm and free of large waves. Such docile waters are perfect for families with young children or any less confident swimmers.
Lack of turbulence and sand also makes for particularly clear waters, ideal for snorkeling and exploring the world beneath the waves.
Stay in Mikros Gialos if you value beautiful beaches, you are a less confident swimmer who appreciates calmer waters, you prefer to stay in a resort than a local town, experiencing the local culture is not a priority, you enjoy or are interested in snorkeling, you are happy with pebble beaches, you are traveling with children
Best Places to Stay in Lefkada in Mikros Gialos
mid-range ($$): San Nicolas Resort Hotel This 4-star beachfront hotel offers stunning views of Mikros Gialos beach, the neighbouring islands of Kephalonia, Ithaca, and Arkoudi. Attractions nearby are Desimi Beach, Cave of Papanicolis, Aphales Beach, and Kathisma Beach.
mid-range ($$): Mikros Gialos Apartments This family-run hotel is just a few steps from Mikros Gialos Beach, features the studios and apartments with tiled floors and dark-wooden beds. Taverns and mini markets within a short walk from this accommodation. It's 30km from Lefkada Town, 21km from the seaside Vasiliki Village, and 50km from the famous Porto Katsiki Beach.
mid-range ($$): Oceanis Rooms Set in Gialos Bay and within 50 m of Rouda Beach, this property provides air-conditioned accommodation, with free wifi, a TV and a fridge. Close to Desimi Beach, Cave of Papanicolis, Skorpios Island, and Vasiliki Port.
🔍MORE HOTEL DEALS IN MIKROS GIALOS
6. Vlicho and the Yeni Peninsula, good base to learn sailing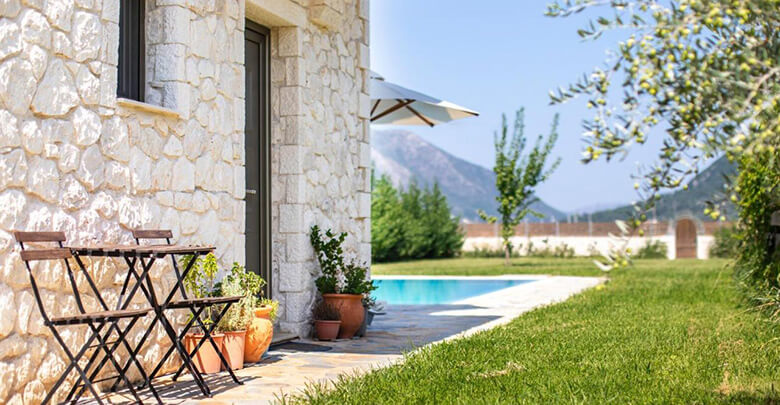 Just south of Nydri is the small fishing town of Vlicho (also known as Vlycho). So small in fact, that it consists of just two roads, running parallel to the coastline.
The village started life as one of the many fishing towns on the island and evolved into a yachter's wonderland, famous for its boat repair facilities. The peninsula that curves around and shelters the bay leaves the waters here almost as still as a lake, perfect for mooring. If you have your own boat, or are interested in learning to sail, Vlicho is definitely for you.
The area also provides some charms for inbound visitors too, as Vlicho serves as the gateway to the beautiful Yeni Peninsula. Curling around to form the opposite wall of the sheltered bay, the Yeni peninsula offers some of the most stunning scenery on the island.
Still particularly popular with boaters, there's a broader variety of accommodation on the peninsula. Hotels and apartments line the shore along the west side of the peninsula, overlooking the picturesque Vlicho Bay.
The water in Vlicho bay isn't suitable for swimming, both due to the risk from the high boat traffic and the pollution that comes with it. A number of small, cleaner beaches are present along the west of the peninsula but only accessible by boat. The only beach on the peninsula accessible by land and suitable for swimming is the pebbly, Desimi Beach in the south.
Accommodation within the town is sparse, and what is available caters primarily to boaters, with villas available to rent with adjacent mooring points or launch ramps down to the sea.
If you are open to more adventurous accommodation, there are also a number of waterfront campsites along Desimi Beach.
Stay in Vlicho & The Yeni Peninsula if you are planning to learn to sail; you want to take advantage of the prominent sailing community on Lefkada, you are traveling with your own accommodation, such as a yacht or caravan, you aren't interested in swimming, you are interested in camping.
Best places to stay near Vlicho:
mid-range ($$): Dimitris Rooms This is self-catering accommodation, located within a few minutes' walk from the beach, in Vlycho, 2 km from Nidri, 20km from Lefkada Town.
mid-range ($$): Ola Kala Apartments and Rooms Located in Vlikhon in the Ionian Islands region, close to Ellomeni Beach, Desimi Beach, Aktion Airport, and Dimosari Waterfalls.
🔍MORE HOTEL DEALS IN VLICHO & THE YENI PENINSULA
7. Vassiliki, where to stay in Lefkada for windsurfing
Vassiliki is a small fishing town and beach resort at the south end of Lefkada. Another of the main tourist locations on the island, Vassiliki is particularly popular with fans of water sports and adventurous activities.
The numerous late-night bars also make this resort one of the few areas on the island with a notably active nightlife.
The area is home to a particularly potent thermal wind, known as 'Eric' by the windsurfers that flock to Vassiliki to take advantage of it.
Rental companies along the beach offer windsurfing equipment for hire, and beginners in the sport can learn from one of the many instructors based in the area. Several of the surrounding hotels even provide storage space for windsurfers who want to bring their own gear.
The ocean winds also make this a popular destination for sailing, though quieter than the yachting hub of Vlicho Bay. The harbor at the eastern end of the town provides a number of mooring points.
The area surrounding the marina is full of bars, restaurants, and cafes, perfect for enjoying a meal or a drink whilst watching the boats drift around the bay.
At the south end of the beach is the Vassiliki Aqua Park, providing an assault course of inflatable obstacles floating on the water, ideal for keeping older children entertained.
If you want a break from the water, the surrounding mountains and cliffs make excellent scenery for hiking or mountain biking. Tour companies in the area offer both equipment and guides, with routes suitable for all fitness and experience levels.
Stay in Vassiliki if you enjoy water sports, particularly windsurfing, you are looking for a more active vacation, you would like to enjoy sailing without the crowded waters of Vlicho.
Best Place to Stay in Lefkada in Vassiliki:
Kostas Studios This self-catered accommodation is just few steps from Kolyvata Beach, offers rooms with balcony overlooks the Ionian Sea. Within walking distance to the village centre with restaurants and shops; also close to lively town of Sivota and the scenic Nydri.
Anemolia Apartments Located just 50m from Ponti Beach, this self-catered accommodation offers rooms with moutain views or sea views. It's close proximity to Porto Katsiki beach, Dimosari Waterfalls, Cave of Papanicolis, Skorpios Island, and Kathisma Beach.
🔍MORE HOTEL DEALS IN VASILIKI
8. Athani, best area for traditional Greek experience

On the western edge of Lefkada, settled in the cliffs high above the sea, is the little village of Athani. One of the best areas on the island for anyone looking to experience authentic Greek life, the village is full of traditional old buildings and beautiful churches. You can even find the ruins of a temple dedicated to the God Apollo nearby.
Athani is most well known for its stunning sea views and incredible sunsets, which are particularly beautiful when viewed from the cliffs looking out over the Ionian Sea.
Anyone looking for a romantic break should take advantage of the intimate tavernas peppering the village, to enjoy a romantic dinner as you watch the sun dip below the horizon.
For a somewhat more macabre romantic link, this is where the legendary classical poet Sappho supposedly threw herself into the sea after being rejected by her love.
The most popular beaches are located in nearby Egremni and Porto Katsiki, but for something closer to the village, follow the winding road down the slopes to the quiet Gialos beach. Whilst not as well catered as busier beaches, Gialos beach is still serviced by two beachfront restaurant bars.
Stay in Athani if you want to experience the traditional Greek atmosphere, you are on a romantic getaway, you want to witness some truly beautiful sunsets.
Best places to stay in Athani • Serenity Boutique Hotel • Ble on Blue
🔍MORE HOTEL DEALS IN ATHANI
9. Agios Nikitas, beautiful area to stay on Lefkada's west coast
The small fishing village of Agios Nikitas in the northwest of Lefkada is one of the most beautiful locations on the island. Full of traditional architecture, the little town offers one of the best glimpses into the local culture along the coast.
The surrounding landscape consists of white rock forms and beautiful beaches, located on the edge of lush olive groves, that make for some beautiful walks in the local area.
The village is home to some lovely beaches, with the easiest to reach is the eponymous Paralia Agios Nikitas on the northern shore of the town.
Right next to the village, this beach is well serviced with tavernas and beach bars. Situated at the end of the main road, it is within easy reach of local hotels, perfect for families with young children.
For those willing to take a slightly longer walk through the woods, the larger, more secluded, Milos beach offers a quieter alternative away from the town center. Other beaches nearby are Kathisma Beach and Pefkoulia Beach.
There are no bars or restaurants here, so it's worth picking up some refreshments from one of the mini-markets in town before heading out. Located on the western coast, this beach is perfect for anyone who wants to watch the sun set over the water.
Just 14-kilometers from Lefkada Town, along the island's main circular road, it's a convenient place to stay for anyone wanting to be in a quieter village, but still near the island's main entry point.
Stay in Agios Nikitas if You are interested in the island's traditional architecture and culture, Beautiful, varied, local landscapes are a draw for you, You want a quieter village with easy access to larger towns.
Best Places to Stay in Lefkada in Agios Nikitas
Lefkas Petra Located near the popular beach of Agios Nikitas, close to Kathisma Beach, Egremni Beach, Lefkada Town, and Aktion National Airport. This guest house has an outdoor pool with sun terrace, a garden with plants and trees, and a continental breakfast in an on-site restaurant.
La Casa D' Irene This family-run guest house is set in Kathisma area, offers panoramic views of the Ionian Sea. You can easily find restaurants, bars and shops within 800m, while Kalamitsi and Agios Nikitas Village is less than 2km away.
🔍MORE HOTEL DEALS IN AGIOS NIKITAS
10. Egremni, a popular tourist destination on Lefkada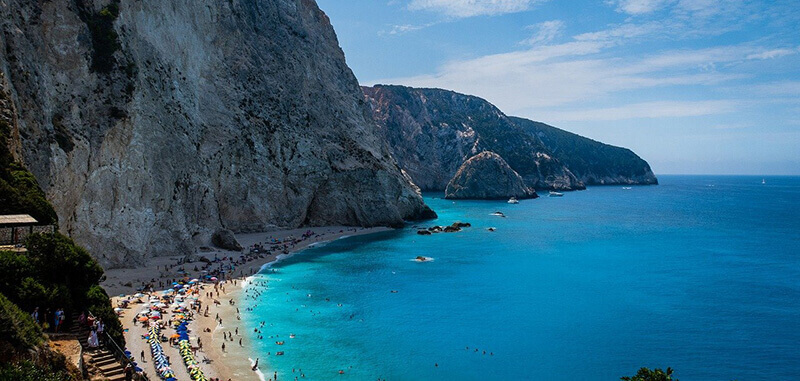 Egremni is one of the most popular tourist spots on the island, drawing thousands of visitors a year to its sandy shores and waters known to be some of the most spectacularly blue in all of Greece.
Paired with the dramatic scenery of the towering cliffs against the beautiful white sand, Egremni is a popular muse for traveling photographers.
Located at the base of the surrounding cliffs, Egremni is accessible either by boat or the singular set of 300 steps leading down to the beach. These stairs were severely damaged by an earthquake several years ago, leaving Egremni only accessibly by boat since 2015, but their restoration is due to be complete by summer of 2021.
The nearest village to Egremni is Athani to the north, but the immediate area is serviced by several hotels and guests houses that allow visitors to stay close to the beach.
Being set in such an awkward to reach location means that, despite the beach's popularity, there are no shops or bars along the sand. Visitors should therefore pack their own refreshments before heading down for the day.
The cliffs overlooking Egremni Beach are home to several tavernas, bars, and a small shop. Aside from these, there isn't much to see or do in the local area. Egremni is best for those visiting for a shorter break, or as a day trip for those staying elsewhere on the island.
Stay in Egremni if Staying close to the best beaches in Lefkada is your priority, you are fine with staying outside of a town or village, without local shops and conveniences, you are planning on a short trip of just a day or two.
Best places to stay near Egremni:
anerada / sun nature holidays Located in Athanion, close to Vasiliki Beach, Egremnoi Beach, Vasiliki Port, Porto Katsiki, and Desimi Beach. This holiday home features units witha balcony, a kitchen with a fridge, a dining area and a seating area with a flat-screen TV, the private bathroom with a shower, an oven, a stovetop and toaster are also offered, a kettle, and a coffee machine.
Serenity Boutique Hotel This boutique hotel is set in Athani village, overlooking ocean, with classic decor rooms and suites. It's 15km away from village of Vassiliki, 35km from the main town of Lefkada, and 10 minute drive from Porto Katsiki and Egremnoi Beach.
🔍MORE HOTEL DEALS IN EGREMNI
11. Porto Katsiki, one of the most popular beaches on the island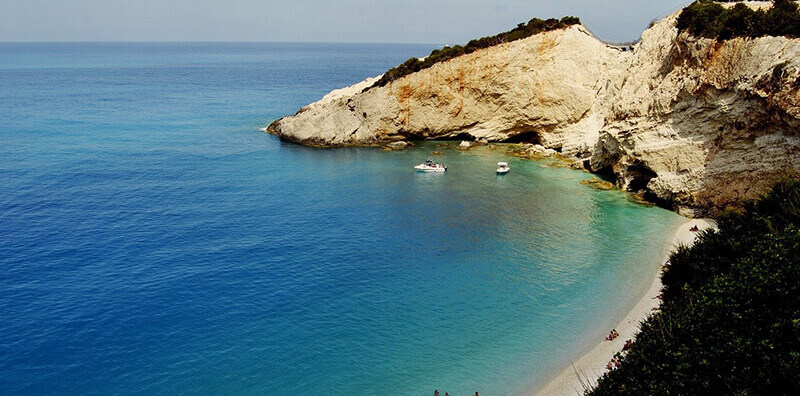 Further south down Lefkada's southwestern peninsula is the popular beach, Porto Katsiki. One of the most popular beaches on the island, due to its beautiful blue water, Porto Katsiki has been dubbed one of the most beautiful beaches in Europe. Its name translates as 'Port of the Goat' and is allegedly derived from the beach being so awkwardly situated that once only goats could reach it.
In modern times the beach is much more accessible, primarily by boat, or via the set of 80 steps leading down from the cliffs overlooking the sea. Parking is available at the top of the stairs, where you will also find a restaurant with stunning sea views.
There is no accommodation on offer around Porto Katsiki and camping in the area is prohibited other than in the designated caravan park. The nearest hotels and villas are a few miles up the road, closer to Egremni beach. Alternatively, stay in the nearby resort of Vassiliki or the small local village of Athani and travel to Porto Katsiki by bus, car, or boat, for the day.
Stay in Porto Katsiki if Beaches are your priority, you are travelling around the island by boat or campervan, you don't need to stay close to tourist conveniences like shops and bars.
Best places to stay near Porto Katsiki • Romanza Studios • San Nicolas Resort Hotel
🔍MORE HOTEL DEALS IN PORTO KATSIKI
See more:
12. Sivota, a great place for laid-back atmosphere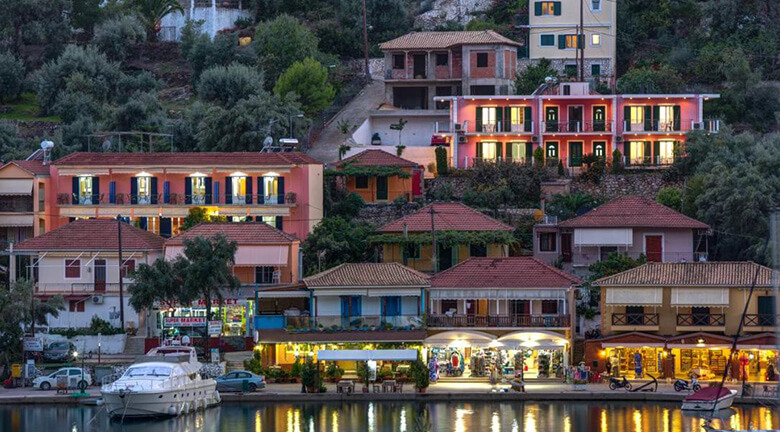 Sivota is a village on the south coast that has built up a good reputation with yachts and charters. It is in a sheltered bay surrounded by greenery and hills with the deep harbor entrance ideal for boats. You will feel the laid-back atmosphere as soon as you arrive, so why not stay?
The villagers are proud of their homes and put out baskets, tubs, and pots full of colorful flowers to add to the place's natural beauty. Bougainvillea is just one of the naturally growing species that delight visitors each season.
The beach is a mix of sand and pebble while the harbour has a small fishing fleet as well as visitors. Late-night bars, cafes, and restaurants line the promenade while some of Lefkada's best fish restaurants are here. Boutique hotels, villas, and apartments offer excellent accommodation.
Stay in Sivota if You want a relaxing base, Fresh fish tempts your taste buds, A good choice of accommodation is important to you.
Best places to stay in Sivota • Dream View Villas • Forkin
🔍MORE HOTEL DEALS IN SIVOTA
See More:
The easiest way to get around Lefkada is, of course, by car. The freedom of being able to explore the island at your own pace is unbeatable, as is the convenience of not having to carry your entire day's supplies on a bus. That said, the island is well serviced with public buses, so those who intend to rely on public transport should be able to access the majority of the island with little trouble.
For more remote areas with poorer public transport service, a number of local taxi services operate across the island. If you intend to visit any of the nearby smaller islands, particularly Meganisi, regular ferries run throughout summer from the larger tourist resorts. Most allow you to take your car with you, but you should book ahead in this case, to ensure you get a spot.
Overall, I recommend Lefkada Town as the best area to stay in Lefkada for first-time tourists due to its prime location with plenty of tourist amenities such as bars, restaurants, and shops. It also has the widest range of accommodations and home to some of the best hotel on the island.
The typical Mediterranean climate of Lefkada, with its distinct seasonal temperatures, means if you want to soak up the warm weather, you had best visit in summer months. July and August are usually the hottest months, making them the best time to visit if you intend to spend your time at the beach.
Temperatures are generally comfortable from May through October, with the spring and autumn months perhaps best if you intend to do a lot of hiking, as they are cooler than the height of summer, but without the creeping chill of winter. If you really want to avoid the crowds, this is the perfect time for you, with generally good weather and far fewer families.