Where to stay in Milos without the car, for first time, nightlife, beaches? In this blog, I will explain the best areas to stay in Milos (include video and map), best hotels in Milos for all budgets, and best places to stay on the island.
Milos is a picturesque island located in the southwestern part of the Cyclades archipelago in Greece. It is known for its stunning landscapes, unique geology, and beautiful beaches. The island covers an area of approximately 160 square km and has a population of around 5,000 people.
Milos is served by a small airport (Milos Island National Airport) with domestic flights from Athens and other major Greek cities. It also has a port, with links to Athens and other islands.
Renting a car or a scooter is a great option for exploring Milos independently. There are several car and scooter rental agencies on the island. Keep in mind that during peak tourist seasons, it's recommended to book in advance to secure your preferred mode of transport.
Additionally, you can use public bus, which is the cheapest way to see all the major towns. Taxis can be find around the port, the airport and the main streets of Milos.
Where to stay in Milos without a car?
The best areas to stay in Milos without a car are Adamas and Pollonia. These areas are known for their walkability, wide range of tourist amenities, and well-connected to bus, making them great bases for car-free holidays in Milos.
Adamas is the transport hub of the island, offering easiest access from the port, airport, and other towns and villages on the island.
The best areas to stay in Milos for tourists are Adamas, Pollonia, Trypiti, Plaka Milou, Triovasalos, Mandrakia, Klima, Firopotamos, Pachena, and Paliochori. These are popular and safe areas that offer a wide range of attractions and amenities.
Adamas, Pollonia, and Plaka are the most popular place to stay on the island. Adamas is the busy transport hub and the most convenient to reach by ferry of the island.
Pollonia is a charming fishing village more quieter with beach, restaurants, and harbour. Plaka is the capital with lots of bars and restaurants, nightlife, and sunset views, no beach in the village.
Adamas is the best overall area for first-time visitors due to its central location, excellent links to pubic transportation, and its range of attractions and amenites. If you come to the island by ferries, Adamas is the first town you see in Milos.
Map of areas and towns in Milos:
🎬 To get an overall idea of where to stay in Milos, check out this short video:
How to get around Milos without a car as a tourist?
Milos, a beautiful Greek island known for its stunning beaches and landscapes, offers several transportation options for visitors who prefer not to rent a car. Here are some alternatives:
Public Bus:
Milos has a public bus system that connects many of the island's popular destinations. Buses typically run from the port in Adamas to various beaches and towns.
You can check the bus schedules and routes in advance to plan your trips accordingly. The central bus station is in Adama.
Taxis:
Taxis are available on the island and can be used for shorter trips or more convenient transportation to specific destinations. Be sure to agree on the fare with the driver before starting the journey.
Bicycles and Scooters:
Renting a bicycle or a scooter is a popular and eco-friendly way to explore the island. It provides flexibility and allows you to reach places not easily accessible by public transportation.
Keep in mind that some roads may be steep or unpaved, so be prepared for different terrain.
Walking:
Milos is a relatively small island, and some areas, like the picturesque villages of Plaka and Tripiti, can be explored on foot. This is a great way to immerse yourself in the local culture and discover hidden gems.
Boat Tours:
Many of Milos' most famous attractions, such as the sea caves and Kleftiko beach, are best reached by boat. Joining a boat tour or renting a small boat with a captain can be an exciting way to explore the coastline and access these remote locations.
Hitchhiking:
While hitchhiking is not as common as in some other places, it can be an option on Milos, especially for shorter distances. Be cautious and use your judgement when hitchhiking.
Guided Tours:
You can also book guided tours that include transportation. These tours often cover popular sites and may provide transportation from your accommodation.
Milos airport transportation:
From the airport, you can take a bus to the main town Adamas, from where you can take a bus to other towns on the island. Some accommodations also offer shuttle services.
The Best areas to stay in Milos for tourists are:
1. Adamas, best overall area to stay in Milos for first-timers
Adamas is the best overall area to stay in Milos for first-time tourists and for people visiting Milos for a few days. Located on the northern side of Milos, Adamas (Adamantas), is the cultural and commercial center of the island.
Adamas is also the best area to stay in Milos without a car because it's tranport hub of the island and close to the airport. It is the harbor town of Milos, and one of the most important port towns in the Aegean Sea. If you travel to Milos by ferry, you will first arrive at Adamas port town.
As the docking point for the Milos ferry, it makes also a great place to stay in Milos for anyone hoping to take a cruise around the archipelago. It's a very convenient location with easy access to Mykonos, Santorini, and take a boat trip to Kleftiko Milos, a famous cove with a magnificent spot of rock formations.
For those who would rather enjoy the sea views from the shore, Adamantas also features some of the most famous beaches on the island. Adamas Beach, Papikinou Beach, and Lagada Beach, as well as a number of others, are all located within walking distance of one another.
Adamas Beach is a small sandy beach close to the main port of Milos; Papikinou beach with crystal clear shallow water and good wind conditions, a perfect place for windsurfing enthusiasts. Lagada Beach is a soft sand beach and surrounded by low cliffs, within easy walking distance from Adamas.
With such an abundance of choice, it doesn't matter if you prefer an organized beach or a quiet location. Adamantas offers the full range of Milos beaches, ensuring everyone can enjoy their time in the sun, surf and sand.
On the other hand, perhaps you would rather be a little more active during your stay in Milos. In that case, there are a number of other attractions for you to enjoy as well.
You have the Milos Mining Museum and Maritime Museum to teach you about the history of the island, the 600-year-old Church Of The Holy Trinity, where you can experience it first-hand, and even The French Cemetery, where you can see the graves of the lives lost during the Crimean War.
Check out Ecclesiastical Museum, a museum church, close by the waterfront of Milos. The church is housed in Agia Triada Church, in a slightly hidden location in the back alleys at the base of the hill with Agios Charalambos Church at the top. From the central square, if you lead between the Artemis bakery and Tsakanos supermarket, you can't miss it.
No matter how you plan to spend your days, Adamantas will accommodate you. Then, when you are done exploring the area, the amenities of the village will help you to unwind and feel at home.
Whether you are hoping to find souvenir shops, local restaurants and tavernas, cafes, rental car companies, and the best luxury hotels Milos island has to offer, you won't be disappointed by the selection Adamantas has to offer.
Stay in Adamas if you're first time visiting Milos; you travel without a car; you want to take a ride on the Milos ferry; you want a range of the best Milos hotels, restaurants and amenities within walking distance.
Best places to stay in Milos in Adamas:
luxury: Santa Maria Village This hotel has a pool with hydromassage jets, free car parking, a poolside bar, air-conditioned rooms with free Wi-Fi, and a balcony or patio. Each room at this 4-star hotel has warm colors and iron or dark wood furnishings, an LCD TV, a fridge, a hairdryer, and toiletries.
mid-range: Hotel Dionysis Studio This hotel is centrally located in the heart of Adamas, and just 50 m from the center, and close to the port, restaurants, and shops. It provides free car parking, and modern rooms with a satellite TV and air conditioning.
budget: Giannis Hotel Apartments This accommodation is set in a quiet part of Adamas, just 3 minutes walk from the port and center and 10 minutes walk from the sea. It has studios and spacious apartments with air conditioning, a fridge, kitchen.
🔍FIND BEST HOTELS IN ADAMAS
See more Greek Travel:
2. Pollonia, charming fishing village, more authentic experience
Pollonia along with Adamas is the best place to stay in Milos. It is better to stay in Pollonia if you want a quieter and more remote experience with all amenities such as beaches, restaurants, and shops within walking distance from each other.
It's also more convenient location to take a ferry to Kimolos island. Otherwise, if you want to stay near the bustling port with the best bus connection, it's best to book hotels in Adamas.
The charming seaside town of Pollonia is a small traditional fishing village, located just 10 kilometers from Adamantas, at the most north-easterly point of the island. This is a family-friendly village and a popular destination with European families with kids with its safe, calm crystal water beach, and a lively nightlife in summer.
This is because it can still offer the same kind of attractions, just on a much smaller scale. For example, while Pollonia doesn't boast the same quantity of beaches as Adamantas, it does have perhaps the best beach Milos has to offer, Pollonia Beach.
Pollonia Beach offers long stretches of soft, golden sands, meeting crystal clear turquoise waters. Whether you want to relax in the sun, watch the boats and enjoy the sea views, or be a little more active and have some fun in the water, this is a fabulous place for you to visit.
Another similarity the two areas have is that they both offer boat trips. However, as opposed to the large ferry cruises, the type of boat trip available in Pollonia is much more personal, with a choice of small-group voyages, private tours, and even the ability to rent a boat and take it out by yourself.
With multiple islands in the surrounding waters, including Kimolos and the uninhabited Polyaigos, it makes Pollonia a fabulous setting-off point for anyone interested in a little island hopping. This will allow you to enjoy the beauty of not just Milos, but a wider range of what's on offer in the area.
As you might expect in a fishing village, the accommodation here is small family-run hotels. Boutique hotels replace the bigger chain options, creating a more authentic vibe, which leaves many considering them their favorite hotels on Milos island.
Some of the places for check out are the Agia Paraskevi, the Church of Saint Nicholas, and the Kostantakis Cave Winery.
Surrounded by locally-owned authentic cafes, traditional Greek restaurants and tavernas, bars, souvenir shops, and businesses, this all makes Pollonia the best place to stay in Milos for those who want to get an idea of the local way of life, while still getting to enjoy some of the luxuries you seek out while on vacation.
Stay in Pollonia if you're first-timers, families with kids, couples both young and old seeking a stay in a small fishing village, with best beach, traditional boutique hotel; you travel without a car; you want to take a boat around some of the islands nearby.
Best places to stay in Pollonia:
🔍FIND BEST HOTELS IN POLLONIA
3. Tripiti, rich history, located on a hill sloping down the sea
The lovely village of Tripiti is located on a hill sloping down the sea and close to Plaka. It is suited to those who are interested in history than anyone who simply wants to spend their days lazing on the beach.
Firstly, it's the site of the ruins of the Island's ancient theatre. Originally built by the Romans in the 3rd-century BC, this stunning amphitheater is made of marble and is incredibly well preserved.
While only parts of the site have so far been excavated, it is still one of the grandest discoveries of its kind anywhere in the world. With parts having been slowly and faithfully restored, it is an amazing feeling to walk around such a historic place, where you can feel the history with every step you take.
Then, just 200 meters from the theatre, there is the historical Catacombs Of Milos. For centuries, the natural caves in the porous volcanic rock were turned into beautiful family burial chambers.
Ranging from 1.6 to 12.5 square meters, each chamber features graves cut into both the walls and the ground. With inscriptions and designs carved into them, it is a beautiful place to remember people who inhabited this area centuries ago.
Surrounding these sites there are also a number of churches and chapels, allowing you to explore the religious history of Milos, Greece, and see how its architecture has evolved throughout the years.
Unfortunately, history buffs may be a little disappointed to find the island's most famous discovery, the Venus De Milo statue, is not actually located here. Instead, it holds a prominent position in the world-famous Louvre Museum in Paris.
That said, for anyone who has already seen the statue, it gives you a great chance to explore its original location and get a better understanding of the origins of the piece.
Stay in Trypiti if you are a fan of history, you aren't worried about being near the beach.
Best places to stay in Trypiti:
🔍FIND BEST HOTELS IN TRIPITI
4. Plaka Milou, best area to stay in Milos for nightlife
Located 5 km from the Adamas port, Plaka Milou is a picturesque mountain village and capital of the island. It sits atop a large rock formation, offering stunning views out over the Gulf Of Milos. As the island's capital, you might expect this to be the most popular place to stay in Milos.
This traditional Greek village famous for its sunsets same as Santorini but less crowd. Plaka is quiet during the day, but becomes busy in the evening because people from Adamas come for for dinner and the sunset.
However, with narrow, cobblestone streets, it is impossible for vehicles like cars, vans or coaches to enter. That means those looking to stay here will need to be traveling by moped, motorbike, bicycle, etc, or be happy getting dropped off on the outskirts of town and walking from there.
However, what this does is create an atmosphere that allows you to take a step back in time and stay in an area offering the most traditional experience anywhere on the island. Given its proximity to Trypiti, this makes Plaka Milou another fantastic place to stay in Milos for history buffs.
In fact, it even has an incredible historic attraction of its own for you to enjoy as well, in the form of Plaka Castle. Also known as the Venetian Castle Of Milos, it was built in the 13th – Century AD when Milos was still under Venetian rule. Kastro is located at the highest point of the village, offering the breathtaking views of the island, especially from the church of Virgin Mary.
If you are interested in history, head to the Archaeological Museum of Milos, an impressive classical building in the lower part of Plaka; the Folklore museums in a mansion of the 19th century in Plaka;
Other attractions nearby are Panagia Korfiatissa which is one the most remarkable temples in Milos, Panagia Thalassitra.
Plaka has a traditional Cycladic architecture with lots of cafes, bars and restaurants. Speaking of hotels, the choices here are extremely limited, so don't expect to find a budget hotel where you can do your trip on the cheap.
Stay in Plaka Milou if you are interested in the history of the island, you want to visit the Venetian Castle Of Milos, you aren't worried about cost, you don't plan to use a car and are happy traveling by foot or on 2 wheels, you want a traditional area.
Best places to stay in Plaka Milou:
🔍FIND BEST HOTELS IN PLAKA MILOU
5. Triovasalos, for local vibe
Located next to next to Plaka and Trypiti, the three towns form a triangle in the Milos hills, with Triovasalos being the point furthest inland. The locals called them the upper villages.
Rather than a single town, Triovasalos is actually two villages that merge together: Triovasalos and Pera Triovasalos. Much like the rest of the area, they are traditional villages, with architecture and atmosphere that create a truly authentic feel. If you want to immerse yourselves in the local life, Triovasalos is place to stay on the island.
The most historic location here is the Church Of Agia Marina. Having been merged with the Church Of Agios Spyridon, it gives a fabulous view of the religious history of the island.
However, unlike our previous destinations, there is a much greater range of accommodation on offer, including more affordable options. While I wouldn't necessarily call anything located here a "budget hotel", there are certain properties that are much more budget-friendly.
The same can be said of amenities, as there are far more shops, cafes, bars, and restaurants located here as well. This makes it a great place to enjoy a delicious breakfast or a cool drink in the village center, while taking in the rustic feel of your surroundings.
Another difference that you might not expect, considering Triovasalos is further inland, is that it is also a destination popular with beach lovers as well. The reason for this is that its nearest beach, Sarakiniko Beach, is only around 3 kilometers away.
Sarakiniko Beach is another vying for the title of the best beach Milos has to offer. Its beautiful white sands are surrounded by cliffs of the same color. This creates a perfect contrast with the turquoise waters that roll up the shore.
Its beauty makes it one of the most photographed spots on the entire island, as well as one of the most famous beaches in all of Greece. While this may deter those looking to enjoy a quiet, relaxing day out, it is certainly a must see for anyone who appreciates stunning beaches and natural beauty.
Stay in Triovasalos if you want to spend time on Sarakiniko Beach; you need more budget-friendly options for accommodation; you like local vibe; you are traveling by car.
Best places to stay in Triovasalos:
🔍FIND BEST HOTELS IN TRIOVASALOS
6. Mandrakia, charm fishing village on the north coast of the island
Located on the north coast of the island, Mandrakia, is the beaten path destination in Milos, with very few tourists. Despite being in the most built-up region of the island, it is a small fishing village that is significantly quieter than most of the other options we have looked at.
This is a destination that is all about rest and relaxation. Beautiful ocean views, coastal walks, and a picturesque village make Mandrakia seem like somewhere straight off of a postcard.
While there is no beach located within the village itself, both Tourkos Thalassa Beach and Sarakiniko Beach are not too far away. While the former is within walking distance for all, the latter is admittedly more of a trek, but is still worth mentioning, as it gives you plenty of options.
Considering how close Mandrakia is to many of the other destinations we have looked at, it makes a great choice for those looking at an authentic experience, without missing out on all the best sites, attractions, and amenities the island has to offer.
Stay in Mandrakia if you want to stay in laid back area away from the tourist crowd; you want an authentic experience but don't want to be too far from the more built-up areas; you want to stay in a small fishing village;
Best places to stay in Mandrakia:
🔍FIND BEST HOTELS IN MANDRAKIA
7. Klima, iconic fishing village with stunning sunsets
In keeping with the style of our previous location, Klima is one of the most iconic fishing villages on the island. Located just a short way from Trypiti, it is a picturesque village, featuring fishermen's houses built into the cliff face, with brightly colored doors and balconies.
Klima isn't going to be a place suitable for everyone, however, it is ideal for anyone looking at where to stay in Milos for a quiet, relaxing trip. Much of the housing is used by seasonal workers, meaning despite its beauty, this is one of the quietest towns you are likely to find anywhere on Milos.
While this means amenities like hotels, restaurants, shops, etc are much more limited, it also means you know what is present is aimed specifically at the locals, so it almost guarantees an authentic experience throughout your stay.
The majority of the people who venture to Klima do so for the amazing photo opportunities that await within the village. Not only do you have stunning Cycladic houses, but the area is also known for offering some of the most breath-taking sunsets you're likely to see on Milos or anywhere else.
This makes it a great choice for anyone who loves to take plenty of photos during a vacation and wants to get some shots to help make their friends jealous of their stay in Milos.
Stay in Klima if you love stunning sunsets, you want to stay in a remote, semi-abandoned seaside village, you want a quiet, relaxing trip, you are interested in photography.
Best places to stay in Klima:
🔍FIND BEST HOTELS IN KLIMA
8. Firopotamos, one of the most picturesque areas on Milos
Firopotamos is another smaller destination, located a short way north of Mandrakia. When choosing where to stay in Milos, those looking for a party atmosphere are usually going to choose a bigger, busier destination. However, on this island, they would be making a big mistake.
Firopotamos is best described as a tropical getaway. Surrounded by trees, the beautiful blue waters are protected by a bay, giving them a calm appearance reminiscent of a swimming pool. This perfectly complements the white sand beach, creating an iconic scene straight off of a postcard.
While facilities around the beach are a little limited, the canteen on the sand is what has earned the area its reputation.
Pumping music plays out onto the beach, while cool drinks and cocktails are served to customers. This creates an atmosphere more like you'd expect to find in a destination like Cancun than on a small Greek island.
This has led to many younger travelers coming to the area to party, away from prying eyes and the heavy costs normally attached to similar destinations.
Don't worry if that doesn't sound like your type of thing though. While this is what the area has come to be known for, it is actually a traditional fishing village at heart.
This means if you come at the right time or stay in the right part, you may find Firopotamos is the best place to stay in Milos to enjoy your own relaxing tropical break as well.
Stay in Firopotamos if you are looking for a vibrant, party atmosphere, you want to stay in a tropical paradise.
Best places to stay in Firopotamos:
🔍FIND BEST HOTELS IN FIROPOTAMOS
9. Pachena, tranquil tourist area on the north coast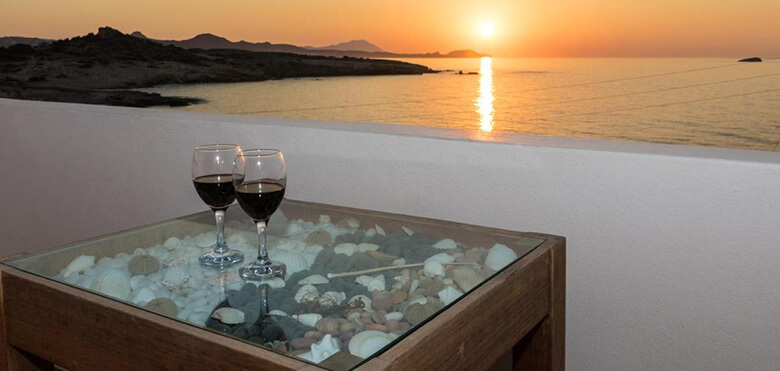 Pachena is set on the north coast, just 3 kilometers southwest of Pollonia. One of the primary reasons that people look at Pachena when deciding where to stay in Milos, is that it has a greater number of budget hotel options, due largely to its more remote location. This makes it a great choice for anyone who needs something a little more affordable during their visit.
The other main attraction is its beautiful Pachena Beach. Featuring soft white sand, it is as comfortable to relax on as it is beautiful to look at. Pachena Rock at the far end is also a fabulous spot to get incredible views and photographs out over the water. You also have Glaronisia Beach, a bit off Papafragas beach with interesting volcanic and geology.
Don't miss out on Papafragas Cave, a sea cave with turquoise and crystal clear water, a short 5-minute drive from Pollonia, and a 15-minute drive from Adamas.
While it lacks any sort of facilities in terms of beach bars, water sports, sun loungers, etc, that also means it stays significantly less busy than other beaches of a similar caliber. This makes it ideal for anyone whose sole purpose of their trip is pure and uninterrupted relaxation.
Outside of that, Pachena is largely just a quiet, residential village. With a small collection of local fishing tavernas and stores, this is about as authentic of an experience as you will possibly find during your stay in Milos.
It is also worth mentioning that one of the most important archaeological dig sites on the island, Phylakopi, is located near here. While most of its finds are long removed from the area, it can still be nice for history buffs to see where things were discovered, much like with the site of the Venus De Milo statue.
Stay in Pachena if you want a good selection of budget hotels to choose from, you prefer a quiet, picturesque beach, you aren't worried about an abundance of tourist amenities, you want an authentic experience, you enjoy stunning views, you want to visit an important archaeological dig site.
Best places to stay in Pachena:
🔍FIND BEST HOTELS IN PACHENA
10. Paliochori, where to stay in Milos for best beaches
Our final destination of Paliochori isn't so much a town itself. Instead, it is actually one of the most beautiful beaches in all of Greece. The fabulous stretch of sand is hidden away below volcanic cliffs in a range of colors, creating an incredible visual experience.
The volcanic power of the island is even demonstrated by hot springs in the water. While not ever-present, when they do appear they pop up on the shoreline, making for a wonderful treat for anyone present to enjoy them.
It's more secluded location makes it the perfect destination for couples seeking a romantic getaway. You will have plenty of privacy during your trip, while the collection of traditional restaurants and Milos hotels provide the type of luxury most look for while on vacation.
If you want to shake things up a bit during your stay, there are also some other incredibly popular beaches just a short way west of Paliochori as well.
Tsigrado Beach and Provatas Beach are both within 10 km of Paliochori, along the rocky coastline. Similarly secluded, they offer similar perks to Paliochori, as well as their own unique selling points.
With the whole area being significantly quieter than the more popular northeast corner of the island, this is a fabulous area to stay in Milos for anyone simply looking for a relaxing beach vacation, surrounded by natural beauty, without being surrounded by mobs of tourists the whole time.
Stay in Paliochori if you want to visit some of the best beaches in all of Greece, you prefer a more remote, secluded destination, you are a couple looking for a romantic getaway, you want a selection of traditional Milos hotels and restaurants.
Best places to stay in Paliochori:
🔍FIND BEST HOTELS IN PALIOCHORI
Where is the best area to stay in Milos?
While everyone will have slightly different tastes, my personal recommendation for the best area to stay in Milos would be Adamas. Whether you want to go on a sailing trip, relax on a sandy beach, or stay in a luxury hotel, Adamantas will have something to cater to your needs.
Where to stay in Milos without a car?
Adamas and Pollonia are the best areas to stay in Milos without a car because they are the largest towns on the island with lots of tourist amenities and excellent connections to bus. Stay here provides easy access to tourist attractions, beaches, restaurants, bars, and shops.
Is it better to stay in Adamas or Pollonia?
Adamas is best overall area for first-timers and those seeking easiest access to public transportation with widest choice of accommodations, bars, and shops. Pollonia is best base for travelers seeking a quieter area with all amenities that you need for your holiday.
Is it better to stay in Adamas or Plaka?
Adamas is the busy transport hub and a better choice for first-time visitors. Plaka is a better choice if you want a more traditional Greek experience, and don't mind away from the beaches.
Where is the main town in Milos?
The main town in Milos is Adamas, located on the northern side of the island. It is the main port and commercial center of the island.
How many days do you need in Milos?
The ideal duration to explore Milos depends on personal preferences and interests, but spending at least 3-4 days on the island is recommended to fully appreciate its natural beauty and unique cultural offerings.
See More about Greek island:
In conclusion, Adamas, Pollonia, Trypiti, Plaka Milou, Triovasalos, Mandrakia, Klima, Firopotamos, Pachena, and Paliochori are the best places to stay in Milos for tourists. They offer plenty of things to do and see and wide range of accommodations for all budgets.
Overall, Adamas is the best place to stay in Milos for first-timers and car-free travelers due to its central location. You will be surrouned by tourist attractions, and lots of amenities such as restaurants, cafes, bars, and shops.