In this blog, I will give more detail about Where to stay in Naxos, best areas to stay in Naxos for tourists (with a map and video), and the best hotels in Naxos for all budgets (including the hotel where I stayed).
Despite being one of the largest Greek islands, Naxos remains largely undiscovered by the general tourist population. Once the seat of power for the surrounding Cyclades archipelago, the island is covered in historical structures and ancient ruins waiting to be explored.
Alternatively, head to one of Naxos' many beautiful beaches for a relaxing summer break.The attractions of Naxos are well dispersed across the island, with ancient temples and ruined castles seemingly around every hill.
Where to stay in Naxos first time?
The best areas to stay in Naxos for tourists are Naxos Town, Agios Georgios, Plaka, Agia Anna, Agios Prokopios, Mikri Vigla, Abram Beach/Kampos, Aliko Beach, Stelida, Apollonas. These are the island's most popular towns that offer a wide variety of tourist attractions and amenities.
Naxos Town is the overall best place for first-time visitors due to its proximity to historical attractions and well-connected to public transportation. The town offers a wide range of tourist facilities such as hotels, restaurants, bars, and shops.
Naxos Town is one of the the best areas to stay in Naxos without the car. It is transport hub of the island, so you can easy take day trips to other towns and beaches. Additionally, the town is compact and walkable, you can explore attractions and beaches on foot.
Naxos Town is easily reachable from the island's domestic airport by a short bus or taxi ride. It is home to a ferry port, where visitors arrive from mainland Greece such as Athens, as well as other islands of Santorini, Mykonos, Milos, and Paros.
Where did I stay in Naxos?
When I first visited Naxos, I stayed for 5 nights at the Argo Boutique Hotel. It was a great family-run hotel situated in the quiet area of Naxos Town within walking distance from the port. My room was beautiful, clean and modern. My breakfast was lovely and the staff was very kind and helpful.
Map of areas and towns in Naxos:
If you are a couple, family, you can check these articles:
Overviews of best areas to stay in Naxos for tourists
Here is an overview of recommended areas in Naxos for first-time visitors:
🎬 You can watch this short video about the best areas in Naxos, and continue reading:
The Best areas to stay in Naxos for tourists are:
1. Naxos Town
Naxos Town, also known as Chora in Greek, is the best overall area to stay in Naxos for first-time travelers. Chora is the capital city and the transport hub of the island, offering a wide range of tourist amenities such as hotels, restaurants, bars, and shops.
Located on the west coast, this urban center is one of the two most popular locations for tourists to stay, there is plenty to keep the whole family entertained here.
The city is the largest port town on the island, with most visitors arriving at the island by ferry from the mainland. Located right in the heart of the Cyclades, Naxos can be reached by ferry from Athens, as well as Koufonisi, Santorini, or Mykonos.
With so much to do and see in and around the city itself, as well as being directly next to the island's primary entrance, Naxos Town is ideal for visitors staying for only a short period and for first-time tourists who enjoy the vibrant nightlife.
As you would expect from a city, there is a comprehensive selection of hotels, shops, jewelry stores, restaurants, tavernas, and bars. There are also bakeries, ice-cream parlors, and all-day cafes serving local sweet treats as you explore the city.
In the evening visitors can visit the various tavernas and waterfront bars that provide views over the busy port. Older visitors can enjoy the various wine bars and sample the products of the island's vineyards.
The town is characterized by its picturesque narrow streets, traditional whitewashed houses with colorful doors and windows, and Venetian architecture.
The most prominent landmark in Naxos Town is the 6th century BC temple, Temple of Apollo (Portara Temple), situated on a small rocky peninsula of Palatia just beyond the port. It's also a great spot for watching the sunset.
The town offers a charming blend of ancient and medieval history, with remnants of Venetian and Byzantine influence evident in its architecture. The Kastro (castle) area is particularly noteworthy, featuring narrow alleys, old mansions, and the Catholic Cathedral of San Nicolo.
You can explore the Brougos area, with the Old Market that offers a variety of shops and restaurants.
History bufss can visit the Archaeological Museum of Naxos, Site Museum of Naxos Metropolis, and the Della Rocca-Barozzi mansion which now is the Venetian Folklore museum.
Other places to check out are the Ursulines School and Merchant Academy, Protodikiou Square, Jazz & Blues Bar, Pocket Gallery, and Sanudo's Tower.
The town is located within walking distance from Agios Georgios, which is surrouned by numerous beach bars, cafes, and mini-marts, as well as sunbeds, to rent for a comfortable day on the sand.
Naxos Town is ideal for anyone who travels without a car, doesn't intend to hire a car. Not only is the town full of sights and amenities that can be easily accessed by foot or public transport. Make sure to check timetables though, as routes to more remote locations can be infrequent.
Naxos Town has a wide range of mix of accommodation that suits all types of travelers. Accommodations can be fully booked in the high season around June to August, be sure to book it in advance if you plan to visit Chora in the summer season.
Stay in Naxos Town if you are a first time visitor, want great nightlife; you are not intending to hire a car; you are traveling to or from the island by ferry;
Best place to Stay in Naxos Town (Chora):
🔍MORE HOTEL DEALS IN NAXOS TOWN
2. Agios Georgios
Agios Georgios (St George) is a beautiful pristine white-sand beach, located within a 5-minute walk from Naxos Town and 10 minutes from its port. It is great base for those looking for a beach vacation while still being close to amenities and attractions of Naxos Town.
Agios Georgios is a mile and a half long blue flag beach with the water clear, shallow and warm of the Aegean Sea. Not surprisingly, it has become a favorite choice for families who have the security of knowing there are also lifeguards keeping an eye on everyone, kids included.
Windsurfing is great here and instruction is available. The road runs parallel to the beach so choose your spot, get shade and a lounger, and enjoy.
Shops, taverns, restaurants, and showers line the road so you will lack for nothing. In addition, in line with modern developments, facilities are disabled friendly.
You have a good choice of accommodation here, from family-run guesthouses, self-catering apartments to beachfront hotels.
Stay in Agios Georgios if you want a family holiday location; you like beachside accommodation; you are looking to be close to the capital and port.
Best places to stay in Naxos in Agios Georgios:
🔍MORE HOTEL DEALS IN AGIOS GEORGIOS
3. Plaka and Maragkas
Plaka is a coastal village situated on the west coast of Naxos, south of Agia Anna Beach, just a short distance away from the capital town of Chora. It is known for its long sandy beach, crystal-clear turquoise waters, and picturesque landscape.
The beach is organized with sunbeds and umbrellas, as well as beach bars and taverns. The shallow waters make it suitable for families with children.
There are also a number of water sports companies operating throughout the beach, offering a variety of fun entertainment options for when you grow bored of relaxing on the sand.
Plaka is well-connected with the capital, Chora. Both Plaka and Maragas are easily accessible from the main town of Naxos (Chora) by car, bus, or taxi.
There is a good selection of mid-range and affordable accommodation on offer here, particularly further back, away from the water. You can stay right by the beach in one of several campsites along the area.
As far as interesting sights, there isn't much to see in the area. The ruins of Plaka Castle, a small fort tower, can be found along the main road towards Vivlos, and if you are heading that way you may want to stop in Vivlos town to visit the old windmill.
Aside from that, there are a number of pretty churches, both modern and older, in the area. If you are hiring a car it would make a pretty road trip. If you are traveling around by bus, there are better sites further out that are more worth the journey.
Stay in Maragkas and Plaka beach if You want a comfortable beach town but somewhat quieter than the family resort of Agios Prokopios; Plenty of beach amenities;
Best places to stay in Naxos in Maragkas and Plaka:
🔍MORE HOTEL DEALS IN MARAGKAS AND PLAKA
4. Agia Anna
Agia Anna is one of the busiest beaches of Naxos, located between Plaka and Agios Prokopios. It is a good example of a district that appears to be underdeveloped yet offers everything a holidaymaker might want.
It sits at the midpoint of the west coast where the fishing harbor is still fully active. The road runs parallel to the beach with Naxos Town under 4 miles away, while it's 5 minutes from the Naxos airport. You can cycle, catch the bus, or take a taxi to get between the two.
With a long sandy beach and shallow water, Agia Anna is popular with everyone. Sunbeds and parasols are available although water sports are limited. Instead, you may decide to take a trip on the Aegean to other parts of the island.
Accommodation includes hotels and apartments along the coast road, right on the beach, or across the road. With shops, cafes, tavernas, and restaurants on-site, you have all you need, day and night, for a great holiday.
Stay in Agia Anna if You want a place close to the beach, Tourist facilities are nearby;
Best places to stay in Agia Anna:
🔍MORE HOTEL DEALS IN AGIA ANNA
5. Agios Prokopios
Agios Prokopios is the most popular beach resort on Naxos for families. Located just 5km to the south of Naxos Town and very close to the airport, it provides all the comforts of a dedicated beach vacation town, with the convenience of being just a short distance from a major city.
Whilst the area is largely geared towards foreign visitors and tourists, there are still plenty of tavernas and traditional Greek restaurants for those looking for a slice of authentic island culture.
Agios Prokopios Beach is a long, wide stretch of soft golden sand, one of the best beaches in Greece. The east end of the beach is where it meets with Agios Prokopios town, and thus where you will find the majority of beach bars, cafes, and companies offering water sports facilities.
There is the Aqua Fun Waterpark further inland. The park is full of waterslides and pools of various sizes, as well as comforts such as poolside bars and cafes, to provide the whole family with a relaxing day in the water.
Directly north, you can find the Limnothalassa Aliki Naxou National Park, great for a day out exploring the natural landscape. The Naxos Camping Grounds are nearby if you are interested in alternative accommodations.
A good variety of mid-range hotels press up against the sand, with affordable options just meters from the beach. Directly north, on the same peninsula, in the region of Stelida, where you can find even more options for accommodation and a tranquil Stelida Beach.
The town is very near to the Naxos Apollon Airport, so is ideal if you're traveling to or from the island by plane. Although this does mean that you may have to deal with some degree of noise from the air traffic.
Stay in Agios Prokopios if you want beach vacation, you want to stay near the main town but with more a resort feel, you want to stay near the airport, you are traveling with family.
Best Places to Stay in Naxos in Agios Prokopios:
🔍MORE HOTEL DEALS IN AGIOS PROKOPIOS
6. Apollonas
Far from the busy beach resorts and tourist hotspots of the south and west, Apollonas (also known as Apollonia), at the very northernmost tip of Naxos, is ideal for anyone looking for relaxation, secluded getaway, and to escape their fellow travelers.
Apollonas Beach is a good-sized stretch of soft sand, where you can relax, unbothered by rowdy tourists.
The town is small and primarily residential, but there are several affordable options for accommodation along the waterfront. For such a little town, there is a pleasant number of restaurants and tavernas to choose from, overlooking the small port.
At the western edge of Apollonas, you can find the Kouros Monument. Also known as the Colossus of Dionysus, the eleven-meter tall, marble statue lays where it was carved so many centuries ago, never having been completed and erected.
Being quite remote, Apollonas is best reserved for those who intend to rent a car for their vacation. This would also provide you the freedom to visit the Agias Monastery and the old Tower of Ayia a few kilometers away.
Stay in Apollonas if you really want to escape the tourist crowds, you want a small beach town with few other travelers, you don't mind being far from the main towns, you intend to rent a car for your trip.
Best Places to Stay in Naxos Apollonas:
🔍MORE HOTEL DEALS IN APOLLONAS
7. Mikri Vigla
A little further south of Plaka is the small beach town of Mikri Vigla. Further removed from the main towns than the more northern beach resorts, Mikri Vigla is ideal for anyone looking for a quieter beach vacation. With its small-town vibe and traditional tavernas, you can really get a feel for authentic Greek life here.
Whilst the town is less geared towards visitors than other locations on the island, there are still plenty of beachside cafes, restaurants, and bars, and supermarkets to keep you supplied with everything you need for a comfortable stay.
If you prefer a more active time at the beach, the area is particularly popular with windsurfers and kite surfers. There are several schools in the area offering lessons for beginners, whilst dedicated shops sell and rent the necessary equipment.
Although a small town, there are still plenty of options when it comes to accommodation. The main town has a selection of mid-range options, ideal for surfers who intend to spend most of their time on the waves.
Stay in Mikri Vigla if enjoy windsurfing, or would be interested in trying it on at Mikri Vigla Beach; you want a quiet break in a small local beach town;
Best places to stay in Mikri Vigla:
🔍MORE HOTEL DEALS IN MIKRI VIGLA
8. Abram Beach and Kampos
If you prefer a secluded cove to spend your days, with accommodation close by, look at Abram Beach and Kampos. The location is on the northwest coast of Naxos, 20kms north of Chora but there is one drawback if you want it as a base.
Accommodation is very limited so it is a matter of booking in advance because as a last-minute decision, you may be disappointed.
The beach is a mix of pebbles and sand. Snorkellers love its waters, windsurfers its breezes. Relax or explore the rugged terrain. There is a taverna on-site with necessities in Kampos village and Eggares where you can buy your needs. Naxos Town for more than the basics is half an hour away.
Stay in Abram Beach & Kampos if You can book well in advance, Basic needs are sufficient for you, Tourist crowds do not interest you.
Best places to stay in Abram Beach & Kampos:
🔍MORE HOTEL DEALS IN ABRAM BEACH
9. Aliko Beach
Located near Kastraki and Glyfada beaches, Aliko beach is one of a few small beaches in a protected natural area in southwest Naxos. It is the salt flats that have earned this status as well as the cedar forest between the beach and the dunes. The beach itself is of beautiful white sand running down to shallow clear waters.
Do not expect any facilities here so go prepared and take what you will need for the day. If you want to stay right there, accommodation is limited so make a booking well in advance to be sure. You will certainly not come across crowds, but you only need a few before the accommodation is full.
You should really hire a car if you want to stay in this part of Naxos.
Stay in Aliko Beach if You want to be away from crowds; Basic facilities are all you need; Natural settings appeal to you.
Best places to stay in Aliko Beach:
🔍MORE HOTEL DEALS IN ALIKO BEACH
10. Stelida
Stelida is only 3 miles from the capital, located on the northwest coast of Naxos. There are limited amenities at this sand/pebble beach, but you have the sun, the sea, and usually not many other people around.
Things are changing however as more people hear about Stelida. Building on the hillside now includes everything from apartments to luxury villas and resort complexes. You will not be alone for long!
There are larger sandy beaches like Agios Georgios, currently more popular, yet Stelida has its appeal. Tranquility is a start and the village just a short walk from the beach offers a Greek experience, as well as some things of archaeological interest.
Stay in Stelida if You want a quiet base; Local amenities are unimportant; You still prefer to be close to Naxos Town.
Best places to stay Stelida:
🔍MORE HOTEL DEALS IN STELIDA
11. Pyrgaki Beach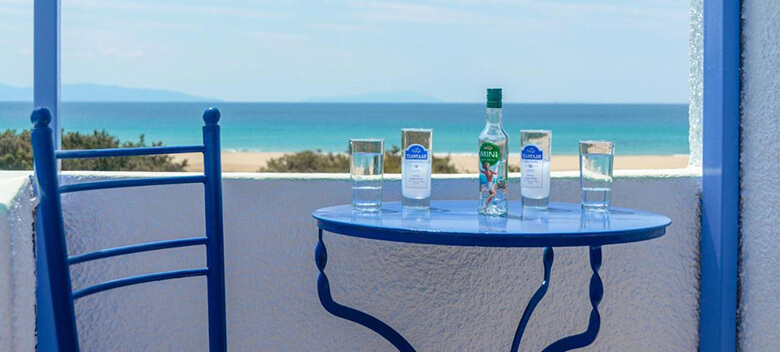 Several kilometers south of Mikri Vigla is the little beach town of Pyrgaki. The town itself consists of just a few residential roads, several hotels, a supermarket, and a few tavernas and restaurants. There is enough to keep you comfortable for the duration of your stay, but not the comprehensive conveniences of the larger resort towns.
Pyrgaki beach is a beautiful stretch of sand, ideal for relaxing on without the pressing crowds that flock to other beaches. However, the real draw to the town is the Alyko Cedar forest in the west.
The forest covers the nearby peninsula and makes for a lovely walking spot, with several more, secluded, quiet beaches to check out. The most interesting thing in the forest though is the sprawling abandoned hotel that now lays in ruins.
Covering half of the peninsula, the ruins are a playground for anyone who enjoys exploring ruined buildings. Lovers of street art will appreciate the many impressive murals that now adorn the walls.
Despite the small size of the town, there is a good range of accommodation available, from affordable to more luxurious options. However, if none of these options suit your taste, there is a larger selection along the stretch of coast connecting Pyrgaki to Mikri Vigla.
Stay in Pyrgaki if you want a really quiet beach town; exploring an abandoned, ruined hotel sounds like fun; you appreciate street art and murals.
Best places to stay near Pyrgaki:
🔍MORE HOTEL DEALS IN PYRGAKI
See more:
12. Melanes
A few kilometers inland of Naxos Town, the small village of Melanes sits amongst the mountains and groves. A residential town, with far fewer hotels than the beach resorts, Melanes is perfect for anyone wanting to experience authentic, local life. Meanwhile, the relatively close proximity to the main town means you won't be far from city conveniences should you need them.
Set amongst beautiful farmlands, the village is ideal for anyone who enjoys spending their time exploring or walking around the natural landscape. To the east, through the trees, you can explore a small cluster of old ruined buildings, left to crumble amongst the trees.
A pleasant walk away to the south, you can discover the Marmaroti waterfalls and the ruins of the old watermill. The short trek through the pretty forests is well worth the reward of exploring this old stone structure. A café is available nearby if you need a break before heading back to town.
The town itself has a few restaurants to serve the local residents. There are only a few options for accommodation in the area, so if you find something you like make sure to book well in advance.
Stay in Melanes if You enjoy walking in nature; Discovering old, ruined buildings is fun; You want a small mountain town, not too far from the convenience of the main city; Beaches are not a priority
Best places to stay in Melanes:
🔍MORE HOTEL DEALS IN MELANES
13. Glynado
Glynado is an inland, mountain town, a few kilometers south of Naxos Town. The town itself is small, with a few restaurants and bars, tavernas, and independent shops. However, a large road connects it straight to the main town of Naxos, so it is convenient if you want to shop and dine in the larger city and then return to the more picturesque town to relax.
There are several interesting historical sites to visit in the local area. The Tower of Belonia can be found in the east of the town itself and the St John Monastery is to the west. The ruins of the grand Temple of Dionysus are just a kilometer or so northwest and well worth a visit by anyone visiting the island.
If you want a break from taking in the culture and history of the island, Karts Heart Rock go-kart track is located at north of the town. Ideal for an afternoon of racing around a track with the wind in your hair.
Unlike many of the other inland towns on the island, accommodation here is plentiful so you are sure to be able to find somewhere that suits you.
Stay in Glynado if You want a small inland town with plenty of options for accommodation; You enjoy exploring historic buildings; Beaches are not a priority.
Best places to stay in Glynado:
🔍MORE HOTEL DEALS IN GLYNADO
14. Ano Sagkri & Sangr
Up in the mountains of Naxos, near the Rachi Polichnitou Park, you can find the rural town of Ano Sagkri, in the region of Sangri. The town itself is beautiful but very small, with just a few tavernas and restaurants catered to the local population.
The main attraction in the area is the wonderfully well-preserved Temple of Demeter in the south. The 6th-century structure is one of the best kept examples on the island and still features upright walls and fully erect columns. Whilst you are barred from entering the temple, for the safety of both yourself and the ancient building, getting close a structure that has stood for one and a half thousand years is an experience not to be missed.
For more information about the temple, and the history of the local area, you can head to the nearby Archaeological Museum of Gyroulas. Admission is free and you can view artefacts found in and around the temple, from pottery to stone inscriptions and ancient statues.
There are various other notable historical structures in the area, including Bazeos Tower and the otherworldly Monastery Kaloritsa to the east. A particularly high number of churches are scattered around the area from various historical periods.
Being so far removed from the popular tourist resorts along the west coast, options for accommodation here are more limited. What is available is on the more luxury end of the scale, so if you have a larger allowance for accommodation you can plan a lovely trip here. If you are working on a budget, you may be better off staying outside of the village and visiting for a day trip.
Stay in Ano Sagkri And Sangri if You want to explore the Temple of Demeter; Beaches are not a priority for you; You are interested in visiting the historical sites of the island; You are not worried about budgeting.
Best places to stay in Ano Sagkri:
🔍MORE HOTEL DEALS IN ANO SAGKRI AND SANGRI
15. Filoti
Filoti is a small mountain town right at the centre of the island. If you're looking for a quiet getaway, this local village, far removed from the tourist traps around the coast, is ideal. The town is primarily residential, with little designed to cater to tourists, so if you are looking to experience the authentic everyday lifestyle of the island, Filoti is perfect.
The town may be small, but it has everything you will need for a pleasant stay. There is a good selection of restaurants, tavernas, and cafés along the main road, and a bakery at the north of the village where you can sample freshly made local pastries.
The Tower of Barozzi is the main tourist attraction of the town. The old stone building is a 17th-century Venetian fort that once housed the ruling nobility of the region. It remains remarkably well preserved at the northern end of the village.
Being such a small, residential town, there are no big hotels or apartment blocks here. What accommodation is available consists of affordable local guesthouses and comfortable villas. Perfect for immersing yourself in the local atmosphere of the town.
Stay in Filoti if You want to experience small-town Mediterranean life; A quiet village away from the tourist resorts is ideal; Beaches are not a priority; You will be rent a car during your stay.
Best places to stay in Filoti:
🔍MORE HOTEL DEALS IN FILOTI
Where should I stay in Naxos for the first time?
Naxos Town is the best overall area to stay in Naxos for first-time travelers because it is the island's main town and transport hub. Staying here allows you to be located within walking distance to major sights, as well as many restaurants, bars, and shops.
What are the best areas to stay in Naxos?
Naxos Town, Agios Georgios, Plaka, Agia Anna, Agios Prokopios, Mikri Vigla, Aliko Beach, and Apollonas are the best areas to stay in Naxos for tourists because they are the most popular and safe neighborhoods that offer a wide range of attractions and amenities.
How many days is enough in Naxos?
If you're planning a trip to Naxos, I'd recommend staying for at least 3-4 days to fully experience the island's stunning beaches, delicious cuisine, and rich history.
What is the main town in Naxos?
The main town on the island is called Chora. It's a charming town with a mix of traditional Greek architecture and modern amenities, and it's a popular destination for tourists who come to enjoy the beaches, history, and culture of Naxos.
Where to stay in Naxos without a car?
Naxos Town is the best overall place to stay in Naxos without a car because it is the transport hub of the island. The town is compact and walkable, you can easily explore on foot. Additionally, you can easily visit other towns and beaches on the island by bus and short taxi ride.
See More:
In conclusion, Naxos Town, Agios Georgios, Plaka, Agia Anna, Agios Prokopios, Mikri Vigla, Abram Beach/Kampos, Aliko Beach, Stelida, Apollonas are the best places to stay in Naxos for tourists. They offer a wide range of tourist attractions and amenities for all visitors.
Overall, Naxos Town is the best area to stay in Naxos first-timers and car-free travelers because it is the main town and the transport hub of the city. You can also easily travel to other towns and beaches by bus.