Where to Stay in Mykonos Greece: Best Areas and Hotels
You're reading this because you're interested in finding out about where to stay in Mykonos. Well, congratulations, you've found the right place! In this detailed guide, I will take you on a virtual tour of all of the most fantastic beaches, fascinating history, and holiday charm of this delightful Greek island. Read on as I show you the best area and hotel to stay in Mykonos.
Where to Stay in Mykonos: Tips & Info
Mykonos is packed full of beautiful sandy beaches, sleepy and attractive old farming towns, and plenty of Greek Island charm. There are great places to stay for all kinds of people and all kinds of budgets, but here are a few ideas and pointers to help you to select the best parts of the island for your particular holiday needs.
Mykonos can get very busy in the tourist high season, and so if you want to avoid the crowds, then at this time of year, the busiest beaches like Platis Gialos Beach, and Psarou Beach, might not be for you.
If you are traveling on a budget, there are outstanding accommodation options in Mykonos town or traveler friendly beaches like Paraga Beach.
Mykonos has great family-friendly beaches with excellent facilities for the kids, like Ornos Beach and Platis Gialos Beach.
If you want to party, party, party, then head straight for Paradise Beach or the even more turbocharged Super Paradise Beach.
If what you're looking for is a little secluded beach next to a pretty Greek village, then there are many super options like Kalo Livadi Beach, Paraga Beach, Elia Beach, and Agios Ioannis Beach.
Alternatively, if you want to avoid beaches altogether and make the most out of the beautiful interior of the island, then you should choose to stay in Ano Mera, with its traditional lifestyle and beautiful cathedral.
Where to Stay in Mykonos: 13 Best Areas to Stay in Mykonos
Mykonos packs a great deal of interest into a relatively small area. Despite the fact that the island is less than 14km wide and around 10km from north to south there, is an abundance of different beaches and areas to explore. Each place has different characteristics, and each will appeal to different kinds of travelers. Here is my detailed guide to the very best locations.
Where to Stay in Mykonos Greece Map
To see more detail of where to stay in Mykonos map, go to Google Map;
1. Mykonos Town, Where to Stay in Mykonos for First time, Nightlife, Couples
The main town of Mykonos is alternatively called Chora but just saying "Mykonos Town" works. It is a beautiful Aegean Island capital and forms a fabulous maze of little alleys and white buildings that take up a large area of the mid-west coast of Mykonos.
Mykonos town is one of the largest and most cosmopolitan places in the whole of the Greek Islands, so if you like all of the liveliness and excitement of a bustling urban center, then this place is for you.
Visitors will find some fabulous shopping here, especially if you're looking for top designer brands and imported fashion goods. And of course, there are any number of shops selling memorabilia and tourist gifts. Some of the most centrally located stores and restaurants here can be quite pricey, catering to the day trip crowd from the cruise ships that stop by regularly. However, Mykonos town is also packed with some excellent budget places to stay, including guest houses, hostels, and hotels. Similarly, there are lots of fantastic and very affordable places to eat, drink, and party. You'll find that there is always something to do in Mykonos Town.
Mykonos Town is close to the main ferry terminal, so if you are island hopping around the Cyclades, this is an excellent place to spend at least the night before you leave.
You Should Stay Here if you:
Want to find some good designer shops
Are looking for budget accommodation.
Want to stay in a large but traditional-style Greek Island town.
Want to stay somewhere convenient for ferries and onward travel.
2. Megali Ammos Beach, Where to Stay in Mykonos Close to the Town
If you want a beach lover, who doesn't want to stray far from all of the liveliness and excitement of Mykonos Town, then Megali Amos just might be the perfect location for your stay. This beach is the closest to the center of Mykonos Town and is just a 10-minute stroll to the south.
The beach here is a pretty stretch of sand about 500 m long. Megali Ammos probably isn't the best beach on the island, and it can sometimes get quite windy on this coast of Mykonos, but it does have the proximity to town going for it.
Megali Ammos has a decent selection of hotels, guest houses, and some lovely tavernas, including the very popular Joanna Niko's, in which to eat and drink.
You Should Stay Here if you:
You want to stay at the closest beach to the town.
You want to eat and drink beside the sand in some lovely tavernas.
You want a reasonable choice of mid-range accommodation.
3. Ornos Beach, Where to Stay in Mykonos for Family & Water Sports
Ornos is a pretty village 3 km to the south of Mykonos town. The main settlement is on a small headland that is flanked to the North and South by beautiful sandy beaches with beautiful crystal waters. Since the headland protects these beaches, they are great places to swim, and this is a great family-friendly place to stay.
Ornos has excellent hotels and guest houses, many restaurants and bars, and everything that the visitor needs to have a relaxed and convenient beachside stay. There is a particularly good range of restaurants here, so if for some inexplicable reason you tire of the delicious Greek food, you can enjoy food from many other international cuisines.
Ornos Beach is close to the island of Delos, a place full of archaeological heritage and ancient Greek history. This is a good place to stay if you are interested in exploring the archaeological museum and beautiful ruins of this island since there are regular, well-priced boat trips from Ornos beach across to Delos.
You Should Stay Here if you:
You want a beach with sunbeds and plenty of tourist activities.
You're traveling with family.
You want to learn diving, water skiing, or other water sports.
You want to hop on a boat to visit historic nearby Delos.
4. Platis Gialos Beach – Best Area for Water Sports, Family
Platis Gialos is a stunning beach in a sheltered Bay 4 km to the south of Mykonos Town. This Resort on the island's South Coast has a lovely sheltered location protected by a rocky headland and a prominent peninsula to the south. So Platis Gialos is the perfect place for families to relax by the lapping Aegean waters, knowing that it's a safe place for the kids.
The main tourist beaches on the southern coast of Mykonos are connected by a convenient boat taxi service that begins at Platis Gialos. This means that if you stay on one of these southern beaches, and for some reason, you tire of the local sands, you can just hop on a boat and be on the next beach in only a few minutes.
Platis Gialos offers some of the best tourist facilities on the whole of Mykonos. In particular, the beachfront bars and restaurants here are of an international standard, and there are some fabulous dining and drinking to be found here.
There are an enormous number of hotels and guest houses in this part of the island, so whatever your budget, and whether you're traveling with friends, family, or on your own, you will find somewhere to stay here at your price range.
In fact, the one thing that Platis Gialos isn't is quiet. If you are the kind of traveler who wants to get away from the tourist crowds and find somewhere isolated and unexplored, you will probably be better off looking elsewhere on the island.
You Should Stay Here if you:
Want the island's best mixture of tourist facilities and beach activities.
Want excellent and sophisticated Beach dining.
Love water sports.
Want a good family beach for the kids.
5. Agios Stefanos Beach, Where to Stay in Mykonos for Sunset View
Agios Stefanos is a small but beautiful beach on the western sunset coast of Mykonos. This beach is 3 km to the north of Mykonos town, at least one of the most popular beaches in all of Mykonos. This means that in the peak summer months, it can become crowded.
There are some very cool places to stay around Agios Stefanos Beach; you will find some great options if you have money to spend, and a slightly higher budget. Remember that the west coast of Mykonos is the sunset coast, and you will find some excellent hillside accommodation with splendid views where you can watch the sun dipping over the Aegean waters.
Agios Stefanos Beach has some beautiful five-star hotels and also some excellent mid-range options. However, this area also has many private villas and apartments for rent. These are fabulous options for families or groups of friends or anybody who wants complete privacy and a bit more space.
You Should Stay Here if you
Want lovely sunset views.
Want excellent facilities and don't mind the crowds.
Want to be on the sunset coast.
Want excellent mid-range and five-star hotels and villas.
6. Agios Ioannis Beach, Where to Stay in Mykonos for Snorkeling
Agios Ioannis Beach is also known as Shirley Valentine Beach, after featuring prominently in the movie of the same name. This is a very pretty beach, and since it is difficult to access, being at the bottom of a steep hillside, it's a great place to find a little privacy on what is a busy coast of the island.
This beach has some of the best snorkeling around, so if swimming through the crystal blue Aegean waters spotting all of the sea life sounds like your idea of fun, then here's a great place to try it.
Because of its remote and hilly location, there are just a few places to stay here, and some nice bars and tavernas. This beach has one of the best views in Mykonos, and you can look out over the islands of Delos and Rhenia.
You Should Stay Here if you:
You want a beautiful private beach.
You want great snorkeling.
You want great views of the other islands.
you are a fan of the movie Shirley Valentine.
7. Psarou Beach – Best Upmarket Area in Mykonos
Psarou Beach (the "p" is silent, so you pronounce this place "Sarou") is a sophisticated and classy beach with a lot of tourist development. This is a popular destination for Greek tourists, and so you will find some of the best tavernas and Greek restaurants around here.
You can find some opulent and very upmarket hotels in Psarou, and if you fancy splashing out a bit, there are places here that will reward the extra investment. The hilly landscape in this part of the island means that many resorts have fabulous clifftop panoramas that look out over the surrounding area.
You Should Stay Here if you:
You want to stay somewhere popular with the locals.
You're looking for an upmarket and classy destination.
Want to stay on Mykonos's South coast.
8. Elia Beach, Where to Stay in Mykonos for Nude Bathing
Elia Beach is a great place to head for if you want somewhere away from the crowds that still provides you with excellent facilities and sophisticated hotels and resorts.
Elia is a long sandy beach located on the central south coast of Mykonos. The beach has plenty of sunbeds, and you can take part in watersports here. It just isn't as crowded as some of the Island's busiest places, which can be oppressive in the middle of the peak season.
Elia Beach has a freer and open attitude that is reflected in the fact that nude sunbathing is permitted here. You will find a few large hotels and resorts of hotels and resorts in this area, but there are some superb little boutique places that offer all the privacy and comfort you could hope for.
If you feel like getting even further away from the crowds, then a good tip is to head over to the even smaller and more private Paralia Agrari Beach, just a couple of hundred meters to the west of Elia Beach.
You Should Stay Here if you:
You want a high class but private destination.
You want to escape the crowds.
You want a long on the tractor sandy beach.
You want a beach that allows nude bathing.
9. Paraga Beach, Where to Stay in Mykonos for Nightlife
Paraga Beach is a pretty stretch of sand on Mykonos's Southern Coast, about 6 km away from Mykonos town. This is one of the best places on the island for budget Travelers wanting to stay beside the beach. There are some excellent budget guesthouses and hostels as well as a campsite right by the sand.
Paraga has an open and relaxed atmosphere and nude sunbathing is common here. This beach is popular with a younger crowd, and it has quite a few lively and happening beach bars.
If Elia Beach gets too busy for you, just walk over to the beach's eastern side, where you will find things are a little more peaceful.
You Should Stay Here if you:
You are traveling on a budget.
You want to stay in a tent.
You want some lively beach bars and good nightlife.
10. Agios Sostis Beach – Best Tranquil Beach Area in Mykonos
Agios Sostis Beach is a fabulous place to go on Mykonos if you want to really get away from the crowds. This beach is perfect for independent travelers who want to find those attractive and unexplored little corners of the Greek islands.
To get to Agios Sostis, you will need to have your own transport, since the local Island bus service doesn't stop here. This 300 m long Beach is a gorgeous stretch of sand that you get to after a short downhill walk from the road.
If you are looking for a beach resort, then forget it, the only place to stay in this quiet and undisturbed village are a few small guesthouses and boutique homestays.
Similarly, you won't find a great choice of dining and drinking here, although the village does have a fantastic little taverna, which might just be all that you need.
You Should Stay Here if you
You are a real independent traveler.
You have your own transport.
You're looking for a truly tranquil little beach.
11. Paradise and Super Paradise Beach – Best Biggest Party Area in Mykonos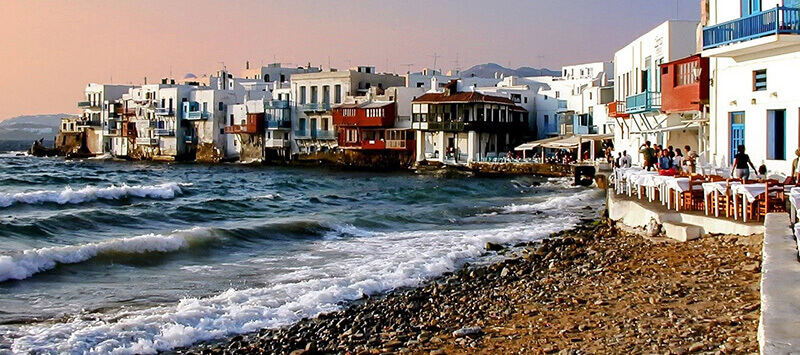 The superlative names of these two neighboring beach resorts probably give away the fact that they are the island's go-to destinations for high-octane all-night parties. If you and your travel companions are looking for some top quality international nightclubs that run from sunset all the way through the night, then you have found your paradise.
Paradise Beach is the most accessible of these two beaches; you will need to take a short walk over the hill or a quick boat taxi to get to Super Paradise.
These beaches are not a good option for families or older travelers, but they truly offer a kind of hedonistic paradise for the young party crowd.
You Should Stay Here if you:
You're looking for the island's biggest party.
You want to lounge on the beach during the day.
you want good hotels and plenty of restaurants and bars.
you want to beach that allows nude sunbathing
12. Kalo Livadi Beach – Best Quiet Area in Mykonos
Kalo Livadi is a quiet, chilled-out little beach resort on Mykonos' East Coast. This is a remote and quiet beach, served by a small village with some lovely boutique hotels and a few restaurants and taverns.
If your idea of the Greek Islands is chilling out in a quiet settlement beside the blue Aegean Sea, then this might be the perfect place for you. It's never crowded here, and it's easy to kick back and let your daily routine be washed away by island time.
You Should Stay Here if you:
Truly want peace and quiet.
You're looking for a homestay or small boutique guest house.
You don't mind being a long way from Mykonos town.
You're comfortable with a bit of hill climbing.
13. Ano Mera – Best Traditional Greek Area
This might sound a little controversial, but why not consider staying somewhere away from the beach? You see, Mykonos is quite a small island, and it has a good bus service so that you can get to the beach very quickly from anywhere on the island.
Why not choose to stay at the beautiful inland township of Ano Mera instead? This is a local town with a fabulous 16th-century monastery called Panagia Tourliani, which is well worth exploring.
This little town's white roofs and winding streets are fascinating to explore and hide some traditional little tavernas and restaurants, serving fabulous locally grown foods and wines.
If you want to get away from tourists, and instead immerse yourselves in the local Island way of life, then a stay in and Ano Mera would be very rewarding for you. You will find some very nice villas for rent and some comfortable homestays and guest houses too.
You Should Stay Here if you:
You want to stay in a traditional Greek village.
You don't need to be beside the beach.
You want to sample the best local produce.
You don't need all the trappings of tourism.
Where To Stay In Mykonos For A Party?
If you want to party hard in some top nightclubs, then the best place to stay on Mykonos Island is definitely at Paradise Beach or nearby Super Paradise Beach. These two beaches are on the south coast of Mykonos about 8 km from Mykonos town. This area developed as the center of the island's nightlife over 40 years ago.
These days as soon as the sun sets the competing sound systems of the bars and clubs begin to beat out the a that says party. There are lots of results and hotels here, if you want to stay in the more accessible of the two beaches then stay at Paradise Beach, Super Paradise Beach is just over the hill.
Where To Stay In Mykonos On A Budget?
If you are traveling on a budget or as a backpacker, then a good place to stay when you visit Mykonos is in Mykonos Town. This is the largest settlement on the island and has a huge range of accommodation, including some excellent hostels and budget guesthouses. There are lots of shops and markets here where you can buy excellent quality, economic street food.

If you want to get out of the busy Mykonos town and stay at the beach on a budget, the best place to choose is Paraga Beach. A small result on Mykonos' South Coast, it has long been popular with independent travelers. Paraga is a pretty beach and welcomes nude sunbathing.
There is a lively bar scene here on the beachfront, but you can avoid that by heading back up into the village, where there are some excellent value guesthouses and homestays.
Where To Stay In Mykonos Beach Or Town?
Mykonos Town is one of the busiest and most exciting of all of the towns on the Greek islands. it's a great place to stay and you will always find plenty to see and do, but what about the beach? Well, since Mykonos Town is on the coast you don't actually have to choose between the town and the beach.
What you can do is stay just a few minutes walk from the center of town at pretty Megali Ammos Beach. This is a great little stretch of sand with some good hotels and resorts, so you can head straight to the beach if you want or stroll into town to enjoy all of the restaurants, bars, shopping, and facilities that it offers.
Where To Stay In Mykonos For Honeymoon?
If you just got married, then you're probably looking for somewhere a holiday destination that is intimate, attractive, and sophisticated. You will need a pretty beach as well probably, so why not stay at the classy and private Elia Beach?
Elia Beach is a gorgeous little resort on the southeast coast of Mykonos. You will find fantastic middle and upper range boutique hotels here that will offer you five-star service, especially if you tell them that you are newlyweds. Alternatively, you could rent a luxurious private Villa with waterfront views and truly impress your new life partner.
Where To Stay In Mykonos For Nightlife?
Mykonos has some fabulous nightlife; the question is, what kind of nightlife do you prefer? If you want beach clubs and full-on parties, then, without question, you need to head down to Paradise Beach and next door Super Paradise Beach. These well-established clubbing havens have many bars and nightclubs and make one of the best nightlife destinations in the whole of Europe.
But it's entirely possible to enjoy a party without needing to go full-on all-night dance club. You will find the island's most extensive collection of bars and restaurants in Mykonos Town. Here you can see live bands and a very different night scene to the club frenzy of Paradise Beach.
And then if you want a cool, chilled-out beach with some beach bars that are very lively and kick on a bit later then try Paraga Beach, with its young backpacker-friendly vibe.
Where To Stay In Mykonos In October?
October is a great time to visit Mykonos since the weather is still hot, the Aegean Sea is still swimmably warm, and the island has come down a bit from the peak of the high season and isn't nearly as crowded. In fact, this is one of the best times of year to visit mykonos.
You might choose to stay in a resort like Platis Gialos Beach, a resort that can feel uncomfortably crowded in July and August but is a lot more fun in October when there seems to be so much more space. You will find a huge choice of accommodation here, and prices will be a bit cheaper than at the peak of the peak season so that you can expect great value for money.
Where To Stay In Mykonos Young Couple?
Ornos Beach is an excellent choice for younger couples traveling together. This beach resort is just a ten-minute drive from Mykonos town and all of its shopping and facilities. There are excellent tourist facilities here with many good restaurants and pretty little beachside bars where you can watch the sun go down together.
Ornos Beach has a regular boat service that takes visitors to the nearby island of Delos, famed for its fabulous architecture and ancient Greek history.
Where To Stay In Mykonos With Family?
One of the most family-friendly resorts on Mykonos is Ornos Beach. This pretty beach has plenty of large-scale tourist development, and there are some larger resorts here that have great children's facilities. Ornos Beach is an attractive and sheltered bay, and so the calm waters and inviting sands provide another excellent place for the kids to play. Ornos Bay has plenty of shops, lots of restaurants and cafes, and plenty to keep the family interested and occupied throughout a delightful Greek Island holiday.
Where To Stay In Mykonos Quiet?
Mykonos is an extremely popular Island that can get quite packed in there tourist high season, but it is also a very large island and even at the busiest times, so you can always find a quiet corner to unwind. I guess the question is just how quiet do you want it?
If you're looking for a sophisticated and high budget kind of quiet, with excellent but limited facilities and no crowds, then head for Elia Beach on the east coast.
If Elia Beach is still too busy for you or you're looking for something at a lower budget, then try the nearby Kalo Livadi Beach. And if you want to try and escape beachside tourism altogether then why not stay in the pretty, inland town of Ano Mera.
Where To Stay In Mykonos First Time?
If you have never been to Mykonos and want to have the best opportunity to explore the island to the fullest, you should probably stay in Mykonos Town. There is a lot to see and do in Mykonos Town, like the splendid historic windmills, but it is also a great transport hub for exploring all of the rest of the island using the excellent local bus service, or taxi if you prefer.
Nowhere on Mykonos is much further than a 20 or 30-minute drive from Mykonos Town, so you are free to explore the beaches and the coastlines all over the island from your base in the main town.
Where To Stay In Mykonos In May?
May is perhaps the prettiest month to visit Mykonos. The weather is becoming warmer, and if you want comfortably warm rather than blazing hot temperatures, then late Spring is the best time to visit.
Since the tourist crowds haven't arrived yet you will find the island delightfully peaceful, and room prices will be much more affordable than in peak season. Why not stay at pretty Agios Iannes Beach, the one featured in the movie Shirley Valentine? This is a lovely and quiet location that is private and secluded but only a short way from Mykonos Town's excitement.
Where To Stay In Mykonos In September?
Mykonos has excellent weather in September, and this is a great month to visit the island. This is the last month of the tourist high season, so the busier resort beaches may still be a little bit crowded for your taste. At this time of year, a visit to Elia Beach or Paraga Beach can be very rewarding. These two destinations are just a little bit off the beaten tourist track, and so you can be sure that they'll be plenty happening, but you won't feel overwhelmed by the number of fellow travelers.
Where To Stay In Mykonos In April?
Springtime is a very nice time of year to visit Mykonos, just as long as you aren't a keen swimmer. At this time of the year, the Aegean is still warming up from its winter cool, and only the hardiest of cold-water swimmers will dare to take to the waters.
However, there is very little rainfall, and temperatures are mild and very comfortable in April. This is a good time of year to stay in Mykonos Town. There won't be so many tourists, but you can always be sure to find something going on in the streets of the island's capital.
Where To Stay In Mykonos Gay?
Mykonos is a very LGBTQ+ friendly destination and is one of the most popular gay destinations of all the Greek islands. Elia is a beach popular with the gay crowd that has a sophisticated and distinctly classy vibe. Ornos Beach is another beach resort popular with gay travelers. Ornos attracts a younger and more down-to-earth crowd.
Where To Stay In Mykonos With No Car?
You don't need a car to explore Mykonos since it is a relatively small island served by a good and regular local bus service. The local buses connect you with the main town, all of the main beaches and everywhere but the most remote of the island's destinations.
Also, many beaches, particularly those on the southern coast, are connected by water taxis to, and these are a fun way to get around.
If you intend to spend a lot of your time exploring all the beautiful beaches and hidden corners of the island, you should consider staying in Mykonos Town, since this is the starting point for most bus and transport services.
Where To Stay In Mykonos With Friends?
Choosing where to stay on Mykonos for you and your friends is very much a question of who you are and what you're looking for.
If you plan to travel with a young group who likes to party, you should stay at Paradise or Super Paradise Beach. These two beaches are famous clubbing hotspots in the island's south.
Other great places for group travelers include Mykonos Town, with all of its shopping and entertainment, or busy beaches like Ornos and Platis Gialos Beach.
Wherever you choose, if you were traveling as a group, be aware that Mykonos has some excellent Villa and apartment rentals. Villas and private rentals are an ideal personal and economical choice for group travelers.
Where To Stay In Mykonos For Solo Traveling?
If you want a solo traveler visiting Mykonos, then perhaps you should choose to stay somewhere Central like Mykonos Town. This thriving center point of the island has some excellent traveler-friendly hostels and guest houses, which are great places to meet other travelers in a social and secure setting.
Alternatively, if you prefer to stay by the beach, then Agios Stefanos is another good choice of destination. It is a lovely beach with plenty of places to stay, and lots of dining and entertainment, just 3 km away from the main town.
Conclusion
So, to help you decide where to stay on the lovely island of Mykonos, I've presented you with thirteen fantastic destination options and hopefully answered many of your questions too.
Now, all that you need to do is to pick the place that appeals to you most. I know that you're going to have a great stay on this beautiful Greek island. Enjoy!
---
---