Where to Stay in Santorini: Best Areas and Hotels
So, you're wondering where to stay in Santorini, for the first time, families, couples, honeymoon, budget, nightlife, solo travelers, amazing sunset views? Well, look no further. This guide has got you covered the best area to stay in Santorini.
But, first things first, my congratulations to you on choosing to visit this unique jewel of an island. You will be so happy that you did since this unique, volcano-carved beauty has it all. Stunning cliff top sunsets? Check. Beautiful Aegean beaches beside the azure waters of the Aegean Sea? Check. Charming local villages and ancient historic sites? Check again!
See Also: How Many Days in Santorini?
Where to Stay in Santorini: Tips & Info
Santorini is unique, and a little knowledge of its history will help you understand the place and choose the best place to stay. The island comprises the Eastern two-thirds of the circle of a volcanic crater formed by a massive eruption over 3,000 years ago. Don't worry; the volcano isn't dangerous these days.
So, you will find gorgeous clifftop towns overlooking a magnificent volcanic caldera bay full of islands all down the western coast of the island. This view is unique and one of the best you can experience anywhere in the world. Even if you don't stay in a West Coast location, you should spend a sunset here and tick it off your bucket list.
Santorini's clifftop towns are Oia, Imerovigli, Firostefani, Fira, and Akrotiri.
All of the tourist beaches are on Santorini's East Coast, and this is where the families and sun-lovers shoes as a base for their stay. The main tourist beaches are Perissa, Kamari, and Monolithos.
If you want to choose an alternative, you could stay inland in the charming farming area around Pyrgos.
Where to Stay in Santorini – The 10 Best Area to Stay in Santorini
Santorini is quite a big island, about 18km from North to South and 8km wide at its widest point.
Because of its unique volcanic birth, there are many very different environments, from clifftop towns to lovely beaches. Check out my descriptions of the ten best areas to stay below, and you'll be sure to find a destination that fits your needs just perfectly.
Where to Stay in Santorini Map
To see more detail of where to stay in Santorini Map, go to google map;
1. Fira, Where to Stay in Santorini for the First Time, Shopping, Nightlife
Beautiful Fira is Santorini's largest town. It is also the main tourist center on the island and is a perfect base for people who want to stay close to the heart of everything.
Fira is one of four main towns on Santorini's West Coast that look over the spectacular volcanic, island-filled caldera. There are fantastic, beautiful, and very exclusive places to stay on the cliffside that look out over this stunning view.
As you would imagine, you will pay a premium for a clifftop location, but if you are prepared to head back away from the cliffside into the town, then you can find some good budget and mid-range accommodation too.
Fira is home to Santorini's thriving night scene, and there are scores of bars and restaurants to enjoy. This is also an excellent place to arrange trips, tours, and transport by land and sea to explore all of Santorini's sites and hidden corners.
YOU SHOULD STAY IN FIRA IF:
You want a central location
You like shopping
You want to party
You don't want to be beachside
2. Oia, Where to Stay in Santorini for Amazing Sunset Views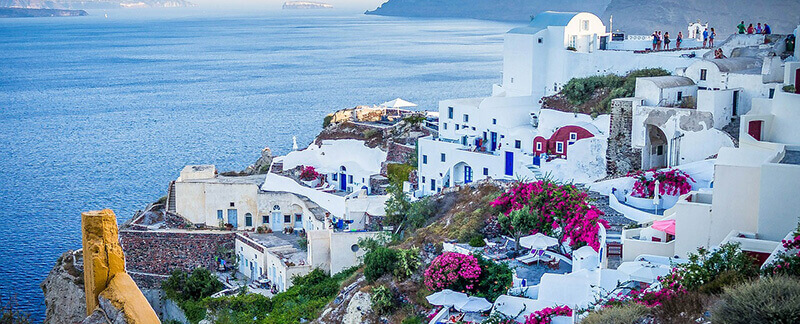 Oia is another gorgeous west coast town full of traditional white buildings that spill over the cliffside and look out over Santorini's caldera bay.
Oia gets very busy with day-trip visitors during daylight hours, but it becomes a far more relaxed and exclusive habitat in the evenings. The beautiful sunset is one of the town's major draws, and it is a memorable sight to behold.
Oia has some eclectic and intriguing accommodation. You can stay in boutique hotels formed from the tiered cliffside houses. But remember that the cliffside is very steep, which might not be the right choice for family groups. The hotels and villas on the caldera side tend to be mid-range to high-end places. More budget-friendly accommodation can be found away from the cliffside, and of course, the stunning view.
Oia has some excellent traditional restaurants, but not much in the way of bars.
YOU SHOULD STAY IN OIA IF:
You don't need busy nightlife
You want amazing sunset views
You want a quality hotel
You want good shopping
3. Megalochori, Where to Stay in Santorini for a Peaceful Atmosphere
Megalochori is a charming local village in the central west of Santorini. This village has the charming white-painted architecture characteristic of the Greek Islands. It is an excellent, central, low-key destination for those looking to get away from The tourist crowds.
There are a few hotels and good value guesthouses and some beautiful private villa rentals that provide an intriguing high-end option for people comfortable fending for themselves.
Megalochori is a pretty, laid-back place that is suitable for independent travelers. The villages' central location also means that it is very convenient for all of the island's major sites and activities.
YOU SHOULD STAY IN MEGALOKIRI IF:
You want lovely Greek architecture
You want a peaceful village atmosphere
You want to rent a villa
You want to sample traditional island life
4. Imerovigli, Where to Stay in Santorini for Couples, Honeymoon, Sunset
Imerovigli is a small community about a 20-minute walk north of Fira. It is the perfect place for couples or anyone who wants to be reasonably close to all of the busy Central town facilities and enjoy seclusion and privacy.
The best thing about this destination is the fabulous sunset view of the caldera bay. There is some contention over which of Santorini's clifftop towns enjoys the best sunset view, but many agree that Imerovigli is the standout option.
There are some decent restaurants here, but nothing in the way of nightlife, you will have to travel into the Fira for that.
Like all of the West coast clifftop towns, you will need to travel across the island to get to a beach, but honestly, with a view like that, who cares?
YOU SHOULD STAY IN IMEROVIGLI IF:
You want the best views on Santorini (maybe in all of Greece?)
You want a quiet town close to Fira
You don't need a beach
5. Perissa, Where to Stay in Santorini With Family, Friends, or Without Cars
Perissa, in the southeast of Santorini, is the island's largest beachside tourist destination. Like most of the beaches on Santorini, the sand here is black due to the island's volcanic origins. In fact, some of the volcanic pumice rocks even float!
But, color aside, Perissa is still a lovely Aegean beach-side resort with a large selection of mainly mid-range to more expensive hotels, all with excellent facilities.
There are many restaurants and a few bars here, and after Fira, this is probably the liveliest night scene on Santorini. So Perissa is a good choice for all travelers who want a well-developed tourist center's comfort and entertainment.
If you are a seafood lover, you will enjoy the quality restaurants here that serve delicious menus prepared from The Catch of the Day.
YOU SHOULD STAY IN PERISSA IF:
You want a lovely (black) sand beach
You want good mid-to-upper range hotels
You want high-class dining and bars
You don't mind a journey into the main town
6. Monolithos, Where to Stay in Santorini for Families & Quiet Beaches
Monolithos is a smaller east coast beach resort with a pretty beach noted as an excellent place for families, since the waters are shallow and safe for kids.
There is a good choice of accommodation here, and a few local restaurants and tavernas. But if you're looking for a busy, bustling beach resort, then there are better choices on the island.
But if you want a village, relaxed, family-friendly location, this might be the choice for you.
Monolithos is right next to Santorini's airport, and this is convenient for travel. There is a little aircraft noise, but that isn't much of an inconvenience.
YOU SHOULD STAY IN MONOLITHOS IF:
You want a quiet, friendly beach
You want a safe beach for the kids
You want to stay close to the airport
7. Pyrgos, Where to Stay in Santorini for Wine Lovers & Great Views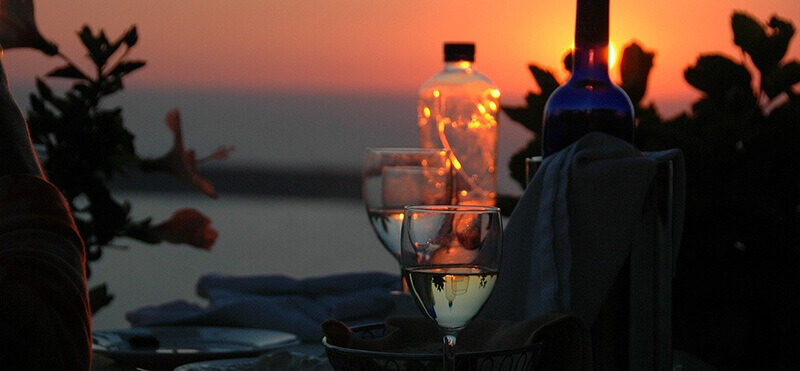 Pyrgos is a lovely little town in the center of Santorini that occupies the island's highest spot. You can enjoy fabulous views from here off to all quarters of Santorini.
The town is notable for its monastery at the top of the mountain. A climb up here to enjoy the atmosphere and fabulous views is a highlight of your stay in Santorini.
The surrounding countryside is peppered with vineyards, some of which offer tours to learn about Greece's classic retina wine production.
Pyrgos is definitely not a location for the party crowd. Instead, it suits people who want to throw themselves into traditional Greek island life and absorb a Greek Island village's wonderful atmosphere.
YOU SHOULD STAY IN PYRGOS IF:
You want to get away from the tourist crowds
You want great views of the whole island
You love wine
You want to stay in a central and pretty village
8. Akrotiri, Where to Stay in Santorini for Best Beaches & Views

Akrotiri is world-famous for its ancient Minoan ruins. Similar to Pompeii, a volcanic explosion destroyed this ancient settlement. Excavations have revealed a wealth of fascinating historical artifacts that have done much to inform us about this period of bronze-age history. A visit to the ancient city is a highlight of your stay in this area.
Akrotiri also looks out over the volcanic caldera bay enjoying the super views characteristic of Santorini. It is a quieter town down in Santoreini's southwest corner and is quite a long journey from the center of the island. There are a few restaurants and tavernas here, but not much in the way of nightlife. If you are a history lover who is happy to stay in quiet and evocative surroundings, Akrotiri is a great destination.
This part of the island has some great beaches, although they can be a little hard to get to, with some only accessible by boat. But don't let that stop you. Remember that this island has beaches of red, white, and black sand. You don't see that in many places, do you?
YOU SHOULD STAY IN AKROTIRI IF:
You want to explore the ancient ruins of Akrotiri
You want great beaches
You have your own transport
You want to stay in a small, pretty village
9. Kamari, Where to Stay in Santorini for Families
Kamari is a lively, family-friendly resort on the mid-east coast of Santorini. The pretty beach here has only coarse sand, but the waters are blue, the swimming is good, and it is a lovely place.
Kamari is convenient for trips to the main town of Fira since it is just a few kilometers and a short bus ride away.
There are good tourist facilities here and plenty of hotels, particularly in the budget to mid-range categories. You will find some good restaurants, but this place is a little quieter than more busy Perissa Beach to the South, so it is perfect for a relaxed family stay.
YOU SHOULD STAY IN KAMARI IF:
You're traveling with family
You want great swimming and don't mind a pebble beach
You want to be away from the busiest areas
10. Firostefani, Where to Stay in Santorini for Shopping, Nightlife, Solo Travelers
Firostefani is a popular choice with people who want to be close to the convenience, shopping, and nightlife of busy Fira but stay somewhere rather more tranquil and relaxed.
This village is just a 10-minute walk north of the main town. It is also a beautiful settlement of traditional white Greek buildings scattered around and over the cliff top's edge overlooking Santorini's iconic caldera bay.
As is the case for the whole of Santorini, you can expect to pay a premium for the cliffside accommodation, but rooms get cheaper a little way inland.
There are a few restaurants on hand but don't expect any bars. However, this shouldn't be a problem, given how close this settlement is to all the action of Fira, its bigger sister to the south.
YOU SHOULD STAY IN HERE IF:
You want somewhere central, but not too central
You want good restaurants but no bars
You want superb caldera views
Where is the Best Area To Stay In Santorini For Couples/Honeymoon?
Couples and honeymooners are looking for peace and tranquility in a superb scenic location. No problem, Santorini has the answer in Imerovigli. This quiet west coast community has one of the best sunset views on the island.

Imerovigli is also a peaceful place in the evening, with no bars and just a few top-class restaurants.
For an unforgettable romantic getaway, you should spend a little more and book a room for two in a classy cliff-edge hotel.
Where is the Best Area To Stay In Santorini On A Budget?
Fira has some costly and exclusive cliffside accommodation, but don't let that worry you. If you head to the east side of town, away from the viewpoint rooms, you will find some excellent budget hostels and guest houses.
Fira also has the largest number of shops, restaurants, bars and nightlife on the island, and local markets. It's the best place for budget shopping, eating, and drinking on Santorini.
This town also has excellent transport and lots of tour agencies, so you are sure to find activities and things to do that suit your budget.
Where is the Best Area To Stay In Santorini With Family?
Kamari is a friendly East Coast beach resort with great swimming and a low key, relaxed atmosphere. Since you are beside the beach, you don't have the dangerous clifftops of the west coast.
The hotels and guest houses here are well-equipped for families. Kamari is a quiet beach with not much in the way of nightlife, so you can rest assured that the kids will enjoy a peaceful sleep.
An alternative, if you are looking for somewhere slightly more lively, would be the busier but still family-friendly beach resort of Perissa.
Where is the Best Area To Stay In Santorini Without A Car?
Santorini has a pretty decent bus and public transport service, so it is, in fact, quite convenient to stay anywhere on the island without your own transport.
But, if you want to be close to all the bars, restaurants and nightlife, you should stay in or close to the main town, Fira. Similarly, if you are a beach lover and want to be a stone's throw away from those amazing black sands, then pick an East Coast resort, like Perissa.
But if you are happy to rely on public transport and trips and tours to explore the hidden corners of the island, then you can pick little really anywhere to stay on Santorini, and you're never too far away from anywhere else.
Where is the Best Area To Stay In Santorini With Friends?
If you are visiting Santorini with friends and want to eat and drink well and enjoy the island's night scene, you should stay in the main town of Fira. Here you can see the stunning sunsets over the volcanic caldera, shop in the markets and art-and-craft shops, and party the night away in the cluster of local bars and clubs.
If you and your group are looking for a beach holiday, then the busiest of Santorini's coastal towns is Perissa, and you should choose there as a base.
Where is the Best Area To Stay In Santorini In November?
In November, the weather in Santorini is best described as temperate. You can expect high-temperature averages of 19° Celsius, which drops to a low of 14° in the evening. So you probably need to pack long trousers and a sweater but don't worry about needing to wrap up any more than that.
By November, the Aegean has cooled down, and only the bravest choose to swim off Santorini's beaches at this time of year. For this reason, it is a good idea to choose somewhere to stay on the island's beautiful West Coast. since it is cooler it is the best time of year to explore the island's interior, so why not stay down in Akrotiri and immerse yourself in the stunning history of the ancient Minoan ruins there.
Where is the Best Area To Stay In Santorini In October?
October is an excellent time to visit Santorini. Daily average temperatures range from a warm and comfortable 23°C in the daytime to evening lows of 18°C. So it isn't too hot, and it definitely isn't too cold, perfect for getting out and exploring the sites.
There's good news if you are a beach lover because the Aegean Sea cools down more slowly than the land, and you will probably find that you can still swim in the waters off the island's beaches in October. So at this time of year, if you're a beach lover, then maybe stay in the busy Resort of Perissa and use this as a base for exploring the island.
Where is the Best Area To Stay In Santorini In April?
Many people agree that April is one of the best months of the year to visit Santorini. Sure, you don't get the super hot Mediterranean temperatures favored by sunbathers; they will probably choose to come in the peak months.
But if your goal is to experience Santorini at his springtime prettiest and do some hiking and exploring of this beautiful island, you can't pick a better time than April.
Room prices are also lower at this time of year, so you can find excellent value in some of the typically much more expensive areas. Perhaps stay in beautiful northern Oia and see if you can find a bargain clifftop villa or hotel and enjoy the spectacular sunsets directly from your window.
Where is the Best Area To Stay In Santorini In March?
In March, Santorini is beginning to warm up from the winter lows, and you can expect temperatures that range from 16°C during the daytime down to 11°C at night. So it's cool but not cold.
The beach isn't the main attraction of Santorini at this time of year, so you should aim to stay in one of the West Coast settlements and enjoy clifftop views of the island-filled bay.
Since things are quieter in March, it is good to stay in Fira, the usually busy main town. This way, you will ensure that there's plenty of bars, restaurants, and shopping right on your doorstep. Fira is also an excellent base for exploring the rest of the island.
Where is the Best Area To Stay In Santorini Solo Traveller?
If you are traveling to Santorini alone, and want to meet like-minded travelers, consider staying in a backpacker style hostel or guesthouse in the main town of Fira.
Alternatively, if Fira is a little too hectic for you, a good idea might be to choose the altogether calmer and quieter village of Firostefani. This place also enjoys the fabulous clifftop location of its busier counterpart 10-minutes walk to the south, yet allows you a peaceful and relaxed base that is also very convenient for all the tourist infrastructure.
Where is the Best Area To Stay In Santorini For Nightlife?
Despite all the tourism, at heart, Santorini is still a quiet and relaxed Greek island. So party-lovers, and anyone wanting the best choice of drinking, dining, and evening entertainment, should stay in the main town of Fira.
Whereas in some of the smaller settlements, things quieten down after sunset, Fira has an impressive number of places to let your hair down.
Here To Stay In Santorini For Sunset?
The West Coast caldera-rim towns of Fira, Oia, Imerovigli, and Firostefani all claim to offer the most beautiful sunset view over Santorini's crater bay.
Imerovigli and Oia, all the best choices though, Oia, I've been to the Northern end of the island, offers a sunset directly into the ocean for much of the year, rather than over the other Islands. At Imerovigli, the cliff is higher than other points on the coast, so you get an incredible crows-nest view over the geographical wonder that is Sanrtirini's sea-filled crater.
Where is the Best Area To Stay In Santorini For Best Views
Santorini's West Coast, from Oia in the North down to Akrotiri in the south, offers stunning clifftop vistas. A stay in one of the beautiful hotels or resorts that spill over the cliff edge is, if you can afford it, the best way to experience the island's exceptional views.
But just staying somewhere cheaper, away from the cliff edge, and sitting in a viewpoint bar or restaurant is another excellent way to experience the sights.
You could also consider the less busy but no less stunning Inland village of Pyrgos. This location is the highest point on the island, and if you walk up to the nearby mountain monastery, you are presented with astonishing 360° views.
Where Should I Stay In Santorini For The First Time?
When visiting a place for the first time, I always suggest staying somewhere central. That way you are close to everything that's happening, and you are well-placed for transport to discover the more remote areas.
So, you should pick the main town of Fira for your first visit to Santorini. This clifftop town and tourist center has postcard-perfect views from its clifftop setting. Fira also has the largest number of hotels and guesthouses on the island, so you're sure to find an excellent place to stay.
Fira also has lots of shopping, nightlife and great places to eat and drink. It's the perfect spot for a convenient and action-packed first trip to the island.
Conclusion
So there you have it, everything that you need to know about lovely, unique Santorini. Now you should have a perfect idea of the area or areas of the island that suit you best, so all you need to do is book your trip, and have a wonderful stay!
---
---