In this blog, I will help you to decide Where to stay in Santorini (for first time, without a car)? I'll also give you the the best areas to stay in Santorini for first-timers (include map and video) and best hotels in Santorini for all budgets (including the hotel where I stayed).
Santorini, also known as Thira, is a beautiful island located in the southern Aegean Sea and is part of Greece. It is famous for its stunning natural beauty, picturesque villages, unique architecture, and vibrant sunsets. 
Santorini is essentially the rim of a submerged volcano. The caldera, a large crater formed by a volcanic eruption, is one of its most iconic features. Many of the island's towns and villages are perched on the cliffs overlooking the caldera, providing breathtaking views.
Oia is a charming village known for its white-washed buildings with blue domes, narrow cobblestone streets, and incredible sunsets. It's a popular spot for tourists and photographers.
Fira is the capital of Santorini and offers a bustling atmosphere with numerous shops, restaurants, and nightlife options. It's also a great place to enjoy panoramic views of the caldera.
The Akrotiri archaeological site is often called the "Minoan Pompeii" because it was buried under volcanic ash during a massive eruption in the 17th century BC. Visitors can explore well-preserved ruins of an ancient Minoan city.
Santorini has unique beaches due to its volcanic nature. Some notable ones include Red Beach, Perissa Beach, and Kamari Beach. These beaches are known for their black or red sand and crystal-clear waters.
Santorini is famous for its wine production, particularly the Assyrtiko grape variety. You can take wine tours and visit local wineries to taste some of the island's excellent wines.
Santorini is renowned for its stunning sunsets, and there are many spots to enjoy this spectacle, including Oia and Fira. People gather at various locations to witness the sun sinking below the horizon, casting hues of orange, pink, and purple across the caldera.
The island offers delicious Greek cuisine with fresh seafood, local produce, and unique dishes. Don't forget to try some of the traditional dishes like fava, tomato fritters, and baklava.
You can take boat tours to visit the Nea Kameni and Palea Kameni islets within the caldera. Nea Kameni is still an active volcano, and you can hike to its crater.
Santorini is a popular tourist destination and is known for its romantic ambiance, making it a popular choice for honeymooners and couples. It offers a unique blend of natural beauty, history, culture, and gastronomy that attracts visitors from around the world.
Where to stay in Santorini first time?
The best areas to stay in Santorini for first-timers are Fira, Oia, Imerovigli, Firostefani, Akrotiri, Kamari, Megalochori, Karterados, Pyrgos, and Perissa. Each area has its own unique charm, so consider your preferences and priorities to choose the right area to book a hotel.
Fira and Oia are the overall best places for first-time tourists. Fira is the best area for those seeking easy access to transportation, vibrant nightlife, and budget-friendly hotels. Oia is best base for those seeking quieter, more relaxed, upscale location with luxury hotels and shops.
Both Fira and Oia are the most popular towns on the island. It is recommended to book a hotel in each town for few nights to experience the both areas.
Oia, Fira, and Perissa are the best areas to stay in Santorini without a car. They are walkable towns, with excellent connections to buses, making them great locations for car-free travelers. Fira has a cable car or donkeys that can help you travel between the port and the town.
Where did I stay in Santorini?
When I first visited Santorini, I stayed for 5 nights at the Tzekos Villas in Fira. The hotel had a great location close to the bus station. The view of the caldera was lovely. There were lots of steps but that was part of the experience. My room was very clean and spacious. Breakfast was good.
Map of the best areas and towns in Santorini for tourists:
🎬 You can watch this video about the best areas in Santorini, and continue reading:
How to get around Santorini without a car?
Santorini is a relatively small island, so getting around without a car is quite manageable, and it allows you to experience the island's unique charm and beauty.
Santorini is easily reachable by air and by sea. It has an international airport (Thira Airport) that receives direct flights from Athens or other major European cities. There are also high-speed and regular ferries from Athens (Piraeus) and other islands in the Cyclades.
Once in the island, you can get around by local buses, retal cars, taxis, ATVs (quad bikes), scooters, or on foot. Santorini has an extensive bus network that connects most villages on the island and it is cost-effective way to get around.
Best areas to stay in Santorini for first-time visitors are:
1. Fira
Fira is the best overall area to stay in Santorini for first-time travelers because it is the transport hub and the capital city of the island. Staying here allows you to be located within walking distance to many attractions, as well as many restaurants, bars, and shops.
Fira town is located only a 10-minute drive from the international airport and the main port in Santorini, Athinios port. If you arrive from the port, you can access the town by Cable Car that connects Fira with the Old port of Fira or you can go up by donkey!
Fira is one of four main towns in Santorini's West Coast that look over the spectacular volcanic, island-filled caldera. There are fantastic, beautiful, and very exclusive places to stay on the cliffside that look out over this stunning view.
As you would imagine, you will pay a premium for a clifftop location, but if you are prepared to head back away from the cliffside into the town, then you can find some good budget and mid-range accommodation too.
Fira is home to Santorini's thriving night scene, and there are scores of bars and restaurants to enjoy. Be sure to check out Koo Club and Enigma Club. This is also an excellent place to arrange trips, tours, and transport by land and sea to explore all of Santorini's sites and hidden corners.
Fira is also home to the most famous cultural institutes of the island such as the Folklore Museum, the Megaro Gyzi Museum, the Archaeological Museum, the Museum of Prehistoric Thera, Santozeum, and the Bellonio Cultural Center.
The Megaro Gyzi Museum is a 17th-century family mansion, located near the elegant Catholic cathedral. The Lignos Emmanuel Folklore Museum was an old winery, located in a cave house built in 1861 in Kontochori village;
The Santorini Archaeological Museum is one of the most important museums of Greece, situated close to the cable car, bus station, and Catholic Cathedral; and the Museum of Prehistoric Thira displays a collection of prehistoric artifacts, from the Neolithic to the Cycladic;
You can also find well-known religious sites and beautiful churches in Fira like the Orthodox Metropolitan Cathedral, Catholic Cathedral of Saint John the Baptist, and the Catholic Church of St. Stylianos on the walkway to Firostefani.
Fira offers beautiful sunset views, especially at the end of October and in November when the sun falls into the sea behind the Nea Kameni island. The best places to watch the sunset are from the promenade near the Orthodox Cathedral, as well as numerous cafes and restaurants, including the Café del Mar, PK Cocktail Bar, and Argo Restaurant.
Other things to do on Fira include Hike from Fira to Oia, along the caldera's edge with sweeping views over the volcano and the island; Go shopping at Ilias Lalaounis, Bazaar, Ammos, and The White Santorini; or you can also visit local wineries such as the Santos Winery and Santorini Brewing Company.
Fira offers good selections of hotels with caldera views but if you are on a budget, you can choose one of the many hotels not on the cliff's edge and not provide caldera views.
Stay in Fira if: you're first-timer; you want to experience the best volcano, caldera, and sunset views; you want a central location with well-connect public transport, you're traveling without a car; you want more of shopping, party, nightlife;
Best Places to Stay in Santorini in Fira:
luxury ($$$): Astro Palace Hotel & Suites this 5-star hotel is located just a short walk from Fira and the caldera which is great location for couples. There is a swimming pool, wellness centre, air-conditioned room, free wifi, and free private car parking.
mid-range ($$): Anteliz Suites This 3-star hotel is located on the hillside of Fira. It has an outdoor swimming pool with an open-air hydromassage tub.The hotel can help with car rental, wine tasting, boat trips to the Volcano.
budget ($): Loizos Stylish Residences Located just in a very short walk from Fira's Caldera volcano and sunset viewpoint. Couples can book rooms with sea views. You can find cafes, restaurants, art galleries, local supermarket, the bus station, banks nearby.
🔍MORE HOTELS IN FIRA
See Also: How Many Days in Santorini?
2. Oia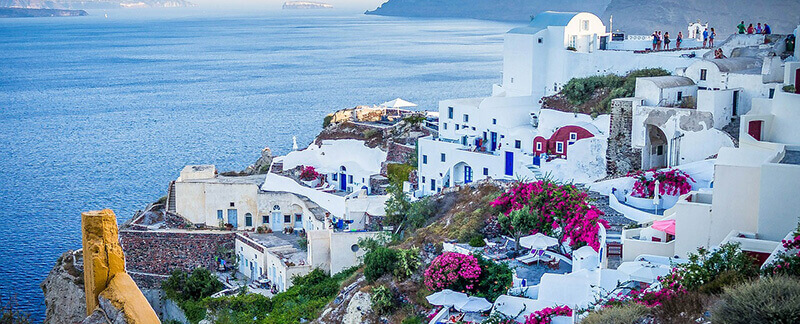 Oia along with Fira is one of the best places to stay in Santorini. While Fira is a convenient base for first-timers looking for easy access to public transportation and nightlife, Oia is the best location for couples, honeymooners looking for a romantic holiday.
Compared to Fira, Oia is a quieter, relaxed, and upscale location. It has beautiful sunset views, romantic restaurants, sweeping views, as well as luxury hotels and shops.
Oia is gorgeous west coast town full of traditional white buildings that spill over the cliffside and look out over Santorini's caldera bay. It has many blue-domed churches and narrow streets with plenty of tourist shops, romantic restaurants, and cafes.
Oia gets very busy with day-trip visitors during daylight hours, but it becomes a far more relaxed and exclusive habitat in the evenings. The beautiful sunset is one of the town's major draws, and it is a memorable sight to behold.
Oia has some eclectic and intriguing accommodation. You can stay in boutique hotels formed from the tiered cliffside houses. But remember that the cliffside is very steep, which might not be the right choice for family groups.
Besides its beautiful sunset, you can learn more about the naval history of the island at Maritime Museum in a 19th century Captain's Mansion. The Byzantine Museum of music instruments displays Greek musical instruments from prehistoric times.
The Greek Orthodox church Panagia Platsani Church is the most famous and impressive church in Oia, located on the main square, in the heart of the village. It was rebuilt after an earthquake in 1956 from the original church within the walls of the Venetian Castle of Oia.
The most photographed blue domes churches in Santorini are located in Oia and are the churches of Agios Spiridonas (Saint Spyridon) and Anasteseos (the Church of the Resurrection). They are both located at the edge of the cliffs right next to one another.
The Castle of Agios Nikolaos (St. Nicolas Kastro) is the most popular spot to see the sunset in Oia. It's also a perfect place to take photos of the Ammoudi bay below and windmills.
There are attractions like the Captains' Houses-the beautiful mansions which are decorated with red volcanic rock in the Sideri area and famous Cave Houses, which are now a little shop or a traditional style hotel.
Walking around Oia, exploring the paths, alleys, and stairwells, you can walk down to the charming fishing port of Ammoudi Bay to see cave houses, to Armeni Bay to see a small cove with only a few houses, or hike to Imerovigli and Fira.
The hotels and villas on the caldera side tend to be mid-range to high-end places. More budget-friendly accommodation can be found away from the cliffside, and of course, the stunning view. Oia has some excellent traditional restaurants, but not much in the way of bars.
Stay in Oia if you are couples; you want quieter location than Fira with fabulous sunset views; you want more of high-end shopping and luxury hotel; you visit Santorini in April;
Best Places to stay in Santorini in Oia:
luxury ($$$): La Perla Villas and Suites LLocated in the heart of the Caldera, in Oia, with stunning ocean views. Couples can enjoy romantic meal at onsite restaurant which overlooks the famous caldera and volcano. There are also outdoor swimming pool, and pool bar.
mid-range ($$): Charisma Suites Beautiful location, particularly like by couples, this Cycladic-style hotel has whitewashed walls rooms, an outdoor pool, a snack bar, and terrace with the Caldera and the Aegean Sea views.
budget ($): White Side Suites Located in Oia district, this accommodation has unit with air-conditioning, tiled floors, a private bathroom, wardrobe, kitchenette, and balcony. The hotel an help with car rental.
🔍MORE HOTELS IN OIA
See more:
3. Imerovigli
Imerovigli, aslo known as The balcony to the Aegean, is a small community about a 20-minute walk north capital of Fira. It is the best place for couples, honeymooners or anyone who wants to be reasonably close to all of the busy Central town facilities and enjoy seclusion and privacy.
Located close to both Fira and Oia with breathtaking sunset and caldera views but Imerovigli is more quiet and peaceful than the busy towns Fira and Oia. It's really for a relaxing holiday!
The best thing about this destination is the fabulous sunset view of the caldera bay and Aegean Sea. There is some contention over which of Santorini's clifftop towns enjoys the best sunset view, but many agree that Imerovigli is the standout option.
Imerovigli is paved with photo opportunities every you go. Some of the most instagrammable spots are the Stairway of Chromata Hotel, Anastasi Church with the bell, the gate, the dome, the roof in front of Alexander Suites, Grace Hotel and Skaros Rock, the stairway close to Nefelis Homes.
The village is also close to Skaros. The Venetian fortress of Skaros is a popular destination for visitors to the island. It was the most important of the five fortified settlements in Santorini. Located near the port of Andres is the Church of Panagia Theoskepasti. The scenic 9km long Ekklisia Theoskepasti hiking trail is a great way to see the best of what Santorini has to offer.
There are decent cafés, restaurants, and bars for authentic local dishes, and wine, but nothing in the way of nightlife, you will have to travel into the Fira for that. Like all of the West coast clifftop towns, you will need to travel across the island to get to a beach, but honestly, with a view like that, who cares?
Other things to do in Imerovigli are visiting the Santorini Wine Museum, visit the Art Space Winery, watch the sunset at the front of Agios Georgics church, Blue Note and Mezzo restaurants.
Stay in Imerovigli if you want the best sunset views on Santorini; you're a couple, or on a honeymoon holiday; you travel as family; you want a quiet and relaxing holiday;
Best Places to Stay in Santorini in Imerovigli:
luxury ($$$): West East Suites Located in Imerovigli villages, offers magical views of the caldera or the Aegean Sea. Couple will love the beautiful sunset from its on-site restaurant, the bar or the heated, infinity pool. Fira and Santorini Airport is just a short ride a way.
mid-range ($): San Antonio – Small Luxury Hotels of the World Located in a secluded area in Imerovigli, this hotel has a spa and an infinity pool. Enjoy meal and drinks at San Antonio's restaurant and The Sun Lounge Bar. All suites are romantically veranda with the Caldera view.
budget ($$): Luna Rossa Located in Imerovigli, this hotel offers car hire and laundry services. Of course, there is unobstructed views over the Aegean Sea. Each studios and apartments have a kitchenette, a bathroom, and outdoor hot tub in some rooms.
🔍MORE HOTELS IN IMEROVIGLI
4. Firostefani
Located right above the Fira, Firostefani can be translated as The Crown of Fira (Fira + Stefani). It is a popular choice with people who want to be close to the convenience, shopping, and nightlife of busy Fira but stay somewhere rather more tranquil and relaxed.
This village is just a 10-minute walk north of the capital, fira. It is also a beautiful settlement of traditional white Greek buildings scattered around and over the cliff top's edge overlooking Santorini's iconic caldera bay.
As is the case for the whole of Santorini, you can expect to pay a premium for the cliffside accommodation, but rooms get cheaper a little way inland. There are a cafes, restaurants and bars but the choice is less diverse than in Fira. However, this shouldn't be a problem, given how close this settlement is to all the action of Fira, its bigger sister to the south.
Within short distance from Firostefani, you can find the Saint Nikolaos Monastery, a folklore museum, and ecclesiastical museum.
Stay in Firostefani if you want somewhere central, but not too central; you want good restaurants but no bars; you want superb caldera view; you're traveling on a budget; you'are couples;
Best Places to Stay in Firostefani:
luxury ($$$): Sun Rocks Boutique Hotel Conveniently located in Firostefani, this 5-star hotel provides a a cliff-side pool with a lounge-bar and a poolside restaurant. You can enjoy meal at the romantic Aquaz Restaurant.
budget ($): Ira Hotel & Spa Located on the slopes of Santorini's caldera in Firostefani, within walking distance of Fira, this hotel has spa centre, a restaurant and a swimming pool. You can choose to stay at caldera-view rooms and suites. Staff will help you with car rentals, shuttle service and cruises on Santorini.
budget ($): Remvi Suites Set in Firostefani, this hotel offers srunning views to the volcano, the caldera and the Aegean Sea. You can try local cuisine at the on-site Cafe-Restaurant Remvi. Enjoy breakfast with the volcano views.
🔍MORE HOTELS IN FIROSTEFANI
5. Kamari
Kamari is located on the mid-east coast of Santorini, at the north of Mesa Vouno mountain. It has a very convenient location, only 15 minutes from the capital Fira and 10 minutes from the Santorini Airport. It is just a short bus ride away.
Kamari is a beautiful beach resort, best for family beach holiday, it's not on the caldera side of Santorini, so if you want spectacular caldera views, it is better to head to Oia and Fira.
Kamari is a lively and family-friendly resort. Kamari Beach is a little quieter than more busy Perissa Beach to the South, so it is perfect for a relaxed family stay.
Kamari beach is a Blue Flag beach with black sand and crystal clear blue water. There are water sports, lifeguards, sun loungers, and tavernas around the beach.
There are good tourist facilities such as restaurants, supermarkets, dive shops, and souvenir shops, as well as plenty of hotels, particularly in the budget to mid-range categories.
You can view the collection of arts and sculptures at Gabbiano Nero Sculpture and Art; and wine lovers can take a look at Gaia Winery and Donkey Brewery.
Stay in Kamari if: you're family; you want a beach holidat; you want to be away from the busiest areas of Fira, close to the airport;
Best places to stay in Santorini in Kamari:
Luxury ($$$): Santorini Kastelli Resort Located in a secluded area, short distance from Kamari beach and ruins of Ancient Thira. This 5-star resort offers 2 swimming pools, a spa, a poolside restaurant. Guest can relax in hotel's spa facilities.
mid-range ($$): Hermes Hotel Located only 200m from Kamari Beach, this 4-star hotel offers some units with balcony and the Aegean Sea. Enjoy Greek and Mediterranean cusines at its on-site restaurant.
budget ($): Alexandra Hotel Very close to Kamari Beach, this hotel has a pool with terrace, sun bedsa, and grass umbrellas. There is 24-hour front desk and private car parking.
🔍MORE HOTELS IN KARAMI
6. Perissa
Perissa is located on the southeast coast of the island, 13km from Fira. Like most of the beaches on Santorini, the sand here is black due to the island's volcanic origins. In fact, some of the volcanic pumice rocks even float!
The beach is deep, with dark blue waters and black lava sand. This Blue Flag is fully organized with beach facilities like lifeguards, umbrellas, sunbeds, beach bars, a playground, plenty of water sports facilities.
On the top of Mesa Vouno mountain, you will find the ruins of Ancient Thera town and breathtaking views of Kamari and Perissa villages. There is the white-washed chapel of Panagia Katefiani on the slope of the mountain, and the Basilica of Agia Irini at the foot of the mountain.
The Museum of The Minerals and Fossils of Thera is an impressive museum, founded in 2006. Nearby, you will find the Church of the Holy Cross is of the largest churches in Santorini.
There are many restaurants and a few bars here, and after Fira, this is probably the liveliest night scene on Santorini. So Perissa is a good choice for all travelers who want a well-developed tourist center's comfort and entertainment.
If you are a seafood lover, you will enjoy the quality restaurants here that serve delicious menus prepared from The Catch of the Day.
Perivolos is an extension of Perissa Beach. This seaside village has become popular with the younger generation. While it is not very large, it is a lively place with bars playing music and restaurants that serve local specialties that are well worth trying.
The bars that are found close to the beach are well-patronized while DJs and performers head to the swimming pools to entertain the youngsters. The nice promenade attracts crowds with the atmosphere it helps to create day and night one of the village's attractions.
Perivolos Beach has black sand, with sunbeds, umbrellas, showers, and lifeguards, as well as water sports facilities.
Perissa is still a lovely Aegean beach-side resort with a large selection of mainly mid-range to more expensive hotels, all with excellent facilities.
Stay in Perissa if: you want a lovely (black) sand beach; you want budget-friendly accommodation, lower price than in the areas with caldera views; you want high-class restaurant and upscale beach clubs; you visit Santorini in June, July, August or September;
Best places to stay in Perissa:
Luxury ($$$): Antoperla Luxury Hotel & Spa Located 100m from the back sandy beach of Perissa, the 5-star has an on-sire Mediterranean restaurant and a poolside bar. There is a spa centre with sauna, hammam and hot tub to relax.
mid-range ($$): Margarenia Studios Located on both Perissa and Perivolos, this is a self catering accommodation with free car parking, traditional Cycladic style studios and apartments. You can enjoy family atmosphere and friendly Greek hospitality.
budget ($): Roula Villa Studios & Apartments Located very close to 7 kilometres long beach Perissa Beach, this Bed & breakfast offers rental services There is also a local bus stop nearby linking with the other Santorini's towns.
🔍MORE HOTELS IN PERISSA
7. Megalochori
Megalochori is a charming historic village that date back 17th century. This village has the charming white-painted architecture characteristic of the Greek Islands.
Located 9 km from Fira and 7 km from Santorini Airport, it is an excellent, central, low-key destination for those looking to get away from the tourist crowds. It is very convenient for all of the island's major sites and activities due to its central location.
Megalochori Square is the heart of the village. it is surrounded with traditional cafes, taverns, restaurants, and a popular place for locals play backgammon.
If you stroll along cobbled paths in the village, you will see neoclassical and old cave houses, as well as Symposion by La Ponta cultural center, and a couple of churches like the chapel of Agios Nikolaos on the caldera cliffs, offering stunning sunset views.
Megalochori is a place to experience the rich wine tradition. It has three of the most important wineries such as Boutari Winery, Gavalas Winery, and Antoniou Winery, where you can learn about the production and history of wine-making and try unique volcanic wine varieties.
Below Megalochori village, you will see Thermi Beach and Plaka Beach, which are beautiful volcanic, quiet, isolated beach inside the caldera.
There are a few hotels and good value guesthouses and some beautiful private villa rentals that provide an intriguing high-end option for people comfortable fending for themselves.
Stay in Megalochori if you travel on a budget; you are couples; you love wine and volcano views; you plan to rent a car to explore the island;
Best Places to Stay in Santorini in Megalochori:
budget ($): Grand View – Megalochori Santorini Located on the edge of the Caldera Cliff, near Megalochori Village, this three star hotel has a spacious terrace with views of the volcano and Aegean Sea. It is located within a short distance by foot and car from local restaurants and wineries, the famous black beaches and red beach, as well as the picturesque town of Fira.
budget ($): Alti Santorini Suites Located close to Island's main port and Perivolos Beach, this property offers panoramic views over the Caldera and the Aegean Sea. It has heated plunge pools with hydromassage facilities. The hotel can arrange ticket services, car hiring and bike rentals.
budget ($): May Seven Suites – Adults Only This guest house is located in Megalokhori, close the Thermes Beach and Santorini Port. It offers paid airport shuttle service and a free private parking for guests who drive.
🔍MORE HOTELS IN MEGALOCHORI
8. Pyrgos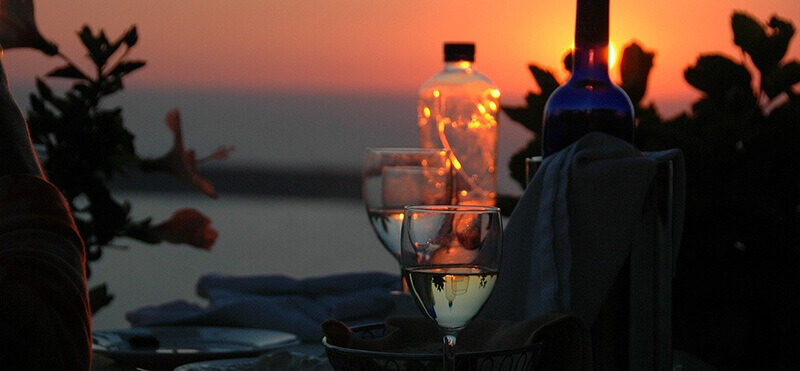 Pyrgos is a lovely little town in the center of Santorini, located on the west coast, 8 kilometers southeast of the island's capital, Fira, and 6km from Santorini's international airport.
Pyrgos was once the capital of Santorini. Located on the island's highest spot, you can enjoy fabulous views and the sunset from here, even views of Profitis Elias Mountain.
The town is notable for its monastery at the top of the mountain. A climb up here to enjoy the atmosphere and fabulous views is a highlight of your stay in Santorini.
Pyrgos is home to many blue domed churches, Santorini Museum of the Past, whitewashed cave houses, and one of island's 5 medieval castles. If you wander around ots medieval streets, you can soak up the authentic vibe.
The surrounding countryside is peppered with vineyards, some of which offer tours to learn about Greece's classic retina wine production. Santo Winery offers wine tasting and Santorini volcano view. Venetsanos and Flora's House & Cave Winery are also worth noting.
Pyrgos is definitely not a location for the party crowd. Instead, it suits people who want to throw themselves into traditional Greek island life and absorb a traditional Greek Island village's wonderful atmosphere.
Stay in Pyrgos if: you want local village but still close to big town like Fira; you want to get away from the tourist crowds; you want great views of the whole island, you love wine, you want to stay in a central and pretty village.
Best places to stay in Pyrgos:
Boutique Hotel Anagennisis This boutique hotel is located right in the centre of Pyrgos, an a short drive by car from Kaiafa Lake and Archaeological Museum of Olympia. Guest can enjoy Mediterranean or Greek traditional in its on-site restaurant.
Hotel Olympos Located in the centre of Pyrgos, this hotel has offers air-conditioned rooms, a café-bar, and free wifi. It is only a short drive by car from famous archaeological site of Ancient Olympia and the sandy beach of Kastro Kyllinis.
🔍MORE HOTELS IN PYRGOS
9. Akrotiri

Akrotiri is famous for its Minoan ruins of Ancient Akrotiri. Similar to Pompeii, a volcanic explosion destroyed this ancient settlement. Excavations have revealed a wealth of fascinating historical artifacts that have done much to inform us about this period of bronze-age history.
You can reach the ruins by taking regular buses from Fira to the Akrotiri Red Beach's car park, and then walk to the archaeological site.
Akrotiri also looks out over the volcanic caldera bay enjoying the super views characteristic of Santorini. It is a quieter town down in Santoreini's southwest corner and is quite a long journey from the center of the island.
There are a few restaurants and tavernas here, but not much in the way of nightlife. If you are a history lover who is happy to stay in quiet and evocative surroundings, Akrotiri is a great destination.
This part of the island has some great beaches, although they can be a little hard to get to, with some only accessible by boat. Remember that this island has beaches of red, white, and black sand such as Perivolas beach, Vlichada beach, and Red Beach.
Stay in Akrotiri if you pland to get a car or a motorbike to explore the island; you want to stay in a small, pretty village; you're looking for the best place to stay in Santorini in November.
Best places to stay in Ssantorini in Akrotiri:
luxury ($$$): Ambassador Aegean Luxury Hotel & Suites Located 5km from Fira, this 5-star hotel offers panoramic views of the volcano and the Aegean Sea. You can enjoy Greek and Mediterranean dishes at its restaurant.
mid-range ($): Apanemo Hotel & Suites This traditional village-style apartment is located in Akrotiri close to the archaeological town and near to the famous red beach. It's facing the Caldera, the volcano and the deep blue Aegean Sea. There is swimming pool and a children's pool, as well as private parking.
budget ($): Akrotiri Hotel Located in a waterfront location in Akrotiri beach, this hotel is also close to Santorini's famous Red Beach and the archaeological site. The hotel can help with car rental and arranges excursions and tours
🔍MORE HOTELS IN AKROTIRI
10. Karterados
Located 2 km from Fira, this Mediterranean inland village had its first settlers in the 17th century, at least that is the age of the cave houses visitors can see there.
Today, it is a typical Greek village with whitewashed buildings. They include St. Mary's Church with its distinctive red dome while the Church of Ascension and its tower like steeple also stands out.
The streets are worth exploring. They include tavernas and eateries, and some stylish boutiques. There are many narrow streets around the village that are filled with traditional Cycladic buildings and cave houses built into the rocks.
The main square is where you will find a restored windmill while the best accommodation with lovely spas looks down from the clifftop. It includes villas, apartments, and hotels. Sunsets are especially impressive from there.
You can also find rental car, ATM, bakeries, supermarkets, and cafe. You can aslo find black sand beach such as Karterados Beach or Exo Gialos beach which provides quite a contrast to the clear blue water.
Best places to stay in Karterados:
Villa Manos Hotel This family-run complex offers a stone-paved sun terrace with sea view, and an outdoor swimming pool, within a very short distance from Santorini Airport, and Ormos Athinios Port. The hotel also offers a paid shuttle service.
Pension George This guest house is set in Karterados, within 15minutes walking to Fira, you can get the help from the hotel for ticket service, guided island tours and car or bike rentals.
🔍MORE HOTELS IN KARTERADOS
11. Monolithos
Located in east coast of Santorini, 9km from the capital Fira, Monolithos is a smaller east coast beach resort with a pretty beach noted as an excellent place for families since the waters are shallow and safe for kids.
Close to Kamari Beach but it is less crowded. Beach has crystal clear waters and black sand. There are sunbeds, umbrellas and a lifeguard. You can try traditional dishes at its nearby cafes, bars, taverns and restaurants.
There is a good choice of accommodation here, and a few local restaurants and tavernas. But if you're looking for a busy, bustling beach resort, then there are better choices on the island. But if you want a village, relaxed, family-friendly location, this might be the choice for you.
Here you can see National Airport and the old Tomato Canning Factory. It is right next to Santorini's airport, and this is convenient for travel. There is a little aircraft noise, but that isn't much of an inconvenience.
Stay in Monolithos if you want a quiet, friendly beach, you want a safe beach for the kids; you want to stay close to the airport.
Best places to stay in Santorini in Monolithos:
Memories Beach Hotel Located in the quiet area of Monolithos, on the south east coastline of Santorini, this hotel has a swimming pool, a free private parking, rooms with air conditioning, and bathroom amenities.
DL Santorini Located in Monolithos, this hotel has an on-site restaurant, free private car parking, free bikes and a bar. The accommodation is located close to Karterados Beach, Kamari Beach, Santorini International Airport.
🔍MORE HOTELS IN MONOLITHOS
Where should I stay in Santorini for the first time?
Fira is the best area to stay in Santorini for the first time because it is a transport hub of island with lively nightlife, and a wide choices of restaurants, bars, shops, and accommodations.
Is it better to stay in Oia or Fira?
Fira is the best base for first-timers seeking best connected buses, vibrant nightlife, and more affordable accommodation options. Oia is the best location for couples and those seeking a quieter, relaxed, luxury hotels, and romantic restaurants.
See more:
In conclusion, Fira, Oia, Imerovigli, Firostefani, Akrotiri, Kamari, Megalochori, Karterados, Pyrgos, and Perissa are the best places to stay in Santorini for first-time visitors. Fira and Oia stand out for their stunning caldera views and vibrant atmosphere.
Imerovigli, Firostefani, and Akrotiri provide a quieter experience with breathtaking vistas. Kamari and Perissa charm with their black sand beaches, while Megalochori, Karterados, and Pyrgos offer a taste of traditional Greek village life.