In this blog, I will help you to find Where to stay in Zakynthos (for first time, without a car, for nightlife, families, and couples). I'll also give you the best areas in Zakynthos for tourists (include map and video), and the best hotels Zakynthos for all budget travelers.
Zakynthos, also known as Zante, is a beautiful Greek island located in the Ionian Sea, off the west coast of mainland Greece. It is the third-largest of the Ionian Islands and is known for its stunning landscapes, crystal-clear waters, and vibrant nightlife.
It is a well-established hotspot for both family vacations and exciting party breaks. From the clubs of Laganas, to the white cliffs of Keri, Zakynthos has earned its place as one of the top tourist destinations in Greece. The south of the island is most popular with tourists.
The most common way to reach Zakynthos is by flying into Zakynthos International Airport (aka Dionysios Solomos Airport). Once you arrive at the airport, you can rent a car, take a taxi, or use public transportation to get to your accommodation.
If you prefer a more scenic journey, you can take a ferry from the mainland or other islands like Kefalonia. The ferry ride provides stunning views of the Ionian Sea and can be a great experience. However, ferry schedules and availability may vary, so it's essential to check in advance.
Zakynthos is a relatively small island, making it easy to explore. Some ways to get around the island are car rental, scooters and ATVs for short distances, bus (affordable option, but they might not be as frequent or flexible as renting a vehicle), boat tours, and taxis.
Renting a car is a popular option and provides the most flexibility to explore the island at your own pace. You can find several car rental agencies at the airport and in major towns.
Where to stay in Zakynthos?
The best areas to stay in Zakynthos are Zakynthos Town, Laganas, Kalamaki, Vasilikos, Argassi, Alykanas, and Psarou. These are popular and safe places for families, couples, solo travelers, offering a wide variety of attractions and amenities.
Zakynthos Town, the capital city, is the best overall place for first-time visitors due to its central location, excellent connections to public transportation, easy access to attractions and tourist amenities. Staying here offers short walk to many attractions, restaurants, bars, and shops.
Zakynthos Town is the best area to stay in Zakynthos without a car due to its walkablity and excellent connection to public transportation. It is transport hub of the island, home to the main bus terminal, making it a great base to explore the island without hiring a car.
Mean while, party animals, who want lively nighlife, will almost definitely want to head to Laganas, the island's primary party town. The main Laganas Road is lined with popular clubs, whilst the long beach, with its waterfront bars and cafes, is perfect for relaxing in the sun.
Map of areas and towns in Zakynthos:
The Best areas to stay in Zakynthos for tourists are:
1. Zakynthos Town – best overall area to stay in Zakynthos first-timers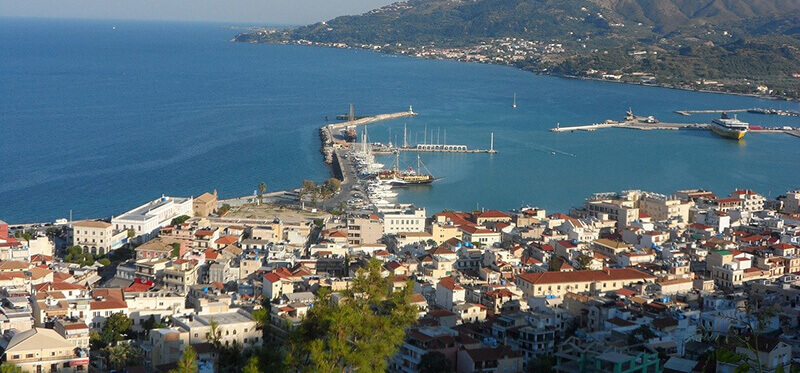 Zakynthos Town is the best overall area to stay in Zakynthos for first-time travelers because it is the capital city and transport hub of the city, offering widest selection of accommodations, restaurants, bars, and shops.
Zakynthos Town, also known as Chora, or Zante Town, is a city with something for everyone. It is the main port and largest urban area on the island, situated on the island's eastern coast, at the base of Bochali Hill.
The city of Zakynthos was destroyed by the catastrophic earthquake in 1953, and after that, it was reconstructed into a modern city with the traditional Venetian Style.
There are several historical sites within the local area, including the remains of a Venetian castle in the north. There are also multiple museums nearby, providing insights into the history and culture of the island.
Explore the medieval Saint Markos Square with the Museum of Dionysios Solomos that shows personal items of Dionysios Solomos and many of his handwriting, Andreas Kalvos tombs, and the Catholic Church of St Mark.
From Saint Mark square, you take a stroll along pedestrian-only Alexandros Romas street and 21st Maiou Street where you can find many restaurants and souvenir shops.
The Dionysios Solomos Square is home to a statue of the famous Greek poet Dionysios Solomos, as well as a lot of shops, restaurants, and bars.
It is also surrounded by famous building such as the Byzantine Museum of Zakynthos, Public Library in the Cultural Center, Town Hall of Zakynthos, and the statue of Ugo Foskolo.
Zante Town is home to many churches, so while having your walking tour around town, such as:
Take a ride on the Tourist Train of Zante Town, which has daily guides that start from Solomos Square to the most famous sights of the town, and reach Argasi resort. It's the best way to see the town while enjoying the fun.
The historical place of Strani Hill is worth a visit too. It's about 30 minutes walking from Solomos Square. You can do this in a day with a trip to Venetian Castle in Bohali Hill with numerous restaurants and cafe bars with an impressive view over the city and the port.
In addition to the Saint Mark and Solomos squares, the city is home to 1.5 kilometer-long seafront promenade where you can fine many snack bars, restaurants, traditional taverns, and roof gardens.
You can take a stroll along the seafront promenade and admire the sea and visit attractions such as Monastery of Strofades and the Church Agios Nikolaos of Molos.
Apart from history and culture, you can find urban-style beaches in Zante town such as a small, pebbly Agia Triada Beach, while Porto Zorro Beach, Banana Beach, and Laganas Beach are a short drive by car from the city.
If you are visiting for just a few days, the city makes for a very convenient base, with plenty to see in the immediate area as well as plentiful connections to the rest of the island. The main bus terminal on Zakynthos is in the town, so if you are not intending to hire a car but would like to explore the rest of the island, Zakynthos Town would be a great option.
The town is home to the main port of the island, with routes connecting Zakynthos to both mainland Greece and Italy. If you are traveling in or out of the island by ferry, there is a wide range of accommodation right here near the port for your convenience.
Zakynthos Town has a vibrant nightlife. There are enough restaurants, disco bars, pubs, and night clubs for you to enjoy a night out. If you are interested in its lively nightlife, why not check out the Base and Avant Garde bars.
Zakynthos Town offers plenty of accommodation options ranging from budget backpacker hostels to 5-star luxury hotels. There are always something for everyone include brand hotels, villas, studies, and simple guest houses.
Stay in Zakynthos Town if you are first-timers; you are staying for a shorter trip, you are traveling to or from the island by boat; you travel without a car and want to have easy access to attractions.
Best places to stay in Zakynthos Town for first-time visitors:
🔍MORE HOTEL DEALS IN ZAKYNTHOS TOWN
Read also about Greece: Best areas to Stay in Lefkada
2. Laganas – where to stay in Zakynthos for nightlife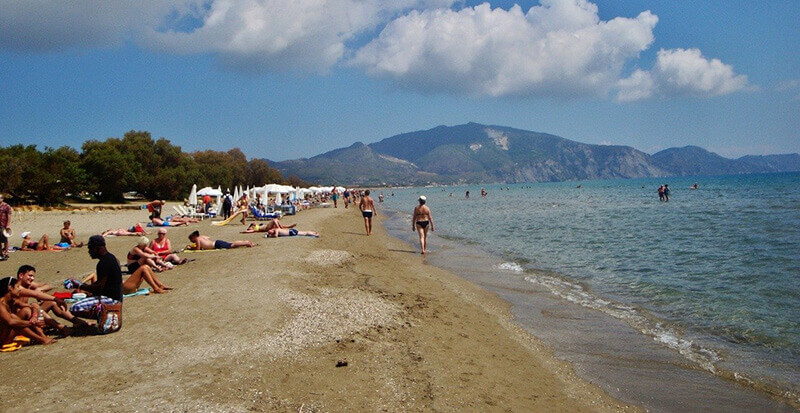 Laganas is a popular beach resort town in the south of the island, attracting both youngsters and families. It's the primary hotspot for Zakynthos' famous nightlife scene, largely centered around the main Laganas Road, also known as the Laganas Strip.
Laganas Strip is filled with a number of popular clubs, bars, late-night restaurants, and fast-food establishments. It gets incredibly busy in the evenings through the party season from June to September. If you are not a fan of crowds, it is best avoided during the summer, particularly at night.
There is a range of accommodation available along the strip, so if the party scene is your primary reason for visiting Zakynthos, you can stay just a few steps from the heart of the action. No need to worry about getting lost on a long walk home after a night out.
If clubs are not your preference, there are plenty of bars and tavernas away from the busy strip. Particularly along the waterfront, you can find a wide selection of cocktail bars and restaurants that provide the venues for relaxed evenings of wining and dining by the sea.
During the day you can spend your time relaxing on the long sandy Laganas beach with crystal clear, warm, and shallow water. It is a 9km beach and is safe place for children.
Laganas beach is always a popular place from May to October. Serviced by a number of cafes and beach bars, as well as several mini-marts, umbrellas, and sunbeds.
You can visit a private Cameo Island, also known as Agios Sostis island, via a wooden bridge to enjoy swimming or grab a drink at its beach bar. There is also option to hire a boat to an islet part of Laganas Bay, Marathonissi island.
There are several diving schools operating here, or boat tours available along the beach if you want to explore the crystal-clear waters off the beach. There are also escape rooms and various tour companies operating in the area to keep you entertained throughout your stay.
Laganas beach is also known as a place where you can see Caretta-Caretta turtles lay their eggs, and being a part of the National Maritime Park of Zakynthos.
Laganas can be reachd by daily buses from popular Zakynthos Town and Kalamaki. It is easily accessible by cars, motorbikes, and jeeps.
As a popular beach destination on the island, Laganas has a wide variety of accommdation options for all budget travelers. There are hotels, studios, apartment, and camping options to choose from.
Stay in Laganas if You want lively nightlife; You don't mind crowds and rowdy party-goers; you travel as a couple; Comfortable beaches with plenty of amenities are a priority.
Best places to stay Zankynthos in Laganas for first-timers:
🔍MORE HOTEL DEALS IN LAGANAS
3. Kalamaki – where to stay in Zante for families
Kalamaki is one of the most popular family resort towns on the island, conveniently located between Zante Town and Laganas. Quieter than neighboring Laganas, Kalamaki is no less full of convenient tourist amenities to provide you with everything you could need for a relaxing vacation.
Kalamaki Main Road is lined with cocktail bars, tavernas, karaoke shop, and a variety of restaurants that are sure to have something to appeal to every taste.
The town is also home to many shops, supermarkets, and souvenirs stores. You can find useful information at its Information Centre.
The main draw to the area is the sprawling Kalamaki Beach that stretches all the way to Laganas beach in the west. The uninterrupted expanse of soft sandy beaches against shallow waters makes for a perfect location for families with young children to relax and play.
Some restrictions are in place, particularly at the east end of the beach, to protect the local population of Caretta Caretta sea turtles, so there is no water sport or boat trip available here. However, the crystal-clear waters mean it is perfectly likely you will be able to spot some turtles swimming about in the water with you.
In addition to the beach, there are several facilities in the area to keep children entertained. The Caretta Fun Park Centre and Kalamaki Mini Golf course are just two of the options available for keeping young ones busy.
There is a wide variety of mid-range and affordable accommodation here. Though you won't find anything along the beach, due to the protected status of the waterfront, hotels further up in the hills still offer some beautiful Ionian sea views.
Stay in Kalamaki if You are visiting with family and children; You want the opportunity to see the island's turtles in the wild; Access to a big, beautiful beach is a must; You want to stay near the airport.
Best Places to Stay in Zakynthos in Kalamaki for first-time tourists:
🔍MORE HOTEL DEALS IN KALAMAKI
4. Vasilikos – where to stay in Zakynthos for best beaches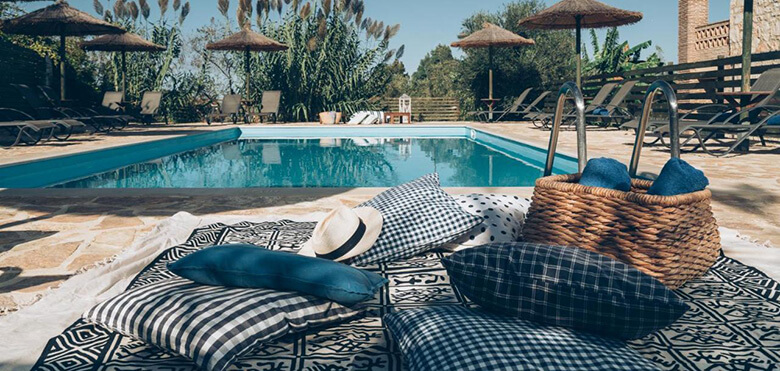 If you want to stay on one of the most beautiful beaches on Zakynthos, the Vasilikos peninsula is a good base. Vasilikos peninsula is the endpoint of Zakynthos' south-eastern peninsula. Removed from the larger resorts along the main bay, it has a small-town atmosphere that is perfect for laid-back family vacations.
The beaches here are smaller than those of Laganas or Kalamaki, but there are more to choose from, and all are fully equipped with sun loungers and amenities, such as beach bars and minimarts. The beaches are generally less crowded too, so their smaller size doesn't compromise their comfort.
If you are interested in Zakynthos' population of endangered Caretta Caretta sea turtles, head to the south end of the town to the Zakynthos Sea Turtle Rescue & Information Centre.
Here the whole family can learn about the turtles, as well as conservation efforts and the environmental challenges that threaten them. The attached gift shop is a great place to pick up turtle-related souvenirs.
The nearby Gerakas Beach is a popular spot with both humans and turtles. Spend an afternoon swimming around here and you have a good chance of sharing the water with the turtles.
However, to protect the turtles, there are no water sports available here. On the Dafni beach and Gerakas beach from late July to September, you can see the hatching of eggs.
If you are looking for a more active day at the beach, head to one of the beaches along the north of the peninsula, such as Banana Beach, Mavratzi Beach, Paralia Geraka, and St Nicholas Beach.
Other beaches nearby are Porto Kaminia, Porto Zoro, Porto Roma, and Plaka. Try the clay baths near Porto Zorro (Azzurro) and St. Nicholas beach, it will make your skin smoother and softer.
You can also have a chance to see Monk Seal while swimming in Vasilikos beaches, or in Porto Roma, close to Ákra Kalogkéra. Another thing to do nearby is visit the monastery of Panagia Skopiotissa in Mount Skopos, and enjoy extensive views of the entire island from its top.
In addition to its natural beauty and tranquillity, Vassilikos has many amenities for tourists such as restaurants, bars, super markets, groceries, and gift-shops. These are concentrated along the main road. Bars here are small and quiet, offering relaxed vibes.
Vasilikos is the best place to stay if you want to surround by the most beautiful beaches, you are interested in learning about the island's population of Caretta Caretta turtles, you are visiting for a family vacation, you want a smaller resort town away from the busy main bay.
Best Places to Stay in Vasilikos peninsula for first-timers:
🔍MORE HOTEL DEALS IN VASILIKOS
See more:
5. Argassi – where to stay in Zakynthos on a budget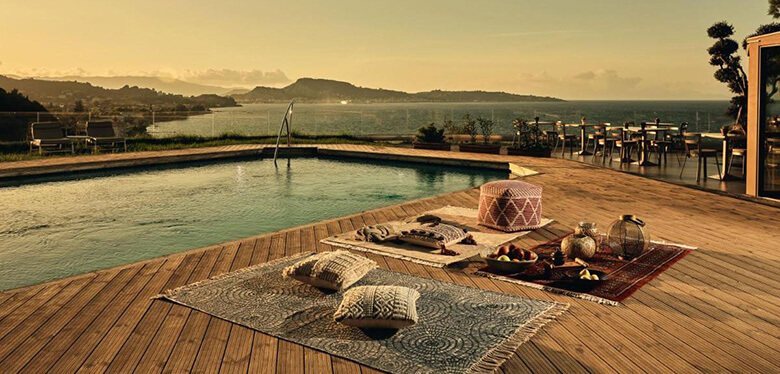 Argassi is the small resort village, located at the foot of Mount Skopos, within easy access from both Zante town centre and Zakynthos Airport.
Connected to the capital by the main road that runs along the seafront, Argassi is ideal for anyone who wants to stay near the convenience of Zakynthos Town but prefers a quieter neighborhood and cheaper accommodation.
The main road is lined with several popular clubs. If you are interested in enjoying Zakynthos' famous nightlife scene but are put off by the intense crowds of Laganas, this would be an excellent area to consider.
Argassi Beach is sandy beach with shallow water, making it ideal for children. There deck chairs and umbrellas for rent. The beach is surrouned plenty of beach bars to keep you comfortable. The remains of Argassi Bridge in the west offer a great backdrop for photographs.
The town itself is full of beachfront bars, tavernas, and restaurants, especially around the main road.
One of the more unique attractions worth visiting in the area is the Nougat Factory about a kilometer outside of town. Great for picking up some freshly made, local confections. Alternatively, the World Tour Mini Golf course in the center of town offers some light-hearted fun for all ages.
You can hike to the top of Mount Skopos and enjoy wonderful panoramic views of the island. Take a visit the centuries-old monastery of Panagia Skopiotissa and the Church of Virgin Mary of Skopiotissa.
There's a wide variety of mid-range accommodation and apartments, B&Bs, hostels, and three-star hotels options available that make Argassi ideal for travelers sticking to a budget.
Stay in Argassi if you want to stay near to Zakynthos Town but away from the city crowds, you want to enjoy the nightlife of the island but without the rowdy crush of Laganas;
Best places to stay in Zakynthos in Argassi:
🔍MORE HOTEL DEALS IN ARGASSI
6. Tsilivi, Planos – great base for family holiday
Planos, or Tsilivi as it is also known, is another small beach resort popular with families. Situated just north of the capital city of Zakynthos Town, Planos is ideal for anyone who wants to stay near the convenience of the larger town, whilst also staying near to a good-sized beach, in a resort.
Tsilivi beach is Blue Flag beach with shallow waters, safe for the children. The beach is a comfortable stretch of soft sand, serviced by several beach bars and cafes. Several companies offer water sports activities, and at the north end of the village, boats can be hired for personal use from the small marina to Blue Caves and Smugglers Cove.
There are plenty of facilities here to keep the whole family entertained, most notably the Tsilivi Water Park, full of slides and rides that draws visitors from across the island. The Fantasy Mini Golf course and Bowl 'm Over bowling alley offer fun family outings.
Meanwhile, several unique museums, such as the Olive Oil Museum, Callinico Winery, and Milanio Maritime Museum are worth a visit if you have few spare hours.
Older visitors will appreciate the range of tavernas and restaurants throughout the town. Particularly along the main street and the beachfront, there are plenty of bars to keep everyone entertained into the evenings.
The area has a vast array of hotels, apartments, and villas, catering to the full spectrum of budgets. Options for accommodation stretch right up against the seafront, offering uninterrupted views of the ocean and convenient access to the beach.
Stay in Planos if you are traveling with family, particularly children, you want a beach resort close to the capital town.
Best places to stay in Zakynthos in Planos:
🔍MORE HOTEL DEALS IN PLANOS
See more:
7. Alykanas and Alykes – where to stay in Zakynthos for family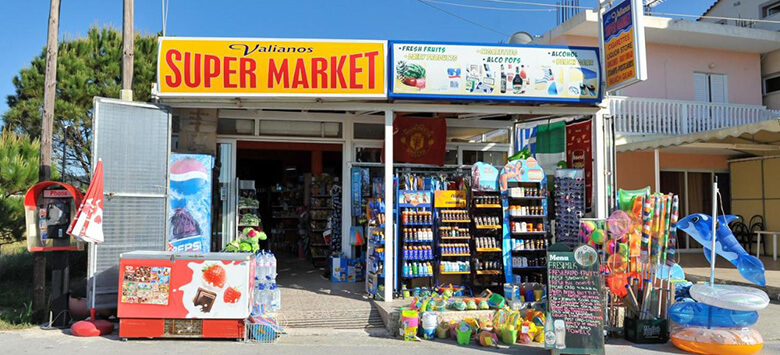 If you are looking for a beach resort with all the authentic charm of a local village, the northeastern town of Alikanas (Alykanas) is the place for you. Along with Tsilivi, Alykanas is one of the best places to stay in Zakynthos for families with young kids as well as for couples.
Several kilometers north of Zakynthos Town, Alikanas is well separated from the bustling party and tourist towns of the south, without being terribly far removed from the convenience of the capital and the airport.
There are several beaches to choose from in the area like Alykanas, Amoudi, Psarou, and Alykes, with the largest being the eponymous Alikanas Beach. The beaches are sandy and crystal clear shallow warm waters. There area bars or cafes nearby, but the undeveloped nature of the area means that not all are serviced by water sports companies.
Alykes and Alykanas are plited by the Skourtis River. You can walk along the salt flats where you can find owls and gecko. Other places of interest are the Pentokamaro Bridge, the monastery of St John the Baptist, the salt pan, as well as the shipwreck on the Smugglers Cove.
The town itself is full of traditional tavernas and locally run bars and restaurants, serving food made with produce from surrounding farms. Accommodation is available across the breadth of the region, offering a good mix of hotels and apartments to suit most budgets.
For a novel way to tour the local area, board the Trainaki train and embark on a fun journey into the nearby hills. The tour winds through olive groves and rural villages, with amusing commentary from your guide, and includes a stop at the Vertzagio Cultural Museum in Pigadiakia village and a small taverna where you can sample complimentary wine and local food.
Stay in Alykanas if you're looking for a place to stay for a family with young children; you want a charming local village with the convenience of a beach resort town, you want a quiet neighborhood, removed from the rowdy party towns of the south.
Best places to stay in Alykanas for first-timers:
🔍MORE HOTEL DEALS IN ALIKANAS
8. Anafonitria – small village in the northwest of the island
Anafonitria is 30 kilometers from Zakynthos Town, in the northwest of the island of Zakynthos. It is famous for its Panagia Anafonitria Panagia Monastery where Agios Dionysios, the patron saint of Zante used to live. If you visit Anafonitria on August 24, you will take part in the festivals in honor of Agios Dionysios.
Another iconic attraction is the shipwreck of Navagio beach. Although the beach is not accessible by foot, only by boat from other beaches and ports on the island, walking routes along the surrounding cliffs offer some amazing views of the cove.
The main route to the cliffs above Navagio Beach will take you past the beautiful Monastery of St. George Kremnon. This 16th-century monastery includes a tower built to defend the area from pirates, manicured gardens, and a small museum for learning about the island's history.
The town itself is full of beautiful and historic architecture, including the byzantine Anafonitria monastery, founded in the 15th-century.
Anafonitria has a distinctly traditional atmosphere, full of local tavernas and family-run restaurants. In the south end of the village, you can find the Iliessa giftshop, where you can pick up local, handmade souvenirs and craft goods.
As a primarily residential small town, there are no big hotels in the village, although there are several private villas available to rent for your stay. Ideal if you want to experience authentic Zakynthian life.
Stay in Anafonitria if you want convenient access to beautiful views of Navagio Beach and the iconic shipwreck, you love history and old buildings, you want to stay in a small town with a traditional local atmosphere.
Best places to stay in Anafonitria:
🔍MORE HOTEL DEALS IN ANAFONITRIA
9. Keri – beautiful white cliffs, good base for exploring island
The region of Keri is spread across the entire southwestern peninsula of Zakynthos. There are two main urban areas here, the town of Keri in the east, and the small village of Keri in the west. Both are connected to the public bus service, but being further from the main towns, if you want to explore the rest of the island from here, you would do well to consider hiring a car.
The town is located right by the sea, against Keri Beach, from where you can rent boats and diving equipment or hire scuba diving instruction There is a good selection of mid-range hotels in the area, as well as several restaurants and cocktails bars.
Most of the popular tourist sites around the peninsula are closer to the village of Keri. The most famous structure in the area is the historic Keri Lighthouse. The still-functioning lighthouse is a well-photographed site and if you make the effort to walk out to it you will be rewarded with some stunning views over the water and surrounding landscape.
Located near the Keri Lighthouse the largest flag in the world, according to the Guinness Book of World records in 2007. The mountainside village is well wortj worth a visit, as the stone houses, and Virgin Keriotissa Church with a gold-plated baroque-style temple, was renovated after being damaged by the earthquake in 1953.
The cliffs of Keri are a natural wonder that draws tourists to the area. The bone-white cliffs tower 300 meters above the sea and jut out far into the water. There are several scenic walks to viewpoints along the cliffs that will grant you a stunning perspective of this landscape.
The Keri Caves at the southern end of the peninsula are beautiful but only accessible by boat. Some boast trip visits the area, or you can hire your own boat from Keri Town.
There are many more options for accommodation available in Keri Town than the village, as well as more amenities. If you choose to stay in this area for more than a day or two you would benefit from staying in the larger town and visiting the village and surrounding sights by car, taxi, or bus.
Stay in Keri (Kerion) if you are looking for the best place to stay in Zakynthos in a quiet village or town, you're interested in the stunning natural landscape of Keri, with its iconic cliffs and sea caves, you are planning to hire a car for your trip.
Best Places to Stay in Keri:
🔍MORE HOTEL DEALS IN KERI
10. Agios Nikolaos (Skinari) and Askos – small lovely bay on Zakynthos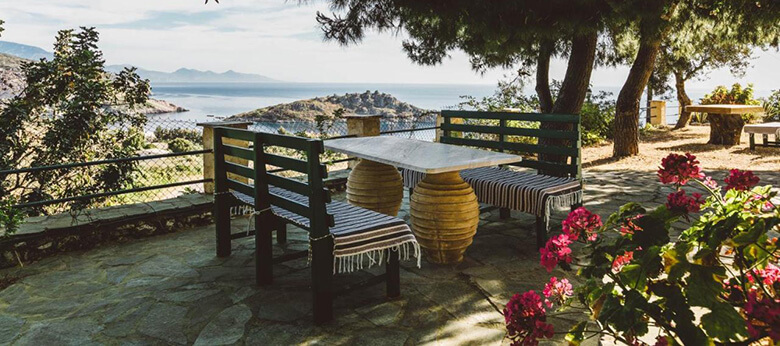 Askos and Agios Nikolaos are two small neighboring villages in the north of Zakynthos. Far from the large party resorts of the south, if you're looking for a quiet retreat this is a great area to consider.
Askos is an inland village, although it is within walking distance from the seafront and raised into the hills, so you won't be missing out on ocean views. It's a small village with a very rural feel. There are a couple of restaurants to choose from, and bars closer to the water looking out over the sea.
The main attraction of Askos is Stone Park. Featuring a number of curious stone structures, such as stables, carved basins, and rock towers, some dating back centuries, the circular walking route around the park is an interesting way to spend an afternoon.
Visitors are able to take part in various activities involved in the park's maintenance, including fruit picking and goat milking. The park has its own zoo housing an array of animals, such as goats, pigs, and horses. There are also hundreds of species of wild animals and birds to be seen in the protected land around the park.
Nearby Agios Nikolaos is closer to the sea, with a small port linking across to the neighboring island of Kefalonia. There are several bars and restaurants along the seafront with views across to the small island of Vardiola St. Nicholas and the ruins of its old watchtower.
There is also a small marina where you can rent a boat or take a cruise to famous Zakynthian sites, such as Navagio 'Shipwreck' Beach and the Blue Caves of Cape Schinari.
Beaches here are mostly rocky with a few small sandy banks. They're great for swimming in the clear blue water but not ideal for a long afternoon of sunbathing. The closest comfortable beaches are Krimidi, Vathi Lagadi, and Climati, about a kilometer south, around the little village of Mikro Nisi.
Despite the villages' small size, there is a wide range of accommodation available here. There are several four-star hotels in the area, as well as self-catering apartments and villas.
Stay in Askos and Agios Nikolaos if You are looking for a quiet vacation; You are interested in learning about the native animals on the island; Beaches are not a priority.
Best Places to Stay in Agios Nikolaos:
🔍MORE HOTEL DEALS IN ASKOS AND AGIOS NIKOLAOS
11. Psarou and Ammoudi – scenic spot, for relaxing holiday
You do not need to choose a remote part of Zakynthos to have a quiet and relaxing holiday. Psarou and Ammoudi are not far from Zakynthos Town, yet it has all the ingredients that you need to leave you returning home completely refreshed.
Psarou and its beach are on the north coast close to the bigger resort of Alykanas. Other than a few apartment blocks, nothing much can be seen that is not typical of the island's heritage. An unspoiled district, Psarou has a blue flag beach, one of several local beaches.
The sandy beach and shallow warm water make Psarou an ideal base for families with young children. The beach have no beach facilites, no sunbeds or water sports. You can find a car parking nearby.
Locally, you will find vineyards and olive groves as well as small inland villages. Some villas and small hotels are also found inland but the beach is still close enough. Nightlife is limited by dinner in a local restaurant is a pleasure.
Accommodation is limited with those apartments available. To reach Psarou, it's best to rent a car but you can catch the bus from Zante Town to nearby Alykes and walk to Psarou.
Stay in Psarou if You want a quiet location; Luxury beach resorts are not for you; Relaxing is your priority.
Best places to stay in Psarou for first-time travelers:
🔍MORE HOTEL DEALS IN PSAROU
12. Agalas – mountain village with stone houses and narrow streets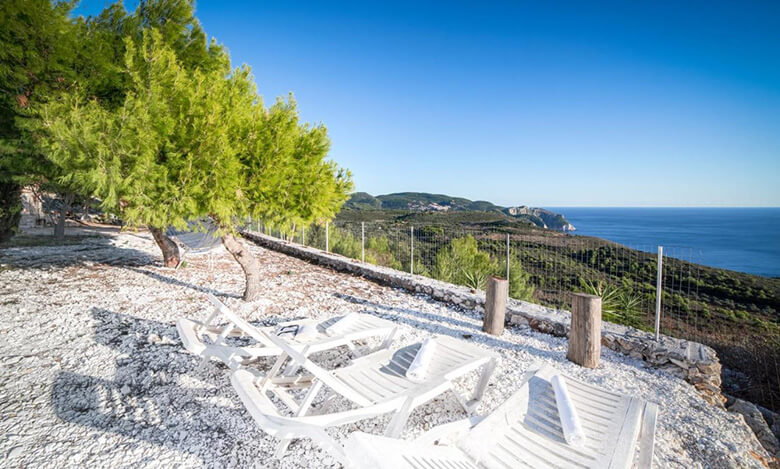 Located 18 km from Zakynthos Town, Agalas is a small inland village on the moutain area which is surrounded by olive groves and pine trees. In order to visit this place you have to head north towards the village of Volimes and beyond Lithakia village there is a turnoff leading to this rather small and rural place.
Agalas village is filled with old stone houses and narrow streets. There is plenty to occupy your time otherwise; the Cave of Damianos, and the Antronios Wells built by the Venetians, and Vau Canyon.
The Damianos caves are a unique two-story cave that's packed with stalactites and stalagmites, a great place to stop by and take a view. The Antonios Wells is a group of traditional 15th-century wells also worth a visit.
Other places of interest is the historic center with old buildings from before the earthquake in 1953; or village parish church, The Lady of the Angels. Of if you want the beach, the beautiful Plakaki beach is just a short drive by car away.
You will be avoiding the tourist crowds that typically choose the beach. Stay away, other than perhaps for a day trip and return home having experienced the atmosphere and life typical of an Aegean village. Agalas looks out to the Ionian Sea from the hills in the southwest of Zakynthos.
Best places to stay in Agalas:
🔍MORE HOTEL DEALS IN AGALAS
13. Agios Sostis – close to Cameo island and Turtle island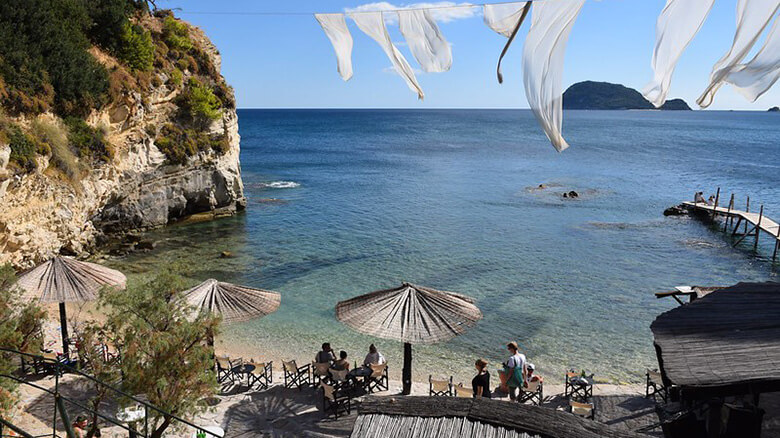 Located between Laganas and Keri, on the south east coast, Agios Sostis is a quiet resort. Agios Sostis encompasses tha areas of Sostis port and Agios Sostis beach. In the beach front, you will find more hotels, restaurants, taverns, cafeterias, bars and shops.
It is a place that appeals to day-trippers, but you can stay there as a base as well. The main reason for the trippers is the two offshore islands, Cameo and Turtle.
You can reach Cameo Island across a wooden bridge. The beach is small with soft sand, chairs, umbrellas for rent. the water is shallow and safe, make it popular among families with children of all age.
To reach the Marathonisi (Turtle Island), you can take a water taxi. Its name in English is because of the endangered turtles who nest there each year. If you are confident, rent a kayak and minimize any disruption. The waters are calm and should not prove to be a problem.
Self-catering units are available in Agios Sostis while there is also an adults-only hotel on the road to Laganas.
Best places to stay in Agios Sostis:
🔍MORE HOTEL DEALS IN ZAKYNTHOS TOWN
Where should I stay in Zakynthos for the first time?
Zakynthos Town is the best area to stay in Zakynthos for first-time travelers due to its prime location. If you stay here, you will be located in the heart of action, within walking distance to major sights, as well as many restaurants, bars, and shops.
What are the best areas to stay in Zakynthos?
Zakynthos Town, Argassi, Laganas, Alykes, and Vasilikos are the best areas to stay in Zakynthos for tourists because they are the most popular and safe neighborhoods that offer a wide range of attractions and amenities.
See More:
Summary – Where to stay in Zakynthos?
In conclusion, Zakynthos Town, Laganas, Kalamaki, Vasilikos, Argassi, Alykanas, and Psarou are some of the best places to stay in Zakynthos for tourists. They offers plenty of things to do and see for families and couples of all ages both young and old.
Overall, I will choose Zakynthos town as the best area to stay in Zakynthos for first-timers because it is the capital city with plenty of things to do and see right at your doorsteps. If you book a hotel here, you will be within easy access to the attractions, restaurants, and shops.
Regardless of what you are looking for in your perfect summer vacation, you are sure to find it on Zakynthos. Hopefully, after reading this post, you can find where to stay in Zakynthos, Let us know if what area did you pick for your vacation!