Where to stay in Kos? for first-timers, for couples, families, and nightlife? In this blog, I will help you to find the best areas to stay in Kos for travelers (include map and video), and best hotels in Kos for all budgets.
Kos is one of the most rewarding Greek Islands to visit since it has a bit of everything. If you're looking for beautiful beaches and attractive white-painted Greek villages, then you will find plenty here. The island has an incredibly rich history, too, so there are many ancient Greek ruins to explore.
And it's a huge island, so you can find busy places with thriving nightlife or little hidden away corners for a peaceful retreat, whichever you prefer. Kos is one of the larger islands in the Dodecanese island chain. These Islands are located way over on the far Eastern side of the Aegean, just a stone's throw from the Turkish mainland.
Kos is a lozenge-shaped island that is never much more than 10 km from north to south, but from the east to west, you can drive for about 60 km from coast to coast. Clearly, there's a lot of islands to explore.
Kos's large size means that it's quite important that you pick the right place to stay from the get-go because it can take quite a long time to travel from place to place.
Where to stay in Kos first time?
The best areas to stay in Kos for tourists are Kos Town, Lambi, Tigaki, Marmari, Mastichari, Kefalos, Kardamena, Agios Fokas, and Psalidi! These are popular and safe places for tourists that offer a wide variety of attractions and amenities.
Kos Town is the overall best place to stay in Kos for first-timer due to its central location, easy access to public transporation and tourist amenities. Staying here allows you to be located within easy reach from major attractions, restaurants, bars, and shops.
You can reach Kos by air plane and by ferry. Kos International Airport is located in Antimachia, 30 minute drive by car to Kos Town. The main port in Kos Town where ferries depart to Rhodes, Kalymnos, Leros, Patmos, and Piraeus. If you plan to explore the whole island freely, it's best to rent a car.
Map of areas and towns in Kos island: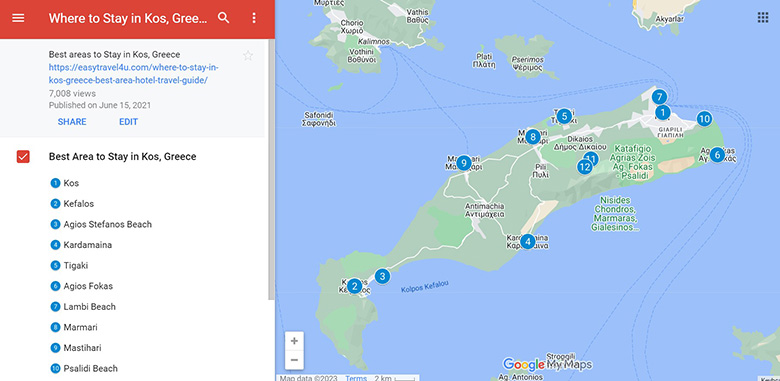 Overviews of best areas to stay in Kos for tourists
Here is an overview of recommended areas in Kos for first-time visitors: 
| Best areas in Kos for tourists | Why should you stay in this area? |
| --- | --- |
| Kos Town | This is the island's capital and offers a mix of historical sites, vibrant nightlife, restaurants, and shopping. It's a great choice if you want a central location with easy access to various attractions. |
| Lambi Beach | Located just north of Kos Town, Lambi Beach is a popular choice for those who want a beachfront location with easy access to the town's amenities. |
| Tigaki | Tigaki is known for its long sandy beach and family-friendly atmosphere. It's a quieter option compared to Kos Town, with a good selection of hotels and restaurants. |
| Marmari | Similar to Tigaki, Marmari is a peaceful beach resort with a laid-back vibe. It's ideal for those seeking relaxation away from the crowds. |
| Mastichari | This village is a quieter option, known for its charm and beautiful beaches. It's a great choice if you want a more authentic Greek experience. |
| Kefalos | Located in the southwest of the island, Kefalos offers stunning beaches and a relaxed atmosphere. It's a good choice for couples and travelers seeking a quieter escape. |
| Agios Stefanos | This area is known for its picturesque bay and tranquil surroundings. It's a peaceful option for those who want to unwind. |
| Kardamaina | If you're looking for nightlife and a lively atmosphere, Kardamaina is the place to be. It's known for its bars, clubs, and vibrant nightlife scene. |
| Agios Fokas | Agios Fokas offers a mix of tranquility and easy access to Kos Town. It's a good choice for those who want a quieter stay with the option to explore the town. |
| Psalidi | This area is close to Kos Town and offers a mix of beachfront resorts and hotels. It's a convenient choice if you want to stay near the town but prefer a quieter beach. |
| Asfendiou/Zia | These villages are located in the inland mountains and offer a more rural and authentic experience. They are great choices for nature lovers and hikers. |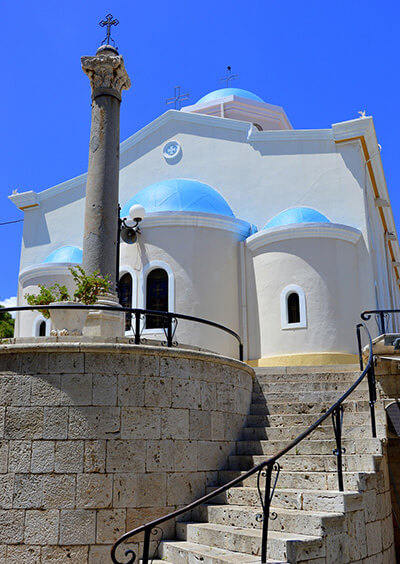 The Best Areas to Stay in Kos for tourists are:
1. Kos Town – best place to stay in Kos for first-timers
Kos Town (Kos City) is the thriving and exciting Island capital and main port on the east coast of the island. If this is your first time in Kos, then I recommend that you stay here. Why? Well, Kos Town has a bit of everything.
Kos Town is the perfect place to start if you want to explore the fascinating ancient Greek history of this island. It is home to the Ancient Agora Ruins, the city center of Kos in ancient Greek times. You should also visit the Archaeological Museum Of Kos, which houses a treasure trove of ancient Greek artifacts, including spectacular pottery, jewelry, and intricate mosaics.
Kos Town is just a few kilometers away from the spectacular ancient ruins of Asklepieion. This place, founded in the 5th century BC, was a center of healing dedicated to Asclepius, the god of medicine.
Hippocrates, the father of modern medicine, was trained here, so it's a ruin of incredible historical significance. This ancient sanctuary has an impressive setting rising above the hills behind Kos Town. You can explore the many terraces of the ruins and learn all about this forerunner of modern hospitals.
Kos Town is also home to some of the best historical and cultural attractions on the island such as Eleftherias Square, Neratzia castle, the iconic Palm Tree Avenue, Casa Romana, Ancient Hellenistic Gymnasium, and the Roman Odeon.
Then, back in Kos Town, you can enjoy a wealth of entertainment. If you are a nightlife lover, then you will find excellent places to drink and dine, from bargain street food and simple tavernas to top international restaurants and sophisticated nightclubs hosting DJ's from all over the world.
The nightlife center of Kos Town is concentrated in a small district of the town center in Nafklirou and Diakon streets. You can enjoy an exciting evening going from bar to bar, to a nightclub. But, as you head to the outskirts of town, you can find places that offer relative tranquility.
Kos Town is an excellent destination for budget travelers since there's some good value accommodation. Hotels are concentrated around the harbor. As you head away from the more expensive waterfront, you can find cheap digs and economical shisha cafes, restaurants, and bars.
Kos Town has a good beach too, Kos Town Beach and Kritika Beach. It isn't the quietest Beach on the island, but it's an attractive stretch of sound, so it's entirely possible to stay in the busy town and still have access to the beach.
The island's main port is in Kos Town, so if you are traveling to or from the other Greek Islands by boat, then Kos is a very convenient place to stay.
The island's main airport is way over to the west, but it's easy to book a connection. For that matter, if you want to organize trips and tours to explore all of the other exciting places on Kos Island, then there are plenty of travel agencies and tour companies that will be happy to help you.
Kos Town has a wide range of accommodations that suit all budget travellers from budget backpackers to luxury tourists.
Stay in Kos Town if you're visiting Kos for the first time; you want a busy and exciting greek island port, you're traveling on the budget; you are arriving or leaving the island by ferry.
Best Places To Stay In Kos Town?
luxury ($$$): Albergo Gelsomino, 5-star beachfront hotel, ideal base for both couples and families with kids of all age. It is located close to Lambi Beach, Tree of Hippocrates, and Kos Port. It offers a paid airport shuttle service to Kos International, which is 25 km away.
mid-range ($$): Blue Lagoon City Hotel, 4-star hotel, that has free wifi, free car parking, a bar-restaurant, and a spa area with gym and indoor pool. All rooms and suites have air conditioning, a fridge, electric kettle and a TV. The private bathroom comes with shower and a hairdryer.
budget ($): Triton Boutique Hotel, 3-star beach hotel, featuring buffet breakfast and a restaurant serves Italian cuisine and coffee. Top attractions nearby include Antimachia Castle, Bodrum Marina Yacht Club, Bodrum Castle, Mill of Antimachia, Paleo Pili, and Kos Castle.
🔍MORE HOTEL DEALS IN KOS TOWN
See more:
2. Lambi Beach – convenient location, 4 km from Kos Town
Lambi is a beautiful beach resort in the northeastern corner of the island. It's located just a few kilometers away from Kos Town, so this is an excellent option if you are the kind of traveler who wants to be close to the center of things, but fancy just a bit more peace and quiet than the bustling main town. Lambi is effectively an outer suburb of Kos Town, but it is certainly quieter than the city center
Lambi can be easy reached from Kos Town by public transport, by bus or by car rental. You can also walk from Kos Town to the beach.
The beach is well organise with beach facilities in summer months including sunbeds, deckchairs, and umbrellas for rent, as well as public toilet and shower. You can relax, swimming, sunbath or enjoy water sports of all kinds such as windsurfing, sailing and paragliding. There are some snack bars, taverns, and sea front restaurants along the beach if you want to grab a meal.
Lambi is a great family-friendly location since there are some good hotels with facilities like children's pools and family rooms and suites. But if you are traveling as a couple, this is a good destination too, since several adults-only hotels offer the perfect atmosphere for a romantic getaway.
If you want to combine a beachside holiday with one of cultural exploration, visiting the historical treasures of nearby Asklepion and Kos Town at your leisure, then Lambi Beach it's one of the best places to stay in Kos.
Stay in Lambi if you are looking for the best part of kos to stay for a convenient but quiet destination, you want to be close to crosstown and the island's main sites, you're traveling with family, you want a great Beach and some excellent tourist infrastructure.
Best places to stay in Kos In Lambi:
🔍MORE HOTEL DEALS IN KOS
3. Tigaki – where to stay in Kos for family
Tigaki, along with Marmari, and Mastichari, make up a trio of relaxed and beautiful family-friendly areas on the north shore of Kos. It is onyl around 15-20 minutes drive by car from both Kos Town and the airport.
One of the things that make Tigaka so welcoming to families is that the large Alikes Salt Lake is located on the west side of the town. This body of water is an important sanctuary for visiting water birds, including herons and flamingos. There's a path around the lake that's perfect for a stroll, or a great option is to explore it on horseback after arranging a ride at Salt Lake Stables.
Of the three northern resorts, Tigaki has the best beach. This stretch of sand is exceptionally long and wide and offshore, the water shelves gently into the Aegean, making this a perfect place to take the kids for a paddle.
Tigaki has some excellent hotels in the middle and upper price categories, as well as the usual budget options of cheaper apartments and guest houses as you head away from the beach.
There are good restaurants and tavernas here where you can enjoy local Greek food and international dishes. The tavernas serve local and international beers, as well as the Greek staples of retsina wine flavored with pine, and ouzo, the love-it-or-hate-it aniseed spirit. Popular restaurants in Tigaki include Plori, famous for its fresh seafood and Dana, specializing in classic Greek cuisine.
Tigaki is a very popular and fill with tourist in summer, but in winter it's become a ghost town with no tourist. The beach is long so it's never crowded even in peak time.
Tigaki has a wide range of hotel from luxury beach front hotel to budget family run guest house, there is something for all budget. Many offers free private car parking, 24-hour front desk, and an on-site restaurants.
Stay in Tigaki if you're looking for somewhere family-friendly, you want to explore the Alikes Salt Lake and maybe see a flamingo, you want some excellent resorts and a good choice of restaurants.
Best places to stay in Kos in Tigaki:
4. Marmari – quiet tourist village in north coast of Kos
Located between Tigaki and Mastichari, Marmari is a popular resort on the central north coast of Kos. It is celebrated as one of the most beautiful spots on the island not just for its attractive beach but because of the beautiful surrounding countryside, the highlight of which is the Igroviotopos Alikis Loop.
This park is a great place to observe local wildlife, particularly the wealth of birdlife that frequents the lagoon and surrounding marshes. This park is a lovely and atmospheric place to get away from it all, but remember that the best times to go are in the morning or late afternoon when it isn't so hot, and always pack sun cream and plenty of freshwater.
The beach is well organized with umbrellas and sun beds. You can have a very relaxed and enjoyable holiday in Marmari just by spending your days lazing beside the beach. But if you want to try something a bit more energetic, then this is one of the best places on the island to take part in water sports like kitesurfing, bodyboarding, and windsurfing.
Despite the excellent visitor facilities, Marmari remains a small Greek village at heart and offers a charming combination of tourist resort and traditional settlement. This isn't the place for party animals. Instead, it's one of the most relaxed and atmospheric of the island's resorts.
You'll find some excellent restaurants and bars in Marmari serving a mixture of classic Greek and international cuisine. If you're looking for excellent Greek food, then there are super restaurants like Alikes, with incredible lamb chops and fresh seafood, or Ikaros, with local dishes like grilled octopus and international fare. Biggys it's a popular beach bar with a relaxed atmosphere and daily sunbed rentals.
You'll find good accommodation here in Marmari, including waterfront hotels, mainly at a mid-range price. There are also some good value apartment rentals and guest houses heading back from the waterfront, suiting budget travelers. It has all amenenities that a tourist need including supermarkets, car rental, restaurants and tavernas.
Marmari can be reached within 20 minutes drive by a car, motorbike, or taxi from Kos town. If you have a yacht, there is a small port to visit beautiful islands nearby.
Stay in Marmari if you love the countryside, you want a lovely beach with a relaxed atmosphere, you enjoy watersports.
Best places to stay in Kos in Marmari:
luxury ($$$): OKU Kos, 5-star adults-only hotel, located right on the sandy beach, making it one of the best base in Kos for couples. The hotel has a village-style and and outdoor pool. They can help you to arrange outdoor yoga, stand-up paddling, horse riding and excursions.
mid-range ($$): Horizon Beach Resort, 4-star beachfront location, with views over the Aegean Sea. It is located within a short drive from Kos International Airport and Kos Town. The hotel offer on-site parking for those travel with a car.
budget ($): Hotel Esperia, 3-star hotel, located in Marmari, short distance from the beach. It has family rooms, tennis and basketball courts, a children & adult swimming pools, and a playground area.
🔍MORE HOTEL DEALS IN MARMARI
5. Mastichari – popular beach for windsurfers and kitesurfers
Mastichari is one of the best-developed beach resorts on the north coast of Kos. Despite having excellent facilities is it still retains a relaxed village atmosphere and charm. For this reason, it's popular with families and with people wanting a chilled-out beach destination with good facilities. It also attracts many windsurfers and kite-surfers to come here to surf.
Mastichari Beach is one of the island's best and offers excellent views across the Aegean to nearby Kalimnos. If you like the look of this nearby island, it's easy to book a day trip and investigate it. You can take a ferry from Mastichari port to Kalymnos.
Another great activity if you fancy doing something a bit more active is to take a Landrover Sunset Safari that takes you up into the nearby hills, exploring some of the less-visited parts of the island.
Mastichari is also a great family destination because of the excellent Lido Water Park, which has fun waterslides, pools and is a super place to take the kids for the day out.
There are some excellent places to eat and drink in Mastichari. Popular spots include Apple Beach Bar cafe, or you can enjoy good Greek and international food at Kenny's Gyros And Grill Restaurant.
If you're looking for a delightful beachside bar to enjoy a cocktail beside the sands, then try out Horizon. If you prefer a traditional Greek tavern, then Mavros is a place that receives excellent reviews.
Mastichari isn't a late-night destination; there are better places on the island like Kos Town and Kardamena. But if you're looking for a beautiful chilled-out beach with a good selection of entertainment and activities, then you'll love Mastichari.
Stay in Mastichari if you're traveling with family, you want a resort with excellent facilities but a relaxed atmosphere, you want to visit the lido water park, you want to visit nearby Kalimnos.
Best places to stay in Kos in Mastichari:
luxury ($$$): Neptune Hotel-Resort, Convention Centre & Spa, 5-star beachfront hotel, one of the best resorts in Kos, featuring rooms for all travelers, including singles, couples, and families with kids. Adults can relax at the on-site secluded beach, while younger can play at children's pool, The Kids Club or at the games room.
mid-range ($$): Mastichari Bay Hotel, 4-star beachfront hotel, located on the edge of the village of Mastichari. It has beautiful gardens, the beautiful view of the bay, and free private parking for those travel with a car.
budget ($): Ilios and Irene, 3-star air-conditioned apartments in a garden of bougainvilleas and roses, close to Mastichari Beach. It feature self-catered units and family rooms with views of the Kos countryside.
🔍MORE HOTEL DEALS IN MASTICHARI
6. Kefalos – beautiful town with traditional village & modern seaside
Kefalos is a pretty little place that runs down a hillside to a beach over on the far western side of Kos Island. This is one of the most out-of-the-way places to stay in Kos, and it's an excellent choice if you want to get away from the tourist crowds and use a relatively unspoiled Greek Island village as your base.
Even though you're away from the most developed tourist centers on the island, you can enjoy good shopping, dining, and nightlife. Kos is such a popular Island that even the quiet corners have excellent tourist facilities.
Kefalos is a delightful quieter community with an appealing maze of streets and alleys characteristic of traditional Greek island communities. It's a fascinating place to explore, discovering little tavernas and roadside eateries.
Kefalos is divided into two parts: the traditional village on the hilltop and the seaside part of Kamari that is the village's harbor. Facing Kamari is the small island Kastri where you find the church of St. Nicholas, one of the most photographed attractions on Kos island.
In the traditional village, you will find traditional houses, narrow streets, an imposing windmill of Papavasilis, the remains of the castle of Kefalos that date back to the Byzantine era and are used to protect the town from Ottomans and pirate attacks.
The seaside resort of Kamari is the modern side of the town, home to a small marina where small fishing boats are docked. It has a beautiful beach in a sheltered bay, which is far less busy than many on the island. Attractions to explore are the White Stone Cave, The Basilica in Kamari Kefalos, and the ancient site of Palatia.
Most of the accommodation is in guesthouses and private apartment rentals. These are well priced compared to the rest of the island, and it's a good place for budget travelers to stay. You'll find the most expensive hotels next to Kefalos Beach, but if you stay in the town, you can find some real bargains.
Kefalos is on the small peninsula that forms the western tip of Kos. This peaceful part of the island is a fantastic place to explore, finding fabulous sunset views, hidden coves and caves, and traditional rural Island life.
Kefalos holds several festivals throughout the year such as the local festivals in honor of Agia Paraskevi in July; celebrating the Assumption of Virgin Mary and Agios Ioannis (St. John) in August;
Stay in Kefalos if you want peace and quiet; you want a traditional Greek village, you're traveling on a budget, you don't mind traveling to see the historic sites,
Best places to stay in Kos in Kefalos:
luxury ($$$): Ikos Aria, 5-star hotel, located in Kefalos, close to Paralia Kefalos Beach, featuring free private parking, a kids' club and free shuttle service.
mid-range ($$): Royal Bay, 4-star kid-friendly beachfront accommodation in Kefalos Village. You can choose to stay in a rooms with views of the Aegean Sea, the pool or the garden. The pool is well-equipped with sun loungers and umbrellas.
budget ($): Panorama Studios, great family-run accommodation with views of the Aegean Sea, hence located on the cape of Kefalos Village in Kos. Free car parking, outdoor yoga facilities, and car rental services can be found at the hotel.
🔍MORE HOTEL DEALS IN KEFALOS
7. Agios Stefanos – beautiful sandy beach on south coast Kos
Located 3 km northeastern of Kefalos, Agios Stefanos is one of the best sandy beaches in Kos. it is a beautiful, low-key beach close to Kefalos in the far west of the island. It's a perfect destination if you want a lovely unspoiled Beach that has just a few tavernas and restaurants.
Agios Stefanos is a small village community with just a couple of small hotels and b&bs. The main restaurant is Taverna Katarina, a popular place that serves classic Greek cuisine and a few foreign dishes. If you walk up the hill at the back of the village, you can visit Kompologaki Restaurant Bar, another nice place that has good views out over the bay.
An interesting local feature is the ruins of the old Christian temple, Basilica st. Stefanos, which are located on a pretty rocky outcrop that juts out into the sea. Across the water here is the small island of Kastri.
If you're looking for a bit more life and activity, then the local center of Kefalos isn't far away to the West. If you don't need a wealth of tourist development and facilities, and you prefer to enjoy The rustic charm of Kos, then this is the perfect beach for you.
Stay in Agios Stefanos if you want a lovely sandy beach with crystal clear water, you want a great out-of-the-way location, you want a lovely island that you can swim to if you're a strong swimmer.
Best places to stay in Kos in Agios Stefanos:
8. Kardamaina – best place to stay in Kos for nightlife

The former fishing village of Kardamena (also known as Kardamaina) is an exciting tourist destination on the central south coast of Kos. If you're young and/or you like a party, then this is by far the best place on the island for you to stay. But this resort definitely isn't a great choice for families, since it's loud, bold, and in-your-face.
Kardamena's nightlife scene is concentrated in a central strip of bars, restaurants, and clubs where you can dine, drink, and party until the small hours. A good tip is to look for some of the special offers on cocktails around sunset since you can find some delicious tropical concoctions at bargain prices at this time of day.
Kardamena has a long sandy beach where you can rent a shady spot under an umbrella and recover from the previous night's festivities, dipping into the welcoming Aegean waters to swim and snorkel at your leisure.
Kardamena has some other sights and attractions outside of the nightlife scene. The Folk And Maritime Museum have an impressive collection of exhibits from the post-Byzantine period from the 1500s to the modern-day. There are excellent collections of traditional clothing, ceramics, and all kinds of well-preserved artifacts.
Other attractions are the Venitian Castle of Antimachia, the hot springs of Agia Irini, the village of Antimachia, and the island of Nisyros.
Most of the accommodation in Kardamena is at a budget to mid-range price, so it's a pretty good place to stay on a budget, as long as you trust yourself not to blow all of your holiday money on a couple of big nights out! In particular, you can find some clean and well-serviced apartment rentals at very reasonable rates.
Stay in Kardamaina if you are looking for the best place to stay in Kos for nightlife, you once a great beach with a youthful party atmosphere, you want excellent hotels and apartments for all budgets, you want to stay close to the airport, do you want to try starlight bar, the island's hottest nightclub?
Best Places to stay in Kos in Kardamaina:
🔍MORE HOTEL DEALS IN KARDAMAINA
9. Agios Fokas – best area to stay in Kos for couples
Agios Fokas is an agreeably sleepy Beach Resort at the southeastern tip of Kos. It's a relaxed place with an out-of-the-way feel even though it is actually a very convenient place to stay since it's less than 10 km from Kos Town.
This resort is popular with couples, and you will find some nice boutique resorts here. Some of which are quite plush and upscale if you want to give your significant other a holiday to remember.
It's a good thing that all of the exciting historical science and urban attractions of Kos town are nearby because, in the nicest possible way, there isn't much to do in Agios Fokas. It's the perfect place to just relax by the lapping waters of the Aegean and soak the atmosphere.
But if you're determined to do something active, you can participate in a wealth of watersports activities here. You can go diving or learn to dive at a local dive school. There is also a watersports center where you can windsurf, surf, and kiteboard.
Therma Hot Springs is the main local attraction just down the coast to the west of Agios Fokas. While you're here, you should make sure to visit and indulge yourself in a body and spirit warming soak in these mineral-filled waters that bubble up from the deep into steaming pools.
Stay in Agios Fokas if you want a quiet beach resort convenient for all the activities and attractions of Kos Town, you're are looking for the best area in kos for couples, you don't need great nightlife, you want to try water sports, you want a classy, upscale Beach resort.
Best places to stay in Kos in Agios Fokas:
luxury ($$$): Michelangelo Resort & Spa, 5-star ultramodern hotel, one of the best locations to stay in Kos not only for couples but also for families with children. It is located within easy walking distance from Agios Fokas with its shingle beach and small number of taverns, as well as a short bus ride from Kos Town.
mid-range ($$): HARMONY CREST RESORT & SPA Adults Only, great 4-star hotel in Kos for couples, providing a seasonal outdoor swimming pool, garden, and a restaurant. They can help to arrange with bike hire and car hire.
budget ($): Andromeda Hotel Apartments, 3-star accommodation, located in Psalidi area of Kos, It offers self-catering accommodation and family rooms that has a kitchenette with dining area. The hotel is located within a short walk from the beaches, taverns and mini markets.
🔍MORE HOTEL DEALS IN AGIOS FOKAS
10. Psalidi – small resort on the east coast of Kos
Psalidi is a pretty beach just to the south of Kos Town. It's a tranquil place in a central location since there are regular buses and taxis that can drop you off in the town center just a few kilometers along the coast.
In this part of Kos, you quickly rise into Highlands as you head away from the coast. This means that it's a great place to explore the back roads if you have a hire car or moped. You'll get some great views here, and it isn't far from the wonderful ruins of Asklepion.
Psalidi is an excellent compromise if you can't decide whether you want a totally out-of-the-way location or somewhere close to all of the most exciting parts of the island; here, you can have it both ways.
Stay in Psalidi if you want to be close to town, but outside it, you want a pretty beach with a decent selection of hotels and restaurants, you don't need good nightlife on your doorstep.
Best places to stay in Kos in Psalidi:
luxury ($$$): Mitsis Ramira Beach Hotel, 5-star beachfront hotel, one of the best places to stay in Kos for families with childrens. it is located along its private stretch of pebble beach on Psalidi with free sun beds and parasols. Young kids can play in the children's pool, playground or games room.
mid-range ($$): Platanista Hotel, 4-star Mediterranean-style hotel, in a quiet area within a short distance from the beach and Kos Marina. Its location offers easy access to the nearby traditional tavernas with its lively nightlife. You can find a bus stop next to the hotel for link to Kos Town.
budget ($): Angelos Studios, great guest house, located in a peaceful location, just outside Kos Town, and only a 5 minute walk from the seafront. There is Bus service that connects the hotel with the town every 20 minutes.
🔍MORE HOTEL DEALS IN KOS
11. Asfendiou and Zia – where to stay in Kos for local vibe
This is an ancient village on the slopes of Mount Dikeos which is known for its churches and the towers that make it look like a fortress. The greater region is known as Asfendiou as well with the village a great base if you are interested in history and culture. Some features date back to the 11th Century.
Despite Kos' hot climate, the village and surroundings are truly green, contrasting well with the old stone buildings. If you want a quiet holiday and are unconcerned about a beach location, Asfendiou may be for you. You will not find modern luxury hotels but there are traditional houses for rent so you can mix with the locals.
If you feel active, climb Mount Dikeos; the views from the summit are truly spectacular. Otherwise, rent a cycle and explore before returning to your base in Asfendiou.
Zia is a small village, at the base of Mount Dikeos. Wander the cobbled streets of this blue and white village and visit its tavernas and shops selling local handicrafts. The Greek Orthodox churches are evident as you walk around. This is quite a contrast from the tourist-orientated Kos Town just 8 miles away by road.
Kos Natural Park is on the doorstep where you will find lovely trails within the pine forests. You will find a play area for kids and a snack bar there. Olive groves are abundant around Zia and the local oil is well worth sampling.
While you are not on the coast, the breezes blow the fresh, salty air up to Zia. It is one of the reasons why Zia is cooler than the lowland areas in Kos. As the sun sets, grab a drink and get your camera ready before going to dinner, happy you decided on Zia as your base.
Best places to stay in Kos in Asfendiou:
🔍MORE HOTEL DEALS IN ASFENDIOU
Check out my virtual tour of the best places to stay in Kos in this video:
Where To Stay In Kos For Couples?
If you're a couple who enjoy getting away from it all, then you will enjoy the charm and beauty of rustic Kefalos*** and Agios Fokas. This is an attractive traditional town that has some beautiful boutique hotels and private apartments perfect for couples.
Where To Stay In Kos For Nightlife?
If you're looking for great places to party, then basically you can choose between Kos Town and the resort beach of Kardamena***. Kardamena has the perfect combination of beach and party and is home to Starlight Bar, the island's most famous club, which hosts celebrated international DJs.
See More:
In many ways, October is the best month of the year to visit Kos. It's right at the end of the tourist season, so even the busiest parts of the island will be a bit quieter at this time, but the weather is still marvelous, with daily temperatures in the mid-twenties centigrade.
Since it's a little cooler and quieter, then Kos Town will be less crowded and a much more appealing place to stay. This is the perfect place to explore the historical sights of Asklepion and there are good beaches nearby so you can enjoy those too.
Summary – Where to stay in Kos?
In conclusion, Kos Town, Lambi, Tigaki, Marmari, Mastichari, Kefalos, Kardamena, Agios Fokas, and Psalidi are some of the best places to stay in Kos for tourists. They offer a wide variety of accommodations for visitors of all budgets to stay and explore the island.
Overall, I recommend Kos town as best place to stay in Kos for first-timers. It is the capital city of the island with plenty of things to do and see within walking distance, as well as a wide range of hotels. It is the best area for family, couples, singles, or with a group of friends.
Kos is a good holiday destination. So that's everything you need to know about Kos. Now that you have decided where to stay on this fascinating and diverse Greek island, all that you need to do is pick your dates and book your travel. I know that you'll have a marvelous trip!