The best areas to stay in Athens for first-timers are the beautiful neighborhoods of Syntagma, Plaka, Kolonaki, Monastiraki, Psiri, Exarcheia, Koukaki, Gazi, Kifissia, Thissio, Spata, and Metaxourgeio. These are popular areas for tourists that offer a wide variety of attractions and amenities.
In this post, we will be looking at where to stay in Athens for the first time tourists, families, for nightlife, budget, and without a car, as well as the safest areas to stay in Athens.
Athens city center is relatively compact and walkable. If you want to stay in a place that is central to most of the main sites, then you can choose between the busy Plaka neighborhood, the shopper's paradise of Monastiraki, or the quieter and slightly lower budget Thissio.
Plaka and Syntagma are the best place to stay in Athens for first-timers due to its proximity to Athens most famous attractions and many choices in accommodations. If you book a hotel here, you will be located in the middle of action, within walking distance to many top sights, as well as restaurants, bars, shops. With its excellent public transport system, you can easily explore the city without a car.
Athens is a very safe city to travel to, even for solo female travelers; but as in any tourist city, there is purse snatching and pickpocketing. You can easily avoid this by practicing common sense and be aware of surrounding. Plaka, Kolonaki, Monastiraki, Thission, are some of the safest neighhorhoods in Athens because it is always populated by tourists.
Despite its reputation for chaotic traffic, Athens is actually very easy to traverse by the metro rail system or public buses. This good transport means that you can choose to stay out of the city's busiest areas and still reach all of the main sites conveniently.
If this is your first visit, I recommend spending at least four days in Athens to explore the city. This time will allow you to visit the most famous touris attractions of historic Athens in a slower pace, and to take a day trip to the Temple of Poseidon at Sounion, or visit Delphi.
15 Best areas to stay in Athens for tourists
1. Syntagma, where to stay in Athens for first-timers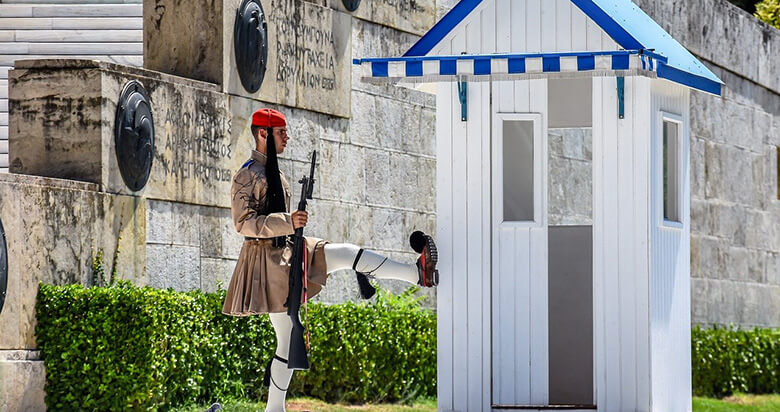 Syntagma Square along with Plaka is the best area to stay in Athens for first-timer travelers due to its central location. If you stay here, you will be located in the heart of the city, within walking distance to top sights, as well as many restaurants, bars, and shops.
Syntagma is home to Syntagma Station which offer easy access to other parts of the city and the Athens International Airport.
Syntagma is the neighborhood around Syntagma Square, also known as Constitution Square. The square was built shortly after King Otto chose Athens as the capital of the Country instead of Napflio in the early 19th-century. This most important square in Athens is where political gatherings, demonstrations, protests, concerts, and festivals happen.
In the center of the square, you find a marble fountain, the Monument of the Unknown Soldier, which is guarded by an Evzone, two Presidential Guards dressed up in the traditional uniform. You will have a chance to see the changing of the guard ceremony every hour.
On one side of the square stands one of the most important buildings, Hotel Grande Bretagne, a 5-star hotel that was built in 1842, where celebrities usually stay. It has luxurious rooms and a rooftop terrace with stunnig city views.
Right next to the Hellenic Parliament building stands 24 hectares National Gardens (including Zappeion Hall Garden). It was created in 1839 by Queen Amalia as a private royal garden. There are a few archaeological ruins, a botanical garden, a small zoo, and a kid's library.
At the entrance to the National Garden, you will find the statue of Lord Byron. It is a memorial to Lord Byron's role in the Greek War of Independence. Nearby, the Third Ephorate Of Ancient Antiquities (Roman Bath) is also a must-see!
If you are interested in history, you can visit the National Historic Museum in the Old Parliament House. It was built 1858-1875, designed by the architect François Boulanger. It displays artwork and artifacts on the war of independence and the founding of the Modern Greek State.
Another interesting landmark is the original marble Olympic Stadium, Panathenaic Stadium, the UNESCO World Heritage Site, which was built in the 4th century BC and restored for the first Olympic Games of the modern Greek state in 1896.
Syntagma Square is also the best area to stay in Athens without a car because it has a super central location. Most of attractions are located within walking distance apart, you can easily explore on foot and public transport. There are plenty of accommodation choices here for all budgets with many cafés, restaurants, taverns, bars, and food stalls.
Stay in Syntagma Square if this is your first visit to Athens; you want to be central; Transport connections are important, close to Syntagma Metro Station; You're in Athens for a short trip 2 nights or 3 nights.
Best places to stay in Syntagma Square:
Luxury ($$$): Hotel Grande Bretagne Located opposite Constitution Square and the House of Parliament, this 5-star hotel provides lavish rooms with e marble bathrooms. You can choose to stay in the rooms that have balconies facing the Acropolis, and the daily changing of the guard at the Greek parliament building. There are the onsite Roof Garden Restaurant and The Cellar that you can check.
Mid-range ($$): Hotel Achilleas This hotel is located in the heart of Athens, just a short stroll from Syntagma Square, Acropolis, the Temple of Olympius Zeus, Plaka and Monastirak. The Ermou Street with its dining and entertainment are on your doorstep. The hotel offers modern rooms with air-conditioning, safe, a fridge, flat screen TV, and free wifi.
Budget ($): Plaka Hotel Located in central Athens, this hotel offers American breakfast buffet and a Greek breakfast each morning. There is a rooftop bar with Acropolis views. You can choose guest rooms that have air conditioning, a minibar, safe, Wi-Fi, and views of Acropolis, Plaka or Lycabetus hill .
🔍MORE HOTELS IN SYNTAGMA SQUARE
See Also: How Many Days in Athens is Enough?
2. Plaka, where to stay in Athen close to tourist attractions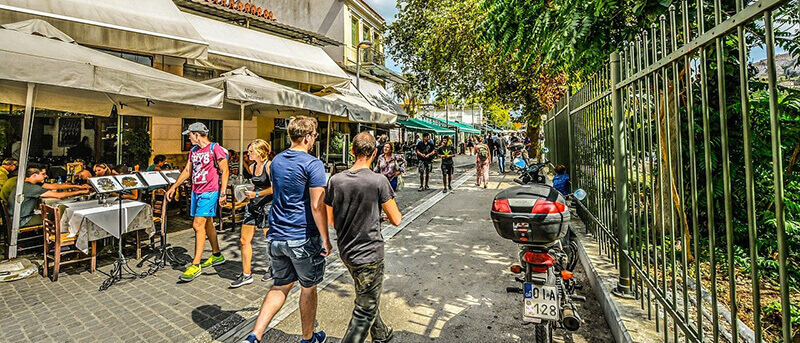 Plaka neigborhood is one of the best places to stay in Athens for the first time because it's one of the safest places in Athens for tourist and its prime location with lots of sightseeing, shopping, and great nightlife. There are also a wide choices of accommodation options that suits all budget travelers in this part of the North-Eastern slopes of the Acropolis hill.
This Athen's oldest district was Agora of Athens in ancient times, later becoming headquarter of the Turkish Governor during the Ottoman period. It fell into ruin during the Greek War of Independence, then repopulated during the Reign of King Otto when workers from the Cyclades come to Athens to build the King's Palace.
It is packed with pedestrian cobbled streets, restored nineteenth-century neoclassical mansions, typically Greek white houses, shops, restaurants, and charming ruins from the city's Roman era.
Plaka has a central location, shares the border with Monastiraki to the west, Syntagma and Ermou area to the north, the Temple of Olympian Zeus and Hadrian's Arc to the east, and Makrigianni area to the south.
The intersection of Plaka's two main pedestrian streets, Kydathinaion and Andrianou, is considered central Plaka.
Getting to Plaka is very easy with the metro system, stop at Syntagma Metro station and walk through Voulis street, or go to Monastiraki Station, where you find Adrianou street begins in the Monastiraki Flea Market. Another way is to stop at Acropolis station, cross Dionisiou Aeropagitou arriving at Vyronos Street.
Since it is so tourist-friendly, The Plaka is also a convenient and safe place for families and anyone who wants lots to see and do on their doorstep. Most of the area is pedestrianized, so visitors are protected from the notorious Athens traffic.
You can easily explore Athen's top attractions on foot including the Acropolis of Athens, Parthenon which is a temple dedicated to the Greek goddess Athena Partheno, Ancient Agora of Athens, and Roman Forum of Athens. The 17th-century Ottoman mosque Fethiye Mosque, the Tower of the Winds (the Clock of Andronicus Cyrrhestes) are both worth visiting!
If you're a fan of history and culture, you can also explore several museums like the Museum of Folk Art, the Children's Museum, the new Acropolis Museum, Frissiras Museum, Museum of Popular Musical Instruments, the Jewish Museum of Greece, Athens University Museum.
There are scores of good restaurants, bars, and cafes offering traditional greek food and international cuisine. For foodies, you can see many cafes and restaurants around Filomouson Etairias Square or Platia that serve Greek cuisine.
The Plaka, also known as The Neighborhood of the Gods, is a shopping paradise with a flea market and lots of souvenir shops, especially on Adrianou street which is the oldest commercial street in Athens.
The tiny neighborhood Anafiotika (little Anafi) is also popular with tourists. It was built in the 19th century when workers from Cyclades islands came to Athens to build Royal Palace. This village has an island vibe, with narrow winding alleys, bougainvillea flowers, and white houses.
Stay in Plaka if you're first time visiting Athens as a tourists; you want tourist aminities, tourist-friendly restaurants, bars, and facilities; you want the family-friendly area, you want to stay in the safest area in Athens;
Best Places to Stay in Plaka:
Luxury ($$$): Electra Metropolis This 5-star hotel is just within easy walk from scenic Plaka neighborhood. It has a scenic rooftop pool, an on-site restaurant, and the M Bar with Acropolis views. Rooms and suits are modern with free wifi, a laptop safe, and a mini bar. Book a night here, you will find restaurants, bars and shops in your door steps.
Mid-Range ($$): Ava Hotel and Suites Centrally located in Plaka, this hotel has air-conditioned and soundproofed rooms. Each room has a equipped kitchenette, flat-screen TV, Safety deposit box. You can book a suite with views of Hadrian Arch, Zeus Temple and the Acropolis.
Budget ($): Acropolis House Located in the heart of Plaka, this hotel have rooms with with soundproof windows. the 24-hour front-desk can help you with travel arrangements and tourist information.
🔍MORE HOTELS IN PLAKA
See more:
3. Kolonaki, upscale and chic neighborhood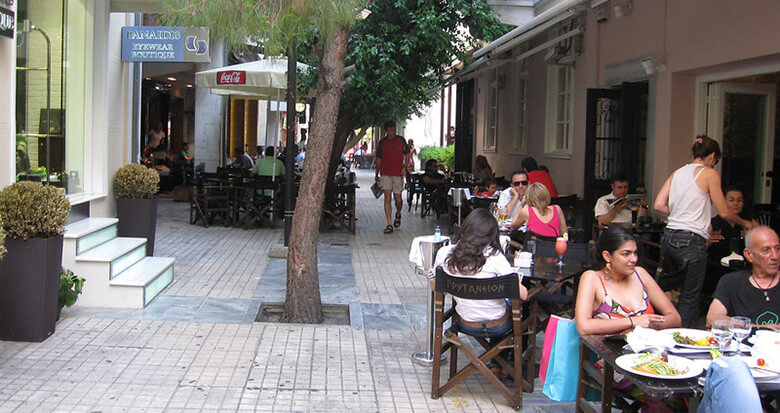 Located on the southern slope of Lycabettus Hill, next to Syntagma Square and Vasilissis Sofias Avenue, Kolonaki (Little Column) is a wealthy, upscale, and chic neighborhood in central Athen, filled with high-end shops, fancy restaurants, and stylish cafes.
You can take the Lycabettus Funicular Railway to the top of Mt. Lycabettus where you can enjoy charming views of the Aegean Sea and the port of Piraeus. Kolonaki is served by the Evangelismos metro station and the Megaro Mousikis metro station.
Voukourestiou is the main shopping street, home of Galerie Zygos, famous for its jewelry. Tsakalof Street is also a busy street all day and night where you can grab a coffee and a cocktail.
Kolonaki is an upper-class district, rich in variety. It offers good nightlife and interesting landmarks. Many stylish bars, live music venues, cafes, ouzeries, tavernas, and restaurants are lined on the streets of Tsakalof, Patriarchou Ioakeim, Kanari, Skoufa, and Anagnostopoulou.
If you love art, you must visit the contemporary art gallery, Zoumboulakis Gallery at Kolonaki Square. It is one of the oldest galleries in Athens, established in 1912. It features works by Greek and foreign artists and exhibits.
History buffs will love to visit world-known museums like the Benaki Museum of Greek Culture where you can find collections that date back to antiquity and the Byzantine period to learn more about Greek history.
Other interesting places to visit in Kolonaki are the Byzantine and Christian Museum, the Museum of Cycladic Art, Greek Costumes, Hellenic Children, Theater Museum, the War Museum of Athens.
You won't be surprised to hear that this is a place where you will find luxury hotels, but cheaper apartments are also available.
Stay in Kolonaki if you love a good music scene, your budget allows for a luxury hotel, you intend to visit museums, you want high-end shopping; you want a safe and quiet neighborhood;
Best Places to Stay in Athens in Kolonaki:
Luxury ($$$): Coo-Mat Athens Jumelle This 5-star hotel is situated very close to Kolonaki Square, Benaki Museum, Museum of Cycladic Art and Syntagma Square. There is a spa centre terrace, 24-hour front desk, a restaurant, and a fitness centre.
Mid-range ($$): Hotel Lozenge this 4-star hotel is located in a Athens high-end area, Kolonaki. Each room has air conditioning, coffee machine, and bathtub or shower, slippers, free toiletries and a hairdryer.
Budget ($): Athinais Hotel this 3-star hotel is only 10 minute walk from the popular Kolonaki shopping area. Enjoy la carte breakfast at Theodosios room, as well as grab cocktails and gourmet coffees at its on-site bar.
🔍MORE HOTELS IN KOLONAKI
4. Monastiraki, central location, good for shopping, nightlife

Monastiraki along with Plaka is one of the most popular areas for tourists due to its central location, located on the north side of Acropolis Hill, while Plaka is on te east side.
Monastiraki means little monastery, is an area of central Athens located immediately to the northeast of the Parthenon. This is one of the oldest neighborhoods in Athens, and Monastiraki square is the meeting point of many Athenians and tourist.
Monastiraki area is a shoppers' dream since it is full of stores selling all kinds of arts and crafts, antiques, tourist items, and lots of other stuff. Monastiraki's Flea Market is one of the main attractions in this area which covers a few blocks along Ifestou Street.
Traditionally a hip and Bohemian part of town, these days, Monastakiri is exceptionally tourist-friendly. There are plenty of cool restaurants and bars and this area is a prime choice for younger and independent travelers who want to be close to the Acropolis but in a slightly more happening place than the tourist hub of the Plaka.
Apart from the shopping, there are plenty of historical and cultural landmarks in Monastakiri. You will find the Church of St. Mary Pantanassa (or Virgin Mary's Assumption) right out of the train station.
Another interesting sight is the Tzistarakis Mosque, which is the 18th-century Ottoman Mosque, housed a ceramic collection owned by the Museum of Greek Folk Art.
Right next to the Tzitarakis Mosque stands the Hadrian's Library. It was built in AD 132 by Roman Emperor Hadrian. The Stoa of Attalos nearby is also worth visiting!
Monastiraki is severed by Monastiraki metro station, which is one of the oldest metro stations in Athens.
Monastiraki's main streets: Adrianou Street, Pandrossou Street, and Ermou Street have plenty of shops, restaurants. Great places to stroll around, grab a traditional Greek meal and enjoy a view over the Ancient Agora.
Monastiraki one of the safest areas in Athens. But as in any tourist areas, you should use common sense, and be aware of surrounding.
You will find some good-value accommodation here in most price brackets, with the majority suiting a mid-range budget. There are some excellent hostels here, so this is an ideal central choice for backpackers too. If you're looking for the best neighborhoods for 2 nights or 3 nights, Monastiraki is best choice!
Stay in Monastiraki if you're looking for good shopping; you want to be right in the center of Athens; you're looking for excellent old architecture and atmosphere; you're traveling as a couple.
Best places to stay in Athens in Monastiraki:
luxury ($$$): The Zillers Boutique Hotel thi luxury hotel is centrally located in the heart of Athens, within easy walk from Adrianou Street, Roman Agora, Monastiraki Square and Anafiotika. There is an on-site bar and a restaurant, a sun terrace with Acropolis views.
mid-range ($$): The Athens Version Luxury Suites Conveniently located close to Athen's top tourist landmarks, this hotel offers express check-in and check-out, as well as allergy-free rooms. All guest rooms come with rooms a flat-screen TV and a private bathroom, free toiletries and bed linen.
budget ($): Adrian Hotel This 3-star hotel is set under the Acropolis hill on Adrianou Street. It has a rooftop terrace with the views of Parthenon. There is plenty of entertainment and shopping opportunities nearby.
🔍MORE HOTELS IN MONASTIRAKI
See more:
5. Psiri, best area to stay in Athens for nightlife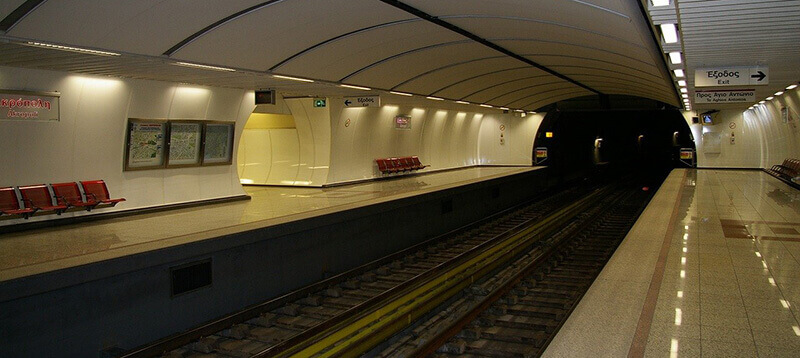 Psiri or Psyri is centrally located close to Acropolis, Syntagma Square, and Monastiraki metro station. Psiri is overall safe and is one of the most happening night areas of Athens. You should stay here if you're keen to party the night away in the hundreds of bars and clubs that throng the place.
The streets around Iroon Square are filled with young people and many all-day bars like Barrett and Tranzistor on Protogenous street.
Psiri is an exciting choice if you want to escape from the tourist crowds and stay in a part of Athens that caters to a local crowd. This is for experience more authentic and less touristy neighborhood in cappital of Athens.
Psiri is known for its art and graffiti, for fans of street art, check out Sarri and Louka Nika streets, and art galleries like Sarri 12 and A.Antonopoulou Art.
You'll find attractions such as the Statue of Pericles, the Museum of Greek Gastronomy, the ExarchiaChurch of Panaghia Kapnikarea, Iroon Square, the Emporikon Theater, the Athens Escape Room, Theatro Kofon Ellados, and Athens Central Market.
The area is still not far away from all of the main tourist sites of the city. With the convenience of the Athens metro train system close by, it is easy to hop on a train to the center.
Stay in Psiri if you want to party, you want to be in a buzzing central part of town, you're want to see the Library of Hadrian, Roman Agora, Ancient Agora; you want to mix with locals and not tourists;
Best places to stay in Athens near Psyri:
Luxury ($$$): Perianth Hotel Located on Limpona Street, this 5-star hotel close to many hip bars, restaurants, and shops. Each room and suite has a modern decor with a coffee machine, a safe and a wardrobe.
Mid-Range ($$): Evripides Hotel Centrally located close to scenic Plaka district and Monastiraki Metro Station, this property has rooftop terrace, continental breakfast free wifi, and car parking!
Budget ($): Attalos Hotel Centrally located, easy reach archaeological sites and flea market, this hotel has a rooftop bar with Acropolis view, and soundproof windows rooms.
6. Exarcheia, bohemian feel neighborhood in Athens

Located near the University of Athens, Exarcheia, known as the capital's anarchy-base, has a bohemian feel and is packed with students and alternative bars, clubs, cafes, and Greek culture. While it is becoming an increasingly popular tourist destination, this area is still a little edgy. You should only stay here if you are streetwise and comfortable in urban centers.
So Exarchia probably isn't the right choice for families, but there is some great budget-friendly accommodation, and younger and independent travelers will find the local buzz and excitement exciting.
The National Archeological Museum is a major tourist attraction situated in Exarcheia. You also have Strefi Hill Park, the Street Art Tours, Opap Play Casino, Epigraphic Museum, Kallidromious Street, the Farmer's Market, and Navarinou Park.
Stay in Exarcheia if you are on a budget, you want an edgy, exciting, bohemian area, you want good hostel accommodation, you want lots of bars and nightclubs.
Best Places to stay in Athens Exarcheia:
Mid-range ($$): Dryades & Orion Hotel Located in a quiet area near Strefi Hill, in the district of Exarchia, this hotel is also close to the National Archaeological Museum. You can choose to stay in a rooms with Acropolis view and rooms with Lycabettus Hill views. Plenty of restaurants and bars, historical sites and monuments nearby.
mid-range ($$): Colors Hotel Athens This 4-star hotel is centrally located close to University of Athens – Central Building, National Archaeological Museum of Athens and National Theatre of Greece. There is 24-hour front desk, and car rental service.
7. Koukaki, where to stay in Athens for local vibe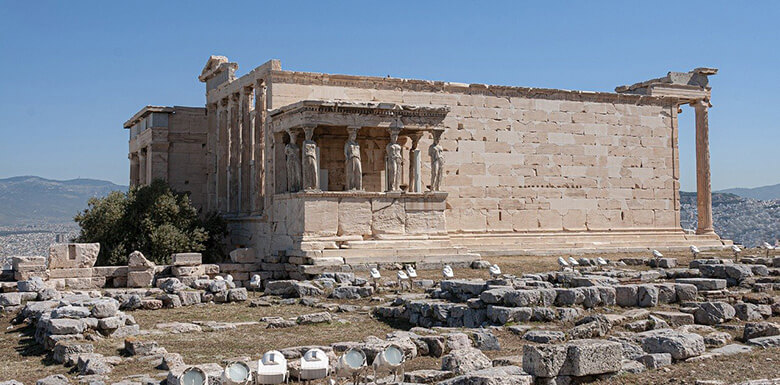 Located on the foot of Philopappos hill and very close to Acropolis, Koukaki is the university area of Athens and largely residential. As a result, it is quieter than some other neighborhoods of the Greek capital. If you go to Philopappou Hill Park, you can expect some wonderful views over the city.
It is not an area where you can expect to find lots of hotels. However, there are rental apartments that offer you more independence as long as you are happy to eat out or self-cater. If you want to get a flavor of Greek life, albeit, in a city, this is a district to investigate.
Here you will find several museums. If you head to on Syngrou Ave, you can find the National Museum of Contemporary Art (EMST), former Fix brewery, now displays works by Greek and international artists.
Mean while, the Ilias Lalaounis Jewelry Museum has 4,000 pieces of Lalaounis' work, is an international center for the ancient art of goldsmithing and other traditional crafts, also a must-see attraction.
You can hike up Philopappos Hill to visit the Philopappos Monument and the prison of Socrates.
Enjoy the nightlife with a good selection of bars, restaurants, and traditional cafes at Geogaki Olympiou Street and Drakou Street. It is close enough to the center of Athens that you can easily access its most important landmarks without making your base in a busy neighborhood.
Stay in Koukaki if your preference is to rent an apartment; you want to be close to, but not in, the center; you want to experience local life;
Best Places to Stay in Athens in Koukaki:
Luxury ($$$): Grand Hyatt Athens This 5-star hotel is located in Syngrou Avenue. It has a atrium pool & bar, a rooftop overlooking Acropolis, 24/7 fitness centre, and private car parking. Enjoy Mediterranean and Asian cuisine at its restaurant pr grab a drink at pool bar or lobby bar.
Mid-range ($$): Heritage Hill Hotel this 4-star hotel is set on Leoforos Andrea Siggrou, close to Onassis Cultural Centre, Acropolis Museum and Temple of Olympion Zeu. It has 24-hour front desk, airport transfers, and comfortable rooms.
Budget ($): Hotel @Syngrou Fix Located in Koukaki, a short stroll from New Acropolis Museum and Syngrou Fix Metro Station, this 3-star hotel offers soundproofed rooms with a desk, a fridge, a kettle and a flat-screen TV, as well as a espresso machine.
🔍MORE HOTELS IN KOUKAKI
8. Gazi, where to stay in Athens on budget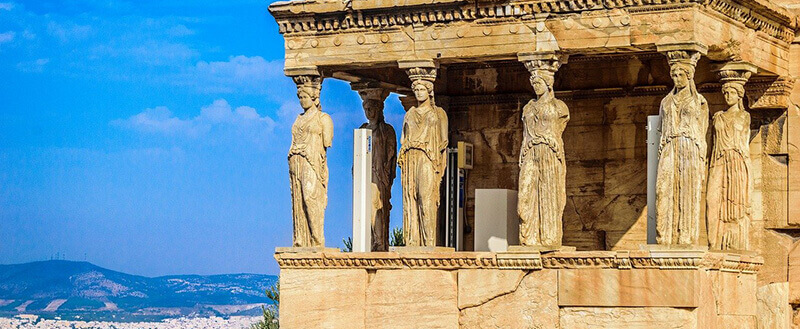 If you are searching for a budget-friendly area of Athens that is still close to the Acropolis and all the central tourist locations, you should stay in Gazi (gas in Greek). This nightlife and entertainment district has the highest concentration of bars and clubs in Athens central.
As is often the case with cheaper accommodation neighborhoods, Gazi is a little further away from the central Acropolis area than its more expensive neighbors. But having said that, it is only a walk of a kilometer or so to get to the heart of everything. And Gazi itself is an engaging, up-and-coming area with decent facilities, including many fashionable bars and restaurants.
While staying in the old city gas-works, be sure to visit the excellent Museum and Cultural Center located in the old Athens city gas works. This center has turned the area into a fast-developing hub of art and culture. So you will find some impressive street art here and a host of innovative little bars and eateries.
Another must-see in Gazi such as Technopolis, an industrial museum and a major cultural venue. In here, you will find the Industrial Gas Museum, café, and Skywalk whicg a post-industrial playground.
Inside Gazi neighborhood, you can find Dimosio Sima in Kerameikos which is burials and tombs of residence and the kings. You can check out the Mural Filled Streets with Athens street arts, and be sure to check out a cool bar called Gazarte.
If you don't fancy walking across town, you just need to hop onto the Athens city Metro, which has a nearby station.
Stay in Gazi if you travel on a budget; you want all the attractions within medium walking distance; you want a less touristy area.
Best places to stay in Gazi:
mid-range ($$): Athenian Spirit Located only 200m from Gazi – Technopoli, near Kerameikos subway station, this hotel offers a paid airport shuttle service, and air conditioning rooms a private bathroom, a fridge, a kettle and a coffee machine.
mid-range ($$): A little Taste of Home Apartments This hotel is close to National Theatre of Greece and Gazi – Technopoli. This apartment is fully equipped with the bathroom and kitchen.
budget ($$): Iconic Athens Hostel This hostel is in central Athens. It has a 24-hour front desk, airport transfers, a shared kitchen. Each room has a safety deposit box and bed linen. There are dormitory room with 4 bed, 6 beds, 8 beds.
9. Glyfada, great area for explore Athens Riviera
Located 45-minute tram ride from Athens city center, this upper-class Athens Riviera resort is a town south of Athens but close enough to use as a base to enjoy the city and the beach. It is a neighborhood that attracts wealthy locals as well as overseas visitors. The lovely climate, hours of sun, sand and warm waters all add to its appeal.
Some of the beaches are private while cocktail bars, luxury shops with all the famous brands, and a Glyfada Golf Club of Athens are all features that appeal to those with the means to enjoy a luxury holiday. Not surprisingly, Glyfada accommodation is at the high end as well.
The beautiful fish taverns, restaurants, shopping and nightlife, in general, mean that the only reason to head into Athens is for the historic landmarks. You will not miss anything else. The Sea Turtle Rescue Centre is interesting as a change.
Along the coast, you will find organized beaches such as Astreas complex, known as Balux, with clean waters and good beach facilities.
Another must visit is the The Planetarium, with its 25-meter diameter dome. You can learn more about the universe in a fun and interactive way. If you love art, take a look about the the Blender Gallery, where you can find works of local Greek and international artists.
Stay in Glyfada if you can afford the luxury; you want to avoid tourist crowds.
Best places to stay in Glyfada:
Luxury ($$$): Glyfada Riviera Hotel This 5-star hotel is set on the Athenian Riviera, close to the beach and Glyfada Golf Course. Easy access to Athens center with bus stop nearby.
Mid-range ($$): Palmyra Beach Hotel Located within easy walk from Glyfada's sandy beach and marina, this 4-star hotel has a 24-hour reception, on-site restaurant and bar, outdoor swimming pool, and car rental.
Budget ($): Hotel London Located near the tram station and bus stop, so you can access the city center easily. All soundproofed rooms have air-conditioning, wooden floors, and private balconies.
🔍MORE HOTELS IN GLYFADA
10. Piraeus, port hub of Athens, to catch ferry to Greek island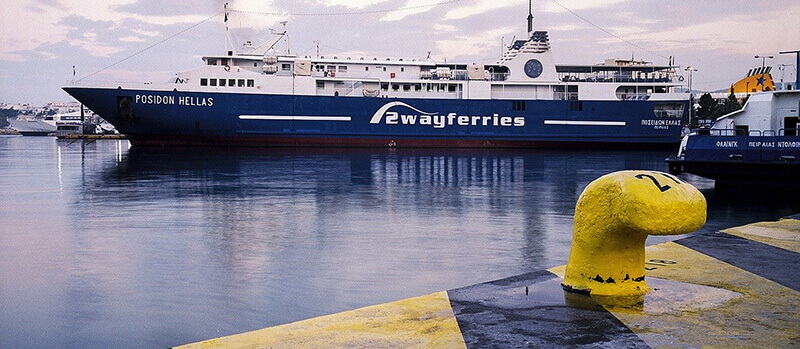 Located within 30 minute tram ride from Athens' center, Piraeus is the thriving port that links Athens with scores of Greek Islands out in the beautiful blue Aegean Sea. It is a busy working port town handling all of Athens' passenger and cargo shipping.
Piraeus encompasses three harbors including Kantharos, Zea (or Pasalimani), and Munichia where you can find fresh fish and seafood tavernas. You can take a stroll along the waterfron, that start from the metro station and head to the harbour; you will past the Naval Academy, Peiraiki and Zea Marina, and Mikrolimano.
Fan of museums can visit the Archaeological Museum on Harilou Trikoupi Street, the Hellenic Maritime Museum which is the largest maritime museum of Greece, the Electric Railways Museum of Piraeus inside the Piraeus metro station, and the floating museum of Liberty Ship Hellas.
There are Piraeus Flea Market on a Sunday morning, where you can buy fine antiques and retro fashion. it spanning along Alipedou and Omiridou Skilitsi Streets.
In this neighborhood, you will find Castella which is an authentic Greek hilltop district with neoclassical buildings, and at the top of the hill, you will find the Veakeion open-air theatre and the Prophet Elias church.
The Downtown area is where you find historic Agia Triada Church, Municipal Theatre, The Municipal Gallery, and Korai Square that lead to pedestrianised shopping areas.
For the beaches, check out Votsalakia and the Municipal Beach of Freatida.
So, while it isn't a beautiful beachfront setting, it is a bustling and fascinating place to stay. However, the reason that most people will choose to stay in Piraeus is if they have just arrived by ferry or if they are planning a hassle-free departure the following day.
The port of Piraeus has plenty of good hotel options at budget and mid-range price brackets.
Stay in Piraeus if you are traveling to or from Greek islands; you want to witness Greece's biggest port town in action.
Best places to stay in Piraeus:
Luxury ($$$): Piraeus Theoxenia Hotel this 5-star hotel is set heart of Piraeus' business district, close to the port. You can try a meal and drink at its on-site Incognito Restaurant and Bar.The train station and metro nearby will take you to airport and city centre.
Mid-range ($$): The Port Square Hote Centrally lcoated in Piraeus City Centre, this 4-star hotel is also close to Piraeus Port – Athens, Veakeio Theatre, and Karaiskaki Stadium. Book family rooms if you are family travel with children.
budget ($): Gallery Residence 26 This is an excellent hotel that is located in Piraeus City Centre. The hotel offers a terrace, vending machine, business centre, fitness centre, and a 24-hour front desk.
11. Kifissia, beautiful exclusive suburb in Athens
The attractive, leafy suburb of Kifissia is located 30-minute train ride from downtown, to the northeast of Athens. It is also known as the Beverly Hill of Athens with many tree-lined boulevards, trendy bars, cafes, and high-end shops.
This calm and open part of the city is a popular choice of destination for families and those who don't fancy dealing with the chaos of the center of Athens' teeming metropolis. Kifissia is a wealthy residential suburb.
Along quiet tree-lined streets lies many restored 19th-century mansions and villas. There are horse-drawn carriages on weekends depart from the intersection of Levidou and Panagitsas streets, giving it a romantic atmostphere.
Wander around Kolokotroni Street leads you to Kefalari, and stop at one of the small parks, cafes, and restaurants for people-watching. The Greek patisserie (zaharoplasteio), Varsos has been around since 1892.
While the area is relatively remote, it is actually easy and convenient to journey into the center of town on one of the frequent bus services or by hopping on the metro train. It also offers easy access to the Mount Penteli and the Marathon coastline.
If you are interested in art and culture, you can visit the Goulandris Museum of Natural History, contemporary Mamush Gallery, and the Kouvoutsakis Art Institute.
There are two of the Athens' oldest cinemas in Kisfissa including the Bomboniera which opened in 1918, and Chloe. It open May to September, when the weather allow. Other attractions nearby are Playmobil Fun Park Athens, The Mall Athens, and Golden Hall.
There are some friendly hotels here that offer good facilities and value for money. Kifissia is also a good area for families and groups to search out the apartment and home-style accommodations with kitchens and lots of living space.
Stay in Kifissia if you travel with family; you want to avoid the crowds, you don't mind taking a bus or a train to see the sights, you are looking for an apartment or home rental.
Best Places to Stay in Athens in Kifissia:
Luxury ($$$): Theoxenia Palace This 5-star hotel is located in Kifissia overlooks Kefalari Park. You can enjoy Greek and Italian cuisines at its on-site restaurant. There is an outdoor rooms, free car parking, as well as a spa that come with an indoor swimming pool, hot tub, sauna and hammam.
Mid-range ($$): The Y Hotel this 4-star hotel is set in the Kifisia neighborhood with many designer stores and fine restaurants. It is short stroll from Goulandris Natural History Museum.
budget ($): Coco-Mat Hotel Nafsika this 3-star hotel is only 10 minute walk from Kifisia Train Station. There are a book library, airport transfer, car parking, and modern rooms. Guest can enjoy Greek buffet breakfast in the hotel.
12. Thissio, one of the safest areas to stay in Athens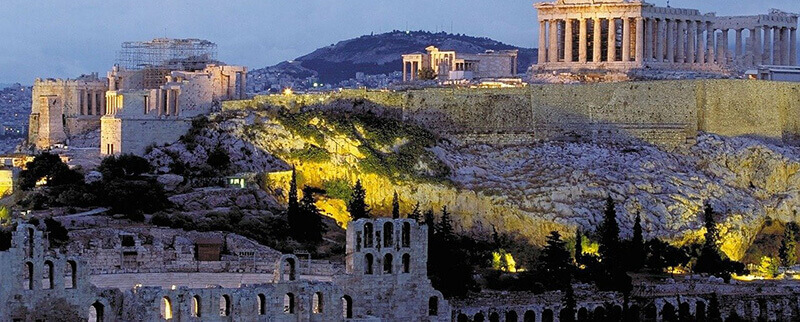 Thissio along with Plaka, Kolonaki, and Monastiraki, is one of the safest areas to stay in Athens. Located in a super-central area of the city, right next to Plaka, Monastiraki, and Acropolis, so if you stay here, you will have all of the sights, activities, and tourism infrastructure at your disposal. But as in any tourist area, you should be aware of surrounding and pickpocketing!
Many streets such as Irakleidon Street and Apostolou Pavlou Street are pedestrianized, you can easily explore on foot. There are plenty of souvenir shops, bars, travel agencies, trendy restaurants, and cafes. If you want all of your holiday and entertainment options to be simple and straightforward, this is a great place to stay.
Thissio also has an attractive public park offering visitors a welcome breath of fresh air and escape from central Athens' bustle. Thissio is also home to the excellent Acropolis Museum, which is well worth visiting to gain greater depth on this spectacular monument's history and significance.
Temple of Hephaestus is a Doric temple erected on Kolonos Agoraios hill in the northwestern area of Athens. There is also the Herakleidon Museum which displays modern and contemporary art.
You can also explore the Filopappos Hill, also known as Hill of the Muses. The hilltop offers one of the best views of the city. On the Filopappos Hill, you will see The Prison of Socrates, Philopappos tomb and monument which was built in honor of Roman senator Philopappos, and the Church of Saint Demetrios Loumbardiaris which is a 15th Byzantine church with fine frescoes..
Filopappos Hill encompasses Pynx and Hill of the Nymphs. You can watch the night sky at the National Observatory on the Hill of the Nymphs or check out the archeological and historic site of Pnyx.
Don't miss out the Church of Aghia Marina, on the northwest side of the Hill of the Nymphs. This 1931 Byzantine church offers a lovely view to the city of Athens.
Apart from sightseeing, you can relax at Hammam Bath, or watch movie in a open cinema at Cinema Thission which was opened in 1935. It located on the Apostolou Pavlou street linking Thissio metro station to the Acropolis.
Thissio has a huge number of places to stay for budget travelers. The neighborhood is easily accessible by foot, car, and public transportation.
Stay in Thissio (Thiseio) if you want a safe area; you are looking for where to stay in Athens Greece close to attractions in a central and budget-friendly location; you want plenty of tourist facilities; you want to be a short walk and great views of the Acropolis.
Best places to stay in Athens Thissio (Thiseio):
mid-range($$): Acropolis Vision Conveniently located within easy walk from Thiseio Metro Station, Ancient Agora of Athens, Temple of Hephaestus, and Monastiraki Flea Market. it provides 24-hour front desk, airport transfers, and free wifi.
mid-range ($$): Phidias Hotel This 3-star hotel is centrally located on the pedestrian street of Apostolou Pavlou, very near Acropolis, Thision Metro Station, and the Ancient Market. Guest can try coffees and drinks at its on-site bar.
budget ($): Greece U Around Athens Thissio Suites Located close to Temple of Hephaestus, Gazi – Technopoli and Filopappos Hill, this hotel offers free wifi, free car parking, well-equipped rooms and city views!
13. Spata, where to stay in Athens near airport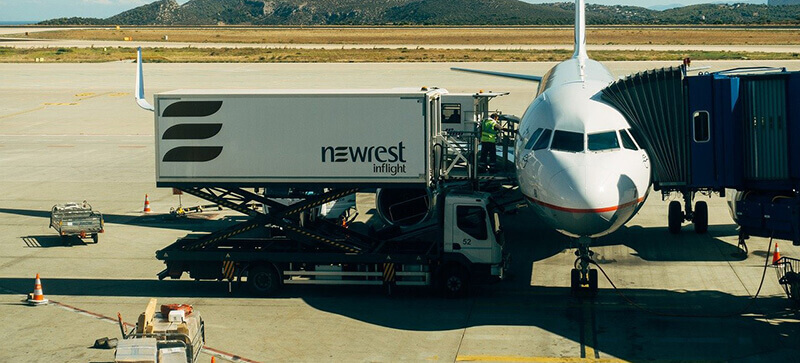 Spata is a suburb out on the Eastern side of Athens city that is home to Athens international airport, known as Spata Airport. The multitude of budget and mid-range hotels here are designed with onward travel in mind, providing airport pickups and drop-offs as part of the service.
If you arrive in Athens by air and want a hassle-free transfer to your hotel, or if you're leaving early in the morning and want to avoid the gridlock of an Athens Rush hour, then it is a good idea to spend the night here.
Spata is also close to Attica Zoological Park, a 20 hectares private zoo, home to more than 2000 animals and the third largest collection of birds in the world. it attracts thousands of visitors each year. You can take a metro to Doukisis Plakentias Station in city center to visit the zoo.
Spata is also haven for shoppers with the McArthurGlen Designer Outlet, home to more than 100 brands, shops, restaurants, cafes, playgrounds, and a cinema. You can easily reach by public transport to Doukissis Plakedias and then take free shuttle bus.
Stay in Spata if you want coveniently location to stay near the airport
Best places to stay in Athens near the airport:
luxury ($$$): Madison hall,near the Athens airport Located 16km from Elefthérios Venizélos airport, this hotel offers a paid airport shuttle service. It's also close to McArthurGlen Athens and Smart Park Athens. The hotel can help with car rental, and there car parking on site.
mid-range ($$): Cinema Zeus Studios – Spata – ATH Airport This apartment is only 3km from Elefthérios Venizélo airport. You can use their paid shuttle services. choose to stay in a room with air-conditioned a patio, and free wifi,
budget ($): Sunset Apartments Free shuttle from Athens Airport This bed and breakfast offers free shuttle service to Athens airport. Guest rooms come with a kitchen with a fridge, a sofa, and a private bathroom with bath and free toiletries.
14. Varkiza, where to stay in Athens near beach
Located 25 km away from Athens city center, Varkiza is an exclusive and very well-heeled beachfront suburb in the southeast of Athens. This area has some lovely sandy beaches, and it is where wealthy Athenians go to kick back and spend some beach time.
Varkiza is a splendid neighborhood of the Athenian Riviera, or Apollo Coast along with Lagonisi, Sounio, Floisvos Marina, Voula, Anavyssos, Vouliagmeni and Glyfada.
Varkiza was once a fishing villages, here you will see an open-air fish market with many fresh fish and other seafood, like crabs and shrimps.
Yabanaki beach is a beach resort complex that has beach bars such as Holy Spirit and Coyacan; restaurants, few boutique shops, a water sports kiosk, beach volley courts and is guarded by lifeguards and security.
It also has lots of water sports activities to enjoy such as water skiing and paddle-boarding.
In the summer months, the high peak season of June-August, Varkiza is busy with Greek holidaymakers, and at this time of year, it's a thriving entertainment and nightlife hotspot. Varkiza and the Greek Riviera are fantastic places to stay, dine and eat here.
Stay in Varkiza if you want to stay near the beach; you don't mind a trip into the city to see the sights;
Best places to stay near Varkiza:
mid-range ($$): Apollonia Hotel Apartments Located at Varkiza, this family hotel is only 400 m from the beach, a short drive by car from centre of Athens and Athens International Airport. It has well equipped rooms for couples, families, and solo travelers.
budget ($$): Cosy Studio near the beach This property is located within easy walk from Varkiza Beach, also 1.8 km from Αkti Vouliagmenis Beach and Vouliagmeni Beach. Each unit has air-conditioning, tiled floors, a kitchen with a fridge and a dining area.
15. Metaxourgeio, budget-friendly area, vibrant street art scene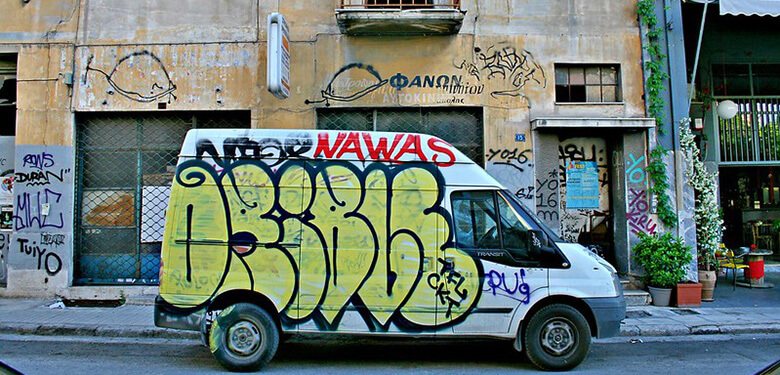 Located north of Athens' historical heart, Metaxourgeio, or Metaxourgio, is an artistic and fashionable district because it's home to many galleries, museums, cafes and trendy restaurants. It was once a working neighborhood due to its silk factory inside the area.
Located in the heart of Metaxourgeio is the Avdi Square which offers the chance to enjoy green, open spaces with it being an ideal place for Metaxourgeio Carnival and gatherings of any kind.
Metaxourgeio district was where many ancient Athenians were buried because, at that time, this was on the outskirts of the city. By the 19th Century, Athens' growth made it a working-class neighborhood. Its revival has been due to individual effort rather than city planning. If you enjoy galleries and museums, Metaxourgeio may just be for you.
Metaxourgeio is one of the cheapest areas in Athens, so you will have food and drink with lower prices. There are plenty of raki restaurants that people can gather and order meze and drinks.
Similar with Exarcheia and Psyrri, Metaxourgeio has a vibrant street art scene and many art galeries including the Municipal Gallery of Athens (former silk factory), the Rebecca Camhi Gallery, and the Breeder Gallery.
Stay in Metaxourgeio if you are looking for budget accommodation; art is an interest of yours; you want some open space within Athens.
Best places to stay in Metaxourgeio:
Luxury ($$$): Wyndham Grand Athens This 5-star hotel is located within easy walk from Metaxourgeio Metro Station, Omonia Square, and Ermou Shopping Street. It has a rooftop outdoor pool, free wifi, a spa center, private car parking, and a gym. Guest can enjoy meal at its onsite bar-restaurant and admire the views of Acropolis, Lycabettus Hill, and Saronic Gulf.
Mid-range ($$): The Stanley This 4-star hotel is conveniently located outside the traffic restriction ring of Athens, with a very easy access to National Roads and Athens beaches. Enjoy Mediterranean and Greek cuisine at its two on-site restaurant: Icarus Restaurant and Sweet Basil rooftop restaurant.
Budget ($): Connect Studios & Apartments this apartment is located within a short walk from National Theatre of Greece, Omonia Square and National Archaeological Museum of Athens. It provides family rooms with private bathroom, air conditioning, a TV.
🔍MORE HOTELS IN METAXOURGEIO
Where should I stay in Athens for the first time?
If this is your first visit, Plaka and Syntagma are the best area to stay in Athens due to its super central location. Booking hotel in this area, you will be located within walking distance to many tourist attractions, hotels, restaurants, bars, and shops.
What is the safest area to stay in Athens?
The safest area in Athens to book hotel is the tourist neighborhoods such as Plaka, Kolonaki, Monastiraki, Thission. But as in any tourist area, you should use common sense and be aware of pickpocketing.
Is it better to stay in Plaka or Monastiraki?
It ultimately depends on personal preference. Plaka is a more traditional and historical area, while Monastiraki is more modern and vibrant. Plaka is known for its narrow streets and charming atmosphere, while Monastiraki is known for its lively shopping and dining scene.
See more: Frequently Asked Questions about Best Places to Stay in Athens
See More:
The fabulous, fascinating capital of Greece is a bucket list perennial that you really should visit at least once in your life. There is the splendor of The Parthenon and a wealth of no less intriguing ancient Greek historical sites. But Athens also has world-class shopping, fine dining, and excellent entertainment.
The city is packed-to-the-seams with ruins and beaches, parks and museums, and countless things to see and do. Athens is a vast and modern European city that is home to nearly four million people. It is also a stunning cultural center with an abundance of ancient Greek architectural sites to explore.
Athens is an intoxicating blend of a modern European city and a historically significant ancient Greece site. It is a unique and fabulous tourist destination. So as you know where to stay in Athens, go ahead and get that trip arranged, and have a marvelous stay in Athens!