Where to Stay In Athens: Best Areas & Hotels Travel Guide
Wondering where to stay in Athens as a first-time traveler, with family, as a couple, backpacker, for nightlife, sightseeing, or on the budget? Find out the best area and neighborhoods to stay in Athens in this guide.
The fabulous, fascinating capital of Greece is a bucket list perennial that you really should visit at least once in your life. There is the splendor of The Parthenon and a wealth of no less intriguing ancient Greek historical sites. But Athens also has world-class shopping, fine dining, and excellent entertainment.
The city is packed-to-the-seams with ruins and beaches, parks and museums, and countless things to see and do. But where should you stay?
See Also: How Many Days in Athens?
Where to Stay in Athens: Tips & Info
Athens is a vast and modern European city that is home to nearly four million people. It is also a stunning cultural center with an abundance of ancient Greek architectural sites to explore.
Fortunately, the center of the city is relatively compact. If you want to stay in a place that is central for most of the main sites and exceptionally well developed for tourism, then you can choose between the busy Plaka, the shopper's paradise of Monastiraki or the quieter and slightly lower budget Thissio.
Despite its reputation for chaotic traffic, Athens is actually very easy to traverse by the metro rail system or public buses. This good transport means that you can choose to stay out of the city's busiest areas and still reach all of the main sites conveniently. If this is the case, you might decide to stay in the leafy suburb of Kifissia or head out to the ritzy, sophisticated Beach area of Varkiza.
If you are arriving or leaving by air, there are some good quality hotels close to the airport in Spata. Similarly, if you are arriving or departing by passenger ferry to one of the islands, you can stay comfortably in the port town of Piraeus.
Where to Stay in Athens – The 10 Best Area to Stay in Athens
To help you decide which of the town's characterful areas suits you and your traveling needs best, here is my detailed description of the ten best places to stay in Athens.
Where to Stay in Athens Map
To see more detail of the Where to Stay in Athens Map, go to Google Map;
1. Plaka, Where to Stay in Athens for the First Time Travelers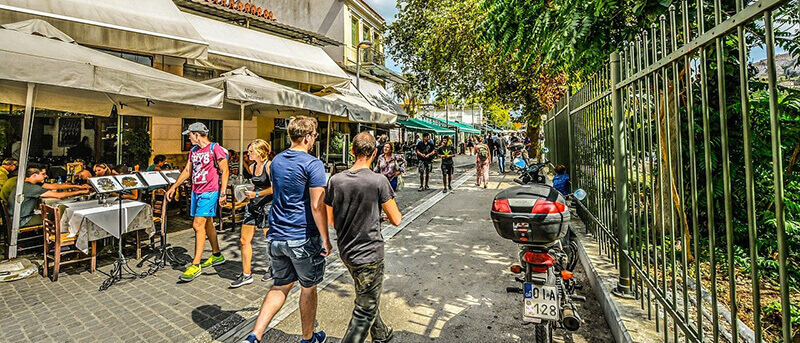 The Plaka is the tourist heartland of Athens. It occupies a maze of streets and beautiful old buildings on the slopes leading up to the Acropolis.
If you're a first-timer in Athens, then look no further; this is a terrific place to stay. Since it is so tourist-friendly, The Plaka is also a convenient and safe place for families and anyone who wants lots to see and do on their doorstep. Most of the area is pedestrianized, so visitors are protected from the notorious Athens traffic.
There are scores of good restaurants, bars, and cafes offering fantastic Greek and international cuisine. You can also explore several museums like The Museum of Folk Art and ancient buildings like The Mitropolis Cathedral. The Plaka is a shopping paradise with a flea market and lots of souvenir shops.
YOU SHOULD STAY IN PLAKA IF YOU:
Want to have the Acropolis next door
Want to explore the beautiful old city
Want a safe, family-friendly area
Want tourist-friendly restaurants, bars, and facilities
Best Hotels in Plaka Athens:
Best luxury Hotel
Electra Metropolis Located in the heart of Athens, just 200 m from Syntagma Square, the modern Electra Metropolis features a small, rooftop pool with waterfall effect, and a sun terrace with views over the city. Gourmet dishes and refreshing cocktails can be enjoyed at the top-floor restaurant or at the M Bar offering panoramic views over the Acropolis.
Electra Palace Athens With a great location in the center of Plaka, facing the Acropolis, this 5-star hotel offers personalized service, a beautiful rooftop pool and well-furnished rooms with a buffet breakfast included.
New Hotel This brand new design hotel stands in a prominent central city location, 200 m from Syntagma Square. With free Wi-Fi throughout the property, New Hotel houses a Mediterranean restaurant and a fitness area.
Best Mid-Range Hotel
Living near Acropolis by Sylvia Staikou Great apartment and location, really nice neighbourhood, very friendly and helpful host. Close to Syntagma Square, Zappeion Conference & Exhibition Center .
Fivos Luxury Suite Right in the center of Athens, located within a short distance of Ermou Street-Shopping Area and Roman Agora, Fivos Luxury Suite offers free WiFi, air conditioning and household amenities such as a fridge and kettle.
Ergon House located in Athens, a 7-minute walk from Monastiraki Square, Ergon House provides accommodations with a fitness center, private parking and a bar.
Best Budget Hotel
Acropolis House In a beautifully restored 150-year-old mansion in the heart of Plaka, this small hotel has air-conditioned rooms with soundproof windows. Guests can have an early breakfast and use free Wi-Fi.
Crafoord Place Hostel Athens Ideally located in Athens, Crafoord Place Hostel Athens offers air-conditioned rooms, a shared lounge and free WiFi. The property is located less than 0.6 mi from Parthenon, a 13-minute walk from Syntagma Square and 0.9 mi from Temple of Olympion Zeus.
2. Gazi, Where to Stay in Athens for Budget Travelers & Art Lovers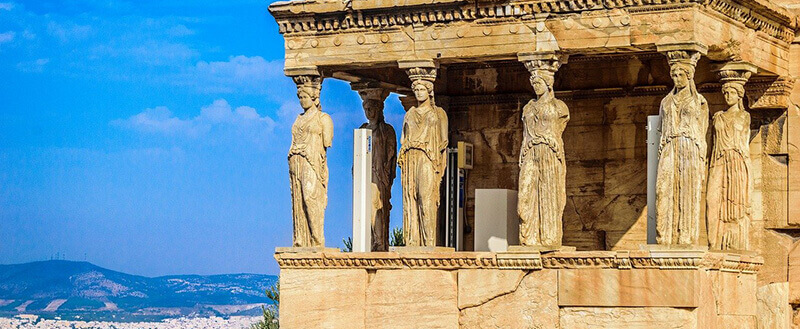 If you are searching for a budget-friendly area of Athens that is still close to the Acropolis and all the central tourist locations, you should stay in Gazi.
As is often the case with cheaper accommodation neighborhoods, Gazi is a little further away from the central Acropolis area than its more expensive neighbors. But having said that, it is only a walk of a kilometer or so to get to the heart of everything.
And Gazi itself is an engaging, up-and-coming area with decent facilities, including many fashionable bars and restaurants.
While staying in Gazi, be sure to visit the excellent Museum and Cultural Center located in the old Athens city gas works. This center has turned the area into a fast-developing hub of art and culture. So you will find some impressive street art here and a host of innovative little bars and eateries.
If you don't fancy walking across town, you just need to hop onto the Athens city Metro, which has a nearby station.
YOU SHOULD STAY IN GAZI IF:
You're on a budget
You want all the attractions within medium walking distance
You're an art lover
You want a less touristy area
Best Hotels in Gazi – Athens:
This hotel is in a great location, very near to a Metro station and to the city center and really good facilities for the price. Plenty of cafes and restaurants, also supermarkets and bakeries within a short walk. The overall hostel was of good standard and the rooftop area was a nice touch to relax in the afternoon or at sunset.
This hotel is a very nice appartement with a great kitchenette. The studio is very spacious and has a lot of light. They thought about everything to make it comfortable for us. The restaurant is also very good!
The metro station was only a 30 second walk from the apartment, which makes going to all the different places in Athens much easier than by foot.
Perfectly situated in a quiet, traditional street in trendy Gazi, only 100m,from the Metro and Technopolis and a walk to Acropolis.
The hotel offers a rooftop terrace overlooking the city and is also featured on site.
3: Monastiraki, Where to Stay in Athens Close to Attractions

Monastiraki is an area of central Athens located immediately to the northeast of the Parthenon.
This area is a shoppers' dream since it is full of stores selling all kinds of arts and crafts, antiques, tourist items, and lots of other stuff.
Traditionally a hip and Bohemian part of town, these days, Monastakiri is exceptionally tourist-friendly. There are plenty of cool restaurants and bars and this area is a prime choice for younger and independent Travelers who want to be close to the Acropolis but in a slightly more happening place than the tourist hub of the Plaka.
You will find some good-value accommodation here in most price brackets, with the majority suiting a mid-range budget. There are some excellent hostels here, so this is an ideal central choice for backpackers too.
YOU SHOULD STAY IN MONASTIRAKI IF:
You're looking for good shopping
You want to be right in the center of Athens
You're looking for excellent old architecture and atmosphere
You want to have the Acropolis next door
Best Hotels in Monastiraki – Athens:
Best Luxury Hotel
The Zillers Boutique Hotel is located in Athens, 200 m from Adrianou Street and 300 m from Roman Agora, Monastiraki Square is 300 m away. The hotel has a bar and a restaurant, as well as a sun terrace and unobstructed views of the Acropolis.
Dimi Luxurious Suites is in a perfect location within walking distance to all the main attractions. It also has many local eateries in and around the place.
Nsplace is located within a short walking distance from Monastiraki Metro Station, Nsplace offers fully equipped and tastefully decorated accommodations with a steam bath and views over the Acropolis. everal restaurants, café bars and mini markets can be found within a short walk. The popular site of the Roman Agora is 200 m away. Ermou Street with various shops is 200 m away and Eleftherios Venizelos International Airport is at a distance of 22 mi.
Best Mid-Range Hotel
The Athens Version Luxury Suites The place is situated in the heart of Athens yet in a quiet area where you can still enjoy a night of sleep with no noise. The location is surrounded with bars, coffeeshops, and book stores and it's 1 min away from the ancient agora. Additional bonus is the rooftop terrace with a stunning view of Acropolis.
Mythos Luxury Suites are located in the heart of Athens on Ermou Street, near Monastiraki Square. The world-renowned Acropolis, Temple of Hephaestus, Ancient Agora of Athens and Plaka are all just a short walk from the property.
360 Degrees is right on Monastiraki Square, just steps from Monastiraki Flea Market, 360 Degrees features a roof bar- restaurant with panoramic views of the city and the Acropolis. It offers modern accommodations with free WiFi and easy access to archaeological sites.
4. Psiri, Where to Stay in Athens for Nightlife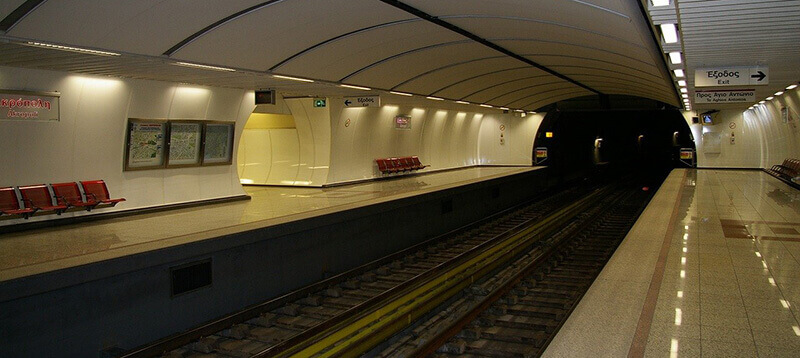 This area of central Athens is located to the north of the central Acropolis area. Psiri is one of the most happening night areas of Athens. You should stay here if you're keen to party the night away in the hundreds of bars and clubs that throng the place.
Psiri is an exciting choice if you want to escape from the tourist crowds and stay in a part of Athens that caters to a local crowd.
The area is still not far away from all of the main tourist sites of the city. With the convenience of the Athens metro train system close by, it is easy to hop on a train to the center.
YOU SHOULD STAY IN PSIRI IF:
You want to party
You want to be in a buzzing central part of town
You're looking for mid-range accommodation
You want to mix with locals and not tourists
Best Hotels in Psiri – Athens
Best Luxury Hotel:
The Foundry Suites is located in the heart of Athens, close to Ermou Street-Shopping Area, Ancient Agora of Athens and Monastiraki Flea Market. You can enjoy amazing cocktails at the rooftop's bar, a hanging garden, with a beautiful view of the city.
ATER ALBUS by K&K is very close to Monastiraki square, everywhere in the center you can easily go by walk (many most important attractions and many restaurants and shops are within a few minutes' walk). If you need metro/subway/bus is also a few minutes away. Fantastic view of the acropolis which was perfectly topped off with the hot tub on the balcony. Good spacious living area and facilities including large, modern bathroom.
Downtown Athens Lofts is located in the real heart of Athens, 500 m from Monastiraki Square and 0.8 mi from the Syntagma Square, Downtown Athens Lofts provides air-conditioned accommodations with free WiFi, and a shared rooftop terrace with panoramic view.
Best Mid-Range Hotel:
Evripides Hotel enjoys a central location in Athens, within a short walking distance of the scenic Plaka district. Guests enjoy access to the rooftop terrace offering panoramic views over the Acropolis and the city. A small fitness room and a sauna are also featured on site.
Athens Market Portrait Located in the center of the Agora of Athens, ATHENS MARKET PORTRAIT is 400 m from Monastiraki Square. Popular points of interest nearby include National Theater of Greece and Ermou Street-Shopping Area. The property is 750 from Roman Agora and just 400 m from Monastiraki Flea Market.
BED in Athens Well set in the Athens City Center district of Athens, BED in Athens is located 300 m from Monastiraki Square, 701 m from Ancient Agora of Athens and 1 mi from Ermou Street-Shopping Area. Featuring room service, this property also provides guests with a terrace. Free WiFi is available and private parking can be arranged at an extra charge.
Best Budget Hostel
Athens Hub Hostel Well located in the Athens City Center of Athens, Athens Hub Hostel offers air-conditioned rooms, a bar, free WiFi and a terrace. The property is located 150 m from Ermou Street-Shopping Area, 200 m from Monastiraki Flea Market and 0.6 mi from Acropolis. The accommodations provide evening entertainment and a 24-hour front desk.
Selina Athens TheatrouBoasting a bar and a roof-top terrace, Selina Athens Theatrou is located in Athens, 500 m from National Theater of Greece and 801 m from Monastiraki Square. The hostel offers a cinema room and a roof top restaurant and bar with Acropolis view.
5. Exarcheia, Where to Stay in Athens for Bohemian & Nightlife

The city center square of Exarcheia has a bohemian feel and is packed with students and alternative bars, clubs, and culture. While it is becoming an increasingly popular tourist destination, this area is still a little edgy. You should only stay here if you are streetwise and comfortable in urban centers.
So Exarchia probably isn't the right choice for families, but there is some great budget-friendly accommodation, and younger and independent travelers will find the local buzz and excitement exciting.
The National Archeological Museum is a major tourist attraction situated in ExarchEia.
YOU SHOULD STAY IN EXARCHEIA IF:
Are on a budget
Want an edgy, exciting, bohemian area
Wants good hostel accommodation
Want lots of bars and nightclubs
Best Hotels in Exarcheia – Athens:
Best Luxury Hotels
St George Lycabettus Set in the upmarket Kolonaki district, the lifestyle hotel St George Lycabettus features a breakfast room overlooking the Acropolis, Lycabettus Hill and the Saronic Gulf. Taste gourmet Mediterranean flavors at La Suite Lounge Restaurant and indulge yourself at the rooftop pool or AegeosSpas and Gym.
Academias Hotel, Autograph Collection located in Athens, 500 m from University of Athens – Central Building, Academias Hotel, Autograph Collection features accommodations with a restaurant, private parking, a fitness center and a bar. You can enjoy the main attractions nearby including Syntagma Square, Museum of Cycladic Art and Ermou Street-Shopping Area
Boss Boutique Athens Featuring a restaurant, bar and views of the city, Boss Boutique Athens is set in Athens, 300 m from the National Theater of Greece. Well located in the Omonoia district, the property is located 1.1 mi from University of Athens – Central Building and 1.9 mi from Monastiraki Flea Market.
Best Mid-range Hotel:
Dryades & Orion Hotel Close to the National Archaeological Museum, Dryades Hotel is situated in a quiet and relaxing spot near Strefi Hill, in the vibrant district of Exarchia, in Athens.
Alter Athens offers accommodations in the heart of Athens, within 0.7 mi from Panepistimio Metro Station. Free WiFi is provided in the public areas. it's close to National Archaeological Museum and Lycabettus Theater.
AME Paradiso Located in Athens, an 11-minute walk from National Theatre of Greece, PAME Paradiso has accommodations with a shared lounge, private parking and a terrace. Located around an 11-minute walk from National Archaeological Museum of Athens, the hotel with free WiFi is also 1 km away from Omonia Square.
Best Budget Hotel
Athens Quinta Centrally located in Athens, Athens Quinta offers vintage accommodations with a shared kitchen and shared lounge area, and a charming furnished courtyard. It provides free WiFi throughout and it is just a 10-minute walk from Syntagma Square.
6. Kifissia, Where to Stay in Athens for Family
Out of town, to the northeast of Athens is the attractive, leafy suburb of Kifissia.
This calm and open part of the city is a popular choice of destination for families and those who don't fancy dealing with the chaos of the center of Athens' teeming metropolis. Kifissia is a wealthy residential suburb.
While the area is relatively remote, it is actually easy and convenient to journey into the center of town on one of the frequent bus services or by hopping on the metro train.
There are some friendly hotels here that offer good facilities and value for money. Kifissia is also a good area for families and groups to search out the apartment and home-style accommodations with kitchens and lots of living space.
YOU SHOULD STAY IN KIFISSIA IF:
Are traveling with family
Want to avoid the crowds
Don't mind taking a bus or a train to see the sights
Are looking for an apartment or home rental
Best Hotels in Kifissia Athens:
Best Luxury Hotel
Theoxenia Palace Located in the most elegant business and leisure district, Theoxenia Palace in Kifissia overlooks Kefalari Park. It offers 5-star guest rooms and suites, an outdoor pool, fine dining, and a fully-equipped gym.
Theoxenia Residence is set in Kifisia, an exclusive suburb in Athens featuring high-end restaurants and boutiques. It offers an outdoor pool and on-site restaurant specializing in Greek and Italian cuisine. Its elegantly designed suites feature free WiFi.
Semiramis Facing a tranquil green park in the Kifissia area of north Athens, the boutique hotel Semiramis is the creation of designer Karim Rashid. Member of Design Hotels worldwide, the Semiramis ideally combines design, comfort and functionality.
Best Mid-range Hotel
Twentyone Located in the heart of the leafy and upmarket suburb of Kifissia, Twentyone is an ultra-stylish boutique hotel that combines minimalist design with comfort and functionality.
Hotel Chris is situated in a quiet spot in Nea Kifisia, 101 m from the E75 highway and one kilometer from Kifisia Train Station. It offers rooms with private balconies and free Wi-Fi. Hotel Chris is close to restaurants, cafes and boutiques. Central Athens is approximately a 30-minute ride on the train.
Best Budget Hotel
Garage Studio Quiet place, well equipped, close to the metro station and Kifisia taverns and shops. Good bed for two people. Well kept and clean. Very friendly hosts!
7. Thissio, Where to Stay in Athens Near Acropolis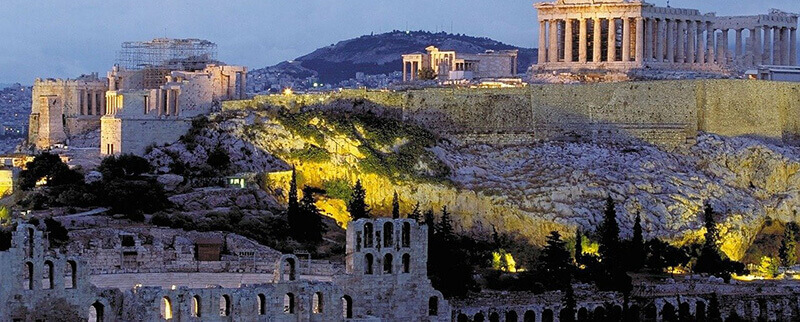 Thissio is a super-central area of the city, located right next to The Acropolis. It has a huge number of places to stay and is the best central option for budget travelers. The Plaka and the Acropolis are just next door, so if you stay here, you will have all of the sights, activities, and tourism infrastructure at your disposal.
Many streets here are pedestrianized, so it is a good budget choice for family groups. Thissio has plenty of souvenir shops, bars, restaurants and travel agencies. If you want all of your holiday and entertainment options to be simple and straightforward, this is a great place to stay.
Thissio also has an attractive public park offering visitors a welcome breath of fresh air and escape from central Athens' bustle. Thissio is also home to the excellent Acropolis Museum, which is well worth visiting to gain greater depth on this spectacular monument's history and significance.
YOU SHOULD STAY IN THISSIO IF:
Want a central, budget-friendly location
Want plenty of tourist facilities
Want to be a short walk from the Acropolis
Best Hotels in Thissio Athens
Greece U Around Athens Thissio Suites features accommodations attractively located in the center of Athens, within a short distance of Temple of Hephaestus, Gazi – Technopoli and Filopappos Hill.
Stylish studio loft with Superb balcony This place is extraordinary! The view is indeed stunning, the bed is super comfortable, the room was spotless and the location is great – walking distance from Monastraki station that connects to the port and airport. The host was a very nice guy waiting for us when we arrived. There's a fitted kitchen, the AC works well, good blinders if the sunrise on that stunning view bothers you.
Be My Guest Athens is centrally located in Athens, within walking distance of both the scenic Thission and Petralona districts and a 4-minute walk from Apostolou Pavlou street. The hotel has a rooftop terrace with views over Athens Observatory and side views over Parthenon.
8. Spata, Where to Stay in Athens Near Airport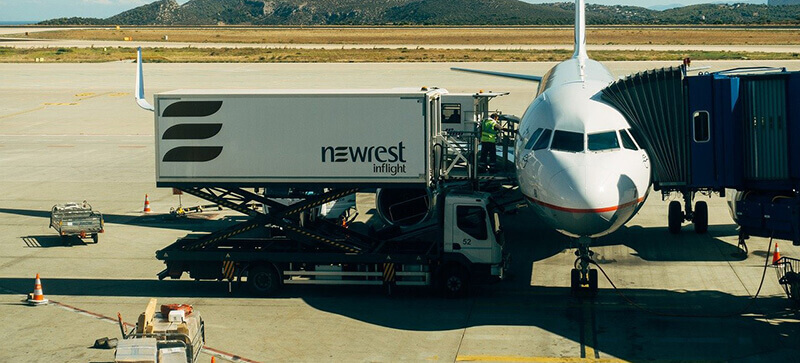 Spata is a suburb out on the Eastern side of Athens city that is home to Athens international airport. The multitude of budget and mid-range hotels here are designed with onward travel in mind, providing airport pickups and drop-offs as part of the service.
If you arrive in Athens by air and want a hassle-free transfer to your hotel, or if you're leaving early in the morning and want to avoid the gridlock of an Athens Rush hour, then it is a good idea to spend the night here.
YOU SHOULD STAY IN SPATA IF:
Are flying in or out
Want to be out of the center of town
Are looking for budget or mid-range accommodation
9. Piraeus, Where to Stay in Athens Close to Port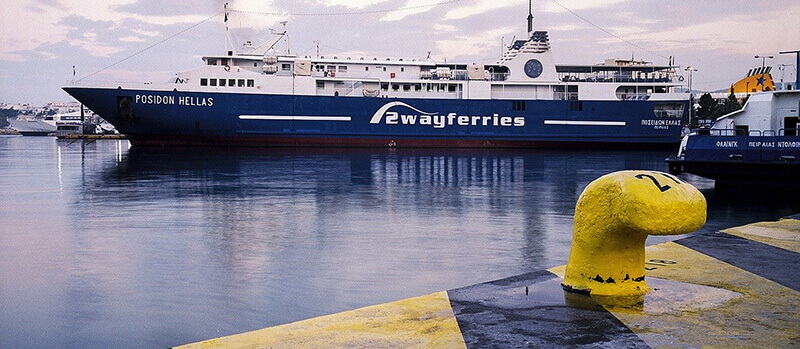 Piraeus is the thriving port that links Athens with scores of Greek Islands out in the beautiful blue Aegean Sea.
It is a busy working port town handling all of Athens' passenger and cargo shipping.
So, while it isn't a beautiful beachfront setting, it is a bustling and fascinating place to stay.
However, the reason that most people will choose to stay in Piraeus is if they have just arrived by ferry or if they are planning a hassle-free departure the following day.
The port of Piraeus has plenty of good hotel options at budget and mid-range price brackets.
YOU SHOULD STAY IN PIRAEUS IF:
Are traveling to or from the islands
Want to be beside the sea
Want to witness Greece's biggest port town in action
Best Hotels in Piraeus Athens
Best Luxury Hotel
Piraeus Theoxenia Hotel Conveniently located in the heart of Piraeus' business district, Theoxenia is within walking distance of the main port. The hotel's helpful multilingual staff is on hand 24 hours a day.
Maryflower Premium Apartments Piraeus Set in the center of Piraeus, a 10-minute walk from Piraeus Port – Athens and Piraeus Metro Station, Maryflower Premium Apartments Piraeus features a smart TV with satellite channels and free WiFi. Guests staying at this apartment have access to a fully equipped kitchen and a terrace.
Best Mid-range Hotel
Eva Apartment Fantastic room, with plenty of space, great bathroom and amenities. The apartment is located very close to the port, ideal for an overnight stay prior to an early morning boat
Piraeus Lux Secret Great terrace with amazing views, excellent host, excellent nearby restaurants
Coral Hotel Athens Just a 15-minute drive from Athens center, Coral Hotel Athens offers views of the Saronic Gulf and Kastella Hill. Meeting and banquet facilities are available in this 4-star hotel, while a fitness room and a plunge pool with hydromassage facilities are featured.
10. Varkiza, Where to Stay in Athens Near the Beach
Varkiza is an exclusive and very well-heeled beachfront suburb in the southeast of Athens. This area has some lovely sandy beaches, and it is where wealthy Athenians go to kick back and spend some beach time.
In the summer months, Varkiza is busy with Grek holidaymakers, and at this time of year, it's a thriving entertainment and nightlife hotspot.
Varkiza and the "Greek Riviera" are not budget locations, but if money is no object, you can find some fantastic places to stay, dine and eat here.
YOU SHOULD STAY VARKIAZA IF:
Want to be beside the beach
Want some lovely luxury and upper mid-range accommodation
Don't mind a trip into the city to see the sights
Want classy restaurants with gourmet dining
Best Hotels Near Varkiza Athens
Best Luxury Hotel:
Four Seasons Astir Palace Hotel Athens Set in the Athenian Riviera, the 5-star Four Seasons Astir Palace features 8 restaurants and bars, a spa center with 10 treatment rooms, a fitness center and a private beach area. Surrounded by pine trees, the hotel consists of 2 different buildings and also includes 5 tennis courts in its premises.
Divani Apollon Palace & Thalasso Surrounded by the enchanting scenery of Athens Riviera, with magnificent sea views, Divani Apollon Palace & Thalasso features a state-of-the-art thalassotherapy center. In a majestic environment surrounded by sea, guests enjoy 3 pools, 4 restaurants and a private beach.
Somewhere Vouliagmeni Set in the exclusive, seaside suburb of Vouliagmeni, Somewhere Vouliagmeni features an outdoor pool and magnificent sea views. This boutique hotels also features gym facilities, a business center and conference facilities. Free WiFi is available throughout.
Best Mid-range Hotel
Luxury Sea View Apartment at Varkiza Beach Located in the Varkiza Beach district of Vari, just 1.1 mi from Vouliagmeni Beach, Luxury Sea View Apartment at Varkiza Beach features its guests with air conditioning, a garden, a terrace and free WiFi. The property has sea views.
Where To Stay In Athens With Family/Toddler/Baby?
If you are traveling to Athens as a young family with an infant or toddler, then it might be a good idea to stay outside the center of the city. In this case, the leafy, affluent suburb of Kifissia is a calm place to stay. There is good mid-range and high-end accommodation here, and despite being out of town, the tourist sights of the city are convenient to access by bus or metro train services.
An alternative, if you are determined to be located in the city', is The Plaka. This tourist-friendly central location is mostly pedestrianized and has convenient facilities and family-friendly accommodation.
Where To Stay In Athens For Couples?
Monastiraki is a central area with good couple-friendly hotels. It is easy walking distance from all of the main tourist sites, and what could be more romantic than visiting the Parthenon together around sunset?
There are many classy restaurants in this area where you can sit at a table for two and soak up the local atmosphere.
There are some excellent boutique hotels in Monastikiri that are friendly and intimate and perfect for couples to enjoy each other's company without being overrun by crowds.
Where To Stay In Athens For One Night?
If you are in a hurry and only have a day and a night to experience Athens' delights, you should stay in the Plaka.
This tourist-friendly area is the perfect base for a quick trip to the Acropolis. The old architecture and charm of the pedestrianized streets give you an excellent sample of this beautiful ancient city.
You might also find time to visit one or more of the museums in the area to gain a deeper understanding of Athenian history.
There are ample accommodation options for all budgets, as you'd expect in this Central tourist area.
Where To Stay In Athens For 2 Nights?
If you have a couple of nights in Athens, you probably want to stay somewhere quiet central just so that you can get to all the sights quickly and conveniently.
You could plump for the Plaka, which is the most popular tourist choice in the city.
But if you fancy somewhere central, but a little bit different, why not choose the artistic and up-and-coming suburb of Gazi? You can visit the local museum and cultural center and check out some fantastic modern artwork, and then hop on the metro train and be at the Acropolis in no time.
Where To Stay In Athens For 3 Nights?
If you are planning to stay in Athens for three nights, then you can afford the luxury of staying a little way out of the city center in an attractive, leafy suburb like Kifissia. Here you can escape the crowds and throngs of central Athens and dip in and out to explore the city's best visitor attractions using the excellent public transport system.
Where To Stay In Athens For The First Time?
Without question, if you're a first time visitor to Athens, you can't choose a better base than the Plaka.
There are all kinds of tourist sites here, but perhaps the greatest charm is exploring the maze of streets and alleys of this ancient quarter of Athens. It seems that there's something interesting to see at every turn, whether it be a cathedral, a museum, or an attractive little eatery.
Then there is the flea market and all kinds of craft and antique stores. And you can dine and drink to your heart's content in the scores of restaurants and bars in the area.
Where To Stay In Athens For Nightlife?
Athens has a thriving night scene. Psiri is the part of the city with perhaps the highest concentration of bars and nightclubs and is a top-rated nightlife destination for local Athenians.
If you're looking for something a little more edgy and bohemian, you might choose the area of Exarchia, with it's exciting, countercultural atmosphere.
Or if finding excellent tourist-friendly restaurants, bars, and cafes is more your kind of thing, then stay in one of the three areas which encircle the Acropolis; The Plaka, Thissio, and Monastikiri.
Where To Stay In Athens Near The Airport?
Athens International Airport is located in the eastern city suburb of Spata, 20 km out of the city center. Here you will find plenty of hotels at all price ranges that are convenient for recent arrivals or onward travel.
The main draw of this suburb is, of course, the airport, but since it is right at the edge of the Athenian metropolis, it is an interesting choice for people looking for a more spread-out and rural environment.
The surrounding countryside is a farming area that specializes in the cultivation and production of Greek retsina wine.
Where To Stay In Athens For Sightseeing?
The Plaka is the best location in Athens for sightseeing. This central, pedestrianized, tourist-friendly area is right at the foot of the Acropolis.
There are many things to see and do here, including the Museum of Greek Folk Art, the museum of Greek musical instruments, and the Kanellapoulos museum, full of ancient Greek artifacts. You can also stroll through The Agora, the ancient Greek central city area.
Where To Stay In Athens Safe?
The Plaka is the tourist center of Athens, and it is probably the safest area to stay. You can expect police in this area to speak English and other international languages and be prepared to help with any issues you might have.
The Plaka is pedestrianized, taking away the undeniable dangers of the chaotic Athenian traffic system.
But remember that Athens is a big city and like any other big city you should take special care of your personal belongings. If you are a solo traveler, then ensure that you avoid dark and quiet places late at night, and always tell someone where you will be.
Where To Stay In Athens Near Acropolis?
If you aim to stay near The Acropolis, you should consider staying in one of three areas.
The first and most famous of the neighborhoods that surround this magnificent ancient monument is The Plaka. This area has everything a tourist could want and is an excellent choice, with great accommodation options particularly in the mid and upper range.
Monastiraki is another area adjacent to The Acropolis, and this part of Athens is a thriving shopping center, so if shopping is your thing, then stay here.
Thissio is an area to the west of The Acropolis that also has an abundance of tourist facilities and lots of restaurants, bars, and cafes. It is just a fraction less busy than The Plaka.
Where To Stay In Athens Close To Attractions?
The central areas of Athens surrounding the Acropolis are unquestionably the best places to stay to be close to all the beautiful sites of the city. The Acropolis is just next door and there are a host of museums and historic buildings throughout the area.
There are also many travel agencies here who will be happy to arrange trips to some of the other remarkable sights that lie a little further afield.
So for an essential attraction-filled base in Athens, you can choose between The Plaka, Monastakiri, and Thissio, these being the three areas that immediately border the Acropolis.
Where To Stay In Athens Near Beach?
Varkiza is a suburb of Athens that has a beautiful beach. Located in the South-east suburbs of the city, Varkiza is an extremely well-heeled and classy area that is popular with Greek and international Beach lovers alike. So much so that this part of the coast is known as the "Greek Riviera."
Accommodation here is mainly in the mid to high-end price range, but if you search carefully, you should find more budget-friendly options.
Alternatively, you can get here via public transport from any other part of the city if you just fancy a daytime escape from the urban sprawl to dip your toes into the Aegean.
Where To Stay In Athens As A Tourist?
The Plaka is unquestionably the tourist heartland of Athens. The Plaka is central to all of the most popular tourist sites in the city, and it has every facility that tourists could possibly ask for.
Here you will find travel agencies, foreign exchange booths, souvenir shops, restaurants and bars, and plenty of accommodation ranging from backpacker hostels up to five-star boutique hotels.
If you want a safe, attractive, tourist-friendly base for your stay in Athens, choose the Plaka.
See More:
Conclusion
Athens is an intoxicating blend of a modern European city and a historically significant ancient site. It is a unique and fabulous tourist destination. There are so many areas with such different characteristics that by now, you have surely found somewhere that is perfect for your traveling needs.
So go ahead and get that trip arranged, and have a marvelous stay in Athens!
---
---