Spain is far from the homogenous culture outsiders imagine. In fact, the country is divided into many distinct regions based on language and lifestyle. A trip around Spain can be, in fact, an amazingly eye-opening experience.
While Catalonian coastal giant, Barcelona, continues to attract millions of tourists per year, much of the interior is widely written off as irrelevant. However, the differences between the distinct provinces are incredibly interesting, as are the cuisine, culture, and people. The perfect 10 days in Spain starting in Barcelona and Madrid will show you how much the entire country truly has to offer.
Is 10 days enough for Spain?
Ten days may not be enough to fully experience Spain, as the country has a rich history and culture with many attractions to visit. However, it can still be a worthwhile trip if you plan your itinerary carefully and focus on a specific region or city.
How many days to spend in Spain?
There is no set amount of time to spend in Spain as it depends on your interests and the specific destinations you plan to visit. Some people may only need a few days to see the main attractions in a city like Barcelona, while others may want to spend a week or more exploring multiple regions of the country. It's up to you to decide how much time you want to spend in Spain based on your budget and schedule.
I would say spending a minimum of 7 days to discover 2 cities such as Barcelona and Madrid or Seville and Granada. The best amount of time to spend in Spain is 10 days, which will give you enough time to explore two regions including Barcelona, Madrid, Andalusia with Seville, Córodba, and Granada.
Here are some of the routes for ten days in Spain:
Option 1: Barcelona (3 nights), Madrid (3 nights), Seville (2 nights) and Granada (2 nights)
Option 2: Madrid (3 days), Seville (2 days), Granada (2 days), Barcelona (3 days)
Option 3: Madrid (2 days), Seville (2 days), Granada (1 days), Valencia (2 days), Barcelona (2 days), Andalusia (Cordoba, Malaga, Ronda), San Sebastian/Bilbao & Mallorca (1 days)
Option 4: Seville(3 days), Madrid(3 days), Barcelona (3 days)
Option 5: Madrid (3 days), and Andalusia with Seville (3 days), Granada (3 days),
Option 6: Madrid (3 days), La Rioja (2 days), San Sebastian (2 days), Bilbao (2 days)
How to spend 10 days in Spain
Day 1-3: Barcelona of 10 Days in Spain
That being said, Barcelona is definitely the place to start. A better grasp of English and a generational focus on tourism makes Barcelona truly a delight for any visitor. Factor in the fabulous reworking of the city for the 1992 Olympic Games and you have one of the most physically friendly cities in the world.
Spend your first day wandering down the iconic pedestrian boulevard of Las Ramblas. The action there never stops. Make sure to keep your belongings under tight watch or even leave them in the hotel as this is pickpocket central.
The street is lined with restaurants that will tempt you, but it's best to avoid the tourist-centered fare and head into the adjacent streets for an authentic Paella. Afterward, wander through the streets of the city's quaint old town before retiring a bit early to sleep off that jet lag.
Experience Gaudi:
Barcelona is practically an exhibition of Antoni Gaudi's avant-garde work. One of Catalonia's favorite sons, Gaudi's seashell-esque, acid-dripped stylings dot the city. On Gran Via, one of Barcelona's most exclusive and expensive streets you'll find two of his most famous works, Casa Batllo and Casa Mila. The two houses show Gaudi's unique ability to keep a signature style across multiple projects.
From Gran Via, it's a bit of a hike to Parc Guell, a hilltop perch full of strange pavilions and outstanding artistry. For easy access, book your tickets in advance so you don't waste too much time in line or get turned away altogether. If you don't know much about his work or architecture in general, a guided tour can be a perfect option.
Finish the day at Gaudi's Magnum Opus, The Basilica of Sagrada Familia. The construction is famously interminable but the freshly completed insides are worth every penny. Safe to say this is an outlier in a copy-paste world of European Cathedrals. Again, booking tickets in advance is a smart move for planning and peace of mind purposes. At the end of the day you'll be tired and hopefully have a new appreciation for one of the brightest designers of the 20th century.
The first few days were very active. It's time to take some time to relax, it is a vacation after all. Sleep in and spend the early afternoon at Barceloneta, the city's eponymous beach. Feel free to bring some beers or some cold wine, but be careful not to leave glass on the beach. When you've had enough sun, there are a few excellent places to refuel.
La Xampanyeria is a hopping Cava bar with freshly fried cuts of Iberian ham to quench your thirst and hunger. When the sun goes down head to the marvelous peak of Montjuic to watch the sunset and enjoy fantastic tapas/pinchos at the world-famous Quimet & Quimet.
Best things to do in Barcelona:
Plaça de Catalunya – is the lively square in the heart of Barcelona, the intersection of Ciutat Vella and the Eixample, and a popular meeting point of people.
La Rambla – is the most famous boulevard in Barcelona runs from Plaça de Catalunya to the statue of Christopher Columbus. Here you will find the La Boqueria market. La Boqueria sells a wide variety of fresh fruit, vegetables, nuts and seeds, sweets as well as meat, a good place to soak up the atmosphere and enjoy the colors from the fresh fruits in the stalls.
La Sagrada Familia – a giant Basilica, one of Gaudí's most famous works in Barcelona.
Barcelona Cathedral – is a beautiful Cathedral, home to the Archbishop of Barcelona, and is located in the heart of the Gothic Quarters of Barcelona.
Picasso Museum – a national museum dedicated to the life and work of Pablo Picasso as well as to the artists who were linked to him.
La Barceloneta Beach – the famous city beach for both locals and tourists. Good place for swimming, skateboarding, or sitting and one of its beach bars and drinks.
Camp Nou Stadium – the biggest stadium in Europe.
Casa Batlló and Casa Milà – UNESCO World Heritage, one of the many constructions by Gaudí.
Park Güell – one of the most famous attractions in Barcelona, Gaudí has created a fabulous forest with this park. It offers the most wonderful panoramic vistas of Barcelona.
Barcelona City History Museum – to learn more about the history of Barcelona from Roman times.
Montjuïc Mountain – home to Montjuïc Castle which can be reached by cable car.
Gràcia – a quiet, leafy neighborhood, close to Gaudi Sites with affordable rental apartments.
See Also:
Day 4-5: Madrid of 10 days in Barcelona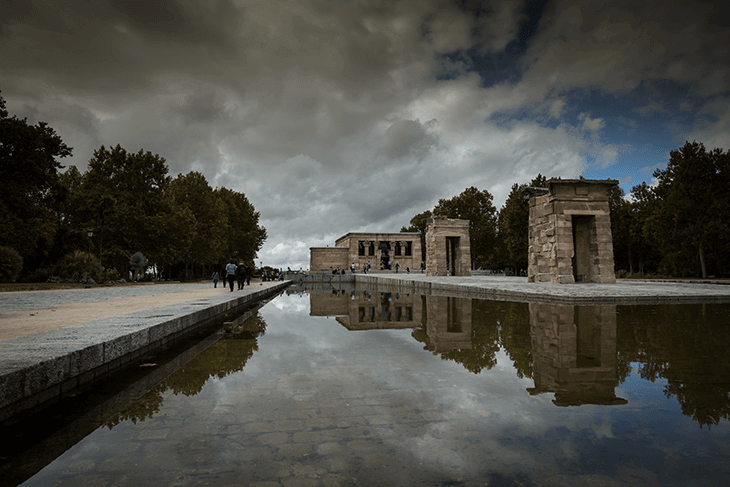 From Barcelona, you can take an airplane or high-speed train to Madrid. It will take around 3 hours by train and an hour by plane.
Madrid is a modern city bustling with activity. Spend your first day touring the crowded shopping boulevards. When you've had enough check out the Royal Palace and the transplanted Egyptian Temple of Debod. Enjoy the views of the nearby untamed forest and forget you're in the city for a while.
For a well-deserved snack, enjoy a plate of churros with chocolate at the always open Chocolateria San Gines. Go inside to order then grab a place outside to watch the tourists trickle through the alley from Plaza Mayor.
Many visitors to Madrid may find it similar to other big cities, devoid of charm and culture. This is certainly not the case as Madrid houses some of the best art collections in the world. There's the Velazquez and El Greco showcase at El Museo del Prado, which is home to the breathtakingly detailed masterpiece Las Meninas.
For a change of pace and period, don't skip the Museo Reina Sofia. There you'll find countless entries from contemporary Spanish experts like Picasso, Gris, Dali, Goya, and Miro. These artworks will make you think about meaning in the modern world, as was intended by Picasso's monolithic mural Guernica. After many hours inside, walk over to the sublime Buen Retiro Park, which is perfect for a picnic or sunset glasses of wine.
Best things to do in Madrid:
Plaza de España – This lively square is a popular tourist destination, in central Madrid. You will find a monument of Miguel de Cervantes – the Spanish novelist.
Gran Via – Spanish Broadway, a famous street packed with shops, restaurants, and iconic buildings.
Palacio Real – Madrid's Royal Palace is the largest in the world.
Mercado San Miguel – if you are a food lover, you must visit this charming covered food market, Mercado San Miguel.
Plaza Mayor – one of the famous landmarks in Madrid, and history date back a hundred years, located near Puerta del Sol and the Royal Palace.
Retiro Park – a famous park in Madrid where you will find Estanque (Lake), Monument to King Alfonso XII, Palacio de Cristal (Crystal Palace), Palacio de Velázquez, and Paseo de la Argentina. This is a good place to visit if you're a family traveling with kids.
El Bernabeu Stadium – one of the most famous football stadiums in the world, home ground of Real Madrid.
See Also: 5 Day in Madrid Itinerary
Day 6: Take a day trip from Madrid to Toledo (or Segovia)
Toledo is a UNESCO-listed city, 30 minutes by train from Madrid. Toledo is full of historic Christian, Muslim and Jewish cultures.
Best things to do In Toledo:
Toledo Cathedral, a Roman Catholic church dates back many centuries
Alcazar, a stone fortification in the highest part of Toledo
Museum of El Greco, a museum has an extensive collection of paintings by this artist of the Spanish Golden Age
Sephardic Museum, a national museum delicated to Jewish civilisation
You can also take a day trip to Segovia where you can see the grand Alcazar of Segovia, the ancient Roman Aqueduct, and the Gothic Segovia Cathedral.
Day 7: Seville of 10 days in Spain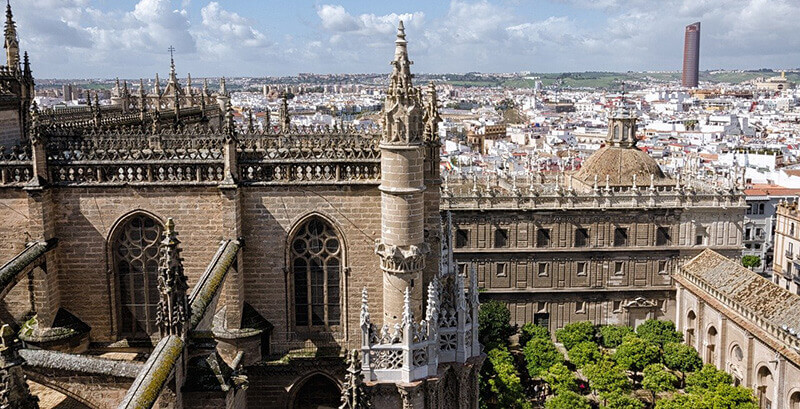 To travel from Madrid to Seville, you can take 2.30 hours train or 1 hour on an airplane. Seville is the capital and largest city of the Spanish province of Andalusia.
Seville (locally Sevilla) is one of Spain's most underrated attractions. The lovely winding streets, ubiquitous orange trees, and vibrant paints will suck you in and force you to fall in love. When you're done getting lost, check out the inside of Spain's largest (and Europe's 3rd biggest) Cathedral which is said to house the bones of Christopher Columbus and features a delightful mixture of classical baroque and Moorish architecture.
The adjacent Real Alcazar, and it's incredibly maintained tropical gardens may look familiar, as they are often featured in HBO's epic Game Of Thrones (again book tickets in advance here). From there, take a walk to the monumental Plaza de Espana, and rest your legs in the beautifully wild Maria Luisa Park.
After all that walking, you need to rest your feet. Luckily, Seville is the home of the midday nap or siesta. There's no pressure here, so saunter out midday for a delicious tapas feast at local favorites like the inventive Eslava or the more traditional Casa Morales.
Prepare to eat standing up and to try deliciously inexpensive local wines. For sunset, walk along the river or take an elevator to the top of the modern wooden sculpture known as Las Setas (Plaza de La Encarnación, cost 3 euros) and enjoy the complimentary beverage with panoramic city views. Afterward, head to El Museo del Baile Flamenco for more drinks and a passionate example of the city's musical heritage.
Best things to do in Seville:
Plaza de Espana – the most famous square in Seville in Maria Luisa Park.
Seville Cathedral – Catedral de Santa María de la Sede, a UNESCO World Heritage site, Roman Catholic and the largest cathedral in the world
The Giralda Bell Tower – is the bell tower of the Moorish Cathedral, was the tallest in the world
Alcazar – a royal palace and a World Heritage Site.
Las Setas, Torre del Orro, Trianna neighborhood are also worth visiting!
Read More: Where to Stay in Seville Spain
Day 8: Day trip from Seville to Cordoba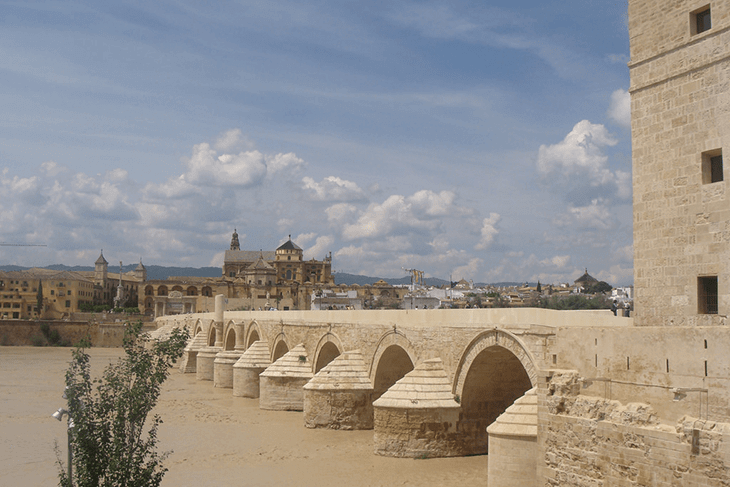 You can spend your 2 days in Seville, or have a day trip to Cordoba. You can take 43 minutes fast train, 2 hours bus, or you can rent a car.
Cordoba was once a massive cultural center. An important Roman city, and then the center of a massive Moorish empire, Cordoba is an essential piece of Spanish history.
Here you'll see the comprehensive melding of cultures by crossing a Roman Bridge to enter the fabulous tiers of La Mezquita. This giant mosque is worth a day on it's own. Cordoba represents the unique past of southern Spain as well as a strong willingness for cooperation and cultural exchange.
Best things to do in Cordoba:
Mosque–Cathedral of Córdoba
Patio de los Naranjos
Alcázar de los Reyes Cristianos
Historic Centre
Jewish Quarter
Roman Bridge
Calahorra Tower
Medina Azahara
Palacio de Viana
Archaeological Museum
Plaza de la Corredera
Hammam
Patios de Córdoba
Feria de Córdoba
Aquasierra
Read Also: Where to Stay in Cordoba
Day 9-10: Granada of 10 days in Spain
To get from Seville to Granada, you can take the 4-hour train. Granada is a mountaintop oasis in the plains of Andalusia. Here you'll find a bit cooler temperatures and perhaps, some cooler people. A home to a wide variety of artists, musicians, and artisans, Granada is the center of Spanish Bohemian culture. '
The main attraction is the stunning Alhambra. Again, this amalgam of Moorish-Andalusian culture springs of the pages of guidebooks and helps you understand the region's unique past. There are a limited number of spaces per day for conservation reasons, once again, you must book a space in advance.
At night enjoy the cool breeze and food and drink. One of the many perks of Granada is a focus on traditional-style tapas. Tapas, literally meaning "to cover", were invented as a way to limit drunkenness, as by royal decree, food had to be served with each drink. In Granada this ancient law still holds, so for every drink you order, you'll be brought a new dish to try.
The caves overlooking Granada are home to some of Europe's most interesting residents. Once home to settling gypsies, they now offer refuge for those seeking to maintain an alternative lifestyle. You'll find artists, makeshift Flamenco shows, and artisan crafts.
Spending a day in the Sacromonte caves will open your eyes to different lifestyles and show how Granada's accepting past continues to this day. End your 10 days in Spain with some relaxing tapas y vino overlooking the Alhambra or in Granada's tight medieval alleys.
Best things to do in Granada:
Alhambra
Generalife
Albayzín
Granada Cathedral
Royal Chapel
Alcaiceria
Sacromonte
The Bañuelo
Corral del Carbón
Granada Charterhouse
Sierra Nevada
Carrera del Darro
Science Park
Plaza de San Nicolás
See more: Where to Stay in Grananda
Read Also:
Only 10 days in Spain
10 days in Spain is certainly not enough. However, if you're lucky enough to have a Spanish vacation it's great to see different parts of the same nation. From the seaside brilliance of Barcelona to the modern art-mania of Madrid, to the slowed-down streets of Seville, Spain is so much more than you've imagined.
Of course, I left many other highlights of the list, so if you have any other suggestions for an alternative 10 days in Spain, please comment below. Regardless of where you go, you're certain to have a wonderful time, and you'll be tempted to stay longer.