When looking at the 20 best things to do in Mallorca it can be quite a tough decision, which will somewhat come down to each individual in question. The reason being that there are very few places like Mallorca, which has two vastly different sides to it.
On one hand, you have the party island reputation, where those looking to let loose and have a wild vacation come to let their hair down.
However, at the same time, it is an island full of history and culture, that draws those looking to learn and witness history first-hand in their free time.
Despite all that though, I'm confident that there's plenty here to keep everyone happy for the duration of their trip.
1. Visit Cathedral Of Santa Maria Of Palma
Located on the site of an ancient mosque, work on the cathedral began in the early 13th century but it wasn't completed for almost 400 years. With its highest point being some 144 feet, it is one of the tallest gothic style cathedrals in the world.
Located in the old district of the city of Palma, its stunning architecture is perhaps rivaled only by the views of the Mediterranean Sea that are visible from its location. Surely an attraction that is a must for anyone traveling to Mallorca.
2. Go See Cuevas Del Drach
A large cave system that runs for just under 3 miles and features four individual caves. Over 80 feet below sea level at its lowest point it also features the incredible Lake Martel, believed to be one of the largest underground lakes in the world.
Located near the town of Porto Cristo on the eastern coast of the island, these caves are another of the most popular attractions on the island, due to the incredibly unique landscapes hidden within their depths.
Make sure to book early as, with any attraction like this, places are extremely limited.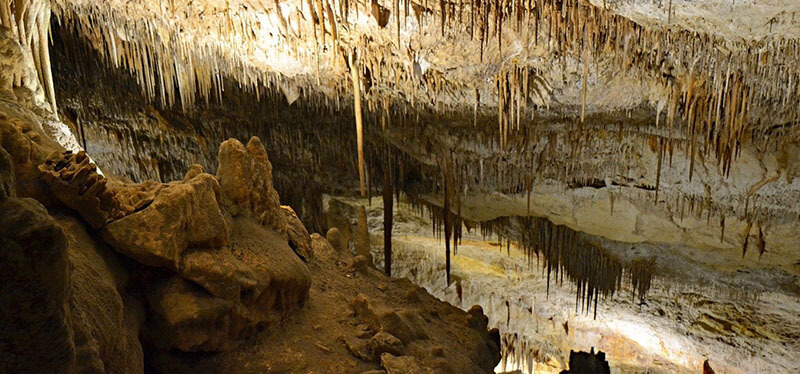 3. Explore Alcudia Old Town
Located in one of the most popular tourist towns on the island, Alcudia, the old town is a village built within the confines of a 14th century medieval wall.
The site of the town lies next to an old Roman settlement and there are plenty of sites brimming with history leftover from that era, including a theatre, the Church Of St. Jaume, and the remnants of the town itself.
A perfect location to experience some unique history that differs from most of what you'll find on the island.
4. Visit Palma Aquarium
While many people avoid larger aquariums these days, due to the stigma around captive animals, Palma Aquarium is highly regarded for its environmentally conscious approach and the conservation projects it is a part of.
Home to over 700 species of sea-life from around the world, it is broken up into 6 regional sections, to let you get a real feel for what the oceans are like in different places around the world.
It also features the deepest shark tank in Europe and offers activities such as swimming with the sharks and stingrays. Surely a can't miss some once in a lifetime opportunities like these.
5. Expore Castell De Bellver
A stunning 14th century castle located in the capital city of Palma. Having previously served as both a royal residence and a military prison throughout its existence, it is one of the most popular tourist attractions on the entire island.
Now featuring the main history museum on the island, this is the perfect place to come and learn about Mallorca, while taking in some incredible sights of architecture from a long-forgotten era.
See Also: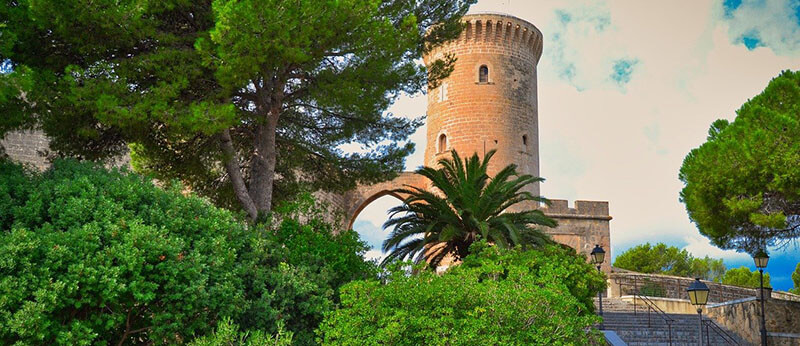 6. Swimming at Platja Des Trenc
If you're looking for your traditional style beach on the island of Mallorca, where you can walk, swim and lay in the sand, without being surrounded by buildings and tourist attractions, then this is the place for you.
Located on the south of the island, near the town of Compos, the Platja Des Trenc beach lies in an underdeveloped part of the area. A beautiful, long white sand beach stretches out into the distance, met at the shore by crystal clear turquoise waters. There's even a car park to make sure you can stay relaxed from start to finish.
7. Experience Nature in Cap De Formentor
Located at the northernmost point of the island, its rugged yet beautiful scenery makes it a popular location for those looking to experience the more natural side of Mallorca.
Featuring stunning views out across the ocean, ancient roads carved into the hillside and the Formentor Lighthouse, which is among the most popular attractions on the island.
Watching the sunset over this magical spot is surely a sight that you'll never forget, but make sure you get there early to get a good spot as it does get quite busy.

8. Party in Playa De Magaluf
If you are looking for a bustling tourist beach on Mallorca then there's no better place than Playa De Magaluf, the infamous destination for those looking for an island party vacation.
Surrounded by resorts, bars, restaurants, and all manner of activities to keep you occupied day and night, this is the perfect spot to come to let loose for a while and just have fun underneath the blazing sunshine.
9. Visit Parc Natural De Mondrago
A more remote part of the island located on the southern coast, this is a perfect spot for those looking to get out and experience the natural beauty Mallorca has to offer.
Featuring dramatic cliff faces, pure white beaches and clear turquoise waters, whether you're looking for a hike amongst the nature or a simple lay in the sand, you won't be disappointed.
It's also home to a number of species of bird so if you're lucky you may see something rare and exotic that you weren't expecting on your trip too.
10. Explore Serra De Tramuntana
A stunning mountain range that runs along the spine of the island, it features the two highest points in not only Mallorca but the Balearic Islands as a whole.
The entire 76,000-acre range operates as a nature reserve and is listed as a world heritage site. Home to numerous species of animals, birds, and plants, this incredible location is the perfect place to go for a drive and experience the scenic views of the island and its coastline.
For the more active among us, there are also plenty of hiking and climbing opportunities to get your blood pumping while you enjoy the beauty around you.
11. Sa Dragonera National Park
This destination isn't technically on Mallorca, as it is a small, uninhabited island located just off the west coast. While that means a boat trip to get there is required, that only adds to the experience.
There is some debate as to whether it takes its name from its shape, as it is said to look like a dragon, or due to the number of species of lizard that reside there.
Outside of reptiles, the island is also home to a variety of different types of bats, seabirds, and aquatic life. Its lack of human inhabitants makes it a perfect place to watch nature in an interfered with the setting.
12. Visit Inca Market
One of the largest markets on the island and one that is held weekly, so you can be assured of getting the opportunity to visit it, no matter when you choose to travel.
The stalls feature a variety of wares, both traditional and tourist centred, including clothes, flowers, food, soap, and a variety of items made from the areas famous leather.
Whether you're looking for gifts to take home, something for yourself or simply just to browse what's on offer, this is a great place to experience the spirit of Mallorca.
13. Go See Valldemossa
A beautiful village on the north-western coast of the island. One of the few places to demonstrate purely traditional Spanish culture, uninterrupted by other outside influences throughout the years, it holds many incredible festivals throughout the summer months that are an experience like no other.
Its most famous attraction in the village is an early 15th century charterhouse. This stunning building, located over 1300 feet above sea level, was once home to Spanish royalty and its fabulous architecture is an incredible sight, backdropped by the towering mountain range beyond.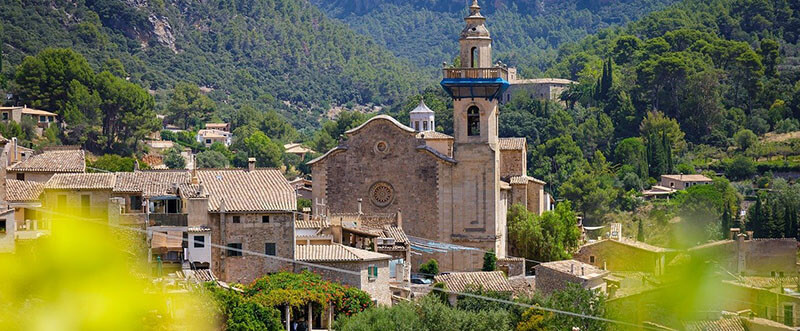 14. Marineland Majorca
If you want to see marine life up close and personal, then you may never get a better chance than this. Marineland is home to all manner of animals, including penguins, seals, dolphins, sealions, parrots, stingrays, and flamingos.
Visit them in artificial recreations of their natural habitats or with the sea lions, parrots and dolphins go and watch them in their shows and witness the incredible feats they are capable of.
When you're done with the animals there's also a children's pool and a restaurant to unwind and let you discuss the incredible things you've seen.
15. Passeig Des Born
If you want to treat yourself to a more sophisticated and elegant night out while in Mallorca, I would highly suggest an evening in Passeig Des Born.
Located in the capital of Palma, this gorgeous avenue is lined with trees covered in beautiful lights that line surrounds the incredible bars, restaurants, and street performers that call this part of Mallorca home.
Whether you want to set up in one location and watch the evening unfold around you or stroll around from place to place, this is certain to be a pleasant experience.
16. A trip to Marina De Cala D'or
When you think of an island, boats are just something you expect as part of the package, as the imagery of the two go hand in hand. That's why a trip to Marina De Cala D'or is such a worthwhile experience.
Take a stroll around one of the top Marinas on the island before sitting at one of the many bars and restaurants where you can enjoy a meal or a drink as you watch the stunning vessels bob up and down in the water beside you. It truly is one of the most relaxing experiences out there.
17. Take a Boat And Train Tours
No matter how hard you try there are some areas of the island that simply aren't accessible by car. That's what makes a trip like this perfect.
Firstly, you get to sail around the coast on a tour boat, viewing the beautiful island in its entirety. Then, when you arrive back on shore, you have the opportunity to ride an old-fashioned wood panel train through the Soller Valley.
As much as some people prefer to avoid organized trips, this is one where you simply can't see some of its sights by yourself.
18. Nekropole Von Son Real
While a necropolis is an attraction usually more associated with Greece than Spain, that makes this stop all the more worthwhile, as it adds a little variety to your sightseeing.
Located on the north-west coast, near the town of Alcudia, this is a perfect day trip to get out into a less built-up area and explore some historic ruins.
Watch the horizon over the ocean behind them and try to imagine what they looked like when they were inhabited centuries ago, in all their glory.
19. Sanctuary Of Sant Salvador
This stunning old monastery sits atop a hill over 500 feet above sea level, outside the town of Felantix in the south-east of the island.
Featuring chapels, carvings, a large stone cross, and a statue of Christ himself, this was for many years the most important religious location on the island.
Beyond the beauty of the monastery itself is the equally stunning views from it. Its position so high up makes it the perfect location to look out over the rest of the island and take in what a truly fabulous place it is.
20. Take a Catamaran Cruise
Sometimes the best way to view an island is to get off it for a while. A perfect way to do just that is to take one of the many Catamaran cruises available around the island.
Step on board one of the twin-hulled boats and cruise gently out into the ocean to view the island from a distance in all its glory.
Take the opportunity for a little you time and work on your tan as you enjoy the sea breeze and the onboard lunch provided.
See More:
Conclusion
So there you have it, the 20 best things to do in Mallorca. Whether you're looking for a fun-filled tourist break or a vibrant educational experience, this should provide you with plenty to do and see on Mallorca, no matter how long your stay.
You could even give something a try that seems like it might not be your usual type of vacation activity and who knows, you may open your eyes to a whole new world of vacation possibilities.