The best areas to stay in Milan for both first time and returning tourists are the neighborhoods of Centro Storico, Brera, Citta Studi, Navigli, and Porta Romana. This blog will give you more detail about where to stay in Milan for family, budget, nightlife, shopping, one night, two nights, three nights, and the best hotels in the city centre and near the train station.
Italy's chic and modern Northern capital is fascinating to visit and absolutely packed full of things to see and do. It is the largest city in Italy and the fashion capital of the world. You will be pleased to learn that it is a relatively compact city.
The best things to see and do are located quite centrally, mostly in and around The Piazza Duomo area and the historic center. This Centro Storico is a great place to stay, but there are also some super districts nearby like the relaxed San Lorenzo, charming Bera, the hip and happening, Ticinese, and leafy Porta Venezia.
First time visitors will want to stay in the heart of Milan, Centro Storico. Booking hotels in this area, you will be in a central location, well-connected transport, close to attractions, good for nightlife and shopping.
Milan, however, has an excellent public transport system, most notably the Metro subway. This means that you can stay in quieter and more relaxed out-of-town settings and still enjoy the best the city has to offer quickly and conveniently. The best way to get around Milan is by tram or bus.
16 Best Areas to Stay in Milan, Italy
1. Centro Storico, where to stay in Milan for first time tourists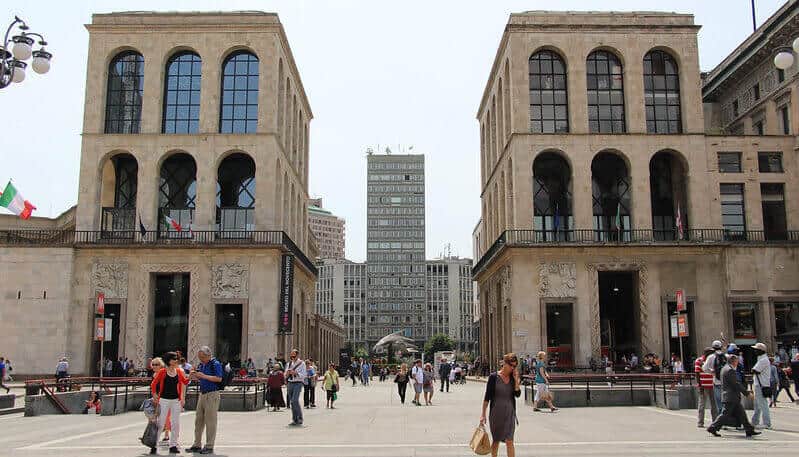 Centro Storico (the Old Town) means historical center in Italian, and that says it all, really. If you are a lover of history and the arts, then this is the perfect place to stay when you visit Milan, especially for the first time. It's also the best area for shopping, sightseeing, tourist, family, and couple.
This part of Zona 1 is so full of ancient buildings and culture that you will be spoiled for choice. First, and most importantly, is the Duomo (Milan Cathedral). With its towering spires, this spectacular cathedral is an architectural wonder, but you wouldn't want to parachute onto it.
Its construction dates back to the 14th century, its white marble facade, imposing gothic interior, and the early Christian basilica are must-see. One of the highlights of your trip will be the view of the city if you take the opportunity to climb up onto the roof.
If you visit the Royal Palace, you will see the Duomo Museum a museum that originates from the cathedral.
The Cathedral Square is the meeting point of the Milanese to celebrate important events. Apart from the Duomo, some of the most important buildings of the square are the Royal Palace, Galleria Vittorio Emanuele II, Palazzo dell'Arengario, and Palazzo Carminati.
The 19th-century Galleria Vittorio Emanuele II is Europe's oldest shopping mall, which connects Piazza del Duomo to Piazza della Scala. This Neoclassical building has arcades and an iron-and-glass roof and was built by the well-known architect Giuseppe Mengoni.
It houses high-end boutiques such as Prada, Gucci, Armani, Dolce & Gabbana, Versace, Borsalino, Luisa Spagnoli, and Louis Vuitton. You can also find fast-food restaurants and nice cafes like the old Café Restorante Biffi.
The Palazzo dell'Arengario is home to Museo del Novecento, an art gallery museum, home to works of 20th-century Italian art. The gorgeous Neoclassical building, Palazzo Reale, is one of the most important art centers in Milan.
Very close to the Duomo of Milan is the 15th-century church and Dominican convent, Santa Maria della Grazie, where you can find one of the most famous paintings in the world, Last Supper by Leonardo da Vinci. The church and painting are UNESCO World Heritage Sites.
But this part of town isn't just about the history, epicures will be delighted to know that there is an enormous number of top-quality restaurants, and plenty of the little cafes that the Italians do so very well.
This being Milan, the city of chic shopping, there are splendid and sophisticated shopping malls scattered throughout the area; you can browse designer stores to your heart's content.
Within a short walking distance from Piazza del Duomo, you will find the big names in the fashion world in the Quadrilatero della Moda and the Fashion District. During Milan's Fashion Week in June and September, it hosts catwalks and shows and the streets are filled with models, celebrities, and photographers.
But what about the arts? The Duomo checks that box too in quite spectacular fashion since it is home to the famous Teatro alla Scala theater. A visit to this artistic icon of Milan is one of the cities bucket list must do's.
The historic center is easily explored on foot, and also very well-connected public transportation with M1 and M3 metro lines. You can easy to get to other parts of the city.
Being the most popular area for tourists to stay in Milan, prices for accommodation can get pretty expensive. That said, you will also have the widest selection of hotels in Milan to choose from, so you are sure to find one that really suits you.
Stay in Centro Storico if you are visiting Milan for the first time, you want to be right in the center of the city, and want ant plenty of top quality restaurants and bars nearby; you want the best places for shopping, particularly for designer goods;
Best places to stay in Milan in Centro Storico:
🔍FIND BEST HOTELS IN CENTRO STORICO
See more: Where to Stay in Lake Como, Where To Stay In Sicily Italy, Where to Stay in Cinque Terre, Where to Stay in Florence Italy, Where to Stay in Verona Italy
2. Brera, where to stay in Milan with family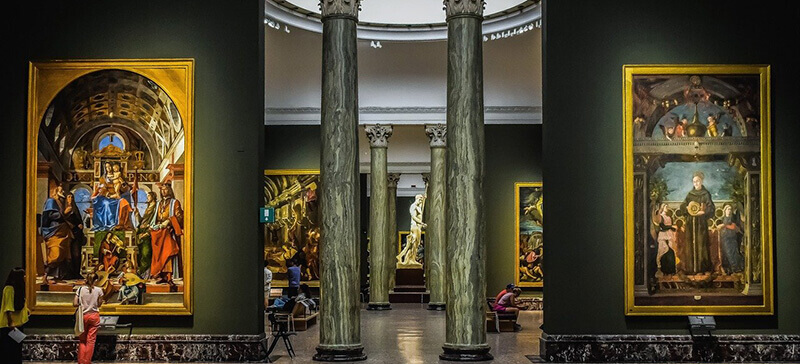 If you're looking for best area to stay in Milan with family, you should consider staying in a family-friendly area, Brera. It is one of the safest parts of Central Milan, near the famous park Parco Sempione. Brera offers the best all-around combination of the great things about the city. Brera is best for art, nightlife, shopping, solo travelers, couples, families, museums, and dining.
This is an immensely appealing city district that retains some splendid buildings and much of the grandeur of the city's rich history within its maze of winding streets.
But Brera is also a thriving and vital modern part of the city, packed with artists, artisans, and a positive buzz of modernity.
If you were an art lover, then a trip to Brera is a must. This area is home to some of Milan's very best art galleries at the Pinacoteca Di Brera. Here you can view the National Gallery of Modern and Antique Art and the Academy Of Fine Arts's treasures.
This is one of the world's greatest art galleries and features Italian masters like Caravaggio and Raphael. Oh, and you know that famous Leonardo Da Vinci painting The Last Supper? That's here too. You will find that at the Santa Maria Delle Gracie.
Brera is very convenient for the rest of the central cities' sights too; This affluent neighborhood is just a few minute's walks to the north of the Duomo and the historical center of the city.
Brera is also within a short distance from the medieval Castello Sforzesco and its wonderful Parco Sempione with imposing Arco della Pace, Triennale Design Museum, and Blanco tower.
And You also have a historic garde-Milan's Botanical Garden, the Brera Astronomical Observatory, Museo del Risorgimento, Chiesa di Santa Maria del Carmine, Acquario Civico di Milano, and Biblioteca Braidense.
Apart from its arty, bohemian atmosphere, Brera has a large pedestrian area, many narrow streets, plenty of high-end boutiques, antique shops, stylish bars, classy cafes, and restaurants for tourists.
You are spoiled for choice for places to stay in this area, whatever your budget. Although there are many properties in the mid-price category, you will also find some good hostels and budget rooms, and at the other end of the scale, there are some spectacular five-star hotels here.
Stay in Brera if you're looking for where to stay in Milan with family (with kids); you want to be close to the center of the city, you want the city's best art galleries, you want a thrilling mix of ancient and modern, you want a maze of streets to explore on foot.
Best places to stay in Milan in Brera:
🔍FIND BEST HOTELS IN BRERA
3. Stazione Centrale, where to stay in Milan near main train station
If you're looking for where to stay in Milan for one night, I would suggest staying near Central Station. For two nights and three nights, perhaps look into the area of Centro Storico or Brera.
Anyone who is unfamiliar with a city can do worse than picking a neighborhood that has good transport connections around the city and to elsewhere in the country.
The Central Station is located in Piazza Luigi di Savoia in Zone 2 of Milan, north of Giardini Park. It is the most important railway hub of the Lombardy Region and the second-largest station in Italy, behind Roma Termini.
In the case of Stazione Centrale, its attraction includes the main station itself. It is a magnificent building built in 1864 and reintroduced early in the 1930s.
Its shops, cafes, and facilities, in general, are excellent with the huge numbers passing through the station daily eager customers as well.
Michelangelo Pistoletto's ''Apple Made Whole Again'' was revealed at the 2015 Expo. Take a look.
From Milano Centrale to the Milan Malpensa airport, you can catch the Malpensa Express train. From here to Linate Airport and Milan Bergamo Il Caravaggio International Airport, you can check buses and taxis.
You will be close to the Poldi Pezzoli Museum, the Modern Art Gallery of Milan, the Pinacoteca di Brera, and the Monumental Cemetery of Milan.
There are plenty of accommodations within walking distance. Your choices range from budget accommodation to 5-star quality.
Stay in Stazione Centrale if you have short time in Milanl;You enjoy a central location, a safe area with cheap accommodations, and good public transportation with buses and metros.
Best places to stay in Stazione Centrale:
🔍FIND BEST HOTELS IN STAZIONE CENTRALE
4. Porta Nuova and Isola, staying near Porta Garibaldi Station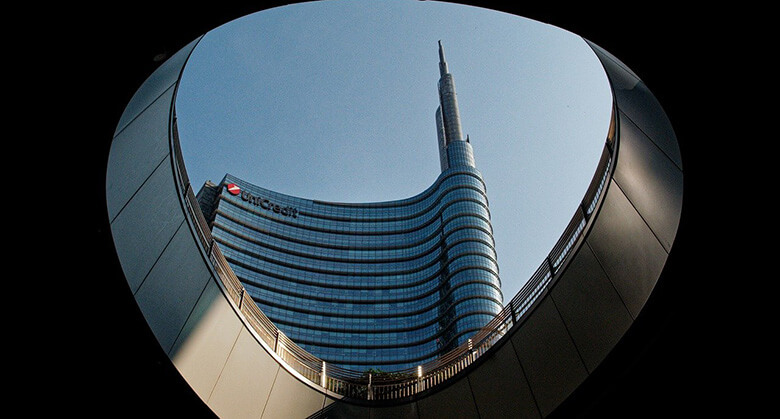 This district gets its name from the ''new gate'' that was built by Napoleon. It is close to Garibaldi and represents one of Italy's best urban regeneration projects.
There are significant landmarks in the neighborhood such as Gae Aulenti Square, a famous Italian architect, the impressive UniCredit Tower, and the Bosco Verticale complex.
The complex has two residential towers, one over 350 feet high, the other around 250 feet. It is an ecological masterpiece and includes around 900 trees. Since 2014, it has attracted many visitors and tenants.
Porta Garibaldi is the second largest train station in Milan with direct trains to Milano Malpensa Airport. To get to Milano Linate and Orio Al Serio/Bergamo airports, you have to change at the Central Station.
Visitors and locals all enjoy the nightlife, dining, and shopping opportunities. It still remains one of the lesser-known districts of Milan yet has much to offer.
Foodies will want to check Eataly Smeraldo, a huge emporium where you find a Michelin-starred restaurant and many great Italian cuisines. The pedestrian area of Corso Como is lined with bars and boutique restaurants, great for nightlife.
Located north of Porta Garibaldi station, is the trendy, up-and-coming area of Isola. It's developing from a working-class district to a vibrant hipster area. It has vibrant nightlife, chic boutiques, and fine-dining spots.
Stay in Porta Nuova if you want to stay in a modern area of Milan, you have no interest in tourist crowds, you enjoy seeing some greenery in a city.
Best places to stay in Porta Nuova and Isola:
🔍FIND BEST HOTELS IN PORTA NUOVA
5. Citta Studi, where to stay in Milan for budget
Located in Milan's Zone 3, Citta Studi means "city of students" in Italian, and this is a perfect description of this part of Milan. This area of the city is the overwhelming favorite place for young students to stay, and because of this, it's probably the best part of Milan for budget travelers and young travelers.
Citta Studi is home to the Università degli Studi di Milano and the League of European Research Universities.
After all, students have to live on a budget. So, in addition to some great value backpackers hostels and affordable hotels and guest houses, you'll find that the prices in the local restaurants, bars, and cafes are incredibly budget-friendly.
Citta Studi has good shopping too. If your fashion tastes don't require expensive brand names and labels, this is an excellent place to explore the stores.
Students like to party, so this is one of Milan's best nightlife areas for the younger crowd (or the young at heart.)
Citta Studi is home to the Modern Art Gallery Of Milan. If your artistic taste is more modern-day than the work of the renaissance masters of the historic center, you will be well rewarded by a tour around this gallery.
You will also find one of the oldest and most popular breweries in Milan, Birrificio, and Saturday market Valvassori Peroni market for food and drinks.
Citta Studi is a good part of Milan to stay in if you are looking for a low-key and leafy area full of parks since there are several around here in which you can stroll and unwind from the bustle of the city center.
The Citta Studi is situated in Milan's eastern suburbs about 3 km away from the historic center. Transport links are good, though, and it's easy to hop on the Metro or take a tram into the city center.
This area is also close to the Central Train Station, so if you arrive or leave by rail, it's a very convenient place to stay. Citta Studi is the best location for where to stay in Milan near the train station.
Stay in Citta Studi if you are traveling on a budget, you want great affordable nightlife, you want an open and leafy and youthful neighborhood, you don't mind being a short tram or metro ride away from the center.
Best places to stay in Citta Studi • Magville • MEININGER Milano Lambrate
🔍FIND BEST HOTELS IN CITTA STUDI
6. Navigli, where to stay in Milan for nightlife
Navigli is a cool suburb located on the southern side of Milan that is the best place to stay in Milan for nightlife. The huge night scene in this area is centered upon two canals, Naviglio Pavese and Naviglio Grande. It is the most romantic and charming neighborhood in Milan, the best place to stay in Milan for young people.
Beside these canals and in the maze of streets that surround them, you will find an enormous number of excellent bars and clubs, design shops, restaurants, and galleries.
Everything starts to happen here around sunset, and you can enjoy an aperitivo, usually with a free buffet, at any of the scores of bars that line the canals. Another great option is to hop onto one of the canal longboats that ply up and down the water and enjoy a drink there with fabulous views for free.
After sunset, many bars kick on and transform into late-night watering holes and nightclubs where you can party for as long as you have the willpower and energy.
During the summer months, it is crowded with hippies, students, tourists, and locals, who enjoy their drinks and dinners along the canals.
During the daytime, the area transforms somewhat, and you will find some excellent upmarket boutique shops selling fashion items and antiques. If you are fortunate enough to be in Milan on the last Sunday of the month, you should make a point to head over to Navigli.
There is a huge antique market, selling not just antiques but with little stores purveying all kinds of interesting and fascinating goods, perfect for gifts and souvenirs. And of course, Navigli has an enormous variety of dining, all of it, as with everywhere in Italy, top quality.
Washerwoman's alley is a colorful place to visit, where women scrubbed clothes on the stone slabs. Some of the places to visit near Navigli are the Basilica di San Lorenzo and Basilica Sant Eustorgio, Miradoli Arte Contemporanea (Alzaia Naviglio Grande, 54), and the smallest bar in the world – Backdoor 43.
Navigli offers many public transportation options with plenty of trams, buses, and is close to Porta Genova railway station. It has slightly cheaper rental prices with many bed and breakfasts and guesthouses.
Stay in Navigli if you are looking for where to stay in Milan for 2 nights, 3 nights, or 1 night; you want to be close to the city's best nightlife, a hipster area with vintage shops; you want to take a sunset cruise down the canal, you don't mind being a little way out of the center of town.
Best places to stay in Navigli:
🔍FIND BEST HOTELS IN NAVIGLI
7. San Siro, where to stay in Milan for football lovers
This district's name will be extremely familiar to any football fan since it's home to the fabulous San Siro Stadium. This enormous cathedral to the beautiful game houses arch-rivals AC Milan and Inter Milan who play there on alternate weeks.
If you get a chance, you should watch a game here. You won't forget the passion and excitement of 75,000 Italian football fans roaring their team on. You can also explore the largest congress center in Europe Milano Congressi (MiCo) and Fieramilano.
The District of San Siro is in a quiet, suburban part of Milan over on the city's western side. It's a good place to stay if you want to be somewhere a little more tranquil and relaxed than the city's bustling heart.
Despite being out of town, there are fantastic transport links into the city because of the sports stadium, so you are just a few minutes away from all of the sights.
Despite being a predominantly suburban district, you will find that San Siro has plenty of shopping, dining, and entertainment. The area around the San Siro Stadium is packed with affordable restaurants, bars, and shops.
And if you are traveling as a family, you will be pleased to discover that the stadium area has plenty of kid-friendly activities and play areas.
This area has plenty of hotels that cater to travelers on all budgets. There are plenty of good apartment rentals as well, and all in all, the accommodation prices here are a little lower than in the center of Milan so if you're traveling on a budget, let's stay in San Siro is well worth considering.
Stay in San Siro if you are a football lover, want an out-of-town location with excellent transport connections, and you're traveling with your family.
Best places to stay in San Siro Mid-range • Antares Hotel Rubens Budget • BB Hotels Aparthotel Visconti
🔍FIND BEST HOTELS IN SAN SIRO
8. Sempione, home of Milan's largest park Parco Sempione
Sempione is in the northeast of Milan, and it holds the city's largest park. To an extent, it is off the beaten track for tourists but that has an appeal for some travelers.
The Parco Sempione covers 116 acres so you can wander its paths for hours enjoying time away from typical city life.
It opened at the end of the 19th Century and there are many things to enjoy. It is home to many plants, animals, charming buildings, a medieval castle, a Napoleonic arch, the Acquario Civico, and a sports stadium.
You will see the Castello Sforzesco which was built in the 14th-century by the Visconti family. It was restored by the Duke of Milan in the 15th-century.
The Sforza Castle is now home to several museums that houses masterpieces and valuable art such as frescoes by Da Vinci and Bramante, Michelangelo's unfinished last work, and international art exhibits and events like Milan Fashion Week fashion shows.
The historic gate of Arco della Pace, or Arch of Peace is made from marble and was built in honor of Napoleon's victories.
There is also Arena Civica is an impressive amphitheater, the most famous sporting arena that hosts major soccer and rugby games and international concerts.
You can also take the elevator all the way up to the top of Torre Branca, the tallest tower for fantastic views of Parco Sempione and the Duomo. Designed by Gio Ponti, it was the venue for the 5th Triennale exhibition in 1933.
Apart from the 5 attractions from the park, you also have the shopping and drinking street, Corso Sempione. In the daytime, you can shop just anything here, and enjoy drinks at nighttime.
In recent times, more accommodation alternatives have sprung up in Sempione. There is good value to be had here. You need to travel to see many of Milan's other highlights but there are a few drawbacks to making Sempione your base.
Stay in Sempione if You are happy outside the center, pedestrian-friendly are; The large park appeals to you; Good value accommodation is important.
Best places to stay in Sempione:
🔍FIND BEST HOTELS IN SEMPIONE
9. Porta Vittoria, good for shopping and nightlife
Located o the east of the city center, around a 25-minute train ride from Milan's central station, The Porta Vittoria district takes the name of the 16th-century gate that was built by the Spanish when they occupied the region.
The Porta Torsa gate and the city walls have long since gone but it is nice to remember the history of Milan.
Today you will find a neighborhood known for its shopping and nightlife. With such things close at hand, Porta Vittoria is a good choice for a base in Milan.
However, it is not noisy at night, so it is a good choice for families with good accommodation available. You can explore the area, stopping for a drink in one of its trendy cafes.
For shopping, visit the famous but less central Corso XXII Marzo Avenue, which is popular with shoppers with plenty of brand-name shops. Corso di Porta Vittoria is a place to shop if you want designer brands like DKNY, Ralph Lauren, and Michael Kors.
To experience the best of Milanese life, visit the Mercato Ortofrutticolo market that sells fruits, vegetables, and poultry.
You can also visit the Parco Vittorio Formentano, also known as Parco Marinai d'Italia, a park with a big fountain in memory of Italian mariners.
Check out the board game shop, Excalibur Games, where you can meet friends and play games.
The highlight is Monumento alle Cinque Giornate di Milano in Piazza Cinque Giornate. It remembers the local uprising against the Austrians in March 1848.
Porta Vittoria is the best area to stay in Milan if you are traveling as a family; Avoiding noisy areas is important; You want a walkable area with nice cafes.
Best places to stay in Porta Vittoria:
🔍FIND BEST HOTELS IN PORTA VITTORIA
10. Chinatown, best area to stay in Milan for Chinese cuisine
Many cities in the world have a Chinatown and Milan is no exception. This neighborhood is just a short distance from Porta Nuova, and it was twinned with Shanghai over 40 years ago, the Italian city to twin with one in China.
Chinatown is also known as Quartiere Cinese by locals. It's the biggest and oldest Chinese community in Italy. This pedestrian neighborhood spreads from its pedestrian and main street Via Paolo Sarpi to via Niccolini, via Bramante, and via Aleardi.
If you visit during Chinese New Year, in between January and February, you will encounter the New Year parade with dragon dance from Piazza Gramsci towards Parco Sempione.
If you are interested in cuisine, this may be the place for you, whether looking for a good restaurant or wanting a takeaway or to buy for self-catering. Kathay Market is the largest ethnic food place in Italy.
There is more than food here. Chinese-owned businesses sell almost everything you might want from clothing to electronics. For a shopping experience, visit Paolo Sarpi with many stores and shops that sell products both from Italian brands and Chinese manufacturers.
The accommodation comes in the form of apartments or rooms to rent. With the advantage of being central and on the metro line, Chinatown is a great base within the city.
Stay in Chinatown if You enjoy ethnic cuisine; A central location is important to you; You are happy to self-cater or eat out.
Best places to stay in Chinatown:
🔍FIND BEST HOTELS IN CHINATOWN
11. Porta Romana, best place to stay in Milan for calm and quiet
If you prefer to be outside central Mila, a calm and quiet area, look at Porta Romana. It is a neighborhood outside the Centro Storico ring road and is quite a mix. It is home to both hipsters as well as some of the wealthiest people in Milan.
Tourists are welcome to join them to get a good feeling of current Milan life. Boutique hotels offer the best accommodation for tourists in Porta Romana. You will be staying close to Duomo and the university neighborhood, hence the young hipster element found in this district.
All the actions are centered around the famous Bocconi University and the Policlinico hospital, with young workers and students.
Here you also find numerous art galleries like Spazio Maiocchi and Giò Marconi gallery, and Giardini della Guastalla, the oldest public park in the city.
Prices are reasonable while the train and tram stations make it easy to access other parts of Milan.
Stay in Porta Romana if you are happy to travel to see the main sights of Milan, getting a flavor of local life is interesting to you, you want reasonably priced accommodation.
Best places to stay in Milan in Porta Romana:
🔍FIND BEST HOTELS IN PORTA ROMANA
12. San Lorenzo, where to stay in Milan for a couple
San Lorenzo is a charming part of central Milan located just to the southwest of The Duomo. This small and attractive area spreads out around the central hub of the Piazza San Lorenzo, a square surrounded by little cafes, bars, and restaurants that are great places to watch the local Milanese go about their social lives.
While here you should visit the splendid Basilica of San Lorenzo Maggiore. Established during the 4th-century, it is the oldest church in Milan. On the front of the church stands the most famous Roman ruins in Milan, the Colonne of San Lorenzo.
The southwest gate of Milan from medieval times, Corso di Porta Ticinese is the common meeting spot for local people. The street is lined with street art, independent shops, restaurants, a few hostels, and hotels.
One of the appeals of this part of town is that you're very close to the city center and the Duomo area. It is a comfortable walk, but there are two great transport options if you don't want to walk.
For short journeys, like from San Lorenzo to The Historical Center, it's great fun to jump on one of the iconic trams that you will find everywhere in the city. Trams aren't the quickest way to get around, but they're the most fun and scenic. Alternatively, take the Metro, the city's fast and highly efficient subway system.
Stay in San Lorenzo if you want to stay really close to the historic center of town; you are traveling as a couple looking for a romantic holiday;
Best places to stay in Milan in San Lorenzo:
🔍FIND BEST HOTELS IN SAN LORENZO
13. Porta Venezia, where to stay in Milan for shopping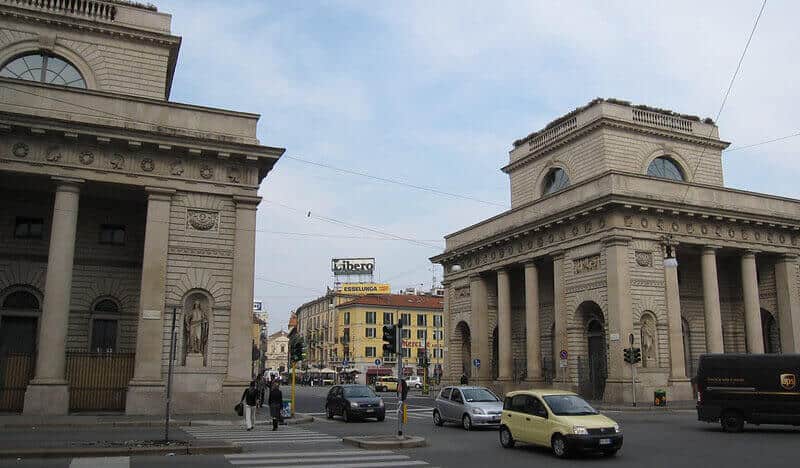 In Milan, shopping is everywhere. But if you need shopping, the best areas are near Porta Venezia, Citta Studi with the longest shopping street in the world, Corso Buenos Aires. Centro Storico is also a central district with many fabulous shopping arcades.
Located close to Milan's main train station make Porta Venecia a good base for those who have 1 to 3 nights in Milan. Porta Venecia is also home to the longest shopping street in Milan, Corso Buenos Aires, ideal for those who like shopping. You can also shop at Corso Venezia, which is part of the famous Quadrilatero della Moda.
Porta Venecia is a wealthy and quiet suburb just to the Duomo's southeast in the center of Milan. It's a fascinating little enclave of the city since even though it is close to the center, it isn't the favored choice of many tourists, so you are free to see the city as it truly is.
It is also a well-known immigration place and has several foreign restaurants with food from all around the world. There is food from Africa, Asia, and South America.
There are some pretty parks here, and the profusion of old Art Nouveau buildings such as Casa Galimberti, Palazzo Castiglioni, and Casa Campanini makes it a lovely area to stroll around and soak up the atmosphere.
As with most parts of Milan, there are some beautiful old churches in the neighborhood; a highlight is the Basilica di San Carlo al Corso.
The Indro Montanelli Public Gardens is the is a large city park, but smaller than Parco Sempione. Inside the park, you will find attractions like the 17th-century palace Palazzo Dugnani and the Museo Civico di Storia Naturale di Milano (Natural History Museum).
Nearby, art lovers can visit the GAM, the Galleria d'Arte Moderna (Modern Art Gallery) and the PAC (Padiglione d'Arte Contemporanea).
Because of its parks and open spaces, Porta Venezia is an excellent place to stay with family if you want to be somewhere central but away from the busiest and most chaotic areas.
If you like reading, Palazzo Serbelloni has a library with more than 75,000 books to choose from!
Known as Italy's only true gay quarter, Porta Venezia is where the LGBTQ community gathers with several gay bars such as Pop Milano, Mono Bar, and Leccomilano's creative cocktails.
Since this area isn't the most popular with tourists there aren't too many hotels, but there are some great mid and high-end places, and you can rent some very well-appointed apartments, which are a good option if you are traveling as a group.
Stay in Porta Venezia if you're looking for the best place to stay in Milan for 3 nights, 2 nights, or 1 night; you want a central location with cheap accommodations and good transport connections; you want LGBT and gay-friendly area;
Best places to stay in Porta Venezia:
🔍FIND BEST HOTELS IN PORTA VENEZIA
14. Fiera Milano City, residential suburb in Milan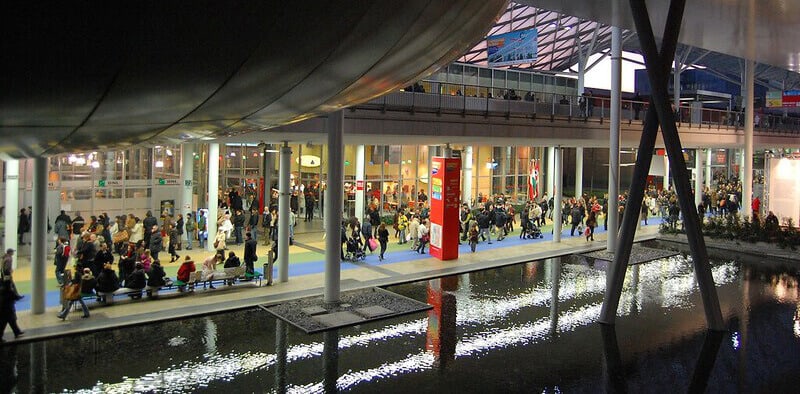 The quiet City-Life district, Fiera is a prosperous and attractive suburb of Milan, over in the western outskirts of the city. If your idea of the perfect city stay is in a leafy out of town area, dipping in and out to see the sites on the excellent Metro system, then this part of town should appeal.
Via Pagano, via Marghera, Corso Vercelli are the important arteries of this area. They are surrounded by big boulevards, calm atmosphere, contemporary buildings, and villas.
Fiera is a good option if you have money to spend on more expensive accommodation and entertainment. You will find top-quality hotels around here, and the wealthy residents choose to dine in some splendid top-class restaurants and bars.
It's not the place to stay if you're traveling on a budget, but if you are a couple who enjoy the better things in life and a bit of peace and quiet, Sierra is a good option.
The same thing goes if you travel with your family and want quieter streets, parks, and an altogether more relaxed base for your explorations of Milan.
Stay in Fiera if you have a little bit more money to spend on hotels and entertainment, you want to stay out of the center o, you are traveling with family, you're looking for a prosperous residential suburb.
Best places to stay in Fiera:
🔍FIND BEST HOTELS IN FIERA
15. Ticinese, good neighborhood for cool bars and bohemian vibe
Ticinese is a conveniently central district of Milan that isn't quite yet on the tourist map. this is all in the process of changing, though, since Ticinese is one of the hippest and most under-the-radar, upcoming districts of Milan.
Ticinese is home to 2 shopping streets including Corso di Porta Ticines (with vintage boutiques, trendy streetwear, and record stores) and Corso Genova. Corso San Gottardo street is good for electronic stores, leather goods, and a popular art gallery.
Other attractions are the Colonne di San Lorenzo with the oldest Roman ruins in the city, and a huge park with 2 basilicas, Parco Giovanni Paolo II, a great spot for families with children to enjoy.
It is an old urban district that has seen a recent renaissance, and now it is full of exciting and interesting independent stores, co-working spaces and cafes, small galleries, and hip bars and bistros.
Ticinese's location is extremely convenient since you're very close to the center of Milan, just to the south of the historic center. It's an excellent destination for budget Travelers since there are some good hostels and economical apartment rentals.
But if you want to splash the cash, there are some lovely boutique accommodations at a higher price range.
Stay in Ticinese if you want to stay in Milan's most up-and-coming suburb, you want to be close to the historic center, you want cool bars, quirky shops, and a bohemian vibe.
Best places to stay in Ticinese:
🔍FIND BEST HOTELS IN PORTA TICINESE
16. Bicocca, a student area in Milan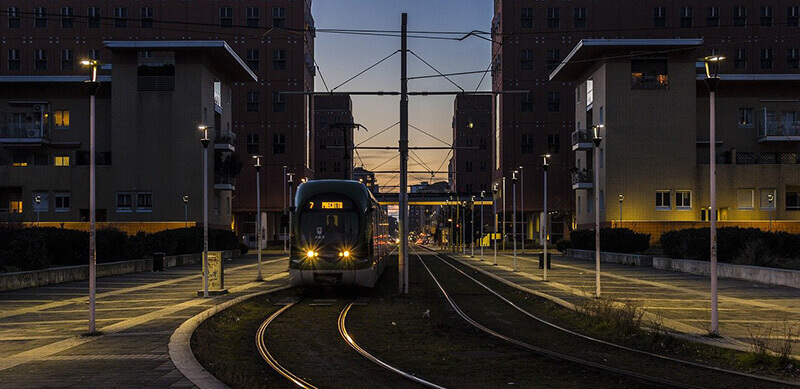 Bicocca is an exciting district of Milan located in the northern part of the city. This area of town is the site of the enormous University of Milano-Bicocca, an ancient seat of learning. These days the university gives the area tremendous youthful energy.
There are some great accommodation options in this part of town, especially if you are traveling with friends or with your family. Much of the accommodation in this area is in the form of apartments, so if you're on a budget, it's a good option since you can economize by using the kitchens in these larger living spaces.
There is a large shopping mall nearby, where you can get all the supplies you need. Centro Sarca and Bicocca Village are big shopping centers with many shops, restaurants, and cinemas.
Milan's largest park is here also; the Parco Nord Milano is a vast open area to walk, run, recline, get a breath of fresh air, and enjoy a picnic.
You can enjoy the performance at Teatro degli Arcumboldi theatre, and visit the Villa Arcimboldi museum which is a former 15th-century home, and modern art exhibits at Pirelli HangarBicocca in a renovated factory.
You have numerous tram and bus stations in Bicocca. There are also Bicocca, Bignami, and Ponale stations on Metro line 5.
Stay in Bicocca if you want to stay close to one of Europe's largest urban parks; you want an out-of-town location; you enjoy the atmosphere of a lively student community.
Best places to stay in Bicocca • Mid-range: Starhotels Tourist • Budget: BB Hotels Aparthotel Bicocca
🔍FIND BEST HOTELS IN BICOCCA
See also: Frequently Asked Questions about Best Places to Stay in Milan
Check out my virtual tour of the best places to stay in Milan in this video:
Read Also:
So, that's Milan! Now you know all about the best location to stay in Milan and the incredible and exciting things to see and do while you are here. I'm sure that you can't wait to visit, and now you know what area to stay in too. So, what are you waiting for? Make that booking, and have a fabulous trip to this beautiful Italian destination.