Where to Stay in Verona Italy: Best Areas and Hotels
Here is my handy and compact guide to where to stay in Verona, Italy. I will describe the city's very best parts for visitors and tell you what type of traveler each area might appeal to. Then you can choose the location that best matches your particular needs and make the very most of your stay.
Where to Stay in Verona Italy: Tips & Info
Despite being a modern Italian city, Verona is, at heart, a compact and attractive renaissance town. Unlike many places that you will visit, the vast majority of the city's sights are located in or around the Historic Center area, so this is a great place to stay if budget isn't an option and you want to be right in the midst of everything.
However, since the city center is small, you can avoid the higher prices of accommodation in the Historic Center by staying in one of the neighboring suburbs, just a few minutes' walk away. So, if you want to be somewhere central and enjoy the nightlife, you could stay in Porta Nuova or Veronetta.
If you're on a budget, Veronetta and the western suburb of San Zeno are excellent choices; just a short walk away from the center.
Families and higher budget travelers will appreciate the suburban class of Valdonega, or travelers with kids who want to be a little closer to the center should consider riverside Borgo Trento.
Whatever your preference Verona has an area that will suit you perfectly, and since everything is close by, you won't need to rely on public transport.
Where to Stay in Verona Italy – 7 Best Areas to Stay in Verona
Verona has some delightful suburbs to stay in and explore. From the central core of the city to nearby suburbs like Porto Nuova, Veronetta, San Zeno and There are also interesting areas a little further afield like wealthy Valdonega and business-oriented Verona Fiere
Where to Stay in Verona Italy – 7 Best Areas to Stay in Verona
Where to Stay in Verona Italy Map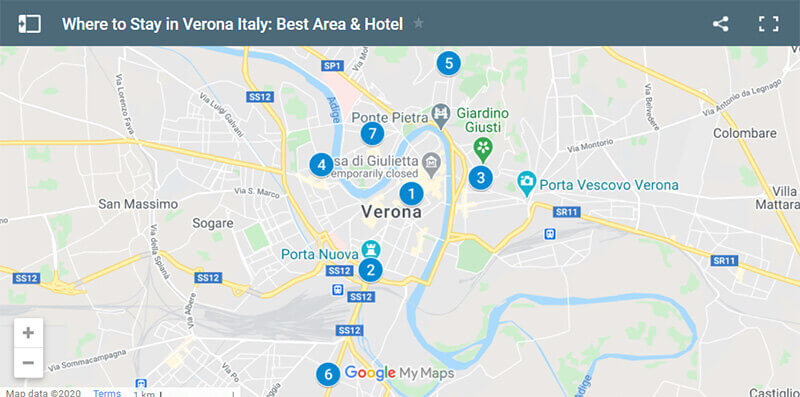 To see more where to stay in Verona Map, go to Google Map;
1. Centro Storico (Historic Center), Where to Stay in Verona for First Time Travelers

The Centro Storico or Historic Center of Verona is without question the best choice of place to stay if this is your first visit to this magnificent ancient city. All of the main tourist sights are nearby, including Juliet's House, purportedly from Shakespeare's famed Romeo and Juliet.
There is so much to see and do as you stroll through the ancient Piazza Delle Erbe, Verona's central plaza, and the site of the old Roman forum.
Since Centro Storico is the city's tourist center, there is an excellent range of accommodation for individuals, couples, and families, and groups. The hotels here can be a little more pricey than other areas simply because of the convenience of the central location, but if you look hard, you can also find budget options.
You Should Stay in Centro Storico If:
You want the convenience of good tourist facilities.
You want fantastic culture on your doorstep.
This is your first visit to Verona.
Best Hotels in Centro Storico
2. Porta Nuova, Where to Stay in Verona for Art Lover
This central area of Verona is located just to the South of the Historic Center. Porto Nouva is an extremely convenient place to stay, with plenty of local sites of interest and proximity to the center. The most prominent local tourist site is Castelvecchio, a splendid Riverside building that houses a magnificent collection of artwork and sculptures.
Porta Nuova is a lovely area just to stroll around, observing the beautiful Renaissance architecture. There are also a seemingly endless number of excellent bars here where nightlife lovers can dine, drink, and party to their heart's content.
You will find Verona's central train station here, so it is a convenient place to stay if you plan to arrive or leave by rail.
You Should Stay In Porta Nuova If:
You're an art lover, for the Castelvecchio gallery.
You are a night owl.
You want to be close to the central station.
Best Hotels in Porta Nuova
3. Veronetta, Where to Stay in Verona for Nightlife, Budget
Veronetta is an area on the east side of the city that offers lower budget accommodation to both visitors and locals. This is a popular student area, and its multicultural population makes it a thriving and fascinating place to stay.
Veronetta has a rocking nightlife scene with lots of bars and restaurants that run till late. It's not a place for families or people who aren't comfortable with a bustling, bohemian urban area. But if you love cities and want to be in an exciting place where there's always something going on, then Veronetta is an excellent budget choice.
Veronetta isn't far from the Cultural Center; all you have to do to get to the sights is walk across one of the connecting bridges over the river Adige.
You Should Stay in Veronetta If:
You're looking for buzzing nightlife.
You're on a budget.
You want an urban area with lots of character.
4. San Zeno, Where to Stay in Verona for Shopping
If you're the kind of traveler who wants to stay in a charming, villagey area that's full of charm, then you will be delighted by San Zeno. The area is only a kilometer, or so away from the Historic Center, so everything is accessible with just a short walk.
San Zeno is a suburban area with a beautiful sleepy atmosphere. The Central Piazza here near the Basilica of San Zeno is home to an excellent and enormous weekend antique market, full of fascinating items for sale.
The Basilica of San Zeno is the major tourist draw of this area. This splendid edifice dates back to the 12th century and was a major destination for pilgrims in the past. In fact, these days, the ancient graffiti carved by these pilgrims is one of the most fascinating things to see here.
You Should Stay in San Zeno If:
You like shopping for antiques.
You're looking for the most happening part of the city.
You don't mind traveling a little way to see the main sights.
Best Hotels in San Zeno
Cinque Rooms is a modern, chicly styled hotel, where rooms feature air-conditioning and high-tech amenities like satellite LCD TVs and Wi-Fi. Located in a district with a distinctly local feel and surrounded by bars and restaurants, it gives you a fabulous chance to get out and experience the traditional culture of the area.
LeNotti Verona is a superb guest house, where visitors will be able to enjoy modern, stylishly decorated rooms, all of which feature air-conditioning, a private bathroom and amenities like a flat screen TV. A fabulous, Italian style breakfast is served each morning, while savoury options are available on request. Facilities for disabled guests are also offered at the property.
Cà dell'Orto Rooms & Apartments provides a range of exceptional, air-conditioned studios and apartments, surrounded by a beautiful garden and boasting an outdoor swimming pool. A hearty breakfast of omelettes, cold cuts and freshly baked cakes is served in the garden each morning, while free parking and Wi-Fi is also offered at the site.
5. Valdonega, Where to Stay in Verona for Family
Valdonega is an excellent place to stay if you're looking for an upmarket and sophisticated out-of-town base from which to explore Verona.
This quiet and leafy area is a suburb popular with the more well-heeled residents of the city. So while it's a suburban part of town, you will find some very classy restaurants and bars scattered around.
Valdonega is a good choice for families or anyone happy to sacrifice a central location for some peace and quiet. It is also important to remember that Verona is not the largest of cities, and even a relatively non-central area like this is just a few minutes' walk from the historical center.
You Should Stay in Valdonega If:
You want to stay outside the center.
You want a classy and sophisticated area.
You are traveling with family.
You want peace and tranquility.
6. Verona Fiere – Best Area for Business Traveler
Verona Fiere is a suburb on the southern outskirts of the city that is home to several event venues and exhibition centers. If you visit the city for business or take part in an event at one of these exhibition halls, this is an extremely convenient place to stay.
There is an excellent choice of accommodation, designed explicitly with convention visitors in mind. Because of this good accommodation, this area is also an interesting choice for visitors who have previously visited Verona and want to enjoy the suburbs' calm and comfort instead of the busy and bustling Historic Center.
You Should Stay in Verona Fiere If:
You're visiting an exhibition or event.
You're a business traveler.
You want to stay out of town.
Best Hotels in Verona Fiere
Corte Ongaro Hotel is a stylish, modern property, boasting a sensational rooftop garden and hot tub, where you can kick back and relax while taking in the stunning views. A second, internal garden is also available at the property and features a wonderful bar and lounge. The rooms are all pet friendly and air-conditioned, while some even have their own private balcony.
B&B Hotel Verona Sud is a pleasant, reasonably priced, pet friendly bed and breakfast, featuring smartly styled rooms that boast air-conditioning and an En suite bathroom. Free Wi-Fi and parking are offered to all guests, while a buffet breakfast is available on request.
Leonardo Hotel Verona is a fabulous, modern, pet friendly hotel, where the classically furnished rooms all feature air-conditioning, an En suite bathroom and a flat screen TV. The fabulous, on-site restaurant serves both Italian and international cuisine, while the bar is open 24 hours a day for you to purchase drinks and snacks from.
7. Borgo Trento, Best Area to Stay in Verona for Families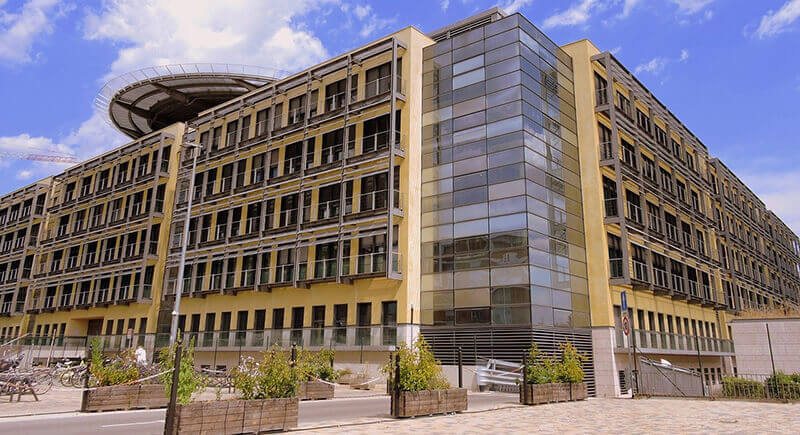 Borgo Trento is an area to the West of town that offers an appealing combination of proximity to the historical center and peace and quiet. For this reason, this is an excellent place for families to stay.
The area lies just to the north of the historical center, across the river. In fact, the way that the river Adige meanders through Verona means that this area is bounded by water to the East, West, and South. Anywhere close to the river offers superb views of the city.
A great place to visit in the Borgo Trento area is the large local park, which is an excellent way to escape the city's rush. You can also enjoy one of the best viewpoints in the whole of Verona by climbing the hill to the Shrine of Our Lady of Lourdes.
You Should Stay in Borgo Trento If:
You want a quiet but central location.
You're traveling with family.
You're looking for good mid-range accommodation.
Best Hotels in Borgo Trento
Where To Stay In Verona For First Time Visitors?
There is a simple answer to this question. If you've never been to Verona before, then stay in Centro Storico, the Historic Center. This splendid area is jam-packed with fabulous architecture and rich in historical marvels like The Fabulous first-century Roman amphitheater of The Arena.
Here you will also find Juliet's House, a place more famous for being called Juliet's house, rather than actually being it, but a fascinating place to visit nonetheless.
A visit to the central city Piazza Delle Erbe is a must, and the whole of the Historic Center can be easily explored on foot.
There is lots of accommodation here for all types of travelers and excellent cafes, restaurants and other tourist-friendly facilities.
Where To Stay In Verona On A Budget?
The suburb of Veronetta on the East Bank of the Adige River is a convenient choice for budget travelers. This is a good central location, with the Historic Center and its cultural delights just over the river.
You will find some excellent budget hostels and guest houses here. The area has a pleasingly Bohemian feel due to it's low-budget chic and student and multi-cultural population. Veronetta has a busy nightlife scene, too, with many bars, clubs, and restaurants.
Best Places To Stay In Verona For Couples?
Porta Nuova is an excellent choice of destination for couples visiting Verona. This area is just to the South of the Historic Center, so it is very convenient for all of the sights. It also home to the marvelous riverside Castelvecchio gallery. Exploring the classic Italian art and sculpture in this splendid Renaissance building is a fabulously romantic thing to do.
The area is full of little boutique guesthouses that offer a personal welcome and private facilities ideal for couples.
Best Part Of Town To Stay In Verona
While there are some excellent suburban places to stay in Verona, you just can't beat the Centro Storico, Historic Center as the best place for visitors to stay.
There is an excellent range of accommodation and lots of shops, restaurants, and bars that cater specially to tourists. Everything is close by, and the wealth of historical and architectural delights on your doorstep is staggering. It is no surprise that the Historic Center is the first port of call for most visitors to Verona.
How Long To Stay In Verona
If time allows, you should try to stay at least three nights in Verona. The city has an enormous amount of things to see and do, but much of it is concentrated in the Historic Center area and nearby, so you can quickly get from place to place. This means that you can visit iconic locations like Juliet's House, The Arena, The Piazza Delle Erbe, and the Castelvecchio quickly and conveniently.
But it would be a shame to experience the city in a mad rush because a significant part of its charm lies in absorbing the fabulous Renaissance architecture surrounding the winding River Adige. You should take time to just relax over a coffee in one of the Central plaza cafes and watch the world go by.
Where To Stay In Central Verona?
The logical place to stay in central Verona is in the Historic Center itself. This area is all about tourism, and so you will find reasonable accommodation whatever your requirements or budget.
However, since Verona is a compact city, you should also consider areas that are a short walk from the center. The Central suburbs of Veronetta, Borgo Trento, and San Zeno all have a lot to offer too, not far from the heart of things.
Is It Worth Going To Verona?
Verona is an extremely popular stop on the Italian tourist trail, and with very good reason. Perhaps most famed as Shakespeare's setting for Romeo and Juliette, this is a beautiful and evocative ancient roman city with some unique history and buildings dating back thousands of years.
If you love history and culture, then I'd rate the city as a must-see. But even if you just want to visit an exceptionally atmospheric and attractive Italian city, you will find much to appreciate in Verona.
What Should You Not Miss In Verona?
Verona has many sights that you'd be well advised to consider as a must-see.
The iconic Juliette's House might not actually be Juliette's House, but don't let that put you off. It has been embraced as the cultural icon that supports the story because it so well encapsulates the scene's idea.
If ancient history is your thing, you will appreciate The Arena, a 1st Century A.D. Roman colosseum. Imagining the incredible and sometimes terrible events that went on here is fascinating.
The beautiful riverside Castelvecchio is an art gallery that contains a wealth of paintings, sculptures, and ceramics that are of tremendous historical significance and aesthetic beauty.
And finally, be sure not to miss the fabulous Basilica of St Zeno, a 12th Century religious building that houses a treasure trove of artworks and historical artifacts.
Conclusion
Thanks for taking the time to read my guide to Verona. Now you have all the info you need to choose where to stay when visiting this Italian treasure. I hope that you have a marvelous trip and enjoy experiences that will last you a lifetime.
---
---