Where to stay in Verona? Some of the best areas to stay in Verona are the Historic Centre, San Zeno, Borgo Trento, Veronetta, Porta Nuova, and Borgo Milano. These areas provide plenty of accommodation options for all budget travelers.
But, which neighborhood is best for first-timers? for families, couples, on a budget? In this blog, I will give more details about the best areas to stay in Verona (include map and video), best hotels in Verona for all budgets, and the safest places to stay in Verona.
Verona sits on both sides of the Adige river, between Venice and Milan in northern Italy near Lake Garda. It has been awarded a World Heritage Site by UNESCO because of its urban structure and architecture. Despite being a modern Italian city, Verona is, at heart, a compact and attractive renaissance town.
Verona are generally safe for tourists, but as in any touristy area, you should always practice common sense and be aware of pickpockets. If you are searching for the safest area to stay in Verona, look into the popular neighborhood of the Historic Centre, Veronetta, and Porta Nuova.
Where is the best area to stay in Verona, Italy?
The Historic Center is the best area to stay in Verona for tourists, especially for first timers due to its central location and wide range of hotels for all budgets. Staying here puts you close to major attractions such as Verona Arena, and many restaurants, bars, and shops.
Verona has a great collection of accommodation options ranging from budget hostels to luxury hotels. It's a good idea to book well in advance to secure the best deals.
Families and higher budget travelers will appreciate the suburban class of Valdonega, or travelers with kids who want to be a little closer to the center should consider riverside Borgo Trento.
How to get around Verona for tourists?
Verona is well-connected and easily accessible by various means of transportation. The closest airport to Verona is Verona Villafranca Airport, located 11km from city centre.
From the airport, you can take Verona Airport bus ATV, taxi, or rent a car to city center. The trip by bus takes 15 minutes and costs €6. You can buy ticket from the driver when boarding or from machine at the airport. The bus will take you to Porta Nuova railway station.
If you traveling with family, or a group of tourist, it's best to book taxi, or airport transfer. It's cost in range from €40 to €60. If you can aslo rent the car but you'll need deposit from €100–€300.
Verona has excellent train connections with major Italian cities like Milan, Venice, Florence, and Rome. The main train station is Verona Porta Nuova, located near the city center.
If you prefer driving, Verona is well-connected to the Italian motorway network. Just be aware of the Limited Traffic Zones (ZTL) within the city center, where access is restricted to certain vehicles.
Verona is a relatively compact city, and many of the main attractions are within walking distance of each other. Walking is the best way to soak in the city's charm and discover hidden gems.
Verona is a bike-friendly city with dedicated bike lanes, and you can easily rent bicycles to get around. Hop-on-hop-off tourist buses are also a convenient way to visit major attractions.
Finally, Verona has an efficient public transportation system, which includes buses. Tickets can be purchased at tobacco shops, newsstands, or onboard the buses.
Map of areas and neighborhoods in Verona:
Generally speaking, the best areas to stay in Verona for tourists are the Historic Centre, San Zeno, Borgo Trento, Veronetta, Porta Nuova, and Borgo Milano. These are the city's most popular and safe neighborhoods for tourists, offering a wide variety of attractions and facilites.
Here are the detail of the best areas to stay in Verona for travelers:
The Best areas to stay in Verona for tourists are:
1. Historic Centre

Centro Storico, also known as Historic Centre of Verona, is the best overall area to stay in Verona for tourist due to its prime location and proximity to popular attractions like Juliet's House with its iconic balcony, and Romeo's House from Shakespeare's famed Romeo and Juliet.
You can easily explore the Historic Centre on foot and have easy access to the main train station. Conveniently located on the banks of River Adige, it is a UNESCO World Heritage site.
The Old Town is packed with historical buildings, Roman structures, ancient squares, as well as tourist facilities such as hotels, restaurants, bars, and shops.
There is so much to see and do as you stroll through the ancient Piazza Delle Erbe, also called the Herbs square, or Market Square. It is Verona's central plaza and was once the Roman forum.
The square is home to a market from Monday to Saturday, where you can buy souvenirs and local fresh products. It is also surrounded by historical buildings and monuments. In and around of Piazza Delle Erbe, you will find:
the Fountain of Madonna Verona, dating back to the 14th-century.
the La Berlina (Tribuna o Capitello), an ancient structure.
the Tower of Love (Torre dei Lamberti), the 84-meter high tower, Verona's tallest building, built in 1172. You can climb to the top to enjoy the breathtaking views of all of Verona.
Mazzanti House, a group of Renaissance houses from the middle ages. Admire beautifully painted houses and try pasta and seafood linguine on the ground floor in of its restaurants.
Palazzo Maffei, a baroque historical palace, built in the 17th century by the Maffei family.
Adjacent to the Palazzo Maffei is a symbol of the Republic of Venice, a white marble column with a winged lion holding a copy of the bible on the top, St Mark's Lion, and the 44 meters ancient bell clock-tower, Torre del Gardello.
South of the square lies the Merchant's House, which was built in 1301 by the Scala family.
Another charming square in the heart of Verona is the 12th century Piazza dei Signori, which can be reached from Piazza Delle Erbe via the Arco della Costa, the arch hanging gigantic ribs for centuries.
The Piazza dei Signori has Romanesque, Gothic, and Renaissance architectural styles. It is also known as Piazza Dante because the statue of Dante Alighieri, a medieval Italian poet and philosopher, is located at the center of the square.
The most magnificent building in the square is the Venetian Renaissance-style building Loggia del Consigli, which was built in 1476. The charming façade with its columned double windows and statues on the roof shines through the pastel colors of the walls even more magnificently.
There are some historical buildings on the square like the court, Palazzo dei Tribunali, and the seat of power of the Scaliger family, Palazzo del Governo, and the Captain's Palace (Palazzo del Capitano).
More buildings are worth checking including the Palazzo della Ragione (Town Hall) with its modern art gallery, the Arco della Tortura, and the last palace Palazzo dei Giudici.
You can take a look at the Gothic Basilica di Sant'Anastasia, located within a short walk from Piazza Delle Erbe and the Ponte Piedra. It is Verona's most important gothic style religious monument, built in the 13 century by the Scala family.
Nearby is the Duomo, the Verona Cathedral, where you can admire its beautiful architecture, explore its breathtaking sculptures and frescoes. It was built in a Romanesque style in the 12 century.
If you are interested in religious landmark, you can also take a look at the Chiesa di San Fermo, located close to Ponte delle Navi. It has two churches on top of one another: the Lower Church and the Upper Church with its magnificent ship's keel ceiling.
In addition to the popular Piazza Delle Erbe and Piazza dei Signori, the Historic Centre is also home to the popular Piazza Brà, which is the location of the Brà Fountain, a monument to Vittoria Emanuele II, and the Verona Arena, or Arena di Verona in Italian.
Arena di Verona is an open-air Roman amphitheater, built in the first century. It's one of the best-preserved ancient structures and still works today, and home to the world-famous annual opera festival, several events, shows, and concerts.
Arena di Verona is where you can watch three Shakespeare plays include Romeo and Juliet, The Two Gentlemen of Verona, and The Taming of the Shrew.
In addition to the cultural landmarks, the area around Piazza Bra is also home to many bars, restaurants, and cafés. You can grab a meal or drink here and watch the world go by.
There are also many local restaurants and shops on the Via Cappello, the pedestrian street of Via Giuseppe Mazzini. Make sure to try traditional dishes like tastasal, polenta infasola, osei, and sample local wines such as Bardolino or Valpolicella.
One sight not to miss in the Historic center is the Castelvecchio Museum, a splendid Riverside building, built in the 14th century by Scaliger family, and now houses a magnificent collection of artwork and sculptures.
Next to the Castelvecchio Museum, you can walk cross the Ponte Scaligero, connecting the Verona's late-medieval castle to the Adige's left bank; or visit the Arco dei Gavi, a beautiful white limestone triumphal arch nearby the castle.
Verona's Old Town has great nightlife scene with many bars and restaurants. The area has a different atmosphere when the sun goes down and artificial lights are lit up.
The Centro Storico has a wide range of accommodation for individuals, couples, families, and groups. It is an excellent choice for budget-conscious travelers. Its central location, affordable accommodations, variety of dining options, and easy access to transportation make it a top pick for those looking to explore Verona while keeping expenses in check.
Stay in Historical Centre if you are visiting Verona as a first time tourist; you want a fantastic culture on your doorstep;
Best places to stay in Verona in Historic Centre for first-timers:
🔍FIND BEST HOTELS IN CENTER
2. Porta Nuova
Porto Nouva is an extremely convenient place to stay, with plenty of local sites of interest and proximity to the Historic Centre and Verona's main train station.
Porta Nuova is a lovely area just to stroll around, observing the beautiful Renaissance architecture. There are also a seemingly endless number of excellent bars here where nightlife lovers can dine, drink, and party to their heart's content.
Porta Nuova is home to Verona's central train station (Stazione Porta Nuova). It is a convenient place to stay if you plan to arrive or leave by rail. Bologna is only 50-minute, Mantova, Venice, and Milan are around 1 hour, Verona airport is around 15 minutes away!
In the Porta Nuova neighborhood, you will see several museums, such as:
the Radio Museum Guglielmo Marconi, the only museum in the world designed for Guglielmo Marconi. In 1896 the first WiFi signal of history was sent from its own antenna.
The Juliet's Tomb and Frescoes Museum, located in a former convent.
The G.B. Cavalcaselle Museum has interesting and well-preserved paintings and frescoes.
Within short distance from Porta Nuova, you can find Piazza Cittadella, as well as the city's largest square, Piazza Bra, Gran Guardia palace, ancient Roman amphitheater, Casa di Giulietta, among others.
Due to its convenient location, Porta Nuova has plenty of accommodation options and it has cheaper prices compared to the touristy Old Town.
Stay in Porta Nuova if you want to stay close to the central station; you love nightlife; you want easy day trips to Bologna, Milan, Venice, Lake Garda;
Best places to stay in Verona in Porta Nuova for first-time visitors:
🔍FIND BEST HOTELS IN PORTA NUOVA
3. Veronetta
Veronetta, or little Verona is an area on the east side of the city separate from the historic center by the Adige River. You can easily reach by walking across the Ponte Pietra, Ponte Nuovo, or Ponte Navi bridges.
The name Veronetta originated in 1801 when Veneto town was divided into two areas: the right bank was controlled by the French and the left bank was dominated by Austro-Hungarians.
It offers lower-budget accommodation to both visitors and locals. This is a popular student area with the presence of the Santa Marta university campus, and its multicultural population makes it a thriving and fascinating place to stay.
Veronetta has a rocking nightlife scene with lots of bars and restaurants that run till late. It's not a place for families or people who aren't comfortable with a bustling, bohemian urban area. But if you love cities and want to be in an exciting place where there's always something going on, then Veronetta is an excellent budget choice.
There are plenty of sights to see in this neighborhood. There is one of the oldest bridges in the city, Ponte Pietra, a 5-arched Roman stone bridge crossing the Adige River. It was almost destroyed in World War II, but was restored after the war.
Nearby, you will see the Teatro Romano, built in the 1st century B.C., at the base of Castel San Pietro hill. It is the location of many events such as the Verona Summer Theatre Season, the Festival della Bellezza, Rumors Festival, and Verona Jazz.
In this complex lies the Archaeological Museum, which is located in the former San Girolamo Convent, where you can learn the history from Roman times.
You can walk up through the staircase, or take a funicular railway to the top of St. Peter hill and admire the 19th-century Austrian Fortress, Castel San Pietro.
There are also stunning religious buildings such as the churches of Santo Stefano, San Tomaso Cantuariense, Santi Siro e Libera, San Giovanni in Valle, Santa Maria in Organo, and Santi Nazaro e Celso.
And be sure to visit the famous Italian Renaissance garden, the Giardino dei Giusti, or the Giusti Garden. It's open to the public all year round, a great place to relax!
Other places of interest are the Natural History Museum and the Centro di Documentazione Verona Città Fortificata.
Veronetta is also close to Verona Porta Vescovo, outside the 19th-century Habsburg city fortifications. It's the second-biggest train station in Verona.
Veronetta has a lot of accommodation choices, mostly B&B, guest houses, apartments, and hotels.
Stay in Veronetta if you enjoy nightlife; you're on a budget; you want an urban area with lots of character.
Best places to stay in Verona in Veronetta for first-timers:
🔍FIND BEST HOTELS IN VERONETTA
4. San Zeno
If you're the kind of traveler who wants to stay in a harming, villagey area that's full of charm, then you will be delighted by the cool neighborhood of San Zeno. The area is only a kilometer, or so away from the Historic Centre, so everything is accessible with just a short walk.
San Zeno is a suburban area with a beautiful sleepy atmosphere and authentic vibe. It is quieter and more peaceful but also has many markets and souvenir shops.
San Zeno offers budget-conscious travelers a perfect blend of affordability and authenticity. With its affordable accommodations, local markets, cozy cafes, and proximity to major attractions, San Zeno ensures a delightful stay without breaking the bank.
The Central Piazza here near the 16h-century Romanesque Basilica di San Zeno Maggiore is home to an excellent and enormous weekend antique market, full of fascinating items for sale.
The Basilica di San Zeno Maggiore is the major tourist draw of this area. This splendid edifice dates back to the 12th century and was a major destination for pilgrims in the past. In fact, these days, the ancient graffiti carved by these pilgrims is one of the most fascinating things to see here.
You can also explore the Museo degli Affreschi, the Teatro Romano e Museo Archeologico, and Benedictine abbey.
San Zeno is home to some excellent guest houses, apartments, B&B. Many offer modern rooms and are well equipped with private bathrooms, desk, and TV.
Best Places to Stay in Verona in San Zeno:
🔍FIND BEST HOTELS IN SAN ZENO
5. Verona Fiere
Verona Fiere is a suburb on the southern outskirts of the city that is home to several event venues and exhibition centers such as Veronafiere and Fieragricola.
If you visit the city for business or take part in an event at one of these exhibition halls, this is an extremely convenient place to stay.
Verona Fiere is also located close to Verona's main train station, offering easy access to other parts of the city, as well as day trips to many other cities in Italy.
There is an excellent choice of accommodation, designed explicitly with convention visitors in mind. Because of this good accommodation, this area is also an interesting choice for visitors who have previously visited Verona and want to enjoy the suburbs' calm and comfort instead of the busy and bustling Historic Centre.
Stay in Verona Fiere if you're visiting an exhibition or event; you're a business traveler; you want to stay out of town.
Best places to stay in Verona Fiere:
🔍FIND BEST HOTELS IN VERONA FIERE
See more:
6. Borgo Trento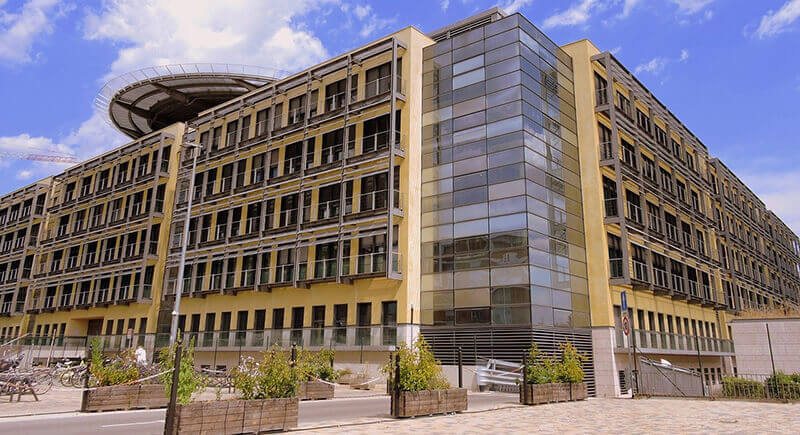 Borgo Trento is an area to the West of town that offers an appealing combination of proximity to the historical center and peace and quiet. For this reason, this is an excellent place for families to stay.
Borgo Trent lies just to the north of the historical center, across the river. In fact, the way that the river Adige meanders through Verona means that this area is bounded by water to the East, West, and South. Anywhere close to the river offers superb views of the city.
A great place to visit in the Borgo Trento area is the large local parks such as Arsenale Franz Josef I and the Cesare Lombroso Park, which is an excellent way to escape the city's rush.
You can also enjoy one of the best viewpoints in the whole of Verona by climbing the hill to the Shrine of Our Lady of Lourdes.
There are also sights such as Santuario della Nostra Signora di Lourdes to climb up, Castelvecchio Bridge with charming sunset view, Franz Josef I Arsenal Museum, and Ponte Garibaldi.
If you choose to stay in Borgo Trent, you can find some of the great accommodations with the river views. There are lots of mid-range of budget guest houses and apartments.
Stay in Borgo Trento if you're family; you want a quiet but central location; you're looking for good mid-range accommodation.
Best Places to Stay in Verona in Borgo Trento:
🔍FIND BEST HOTELS IN BORGO TRENTO
7. Borgo Milano
This is a residential district within Verona, west of San Zeno. Close by there is a very fashionable area of Corso Milano with its stores, good restaurants, and bars. I
t has become a trendy area itself though without the style of its neighbor. Borgo Milano is also where you will find the city's soccer stadium, the Marc'Antonio Bentegodi Stadium.
The Saturday market close to the stadium is worth a visit, and from time to time it hosts concerts. Borgo Milano has a good range of accommodation including guest houses, hostels, apartments, and some mid-range hotels.
The transport system within the city is good so it is easy to get to its many highlights without paying the higher accommodation prices more centrally.
Stay in Borgo Milano if you love shopping; you want a good choice of accommodation; your choice of base needs to have plenty of amenities; you prefer to avoid the city center.
Best places to stay in Borgo Milano for first-time visitors:
🔍FIND BEST HOTELS IN BORGO MILANO
8. Montorio
This small neighborhood is less than 4 miles northeast of the city center, close to the Ponte Florio, Borgo Venezia, and Mizzole. There have been people living here since before the Romans and today its population is around 6,000.
The castle on the hill is a reminder of past times. The walk up to Castello di Montorio is steep but the rewards of reaching it are some lovely views. It was expanded in the 19th Century to form an important part of Verona's defense system. Its initial origins were the 10th Century, built where there was once a Roman fortress.
There are limited accommodation options in Montorio, much of it is basic, clean, and budget-friendly.
Stay in Montorio if You are happy with the budget accommodation; Good transport connections are important; Castello di Montorio interests you.
Best places to stay in Montorio:
🔍FIND BEST HOTELS IN MONTORIO
9. Valdonega
Valdonega is an excellent place to stay if you're looking for an upmarket and sophisticated out-of-town base from which to explore Verona.
This quiet and leafy area is a suburb popular with the more well-heeled residents of the city. So while it's a suburban part of town, you will find some very classy restaurants and bars scattered around.
Valdonega is a good choice for families or anyone happy to sacrifice a central location for some peace and quiet. It is also important to remember that Verona is not the largest of cities, and even a relatively non-central area like this is just a few minutes' walk from the historical center.
Stay in Valdonega if you are looking for the best neighborhoods in Verona Italy with family; you want to stay outside the center; you want a classy and sophisticated area; you want peace and tranquility.
Best places to stay in Verona in Valdonega:
🔍FIND BEST HOTELS IN NEAR VALDONEGA
Check out my virtual tour about the best places to stay in Verona in this video:
See Also:
Summary – Where to stay in Verona?
In conclusion, Historic Centre, San Zeno, Borgo Trento, Veronetta, Porta Nuova, and Borgo Milano are some of the best places to stay in Verona for tourists, families, and couples, providing central locations and wide selections of accommodation for every budget.
Overall, I recommend Centro Storico as the best base in Verona for first-timers and for those travel without a car due to its central location. If you stay here, you will be located within easy access to tourist attractions, shopping, dining, and nightlife venues.
If this is your first time, I recommend to spend at least three days to explore this Italian treasure, which is enough to see big sights, enjoy foods and wines, as well as get the sense of the local culture and history. You can always come back next visit, and explore more!