In this blog post, we will be looking at where to stay in Cinque Terre with and without a car, as well as the best areas to stay in Cinque Terre for the first time, for couples, and for family. I'll also recommend hotels for all budgets (including the one where I stayed).
Located in the Liguria region of Italy you will find UNESCO World Heritage-listed Cinque Terre. It is known locally as 'five lands' because it is made up of FIVE villages, and all have them have subtle differences.
You're going to visit all five villages, but it's best to choose one or two villages for your base.
Where to Stay in Cinque Terre for the first time?
The best areas to stay in Cinque Terre for first-timers are the beautiful five villages of Riomaggiore, Manarola, Corniglia, Vernazza, Monterosso, and the nearby cities of La Spezia, Levanto, and Portovenere.
These are popular and safe towns for tourists that offer a wide variety of attractions and amenities.
Any of five villages are the best places to stay in Cinque Terre without a car because there is very limited parking, the villages are pedestrianized and well-connected by train. Train is by far the most convenient way to travel between the five villages, it takes just a few minutes to travel by train between towns.
But if you travel with a car, it's possible to drive through some areas of these villages. There is parking available at the other village entrances from which you can walk into the main village as well. Monterosso is one of the best areas to stay in Cinque Terre with a car, along with Levanto and La Spezia.
But be aware the parking is expensive and hard to find, you can park you car at La Spezia train station or Levanto train station, then catch the short ride train to Cinque Terre! The pretty seaside town of Levanto is a better place to stay than Spezia if you have to choose between these two locations!
The nearest airports to this region are Pisa, Genova, or Firenze. Milan is around two hours away by train, so it's not difficult to arrive here by any means. Walking is the main activity in this region, and some of the coastal trails are known as the best in Europe.
To walk around you need to purchase a pass, which is around 7.50 Euros currently – quite the bargain! These passes are available from any of the local information offices in the villages. And remember bring your best walking shoes to enjoy these beautiful sceneries.
Cinque Terre offers a wide range of accommodation options with a few chain hotels and mostly family-run guesthouses, B&B's, farmhouses, apartments and villas. You can choose the room with balconies or terraces where you can seat outside and enjoy the views.
If you are plan to visit during summer months in the high season, from June to September, I suggest to book your hotel in advance.
Where did I stay in Cinque Terre?
When visiting Cinque Terre, I stayed for 5 days in Monterosso al Mare at the 3-star Hotel Marina. The hotel is located in a historical area, 10 mins walk from the train, and 3 mins walk from the beach. It had a great breakfast on the upper deck under Lemon Trees.
Overview of Best areas to stay in Cinque Terre without a car
Here is an overview of recommended areas in Cinque Terre for visitors without a car and why you should stay in each area:
| | |
| --- | --- |
| | |
| Riomaggiore | is the southernmost village and a great starting point for exploring Cinque Terre. It has colorful buildings, a charming harbor, and a lively atmosphere. It offers easy access to hiking trails and has a range of accommodation options. |
| Manarola | Known for its postcard-perfect views and scenic vineyards, Manarola is one of the most picturesque villages in Cinque Terre. It's a great place to stay if you want to experience the region's natural beauty and enjoy breathtaking sunsets. |
| Corniglia | Perched on top of a hill, Corniglia offers stunning panoramic views of the surrounding coastline. It's the smallest and quietest village in Cinque Terre, making it an ideal choice if you prefer a more peaceful and less crowded atmosphere. |
| Vernazza | With its charming harbor, colorful houses, and narrow streets, Vernazza is often considered the most picturesque village in Cinque Terre. It has a lively waterfront with excellent seafood restaurants and a beautiful beach. |
| Monterosso | The largest of the five villages, Monterosso offers a range of amenities and a beautiful sandy beach. It has a more resort-like feel compared to the other villages, with a variety of accommodation options, shops, and restaurants. |
| La Spezia | Although not one of the Cinque Terre villages, La Spezia is a larger city located nearby. It serves as a convenient base for exploring the region, as it has excellent transportation links and a wider range of accommodation options. |
| Levanto | Located just north of Cinque Terre, Levanto is another excellent base for exploring the region. It has a lovely beach, a charming historic center, and a relaxed atmosphere. Levanto also offers easier access to the hiking trails of Cinque Terre. |
| Portovenere | While technically not part of Cinque Terre, Portovenere is a neighboring village that is definitely worth a visit. It boasts beautiful medieval architecture, stunning views, and a picturesque harbor. It's a great place to stay if you want a quieter experience away from the crowds. |
Map of areas and towns in Cinque Terre: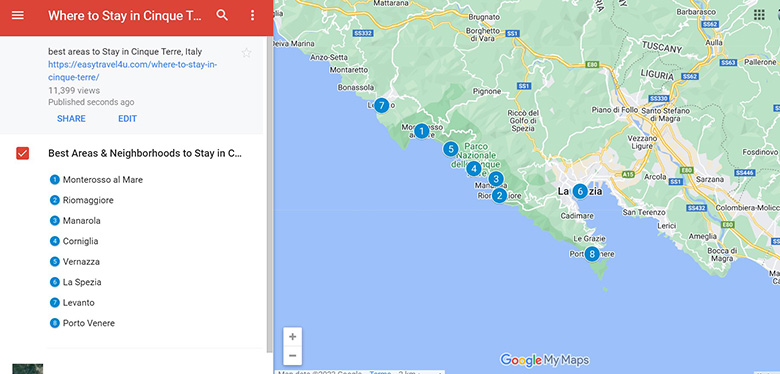 🎬 You can watch this short video about the best areas in Cinque Terre, or continue reading:
The Best Towns to stay in Cinque Terre for tourists are:
1. Riomaggiore – where to stay in Cinque Terre for nightlife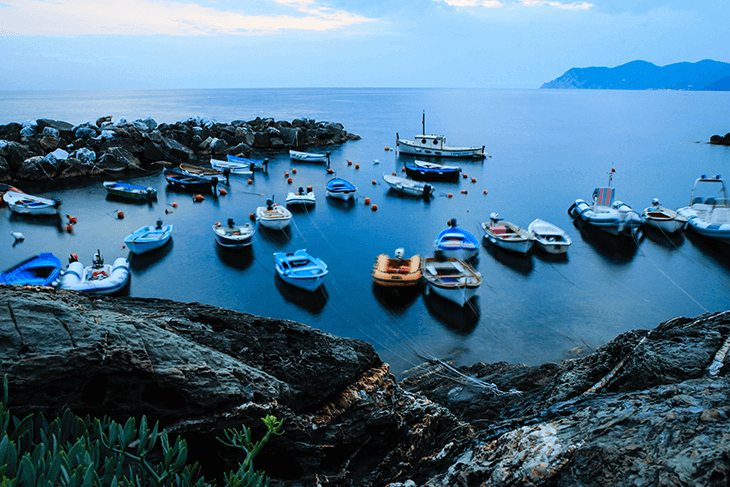 Riomaggiore is the most southern village of the Cinque Terre, a coast of the Italian Riviera. This second largest town of Cinque Terre is the first stop on the train from La Spezia. If you want lively nightlife with plenty of bars, restaurants, and really take in the natural landscapes, Riomaggiore is the best place to stay.
The town climbs up along the ridges overlooking the sea and is filled with the typical stone houses with slate-roofs and colored façades. If you're not so great on your feet, however, be warned that the trails around here are quite steep; if you are able to walk around to your heart's content, however, be sure to head down to the small marina, and check out the amazing views.
Nature lovers will find an abundance of hiking and walking opportunities in Riomaggiore. The hiking trail Via dell'Amore (Lover's Lane) is a magnificent seaside path that links Riomaggiore and Manarola. You can also reach Manarola via the ancient path, Via Beccara, and take a long 5 hours and scenic trail to Portovenere.
You can also hike up to the 11th century Santuario di Nostra Signora di Montenero start from Via Colombo. Its top offers breathtaking views out over the vineyards, the sea, and the villages below.
Riomaggiore is home to the medieval Castle of Riomaggiore, located at the village's highest point, offers wonderful views over the sea. To reach the castle, follow the main street, Via Colombo to the Post Office where you can walk up a small staircase, Scalinata della Valle, and follow small road of Via Pecunia all the way to the castle.
Around the castle, you can find numerous churches, such as:
The main street of Riomaggiore is Via Colombo, connecting the upper part of Riomaggiore with Piazza Vignaioli. The street is filled with restaurants, cafes, souvenirs shops, and charming harbor.
To get to Riomaggiore you can take the train from Genoa, Pisa, Florence, and Milan; changes at La Spezia, Sestri Levante, or Levanto to Riomaggiore train station. Parking in Riomaggiore is expensive, if you come in a car, I suggest parking the car at the La Spezia, Levanto, and take the train into Riomaggiore.
The nearest airports to Riomaggiore are in Florence (Florence Airport), Genoa (Cristoforo Colombo international airport), and Pisa (Galileo Galilei international airport).
Stay in Riomaggiore if you want some of the best dining and nightlife, a busy feel, amazing views, and easy access to La Spezia; you are visiting for the first time; you are young travelers;
Riomaggiore isn't a cheap area to stay in Cinque Terre, but it's a good base for great nightlife, youthful atmosphere, and amazing views. There're guesthouses, hotels, apartments for you to book.
Where to Stay in Cinque Terre in Riomaggiore:
Scorci Di Mare Perfect location with amazing ocean view rooms. It is within easy walk to the ferry dock or train station. Many outstanding bars and restaurants next door. There is private parking nearby with surcharge if you drive a car.
Alla Marina Affittacamere This family-run property is located right by the little harbour in Riomaggiore, and only a 4-minute walk from Riomaggiore Train Station. They offer private car parking at outside Riomaggiore village, 10 minutes walk and 15 euro per night.
Cinqueterre Residence Beautiful location with comfortable beds. Each guest rooms has air-conditioned room, a flat-screen TV, private bathroom includes a hairdryer, towels and free toiletries. There is free wifi in public area
>> 🔍MORE HOTELS IN RIOMAGGIORE <<
2. Manarola – for romantic holiday, honeymooners, couples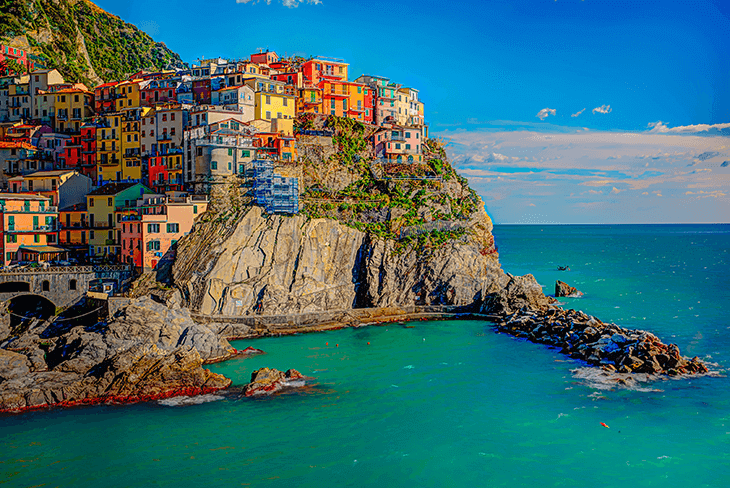 Manarola is the most photographed town and second smallest village after after Corniglia in Cinque Terre. Manarola offers fewer amenities such as shops, bars, and restaurants, making it the best place to stay if you really want to stay somewhere totally serene and quiet.
Most visitors to Manarola are just passing through on foot, so you're sure to enjoy the beach space and serenity of the landscapes. Art lovers will love this particular village too, with an interesting art gallery to while away a few hours in.
Manarola is best place to stay in Cinque Terre for couples because it is one of Cinque Terre's most romantic and charming villages, with appealing small houses clinging to the cliff facing the sea, a tiny piazza with seafood restaurants. Everywhere is the scent of the rosemary, thyme, lemon trees, and the grapevines.
The main square, Piazza Papa Innocenzo IV, is home to the Oratorio dei Disciplinati, the Gothic style Church of San Lorenzo, and the defense tower which was used as a post to watch for potential pirate raids.
The lower part of the village is a maze of charming alleyways and narrow cobbled streets with craft shops and eateries. Before heading to the harbor, look for the old watermill and Via Belvedere.
There is no beach in this town, but it has a very charming harbor. And Don't forget the romantic path Via dell'Amore, which connects Manarola with Riomaggiore.
On the way on the way to Corniglia, to the north, you will find Punta Bonfiglio, a famous sunset spot. Manarola is a great place fpr photographers, hikers, walkers, and off-the-beaten-track travelers.
Make sure to try succulent seafood and the famous sweet Sciacchetrà wine. If you visit in August, you will see San Lorenzo Feast event. In Chrismast time, there are illuminated nativity scene from December to January.
To get to Manarola: You can the train from La Spezia (Sestri Levante direction) or Levanto (La Spezia Centrale direction) to Manarola train station. If you planning to travel by train between villages, consider buying the Cinque Terre Treno Card which covers unlimited travel on the Cinque Terre Express train line, the ecological park buses, and Wi-Fi connection.
From La Spezia, you can also take the Consorzio Marittimo Turistico boats to Manarola. The closest airports are Pisa's Galileo Galilei, Genoa's Cristoforo Colombo, Florence's Amerigo Vespucci Airport, and largest in Milan – Malpensa International (MXP).
There are some really nice excellent hotels and guesthouses in Manarola, offering a relaxing atmosphere and fabulous ocean views.
Where to Stay in Cinque Terre in Manarola:
See Also: How Many Days in Cinque Terre is Enough?
3. Corniglia – quietest town in the Cinque Terre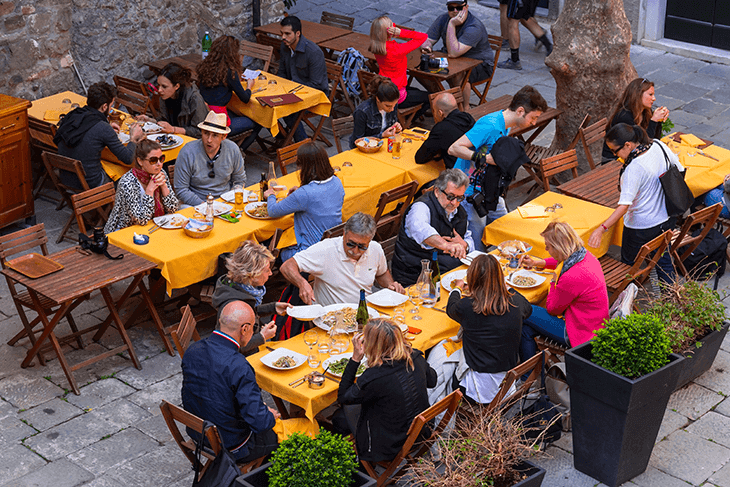 If you want to avoid crowds and looking for somewhere off-the-beaten-path, Corniglia is the best base for you. This ancient Roman village is nestled on top of a 100m high rocky promontory, the quiet middle village, surrounded on three sides by vineyards and terraces. It is the only one of the five villages without access to the sea.
Corniglia is the village which is at the highest elevation, and because of that, the views are dramatic! There are beaches that sit underneath the village, and these are ideal for chilling the hell out in the sun, whilst also being relatively sheltered by large rocks too. Again, Corniglia may not be the best of the villages if you have mobility problems.
The quiet and charming Guvano beach is a popular place with nudists worldwide. A rocky cove, Corniglia Marina beach can be reached through some steep steps (Via alla Marina) from the main square. and Corniglia beach is near an abandoned tourist resort, Villaggio Europa.
Corniglia is linked with its train station via the 377 stairs Lardarina. The town is characterized by caruggi (narrow alleys) and colorful houses.
The Corniglia's main square, the eighteenth-century Largo Taragio, is home to some lovely café-restaurant and the Oratory of Santa Caterina, a memorial to the soldiers of World War I.
From Largo Taragio, you can visit the gothic Ligurian style, Church of San Pietro, and beautiful St Mary's Terrace, where you can appreciate marvelous views of Riomaggiore, Manarola, Monterosso al Mare, and Vernazza.
Corniglia is the best town to stay in Cinque Terre for active travelers, adventurous travelers, budget options, and couples.
Where to Stay in Corniglia: Accommodations in Corniglia are often cheaper than in other towns, there are a few small guesthouses, bed &breakfast, and apartment rentals in the village.
>> 🔍MORE HOTELS IN CORNIGLIA <<
4. Vernazza – most popular town to stay in the Cinque Terre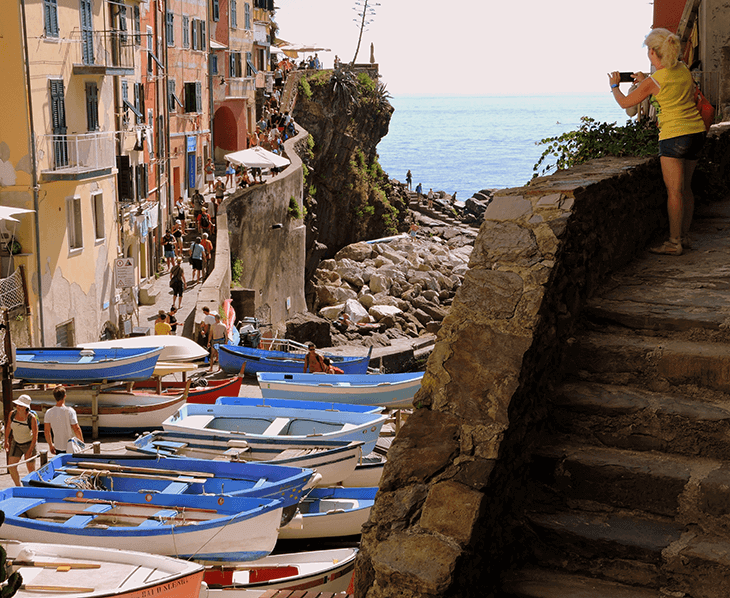 Vernazza is the most popular place to stay along the Cinque Terre and it is one of the most beautiful villages in Italy. If you are a keen photographer, or landscapes are your thing, this is the village for you. This fortified town is home to the only natural port in Cinque Terre.
The harbor is the only actual working harbor amongst all of the five villages, and the castle which overlooks the village is fantastic for a visit. On a side note, if you love natural products, the villagers claim that their locally produced olive oil is some of the best you will find anywhere in the Med!
The Tower of the Doria Castle was built in the 15th century to protect the town from pirates. The Church of Santa Margherita d'Antiochia was built in 1318, on the rocks overlooking the sea. Feast Santa Margherita di Antiochia in July where the town celebrates with fireworks and a festival.
Vernazza's main street Via Roma is filled with craft shops, wine bars, and cafes. It is also home to a tiny stone chapel, the Chapel of Santa Marta.
The Sanctuary of our Lady of Regio is 2km from the train station, about 1-hour walk uphill, and surrounded by centuries-old trees. You will find the Stations of the Cross on the path to this sanctuary.
There are two beaches in Vernazza including a small sandy beach near the harbor, and a new pebble beach which can be reached by walking through a rock-hewn passage.
Vernazza is good to visit all year round but the best time to visit Vernazza is from September to October, it's quiet and cold in winter, crowded in summer, and in spring, the weather can be bad.
Where to stay in Vernazza: You can find small hotels, nice apartments, and romantic guesthouses in the center of the village with an incredible view over the main square and the vivid small harbor. Due to the popularity, you should book far in advance in the peak season in summer.
5. Monterosso al Mare – biggest town to stay in Cinque Terre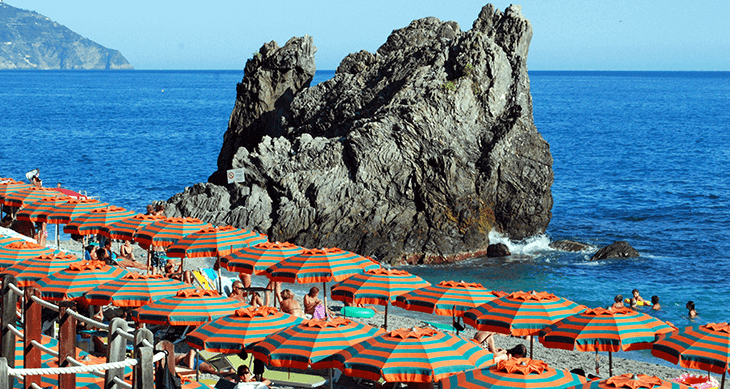 In terms of knowing where to stay in Cinque Terre, you really need to know about the villages themselves and compare that to your personal interests. If you're after a more resort-type holiday with sun, sand, and large hotels, then the largest of the five coastal villages, Monterosso is the best town for you to stay in.
Monterosso is separated into two parts including the Old Village and the modern village Fegina.
The old town of Monterosso is dominated by the ruins of the Fieschi castle, the walls of the ancient fortress, the 16th-century medieval tower of Aurora, typical narrow medieval alleyways, and multi-colored terraced houses. In the main square of the old town, you will find the church of San Giovanni Battista, which was built between 1244 and 1307 with a Ligurian Gothic style.
The San Francesco Church was built in the 17th century, contains many excellent works of art, including the Crucifixion by Van Dick. The church is also known as the Capuchin Monastery and the Convento dei Cappuccini e Chiesa di San Francesco. On the old town side, you also have the statue of San Benedetto d' Assisi on the colle dei capuccini.
After a day of hiking the trails of the Cinque Terre National Park or on the beach, visit one of the many delightful restaurants in town such as Monterosso anchovies. Make sure to try a sweet white passito wine produced in the Cinque Terre region, Sciacchetrà.
The new part of town, Fegina, ranges along the coast from the San Cristoforo to Punta Mesco. You will find a cheerful seafront promenade and Fegina Beach. Fegina is dominated by the famous Il Gigante, the giant statue of Neptune, a 14-meter-high cool sculpture, a symbol of the village the symbol of Monterosso.
On the 3rd Saturday in May, the village celebrates the Lemon Festival and is decorated with lemons and you can taste torta al limone – the special lemon cake, lemon marmalade, limoncino, and lemon cream. In June, you have events like Corpus Domini and Sagra dell'acciuga fritta; On the 14th of August with fireworks over the sea for Festa della Madonna Assunta. On September, you have Festa del vino and Festival bandistico.
Monterosso Fegina Beach is one of the best beaches in Cinque Terre, you can also find the family-friendly beach of Il Gigante on the right of Fegina beach, and a small pebble beach in Monterosso Old Town, Spiaggia Tragagia – the second-largest beach in Monterosso.
Monterosso al Mare is the best town to stay in Cinque Terre for the beach, families with kids, couples, and foodies.
Travel to Monterosso al Mare and how to get around:
The Monterosso al Mare village can be easily reached by train from Levanto and La Spezia. The local train station is also very well connected to the other Cinque Terre villages, Milan, Genoa, Turin, and Pisa.
As Monterosso is the westernmost of the group, you can easiky visit Riomaggiore, Corniglia, Vernazza, and Manarola, and by foot or water boat.
You can take a flight from the nearby airport such as Rome, Genoa or Pisa or event Florence and Milan, and take a direct train to Monterosso al Mare. You can also travel by car but it's not recommended as its lacks parking spaces.
Where to Stay in Monterosso al Mare: This is where you will find the largest choice of accommodation and tourist facilities, but it is also within easy reach on foot to the other four villages on the coast. If you travel with a car, this is best place to be.
Hotel Villa Adriana This beautiful hotel is just 2 minute from the beach. There is an onsite Ligurian restaurant that serves local cuisine with lots of sea food dishes; a pool, and furnished rooms. Featuring free private parking, it is one of the best location to stay in Cinque Terre with a car!
Hotel Porto Roca This 4 star hotel is in excellent location with 5-minute walk from Monterosso centre. Porto Roca's restaurant overlooks the ocean. It serves a buffet breakfast and Ligurian dishes for lunch and dinner.
Hotel Marina This 3 star hotel is located a short walk to the beach, the restaurant and shops. It has amazing breakfast in the roof garden, and sapcious rooms. All guest rooms has air-conditioning, a flat-screen TV and minibar.
>> 🔍MORE HOTELS IN MONTEROSSO <<
Where to stay outside of the Cinque Terre? It's best to stay in one of five villages in Cinque Terre, but if you're searching for places to stay near Cinque Terre, I would suggest staying in La Spezia, Portovenere, and Levanto. These places are both conveniently located for exploring the Cinque Terre, catching the train from Pisa or Genoa, and many cheaper accommodation options.
6. Levanto – where to stay in Cinque Terre with a car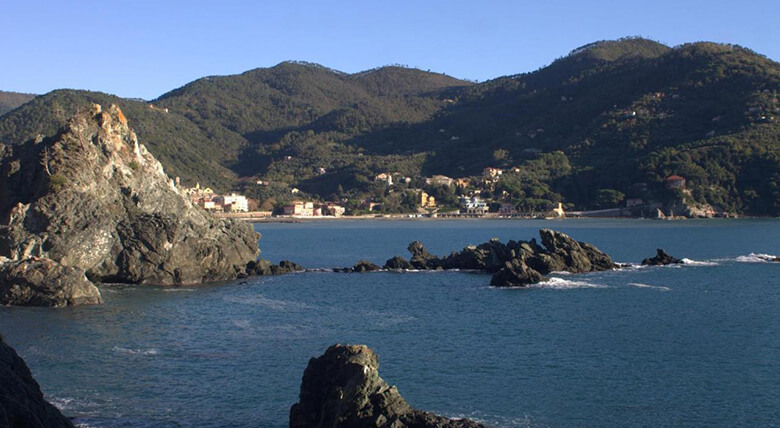 Levanto along with La Spezia and Monterosso al Mare, is the best area to stay in Cinque Terre with a car because Levanto is a very pleasant town with a long beach, only 5 minutes away by train from Levanto. Monterosso village can be reach within 2-hour hike. Levanto has plenty of parking and it is not expensive.
Located 50 miles east of Genoa on the Italian Riviera, this seaside resort is little more than a large village, but it does have good transport connections with the rest of the region. The setting is lovely with the green valley of pine, olives, and vineyards and the sea that attracts divers, surfers, and those who just want to relax.
It was the sandy beach that first attracted tourism and the infrastructure today includes bars and clubs as well as some excellent restaurants. It is alive at night and therefore attracts anyone who wants to party. The shopping is good with the covered market selling fresh produce six days a week.
The highlights of Levanto are the Sant' Andrea Church, the Oratorio di San Giacomo, and the medieval castle and tower. The 13th-century Church of Sant Andrea is a Ligurian Gothic-style church that has white and dark green strips facade and white marble rose window.
If you start the hike uphill head to Monterosso, you can find a nice historical area. The castle was built in the 11th century by the Malaspina family, former a prison, now a private residence. The Clock Tower was built in 1265. You can also find the remains of the medieval city walls.
Piazza del Popolo is a pretty square near the sea, with a medieval loggia from 1405; it was unique in all of Liguria when it was constructed.
Besure to check 6km bike path Levanto – Bonassola – Framura. Bonassola is a beautiful village with a wonderful beach, located just a few kilometers west of Levanto. There is a good choice of 3 and 4-star hotels in Levanto, as well as B&Bs.
Stay in Levanto if you travel with a car; you are looking for a sandy beach; You want a good nightlife and shopping; you travel on a budget looking for cheaper accommodations;
Best places to stay in Levanto:
7. La Spezia – where to stay in Cinque Terre on a budget
La Spezia is the gateway to Cinque Terre, and an ideal base if you want to explore the region that includes Florence, Genoa, and Pisa, three culturally iconic towns. Located on the border of the provinces of Liguria and Tuscany, La Spezia is a good base for day trips by train to Cinque Terre, with cheaper accommodations.
La Spezia is a busy port city on the Mediterranean Sea, and you can take day trips to fishing villages as well as Palmaria Island. Likewise, the train services provide easy access to other places in Cinque Terre. Within the town itself, check out the Basilica of Santa Maria Assunta, the Castle of San Giorgio, and its Archaeological Museum. Even the modern bridge, Ponte de Thaon de Revel, is impressive.
The Waterfront and Public Gardens with the harbor of Porto Mirabello start with the beautiful white bridge Ponte Thaon di Revel. The Passeggiata Costantino Morin, lined with palm trees, with great views of the harbor. Nearby, La Spezia's Public Gardens are good for the children's playground.
The castle of San Giorgio is one of the major landmarks in La Spezia, was constructed in the 13th century by Nicolo Fieschi. The castle is home to an archaeological museum that shows exciting objects from this part of Italy from the Bronze Age.
Via Prione is the main pedestrian street with a wide selection of restaurants, cafes, and bars, and shops that sell Italian clothing and shoes. Piazza Cavour (Piazza del Mercato) is the market square, the morning market for fruits and vegetables. You can also find the weekly street market on Viale Garibaldi. Other places to shop are Le Terrazze and Shopping 5Terre Outlet Village.
You have museums like Maritime Museum, an important naval museum in Italy; Amedeo Lia Art Museum displays collections dating back from the 13th to 18th centuries. Be sure to visit the Chiesa di Nostra Signora della Neve (the Church of our Lady of the Snow) with its beautiful façade.
There are some festivals each year in this village, you have Fiera di San Giuseppe in March, and Palio del Golfo in August.
Accommodations are quite affordable includes hotels and villas with seasonal pools and hostels as well, around the station and in the old town. La Spezia has cheaper accommodations compared with Cinque Terre villages.
Stay in La Spezia if you travel on a budget; you travel with a car; you want a good base to explore the Cinque Terre;
Best places to stay in La Spezia:
I Colori di Mag, this guest house offers air-conditioned rooms, free table tennis and BBQ facilities, and free private parking which is great for traveler with a car. Short drive from La Spezia port and the Maritime Museum. Easy access to bus stop with links to the city centre. The Cinque Terre National Park and Portovenere are reached by boat.
Maeli Rooms, great guest house that offers family rooms, full-day security, airport transfers, and a bicycle and car rental service.
Via Chiodo Luxury Rooms, family-friendly accommodation, that has air-conditioned rooms in La Spezia. located within a short distance from La Spezia Cruise Terminal, La Spezia Central Train Station, and Le Terrazze Shopping Centre.
>> 🔍MORE HOTELS IN LA SPEZIA<<
8. Portovenere – where to stay outside of Cinque Terre
Portovenere is an old fishing village that it has been recognized by UNESCO as a World Heritage site. Its beautiful harbor has colorful housing while the narrow streets winding up its hills lead to a castle at the summit. Portovenere is located on the Gulf of Poets because many famous poets, writers and artists stayed in the villages and islands within the gulf.
You can take a ferry along the rocky coastline. One of the things to look out for is Grotta di Byron (Byron's Cave), where the British poet used to swim. There are also ferries cruise and boat tours to the islands of Palmaria, Tino and Tinetto.
Portovenere has a long history, built by the Romans, and you can find them at the castle and the churches of San Pietro and San Lorenzo. The Church of San Pietro was built in 1277 in Genovese Gothic style and the magnificent Doria castle and military fortress, which was first built in 1161 and was significantly reconstructed in 1458.
There are no train station in Portovenere, you need to take the bus to La Spezia to catch the train, but there is a good ferry service to take you to Cinque Terre from Portovenere. The resort style hotels with pools are found in Portovenere but you have other choices as well; B&Bs, apartments, hostels, and villas.
Stay in Portovenere if You want a good choice of accommodation; History and culture are personal interests; Day trips to sea appeal to you.
Best places to stay in Portovenere:
>> 🔍MORE HOTELS IN PORTOVENERE<<
Check out my virtual tour of the best places to stay in Cinque Terre in this video:
Getting Around Cinque Terre With and Without a Car
You can reach Cinque Terre by airplane. There is the nearest airport in Pisa in Tuscany region; also international airports in Genoa, Florence and Milan.
The car is restricted to residents only in the towns and it's best to avoid taking a car. The best way to explore Cinque Terre villages is by foot and trains. There are plenty of hiking trails that connect each towns and offers breathtaking views of the Mediterranean ocean.
If you come with a car, you can park in La Spezia or Levanto then catch the train into the Cinque Terre. The train runs between La Spezia and Levanto and stopping at each village. You can also travel to Genoa, Pisa, Rome. It is also a few hours by train from Florence and Milan.
Another form of public transportation is by ferry. A ferry connecting the villages with Portovenere, La Spezia and Levanto in the peak tourist season from March to November. It is one of the way to explore Cinque Terre from the water.
Where should I stay in Cinque Terre for the first time?
Riomaggiore, Manarola, Corniglia, Vernazza, Monterosso, La Spezia, and Levanto are the of the best areas to stay in Cinque Terre for first-timers because these are the most popular areas for tourists that offers plenty of things to do and see.
Where should I stay in Cinque Terre without a car?
Riomaggiore, Manarola, Corniglia, Vernazza, Monterosso, and La Spezia are the best areas to stay in Cinque Terre without a car because these towns are walkable and well-connected by train.
Is it better to stay in Cinque Terre or La Spezia?
It is recommended to stay in the villages of Cinque Terre because it is the heart of Cinque Terre. La Spezia is located only a few minutes by train from Cinque Terre, and it offers more affordable accommodations.
Is it better to stay in Riomaggiore or La Spezia?
It is best to stay in Riomaggiore if you can because it is one of the five villages of Cinque Terre. La Spezia is a great option for those traveling on a budget and want easy access to the villages of Cinque Terre.
See more:
As you can see, where to stay in Cinque Terre is really a personal deal. The villages all have something subtly different about them, and that makes them suitable for different interests and needs.
Perhaps the most notable point is that some are easier to reach than others, in terms of the landscape, so this is something you need to take into account if you have mobility issues, with Corniglia and Riomaggiore being a little more difficult to reach. Wherever you stay however, you're sure to fill up that camera memory card with some breath-taking views!
In conclusion, Riomaggiore, Manarola, Corniglia, Vernazza, Monterosso, La Spezia, Levanto, and Portovenere are some of the best places to stay in Cinque Terre for tourists and car-free travelers. They offer plenty of hotels for all budget travelers to stay and explore the region.