Where to Stay in Cinque Terre: Best Areas & Hotels
Wondering where to stay in Cinque Terre for the first time, families with/without a car, on budget, or winter? Find out the best town to stay in Cinque Terre in this guide.
Italy is a country featuring on most people's bucket lists. Within that however, there is a huge range of choice in terms of where to visit, and where to stay – the decision is enough to give you a headache! Research will of course help you make your final choice, and one area which is not only beautifully picturesque, but packed with things to see and do, is Cinque Terre. Beside Rome, Cinque Terre is one of our best favourite places in our Europe backpacking routes.
Deciding where to go is one thing, but you might be thinking of where to stay in Cinque Terre. Let's check this out in a bit more detail, and help give you an overview on where you might like to base yourself.
The 'Five Towns' of Cinque Terre
Located in the Liguria region of Italy you will find UNESCO World Heritage listed Cinque Terre. It is known locally as 'five lands' because it is made up of five small villages, and all have them have subtle differences. For this reason, you need to know where to stay in Cinque Terre, in order to find the best village for you. The villages are: Riomaggiore, Manarola, Corniglia, ​Vernazza, Monterosso.
The nearest airports to this region are Pisa, Genova or Firenze. Milan is around two hours away by train, so it's not difficult to arrive here by any means. Walking is the main activity in this region, and some of the coastal trails are known as the best in Europe. To walk around you need to purchase a pass, which is around 7.50 Euros currently – quite the bargain! These passes are available from any of the local information offices in the villages. And remember bring your best walking shoes to enjoy these beautiful sceneries.
Where to Stay in Cinque Terre – 5 Best Town to Stay in Cinque Terre Map
To more detail of Where to Stay in Cinque Terre, go to Google Map;
See Also: How Many Days in Cinque Terre is Enough – 1,2,3 Days in Cinque Terre Itinerary
Where is the Best Town to Stay in Cinque Terre?
There are five best towns to stay in Cinque Terre: Monterosso, Riomaggiore, Manarola, Corniglia, Vernazza.
1. Monterosso, Where to Stay in Cinque Terre with Family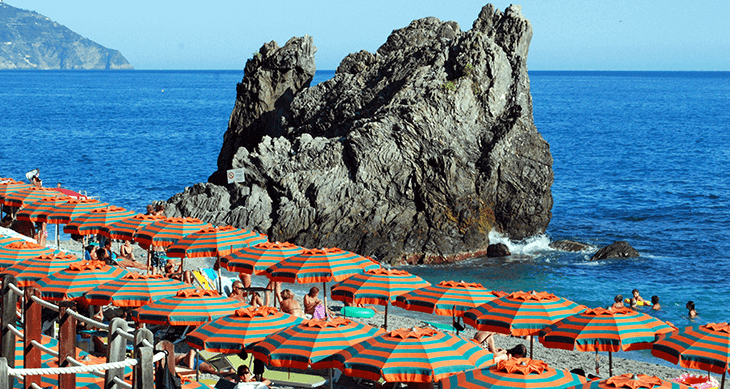 In terms of knowing where to stay in Cinque Terre, you really need to know about the villages themselves, and compare that to your personal interests. If you're after a more resort-type of holiday, e.g. sun, sand, and large hotels, then Monterosso is the best town for you to stay in.
This is where you will find the largest choice of accommodation and tourist facilities, but it is also within easy reach on foot to the other four villages on the coast.
WHERE TO STAY IN MONTEROSSO:
Hotel Villa Adriana: is just 100 m from Fegina Beach, 450 m from Monterosso Station. It offers a Ligurian restaurant, a pool, and classically furnished rooms with an LCD TV. From here you can reach Vernazza and the other villages of the Cinque Terre on the local train line
Hotel Porto Roca: is an elegant villa with pretty gardens and terraces overlooking the Ligurian Sea. The 4-star hotel offers a panoramic cliff-top location with stunning sea views, a 5-minute walk from Monterosso center. The Cinque Terre's famous Blue Trail starts here. This is ideal place to stay for couples.
Hotel Marina: Located just a few steps from the beach, Hotel Marina offers accommodations in Monterosso al Mare, in the Cinque Terre National Park. The location is great, a short walk from all of the restaurants, the beach and not far from the train station.
>> MORE BEST PLACES TO STAY IN MONTEROSSO <<
2. Riomaggiore, Where to Stay in Cinque Terre for Amazing Views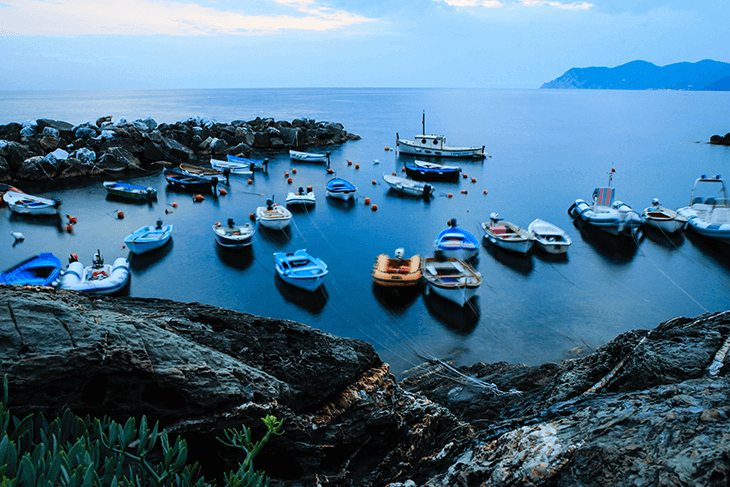 If you are visiting Cinque Terre to really take in the natural landscapes and get out into the fresh air, then Riomaggiore is the place for you. This is basically centrally located, so in either direction you're never too far away from somewhere beautiful and picturesque, with Manarola just two hours away on foot.
If you're not so great on your feet however, be warned that the trails around here are quite steep; if you are able to walk around to your heart's content however, be sure to head down to the small marina, and check out the amazing views.
WHERE TO STAY IN RIOMAGGIORE:
Scorci Di Mare: is a 14th-century building in the Cinque Terre National Park, 51 m from Riomaggiore's rocky coast, 305 m from the Train Station. It offers sea-view rooms with satellite TV. It's an ideal place to stay for couples, and if you like hiking and cycling to the mountain.
Alla Marina Affittacamere: is set in a mid-13th-century building renovated in 2011 and located right by the little harbor in Riomaggiore, one of the Cinque Terre towns. It's just 4 minute walking to the Train Station.
Cinqueterre Residence: a great location away from the main street of Riomaggiore. This hotel offers more privacy from the bustling main street which allowed us to to open up the doors/windows and enjoy the view of the valley. A private terrace offers a secluded feel to the location. The room, private terrace, and the separate courtyard seating with an ocean view were all spectacular! A great location to set out and see all 5 villages in the Cinque Terre area.
>> MORE BEST PLACES TO STAY IN RIOMAGGIORE <<
3. Manarola, Where to Stay in Cinque Terre for Exploring Nature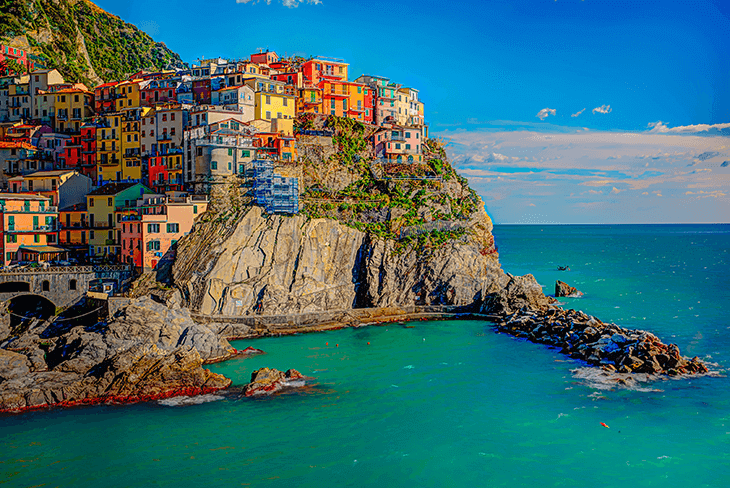 We mentioned Manarola, and this is the best place to stay if you really want to get away from it all and stay somewhere totally serene and quiet. Most visitors to Manarola are just passing through on foot, so you're sure to enjoy the beach space and serenity of the landscapes. Art lovers will love this particular village too, with an interesting art gallery to while away a few hours in.
WHERE TO STAY IN MANAROLA:
Affittacamere San Giorgio: is 211 m from the seafront, 25 minute by car from La Spezia. It is right in front of the train station, restaurants and stores literally just next to the building. It is perfect for a couple wanting something romantic. The view of the town and the sea is amazing, sitting on the patio. The apartment is secluded enough not to have all the tourists on your doorstep – so it is nice and quiet, but literally a 2-minute walk into the town. It is perfect – well equipped and very unique carved into the rock face
Ca' D'Andrean: this great hotel located at the main street of Manarola, just 5 minutes walk away from the Train Station, great place for couples.
Hotel Marina Piccola: is 5 minutes' walk from Manarola Train Station, 2-minute walk from Manarola's rocky beaches. Maria Piccola features air-conditioned rooms with free WiFi access. It is characterized by the stone walls contrasting with the modern furnishings..
>> MORE BEST PLACES TO STAY IN MANAROLA<<
4. Corniglia, Where to Stay in Cinque Terre for Beaches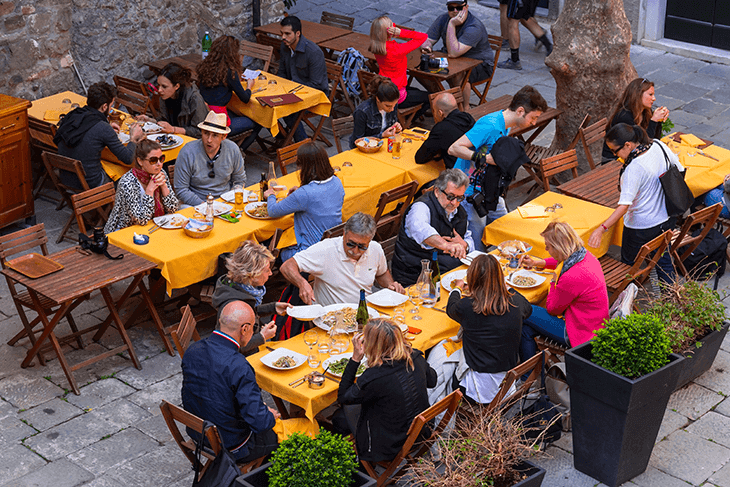 Moving onto Corniglia, this is the village which is at the highest elevation, and because of that the views are dramatic! There are two beaches which sit underneath the village, and these are ideal for chilling the hell out in the sun, whilst also being relatively sheltered by large rocks too. Again, Corniglia may not be the best of the villages if you have mobility problems.
WHERE TO STAY IN CORNIGLIA:
Corte Del Gallo: is located 0.6 mi from the center of Corniglia, a few steps from Corniglia Train Station. Corte Del Gallo features views over the garden, rooms at the Corte Del Gallo come with parquet floors and elegant furnishings.
Affittacamere Le Terrazze: has a beautiful terrace and garden where you can use the jacuzzi and sun chairs with a beautiful view. This is a large, spacious apartment in the heart of Corniglia. There are 2 big balconies, one with a view of the sea and the other just over the quaint cobbled streets
Arbanella: Arbanella is located in the center of Cornigla, so 30 seconds walk to the inner square and 5 min walk down the road and you are at the sea where you can swim. Great view from the window and the garden, which is ideal to have a drink watching sunset.
>> MORE BEST PLACES TO STAY IN CORNIGLIA <<
5. Vernazza, Where to Stay in Cinque Terre for Instagram Spots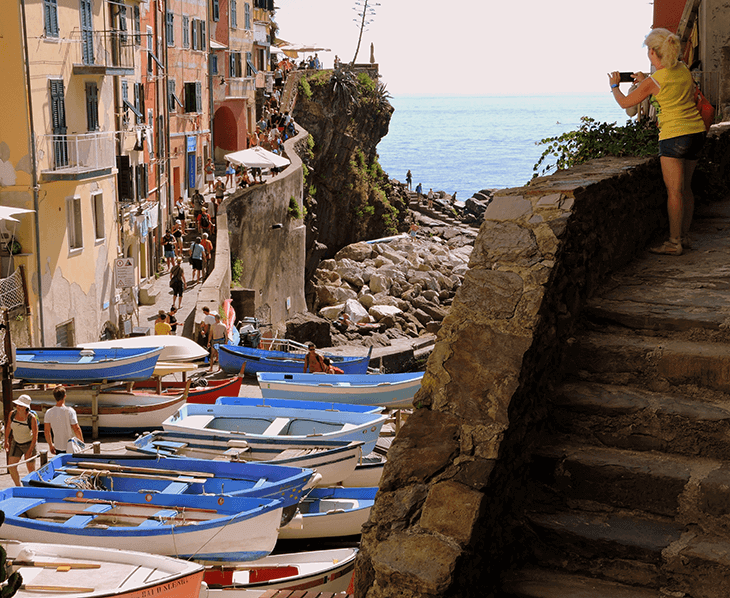 Finally, we have Vernazza. If you are a keen photographer, or landscapes are your thing, this is the village for you. The harbour is the only actual working harbour amongst all of the five villages, and the castle which overlooks the village is fantastic for a visit. On a side note, if you love natural produce, the villagers claims that their locally produced olive oil is some of the best you will find anywhere in the Med!
WHERE TO STAY IN VERNAZZA:
Camere Fontanavecchia: Offering spacious rooms with free Wi-Fi, Camere Fontanavecchia is close to Vernazza Station and just 5 minutes' walk from the beach. Train links run to La Spezia and along the Cinque Terre National Park. Great location, the accommodation is slightly up the hill from the train station which means this part of town is slightly quieter.
Cadè Ventu: Amazing location with absolutely exceptional view, simple but clean, spacious room with modern bathroom, friendly staff. Great place to relax or hike. You are up in the mountains and can see San Bernadino, Corniglia and Monterosso
Rina Rooms: is set in the very heart of Vernazza, Rina Rooms is about 150 m from Vernazza Train Station and less than 5 minutes' walk from the small beach and beautiful Ligurian Sea.
>> MORE BEST PLACES TO STAY IN VERNAZZA<<
Where to Stay in the Cinque Terre: Tips & Info
As with any holiday, choosing the best destination for you depends on having a clear idea of what you want from your holiday, and what your budget expectations are.
Each village in the Cinque Terre has its own personality; for example, Riomaggiore has the best shops and nightlife, whereas Manarola has a classier atmosphere.
One point worth considering is what else you want to do on your trip. If it's important for you to be able to reach the city easily, for instance, then you may want to consider Riomaggiore which is just one stop away from La Spezia.
If the purpose of your holiday is romance, then the tranquillity of Corniglia or picturesque views of Manarola will be ideal, whereas the busy streets of Monterosso and Vernazza wouldn't give you what you're looking for.
There is no 'best place' to stay in the Cinque Terre; each village is gorgeous, and the distances between the villages are only a few minutes by train – so you aren't bound to the place you choose to stay by any means. All you can do is have a clear idea of the atmosphere you want, and pick a village based on its quirky personality – then explore the rest!
Where To Stay In the Cinque Terre Without A Car?
It's easier to stay in the Cinque Terre without a car, as there is very limited parking and the villages are pedestrianised (although there is some parking at each village).
Instead, it's best to get around using the trains and ferries that connect the villages or enjoy some of the beautiful hiking trails.
This means that you don't need to pick where to stay based on the fact that you don't have a car – it is easy to travel from village to village without one.
Where To Stay In the Cinque Terre With A Car?
If you do bring a car to the Cinque Terre, it's best to stay in Corniglia or Monterosso, as it's possible to drive through some areas of these villages.
There is parking available at the other village entrances from which you can walk into the main village as well.
The cheapest village to park in is Corniglia, at €10 per car per day. Monterosso is more expensive at €25 per car per day, but there is a car park in both the old town and the new town, so you can park closer to your accommodation.
You should avoid driving to Vernazza altogether, as the roads have been badly damaged by floods and the drive is treacherous – it's best to visit this village via public transport or on foot.
Where To Stay In the Cinque Terre With Family?
The two most family-friendly villages in the Cinque Terre are Monterosso and Manarola.
The new town of Monterosso has plenty of seaside restaurants and hotels, plus a private beach where you can rent a spot for a reasonable price – or you can enjoy the stretch of public beach on the north of the town. There is a playground by the seafront, and the old town has a lively market and many more local restaurants
Manarola has plenty of affordable food options and plenty of picturesque views, and there is a hidden playground just at the top of the hill.
Where To Stay In the Cinque Terre In Winter?
If you still want to experience bustling village life during the winter it's best to stay in Riomaggiore, which is the busiest of the five villages.
If you're hunting for peace and quiet, then Corniglia might be the village for you. Its tranquil perch at the top of the steep hill makes it hard to reach, and especially quiet in the winter when there are fewer visitors.
Alternatively, staying in Manarola – the oldest and arguably most beautiful village – is recommended at any time of year, and going in winter may allow you to enjoy the picturesque views in peace.
Stay In the Cinque Terre Or Day Trip?
It is possible to explore all of the Cinque Terre in one day, but it will be a bit of a whistlestop tour.
The five villages are connected by trains which run regularly so it's easy to simply hop from one village to the other. You can also book a guided day tour to make sure you don't miss anything.
If you're simply going for the views and some food, this may be perfect – but if you want to explore more deeply, you should stay for longer than one day.
If you do opt for a day trip, Manarola is a wonderful place to watch the sunset, so you should end your day here.
If you want to explore each village in more depth and enjoy the beauty of the surrounding area, it's recommended to stay in the Cinque Terre for two full days (three nights) or longer.
Where Is The Best Town To Stay In the Cinque Terre?
The best village to stay in depends on what you want from your trip.
If you're looking for fun, then Riomaggiore is the village for you – it even has a cliffside bar with stunning views – and for the adventurous amongst us, there is also a scuba diving school.
If you're looking for hustle and bustle without the noise of nightlife, then Vernazza is always throbbing with crowds.
If you're simply looking to enjoy the city's picturesque views, head to Manarola; if you're after peace and tranquillity then hard to reach Corniglia is the perfect destination.
Finally, if you're looking for a good old fashioned beach holiday, head to Monterosso.
Where To Stay In the Cinque Terre On A Budget?
Luckily, the day to say costs if public transport in Italy is quite low, and budget-friendly.
The most budget-friendly village is Riomaggiore; its lively atmosphere and proximity to La Spezia tends to attract the student crowd and keeps prices down.
Corniglia can also be cheaper than the other villages depending on what accommodation you pick because of its lack of access to the sea. Each village also has a small but decent selection of budget accommodation, such as hostels and dorm rooms.
How Long Does It Take To Walk The 5 Villages Of the Cinque Terre?
The entire route between the five villages can be walked in about six hours including short breaks, but it's generally more enjoyable to split the hike over two days so it can be savoured at a strolling pace – this way you can enjoy the villages along the way.
Some parts of the hike are challenging, so if you aren't a seasoned hiker it's better to stay nearer the Riomaggiore end where the trails are wide and/or paved.
How Long Should I Stay In the Cinque Terre??
To enjoy each of the villages in the Cinque Terre properly, you need at least three full days to explore – perhaps spending a morning or afternoon in each.
If you also want to hike the whole trail, this takes a full day in itself, and there are plenty of hidden gems surrounding the Cinque Terre to explore.
One such hidden beauty is the nearby town of Portovenere, sometimes referred to as the sixth town of the Cinque Terre. With its beautiful scenery and excellent cuisine with less of the tourist hubbub, it's a beautiful place to spend another afternoon or evening.
Although you can explore the whole of the Cinque Terre in one day if you're short for time, to soak up all this beautiful region has to offer, 4-5 days is ideal.
What Is The Best Time To Visit the Cinque Terre?
The best time to visit the Cinque Terre is between the summer rush and the winter cold. The months of September and October or the spring months are a good time for the same reasons.
For those unaccustomed to the heat, both spring and autumn offer lower temperatures and less crowded trails, making for a less stressful experience.
On a budget, it's always good to visit in the winter since accommodation rates drop at this time – however, bear in mind that some shops and restaurants will be closed, and the weather may be poor.
What Is the Cinque Terre Famous For?
Aside from its picturesque views, the Cinque Terre is most well known for its exquisite seafood. Anchovies are a local delicacy, particularly in Monterosso, and should certainly be tried at least once during your visit. The village of Corniglia is known for a signature gelato made from local honey. The Cinque Terre is also known for its wine and limoncino, and the wider region of Liguria in which the Cinque Terre is situated is known for its delicious pesto.
Which Is A Better Amalfi Coast Or the Cinque Terre?
These are two of Italy's most popular coastlines, both offering beautiful views and traditional cuisine, and sweet seaside villages – it's difficult to choose between the two.
One big difference is the location; the Cinque Terre is on the north-west coast, whereas the Amalfi coast is in the south. Not only does this mean the Amalfi coast will be hotter, but it also means that one will likely be far quicker to get to based on your starting point.
The Amalfi coast is near Rome and Naples, whereas the Cinque Terre is nearer Florence, so if you also want to explore some of Italy's famous historic cities you should choose based on which is nearer.
If you're looking for sightseeing and day trips, then the Amalfi coast is for you, whereas if you're looking for hiking and exploring then you will prefer the Cinque Terre.
What Is The Most Beautiful Town In the Cinque Terre?
Manarola is considered the most beautiful of the five villages; with its traditional picture-postcard multicoloured houses clinging to the rock and waves rocking the equally multicoloured fishing boats in the harbour, Manarola is as picturesque as it gets.
That said, you'd be hard pushed to find a place in the Cinque Terre that isn't beautiful.
A particular beauty spot is the Lardarina in Corniglia. After climbing up 382 steps which zigzag precariously across the face of the mountain, you reach the only viewpoint from which you can see across all five beautiful villages of the Cinque Terre.
Is the Cinque Terre A Tourist Trap?
The five picturesque villages can certainly be a tourist trap, especially at certain times during the year; the hiking trails can get so crowded as to be impassable.
The quaint, storybook appearance of the Cinque Terre gives it the impression of being something of a hidden gem. This is not the case and it's one of the most popular tourist destinations in Italy, becoming almost unbearably crowded during peak season.
It's advisable to visit this beautiful stretch of coastline outside of the summer months when it is much less busy.
What Is Better, the Cinque Terre Or Portofino?
The choice between these two depends on the type of holiday you're looking for.
Portofino is a stunningly beautiful town, with a picturesque bay to boot – and it's also great for swimming, with a sandy beach and plenty of hotels with pools.
If you're looking to explore vineyards, soak up some authentic cuisine and traditional lifestyle – not to mention beautiful ocean views – then the Cinque Terre is the destination for you. It's also worth noting that the Cinque Terre is a significantly cheaper destination than Portofino.
How Far Is It From Portofino To the Cinque Terre?
Portofino is 45km (28.1 miles) northwest along the coast from the Cinque Terre as the crow flies.
There is no direct line linking the two destinations, but it is possible to get from one to the other via ferry, bus and train in under three hours.
Alternatively, you can drive; the route is about 75km and the journey takes around an hour and a half.
Final Thoughts on Best Area to Stay on Cinque Terre
As you can see, where to stay in Cinque Terre is really a personal deal. The villages all have something subtly different about them, and that makes them suitable for different interests and needs. Perhaps the most notable point is that some are easier to reach than others, in terms of the landscape, so this is something you need to take into account if you have mobility issues, with Corniglia and Riomaggiore being a little more difficult to reach. Wherever you stay however, you're sure to fill up that camera memory card with some breath-taking views!
Have you been to beautiful Cinque Terre before? If so, comment below and let us know what you thought of it and where you stayed!
---
---