Wondering where to stay in Sardinia first time? without a car, for families, couples, beaches, and nightlife? In this post, I will help you to find the best areas to stay in Sardinia for tourists (include video and map) and best hotels in Sardinia for all budget travelers.
Sardinia, known as Sardegna in Italian, is the 2nd largest island in the Mediterranean, east of the Iberian Peninsula, west of the Italian Peninsula, and north of Africa. It is close to Corsica (French island), Balearic Islands (Spanish islands), Sicily (Italian island), and Tyrrhenian Sea.
Sardinia has been ruled by many different empires throughout the years, it is a beautiful destination that offers just as much in the way of culture and history as it does stunning beaches.
Sardinia has a rich history dating back to prehistoric times, with influences from the Phoenicians, Carthaginians, Romans, Vandals, and Byzantines. It became an autonomous region of Italy in 1948, and today is famous for its amazing beaches, unique cuisine, and ancient traditions.
If you're visiting to go to the beach, would you prefer an exclusive resort-like in the north of the island, Costa Smerelda, or a more laid-back destination, like Golfo Aranci.
Where to Stay in Sardinia first time? 
The best areas to stay in Sardinia for tourists are Cagliari, Villasimius, and Costa Rei in South Sardinia, as well as Costa Smeralda, La Maddalena, Stintino, Olbia, and Alghero in North Sardinia. These are popular & safe towns for visitors, offering a wide range of attractions and amenities.
Cagliari is the overall best area to stay in Sardinia for first-timers because it is the primary port and transportation hub of the island. This area offers everything you need for your holiday from sightseeing, shopping, nightlife, beaches, and a wide range of accommodations for all budgets.
Cagliari and Olbia are the best place to stay in Sardinia without a car because they are both big city with its own airport, train station, and port. The port of Olbia is the island's main gateway to mainland Italy, while Cagliari Elmas Airport serves half of the incoming air travelers to Sardinia.
Other airports are, Olbia Costa Smeralda Airport, which is a gate way to Costa Smeralda, and Alghero Fertilia Airport close to Sassari. If you're planning a cruise, then Olbia is a good base to explore the north-east coast, while those who enjoy festivals will find the best range in Alghero.
The best areas to stay in Sardinia for couples are Costa Smeralda, Alghero, Porto Cervo, Villasimius, and Cagliari. These areas offer beautiful beaches and a range of accommodations for a romantic getaway including adult-only hotels, all-inclusive resorts, and private villas.
San Teodoro, Villasimius, Alghero, Costa Smeralda, and Cagliari are some of the best areas to stay in Sardinia with kids. These areas offer plenty of family-oriented hotels and resorts that often have kids' clubs, pools, and various entertainment options to keep children engaged.
Where to stay in Sardinia north or south is purely down to personal preference. South Sardinia is the best base for travelers seeking a more laid-back, authentic atmosphere, and less touristy area. North Sardinia is the best base for tourists seeking for beautiful beaches and tourist-style holiday.
Map of areas and towns in Sardinia: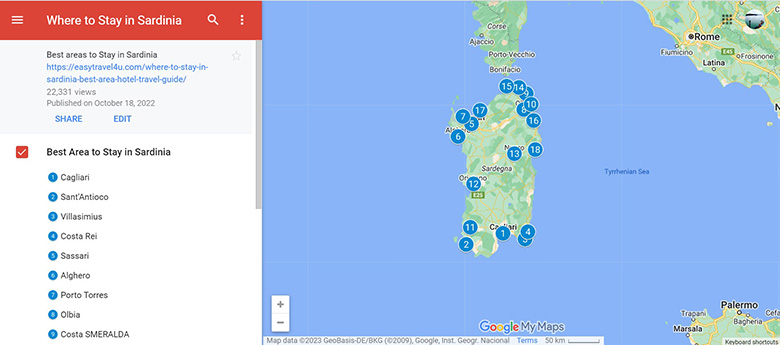 🎬 Check out this short video, the full video with the detail of each area is at the end of this post:
Generally speaking, South Sardinia is a combination of wild and unspoilt natural beauty, interesting history, and amazing beaches. The best areas to stay in South Sardinia for first-time tourists are Cagliari, Sant'Antioco, Villasimius, Costa Rei, Pula, Chia, and Teulada.
North Sardinia is home to some of the best beaches of the island. The best areas to stay in North Sardinia for first-time tourists are Olbia, and Costa Smeralda on the north-east coast of Sardinia, as well as Alghero, Stintino, and Castelsardo in north-west coast of Sardinia.
Let's look into the detail of the best areas and towns to stay in Sardinia island:
Best areas to stay in Sardinia for tourists and first-timers are:
1. Cagliari (South Sardinia) – best for first time tourists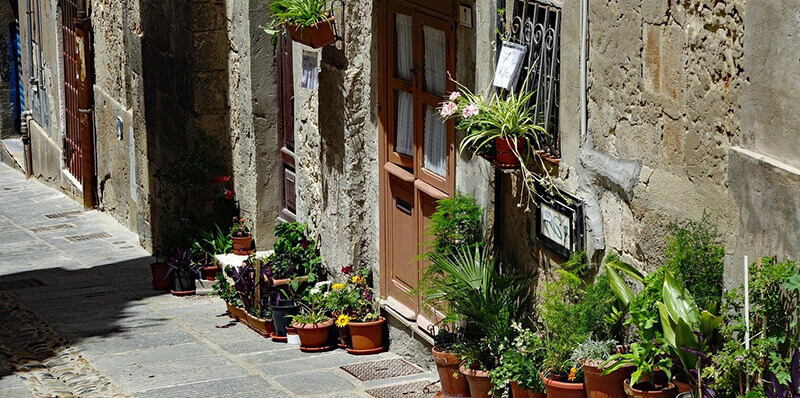 Located on the southern coast of Sardinia and 10km from the Cagliari international airport, Cagliari is the capital and largest city in Sardinia, and the capital of the former Kingdom Of Sardinia until it became the Kingdom Of Italy in the mid-1800s.
Cagliari offers plenty of historical and cultural attractions, as well as beautiful beaches, great shopping and nightlife with many restaurants, bars, craft breweries, and resorts. It is the most popular tourist destination in all of Sardinia for a city break and first-time tourists.
Cagliari is divided into four historic quarters including Villanova, Stampace, Marina, and Castello. Castello is the old town, perched on a hill and offers panoramic views of the Gulf of Cagliari.
The narrow streets, medieval walls, charming atmosphere, with attractions like the Cagliari Cathedral and Bastione di Saint Remy, make the historic Castello district a delightful area to wander around.
The medieval Old Town is home to two imposing white limestone towers, Torre di San Pancrazio and Torre dell'Elefante, built in the14th century by the Aragonese rulers.
There's also the ruins of a Roman Amphitheatre settlement, featuring an amphitheater, an aqueduct, a small temple, some cisterns, and a collection of other small buildings to explore.
On the bottom of the Roman Amphitheatre lies the University of Cagliari's Orto Botanico, home to many special Mediterranean and tropical plants, great place to relax on a warm sunny morning.
There are also many other churches to visit such as the 5th-century Basilica Of San Saturnino, Basilica Of Our Lady Of Bonaria, Jesuit Chiesa di San Michele, and Chiesa di Sant'Efisio.
The Festival of Sant'Efisio is the most important festival in Sardinia, held 1st of May every year, in Stampace quarter, where visitors and locals can enjoy a lively Italian parade and celebration.
History buffs will find a collection of interesting archaeological sites, museums, and galleries. The Tuvixeddu Necropolis, for examples, is a unique necropolis carved into a hillside. It's the largest of its kind remaining anywhere in the world.
The Museo Archeologico Nazionale, in Piazza dell'Arsenale, featuring artifacts from the Nuragic civilization and Roman period, while the Monte Prama Giants is huge stone statues that represent Sardinia's mysterious Nuraghic culture.
Adjacent to the National Archaeological Museum is the art gallery, Pinacoteca Nazionale. It shows works of Catalan, Genoese, and Sardinian artists which date back to the 15th century.
Apart from historical and cultural attractions, Cagliari is a great place to enjoy fresh seafood, brought daily into Cagliari Cruise Port, one of the largest in all of the Mediterranean; and stunning wines, grown in the vineyards surrounding the city.
The area also features a number of beautiful beaches, such as Spiaggia Del Poetto, making it a perfect spot for anyone looking to top up their tan or have fun in the surf and white sandy beaches.
Additionally, there are also nearby beaches such as Calamosca Beach, Cala Fighera Beach, Sant'Elia Beach, Cala Regina Beach, Mari Pintau Beach, and Nora Beach.
The bustling Marina area offers great nightlife and shopping scene with lots of bars, restaurants, and shops. There are plenty of shops at the arcade Via Roma and La Rinascente department store. The San Benedetto's market, Cagliari's largest food market, is well worth a visit to learn about the food culture of Sardinia.
If you like hiking, you can head to the Sella del Diavolo, follow the trail starting from Calamosca near the beach. You can enjoy breathtaking views of the ocean and the Molentargius Nature Reserve from its top.
Cagliari is easily reachable by air from other parts of Italy and Europe such as Milan, Paris, Madrid, Amsterdam, Frankfurt, Vienna, London, and Zurich to Cagliari Elmas Airport. There are also ferry services from Naples, Civitavecchia, and Palermo. To get into the city, there are local buses and taxis.
Cagliari is also home to Cagliari train station, the main train station in Sardinia. it is located in Piazza Matteotti, at the base of the Castello, in the Stampace district. It has regional and express services trains to many places.
Cagliari is an incredibly well-rounded destination, suitable for people with a wide range of tastes and interests. Whether you stay near the Marina District, airport, beach, Old Town, there are plenty of boutique hotels, villas, luxury resorts, guest houses, B&Bs, and apartments for all budget.
Stay in Cagliari if you're first timers, families, couples both young and old seeking a well-rounded location with great shopping, dining, nightlife, beaches, and historical attractions; you want a city break; you travel without a car; you want to visit one of the biggest ports in the Mediterranean;
Best Places to stay in Sardinia in Cagliari:
luxury ($$$): Palazzo Doglio, 5-star hotel, one of the best places to stay in Sardinia without a car, located in the best rated area in Cagliari, within walking distance from San Saturnino Basilica and Via Roma. It has rooms for families with children, couples, and solo travelers.
mid-range ($$): Hotel Regina Margherita, 4-star family-friendly hotel, located in Cagliari's historic centre, making it a great base in South Sardinia without a car. It is surrounded by restaurants, bars and shops, and is within easy walk from Cagliari Cathedral and the harbour.
budget ($): Hotel Nautilus, 3-star beachfront hotel, one of the best places to stay in Sardinia on a budget. It has beautiful views of Poetto Beach, featuring a garden, a bar, buffet breakfast, and free parking for those travel with a car.
🔍MORE HOTELS IN CAGLIARI
2. Sant'Antioco – island on the south west coast of Sardinia
Located in southwest Sardinia, Sant'Antioco is Italy's fourth largest island, connecting with its mother island Sardinia by an artificial isthmus, built by the Carthaginians and completed by the Romans. Sant'Antioco is the site of ancient Sulci, the second city of Sardinia in antiquity.
The island is divided into two areas, Calasetta in the north and Sant'Antioco in the south. Covering 42 square miles with a modern bridge connecting it to Cagliari, Sant'Antioco is large area, it is best to explore by car.
Sant'Antioco is famous for its beautiful beaches including Maladroxia, one of the main beaches alongside Coaquaddus. Other popular beaches are Sotto Torre, Le Saline with turquoise waters, and Spiaggia Grande in Calasetta.
There are also lots of historical and cultural attractions on the island. You can find old tombs here predating the Romans by centuries; the Phoenicians landed here during that time and the island became a Carthaginian colony.
The town and island take the name of St. Antiochus, a 2nd Century martyr. Its rich history from early times passes Romans, and Saracens to French occupation at the end of the 18th Century. It was the 18th Century that saw the place populated.
The main sights to visit while you are here are:
The Palaeo-Christian Basilica of Sant'Antioco and its catacombs.
Phoenician and Carthaginian necropolises
Ferruccio Barreca Archaeological Museum has many interesting exhibits. They are mostly local with the oldest dating back to the 8th Century BC.
The Forte Su Pisu is an old fort whose small garrison was attacked and killed by over 1,000 Tunisia pirates early in the 19th Century.
The Phoenician Tofet was a form of sanctuary.
Hypogaeum Village has numerous Punic tombs dated between the 6th and 3rd Centuries BC. In later years, the poor used them for homes.
The food and wine are also a must try with local seafood and meat with fresh tuna, snails and fregola. There is also Carignano del Sulcis, a wine of very ancient origins, as well as seadas and pardulas cakes for desert.
Stay in Sant'Antioco if you're couples seeking a romantic getaway, families and solo travelers looking for a relaxed vacation; You have a keen interest in history; Nice beaches and warm water are essential; you want unique and authentic experience;
Best places to stay in Sant'Antioco:
mid-range ($): Lu' Hotel Maladroxia, 4-star beachfront hotel, located in Sant'Antìoco, short drive from Peonia Rosa. It features couples of swimming pools, private beach, and free parking!
budget ($): MuMA Hostel, great backpacker hostel in Sant'Antìoco, that has a garden, shared lounge, a terrace and bar. It also serves daily continental, Italian or vegetarian breakfast.
budget ($): Domo LA VELA, great modern accommodation on the island of Sant'Antìoco, offering air-conditioned rooms come with a work desk, a flat-screen TV and a small fridge.
🔍MORE HOTELS IN SANT´ANTIOCO
3. Villasimius – South Sardinia, great for diving
Villasimius is located 50km east of the captial, Cagliari, in the south of Sardinia. Villasimius has a long history, dating back long before Roman times. Villasimius is suffered numerous raids over the centuries with pirates being a constant threat. The economy was always agricultural with some granite mining until the growth of tourism just over half a century ago.
One of the attractions in the area is the Capo Carbonara National Marine Park that comprises all the rivers surrounding the eastern Gulf of Cagliari. There is an old fortress on the western side of the promontory. Pink flamingos head for the easter side along the Tyrrhenian Sea while you will see a lighthouse that the Italian Air Force runs these days.
Villasimius is proud of its beaches and diving sites with white sand and unique settings. There are beautiful beaches of Punta Molentis, Burroni, Caterina, Porto Sa Ruxi and Spiaggia del Riso.
Other attractions are The Phoenician Shrine of Cuccureddus, Fortezza Vecchia fortress, Torre di Porto Giunco, The Thermal Baths of Santa Ana, Isola dei Cavoli.
Villasimius is well-connected public transport with Cagliari, it also a good option to stay in Sardinia if you travel without a car. There are apartment buildings, villas, hotels in the town centre and along the beach.
Stay in Villasimius if you like diving; you want a choice of beaches and a quiet day now and again, you like the idea of seeing a pink flamingo colony.
Best places to stay in Sardinia in Villasimius:
luxury ($$$): Pullman Almar Timi Ama Resort & Spa, 5-star hotel in Villasimius, surrounded by Mediterranean vegetation, featuring spacious rooms for single adults, couples, and families with kids. It has free private parking and a private white-sand beach.
mid-range ($$): Hotel Simius Playa, 4-star beachfront hotel, offering views of the turquoise sea of Capo Carbonara, outdoor swimming pool and air-conditioned rooms.
budget ($): Hotel I Graniti, great 3-star family-friendly hotel, located within walking distance from Villasimius's central square, offering Sardinian-style rooms with handcrafted furniture.
🔍MORE HOTELS IN VILLASIMIUS
4. Costa Rei – fabulous family gateaway in South Sardinia
Located on on the south-east coast of Sardinia. Costa Rei, sometimes called Costa Rey, is belong to the municipality of Muravera in the Sarrabus. It is is 76 km from Cagliari and 24 km from Villasimius.
Costa Rei is where to stay if you want beautiful beaches with easy access. The main beach will do for those who just want to relax on the sand all day long, but it's also close enough to Capo Ferrato, Costa Rei, Scoglio di Peppino, Sant'Elmo, Spiaggia di Cala Monte Turno, Cala Sinzias that exploring becomes tempting!
With a long stretch of white sands, turquoise blue of the Mediterranean sea, Costa Rei is also famous for its coral reefs, and water activities such as scuba diving, windsurfing and snorkelling.
There are many resorts, bars, restaurants, camping and a shopping centre. Costa Rei is perfect for beach lovers looking to relax with its shallow seas and gently sloping shorelines that are ideal for kids or families who want some quality time together at low costs!
Tp the northern tip of Costa Rei, you will find quieter Capo Ferrato. You can visit the old lighthouse dating back to 1925, the rock, and enjoy breathtaking views over the sea.
Best places to stay in Sardinia in Costa Rei:
mid-range ($$): Albaruja Hotel, 4-star family-friendly hotel, located a 2-minute walk from the white sandy beach of Costa Rei, featuring a restaurant and an outdoor swimming pool. The hotel can organise boat trips and quad-bike excursions.
budget ($): B&B Vacanza Facile, great guest house with free WiFi and free private parking, set in Costa Rei, short walk from Costa Rei Beach.
luxury ($$$): La Villa Del Re – Adults Only, 5-star hotel, one of the best places to stay in Sardinia for couples, located within a short drive from the towns of Cala Sinzias and Costa Rei. It has a private beach along the Mediterranean Sea, with a variety of water sport facilities.
🔍MORE HOTELS IN COSTA REI
5. Sassari – north-west Sardinia, great for history lovers
Located in the northwest of the island, Sassari is Sardinia's second-largest city and a lesser-visited destination. It's 30km from the nearest airport Alghero Fertilia Airport. Despite being the closest competitor to Cagliari in size, the two cities differ from one another in a variety of ways.
For starters, while there is still plenty of history on offer in the city, most of it is from a much more recent time, with it having been settled in the 12th century. This means you will find different styles in the architecture here, such as Baroque, Gothic and Neoclassic.
Churches, cathedrals, and even a cemetery perfectly display this changing style, with many additions and repairs to the existing buildings displaying a distinctly different vibe to their foundations. There are still a few older sites to be found here as well, such as the prehistoric pyramid Monte d'Accoddi and the remains of a previously demolished castle.
The heart of the historic Old Town is the Piazza d'Italia (Italy Square). There is a statue of King Vittorio Emanuele II in the center of the square which was created by the sculptor Giuseppe Sartorio.
It's surrounded by splendid 19th-century buildings such as the neoclassical Palazzo della Provincia and the neo-Gothic Palazzo Giordano. There is the town event Cavalcata Sarda, Sardinian parade on horseback, in May, and Descent of the Candlesticks on 14 August.
Perhaps the most famous attractions in the city are the 13th-century walls that surround it, originally featuring 36 towers, of which 6 remain, and the Fountain Of The Rosello, a stunning fountain, built at the very start of the 17th-century, that is recognized as the symbol of the city.
The old city of Sassari also hosts religious buildings such as the Roman Catholic Cathedral of St. Nicholas of Bari, Basilica di Saccargia, and the church of Santa Maria di Betlem with its distinctive dome, Romanesque facade, and the exterior sports Gothic.
The Museum of the Sassari Brigade displays uniforms, photos, documents relate to the history of the famous Sassari Brigade, the bravery of the Sardinian soldiers in WWI. The National Art Gallery of the city of Sassari homes to a great collection of paintings from between the Middle Ages and the early twentieth century.
If you like shopping, head to the Corso Victor Emanuele II, a pedestrianized street runs from the Duomo to the Paizza San Babila. It is filled with high street brand name shops and also cafes. You also have Wild Asinara Park, the Parco Naturale Regionale di Porto Conte, and the Romanesque Basilica della Santissima Trinità di Saccargia to explore.
Another of the city's main attractions is actually located outside of its walls. Surrounded by olive plantations, this is the primary place in Sardinia for growing the fruit. That makes it ideal for anyone who wants to take a trip around a plantation, enjoy some fresh olives, or taste some of the finest olive oil you will ever come across.
While its inland location will likely deter those looking for a beach vacation, what it does is provide visitors the opportunity to have a more traditional, relaxing, and cultured trip than you are likely to get in a destination surrounded by tourists.
In addition to the diversified culture, Sassari has a wide range of restaurants, bars and cafes, and numerous luxury shops. There are plenty of accommodations options including guest houses, apartments, B&B, and traditional hotels.
The best beaches nearby are Spiaggia di Porto Ferro Beach, Mugoni Beach, Spiaggia di Maria Pia, Spiaggia delle Bombarde, and Spiaggia La Pelosa, Lampianu Beach.
Stay in Sassari if you are interested in the history and culture of the city, you want to sample some fresh olives and olive oil or visit a plantation, you aren't interested in the beach, you want to see architecture from a wide range of artistic styles.
Best Places to Stay in Sardinia in Sassari:
luxury ($$$): Cafe Bleu Relais, great accommodation, located a short distance from Sassari Railway Station. It offers free bikes, shared lounge, a terrace and bar in Sassari.
mid-range ($$): Hotel Carlo Felice, 4-star hotel, located within a short distance from from Sassari city centre and has free on site parking.
budget ($): Al Vicolo Tre, great family-friendly guest house, located close to Sassari Railway Station and Palazzo Ducale Sassari.
🔍MORE HOTELS IN SASSARI
6. Alghero – lovely resort town on the north-west Sardinia
Alghero is a medieval city and a renowned resort on the island, located not too far from Sassari, on the northwest coast of Sardinia. Alghero is a great combination of beach, nature, and city break.
Due to its strategic location on the Mediterranean, Alghero was fortified as early as 1100 A.D. The walls of these fortifications can still be seen today, with 7 towers and 3 forts located along their perimeter.
Despite the city as we know it today being settled in the 12th-century, the area has been inhabited since as far back as 4000 B.C. For anyone interested in learning more about its prehistoric past and how it has evolved over thousands of years, sites such as the Anghelu Necropolis, the Santu Pedru Hill, and the Villa Romana Of Santa Imbenia all remain in incredible condition despite their age.
There are even a number of Nuraghe, traditional authentic Sardinian dwellings, dotted around the area and open for people to explore.
There is also a great deal of religious architecture in the area to discover and learn from. Sites like the Chiesa Della Purissima Di Iglesias, the 16th century Catalan Gothic style, Cathedral of Santa Maria, the Madonna Del Santo Rosario, Chiesa di San Michele, and the Chiesa di San Francesco, are all beautiful examples of the evolving architecture in the area through the years.
The historic center is one of the most interesting and vibrant parts of the city. The narrow cobbled streets and alleys of the Old Town are filled with many small shops, local bars, and restaurants.
The sea walls and bastions run from Piazza Sulis to Porta a Mare. If you walk along the sea wall, you can see the Campanile Bell Tower, the Torre di Sant'Elmo, the Torre di San Giacomo, the Torre Della Polveriera.
Not far from the Port of Alghero is the bustling square of Piazza Civica. It has a late-medieval Catalan façade of the Palazzo d'Albis, with plenty of stylish shops and cafes.
Despite its abundance of history, that isn't actually the main draw that brings people to Alghero. That distinction belongs to the city's fabulous collection of beaches, bars, cafes, restaurants, and shops.
These give you a wide range of choices when you're looking for a vacation all about relaxing in the sun. Much quieter than other similar destinations, you can spend your days lazing on the beach and in cafes or browsing through the collection of local and traditional shops.
Most of the beaches on the Riviera del Corallo are located in the north of the city within Porto Conte Park. Along with it is the Lido San Giovanni, Maria Pia, the Bombarde beach, the Lazzaretto beach, and the Mugoni beach.
The Park Of Porto Conte is a huge natural area full of paths, beaches, archaeological sites like the Necropolis of Anghelu Ruju and the Nuraghe Palmavera. It is dominated by Capo Caccia,also known as Grotta di Nettuno or Neptune's Caves, which is famous for its rocks and spectacular cliffs. With crystal-clear seawater, this is a great place for diving, and many watersport activities.
Then, when night falls, you can sample some of the island's exquisite cuisine in a beautiful restaurant, while looking out at the serene waters off the coast. The food is a unique mix of the flavors of Sardinia with those of Catalonia.
For the more adventurous of you, there are even a couple of fantastic nature parks in the area, perfect for those who like to get out on a hike and experience the region's more natural side.
Alghero has its own international airport, from the airport to the city centerm you can take a ARST bus, rent a car, catch a taxi, take a private transfer. The airport is not far from the center, but it can take some time during summer when the traffic is more crowded with tourists.
You can easily find accommodation with sea views in Alghero, there are guest houses, apartments, and hotels form.
Stay in Alghero if you enjoy hiking, you love beautiful beaches, you are a fan of religious architecture, you want to spend some time in a nature park, you are interested in historic military fortifications.
Best Places to Stay in Sardinia in Alghero:
luxury ($$$): Smy Carlos V Wellness & Spa Alghero, 5-star hotel, one of the best places to stay in North Sardinia for families and couples of all ages. It is located in the best rated area in Alghero, a few steps from the charming Bay of Alghero.
mid-range ($$): Hotel Catalunya, 4-star family-friendly hotel, located in front of the tourist harbour, just a 5-minute walk from Alghero's historic centre. Great base for those travel without a car, close to the train station, the seafront promenade, and the old town.
budget ($): Hotel Florida, 3-star hotel, one of the best budget-friendly hotel in Sardinia, set on the seafront on the beautiful beach of Lido di San Giovanni, between Fertilia and Alghero. It is within walking distance from the historic centre of Alghero and the station where the airport bus stops.
🔍MORE HOTELS IN ALGHERO
7. Porto Torres – busy working port in the north of Sardinia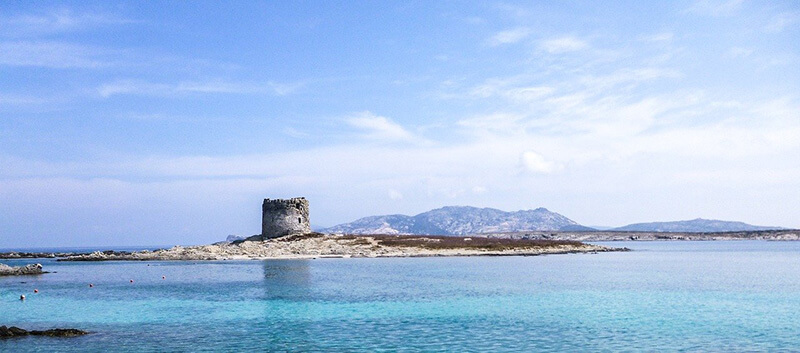 Another destination found only a short distance from Sassari, this time to the northwest of the island, the first Roman colony in Sardinia, Porto Torres is a popular destination with tourists who want to mix culture and history with relaxation but prefer to slightly prioritize the latter of those two things.
The reason for this is that Porto Torres is an area surrounded by a large number of stunning beaches. No fewer than 9 beaches can be found in the area, with varying levels of activities, amenities, and visitors, providing you with the chance to find a beach perfectly suited to your own personal taste.
The most beautiful beaches are Balai Beach, Scogliolungo Beach, Acque Dolci Beach , Renaredda Beach, Farrizza Beach.
If beaches aren't your personal preference when it comes to relaxing, there are also a number of parks and protected areas in the region, where you can spend the days walking and taking in the natural beauty of the region.
Perhaps the most famous of these is Asinara National Park. Located on an island just off the coast, the island has an incredible history. It was originally used as a quarantine island, before being turned into a prison camp during World War 1, which was repurposed into a high-security prison during the '70s, until it gained its protected status in 1996.
Also known as "Devil Island", due to its past uses, the name literally translates to "donkey inhabited", which better represents its current standing, as a destination filled with beautiful natural habitats and even a sanctuary for marine mammals.
For those looking for a little more culture from the area, there are plenty of traditional nuraghes, churches, military structures, and both Roman and Greek ruins to spend your days exploring. Throw in the area's reputation for fresh produce and seafood and you have yourself a perfect destination for a well-rounded, relaxing getaway in the sun.
You will find the eleventh-century Romanesque church, Basilica di San Gavino which is one of the island's largest, oldest, and most important Roman Christian monuments. It's on Mount Agellu, a place for worship and burial.
Another attraction is the 14 meters high and 13 meters wide Aragonese Tower. It was an important defensive tower in the 16th century and was transformed into a lighthouse in the 20th century.
The Archaeological Museum Antiquarium Turritano, near Spiaggia di Balai with the remains of the baths of the ancient city – Palazzo di Re Barbaro, the Dome Orfeo, and a large number of mosaics in a remarkable state of conservation. The Roman bridge, Ponte Romano is a 135 meter-long bridge built over the Rio Mannu river that dates back to the 1st century A.D.
There are plenty of lodging options, you can easily find guesthouses, bed and breakfast, villas, and apartment rentals.
Stay in Porto Torres if your main interest is beaches, you want to explore a national park with a unique history, you enjoy fresh seafood, you still want to see some of the local history and culture while you're here.
Best places to stay in Sardinia in Porto Torres:
budget ($): B&B L'Ancora, family-friendly guest house in Porto Torres, 450 metres from the beach and 10-minute walk from Porto Torres Harbour.
budget ($): Il Melo Residence, great apartment rental, 10 minutes' drive by car from the ferry port and The pristine beaches of the Platamona area.
mid-range ($$): Il Posto Nascosto, family-friendly accommodation, located in Porto Torres, short distance from Lo Scoglio Lungo and Spiaggia dello Scogliolungo.
🔍MORE HOTELS IN PORTO TORRES
8. Olbia – in the north-east coast, gateway to Costa Smeralda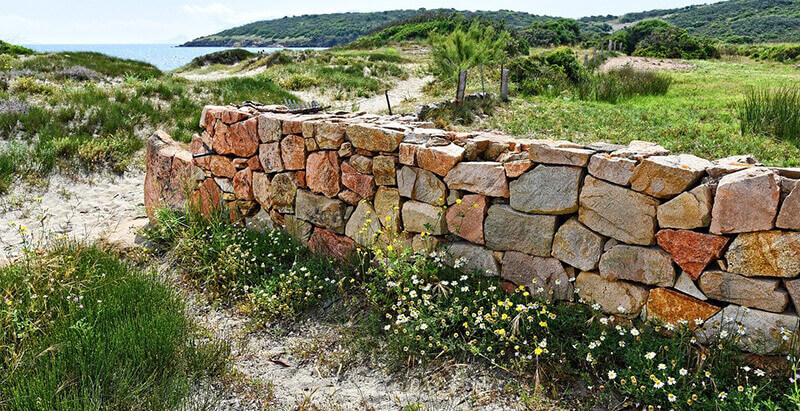 Olbia is located in a bay on the northeast coast of Sardinia, the gateway to Costa Smeralda, 5km from Olbia Costa Smeralda Airport. While not notorious as a tourist destination in its own right, it does have one feature that makes it an attractive prospect to visitors, which is its port.
Olbia is one of the best places to stay in North Sardinia without a car. It is easily reachable by air, train, and ferries as it's home to a port, airport, and train station. Additionally, it is a short distance from some of the island's best beaches, making it a great base without the need of having a car.
Located in the well-protected Gulf Of Olbia, Porto Olbia is one of the most active ports on the island, particularly with cruise ships, and is considered to be the main gateway to mainland Italy. Millions of people pass every year on the ferries of the Grimaldi, Tirrenia, GNV and Moby lines.
Featuring both an airport and a train station that connects it to the rest of the island, Olbia is an ideal choice for people staying on the island for a couple of days while on a cruise or planning to use it as the launching point for one.
There's even the National Archaeology Museum, for those looking for a little more information on the artifacts they are seeing, as well as a collection of dolmens, menhirs, and nuraghes, for anyone who simply wants to experience the traditional dwellings and structures of the region.
The area is also home to the 11th-century Basilica Of San Simplicio, and the Church Of St Paul The Apostle, the Pedres Castle and remains of both Carthaginian walls and a Roman aqueduct and forum should satisfy fans of a more ancient type of history.
Nuraghe is unique to Sardinia, an ancient megalithic edifice that can't find anywhere in the world. The Nuragic civilization began in the Bronze Age, as the transformation of former cultures presents on Sardinia since Neolithic times.
The Nuragic civilization takes its name from the nuraghi, circular defensive towers-fortresses in the form of truncated cones built of dressed stone for which no parallel exists anywhere else in the world.
You can find the largest park in Sardinia, Fausto Noce Park, and the River Park Of Padrongianus, so is perfect for those who enjoy walking and exploring the region's more natural side.
Olbia hosts one of the most important religious festivals in Sardinia, Festa di San Simplicio, a festival of San Simplicio, held in May, in honor of the Patron Saint. During the festival, you have fireworks, the Festival of Mussels, a traditional Sardinian horse race to grab the star "Palio della Stella", and mass and procession around town.
There are beautiful beaches within a short drive by car from Olbia like Spiaggia Le Saline, Spiaggia Pittulongu, Spiaggia Bados, Cala Brandinchi, Lu Impostu, Cala Moresca, Punta Molara, Porto Taverna.
At the end of the day, while this is a destination aimed more at people looking for something specific than the public in general, it's a location that is ideal if you fall into its target demographic.
You can find camping and caravan sites, apartments, bed and breakfast, many budget accommodations in Olbia.
Stay in Olbia if you are taking a cruise; you travel without a car; you want to visit mainland Italy; you want a popular beach resort not too far away, you're a fan of nature walks.
Best Places to Stay in Sardinia in Olbia :
mid-range ($$): Hotel Panorama, 4-star family-friendly hotel, great base for travelers without a car, short walk from the pedestrian area, the Archaeological Museum and the most popular shopping district in Olbia. Also a short distance from beaches of Olbia, the port, and airport.
mid-range ($$): L'Essenza Hotel, 4-star hotel, located in Olbia, close to Olbia Costa Smeralda Airport, short walk from Archeological Museum of Olbia, the city centre, the harbor, and Church of St. Paul the Apostle.
Budget ($): Gemma Di Gallura Charme B&B, great guest house, located in Olbia in the Sardinia region, near the San Simplicio Church and Church of St. Paul the Apostle, offering free WiFi and free private parking.
🔍MORE HOTELS IN OLBIA
9. Costa Smeralda – luxury place in north east coast Sardinia
Costa Smeralda is perhaps the most popular tourist destination in Sardinia for anyone who is seeking a beach vacation with crystal clear sea and clean white sandy beaches. Located between the bay of Arzachena and the Gulf of Cugnana, Costa Smeralda is a place to go if you want a exclusive location with beaches and glitzy resorts.
Porto Cervo is the main resort on Costa Smeralda and one of the world's most expensive resorts. This resort is the work of investors including Prince Karim Aga Khan, among others.
There is the original port and a very modern marina. In the 1960s, the port was for fishermen and subsequently, the marina was developed to its west. Mega Yachts abound and in all, there are 700 berths, which can be reserved. You will find community south and east of the old port in which there are bars, restaurants, and shops.
Other villages and resorts on the Costa Smeralda are Cannigione, Polto Quatu, Baia Sardinia, San Pantaleo, Portisco, and Porto Rotondo.
Home to a number of the best beaches on the island, people flock here from all over the world, to relax on its golden sands. However, it has to be noted that Costa Smeralda is what you would consider an exclusive destination, as it is recognized as the most expensive location in Europe.
Some of the best beaches nearby Costa Smeralda are:
Spiaggia del Principe (Prince's Beach), known as Portu Li Coggi Beach, a fine white sand beach with turquoise waters
Capriccioli Beach, with shallow, clear, and calm water
Piccolo And Grande Pevero Beach, Piccolo Pevero (Little Pevero) or Pevero beach – set alongside Grande Pevero
Liscia Ruja Beach, Long Beach, fine sand with a pink hue, clear water
La Maddalena Beaches
While this may put many visitors off, it will also make it an ideal location for a number of others. Featuring high-end shops, restaurants, bars, and cafes, it gives you the chance to treat yourself to a luxurious vacation.
With days spent lazing on the beach or browsing the exclusive shops and boutiques, to evenings enjoying fine dining and sipping drinks while looking out over the stunning marina, you can truly embrace the highlife and let go of all your cares for a while.
Stay in Costa Smeralda if you prefer a more exclusive location; you aren't worried about price; you prioritize stunning beaches; you enjoy fine dining.
Best Places to Stay in Sardinia's Costa Smeralda:
luxury ($$$): Hotel Cala di Volpe Resort, 5-star resort, located near Sardinia's famous Porto Cervo. It has excellent sports and wellness facilities and a stunning private beach.
luxury ($$$): CPH | Pevero Hotel, 5-star hotel, offers a reserved area on the Piccolo Pevero beach. It offers a free shuttle service to/from the centre of Porto Cervo.
mid-range ($$): Colonna Hotel Country & Sporting, 4-star hotel, near the white sandy beach of Cala Granu. You can find gardens and terraces at La Piazzetta, the centre of all activities.
10. Golfo Aranci – cheaper base to explore north east Sardinia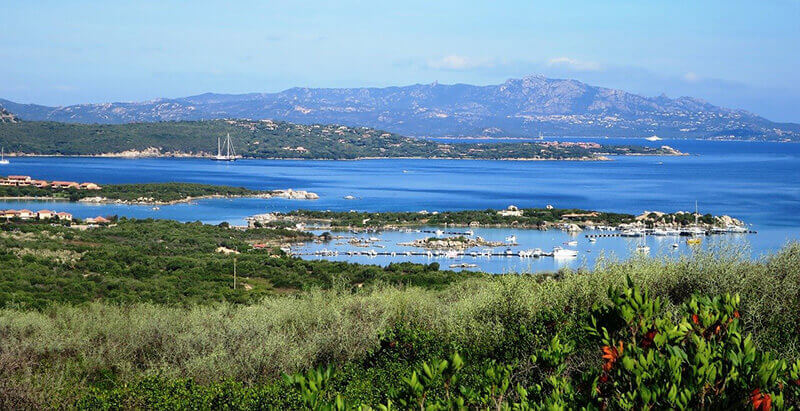 Located just south of Costa Smeralda, between it and Olbia, Golfo Aranci (The Orange Gulf) has many of the same trademarks as its neighbor but is generally a more accessible destination for most.
While the stunning beaches remain, prices are considerably lower and there is a more relaxed, family-friendly environment. Many of the high-end establishments have instead been replaced with more affordable alternatives.
The beaches are slightly less focused on being relaxing places for you to top up your tan, although that is still definitely possible, and are instead places for people to unwind and have fun in the surf and white sand. Most important beaches nearby are the Punta Pedrosa, Cala Sassari, Cinque Spiagge (Five Beaches), Cala Moresca, Cala Banana, and Nodu Pianu.
This doesn't by any means lead to a dip in the quality of what's on offer here, it's simply a different style in which it is presented. Restaurants serve incredible food, with menus fuelled by the thriving fishing industry in the town that provides them with seafood.
Bars are plentiful and feature a great range of styles, prices, and locations, ensuring there is likely something for everyone.
What you essentially have here is your traditional beach destination, a place where people of all ages and backgrounds can come for a good time in the sun.
Golfo Aranci offers a wide range of apartments, hotels, and beach resorts in all price ranges, and that is cheaper than the northeast of Sardinia in Costa Smeralda.
Stay in Golfo Aranci if your priority is great beaches, you are watching what you spend, you aren't a fan of "exclusive" destinations, you are traveling with kids.
Best Places to Stay in Golfo Aranci:
luxury ($$$): Hotel Abi d'Oru, 5-star family-friendly hotel, located on the white Costa Smeralda seaside, with views of the Marinella Gulf, one of the most exclusive spots in Sardinia. the hotel offers a free shuttle service to/from nearby Porto Rotondo, as well as facilities for adults and children.
mid-range ($$): Hotel Villa Margherita, family-run boutique accommodation located on the waterfront area, featuring rooms with the views of the Gulf of Aranci. You can rent a bike from the hotel to explore the nearby fishing port and white-sand beaches.
budget ($): Hotel Maria, 3-star hotel, in Golfo Aranci, short distance from Prima Spiaggia Golfo Aranci, offering air-conditioned rooms with free WiFi, each with a private bathroom.
🔍MORE HOTELS IN GOLFO ARANCI
11. Iglesias – historic town in southwestern Sardinia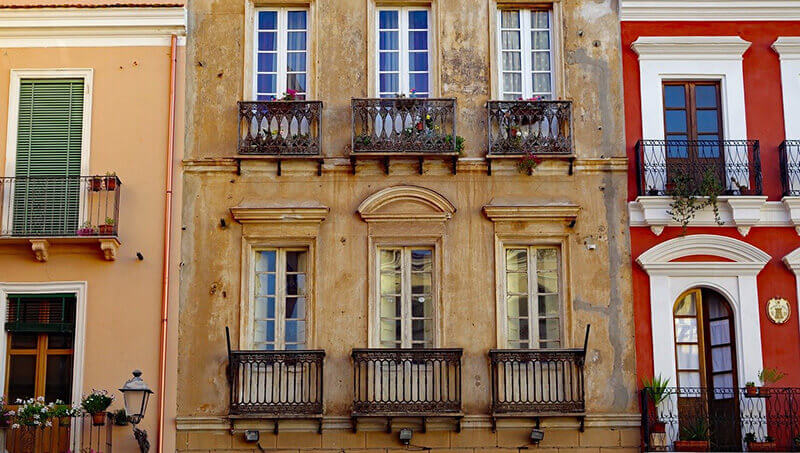 Iglesias is located in the southwest coast of the island, in the hills around 7 miles inland, this is a destination that primarily revolves around its cultural and historical offerings.
With Sardinia under Spanish rule until the 18th-century, Iglesias was considered one of the most important locations on the island by the Crown Of Aragon. As such, there are an incredible collection of buildings and artifacts remaining, which provide great insights into the region during that time.
From castles and medieval fortifications to its cathedral and an incredible number of historic churches, the city is brimming with locations that demonstrate its culture from that era. The area also featured a prominent mining industry, with the Monteponi Mine and Mining Art Museum allowing visitors the chance to understand the focal point of the city's economy.
Whether you want to truly delve into the depths of the history or simply stroll around the streets and piazza's, enjoying the beauty of the buildings and structures around you, Iglesias has plenty to keep you in awe throughout your stay.
Stay in Iglesias if you are interested in the medieval history of the island, you want to learn more about the history of mining in the area, you want to explore an incredible collection of churches, you prefer to stay up in the hills.
Best Places to Stay in Iglesias:
🔍MORE HOTELS IN IGLESIAS
12. Oristano – off the beaten path town in western Sardinia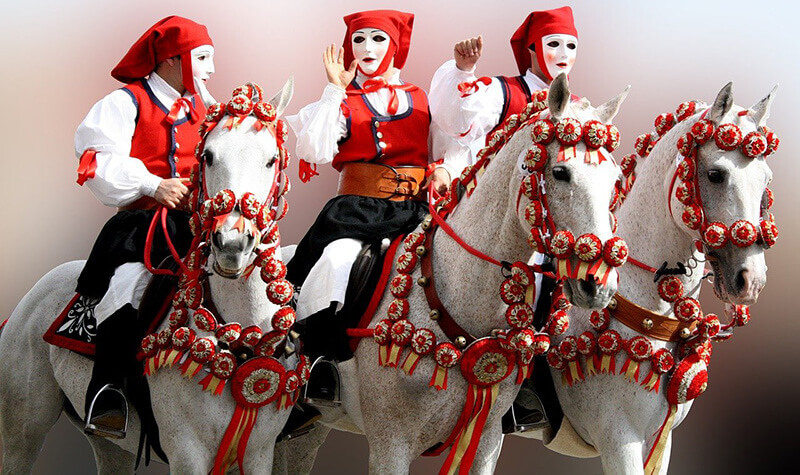 Located in central-western Sardinia, Oristano city is a destination where the main attraction on offer is its historical sites, particularly of the religious kind.
A collection of churches, chapels, and cloisters, some dating as far back as the Roman era, surround one of the city's standout features, the 12th-century St. Marys Cathedral. This and the Tower Of St Christophoros combine to form a powerful memorial to the city's past, showing the grandeur and architectural prowess that they possessed.
Within a short stroll from the Il Duomo, you will find the church of San Francesco d'Assisi (Chiesa di San Francesco), the highlight of this 19th-century neoclassical church, one of the most precious carvings on the island.
One of the most popular draws to the city occurs on carnival Sunday and Mardi Gras, in the form of a festival known as Sa Sartiglia, which has been taking place for more than 500 years. The event is an equestrian tournament, where masked riders gallop through the streets around the cathedral with swords, attempting to claim ribbons suspended above them.
If you travel to Sardinia in February or March, be sure to take part in this Oristano carnival where everyone dresses up. This unique sight draws people from around the world to witness a spectacle unlike anything else they are likely to have experienced.
While it is similar to Iglesias in many ways, one in which it does differ is that it is much closer to the coast and beaches. You will be surrounded by San Giovanni di Sinis Beach, Torregrande beach town, Golfo di Oristano, and Sinis Peninsula.
This makes it considerably easier for anyone wanting to mix a few days of lazing on the beach with seeing the sights and spectacles of the city.
You should stay in Oristano if you are attending the Sa Sartiglia festival, you are interested in religious architecture, you don't want to be too far from the beach.
Best Places to stay in Sardinia in Oristano:
luxury ($$$): Mariano IV Palace Hotel, 4-star hotel, in Oristano centre, a 10-minute walk from Oristano railway and bus station. You can try Sardinian specialities in its on-site restaurant.
mid-range ($$): Mistral2 Hotel, great accommodation, set in the centre of Oristano, providing a large swimming pool and a free parking garage.
budget ($): Hotel Mistral, 3-star family-friendly hotel, just 100 metres from the historic centre of Oristano, offering free parking and comfortable rooms.
🔍MORE HOTELS IN ORISTANO
13. Nuoro – in central eastern Sardinia
Located in the heart of the island, Nuoro is where history is its major draw, even being recognized as one of the most important cultural centers of the region, known as "Atene sarda" or Sardinian Athens. It's located on the hill of Monte Ortobene, the capital of the province of Nuoro.
The birthplace of countless painters, poets, sculptors, and writers, the city is filled with stunning buildings, cathedrals, churches, monuments, and piazzas. However, it is one particular type of building that makes the city so attractive. The 19th-century Cattedrale di Santa Maria della Neve is dedicated to the Madonna della Neve and Chiesa della Solitudine is the burial place of Nobel Prize-winning author Grazia Deledda.
The type of building in question is museums, as Nuoro is home to some of the most important in all Sardinia. The Sardinian Ethnographic Museum, the National Archaeological Museum Of Nuoro, and the Modern Art Museum Of The Nuoro Province are just a few of the institutions available in Nuoro.
Museo Etnografico Sardo (Sardinian Ethnographic Museum) presents the lifestyle of the Sardinian people, this repository has an impressive collection of 8000 items from musical instruments to weapons, tools to costumes, textile to masks, that reflect the tradition, culture and daily life on this island.
Museo Ciusa displays an art collection of top 20th-century artists and the works of famous Nuoro-born sculptor Francesco Ciusa (1883–1949). Museo Deleddiano was the birthplace of Grazia Deledda, Nobel laureate for Literature, now become a museum.
Piazza Satta, a small square was designed by sculptor Costantino Nivola between 1966 and 1967 with a statue in memory of the local poet Salvatore Satta and whitewashing the houses around.
Take a stroll uphill to Parco Colle Sant'Onofrio is a beautiful place with stunning views of the area surrounding the town. From the top, you can have views of Monte Ortobene, Oliena, and Orgosolo.
So, if you're someone who's a fan of museums, you should have Nuoro right at the top of your list when it comes to picking a destination.
Stay in Nuoro if you want a central, inland location, and you are a fan of museums.
Best Places to Stay in Sardinia in Nuoro:
🔍MORE HOTELS IN NUORO
14. La Maddalena Archipelago – north-east Sardinia for boat tours
The town of this name is on the La Maddalena Archipelago in Sassari Province in the north of Sardinia. Sardinia is the second-largest island in the Mediterranean after Sicily which is also part of Italy. La Maddalena Archipelago contains 7 main islands La Maddalena, Razzoli, Santo Stefano, Caprera, Budelli, Santa Maria, Spargi.
La Maddalena is just inland from the coastline that faces Corsica. Its heart is Piazza Umberto and Via Garibaldi, an area where you will find shops, bars, and restaurants.
Tourism is a major source of income for La Maddalena. You can only reach the Island of La Maddalena by boat with access available from the Italian Mainland. Once there, you can enjoy its many beaches with the two most notable, Bassa Trinita and Spaimatore.
There are archaeological remains from Roman times when this rocky island was an important defensive position. For centuries no one lived here until the 12th Century when Genoa and Pisa disputed ownership.
Monasteries existed here until the Ottomans destroyed them towards the end of the 16th Century. However, this has been Italian territory for centuries despite efforts from Napoleon to take control in the 19th Century.
Stay in La Maddalena Archipelago If you want a coastal base for your holiday, you enjoy local history and a flavor of Sardinia, you are arriving from Corsica.
Best places to stay in La Maddalena Archipelago:
luxury ($$$): Grand Hotel Resort&SPA Ma&Ma – Adults Only, 5-star hotel, one of the best places to stay in Sardinia for couples, located in the Località Nido D'Aquila area. You can stay in a rooms with views of La Maddalena Archipelago. Punta Tegge Beach is 100 metres away.
mid-range ($$): Excelsior, great 4-star family-friendly hotel, is located in the city centre of La Maddalena Island, a 2-minute walk from the ferries to/from Palau. It has free public parking, and buffet in a breakfast room with views of Santo Stefano Island.
budget ($): Hotel Villa Del Parco, 3-star hotel, locatd on the island of Maddalena, off Sardinia's North Coast, short walk from Punta Tegge beach. It offers country-style family rooms and suites. It is also located walking distance from Maddalena Port, where ferries depart for Palau.
🔍MORE HOTELS IN LA MADDALENA
15. Santa Teresa di Gallura – in north-east Sardinia
The Island of Corsica is visible from this town in Sassari Province on the Strait of Bonifacio. The ancient city of Tibula was in this region. Little is known of it other than it was the popular landing place for those heading to Sardinia from Corsica in the north.
The north of Sardinia has most of the Island's ferry connections with Italy as well as Spain and Portugal. The main airport in Sardinia is close to Cagliari, the capital, in the southeast of the Island. There are rail and coach connections, but the train journey is three and a half hours, and the road journey is often not significantly quicker.
Visitors looking for flights in should instead look for Alghero or secondly Olbia. Tourism is important for the town's economy. Up to 15,000 can be here in mid-summer, three times the permanent population. Life revolves around the main square and this is where you will find the most restaurants and shops. Some close in the winter.
Its beach, Rena Bianca, is immediately north of the town. In the summer, crowds enjoy the beach and the warm water. It's a Blue Flag beach, with views of Isola Municca, the white cliffs on the coast of Corsica, and la Torre di Longonsardo.
It has sun loungers, umbrellas, pedal boats, and canoes, and a bar nearby on the hill. Rena Bianca can get quite busy in August when the Italians are on vacation.
Be sure to climb the hill of la Torre di Longonsardo. The 16th-century Tower of Longonsardo (Torre di Longonsardo) is set on the Punta Falcone, between the bay of Santa Teresa Gallura and the postcard-perfect Rena Bianca beach, which has the rooftop observation deck to appreciate a view of the unspoiled coastline and turquoise water.
A scene from the James Bond film, ''The Spy Who Loved Me'' with Roger Moore took place here involving a car chase.
Stay in Santa Teresa di Gallura If you want a place close to nice beaches, you are unconcerned about tourist crowds in the summer.
Best places to stay in Santa Teresa di Gallura:
🔍MORE HOTELS IN SANTA TERESSA DE GALLURA
16. San Teodoro – in north-east Sardinia, for nightlife and beaches
San Teodoro, or Santu Diàdoru by locals, is a district in Sassari Province. Its population is 3,500 who are spread over a series of small hamlets covering 40 square miles. It is the east coast of Sardinia which faces Italy. Olbia Airport is just 12 miles away, so San Teodoro is a very accessible part of Sardinia.
Its major attraction is the beaches, La Cinta and Lu Impostu among them. The latter gets the nickname, Little Tahiti because of the beauty of the sea. The beaches are white and sandy, the water shallow, warm and clear. Wetlands are behind the beaches while Monte Nieddu, a local mountain, is worth a hike.
The lagoon, Stagno di San Teodoro is a place where you have a good chance of seeing pink flamingos. Flamingos are very shy, but you will certainly see a splash of color if they are there.
The Museo delle Civilta del Mare has some excellent exhibits of things found locally. They include a piece of a Roman helmet, ceramics, and sundry archaeological items.
Stay in San Teodoro If you want great nightlife and beaches; you want to enjoy the natural environment, nice beaches and warm shallow waters are a priority, making it ideal for families with small children, and you want some good hiking options.
🔍MORE HOTELS IN SAN TEODORO
17. Castelsardo – historic town on northern coast of Sardinia
Castelsardo is a town in Sassari Province on the Sassari Riviera. It is settlement with evidence of human activity long before the Romans. The Doria family from Genoa built a castle here in the 12th-13th Century while the nearby monastery of Nostra Signora di Tergu is from a similar age. Aragon ruled here from the mid-15th Century until the emergence of the Kingdom of Sardinia.
Notable landmarks to see here other than the castle include:
St. Anthony the Abbot with its crypt housing a museum, Marestro di Castelsardo.
Church of St. Mary whose highlight is the wooden Black Christ.
Pre-Nuragic megalithic walls
La Loggia Palace
Palace of Eleonora of Arborea. Eleonora married into the Doria family and became a judge when her siblings were both killed. She retained that role for 20 years until her death in 1404. She is arguably Sardinia's most famous heroine.
Stay in Castelsardo If you have a keen interest in history, you want some variety in your holiday combining beach life with other things.
Best places to stay in Castelsardo:
🔍MORE HOTELS IN CASTELSARDO
18. Orosei – great location for hiking in central north-east
Orosei is a picturesque town on Sardinia's east coast, the Gulf of Orosei. It is just a small place, but it is ideal as a base. There are lovely small bays, stunning beaches and this is an ideal hiking country. The wild cliff coastline is a fragrant nature reserve with beauty at every turn.
Within the town of 5,000 people, there are 13 churches. The Baroque Church of San Giacomo Apostolo, the medieval castle, and Sa Preione Vezza, once a prison, are the main landmarks. Many of the small shops sell local artisan work that makes great presents for friends and family.
San Sebastiano is one of the most charming churches in Orosei, was built in 8th-century, with triple stone arches and a reed-woven ceiling. San Giacomo Apostolo is a baroque-style church, dedicated to San Giacomo Apostolo, patron of the town, located on top of a wide staircase in Piazza del Popolo.
The Sanctuary of the Madonna del Rimedio is one of the most important in Sardinia, with the statue of the Madonna del Rimedio, and worth a visit. Festival of the Madonna Del Rimedio is the longest celebration lasting 18 days, held the first week Friday of September.
Sant'Antonio Abate is an architectural complex, was built in the Pisan period. It is a rural sanctuary surrounded by the cumbessias, which are still used today during the festivities, specifically the Festival of Sant'Antonio in January.
You can get guided tours around Orosei if you wish. There are some pleasant hikes through the surrounding countryside as well. Wine is made locally, and you can see its production, sample it with local cheese, or even take breakfast with a shepherd.
Stay in Orosei if you are keen on the natural environment, you want to learn more about the local history, you want a flavor of authentic Sardinian life, A wine and cheese experience sounds interesting.
Best places to stay in sardinia in Orosei:
19. Santa Maria Navarrese and Tortolì
Tortolì is a fertile haven with gentle, rolling hills and aquamarine seas. This beautiful coastal town also has an incredible red rock formation running parallel to the coastline called Rocce Rosse which provides a stunning contrast against the sea's striking color–and it isn't just for show!
Every year at Tortolì there's a huge blues music festival held in August aptly named "Rocce Rosse Blues Festival."
Santa Maria Navarrese is a small coastal village in the province of Nuoro, on the central-eastern coast of Sardinia. It's also right next door to Tortolì and only about an hour away from Olbia Airport!
One thing that makes Santa Maria so special is its beaches like Cala Sisine and Goloritzè which you can reach by boat for some beautiful views or just walk down steps nearby into town.
Best places to stay in Tortoli:
🔍MORE HOTELS IN TORTOLI
20. Stintino-La Pelosa – beautiful beaches in north-west Sardinia
Take a break from the hustle and bustle of mainland Sardinia by visiting Stintino, where you can enjoy stunning seaside views in peace.
Situated 50 kilometers west of Alghero but away from any major touristy areas, this small fishing village is home to 1,600 people who make their homes among peaceful lanes lined with whitewashed houses draped with bougainvillea or brightly-colored laundry hanging on clotheslines strung across alleyways that back onto the sea.
La Pelosa Beach is a gorgeous beach with crystal-clear, turquoise waters. You can watch the sun set over Asinara Island in front of you from this remote location! Palm trees sway on either side as you relax and enjoy some time to yourself.
The other three beaches are all great spots if your looking for something less crowded or different scenery–Le Saline has unique pebble shores that glisten under the sunlight; Ezzi Mannu features bright colors and tiny rocks jutting out at varying height levels while Tamarisk's white sand will leave an impression on visitors long after they've left their footprints
Best places to stay in Stintino – La Pelosa Beach:
🔍MORE HOTELS IN STINTINO
See more:
Conclusion – Where are the best places to stay in Sardinia?
In conclusion, Cagliari, Villasimius, Costa Rei, Costa Smeralda, La Maddalena, Stintino, Olbia, and Alghero are some of the best places to stay in Sardinia for tourists. They provide safe central locations with a wide range of accommodations and activities for all budget travelers.
Overall, Cagliari (South Sardinia) is the best area to stay in Sardinia for first-timers, offering plenty of amenities and attractions. You will be located close to many restaurants, bars, and shops. You can easily take a day trip to other towns with its public transportation.
Sardinia is a wonderful place, filled with history, culture, golden beaches and stunning scenery, so it's no surprise so many people want to visit. Hopefully, now that you know what many of the locations have to offer, you will know where to stay in Sardinia to get the most out of your own personal trip. That mean's all that's left to do is to go and start getting things booked, so you can experience the island's wonders for yourself.