Where to Stay in Sardinia: Best Areas and Hotels
If you're wondering where to stay in Sardinia, or where is the best area to stay in Sardinia, you're in the right place. In this article, I will give an insight into the best places to stay in Sardinia for first time visitors, couples, families, backpackers, all budget travelers; read on as I show you the best of Sardinia.
The 2nd largest island in the Mediterranean and a location that has been ruled by many different empires throughout the years, Sardinia is a beautiful destination that offers just as much in the way of culture and history as it does stunning beaches.
That said, the wealth of riches on offer can sometimes make deciding on the best location to stay quite challenging, especially for first time visitors.
That's why today, I will be showing you the absolute best the island has to offer and explaining why each one might be right for you. So, if you haven't decided where to stay on your Sardinian adventure yet, I strongly suggest reading on.
Where to Stay in Sardinia: Tips & Info
Before we begin, there are a few things you should keep in mind while reading this, to help you come to your conclusion as quickly and easily as possible.
For example, if you're visiting to go to the beach, would you prefer an exclusive resort like, Costa Smerelda, or a more laid-back destination, like Golfo Aranci?
If you want to see the largest collection of historic buildings and sites first-hand then Cagliari would probably be your best bet, while those who prefer getting their history from museums would be much better suited to Nuoro.
Or what about the activities you have planned while on the island? If you're planning a cruise then you'll need to stay near Olbia, while those who enjoy festivals will find the best range in Alghero.
There's even the matter of whether or not you're travelling with family or small children, where a well-rounded destination like Oristano would be best suited.
If you keep these and other similarly important requirements in mind while reading, it's sure to make your job a whole lot easier.
Where to Stay in Sardinia – The 10 Best Areas to Stay in Sardinia
Now that you have a clear picture of what to be looking out for while reading, allow me to begin our tour of the 10 best places to stay in Sardinia.
Where to Stay in Sardinia – The 10 Best Areas to Stay in Sardinia
Where to Stay in Sardinia Map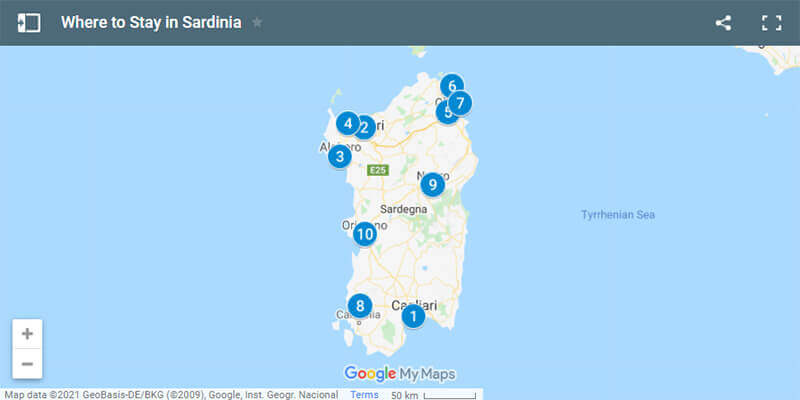 To see more detail of where to stay in Sardinia Map, go to google map;
1. Cagliari – Where Stay in Sardinia for Best Beaches, Unique Cusine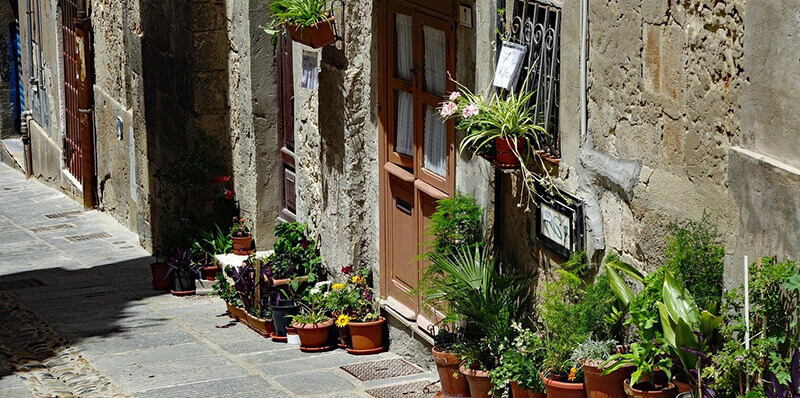 We begin our article in Cagliari, the capital and largest city in Sardinia, and the capital of the former Kingdom Of Sardinia, until it became the Kingdom Of Italy in the mid 1800's. Located on the southern coast of the island, it is the most popular tourist destination in all of Sardinia.
One of its primary draws is the abundance of historical attractions in the city, many of which are remnants of the historical city of Karalis. Locations such as the Tuvixeddu Necropolis, the largest of its kind remaining anywhere in the world, the 5th century Basilica Of San Saturnino, the 13th century Cagliari Cathedral, and the 18th century Basilica Of Our Lady Of Bonaria are just some of the highlights on offer.
Other sites in the area further demonstrate the history of the city through the ages. A Medieval Town with its city walls and two imposing white limestone towers remains largely intact, while there's also the ruins of a Roman settlement, featuring an amphitheatre, an aqueduct, a small temple, some cisterns and a collection of other small buildings to explore.
While the above should be more than enough to keep most history buffs happy, those who would rather be told about the legacy of the city, as opposed to trawling around its historic locations themselves, will be met with a collection of museums and galleries that rivals anywhere else on earth.
Don't worry if history isn't your thing though, as the city has plenty of other things to offer.
First is its legendary cuisine, which is considered unique from the rest of the island. It Revolves largely around fresh seafood, brought daily into its port, which is one of the largest in all of the Mediterranean, and stunning wines, grown in the vineyards surrounding the city.
This provides visitors the opportunity to have a relaxing, yet sophisticated vacation, sampling the finer things in life, while staring out at the beautiful views along the coast.
Speaking of which, the area also features a number of stunning beaches, such as Spiaggia Del Poetto, making it a perfect spot for anyone looking to top up their tan or have fun in the surf and sand.
You combine all of this and it should become clear that Cagliari is an incredibly well-rounded destination, suitable for people with a wide range of tastes and interests.
STAY IN CAGLIARI IF:
You are interested in the history of the city
You want to sample its unique cuisine
You enjoy beautiful beaches
You want to visit one of the biggest ports in the Mediterranean
You are a fan of wine
2. Sassari – Best Area for History and Culture
Moving on to our second destination takes us to the north west of the island, to Sardinia's second largest city, Sassari. Despite being the closest competitor to Cagliari in size, the two cities differ from one another in a variety of ways.
For starters, while there is still plenty of history on offer in the city, most of it is from a much more recent time, with it having been settled in the 12th century. This means you will find different styles in the architecture here, such as Baroque, Gothic and Neoclassic.
Churches, cathedrals and even a cemetery perfectly display this changing style, with many additions and repairs to the existing buildings displaying a distinctly different vibe to their foundations.
There are still a few older sites to be found here as well, such as the prehistoric pyramid Monte d'Accoddi and the remains of a previously demolished castle.
Perhaps the most famous attractions in the city are the 13th century walls that surround it, originally featuring 36 towers, of which 6 remain, and the Fountain Of The Rosello, a stunning fountain, built at the very start of the 17th century, that is recognised as the symbol of the city.
Another of the city's main attractions is actually located outside of its walls. Surrounded by olive plantations, this is the primary place in Sardinia for growing the fruit. That makes it ideal for anyone who wants to take a trip round a plantation, enjoy some fresh olives, or taste some of the finest olive oil you will ever come across.
While its inland location will likely deter those looking for a beach vacation, what it does is provides visitors the opportunity to have a more traditional, relaxing and cultured trip than you are likely to get in a destination surrounded by tourists.
STAY IN SASSARI IF:
You are interested in the history and culture of the city
You want to sample some fresh olives and olive oil or visit a plantation
You aren't interested in the beach
You want to see architecture from a wide range of artistic styles
3. Alghero – Where to Stay in Sardinia for Hiking
Not too far from Sassari, on the coast to the south west, You'll find our next destination of Alghero, which features a population less than 1/3rd of either location we've looked at so far.
Due to its strategic location on the Mediterranean, Alghero was fortified as early as 1100 A.D. The walls of these fortifications can still be seen today, with 7 towers and 3 forts located along their perimeter.
Despite the city as we know it today being settled in the 12th century, the area has been inhabited since as far back as 4000 B.C. For anyone interested in learning more about its prehistoric past and how it has evolved over thousands of years, sites such as the Anghelu Necropolis, the Santu Pedru Hill and the Villa Romana Of Santa Imbenia all remain in incredible condition despite their age.
There are even a number of Nuraghe, traditional Sardinian dwellings, dotted around the area and open for people to explore.
For those so inclined, there is also a great deal of religious architecture in the area to discover and learn from. Sites like the Chiesa Della Purissima Di Iglesias, the Alghero Cathedral, the Madonna Del Santo Rosario and the churches of St. Francis and St. Michael are all beautiful examples of the evolving architecture in the area through the years.
Despite its abundance of history, that isn't actually the main draw that bring people to Alghero. That distinction belongs to the city's fabulous collection of beaches, bars, cafes, restaurants and shops.
These give you a wide range of choices when you're looking for a vacation all about relaxing in the sun. Much quieter than other similar destinations, you can spend your days lazing on the beach and in cafes or browsing through the collection of local and traditional shops.
Then, when night falls, you can sample some of the island's exquisite cuisine in a beautiful restaurant, while looking out at the serene waters off the coast.
For the more adventurous of you, there are even a couple of fantastic nature parks in the area, perfect for those who like to get out on a hike and experience the regions more natural side.
STAY IN ALGHERO IF:
You enjoy hiking
You love beaches
You are a fan of religious architecture
You want to spend some time in a nature park
You are interested in historic military fortifications
4. Porto Torres – Best Area to Stay for Seafood Lovers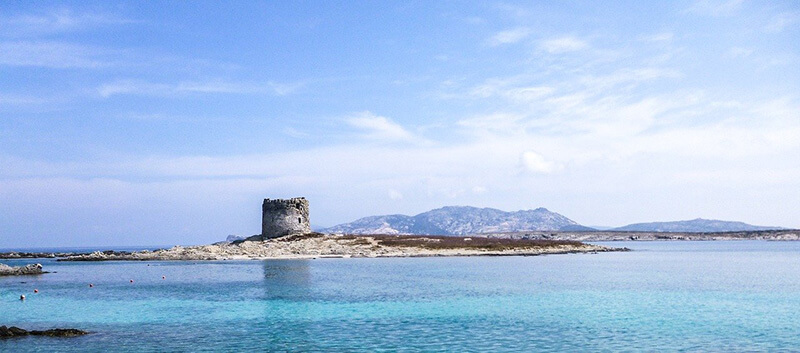 Another destination found only a short distance from Sassari, this time to the north, Porto Torres is a popular destination with tourists who want to mix culture and history with relaxation but prefer to slightly prioritise the latter of those two things.
The reason for this is that Porto Torres is an area surrounded by a large number of stunning beaches. No fewer than 9 beaches can be found in the area, with varying levels of activities, amenities and visitors, providing you with the chance to find a beach perfectly suited to your own personal taste.
If beaches aren't your personal preference when it comes to relaxing, there are also a number of parks and protected areas in the region, where you can spend the days walking and taking in the natural beauty of the region.
Perhaps the most famous of these is Asinara National Park. Located on an island just off the coast, the island has an incredible history. It was originally used as a quarantine island, before being turned into a prison camp during World War 1, which was repurposed into a high security prison during the 70's, until it gained its protected status in 1996.
Also known as "Devil Island", due to its past uses, the name literally translates to "donkey inhabited", which better represents its current standing, as a destination filled with beautiful natural habitats and even a sanctuary for marine mammals.
For those looking for a little more culture from the area, there are plenty of traditional nuraghes, churches, military structures and both Roman and Greek ruins to spend your days exploring. Throw in the area's reputation for fresh produce and seafood and you have yourself a perfect destination for a well-rounded, relaxing getaway in the sun.
STAY IN PORTO TORRES IF:
Your main interest is beaches
You want to explore a national park with a unique history
You enjoy fresh seafood
You still want to see some of the local history and culture while you're here
5. Olbia – Best Area to Stay to Visit Mainland Italy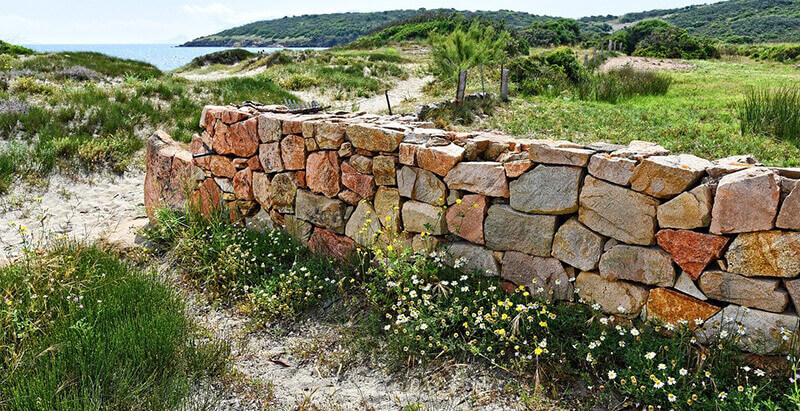 We now move across the island, to the city of Olbia, located in a bay on the north eastern coast of Sardinia. While not notorious as a tourist destination in its own right, it does have one feature that makes it an attractive prospect to visitors, which is its port.
Located in the well protected Gulf Of Olbia, Porto Olbia is one of the most active ports on the island, particularly with cruise ships, and is considered to be the main gateway to mainland Italy.
Featuring both an airport and a train station that connects it to the rest of the island, as well as being only a short distance from some of the best beach resorts in Sardinia, Olbia is an ideal choice for people staying on the island for a couple of days while on a cruise or planning to use it as the launching point for one.
That said, the area is not without attractions of its own either. There is the 11th century Basilica Of San Simplicio and the medieval Church Of St Paul The Apostle for those looking to see some of the island's religious history. Then the Pedres Castle and remains of both Carthaginian walls and a Roman aqueduct and forum should satisfy fans of a more ancient type of history.
There's even the National Archaeology Museum, for those looking for a little more information on the artifacts they are seeing, as well as a collection of dolmens, menhirs and nuraghes, for anyone who simply wants to experience the traditional dwellings and structures of the region.
It is even home to the largest park in Sardinia, Fausto Noce Park, and the River Park Of Padrongianus, so is perfect for those who enjoy walking and exploring the regions more natural side.
At the end of the day, while this is a destination aimed more at people looking for something specific than the public in general, it's a location that is ideal if you fall into its target demographic.
STAY IN OLBIA IF:
You are taking a cruise
You want to visit mainland Italy
You want a popular beach resort not too far away
You're a fan of nature walks
6. Costa Smerelda – Where to Stay in Sardinia for Stunning Beaches, Fine Dining
While looking at our previous option, I mentioned a few nearby beach destinations on a number of occasions, one of which is where we are going to look at now. The destination in question is the area of Costa Smerelda, perhaps the most popular tourist destination in Sardinia for anyone who is seeking a beach vacation.
Home to a number of the best beaches on the island, people flock here from all over the world, to relax on its golden sands. However, it has to be noted that Costa Smerelda is what you would consider an exclusive destination, as it is recognised as the most expensive location in Europe.
While this may put many visitors off, it will also make it an ideal location for a number of others. Featuring high end shops, restaurants, bars and cafes, it gives you the chance to treat yourself to a luxurious vacation.
With days spent lazing on the beach or browsing the exclusive shops and boutiques, to evenings enjoying fine dining and sipping drinks while looking out over the stunning marina, you can truly embrace the highlife and let go of all your cares for a while.
STAY IN COSTA SMERELDA IF:
You aren't worried about price
You prefer a more exclusive location
You prioritise stunning beaches
You enjoy fine dining
7. Golfo Aranci – Where to Stay for Family with Children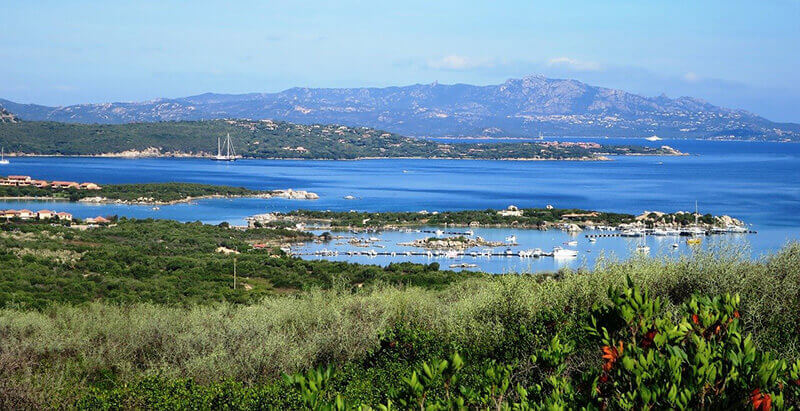 If many of the features at our previous destination appealed to you but the price or exclusive feeling put you off, then Golfo Aranci may be your perfect destination. Located just south of Costa Smerelda, between it and Olbia, Golfo Aranci has many of the same trademarks as its neighbour but is generally a more accessible destination for most.
While the stunning beaches remain, prices are considerably lower and there is a more relaxed, family friendly environment. Many of the high-end establishments have instead been replaced with more affordable alternatives.
The beaches are slightly less focused on being relaxing places for you to top up your tan, although that is still definitely possible, and are instead places for people to unwind and have fun in the surf and sand.
This doesn't by any means lead to a dip in quality of what's on offer here, it's simply a different style in which it is presented. Restaurants serve incredible food, with menus fuelled by the thriving fishing industry in the town that provide them with seafood.
Bars are plentiful and feature a great range of styles, prices and locations, ensuring there is likely something for everyone.
What you essentially have here is your traditional beach destination, a place where people of all ages and backgrounds can come for a good time in the sun.
STAY IN GOLFO ARANCI IF:
Your priority is great beaches
You are watching what you spend
You aren't a fan of "exclusive" destinations
You are travelling with kids
8. Iglesias – Best Area To Explore An Incredible Collection Of Churches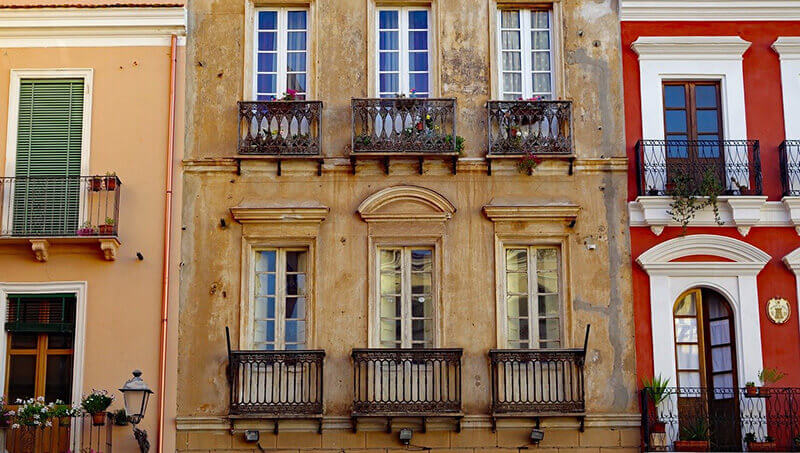 We move now to the south west of the island, to the city of Iglesias. Located in the hills around 7 miles inland, it is certainly possible to visit the numerous beaches and bays in the area during your stay, however this is a destination that primarily revolves around its cultural and historical offerings.
With Sardinia under Spanish rule until the 18th century, Iglesias was considered one of the most important locations on the island by the Crown Of Aragon. As such, there are an incredible collection of buildings and artifacts remaining, which provide great insights into the region during that time.
From castles and medieval fortifications to its cathedral and incredible number of historic churches, the city is brimming with locations that demonstrate its culture from that era. The area also featured a prominent mining industry, with the Monteponi Mine and Mining Art Museum allowing visitors the chance to understand the focal point of the city's economy.
Whether you want to truly delve into the depths of the history or simply stroll around the streets and piazza's, enjoying the beauty of the buildings and structures around you, Iglesias has plenty to keep you in awe throughout your stay.
STAY IN IGLESIAS IF:
You are interested in the medieval history of the island
You want to learn more about the history of mining in the area
You want to explore an incredible collection of churches
You prefer to stay up in the hills
9. Oristano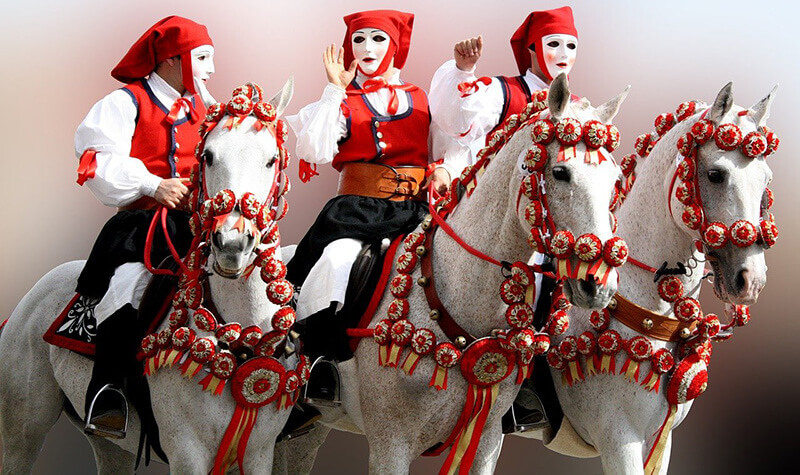 For our penultimate destination we will travel north up the coast from Iglesias, to the city of Oristano. Another slightly inland town, it is again a destination where the main attraction on offer is its historical sites, particularly of the religious kind.
A collection of churches, chapels and cloisters, some dating as far back as the Roman era, surround one of the city's standout features, the 12th century St. Marys Cathedral. This and the Tower Of St Christophoros combine to form a powerful memorial to the city's past, showing the grandeur and architectural prowess that they possessed.
One of the most popular draws to the city occurs on carnival Sunday and Mardi Gras, in the form of a festival known as Sa Sartiglia, which has been taking place for more than 500 years. The event is an equestrian tournament, where masked riders gallop through the streets around the cathedral with swords, attempting to claim ribbons suspended above them.
This unique sight draws people from around the world to witness a spectacle unlike anything else they are likely to have experienced.
While it is similar to Iglesias in many ways, one in which it does differ is that it is much closer to the coast and beaches. This makes it considerably easier for anyone wanting to mix a few days of lazing on the beach with seeing the sights and spectacles of the city.
STAY IN ORISTANO IF:
You are attending the Sa Sartiglia festival
You are interested in religious architecture
You don't want to be too far from the beach
10. Nuoro – Best Central Location to Stay in Sardinia
Our final destination of Nuoro is located in the heart of the island and is another where history is its major draw, even being recognised as one of the most important cultural centres of the region.
The birthplace of countless painters, poets, sculptors and writers, the city is filled with stunning buildings, cathedrals, churches, monuments and piazzas. However, it is one particular type of building that makes the city so attractive.
The type of building in question is museums, as Nuoro is home to some of the most important in all Sardinia. The Sardinian Ethnographic Museum, the National Archaeological Museum Of Nuoro, and the Modern Art Museum Of The Nuoro Province are just a few of the institutions available in Nuoro.
So, if you're someone who's a fan of museums, you should have Nuoro right at the top of you list when it comes to picking a destination.
STAY IN NUORO IF:
You want a central, inland location
You are a fan of museums
Now, with our list taken care of, there will be many of you who are all set. However, for those who are still undecided, I will now answer some of the most frequently asked questions people have about Sardinia, to try and help you make your decision too.
Should You Stay In Sardinia North Or South?
Whether it is better to stay in the north or south of Sardinia is purely down to personal preference. The south of the island is filled with historic, cultural destinations, like Cagliari and beautiful, calm sand beaches. If you simply want to stroll along the sand or through fabled streets, then this is probably a good choice for you.
While there is still plenty of history, culture and sandy beaches in the north, it also has a little bit more of an edge to it, and I'm not just taking about the caves and coves along the rugged coastline. With high octane destinations like Costa Smerelda and cities like Alghero hosting festivals that last 6-months, it certainly seems there's a little more life to things up here.
At the end of the day, both are fabulous choices, which one you pick is entirely down to your personal preferences.
Where To Stay In Sardinia For The Best Beaches?
Choosing where to stay based on beaches brings me to two options, with either one a potential choice, depending on what sort of beach you're looking for.
If you want a high-end, exclusive area, with relaxing beaches, then Costa Smerelda and the Cervo Hotel Costa Smerelda Resort, with its stunning views and classy surroundings, should provide everything you're looking for.
However, if you would prefer a slightly more fun-filled, laid back environment, then Golfo Aranci is located just a few miles down the coast. It offers beaches of a similar quality and has the Gabbiano Azzurro Hotel & Suites located right on the sand.
Where To Stay In Sardinia For Nightlife?
Despite being a fairly pricey area, Costa Smerelda is comfortably the most popular spot on the island for nightlife, with clubs and bars open into the early hours being one of the prime reasons it has developed its tourist reputation.
While you may worry about coming to such a pricey area if you weren't already planning to, think of it as Sardinia's answer to Miami and perhaps you will change your mind. Just like when discussing beaches above, I would again recommend the Cervo Hotel Costa Smerelda Resort as the ideal spot to stay in the area.
Where To Stay In Sardinia For Hiking?
Selecting a destination for hiking in Sardinia could bring you to a host of different answers but I would personally have to go with Alghero. Whether it be hiking around the ancient city walls or to the beaches, bays and natural parks surrounding it, there are great options in abundance for walkers and hikers on this part of the island.
Perhaps its best offering is the Hotel Catalunya, a 4-star hotel, with a "fabulous" 8.6/10 rating, located right on the tourist harbour, providing visitors with sensational views.
Where To Stay In Sardinia Without A Car?
While I was tempted to recommend Cagliari for this one, in the end I had to go with Olbia for its transport links.
With its port and airport allowing you to conveniently arrive and leave Sardinia, trains running to other cities on the island and regular buses to some of its most amazing beaches, Olbia is a destination where you can experience a little bit of everything, even without renting a car.
The Hotel Panorama is a perfect choice for such a visit. A 4-star hotel, with a "superb" 9.1/10 rating, located in the heart of the city, it combines quality and convenience in a single package.
Where To Stay In Sardinia With Family?
Selecting a destination for a family needs to be one that offers a little bit of everything, which is why I have gone with Oristano.
It provides plenty of culture and history to keep older guests happy, has a beach with calm, shallow waters, ideal for small children and weak swimmers, and will also be less crowded than more popular destinations, offering you a more relaxed environment in which to keep your group together.
I would also recommend the Hotel Il Duomo, a 4-star hotel with a "fabulous" 8.6/10 rating, which will provide, comfortable, luxurious surroundings, for you and all the family.
Where To Stay In Sardinia In April?
For those visiting Sardinia in April, I would recommend staying in Alghero, as this is when the Festival Alguer will begin. With an array of open-air musicals, live jazz shows, theatrical performances and cultural events, held at two of the city's most historic venues, it is a truly magnificent spectacle to be a part of.
As I did when we discussed hiking, I will again recommend the Hotel Catalunya as the place to stay while in town, as it simply covers all the bases.
Where To Stay In Sardinia In June?
For anyone visiting the island in June, I would highly recommend staying in Olbia, as this is when Le Cozze Di Olbia, also known as Mussel Month, takes place. A festival where more than 30 different restaurants provide exhibitions and cook unique and interesting dishes, if you're a fan of seafood, this is an experience you aren't going to want to miss.
As I mentioned in the "where to stay without a car" section, the Hotel Panorama is the best choice for accommodation in the city, to keep you right in the thick of things at all times.
Where To Stay In Sardinia In July?
With July being the height of the season for destinations like this, there is plenty going on across the island to keep you entertained. That said, if I had to narrow it down to a single destination for visiting at this time of year, I would go with Sardinia's capital of Cagliari.
The reason for this is that there are two festivals occurring in the region at this time: the Ross Tango Art Festival in the city and the Sagra Delle Pesche peach festival in the nearby village of San Sperate.
While neither are going to make you travel to the island by themselves, they both offer an additional insight into the fabulous culture on offer here.
The city also offers you the perfect place to stay, in the shape of the Palazzo Doglio. A 5-star hotel with a "superb" 9.1/10 rating, it will allow you to spend your entire trip surrounded by luxury.
Where To Stay In Sardinia In August?
Of all the attractions on the island in August, perhaps none are as special as the Festival Of Monti Vermentino. A 2-day wine festival, featuring wine tasting, folk dancing, live local music and fresh food stalls, all held in an old-fashioned wine village, what better way to soak up the true local culture of the island.
While I wouldn't recommend staying in the village itself, as there is little else to do, nearby Golfo Aranci and its Gabbiano Azzurro Hotel & Suites offer a perfect alternative. Not only is it located close to the village but the historic train that runs between the two will add even more to the experience.
Where To Stay In Sardinia In September?
For those visiting Sardinia in September, I would again recommend Alghero. While I already mentioned the Festival Alguer, this is when the Saint Miquel takes place. Essentially the closing ceremonies of a 6-month long festival in the city, everything goes into overdrive now. All of the attractions, performances and culture you could dream of come to life throughout the entire city, making for a truly wonderful experience.
Considering I recommended the Hotel Catalunya for those visiting Sardinia in April, I will do so again, as its selling points are no less valuable now than they were before.
Where To Stay In Sardinia In October?
When it comes to visiting the island in October, I am going to recommend Alghero and the Hotel Catalunya one last time. This time it is for a different reason though, as it is now that the city hosts the Alghero Challenge Cup.
A regatta held by the Alghero Yacht Club, it features many spectator events in the harbour that visitors can enjoy, as well as some in the town, such as a torch lit procession through the streets.
What better way to add a little extra to your trip than getting to watch everything unfold while eating or drinking in one of the city's fabulous bars and restaurants.
Best Time To Visit Sardinia?
If I had to recommend the best time to visit Sardinia, I would go with either June or September, for two reasons.
Firstly, the weather is beautiful at this time of year but isn't quite as hot as the two months in between, meaning you can enjoy it without things becoming a little too much. Then there is the fact that schools will be in during that time, which means you won't have to contend with overly large crowds on the beaches or at the attractions.
You combine these two factors, and it becomes clear that June and September are the ideal months to visit the island of Sardinia.
How To Get Around Sardinia?
When it comes to travelling around Sardinia, you do have a few options. If you plan to stay in a single location, you could simply walk around and take in the beauty of the island on your way between stops. Alternately, those who would prefer to see more of the island could also make use of the public transport, with buses and trains available in certain destinations.
For the more extravagant of you, you could even hire a boat or yacht and sail your way from place to place along the coast. However, despite all of that, on an island the size of Sardinia, easily the most cost and time efficient option is to rent a car.
With so much to do and see here, being able to get from place to place with as little fuss or wasted time as possible is essential if you want to fit everything in. Considering the alternatives, if you have your heart set on travelling around, I strongly recommend renting a car for the duration of your stay.
Best Things To Do And See In Sardinia?
Narrowing down what to do and see in Sardinia is quite a challenge, given how much the island offers. However, there are a few options that particularly stand out.
First there is Asinara National Park. With such a unique history and beautiful landscape, it provides something so different to everything else on the island that it will help you spice things up a bit.
Second is the olive plantations around Sassari. Given how synonymous the fruit is with Italian culture, you simply have to take the opportunity to experience it at the source.
Then you have the capital city of Cagliari, which is simply brimming with history and culture in every direction. No matter why you are visiting or where you are staying, I highly recommend everyone spend at least a day here.
Beyond that, you could easily spend your time hiking through nature parks, exploring historic locations, relaxing on glorious beaches or taking incredible cruises. While I couldn't possibly list everything to do, just know you certainly won't be left wanting for activities in Sardinia.
Conclusion
Sardinia is a wonderful place, filled with history, culture, golden beaches and stunning scenery, so it's no surprise so many people want to visit. Hopefully, now that you know what many of the locations have to offer, you will know where to stay to get the most out of your own personal trip.
That mean's all that's left to do is to go and start getting things booked, so you can experience the island's wonders for yourself.
---
---