The best areas to stay in Rome for first-timers are Centro Storico, Piazza di Spagna, Trastevere, Prati & Borgo, Monti, Trevi, Termini Central Station, and Testaccio. These are popular and safe neighborhoods for tourists that offer a wide variety of attractions and amenities.
In this blog post, we will be looking at where to stay in Rome for the first time, for families, couples, singles, and one night.
Rome is the capital and the most visited city in Italy. It is the 4th most populous city in the European Union. Rome's history spans more than 2,500 years. The city was the capital of the Roman Kingdom, Roman Republic, Roman Empire, as well as the birthplace of Western civilisation.
Rome is known as the City of Seven Hills because, according to tradition, Rome was founded on seven hills east of the Tiber River, in 753BC by its first king, Romulus, and his twin brother, Remus. Rome was first called The Eternal City by the Roman poet Tibullus in the 1st century BC.
The Italian capital is divided into two areas by the Tiber river. On the east side of the river, you can find the Centro Storico, with Spanish Steps, Trevi Fountain, Imperial Forums, Pantheon, and Roman-era Colosseum. On the west side of the river, you will find the Vatican city and the stunning Trastevere neighborhood.
Rome is general a safe city to visit, but as in any tourist city, you should stay alert and be aware of pickpocketing. You should avoid areas around Corviale, Tor Bella Monaca, Romanina, San Basilio, and Termini station at night. The safest areas to stay in Rome are in Rome Historic Center and Prati.
Centro Storico is the best place to stay in Rome for first-timers due to its close proximity to the Rome's most famous tourist attractions such as Spanish Steps, Trevi Fountain, Pantheon, and Colosseum. If you stay here, you will be located in the middle of action, within walking distance to many sights, restaurants, bars, and shops.
If you are more interested in visiting the Vatican, you might want to stay over the city's western side across the river Tiber. If you want to stay near the Vatican, then the District of Borgo and Prati is an excellent choice.
Rome has some decent public transport. You can travel around Rome easily on the Metro subway system, but there are only four lines, so it isn't the most extensive network. The city has a good bus service, and a tram network too. As a visitor, something you should look out for is the combined public transport and museum tickets that allow you to travel around the city for free, exploring a number of the major sights at no additional cost.
If this is your first visit, I suggest spending at least 3 to 5 days in Rome to explore the city without rushing. This will allow you to see the most famous attractions, enjoy famous food and drink, as well as get the sense of the local history and culture. If you have more days, you can explore the city in a slower and more relaxing pace.
🎬 Check out this short video, the full video is at the end of this post:
11 Best areas to stay in Rome tourists
1. Centro Storico, where to stay in Rome for first-timers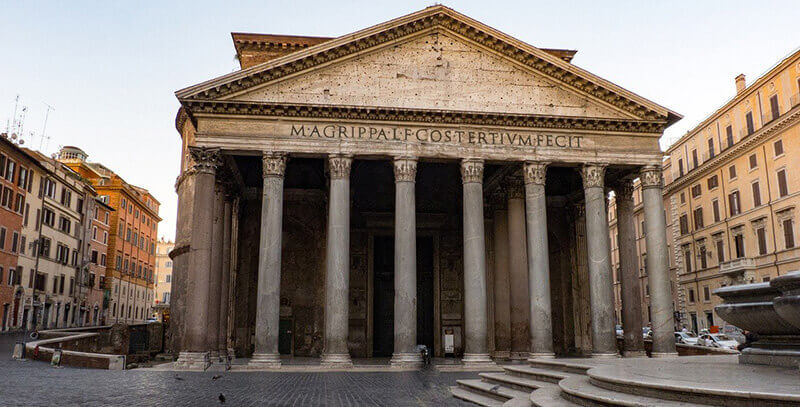 Centro Storico is the best area to stay in Rome for first-time visitors due to its super central location. If you stay here, you will be located within walking distance to top sights such as Piazza Navona, Pantheon, Campo de'Fiori, Trevi Fountain, and Spanish Square, as well as many restaurants, bars, and shops.
Historic Center is the heart of the Eternal City. This district of Rome is located just to the west of the modern center, on the banks of the river Tiber. The area spreads out around the old Roman forum and is absolutely packed with fabulous Renaissance architecture and any number of historical sights.
The Pantheon is one of the oldest and most impressive things to see in the historic center of Rome. This ancient church dates back to the 2nd century when it was built by the emperor Hadrian. The Pantheon is a stunning structure with a unique domed roof, and it is still used as a functioning church today.
There are many other beautiful churches near the Pantheon, including the Sant Ignazio di Loyola Church with its beautiful ceiling art and San Luigi dei Francesi with several paintings by Caravaggio. Other Roman attractions nearby are the Piazza della Rotonda, Obelisco della Minerva, and Temple of Adriano.
Perhaps the best way to experience the central historical is just to explore it on foot, strolling around the beautiful ancient squares, visiting palaces, museums, and fountains as you come across them, and stopping for a coffee in one of the scores of little restaurants and cafes around the area.
The Piazza Navona is a particularly attractive square that contains the stunning church Sant'Agnese in Agone, Fontana del Moro, Fountain of Neptune, Fountain of the Four River, Pamphilj Palace, and Museum of Rome (Palazzo Braschi). The square was built on the site of ancient Domitian Stadium in order of the emperor in 86 AD. It was Baroque masterpieces of Bernini and Borromini. There is a christmas market here around christmas.
Within easy walking distance from Piazza Navona, you will find the center of ancient Rome, Campo de'Fiori. Literally means field of flowers, this is a square with a daily outdoor market for vegetables, fruits, flowers, and even souvenirs. There is statue of philosopher Giordano Bruno in the middle of the piazza who was burned here in the 17th century.
Nearby, the Jewish Ghetto is where you can enjoy the best of Italian and kosher food. The Ghetto was home to a very important Jewish community, built in 1555 in the Rione Sant'Angelo. You can find Teatro Marcello, Great Synagogue, Jewish Museum of Rome, La Bocca della Verità, and Turtle Fountain.
The Historic center is also famous for its beautiful narrow cobbled streets, Via Giulia is one of the charming streets in Rome. This 1km long road was designed in the 1500s by Bramante to ease access to the Vatican. This quiet street is lined with elegant palazzos, churches, embassies, and the interesting Farnese Arch, which was designed by Michaelangelo.
There are some fantastic places to eat here, including fabulous pizzerias, delicious gelaterias with incredible gelato ice cream, and some splendid little tavernas and wine bars. For the best coffee, head to the famous Sant'Eustachio, and Punto Gelato is next to it if you want good ice cream.
All tourist attractions are located within walking distance apart, you can easily explore on foot saving money on taxi and public transport. In addition, Rome hictoric center also offers wide range of accommodation options ranging from luxury 5 star hotels to budget backpacker guest houses.
Stay in Centro Storico if you are first time visiting Rome; you want to find the best hotel in Rome close to all attractions; you want to stay in the prettiest part of town; you want a good choice of hotels;
Best places to stay in Rome in the Historic Centre:
luxury ($$$): The Pantheon Iconic Rome Hotel, Autograph Collection This 5-star hotel is located few steps from Pantheon and Piazza Navona. You can enjoy a meal at on-site Michelin- starred restaurant and drink at The Divinity Terrace Lounge Bar with views of Rome's rooftops.
mid-range ($$): Little Queen Pantheon This guesthouse is located right in the heart of Rome. It offers air-conditioned rooms with a desk, a kettle, a minibar, a safety deposit box, a flat-screen TV, as well as a private bathroom.
budget ($): Albergo del Senato Boasting a rooftop terrace overlooking the Pantheon dome, the elegant is located in Piazza della Rotonda square in Rome's historical center. Piazza Navona and the Trevi Fountain are both a 5-minute walk away. The area is full of restaurants and bars and shops.
🔍MORE HOTEL DEALS IN HISTORIC CENTRE
2. Piazza di Spagna, where to stay in Rome for families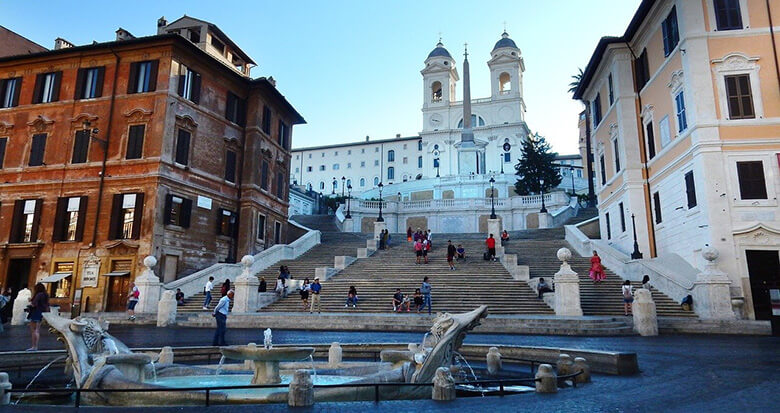 Piazza Di Spagna, or Spanish Square in English, is one of Rome's most visited and famous squares. Piazza di Spagna is one of the best places to stay in Rome for first-timers because it has a central location, located within walking distance to Trevi Fountain, Piazza del Popolo, Borghese Gardens, and Pincian Hill.
The areas around Spanish Steps and Piazza di Spagna are wealthy and attractive parts of Rome. They are delightful places to stay if you want luxury hotel, designer shopping, and fine dining restaurants.
Piazza di Spagna is so famous for many reasons. First, the square is home to the Spanish Steps, which is a grand and sweeping staircase that you will recognize from any number of movies. These baroque-style public stairs were built in the 18th-century to connect Piazza di Spagna to the Trinità dei Monti church.
Additionally, Piazza di Spagna is home to some stunning statues and sculptures. There is an authentic Egyptian ancient Obelisk and a spectacular fountain, Fontana della Barcaccia, sculpted by Gian Lorenzo Bernini.
Finally, Piazza di Spagna is well-known for its stylish luxury shops. Via dei Condotti and Via del Corso nearby are the main shopping drags in Rome and is dedicated to high fashion with brand like Gucci, Bulgari, Fendi, Valentino, Versace, Chanel, and Prada.
There are some fabulous restaurants around Via Veneto. A visit to Harry's Bar is a tourist favorite since it was immortalized in the movie La Dolce Vita. Enjoy a dinner at a Michelin-starred restaurant like La Terrazza, or grab a morning coffee at the historical Antico Caffé Greco.
Right next door to the Spanish Steps is Keats-Shelley Memorial House, the final home of Romantic poet John Keats. If you want want a taste of England in an Italian setting, head to Babington's Tea Room to enjoy an authentic high tea experience.
Spanish Square is an excellent place to stay if you're with family since you have a large park and zoo nearby. Villa Borghese gardens have been opened to public since 1903. The garden has a stunning ornate landscape that contain spectacular buildings and the excellent Borghese Gallery (Galleria Borghese).
The Galleria Borghese has splendid sculptures and paintings, including works by Caravaggio, Bernini, Rafael and Titian. If its art gallery not enough, you can visit the Museo Carloi Bilotti and Canonica with various works of art.
Inside the garden, you can find Villa Borghese Zoo / Bioparco di Roma with more than 1,000 animals include big cats, meerkats, reptiles, and hippos. It's a great attraction for the whole family, no matter what age you are!
Other places of interest are a tranquil lake, Pincio's Water Clock, The Globe Theatre, Temple of Asclepius, Puppet Theatre, Cinema dei Piccoli, and the 16th-century mansion Villa Medici. You can cycling, walking, take Segway tours, or enjoy picnics here.
Located next to the Villa Borghese, the suburb of Parioli is a beautiful and extremely upmarket District of Rome. If you want to stay in relative peace and quiet, but still conveniently close to the modern and historical centers of the city, then this is a good option.
The Spanish Square is mostly pedestrianized, you can explore on foot, but because lots of cobbled street, make sure bring good pair of shoes. Several buses and the metro serve this area. There is Metro Line A at stops Barberini and Spagna.
Stay in Spanish Square if you travel with your family; you want a beautiful, quieter part of Rome; you want a classy, upscale hotel; you are visiting Rome for the first time;
Best places to stay in Rome in Spanish Square:
luxury ($$$): Hassler Roma This 5-star hotel is located at the top of the Spanish Steps, 5-minute walk from Spagna Metro. Its restaurant and gym have panoramic views over Rome's rooftops. There is a Michelin-starred Imàgo on the 6th floor, the stylish Salone Eva, and the Palm Court restaurant with its ancient stone walls.
mid-range ($$): Condotti Boutique Hotel This 4-star boutique hotel, located just around the corner from Spanish Steps. It is only 20m from Spagna Metro Station, line A offers quick links to Vatican, Trevi Fountain, and Termini Central Station.
budget ($): Hotel Scalinata Di Spagna This 3-star hotel has a covered rooftop terrace, rooms with a free wifi and free minibar. It is within easy walk from Spagna Metro Station. There is a sweet and savoury buffet breafast with scrambled eggs, bacon, fresh fruit, cold cuts and cheese.
🔍MORE HOTEL DEALS IN PIAZZA DI SPAGNA
Read more:
3. Trastevere, where to stay in Rome for nightlife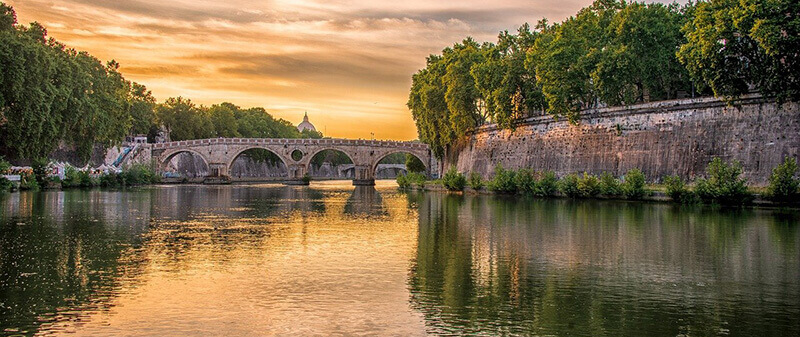 Trastevere is one of the best places to stay in Rome for first-time visitors who want vibrant nightlife because it is one of the most authentic areas in Rome, it is a beautiful, central neighborhood, and less crowded than the historic center.
Trastevere is a Roman suburb on the west bank of the river Tiber, on the other side of the River Tiber from Rome old center. Trastevere is within a 30-minute walk from Vatican City, Colosseum, and the historic center.
If you want lively nightlife, hip, bohemian, and inviting part of town, Trastevere is a great option. This part of Rome is also an excellent choice for travelers on a budget. It's a very cosmopolitan area and is home to two large universities.
Trastevere is packed with good value traditional restaurants, trattorias, pizzerias, wine bars, pubs, and clubs. Famous for its thin and crispy pizza, check out La Boccaccia, Dar Poeta, Ivo a Trastevere for fresh from a wood oven pizzas.
Trastevere is home to the Orto Botanico, or Botanical Garden where you can fine bamboo groves, Japanese gardens, and greenhouses. It was the private garden of the nearby Palazzo Corsini. You can head to the Gianicolo hill after visiing the garden.
Rome is a city built, famously, on seven hills, and Janiculum Hill, Gianicolo in Italian, is one of them. While you are in Trastevere, you should climb up here and enjoy spectacular views across the city. Grab a drink and enjoy lovely sunset.
This district is one of the most exciting parts of Rome to explore on foot. There are charming cobbled streets and Piazzas full of places to eat, drink, and shop. People-watching in The Piazza Santa Maria is an excellent way to pass the time. Here you will find Rome's oldest Marian church, Basilica of Santa Maria, and a fountain is a meeting place.
Apart from Basilica of Santa Maria, another beautiful church in Trastevere is the Church of Santa Cecilia, famous for its elaborate crypt and a charming Baroque-era sculpture of the saint.
To the south of Piazza Sant Maria, you'll find a local food market in Piazza di San Cosimato. It sells local fresh fruits, vegetables, sausage, and cheese specialties. The market is a great place to experience the local life of the Eternal City.
The Sunday Porta Portese flea market opens from 07.00 until 14.00. It is one of the largest flea markets in Europe. There are hundred of stalls, you can find vintage clothing and antiques, rrare books, and chandeliers.
Ponte Sisto bridge is one of the popular bridges in Rome, connecting Campo de' Fiori with Trastevere. In the evening you'll find musicians and street performers entertaining here. Nearby, the Piazza Trilussa is a hangout place for locals and students to enjoy the nightlife, eating, and drinking.
Sistio and Fabricio bridges also connects Trastevere with L'Isola Tiberina. Trasteverino land hosts events and food festivals. There is open-air Isola del Cinema in summer months.
Trastevere is packed with small picturesque cobbled streets, traditional houses, and green spaces. Many of Trastevere's cobbled streets are called vicoli. Have look for Vicolo del Piede, Vicolo del Cinque, and Via Titta Scarpetta.
Trastevere is served by Trastevere train station, tram 8 runs along Viale di Trastevere to Piazza Venezia and Roman Forum. There is trains from Fiumicino airport to Trastevere train station, as well as airport coaches from Ciampino airport to Trastevere.
There is good value hotels here too, with plenty of hostels, and some excellent small hotels and apartment rentals. The best area to book the accommodations in Trastevere is around Via della Lungarina, between Tiber Island and Viale di Trastevere.
Stay in Trastevere if you want buzzing nightlife scene; you're traveling on a budget; you want to stay in a authentic, real Rome neighborhood; you want traditional Roman food; you are a first-time traveler;
Best places to stay in Rome in Trastevere:
Luxury ($$$): Villa Agrippina Gran Meliá the 5-star Gran Melia is set on a hill on the banks of the Tiber River. It features an on-site spa, an outdoor swimming pool, a wellness center, and an on-site restaurant that serves classic Italian and international cuisine, along with local wines.
mid-range ($$): Horti 14 Borgo Trastevere This 4-star modern hotel in Rome offers modern and fully equipped, rooms with air conditioning, free WiFi, a minibar, a flat-screen TV, slippers, and some also provide bathrobes. It also has a garden, a bar, and a rooftop lounge.
budget ($): In Trastevere House A small bed and breakfast hotel is in the Trastevere area, within a 5-minute walk to River Tiber, and there's a bus stop nearby that takes you to Termini Station. It has elegant and colorful rooms have air conditioning, a TV and a balcony.
🔍MORE HOTEL DEALS IN TRASTEVERE
4. Vatican and Prati, one of the safest areas to stay in Rome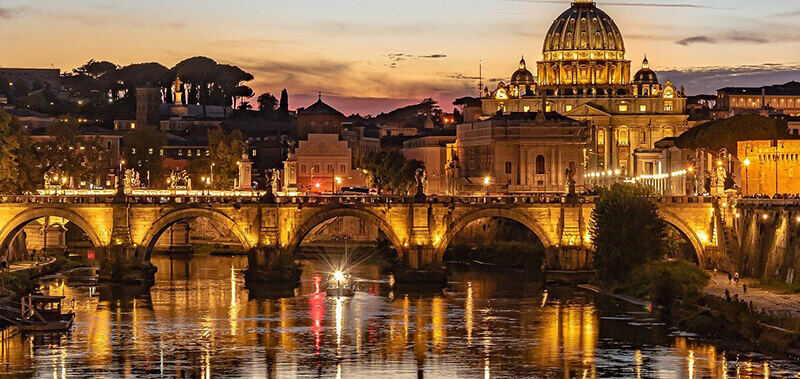 Prati along with Rome hictoric center, are some of the safest places to stay in Rome due to its close proximity to the Pope's residence. Prati is one of the wealthiest neighborhoods of Rome and it is a popular shopping spot for high-end brand.
The Vatican, the home of the Pope and the seat of the Catholic church is a wholly independent state from the rest of Italy and the smallest country in the world.
Once you enter The Vatican, one of the first things that you'll see is the Swiss Guards, who with their spectacularly colorful uniforms, are very hard to miss. The majority of Vatican City is closed to tourists but an exception is St. Peter's Basilica, a stunning church that is topped by a vast dome designed by Michelangelo.
One of the best things to do on your visit here is to climb the steps to the top of the Dome for a fantastic view (but not one for people with a fear of heights!)
Outside of the Basilica is the famous St. Peter's Square with ornate fountains and a prominent obelisk in the middle of the square. The other main parts of the Vatican that are open to tourists are bundled together as the Vatican Museums. These are a treasure trove of antiquities of the Catholic faith. The most famous building here is Michelangelo's Sistine Chapel with Michelangelo's spectacular ceiling art.
If you would like to explore elsewhere in The Vatican, you'll need to plan ahead and book a tour directly with the Vatican 60 days before your trip. Alternatively, you can inquire at local travel agencies and you may be able to book a tour at shorter notice with a local tour agency.
The Vatican neighborhoods are also home to Castel Sant'Angelo, or Mausoleum of Hadrian, which was built by Roman Emperor Hadrian as a monumental tomb for his family and later was used by the popes as a castle. It connects with Michelangelo's Saint Peter's Square by Via della Conciliazione.
Located right next to Vatican city is 14th historical district of Rome, Borgo. The area is very popular with tourists because of the Vatican and you will find excellent tourist infrastructure, including lots of hotels and guest houses catering to most budgets.
Prati is a charming residential neighborhood with wide boulevards, art nouveau buildings, and high-end shopping streets. Prati is a white-collar neighborhood, made of offices, barracks and courthouses. It is a good base for those who want a stay away from hustle and bustle of the city center, but still close to all the major Roman sites.
It is a large district with plenty of accommodation to choose from. The main attraction in the Prati neighborhood is the most well-known shopping street – Cola di Rienzo with many high-end design shops, cool restaurants, and bars.
Some important piazzas in Prati are Piazza Cavour houses the Supreme Court, Piazza Risorgimento serves as tram terminal, Piazza Mazzini. They are packed with wine bars, live music venues, and restaurants.
Stay in the Prati- Borgo if this is your first-time visiting Rome; you want to stay near the Vatican City; you want to stay in a tourist-friendly part of Rome; you want to stay in a safe neighborhood;
Best places to stay in Prati and Vatican:
luxury ($$$): Villa Agrippina Gran Meliá – The Leading Hotels of the World This 5-star hotel offers rooms with views of the Vatican, Castel Sant'Angelo, Vicolo di Sant'Onofrio or the hotel's garden. There is an on-site spa, My Blend by Clarins, and an outdoor swimming pool.
mid-range ($$): Hotel Della Conciliazione This 4-star hotel is located within easy walking distance from Saint Peter's Basilica, and terminus of bus 40 Express, providing direct links with Roma Termini Train Station. It is also close to Ottaviano Metro Station, on line A, and San Pietro Train Station, with trains connect to Fiumicino Airport.
budget ($): Eccelso Hotel This 3-star hotel is just short wlk from Ottaviano Metro Station, St Peter's Square, and Vatican. The accommodation has a tour desk and luggage storage for guests.
🔍MORE HOTEL DEALS HOTELS IN PRATI
5. Colosseum and Monti, good area to explore ancient Rome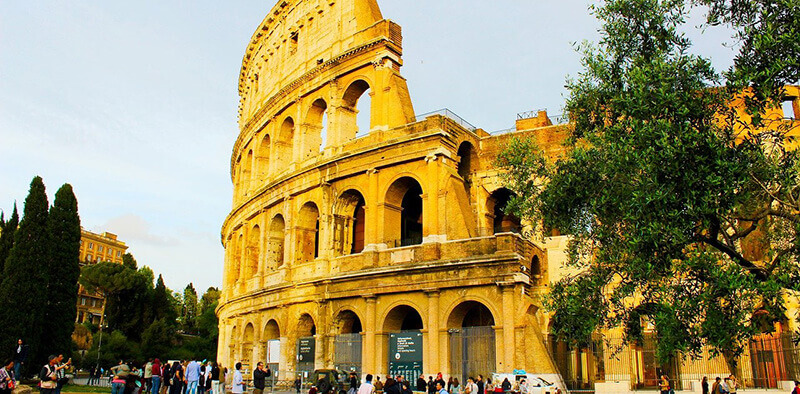 Located near Colosseum and Piazza Venezia, Monti is the best area to stay in ancient Rome because it was the place where the gladiators lived, far away from the rich Romans in ancient times. It was regarded as a dangerous district at one time even in more modern times, but today this hipster hotspot is home to many artists, offers fine restaurants and vibrant nightlife.
The main attraction in the Monti neighborhood is the fountain at Piazza Della Madonna Dei Monti, a good spot to enjoy coffee, wine, and do people-watching, the 100 A.D. Trajan's Market, and the old cobbled street Via Urbana with lots of artisan shops, restaurants and attractive boutique hotels.
You will be able to see the magnificent Coliseum from many of its streets. However, the best view of this wonderful structure is from Celio Park. The Santa Maria Maggiore and St. Peter in Chains Church are both in Monti as is Michelangelo's Moses sculpture.
Colosseo is the area of Rome that surrounds the ancient Roman Colosseum, one of the city's most impressive sights. Colosseo is a central part of the city just south of the modern center and east of the historical center.
The Colosseum is a place you really should visit on your trip to Rome. This spectacular amphitheater is incredibly well preserved, given that it dates back to the first-century ad. The Colosseum was the entertainment center of ancient Rome. It once seated up to 50,000 spectators who watched gladiatorial combats, animal fights, and a range of entertainments that would be seen today as bloodthirsty and barbaric.
Close to the coliseum is the ancient Roman forum, which was the center of power of the ancient Roman empire. It's an atmospheric place to explore and contains many ancient structures, like The Temple of Saturn and the Arch of Septimius Severus.
The Colosseum area has several other places of historical interest that are well worth visiting, including the Arch of Constantine, built in the 4th-century AD. Palatine Hill is close to the Colosseum and next to the old Roman Forum. It contains some fascinating old Roman villas.
Other places of interest are the Capitoline Museums – art and archaeological museums in Piazza del Campidoglio, Vespa Museum, Colle Oppio Park, Monumento Nazionale, and Basilica di San Pietro.
You can find Rome's Gay Street nearby in the Via San Giovanni. There are lots of restaurants and bars that cater to LGBT communities in this lively hub of LGBTQ+ culture.
Surprisingly, given the sheer volume of ancient history in this area, Colosseo isn't the busiest area for tourists to stay in since most people visit the Colosseum and the forum on day trips. Colosseo is a good suburb in the center of Rome if you want a quieter and more relaxed atmosphere than both the modern and the historical centers.
Monti is one of the best places to stay in Rome for the first time because it is centrally located to the south east of the historic center. The neighborhood can be easy explore on foot but there is subway stops at nearby the Cavour, Termini, and Colosseo stops. it is just15 minutes walk from Roma Termini train station.
Stay in Monti if you are a first-time visitor; you want to stay near in ancient Rome and near Colosseum; you want good nightlife locally;
Best places to stay in Rome near Colosseum:
luxury ($$$): Hotel Palazzo Manfredi – Small Luxury Hotels of the World This 5-star hotel offers breathtaking views of the Coliseum at the rooftop terrace, a 2-minute walk from Colosseo Metro Station.
mid-range ($$): Monti Palace Hotel This 4-star hotel is within walking distance from Cavour Metro, Santa Maria Maggiore Basilica, Via Nazionale shopping street. it has elegant rooms with a smart TV, parquet flooring, and free wifi.
budget ($): Hotel Raffaello; Sure Hotel Collection by Best Western This 3-star hotel features rooms with an LCD TV, a minibar, and air conditioning, a free smartphone. it's situated in a quiet street in a pleasant area less than 10 minutes' walk from both Rome Termini Station and the Coliseum.
🔍MORE HOTEL DEALS IN ROME MONTI
6. Termini Station- Esquilino, where to stay in Rome on budget
Roma Termini, or Rome's central station, is the biggest train station in Rome. It is where most people pass through when coming to Rome by airplane. It's within walking distance to the sights of the historic center, Trevi fountain, the Colosseum, as well as a short metro and bus ride to the Vatican city.
Termini Railway station is best area to stay in Rome for one night because of the central location, it's very convenient for getting to the major sights and tourist attractions using the city's Metro subway system. It offers easy access to the airport, and other parts of the city because of its well-connected public transport.
You can find some good value accommodation here, and there is a lot of choice of low to mid-range hotels, hostels, and guest houses. Piazza dei Cinquecento is packed with shops and restaurants, travel agents, and currency exchanges booths.
There are several interesting sights around the station such as the National Roman Museum at Palazzo Massimo, and the Baths of Diocletian (the Latin word for baths is "thermae").
Located just south of the Termini railway station, the districts of Esquilino and San Giovanni are central districts of Rome. Esquilino is the home to Rome's Chinatown, and there is some good value and delicious Chinese food to be had here.
Even though this part of town isn't the most famous for historical sights, there are still some splendid things to see, including the Basilica of Santa Maria Maggiore. This church dates all the way back to the 9th century and is lavishly decorated in gold leaf.
The central square of this district is called Piazza Vittorio. It's a lively and bustling place, excellent for shopping and people-watching. If you're a keen shopper, you should also visit the enormous indoor Mercato Esqualino market, which has a particularly inviting food section.
Termini is not the most secure areas in Rome, so if you choose to stay around Rome central station, I suggest to avoid walking alone at night in this area. And always take care of your belongings to avoid pickpocketing.
Stay in Termini station and Esquilino if you're traveling on a budget; you want to be close to the central rail station; you love Chinese food; you want convenient to the train;
Best places to stay in Termini Station- Esquilino:
mid-range ($$): Eurostars Roma Aeterna This 4-star hotel is a former pharmaceutical factory located in the pedestrian area of Rome's Pigneto, popular for its cafés and bars. A bus stop nearby take you to Termini Train Station, while Pigneto Metro Station is a 5-minute walk away.
budget ($): The Cross Hotel this 3-star hotel is set in a 19th century villa, in a quiet yet central location, 8 minutes' walk from St. John Lateran Basilica. It offers a garden terrace, air-conditioned rooms, and free wifi.
budget ($): Hotel Balilla The hotel has air-conditioned rooms with a desk, a safety deposit box, a flat-screen TV and a private bathroom with a bidet. There are continental or à la carte breakfast.
🔍MORE HOTEL DEALS IN ESQUILINO
7. Testaccio – Ostiense, popular foodie destination in Rome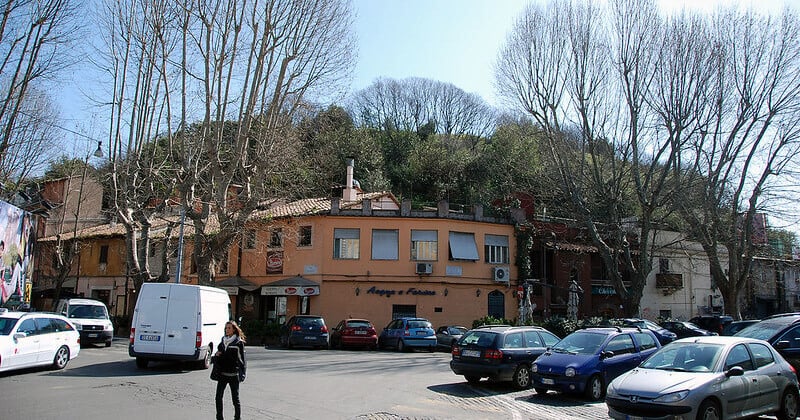 Testaccio is located off of the main tourist path over on the south side of the city. Formerly a working-class district, Testaccio was slowly transformed from into a popular food destinations, full of restaurants, bars, clubs, and good nightlife. This is an excellent part of town if you want to sample everyday Roman life outside of the most touristy parts of the city.
Testaccio was one of the Roman Empire's major trade hubs. You can find a small hill, Monte Testaccio, which is home to 53 million broken amphorae (wine jars). The hill is set right next to the ancient Tiber River port, and the warehouses.
Testaccio is home to the covered market, Mercato Testaccio. Here you'll find all kinds of fabulous Italian produce at excellent prices. It's a great place to buy something authentic as a gift or just for yourself. The market is also a great place to enjoy top-quality Italian food at bargain prices in the cluster of cafes and restaurants surrounding the market.
You can also find Città dell'altra Economia, which was once part of Rome's old slaughterhouse, now home to social and cultural events, summer music festivals and organic food markets.
Other places of interest are the Non-Catholic Cemetery, which is the graves of the English poets Keats and Shelley, as well as Testaccio Pyramid, and Mattatoio Modern Art Museum.
Located to the South of Testaccio is the Ostiense neighborhood. This former industrial district is some distance from the main tourist areas but there are compensations. You will have a half-hour journey into the main Rome attractions each day, but your base offers a real feel of today's Rome with great street art, vibrant nightlife, and good food.
A significant historical landmark at the northern end of Via Ostiense there is the ancient Pyramid of Cestius, made from white Carrara marble. The Basilica of St. Paul's Outside the Walls is a massive church close to the San Paolo metro station. Other cultural attractions are the Ostiense Necropolis, the catacombs of Santa Tecla and Commodilla.
For shopping, you have Eataly, the famous shopping center. For nightlife, visit the area of Via Libetta, near the Testaccio zone.
Testaccio is a good area to find budget accommodation since it's a little bit out of the center, prices are a bit lower and you can find some real accommodation bargains.
Stay in Testaccio if You're traveling on a budget; you love food; you want great local vibe; this is not your first time;
Best places to stay in Rome in Testaccio:
budget ($): Hotel Major Aventinus this hotel is located within walking distance from the Testaccio area, Tiber River, Trastevere area, and Circo Massimo Metro Station. All guest rooms have free wifi, a desk, and have private or shared bathroom.
budget ($): Althea Inn Roof Terrace This guest house is set in Ostiense district, it offers a a paid airport shuttle service to Rome Ciampino airport. All guest rooms have a wardrobe, a private bathroom with a shower and a hairdryer.
🔍MORE HOTEL DEALS IN ROME
8. Pigneto, hipster district in east of Termini station
This colorful area is a tram ride of 15 minutes from Rome's center but what is that to make your base in an ever-improving, hipster district. You will find street art and murals as well as interesting graffiti and art installations. World travelers often liken it to Brooklyn in New York.
Today you will find lively nightlife with trendy bars and restaurants, intermingled with local houses and apartments. You may like a break from a hectic itinerary to just sit in one of its cafes to watch the world go by from early in the morning until late.
Try to avoid its pedestrianized main street, via del Pigneto, or Isola Pedonale, as there are many Acchiapini, people asking you to sit in their bars or restaurants.
Sandwiched between the Via Casilina and Via Prenestina, near the Tuscolana train station and Metro A line, the Pigneto area has good public transportation. You can find budget accommodation here, as well as mid-range hotels, often located on a piazza.
Best places to stay in Pigneto:
Eurostars Roma Aeterna is a 4-star hotel, located in the pedestrian-only area of Rome's Pigneto, within a 5-minutes walk from Pigneto Metro Station. You can also take trams for the Vatican and Villa Borghese depart from Piazzale Prenestino which is 300m away.
Relais Villa Fiorelli Located in Piazza di Villa Fiorelli square, within walking distance from Re Di Roma Metro Station; Roma Tuscolana Train Station is 700m away, where you can go to Fiumicino International Airport.
🔍MORE HOTEL DEALS NEAR PIGNETO TRAIN STATION
9. Tridente and Trevi Fountain, touristy, central location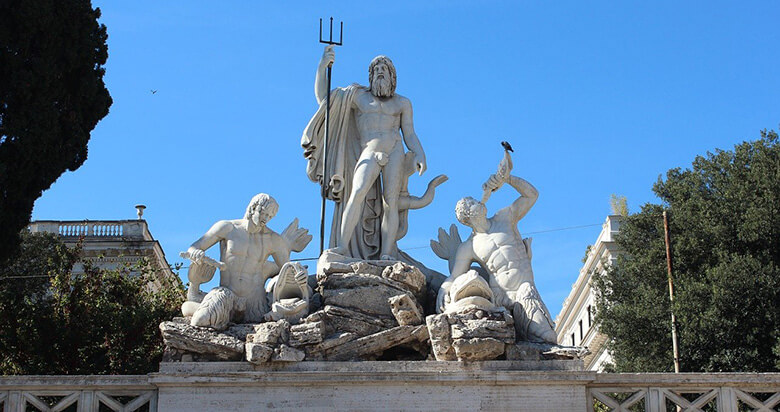 Tridente is one of the best areas to stay in Rome for the first time because it is the heart of tourist Rome. It is the area between the Piazza del Popolo and Piazza Venezia. Here you will find the famous Trevi Fountain, and if you walk on, the Spanish Steps. Both appear in the list of ''Top Ten'' things to see in Rome.
The most famous Trevi Fountain is a stunningly ornate marble sculpture completed in the 18th century. The site of this fountain dates back far earlier than that, though since it was the endpoint of an ancient Roman viaduct.
As you probably know, the saying goes that if you drop a coin in the Trevi Fountain, you will one day return to Rome. Think carefully before dropping three in though, since this apparently means that you will marry a Roman! Whether or not this is true, it's one of the classic bucket list things to do while in the city.
The Piazza del Popolo square, or the People's Square, is set next to to the Aurelian Walls and close to Porta del Popolo (formerly Porta Flaminia). It was the main entrance to Rome city during the Roman Empire.
In and around People's Square stands Fontana dei Leoni and Santa Maria del Popolo, the Chigi Chapel by Raffaello, Santa Maria dei Miracoli, Santa Maria in Montesanto, and Pincio Terrace.
There are also the National Gallery of Ancient Art in Barberini Palace, Quirinal Palace, Modern Art Gallery, Capuchin Crypt, and Vicus Caprarius.
You can wander around its streets that start from the square such as Via del Babuino, Via del Corso, and Via di Ripetta. You will be spoilt for choice when it comes to fine dining, casual, and more formal. The shopping is wonderful high-fashion boutiques like Gucci, Valentino, and Fendi, and all the architecture is impressive.
You will find that accommodation can be more expensive than in other parts of Rome, but you will still find good value if you do your research. While you may not get a feel of local Rome, there are few other drawbacks if you choose Tridente as your base.
Best places to stay in Tridente:
Luxury ($$$): Roma Luxus Hotel This 5-star hotel is located in the heart of Rome. It offers free WiFi, stylish rooms, an on-site bar and an à la carte restaurant. You can enjoy international buffet breakfast daily in the hotel restaurant.
Mid-range ($$): Hotel Quirinale This historical hotel offers spacious rooms with some guest rooms overlook the small garden and courtyard. The hotel is within easy walking distance from Repubblica Metro Station, The Spanish Steps, and the Trevi Fountain.
Budget ($): Hotel Fellini Set 300 m from the Trevi Fountain, Hotel Fellini offers free high-speed WiFi throughout and air-conditioned rooms. The Spanish Steps are 550 m away. This hotel offers a sweet and savory continental breakfast.
🔍MORE HOTEL DEALS IN NEAR TRIDENTE
10. San Lorenzo, student-friendly, bohemian neighborhood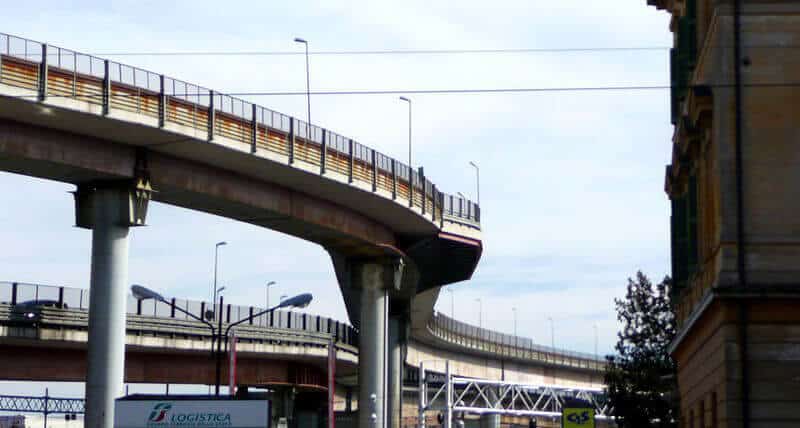 Known as Rome's alternative spot, San Lorenzo is vibrant, student-friendly with the Università La Sapienza nearby, a slightly down-at-heel area of Rome just to the southeast of Rome's Termini train station and close the Campo Verano cemetery.
It's great for budget travelers, people seeking fun nightlife, but perhaps not the best choice for families. The area around its main square, Piazza, has a highest concentration of nightlife venues.
Certainly, there are far more scenic and attractive areas of Rome, since poor San Lorenzo was almost totally destroyed during World War II. But its lack of striking architecture doesn't mean that the district isn't full of charm.
In fact, what San Lorenzo has to offer is an intoxicating and bohemian collection of very affordable, very delicious restaurants, hip bars, and up-and-coming urban charm.
This part of the city is covered with colorful and vibrant street art that goes a long way to make up for the relative blandness of the architecture. Check out the painting and murals the long wall along Via dei Sardi, Via dei Sabelli, andVia Dei Lucani.
One of the few old buildings that escaped the bombs of world war II is the Basilica di San Lorenzo Fuori Le Mura (St Lawrence Outside the Walls), which is an ancient church with a spectacular mosaic covering its vast dome.
San Lorenzo is well-connected public transportation with Prati, Appia Nuova and the downtown areas. From Castro Pretorio Metro Station, you can visit famous Piazza di Spagna and Via dei Condotti.
Stay in San Lorenzo if you're traveling on a budget, you want a hip, bohemian vibe, you want to stay close to the central station, you want great dining and nightlife at affordable prices.
Best places to stay in Rome in San Lorenzo:
budget ($): B&B Hotel Roma San Lorenzo Termini Located in the San Lorenzo district, only 15 minutes' walk of Termini Station, and Porta Maggiore, this B&B offers both buffet and an Italian breakfast. With the tram stops nearby, you can easy reach Coliseum, Circus Maximus, and Trastevere district.
budget ($): Hotel Villa San Lorenzo Maria Located in San Lorenzo in the centre of Rome, this hotel offers air conditioned rooms with private bathroom, free wifi, and free car parking.
🔍MORE HOTEL DEALS IN SAN LORENZO
11. Ostia, where to stay in Rome for beach

Located just half an hour by train from central Rome on Italy's west coast, the resort town of Ostia is also set to the south of the airport town of Fiumicino and the head of the Tiber. This beautiful Roman countryside is surrounded by pines and cypress trees.
Ostia was very important in ancient Roman times since it was the central harbor city of the Roman empire's capital. There is archaeological park here at Ostia Antica, where the river Tiber meets the sea. The ruins are open to tourists and there's an on-site museum housing the most significant finds.
In this archaeological park, you will find the semi-circular theater, which was built during the reign of Augustus at the end of the first century BC. You can take a look at its countless mosaics, which is an ancient form of art. The ancient roman bar of thermopilus in Via Diana is one of the impresive parts of Ostia Antica.
Other ruins are The House of Diana, Bakery of Silvano, Piazza of the Corporations, Capitolium, Baths of Porta Marina, Public Latrines, Temple of Fabri Navales, Meat Market, and Fishmongers' Shops.
Apart from roman ruins, you can visit a little area called Borgo di ostia antica. It's a great place to take a photos and grab a meal!
If you are interested in water sports, diving, or fishing, all of these activities are easily arranged at local travel agencies or with your hotel. Ostia Beach is the closest beach to Rome, it can be crowded on the weekends.
You can rent lounger, a beach umbrella from the various stabilimenti or grab gelato or a cool drink along its broadway, Pontile di Ostia.
There are some good hotels and places to stay in Ostia, mostly at mid-range prices. Since you're beside the sea, you might as well grab a seafront hotel or one of the many private apartments available to rent around Ostia Lido and Fumicino nearby.
Stay in Ostia if You want to stay by the sea, Don't mind traveling into the city by train, You're traveling with family.
Best places to stay in Ostia:
mid-range ($$): Fly Decó Hotel This beachfront hotel is located in Lido di Ostia, easy walk from Ostia Lido Beach. I offers an on-site restaurant, a bar, a garden, a 24-hour front desk, and family rooms. Each guest room has air-conditioning, a desk, a safety deposit box, a flat-screen TV and a private bathroom with a bidet.
budget ($): Hotel La Scaletta This 3-star hotel is located in Ostia's seaside promenade, 30-minute train ride from central Rome. It's within easy walk from Lido di Ostia Centro Station with the links to archaeological ruins of Ostia Antica, and Rome's historic centre. There are many bars, restaurants and beach club right next to your doorsteps.
🔍MORE HOTEL DEALS IN ROME
Where should I stay in Rome for the first time?
Centro Storico is the best area to stay in Rome for first-timers due to its close proximity to famous tourist attractions and a wide range of tourist amenities. If you stay here, you will be located in the middle of action, within walking distance to sights, restaurants, bars, and shops.
What are the best areas to stay in Rome for tourists?
Centro Storico, Piazza di Spagna, Trastevere, Prati & Borgo, Monti, Trevi, Termini Central Station, and Testaccio are the best areas to stay in Rome for first time travelers because they are the most popular and safe neighborhoods that offer a wide range of attractions and amenities.
Where to stay in Rome with family?
Centro Storico is without a doubt the best place to stay in Rome for family because it has a super central location and it offers many family-friendly activities. If you book a hotel here, you will be within walking distance to almost all Rome biggest attractions.
See more:
One of the most pleasurable ways to get around the oldest parts of town is on foot since the ancient squares, and winding alleys are a delight to explore. You should always be aware of the teeming Roman traffic and particularly careful of the hordes of scooters and motorbikes.
Overall, Centro Storico is the best area to stay in Rome for first-timers because it is the most convenient location to see Rome's most famous tourist attractions. If you stay here, you will be surrounded by tourist landmarks, restaurants, bars, and shops.
By now, as you know where to stay in Rome, all you need to do is to book a hotel booked, consider to buy an crossbody purse to protect yourself from pickpocket.